Are you looking for an Acadia National Park and Bar Harbor itinerary for your trip? Then you are in luck! I've been visiting Mount Desert Island for years and have loads of suggestions for you to make the most of your trip.
If Bar Harbor and Acadia aren't familiar to you, you may be wondering why you should visit.
Do you want to visit a beautiful New England town along Maine's coast? Do you want to eat amazing seafood (like all the lobster you could possibly eat)? Do you want to explore one of the most amazing National Parks in America?
Then you need to visit Acadia National Park and Bar Harbor, Maine!
Bar Harbor and Acadia National Park have enough activities to fill a whole week. And since that is how long I usually go for, I planned this itinerary to cover that amount of time.
But what if you only have a few days? Well, take a look below and see what activities jump out to you. And since Acadia features prominently here as well, you can use my suggestions here to create your Acadia National Park itinerary if you plan to just stay within the park.
If you have just one day and want to make the most of it, check out my One Day in Acadia National Park itinerary.
I've visited Mount Desert Island several times with my family and we absolutely love it. And I'm sure you will too!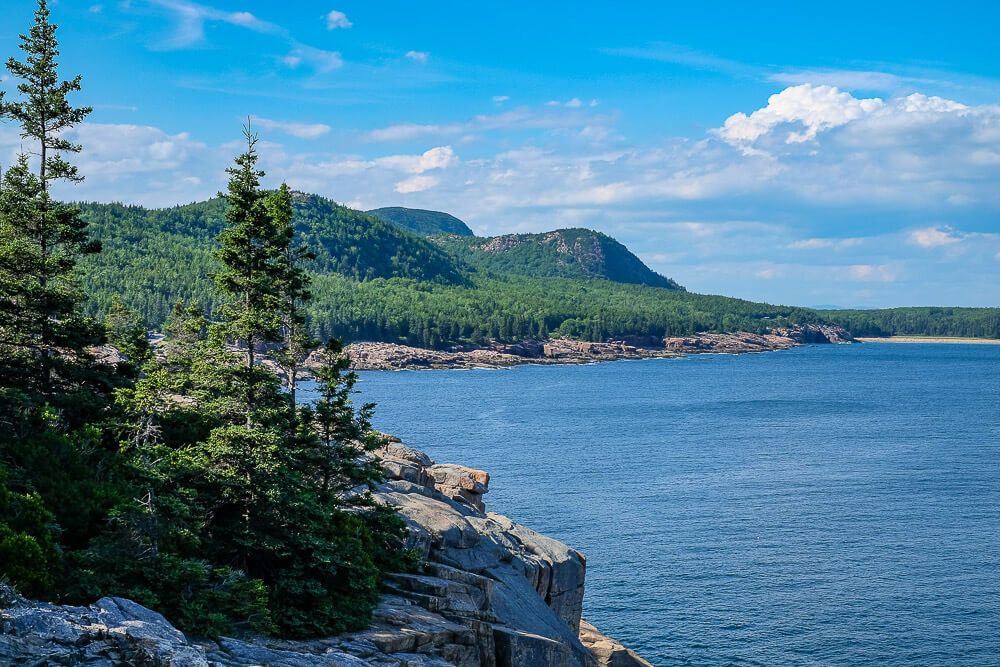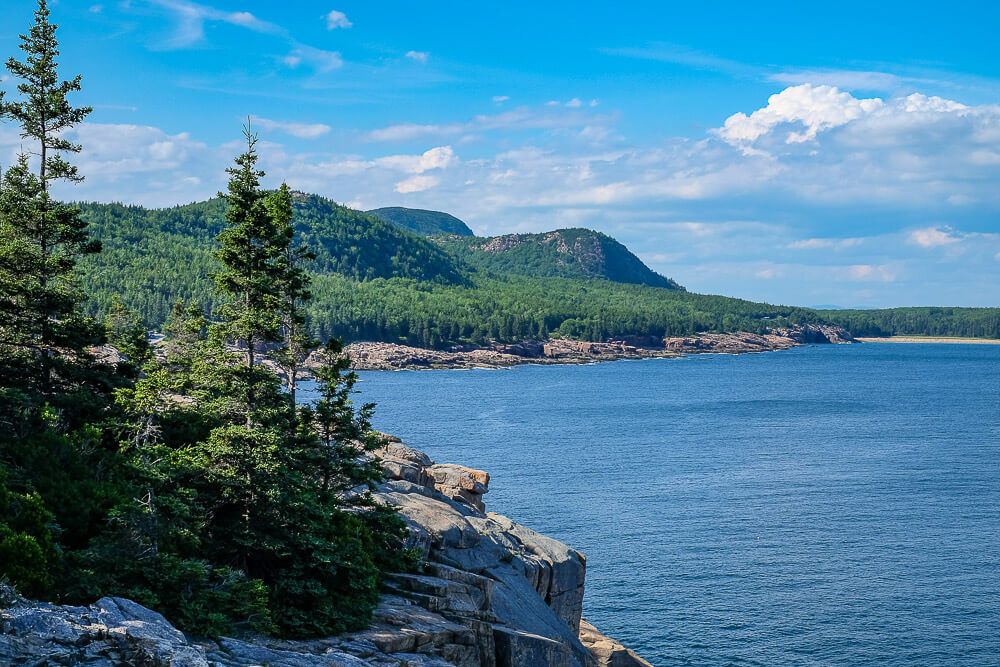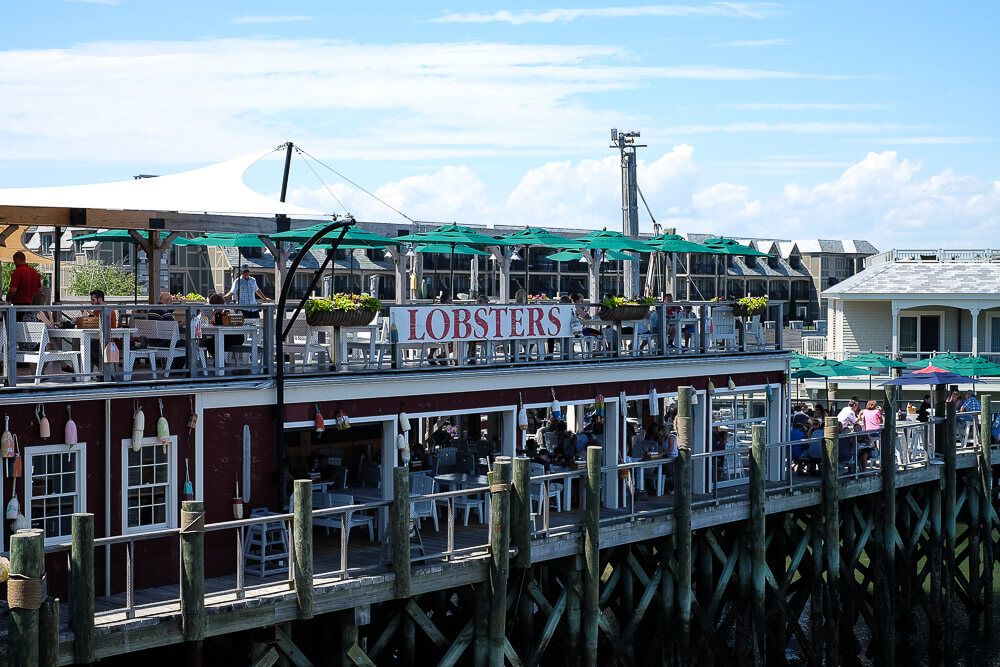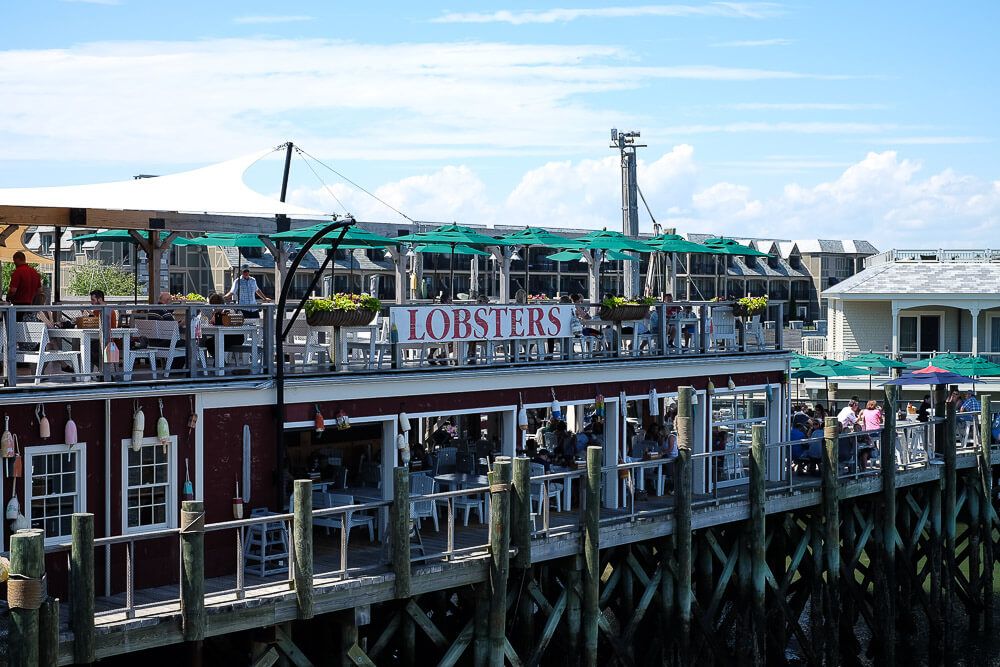 ---
Day 1: Welcome to Bar Harbor, Maine
This is the day you arrive in Bar Harbor. There are several different ways you can get to Bar Harbor depending on where you're coming from. See the bottom of this post for the way my family has arrived from several states away.
But for your first day in town, I would play it close to Bar Harbor. The town is centered around two different parks: the Village Green and Agamont Park. So take some time to simply enjoy the town.
My favorites? I love to people watch in the Village Green. And to sit back and observe the boats in the harbor from the hill in Agamont Park. Then along Main Street there are a ton of shops.
I like to stare at the woodworking at In The Woods (plus it smells fantastic). And to window shop at a small Art Gallery near the West End Drug Company (I actually bought a painting one year and had them ship it home for me).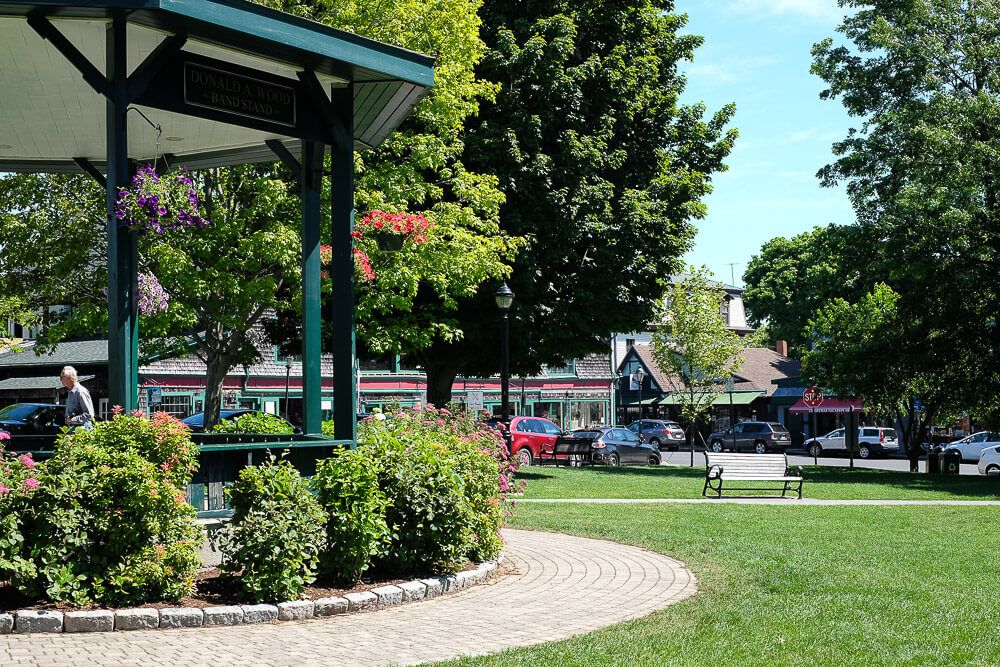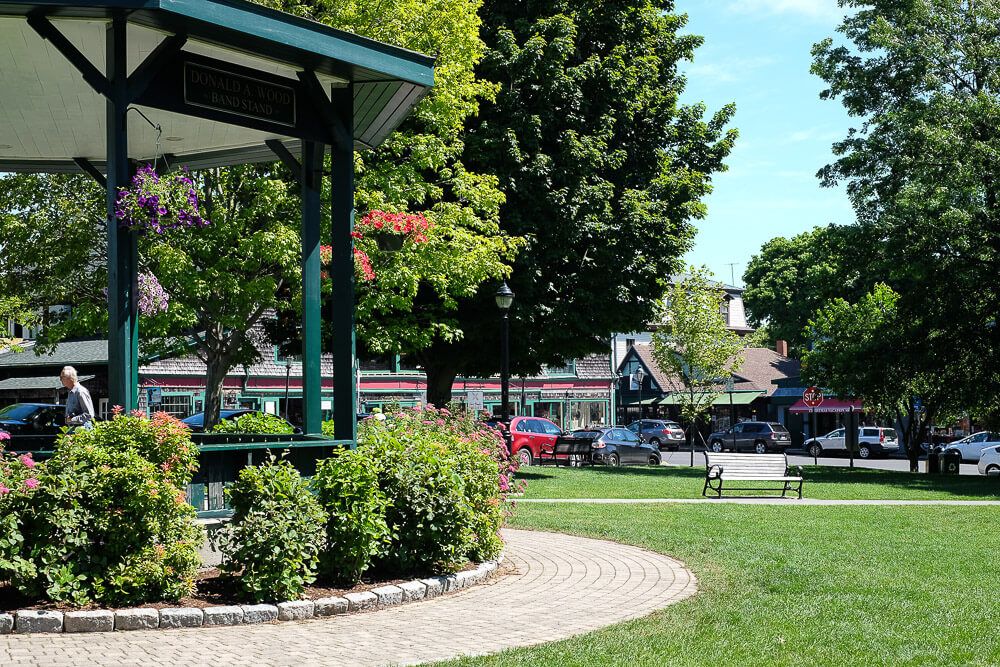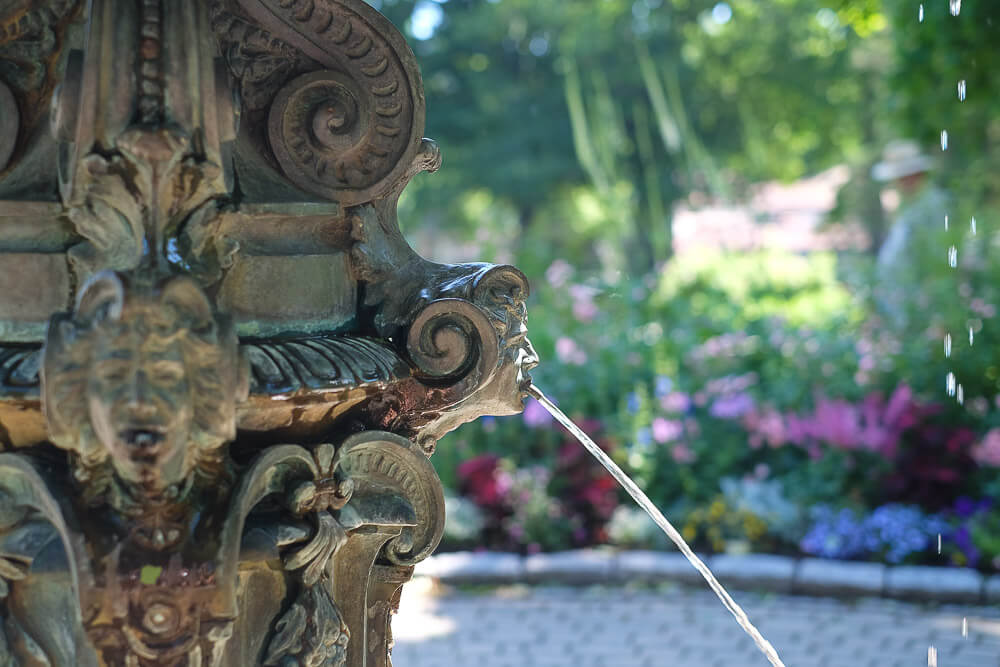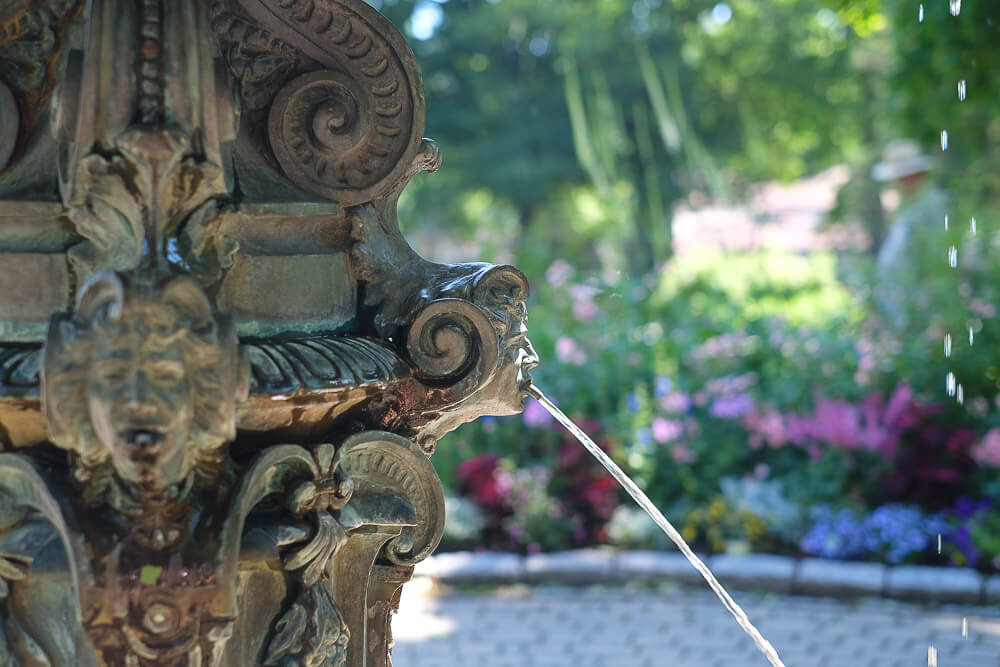 However if you are staying for a whole week, there are a couple of things you may want to consider doing on your first day.
1. Schedule your whale watching tour.
Whale watching in Bar Harbor is one of the first things my family did on our very first visit to the island. And if this calls to you, I would do this immediately.
On that first trip our morning whale watching tour was cancelled (due to weather) two days in a row before the weather was good enough to go out on the third day. So I would schedule this as early into your trip as possible in case you have to reschedule for weather.
2. Schedule your sea kayaking or rock climbing tour.
This is similar to the whale watching tour. You'll need to consider weather and their own availability. Kayaking in Bar Harbor is pretty popular. Sometimes they'll be full on certain days. And then rain may also cause you to re-schedule.
I would try to do either one of these activities (if you're interested) sooner rather than later.
There are two main kayaking outfits in Bar Harbor:
3. Rent your bike for the week.
This is entirely up to you. I've rented a bike for a whole week and I've also just rented one for the day. So the decision is yours. But if you are going to do it for the week, I would get it your first or second day there.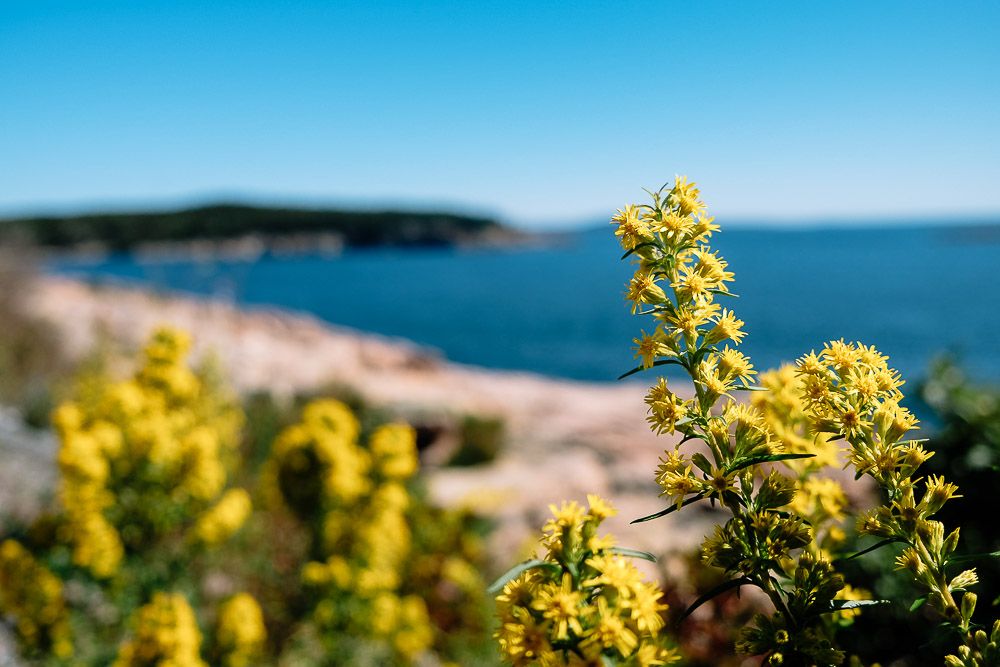 ---
Day 2: Whale Watching in Bar Harbor
So if the weather holds out, hopefully this will be the day you'll be able to go whale watching. The trip is going to take several hours so be prepared that this is half your day.
The main company in town is Bar Harbor Whale Watch Co. The main office (and the boats) sit at the base of Agamont Park. You can't miss it.
Our first year we did the Puffin and Whale Watch Tour. This was cool but you don't get real close to the puffin island (and you are bobbing around like crazy), so you don't see too much of the puffins.
Then as we headed into deeper water we actually spotted a Fin whale! This was the first whale I'd ever seen and it was just plain awesome. (I've since seen plenty, but that was several years later.)
Though be warned that there can be a lot of people on the boat. Mine was pretty full and the ocean was rough-ish that day (so it was rocking like crazy). Long story short, I have no pictures of the Fin whale.
I was too busy jostling for space at the railing to worry about snapping a picture.
On one of our subsequent trips though, the rest of my family went on the Sunset Whale Watch Tour. And though the weather was not fantastic, they saw several Humpback whales.
So which tour would be best for you? Well that depends on what you want to do and how much time you have. The puffin tour is longer and it only operates part of the year. The sunset tour is later in the day and shorter.
Note though, to my disappointment, you don't get too close to Egg Rock Island where all the seals are. So unless one comes up to the boat, you probably won't spot one.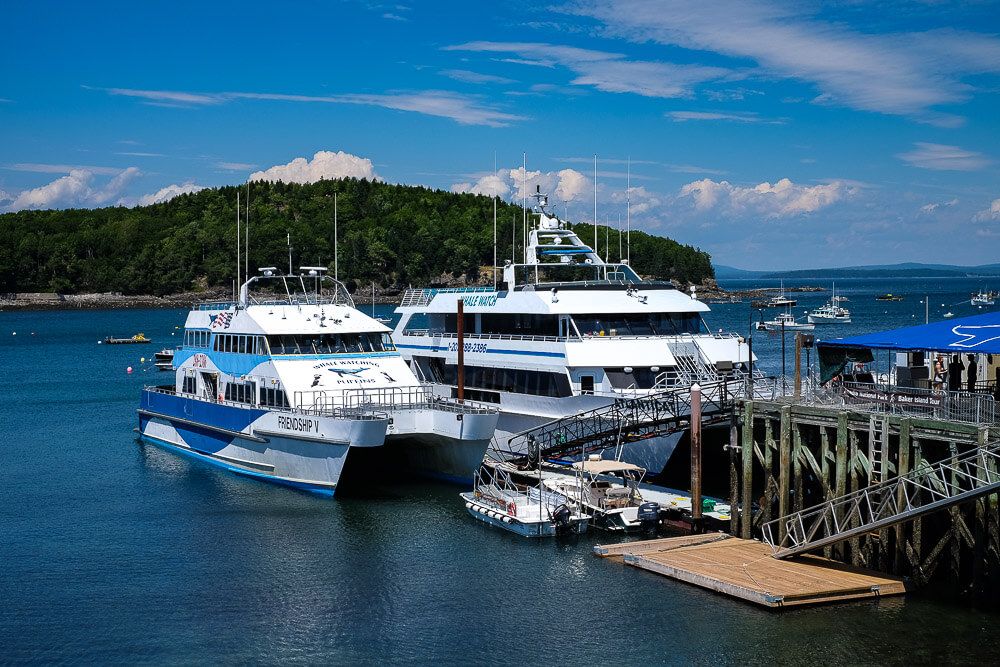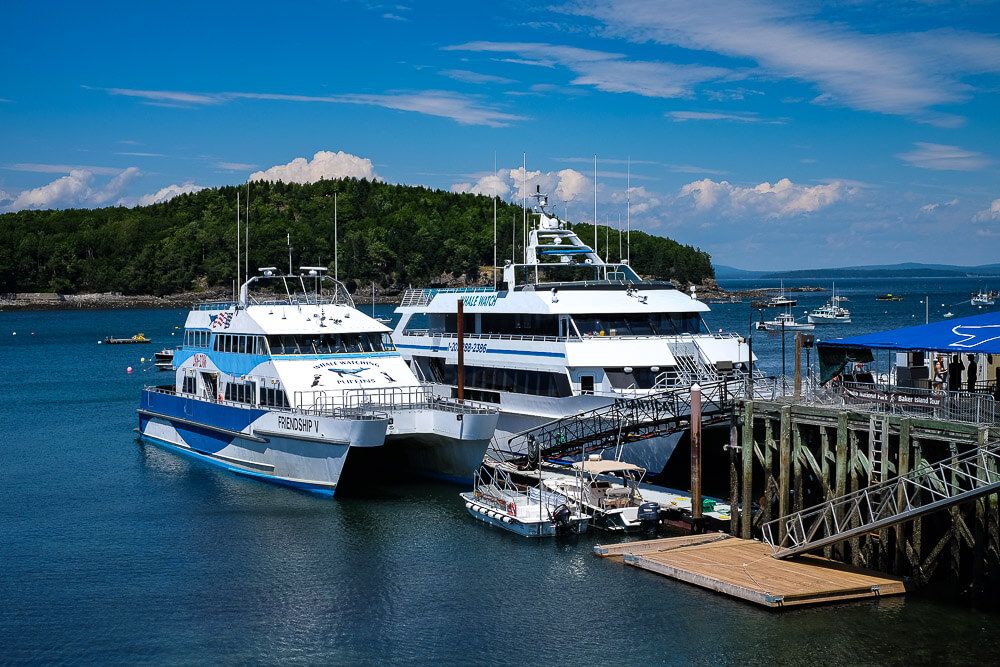 The rest of your day is really up to you. If you do a Sunset Whale Watch, you will have lots of time in the morning. We went sea kayaking around Bar Harbor that morning.
If you do a morning whale watch, you may want to head back to your accommodation and shower, relax, and/or nap.
Depending on the time you got in the day before, you could spend your day exploring more of the town. There are a couple of additional things to do in Bar Harbor itself.
1. Bar Island
The first is going over to Bar Island. This is the small island directly to the north of Bar Harbor. And, at low tide, you can walk across the sandbar that appears.
You'll need to check the tide schedule first (as the sandbar is only there around low tide), but this was a lot of fun on our first trip to Bar Harbor. If you follow the trail all the way up to the top of the island, you'll find a viewpoint looking back towards the town.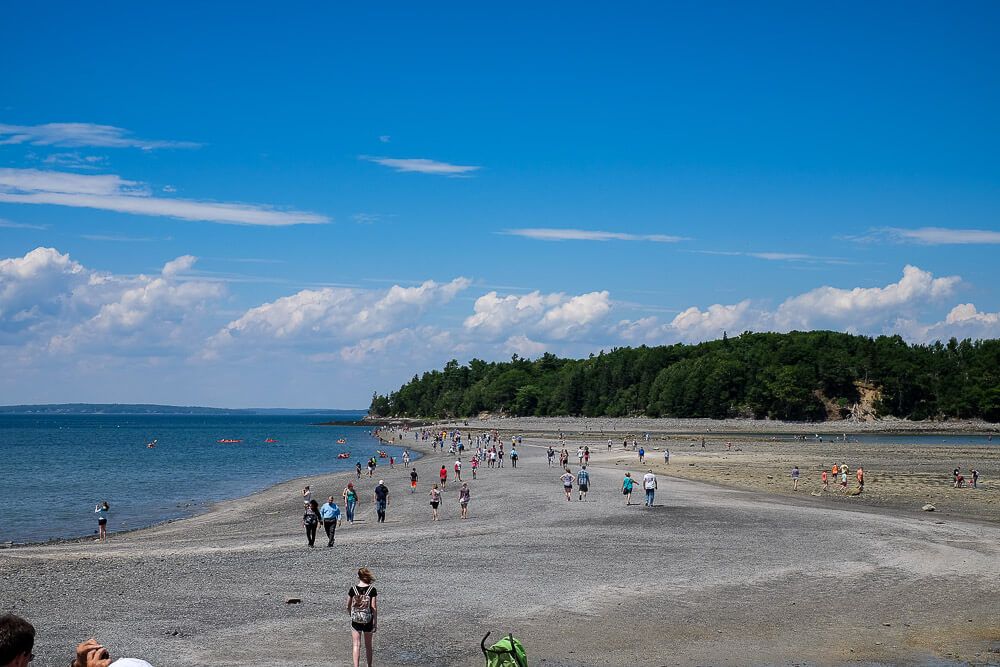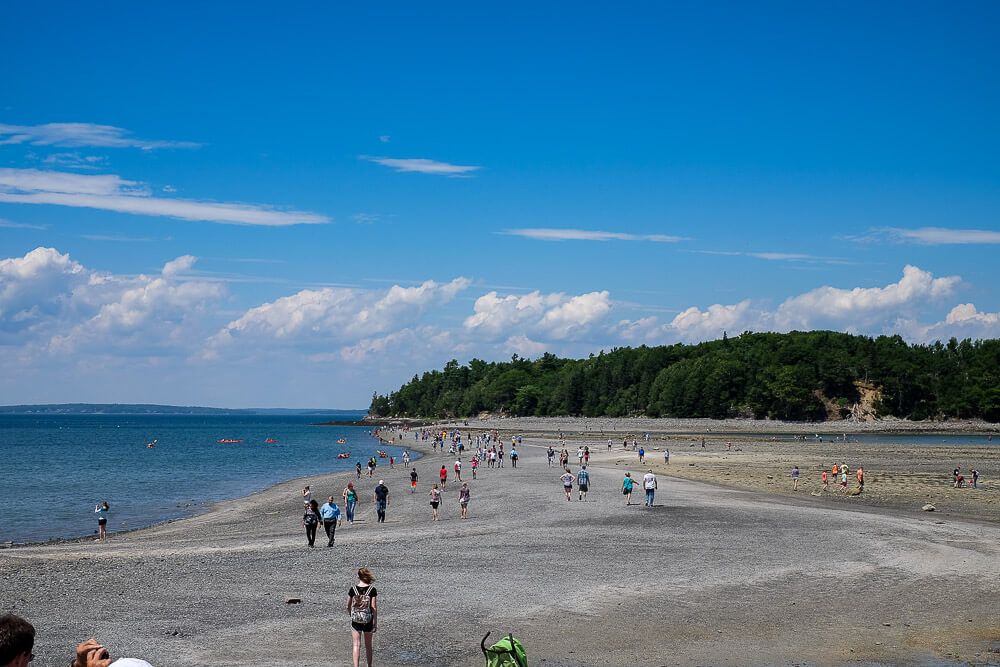 2. Shore Path
The second is walking the Shore Path in town. You can start at either end (one is at Wayman Lane, the other Agamont Park). This path will give you a great views of the coast and the islands in the bay.
It's also relatively flat, which is a plus if you want to just relax and stroll a bit.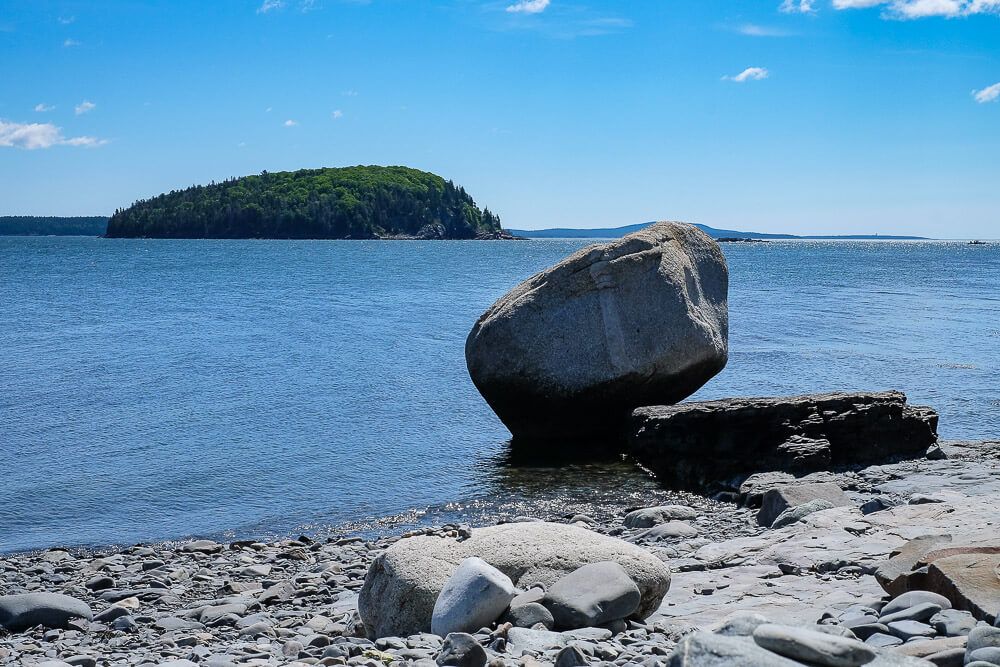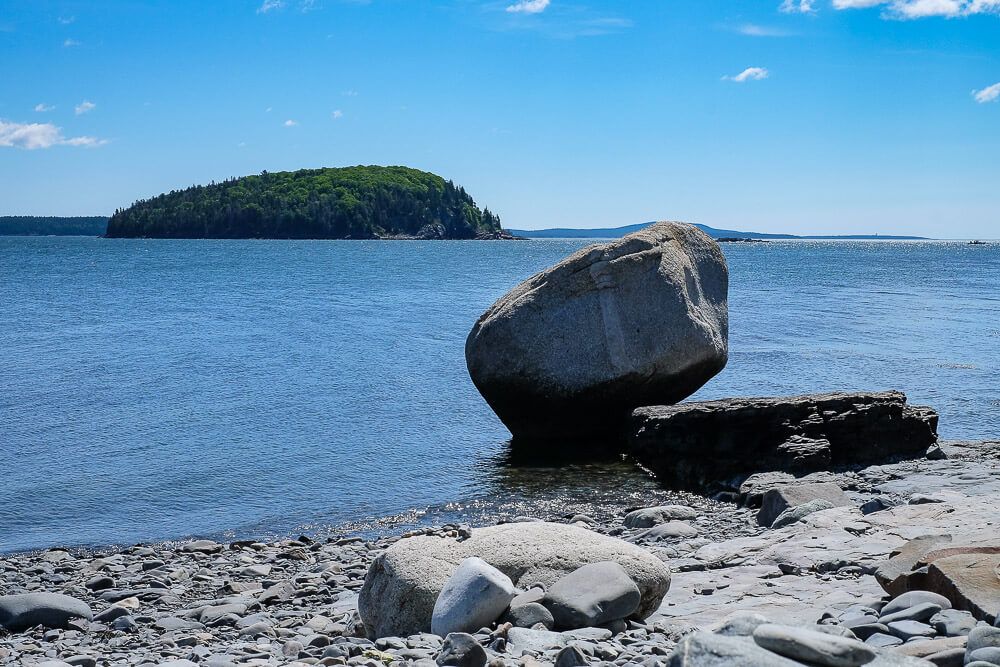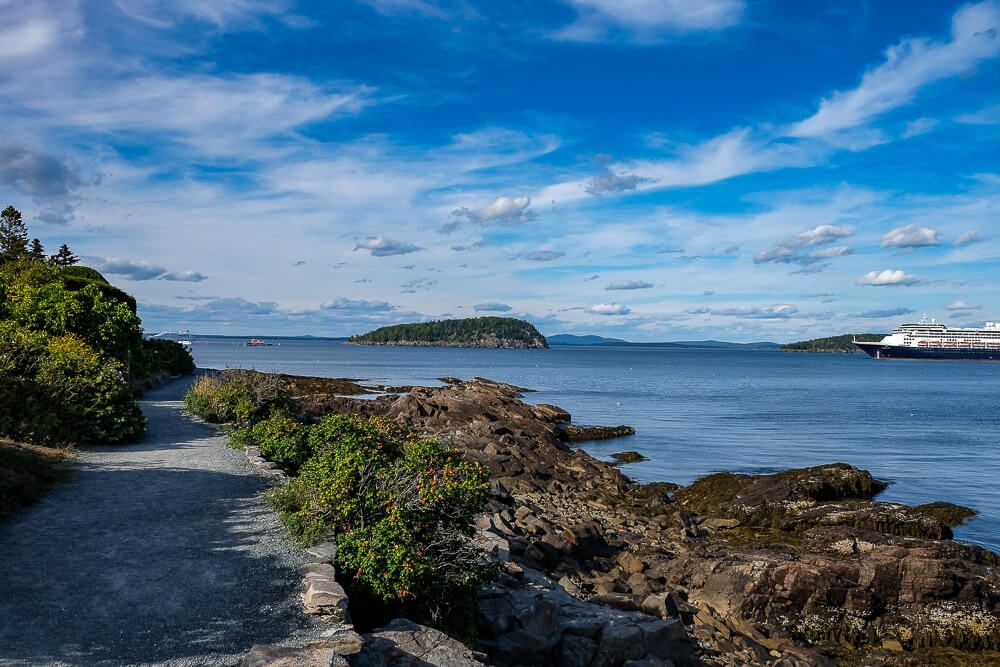 ---
Day 3: Acadia National Park
Okay so you should spend at least 1 full day in Acadia. The drive from Bar Harbor to Acadia National Park is super quick. Just 10 minutes or so until you enter the park.
There is a fee for entering Acadia National Park and the park prefers you purchase your pass in advance. You can get one once you're there (at a fee station or at the visitor center), but it is recommended to buy one online. Get the week long pass (as it includes driving into the park) and you're good to go!
Obviously if you have more time you'll be coming back into this amazing national park often, but if you're short on time, then your one day in Acadia National Park should be spent on hitting the highlights.
1. First up? Hiking the Beehive.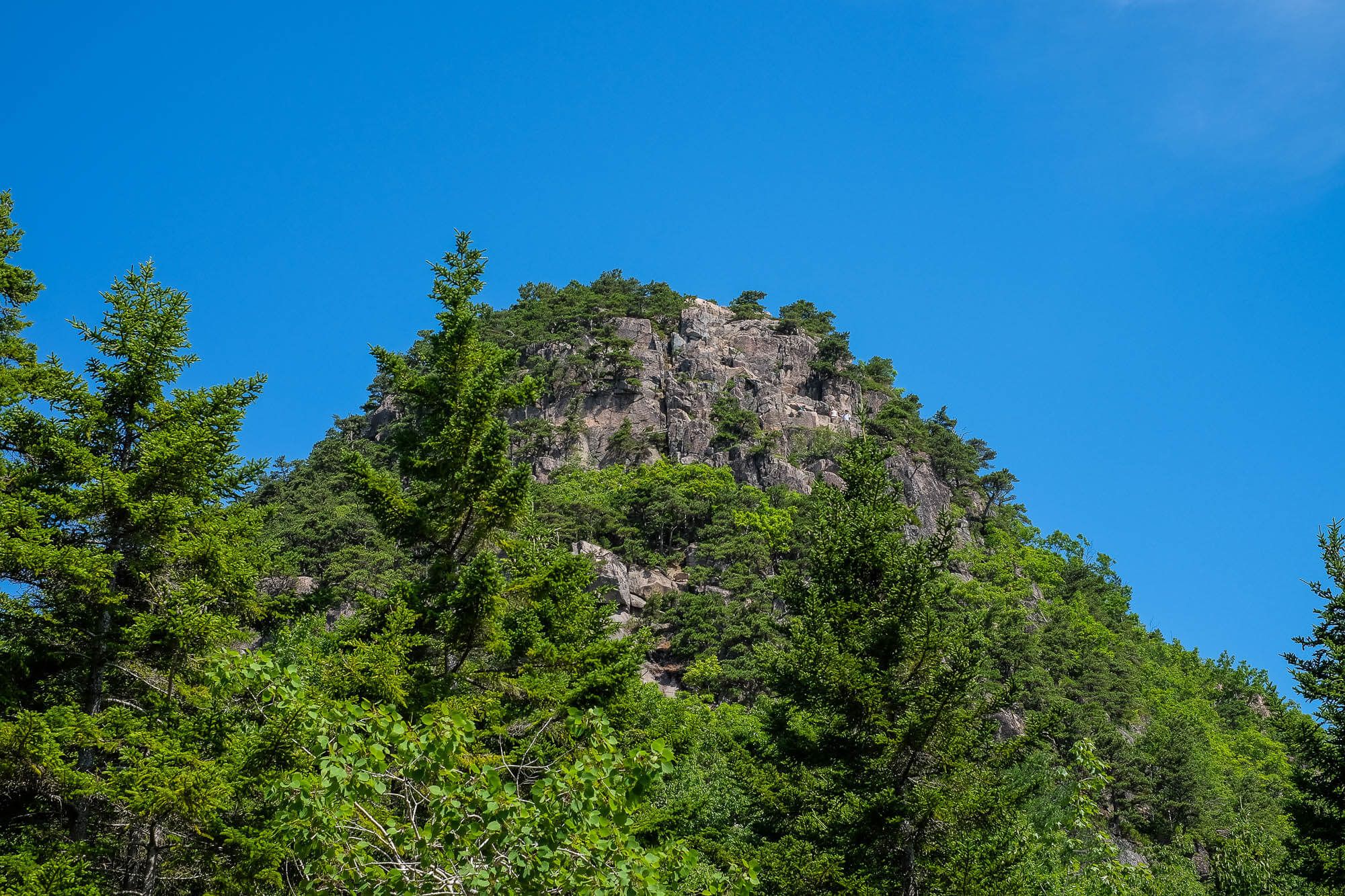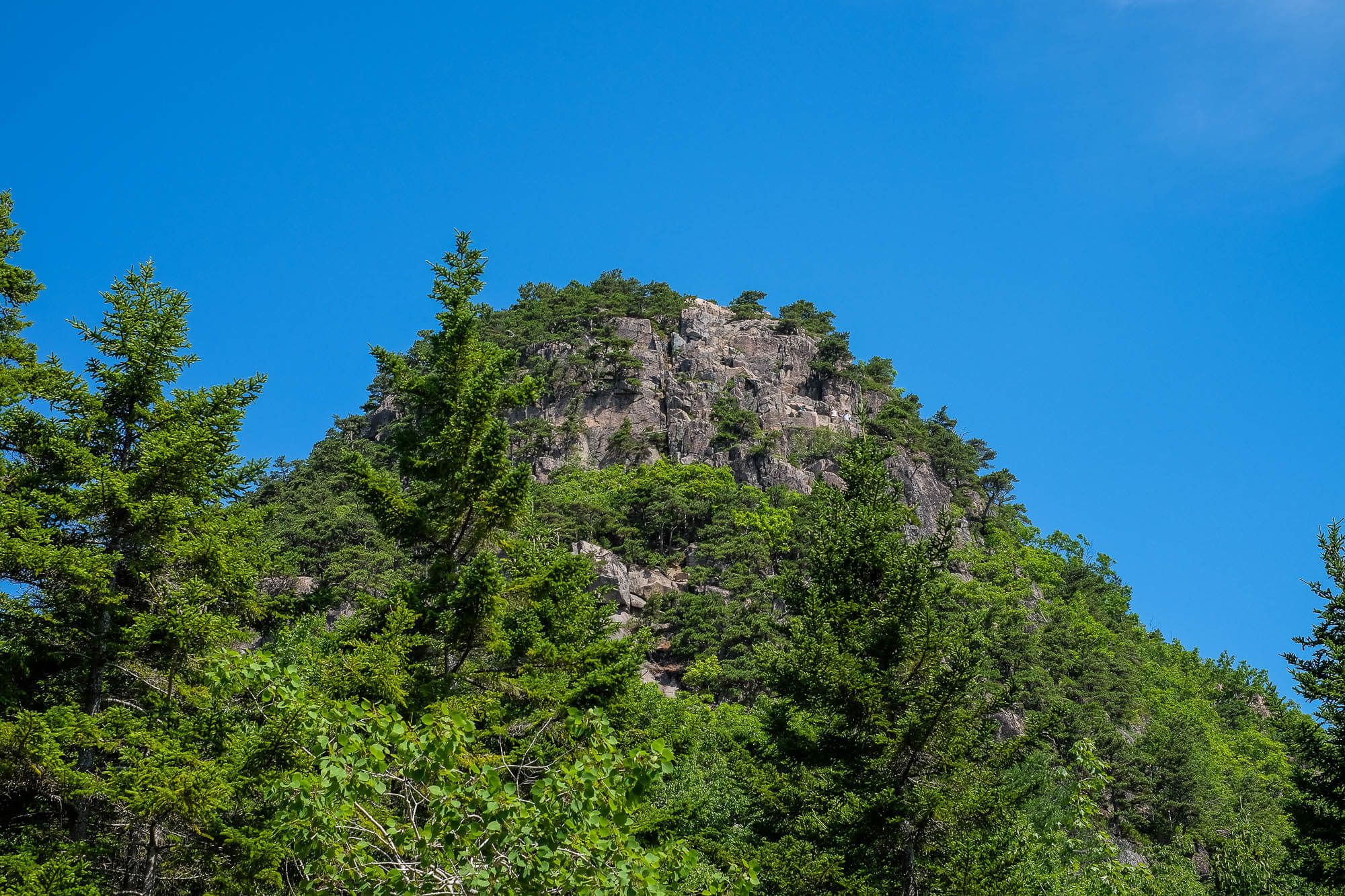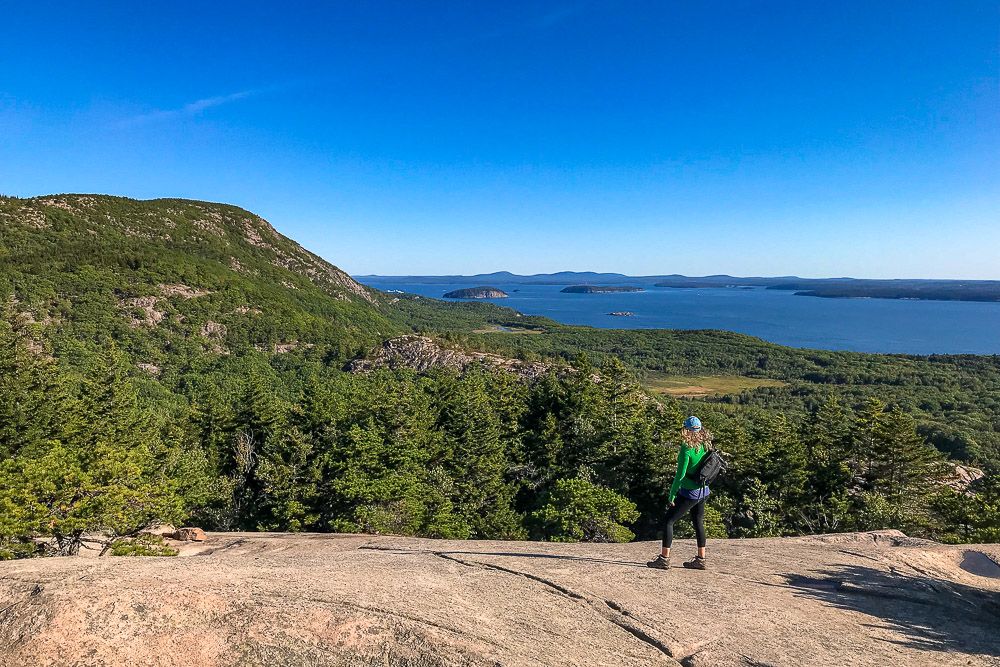 Not only is this one of Acadia's standout trails, but it's also one of its only iron rung trails (and may be the only one open during parts of the summer).
This is one impressive hike. Get ready to break a sweat. And get ready to wake up early to beat the crowds there. I usually reache the summit just a little after 9am, and I wish I would have started about a half hour sooner.
So start your day with the Beehive.
And if you want to extend your hike, think about adding on Gorham Mountain after you hike the Beehive. You'll hit the Beehive Trail, Gorham Mountain with some great views, and then come back via the Ocean Path.
Want something even more challenging? The Precipice is the ultimate iron rung trail. It's much, much, much harder than the Beehive. But it's closed for most of the season. If you're here in the fall, check out my guide on the Precipice to see if you are up for it!
2. Park Loop Road
Then after the Beehive, it's time to tackle the rest of the Park Loop Road. Or at least its highlights. There are three in a row as you head south on Park Loop Road (which is a one-way road along the coast so you have to head south).
But spend some time exploring the coast beyond these main stops as well. You'll find amazing scenery all along the Ocean Path.
So what are the highlights? From north to south along the road, they are Sand Beach, Thunder Hole, and Otter Cliffs. These are the main stops.
They each have their own parking lot if you want to hop from one to the next (though Sand Beach's fills up fast in the summer so plan accordingly).
If you only have time for 3 stops along the coast – these are the 3 you should see.
And if you didn't want to hike an iron rung trail, then consider the Great Head Trail right next to Sand Beach. It's mostly flat with only one steep section. And it's got some great views.
My dad who would never consider the Beehive trail loved this hike.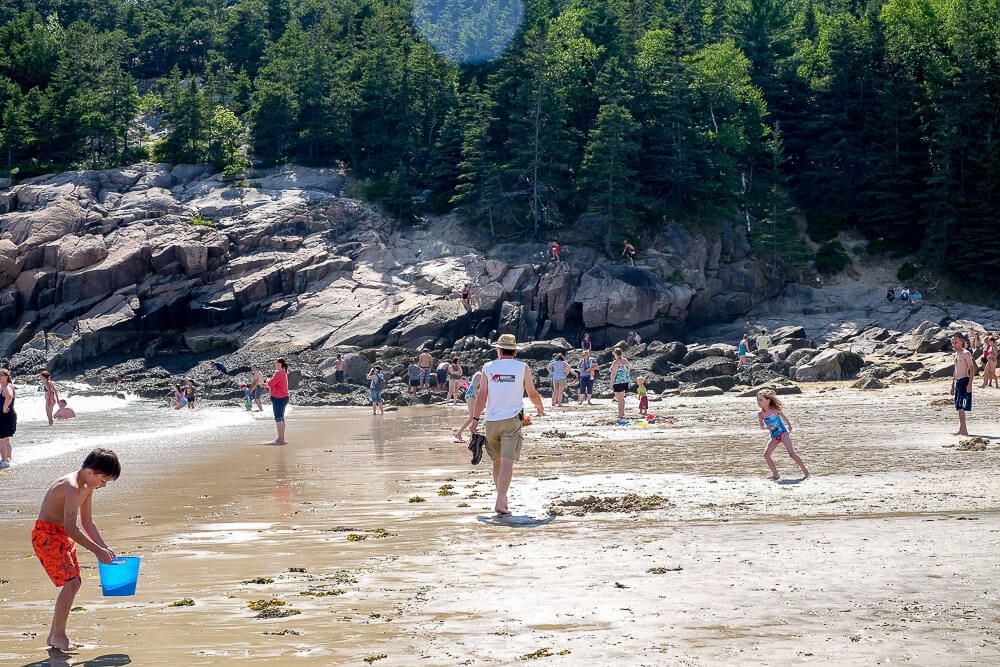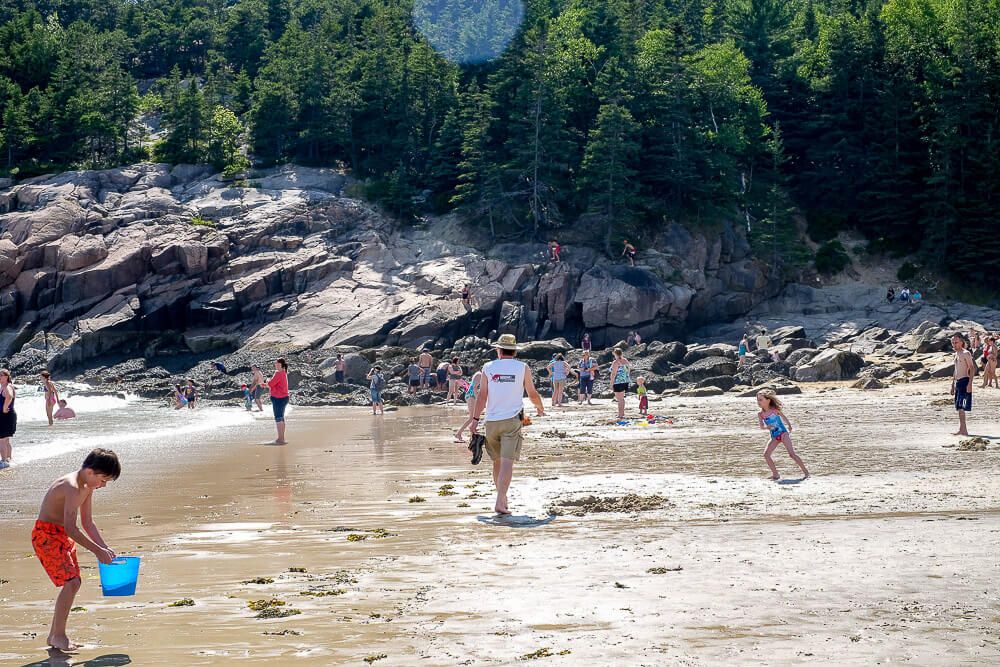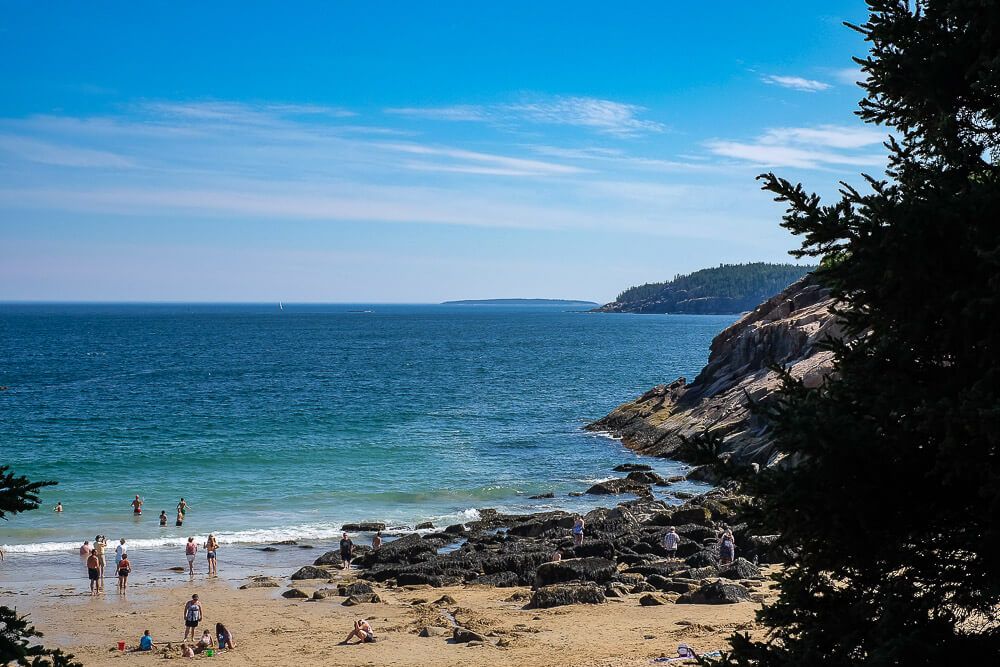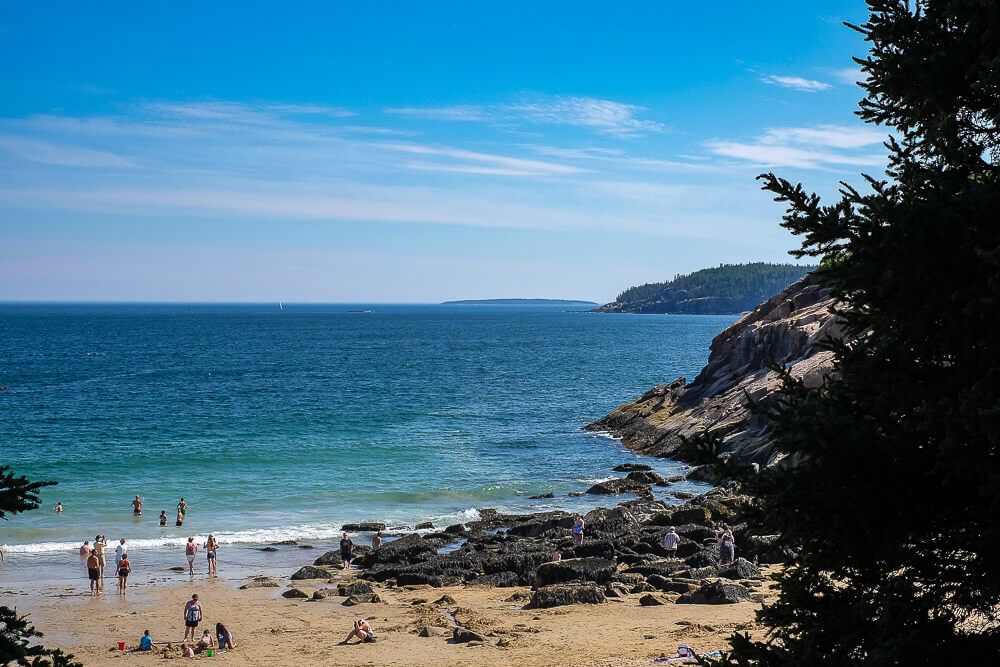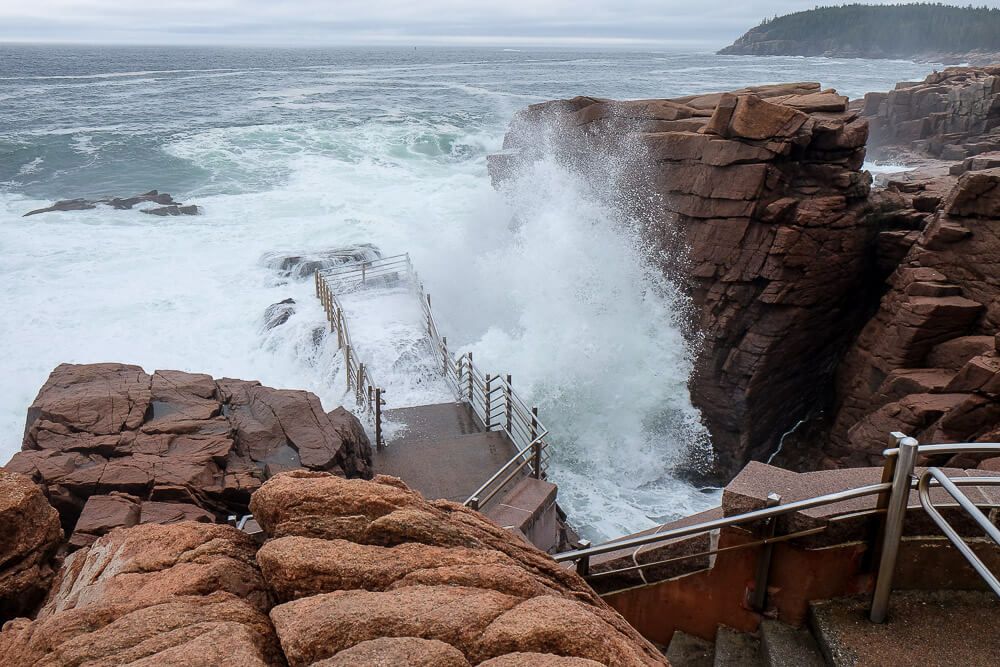 3. Jordan Pond
After that, follow the road inland towards Jordan Pond.
If you have the time, I would suggest stopping here and hiking the Jordan Pond Path, the Jordan Cliffs trail, or the trail to Bubble Rock.
The Jordan Pond Path is an easy trail that will take you all the way around Jordan Pond.
The Jordan Cliffs trail is an iron rung trail that will take you up to Penobscot Mountain's cliffs. (Though it's closed for most of the summer.)
And hiking to see Bubble Rock is one of the top things to do in Acadia National Park. South Bubble has its own parking lot so you don't have to hike up the mountain from Jordan Pond. But this lot is small and it may full.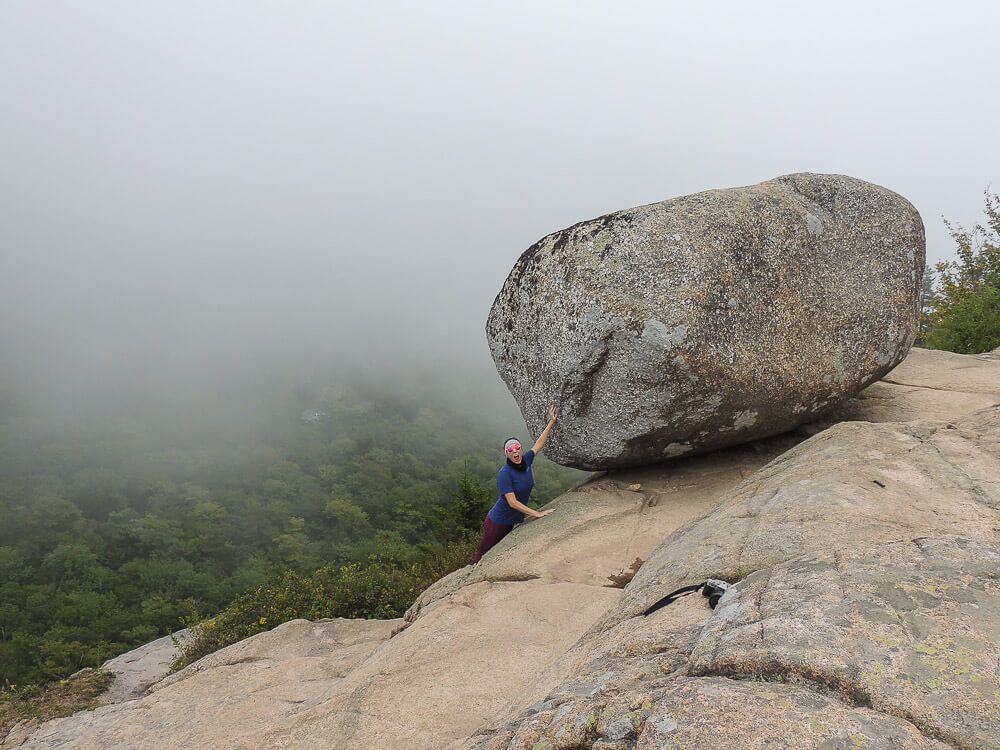 If you want to, you can also stop for lunch at the Jordan Pond House. Definitely consider making reservations during the high season. Or you can also eat dinner there as well. Dinner used to have a separate menu, but they've recently switched to just one.
If you are hungry but can't stop to eat, there is a small convenience store above the gift shop at the Jordan Pond House with some snacks and sandwiches. Refuel here if you need to!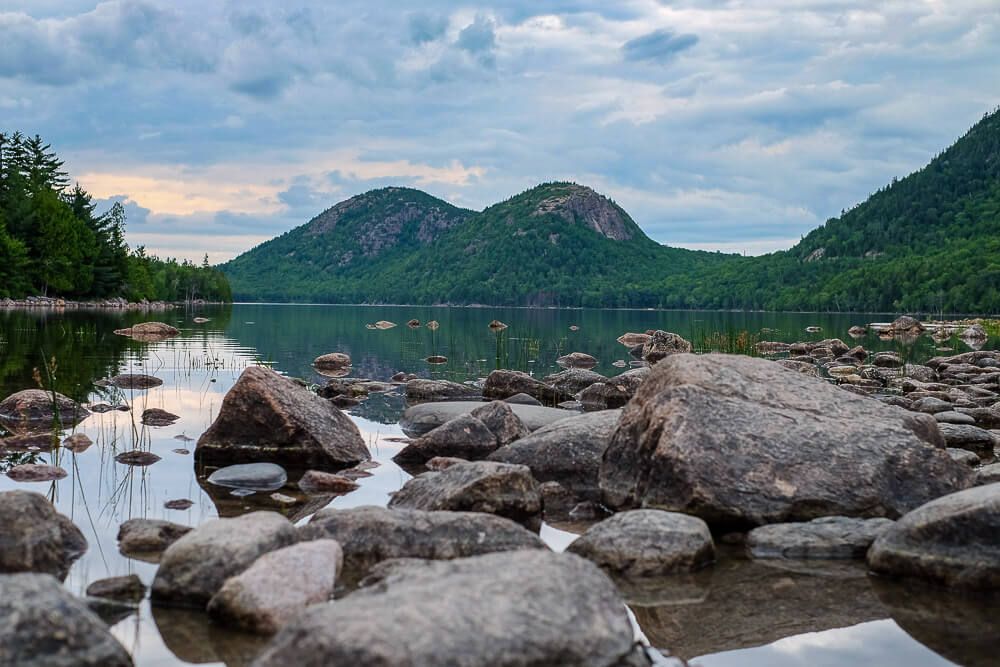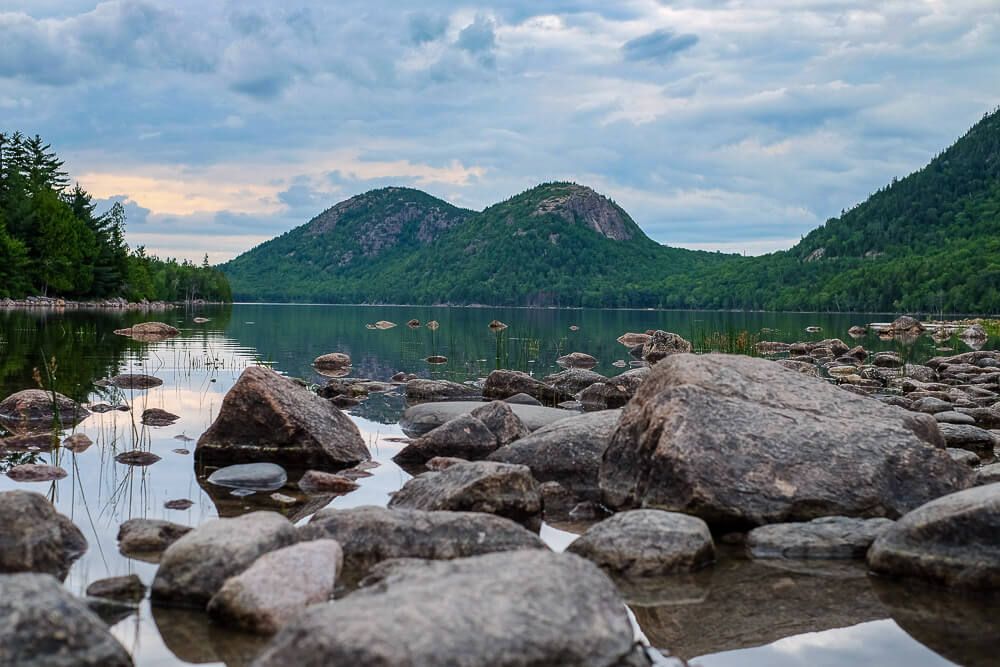 4. Cadillac Mountain
It's time to end your day in Acadia National Park by heading up to Cadillac Mountain.
Though sunrise is considered popular, I hate mornings. Like really hate mornings. So I've never been. Instead we've gone in the afternoon and around sunset. Both were beautiful.
IMPORTANT CADILLAC MOUNTAIN INFORMATION
You will now need a vehicle reservation in order to access Cadillac Mountain between May 26 & October 19. There is an additional fee ($6 in 2021) and the reservation must be made in advance online. You CANNOT purchase one at the park. There are two types of reservations (sunrise & daytime). And they each have a specific window for entry. Review the entire policy from the park before purchasing your reservation.
There's a small trail that rings the top of Cadillac Mountain. It's paved and very easy to navigate. If you want to see the view from almost every angle, then definitely do the trail.
Also don't forget to pull over at the stops (there are parking lots) on your way up to the summit. Some these have amazing views and offer a different perspective than what you'll see at the summit.
Now you may be super sweaty and tired after a full day of exploring Acadia. I usually am. This is normally the time we call it quits and head back to shower up.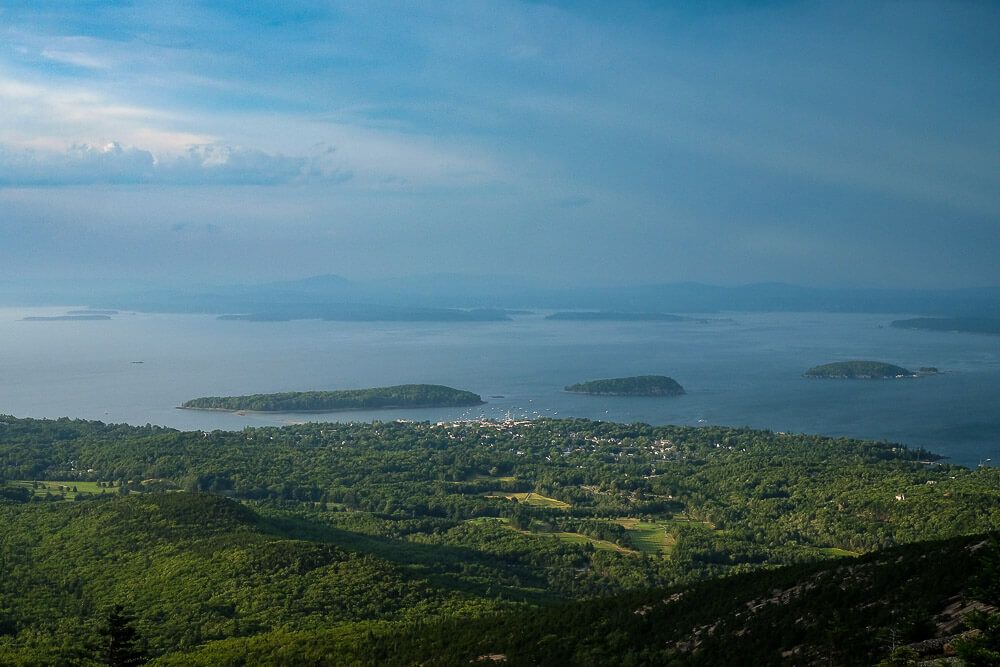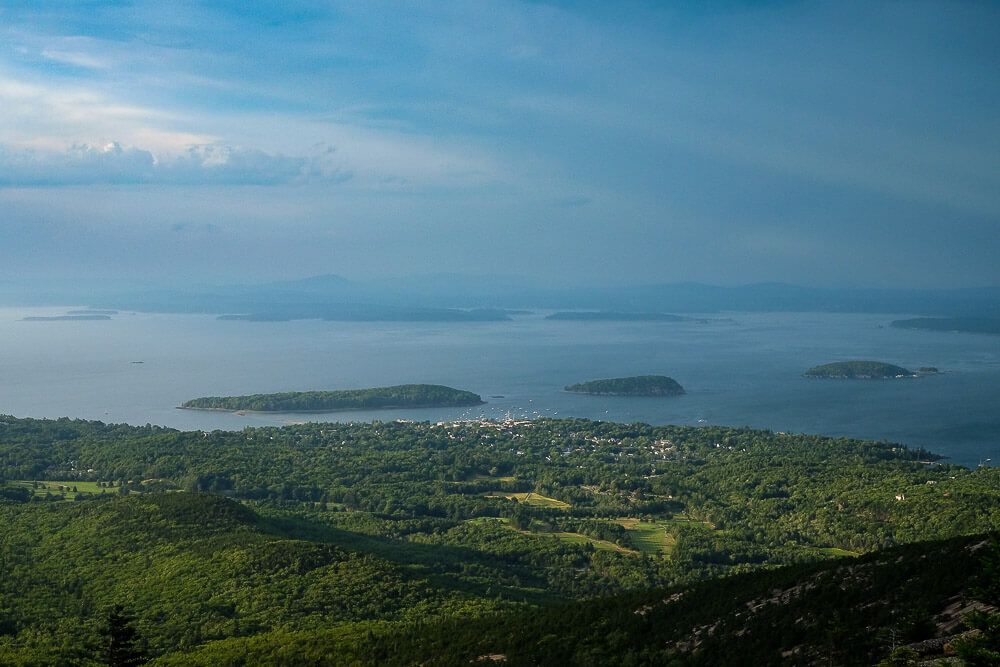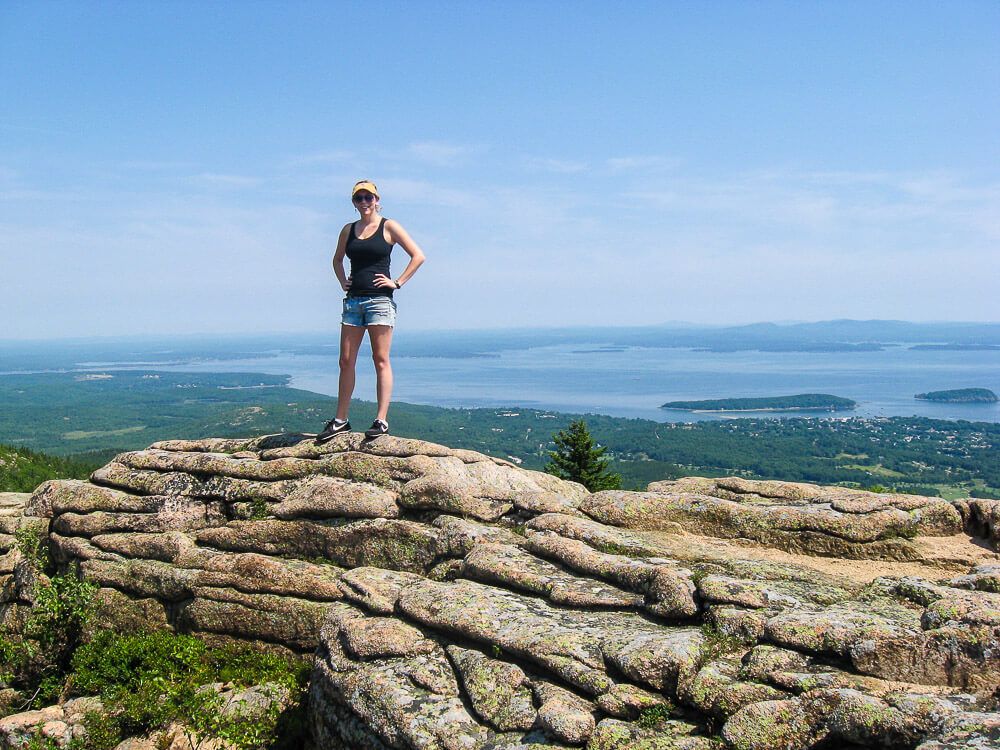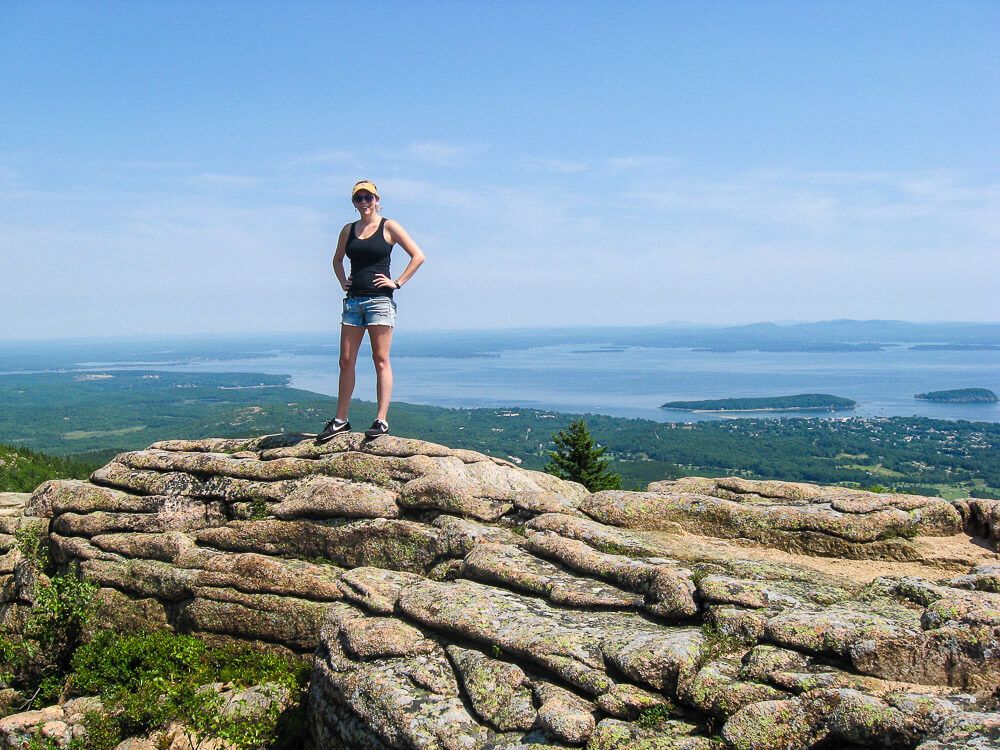 ---
Day 4: Do You Like Paddling Or Climbing?
If you are an adventurous sort, I would give either sea kayaking or rock climbing a go. Both are fantastic in Bar Harbor. And on one trip we actually did both (though on different days).
And I would schedule these for sooner rather than later in case the weather forces you to re-schedule.
1. Sea Kayaking in Bar Harbor
With sea kayaking, there are two main companies in town: National Park Sea Kayak Tours and Coastal Kayaking Tours.
We've gone with both and I honestly didn't notice a difference with the quality. Though they do go to different places so keep this in mind when you book.
Now I had two very different experiences sea kayaking. On our first trip, I had a great time. But on a subsequent trip I decided maybe sea kayaking just isn't for me. Or at least isn't for me if I have to be the one to steer.
I know that sounds really lame. And it has nothing to do with our guide or the tour itself. But, honestly, I just didn't have a great time. If you like kayaking though, I'm sure you'll love it.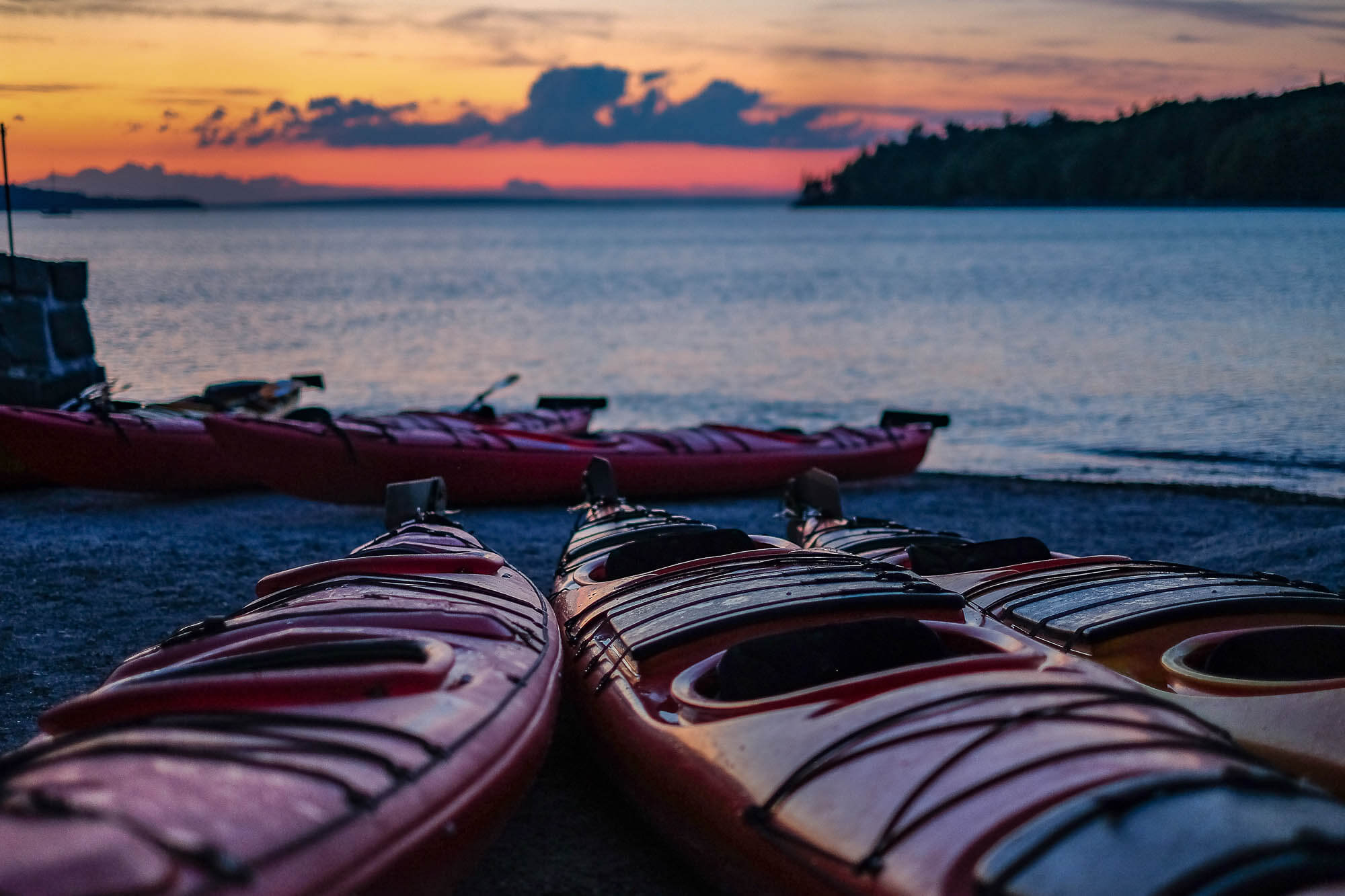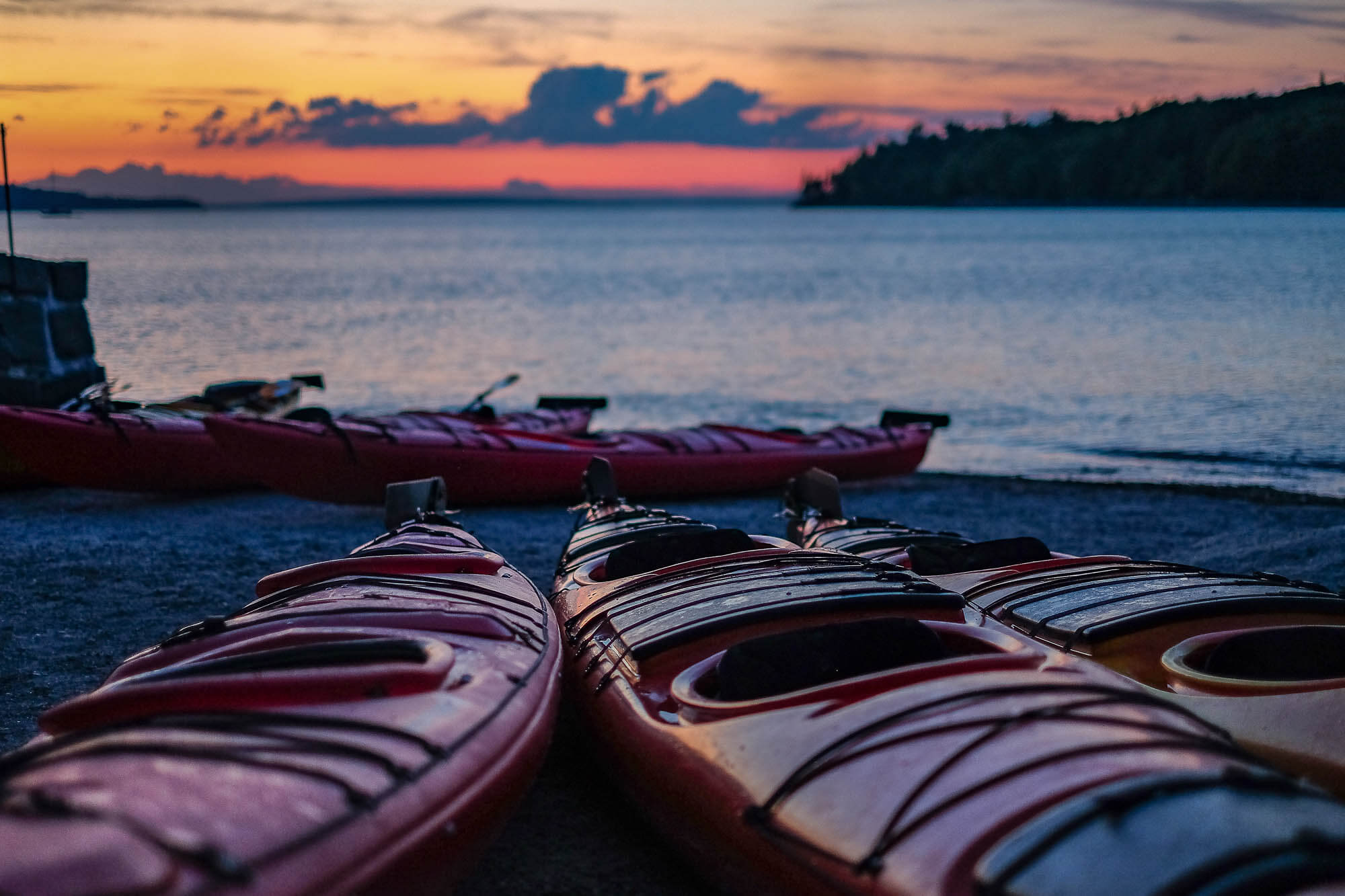 2. Rock Climbing in Bar Harbor
On the other hand, I went rock climbing on one of my trips and had a blast. Even though I'm someone who is usually afraid of heights, it was thrilling!
I did have to reschedule this climb once due to the weather (rock climbing in the rain is a bit "unpleasant" they said). But it was beautiful on the day we actually went out.
I climbed with Acadia Mountain Guides at Pebble Beach and Otter Cliffs. (Atlantic Climbing School is the other outfit in town, but I don't have personal experience with them.)
If you are even in the least bit interested I would check it out!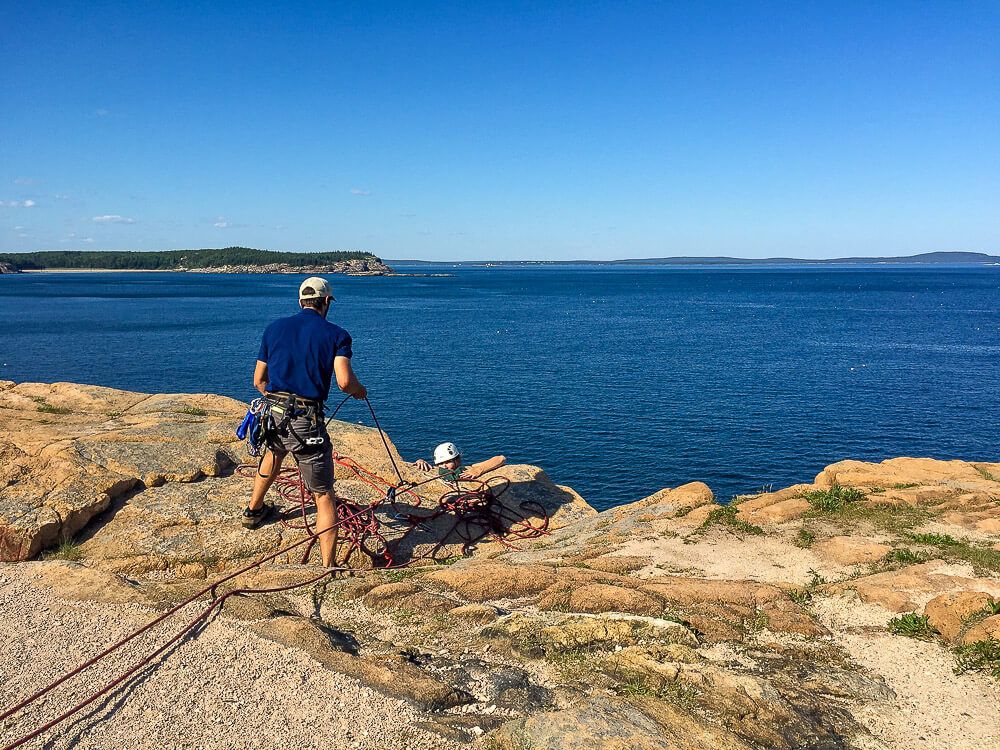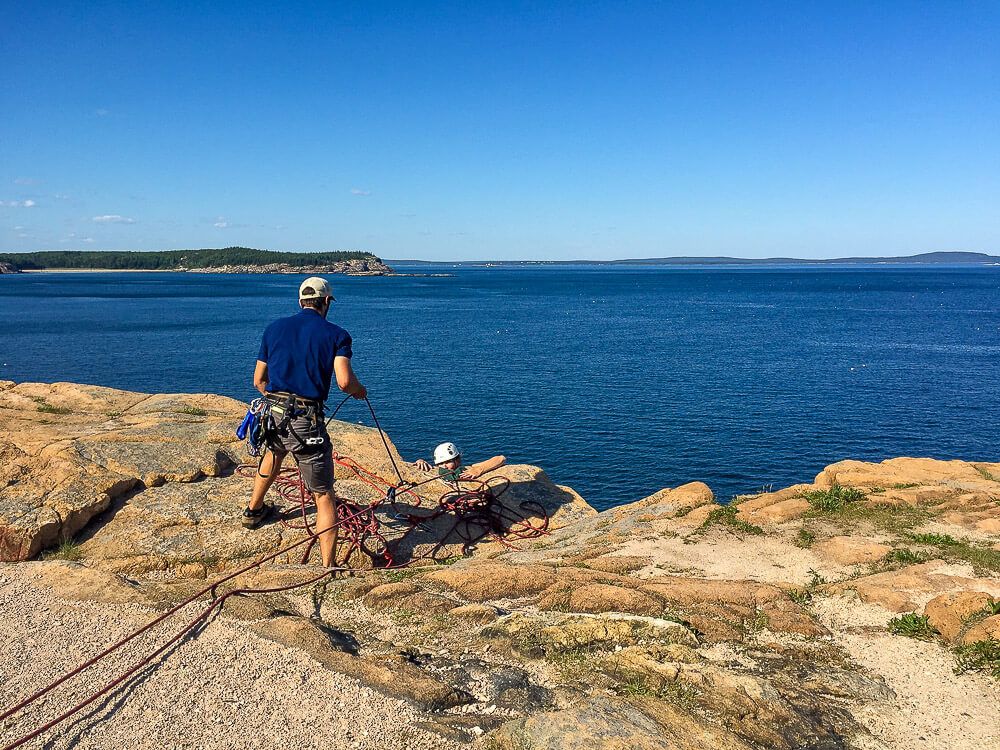 3. Atlantic Brewing Company
Now after a morning of adventuring (either on the water or on the side of a cliff), it's time to relax. And I can think of no better way than a brewery tour at Atlantic Brewing Company.
Now hopefully at this point you are already familiar with the company (because like literally every bar/restaurant in town serves their beer), but it's time to go behind the scenes.
And the best part? The tour is free! And it includes free tastings! Literally one of the best things we did.
Our favorite beers? My Dad was all about the Real Ale, while I gravitated towards the Ginger and the Blueberry.
(Also we did go to their main location on Knox Road to do the tour. Though you can hit up their taproom in town if you're not interested in a tour.)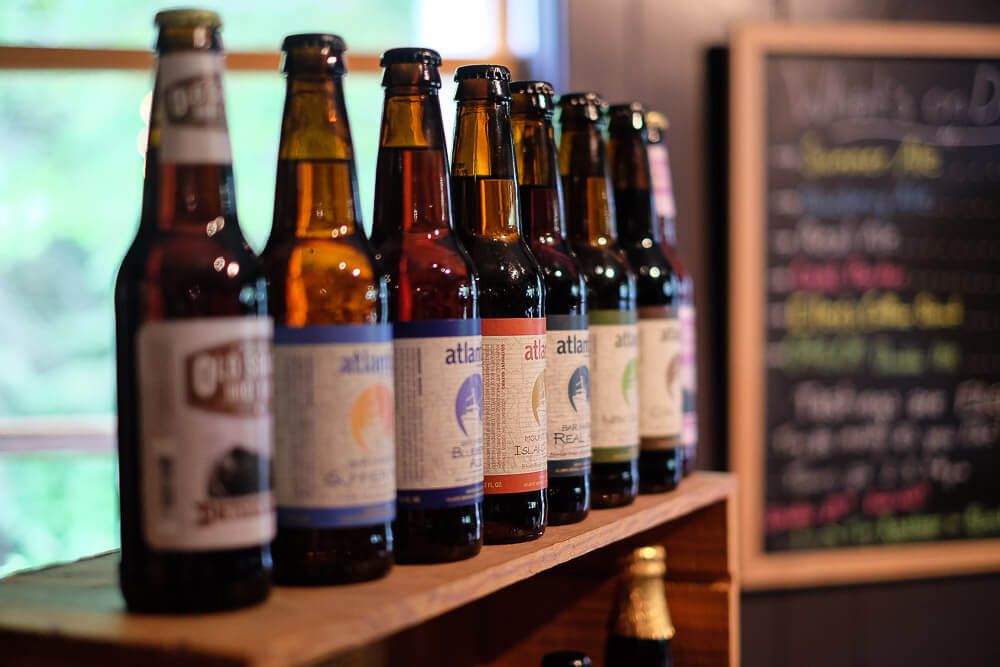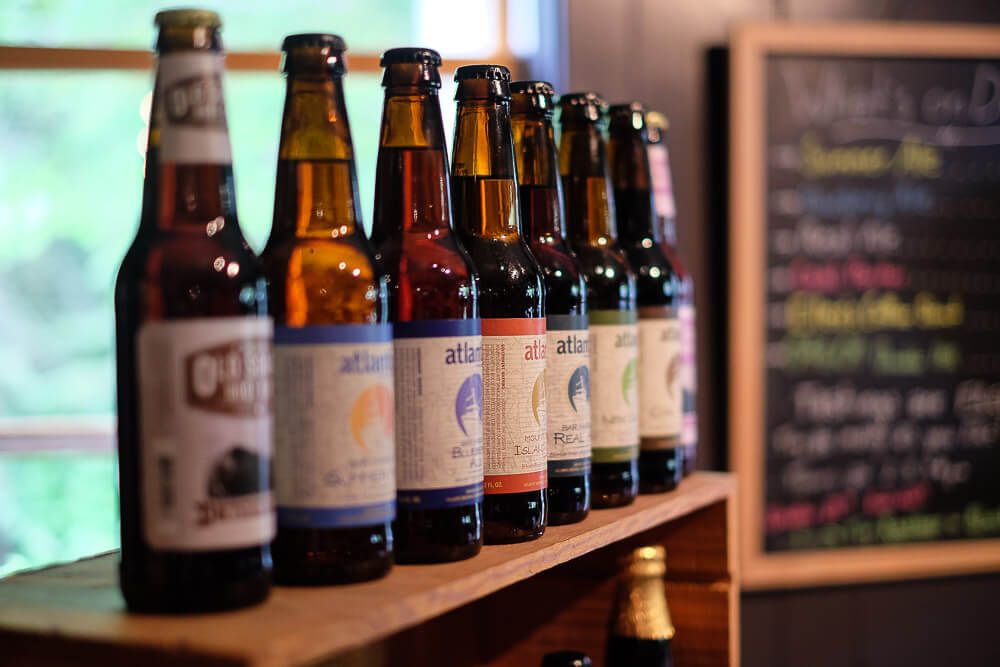 ---
Day 5: Biking The Carriage Roads in Acadia National Park
If you are into biking, or even into the idea of biking, then renting a bike and heading out onto the carriage roads is a great way to spend a day exploring a different part of Acadia.
What are the carriage roads? Well think of them as really big trails that crisscross through the heart of Acadia National Park (at least on the eastern side). And they get their names from the days when people still rode around in carriages.
Biking and hiking are the ways most people enjoy them now.
There are several different "loops" you can do, but if you have the time, then you got to go for the main one – the Eagle Lake & Jordan Pond Loop.
This is not an easy route (10+ miles), but if you hit it when it's cooler, it is remarkably easier. And you'll be treated to some amazing scenery along the way.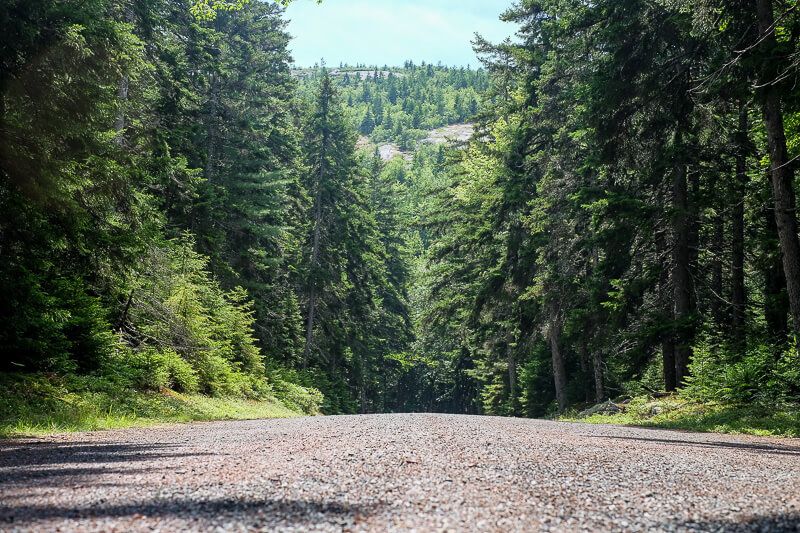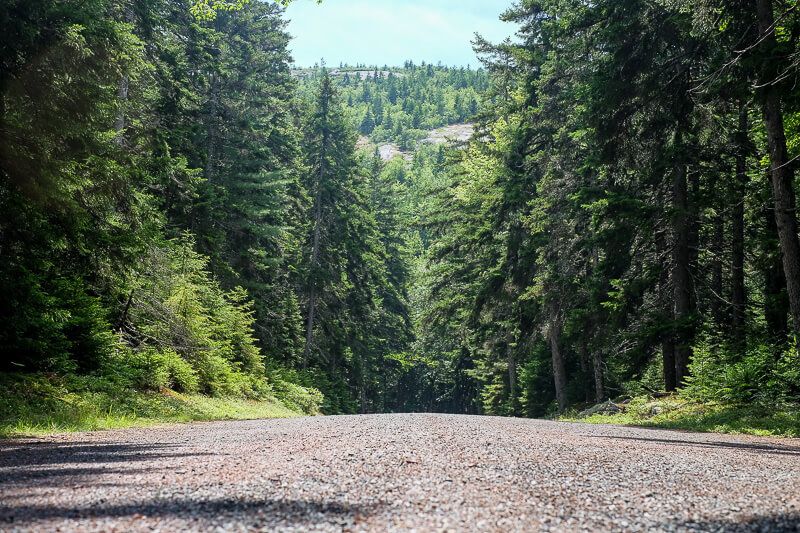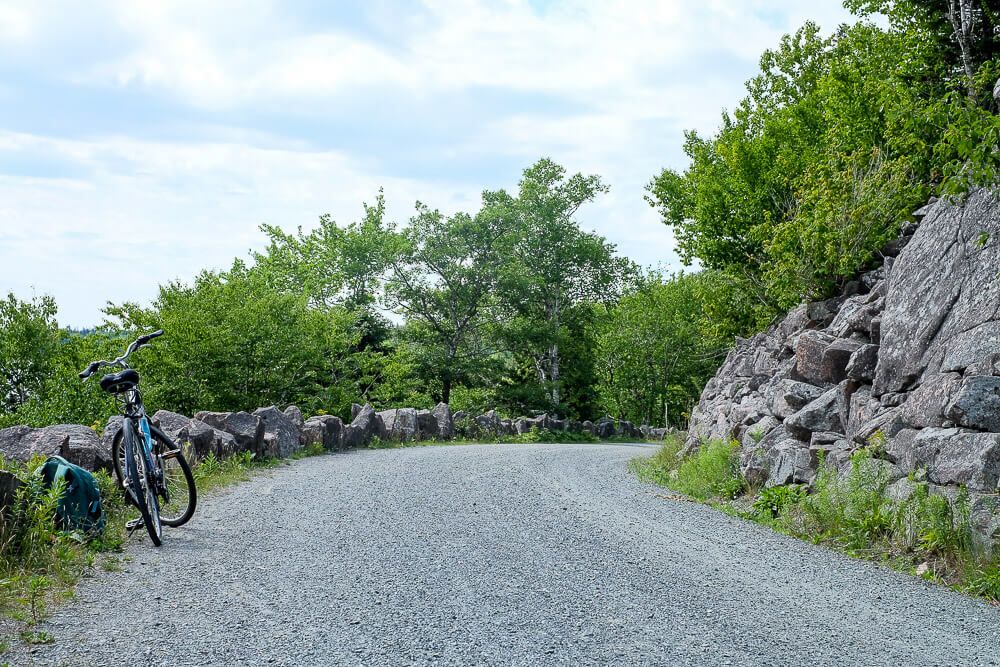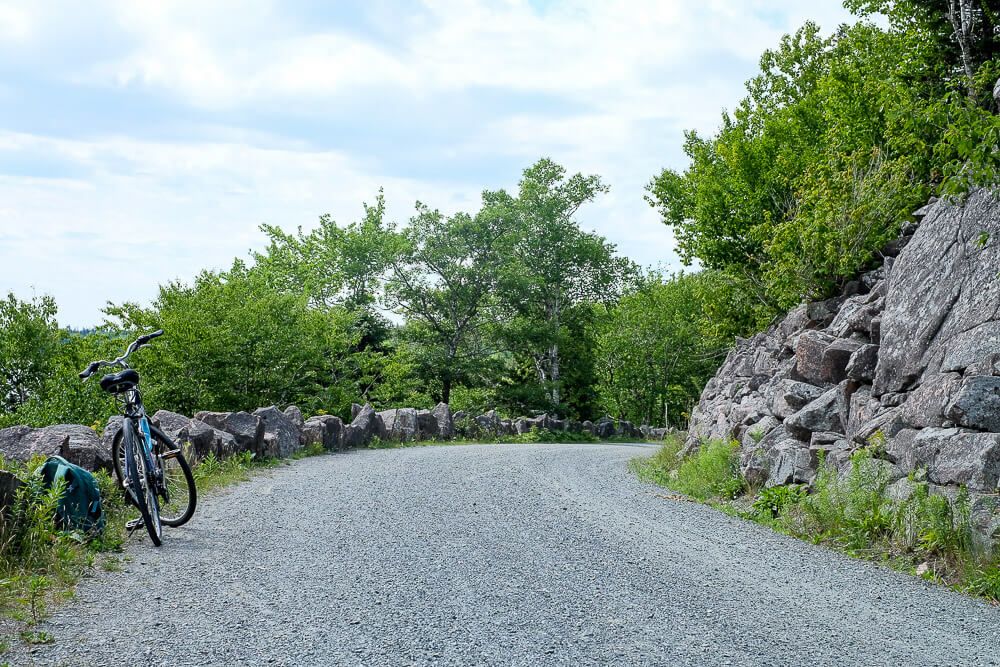 Now a couple of tips. For starters, make sure to use the Island Explorer Bicycle Express. This stop is located at the north end of Eagle Lake and will transport you (and your bike) to and from the Village Green.
Also don't do this on the hottest day. On our first trip, my Dad and I wanted to die by the end of the loop. It was so hot. Ungodly hot.
But the second time we did the main loop it was cooler. Even pleasant. And the loop seemed 200 million times easier. So much so that we couldn't stop talking about it.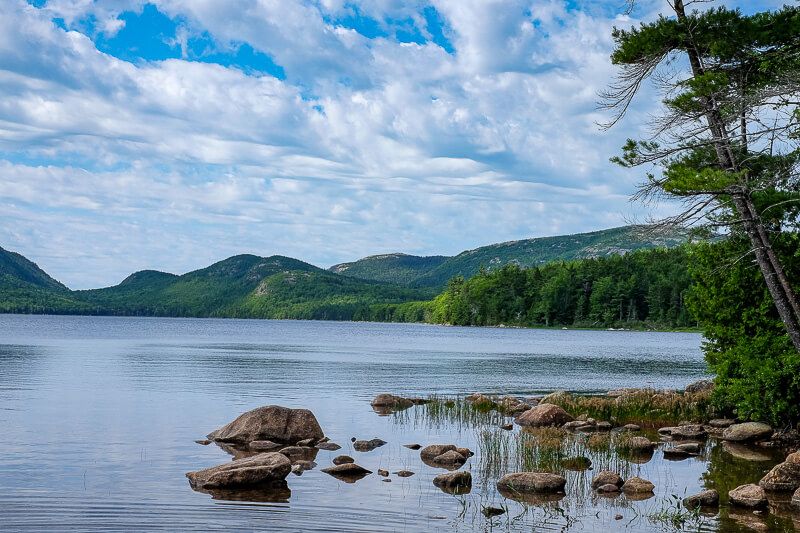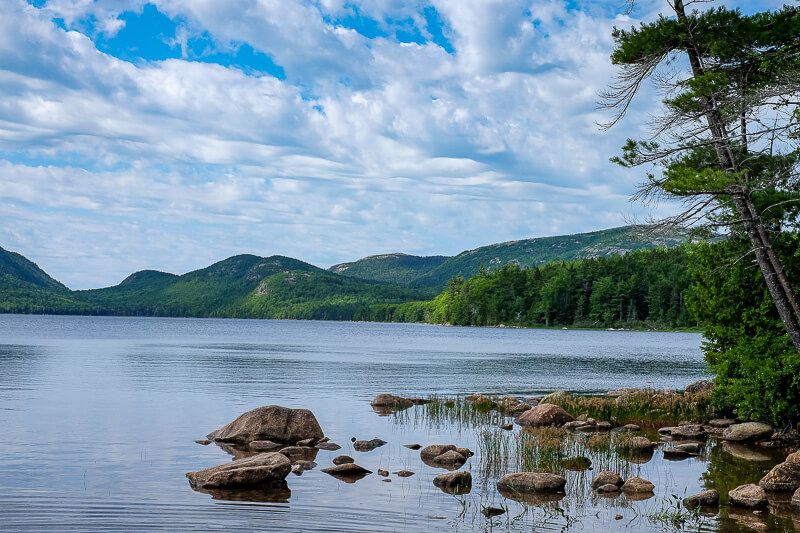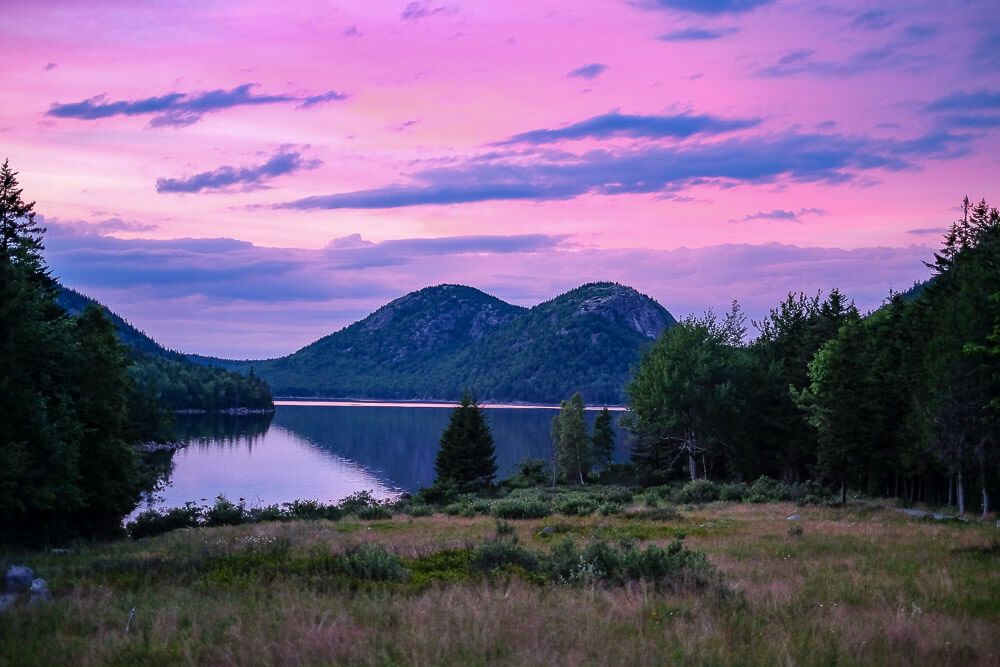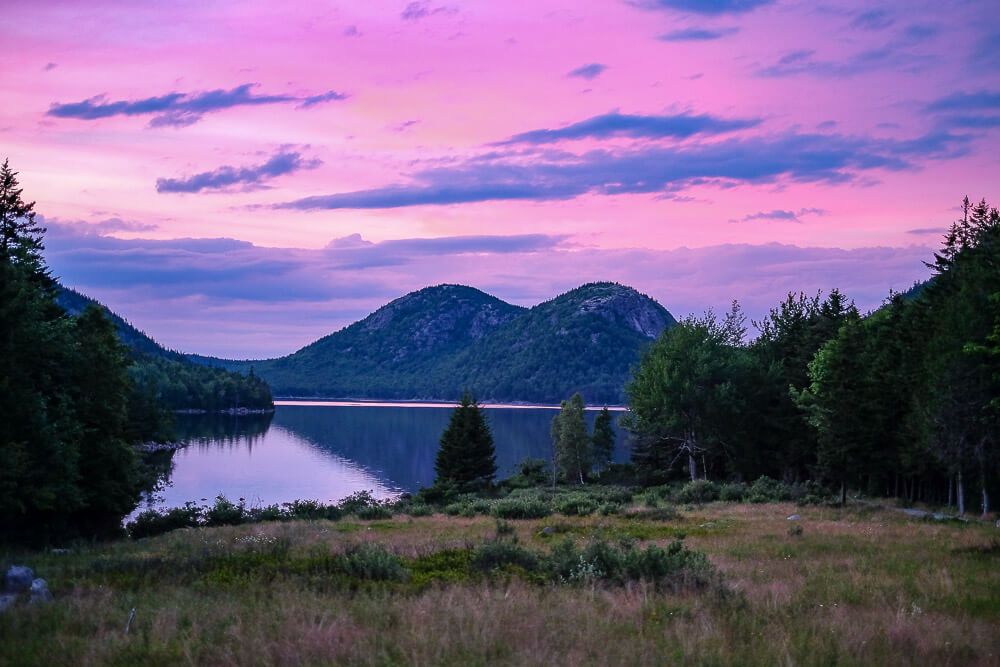 ---
Day 6: Other Things To Do In Bar Harbor & Acadia
This is it. Your last full day in Bar Harbor! There are a ton of options. Here are some suggestions:
1. Try out some of the other carriage road loops (like the Witch Hole Pond Loop) if you still have your bike.
2. Head back out on the Park Loop road and walk the Ocean Path. This trail runs along the coast and will give you a different perspective than if you had just stayed in your car.
3. Try some additional hikes: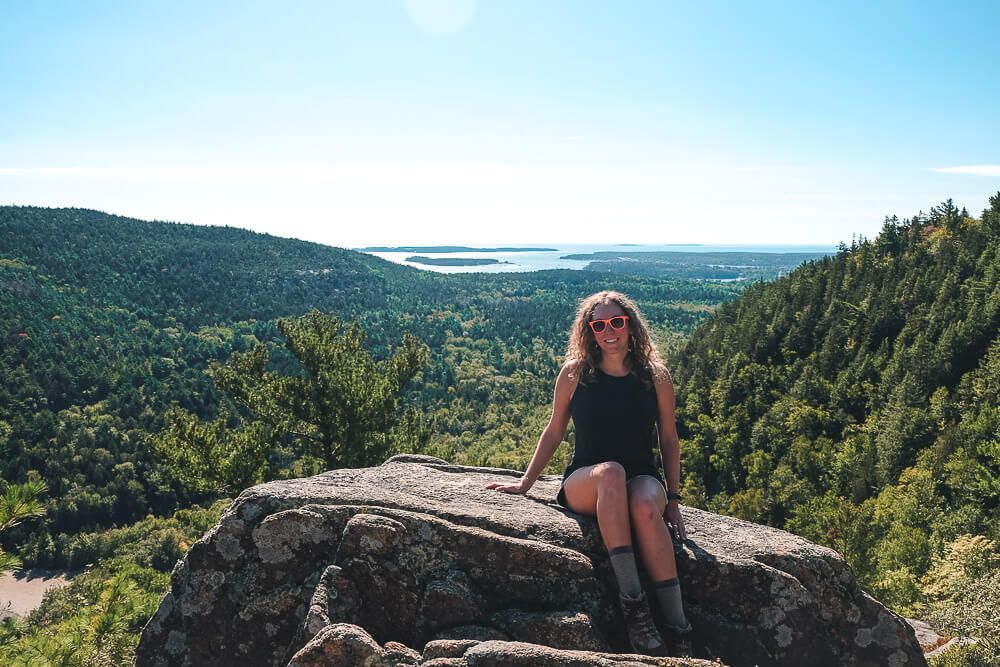 4. Did you give sea kayaking or rock climbing a go? Interested in the other?
5. Do you have your own car? Maybe consider a drive down to Northeast Harbor or Southwest Harbor. These two smaller communities are beautiful and far less busier than Bar Harbor. You can hit both in a single afternoon.
6. If you're over on the west side of the island, Bass Harbor Island Cruises offers an afternoon nature cruise that's only 2 hours long. Now while I've never gone on this cruise, but I've heard good things about it!
7. I would definitely consider ending the day over on the other side of the island. First stop? The Bass Harbor Lighthouse for sunset. This is a classic Acadia site. And it's absolutely breathtaking at sunset. Though please note that this is a popular sunset spot. So you'll be sharing the space with others. And you may want to get there early to get a parking spot.
8. For dinner definitely head to Thurston's. This is a great lobster pound located just around the corner from the Bass Harbor Lighthouse. If you haven't had a real lobster yet, this is the place to go to.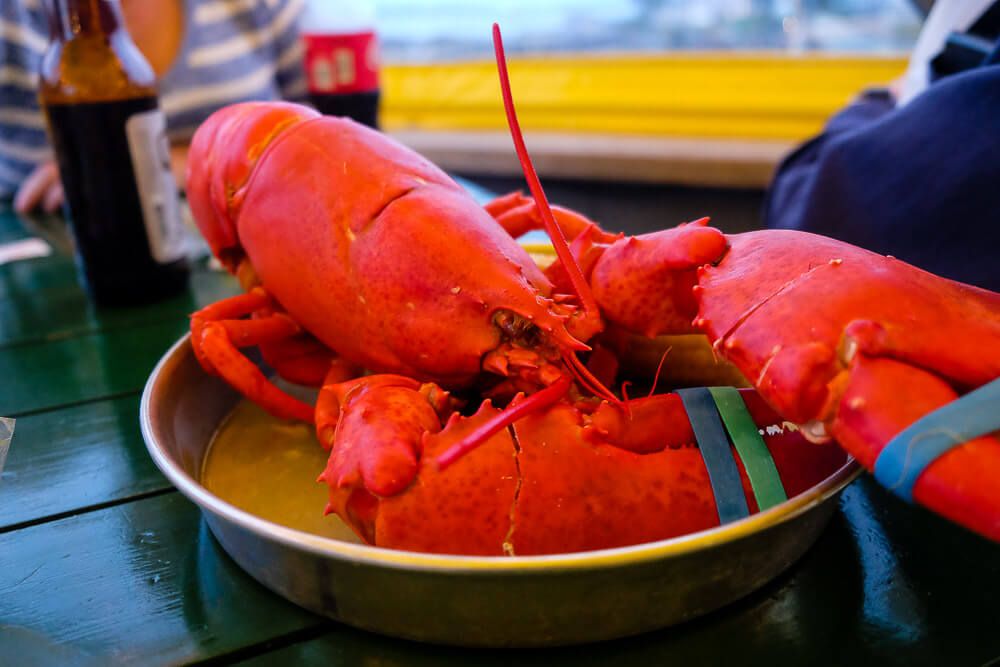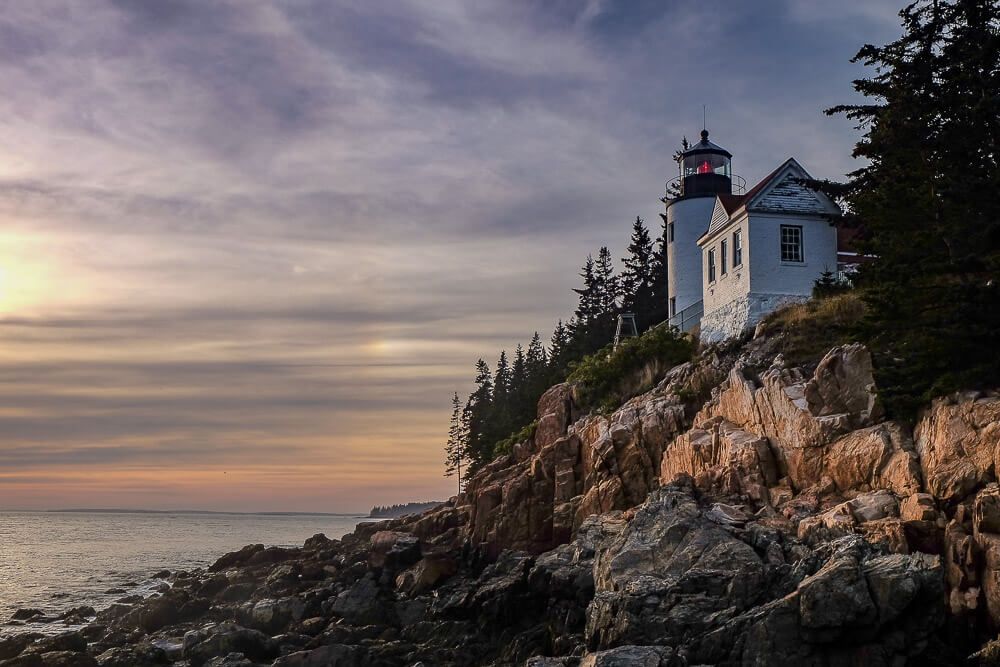 ---
Day 7: Head Home
This is the day to head on home. Say goodbye in whatever way you feel is best. One of my favorites is grabbing a seat in Agamont Park. Sitting there and watching the boats go by in the harbor is probably my strongest Bar Harbor memory.
So make sure you take some time to just relax and enjoy doing nothing – even if it's just for a few minutes.
But what if you want a proper breakfast? Go for the blueberry pancakes at Jordan's or the eggs benedict at 2 Cats.
---
How To Get To Bar Harbor
Okay so first up, how do you get to Bar Harbor, Maine?
Well there are a few ways. But it's not super easy. If you live within driving distance (whatever that means for you) – I would drive. You'll have the flexibility to go where you want and when. And you'll save money on renting a car.
But what if you don't live within driving distance to Bar Harbor? Well depending on your budget, you can fly to Bar Harbor (I think this would be quite expensive). Or you could fly to Bangor and then rent a car (this is what my family does).
And there are even a few options for those who don't want to rent a car. Mostly these involve getting yourself to Boston, Portland or Bangor (all routes go through Bangor) and then taking a bus or shuttle to Bar Harbor. See the above links for information on those buses.
---
How To Get Around Bar Harbor
Okay so now that you're in Bar Harbor – how can you get around? Let me introduce you to the Island Explorer. This free shuttle operates June to October and has routes all over Mount Desert Island. If you are heading to any of the major stops, check the routes to see if you can catch the shuttle.
When we stayed at the Holiday Inn Regency we took the Island Explorer into town every single day. Parking in Bar Harbor is a pain in the ass and there was no way we were driving in everyday for dinner.
So instead we caught the Island Explorer (Bus #2) to and from the hotel. Note that not all of the hotels are on the route, so make sure to check with your accommodation and the timetable/map.
And then lastly, if you have your own car and enter Acadia National Park, you'll need a pass. You can buy one pass for the entire car and it'll be good for a whole week. You can also buy it online before you get there too.
---
Places To Eat In Bar Harbor
Maybe the most important part of the trip – eating. My family loves eating. We eat out a lot. We plan our days around our meals. It's a definite thing for us.
And every year my mom records everything we ate. My favorite and go-to? The lobster roll. More specifically, the warm lobster roll. So good!
And my Dad just eats lobster everything. One year it was his goal to eat lobster once every day (in one form or another). Definitely not hard to do in Bar Harbor.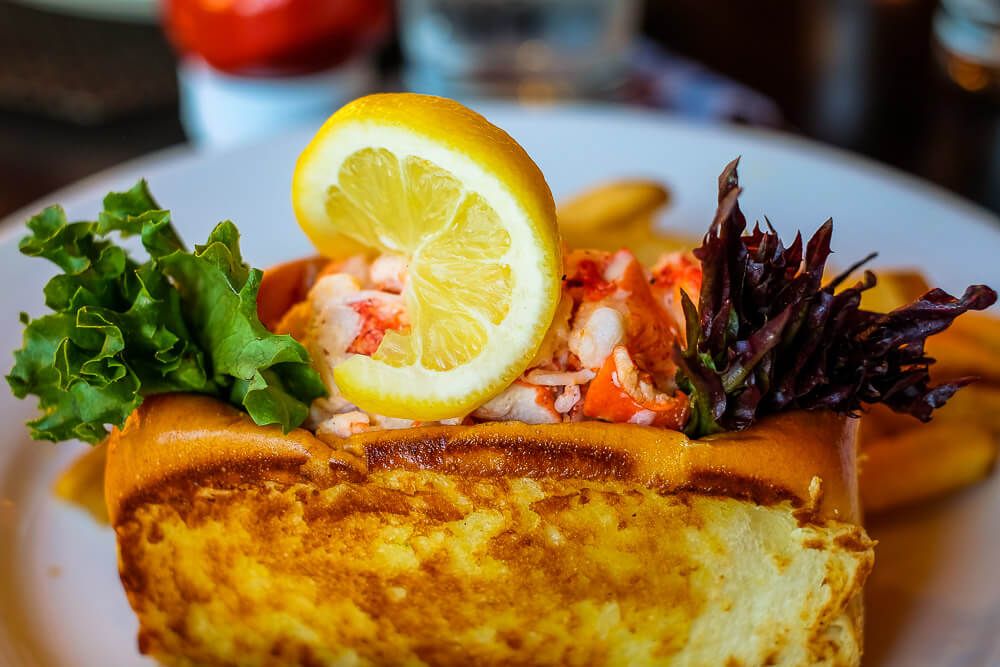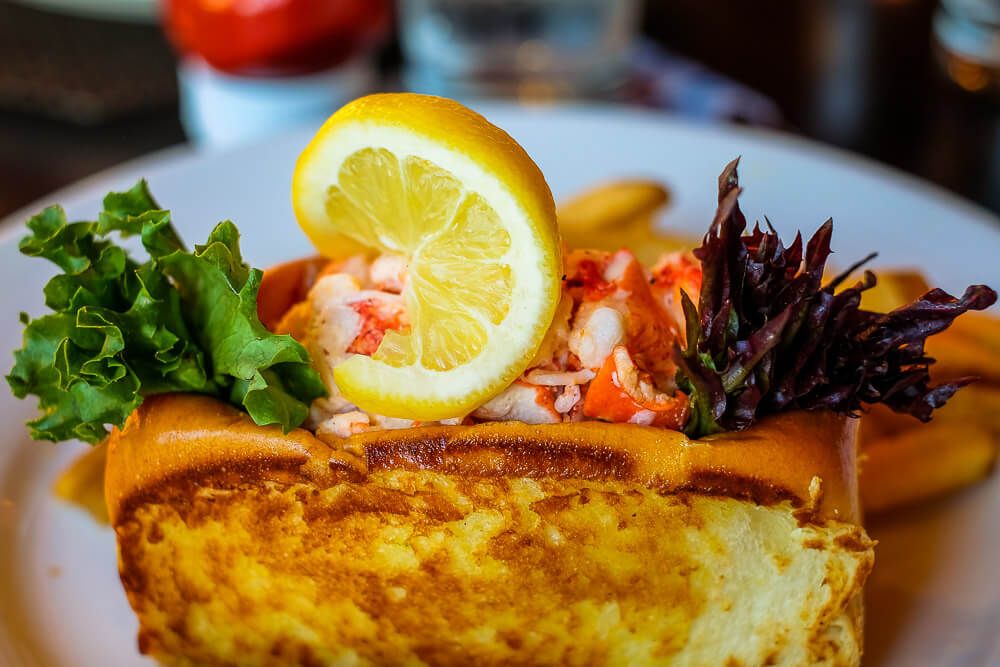 So here are all the places we've eaten (and there are probably more that I'm forgetting).
Where to Drink in Bar Harbor
Bar Harbor has a few cute bars in downtown. Below are my favorites.
---
Places To Stay In Bar Harbor
On our first trip to Bar Harbor we stayed at the Holiday Inn Regency (along Eden Street). There was only three of us (Dad, Mom, & me) and though the room was a little crowded, we made it work.
Plus it had an amazing pool. (And was on the Island Explorer bus route!)
If you want to stay in one of the classic Bar Harbor inns though, you can't beat the Bar Harbor Inn & Spa. If it has availability, you'll be in the heart of Bar Harbor. Everything will literally be on your doorstep.
For our most recent trip though, our family has gravitated towards renting a house. The extra space was wonderful (especially since my sister joined us and at 4 adults, one hotel room is tiny). There are several options in Bar Harbor and on Mount Desert Island.
And if you want to try camping, check out the official Acadia National Park campgrounds as well as other private campgrounds on the island. I've never camped, so I can't give a review of these…yet!
New to AirBnb? Click here to get free credit towards your first stay!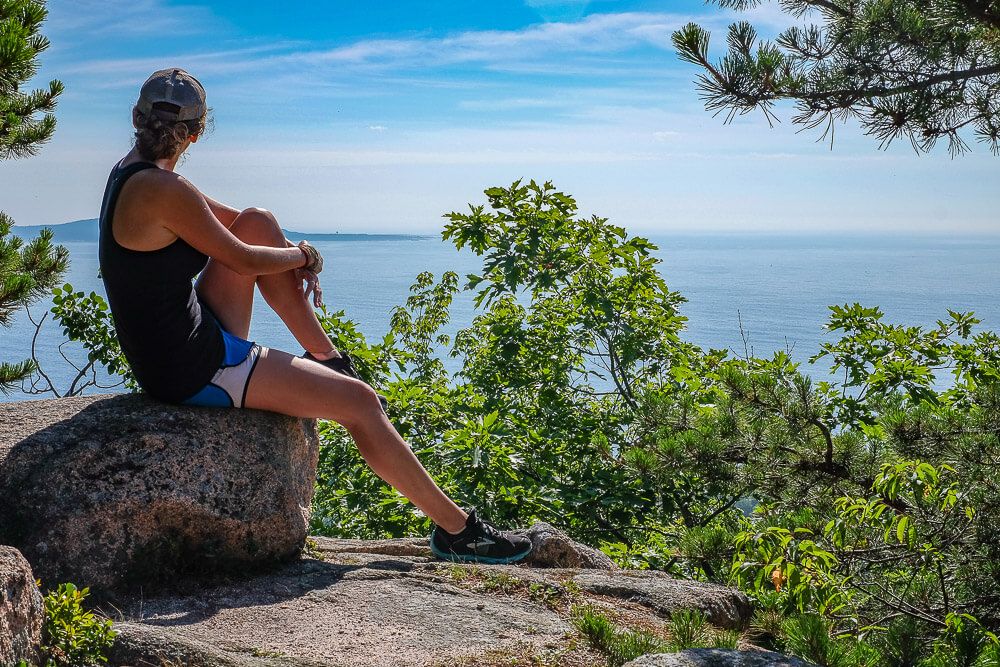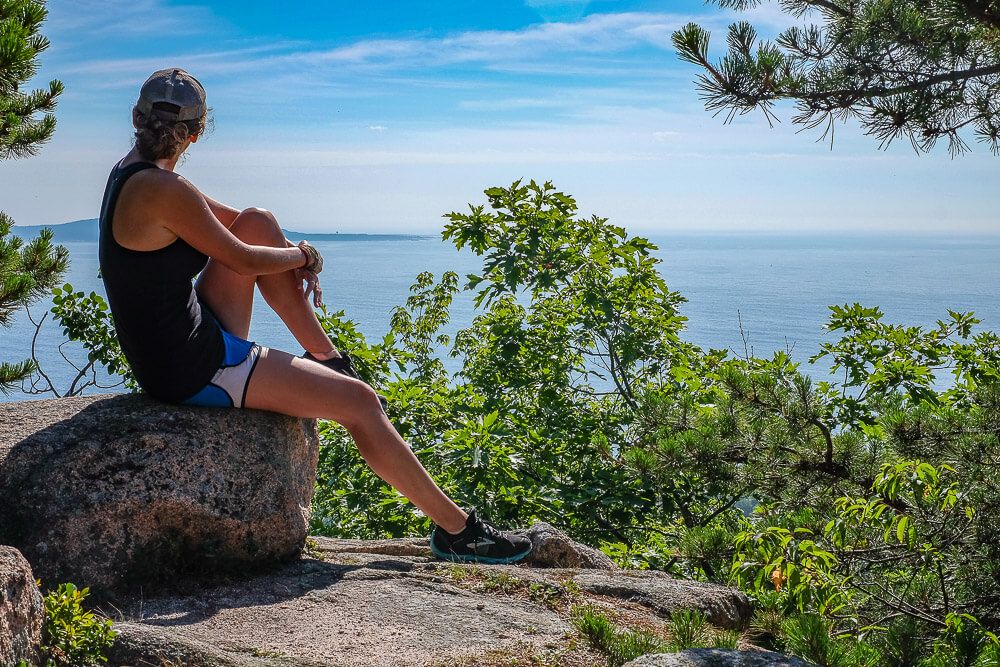 ---
What to Pack for Bar Harbor
If you're not from the New England area, then be prepared for slightly cooler temperatures in the summer and fall. And it's downright cold in the winter.
Most of the time you'll be fine with casual clothes, though you may want one nice-ish outfit if you go eat at the Jordan Pond House for dinner.
And if you're going hiking, I'd definitely consider some hiking accessories depending on the trail. Think a map, a good pair of shoes, and some sunscreen. You may also want some hiking poles if you plan on hitting a lot of trails (though these won't help you on the iron rung trails).
Some of my favorite hiking gear:
Planning your trip to Acadia National Park & Bar Harbor?
Itineraries & Guides
Hiking Trails
Other Things to Do in the National Park and in Bar Harbor:
Bass Harbor Lighthouse for sunset
Whale Watching Tour
Walk to Bar Island
Atlantic Brewery Tour
Ghost Tour
Where to Stay:
On our first trip to Bar Harbor we stayed at the Holiday Inn Regency. It was a little outside of town but was on the Island Explorer bus route which was handy.
If you want to stay in one of the classic Bar Harbor inns though, you can't beat the Bar Harbor Inn & Spa. This is literally in the heart of Bar Harbor.
When my whole family goes, we usually rent a house with VRBO or Airbnb. The extra space for 4 adults really comes in handy. There are several options in Bar Harbor and on Mount Desert Island.
There's also a few campgrounds in Acadia National Park as well if you'd like to stay in the park. Make sure to check the location of where they are.