Do you have just one day in Acadia National Park and Bar Harbor? With such limited time, you'll want to make the most of your time on Mount Desert Island. There's a lot to see here. But you can hit the highlights if you have a plan.
Below are my suggestions after several visits to the island with my family over the years. But please know that making this was very, very hard. I've had to exclude great things that I love. If you have more time, definitely check out my one week itinerary for Bar Harbor & Acadia National Park.
To make this even better (and to have an excuse to add just a bit more), I've tried to indicate alternatives that are perfect for the outdoor lovers. I wanted this to be as accessible as possible to everyone, but also include a few of my favorites that are a bit more adventurous.
My one day itinerary to Acadia National Park is also best suited for those who haven't been to the park before. I've focused on the highlights of the park and if you've already visited, you may want to try some other activities. Check out my post on the best things to do in Acadia or a breakdown of all my guides at the bottom of this article for ideas!
---
One Perfect Day in Bar Harbor & Acadia National Park
Sunrise on Cadillac Mountain
The most iconic way to start your day in Acadia National Park is to catch the sunrise from atop Cadillac Mountain. This involves waking up very early and driving up to the top of the mountain. It's a windy road, so take it slow.
You'll also want to wake up well before sunrise to ensure you get a parking spot (they fill up fast!) and a good spot to watch the sunrise from. Plus I've read that the 2 hours before sunrise, as the sky starts to brighten, is truly magical.
Now why would you want to catch the sunrise here? Well it's the first sunrise in the United States. (Technically only from October to early March, the rest of the year another hilltop has that honor.)
But regardless of the time of year, people flock here to see the first sunrise atop the highest point along the Northern Atlantic coast.
If you do want to head for sunrise, I'd go early. Aiming to get to Cadillac Mountain a good 1.5-2 hours before the actual sunrise time. That way you get the full experience. And ensures you get a parking spot and aren't scrambling with just 30 minutes to go.
Confession time. This is the way to start your morning in Acadia National Park. I don't deny it. However, due to my hatred of early mornings, I've yet to actually experience it. This time for sure it's on my list for my next trip.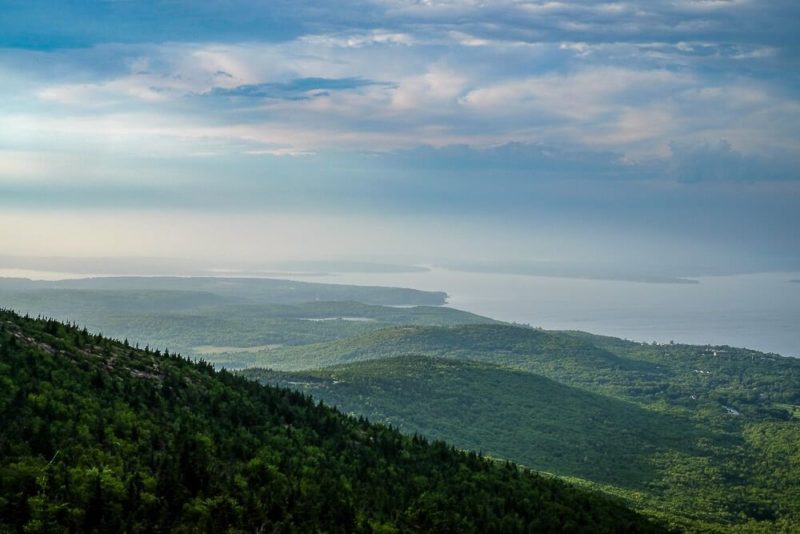 ---
Breakfast in Bar Harbor
There are several great breakfast spots in Bar Harbor. And due its close proximity to Acadia National Park, it's the go-to for grabbing some food before heading out for the day.
Below are a few of my favorite spots:
2 Cats. This is a great little cafe on the edge of downtown Bar Harbor. And it's got a beautiful garden to gawk at if you have to wait a bit for a table. I'm an Eggs Benedict kind of girl so that's what I go for here.
Jordan's Restaurant. Jordan's is more of your traditional breakfast kind of joint. Great home-style food and friendly service. Plus, and I kid you not, some of the best freaking blueberry pancakes in the world. And if I'm not in the mood for pancakes, I get a blueberry muffin to take with me.
Cafe This Way. This artsy little cafe is open for both breakfast and dinner (both are fantastic). If you like your food a bit on the eclectic side, then this is the place for you.
---
Morning: Park Loop Road
Driving the Park Loop Road is one of the best things to do in Acadia National Park. There are several iconic stops along the way, as well as just great views at every turn.
I'd suggest hopping on the road just outside of Bar Harbor and heading southeast towards the coast. The Park Loop Road is a one-way road for most of the way and going in a clockwise direction will ensure you hit all the main stops.
First up will be a stop at the Egg Rock Overlook. This is just a small pullout on the left side of the road. Jump out and breathe in that salty air. This is going to be a good day.
Next you'll want to drive down to Sand Beach. It has its own parking lot, but sometimes it's full. You can park along the road (on the right hand side). The beach is one of the only sandy beaches on the island. And yes that water will be very, very cold.
But definitely take your shoes off and squish your toes into that Maine sand.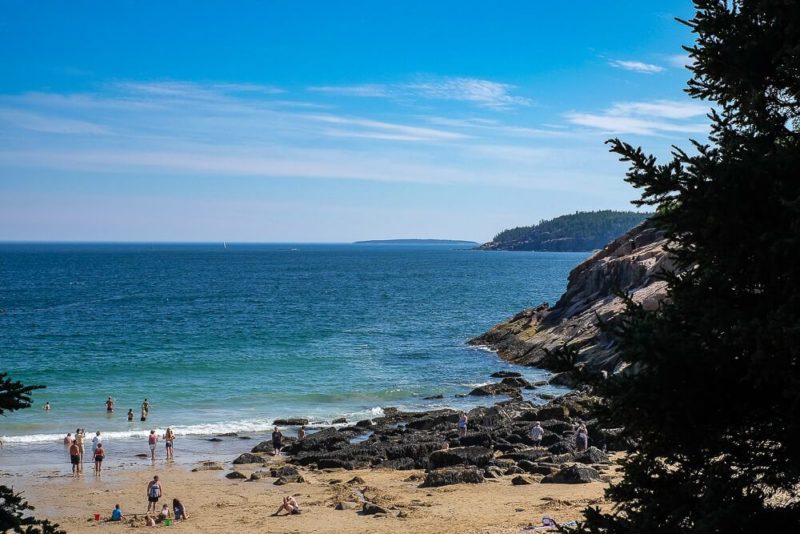 If you're up for it, cross Sand Beach and hike up the Great Head Trail for a bit. When you reach the crossroads of the trail, keep to the right. This will take you out to the Great Head point.
There is a bit of scrambling to get up there from the beach. But the views are great. And you won't need to hike the whole trail to see what makes it special.
Another great option is to keep your car where it is and hike along the Ocean Path. This trail follows the Park Loop Road south along the water. The slower pace will really allow you to stop and gape at the coast's beauty.
And allow you to easily detour off the trail when you see something interesting.
You can find the Ocean Path Trailhead from the Sand Beach parking lot. I'd suggest hiking it to Thunder Hole (a little less than a mile away). You can keep going though if you'd like. Just remember you'll have to turn around at some point!
After Sand Beach, as mentioned above, is Thunder Hole. This is one of the attractions in Acadia National Park. Basically seawater shoots down this narrow crevice and booms against the rock. Sometimes it's small, and sometimes it's very impressive. I've seen it in both conditions.
Once you've had enough of Thunder Hole, it's time to head towards Otter Cliffs. Now the parking lot here is quite small. And there's no parking on the side of the road here. If you can wait a bit for a spot, I'd suggest doing so as I love the view from the cliffs.
If you're tight on time and lunch is approaching, I'd head straight for Jordan Pond House. But there are a few more stops along the way (Otter Point & Otter Cove) if you want to snap a few more photos.
---
Lunch: Jordan Pond House
Visiting the Jordan Pond House is one of the best things to do in Acadia National Park. I mean not only does it have like the most picturesque view of the park, but it also has one of the best foods – popovers.
Okay so first things first, grab some lunch at the Jordan Pond House. It's a bit pricey, but stopping in for one of the popover specials at the minimum is definitely worth it.
If you don't know what popovers are…oh-ho! Prepare to fall in love. It's like a light roll that's taller than a muffin. And you smear button and jam all over it. They are delicious!
However lines and waits for lunch can be incredibly long. If you are someone who loves planning and can make sure you get there, I'd definitely recommend making a reservation advance.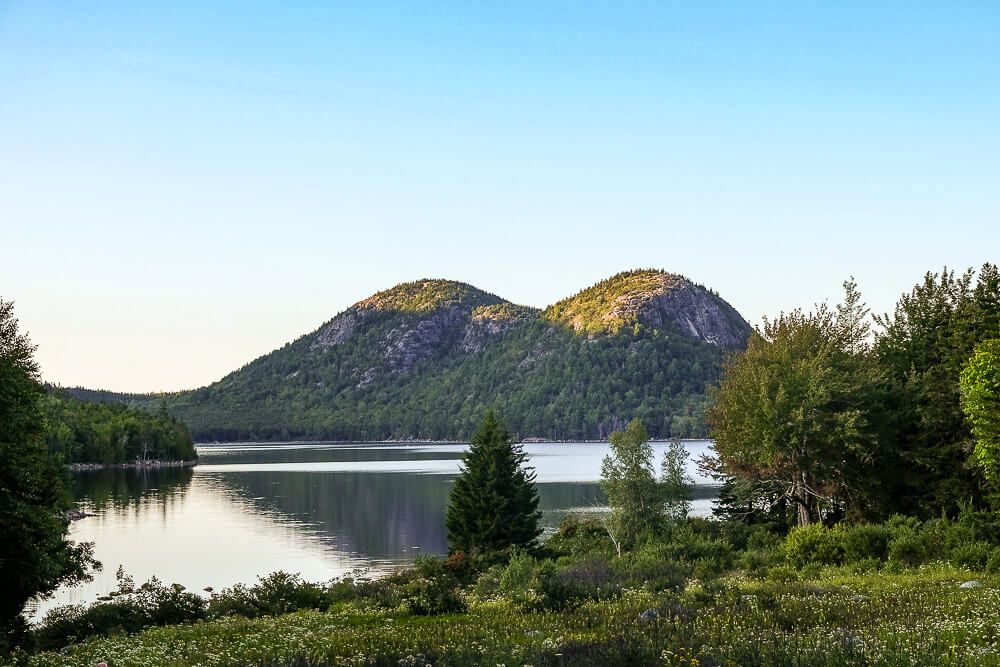 And be aware that parking at the Jordan Pond House is a bit limited. You may not be able to find a spot.
One important thing to note here is that you can do the Park Loop Road and the Jordan Pond House by taking the Island Explorer. This free shuttle service is awesome. But it does run on a schedule so be sure to plan out your day a bit more carefully if you're using it.
After lunch it's time to burn off that jam right? I'd suggest hiking around Jordan Pond on the Jordan Pond Path. The trail is quite long (3.5 miles) but it's very level. You can walk as far as you want down one side and then turn back. Or continue on to do the full loop.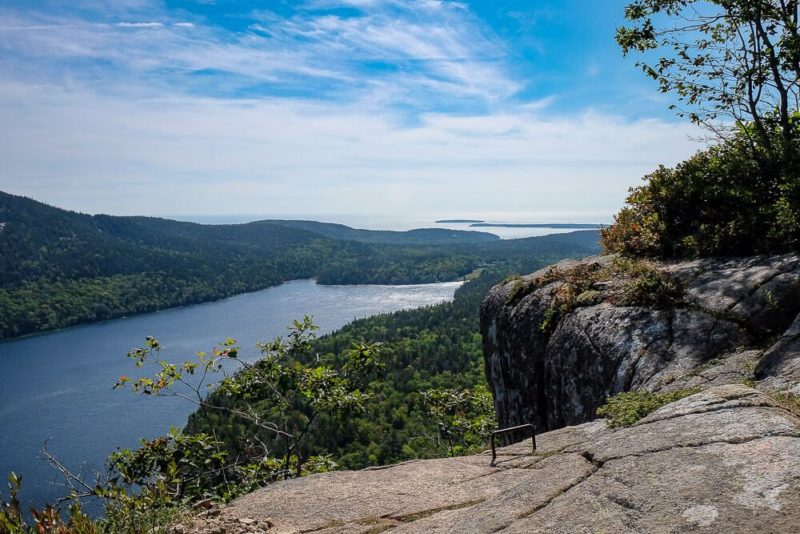 ---
Afternoon: Nature Cruises
How you'd like to spend your afternoon is going to be largely dependent upon how you want to spend your evening. I want to make sure you're in the right part of the island in the hours leading up to sunset.
So I've listed out three options here based on my recommendations for sunset.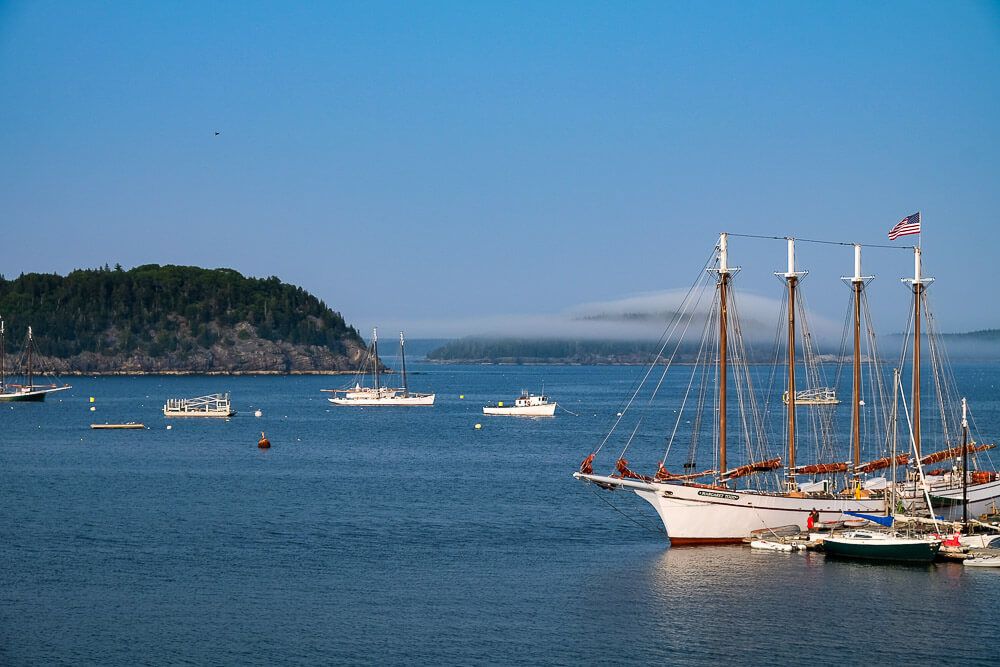 Bass Harbor
Head on over to the other side of Mount Desert Island to Bass Harbor. This harbor is known as the working man's harbor or the lobsterman's harbor. It also feels more local on this side of the island.
You could spend your afternoon exploring the town of Southwest Harbor (not far from Bass Harbor), but if you want to stay outside, I'd suggest going on a nature cruise.
Bass Harbor Island Cruises offers an afternoon nature cruise that's only 2 hours long. Now while I've never gone on this cruise, I have been on others in Bar Harbor. And as long as the weather's nice, they are fun.
Whale Watch
So there are whales off the coast of Maine in this area. I've seen them. My family has gone on more tours without me and they've seen them. So if you've never seen a whale (or want to again), definitely try a whale watching tour!
Now Bar Harbor Whale Watch has several tour options. But from early July to early September, they have a sunset whale watch tour. You'll obviously be on the boat for longer, so expect to spend sunset out on the water if this appeals to you.
Bar Harbor
Is this all just getting to be a bit much? Want some time to just relax and unwind? I get it. So take the afternoon and relax. Spend the time wandering and shopping in Bar Harbor and sitting in Agamont Park.
You can also walk the Shore Path. This short but scenic trail follows the coastline in town. You can start it in Agamont Park. Just look for the paved walkway heading away from the harbor.
---
Sunset on Mount Desert Island
These options are directly connected to the afternoon activities above and the dinner options below.
Bass Harbor
One of the best things to do for sunset is to head to the Bass Harbor Lighthouse. Not only is the lighthouse beautiful, but the sunset there is freaking spectacular.
It's also fairly popular. So get there early if you can and head down the steps to grab a good seat.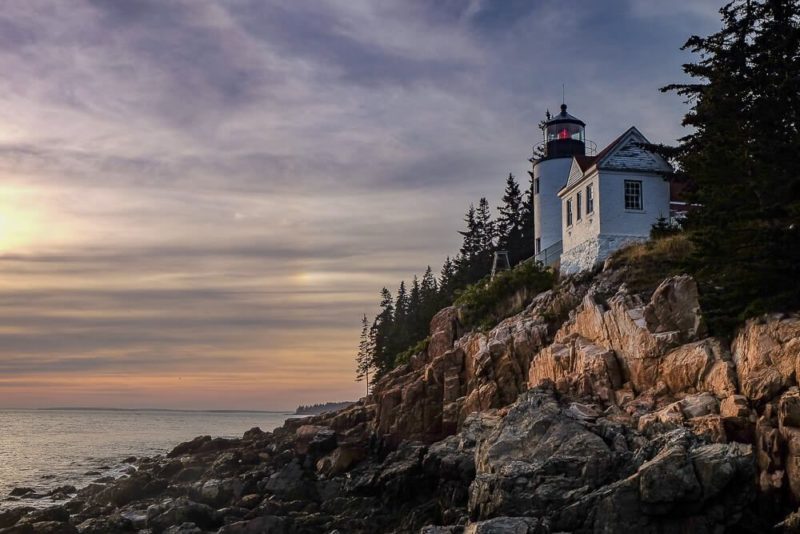 Bar Harbor
If you choose to stay in Bar Harbor and relax, I'd suggest going back up to Cadillac Mountain for sunset. It's one of my favorite spots to watch the sun dip away. I love Bass Harbor, but with it being on the other side of the island, I don't always go on every trip.
But Cadillac Mountain? Always. Plus if you are not a morning person (like me) and have no intention of waking up for sunrise, here's your chance to experience Cadillac Mountain.
---
Dinner: Time for Some Lobster
Bass Harbor
If you've just experienced sunset at the Bass Harbor Lighthouse, you are in luck! For one of the best lobster pounds on the island is also located here – Thurston's.
This was the first lobster pound I ever went to. And to this day it remains one of my favorites. I love the rustic atmosphere, the lobsters there are always fantastic, and I can't leave the island without eating a whole lobster at least once.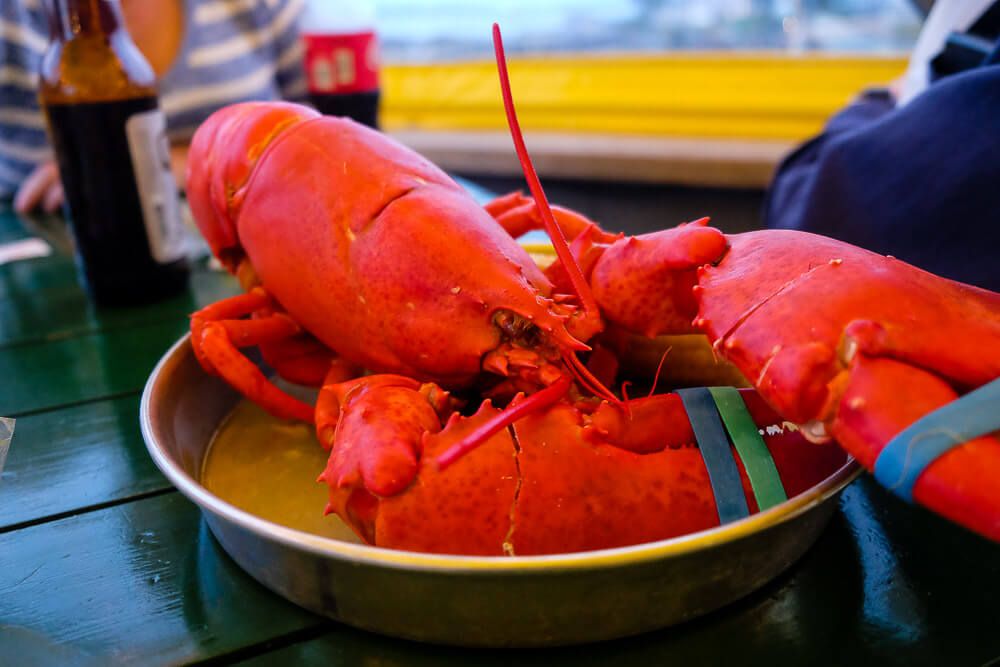 If you have non-lobster lovers or just non-seafood people with you, they do offer more than just lobster. So feel free to suggest this to your family or friends, and then get cracking!
Bar Harbor
If you're looking for some great lobster, a little bit outside of town is C-Rays. If you're up to getting back into the car, I'd suggest heading there (or even the Trenton Bridge Lobster Pound) for a more authentic lobster pound experience.
However if you want to stay in Bar Harbor, here are some of my favorites:
---
Evening: Grab a Drink or Take a Ghost Tour
I like to end my days in Bar Harbor by kicking back with a few beers (or cocktails) and relaxing. Below are some of my favorite bars around town:
If drinking isn't your thing though, there is one other option I love. Stroll Bar Harbor at night with a ghost tour.
If you like to hear spooky stories, then definitely think about signing up for a tour. I've done this tour twice and had a great time.
---
FAQs on Visiting Acadia National Park
Where should I stay? There are lots of hotels around Bar Harbor. A classic is the Bar Harbor Inn and Spa right on the water in town. But there are plenty of other options. And if you want to try camping, check out the official Acadia National Park campgrounds as well as other private campgrounds on the island.
Do I need a car? Yes. Getting to Mount Desert Island isn't easy if you have to rely on other transportation. It is possible, but it's hard. Check out my one week itinerary for more information on how to get here. Now once you're on the island, driving will put you in greater control of your schedule…but this will mean you are at the mercy of the parking lots. An alternative would be to take the Island Explorer around the island. This is a free shuttle service that goes to so many of the popular spots.
When is the best time to visit? This is a hard one to answer. The spring is still the off season on the island. And that basically means that a lot of things are still closed. This includes everything from restaurants to the Park Loop Road. The summer is definitely the high season and when families descend on the park. And the fall is all about the older couples coming in on cruises and to see the fall colors. I personally love the fall, but it is still very busy. (And seems to be picking up in popularity.)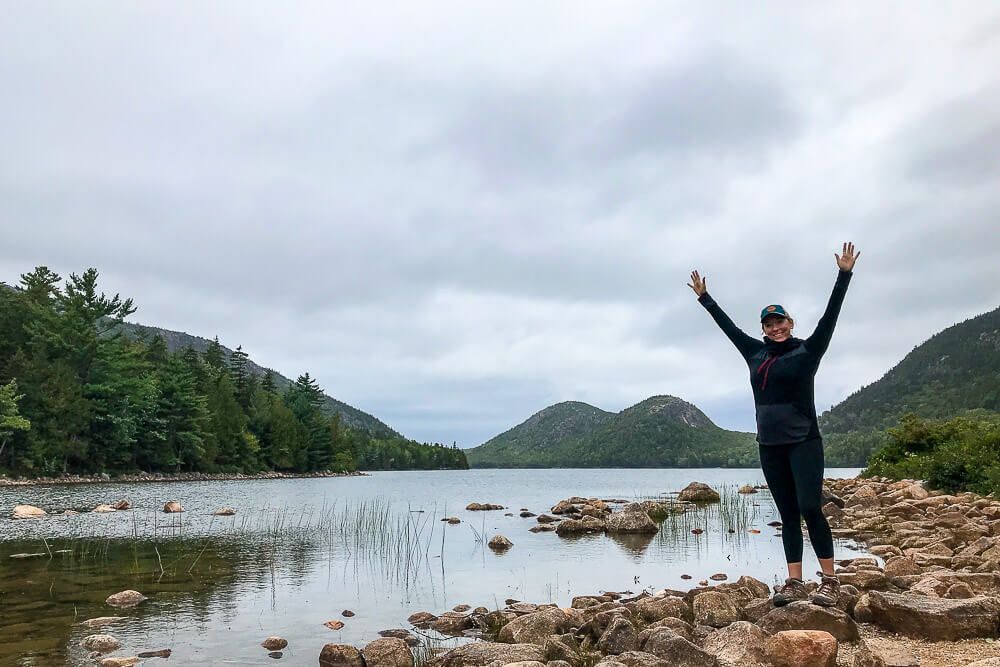 How much does it cost to visit? There is an entrance fee to enter Acadia National Park. The fees are detailed on the main Acadia National Park website. Definitely go for the Private Vehicle pass if you plan on driving in the park. This pass will be good for 7 days. The individual pass is for one person, but not their car. To get a pass, you can buy one online (preferred by the park), stop by one of the fee stations, or go to a visitor center (like the Hulls Cove Visitor Center). You'll also need a separate reservation if you plan to go up to Cadillac Mountain.
What do I need to pack? You don't need a lot of things! But if you do plan on doing some hiking, then I've included some of my favorite hiking gear below. However I don't think you need anything special. Just be sure to put on some sunscreen and grab some water & snacks!