Hiking the Bubbles Trail is one of the best things to do in Acadia National Park. And most people who venture out head straight for Bubble Rock at the top of South Bubble. And while I've done that and it's fun, those looking to escape the crowds and have great views should instead look towards North Bubble.
So first you may be asking, what are the Bubbles? Well the Bubbles are the two mountains that sit at the north end of Jordan Pond. And catching the view across the pond from them (near Jordan Pond House) is one of the classic shots of Acadia National Park.
But instead of just having them as a backdrop to your photo, you can hike to the summit of each. Most people head towards South Bubble's summit and the famous Bubble Rock. But if you're interested in a longer and less traveled route, then North Bubble may be for you.
In addition to being quieter, North Bubble is a bit taller so the trail is harder. And if you decide to do the full loop, you'll have amazing views of not only Jordan Pond, but Eagle Lake as well. However, the loop is over 3 miles, so this isn't a quick stop.
And those looking to really make the most of the Bubbles trail may want to combine South Bubble & North Bubble together. I'll explain these options below, but know that you can conquer both summits during the same hike if you want to.
Distance: ~3.7 miles roundtrip
Trailhead: The Bubbles have their parking lot along the Park Loop Road.
Fee: There is a fee to enter Acadia National Park
Elevation Gain: ~400ft to North Bubble & ~150ft to Conners Nubble
Time: 2-3 hours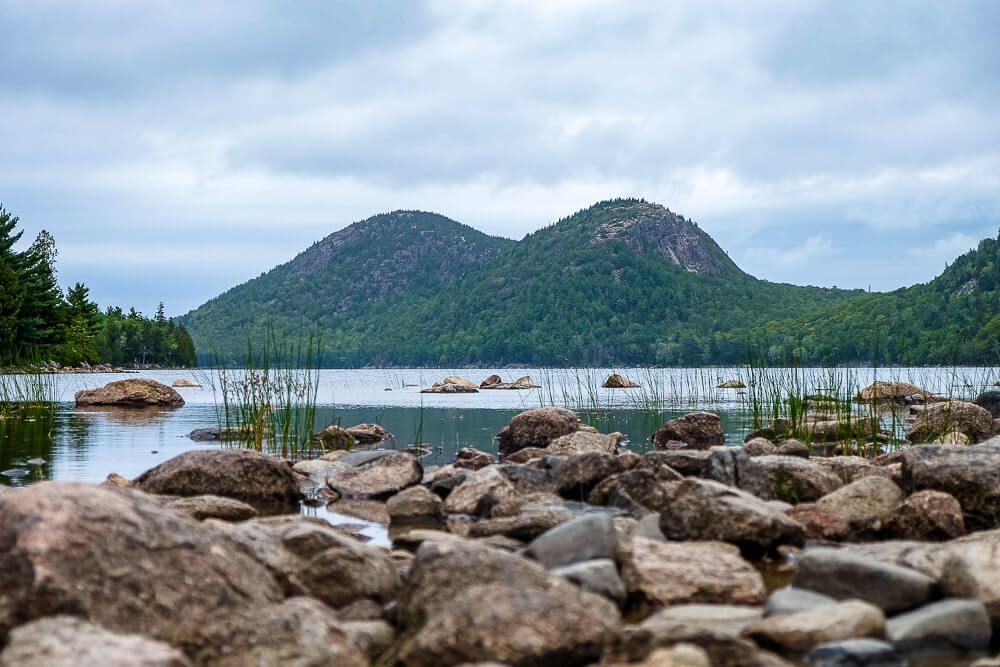 ---
The Bubbles Trail
The Bubbles have their parking lot along the Park Loop Road. It's situated on the west side of the road between Cadillac Mountain and Jordan Pond House. Be prepared to get there early though since it's quite small and is usually full by mid-morning.
If that lot is full, your other option is another small pull-out lot about a quarter mile down the road (towards Jordan Pond House). I've parked there several times for these trails.
From the parking lot, you'll head west on the Bubbles Divide trail. This part of the trail is fairly level and wide. You'll cross the Jordan Pond Carry trail, but keep on the Bubbles Divide trail.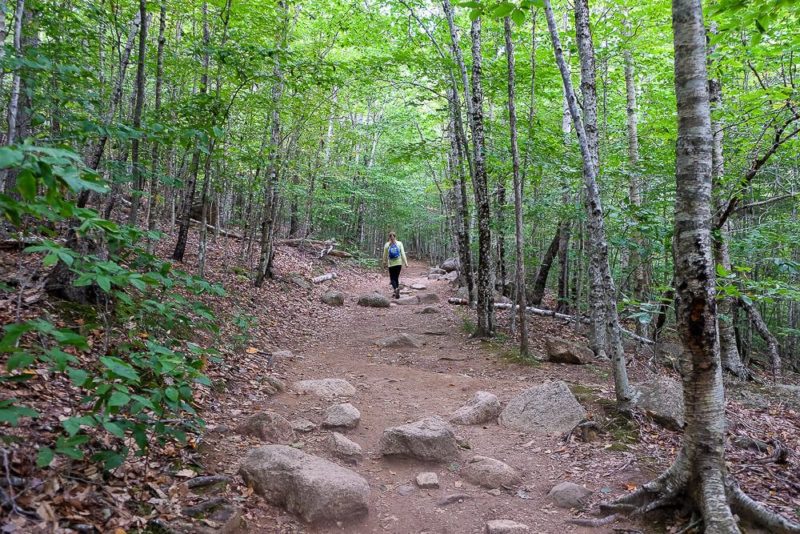 As you start to turn up though, you'll come to the Bubbles Trail intersection.
If you want to hike the North Bubble loop, head to the right towards the North Bubble summit. However if you're interested in hiking up to South Bubble, keep going straight. After another .1 miles, you'll come to the Bubbles Trail signpost for South Bubbles to your left.
It's less than half a mile to the top of South Bubble from here. If that's the hike you're after, check out my South Bubble trail guide for all the details.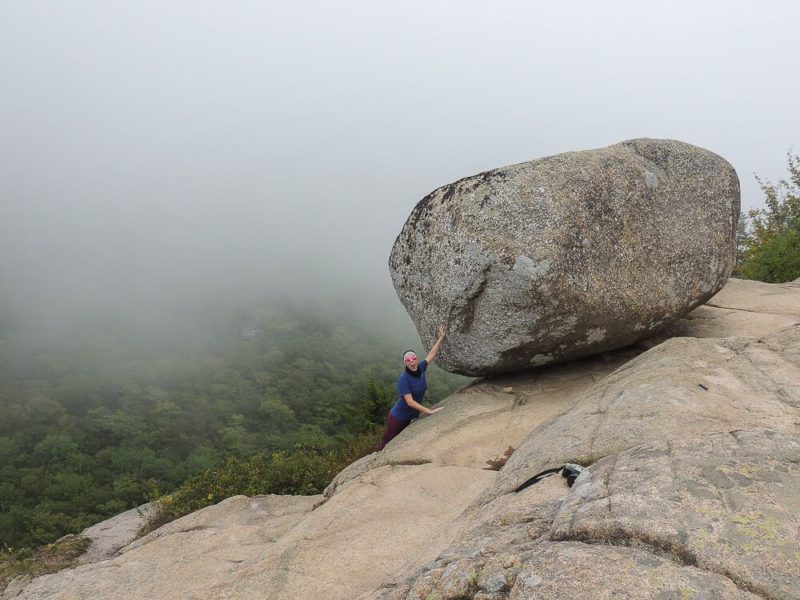 Once you've checked out Bubble Rock, the easy way to continue on with the North Bubble summit would be to come back down the way you came and head towards that first Bubbles Trail signpost.
Don't forget to check out the end of the post for the map of these trails!
The climb from the Bubbles Divide trail up to the summit is a bit steep. Not as bad as something like the Precipice, but still a hike that will get your heart racing. My dad had to take this part slow and step off for a few breaks on our way up. But he made it in the end.
Now the views from the top of North Bubble are fantastic! You'll get a few teaser views on your way up, but once you reach the summit, all of Jordan Pond will be spread out before you.
Now once you reach the top, definitely sit back and enjoy it for awhile. Penobscot Mountain is to your right with Pemetic Mountain to your left. And if you have a good eye, you can spot the Jordan Pond House at the far end of Jordan Pond.
And unlike South Bubble, we shared this experience with only a couple other people. It's quickly become one of my favorite views of Acadia National Park.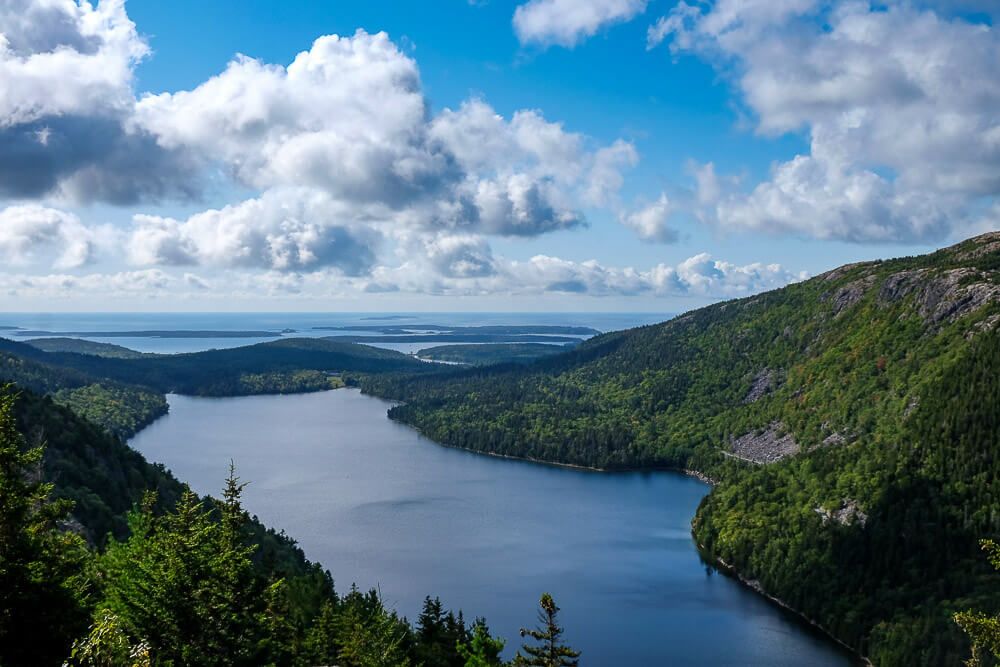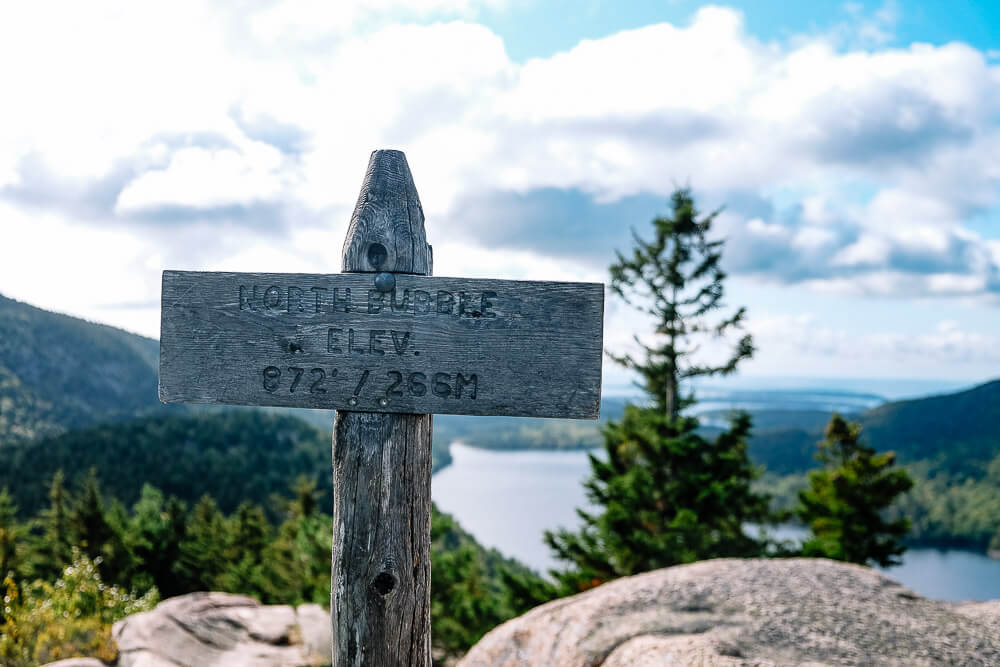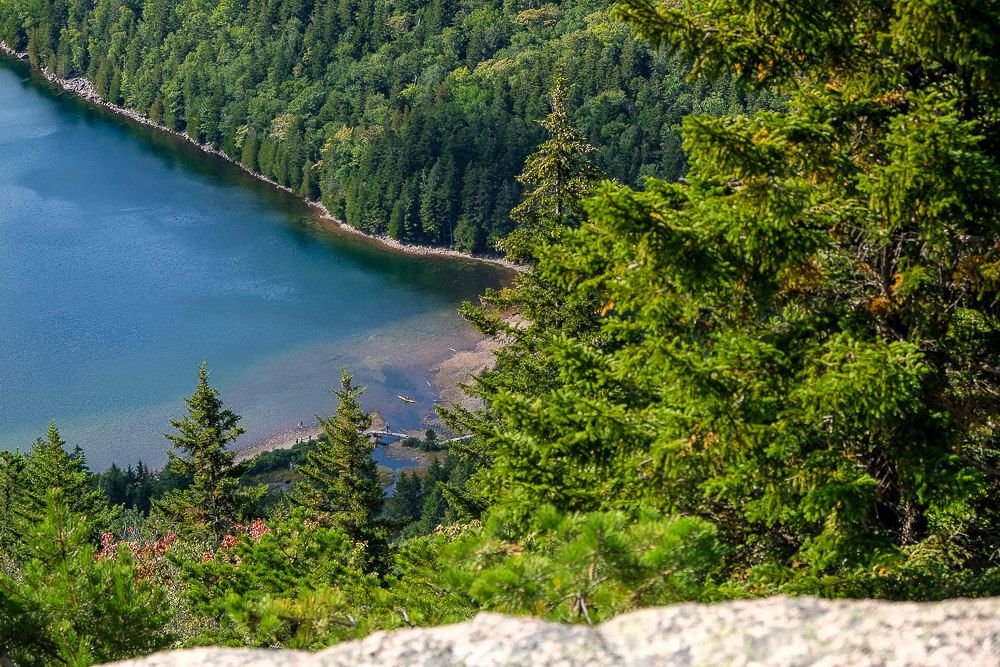 Now once you've gotten your fill, you have a couple of options before you. If you're pressed for time, you can head on back the way you came towards the parking lot. Or you can continue on the Bubbles Trail and head down the far side of North Bubble.
The descent on the north side is much gentler than the ascent was. Less steps, and more open slopes. Keep your eyes peeled though as Eagle Lake will start to come into view in front of you.
This descent is spread out over .8 miles before you'll reach a carriage road. To continue on the loop, just cross the carriage road and head up towards Conners Nubble. However if hiking up to Conners Nubble doesn't appeal to you, you can head right (or east) on the carriage road to shorten the loop.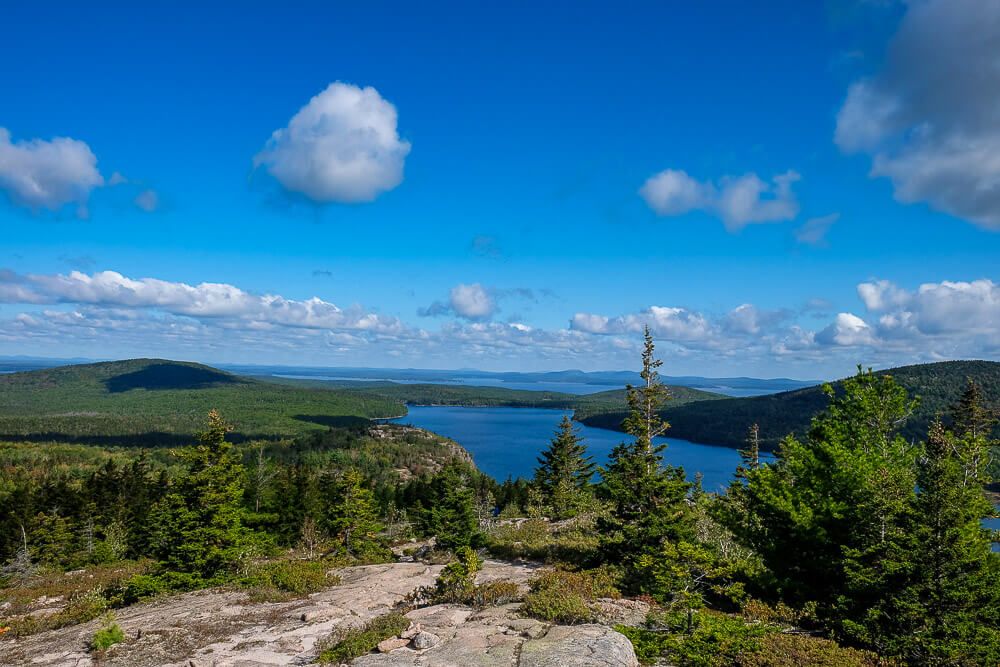 When I hiked this with my Dad, this is what he did. After hiking up to North Bubble, he didn't have it in him to hike to the top of Conners Nubble. So instead I continued on with my sister and met up with him later on the Jordan Pond Carry trail.
Now the hike from the carriage road to Conners Nubble is short but very steep. You'll be hand over foot to scramble to the top. And luckily it's not very tall. But I was glad my Dad didn't join us on this part of the trail. I think he would have struggled.
But once you reach the top, you'll have great views of Eagle Lake before you! Definitely stop awhile to take it all in. And glance back the way you came to see the Bubbles from this side.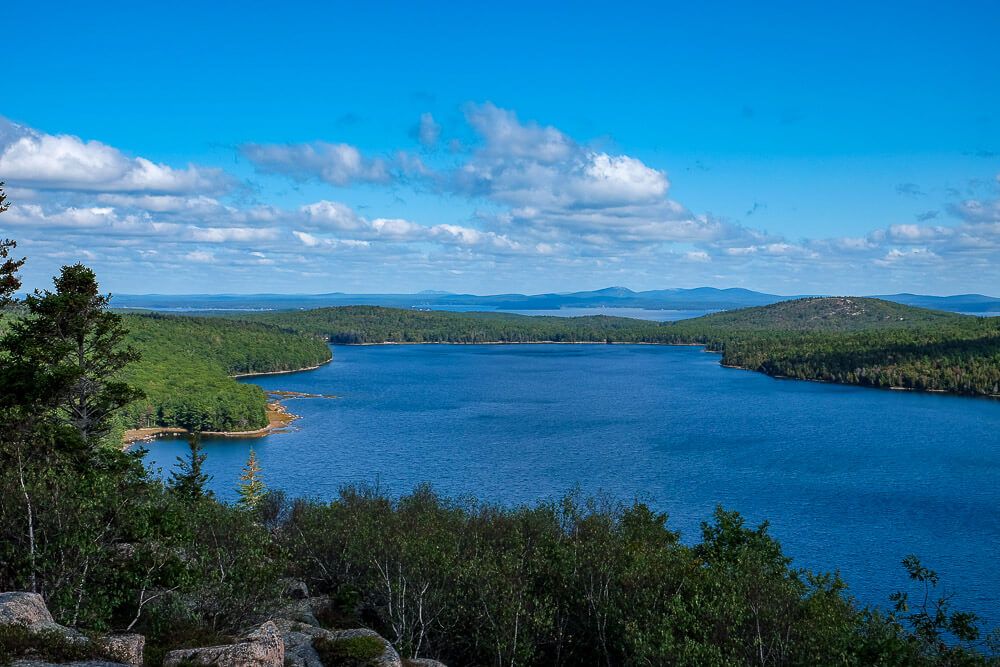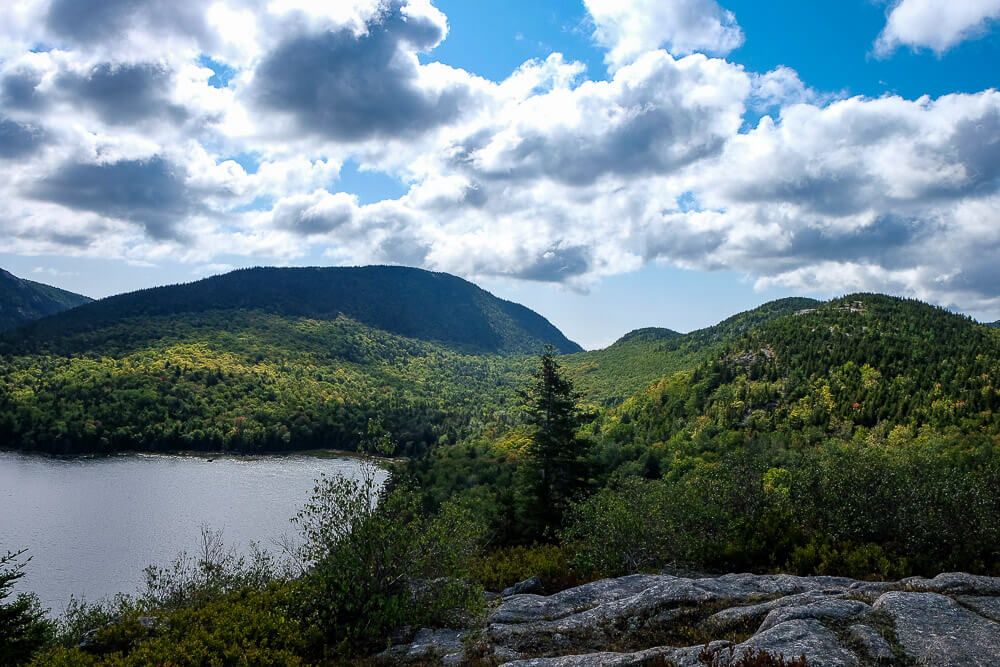 Now once you're ready to continue, keep following the Bubbles trail down the north side of Conners Nubble. Keep your eyes peeled for the markers on the ground. They can be hard to spot in a few areas as you head down.
After about half a mile, you'll reach the intersection with the Eagle Lake Trail. (If you hit the carriage road, you've gone too far.)
Now the Eagle Lake Trail hugs the coastline along the south western part of the lake. This is the longest continous stretch of this hike and it's fairly level.
However for a significant portion of the trail, there are HUGE boulders all along the coastline. The trail winds its way around, and up and over these obstacles. And you wouldn't think that would be tiring, but after like a half mile of it (or maybe even more), it gets tiring.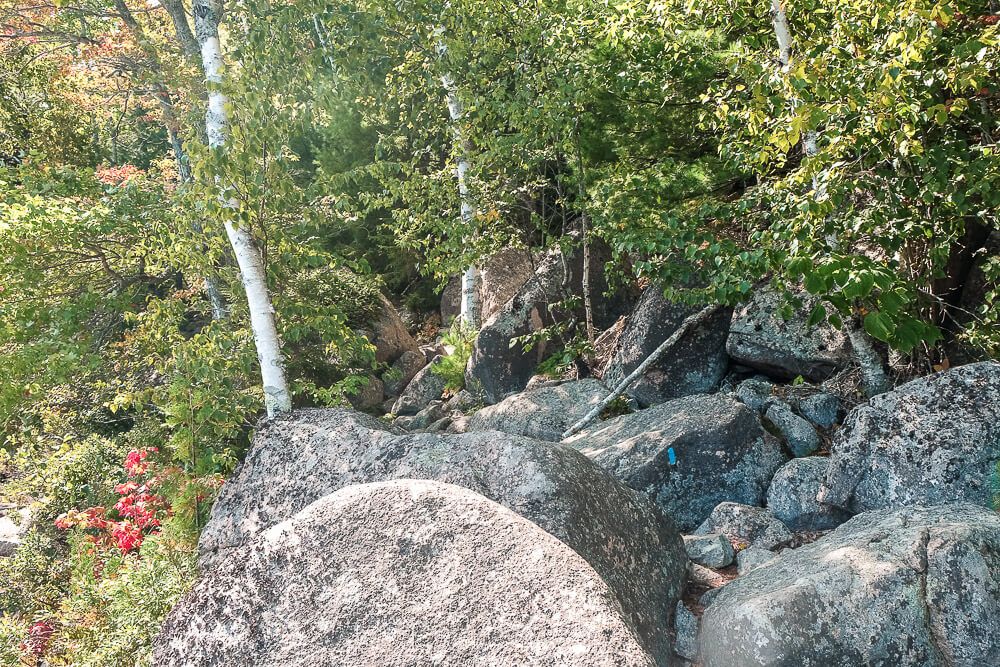 We took several breaks along the way. And at one point another couple passed us and asked, in almost desperation, if we knew when the boulder section would be over.
I was again glad my Dad didn't hike this portion of the trail with us.
But eventually the rocks come to an end and you'll find yourself in peaceful forest once again. This part of the trail is heavily wooded and possibly marshy (in wetter conditions).
Your last turn of this loop hike will be a right (south) turn onto the Jordan Pond Carry trail. This section of the trail gently slopes upward towards the Bubbles Divide trail and the parking lot.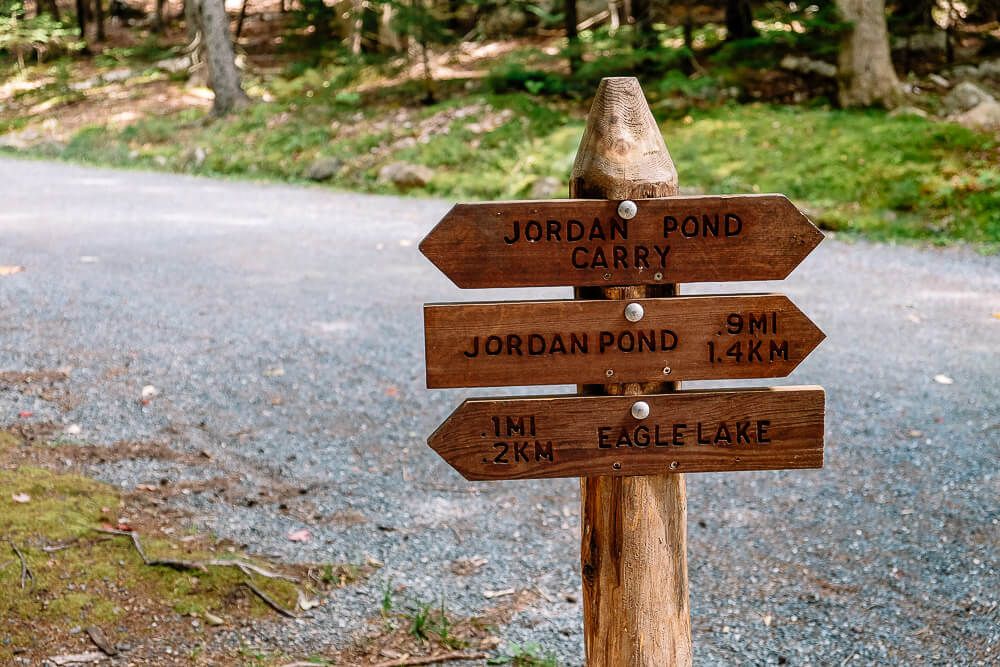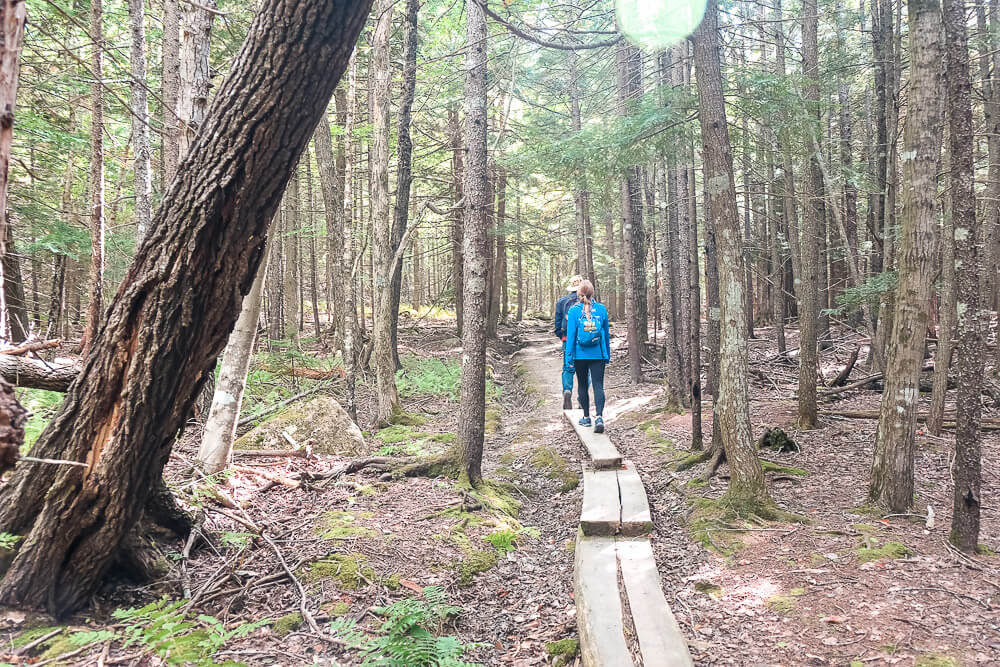 Due to occasional marshy conditions, you'll hike along a few planks and cross over a carriage road. This is the same carriage road you crossed on your way up to Conners Nubble and is where we met up with my Dad once again.
My legs were definitely getting tired as we neared the end of this hike and I was glad to finally reach the Bubbles Divide intersection and parking lot to the left (east).
But the hike (and its views!) were worth it!
---
North Bubble Trail Map
I've included the map and elevation profile from my tracking software below as well as a larger view of the North Bubble loop hike. I've indicated this loop in blue. The two alternate options – up to South Bubble & along the carriage road skipping Conners Nubble – are highlighted in red.
One last note is that at the top of this guide I indicated that the elevation gain is about 400ft (North Bubble) and 150ft (Conners Nubble). However the overall elevation change is higher.
The parking lot sits at about 460ft with the North Bubble summit at 872ft. Then you head down to about ~440ft before heading up to Conners Nubble at 588ft. After that, I headed down to the lake at around ~290ft before heading back up to the parking lot.
That's why my total elevation gain below was around ~750ft.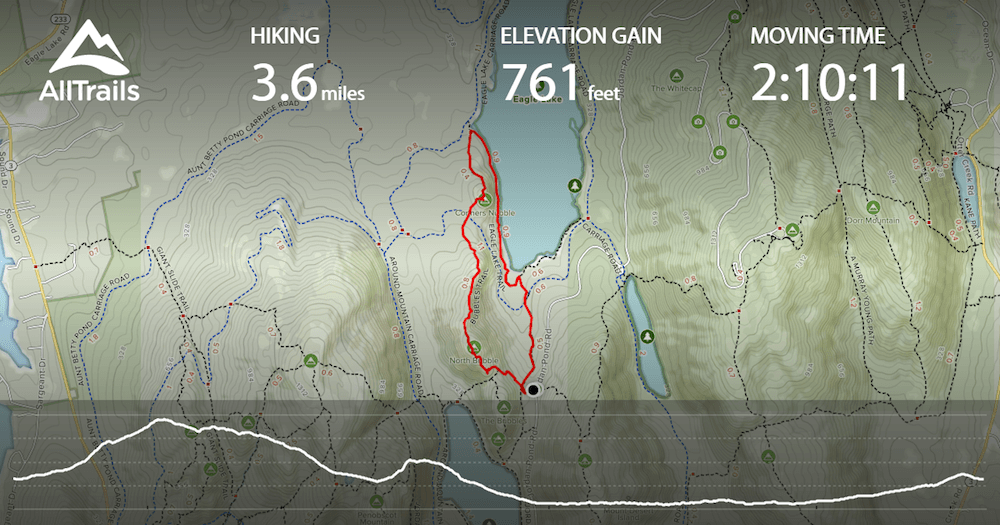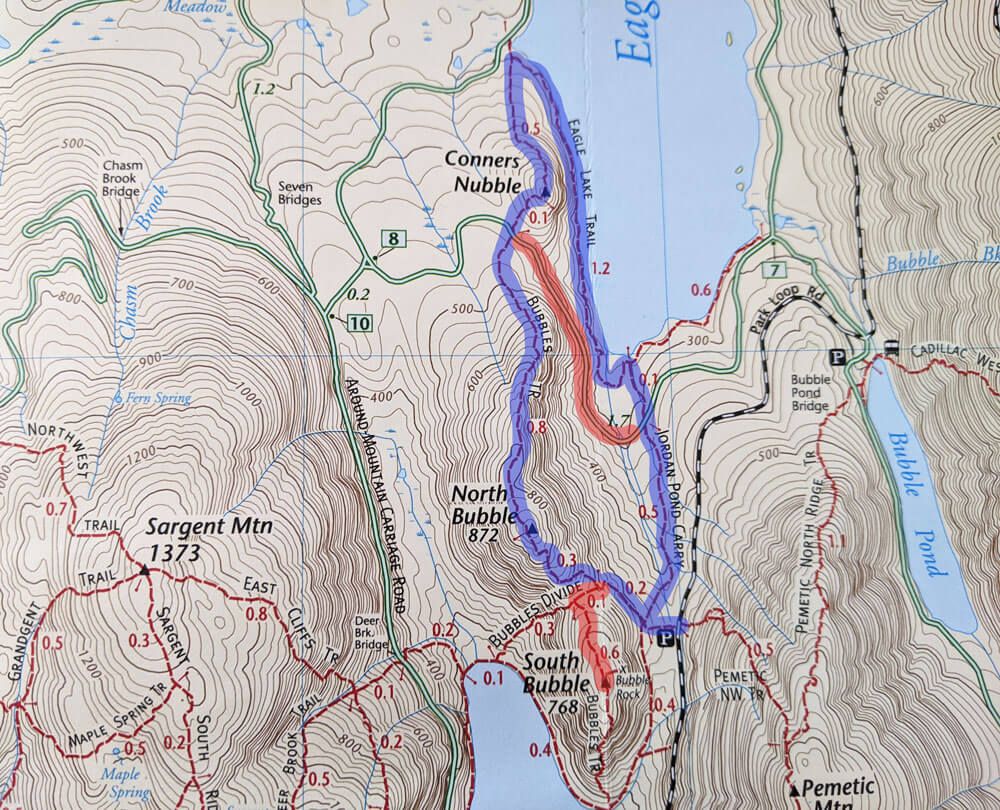 Planning your trip to Acadia National Park & Bar Harbor?
Itineraries & Guides
Hiking Trails
Other Things to Do in the National Park and in Bar Harbor:
Bass Harbor Lighthouse for sunset
Whale Watching Tour
Walk to Bar Island
Atlantic Brewery Tour
Ghost Tour
Where to Stay:
On our first trip to Bar Harbor we stayed at the Holiday Inn Regency. It was a little outside of town but was on the Island Explorer bus route which was handy.
If you want to stay in one of the classic Bar Harbor inns though, you can't beat the Bar Harbor Inn & Spa. This is literally in the heart of Bar Harbor.
When my whole family goes, we usually rent a house with VRBO or Airbnb. The extra space for 4 adults really comes in handy. There are several options in Bar Harbor and on Mount Desert Island.
There's also a few campgrounds in Acadia National Park as well if you'd like to stay in the park. Make sure to check the location of where they are.