My trip to Bar Harbor in September was plagued by fog. Like we had significant fog for over half the days. But I wasn't going to let that stop me from getting outside. I knew what I wanted to do and there were a few things on that list that I could see in the fog. And one of those was hiking the Bubble Rock trail.
Heading up South Bubble to see Bubble Rock is one of the most popular things to do in Acadia National Park. And just what is Bubble Rock? Well it's a giant rock on top of a mountain. Left by a glacier back in the day, it sits precariously close to a cliff edge and literally looks like it's perched on the edge of a mountain.
And it was a lot bigger than I thought it would be.
The morning of our hike, we woke up to a lot of fog. But, just like the day before, I wasn't going to let this stop me. I knew I would be able do the Bubble Rock trail and see its famous, name-sake rock even in the fog. The views, on the other hand, would maybe have to wait for another trip.
So after convincing my Dad that this wouldn't be such a strenuous hike (like The Precipice), we headed out towards the park. The Bubbles, named for the two mountains that sit at the north end of Jordan Pond, have their own parking lot on the Park Loop Road. But since hiking the Bubble Rock trail is very popular, this lot fills up fast. And you can't park in the road.
This is what happened to us. When we arrived we discovered that the parking lot was full. So we continued towards Jordan Pond and discovered a small overlook pull-out just .2 miles down the road. Luckily there was a spot there and we were good to go.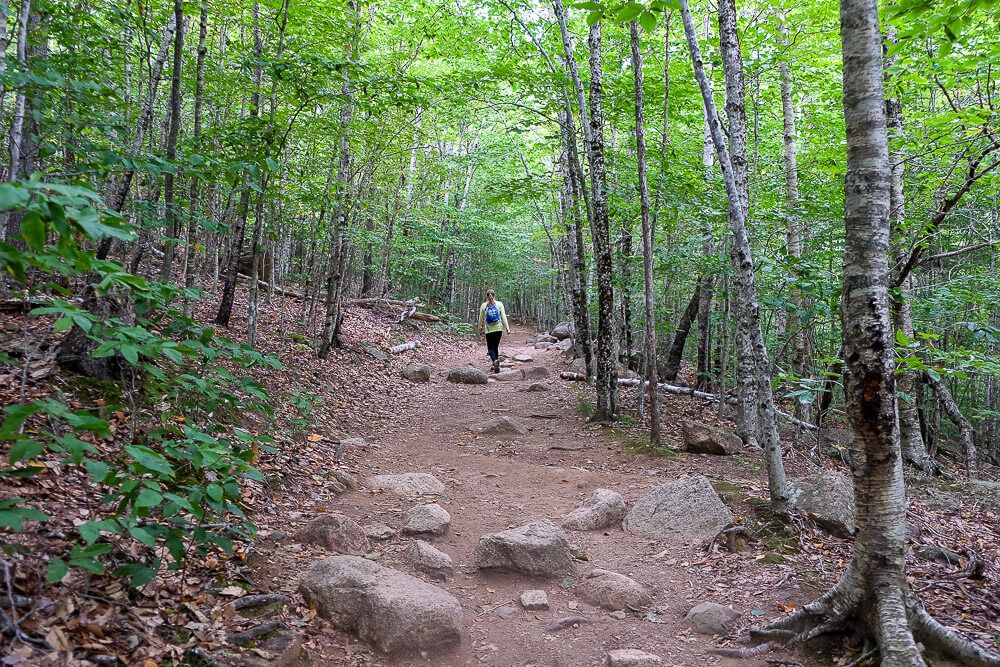 The trail started off easy as it wound its way up. It was also a relatively wide path. Lots of people do the Bubble Rock trail and so it's made to accommodate people of all ages and skill level.
As we approached an intersection, it was easy to determine the right way to go. Just follow the Bubble Rock trail signs.
As we turned up to South Bubble, the trail did get a bit steeper. Think stairs. But these sections don't last long. And there was even a small overlook looking back towards North Bubble.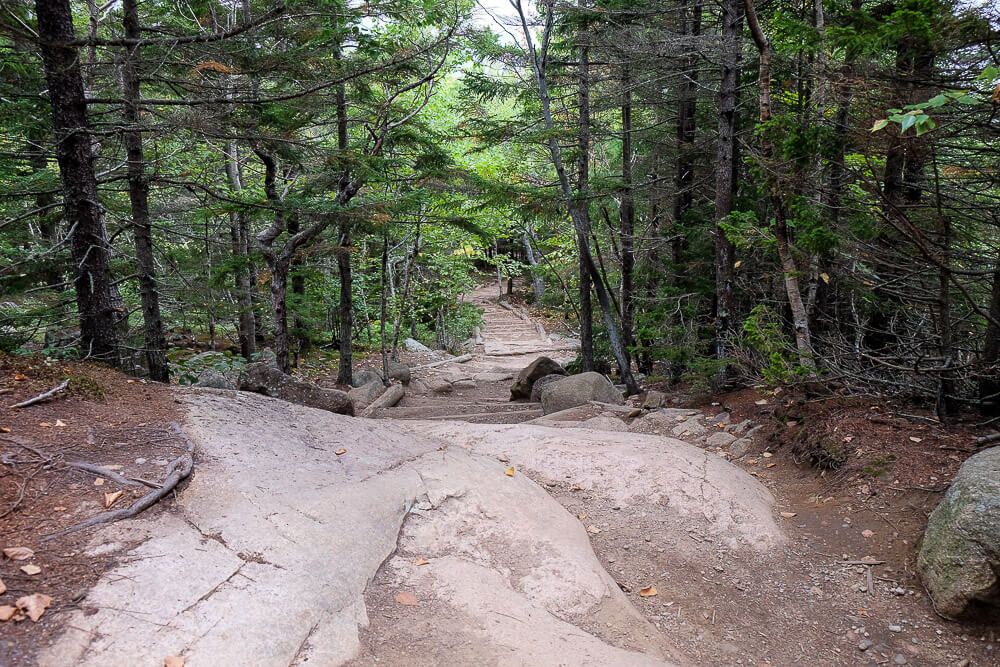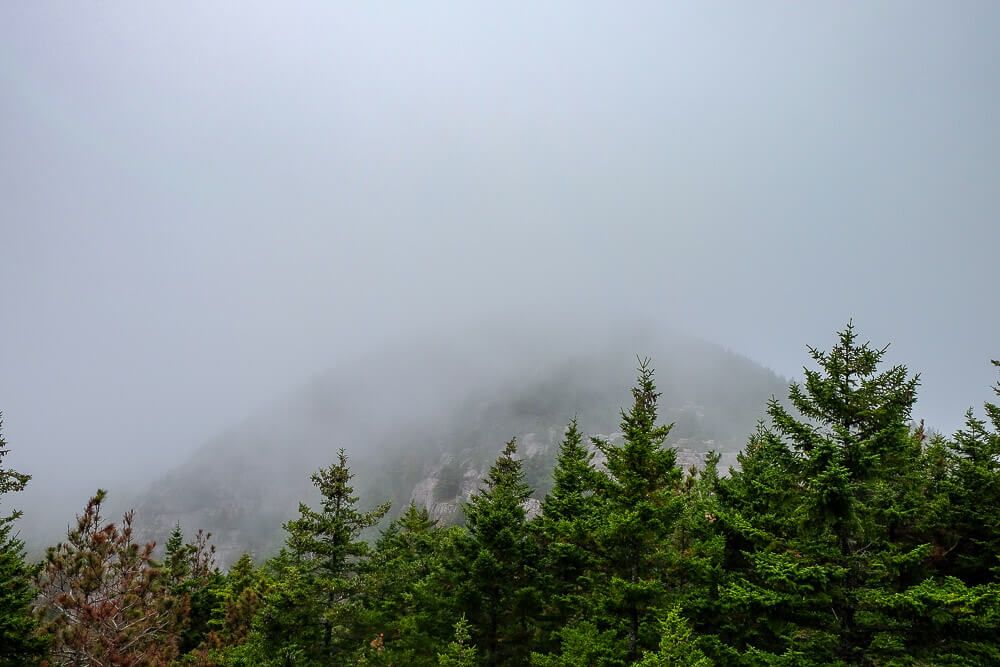 Unfortunately the top of North Bubble was shrouded in fog which I looked at with a heavy heart. The second part of my hike that day was supposed to be a hike up to North Bubble for the great views. But, alas, not today.
However Bubble Rock was still waiting for me.
Once we reached the summit, we just followed the path around to the left (don't worry there's another sign) and then…BOOM! There it was.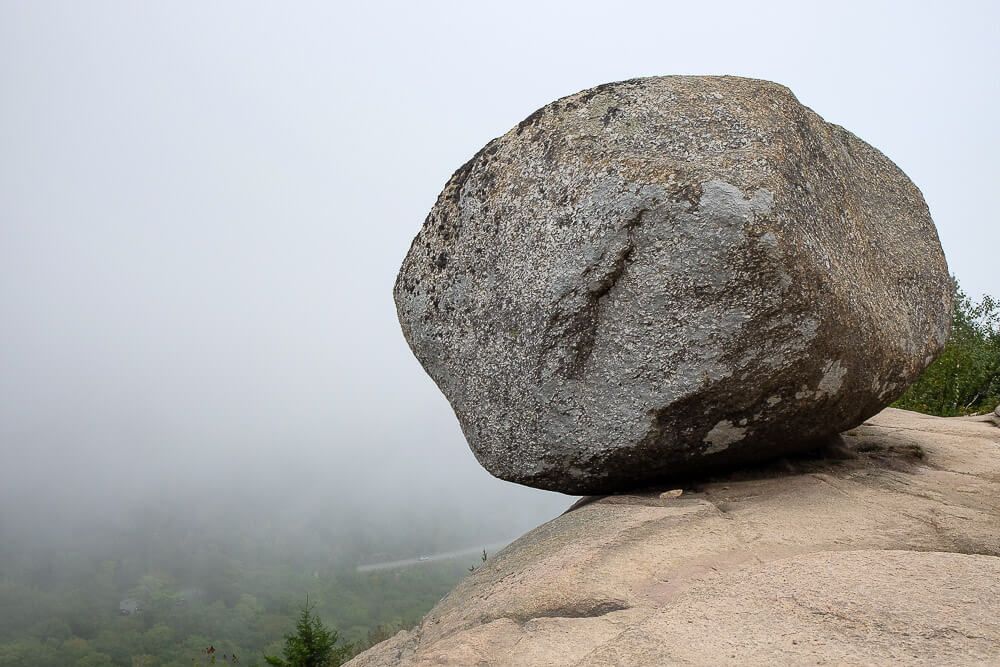 I was shocked by how massive it was. Like even though I had seen pictures of it and even though I had seen it from the overlook we parked at, I still didn't quite understand how big it was.
Or how close to the edge of a steep cliff it sat. (How close? Very close.)
I was able to cozy on up to the left side of the rock via some ledges and touch it. (Is it weird that I wanted to touch a rock?)
And I was delighted that there were only a few other people around when we reached the rock. I was afraid there would be hordes of families. But it looked like the fog had kept the masses (mostly) away.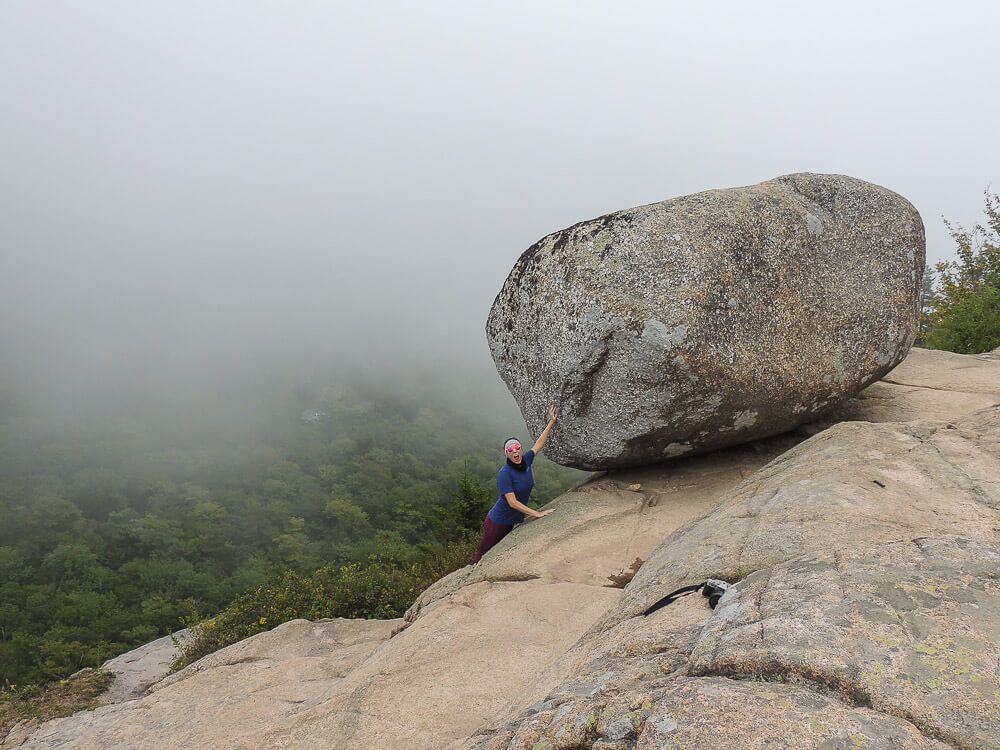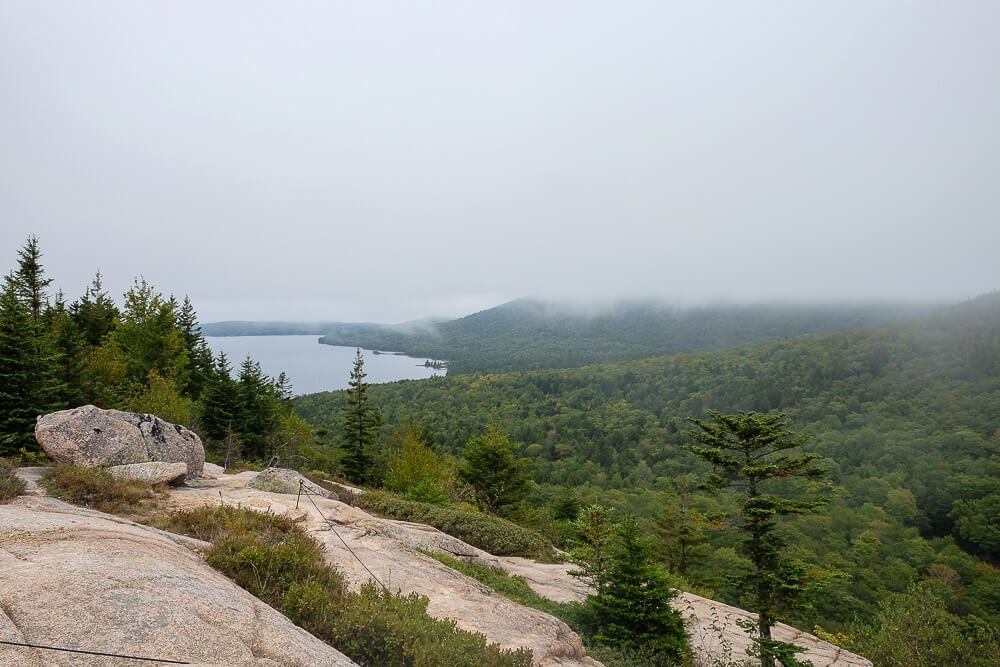 My sister and I snapped a few pictures of the rock. Eagle Lake could also be (barely) seen off to our left and was only partially hidden by fog. By Dad who is very scared of heights came over to see Bubble Rock, but was able to stay a comfortable distance away.
After we had gotten our fill of Bubble Rock, we headed back to the summit and then continued down the trail towards the south end to see if we could see anything.
Long story short, we couldn't.
Normally there is a great view of Jordan Pond from South Bubble, but the fog that day was tenacious. The whole pond was covered in the gray mist. Only sometimes, when the wind shifted, could we even make out parts of the coastline.
It was that foggy.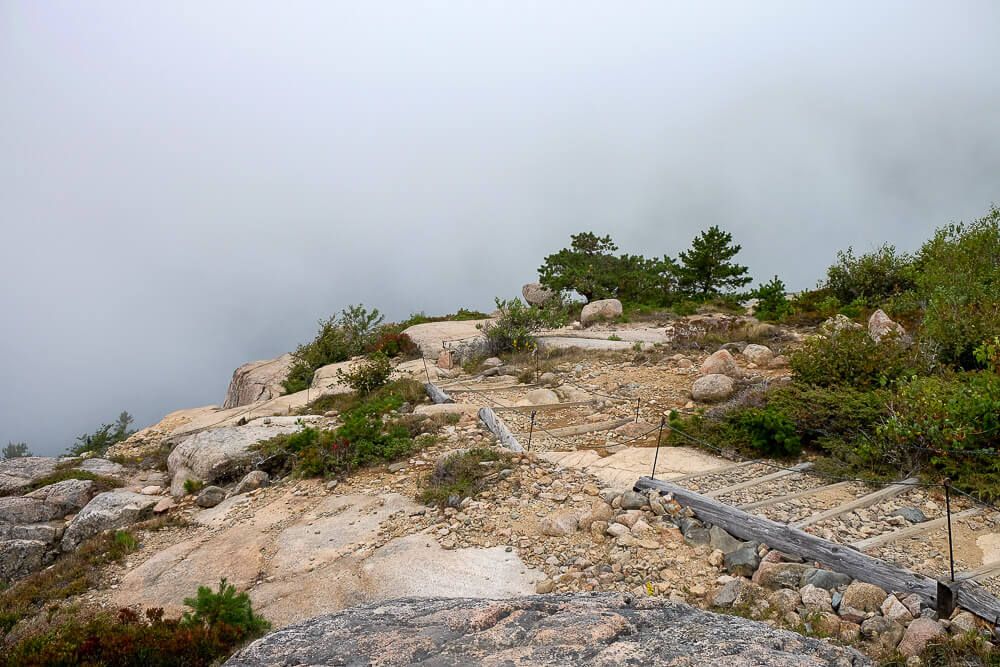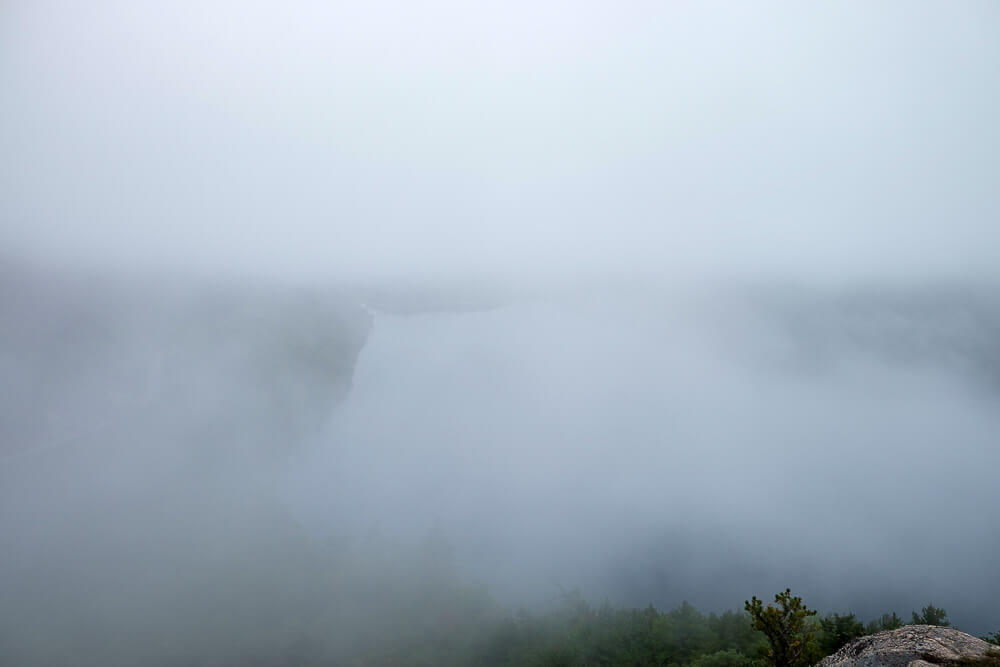 We waited for a bit, hoping the fog would clear, but after about 25 minutes we gave up and headed back down the way we came. This was the easiest and quickest way back, and with the fog it was our best option.
If you have a clear day or want to take another way back, you could head down the south face of South Bubble, and then head back to the parking lot via either side of the mountain. Or as an alternative (for a more difficult hike), you could climb up the face of South Bubble and then come back the way we did. See the hiking map below.
Seeing Bubble Rock was one of the things I wanted to do during this trip to Bar Harbor. I had visited Acadia National Park two times before, but I had never seen this iconic site.
Until now.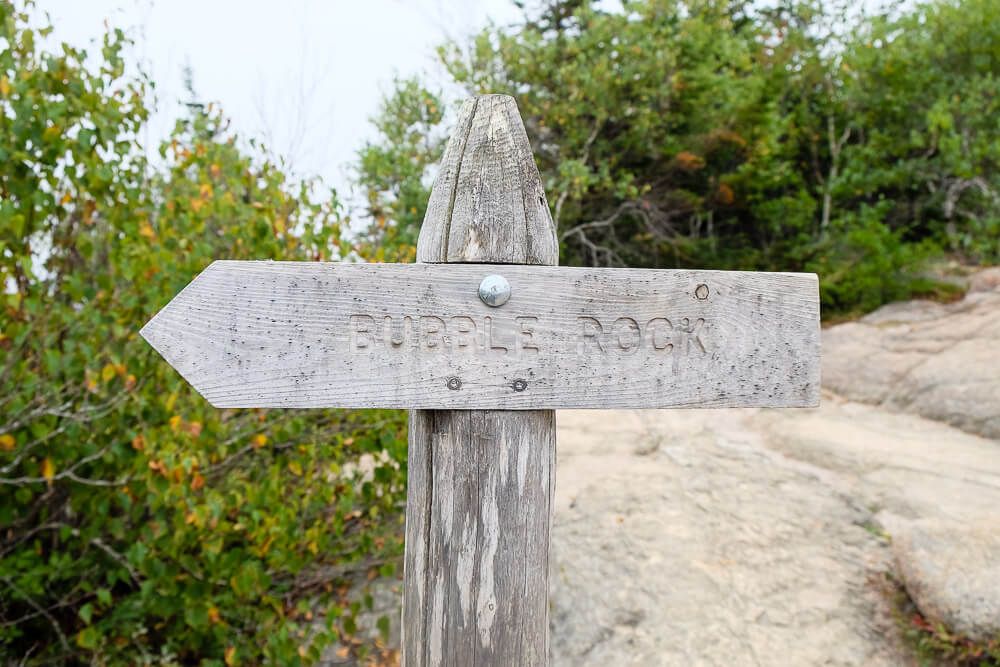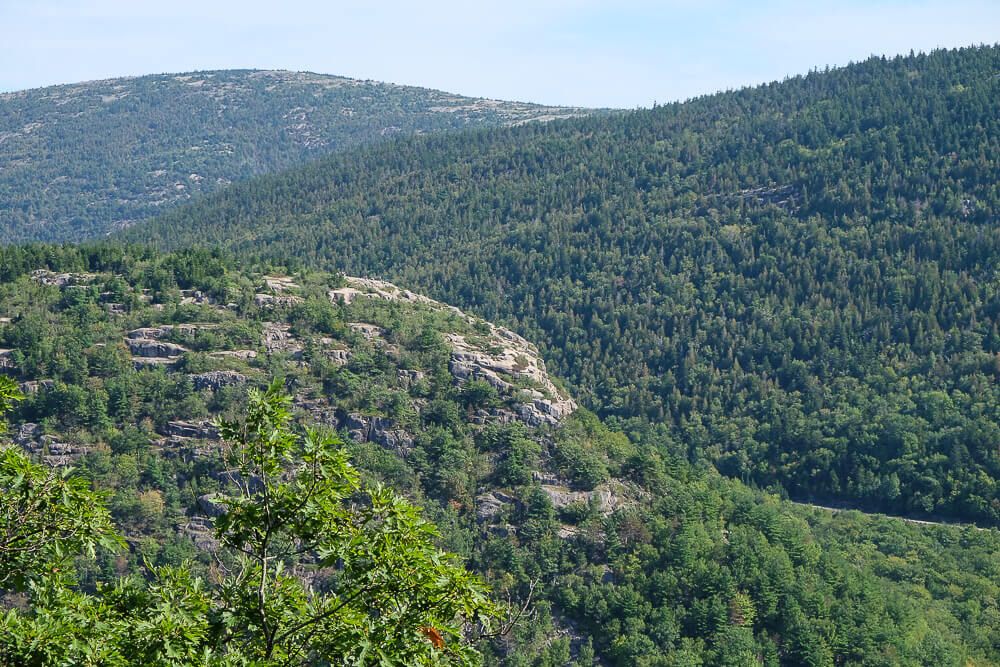 ---
Nitty Gritty
Distance, elevation, & timing. This is short hike. It's less than a mile from the parking lot to the top. With only about 300 feet of elevation gain. (The summit of South Bubble stands at 768 feet.) Depending on how long you want to hang out at the top, I would budget about 1-2 hours for this.
Be Careful. It's very close to a steep drop off. Keep a close eye on your kids and pets near the edge.
Location & Parking. Here is the trailhead and the Bubbles Divide parking lot. Be warned that it fills up fast. If there are no open spots, you can try to wait it out or go down to the overlook (like we did) to see if there are any spots there.
Hiking Map. The route we took is highlighted in blue. Alternative routes (like coming up the face of South Bubble) are highlighted in green.