Most of Acadia National Park's popular trails are located on the east side of Mount Desert Island along the Park Loop Road. You've got the Beehive, the Great Head, and the Bubbles to name just a few. But for my last couple of trips to the park, I've tried to explore more of the quiet side (aka the west side). And it's there you can find the park's namesake hike – the Acadia Mountain Trail.
This trail surprised me and I liked it a lot more than I thought I would. Plus it was much harder than I expected as well (so be prepared). If you make it to the top (and there are a couple of good overlooks near the summit), definitely sit back and stay awhile.
Distance: ~3 miles roundtrip
Dog Friendly: Yes but not for all dogs
Trailhead: Located along Route 102 (on the way to Southwest Harbor), there's a roadside parking lot across from the Acadia Mountain Trailhead and St. Sauveur Mountain Trailhead. You'll find a small lot and a bathroom even.
Elevation Change: ~700ft
Time: 2.5-3 hours
One Week in Bar Harbor and Acadia National Park
---
Acadia Mountain Trail
There are a couple of ways to hike this trail, but I do suggest hiking it in a loop (unless you have a small dog, but more on that below).
For this Acadia Mountain loop, I decided to hike up the more gradual (but still challenging) west side of the mountain, and then descend the steep eastern side (the side that faces Somes Sound).
To nab a parking spot in the small roadside lot across from the trailhead, definitely get there early. When I was there in September, I got to the lot around 9am and was able to get a spot. When we were leaving closer to noon, the lot was full.
So cross the road and head up the steps. Then take your first left to head north. This short trail follows the road until you reach the Acada Mountain trailhead. It's much safer and easier, to hike this trail than to walk along the road.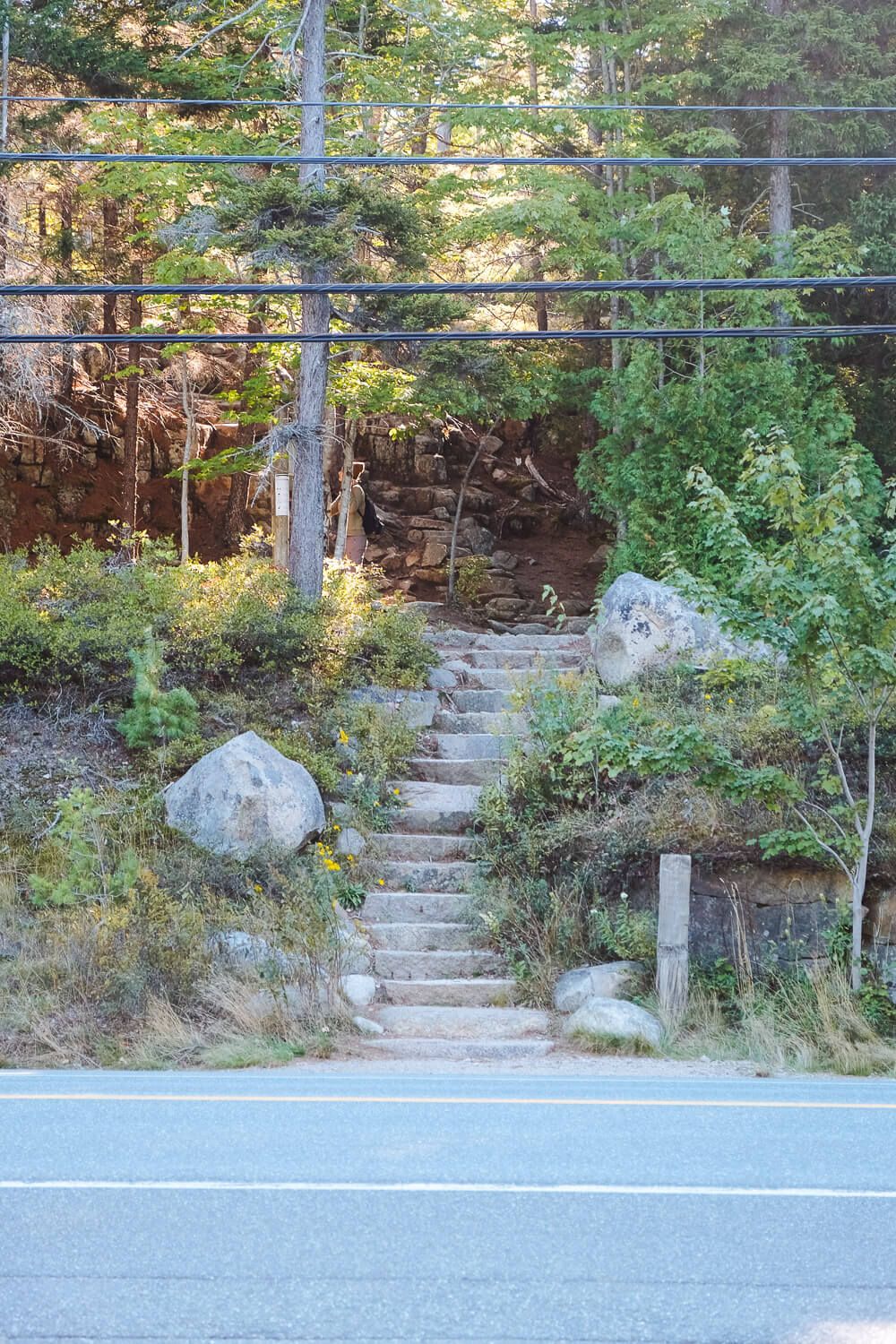 From here keeping following the trail (follow signs for Acadia Mountain) as it loops around and eventually you'll get to a 4 way intersection. This junction seems to confuse people (especially those without a map). Turn left, and head north on the Acadia Mountain Trail.
The trail stays in the forest as it climbs upward. And there are several steep sections with stairs. I had to stop a couple of times to catch my breath.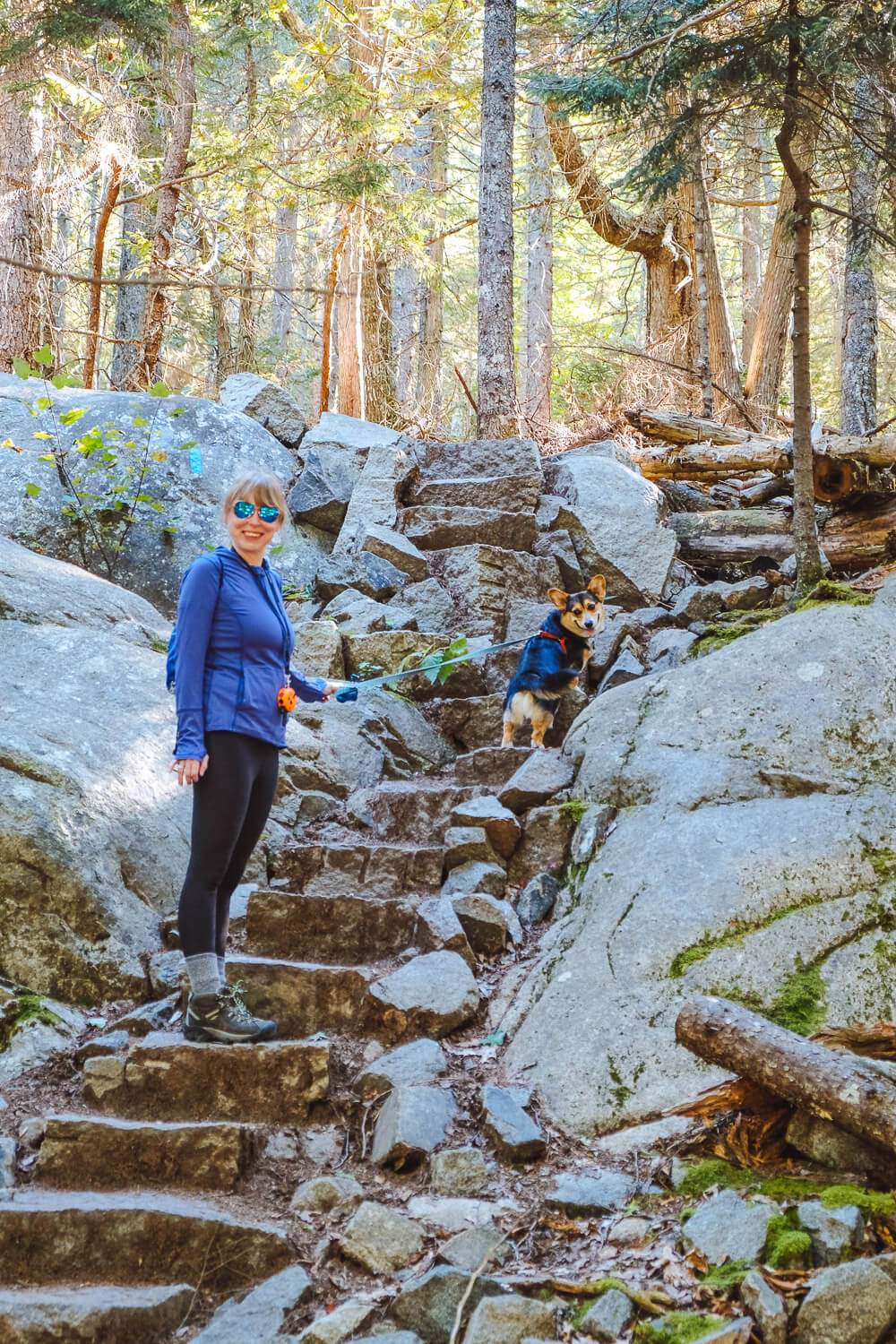 But as you near the summit, things will level out as the trail surface starts to turn to granite. And, after about .6 miles, you'll reach the summit itself. There are several good viewpoints here, but the best view is just slightly past the summit.
Continue down the trail just a bit until you reach a wide open viewpoint. Here you'll be greeted with stunning views of Somes Sound, the ocean, outlying islands, and surrounding mountains.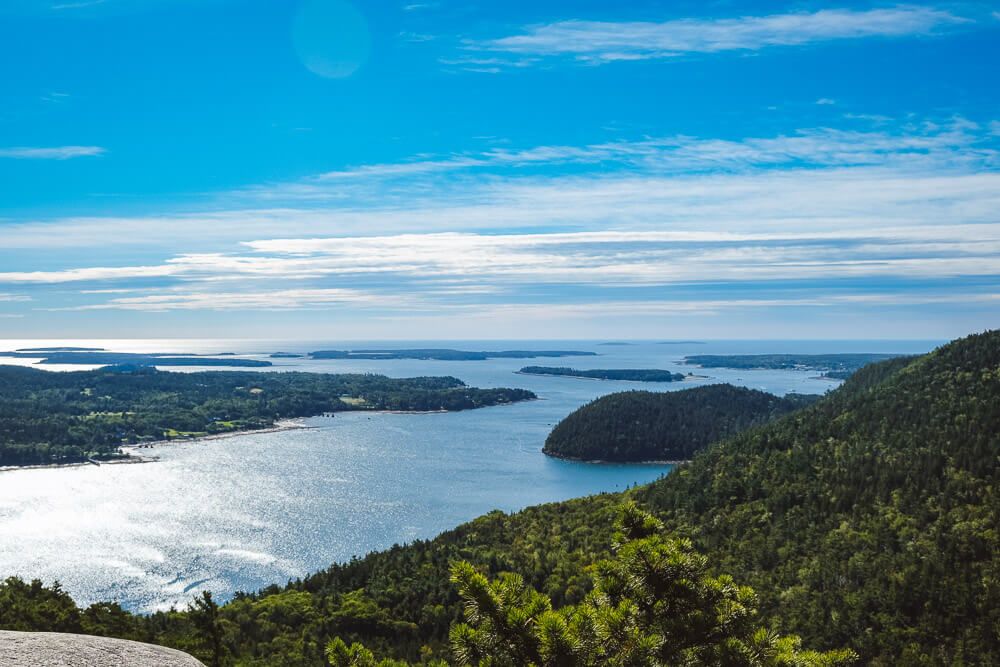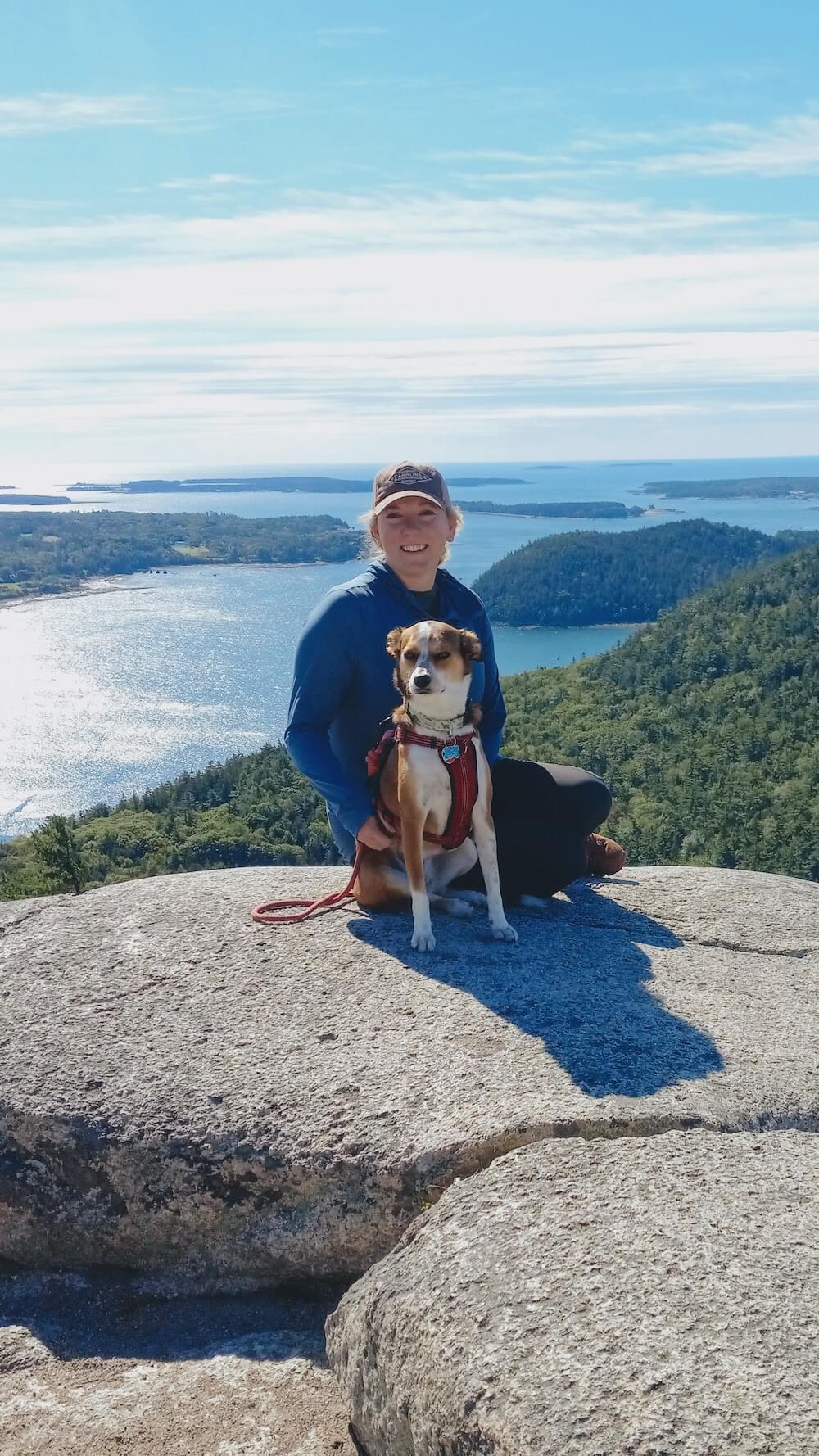 When you're ready to continue on, you have two options. You can go back the way you came for a gentle descent. Those who struggle with very steep, rocky, bouldery sections should consider to do this.
Also if you have smaller or older dogs, I would consider turning around. The next section of the hike is hard, steep, and requires scrambling. My sister's corgi (with his shorter legs), struggled. She had to literally lift him down sections.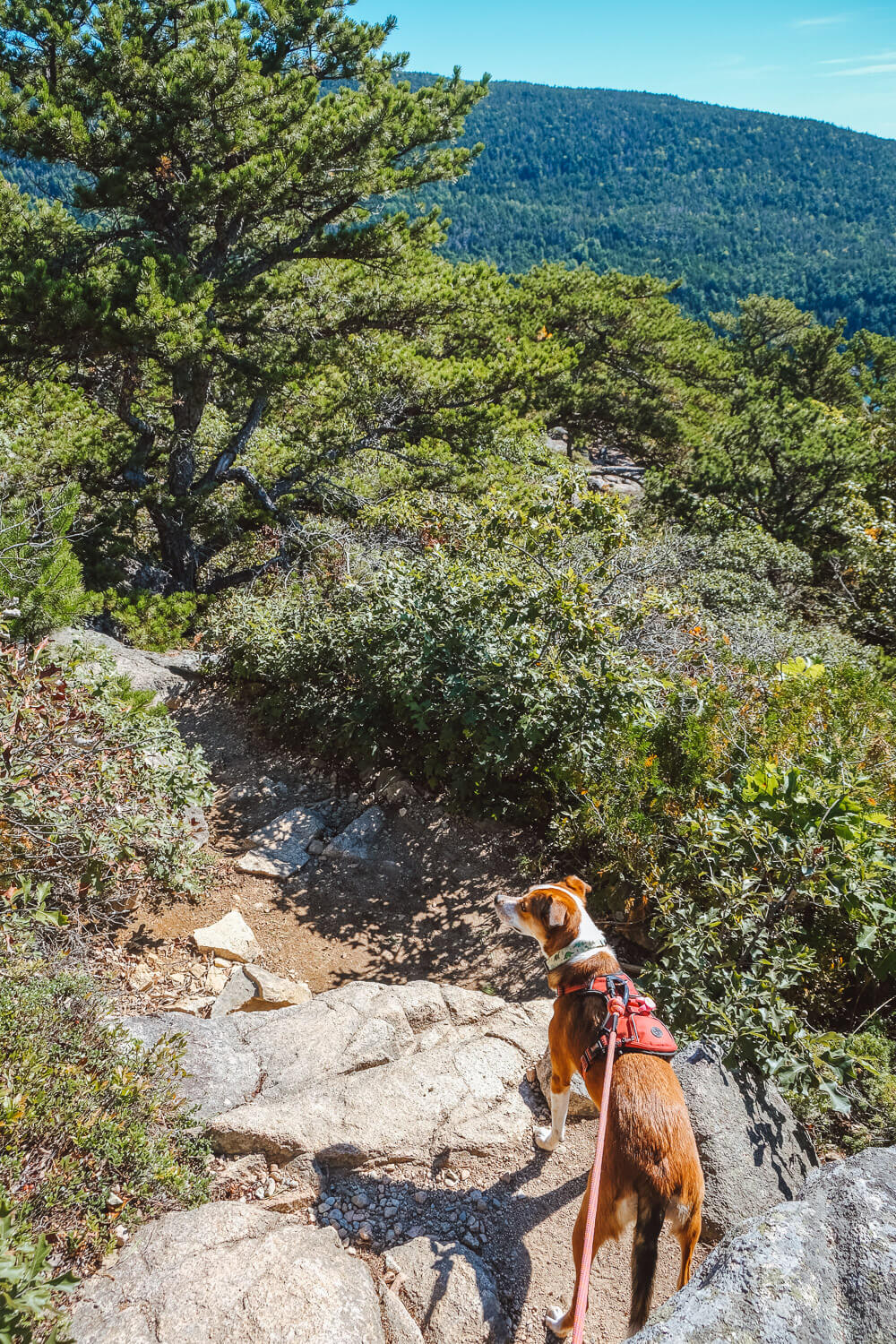 But if you're up for the challenge, then continue down the trail. There are a couple of more good overlooks as you start to wind down, but soon all of your attention will be on the trail.
This section of the hike reminded me of the iron rung hikes, just without any rungs to assist you.
You will be climbing/stepping down boulders and rocks. You will be scrambling. And it will take you longer than you think (even with going down). I don't have great photos of this part because I was so focused on getting myself and Ellie through these obstacles.
Discover the Iron Rung Hikes in Acadia National Park
Eventually things will even back out and you'll find yourself back in the forest. You'll cross over a beautiful wooden bridge and see an optional viewpoint that takes you down towards the Sound (we skipped this because we were getting hungry).
To make your way back towards the trailhead, keep right and follow signs for the Man o' War brook trail. This old forest road is fairly level and will take you back to the trailhead.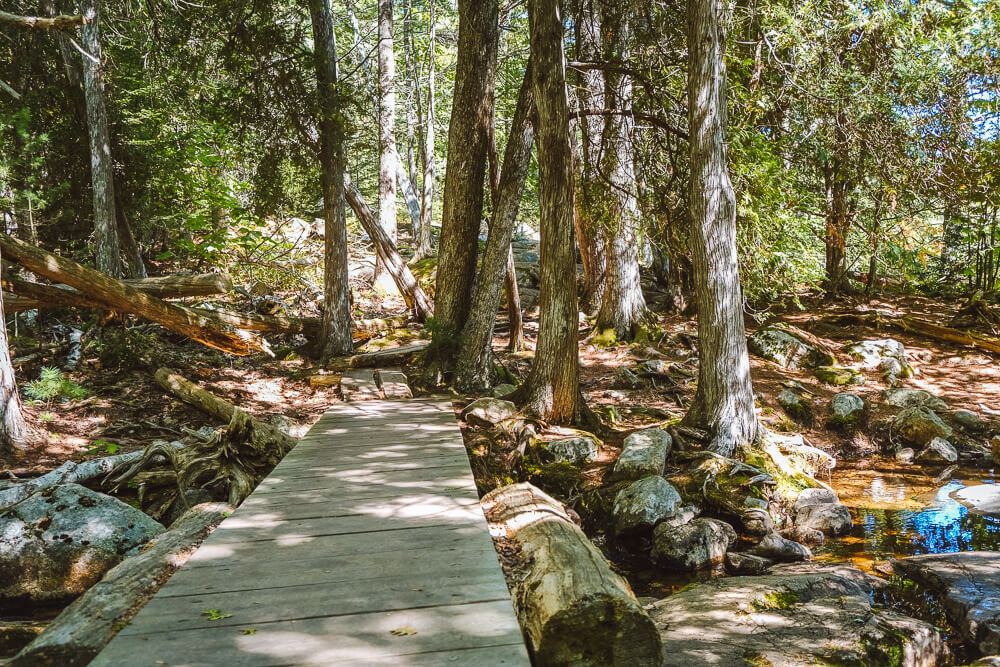 ---
FAQs for Acadia Mountain
Is the trail dog friendly? Acadia National Park is dog friendly as long as you keep them on a 6ft (or less) leash (and you pick up their poop). This trail, however, is very strenuous and would be best for medium to large dogs. Consider making this an out and back hike by simply hiking up the gentle west side and then back down it.
Where should you park? There is a small lot across from the St. Sauveur Mountain trailheed with a bathroom. I suggest parking here and getting here early in order to get a spot. Plus there's a pit toilet bathroom!
Is there a trail map? Check out my trail map below!
Is there a fee? You'll need a park pass to enter Acadia National Park.
Click the image or the buttons to view the map in more detail.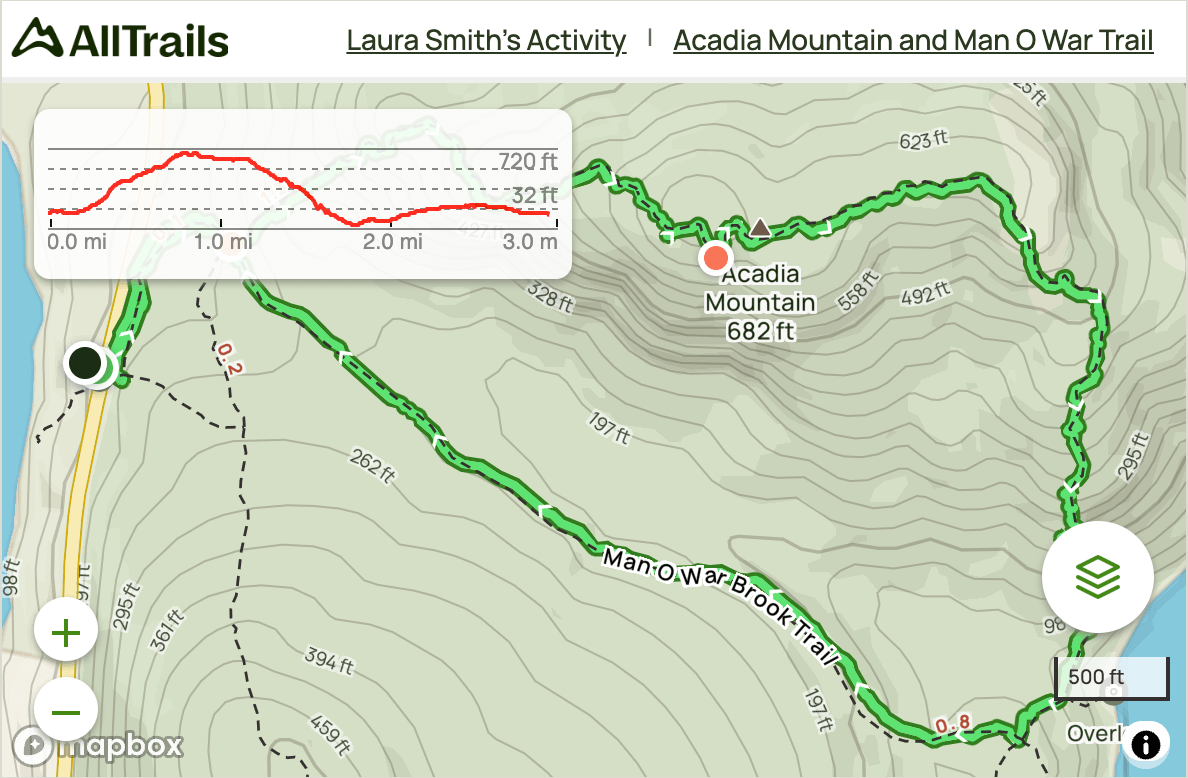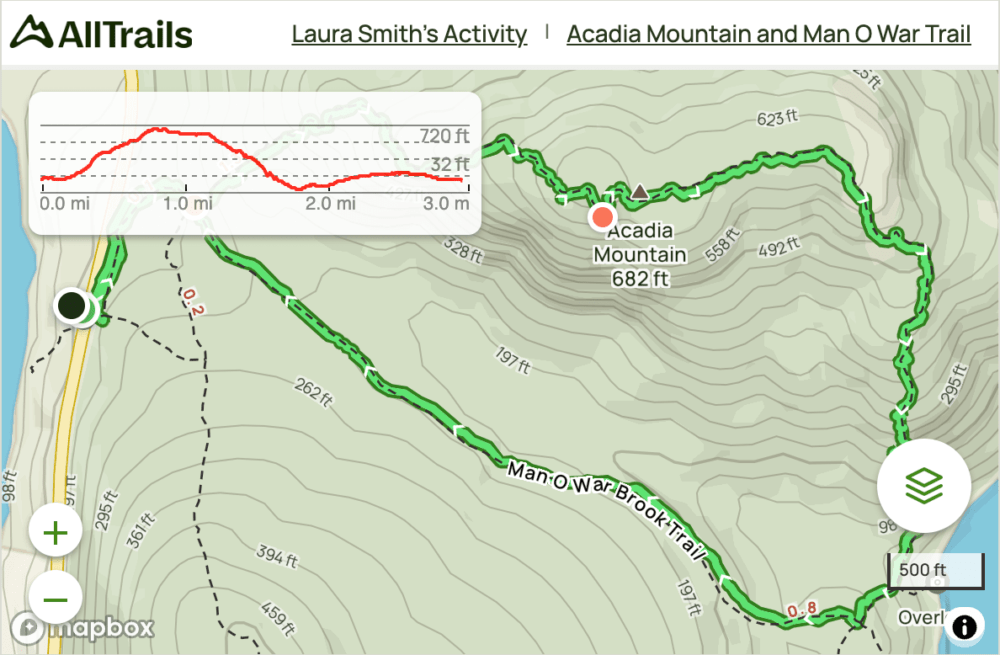 Planning your trip to Acadia National Park & Bar Harbor?
Itineraries & Guides
Hiking Trails
Other Things to Do in the National Park and in Bar Harbor:
Bass Harbor Lighthouse for sunset
Whale Watching Tour
Walk to Bar Island
Atlantic Brewery Tour
Ghost Tour
Where to Stay:
On our first trip to Bar Harbor we stayed at the Holiday Inn Regency. It was a little outside of town but was on the Island Explorer bus route which was handy.
If you want to stay in one of the classic Bar Harbor inns though, you can't beat the Bar Harbor Inn & Spa. This is literally in the heart of Bar Harbor.
When my whole family goes, we usually rent a house with VRBO or Airbnb. The extra space for 4 adults really comes in handy. There are several options in Bar Harbor and on Mount Desert Island.
There's also a few campgrounds in Acadia National Park as well if you'd like to stay in the park. Make sure to check the location of where they are.