If there's one thing you have to do during your trip to Bar Harbor, it's eat at a lobster pound. Because when I think of lobsters, I think of Maine. They just go together in my mind. So you don't want to miss out this quintessential aspect of your trip. It's time to discover the best Bar Harbor lobster pounds.
Now I've traveled to Bar Harbor with my family for years and I'm not going to say we eat lobster (in some form) every day…but I can't say we haven't either. My Dad and I in particular just love lobster.
And the absolutely best place to eat Maine lobster is a lobster pound. And though the best pounds are outside of Bar Harbor proper, they are worth the drive.
---
What Is a Lobster Pound?
Okay so first thing's first…what is a lobster pound? Like what is the difference between going to a lobster pound and just going to a restaurant and ordering a lobster?
Well, technically (based on my research), a lobster pound is used to describe a method of storing lobsters in containers circulated by fresh seawater. They are also obviously alive (the lobsters that is).
But to me there's so much more to a lobster pound than simply the live lobsters. For one, lobster pounds shouldn't be fancy. If you have a dedicated waitress and lots of other seafood offerings, that's a restaurant.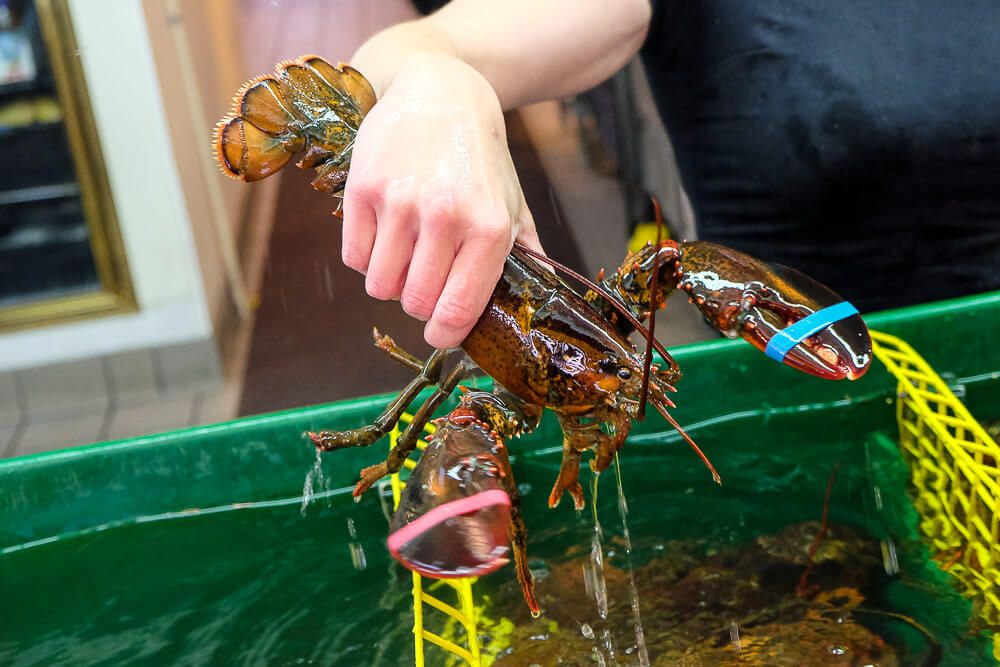 Lobster pounds have counters or windows you order at. And your options are limited (think lobsters, rolls, chowders, clams/mussels, and desserts). There are sometimes a few other offerings depending on the pound, but the menu should be pretty simple.
Since Bar Harbor is popular, a couple of my recommendations do have more on their menu due to the amount of people and tourists they serve.
The lobsters are also right there at the counter in their tanks. Organized by type and/or size. If you are ordering a normal lobster, you'll literally see them pick it out and weigh it. And that will be your lobster. (If this freaks you out, go for a roll.)
The seating should also be pretty rustic at a lobster pound. Think picnic tables and the like. No fancy table cloths or center pieces. And when the food is ready, they'll bring it out, but that's the extent of the table service.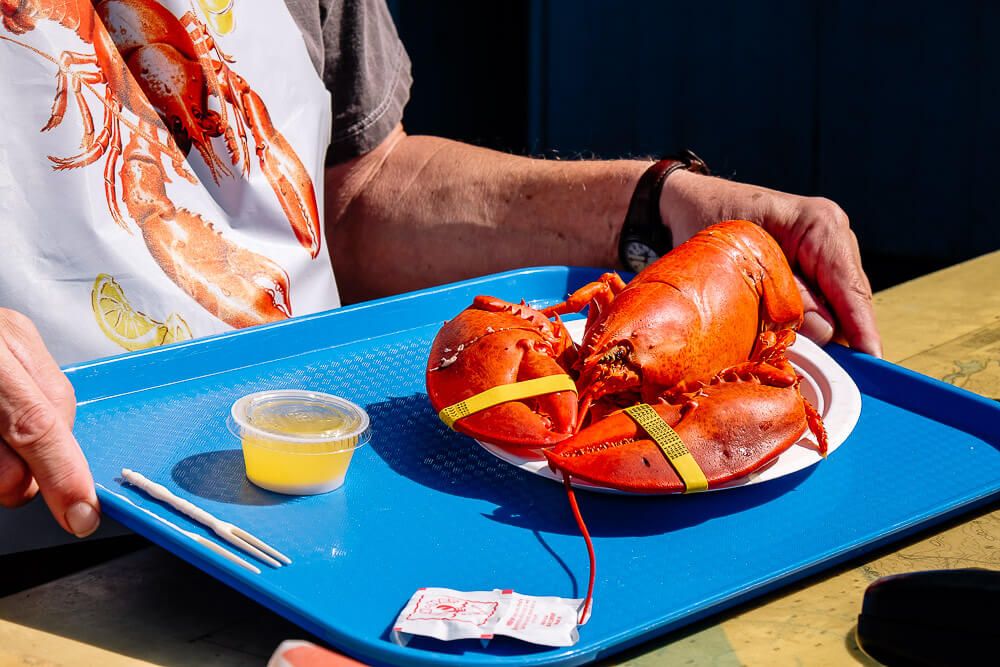 Most lobster pounds should also be right on the ocean. Because if the pound is on the ocean, you can not only expect that they get their lobster directly from boats, but that you'll also have some pretty great views. (Anyone else obsessed with the smell of the ocean?)
Now most lobster pounds on Mount Desert Island are quite popular. So expect some crowds.
Okay I think that's the basics…let's get to it!
---
Bar Harbor Lobster Pounds
Thurston's
Thurston's Lobster Pound was the first lobster pound I ate at on Mount Desert Island. And it's so good, I've gone back every visit. It's also a local favorite as well, with some saying it's the best lobster in Bar Harbor. (So you know it's doubly good).
It's located on Bass Harbor, so it's quite a drive from Bar Harbor. But it's totally worth it, trust me.
Bass Harbor is located in the southwest of Mount Desert Island. And it's also considered like the most local of the harbors. In other words, this is the fisherman's (or lobsterman's) harbor.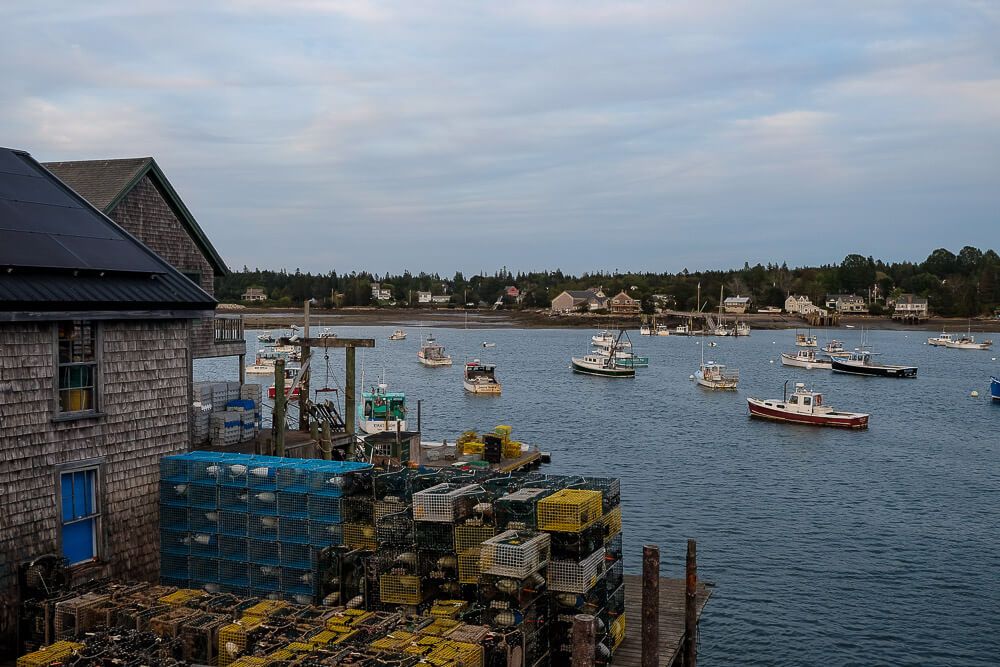 If you're headed to the Bass Harbor Lighthouse, then this is a great stop for lunch or dinner! (Check out my Bar Harbor itinerary for more details on the lighthouse.)
Now Thurston's is quite large, mostly because it's quite popular. But it's also got that lobster pound atmosphere since it literally sits on a dock jutting out over the harbor. And you can watch the lobster boats dock at Thurston's with the day's catch.
And though they are popular, they also have several seating areas (both inside and out) and even when we've had to wait in line for 20 minutes before ordering, we've still found seats.
The only non-lobster pound aspect about Thurston's is their extensive menu. They do offer quite a bit more than the standard pound fare, but I give them leeway on this. Since they are so popular, many families come here. Sometimes with a non-seafood lover in tow. So Thurston's has a few items to cater to these people.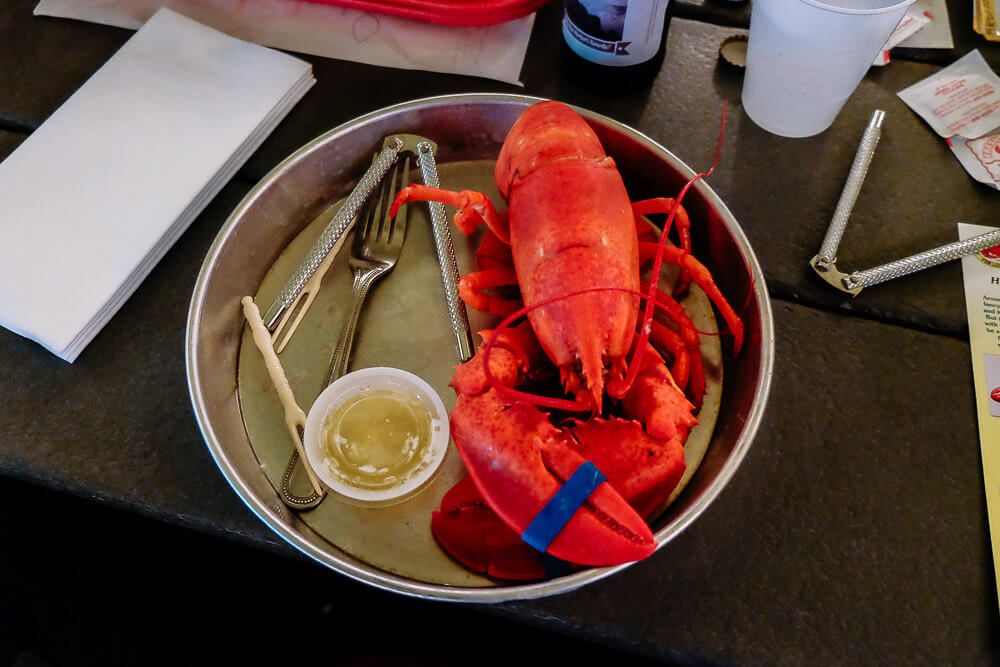 What do I order at Thurston's? I'm a bit lazy when it comes to my lobster, so I tend to lean towards the rolls. But for every trip to Bar Harbor, I make the effort to eat at least one whole lobster. And I usually do this at Thurston's.
Now if you're ordering lobster, you might find yourself wondering, what is the difference between a hard shell and a soft shell lobster?
For one, hard shell lobsters have a harder shell. They're also more expensive per pound. But they also have more meat than a soft shell lobster. Thurston's got a wonderful, quick comparison chart of the two if you want to know even more.
I tend to go soft shell just because it's cheaper, but I think next time I want to go hard shell to avoid the water (and the mess). Bibs can only do so much you guys.
---
Beal's Lobster Pier
Beal's is a working fish and lobster pier in Southwest Harbor. Their restaurant is open from June through September, but the rest of the year they're still hauling in the seafood. So when you go for some lobster, you know it's fresh.
Southwest Harbor is a beautiful little community and definitely deserves some of your time. After you've gotten your fill of small shops, head on over to the pier to get your lobster on.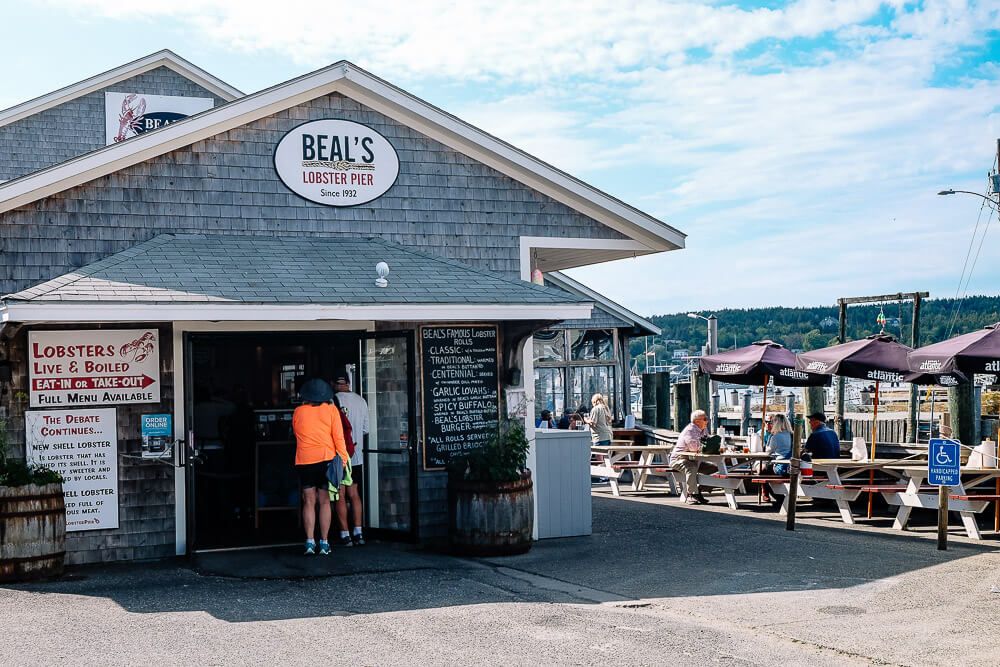 Like Thurston's, Beal's also has an extensive menu. So you can find a bit more than the standard lobster, roll, clams fare here. Which makes it a great choice for families or groups that have that person who can't stand lobster or seafood in general. (Who are these people?)
Beal's has two main seating areas, but if it's nice out, definitely go for one of the picnic tables on the pier. You'll have better views of the harbor and be able to watch the lobstermen arrive in their boats and unload the lobster on the pier. Just remember your jacket because even on a sunny day in September, the breeze off the water can get you.
What do I order at Beal's? My sister went for a traditional roll and some oysters. My parents are whole lobster kind of folks. But I decided to go for the lobster burger. And it was fantastic!
Next time though, I'm definitely going to try one of their lobster roll variations (spicy buffalo!!!).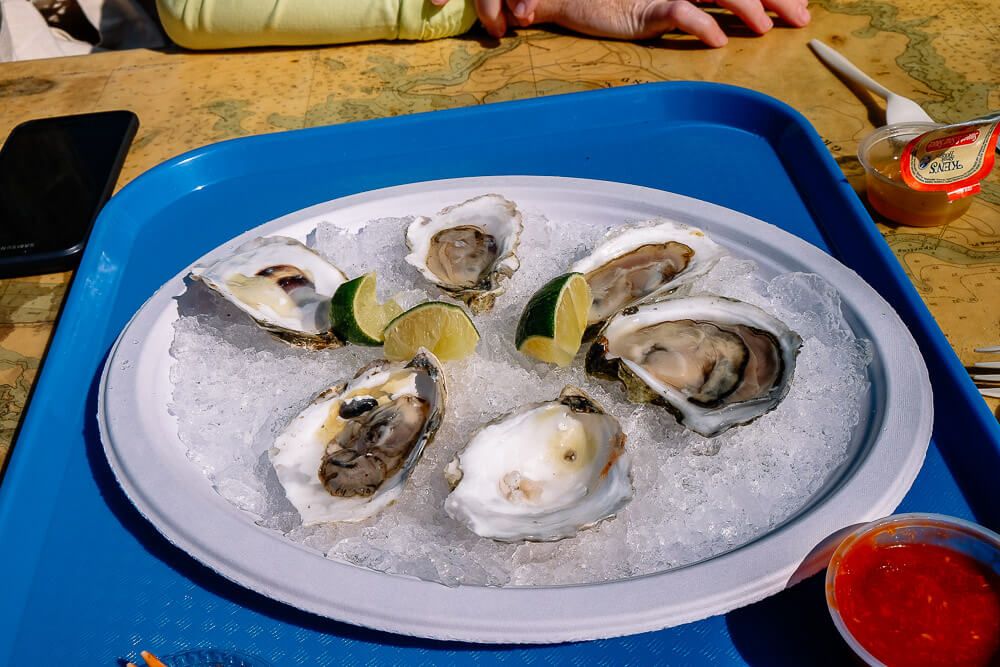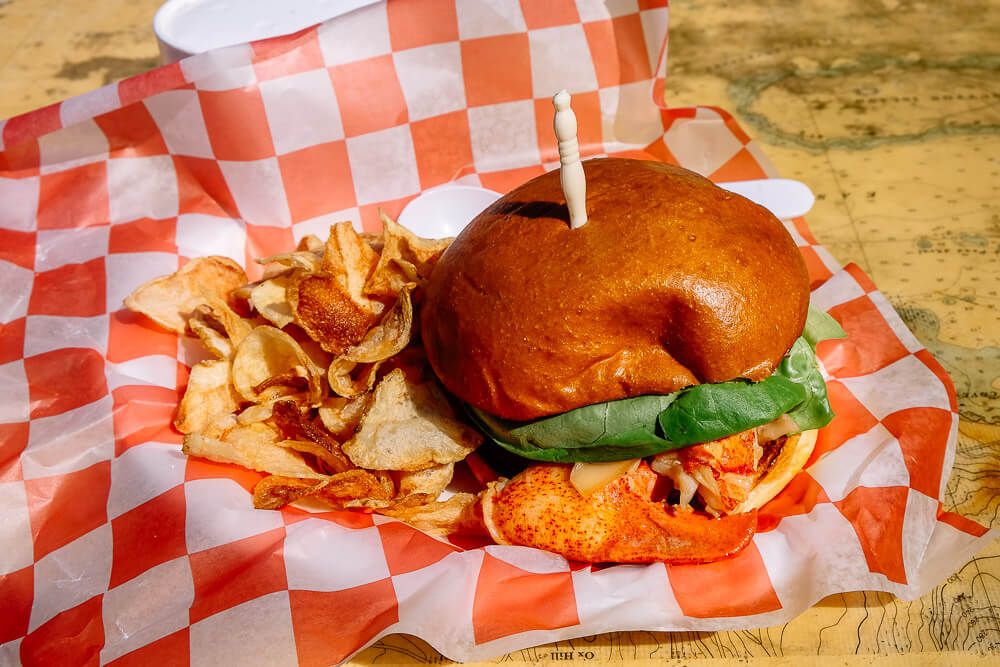 ---
Trenton Bridge Lobster Pound
Trenton Bridge Lobster Pound is located just over the bridge from Mount Desert Island. So if you're headed to Bar Harbor (or headed home), it's a perfect stop.
Plus it feels super traditional. Right on the water, very limited menu, and wood-fired boilers right out front. That's right you guys. If you feel intrepid, you can watch them boil your lobster in their seawater-filled cookers.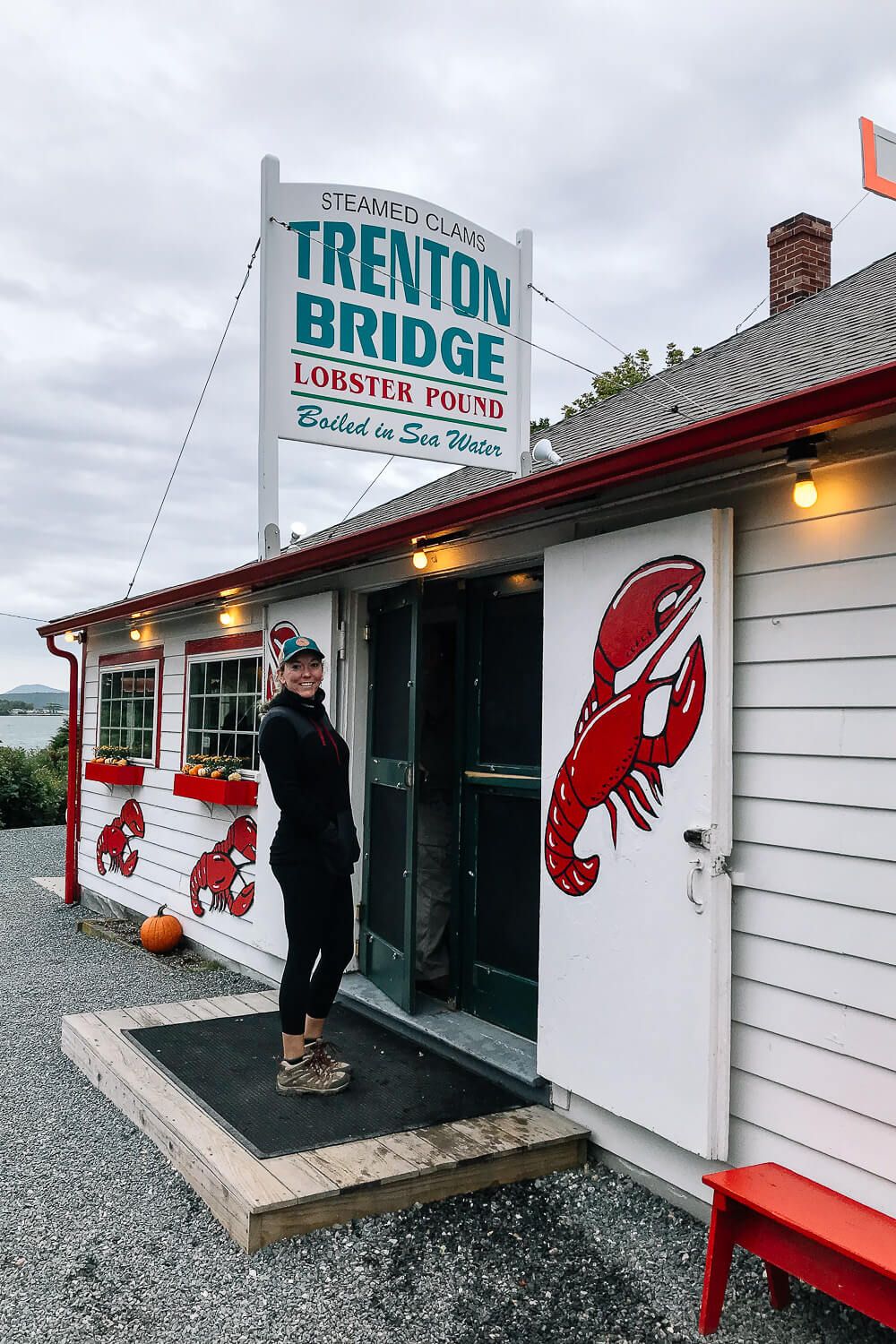 Or if it's a little cool (like it was for us), you can grab a seat inside or out on their protected patio. I loved the more rustic feel here.
However don't let that make you think it's not popular. When we went, we could barely stand inside the screened door the line was so long. So be prepared to spend some time here if you come during peak hours around lunch or dinner.
What do I order at Trenton Bridge? Well, I've already said I'm a lobster roll kind of girl. So I got a hot lobster roll here. But this is a great place to order a lobster and watch them boil it in one of their traditional cookers out front!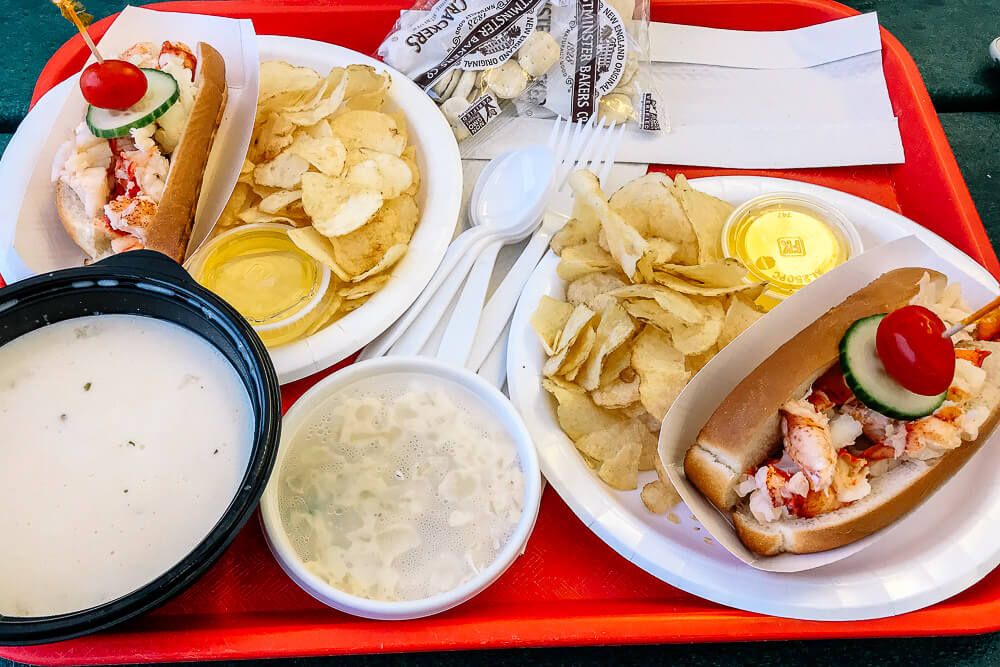 ---
C-Ray Lobster
C-Rays was our first stop on our last visit. It's on the north side of Mount Desert Island and right on the way into Bar Harbor. I wanted my lobster fix asap, and C-Ray's was a perfect first stop!
This lobster shack definitely has that super authentic, rustic feel. Small counter service with limited, lobster-focused menu? Check. Picnic Tables and nothing fancy? Check. Delicious lobster? Big check.
Seriously, I think my roll at C-Rays had the most meat in it than any other roll I had for the rest of the trip. (And I'm not going to say I probably eat upwards of 8 rolls in a 2 week period, but…I think I do.)
It was that good you guys. Plus we got a blueberry pie to go when we left and it was the best dessert for the rest of the week. You cannot beat homemade blueberry pie in Maine.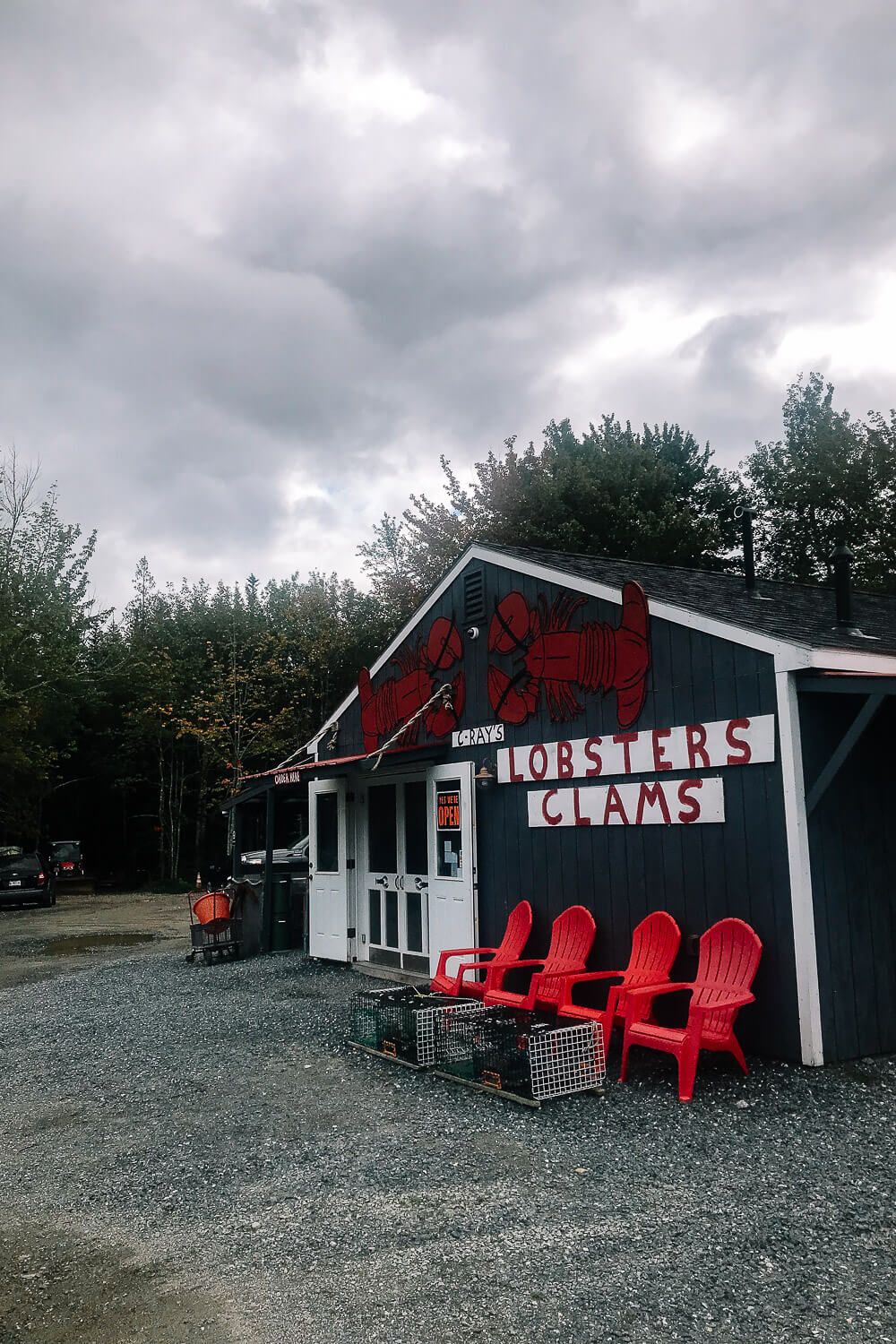 The only downside to C-Rays, and I don't think it's a big one, is that it's not directly on the coastline. But their lobsters are sourced from local fishermen and the waters around Mount Desert Island. Plus this is a family business with a history of lobstering.
What do I order at C-Rays? As I mentioned above, the lobster rolls here were packed with meat. Like seriously over-flowing. If you are a lobster roll fanatic, definitely go for a roll here. And don't forget some blueberry pie too if you have a kitchen where you're staying!
---
Charlotte's Legendary Lobster Pound
Charlotte's was the first lobster pound I wanted to try on my trip to Mount Desert Island in 2022. And it did not disappoint.
This small roadside lobster pound just south of Southwest Harbor was my parents favorite lobster pound. They had a good sized menu of lobsters, seafood specials (like the scallops roll my mother got), and even some non-seafood dishes as well.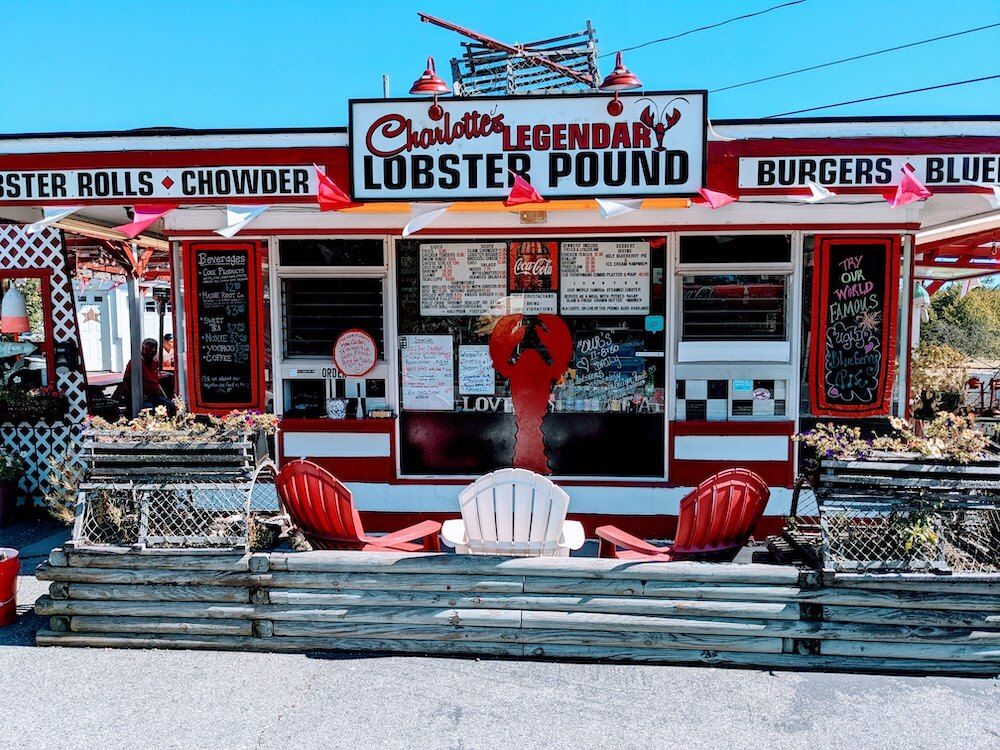 Their seating consists of mostly just picnic tables out front, as this is mostly just a roadside lobster stand. You can also get your food to go and head down to Seawall Picnic Area.
The hardest part about eating at Charlotte's was the parking situation. There are only a few spots out front. We had to kind of circle a few times and then just lurk behind a car that was planning on leaving.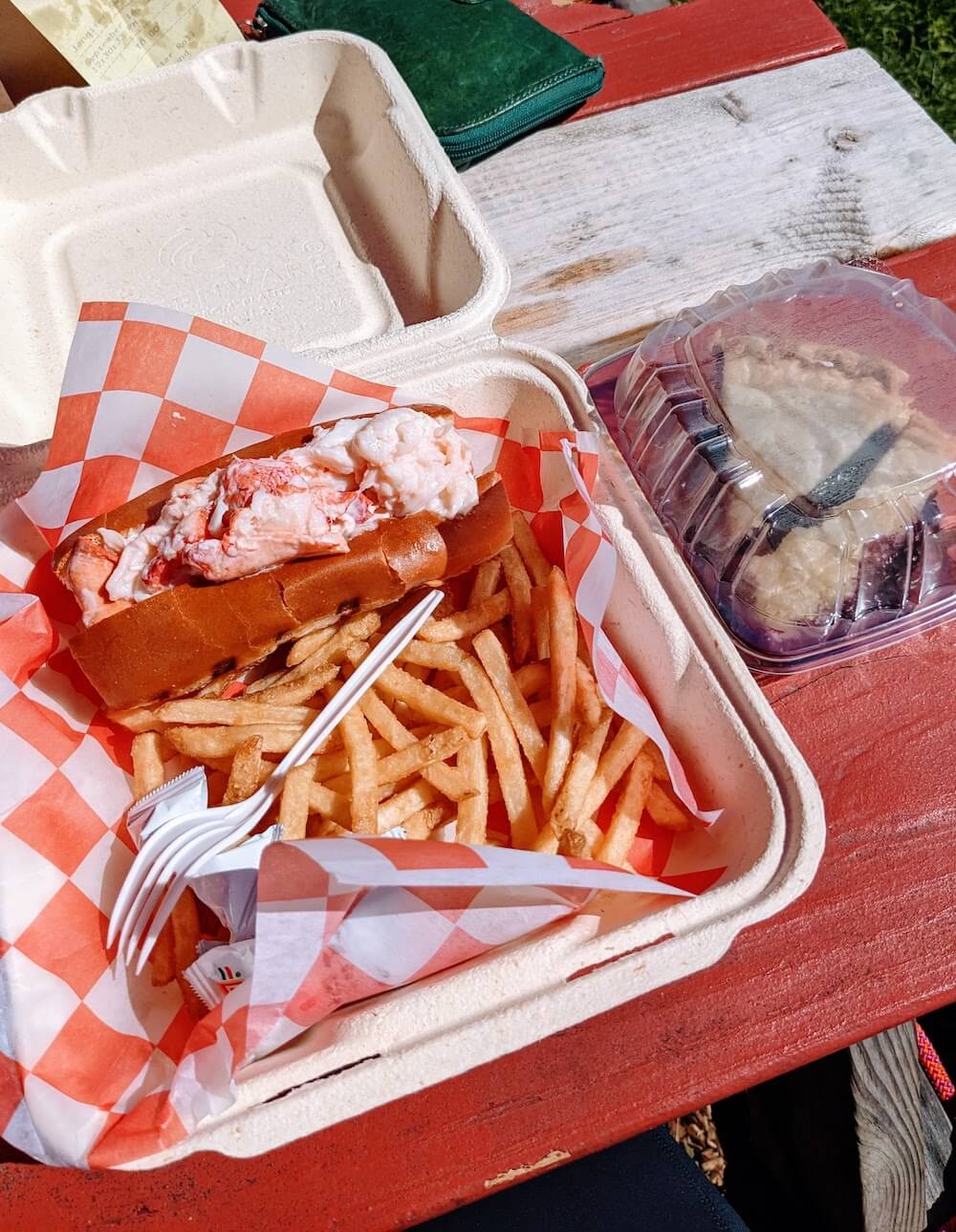 What do I order at Charlotte's? The classic lobster roll and blueberry pie. My father went for a whole lobster, and my mother was all about the scallop roll. If you're interested in some of the other roll options, maybe consider grabbing that here, as no every pound will have them as an option.
---
The Nor'Easter Pound & Market
The Nor'Easter Pound may seem a bit more like a restaurant than the others on this list. They have waiters, a large menu, and a full bar. But I'm including it on this list because it is a lobsterman-owned restaurant.
Big windows look out over Northeast Harbor and they have a large dog friendly patio if the weathers nice. You might even spot some fishermen bringing lobster from their boat.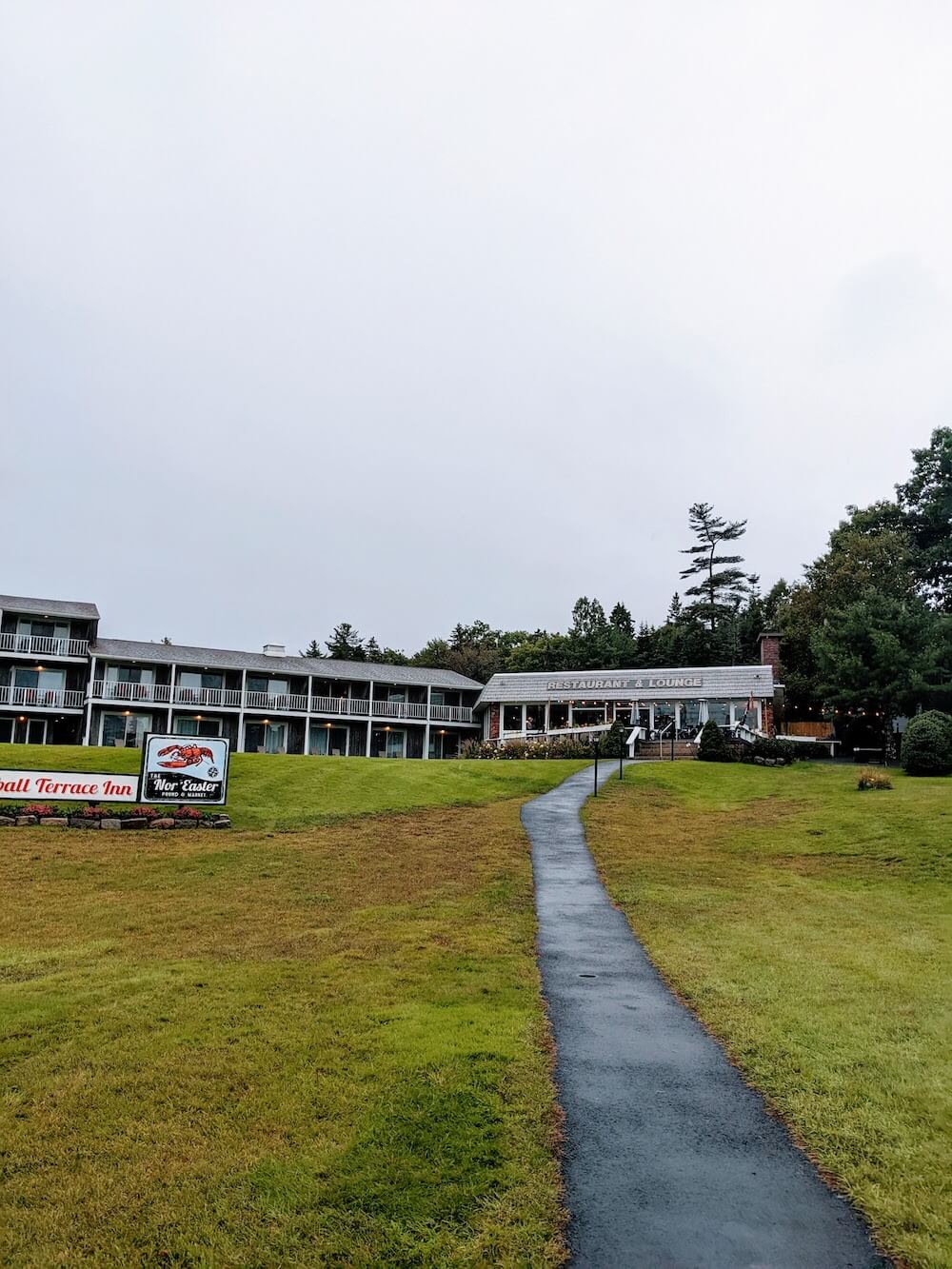 But one of the best things about this pound is that it's open in the offseason! So if you are in the area during the spring, fall or winter, you can still head to an amazing lobster pound to get your fix.
What do I order at the Nor'Easter? This was one of my last meals on the island during our trip in 2022. So instead of lobster, I actually went for oysters and clams. Two dishes I love but hadn't gotten a chance to have yet.
---
Other Lobster Pounds
So even with as much lobster as I eat, there are still a few lobster pounds I need to visit to make my survey complete. It's hard sometimes (on your stomach and your wallet) to hit up your favorites and try some new spots.
These are the ones that are on my list for my next trip: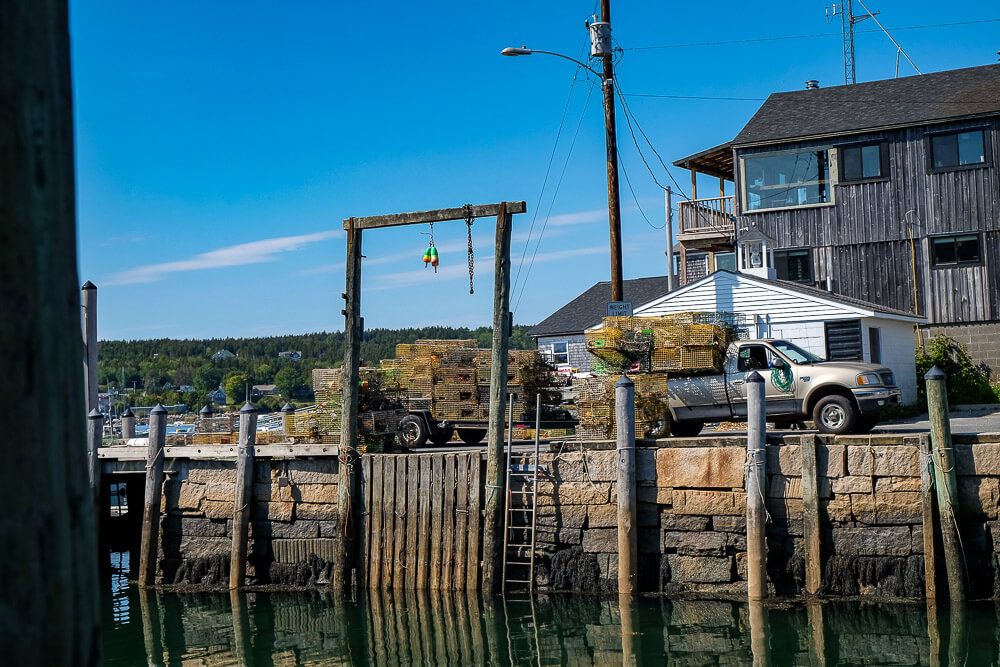 So there's one other pretty popular lobster pound that's not on my list. Stewman's Lobster Pound. It's the one right in Bar Harbor along the water. To me, it's more of a restaurant. And though I have eaten there, I didn't love it. I didn't hate it either. But it was just okay.
Which is why it didn't make my main list. These are my favorites, the ones I consider to be the best and give me that rustic, Maine, lobster-pound feel. But it is there if you want to try it out!
Where's your favorite place to grab some lobster in Bar Harbor?