Are you looking for the best hikes in Acadia National Park? As a long time visitor to Acadia (it's my favorite national park) and Bar Harbor, my days often revolve around which hike I want to do that day. And after several visits, I finally have my favorites. These are some of the best hikes in Acadia National Park. And if you are new to the area, they will show you some of the scenery that makes this park famous.
What you'll find here are my five favorite trails in Acadia National Park. And there'll be something for everyone. With over 150 miles of hiking trails in the park, there are strenuous, exposed, iron rung trails to easy family strolls. Acadia really does have a hike for everyone.
It's important to note though that many of the trails in the park cross and interconnect with each other. Many of my hikes are made up of several trails. Definitely consider getting a map – I love the waterproof version here – and pay attention to the trail signs at any crossroads.
And if you'd like more information on any of the longer hikes below, then just click the button to read my full trail guides! I don't have these for the shorter ones yet, but they'll be added soon.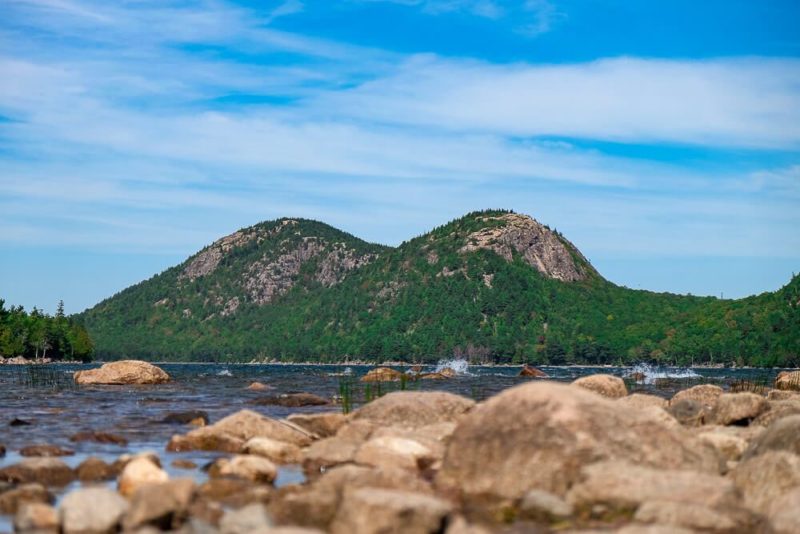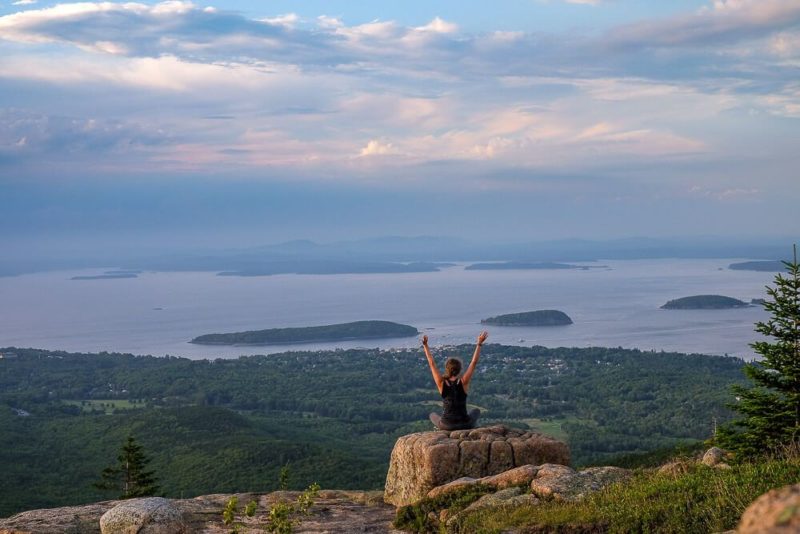 ---
The Best Hikes in Acadia National Park
One of my favorite trails, the Beehive trail (or loop actually) is an Acadia classic. Located basically across the road from Sand Beach, hiking the Beehive is an easy option for those driving the Park Loop Road. Beware though! This hike is not for the faint of heart. This trail goes right up the face of the Beehive. And by face I mean cliffs. Granite boulder steps, ladders, iron rungs, and handrails will all assist you as you scramble up. And this is exposed. Those with a fear of heights should not attempt.
The views at the top are amazing though on a clear day. Sand Beach and Frenchman's Bay spread out before you once you reach the top. Definitely one of the best views in Acadia National Park.
Note though that you should not hike down the Beehive, you continue the loop to the Bowl trail which will take you back to where you started. And for those who may be intimidated by the trail, they can still hike up the backside to get to the same views. My full guide has all the details.
Length: Under 2 miles for the entire loop
Difficulty: Strenuous due to the iron rungs here
Note for those who want an even more interesting and challenging iron rung hike, try the Precipice Trail. This is the big brother to the Beehive and is even higher with more iron rungs. Another iron-rung favorite of mine is the Jordan Cliffs trail as well.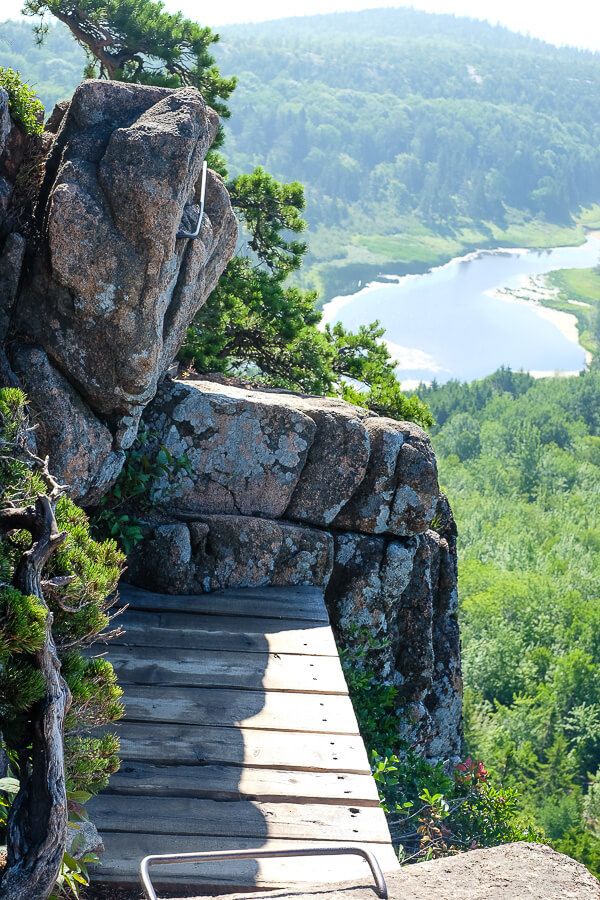 This hike to see Bubble Rock is fairly easy. And Bubble Rock itself is a huge boulder that was deposited on the edge of a cliff by a glacier a long time ago. It seems to be almost tipping over the edge. Oh and it was a lot bigger than I thought it would be. Plus on a clear day, you'll have amazing views out across Jordan Pond and the surrounding mountains. Even without Bubble Rock, these views would be worth the hike.
Just be sure to hike it on a clear day if you want to see anything beyond Bubble Rock. The morning I left for the hike, fog had rolled in and obscured everything around us. But I was still glad I got to see the famous Bubble Rock.
Do be careful though with your family and pets on South Bubble. There are steep drop offs here.
Length: Just about a mile to Bubble Rock
Difficulty: Moderate to easy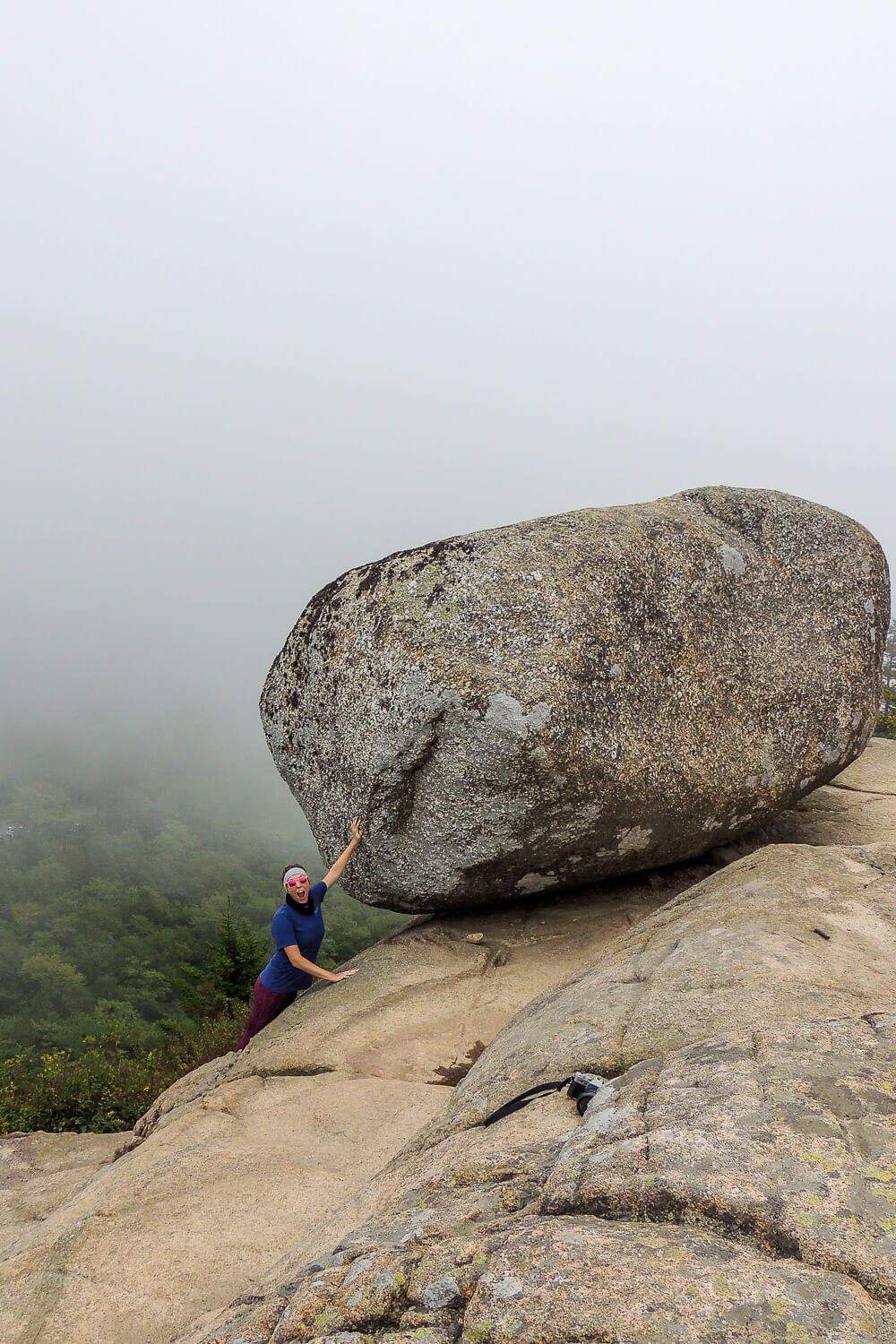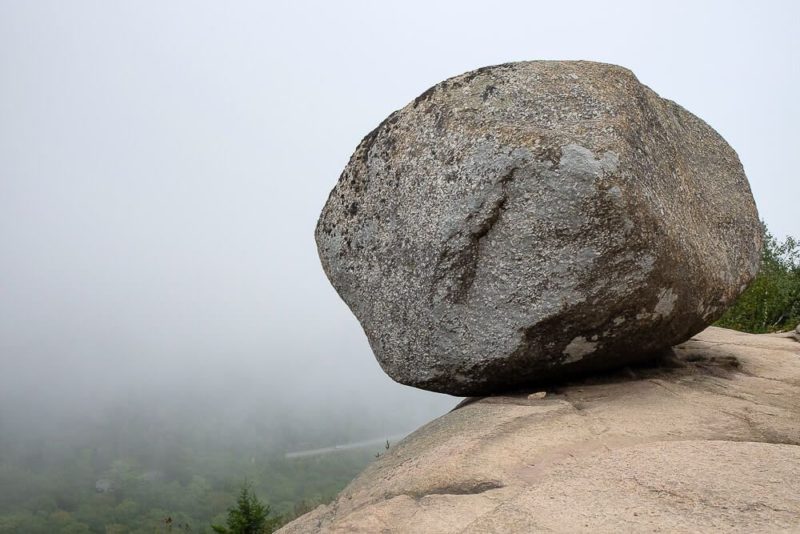 This family friendly trail runs between the coast and the Park Loop Road. It starts at Sand Beach and ends at Otter Point. All of the famous spots along the coast are featured along the trail (Monument Cove, Thunder Hole, and Otter Cliffs included). If you don't want to hike the whole thing, hiking it for just a part will give you a different perspective than simply driving. There are several parking lots along the road, so if Sand Beach is full, simply head to the next one to start your hike.
Oh and the best part? This trail is mostly level so it's perfect for the whole family. You definitely don't want to miss hiking this trail if it's your first trip to Acadia!
Length: 2.2 miles one way
Difficulty: Easy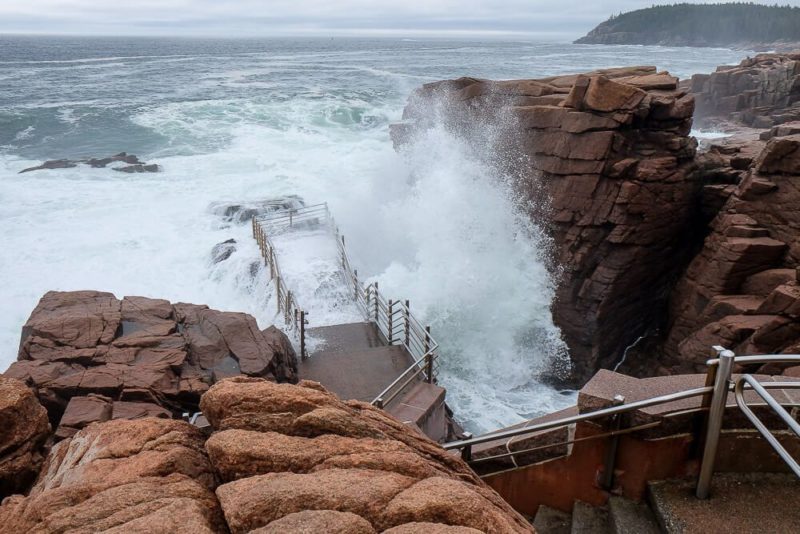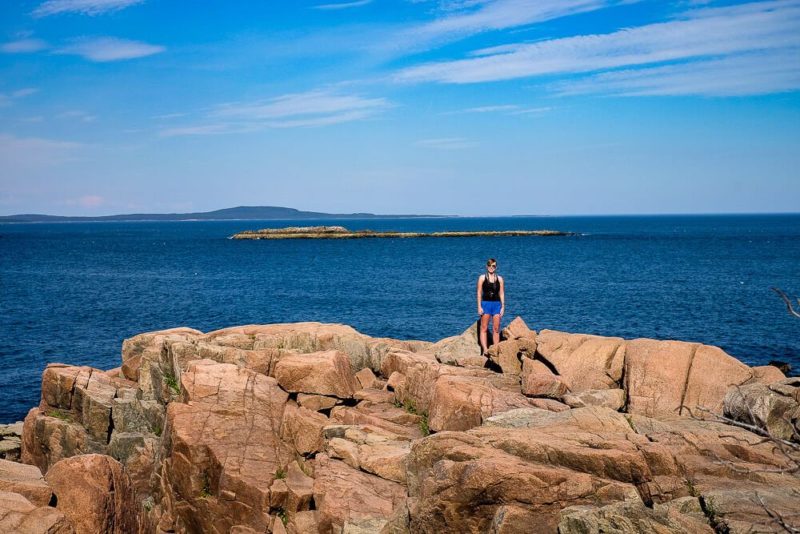 Jordan Pond is one of the prettiest parts of Acadia National Park. I love heading to the Jordan Pond House for lunch or dinner (the popovers!). With the Bubbles (North Bubble Mountain and South Bubble Mountain) situated at the far end of the lake, you can't get more picturesque than this.
A great way to extend your visit at Jordan Pond, is to hike the Jordan Pond Path. This loop trail circles the pond but stays very close to the shoreline. It's a great way to explore this area further and because it's so level, it's perfect for the whole family. Even with hikes like the Beehive under my belt, I still love the Jordan Pond Trail for its beautiful views of the pond, mountains, and shoreline.
Length: 3.3 miles for the entire loop
Difficulty: Easy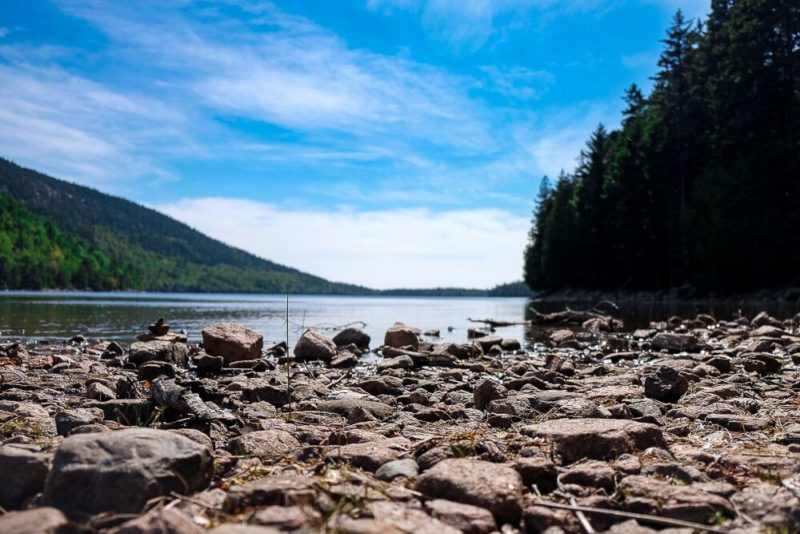 5. Cadillac Mountain Loop
Visiting Cadillac Mountain is a must for any visit to Acadia National Park. I usually drive there for sunset, but visiting the mountaintop for sunrise is, for many, one of best things to do in Acadia National Park. (I hate mornings, hence my love for sunsets.)
And to truly take in the beauty of Cadillac Mountain, definitely hike the Cadillac Mountain loop. This short, paved trail rings the top of the mountain to give you views from all sides. You are also free to explore the top of the mountain, but please pay attention to any do-not-walk signs or roped off areas protecting fragile plants.
IMPORTANT CADILLAC MOUNTAIN INFORMATION
You will now need a vehicle reservation in order to access Cadillac Mountain between May 26 & October 19. There is an additional fee ($6 in 2021) and the reservation must be made in advance online. You CANNOT purchase one at the park. There are two types of reservations (sunrise & daytime). And they each have a specific window for entry. Review the entire policy from the park before purchasing your reservation.
The drive to the top of Cadillac Mountain also has several pull-offs along the way that are beautiful (one of my favorites being the one directly below the summit with views towards Eagle Lake).
The top of Cadillac Mountain does have plenty of parking (and restrooms and a gift shop), but during the summer in the middle of the day, it can be hard to find a spot. The same goes for sunrise I've heard.
Length: ½ a mile
Difficulty: Easy
There are several trails that lead up to Cadillac Mountain. These trails are incredibly strenuous and are only for experienced hikers. I've never done it (yet), so for most I would recommend driving to the summit.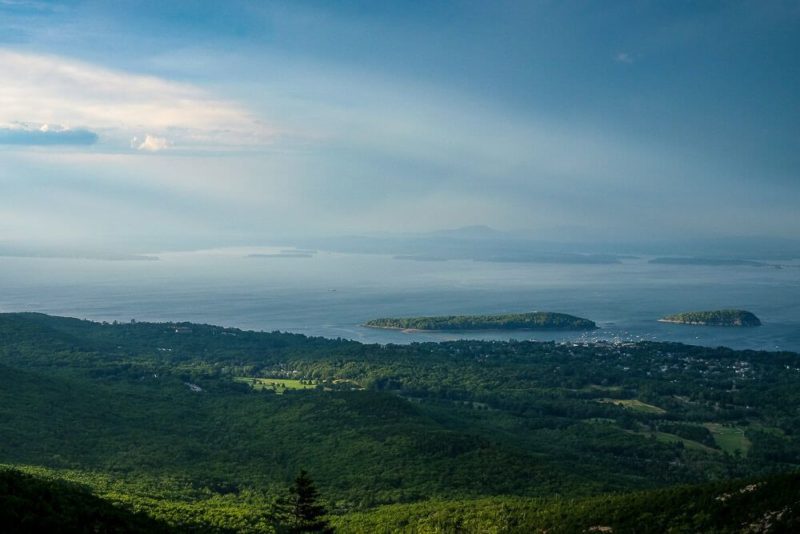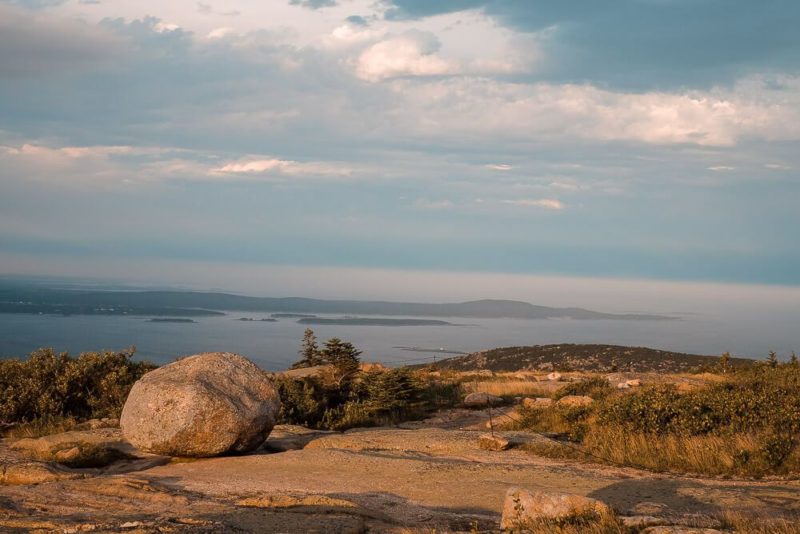 ---
that's it
If you're looking for even more trails or a complete itinerary for your trip, check out my full guide here for Bar Harbor. It includes several activities and can be easily cut down to just a couple days if you need to.
I love hiking in Acadia National Park. So I'm glad I was finally able to share this list of the best trails in Acadia. I hope they help you plan your own adventures!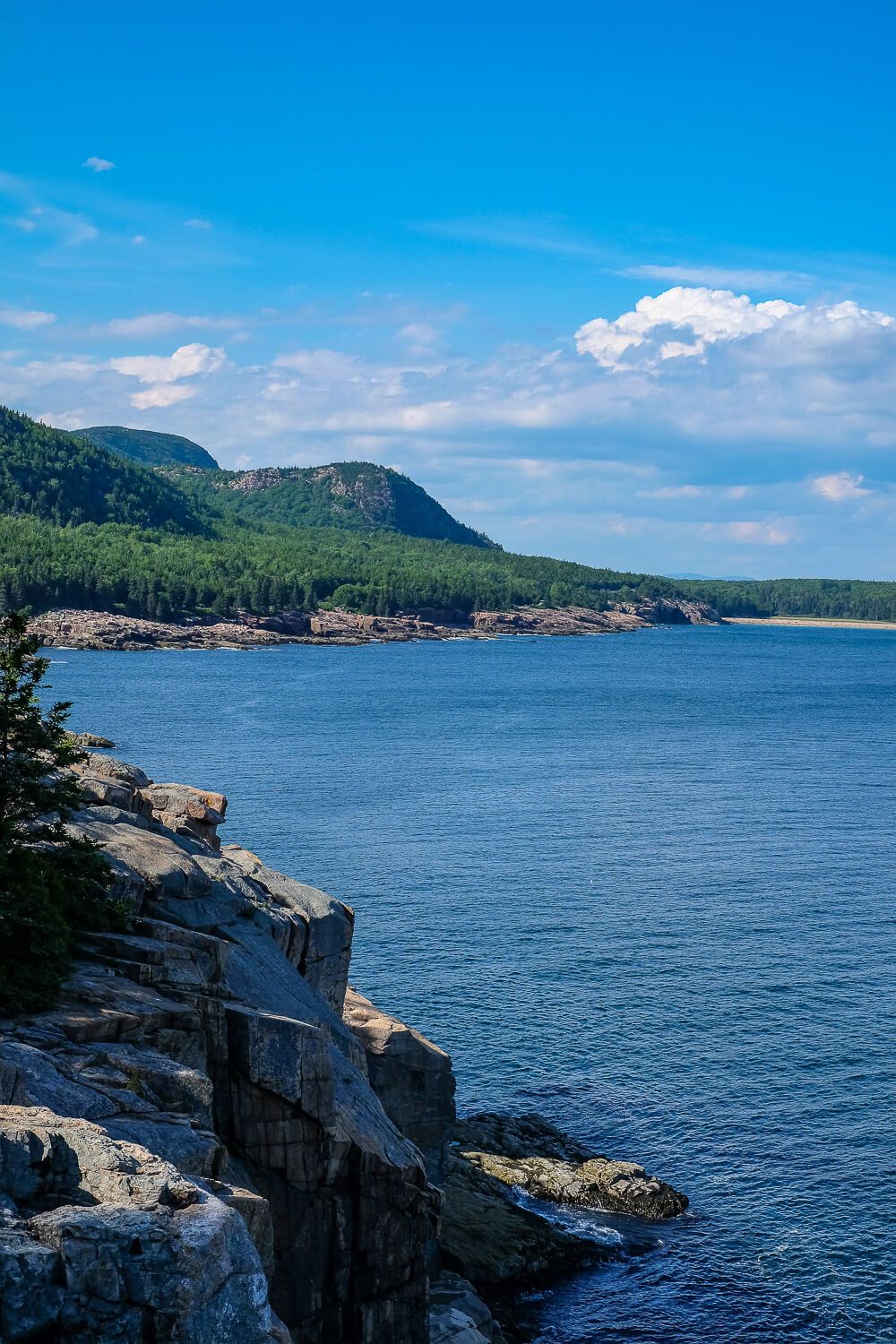 Planning your trip to Acadia National Park & Bar Harbor?
Itineraries & Guides
Hiking Trails
Other Things to Do in the National Park and in Bar Harbor:
Bass Harbor Lighthouse for sunset
Whale Watching Tour
Walk to Bar Island
Atlantic Brewery Tour
Ghost Tour
Where to Stay:
On our first trip to Bar Harbor we stayed at the Holiday Inn Regency. It was a little outside of town but was on the Island Explorer bus route which was handy.
If you want to stay in one of the classic Bar Harbor inns though, you can't beat the Bar Harbor Inn & Spa. This is literally in the heart of Bar Harbor.
When my whole family goes, we usually rent a house with VRBO or Airbnb. The extra space for 4 adults really comes in handy. There are several options in Bar Harbor and on Mount Desert Island.
There's also a few campgrounds in Acadia National Park as well if you'd like to stay in the park. Make sure to check the location of where they are.