Where can you find jousting, turkey legs, axe throwing, mead, and more? Why at your local renaissance fair of course! So if this sounds like a good time to you as well, then use this list to find all of the renaissance fairs near Greenville, sC.
I love me a good ren fair and I usually look forward to them all year. I go all in on the costume too. But even before my garb days, I loved going to listen to the shows, see some jousting, do some shopping, and more.
And there are a few close to Greenville. They are usually concentrated in the spring and fall to avoid the horrible summer heat.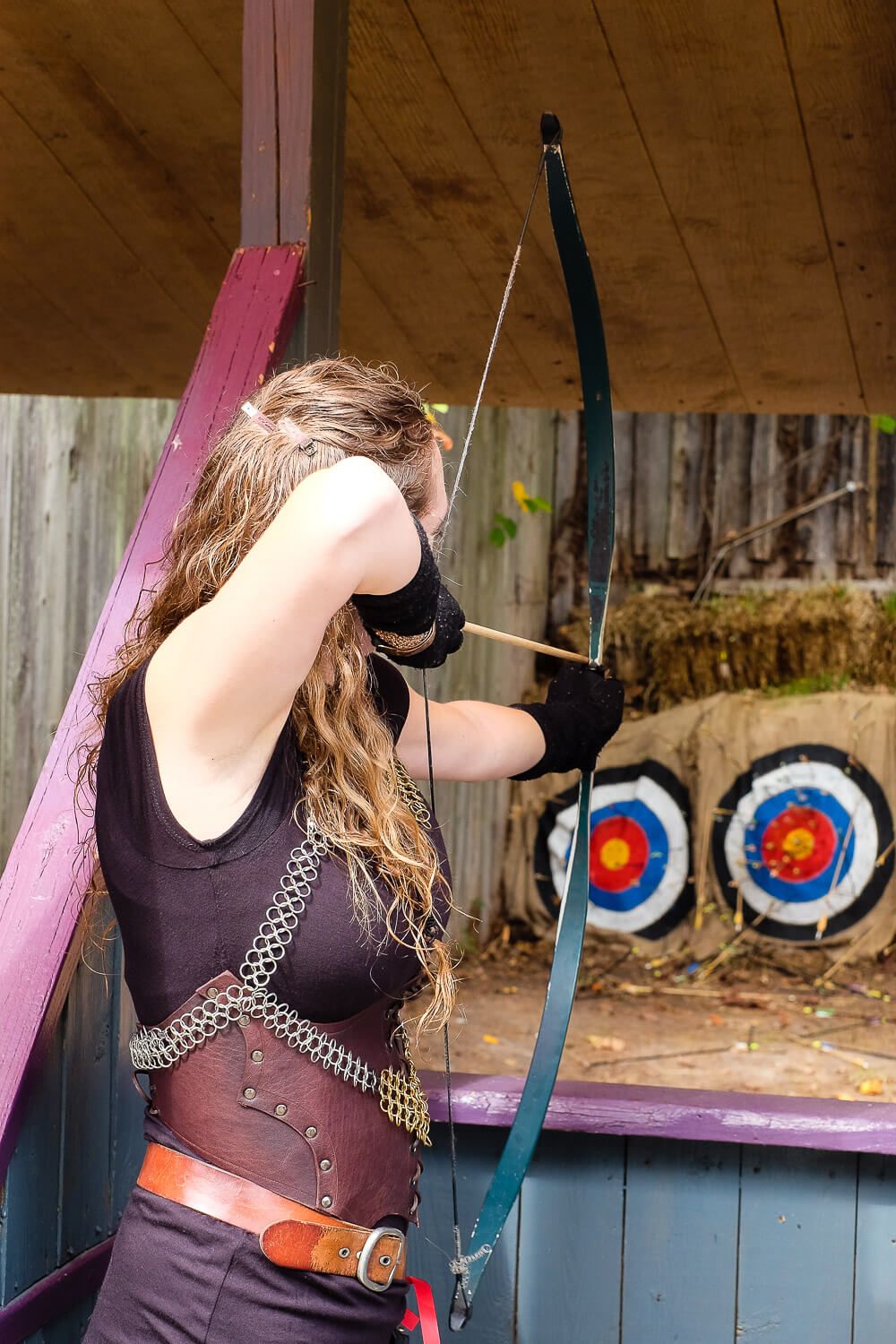 ---
Renaissance Fairs Near Greenville
Greer City Park
September 8, 2023: 5pm-10pm
September 9, 2023: 10am-8pm
Free to attend
For years I went to the local renaissance fair that was out Paris Mountain Road. It was small and crowded into a small open area near a CVS. But then this one in Greer started up after it ended. I have yet to go (though I'm planning to go this year).
It's only over a weekend, and it is smaller. But there will be vendors, food & drink, costume contest, and live shows. Check the faire schedule if you'd like to see something in particular.
For parking, see the parking map and maybe plan to use the shuttle.
Huntersville, NC (near Charlotte)
September 30, 2023-November 19, 2023
Saturdays & Sundays ONLY: 9:30am-5:30pm
$32 for adults (parking is free)
This is my favorite renaissance fair in the nearby area. For one it's open every weekend for about two months. So I can usually find a Saturday or Sunday to go (or even more than once).
The fair itself is also HUGE. It'll take you a long time to walk from one end of the grounds to the other. It's shaped a bit like a horseshoe but I believe there is a path that can take you around and back to the start again.
The variety here is also incredible. You have a number of stages with acts ongoing throughout the day. Some of my favorite acts to catch are the jousting tournaments (3 a day), falconry demonstration, Craic show, tortuga twins, washing well wenches, and so many more.
Plus a number of vendors, food and drink, and archery, axe throwing, and knife throwing. Ryan and I killed it one year at the axe throwing since we had spent an evening the previous weekend at one of those axe throwing bars.
However, due to the size of this festival, there are some things you should plan for. Check out my 5 best tips for your first visit to the Carolina Renaissance Festival for all the details. But I'll hit some of them briefly below:
Traffic and parking are horrible. When the festival was established, there wasn't much out in this area. Now developments surround it and it's made it so much worse. Plan double the amount of time for arriving and leaving. I've even stayed overnight in Charlotte before so we could get there early (and I've had friends who've stayed at a hotel post-festival instead of driving home late).
The seats for the jousting tournaments fill up starting around 30 minutes prior to each event.
Lines for beer (and some food) get insanely long and you could stand in them for like an hour.
Cash only! There are ATMs on site, but I'd bring cash with you in case there are long lines. Some shop vendors take credit cards, but food and drink are cash.
5 Tips For Your First Time to the Carolina Renaissance Festival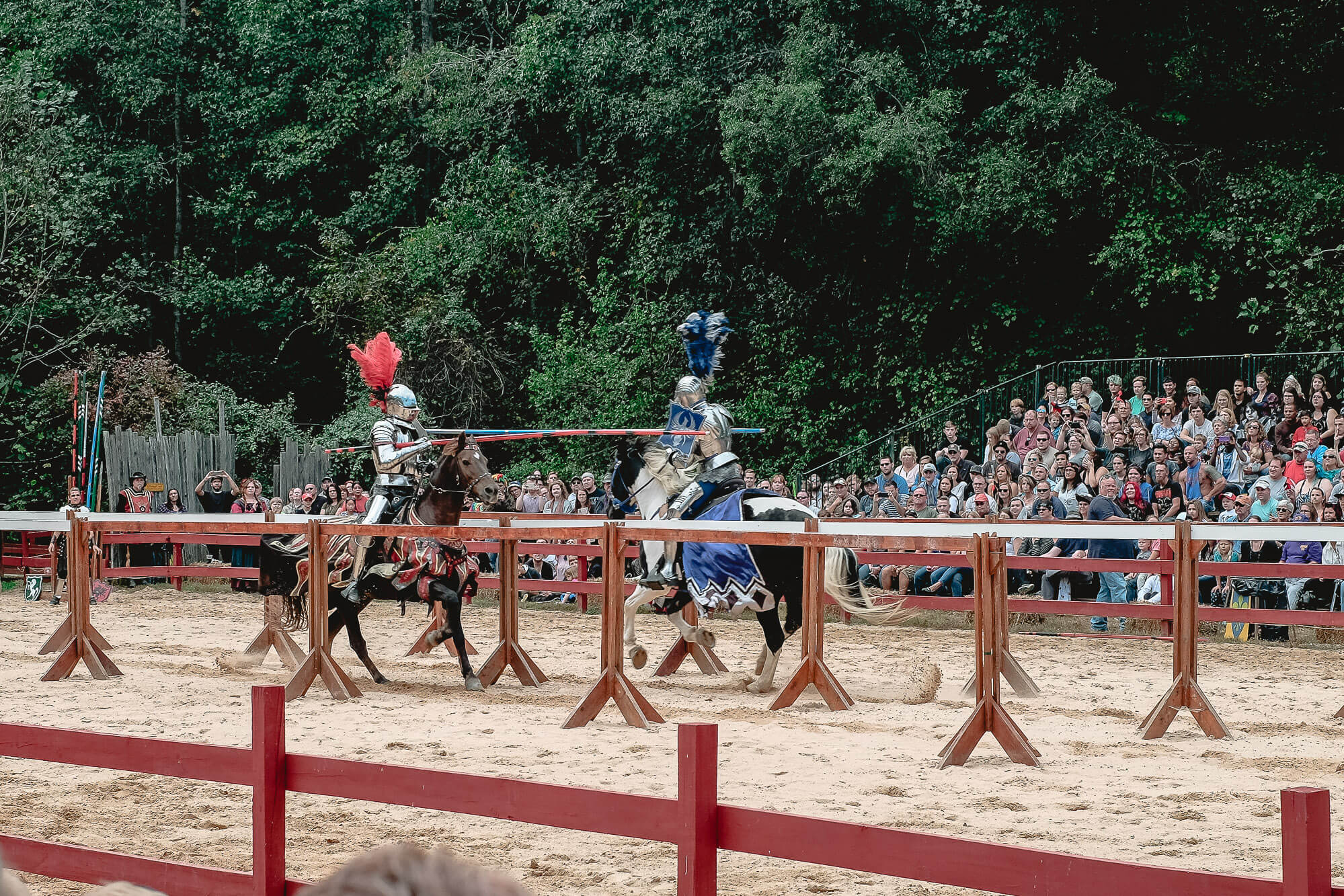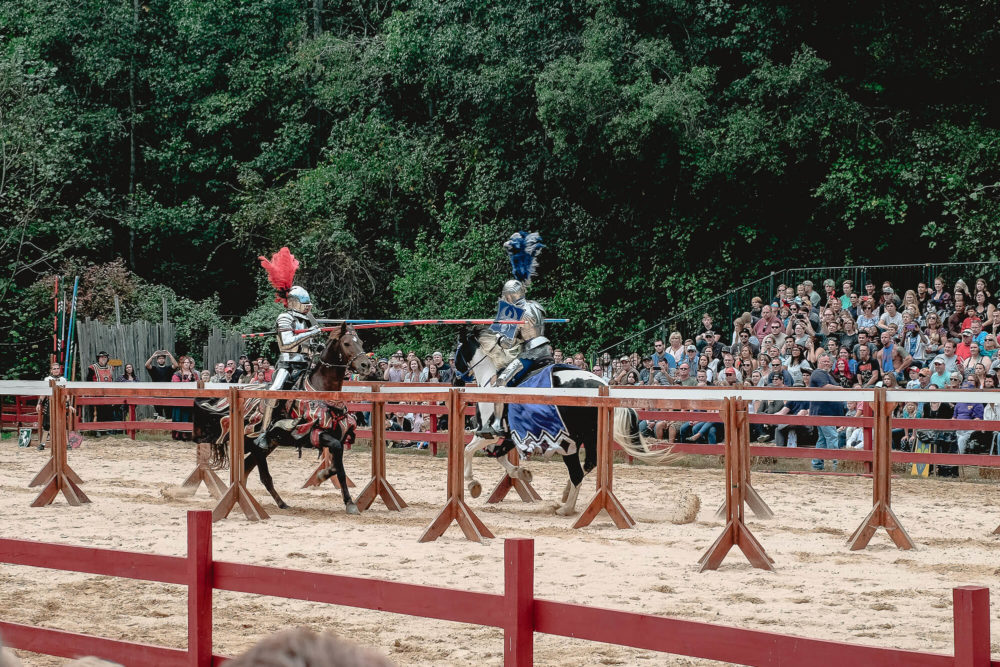 Fairburn, GA (near Atlanta)
April 13, 2024 – June 2, 2024
Saturdays & Sundays ONLY: 10:30am-6pm
(ticket prices not updated for 2024)
I've never been to this festival unfortunately (I tend to avoid Atlanta as much as I can). But I have friends who've gone and really enjoyed it.
They've likened it to the renaissance festival near Charlotte in terms of the offerings, shows, and more. Though I've heard that the traffic and parking situation is horrible as well.
It's also in the spring, so I hope to update more information on it when they update the website for 2024 information.
Lavonia, GA
First Saturday in May (May 4, 2024): 10am-5pm
$10 for adults (parking free)
This is another smaller renaissance fair held in a city park. Lavonia is off if I85 just over the border into Georgia (about an hour away from GVL).
I've had friends go to this festival and enjoyed it. You can probably walk around and see most of the vendors in about an hour or so. There are events as well.
BUT the best part is that this festival is dog friendly!! I plan on going in 2024 with Ellie for sure. I'll update this post then with all the information on the festival.