Only have one week in Portugal? Don't worry! This small country has a lot to see, but you still be able to get a great taste of what it offers in just seven days with this Portugal itinerary.
We spent about a week in this little country and loved it. We travelled to the south and explored the Algarve's beaches, then we headed north to see hilly Porto and try its namesake drink, and lastly we ended in Lisbon – a capital city that blew me away with its beauty.
So don't be intimidated by only having a week here. I loved our time in Portugal. And I felt like we were able to both see a lot and spend more than a couple hours in each place.
So without further adieu, I hope you find our Portugal itinerary helpful for planning your own trip. And that you fall as equally in love with this country as we did.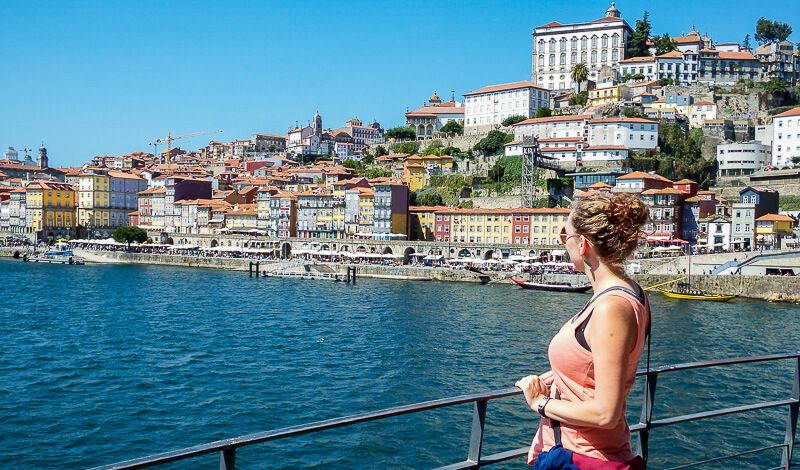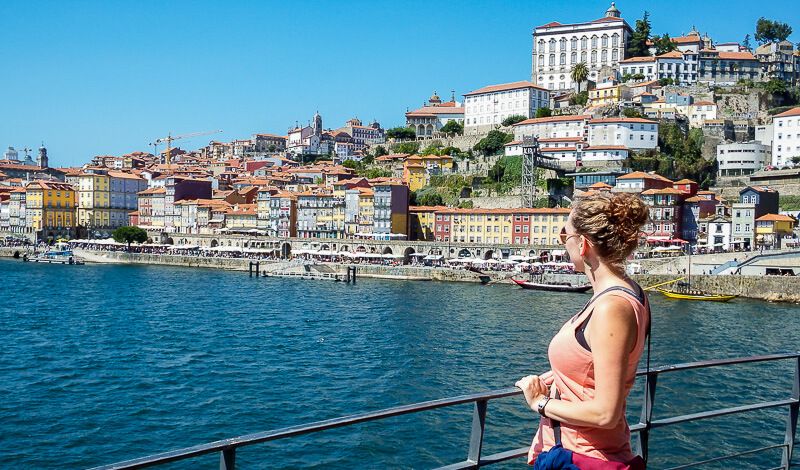 ---
My Portugal Itinerary
Days 1-2: Lagos
Day 1: Explore Lagos & Its Beaches
This itinerary starts off in Lagos. If you land in Lisbon, head to Lagos on the same day (information on how to get there below)!
Our morning started off with an amazing breakfast at our B&B. So many mini pastel de natas. And then it was off to explore the beaches of Lagos. Well, that's not entirely true. There was only one beach in Lagos that I had to see: Praia do Camilo.
Camilo beach is located very close to our B&B and we could easily walk there. And though the beach was packed and the water was cold, I couldn't wipe the smile off my face.
After a couple of hours on the beach, it was time to head into town. Sangria at an open air cafe, music on every corner (though there was a beat box guy that, I'm sorry to say, we tried to avoid), octopus for dinner, and finally a stop at three of Lagos's bars: Sky Bar, Taberna de Lagos, & Bon Vivant.
At 1am, Lagos was starting to come alive, but I was starting to collapse. The sickness and jet lag were pulling on me – it was time for us to head back.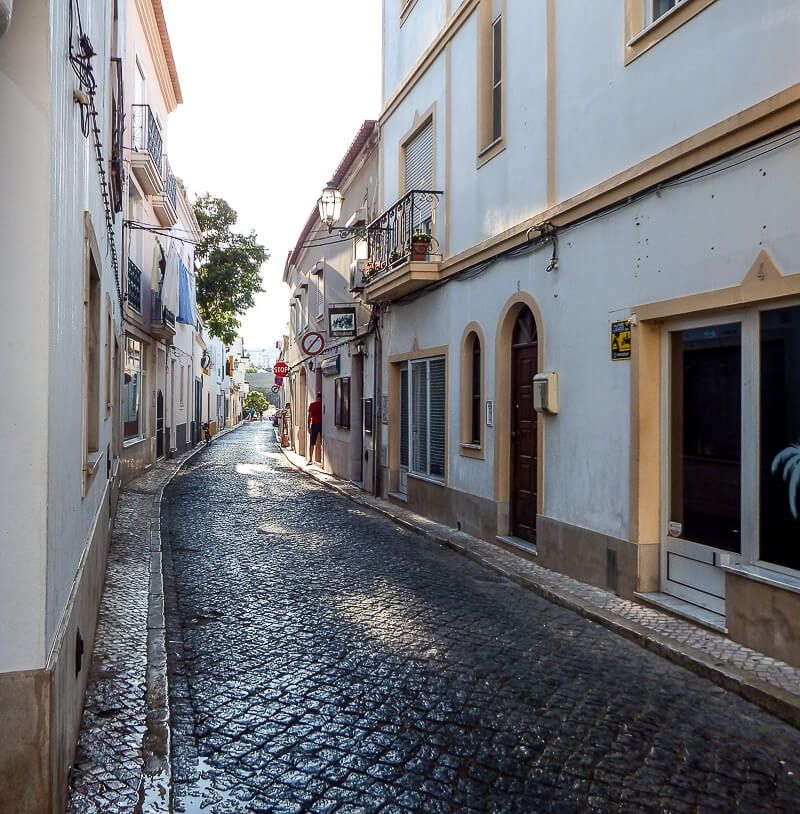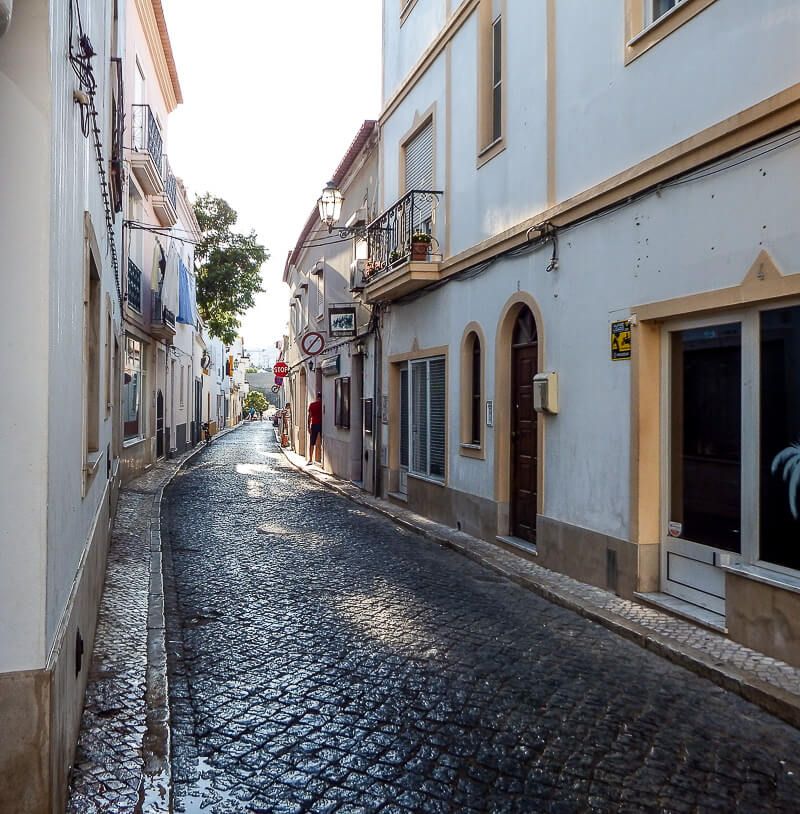 ---
Extra Day: Take a Surfing Lesson (or more beach hopping or a boat tour…)
We were supposed to have an additional 3rd day in Lagos, but we lost it do to delayed and missed flights.
Our plan for this day? To go surfing. But instead it had taken us more than 24 extra hours to reach Portugal due to delayed flights out of Greenville, SC. So this was the day we cut.
If you have an extra day for your vacation, you could definitely use it here. Surfing. A boat tour. Beach hopping. Kayaking. Mini road trip. Whatever you want.
But if you don't have the vacation days then you can do as we did and just spend 2 full days in Lagos.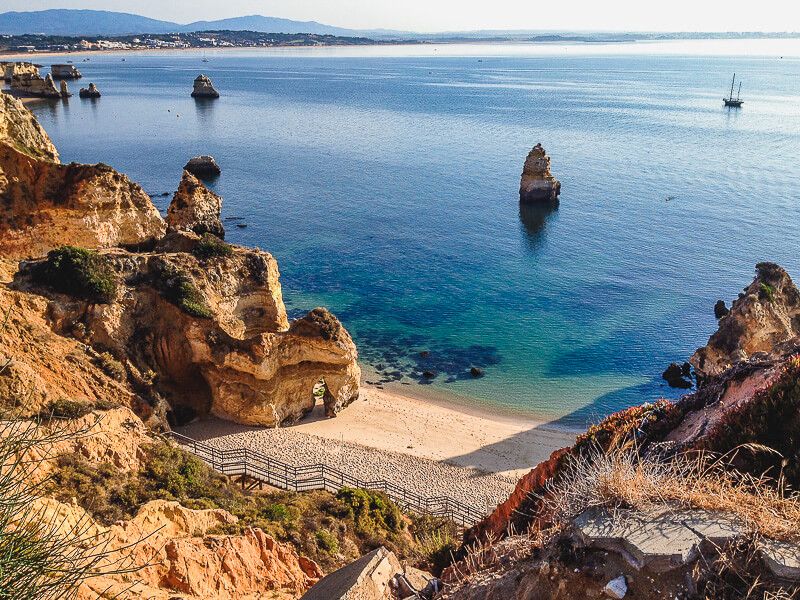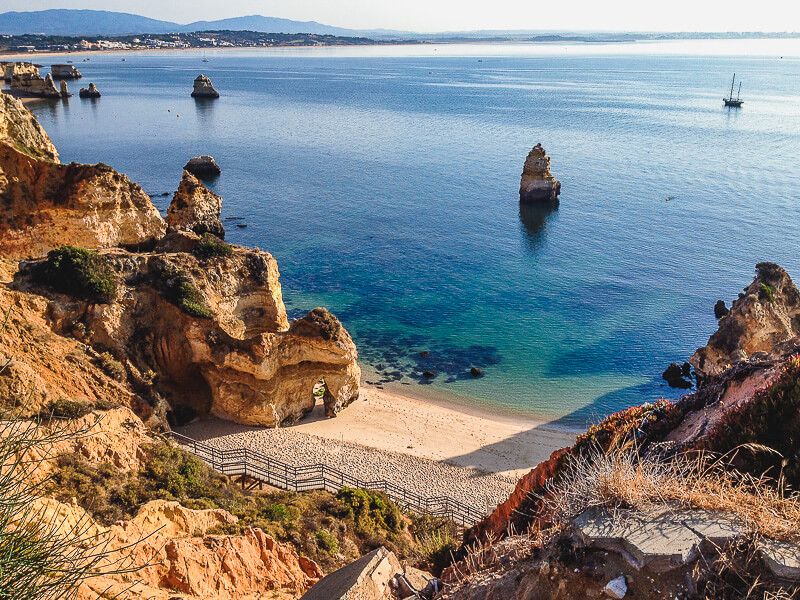 ---
Day 2: Go Hiking
After eating more breakfast (like seriously those pastel de natas), it was time to burn off some calories. So we decided to hike to Ponta da Piedade.
Because Villas D. Dinis is located on the south side of town, the point was only 1km away. But due to our plans that afternoon and evening, we knew we could only spend 2 hours exploring it.
It was not nearly enough.
This is one of the places that must be on your Portugal itinerary. You know all of those postcards and photos of Lagos or the Algarve? Probably more than half of them were taken here. And I now wish we would have spent a whole afternoon exploring Ponta da Piedade.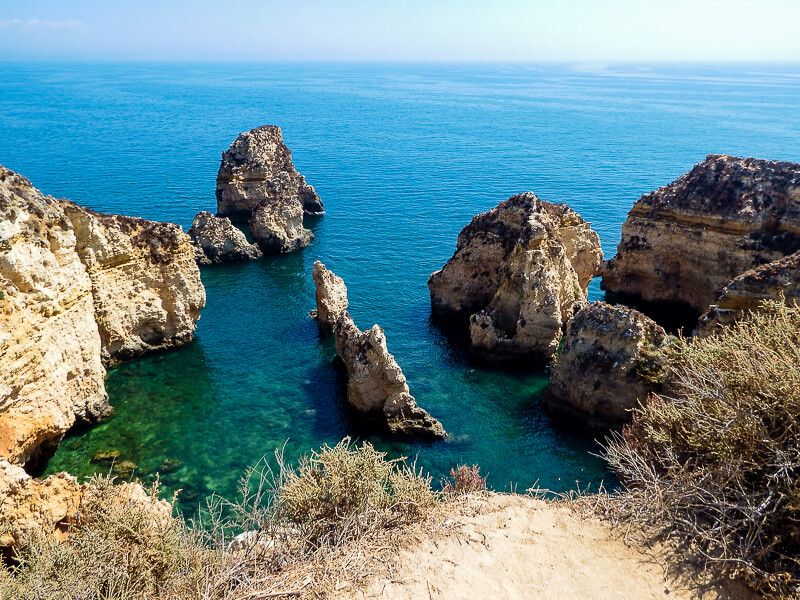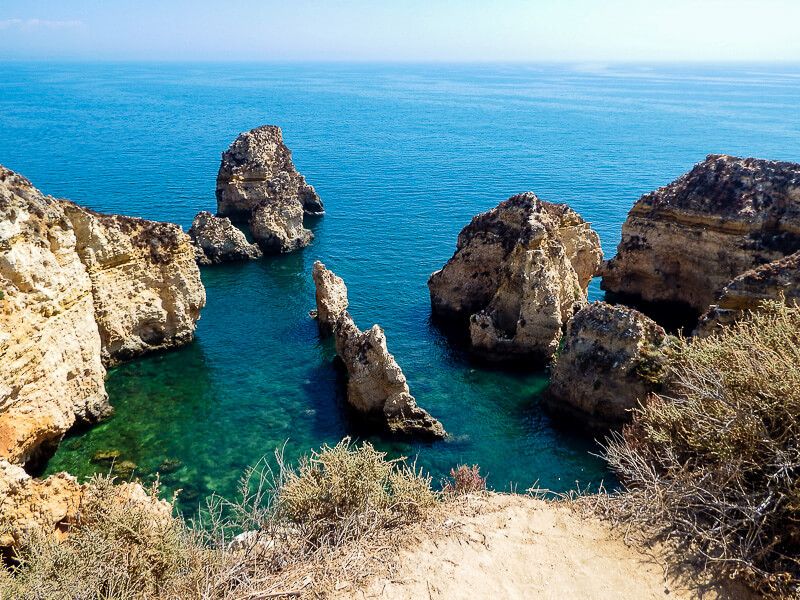 If that morning was amazing, then our afternoon and evening blew me away. We had booked a tour with the West Coast Adventure Co. to explore the other side of the Algarve. The western, wild side. The side not everyone sees.
It was one of the best tours I've ever been on.
Seriously. No joke here. If you love hiking, exploring, climbing hands over feet on craggy trails and seeing a part of a country that not everyone experiences – then this is for you. Thinking back on our time in Portugal, this was one of the best things we decided to do.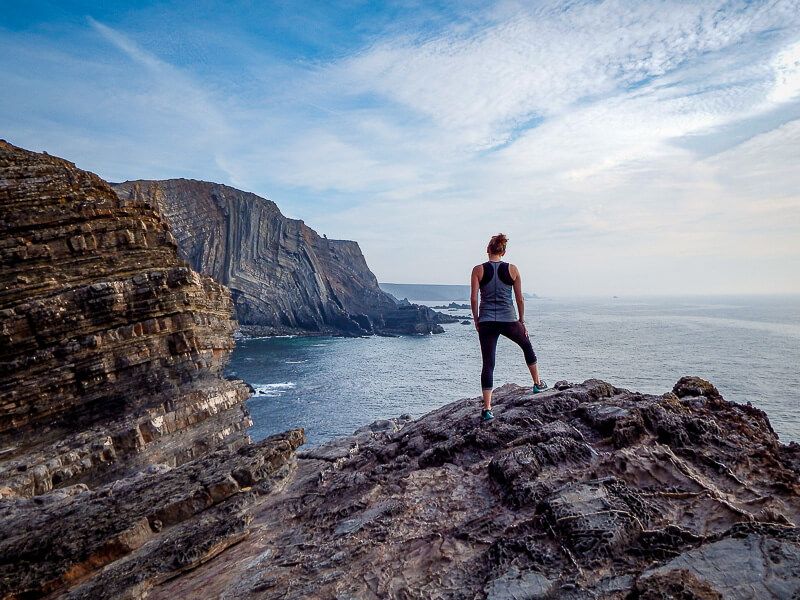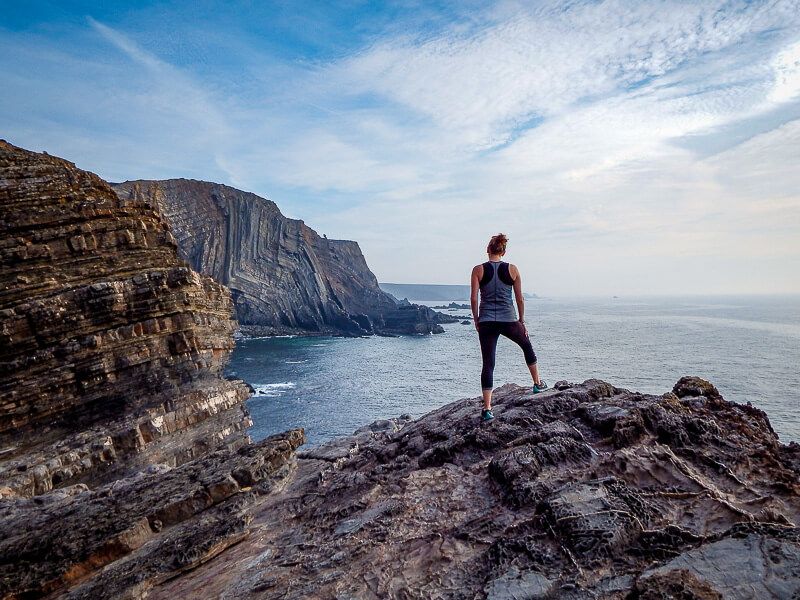 ---
How to Get to Lagos
By Rental Car
Our original plan was simple. We were going to take a train (albeit a long one) from Lisbon to Lagos. This is definitely a possibility – especially if you land in the morning at Lisbon airport.
But sometimes plans go awry. We hit flight delays which put us into Lisbon 30 hours later than we had planned.
By the time we got to Lisbon and looked at the trains still running that afternoon, we realized we wouldn't arrive in Lagos till much later that evening. So instead we decided to book a car for the Lagos portion of our journey.
If you plan a similar trip, you definitely don't have to rent a car. And, after all the lines and waiting for the car, we only saved a couple of hours. But it did give us flexibility on what time we were able to arrive and leave Lagos.
The downsides of renting a car? It's expensive, gas is also very pricey, and there are tons of tolls on the roads. If we did this trip again and arrived on time, we would not rent the car.
The drive itself took about 2.5 hours (but we easily spent over 2 hours waiting in all the lines for the rental car, so 4.5 hours total).
By Train
By train, the journey will take between 3-4 hours (1 change in between) if you can catch a morning or early afternoon train. You'll want to leave out of the Oriente train station.
To get there, take a metro (subway) from the airport to the train station – it's only 3 stops on the red line. You can find maps of the metro here.
You'll have one connection to a slower regional train once you reach the Algarve.
To book train tickets and to see schedules, go to www.cp.pt. They even have an English version of the site.
Traveling by bus is also possible, but I seriously struggled to figure it out. Have a poke around this site if you are interested in this option.
By Plane
You can also fly straight to the Algarve if you'd like! The main airport is in Faro and its easy to get around the Algarve from there.
Depending on how you book your flights, you could fly from your home straight to Faro. I wouldn't do a roundtrip from here though as you'll probably head up north to see Porto or Lisbon. So make sure you plan out your itinerary in advance if you want to fly between some stops.
(To do this you'll need to select the multi-city option on the airline booking sites.)
Once you are in Faro, you have several options on how to get to Lagos. You could rent a car, take a private shuttle or bus (Green bus is a more affordable option I found), take a taxi (this would probably be very expensive), or take a train.
The train station isn't close to the airport, so you'd probably need to take a bus or a taxi to the train station. But then it's just a 1.5-2 hour train ride to Lagos.
I sometimes check Rail Europe to get a general sense if the route is doable. Then drill down with Portuguese rail site for more details (and sometimes more options).
I just find Rail Europe more user friendly than the other which is why I do it this way!
---
Where to Eat in Lagos
Dinner
O Camilo, I won't lie, you were probably a bit overpriced. But I loved that you gave your customers blankets for the balcony. And it was you who taught me that sardines are actually delicious.
Cayo Coco is located right in the heart of downtown Lagos. And is probably more touristy than I would have liked. But the octopus that night (and let's not forget the sangria) were still delicious. I don't regret stopping there at all.
---
Where to Stay in Lagos
Perhaps you can already tell I loved our B&B in Lagos. The rooms, the pools, the service, and the food. It was all perfect. Located outside of town, it was our little sanctuary in Lagos. Plus it's almost across the street from Camilo Beach.
It was definitely a splurge for us – but it's one we loved and don't regret.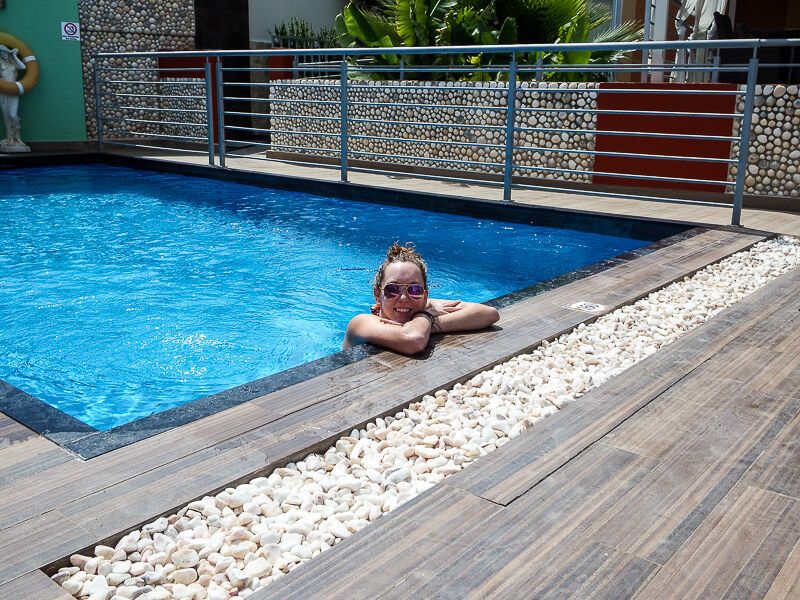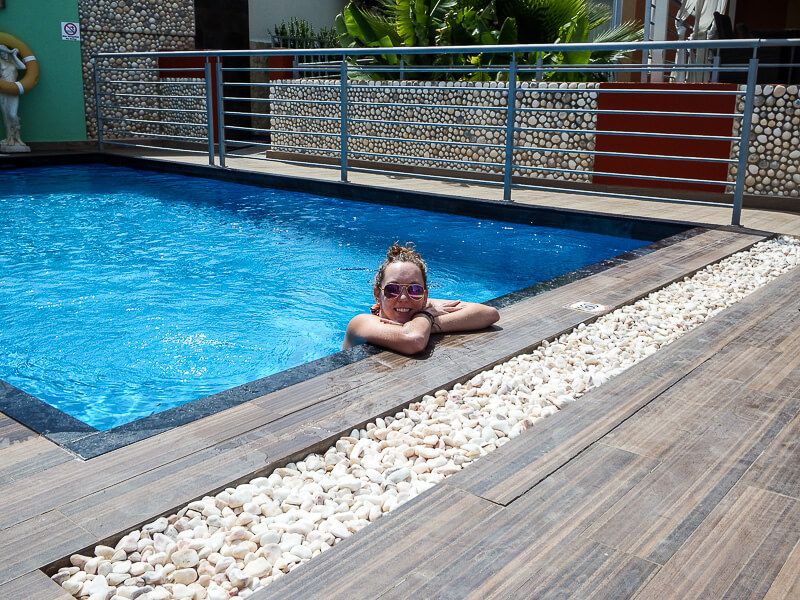 ---
Days 3-4: Porto
Day 3: Head to Porto
We woke up early and headed straight for Camilo Beach. I needed to say goodbye and I wanted to do it with no one else around. I'll always love that beach.
From there we ate our last breakfast at Villas D. Dinis and then drove to Lisbon to return the car and catch the train to Porto. Fun fact! You don't have to walk from the Lisbon airport to the closest train station, there is a metro you can take. Another fun fact! We didn't know this till we after we got to the train station.
We caught the train and though we arrived a little after the check-in time, MyStay Porto graciously stayed open and waited for us.
From there we quickly headed down to the Ribeira to grab dinner and to finally see Porto.
I'll let you in on a secret right now – Porto was probably my favorite city in Portugal. It was the one I could easily see myself living in. Definitely don't miss it.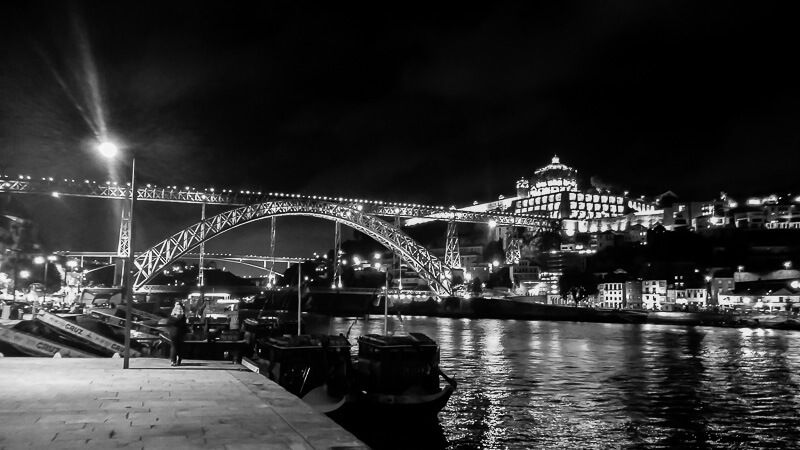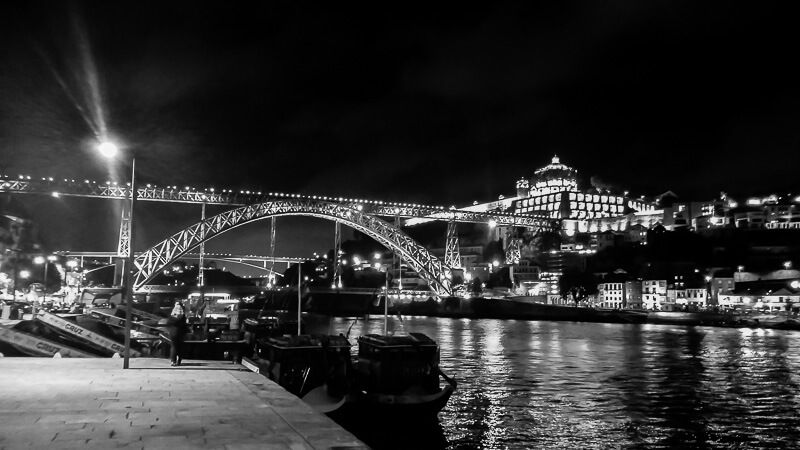 ---
Day 4: Explore Porto's Tower & Port Cellars
This was the day we walked all over Porto and ate everything. But our first stop of the day? The Clérigos Tower. Being the highest point in Porto, we got one hell of a view. But trust me – you have to earn it.
There is one staircase for going up and coming down. One NARROW staircase. I probably got to second base with more people that day than I could count.
If you're claustrophobic, stay away. Far away. Or go really early to avoid the crowds.
You've been warned.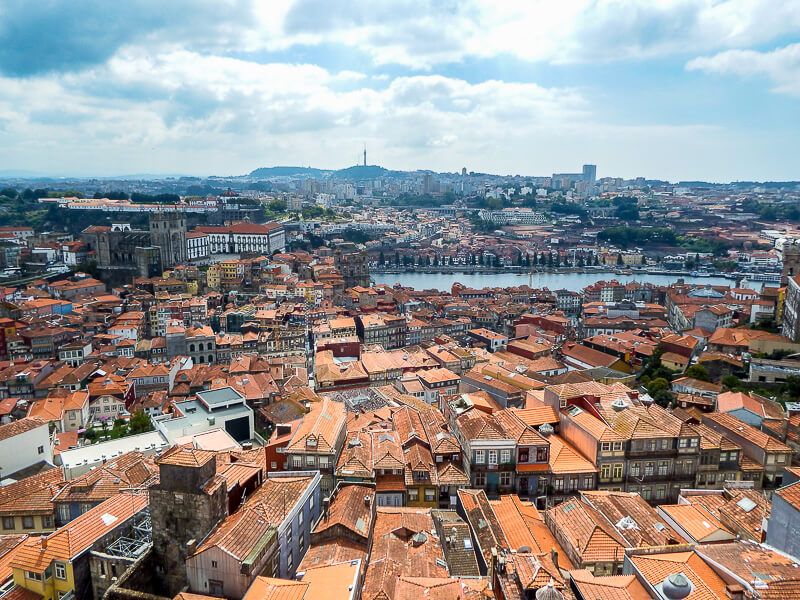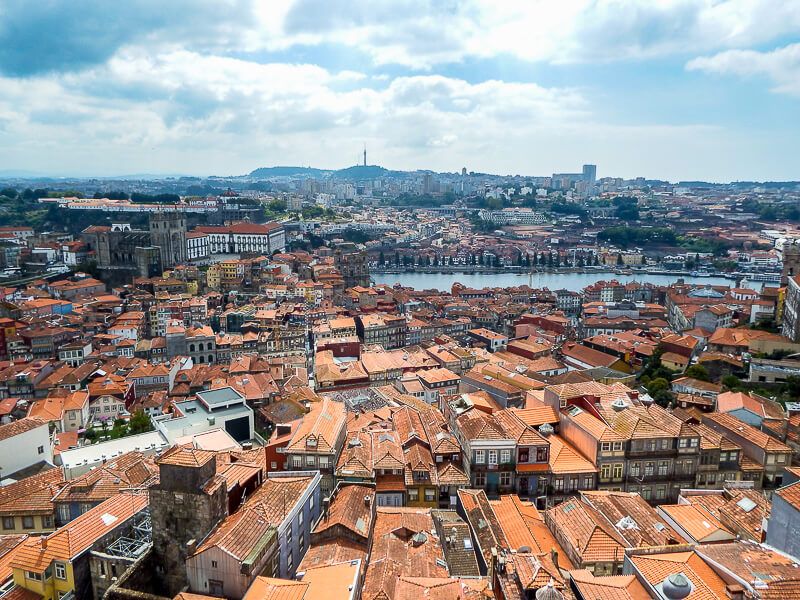 From there, we wandered across the river to Taylor's to do a port wine cellar tour. If you haven't made the connection yet, Porto got its name from the drink port. You know, that stuff you imagine aristocrats from times long gone drank. But! Newsflash!
Port is delicious.
Like really, really good. And if you sign up for a tour with Taylor's, you get to try three different kinds. Before we left Porto, I even bought a small bottle to bring back. Don't leave a port wine cellar tour off your Portugal itinerary!
Interested in finding out more about port cellar tours?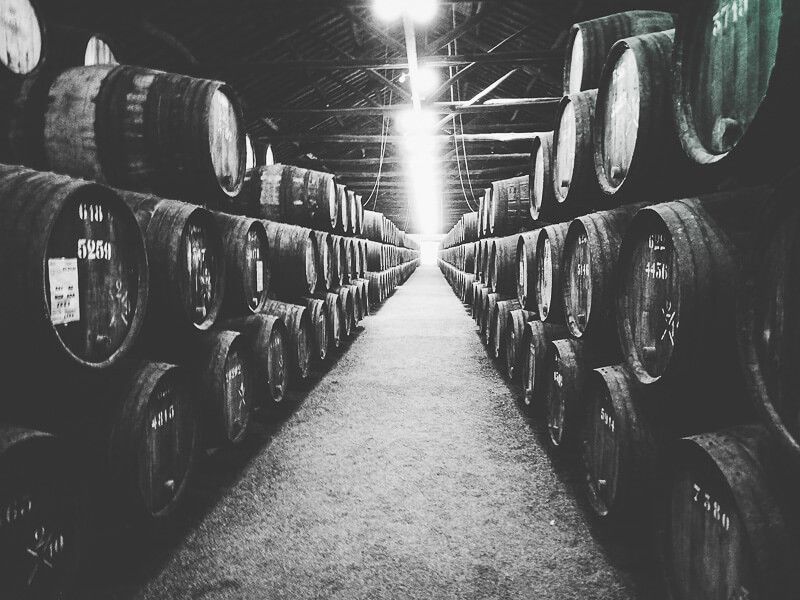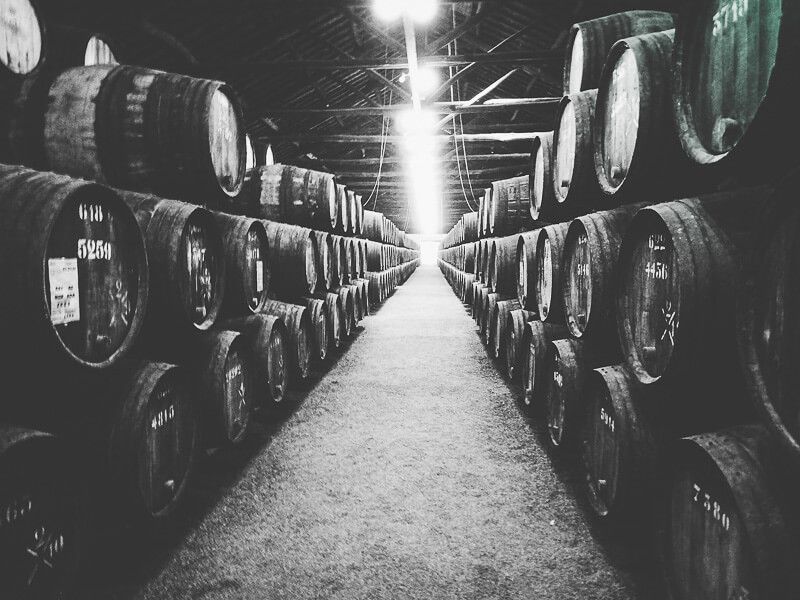 From there we ate some more, took a nap, and then decided to find out what Porto has to offer in terms of nightlife. The answer? A lot. We had a great time drinking cocktails and bouncing from bar to bar.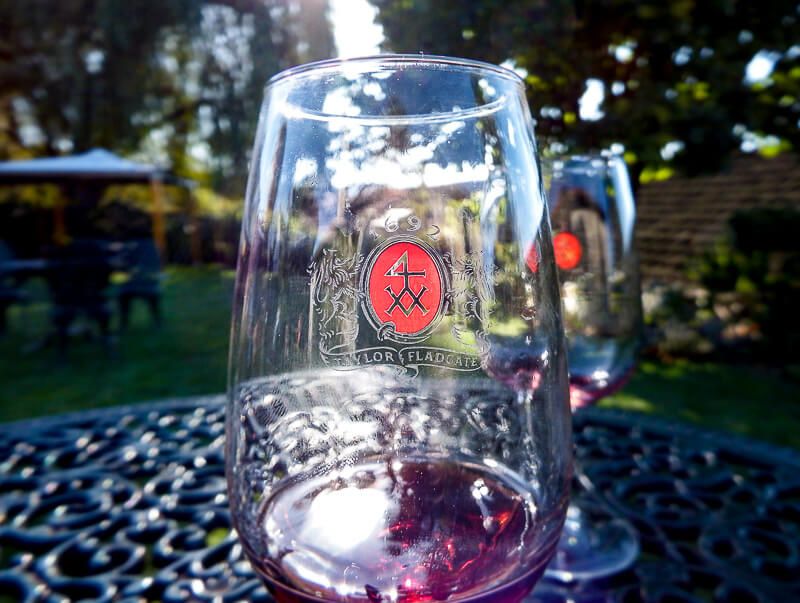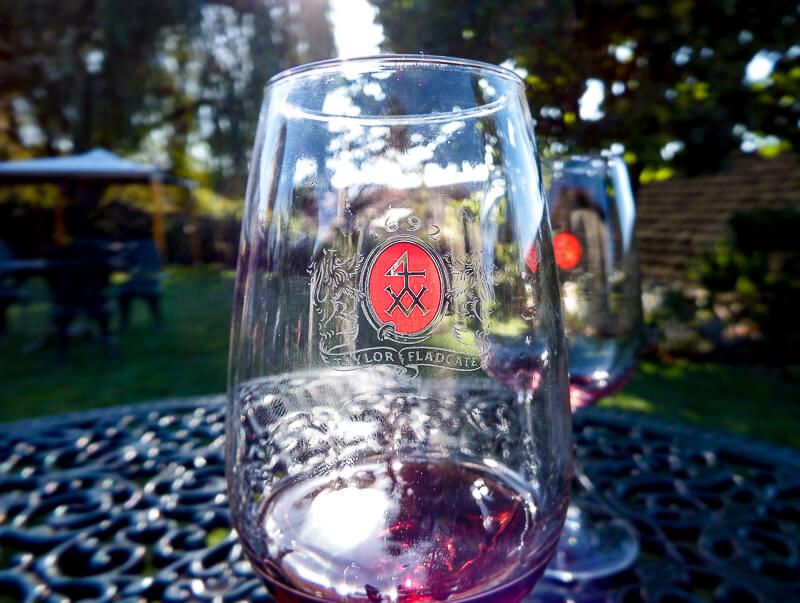 ---
How to Get to Porto
By Rental Car
We drove from Lagos to Lisbon, dropped off the rental car, and then grabbed a train to Porto. If you are following the rest of this itinerary, you definitely do not need a car anymore. You'll be spending the rest of your time in cities. Plus gas is expensive in Portugal (and they have many tolls).
So if you have a car, I'd plan to drop it off in Lisbon or Porto. I can't imagine trying to find parking in either.
By Train
To get to the heart of Porto, the train station is Sao Bento. If you are coming from Lagos or Lisbon, you'll have a transfer at Campanha (in Porto). Or you can do like we did and just take a taxi from Campanha to your hotel if you are tired and are trying to hurry.
From Lagos. This will be a long day. And I would suggest trying to catch the train that allows you to skip stopping in Lisbon (though it leaves very early in the morning: 6am). But you'll only have 2 transfers.
First a regional train from Lagos to Tunes (one of the main Algarve stations). Then a fast train from Tunes all the way to the main Porto station (Campanha). And lastly a metro into the heart of Porto (Sao Bento).
If 6am doesn't work for you, then you have other options (often with a transfer in Lisbon at Oriente).
Total Time: 7-10 hours
From Lisbon. If you rented  car and dropped it off at the airport, you can catch the metro to the Oriente station (it's only 3 stops on the red line: maps of the metro here.) And then catch the train to Porto (with a transfer at Campanha to get to Sao Bento).
The train from Lisbon to Porto: 3 hours.
To book your tickets and see train schedules, check out www.cp.pt!
By Plane
If you flew to Faro (or took a train or bus), you can also fly to Porto to cut this travel day down! You may be able to find some budget airlines and flights to hop around Portugal on. Just be sure to read through what you have to do very closely! Some airlines like Ryanair are very particular.
And you'll need to get from Lagos to Faro by either shuttle or taxi or train. See the How To Get To Lagos section for my recommendations here.
---
Where to Eat in Porto
Breakfast
Clérigos Vinhos e Petiscos was just what we needed. Quick. Delicious. And on our way to the train station.
Lunch
Restaurante Flor dos Congregados was hard to find. Tucked down a small alley with black and white cobblestones, it seemed unobtrusive. But here you'll find amazing staff who will read you the menu if you don't speak Portuguese. And, of course, great food. Their main lunch special? For €7 I got a great sandwich and a bottle of champagne. A bottle!!!
Mercearia Das Flores was a quick stop. After drinking a fair amount of port, we needed some food. And I was intrigued by the idea of sardines on toast. The verdict? Actually quite delicious.
Dinner
Miss Opo was perhaps the oddest place we ate at. With no sign but a small business card in the corner, I wasn't sure if it was even restaurant at first. But the people I saw packed inside told me otherwise. And the food? Well, the food convinced me it was worth the trouble to find.
---
Where to Stay in Porto
MyStay Porto was perfect for our stay. Located right in the heart of Porto, we were close to everything. And the staff graciously stayed late when I let them know we missed the earlier train. Definitely consider MyStay Porto if you are coming to this awesome city.
---
Days 5-7: Lisbon
Day 5: Head to Lisbon
This was the day we left Porto and headed to Lisbon. The train ride and the subsequent metro to our hotel (Hall Chiado) were uneventful. Lisbon welcomed us easily.
After a quick nap, we headed up to our first miradouro to see Lisbon from above. Standing at the top of the Bairro Alto at Miradouro de São Pedro de Alcântara, I got my first view of Lisbon.
Beautiful.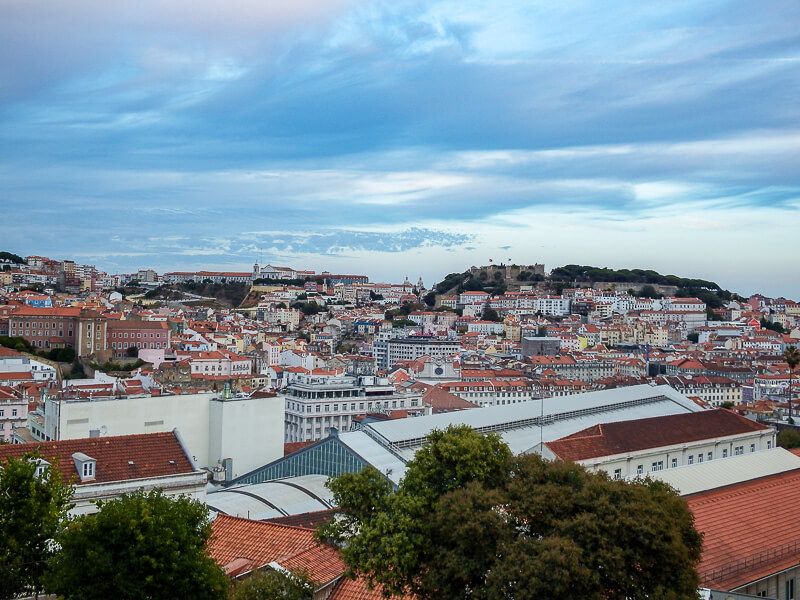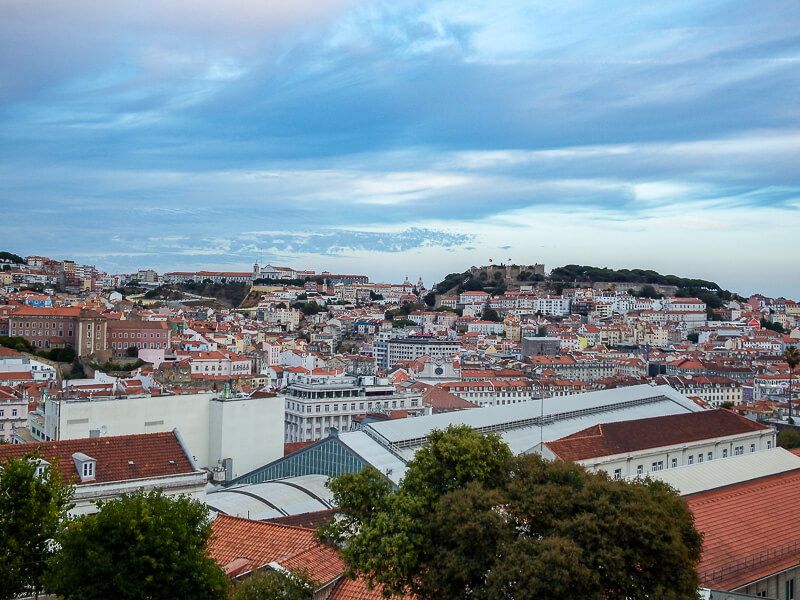 But before I could linger too long, a rumbling to my right caught my attention and I spied my first elevador. This was the Elevador da Glória, and I loved watching it rumble up and down the steep, steep slope.
But with just one look at its cost, we decided to hoof it both ways. That night we ate a glorious dinner at Casa do Alentejo and then hit up Noobai Cafe for a drink.
Just so you know, Lisbon sangria is much different than Lagos sangria. And not in a good way. I don't know what it was, but I left Noobai Cafe feeling nauseous.

---
Day 6: Explore Lisbon's Miradouros
This was our day to explore Lisbon. We started off with a quick lunch and then caught Tram 28 across town.
Many consider catching a ride on Tram 28 to be a must for their Portugal itinerary. But I think you should only do it if you ride it completely in one direction. Hopping on for just a few stops isn't worth it.
We spent most of the afternoon walking to Lisbons's miradorous. What's a miradouro you ask? Well it's basically a viewpoint. And with all the hills in Lisbon, there are several. Just be ready for a hike. Cause, you know, they are on top of hills.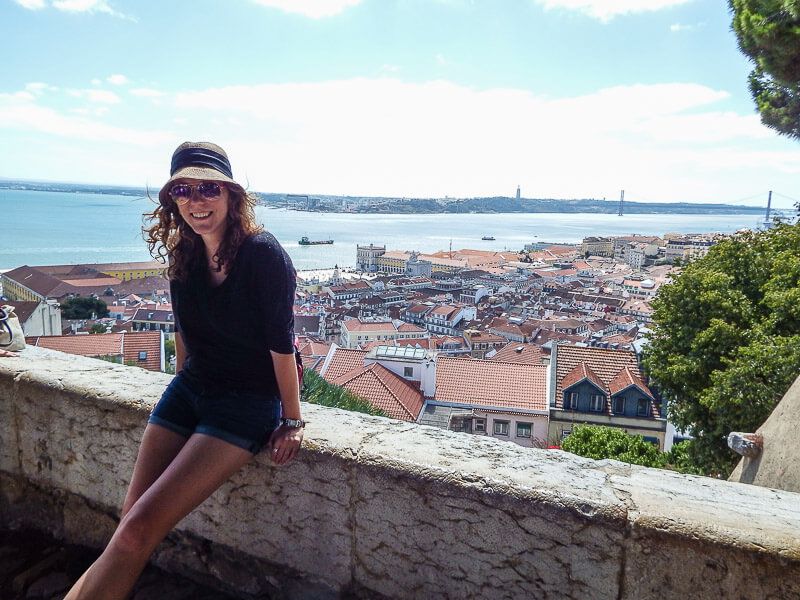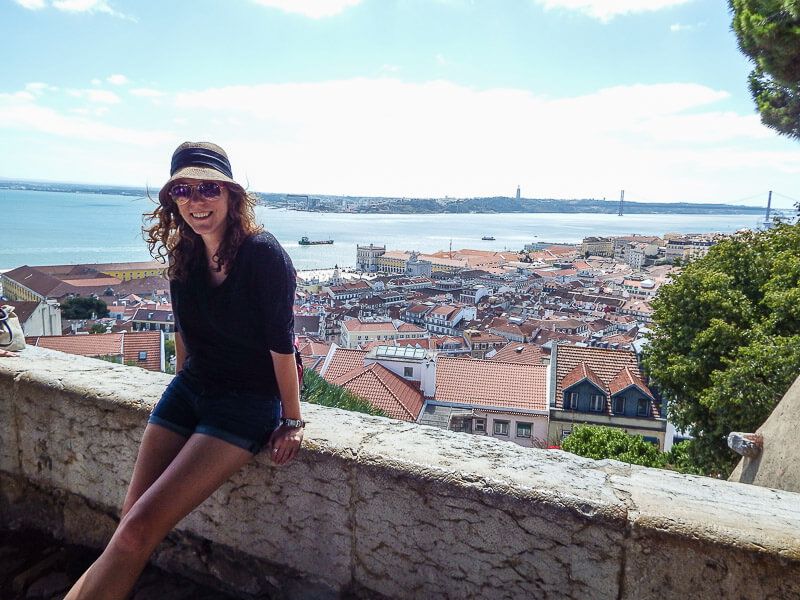 From there, we headed to Lisbon's castle. Earlier in the day we had decided to skip it but, passing by it again, I pulled Ryan to a stop. After seeing this castle from the outside all day, I couldn't not take a peek inside.
From the castle we meandered down through the Alfama and made our way slowly across town, stopping at several sights along the way until we finally reached our hotel.
Then (after a quick nap), it was game time. This was our night out in the Bairro Alto.
Narrow alleys. Bars and clubs on every block. Drinking in the streets. The Bairro Alto is one giant party. And one with very low prices. It's a definite must, if only for a night.
But as the clock ticked past midnight, I needed to dance. So it was down to the clubs and, after searching for one with a cover that wasn't too steep, we decided on Discoteca Jamaica.
This was perhaps our biggest mistake of the night.
After only 15 minutes inside, I came to a disturbing realization. This club had a love for 90s rock that could not be matched.
Now I like 90s rock. But in a club? Not so much. But we stuck it out and after several hours finally dragged our tired feet home.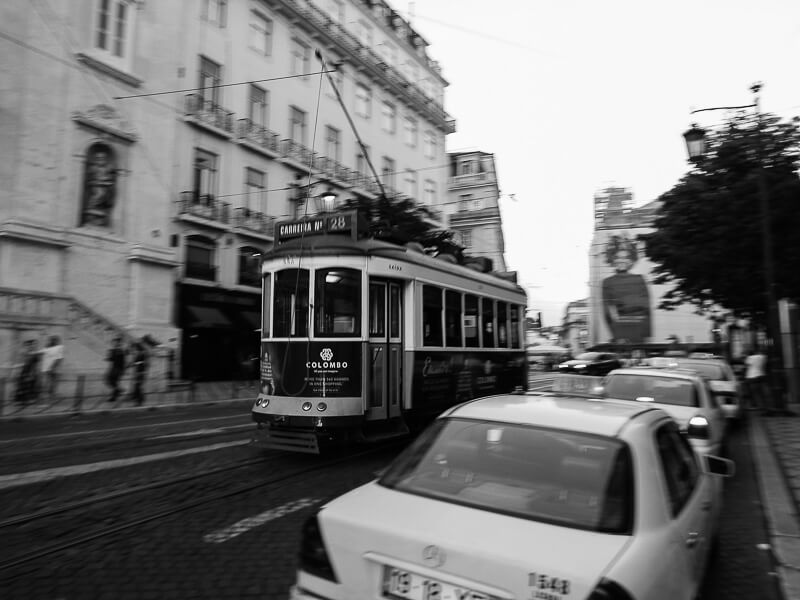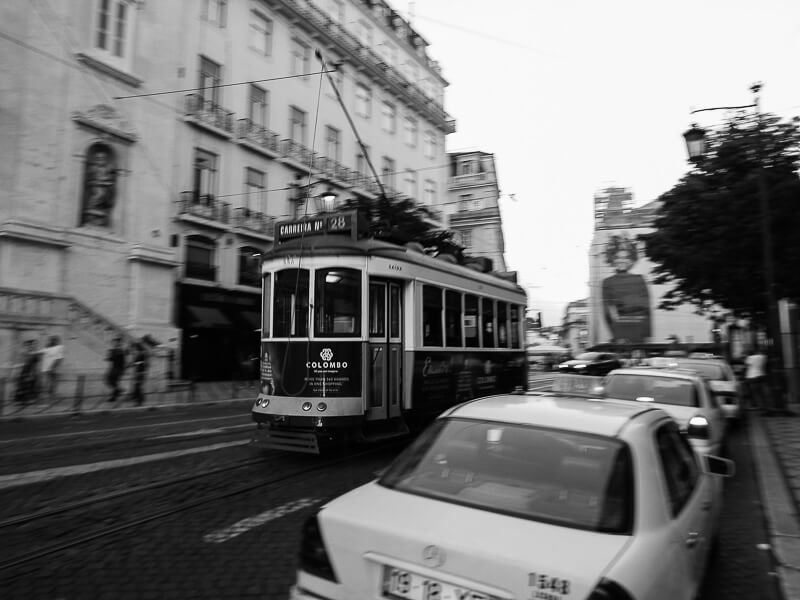 ---
Day 7: Day Trip to Sintra
Our last day in Portugal. But I knew exactly how I wanted to spend it. A day trip to Sintra is a must for any Portugal itinerary. With various palaces and castles, Sintra really deserves more time. But a day was all we had.
Catching the train from Lisbon was easy. Use Lisbon's Rossio station, and keep an eye on whether you have a transfer. Journey should take less than an hour.
Even though the clouds that day weren't looking favorably upon us, we didn't let that deter us. It was onto Castelo dos Mouros, Sintra's own Moorish castle.
Perched high above the small town, getting to the castle was a journey. But after it started raining and the fog rolled in thick, exploring the castle became an adventure.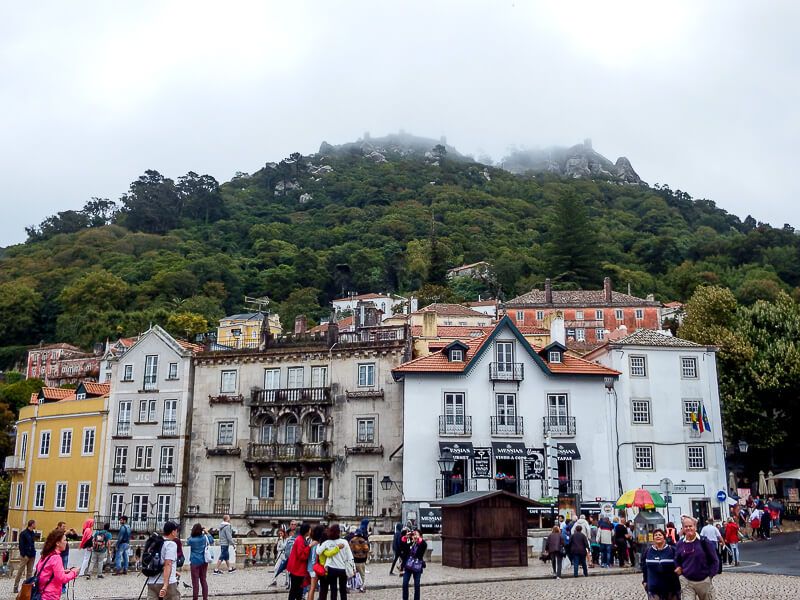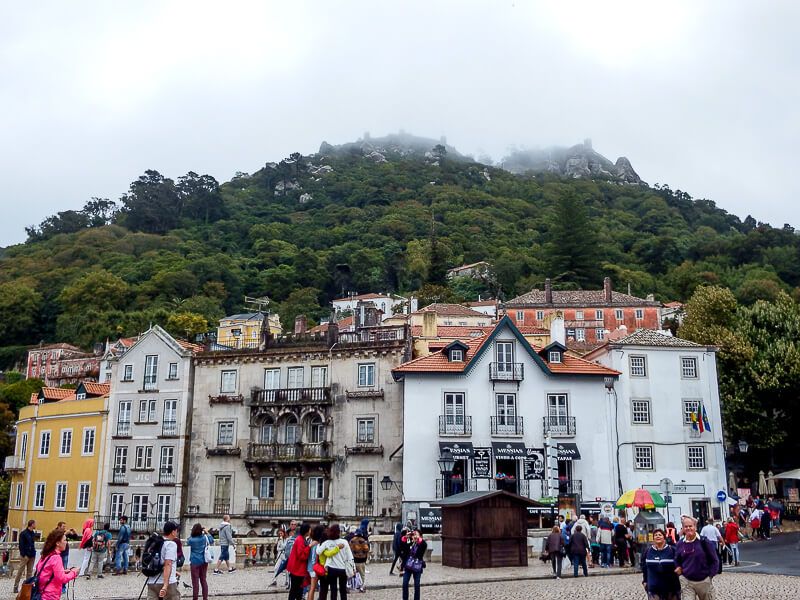 After a couple of hours exploring the castle, we bid it adieu and took a look at our watches. I knew we didn't have time to see the Pena Palace. But there was one other palace that was calling to me.
Situated in the heart of Sintra, the National Palace was a no brainer. It was here that the actual kings and queens of old lived during the summer months.
It blew me away and left me wondering why more people don't give it a chance.
After catching the train back to Lisbon, our evening consisted of packing and, of course, eating.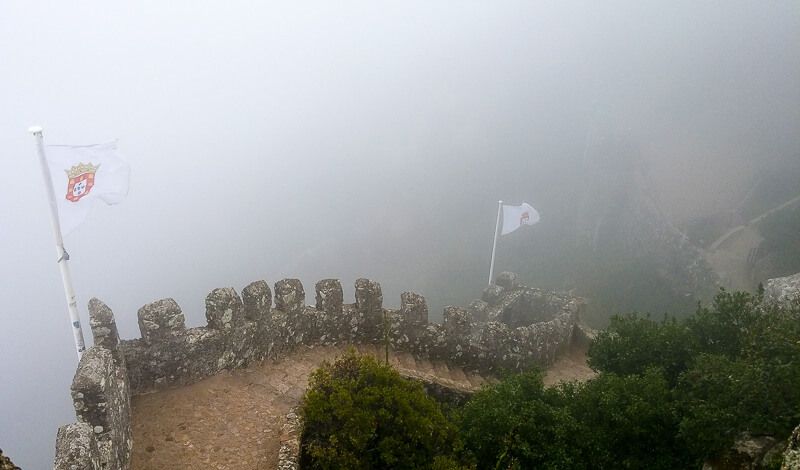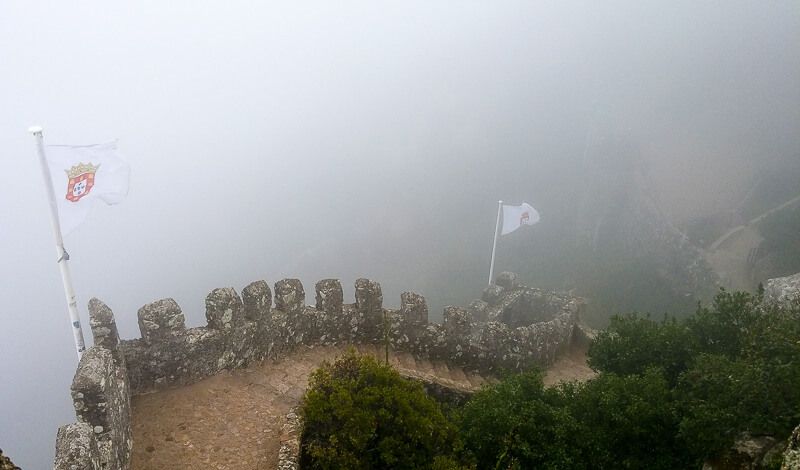 ---
How to Get to Lisbon
By Train
Taking a train from Lisbon to Porto is easy! And this is definitely what I would recommend. Renting a car between these two cities would be a hassle with tolls and parking. So as long as you don't have a rental car, I'd recommend the train.
From our Porto accommodation we walked to the Sao Bento train station and took the train to Lisbon (transfer at Campanha).
Once we were in Lisbon, we used the metro to go to the closest stop to our hotel.
The train from Porto to Lisbon: 3 hours.
To book your tickets and see train schedules, check out www.cp.pt!
---
Where to Eat in Lisbon
Dinner
Casa do Alentejo was hard to find. Located among many other restaurants, it doesn't have someone standing outside shoving a menu in your face. And in fact, when we were there, the front of the sign was under construction causing us to walk by it twice without realizing it.
But inside? A glorious Moorish interior and amazingly delicious fish.
Thinking back, Restaurante 1º de Maio was probably my favorite dining experience out of everywhere we ate. The restaurant was small and packed. We had to wait almost 30 minutes to grab a small table.
And there was no English menu. But the staff were amazing and were happy to give us recommendations on what we should order.
And the food? Traditional, simple, and delicious.
The Decadente Restaurante & Bar wasn't a restaurant we were planning on. But the food turned out to be great and its location perfect.
The thing that sticks out to me the most though? The fact that they served tap water, and it was free!
---
Where to Stay in Lisbon
Hall Chiado was our hotel and it was quite unique. There was no reception, and we never saw a single member of the staff. Instead we were emailed an access code for the building and room.
The downstairs is littered with signs and booklets offering restaurant recommendations, activities, and walking guides. And the room? Two words: simple and elegant.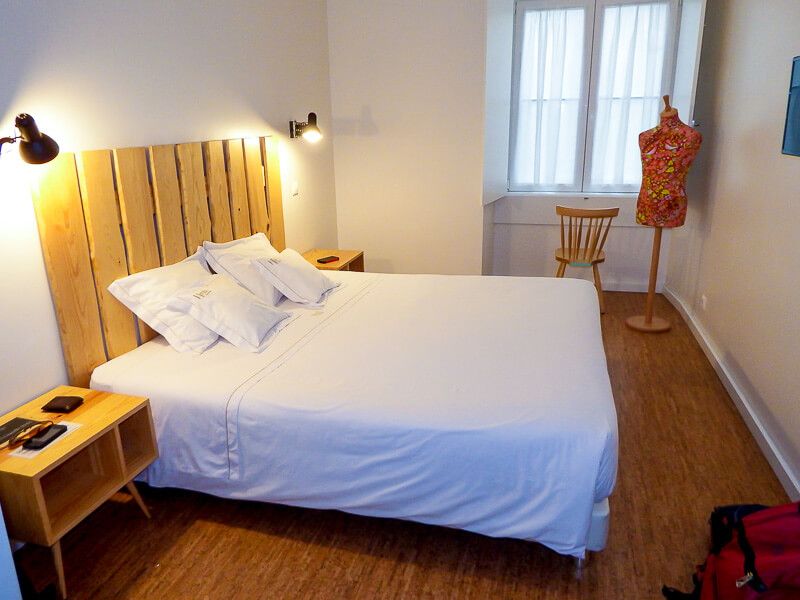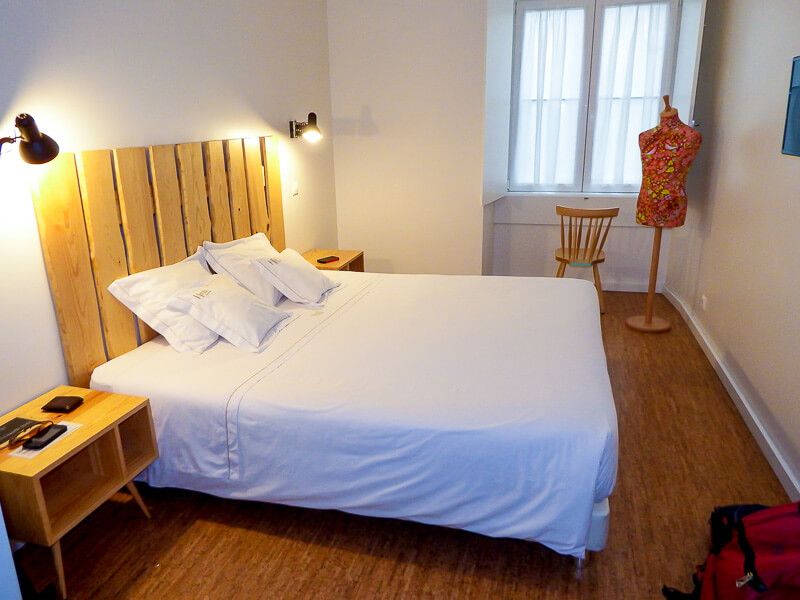 ---
What to Wear in Portugal
I visited Portugal in late summer / early autumn. And overall it was a lot cooler than I expected. I brought a good mix of summer and autumn clothes (and though I could have done with 1 or 2 more cover-ups), I think it worked out perfectly.
I also found that people in Portugal  tend to dress a bit more stylishly than back home. So I made sure to pack items that I would look good in (and not look like I rolled out of bed in).
When it comes to these week-long trips, I don't like to do laundry. If I have to, I have to. But I don't plan too. Which is why my list is longer than some people's. So keep that in mind.
I also tend to over-pack rather than under-pack. So use these items as a guideline not a rule.
And if you don't want to do some things (like the hiking I did), then you don't need to bring some items. I tried to indicate below if I used a particular item for a particular activity so you can make your own judgment.
Here is what I packed (and/or recommend):
2 leggings
1-2 jeans (Black skinny jeans are always in my bag. But if jeans aren't your think, maybe throw in another pair of leggings.)
1-2 pair of shorts (I brought just one nice pair, but I wore them a lot.)
1-2 bathing suits
3-4 casual tank tops
3-4 nice tank tops / dresses
2 longer sleeve shirts (Great for the days and nights it's cooler.)
1-3 pullovers/jackets (I had a sporty one for hiking and light-weight button down. I wish I had brought another, slightly heavier jacket.)
1-3 "flashier" shirts/outfits if going to bars / clubs is something you do.
1 pair of boots
1 pair of sneakers (I brought actual sneakers but I could have done with converse.)
1 pair of sandals
1 scarf
sunglasses
backpack (You'll need a small one for hiking if you want to bring some snacks, water, long sleeve shirt, etc.)
water bottle (The tap water is safe to drink.)
mini febreze bottle (Yes I use this so I don't have to do laundry sometimes – please don't judge me too much.)
Okay so I think that is like everything I packed that was significant. Don't forget your essentials though! Bras, underwear, socks, deodorant, toiletries, etc. these all need space in your bag!
---
In the End
In so many ways Portugal delighted me. With its cliffs, sangria, crystal blue water, friendly locals, simple and lovely food, bright sunshine, hilltop castles, rich history, and amazing architecture. Simply put:
I loved this small country.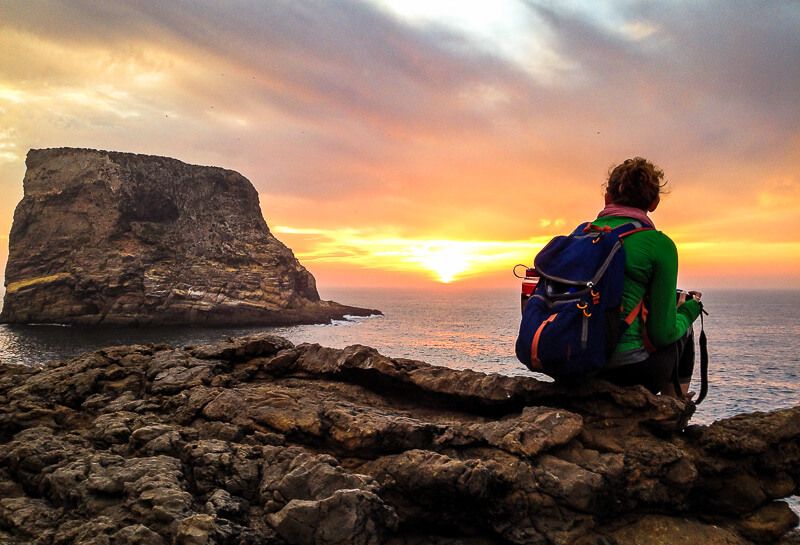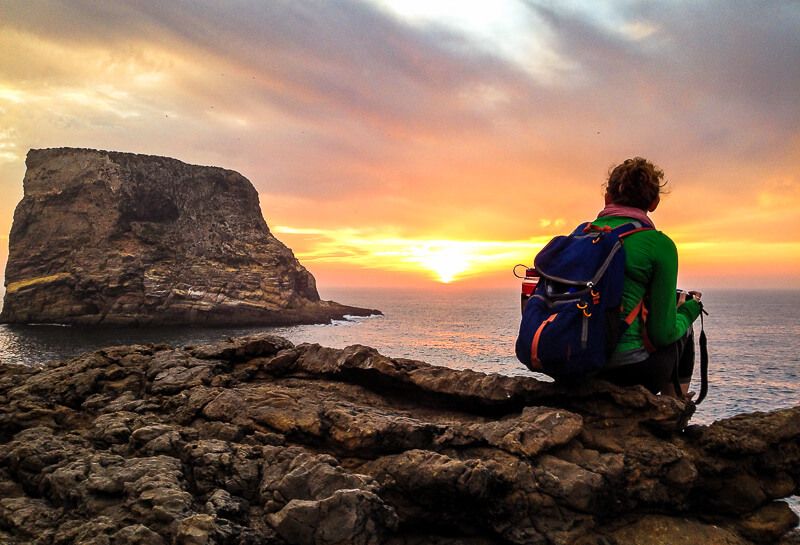 Is there anything I'm missing in my Portugal Itinerary?
Some of the links in this post are affiliate links. If you buy something through these thinks, I may earn a commission from the sale (at no extra cost to you!). As an Amazon Associate I earn from qualifying purchases. Thank you for reading along!
---