I had an unexpected (and amazing) realization while touring Portugal – I love Port. Yea. Port. That stuffy, old-fashioned drink you imagine British aristocrats knocked back in the 1800s. I didn't see it coming but I'm oh so glad Port is now a thing in my life. And I can thank Taylor's Port Cellar Tours for that.
How did I stumble upon this? Well, visiting a Port Wine Lodge is probably the number one thing to do in Porto. And even though, technically, the lodges are located in Vila Nova de Gaia (the town across the river from Porto), I was not going to pass up visiting one of the lodges during my own visit to Porto.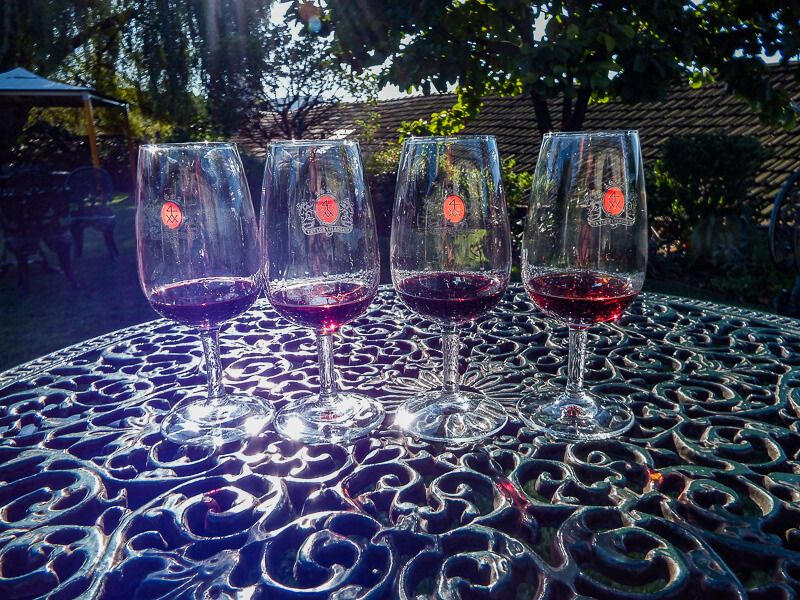 But before I give you more details on my visit to Taylor's, let's answer the question that was lingering in my mind before I signed up for a tour…
---
What is Port?
Yea…I signed up for a tour of a Port Wine Lodge with only the fuzziest ideas of what Port actually was. A wine, right? But I came out of the tour with a much greater understanding.
Yes, Port is a wine (nailed that one!). In fact it's actually a "fortified" wine which means they add a spirit or brandy to the wine to stop fermentation. This gives Port its sweeter, richer taste. And a higher alcohol content.
Port is produced in the Douro Valley (northeastern Portugal), an area that has turned out wines for 2,000 years. What is known as Port though didn't get its name till the 17th century. And even though it comes from the Douro Valley, it actually gets its name from Porto, the city near the coast where its exported from.
So…Port. Porto. Portugal. Yep, I'm seeing a trend.
Historically, Port was carried down the Douro in boats but these days, it travels overland in trucks. (You can still see replicas of these boats docked in the River by Porto for us tourists to take pictures of.) The wine is then unloaded into the Lodges in Vila Nova de Gaia (across the river from Porto) where they are aged, bottled, and shipped out.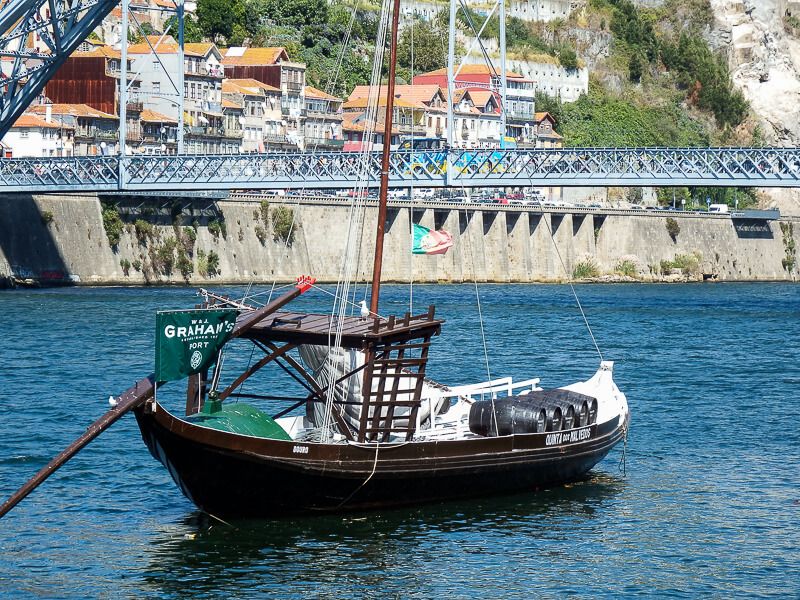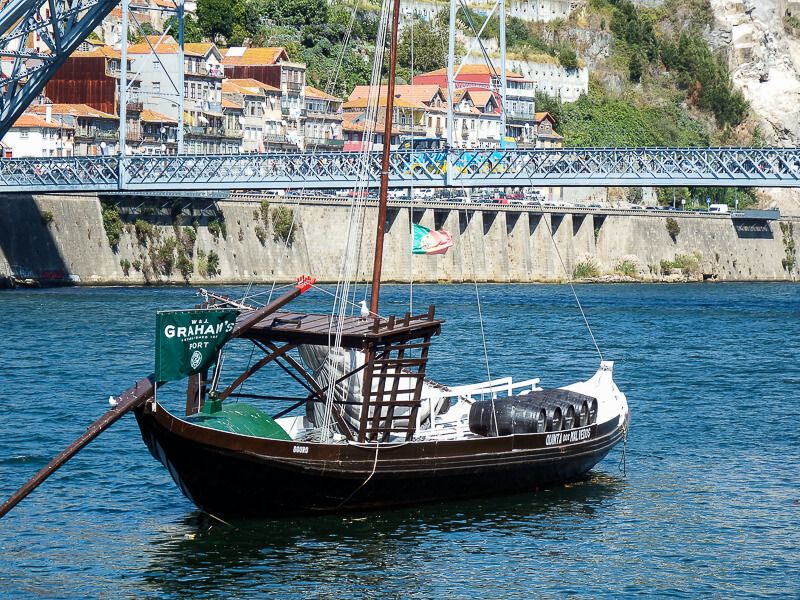 But while all this history is nice, let's get to the good stuff. The fun part of Port is the different styles. And if you dislike one style, chances are you might like another one. The difference between the styles comes down to how they are aged. Most are aged in wooden casks – but even the size of the cask makes a HUGE difference – and others are aged in bottles. And then how long it's aged also plays a big role.
So let me try to break down the main styles of Port (these are also the styles we tasted and/or learned about at Taylor's).
Ruby/Red
These Ports are full, rich, and fruity (and my personal favorite). They are aged in large oak casks. This causes them to retain more of their red coloring since contact with air changes the flavor and appearance of the wine. In a bigger cask, the air to wine ratio is much lower, and so Port retains more of its deep red color.
There are three levels to these types of Port:
Ruby: aged in a large cask for 2-3 years

Reserve: aged longer than a standard Ruby and is therefore considered to be of a higher quality

Late Bottled Vintage (LBV): aged for 4-6 years in a large cask and has a rich, fruity flavor. This will be the closest experience to drinking a Vintage. Fun Fact! Taylor's claims they were the first to develop this style.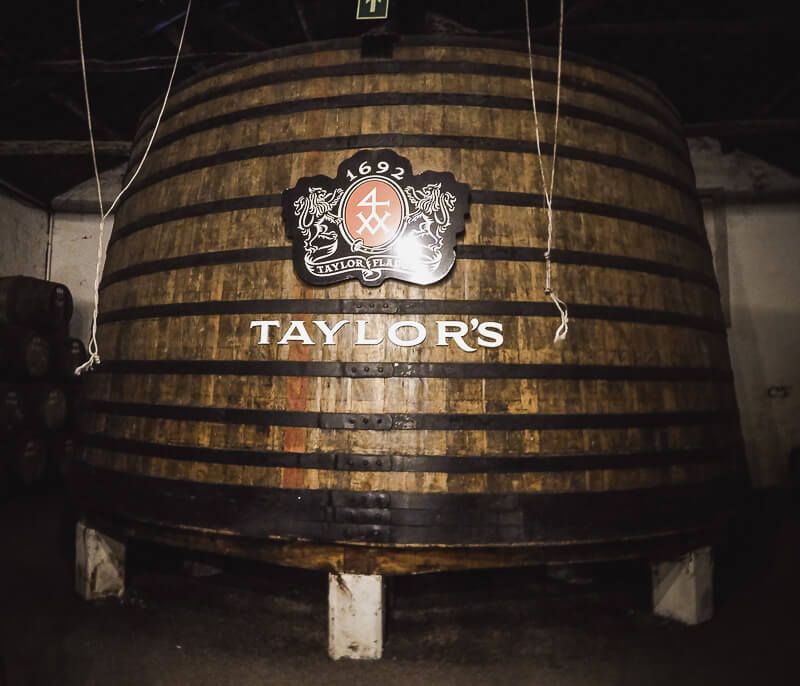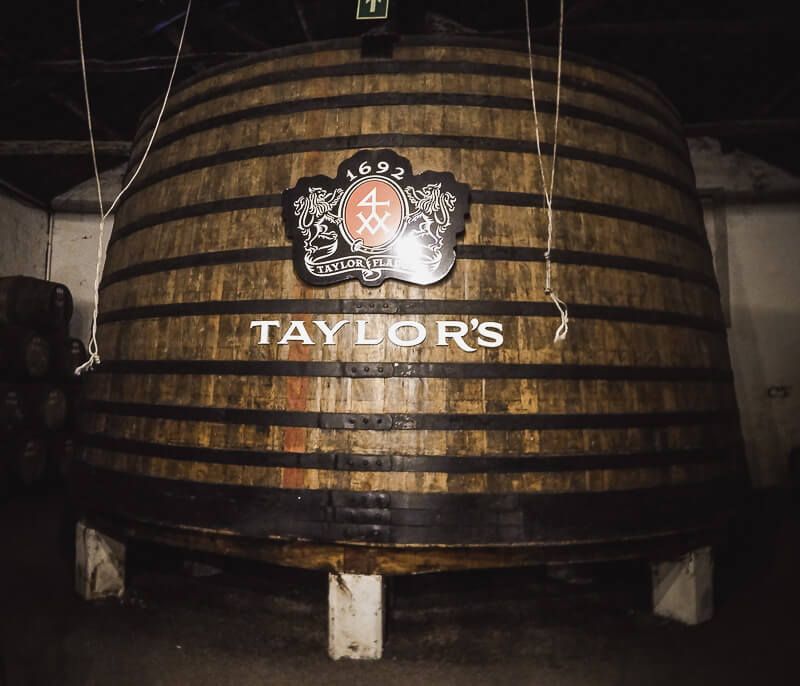 Tawny
These Ports are aged for long periods of time in small casks. Because the cask is smaller, more of the port comes into contact with the air, and the Port ages faster. A Tawny will become lighter, more amber, in color as it ages. Tawnys are usually aged for 10, 20, 30, or 40 years. Some Port Wine Lodges offer Tawnys that are aged for much longer though. While we were at Taylor's they had a Tawny (sold out), that had been aged for over a hundred years.
Flavors in a Tawny can include nuttiness, butterscotch, and a woodiness.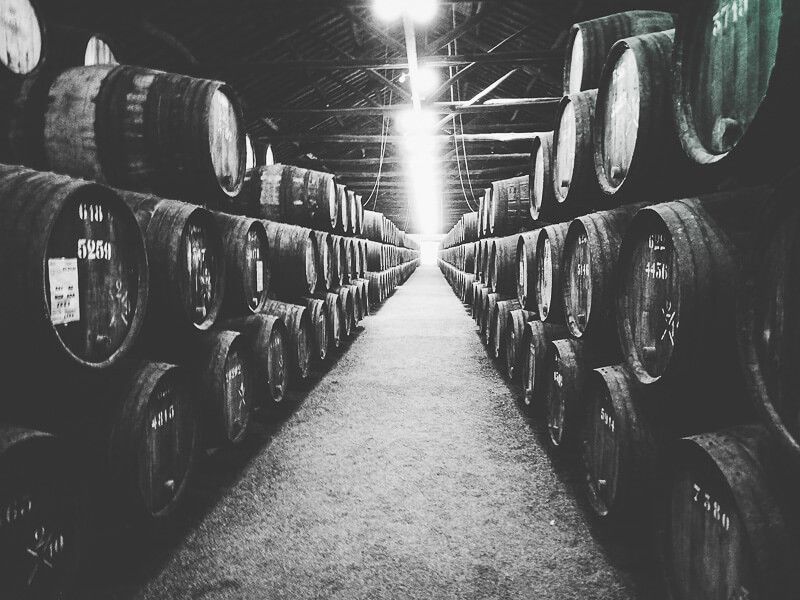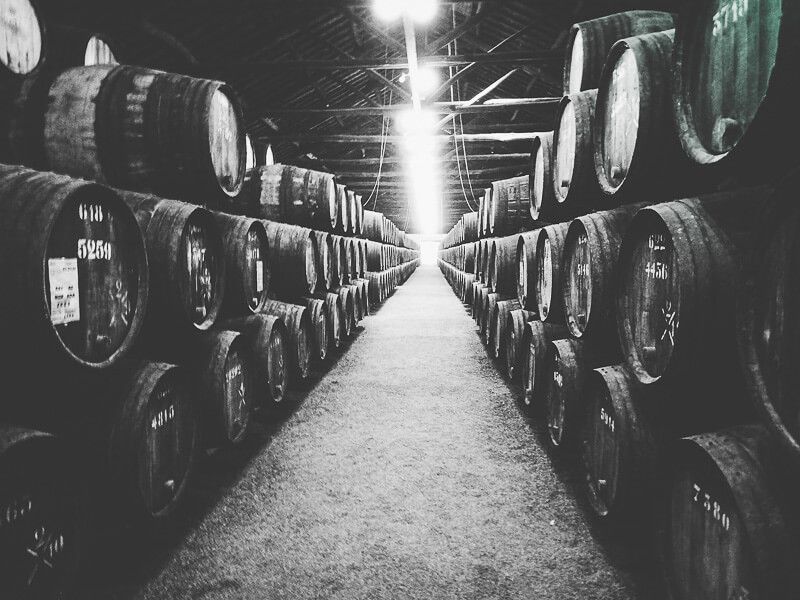 White
White Ports are made from white grapes and are only aged for 2-3 years in large vats. These Ports can be sweeter or drier. The first dry white Port was actually Taylor's own Chip Dry. This was my least favorite.
Vintage
Now I didn't get to try a Vintage (very expensive) but it is considered one of the best Port styles. So what makes Vintages the best? They represent the best product from an amazing, singular year. And not every year is a declared vintage. From what I remember maybe a quarter to a third of years are declared Vintages.
Vintages are also aged quite differently than the above types of Port. First they are aged in large casks (like a Ruby) for only 2 years. Then they spend the remainder of their years in bottles. For a very, long time. Like you buy a Vintage and then you let it sit in your cellar for 20-40 years. Then you decant it (fancy) and drink it over a short period of time – like in one night at a party.
---
Taylor's Port Wine Lodge
Okay now that we actually know what Port is, let's get back to Taylor's. Now why did I choose Taylor's? First Lonely Planet mentioned the Lodge has great views of Porto and offers three high quality Port tastings in the cost of their tour. Then I wanted a Port Wine Lodge that was off the riverfront and (hopefully) a little less crowded since it's a hike up the hill. And lastly, I wanted to visit one of the older and more traditional lodges. And since Taylor's was established in 1692, it's a pretty respected producer.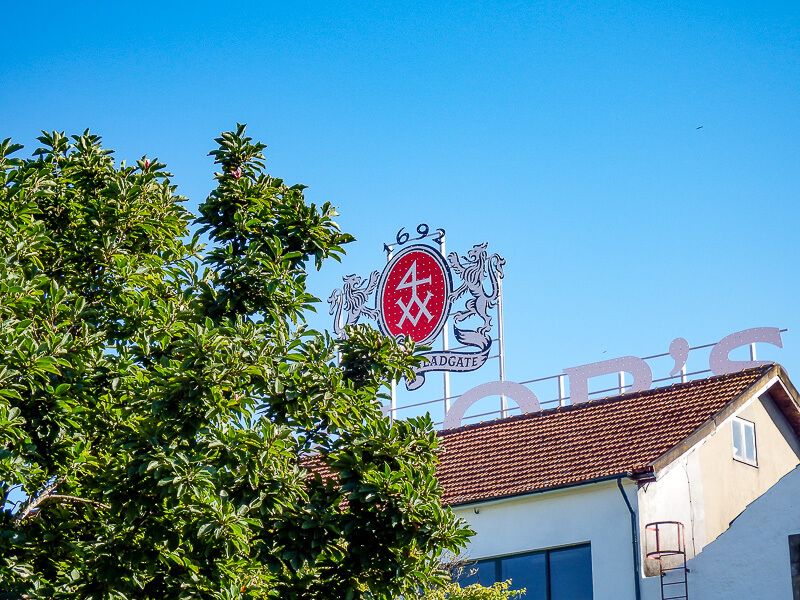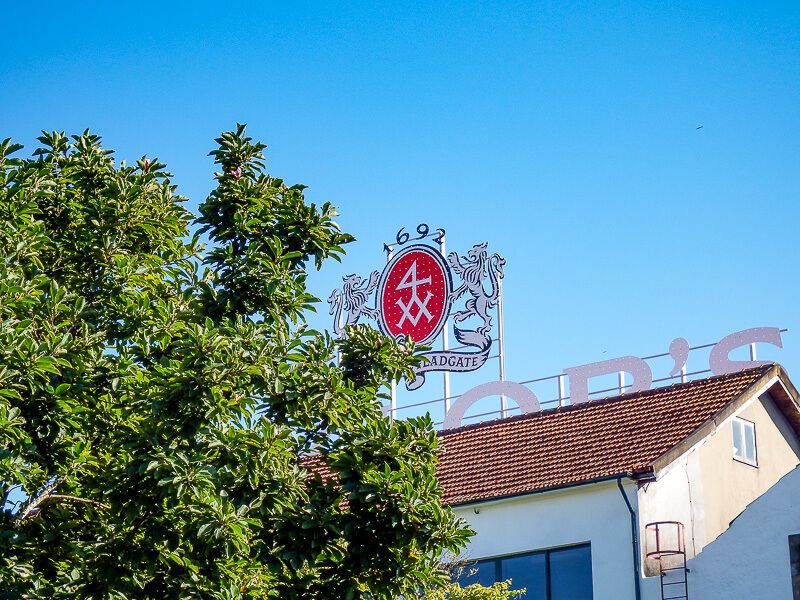 Now maybe some of you are thinking…Port is from Portugal and the name of this Lodge is Taylor's? Doesn't that sounds too…English-y?
Well, I'm glad you asked. So you see, historically, the English and the French were not friends. And they fought each other a lot. And when there was a war going on and the Brits still wanted to get their wine on, they had to look for something other than French wine. Enter Portugal and the Douro Valley. And so English backed companies set up shop in Porto and that's why many of them have English sounding names. Like Taylor's.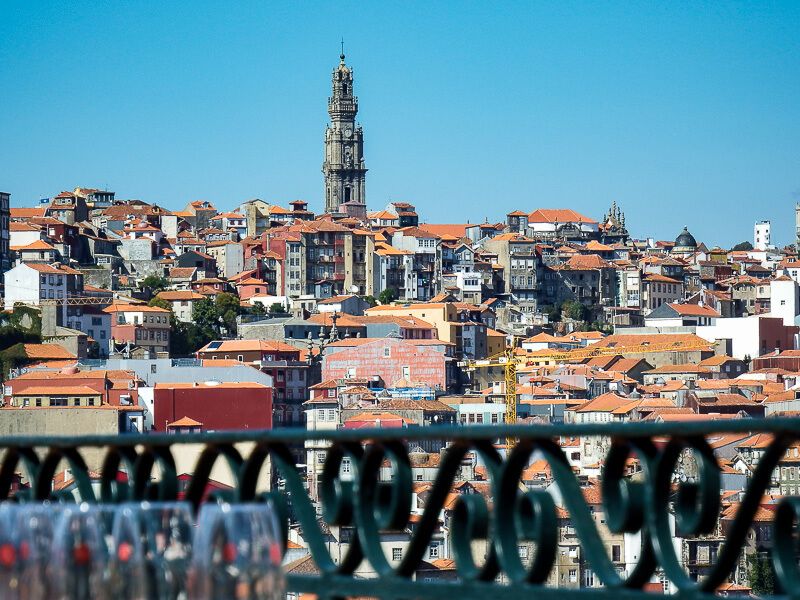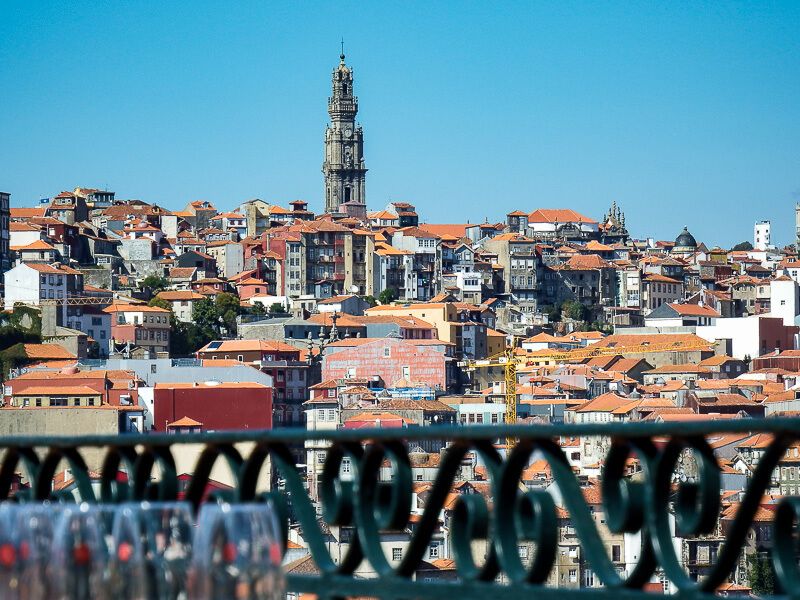 So after a lunch at the wonderful Restaurante Flor dos Congregados we headed across the river and up the hill to Taylor's. And I do mean up the hill. It's quite a hike. But sadly after arriving at the Lodge and standing in a brief line, we learned that the tickets for the next English tour (starting in 10 minutes) had just sold out and we would have to wait 90 minutes for the next English one. But since my Portuguese skills were limited and we probably wouldn't understand a word of the Portuguese tour, we decided to head to the terrace to wait it out. Luckily they let us take one of our tastings (the Chip Dry – a white Port) with us.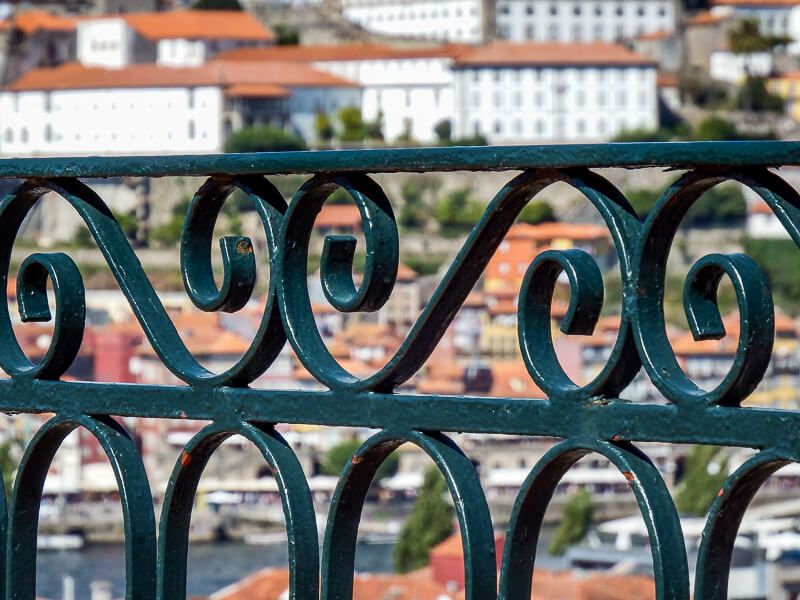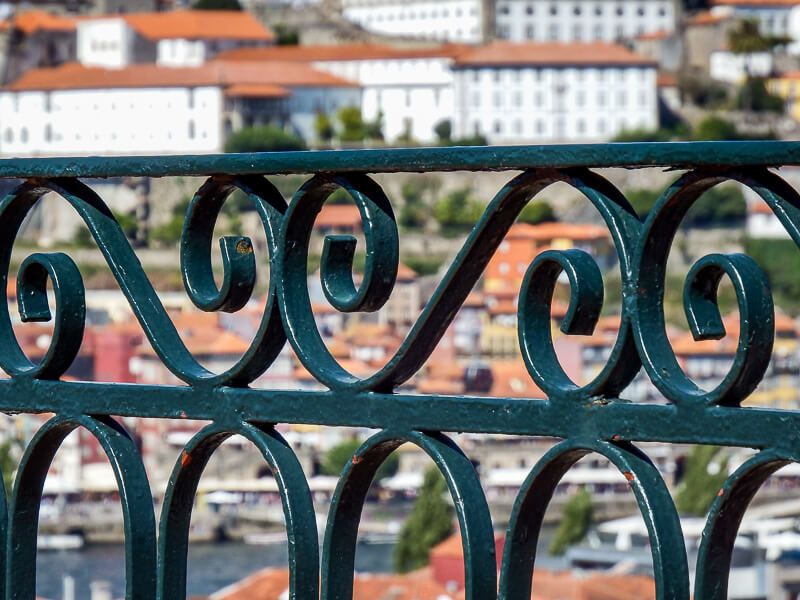 After learning that White Port is probably not my thing (and spending a fair amount of time playing with my camera on the terrace), our tour started.
The tour was very informative and quickly went over the history of Port and where/how it's produced. Fun fact: apparently stomping the wine with your feet is still a thing they do (or make tourists pay money to do) in the Douro Valley. And you stomp for a long time. Like hours upon hours. 10 minutes of stomping? Sure! 4 hours of stomping? Ummmmmmm….
After showing us a map of the Douro and watching a brief video on the above stomping, we were brought back among the casks to get a more thorough understanding on the types of Port Taylor's specializes in.
And just what is Taylor's known for? Well for one, their Vintages. Yep that expensive, let it age for 30 years in my cellar Port. But while I doubt I'll ever try a Vintage, Taylor's also claims to be the original inventor (and benchmark) of the LBV – a type of ruby port that's the closest you'll ever get to drinking a Vintage. Without, you know, actually drinking a Vintage.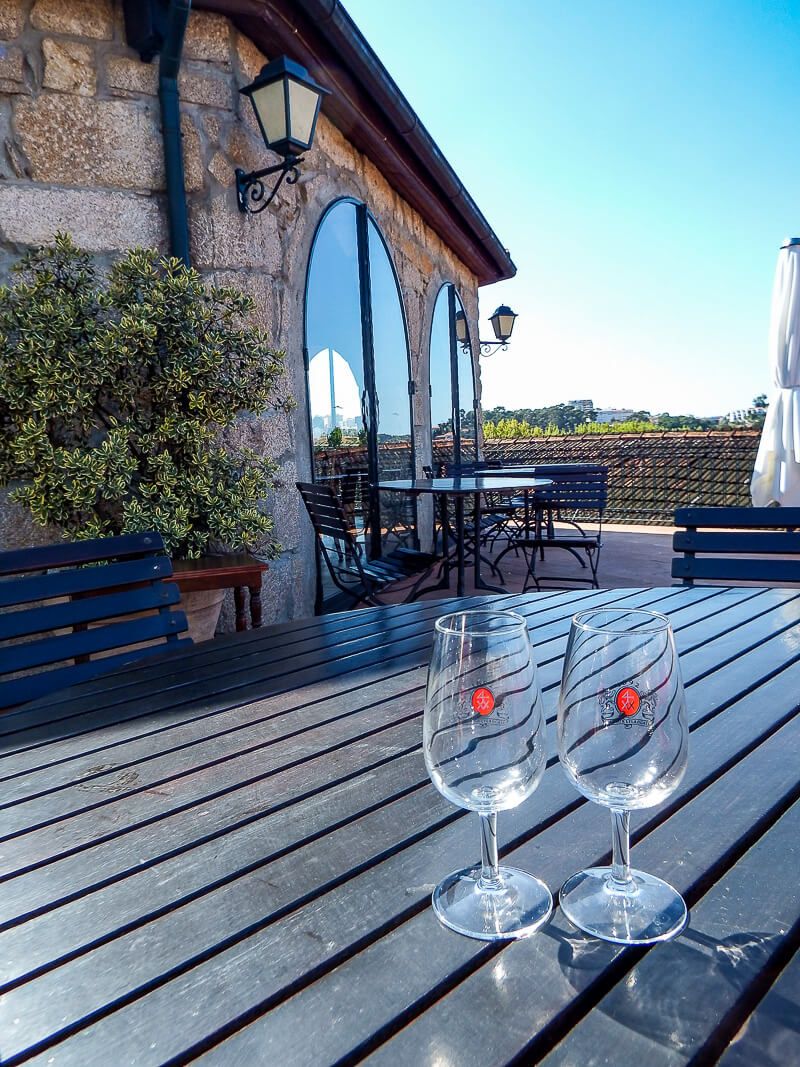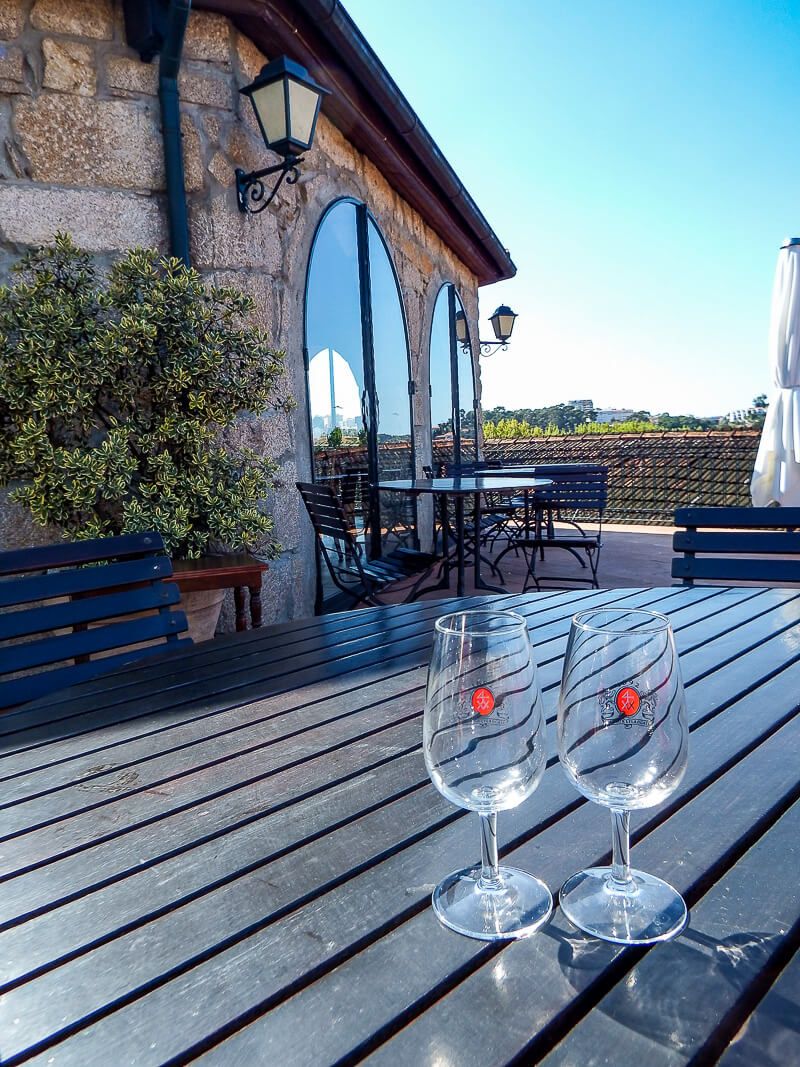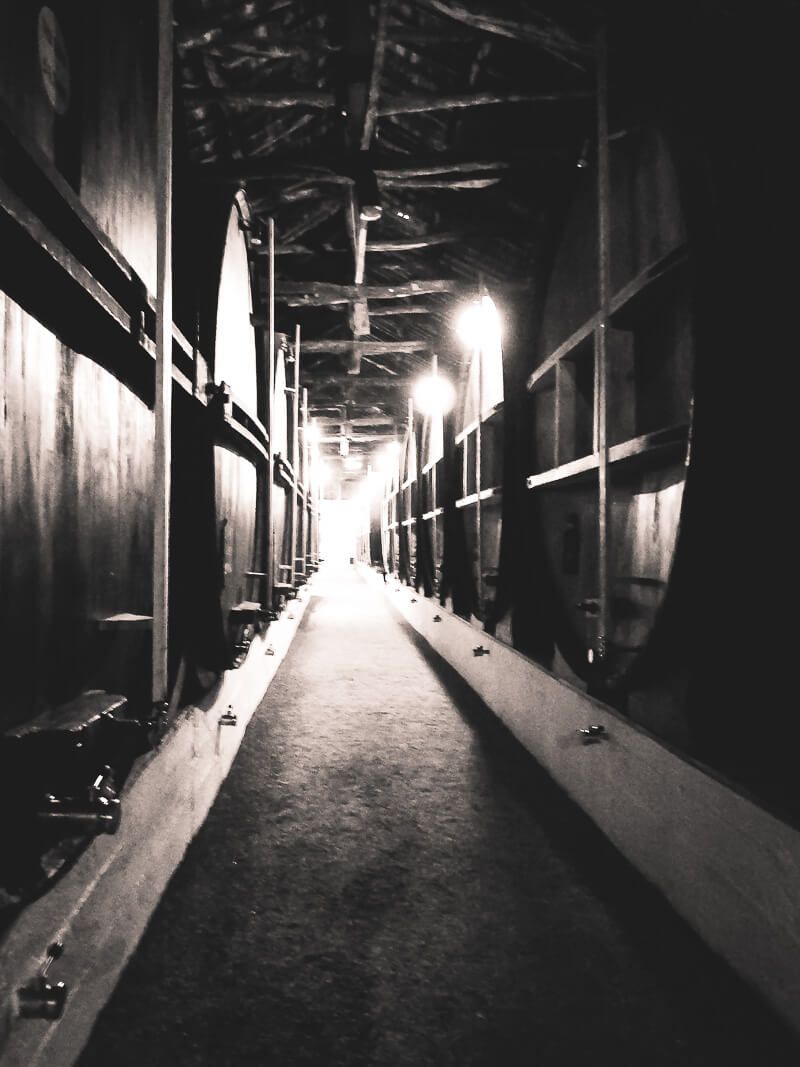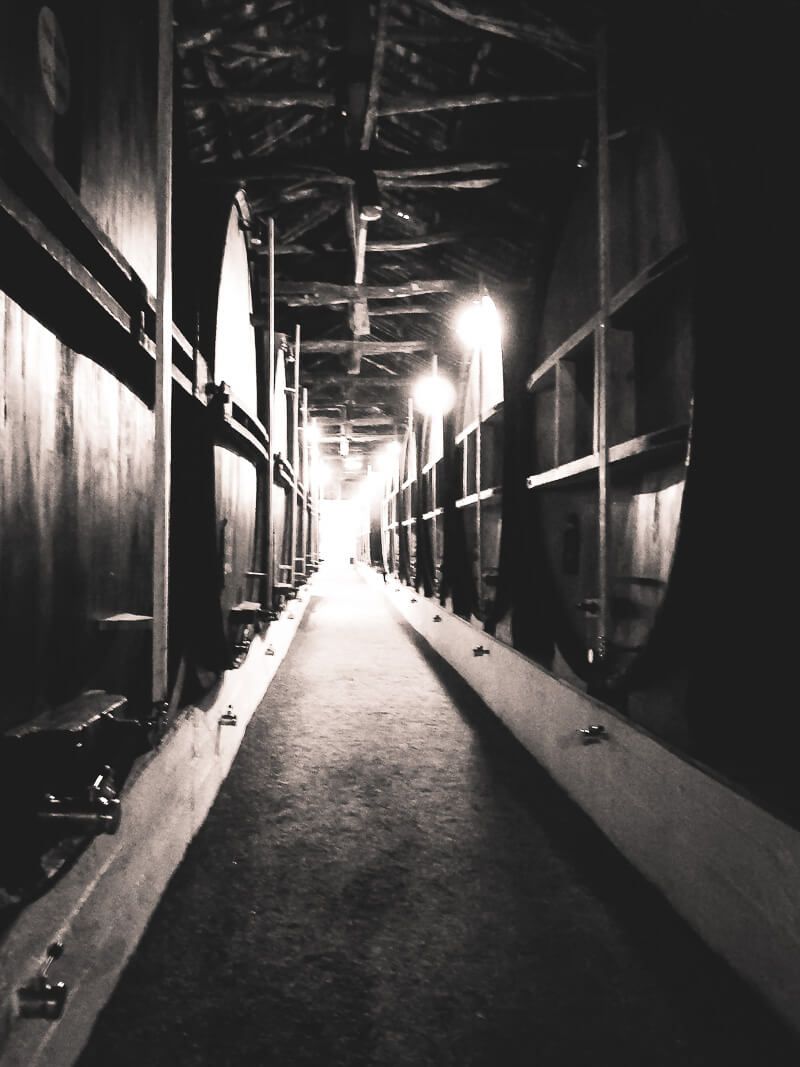 We followed our guide as we were taken among the large and small casks that were currently doing their aging duty before being taken back to the tasting room (or Library room as they call it). Here we were given our last two Port tastings – an LBV and a 10 year old Tawny.
Ryan and I decided to take our tastings out to the garden and laze in the sun as we sipped. The Tawny to me was sweet. Almost too sweet. But the LBV was just right. Sweet, rich, and fruity. It felt thicker than the Tawny but I liked that. It was a drink I could see myself sipping slowly by a roaring fireplace.
We lingered in the garden, even after most others returned to the tasting room to deposit their empty glasses. I wanted to savor our tastings. But finally, as the sun started to set, we left Taylor's and headed back to Porto.
I've had Port only once since returning from Portugal. A sad state of affairs. But I hope in the future to make my vision come true. Me. A glass of Port. Roaring fireplace. Cabin tucked into a snowy woods….that's not too much to ask for, right?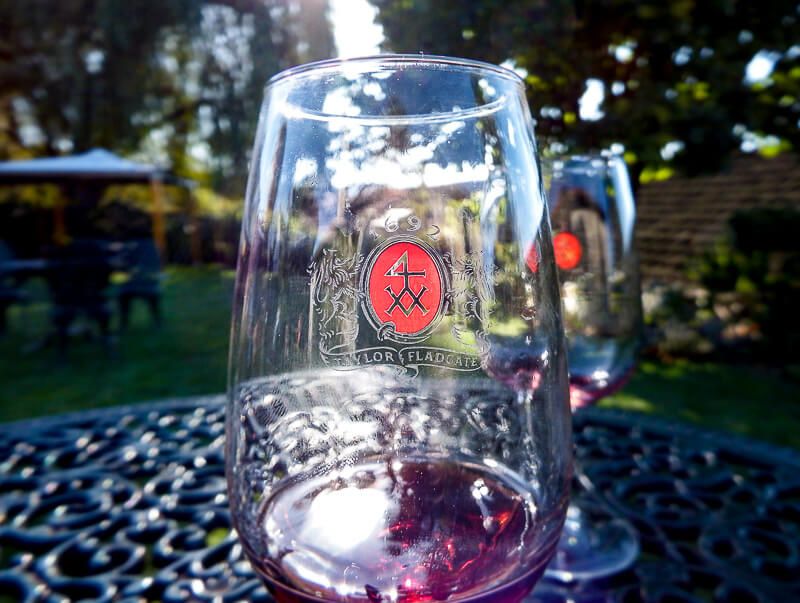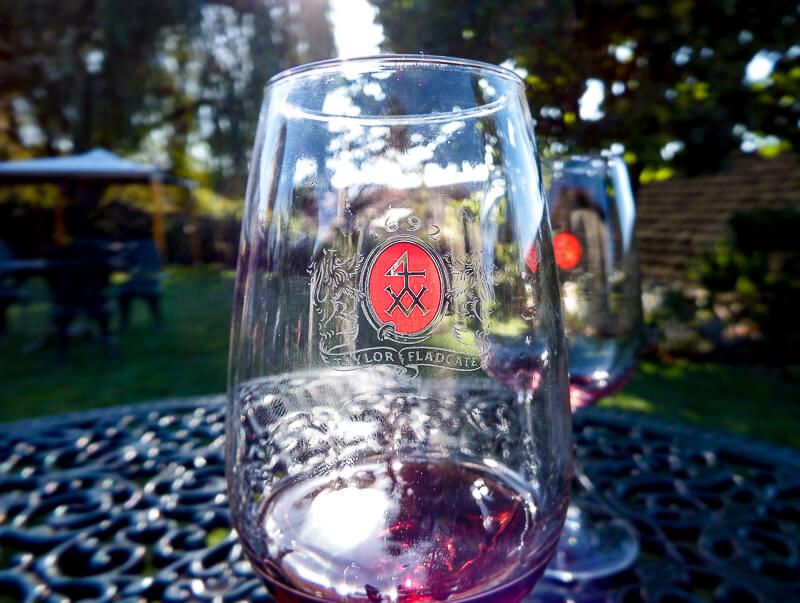 – Have you ever tried Port?-
---
Nitty Gritty
Interested in visiting Taylor's Port Cellars?
Schedule: There is no fixed schedule. Instead, tours leave every 30-40 minutes and you don't need a reservation. Taylor's does offer English tours but they are staggered throughout the day. Keep in mind that the last tour leaves about an hour before closing, so don't wait until the end of the day.
Price: €7 per person
Tastings: When you pay for a tour, you'll also get to taste three high-quality Ports: Chip Dry – Extra Dry White, Late Bottled Vintage (LBV), and Tawny 10 year old.
Hours: Monday to Friday: 10am to 6pm, Saturday-Sunday: 10am to 5pm.
Location: Rua do Choupelo nº 250, 4400-088 Vila Nova de Gaia, Portugal