It's fall! And if there's one thing I love to do in the fall, it's get outside, go hiking, and take in all of those beautiful colors. If you want to catch the fall foliage in Greenville, SC this year, here's where you need to go (and when!).
The hardest part about fall in the Upstate and western North Carolina is getting the timing right. In the past I have left a very green Greenville and driven into the Smokies only to realize…I've missed it. The timing between peak fall colors in the highest elevations in NC and Greenville is about a month apart (sometimes more).
So how do you know when to go? Well every year there are leaf color prediction forecasts (I'll link some I used below), but it's a combination of elevation and latitude. Higher elevations (and places further north) will see color earlier due to the cooler temperatures.
But a lot of things can affect leaf color: rain, wind, and high temperatures. Research has shown that colors are best in years when fall days are cool and sunny, and nights stay above freezing. Very warm weather can delay fall color by up to two weeks. It's also helpful for the summers to to have had a good amount of rain (but not too much).
I've done my best to research the timing though and here is where I'd go to catch the beautiful fall foliage near Greenville, SC.
Helpful Links:
---
Late September
6,000+ ft
These are the highest elevations in western North Carolina. Mt. Mitchell, Grandfather Mountain, and Clingman's Dome to name a few. There will be some muted color at these elevations, but I'd wait another week or two so that you'd have even more to see.
The views from these locations will be mostly green because you're looking down the mountain.
First Week of October
5,000+ ft
This is when I'd start to consider to head to those higher mountains in North Carolina. You should have beautiful color from these highest elevations. You could also wait one more week if you needed to.
But whatever you plan to do, know that the fall season is very popular. If you are staying overnight anywhere, make your reservations in advance. AND make sure you get to the trailhead early (the parking area will fill up).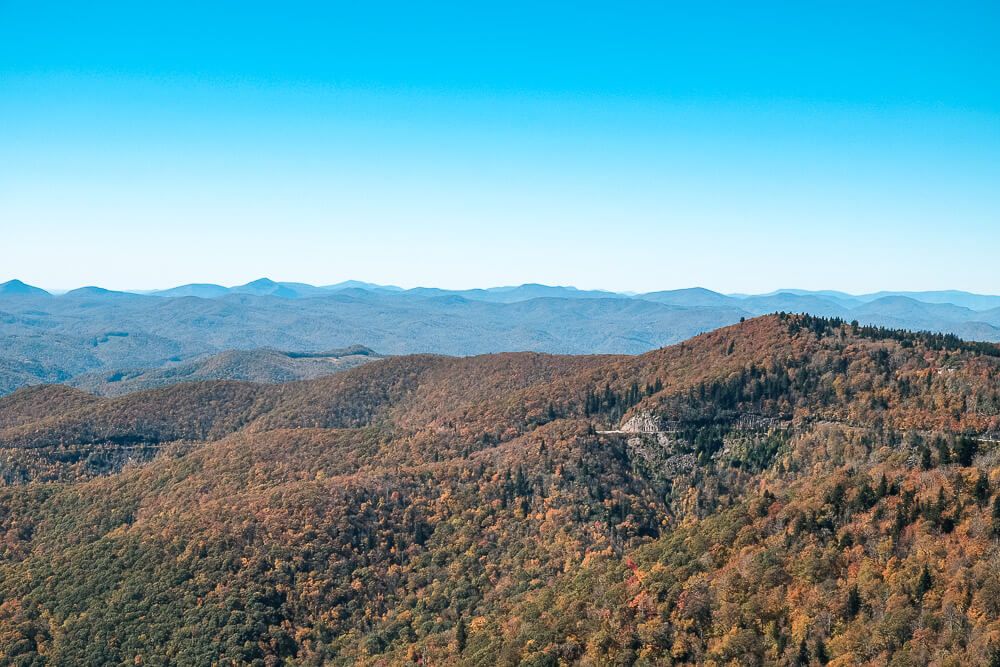 You should start to see color along the Blue Ridge Parkway (between Cherokee, NC and Asheville, NC). Here are some popular hiking areas:
Waterrock Knob
Graveyard Fields (often the first location to see fall color on the Parkway)
Craggy Gardens
Mt. Mitchell
Rough Ridge
Other Destinations to Consider:
Beech Mountain, NC
Grandfather Mountain
Clingman's Dome (Great Smoky Mountains National Park)
Drive the Blue Ridge Parkway With Your Dog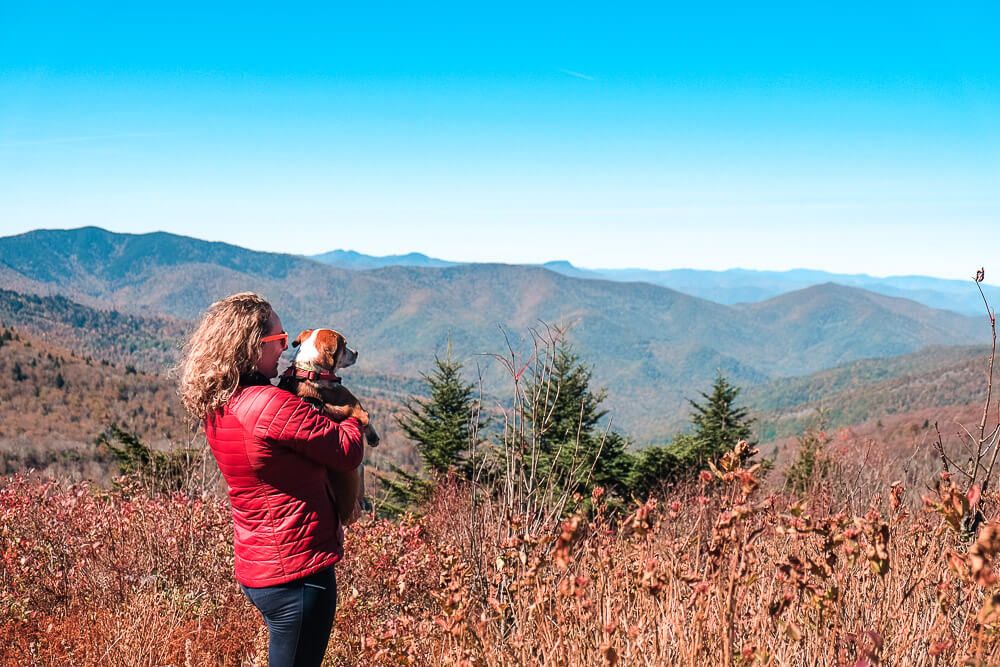 Second Week of October
4,000-5,000 ft
We should be in it now. And though some of the highest elevations may be past their peak, the views of the whole mountain should be spectacular.
This is the time to drive the Blue Ridge Parkway. Especially the stretch in North Carolina (from the Great Smoky Mountains to the border with Virginia).
And if you want to visit the Great Smoky Mountains National Park, this is the time to do that. The higher elevations in the park will be at the peak and most of the mountains from the viewpoints should be beautiful as well.
In particular, you should drive the Newfound Gap Road through the center of the park. This auto tour is amazing and it will take you up and over the Smokies right through the heart of the park.
5 Awesome Things to Do in Great Smoky Mountains National Park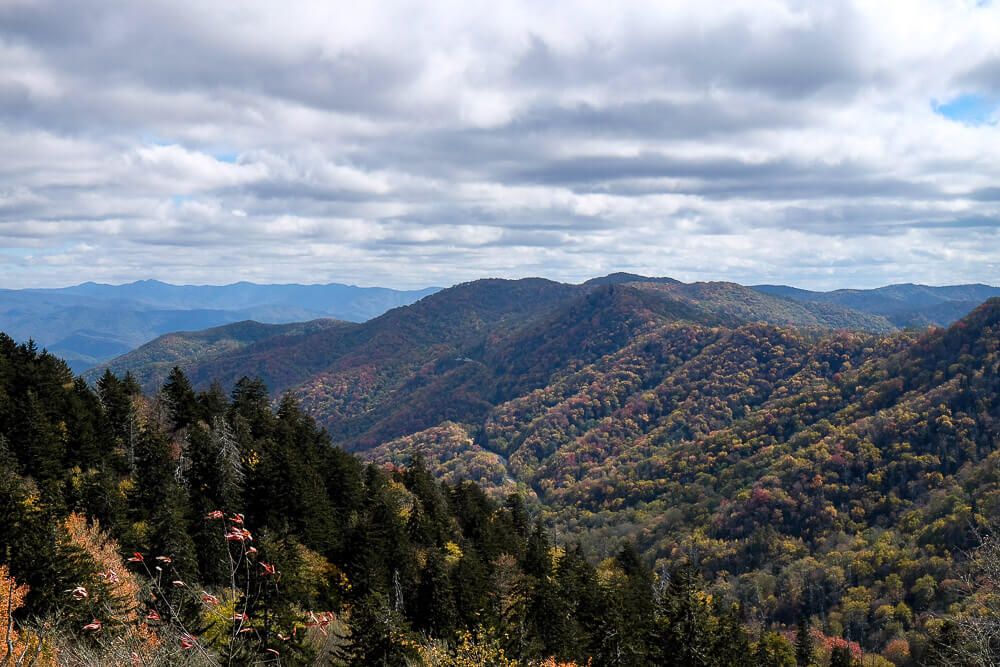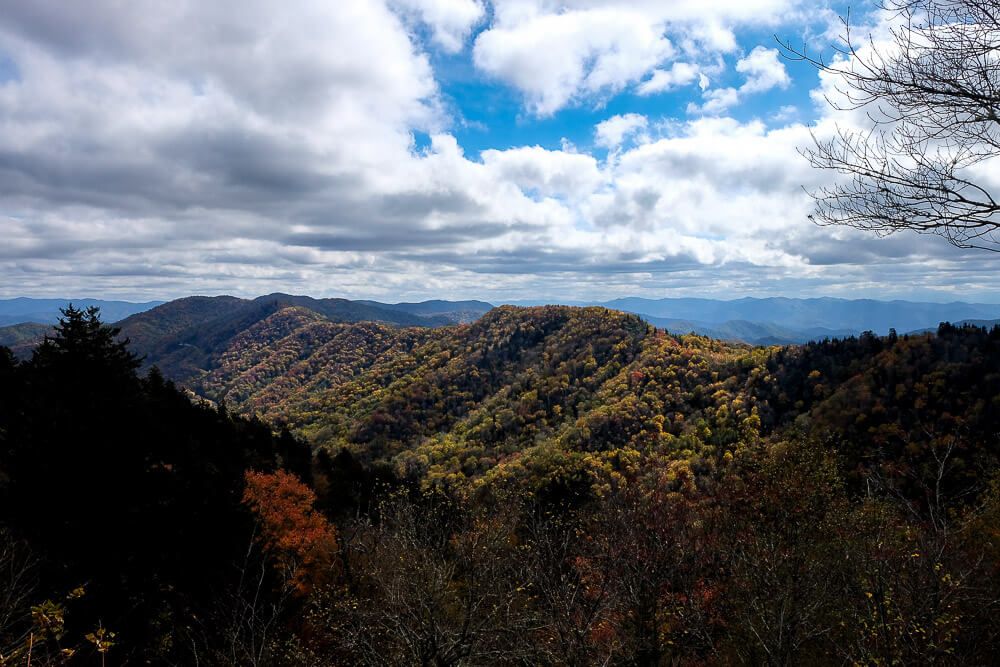 Third Week of October
3,000-4,000 ft
Now you don't have to drive as far into the mountains to see some fall color. There are two main destinations I'd consider here: Pisgah National Forest (Ranger District) & Highlands, NC.
For Pisgah National Forest (Ranger District), take a driving tour along US-276. Consider stopping at Looking Glass Falls, Moore Cove Falls, and maybe hiking to the top of Looking Glass Rock.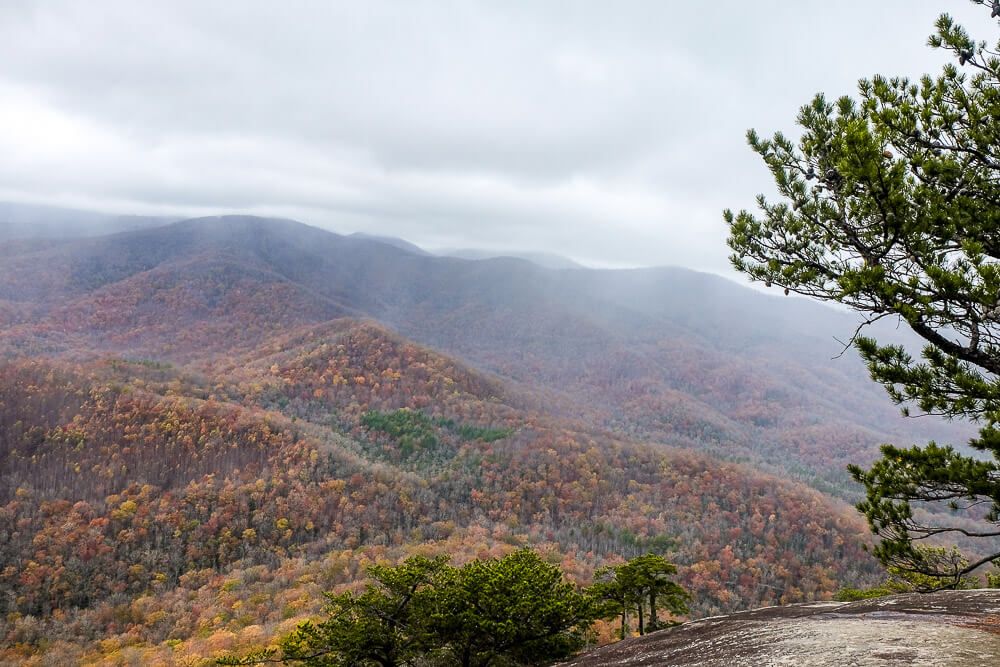 You can also hop onto the Blue Ridge Parkway from US-276 and continue the tour in either direction.
Another option would be to spend a few nights in Highlands, NC. This small mountain town is incredibly walkable and lovely. It's also got tons of hiking options nearby: Whiteside Mountain, Glenn Falls, and Sunset Rock.
Dog Friendly Guide to Highlands, NC
Other Destinations to Consider:
Linville Gorge (& Linville Falls)
Boone, NC
Blowing Rock, NC
Banner Elk, NC
If you want to take a trip a little bit further afield, consider visiting Shenandoah National Park. The Skyline Drive through the center of the park is gorgeous in the fall.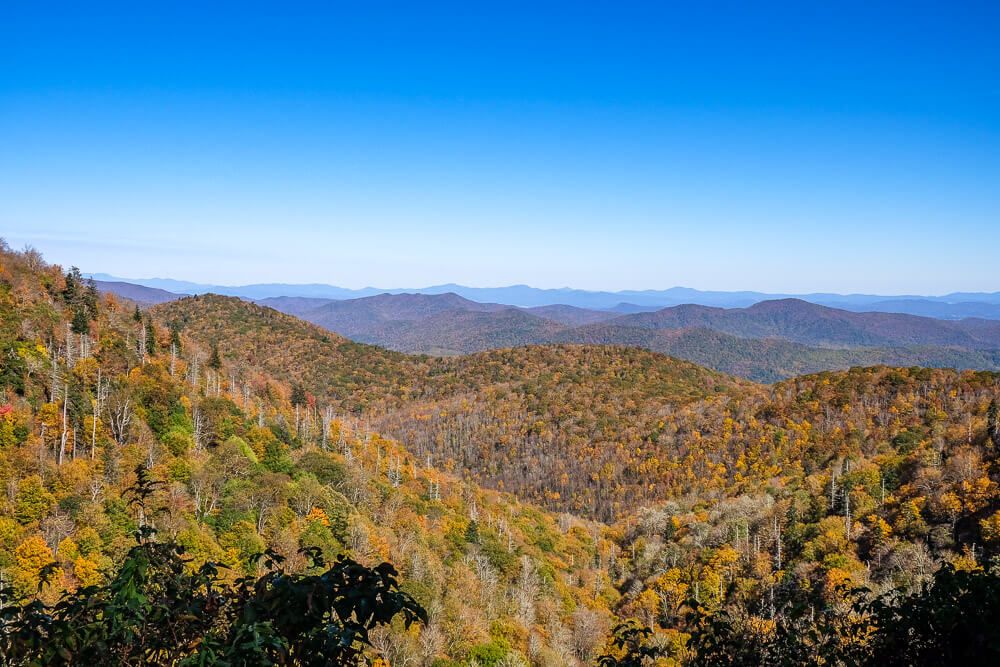 Fourth Week of October
2,000-3,000 ft
The color is shifting closer! You should now see some beautiful fall foliage in Asheville, Hendersonville, and Brevard. This is a great time to take a day trip to Hendersonville, hike the trails at the Carl Sandburg House, or tour the Biltmore Estate.
Another great option would be to visit Dupont State Forest. At just over an hour away, this forest has some wonderful waterfalls you can hike to like High Falls, Triple Falls, & Bridal Veil Falls.
Hike to Bridal Veil Falls in Dupont State Forest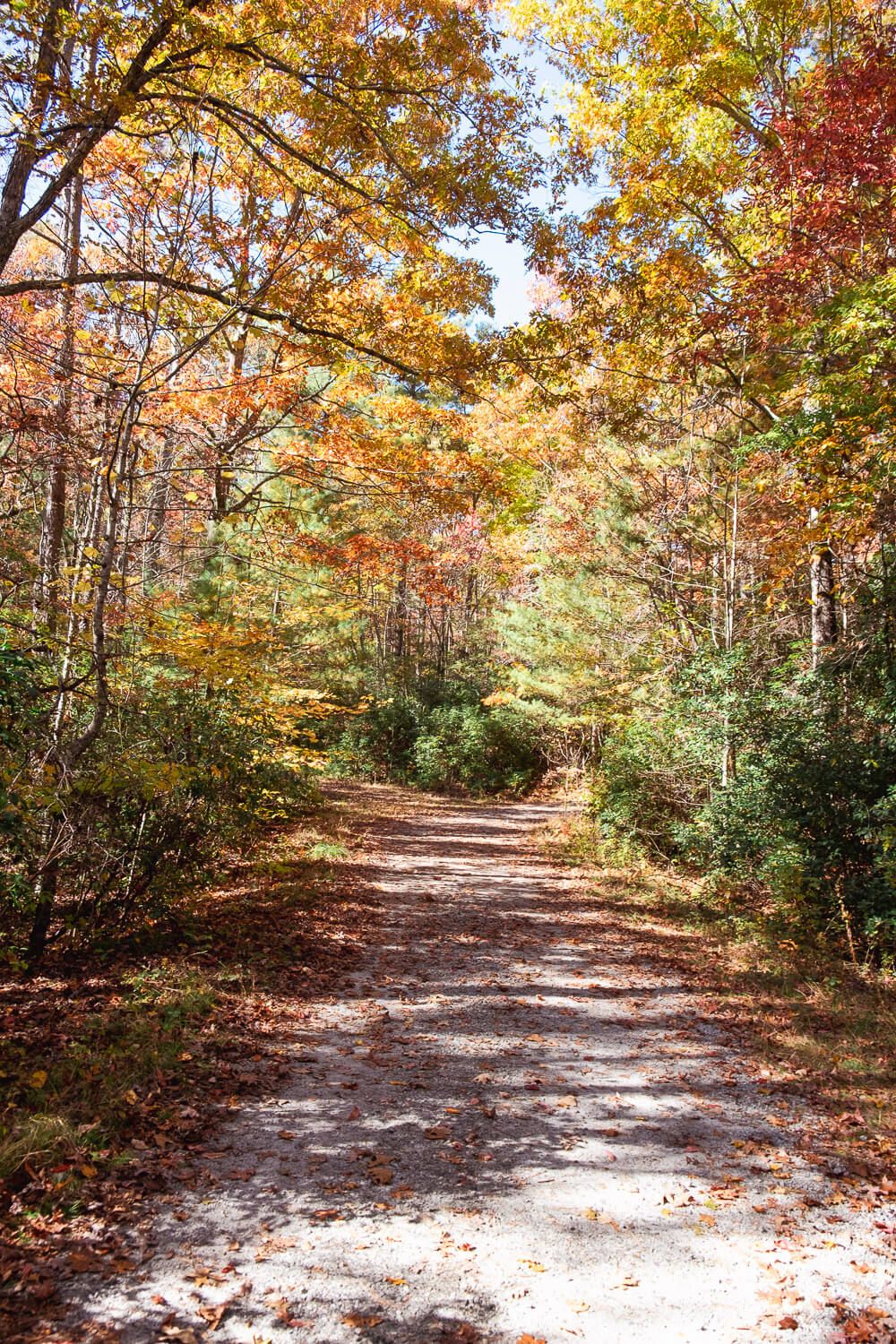 If you wanted to visit Great Smoky Mountains National Park, you can still catch some beautiful fall foliage (just not in the higher elevations). Head to Cades Cove or Deep Creek near Bryson City. We've experienced some beautiful fall hikes there.
Deep Creek Trail Guide in the Smokies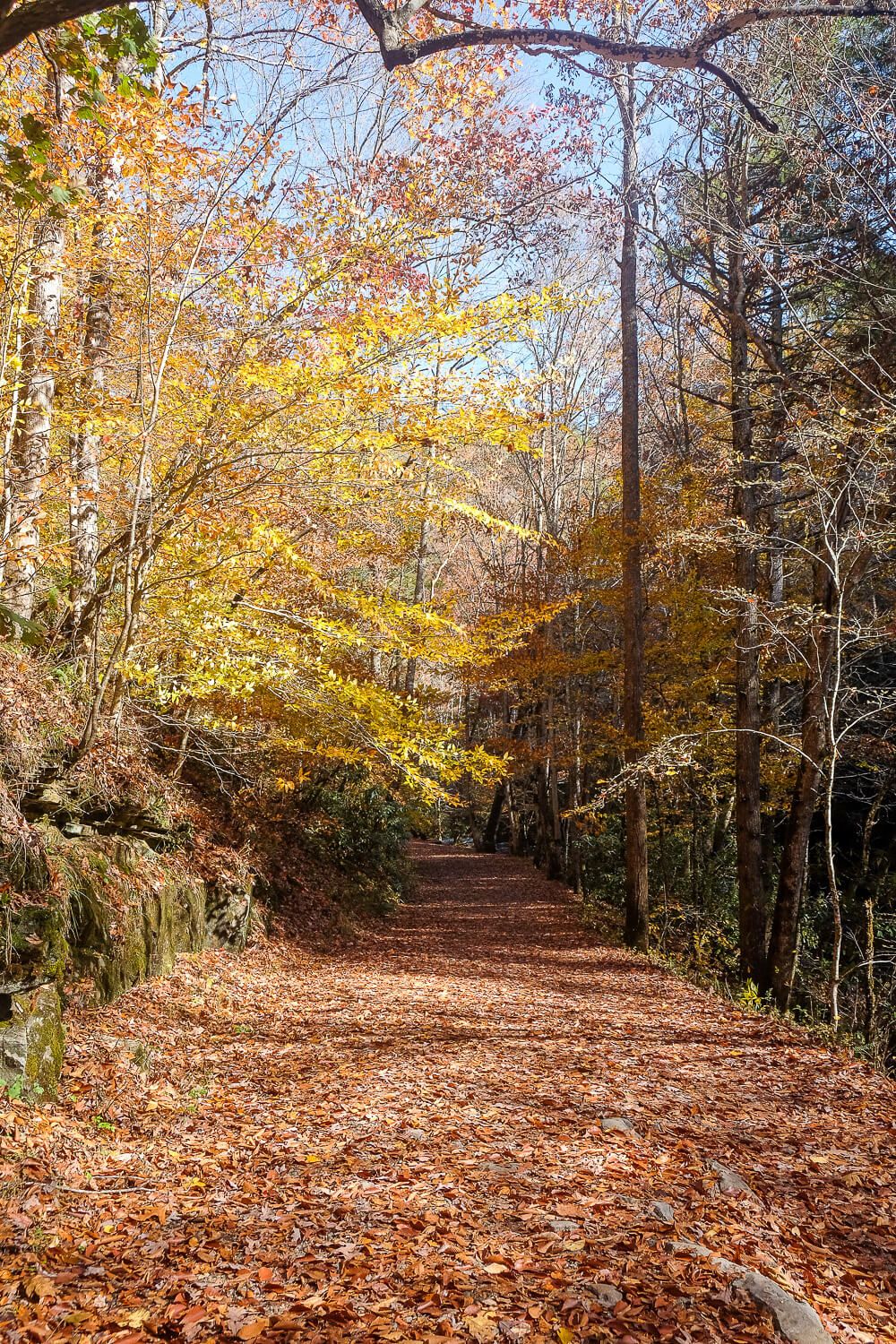 But if we're lucky, then the Upstate will have started to show some fall color by the end of October. Check out Table Rock State Park and Caesars Head State Park for some beautiful options.
Early November
Greenville should start to show some fall color by November. If you don't want to leave town, this is your month for catching all of the beautiful fall foliage in Greenville, SC. So head to Falls Park, walk the Swamp Rabbit Trail, visit Conestee Nature Reserve, and hike a trail at Paris Mountain State Park.
The Best Places to Go Hiking Near Greenville, SC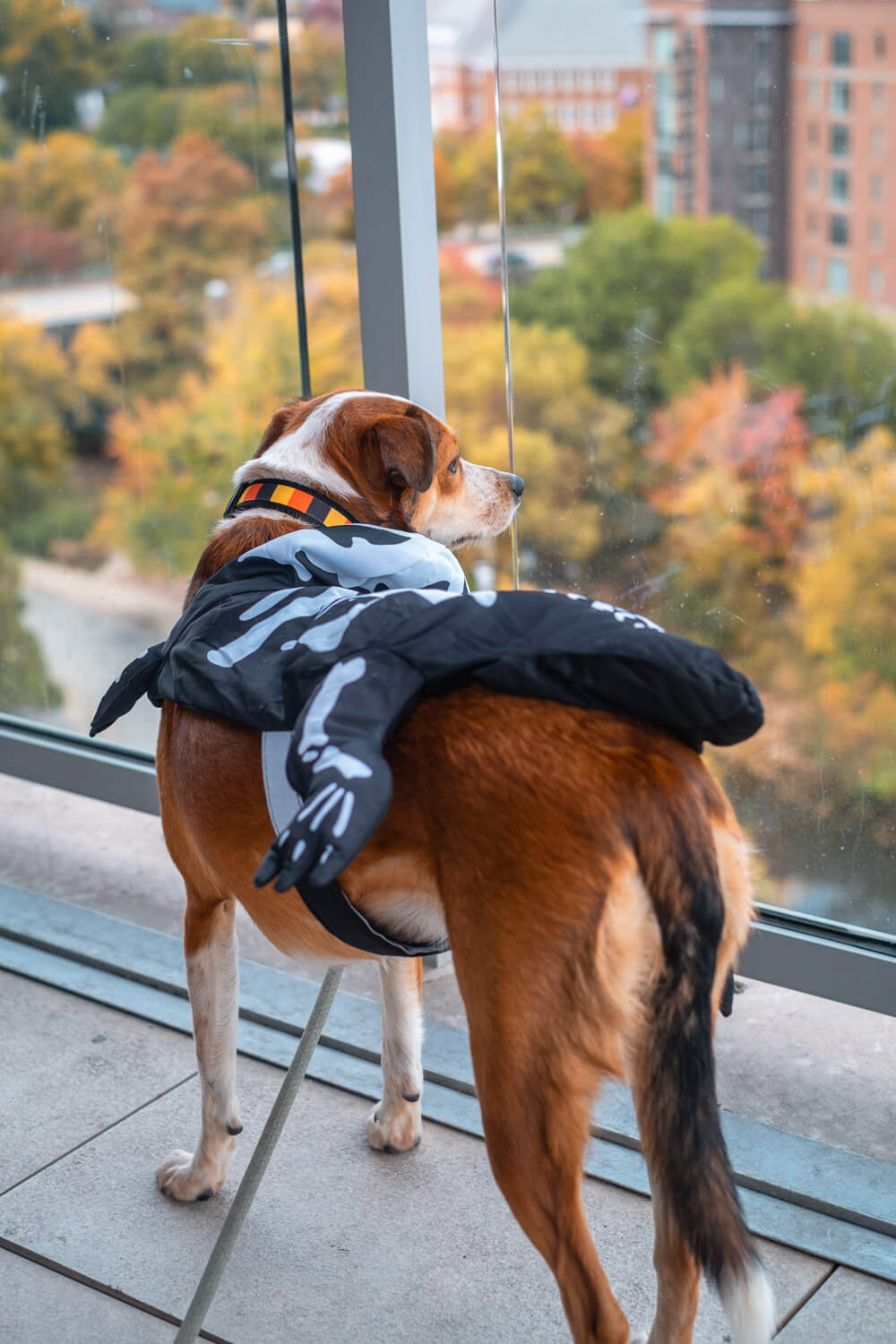 ---
Where Should You Go?
Okay the simplest answer in case the options above are overwhelming.
Early-to-Mid October, head into the highest elevations of the mountains of NC.
Blue Ridge Parkway (between Cherokee and Blowing Rock, NC)
Smoky Mountains along the Newfound Gap Road & Clingman's Dome
Mid-to-Late October, head to the lower elevations of western, NC
Pisgah National Forest (Ranger District near Brevard)
Asheville & Hendersonville, NC
November, the Upstate should have beautiful foliage:
Caesars Head State Park
Paris Mountain State Park
Conestee Nature Reserve