Highlands is a mountain town in Western North Carolina that's an amazing escape if you're looking for your next weekend getaway. There are tons of things to do in Highlands, NC and you will surely not be bored here. But what about if you're visiting with your four-legged best friend?
It turns out that Highlands is very dog friendly! During our first trip with Ellie, I was a bit unsure if we would struggle to find things to do. But oh-ho I should not have worried. Highlands is an outdoor playground not just for us, but for those adventure loving pooches too.
As we dig into things here, it's good to note that this is a very outdoor heavy itinerary. As in, you should plan on visiting when the weather is nice enough that you can spend most of your time outside. Due to the elevation, it can be significantly cooler in the mountains than in nearby areas.
For us, the temperatures were a good 20 degrees cooler in late June than in South Carolina. Something I was not expecting. It was so cool one night that I almost went out and bought a sweatshirt (luckily it warmed up a bit the next day).
I enjoyed visiting in summer (as do lots of others as well). Though the spring and fall are probably gorgeous as well. Just be sure to keep your eye on the forecast.
---
Where To Stay in Highlands NC
Our trip centered around our accommodation, The Park on Main. This boutique hotel was absolutely perfect. Not only are they dog friendly, this hotel is dog centric. This should be immediately obvious on arrival due to all the dog iconography that abounds.
But it's not just that your dog can stay. The Park on Main has everything to make your dog's stay extra special. Their own dog bed? Check. Dog bowl? Check. New dog toy? Check. Bucket of biscuits in the lobby? Check. Their own dog park? Oh yes. Let me repeat that again.
The Park on Main has their own dog park. It's not huge, but it was perfect. Allowing Ellie to roam around in a fenced area off leash was amazing. Plus with other friendly pooches staying at the hotel, she quickly made friends. And more importantly, burned off some of that puppy energy.
But beyond the dog amenities, the hotel itself was beautiful. I was blown away by the room and hotel. First our room opened up onto a garden courtyard. A perfect spot to drink my morning coffee or a dinner of takeout pizza and champagne (yes I'm classy).
The room itself was split into a seating area with a fridge (always a nice perk) and a small but beautiful bedroom. Our balcony looked out over the back of the property towards the dog park and was also a nice place to sit back and relax.
The hotel itself is situated right in downtown Highlands. So you're in walking distance to all those amazing shops and restaurants. Now Highlands itself is super picturesque and staying in town made the trip extra special. I hate having to drive everywhere and it was so nice to be able to walk to dinner.
If you're looking for the dog friendly hotel for your trip, then The Park on Main can't be beat.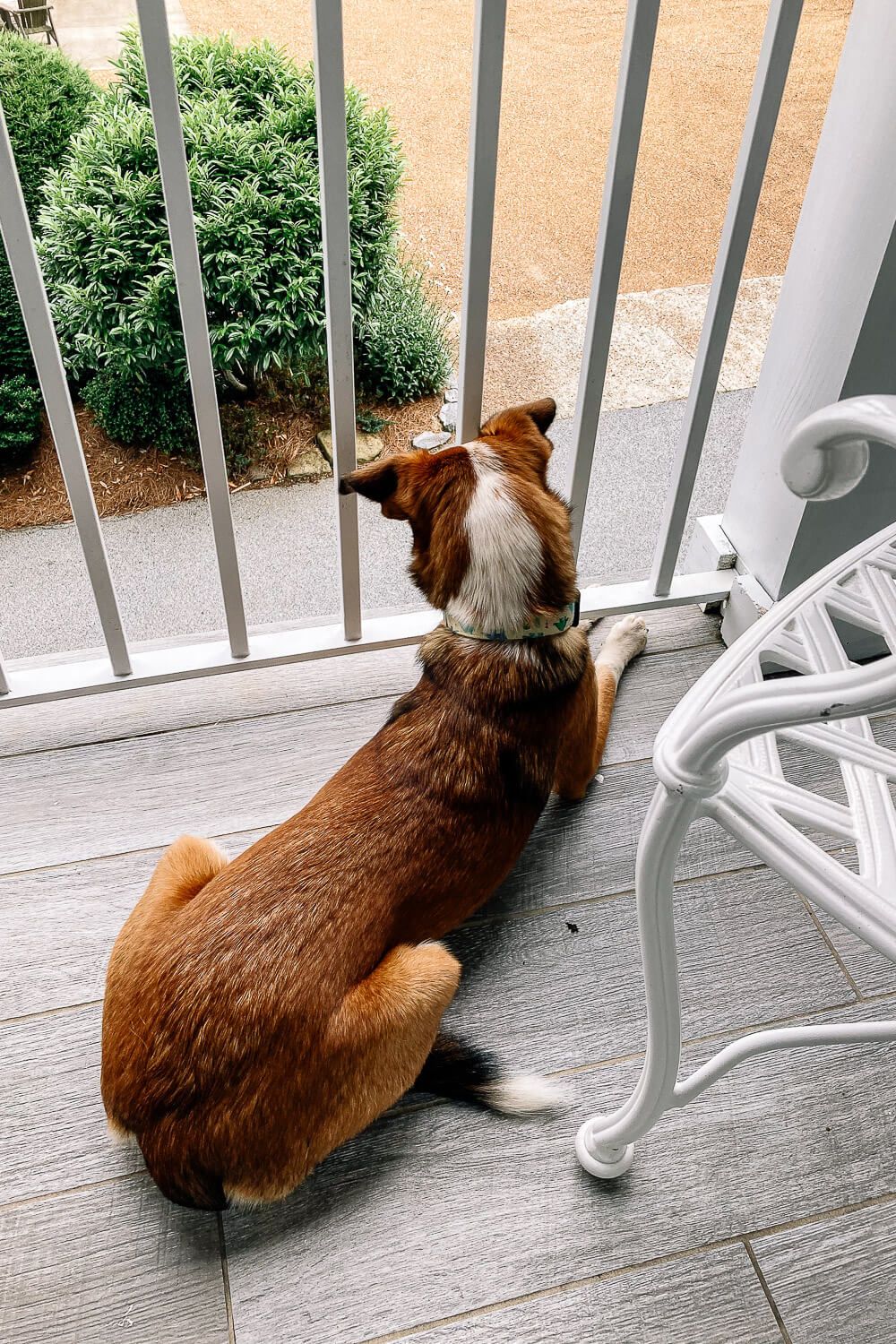 ---
Where to Eat in Highlands NC
There are lots of outdoor dining spots in Highlands, NC. But don't be fooled. Just because a restaurant has outdoor seating does not mean it's dog friendly (looking at you Old Edwards Inn & Spa restaurants).
Below are the places we ate at or places I've heard of that are dog friendly. I hope to grow this list as we continue to visit.
Breakfast
If you are staying at The Park on Main, the the hotel offers a free breakfast. When we visited during the 2020 Pandemic, the breakfast was a brown bag affair. But it is a continental breakfast during other times.
Blue Bike Cafe. This little spot just a couple of blocks from Main Street has an amazing breakfast. But it can be very busy. They have just a few outdoor tables so waiting for one can take upwards of 45 minutes. The food though was so worth it. I'm a biscuits and gravy kind of girl and they had several options on the menu. You can call ahead to put your name on the list we learned.
Lunch / Dinner
Mountain Fresh Grocery. This small grocery serves breakfast and lunch/dinner. We were aiming for breakfast but got there just a little bit late one day (aka after 11am). But lunch was fantastic. We went for the Brie and Bacon Fig Press and a special BLT with fried green tomatoes. But know that this is actually also a small grocery / market. So if you need to stock up on some other nibbles, this place has you got you covered. Dog friendly seating is out front on the picnic tables.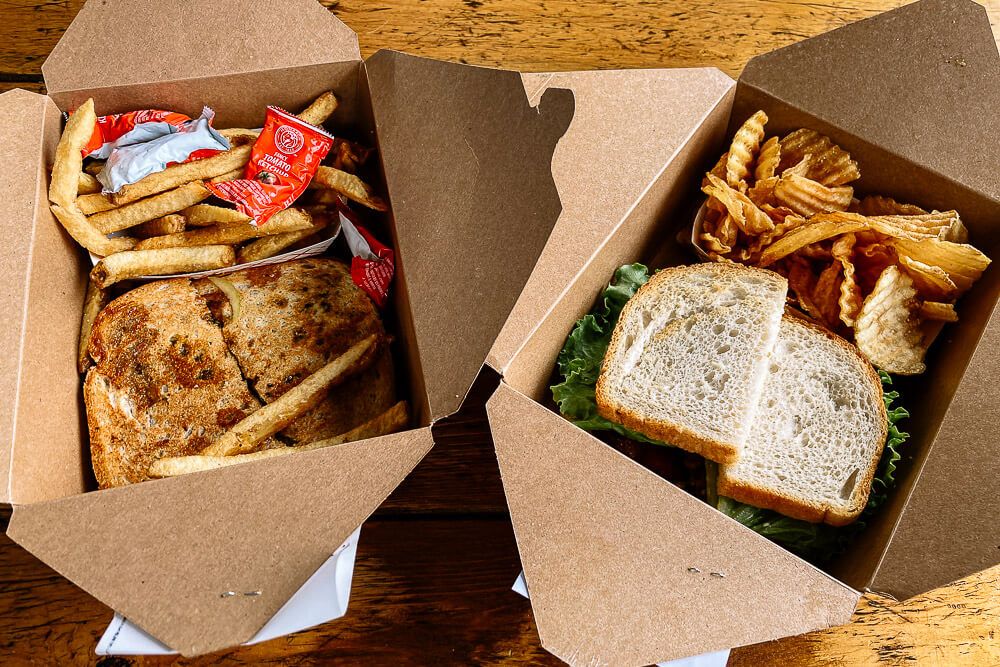 Bridge at Mill Creek. This restaurant is the new kid on the block (or so we were told by a couple who've visited Highlands for years.) They've got a small outdoor deck that's shaded and overlooks their creek. Seating out there is limited so I would call for reservations. But the food was amazing. I got the Duck Cabonara and it was the best thing I had all weekend.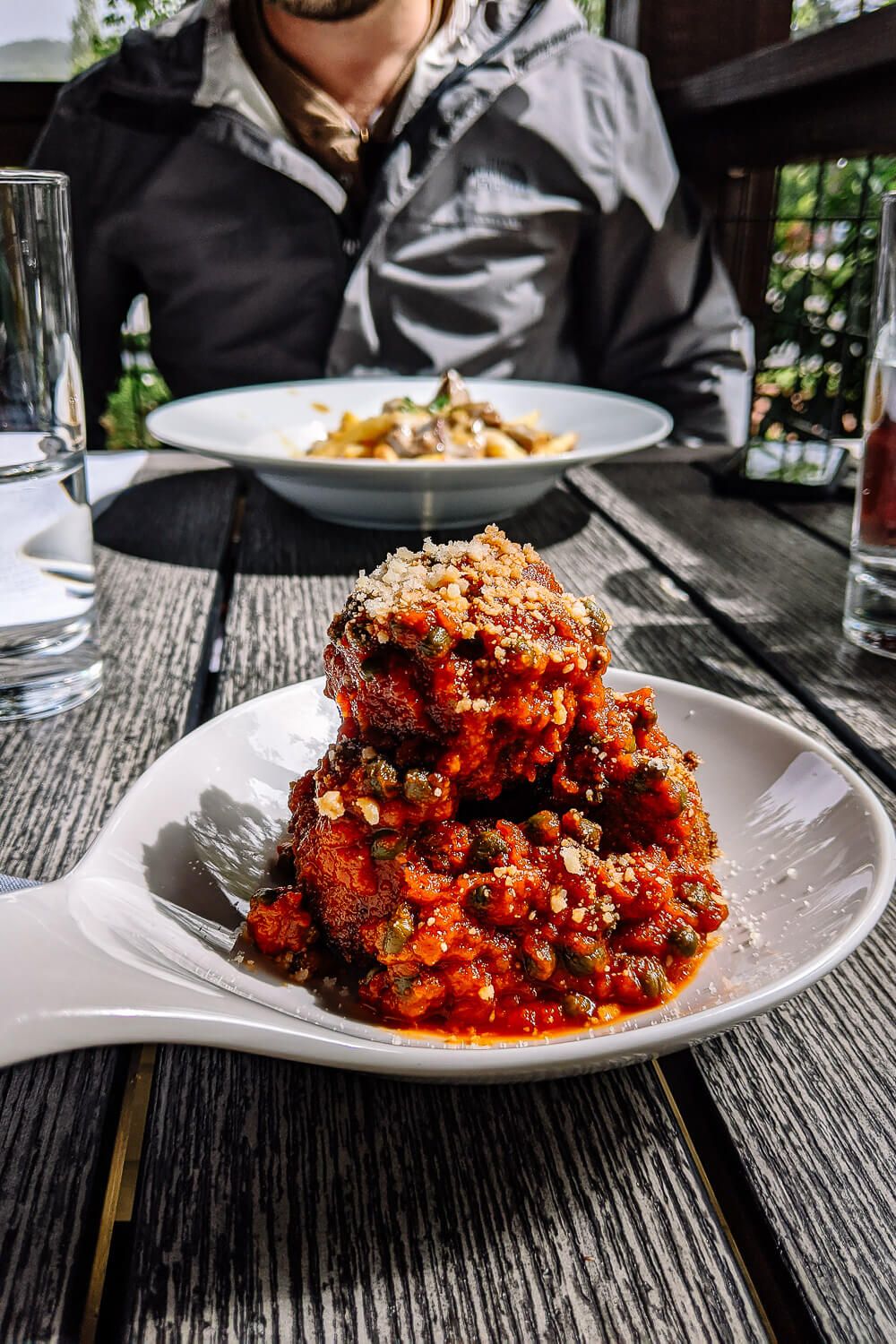 Wild Thyme Gourmet. Located right in the middle of Highlands, this is a popular restaurant. They have a fairly large patio area, but due to its popularity, I would still call for reservations. They have an extensive wine list and the food was very good. We don't tend to do appetizer, entree, and dessert at every restaurant, but we did here.
Other dog friendly options (I haven't eaten at these, but they are on my list to try):
Wolfgang's Restaurant & Wine Bistro
Bistro on Main
The Log Cabin
Lakeside Restaurant
Meritage Bistro
Takeout Pizza
So none of the pizza places we found actually had dog friendly seating. But you can always order pizza for takeout and eat it in your hotel's garden courtyard.
Also be aware that hours on Sunday are not always the same. We did pizza for dinner on Sunday night and, well, Four65 was our only option. The other two either weren't open at all on Sunday or closed earlier than we thought.
The Pizza Place of Highlands
Mountain Fresh Pizza
Four65 Woodfire Bistro + Bar: this is a fancy restaurant (it's part of the Old Edwards Inn & Spa). But the pizza was very good. Just expect higher prices here.
Dessert
There are two places in town to get your ice cream fix. You'll have to send someone else in to buy the ice cream as dogs aren't allowed inside.
SweeTreats Craft Ice Cream. While this spot doesn't have any specific outdoor seating, it does have several benches nearby.
Kilwins Highlands. Right near Wild Thyme in the middle of Highlands. It's got several tables out front in the plaza, plus benches and stone walls.
---
Things to Do in Highlands NC
Shopping & Explore Downtown
During my first visit to Highlands, I was a bit unsure on what to expect. But a bustling, main street centric town was not it. So I was kind of blown away when we drove into town and instead of just an intersection I was greeted with like a real downtown.
Highlands' Main Street spans for several blocks in each direction. Here you'll find restaurants (some award winning), boutiques, antique stores, art galleries, and more.
Ryan even ducked into the Highland Hiker's log cabin store to peek at some of their outdoor gear.
I've done a bit of shopping in town, but if you have your dog with you, you'll quickly discover that most of the stores are not dog friendly inside.
One exception? Highlands Mountain Paws. A pet supply store right square in the middle of town. After browsing and talking with the owner (and of course saying hello to her own pooch), I came away with some new dog treats for Ellie.
But even if shopping isn't your thing, just walking the downtown is very pleasant. We strolled up and down the Main Street several times and made our way along some side streets as well.
Breweries
Satulah Mountain Brewing Company. Located right in downtown Highlands (just a few blocks from Main Street), is the only brewery in town. And though dogs aren't allowed inside, they do have a dog friendly patio. The atmosphere is very chill and laid back. I tend to like breweries that don't serve food the best since they tend to be more focused on the atmopshere and the beer than worrying about being a restaurant. And Satulah fit that bill nicely.
Whiteside Brewing Company. Though this brewery is actually located in Cashiers, the drive between the two is very doable (like 15-20 minutes). Now Whiteside is definitely more of a restaurant as well. And therefore has more of a family friendly vibe. They do have a large outdoor seating area that is dog friendly, but the whole actual building (including the porch) is not. If the weather is not optimal, keep that in mind.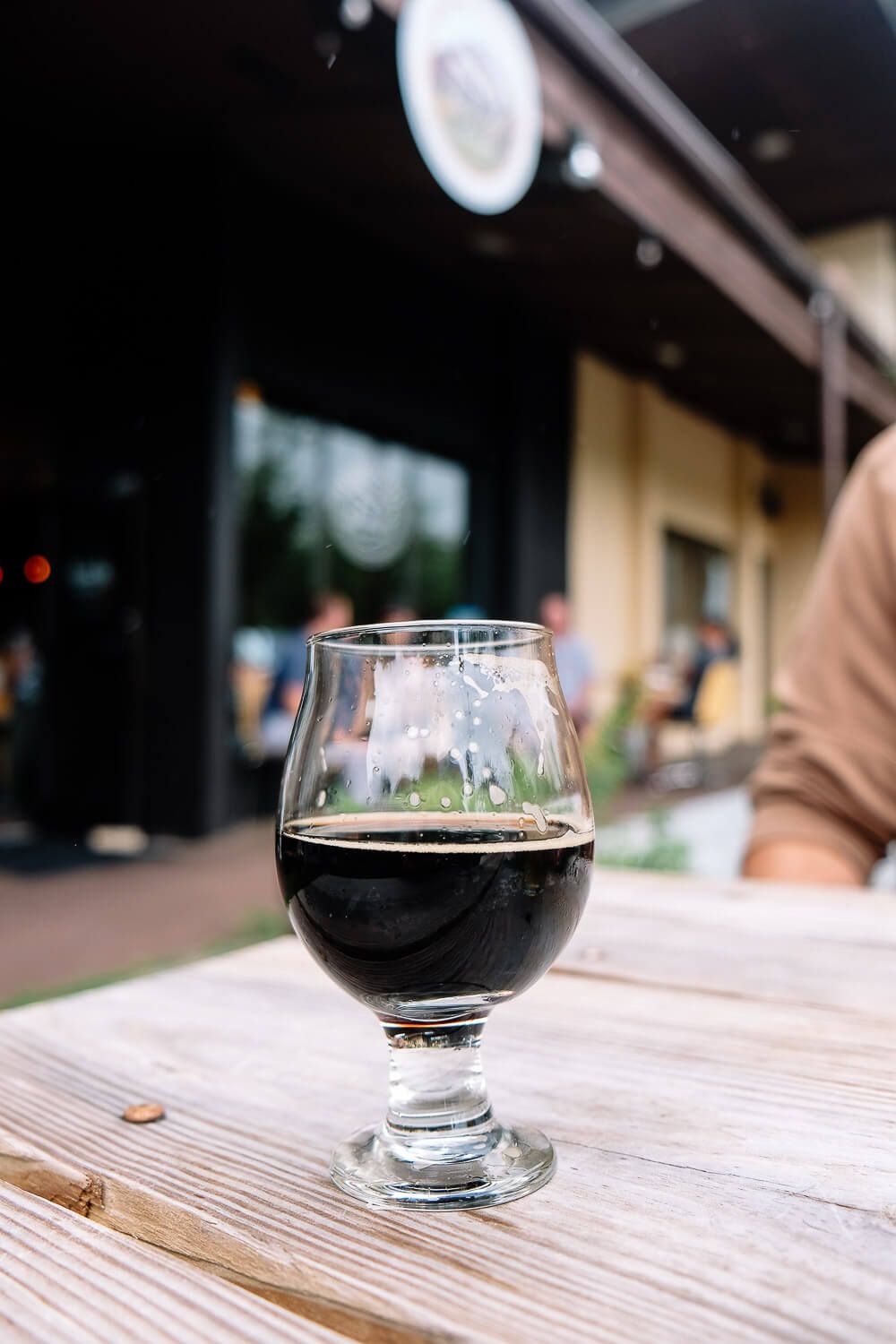 Hiking
As we continue our travels here, I plan on adding to this hiking list!
This (very popular) trail will take you up the side of Whiteside Mountain and give you some amazing views along the way. It's about 1.9 miles to do the whole loop – more on that below – and has about ~500ish feet of elevation gain.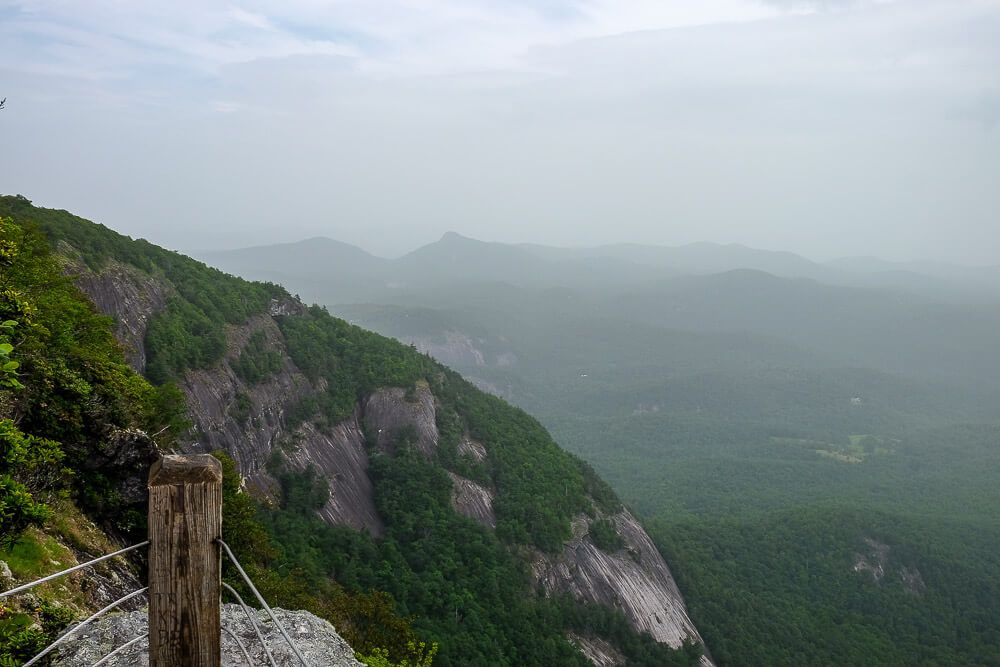 From the parking lot (which is not big, so I would go early if you can), you'll climb the steps up to the main trail. There is a big sign that will show you a map of the trail (and the loop) at the trailhead so check that out if you're curious.
From there you'll want to stick to the left at the top of the steps and you'll find yourself on a wide trail gradually making your way upwards.
Now as mentioned, this is a loop hike. You can of course, just hike up to the top and come right back down. But you'll get amazing views if you do the full loop.
To hike the loop, I would suggest staying to the left as you go up. Shortly after the steps, you'll see another smaller, steeper trail coming down on your right (image below).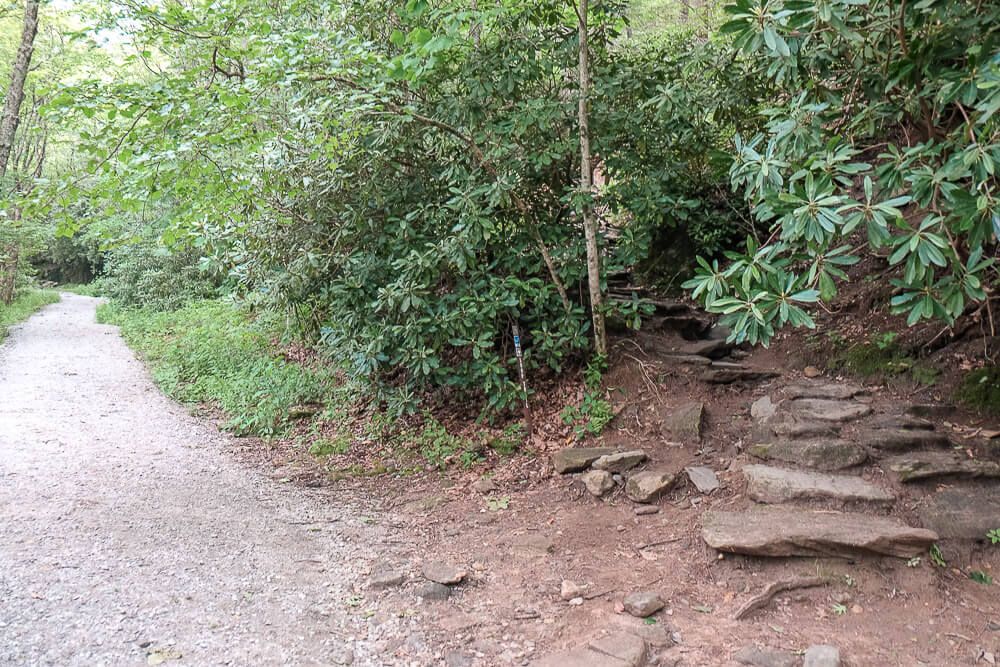 This is the end of the loop. It's a bit confusing though since there's a small sign that gives the impression that this way is more difficult (which it is – it's steeper), but doesn't easily convey that this is a loop. I stress this because we ran into several groups who asked us where the rest of the trail went at the top and were very surprised to find out it was a loop.
But, moving on. Head up on the wide flat, gradual trail. You'll eventually reach the top and the trail will head to the right. You'll now be making your way along the top face of the mountain and the surrounding land will be spread out below you.
At some points the trail will become very narrow and ropes will appear on the left hand side, but keep going and it will widen back out again.
Eventually after a ton of viewpoints, the trail will make its way down the mountain. This way is much more steep. It was a bit hard on my knees at times, but I'm still glad we went down this way and not up.
While grabbing a beer at Satulah, a couple told us about Glenn Falls. We had just finished hiking Whiteside and decided to hit up Glenn Falls the next day.
Now Glenn Falls is a bit tougher than Whiteside even though they are comparable (~2ish miles and over 500ft in elevation gain). I'm not sure why it felt that way…maybe it was just hotter that day or all the switchbacks…but just something to keep in mind.
The Glenn Falls Trail is an out and back with all the downhill on the way there and all the uphill on the way back. I was a sweaty mess by the time we reached the top.
It's got 4 main viewpoints on the way down. We missed the first one. On the way down you'll quickly see the trail split. The main trail goes on to the left and a side trail goes to the right. We didn't turn to the right since we didn't see anything (and on the way back up, I was exhausted and was ready for it to be over at that point).
But I've heard this first view is at the top of the falls. The next three however are right on the trail. Now Genn Falls is a pretty big waterfall with several cascades. I was thoroughly impressed by the size of each cascade.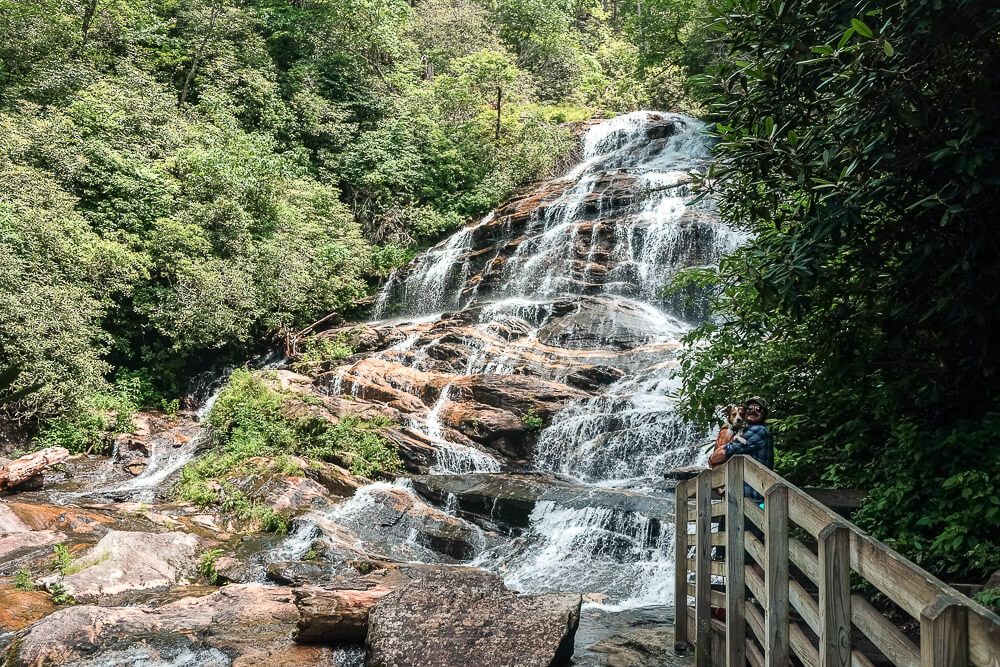 When you reach the final cascade, you'll find a small pool with a bit of sand. It's a bit unclear here if the trail continues or not. It almost looks like it crosses the water, but it doesn't. Or that it continues on down the hill. And it may. And we gave it a shot.
But the trail quickly steepens, narrows, and shrinks overhead. We made it only about 150 feet before I turned around. I had almost sprained my ankle twice. So I'm not sure if there's anything else after the pool, but go at your own risk.
Now the rest of the trail is very well maintained. Wide, clearly marked, and with lots of places to stand to the side to catch your breath. Trust me, you'll need it on the way up.
Now one last note, this trail is very popular. We went on a Sunday afternoon so most people visiting for the weekend had left already. But we've heard the lot and trail fill up fast. So plan on going early.
Waterfalls
Glenn Falls. You'll need to hike the Glenn Falls trail (see above) in order to see this waterfall. the waterfall is split into 3 parts with heights of 70ft, 60ft, and 15ft respectively.
Dry Falls. Located on US highway 64, Dry Falls is one impressive waterfall. Not only is it a 75ft tall, massively wide waterfall, but you can walk behind it. Let me repeat that. You can walk behind the waterfall. It's super cool. Now Dry Falls is also very popular. On a Monday morning I expected to have the place almost to ourselves. But the lot was easily over half full. However if you do score a spot, the walk down to the waterfall is easily doable.
Bridal Veil Falls. This smaller waterfall, also located on highway 64 (close to Dry Falls), also deserves a quick stop. It's not as tall or as wide as some of the others but it does have a cool feature. There is a small road that goes behind the waterfall that you can drive on (though it was closed when we went).
Now the following waterfalls are all in the nearby vicinity, but I haven't had a chance to visit them…yet. As I do, I'll add a description. But I wanted to include them here for reference.
Silver Run Falls
Secret Falls
Bust Your Butt Falls
High Falls (Cullowhee Falls)
Cashiers Sliding Rock
Cullasaja Falls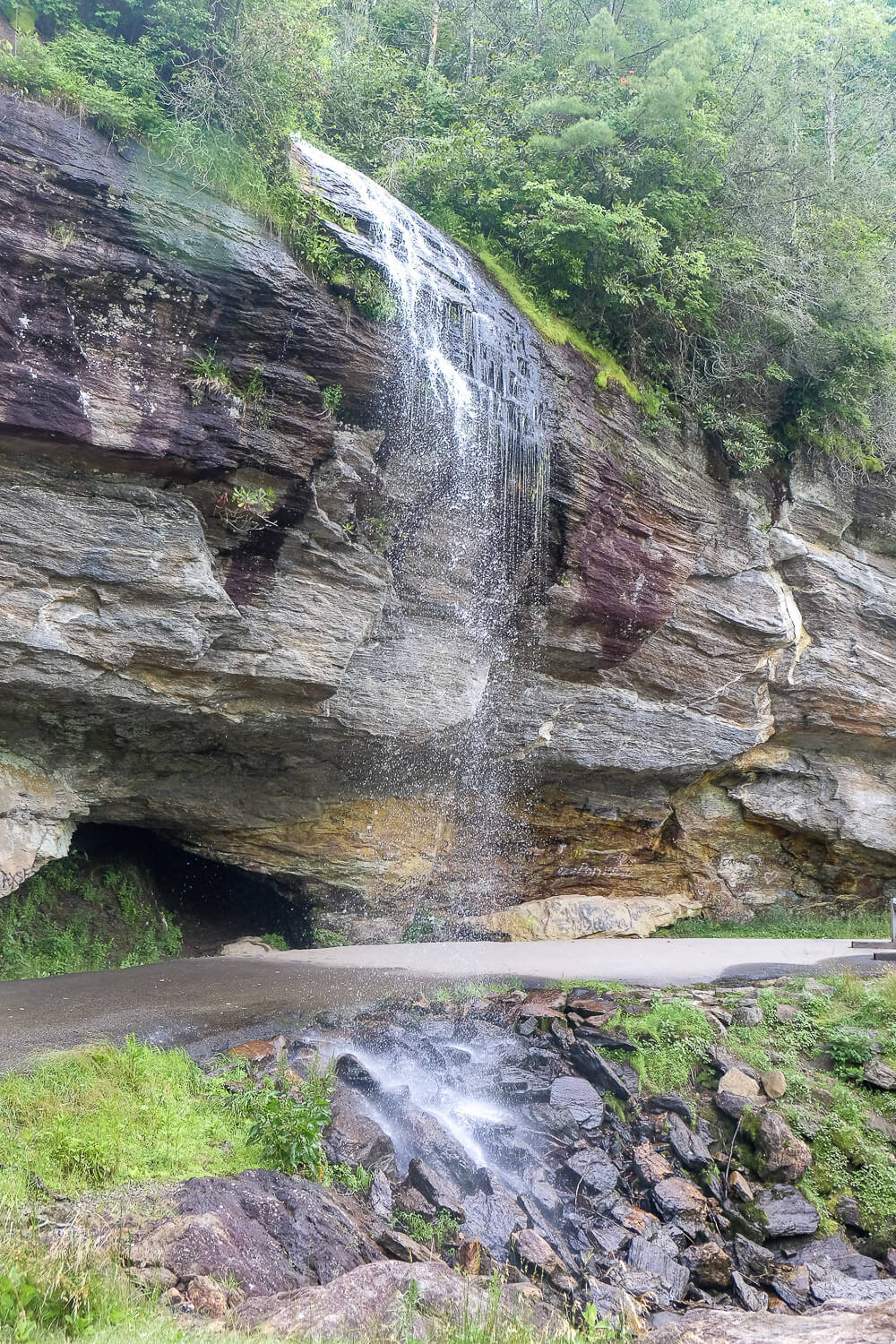 ---
Sample Itinerary for Your Long Weekend Trip to Highlands
Here was our itinerary for our first weekend trip to Highlands. We arrived Friday afternoon and left Monday morning. You could shorten this to a Friday-Sunday trip as well if you want. I just wanted to include this as a reference!
Friday
Arrival and Check in at The Park On Main
Explore downtown
Dinner at Wild Thyme Gourmet
Saturday
Breakfast at the hotel
Hike the Whiteside Mountain Trail
Grab a beer at Satulah Mountain Brewing
Grab dinner out or pizza to go from The Pizza Place of Highlands
Sunday
Breakfast at Blue Bike Cafe
Hike the Glenn Falls Trail
Grab a drink at Whiteside Brewing in Cashiers (or drive to see Dry Falls & Bridal Veil Falls)
Dinner at The Bridge at Mill Creek
Monday
Breakfast at Mountain Grocery
On your way out of town, stop to see Dry Falls or Bridal Veil Falls (if you didn't the day before)
Have a great time in Highlands, NC with your dog!