There are lots of hikes around Highlands, NC. If you're looking for one that's not too difficult and leads to a beautiful waterfall, then Ranger Falls may be the perfect hike for you.
When choosing to hike to Ranger Falls, the main decision you'll need to make is which trail should you pick? There are actually two options (with two different trailheads).
You can hike down to the falls from Flat Mountain Rd. Or you can hike up to the falls from the Cliffside Lake Recreation Area. There's about 600ft of elevation between the two trailheads with the waterfall about halfway between them.
You can make either trailhead into an out-and-back or a loop hike. For simplicity sake, I've written this trail guide as an out-and-back from Flat Mountain and as a loop from Cliffside.
The more important decision is length and when you want to do the uphill portion. I also suspect (though not confirmed) that the trail from Cliffside is slightly more popular.
Dog Friendly Guide to Highlands, NC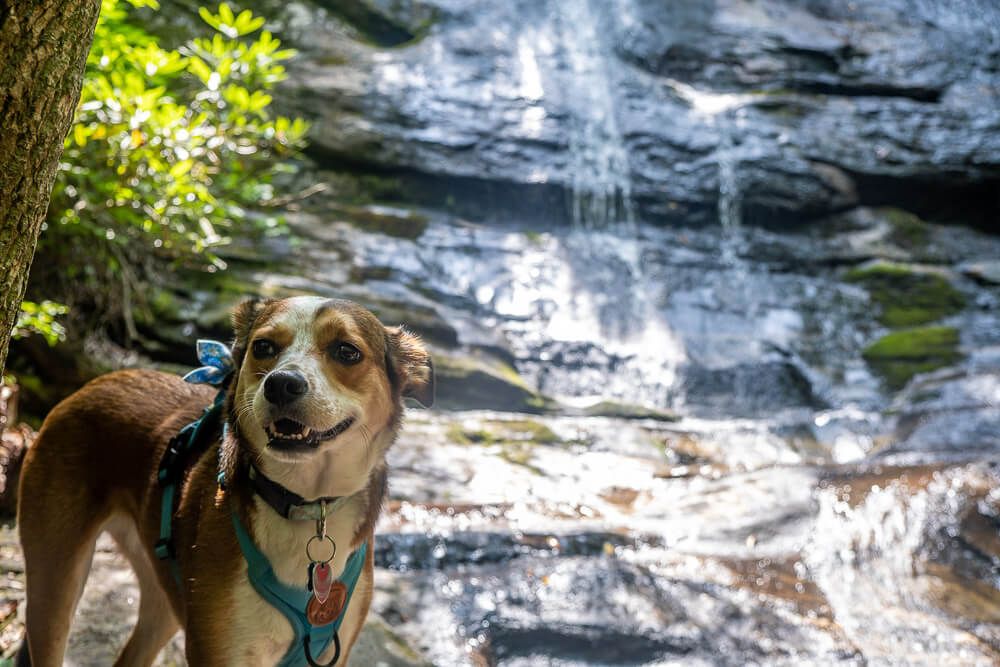 ---
Ranger Falls (Out-and-Back) From Flat Mountain
Distance: ~2 miles roundtrip
 Trailhead: Flat Mountain Road (off of US 64)
 Elevation Change: ~325ft
 Time: ~1.5 hours
The trailhead off of Flat Mountain Road is not on Google Maps. However if you follow the directions, you'll see a sign for Ranger Falls off of Flat Mountain Road (it's on the left about 2 miles down Flat Mountain Road coming from US 64).
The small road quickly opens up into a sizable parking lot (which I was very pleased to see).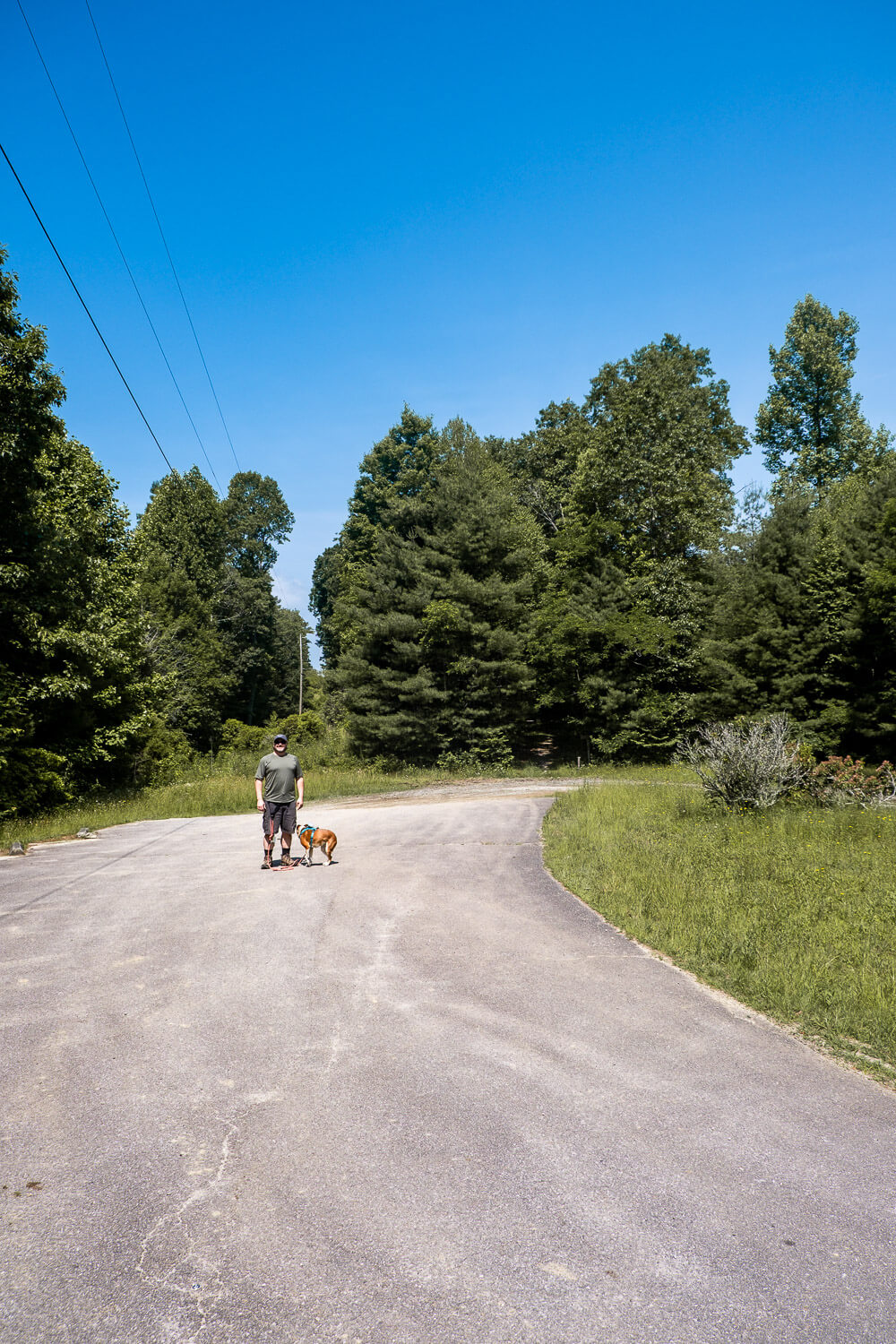 The access trail starts at the back of the parking lot and weaves its way for about .1 miles through some meadows. Stay to the left here as there's a small junction that doesn't really lead anywhere.
Then you'll start to wind your way downwards. The trail here is mostly wide and a few sections are steep (you'll feel it coming back up.
After .3 miles you'll hit an intersection. This is the loop trail that Ranger Falls sits on. For a shorter hike, go to the right (there's a metal sign even pointing you that way). This is what we did.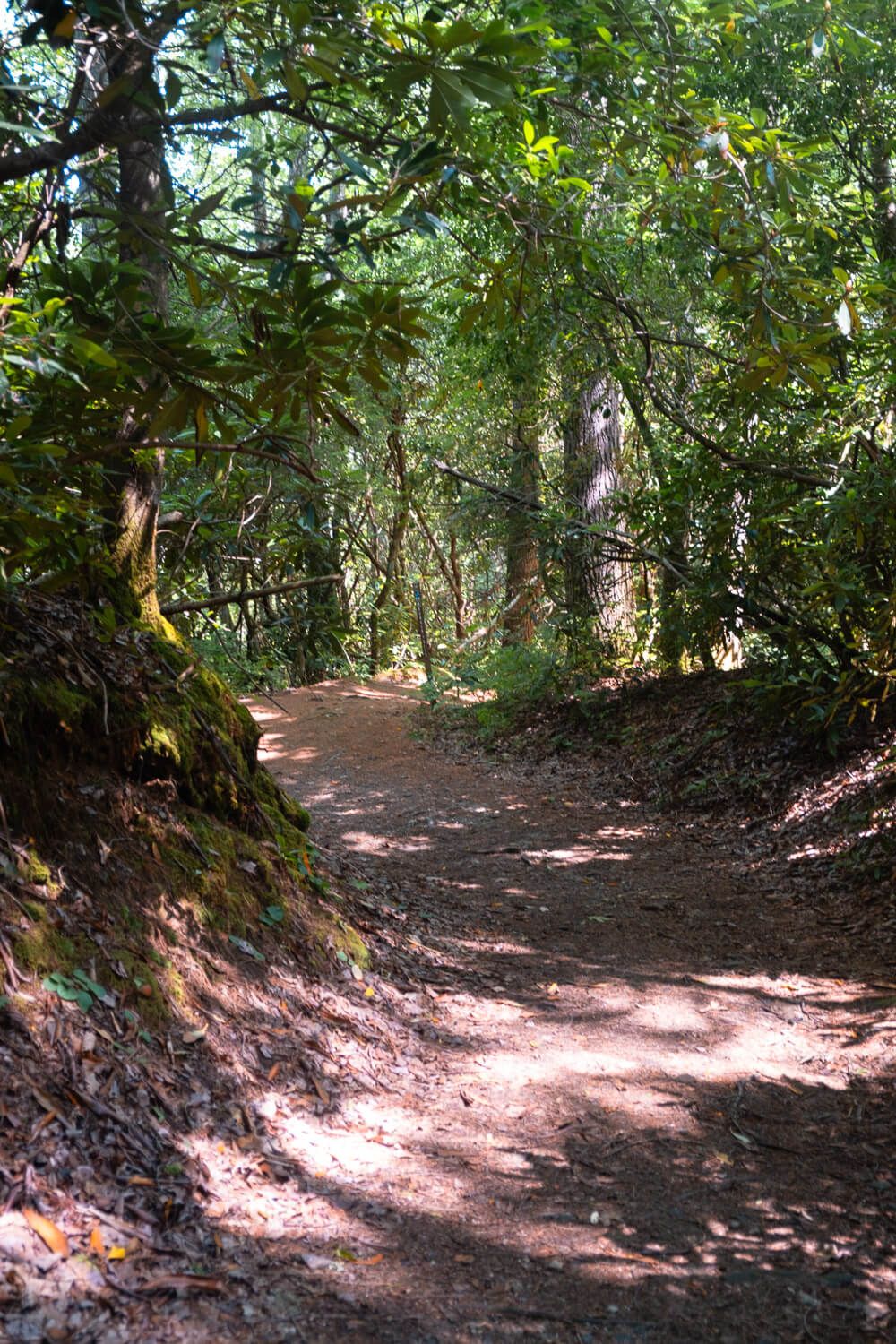 Here you'll descend another 1/2 mile or so towards the falls. At one point the trail will split again. If you see this split, stay to the left (there's a small interpretative sign to the left as well). This trail will help you cut the corner here and I think is the actual trail. But even if you don't, they meet back together again after just .1 miles or so.
Ranger Falls (along Skitty Creek) is a small but beautiful waterfall. If you come around midday (like we did), then sunlight will be streaming down on the waterfall.
There's not a ton of room on either side to sit and relax. But we found a couple large rocks to sit on.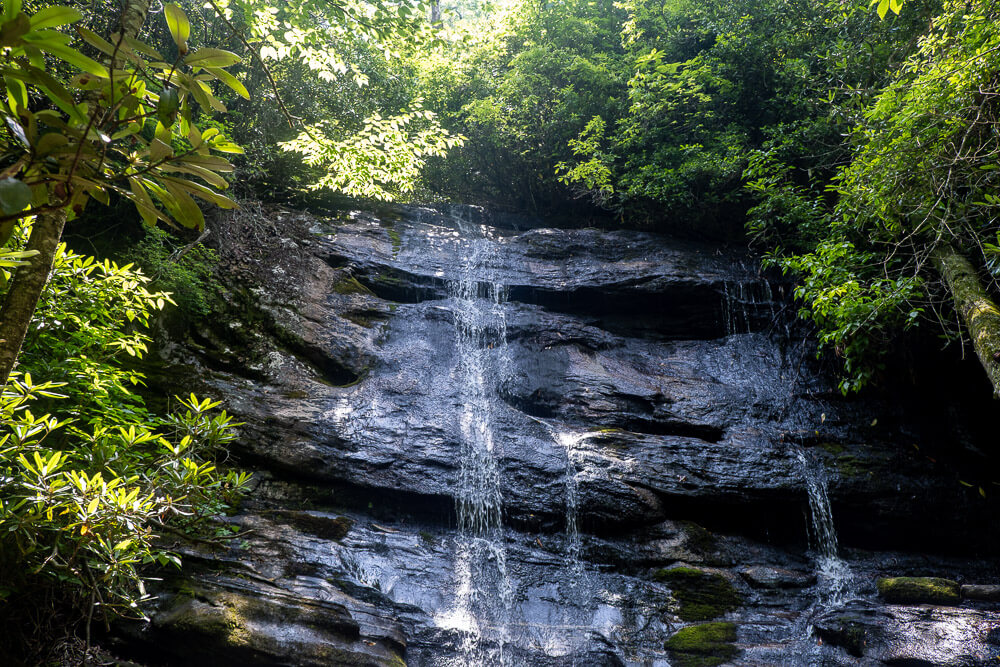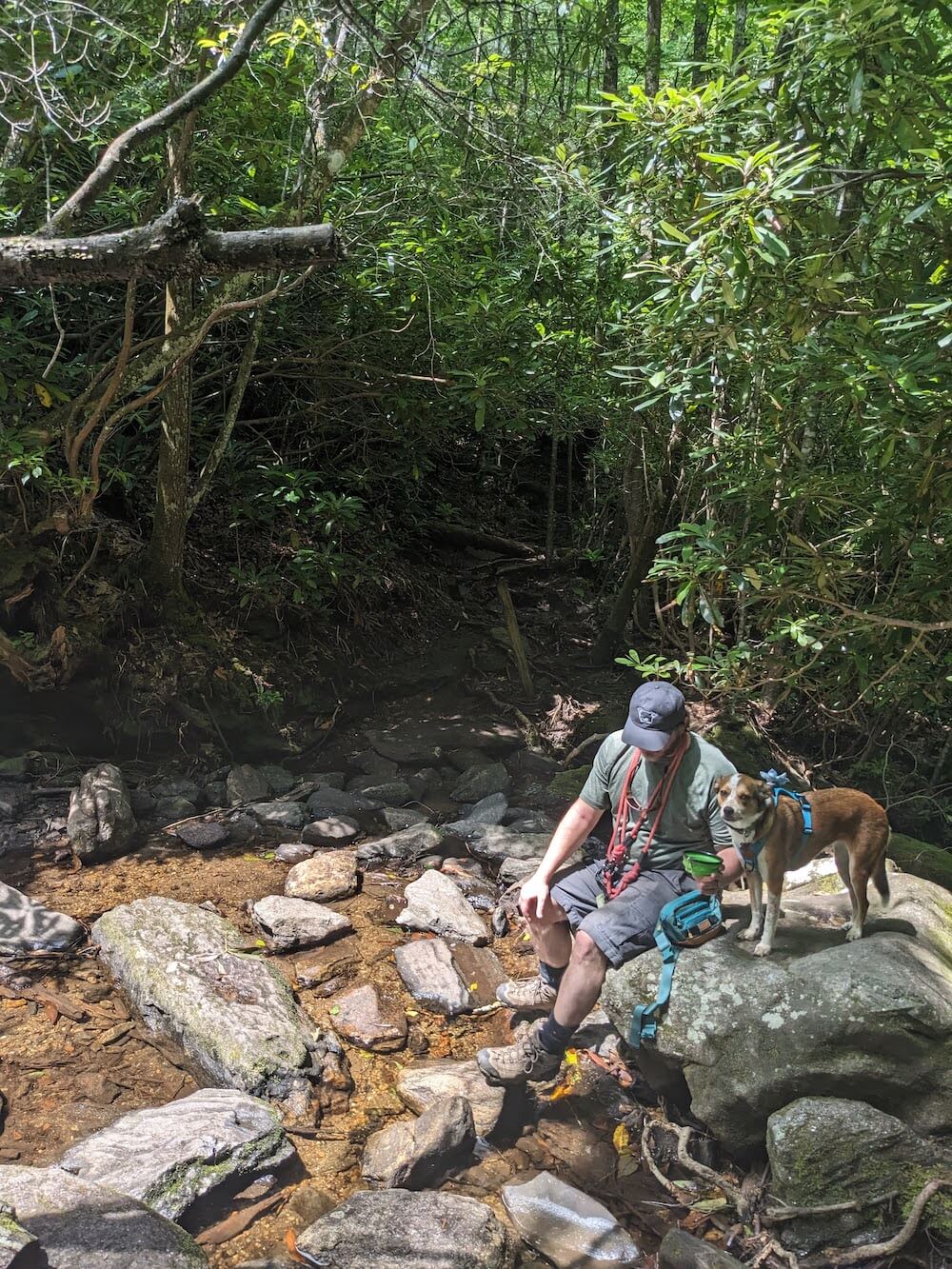 If it's been raining a lot, the water may be larger. Be very careful on the rocks here.
Once you've had your fill, you can head back the way you came.
To make this a loop hike from Flat Mountain, simple cross the stream and continue hiking down the trail. You'll hike down pass the Cliffside access trail and then back up to the Flat Mountain access trail. Hiking this as a loop from Flat Mountain is about 2.8 miles total.
Trail Map (Out-and-Back)
Click the image or the buttons to view the map in more detail.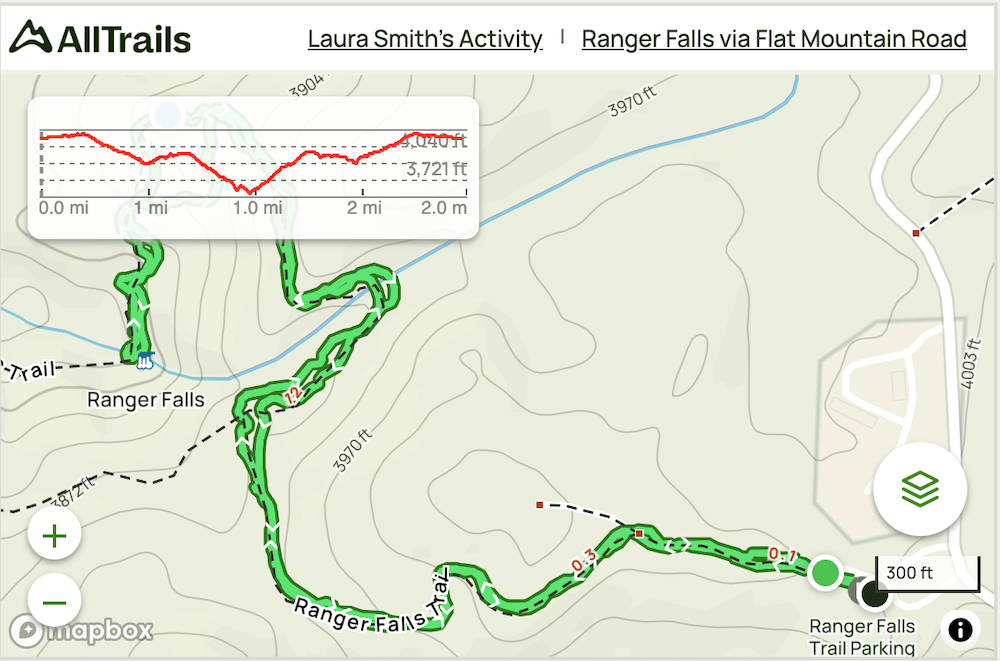 ---
Ranger Falls (Loop) From Cliffside
Now, in all honesty, we did not hike from this trailhead (we did from Flat Mountain). However I wanted to include it as an option as it may appeal to some people more (and this is what will show on Google Maps if you search for Ranger Falls).
Okay so to start this hike, you'll want to head to the Cliffside Recreation Area off US 64. You'll want to pass the main lake parking area until you see a picnic parking area on the left. (There is an entrance fee, check the Forest Service for accurate pricing.)
From the back of the parking lot, follow the signs for the Ranger Falls trail. You'll head a bit steeply uphill for about 1/3 of a mile before you hit the Ranger Falls Loop. Now you can go either way, but I'd suggest heading left (and doing the uphill portion first).
It'll then head gently up for another .8 miles before you reach the waterfall.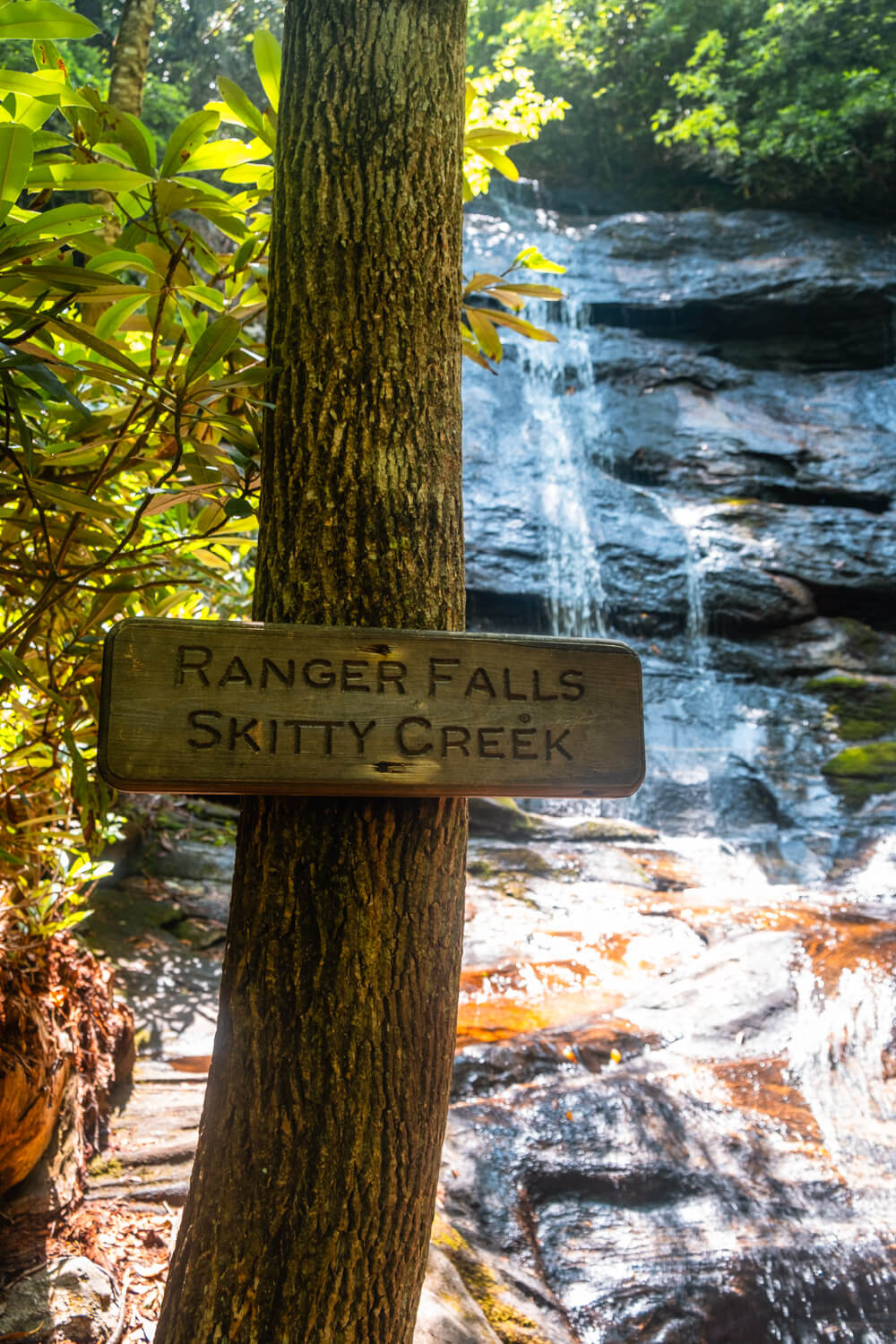 Be careful crossing the rocks if you plan to continue the loop. Then the next 1/3 mile is another steep section of this trail, but it's over quickly.
Finishing the loop, you'll pass the Flat Mountain access trail on your left but follow the trail as it starts to come back down towards the Cliffiside Access Trail. Then just follow this back towards the parking lot.
If you want to hike this as an out-and-back, follow this guide until you reach the waterfall and then turn around and head back the way you came. Hiking this as an out-and-back from Cliffside is about 2.2 miles total.
Trail Map (Loop)
Click the image or the buttons to view the map in more detail.