Are you looking for a great day trip from Greenville, SC? Want to get back to nature for a bit? Then head to the Blue Ridge Parkway. Because not only is the Parkway absolutely beautiful, but there are several hikes right off it with some amazing scenery. The Black Balsam Knob Hike is an easy out and back trail that will take you up to the top of a nearby knob for some great views!
This hike is relatively easy both in terms of elevation and distance. However there is a bit of scrambling and it's not flat. But in just under a mile, you'll reach the top of the knob and then it's all downhill on the way back. This could be a great hike for beginners.
However advanced hikers and backpackers will often include this hike in a larger loop or even camp overnight in the Shining Rock Wilderness. Something I'm hoping to do this upcoming year. So stay tuned for more information!
Regardless if you're hiking just this trail or continuing onwards, this is a protected wilderness area and everyone should follow the leave no trace principles. This ensures the trail remains open and accessible for everyone.
---
Black Balsam Knob Trail
The trailhead for this hike is located about halfway up Black Balsam Road. You should be able to find parking along the road during non-peak times. During busier times, the road may be packed. This is especially true during the fall.
When we hiked this, we actually ended up parking along the Parkway and then walked up the road to the trailhead. I don't recommend this as the road is quite steep and it's easily about .7 miles from the Parkway to the trailhead.
The trailhead will be off to your right and there isn't a huge sign. But it'll be the first trail branching off. Twenty or so feet down the trail there is a post with some trail markers. Going straight will take you along the Art Loeb Trail, which is the actual name of the trail that makes up this hike. To the right is the Mountains to Sea Trail.
Stay straight to continue on the Art Loeb Trail to the Black Balsam Knob.
Some other trail guides will show this part of the trail as the Black Balsam Knob Trail and others will call it the Art Loeb Trail. Both are correct. The Art Loeb Trail is a much longer trail. This part of that trail is very popular and is often referred to as the Black Balsam Knob trail. Hopefully that clears up some confusion!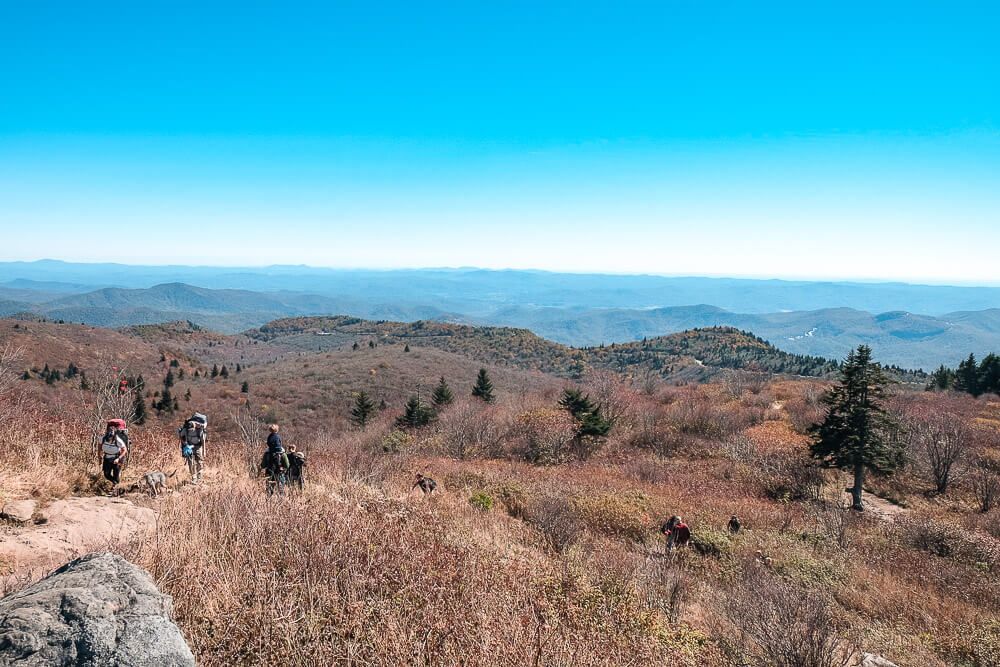 The first part of this hike is gentle as it heads uphill through a small bit of forest. Eventually you'll pop out from under this forest and see two climbs ahead of you.
The first is a small knob, with the larger one behind it being the Black Balsam Knob. Both climbs to the top of the knobs are a bit steep and involve a fair bit of scrambling.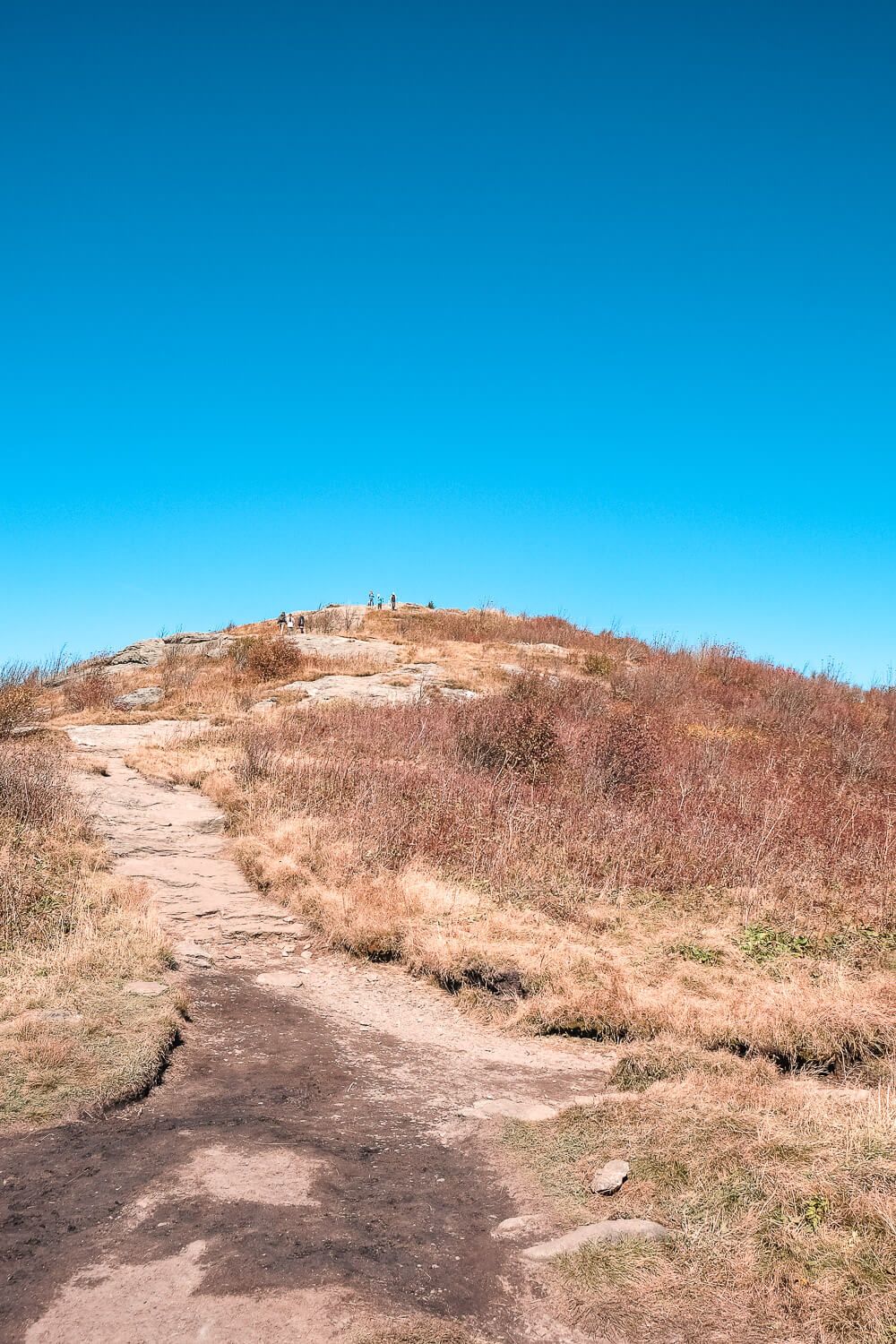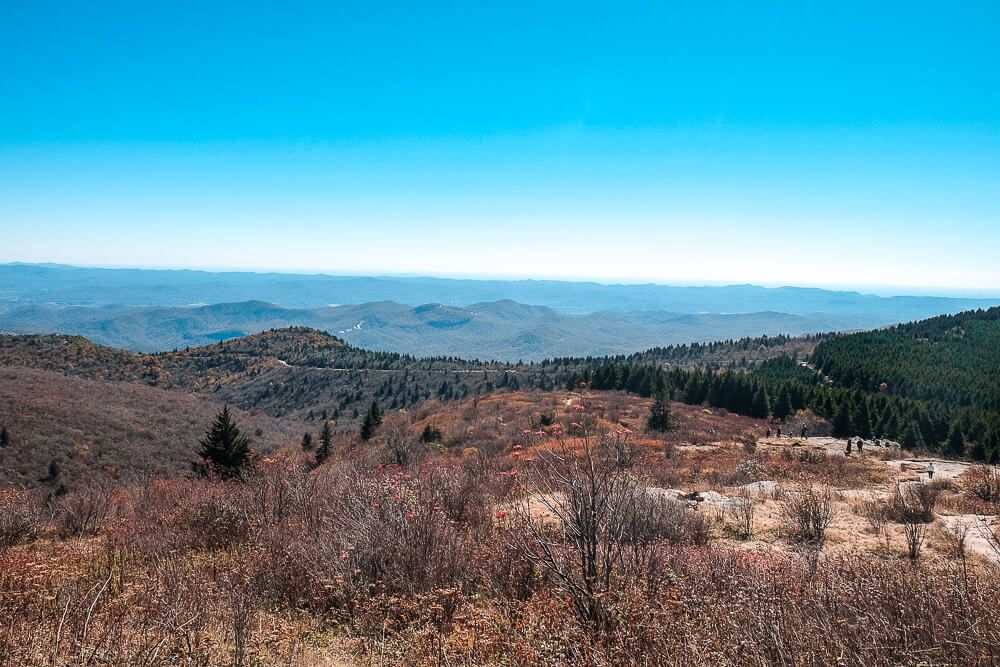 The second climb up to Black Balsam Knob is also quite rutted and eroded. Be sure to watch your footing here as there are a fair amount of rocks.
The views from both knobs are quite beautiful. You'll get sweeping views of the surrounding wilderness as there's not a lot of tree cover up here. In the distance you'll see mountains, and, if you do come in the fall, the fall colors are stunning.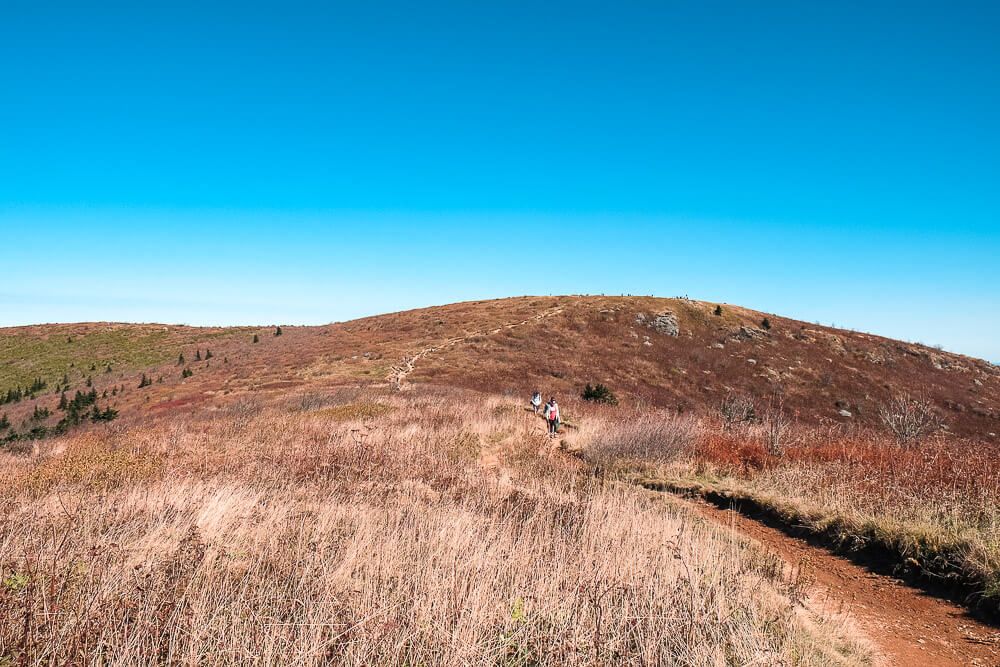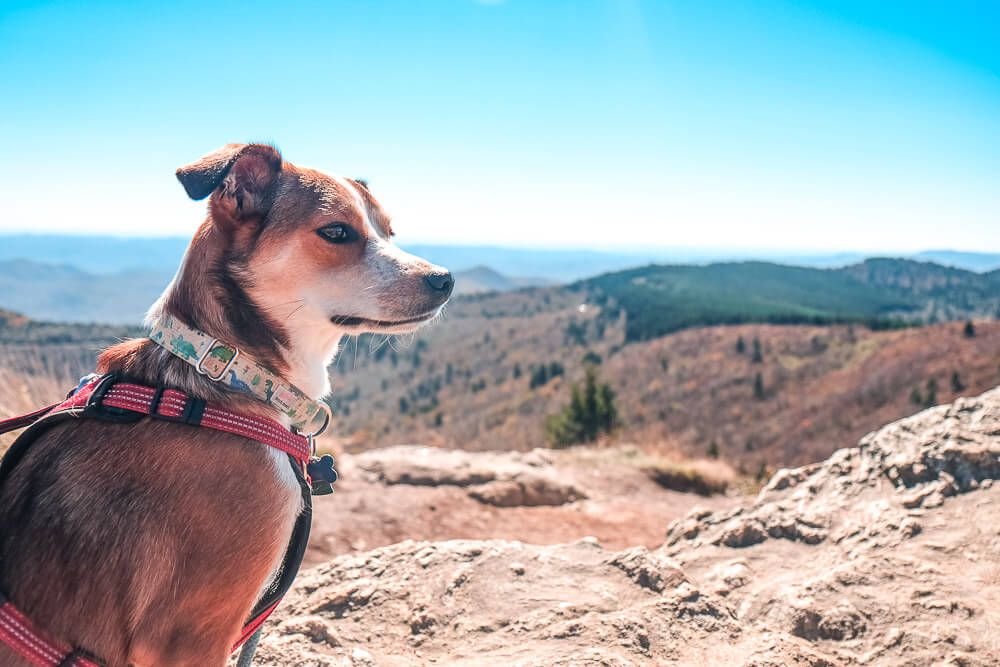 However it can be quite crowded during peak times (weekends, especially in the fall), so be sure to plan accordingly if you want this more to yourself.
The Shining Rock Wilderness also allows backcountry camping, so you may see backpackers heading up the trail (or even making camp beside the trail).
Once you've had your fill, you can head back towards the trailhead, or even keep going along the Art Loeb Trail. Advanced hikers may want to head towards Tennent Mountain or even create a loop hike with the Ivestor Gap Trail.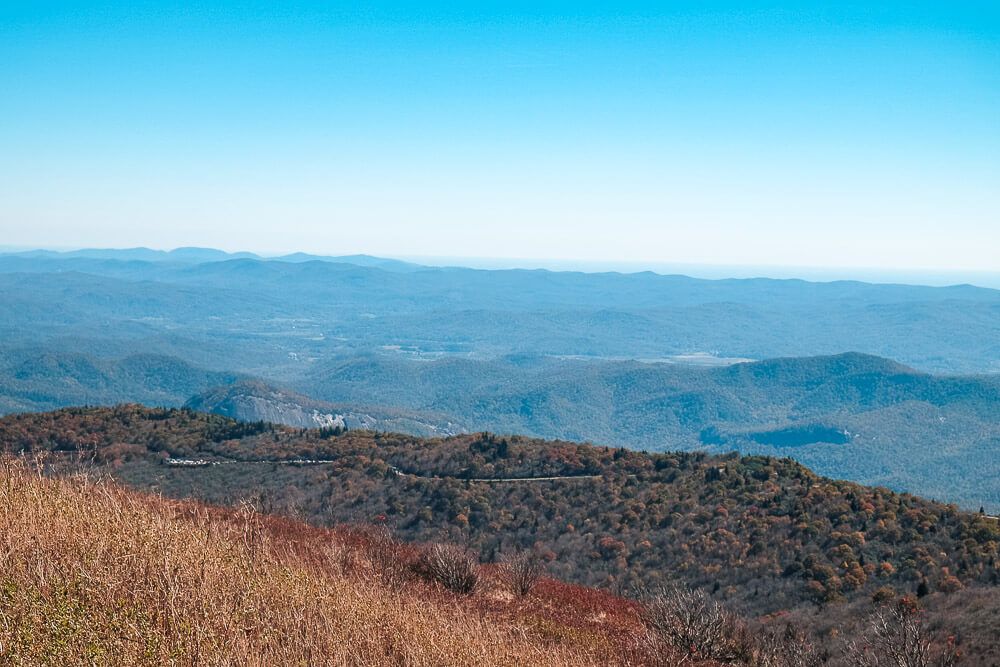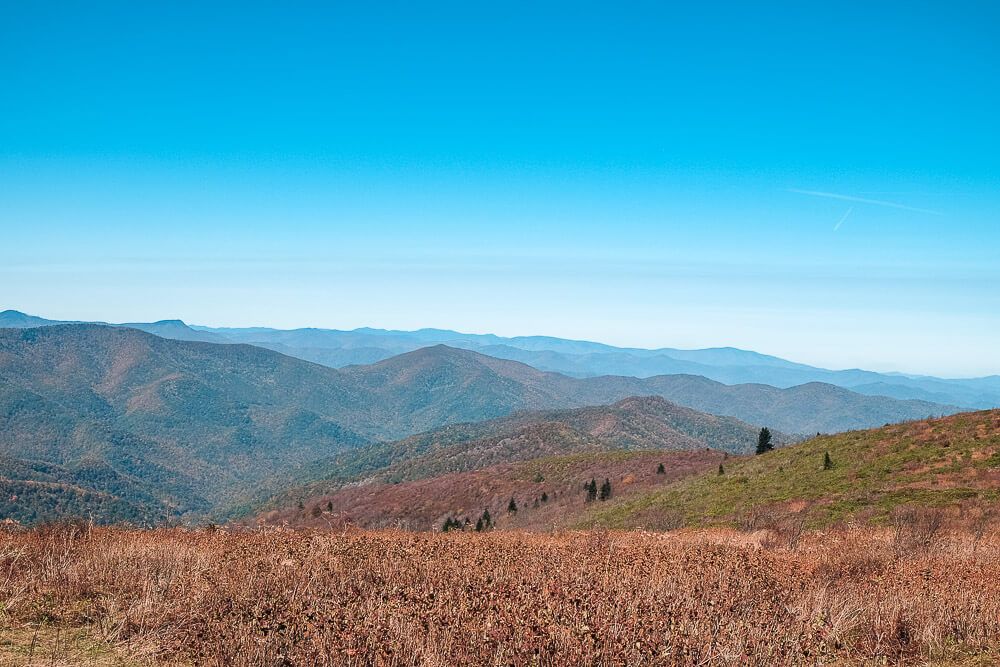 If you decide to keep hiking or not, be sure to read about the Shining Rock Wilderness. This is a protected wilderness area and everyone should follow the leave no trace principles.
Wilderness areas are managed to minimize the evidence of any human presence. Trails are not signed or blazed, and are minimally maintained. Seeing trails may be difficult or even impossible. The Black Balsalm Knob trail is fairly easy to hike and you should not have any problems following it.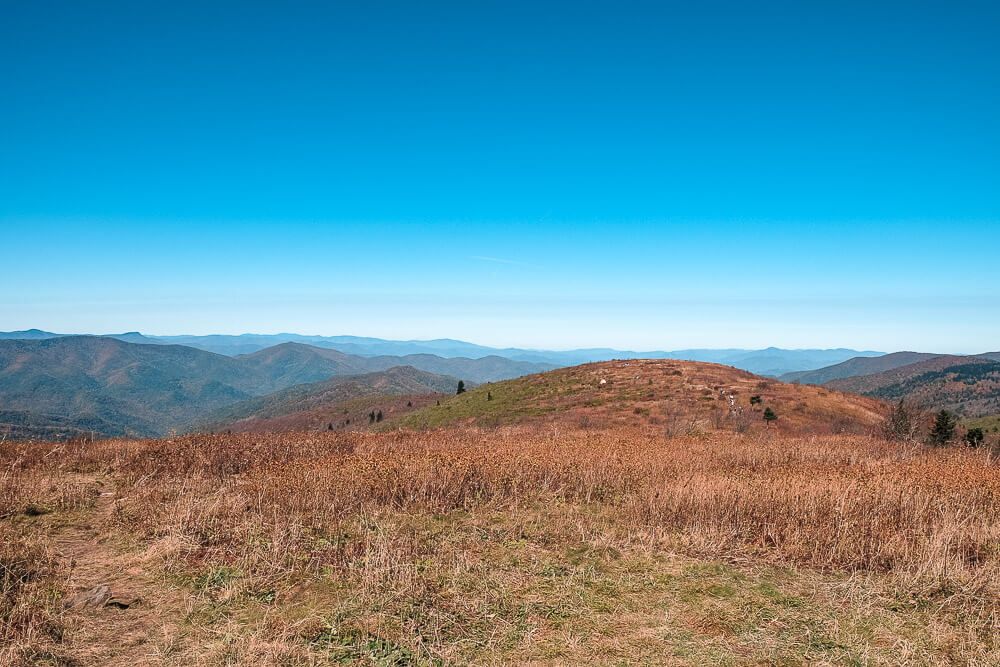 However if you continue past the knob, you should have an accurate map, compass, and the ability to use both. If you are camping, campfires are not allowed, groups should be no more than 10 people, biking is prohibited, and bear canisters are required for food.
If you decide to head back towards the trail head, you'll have plenty of time to explore some nearby areas including Pisgah National Forest & Looking Glass Rock, Devil's Courthouse, Graveyard Fields, or even just driving further along the Parkway and stopping at any overlook you want.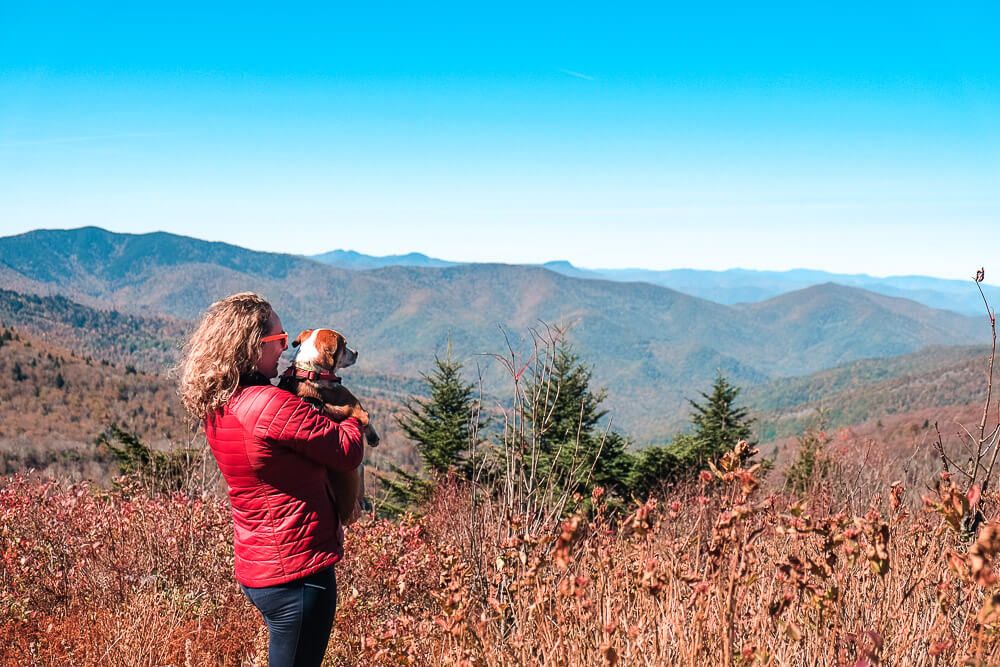 Hope you have a great day on the Parkway!