If you are headed to Pisgah National Forest, one of the biggest and most iconic sites in the Pisgah Ranger District area (the one near Brevard) is Looking Glass Rock. This mountain rises above the nearby countryside and is peaked by, well, a giant granite rock. And the views from the top are definitely worth the trek.
But be careful! This is not a hike for beginners or those afraid of heights. So read on to make sure this is something you're up for.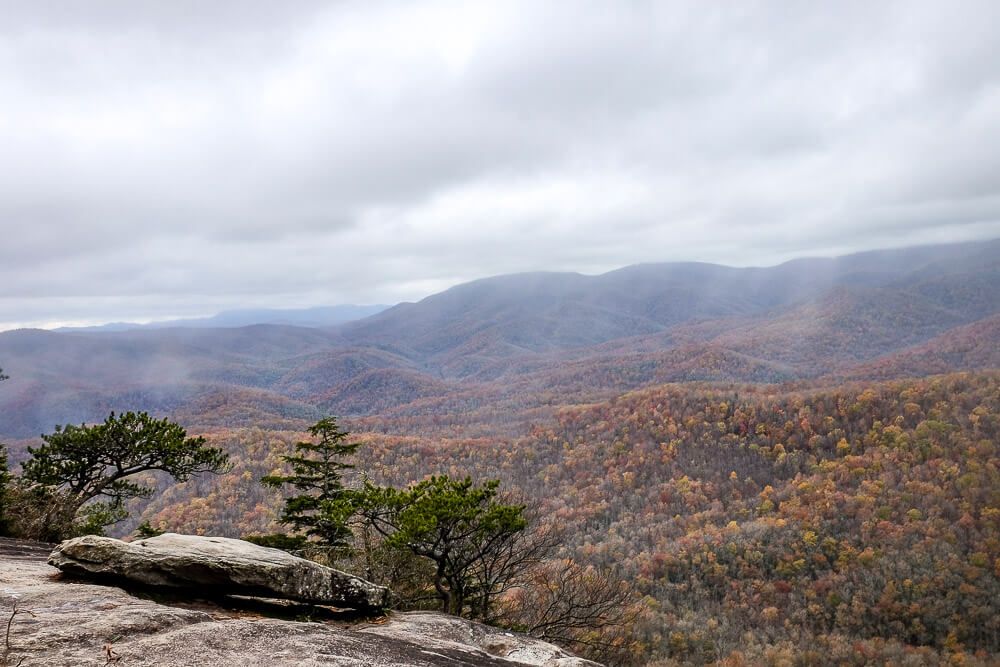 ---
Looking Glass Rock Hike
The parking lot at the trailhead is fairly small. There are only about a dozen or so spots. If you are hiking this on the weekend, plan to get there early. How early? Well I arrived with a group in early November and by 9:30am, cars were parked all along the road.
The road itself does have a bit of a shoulder, but not much. You may have to park a bit aways from the trailhead if you park on the road. And though we didn't experience this, I've read of people getting tickets by parking along the road.
If you are planning on hiking this, especially from spring to fall, I'd plan to get there by 8am on the weekends or aim for a weekday.
Now the hike itself is hard. It's basically 3 miles uphill, climbing around 1,700ft. Then it's 3 miles downhill back to your car. I tend to workout a few times during the week and found this hike challenging but doable. If you have people who aren't experienced hikers with you, this trail may be out of their reach.
And I apologize for not getting pictures of the second and third part of this hike. For one, I was breathing super hard and just trying to keep one foot in front of the other. And two, it was a crowded day on the trail and stopping and taking pictures was a bit difficult.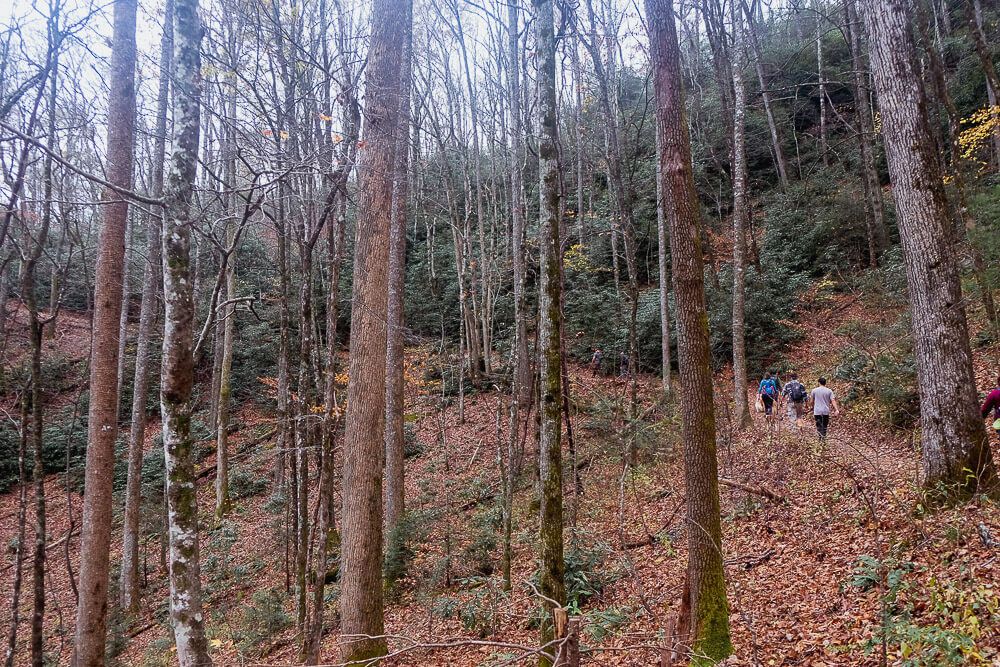 There are basically 3 parts to the hike. The first part is very gradual with long switchbacks nestled against the hillsides. It's very open (at least it was in the fall) and gentle. This first mile was very easy.
We took a break at the first mile mark for the doggos with us as they needed a water break. Ellie was already having an amazing time. She loves to go for hikes in the mountains. Though she hates getting her picture taken and always looks grumpy.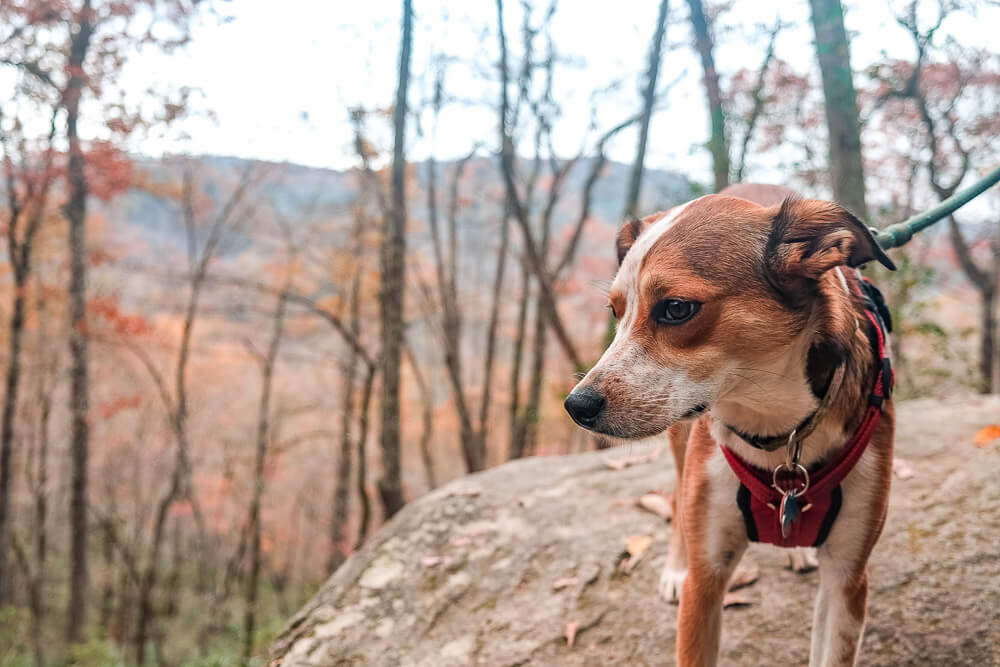 The second part of the hike is where things start to get difficult. I basically see this as climbing up the backside of the mountain to get onto the plateau.
Expect short, steep switchbacks climbing all the way up. And there are a lot of them. In the first part of the hike, when the leaves are down, you may just be able to look up the hillside and see them crisscross above you until they disappear from sight.
It's here you may start to huff and puff. But if you get tired, you can step to the side on the turns and let others pass you. Thankfully it's not too narrow to find a good spot to take a break if you need to.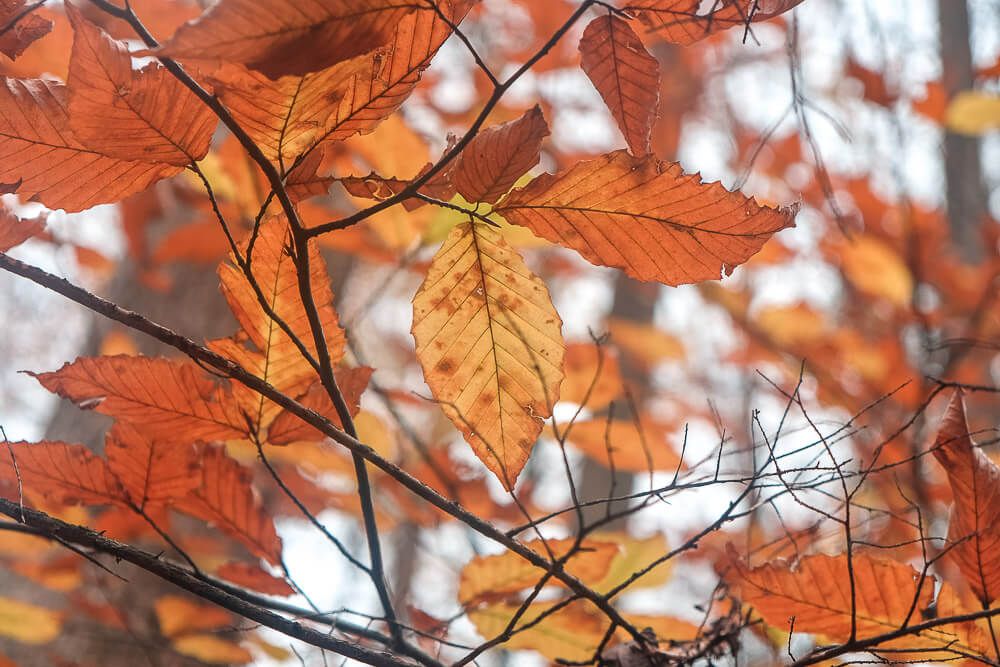 The last part of the hike looks like it would be easier since it's not as steep, but this was so, so wrong. I found the last mile of the hike to be the hardest. It's still steep. And though there aren't switchbacks, it's super technical. Expect the trail to narrow and to become root and rock covered.
You'll need to watch your footing here.
And it will be harder to find a spot to rest that's not in the middle of the trail. So when you do come to wide bit, be sure to use it if you need to.
Finally you'll reach the summit! Hooray! Except the view is a little bit past the summit. The trail turns downward and you'll need to follow it. It's very steep, and has lots of rocks and roots. So be careful. But after maybe 10 more minutes, you'll reach the viewpoint.
And it's one hell of a view.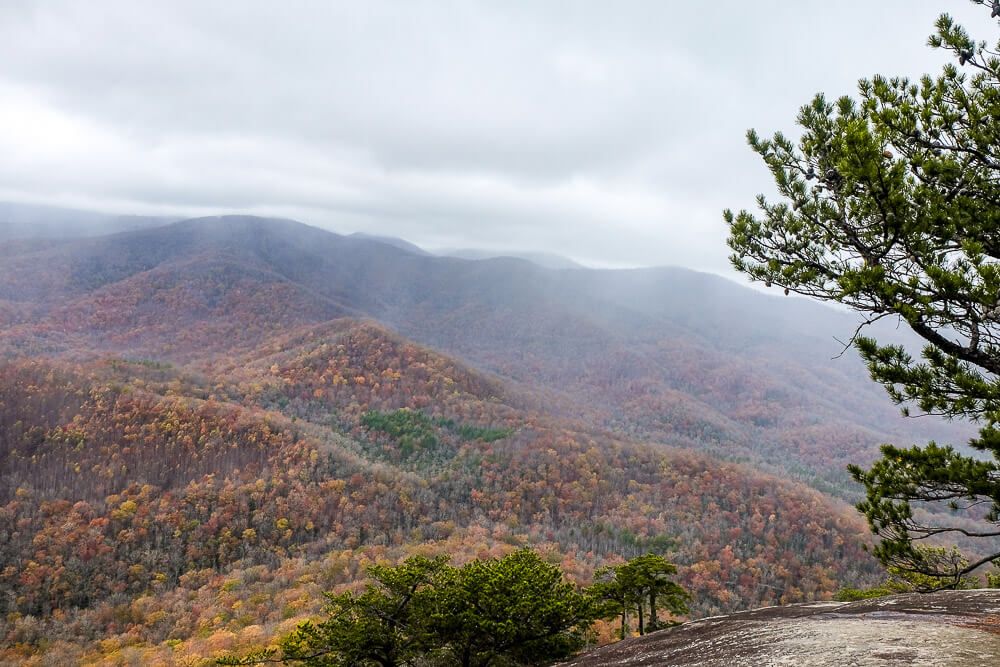 If you're familiar with Looking Glass Rock, you'll realize that the mountain is basically a summit of forest with steep cliff faces below it. You'll pop out at the top of one of these cliff faces. As someone who's hiked Table Rock, this was much, much steeper than what I was expecting.
So much so that I felt a bit nervous at times walking along the top. There is no flat section. You'll basically be on a curve that gradually gets steeper until, well, it's a vertical cliff face.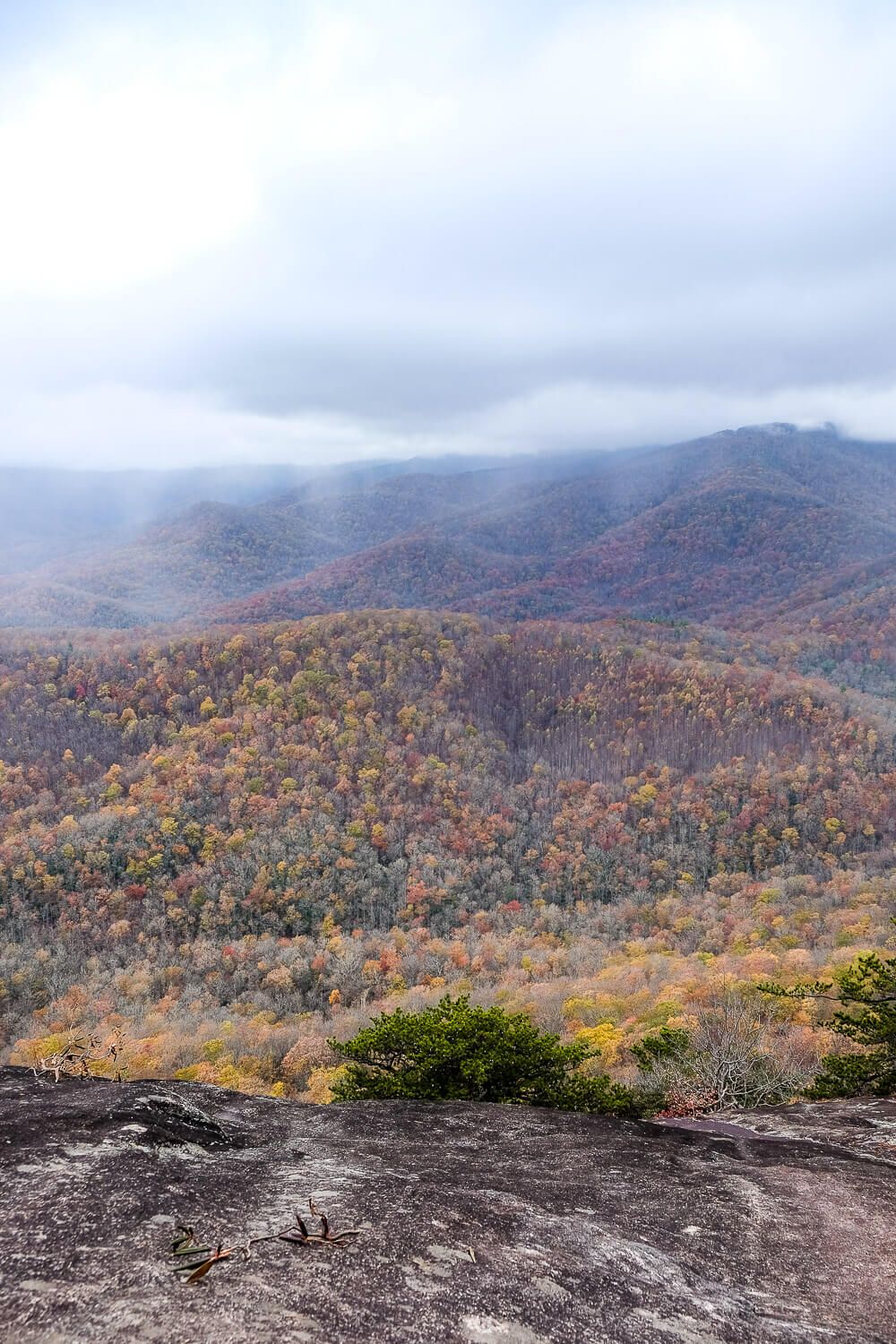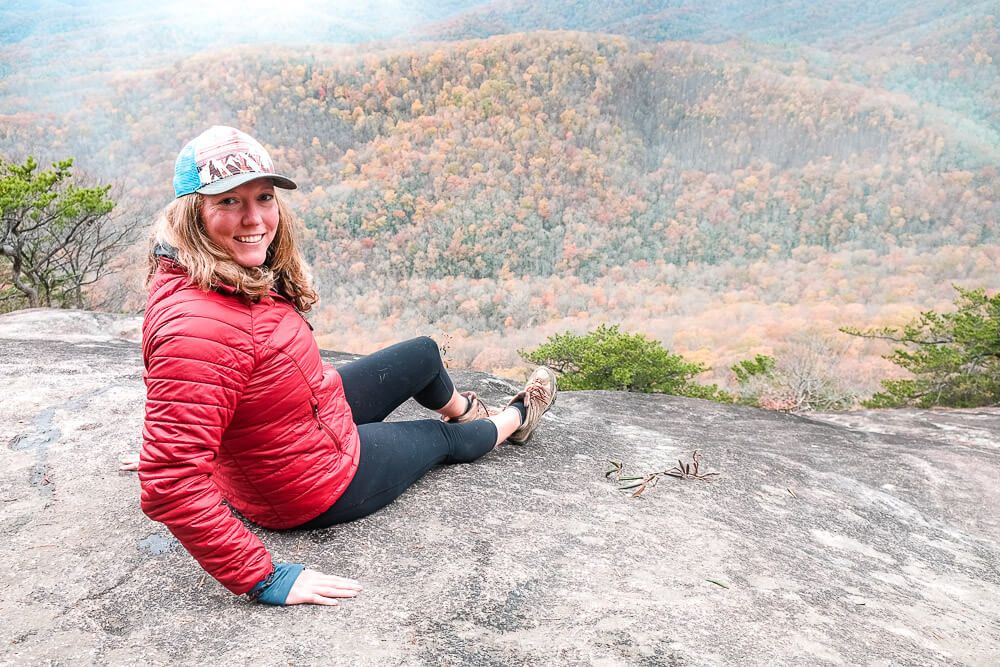 I would not hike this trail if you are afraid of heights.
There are no railings, barriers, or anything. One of the girls with us was not prepared for the steepness of the viewpoint and was very fearful to be at the top.
If you have dogs, make sure they're on leashes and secure.
It also doesn't help that this trail is very popular and if you hike it at peak times, like mid-morning on a Saturday like us, the top will be crowded. You may need to hug the bushes and make your way along the top to find a spot to sit.
However, if you can brave the heights, it has one of the best views in the area.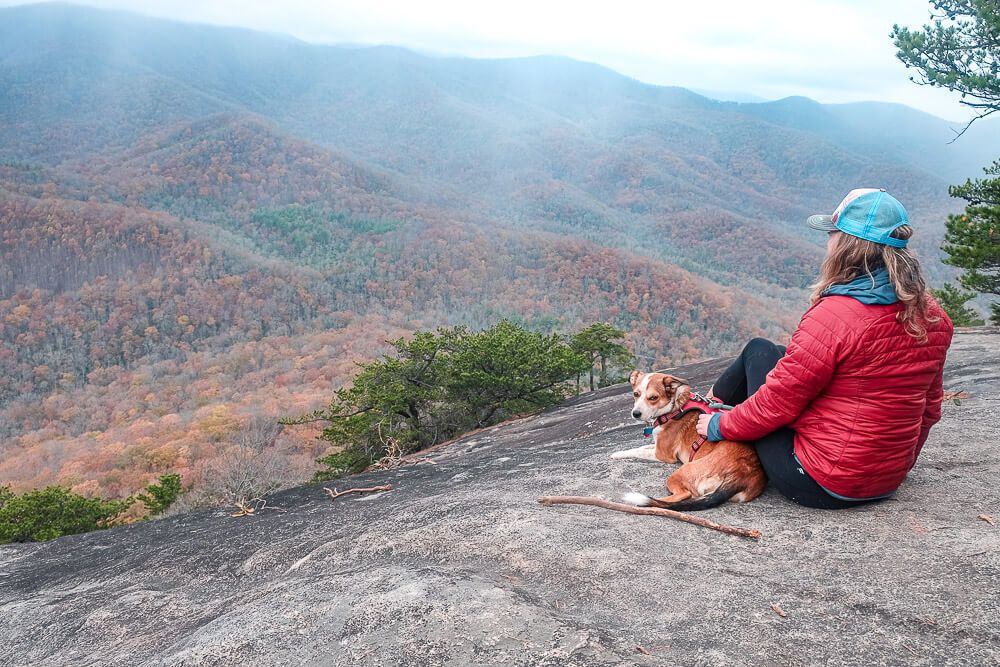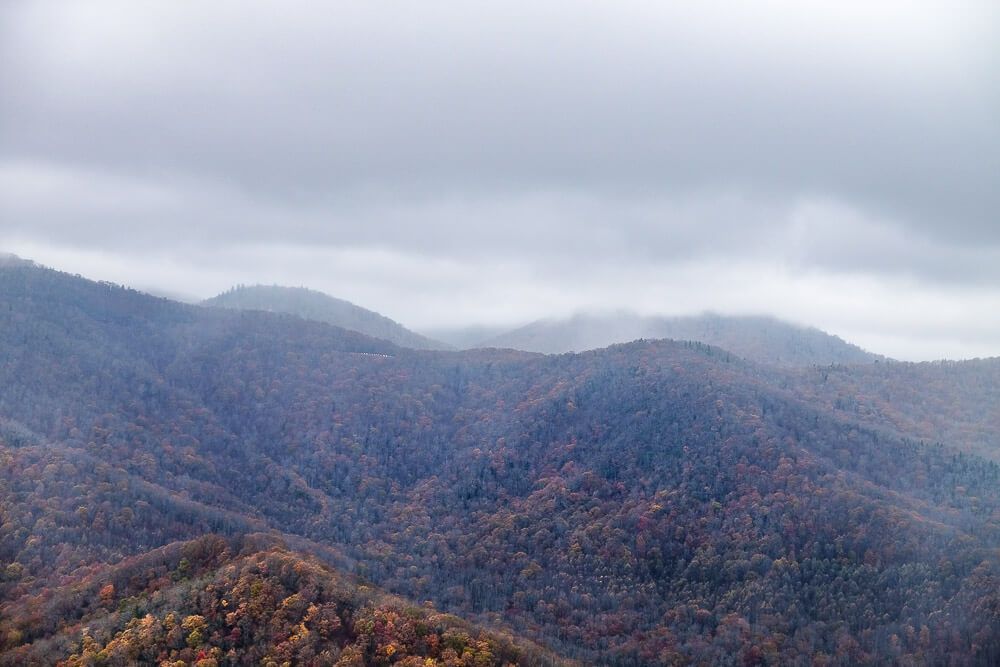 The hike back down will be a lot easier, but still be careful with your footing. You'll need to look where you're going so you don't twist your ankle.
If you're an experienced hiker, you could probably hike to the top in 2 hours and hike back down in 1. If you're someone who likes to take breaks, I'd plan on this being more like 4+ hours. We took lots of water breaks for the dogs and for the less-experienced hikers in our group. It took us about 4.5 hours.
---
Looking Glass Rock Overlook
So you've hiked to the top of Looking Glass. Congratulations! But now you want to see it from the other side. One of the best places to view Looking Glass Rock is from the Blue Ridge Parkway.
To get to the Blue Ridge Parkway, you'll head north on US 276. After ten miles, you'll turn onto the Blue Ridge Parkway and head south. After 5ish miles, you'll reach the Looking Glass Rock Overlook parking lot.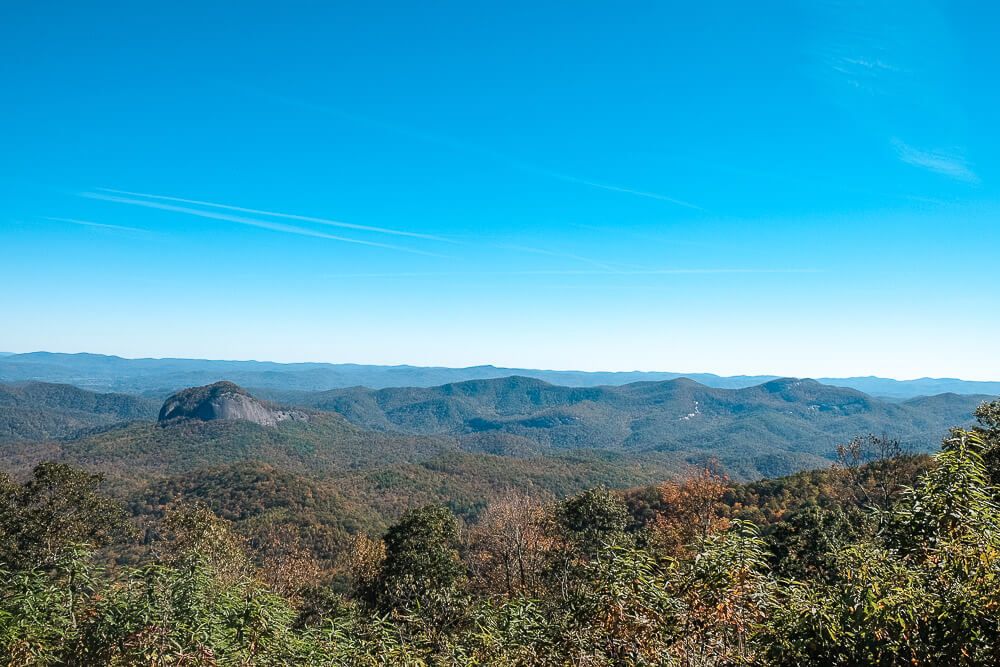 ---
Where to Stay Near Looking Glass
Pisgah National Forest is reachable in a day trip from Greenville, SC. We had friends drive up in the morning and meet us at the trailhead for the hike.
But if you'd like to make a weekend out of it (or just to make sure you're one of the first ones on the trail), you have a few options.
You can camp nearby. For established campgrounds there's the Davidson River Campground at the entrance to Pisgah National Forest (along US 276). This is where we stayed that weekend. And then on the Blue Ridge Parkway, you can camp at the Mount Pisgah Campground.
Another option would be to stay in Brevard itself. We've done this before as well and there are plenty of Airbnb options nearby.
And if you're staying for longer, consider heading over to Dupont State Forest. I love Dupont's Three Waterfall Hike & the Stone Mountain Trail.
Brevard also has plenty of breweries where you can wind down after a long day in teh forest. Oskar Blues is in town. But I love Ecusta Brewing & Sideways Farm & Brewery as more local options.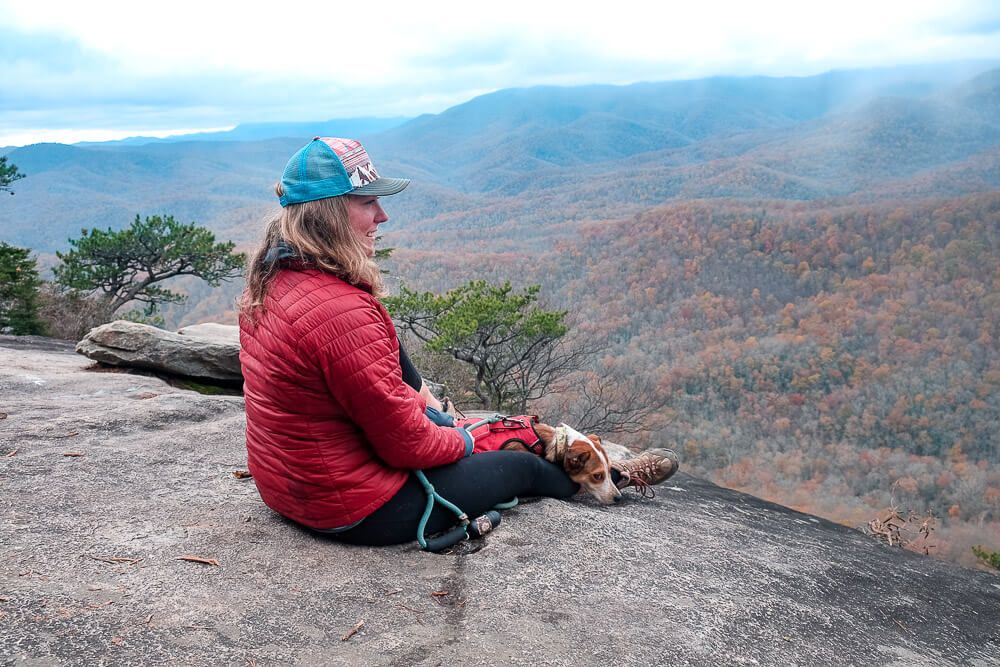 See you out on the trail!