Heading out on a Hendersonville day trip is one of my favorite fall activities. It's only about an hour away, maybe even less depending on where you live. It's got great restaurants, breweries, some hiking nearby, and of course all the farms & orchards so you can get your fall on.
This year we had Ellie in tow so the experience was a bit different. And I wondered how easy it would be to have her with us as we jumped around town. Just how dog friendly is Hendersonville? Spoiler alert! It was super easy. And we're already planning on heading back soon for another day trip.
Now it's also the fall of 2020, so our trip was a bit different in that well, we're living in the time of the pandemic. But as we take our annual trip to Hendersonville, I'll be working on updating my suggestions here as things change.
---
Hendersonville Day Trip
Now I've included our day trip below. But I've also called out (via boxes) other options you may be interested in. Now most of these I've only researched (instead of, you know, actually done them), but I wanted to at least mention them.
One last thing before we get into this, we also did this day trip on a Friday. We took a half day and got to Hendersonville around 12:30pm. This allowed us to beat the weekend crowds, but it also meant we got a bit of a late start.
Oklawaha Brewery
I love me some breweries. And most of our excursions include visiting at least one. Sometimes more than one. And as one of the few breweries that open at noon during the week, we were all about Oklawaha Brewery.
Plus they are dog friendly indoors. That's all we needed to hear.
Oklawaha Brewery is right in downtown Hendersonville. It may have been called Sanctuary before (not sure). And they have several unique beers on draft. Plus several sours, which are my absolute favorite.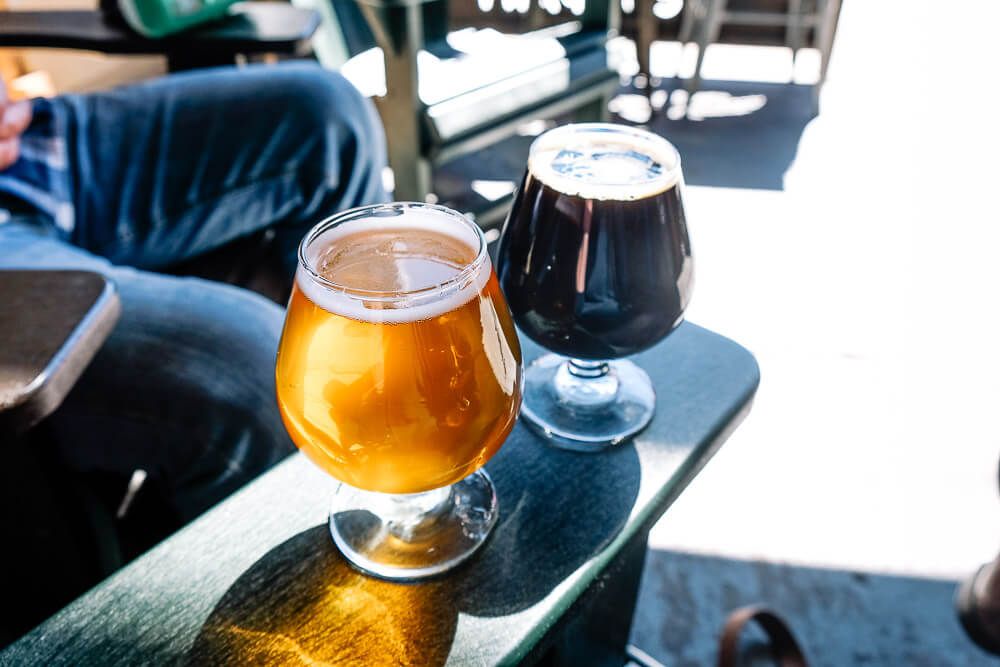 And at night they often have some live entertainment. We didn't stay for this, but since I forgot my water bottle there and had to pop back in on our way home, I definitely liked the feel and wanted to make sure it was on our list for next time.
The music (that night at least) had a folkish feel I loved (for the brief 3 minutes I was there) and was the perfect volume. Loud enough to hear but not so loud you couldn't talk to someone without yelling and lip reading. (Am I getting old?)
After trying their Marzen dubbed Country Roads (my WV heart be still) and their watermelon beer, we were getting hungry. Though we did try one of their pretzels, it wasn't enough to satisfy, so we moved on to find some lunch.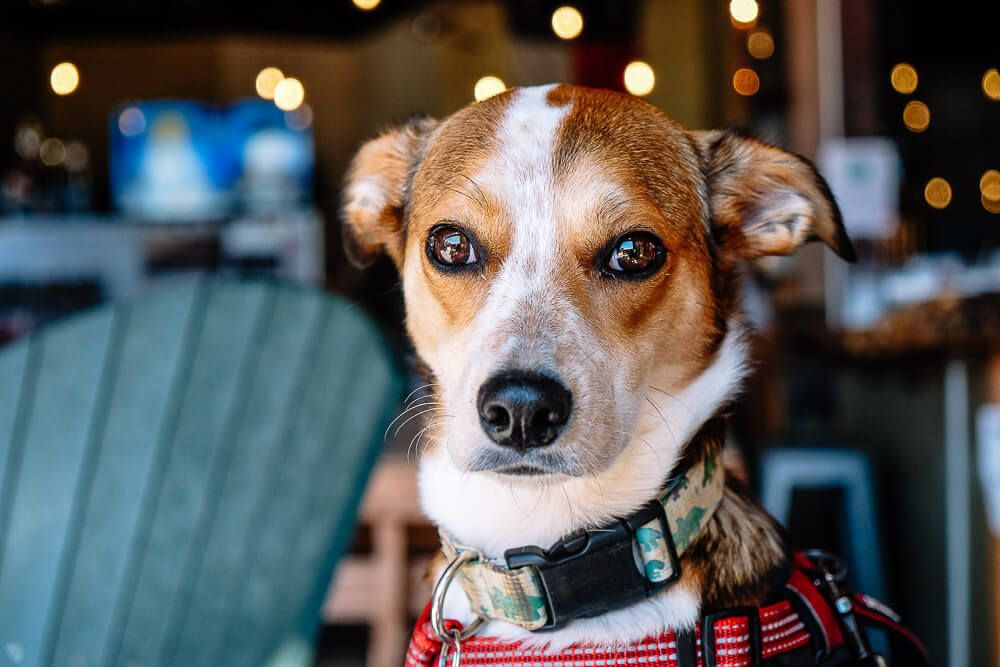 Morning Options
So what if you have the whole day? How should you spend your morning? Well below are some options I looked into for our trip.
Sky Top Orchard is a popular apple orchard a few minutes off of US-25 on your way to Hendersonville (from Greenville). I've visited it before but it's been a few years. They open at 9am and are a perfect stop on your way. Especially if you'd like to do as much apple picking as you can. And, the apple doughnuts at Sky Top are my favorite.
Go for a hike at the Carl Sandburg Home. This National Historic Site is managed by the National Park Service. They have several small hiking trails and paths on the property. And while a house tour needs to be scheduled, you can walk the grounds for free.
Another hiking option would be Dupont State Forest. It's a little more out of your way (if you're going Greenville -> Hendersonville), but I love the hiking options here. Check out the popular waterfall hikes if you're interested.
If you're looking for food, I thought Arabella looked good (and I think had outdoor seating). Or you could grab bagels to go from Joey's NY Bagels. And if you just want some coffee, there are several local options right in town: The Ugly Mug, Art & Coffee Bar, Black Bear Coffee, and Appalachian Coffee. I'm not sure about outdoor seating at these, but you can most likely get your coffee to go.
---
Never Blue
Now to be perfectly honest, I didn't look super hard to find a lunch spot. Never Blue was one of the first options I came across. The description sounded interesting, the food options looked good, reviews were great, and it was literally like 2 blocks from Oklawaha.
Never Blue was incredible. It is a bit quirky, but the food was delicious. And when I went inside to use the bathroom, I loved the look of it. I can't wait to come back when it's not a pandemic.
Ryan stuck with some classic wings, but I got the duck wontons and the lamb kofta. And even though I was trying to pace myself in terms of drinking, I couldn't pass up a passionfruit margarita. And I'm so glad I didn't.
The dog friendly outdoor seating on the sidewalk was the icing on the cake. And we were one of several groups with a doggo in tow dining at Never Blue that afternoon.
---
Stepp's Hillcrest Orchard
Stepp's has been one of our go-tos for the last couple of years. It's easy to get to and has plenty of parking. It opens at 9am but closes at 6pm, so be sure to give yourself plenty of time.
After lunch we headed straight there. I knew I wanted to do some apple picking, buy some apple doughnuts, and navigate their corn maze. To be honest, I was more than a little excited for the corn maze. I'm not sure if it's an every year kind of thing, but I was super pumped when we found out they had one this year.
They also have a pumpkin patch, an apple cannon, and several other kid friendly activities.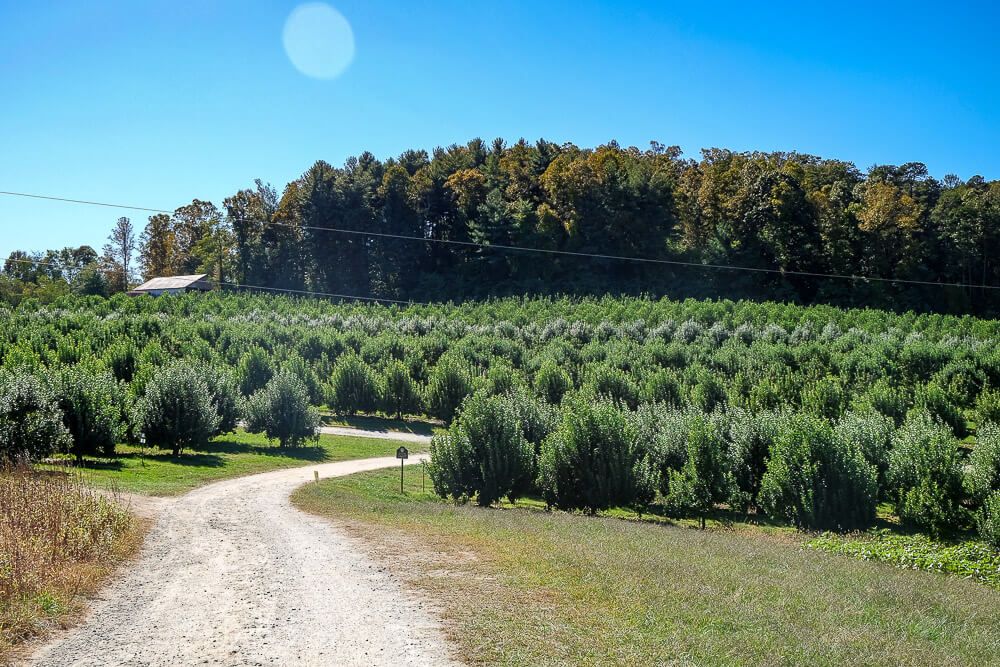 But the main reason we went was for some apples. They have a schedule of what apples are ready and you can try to gauge this via their website. When you arrive, you'll go to the check-in, find out which apples are open for picking, purchase your apple container (we went for a peck box this year, but a larger one seen above in the close-up in a previous year), and then head out into the fields.
During the weekdays you can drive in the orchard, but we opted for walking as there were a lot of people still about and, well, Ellie would prefer it
Oh and did I mention it's all dog friendly! As long as they are leashed, you can bring them everywhere except for the apple house.
Stepp's had 3 varieties open for picking, but I was all about the Granny Smiths and the Pink Ladys so that's where we headed. These two are my favorites and I was so glad we were able to get both of them. The Pink Ladys had suffered a bit in a July hailstorm, but we still found enough to fill up our box relatively quickly.
After filling up our box, we headed back to the main building and purchased our tickets for the corn maze. Be sure to do this before heading over to the field! You can buy them in the apple house.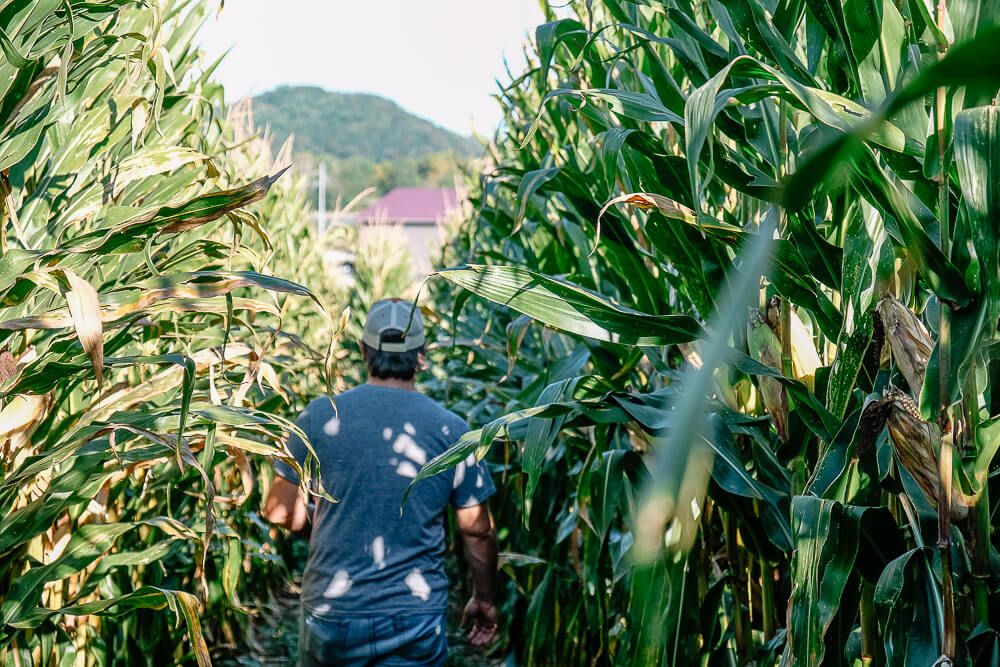 The corn maze was larger than I imagined (5 acres) and is a proper maze. We took turns deciding which way to go and even let Ellie choose as well. Though I think she was more interested in finding other people and dogs than the exit.
The maze took us about 30 minutes to complete and we did make several wrong turns and had to back track. I would expect to spend 20 minutes to an hour in the maze depending on how lucky you are.
On the way back to Hendersonville along US-64 there are several orchards and farm stands along the way. Keep your out for anything that looks interesting. And, if it's open (which it wasn't for us), there is the Appalachian Ridge Artisan Cidery right off US-64.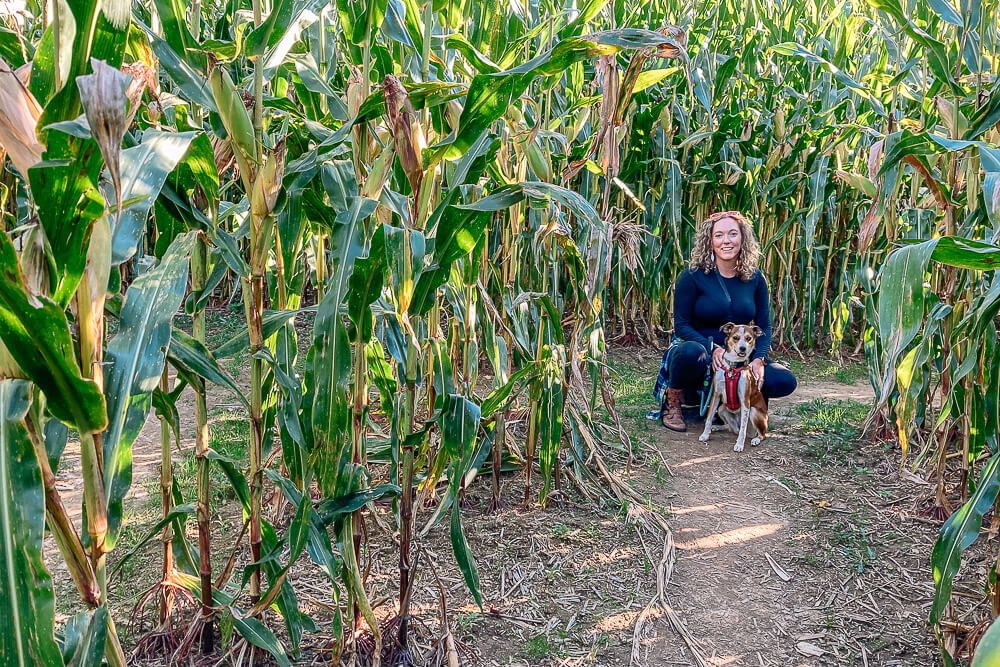 ---
Guidon Brewery
As the time ticked closer to 6pm (and we had finally exited the corn maze) we decided it was time to return to town.
For our second brewery, we decided on Guidon Brewery. They specialize in German beer and I loved the classic styles we had. Everyone, from the bartender to the other patrons, were extremely friendly here.
Ellie received tons of attention and even had a piece of bacon from the food truck brought over just for her. And though their inside isn't dog friendly, they have a super spacious porch that is.
The food truck on site, Garden Eatin', had several good German / Oktoberfest options available so we decided to stay right where we were for dinner.
I also loved that Guidon is trying to reduce their single use plastics. Pair this with the fact that most of their beers are around $5 a pint and I was in love. Sometimes my craft beer obsession is hard on the wallet, but that's not the case here.
Two beers later it had gotten dark out and we had the tough decision of whether or not to call it a night. Since we had been eating and drinking since 12:30pm, we decided to head on home around 8pm.
But if you're not ready to head back, there's so much more to Hendersonville. And I can't wait to come back for our next day trip.
Other Dinner & Brewery Options Nearby
If you're not ready to go home quite yet, you're in luck! Right down the hill from Guidon is Southern Appalachian Brewery (which I think usually has a food truck) and around the corner is Triskelion Brewing Company. And I believe both of these have outdoor, dog friendly seating options.
Another great dinner option nearby is White Duck Taco. I love me some White Duck. We have a location in Greenville so I am a regular. If you've never had it, it's amazing. And it's like 3 blocks from Guidon.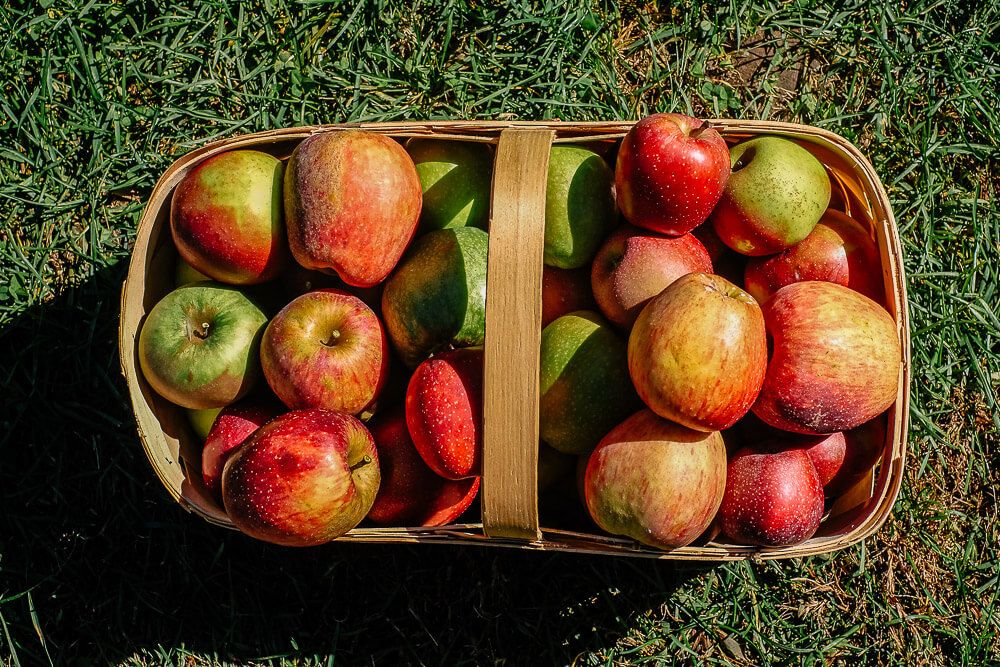 Happy Fall you guys!