Are you looking for trip ideas that allow you to take your four-legged best friend along? Since I've adopted Ellie, I've been trying to take her everywhere. Which can be hard at times (but totally worth it). On a recent trip to the Charleston, SC though, I was able to bring her and have a great time. This is my dog friendly weekend itinerary to James Island (and the Charleston, SC area).
Now I visited Charleston, SC over July 4th weekend, so this guide is definitely more summer focused. But I think you can still grab ideas if you're visiting during the other times of the year. We also stayed outside of Charleston, which means our trip was not focused on the old historical center.
You could probably visit Charleston and stay in the center with your dog, but your options may be more limited in terms of places to stay and go. We've found focusing our trips outside of the downtown area to be the best bet. (And this is a good tip regardless of where you go.)
It's also good to mention that I've been to Charleston many times in the past. I've had a chance to experience the downtown, which is why we were excited to explore more of the surrounding area.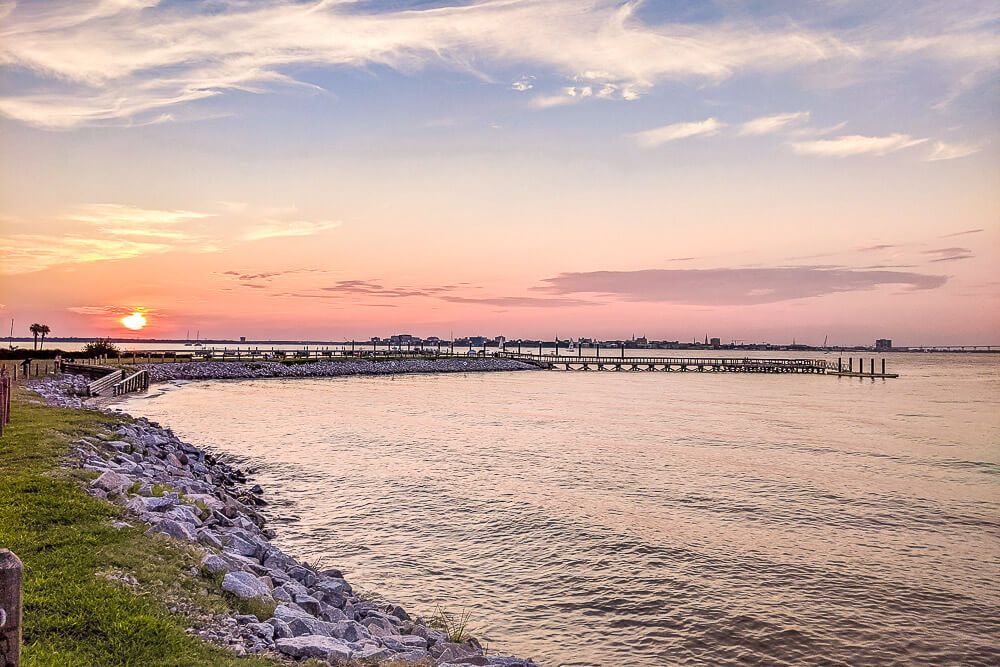 ---
Dog Friendly Weekend Itinerary
Friday
Welcome to Charleston! First up? Check in. Which brings us to a very good point. When you are traveling with your dog, sometimes your options are very limited in where you can stay. While occasionally you do find amazing hotels that love dogs (like for our trip to Highlands, NC), that's not always the case.
Now Charleston does have a few pet friendly hotels. However upon closer inspection, most of these are apartments or vacation homes. I did find 3 hotels though on Booking.com and I wanted to look a bit deeper into their pet policy.
The Francis Marion Hotel does allow dogs (here's their pet policy). But only one under 25 lbs and there is a non-refundable $150 pet deposit / cleaning fee. The Hotel Bella Grace has a similar policy (scroll down that page to find it – I really had to search for it).
The best option seemed to be 27 State Street Bed & Breakfast. There is a policy with restrictions however. On the plus side, the weight limited (50 lbs) is much higher and the fee ($40) is much lower. But you also have to bring a crate and the dog is not allowed on any furniture or beds (or additional fees might apply). And that might be hard for some pet owners to enforce (myself included).
So what's the best dog friendly option? I've found lots of places on Airbnb. And though there are only a few in the downtown area, there are several out on James Island. We booked a great little room on the island and would definitely do it again for our next trip.
When looking for a place to stay on Airbnb, be sure to adjust the filters to only show pet friendly places (usually under the house rules filter options).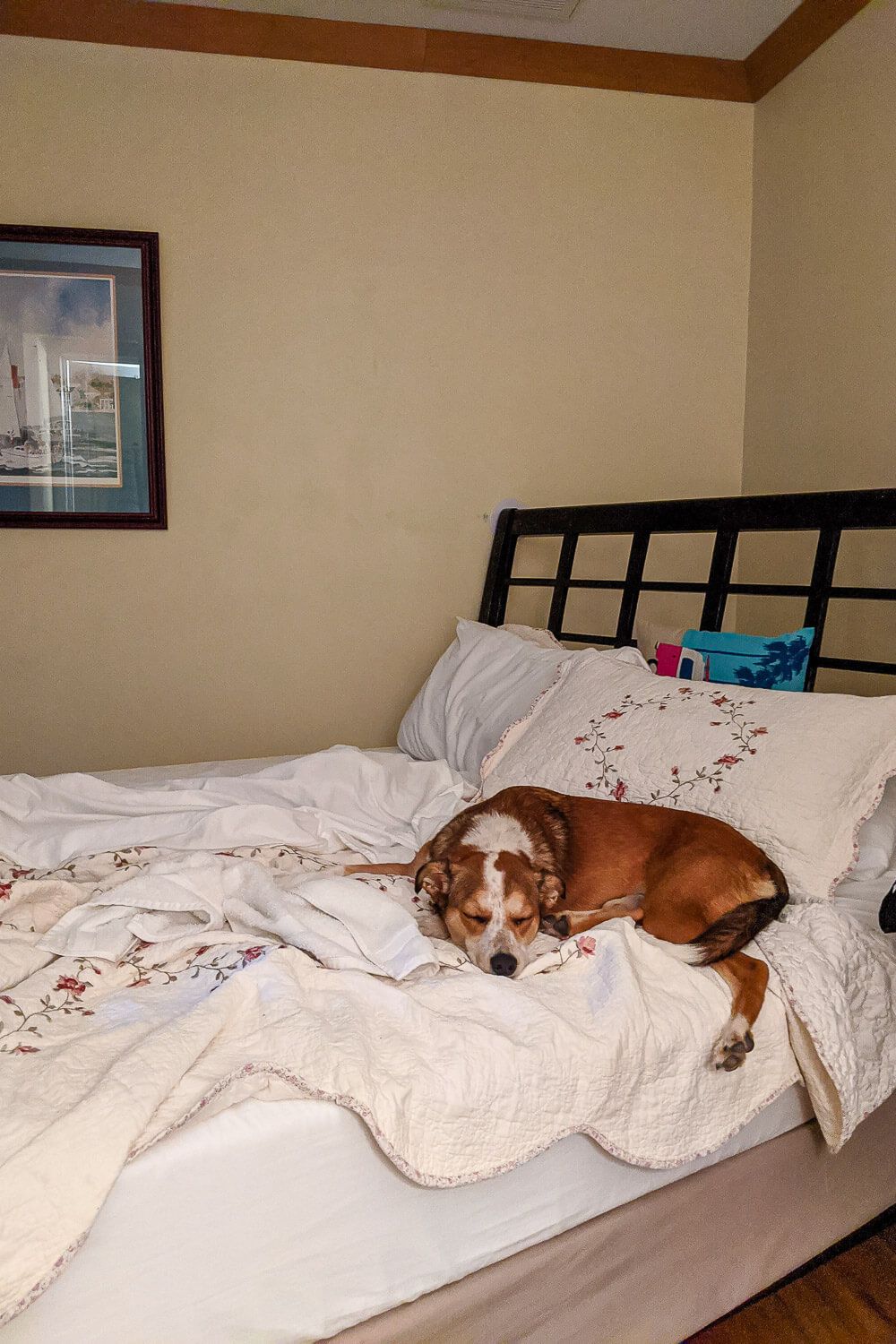 Start your weekend off right by heading to one of Charleston, SC's breweries. The craft beer scene has exploded in the area and we couldn't wait to try out some new places.
First up on our list was Revelry Brewing. Located closer to downtown, I'd heard about the brewery due to my favorite beer festival being hosted there every other year. (The other years it's held in Greenville at Birds Fly South.)
We weren't sure if the place was dog friendly, but we shouldn't have worried. The actual brewery itself was smaller than I imagined. Split into two parts with a downstairs area and a rooftop bar. And the rooftop bar was definitely our favorite spot.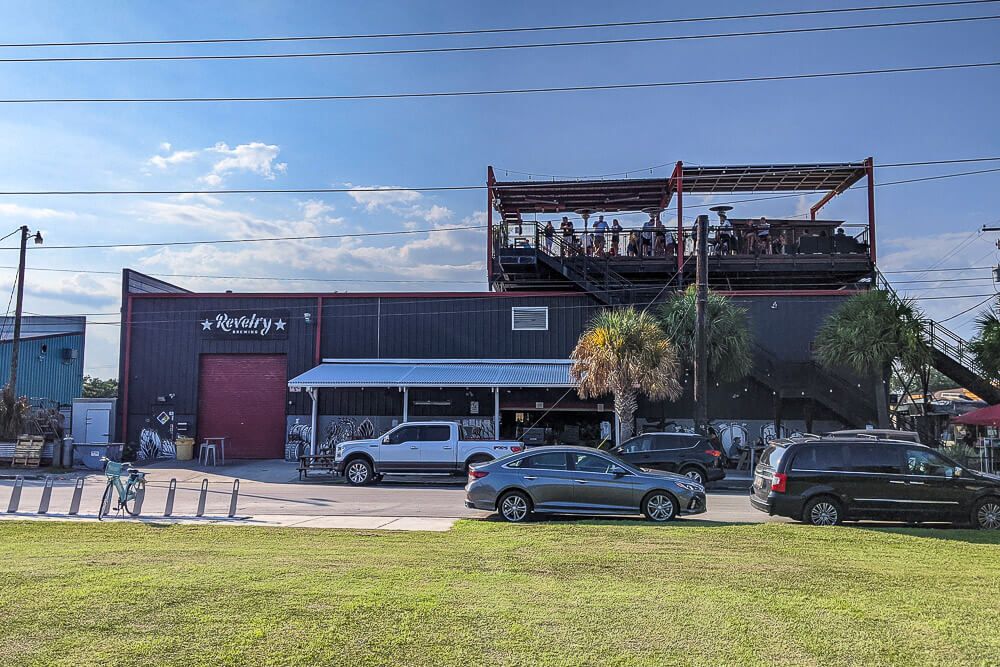 I was bit worried dogs wouldn't be allowed up there, but upon asking the staff, they quickly assured us dogs were welcome.
And there were several groups already up there with their own fidos. Ellie fit right in and quickly tried to make friends (with the dogs and people alike).
Beer wise, Reverly has a bit of everything. I leaned towards the sours they had with the Red 5 Standing By as one of my favorites. But if sours aren't your thing, there are several other options on draft and in cans for you to pick from.
Plus the view from the rooftop was wonderful (as well as the breeze on a hot summer afternoon).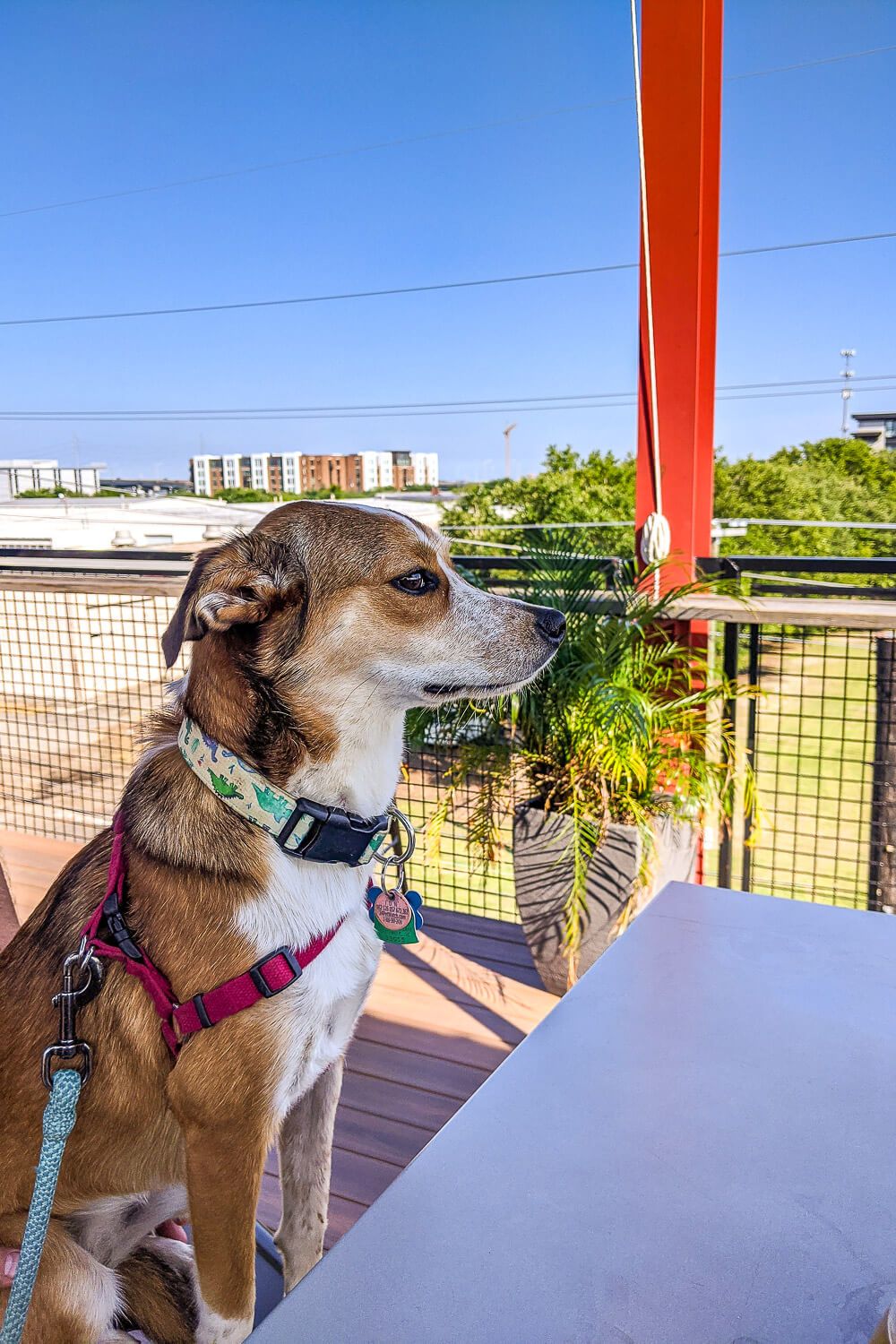 For dinner, we headed just a couple of blocks away to Lewis Barbecue. And while their inside isn't dog friendly, they do have some outdoor seating. I stayed outside with Ellie, while Ryan headed in.
There was quite a bit of a wait (45 minutes I think), but the food in the end was worth it. The brisket was outstanding. And the mac 'n cheese was some of the best I've had.
We quickly learned from another group (made up of long time Charleston residents) that this was the best barbecue in the area. And I can definitely see why.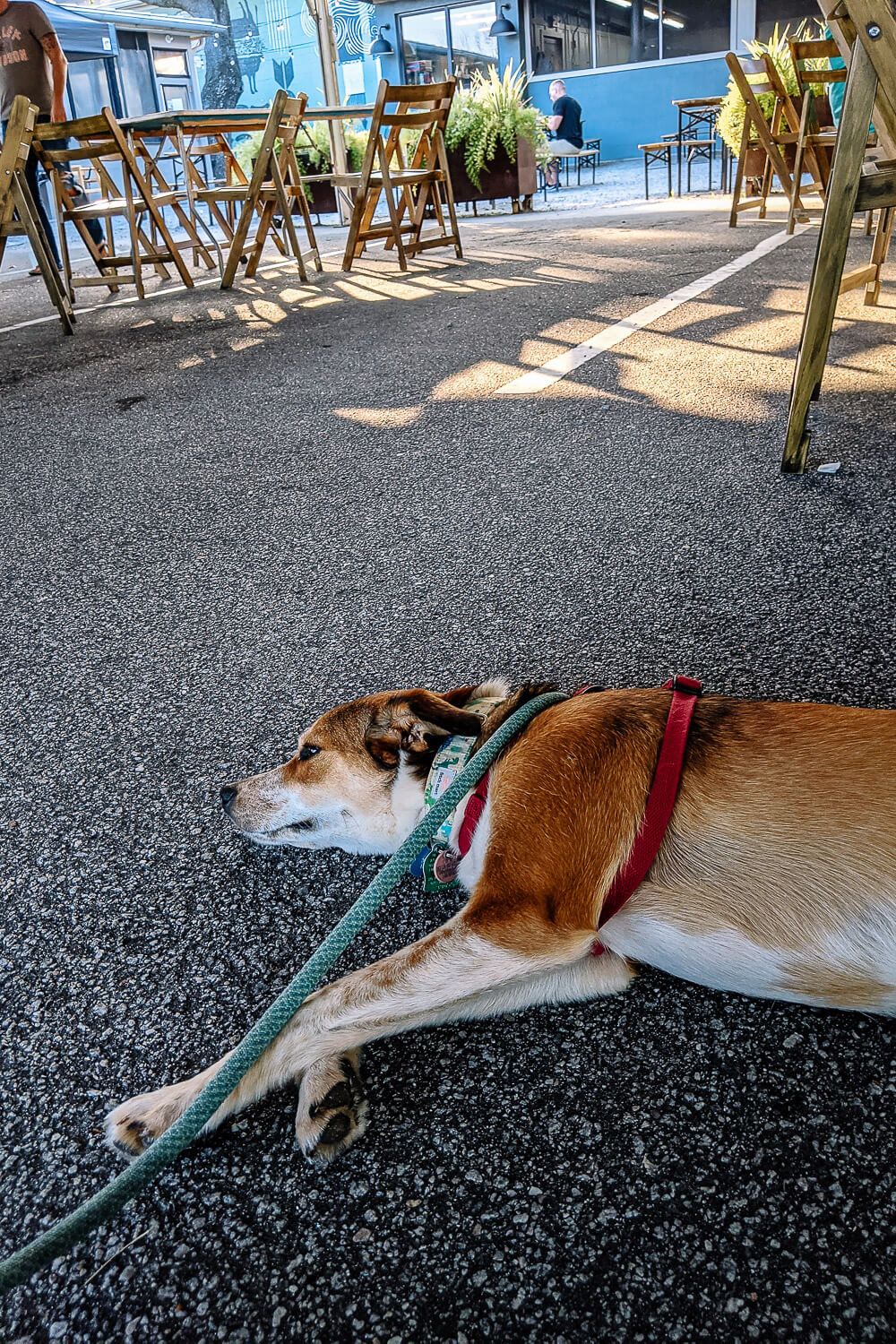 For sunset we headed back to James Island and then down to Folly Beach. Due to it being the summer, we still had over an hour of light left and got to watch the sunset from the beach.
Folly Beach allows dogs on the beach before 10am and after 6pm during the summer (May 1-Sept. 30). And during the other months, they are allowed at all times.
We were excited to introduce Ellie to the ocean and then take a nice long sunset walk on the sand. But we didn't worry too much about getting in the water. That's what Saturday morning was for.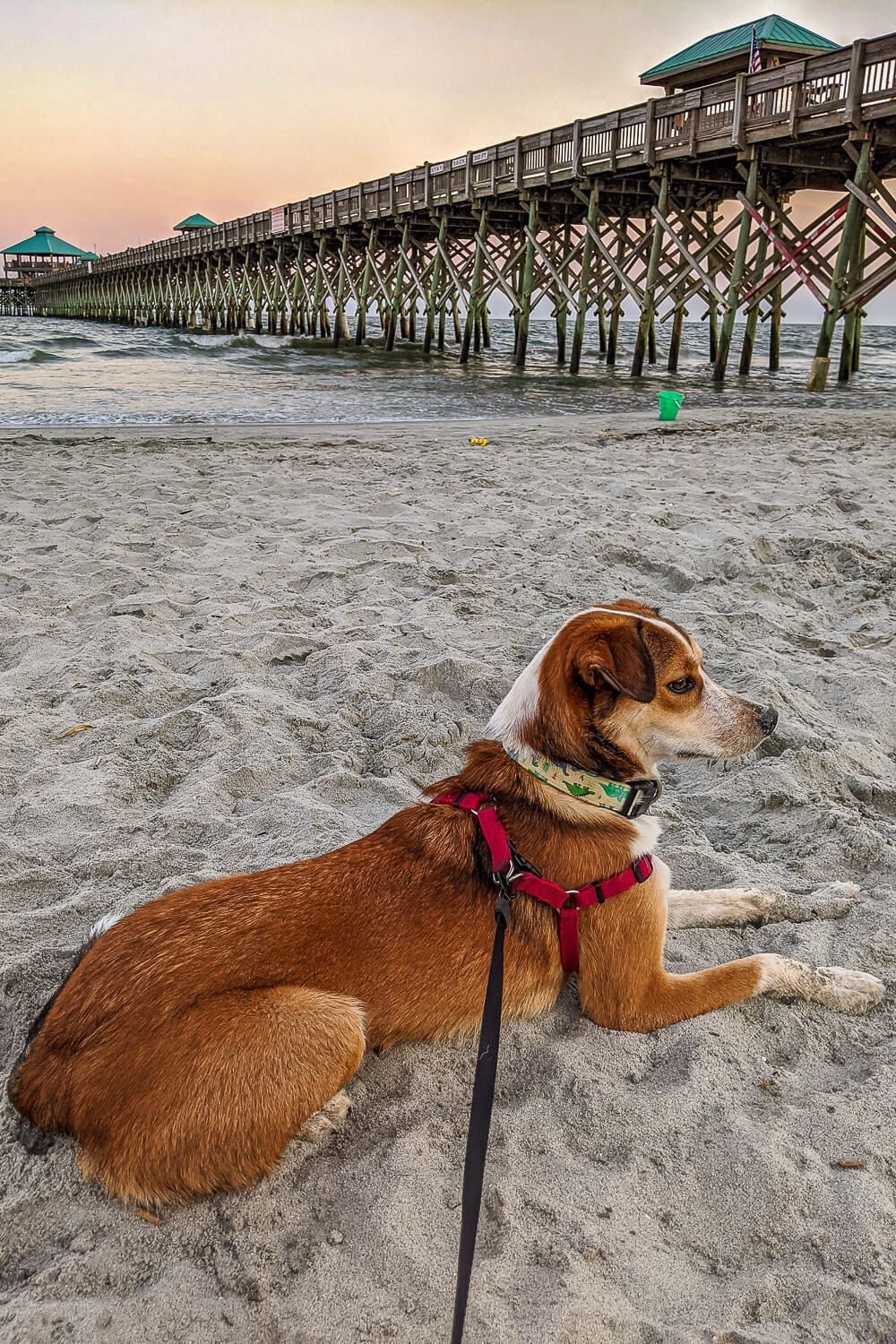 Saturday
Due to not only the dog restrictions but also the heat, we woke up very early to head to Folly Beach first thing. We were on the sand by 7:30am and easily found parking at one of the beach access points (you'll have to pay, and it's not cheap, but so worth it to just walk off the beach and have your car right there).
And this time we really wanted to beach it. We wore our suits, brought some chairs, and enjoyed the morning. If you have your dog, be sure to bring water for them as well.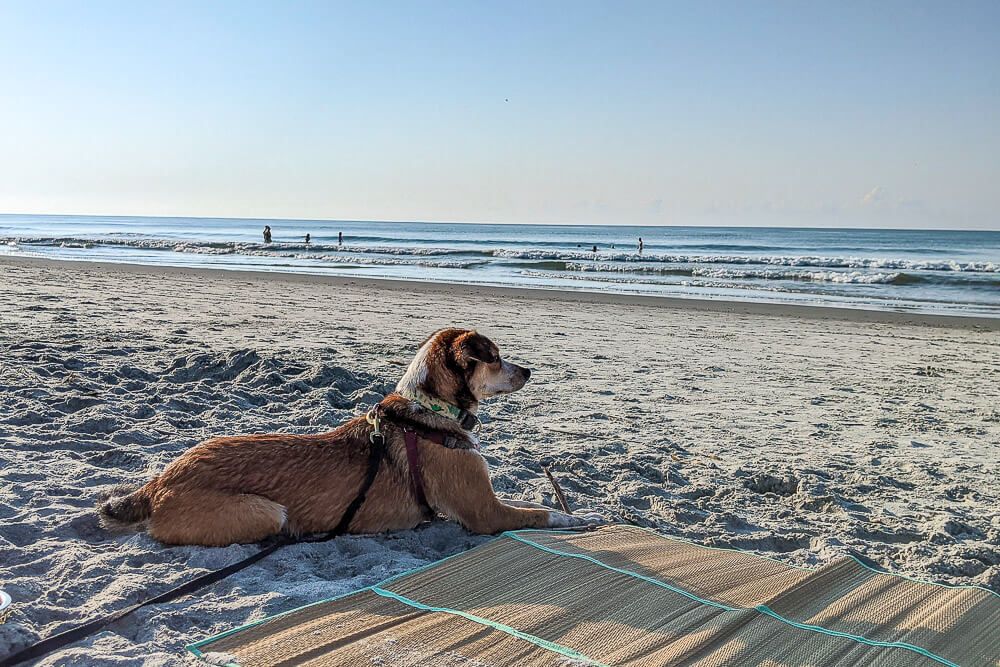 We even took Ellie in the water with us a few times. Though she's not so sure about those wave things yet. But she loves playing in the sand.
Folly can get quite crowded (probably doubly so on July 4th weekend), so it was wonderful to have a couple of hours in the morning without the crowds.
Just as we were leaving (and they will kick you out if you try to stay with your dog), the beach really started to get packed. I was happy we were heading out. The day was getting too hot for Ellie to lay in the sun anymore.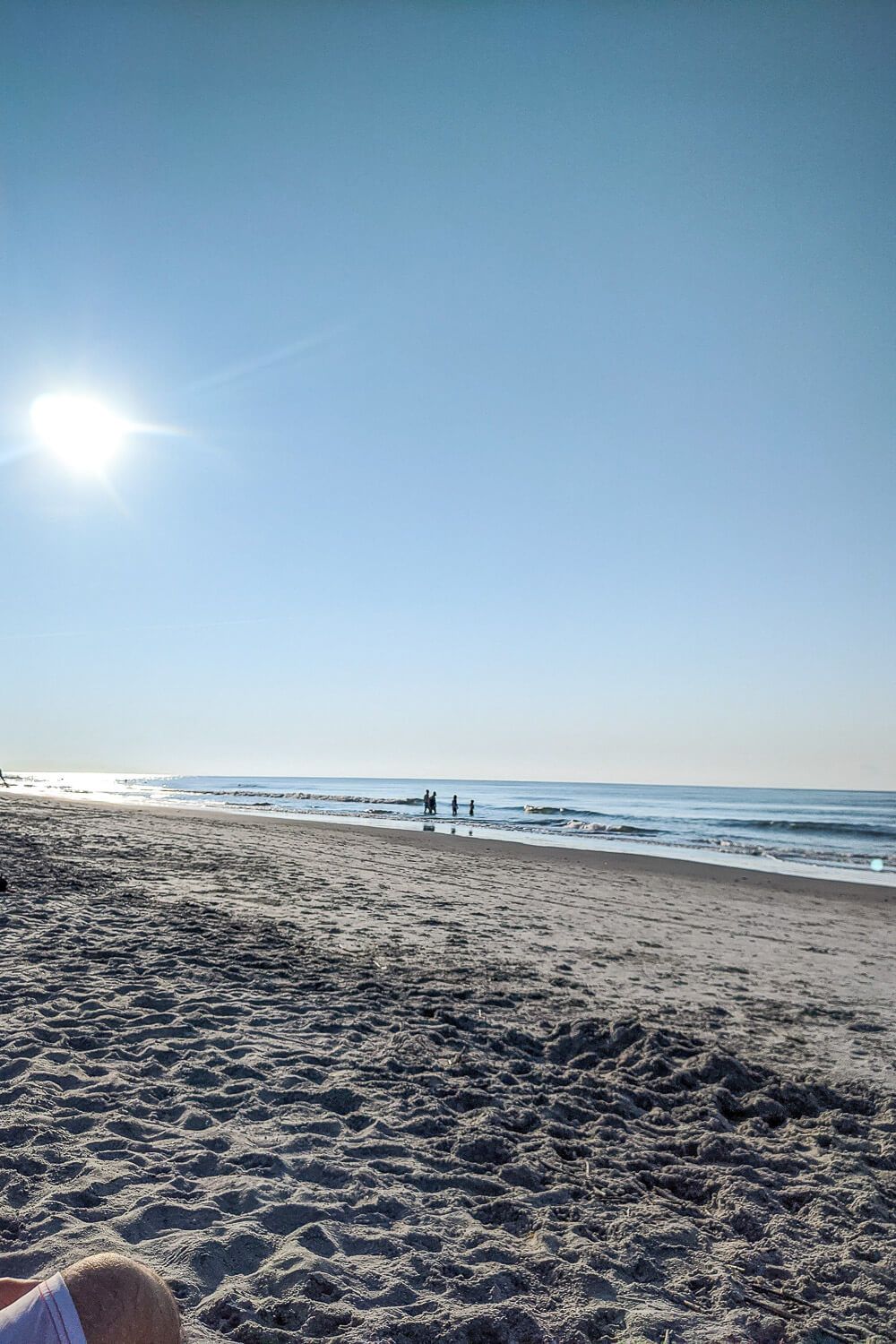 For breakfast/brunch, we headed back to James Island and hit up Black Magic Cafe. This little restaurant was perfect. We only had about a 20 minute wait for a table on their patio. The menu was pretty diverse with southern options, omelets, french toast, breakfast sandwiches, and even lunch options.
They also have a great drink menu with several special/seasonal coffee items. My honey lavender latte was the perfect blend without it being too sweet. (They do have sweet drinks too if that's more up your alley though. Ryan got a one with whipped cream and chocolate sauce.)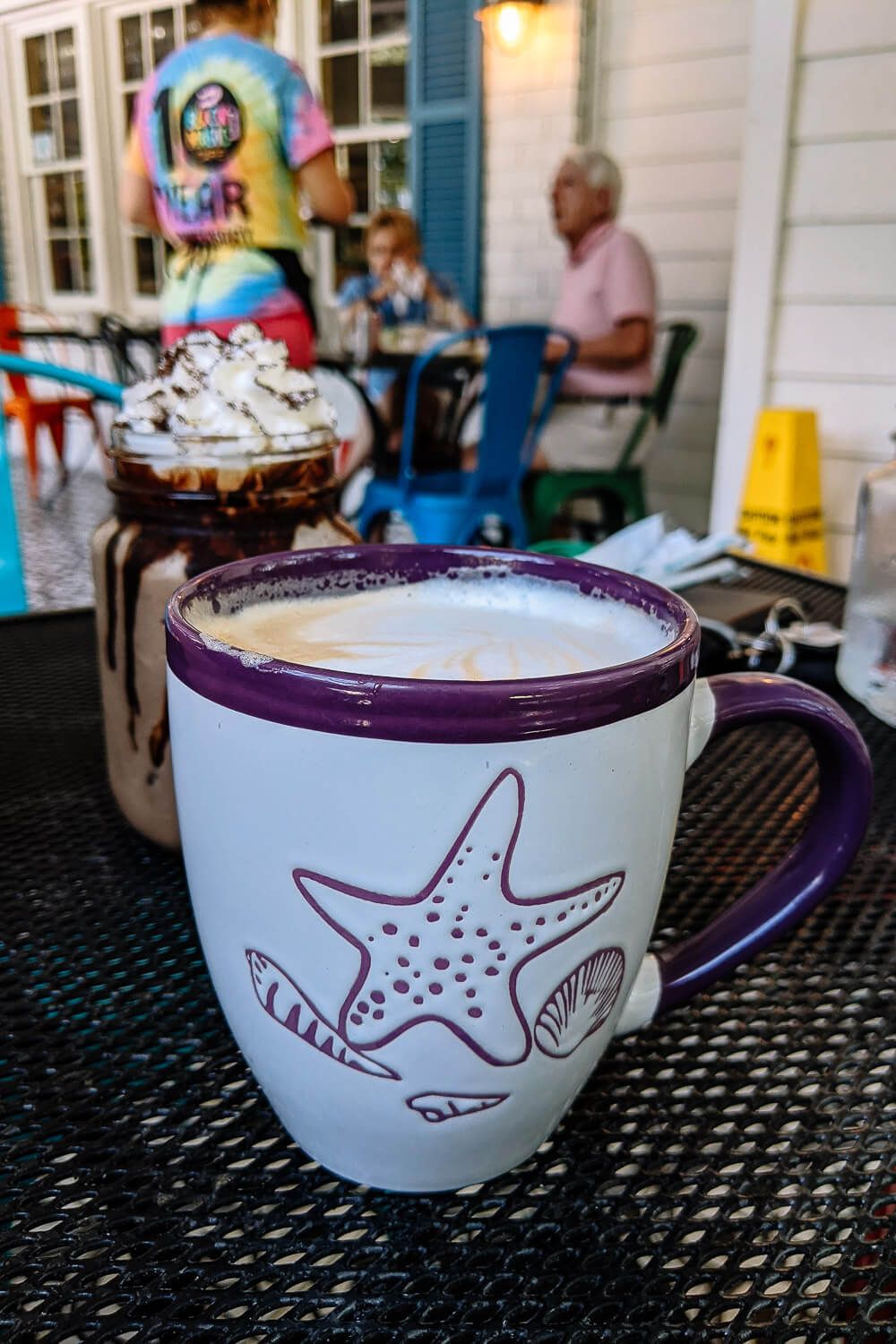 If you're visiting during the summer, it's important to give your dog some time out of the sun during the hottest parts of the day. Which is exactly why we headed back to our Airbnb for an afternoon nap.
We emerged around 3pm and out to another brewery. This time we went to Low Tide Brewing. While technically not on James Island, it's right across the bridge on Johns Island.
We'd never heard of the brewery before heading there, but decided to give it a shot. And we were blown away by the place. They have a large outdoor patio area and a big indoor taproom (that was closed when we went due to the pandemic).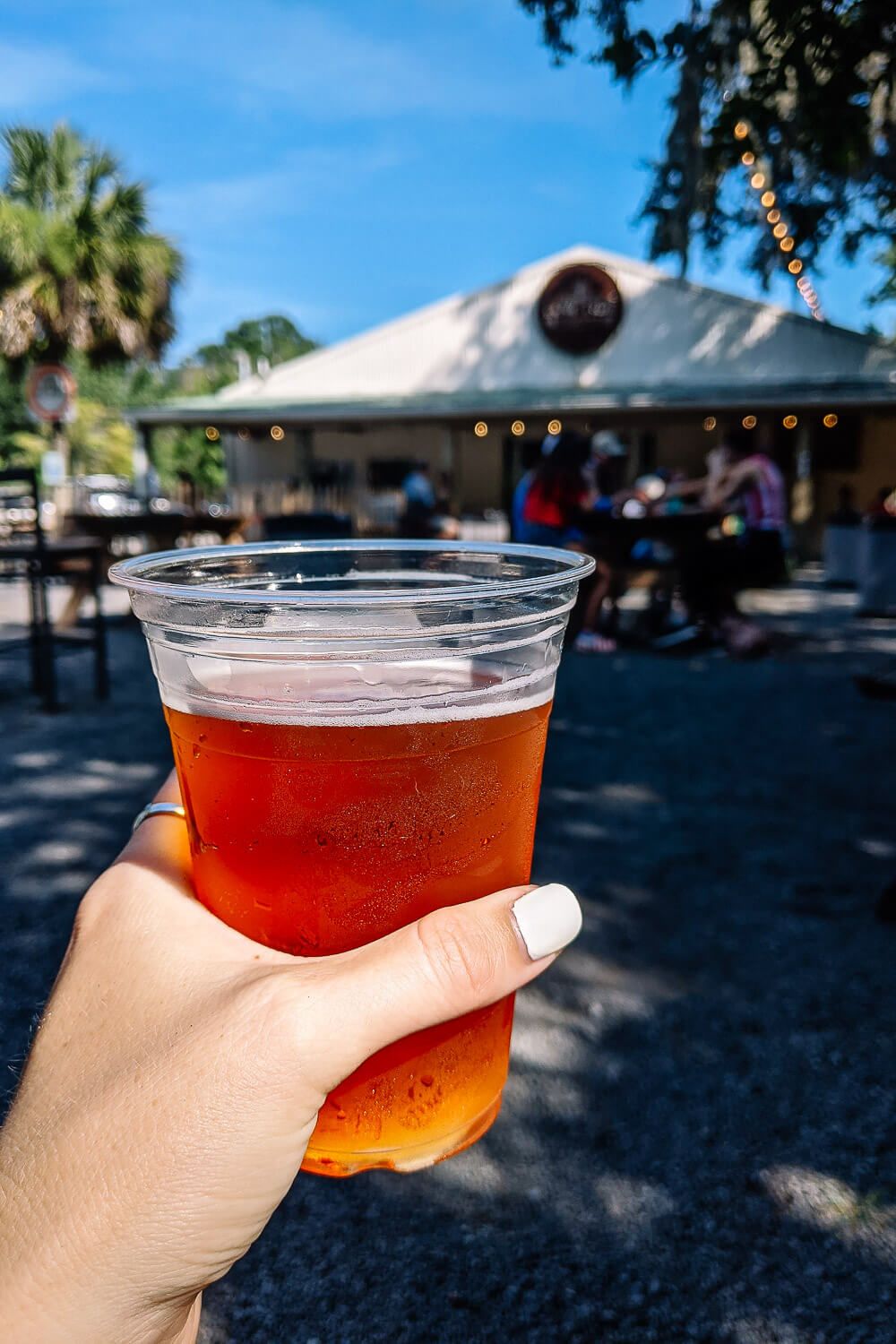 If you're hungry, they also have food trucks on site as well, but be sure to check their schedule to find out what will be there.
They had a wide variety of beers, and we had no problem sticking around and trying out the various styles. Plus the staff was super friendly (something I always enjoy).
However if you want to check out another brewery before dinner (or if you didn't take a nap), there's Fam's Brewing located on James Island. We didn't get to try it, but I wanted to mention it as well. And of course there are plenty more breweries towards downtown Charleston if you're really hankering for more beer.
For dinner, we knew where we were going. We had passed Ellis Creek Fish Camp on our way in and loved the fish shack feel. One look at their menu – and realizing they even had a dog menu – we knew where we were going.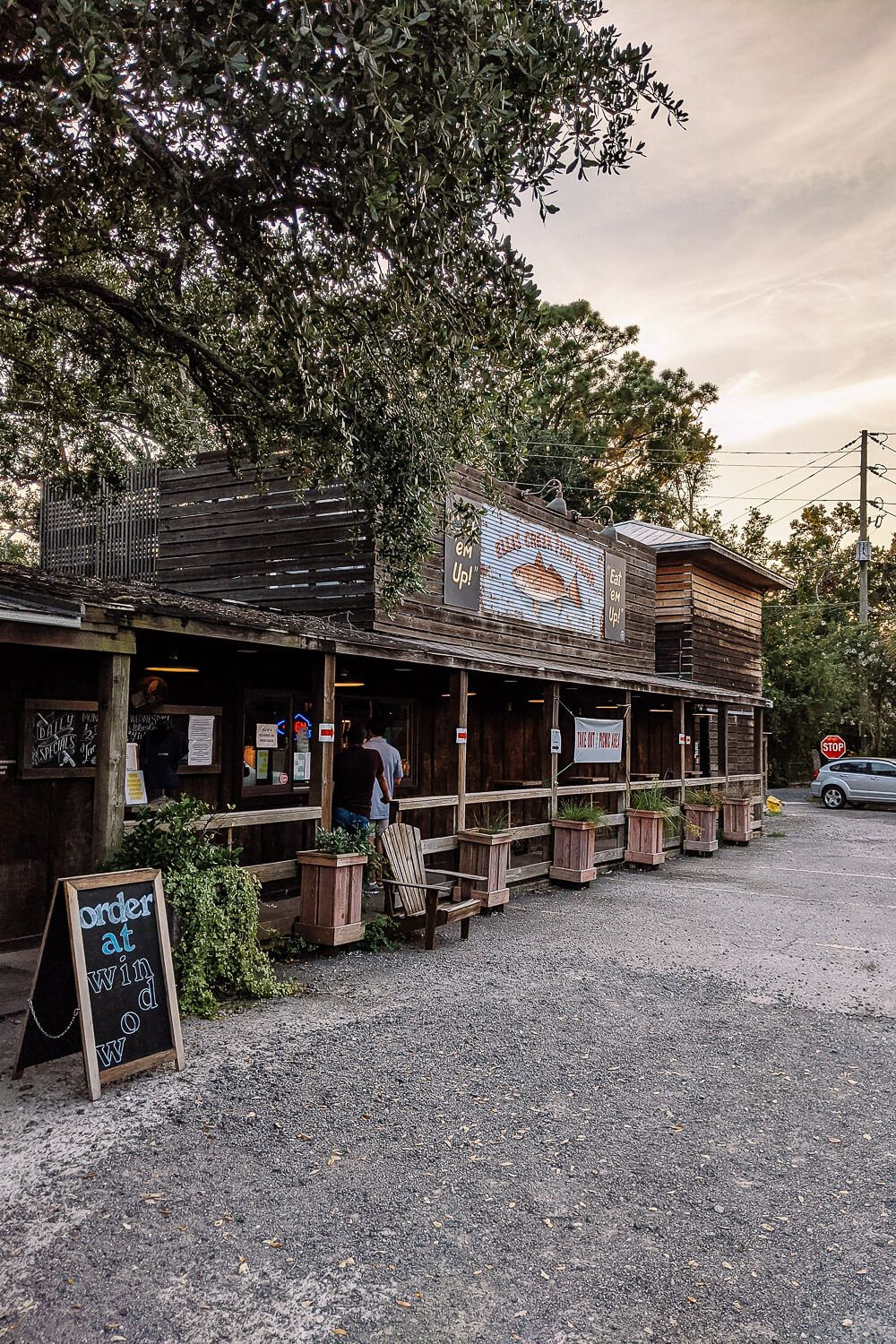 Located right on the edge of a marsh, Ellis is super picturesque. The view is incredible from the deck.
But the food? Oh man. I got the whole friend okra and a fried grouper sandwich and it might have been one of the best fish sandwiches I've ever had.
And Ellie? She got the doggie turkey dinner, and that bowl was licked clean by the time we left.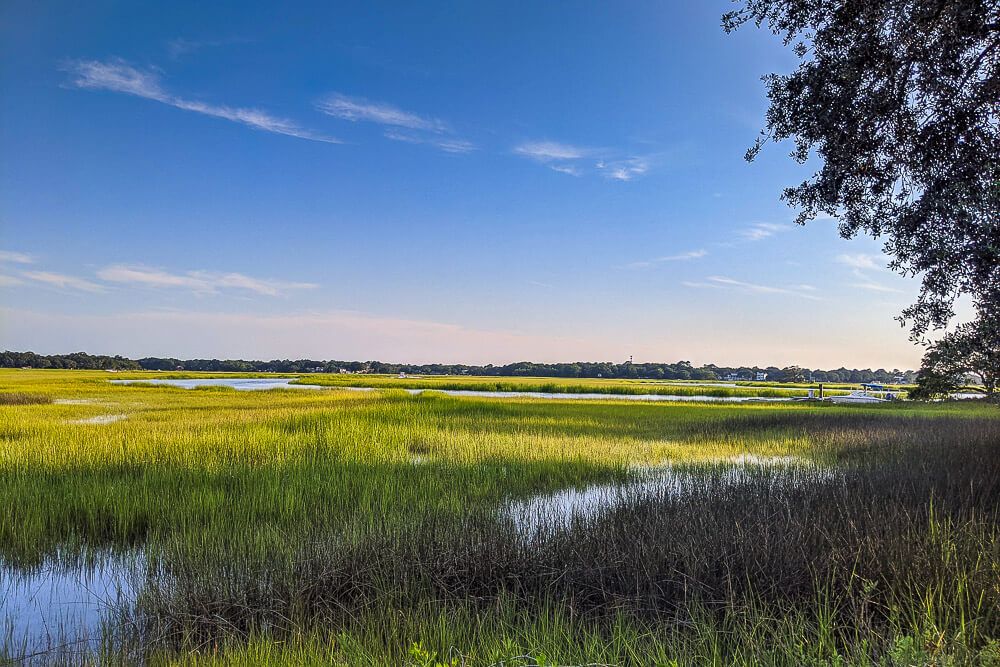 After dinner, we headed to our Airbnb's host suggestion for a great sunset (and sunrise) spot, Melton Peter Demetre Park. He called it Sunrise Park, but the Melton Peter one is the official name on Google Maps.
Since it was July 4th, the park was crowded with people coming to both watch and set off fireworks. We stayed only long enough to enjoy the sunset before heading back home. Ellie's not a huge fan of fireworks, so we hunkered down during the night and stayed inside and close to her.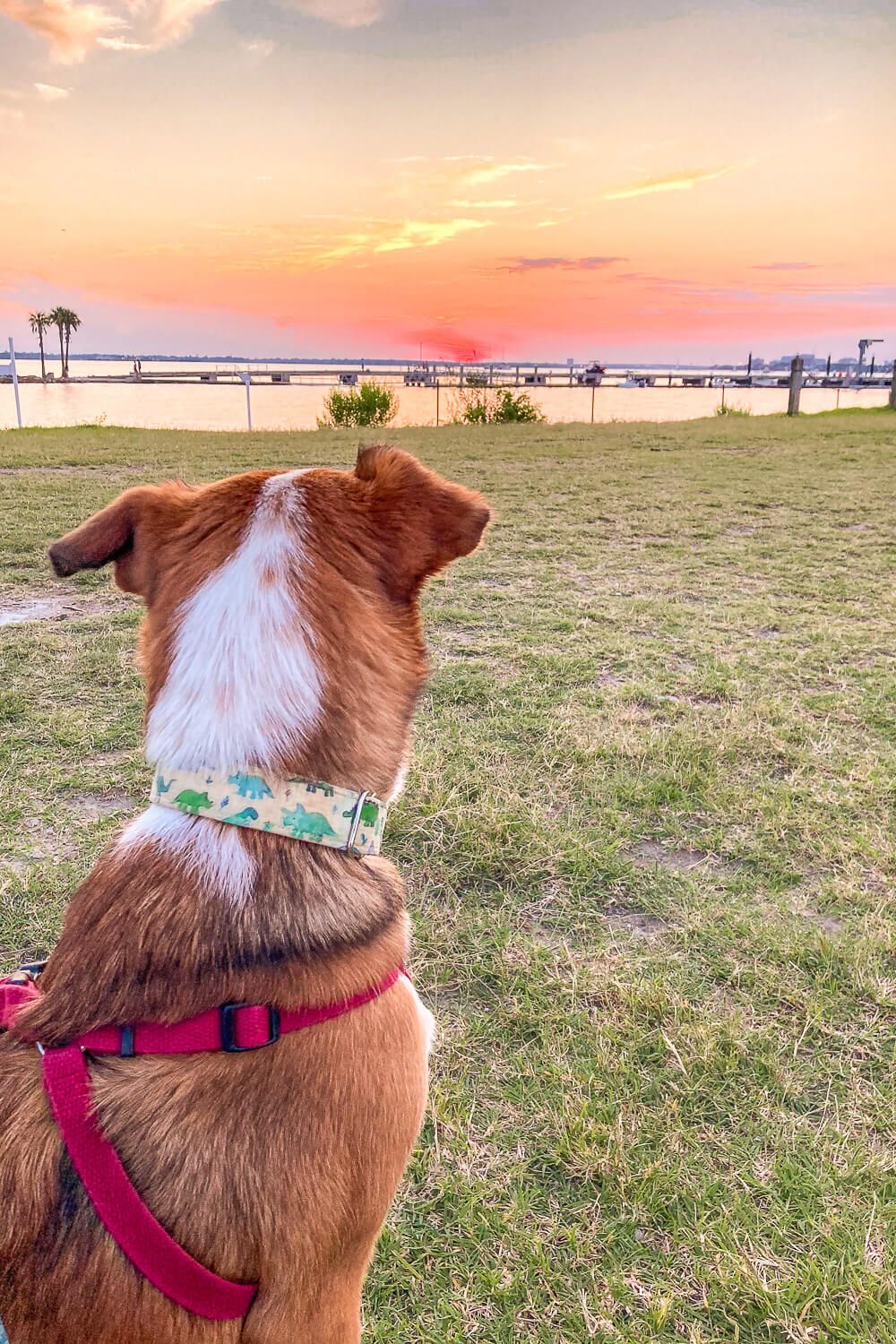 Sunday
Our Airbnb host actually offers breakfast, so on Sunday we took him up on it. He made us grits and eggs, and had coffee and orange juice on hand as well.
If you're heading out for breakfast Maple Street Biscuit Company and Hen and the Goat both look to have outdoor seating.
Before you head home, it's good to burn off some of that puppy energy. You could head into town and walk around downtown. Or, if that doesn't call to you, you could head over to James Island County Park.
This giant county park does have an entrance fee ($2/person I believe), but it has the largest dog park I've ever seen.
Four dollars was a small price to pay to allow Ellie to run across the giant yard back and forth before having to sit in the car for hours.
The park also has a large pond that forms one side of the boundary of the dog park. And since this is the low country of South Carolina, there are sometimes gators in it. Others at the park let us know that they remove gators when they discover one has made a new home there. But I wasn't going to take any chances. I had Ellie stay away from the water just in case.
That's it!
And that was our dog friendly weekend to James Island! We had a great time eating, drinking, and beaching our way around. And it was actually nice to be out of the hustle and bustle of downtown Charleston.
I hope this itinerary gives you ideas for your own trip!