One of my favorite places to go with my dog is to the Outer Banks. I've been to Ocracoke, camped within the Camp Hatteras National Seashore, and I've been to Duck. But I hadn't yet written a dog friendly guide for Duck, Outer Banks yet. So on my last trip, I took some notes so I could put this guide together.
One reason why I find myself going back to Duck is due to just how dog friendly the town is. You'll see loads of dogs during your stay here. Plus the best part is that the Town of Duck allows dogs to be off leash on the beach (as long as they are still under your control).
So if your dog has good recall and listens to you, you can let them off-leash without fear that someone will yell at you. For us, this meant letting Ellie off-leash at times. She has really good recall, but if we weren't directly watching her, I wouldn't trust her to stay seated next to our beach chair. So we would leash her up.
If your dog doesn't listen well or tends to run up to strangers, definitely still leash your dog. We want to keep Duck dog friendly and abiding by the rules is one way to do so.
Plan Your Beach Trip to Ocracoke [Dog Friendly Edition]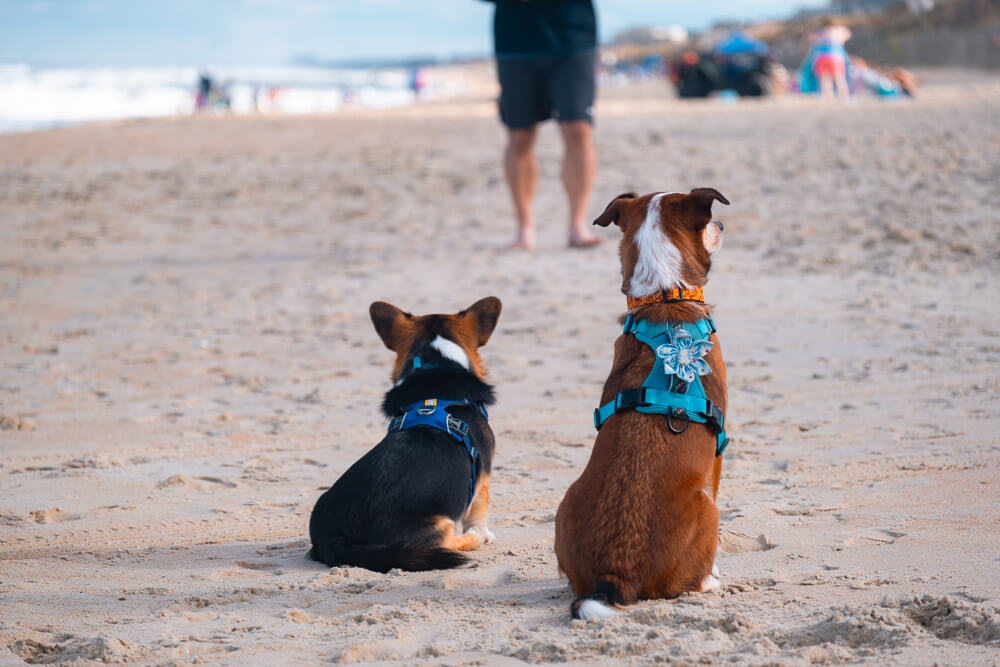 Another reason I love Duck is the town itself. Spanning for about a half mile or so, NC 12 slows down as it traverses through the heart of the town. Here you'll find loads of restaurants, shops, businesses, and even a boardwalk running parallel to the road over the sound.
This allows us to rent a house near this center and walk to the beach AND walk into town. My family used to be the types of people who could sit on the beach for hours. But now that we are older, we tend to beach-it for a couple of hours and then want to do something else.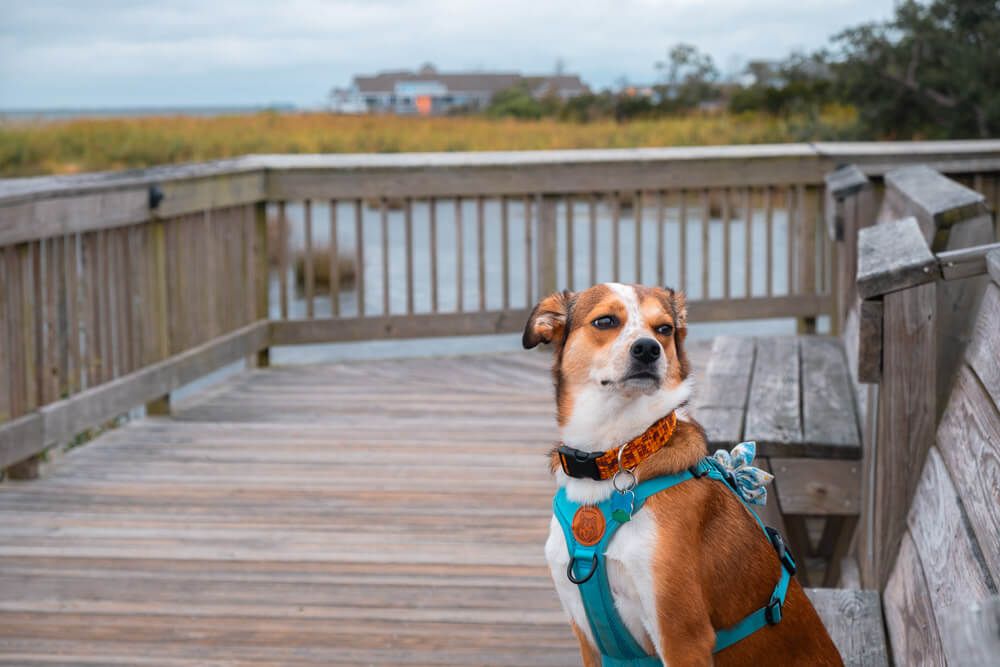 There are some cons with this town center. Traffic is absolutely horrible during the summer. Think bumper to bumper traffic through the town (and extending on either side of it). Hence why I like being within walking distance.
On my first trip to Duck, we rented a house roughly a mile or so north of this center. Still within the town but not as much within walking distance. It was June and the traffic was so bad, if we tried to go into Duck during the day, we would be sitting in traffic for 30 minutes.
The northern Outer Banks is still cute, but it is no longer remote. This place is busy. I wanted to put this disclaimer up front.
Okay so now onto the good stuff. Your dog friendly guide to Duck, NC.
---
Things to Do in Duck
Beach
This one is pretty obvious. Go to the beach! But there are a few things to keep in mind when heading to the beach with your dog.
Your dog can be off-leash on the beach but it must remain under your control at all times. If your dog doesn't listen well, doesn't have 100% recall, and tends to run up to other people and dogs, then DO NOT have your dog off-leash.
Next is there there are no public beach access points. The beach is public, but there are no public parking lots to access it. This keeps the beach relatively uncrowded. So if you are renting a beach house, keep in mind you will be walking from the house to the beach.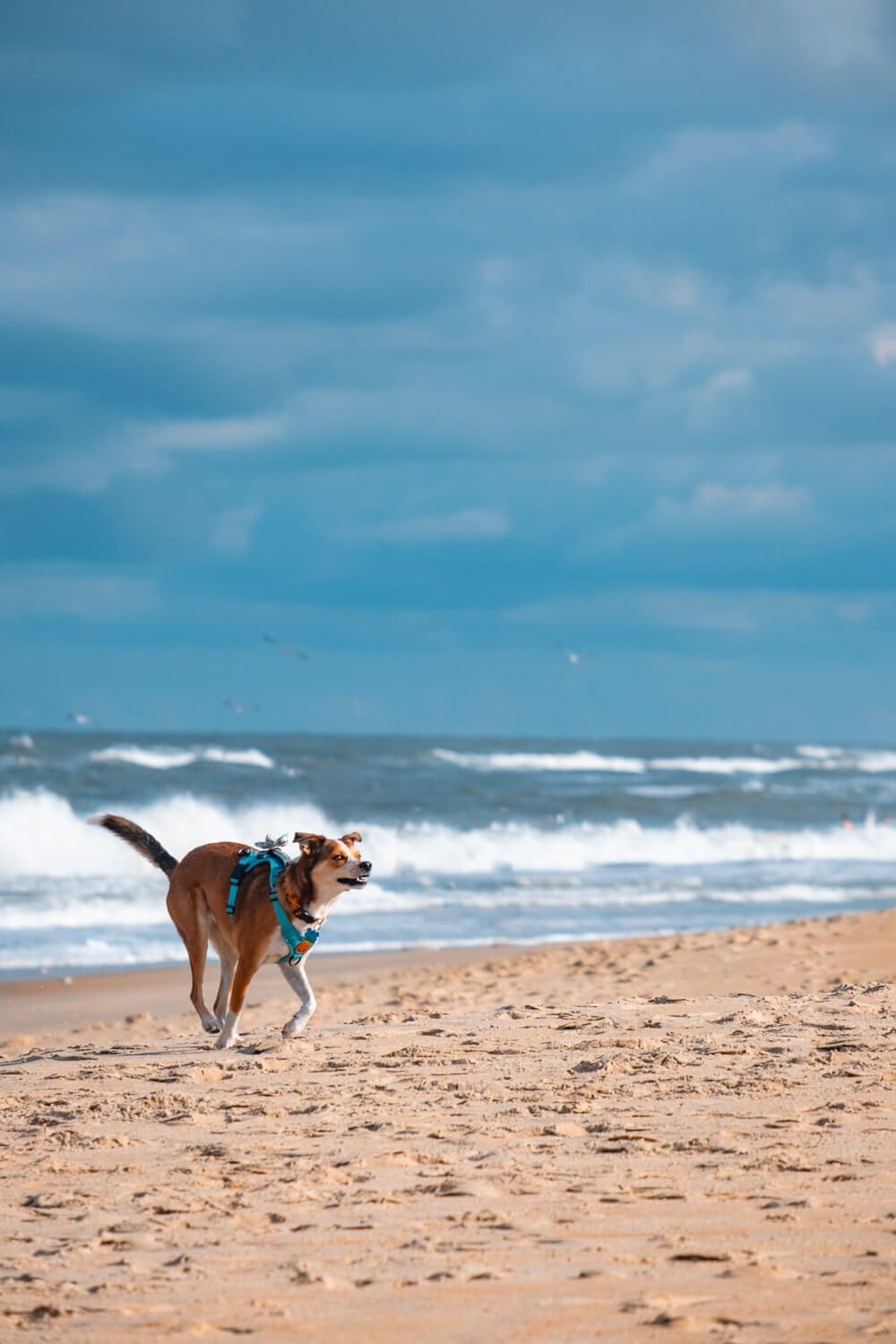 Explore Duck Town & Boardwalk
As mentioned, Duck has a very cute town. There are lots of restaurants (more on that below), shopping, and businesses.
There is also a boardwalk that runs parallel to NC 12 over the edge of the Currituck Sound from Aqua up to the Blue Point. To pick up the boardwalk, simply head to the west side of NC 12 and make your way behind the restaurants/shops. There will be signs pointing you to the boardwalk.
We walked the boardwalk everyday and was our preferred way of exploring the town.
There is also the Duck Town Park that spans along the Currituck Sound and is a good access point for the boardwalk if you are driving into Duck to explore it. There is a small parking lot and very nice bathrooms too.
If you are in Duck on a Wednesday, stop by the Tap Shack from 4pm-5pm for Yappy Hour (hosted by Outer Barks). They had dog treats, doggy daiquiris, and paw painting. All for a small donation to a local shelter. It was one of the best things we did all week.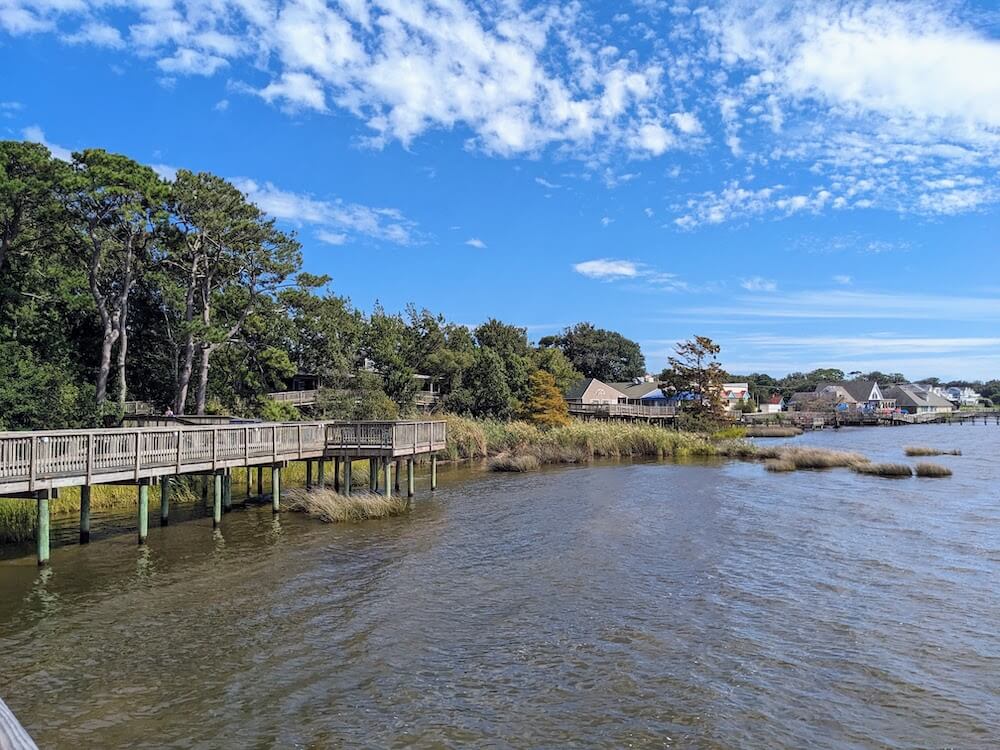 Shopping
Can you go shopping with your dog? Of course! Most of the shops in Duck are dog friendly. The ones that aren't usually have a sign on the door that says so. But if you are unsure, you can always ask.
Many of the shops are accessed via the boardwalk, but don't forget about the east side of the town (the other side of NC 12). The shops at Scarborough are fantastic.
The dog friendly shops we took Ellie too were:
But there are a lot more, just keep a look out for signs and always ask if you are unsure.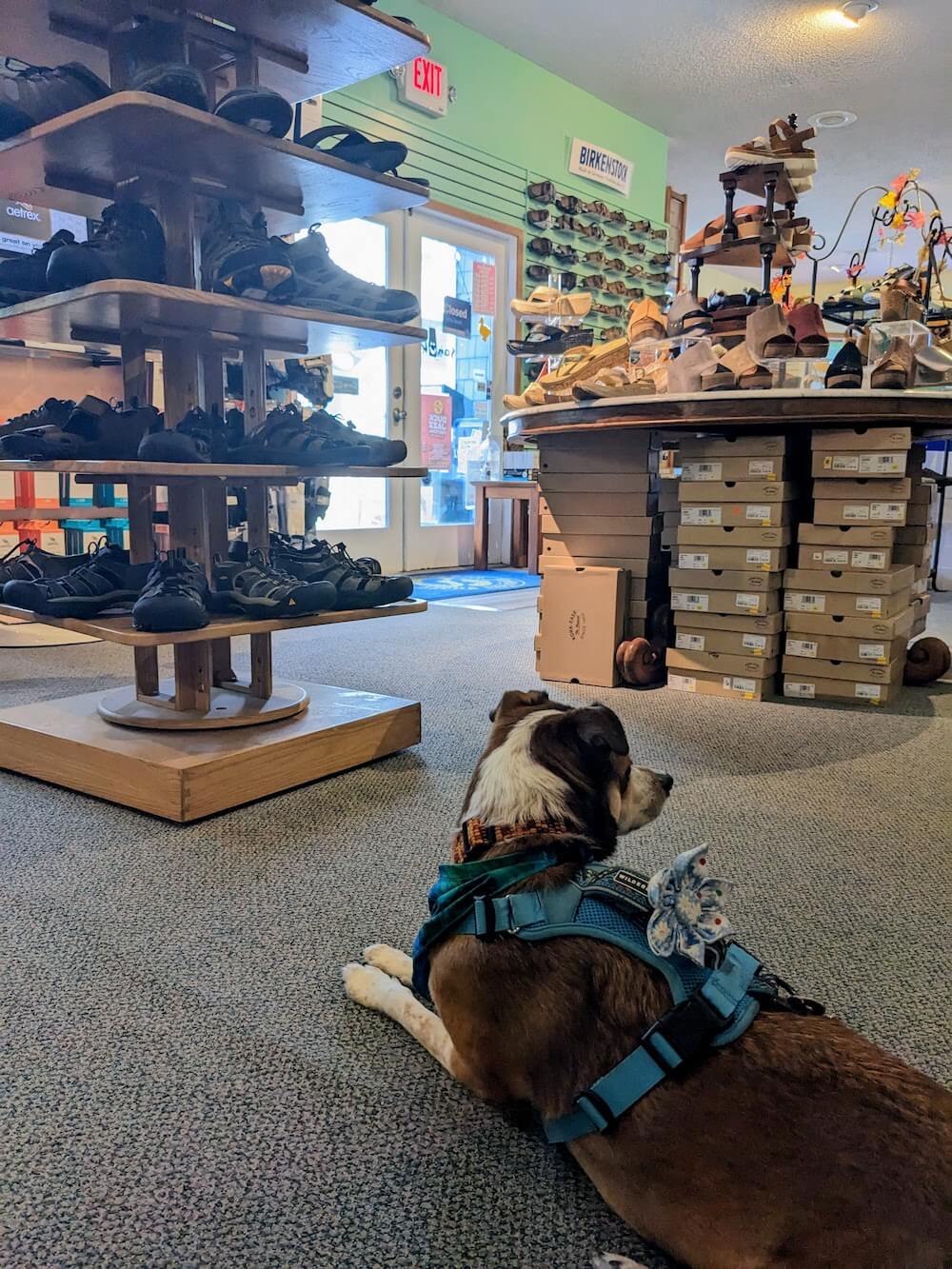 Water Sports
Whether you want to be surfing in the ocean or kayaking in the sound, then you have many options in Duck. There are lots of rentals and tours on offer. I will say I have never done any of these, but I wanted to include these as options.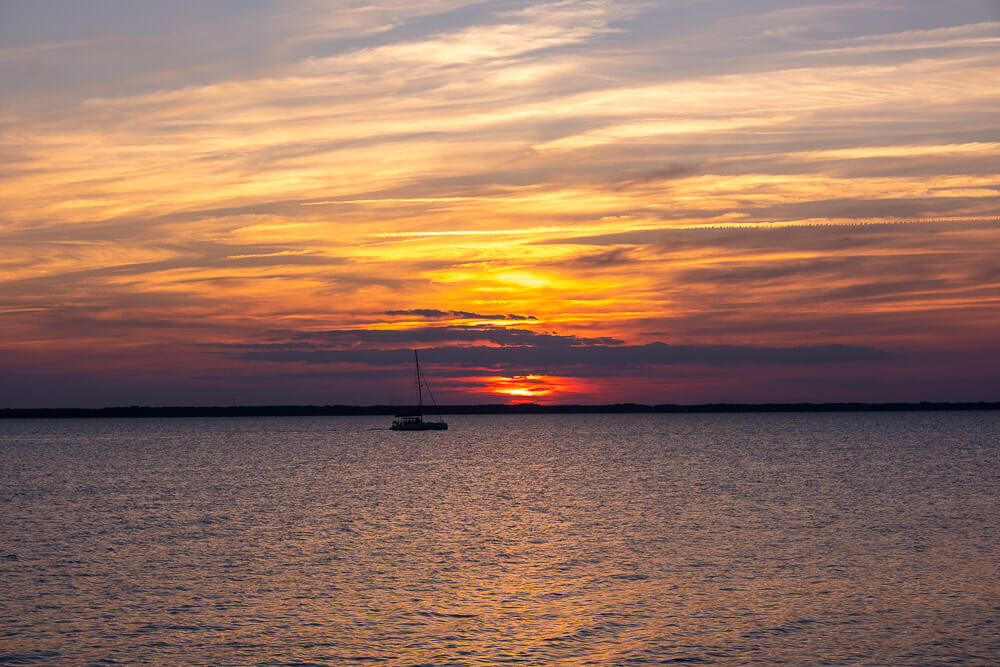 See the Wild Horses
So there are wild horses (descended from Spanish mustangs) that roam the northern stretch of the Outer Banks in Corolla and Carova (4WD access only).
Seeing these horses wandering the beach is incredible and should definitely be on your to-do list if you can swing it. But a couple of important notes.
DO NOT approach the horses or feed them. This is illegal and is detrimental to the health of the horses.
To see the horses you need a 4WD vehicle. Let me repeat that. A 4WD vehicle. Anything less has a very high chance of getting stuck in the sand.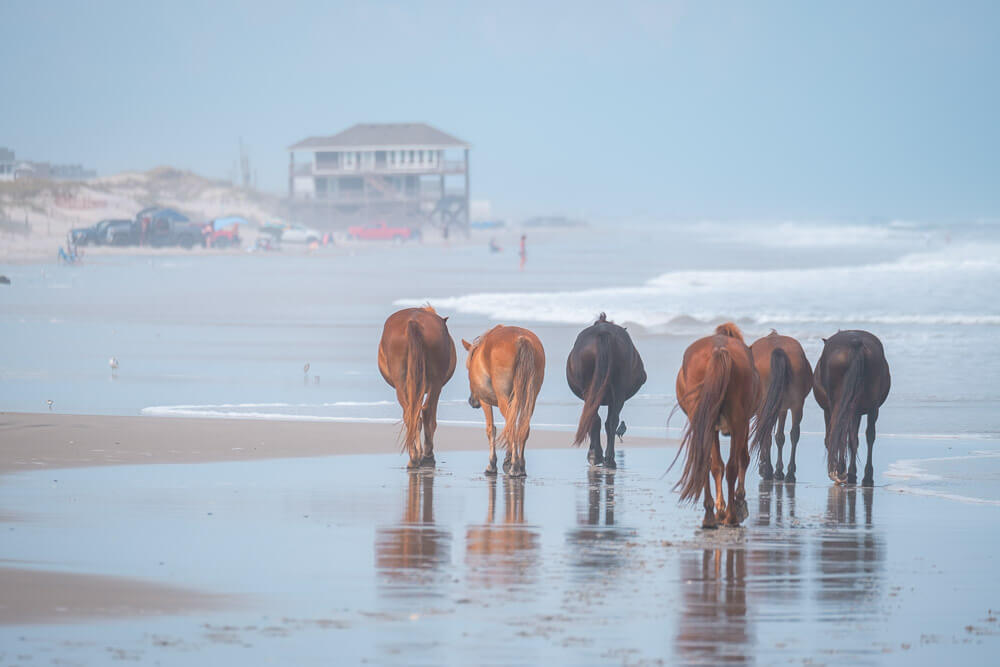 Because what you do is take NC 12 north until the road ends and you're driving on the beach. There's also a fence and entrance you'll go through to dissuade the horses from wandering down into the town.
You'll need to air down your tires (and air them back up again). You cannot do this on side streets. Head to Historic Corolla Park for some free air stations (and to air down on your way north).
You also need a permit. Due to overcrowding you'll need a permit if you decide to stop at all. Like to stop to see the horses. So reserve a permit and pick it up in Corolla before you head out to see the horses.
It can be very crowded. This is not a remote section. Parking is prohibited for the first 1.5 miles, and then after that you can park. And like, there are a ton of people. You may still be right next to people.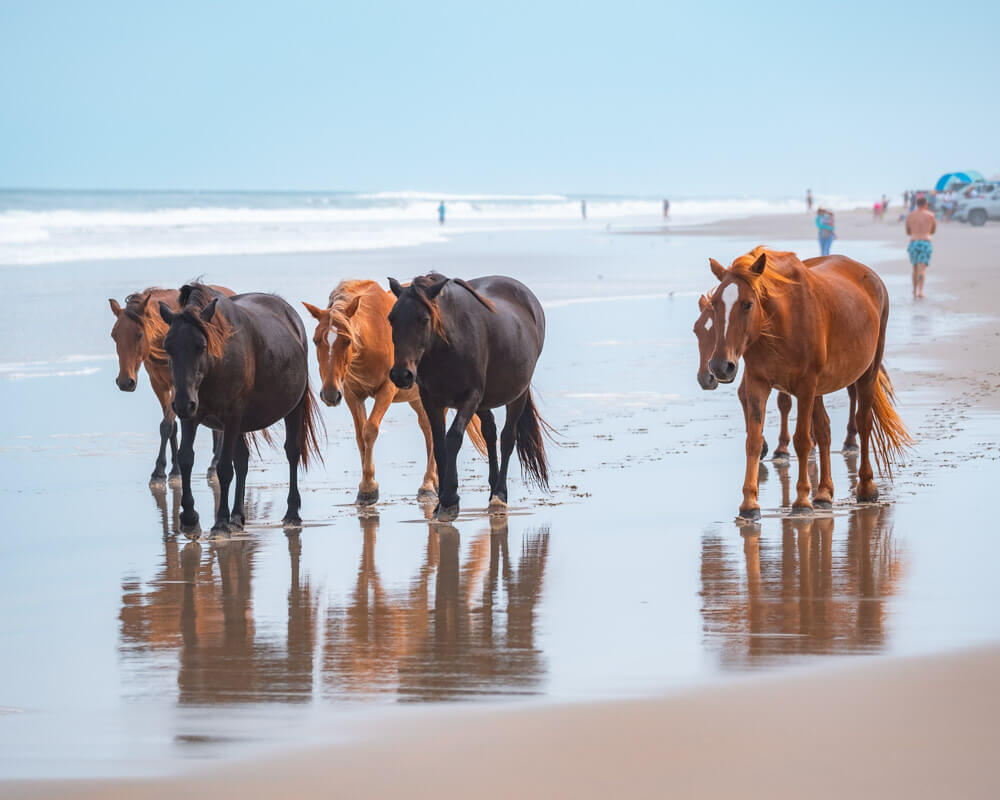 And more so, cars will be driving by right behind you (or in front of you). So think about sitting on the beach with a road right behind you. Be careful with your kids and dogs. People go so much faster than they are supposed to.
If you do have a 4WD vehicle and you want to stay in this section, there are lots of house rentals in this area. Of course you'll have to drive along the beach to head back into town and, like I said, it's not remote. People will be driving by all the time.
But it's probably super cool to wake up and see the wild horses grazing in your front yard.
What if I have an AWD vehicle? Well your SUV may be fine…or it may not be fine. I've seen several SUVs – with AWD – get stuck in the sand. Driving on the beach is always risky. If you have an AWD vehicle, it's a much higher risk. If you get stuck you may need to get towed out. Which I've heard is VERY expensive.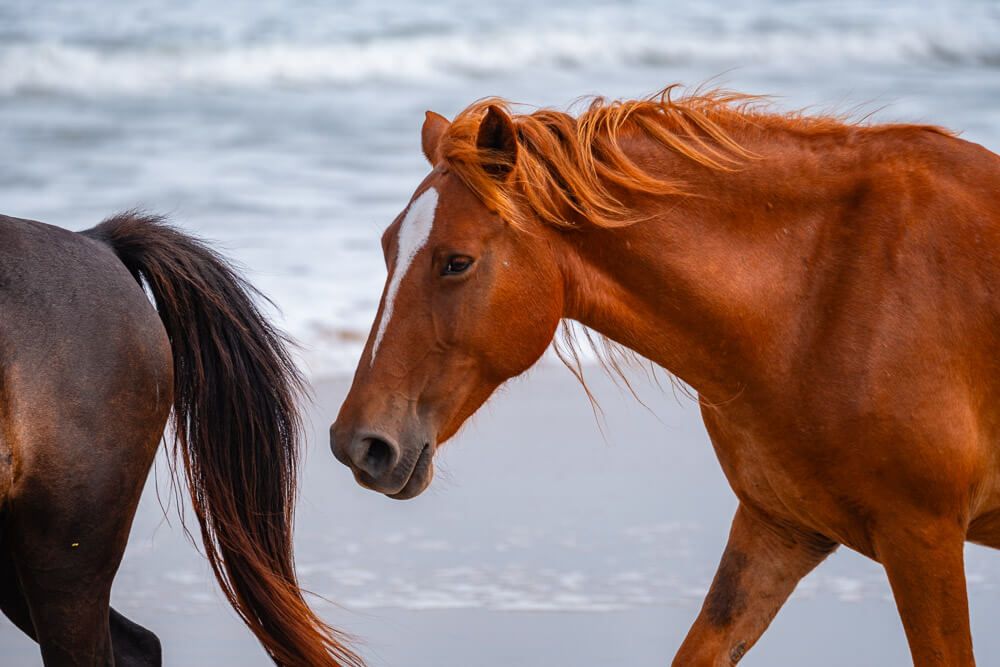 Wild Horse Tour
So you don't have a 4WD vehicle but you want to see the horses. Don't worry! There are lots of tours that will take you north to search for the horses.
I've listed some below. And like every time I've gone in search of the horses (on my own), I've found at least a couple. So there's a good chance you'll find some horses.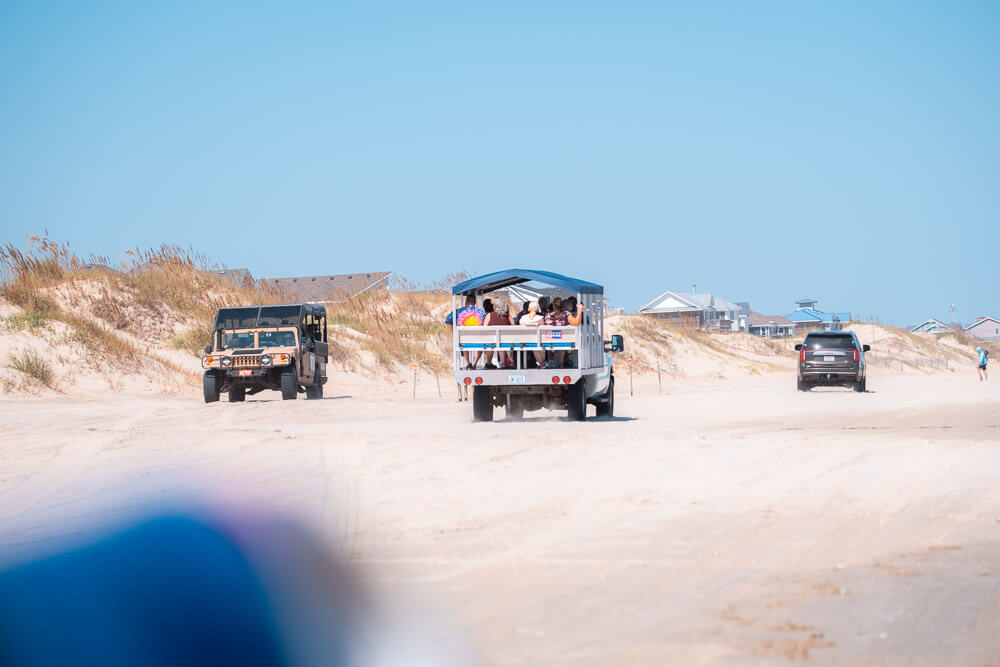 Currituck Lighthouse
So you came up to Corolla to see the wild horses. Why not extend your stay and climb to the top of the Currituck Lighthouse. It's not cheap ($12), but you'll have an amazing view.
Spoiler though…it's 220 steps. 220 steps on a spiraling metal staircase along the inside of the lighthouse. If you are afraid of heights, I would avoid.
I'm a bit afraid of heights and I struggled climbing up (and also coming down from the top for the first couple of stories).
Once I got to the top, the height didn't scare me as much. But climbing those stairs did. So just keep that mind.
You can find the lighthouse as part of the Historic Corolla Park. You'll pay (and sign a waiver) right in front of the lighthouse.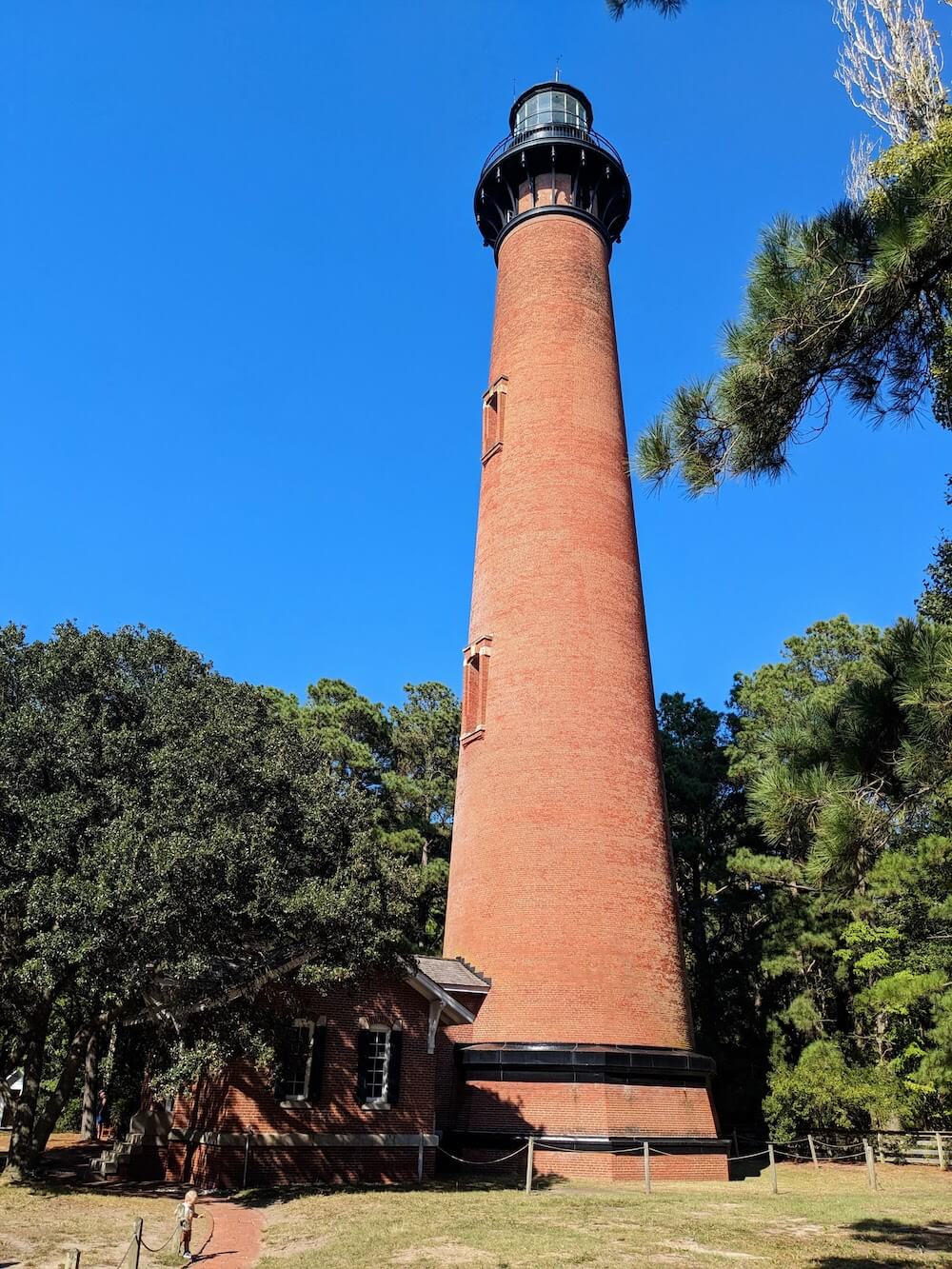 Other Things To Do
Here are some other fun things to do that I saw:
Outer Banks Vineyard Voyage. Book a tour that leaves Duck and ferries you across the Sound to Sanctuary Vineyards.
Fishing Charters. If you want to go fishing (you'll need a license) or crabbing, there are several outfitters you can book with.
Biking. The Duck Trail runs right next to NC 12 through Duck. For stretches north and south of the center of town, the sidewalk is wide enough for walking & biking. Through town though there is a bike lane. It's mostly level and a wonderful way to exercise (or to just get to and from town if you aren't in walking distance).
Massage. I did this my first trip to Duck. Me and some friends went to Aqua Spa for a massage. They also offer facials and mani/pedis.
Yoga. Head to Village Yoga for some classes. And I think some are even offered outside.
---
Where to Eat & Drink in Duck
Here are the places we ate at that had dog friendly seating (outdoors).
Breakfast & Coffee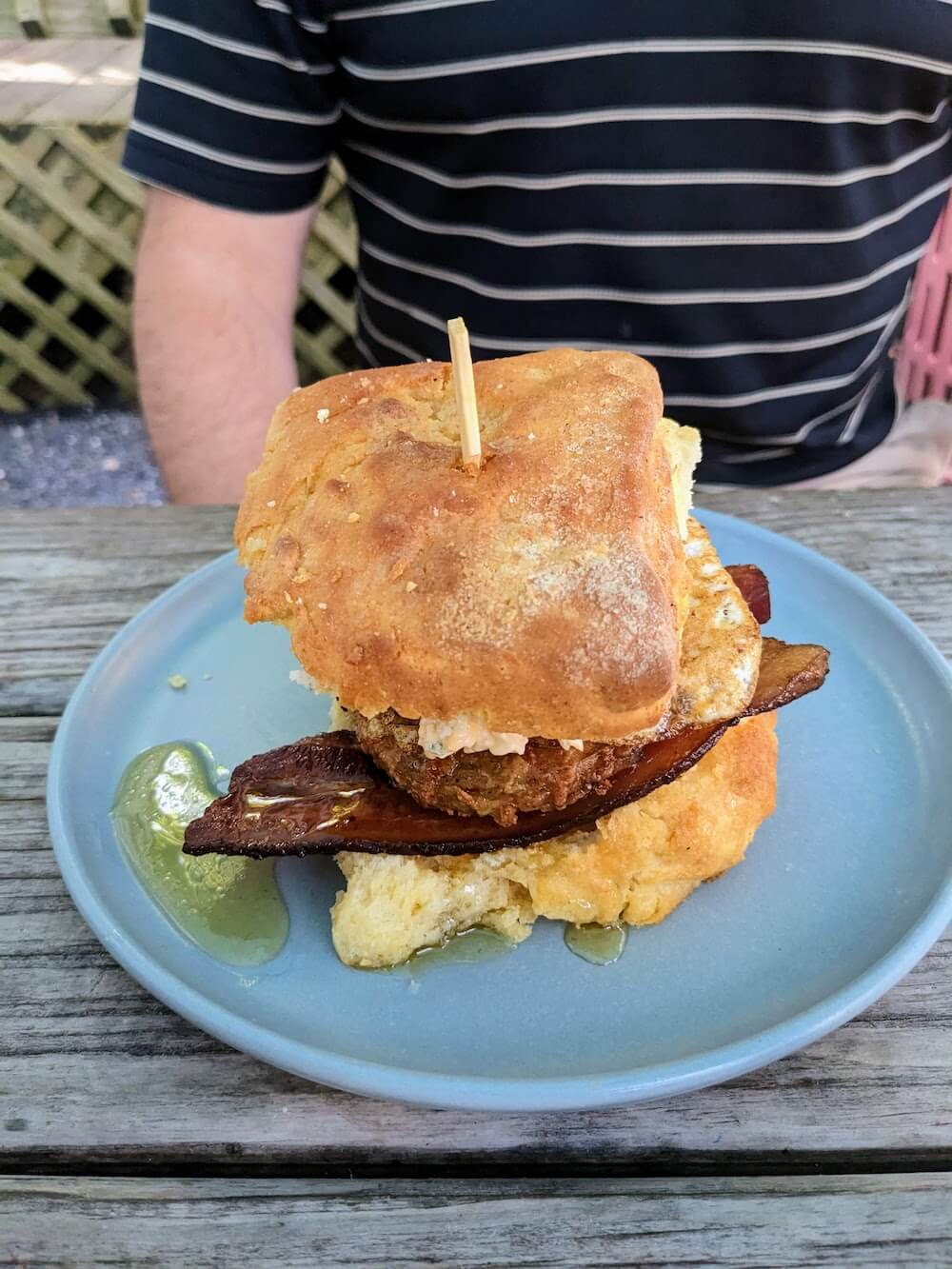 Lunch & Dinner
Some other dog friendly restaurants that we didn't get to try:
Red Sky Cafe
Roadside Bar & Grill
Duck Duck Burgers
Aqua Restaurant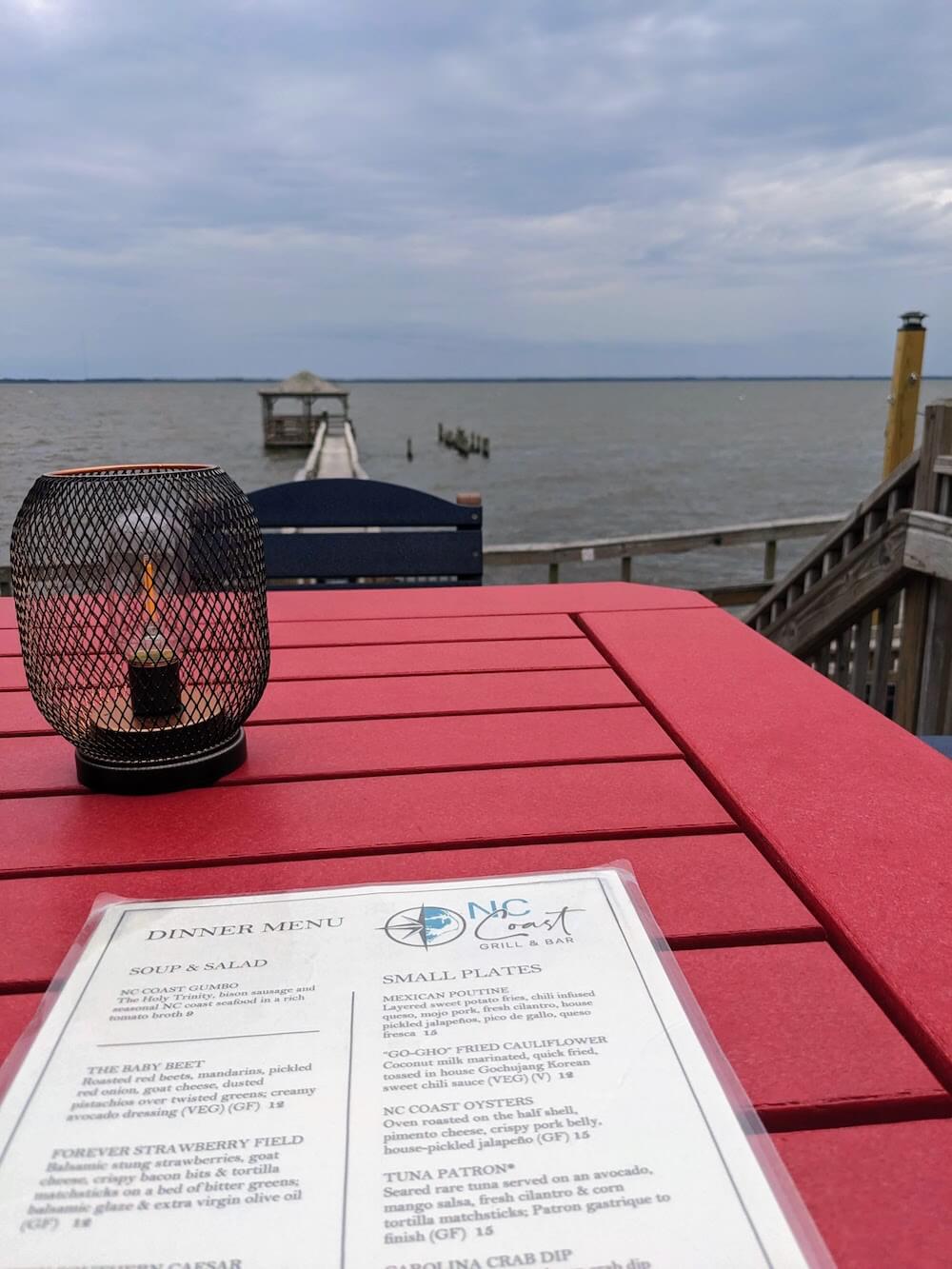 Drinks
Tap Shack: tight next Coastal Cravings and the gas station; outdoor bar and lots of outdoor seating; live music as well; parking is limited
Northern Outer Banks Brewery: small brewery tucked into a strip mall up in Corolla; outdoor seating
We used to go to The Beer Garden up in Corolla but in 2023 we discovered that they were no longer dog friendly.
If you are in Duck on a Wednesday, stop by the Tap Shack from 4pm-5pm for Yappy Hour (hosted by Outer Barks). They had dog treats, doggy daiquiris, and paw painting. All for a small donation to a local shelter. It was one of the best things we did all week.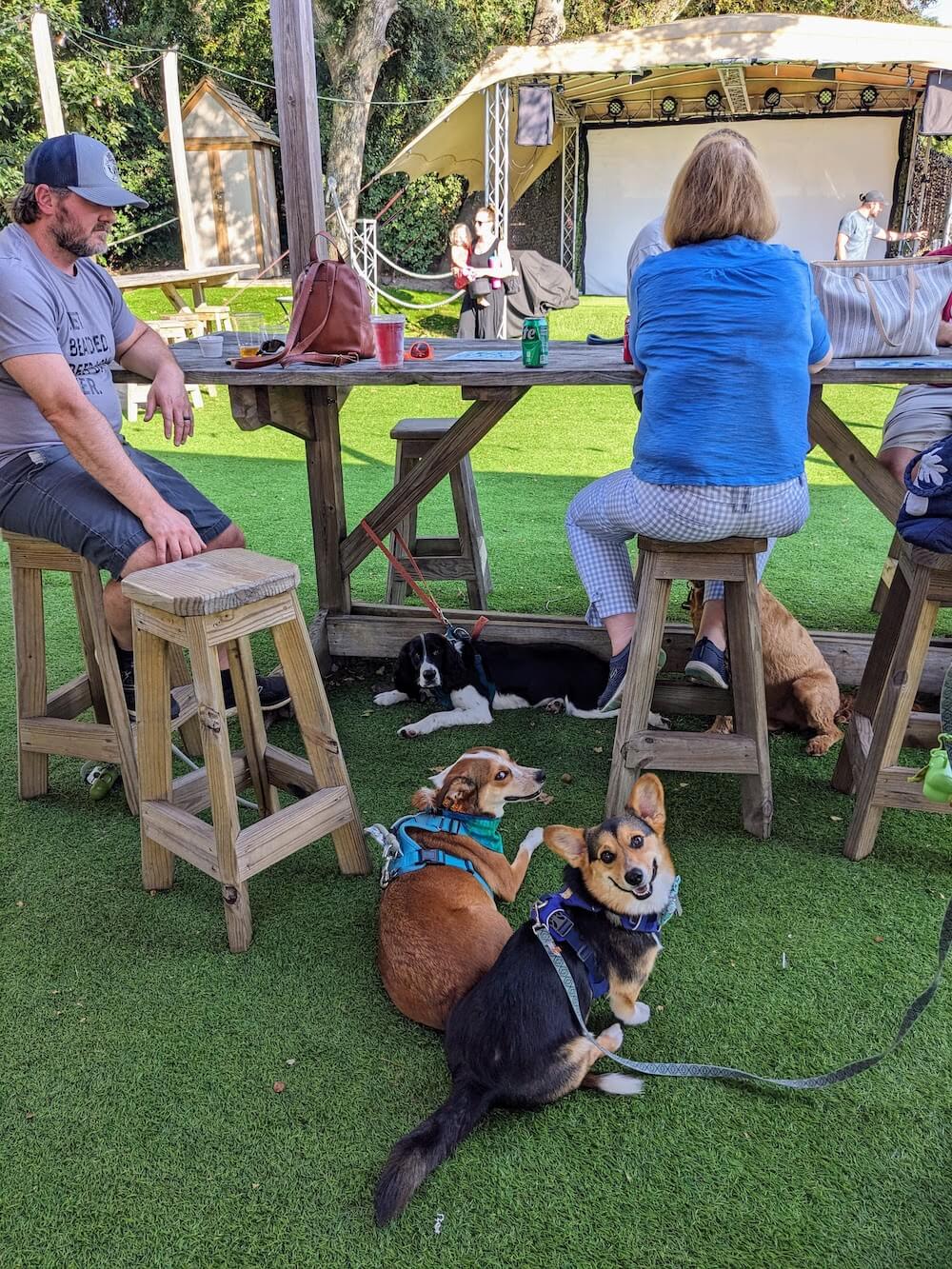 Ice Cream
Donutz On A Stick: I decided to put this in the ice cream section since this felt more like a dessert than a breakfast place; think ice cream meets donut; we got the donut ice cream sandwich
Holy Cow Creamery: we didn't get to try this place but it's right by Duck Deli and serves homemade ice cream which I always prefer
Big Buck's Ice Cream: we also didn't get to try this place since we were there more in the morning/lunch hours (and it's mostly open in the afternoon) but it also has homemade ice cream
---
Places to Stay in Duck
Your options for staying in Duck are limited. There are no real hotels or B&Bs around. There are probably Airbnbs you can use for shorter stays, but I tend to avoid Airbnb now for so many reasons.
There is one resort – The Sanderling Resort – but it's several miles north of Duck (and not walkable into the town). Plus it's hella expensive. And their pet policy is also hella expensive. So it's not my jam.
Which leaves us with…
Traditional House Rentals
As in a rental house company with lots of houses in the area. I find Airbnb and VRBO to be MUCH more expensive than the original companies. So I don't use them when visiting the Outer Banks.
Most of the rental companies have a way to filter by pet friendly or dog friendly options. I've included links to the dog friendly rentals if I can. Here are the companies I use: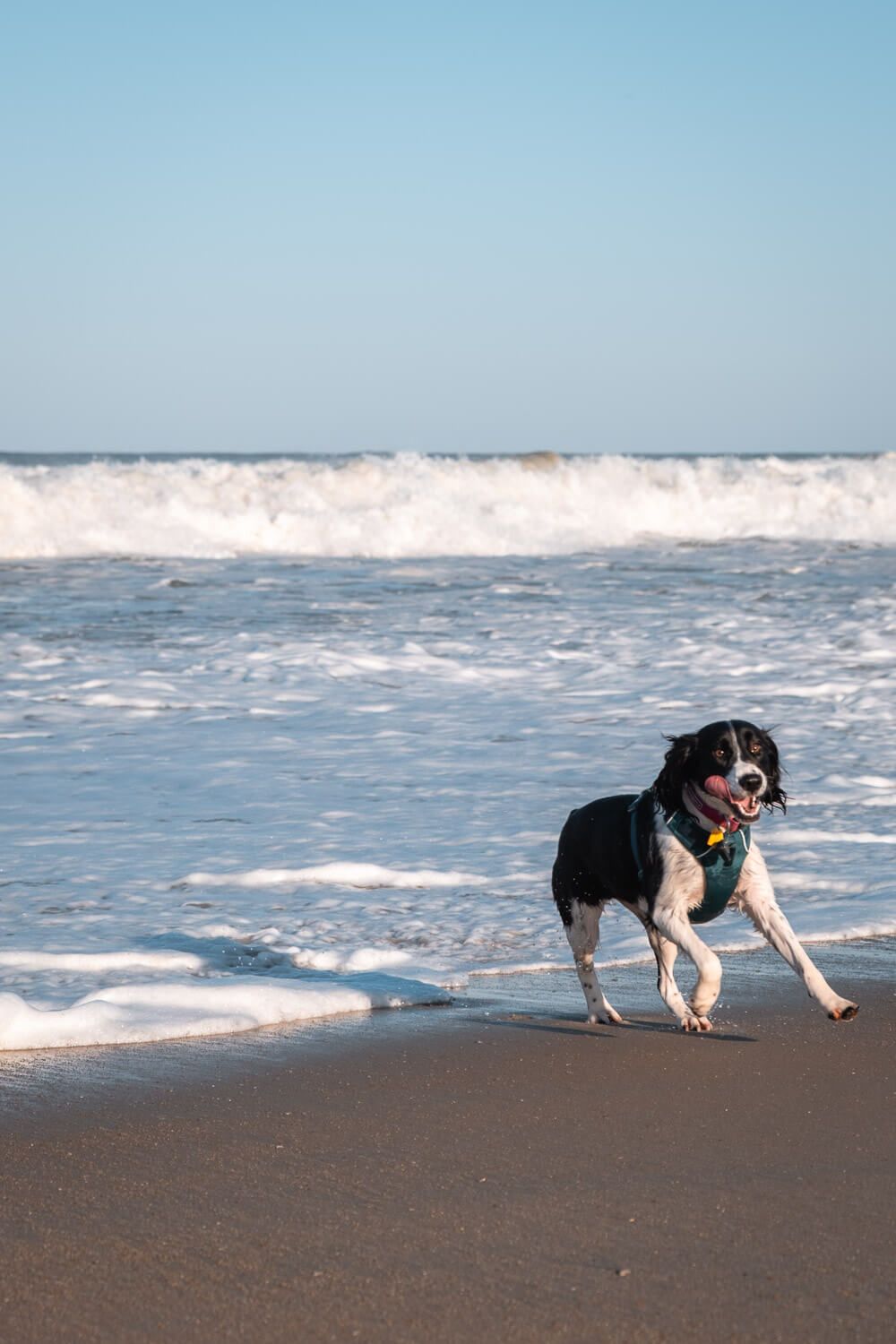 Hopefully this helps you plan your trip to Duck, Outer Banks!