If you love to go out to eat with your dog as much as I do with mine, then you're in luck. I am always on the look out for the best dog friendly restaurants in Greenville. I hardly ever leave the house without Ellie in tow (yes I'm that dog mom), and that includes going to breakfast, lunch, or dinner.
I've lived in Greenville for many years, so I definitely have my favorites and I know the best spots. Below I've rounded up the best dog friendly restaurants in Greenville. I've organized them (as best as I can) by general neighborhood (and then alphabetically).
This list is always growing as I discover new places, restaurants add new outdoor seating options, or new dining spots open up.
Each listing will be brief (as this is a lot), but I'll provide the following:
Name & link
Location on Google Maps
dog friendly seating description
overall description
What's not included in this list? I haven't included places I don't like. I'm not a picky eater, but if I think an establishment's food is subpar or the service really sucks, then don't expect to find it here.
Also, I haven't included any place that brings in food trucks. I love food trucks, and Greenville has a ton, but this list is just for restaurants. If you are looking for food trucks, check out my favorite places for craft beer in Greenville or our amazing breweries as I specify which ones often bring in food trucks.
---
Dog Friendly Restaurants
Downtown
One Plaza
Several tables out front facing the plaza
Basil has some amazing Thai food that feels upscale. I do like their outdoor seating as it feels tucked away and not out in the middle of the plaza.
One Plaza
a few tables on the side of the building facing the square
Pretty good tex-mex and drinks right in the One Plaza downtown. The seating is outdoors and uncovered so keep the weather in mind if you plan on eating here. It can also get quite busy if it is nice out.
Near the corner of Washington and Main
just a few tables right on the sidewalk. They used to have a proper patio, but since enclosing it, I'm not sure if it's dog friendly.
Very similar to The Orient & Sushi Murasaki next door. Very crowded section of the sidewalk and there will be tons of people squeezing past you. Only bring your dog if you can keep it under the table.
Near the corner of Court and Main
large but crowded patio tucked into the entrance of the restaurant & a few small tables on the sidewalk
During popular times, this place can get crowded, and the tables are packed together. Definitely go for the patio though as the sidewalk out front is in a main thoroughfare for foot traffic.
Near the corner of Court and Main
on the sidewalk & along the side of the building – lots of uncovered seating.
Perhaps my favorite dog friendly restaurant downtown – with plenty of options for food from burgers to steak. It can get quite busy, so call to make a reservation on weekend nights. Has great people watching.
Falls Park
few tables outside under umbrellas
Right at the entrance to Falls Park, Passerelle has great views that look towards the Falls. There is a lot of foliage in the way so keep that in mind, but I love the natural feel. And it's tucked away a bit so you're not in people's way.
One Plaza
several tables right out front with umbrellas offering shade. Heaters for the winter.
Like Basil, I like how Reid's outdoor seating feels kind of separate from the plaza. I have yet to try their food but it's on my list for the next time I'm downtown with Ellie.
One Plaza
good sized covered patio with lots of seating right on the square. Enclosed by plastic and heated during the winter
This is a great spot for some more upscale food, plus their dog friendly seating is stellar when the weather isn't perfect. Keeps you dry and warm.
Near the corner of Court and Main
beautiful, large patio next to the restaurant and off the sidewalk. Completely enclosed in the winter by a large tent.
A staple of Greenville, Soby's is a great dog friendly restaurant. If going during peak times, try to see if you can make a reservation for the patio.
Near the corner of Washington and Main
just a couple of tables right on the sidewalk
These two restaurants are connected and their outdoor seating is kind of merged together. It's very crowded here though and you will have TONS of people squeezing past down the sidewalk. Though I like the food, I'd only come if you can keep your dog under the table.
One Plaza
small patio with a couple of tables on the side of the building
Even though Tupelo is a chain, I love it for its Southern staples. This is where I take out-of-town Northern guests to try all that delicious southern food.
---
West End
Next to Falls Park
small covered patio
Wine, a small but delicious menu, and a beautiful covered patio that's not on the sidewalk? This is one of my favorite places to go with Ellie downtown. But it can get very busy.
–

Augusta St. near Fluor Field
big open space with lots of tables (there is no indoor seating here)
This outdoor, shipping container food hall is extremely popular. They have tons of food options. BUT they are ONLY DOG FRIENDLY TUES-FRI. No dogs allowed on the weekends. Also their parking sucks. Expect to drive around for a long time looking for a spot or to pay to park.
Markley Station
mostly covered patio with several tables
This is a place for foodies and wine lovers. They have great seasonal menus and great food. It is a bit pricey so I would err on the side of looking nicer. And there aren't a ton of dogs here, so make sure yours is well behaved.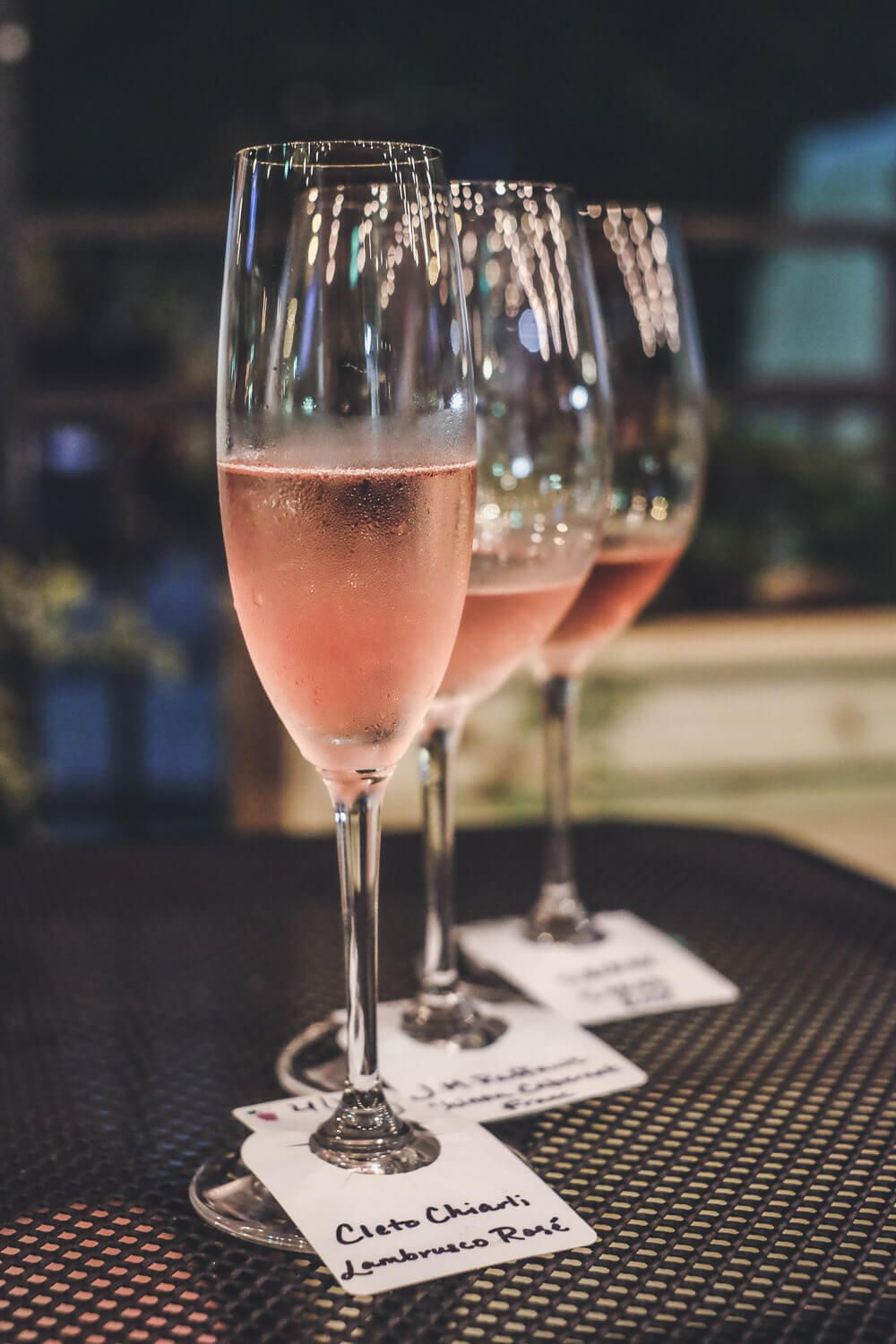 ---
North Main
Westone
8 or so tables (and some bar seating) under their extended roof right in front of the restaurant. Heating lamps for the winter.
This barbecue joint is a part of the Westone Development and is right next door to Liability Brewing. In addition to Moe's specific seating, you can also sit at Liability's seating or around the fire pit as well. Oh and I love the wings and mac & cheese.
Westone
just a few tables along a sidewalk and on a small patio (uncovered).
There isn't a lot of outdoor seating here (and it's very slim) so probably best for smaller groups. But the pizza, especially the deep dish, is fantastic. My favorite thing to do is get it to go and take it to Liability Brewing next door.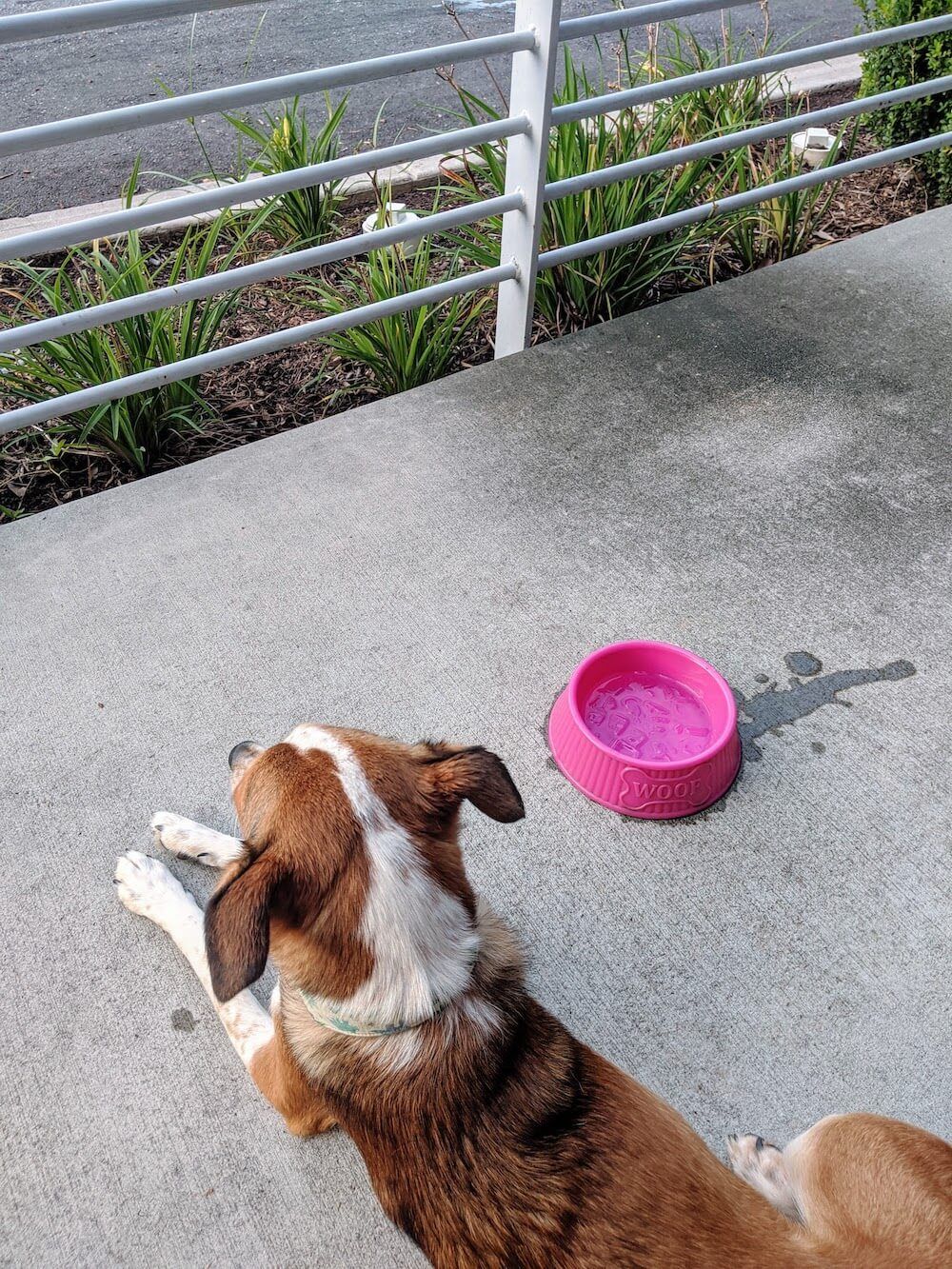 ---
Wade Hampton Boulevard
Pine Knoll Dr.
patio on the side of the building with several picnic tables (with umbrellas)
One of my go-to spots when I just want some good, authentic Mexican food. The barria tacos are a must if you've never eaten here before.
Near Brookside Cir.
just a couple of tables right out front, only good for small groups. You are also kind of right in the parking lot as well.
I love Asada. Their standard menu of just burritos, tacos, etc. are some of the best in town, but I love their speciality menu.
Near Chick Springs Rd.
screened in porch on the front of the building with several large tables and even TVs. Heaters for the winter.
This is my go-to spot when I want to go watch a game (football, hockey, etc.) and eat just some good ole bar food. The porch even has glass on the windows – that can be opened & closed – making it a great winter spot.
Near Church St.
few tables right outside and then a larger greenspace with several picnic tables
Great barbecue right near downtown and very affordable. They close early (at 8pm) most days with Sundays closing at 3pm.
---
Swamp Rabbit Trail (NW Corridor)
Next to the Commons
small outdoor beer garden with picnic tables and umbrellas. Looking to add more seating as sometimes it's full.
Their food menu isn't huge (snacks, salads, and pizzas), but great beer plus some amazing people watching along the Swamp Rabbit Trail. Plus once Unity Park is finished, this will be the place.
Near Unity Park
huge uncovered, outdoor beer garden with lots of picnic tables. Just a few seats under their covered patio.
The menu may be small, but it's so so good. The beer is fantastic as well, and there's usually plenty of people here – but yet I'm always able to find a seat. Live music frequently.
Near Pete Hollis Blvd.
large outdoor space with several picnic tables. They no longer have any real proper covered seating.
They have amazing pastries, coffee, sandwiches, and stuff inside (that they'll bring out) or great pizzas outside. I miss their pre-Covid setup, and I'm hoping they'll bring back their covered seating for when it gets warmer.
Automatic Taco | Bake Room | Golden, Brown, & Delicious | Methodical
Near Unity Park
large outdoor space outside the food hall, includes both covered and uncovered options. Most of the picnic tables do have an umbrella.
The Commons is one of my favorite dog friendly places as it allows my group to pick and choose what they want to eat. Someone will need to go inside to order.
White Duck Taco | Keipi | Bourbon St. Station
Hampton Ave. off of the SRT
Each restaurant has a small porch attached, but there's also a large beer garden and outdoor space for all of Hampton Station.
Best tacos in town next to some of the best Georgian food and at the end you can find upscale American dishes. Hampton Station is very popular for a reason.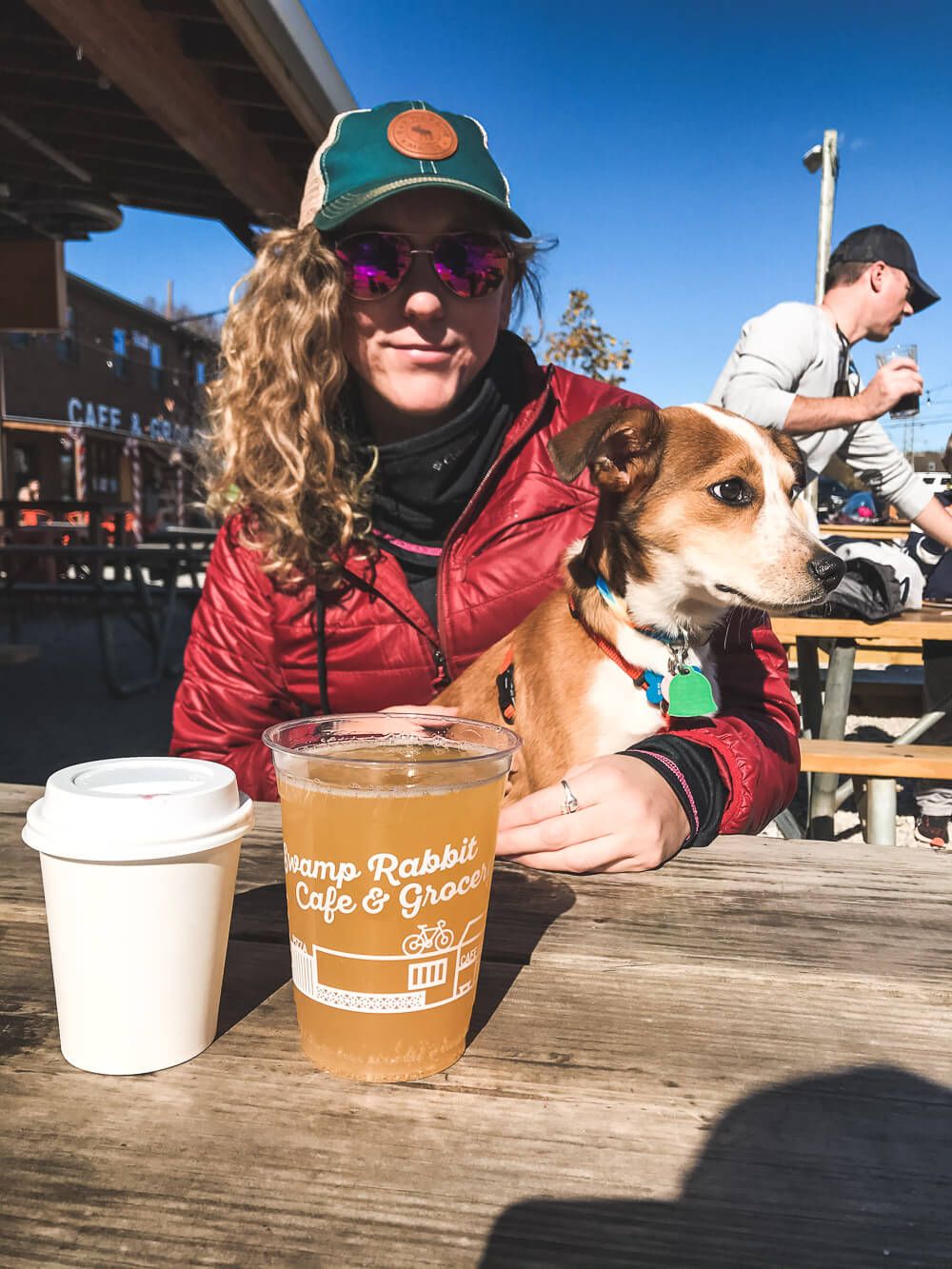 ---
Laurens Road
Holland Park
large, covered, screened-in porch
Home Team has some really good barbecue and their porch is fantastic. Gets you out of the sun (and the bugs). You may have to wait for a table still, but you can always place a to-go order online and eat over at Double Stamp Brewery next door.
–

Near corner of Washington and Laurens
large, covered, outdoor patio on the side of the building. Heating lamps for the winter (but can be quite chilly/windy if especially cold).
One of my all-time favorite dog friendly restaurants in town. I loved the original location in Asheville, and was so happy when this opened. Their hot chicken is fantastic and the patio is BIG. I've never not been able to find a table. Let someone go inside to order while you head to the patio (separate entrance).
Near corner of Washington and Laurens
huge, wrap-around covered porch and an extended, uncovered deck out back. Some of the porch has plastic on the windows and heating lamps for the winter.
This is another place that usually always has seating or a relatively short wait (depending on the time of day). It's one of my favorite winter go-to spots as the ones on the porch are actually quite warm. I love the chimichanga.