Are you headed to Greenville, SC? You know, one of the best small cities in America? Well then you're in luck! Welcome to my home. I know you'll have a great time, but I want to help you make the most of it. So I've put together a list of the best things to do in Greenville, SC.
These are the things that I always do when I have out of town guests visiting. I want to show them the best the city has to offer. And maybe even try to convince a few of them to move here. Because Greenville really is one of the best cities in the country. Great food? Check. Breweries, bars, & plenty of nightlife options? Check. The outdoors at your fingertips? Double check.
So let me help you make the most of your trip! (And really, these are all things I do on the regular anyhow so…)
---
Visit Falls Park
Welcome to the heart of downtown Greenville. This is the number one thing I tell all visitors to do. Plus if I'm walking downtown, I always go for a stroll through Falls Park.
I mean, hello, how many other cities can say they have a waterfall in the middle of their downtown?
Falls Park is gorgeous on its own, but there are two main attractions here. The first is of course the Reedy River Falls. I've been in love with this 30+ ft waterfall ever since I moved to the area in 2012. It's gorgeous no matter the season.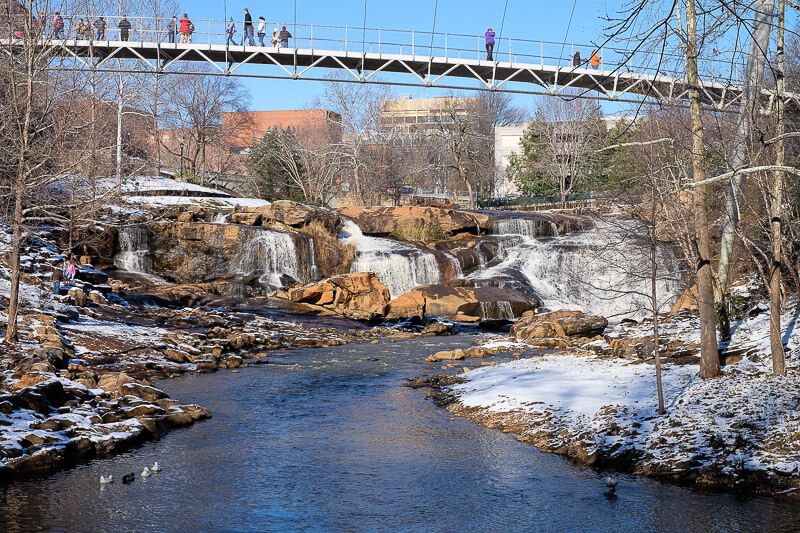 The second attraction has to be the Liberty Bridge. This would be the 345ft long suspension bridge that dangles above the falls giving you one hell of a view.
If you enter Falls Park via the steps at the intersection of S. Main Street and Falls Park Drive, your first real view of the falls will be straight down the steps and out onto the bridge.
But don't stop there. Head on down the stairs on the west side of the falls to get a closer look.
Best Things to Do in Greenville in Summer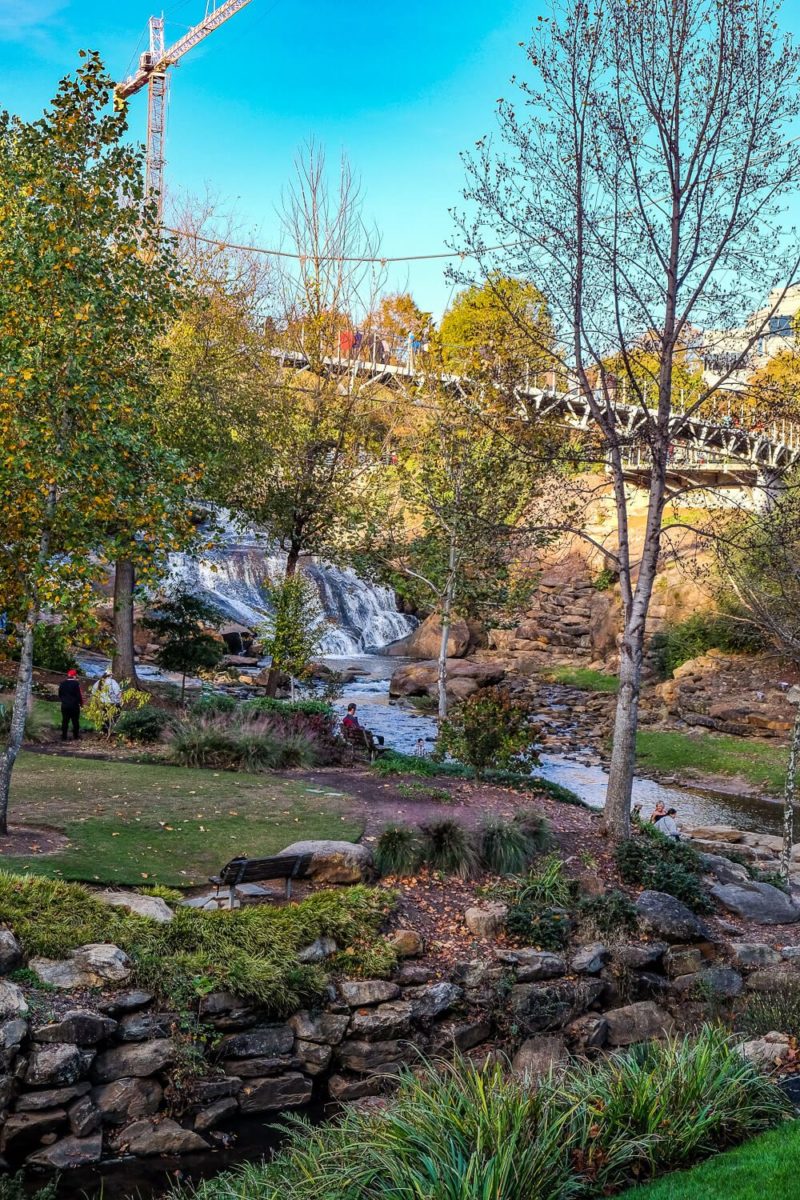 Bike the Swamp Rabbit Trail
Ok there are a few things Greenville is like known for. And the Swamp Rabbit Trail has got to be one of them.
The Swamp Rabbit Trail is a 20+ mile long paved trail (think like rails to trails) that runs from Greenville up to Traveler's Rest. But there are tons of extensions and connections (like one down in Lake Conestee Nature Preserve).
If you're visiting Greenville, it's super easy to hop on the trail as it literally goes right through Falls Park. And you don't necessarily have to bike it (though plenty of people do). You can also walk it, run it, skate it, etc. You just can't take any motorized vehicles on it (like scooters, mopeds, etc.).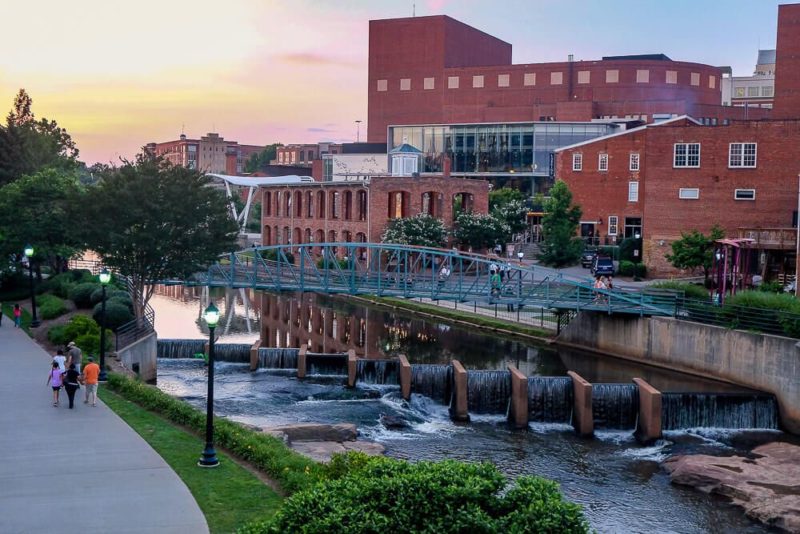 A super popular day trip is to bike from Greenville up to Traveler's Rest. This is not an easy feat (as it's over 9 miles each way). Though you can start a little bit outside of downtown. I usually start a mile or so outside of town and head north.
If you are biking, I definitely suggest going to Traveler's Rest (instead of starting there and going to Greenville). Simply because it's uphill to Traveler's Rest. I'd rather do the hard part first while my legs are fresh, and then have an easy downhill ride after I've filled up on food and drinks.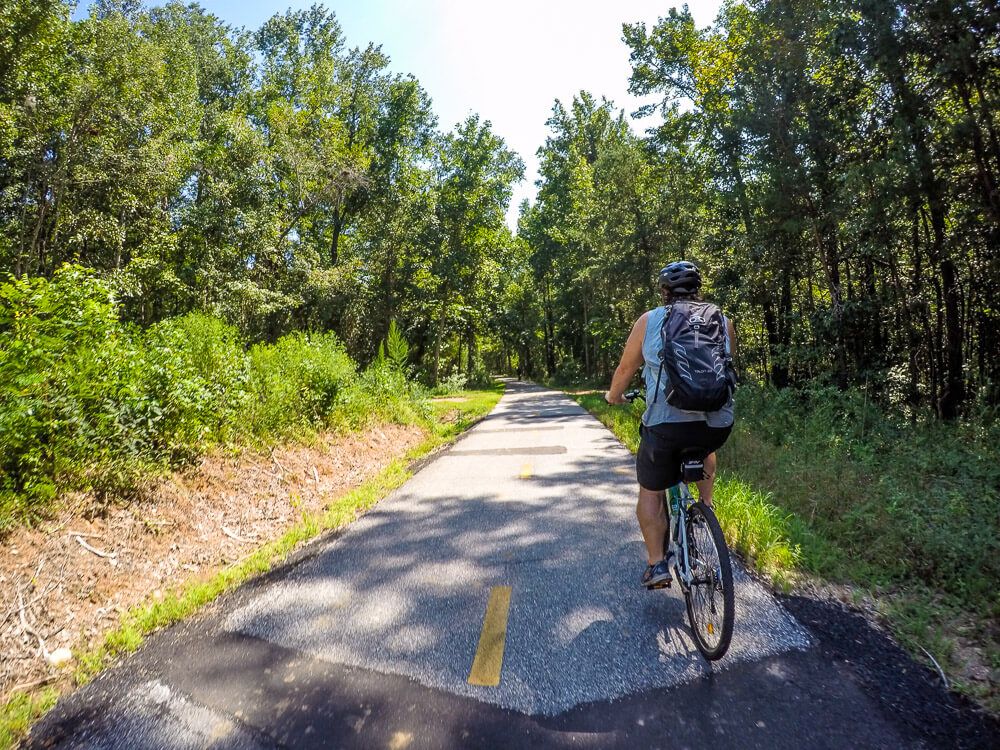 Because it's not just about the exercise (though that's nice too), the Swamp Rabbit Trail is all about the stops.
Some of my favorite highlights.
There are several places to rent a bike: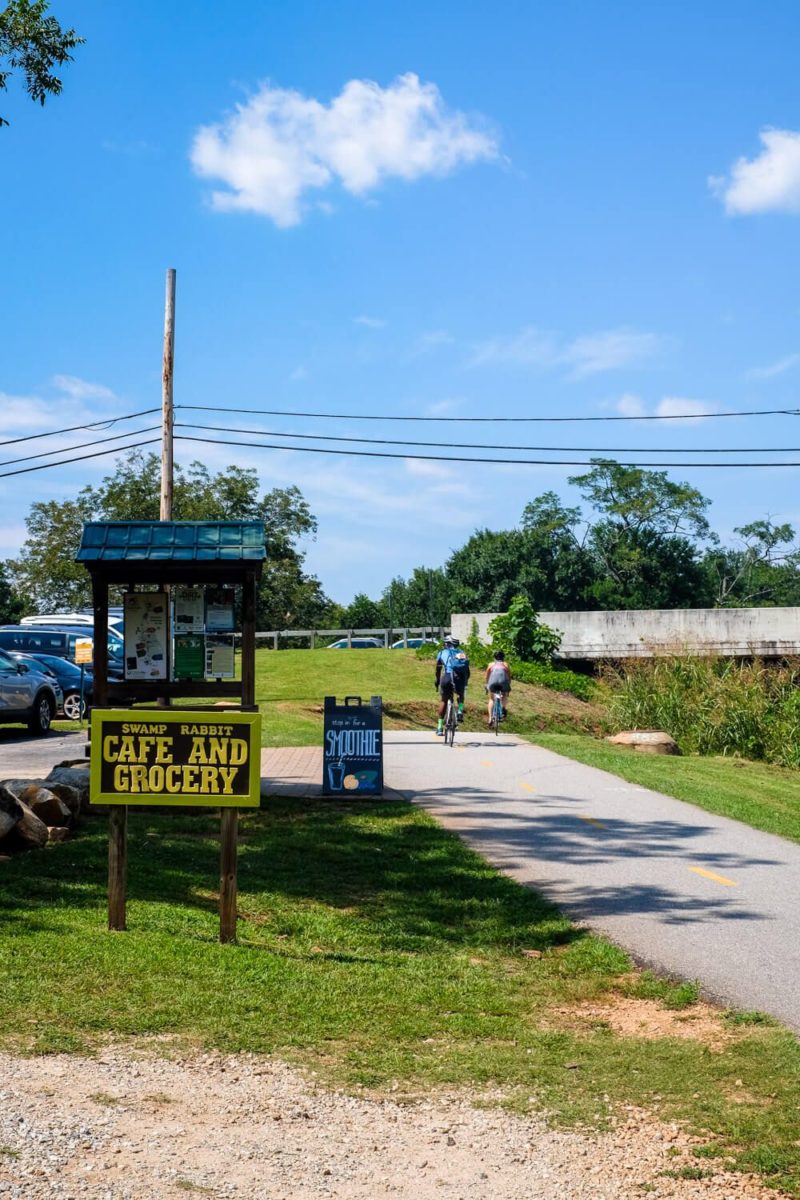 Experience our Brewery Scene
If the list of stops along the Swamp Rabbit Trail above didn't clue you in, then let me tell you about Greenville's brewery scene.
Long story short, it has exploded! When I first moved to the city, there were only a couple of breweries in town. And I had to drive up to Asheville to really do some brewery hopping. But not anymore!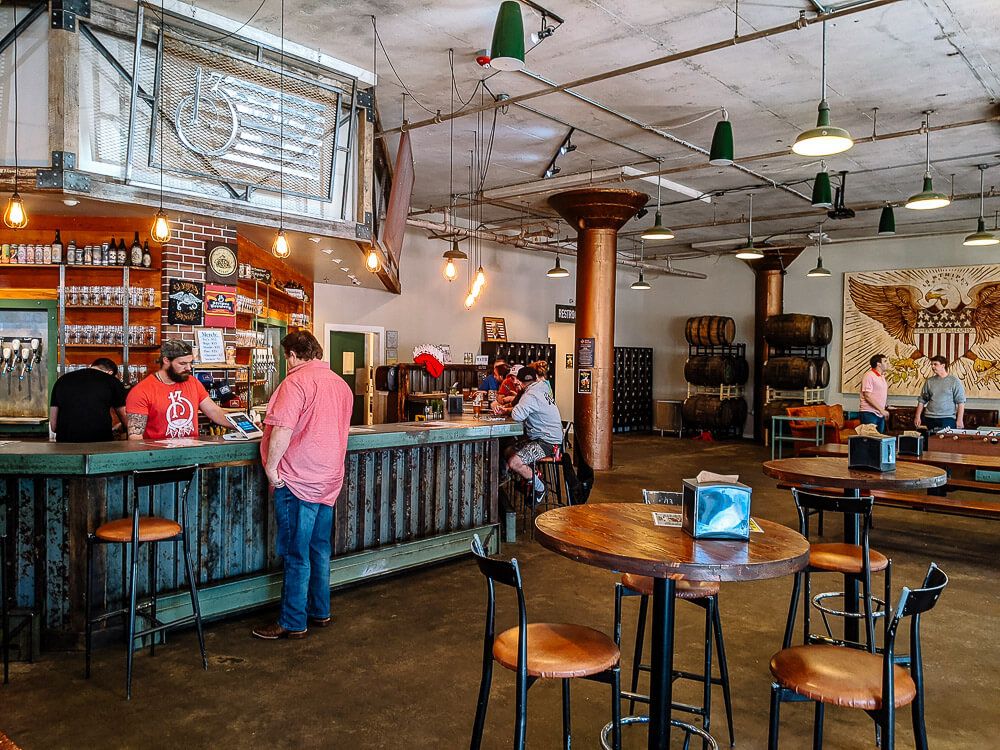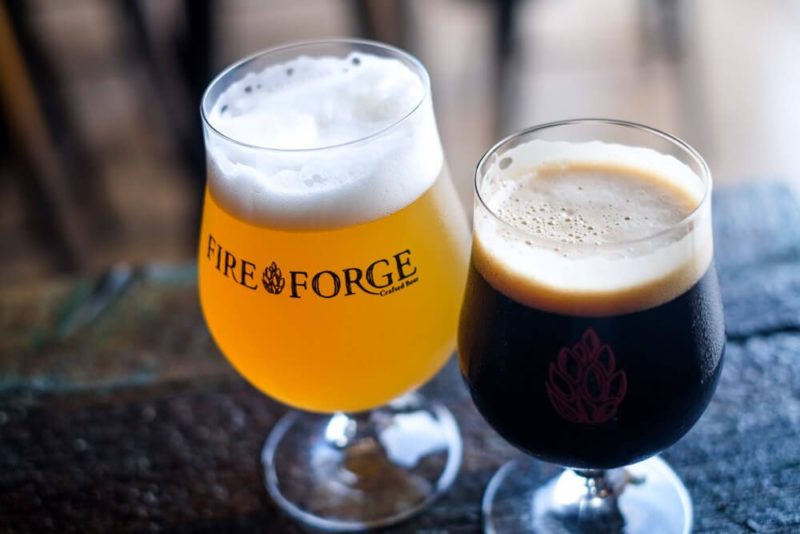 Greenville has some amazing breweries. With several specializing in different kinds of beer so that you can really find a brewery that clicks with you.
Plus so many have amazing outdoor spaces so if you have your 4 legged friend with you (like I almost always do), then they'll have a great time too.
I have a list of the best breweries in town, but below are some of my favorites: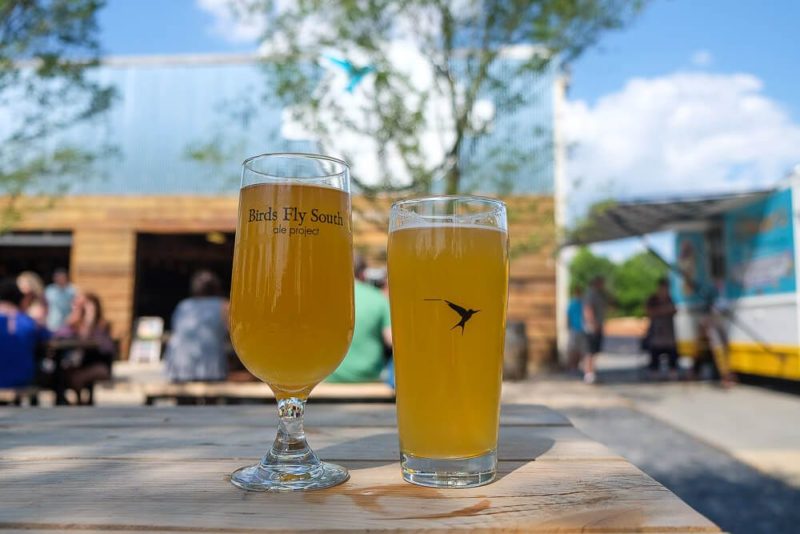 Enjoy the View at a Rooftop Bar
One of the best ways to really see the beauty of Greenville is to see it from above. And while we don't have a mountain or cliffside overlooking the city, we do have the next best thing. Lots of rooftop bars.
You have a couple of different vibes to go for when it comes to your rooftop vibes, but most of them do lean towards the nicer ends of things. I tend to hit up these spots for happy hour or a post-dinner drink.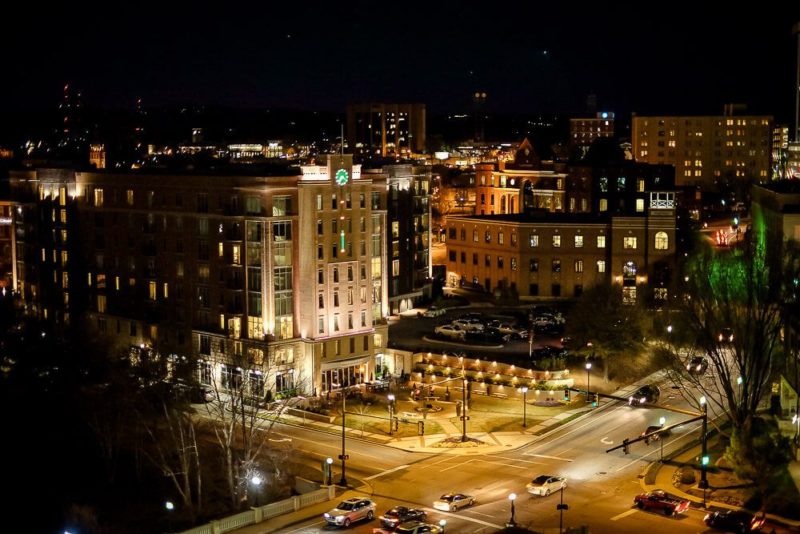 Juniper is the latest rooftop bar / restaurant sensation. You'll definitely need a reservation, and you may need to make it a couple of weeks out. The view over main street is fantastic, but know you may not get a table near it. You can still go out to the terrace though to take it all in.
Ink & Ivy is definitely my go-to rooftop bar. With 4 different floors, the place is pretty massive. The first and second floor are your more restaurant/bar spaces. The third floor is the nightclub. But the fourth floor is their rooftop bar.
Sip is like our original rooftop bar. It was here when I arrived in town. It's got cocktails, wine, and plenty of liquor. And it's in a prime position overlooking the One City Plaza.
WXYZ Bar at the Aloft hotel in the One City Plaza is pretty small, so you may not be able to find a seat out on their patio. (Because it's more of a balcony than a rooftop.) But I'm including it here for one main reason. It's freaking dog friendly (as is the Aloft hotel).
Up on the Roof definitely has the best view in town. Plus their rooftop bar is pretty massive compared to the others on this list with two separate areas. It does get pretty crowded up there, so keep that in mind.
Explore the Outdoors
Greenville is right on the cusp of the Blue Ridge Mountains, so you know we got the outdoors covered. Within just a couple of hours of downtown, you can be in the mountains hiking, biking, boating, climbing, or paddling your little heart out.
And even after years of living here, I'm still only scratching the surface of what this wonderful area has to offer.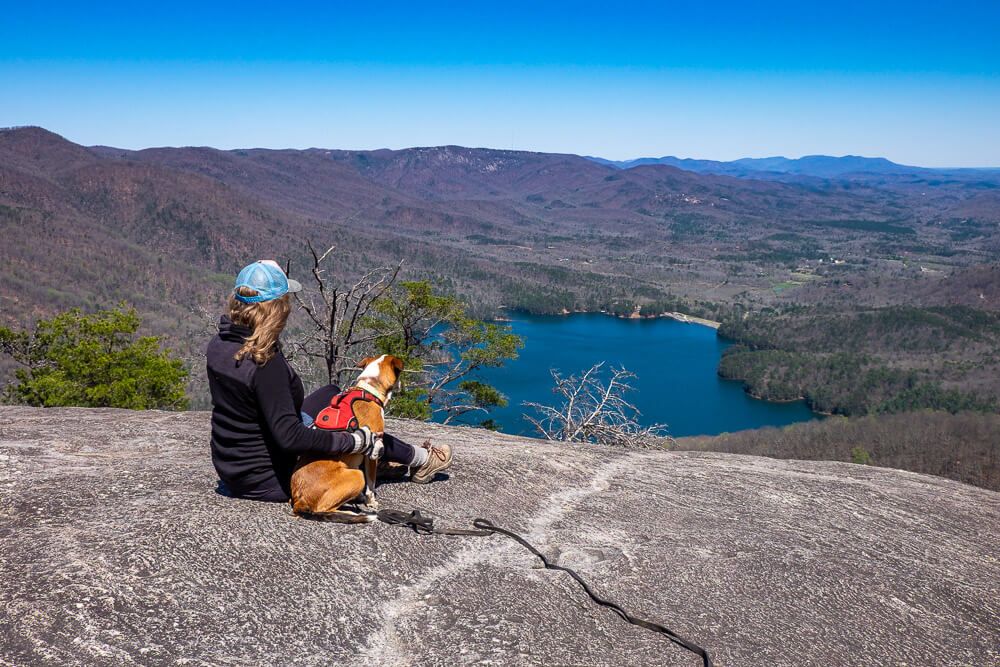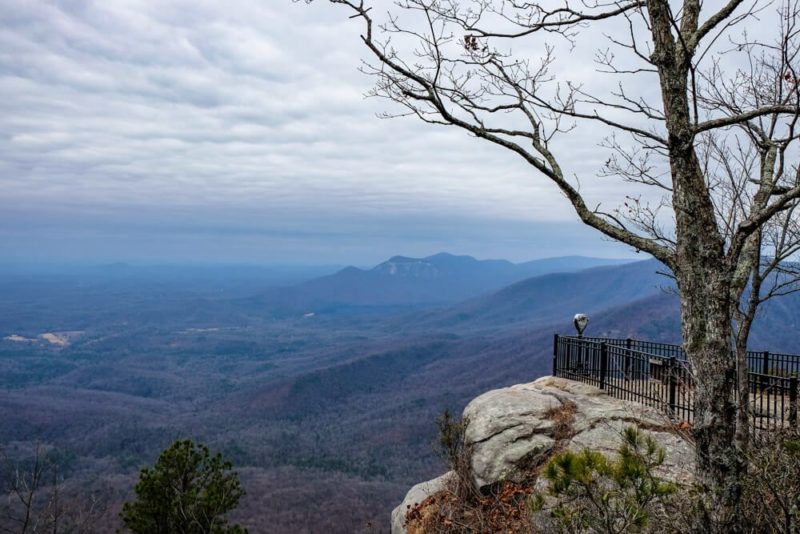 Looking for an easy afternoon stroll? Check out Paris Mountain State Park, Lake Conestee Nature Preserve, or Cedar Falls Park. (Or think about walking along the Swamp Rabbit Trail!)
Want to get your hike on? The Table Rock Trail is one of the most popular and hardest trails in the area. Rainbow Falls at Jones Gap State Park is absolutely gorgeous. And I also love to explore the waterfalls in Dupont State Forest.
Want to some amazing views without a ton of hiking? Check out the viewpoint at Caesar's Head State Park, drive to the overlook at Bald Rock, or visit the Upper Whitewater Falls.
Want to spend the day (or even night) at one of the most beautiful lakes in the country? Lake Jocassee is outstanding. It's perfect for swimming, fishing, SUPing, kayaking, & boating (you can rent boats todo!). Plus there are tons of waterfalls along its shores and a boat-in only campground.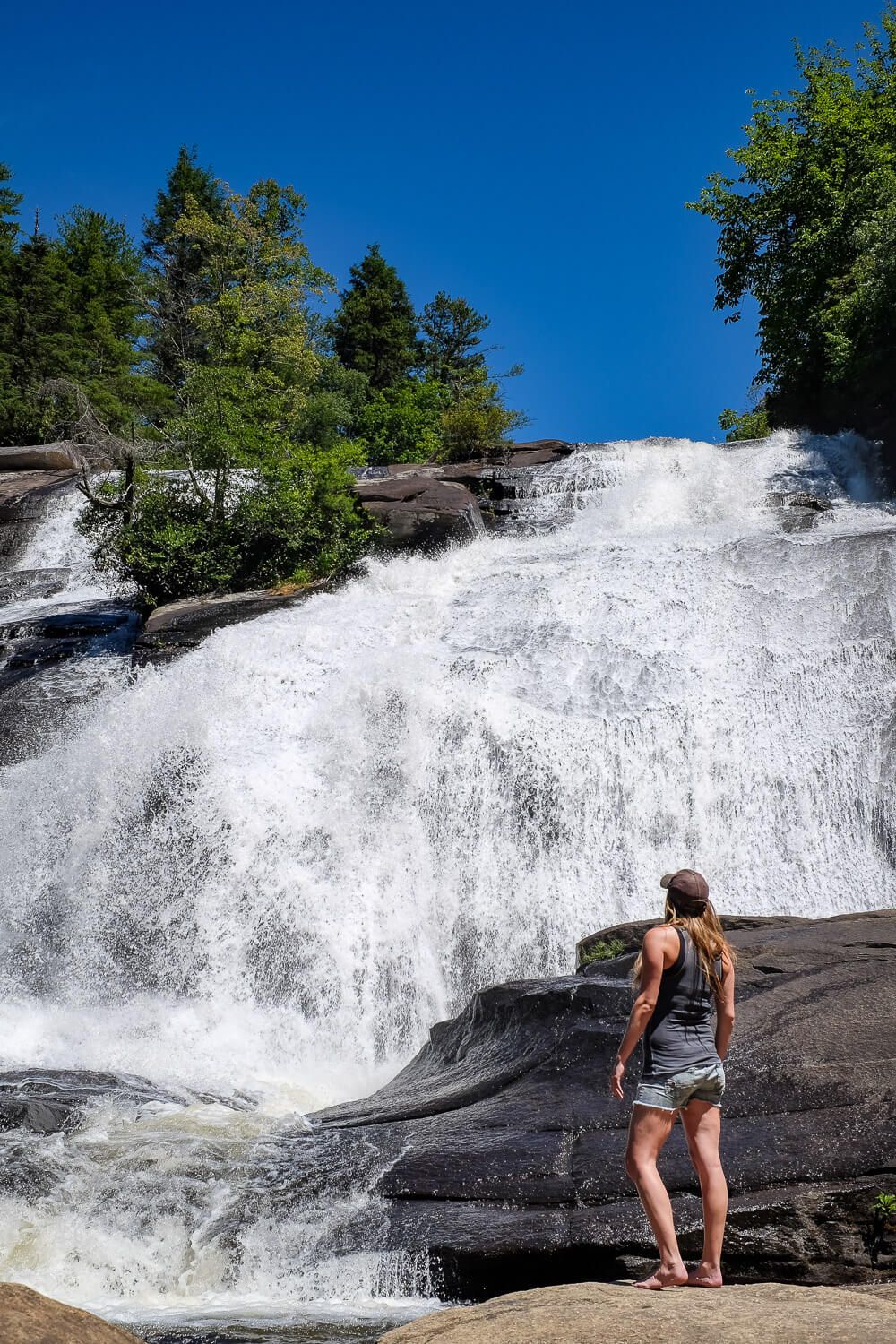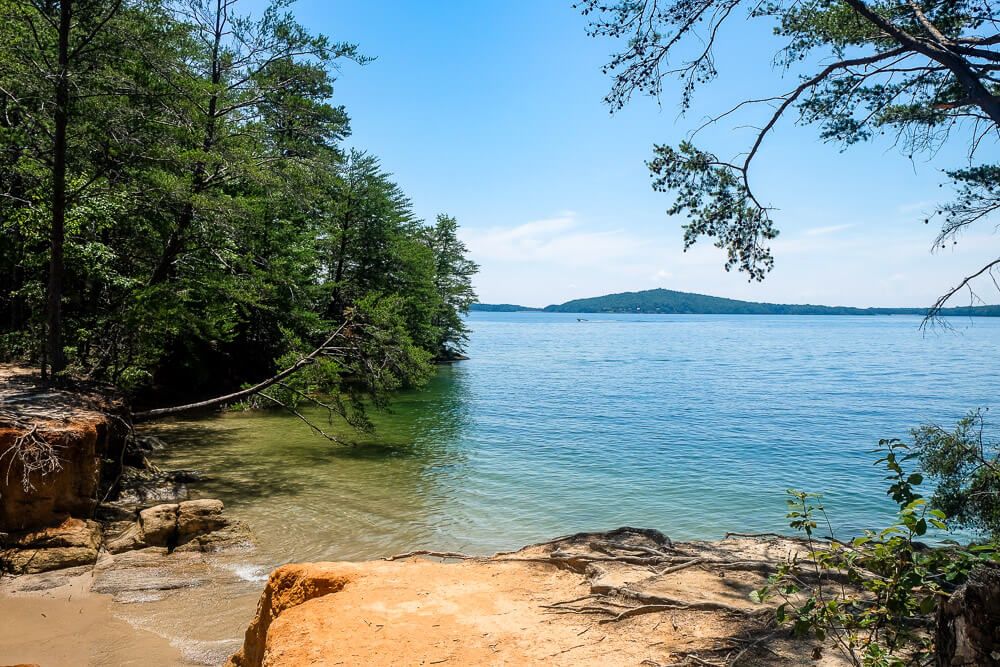 I hope you have a great time visiting Greenville!