With more than 10 breweries already in Greenville, SC (and more on the way), Greenville is developing an amazing craft beer scene. No matter what you're into (IPAs, sours, ales, etc.), you'll be able to find a beer, or maybe an entire brewery, that caters to it. And if you're not sure where to jump in, this guide will help you discover some of the best breweries in Greenville, South Carolina.
Now our breweries are smaller here, but I love that. I often see the same people, or even the owners, manning the bar and answering questions. Greenville has become passionate about their beer, and my taste buds are more than thankful for that.
Some of our microbreweries are even dog friendly. And I love being able to bring my four-legged friend with me. But I've noticed that the dog friendliness correlates directly to whether or not the brewery prepares food. I've included this information below, but if you're ever not sure whether or not you can bring Fido along, see if the brewery itself serves food. If they do, it's probably a no-go.
Symbols: opens brewery in Google Maps | food availability | dog friendly status | quick overview
---
10 Best Breweries in Greenville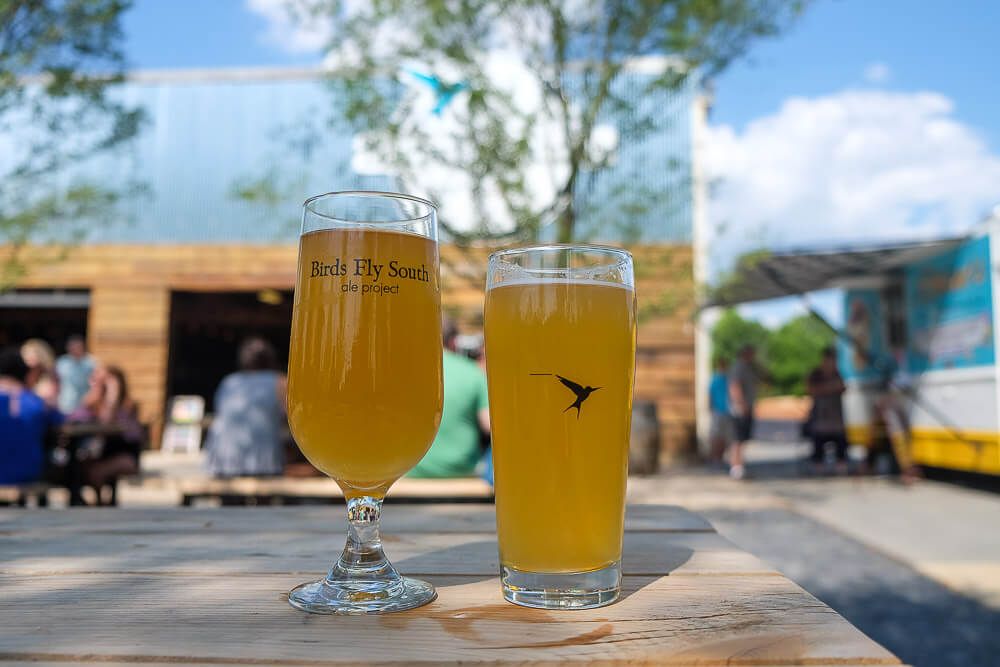 Birds Fly South is one of my favorite breweries. As a lover of all things sour, I can always find a beer here to love. But there's so much more to them than just sours. Birds Fly south prides themselves on their old school approach and creating beers that are not only different, but delicious as well.
While they may focus on a lot of farmhouse styles and saisons, you can also find all kinds of beer here (including lagers, IPAs, stouts, and more).
And the brewery itself is also a destination! The indoor space is expansive with both a front and back bar serving up different brews. But the patio and lawn are the standouts. As long as the weather's nice, everyone can be found kicking back with their friends, families, and dogs in the beer garden.
And if you're biking the Swamp Rabbit Trail, Birds Fly South is just a small detour from the trail if you need some fuel.
---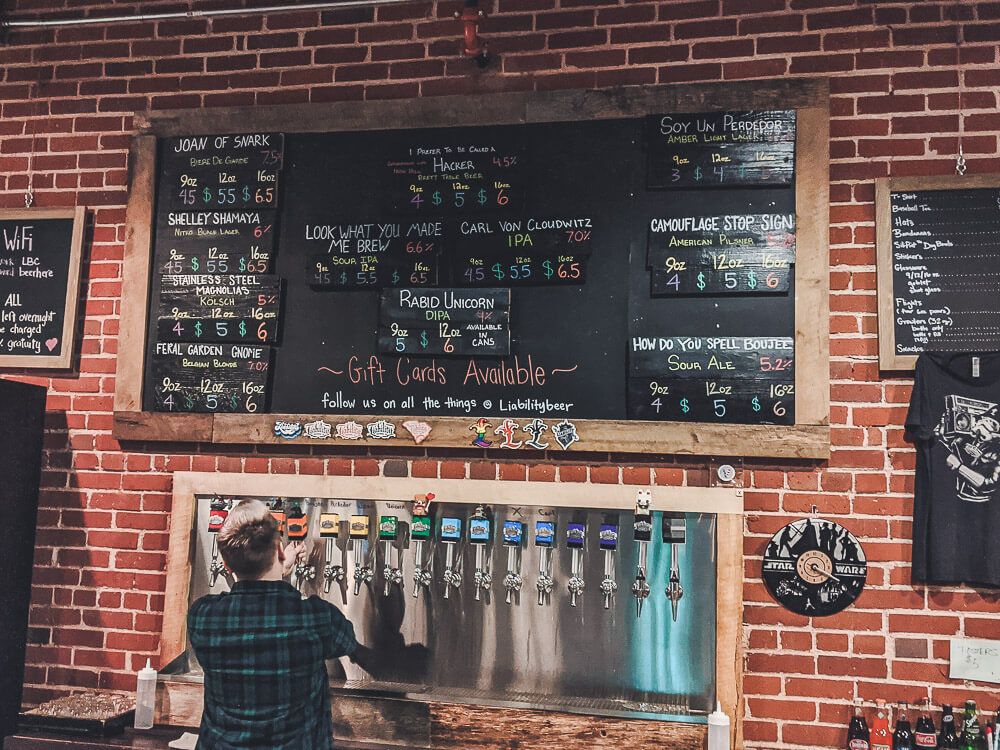 Liability has quickly become one of my go-to breweries. Located on West Stone Avenue, just a mile or so north of downtown, it's perfect.
In terms of their beer. Well they have a wide selection of about a dozen or so beers on tap – everything from sours to pilsners to IPAs. So I can always find something to drink. And their beers are very good. The people I know who are a bit more snobby about their beer than me love Liability. They just make great beer.
The space itself is pretty sweet too. It very much has that working brewery vibe. And the staff are amazing – ready to answer questions and chat with you. When I bring Ellie (my dog), she always gets lots of pets and love from the staff. (Plus they stock dog biscuits and toys!)
---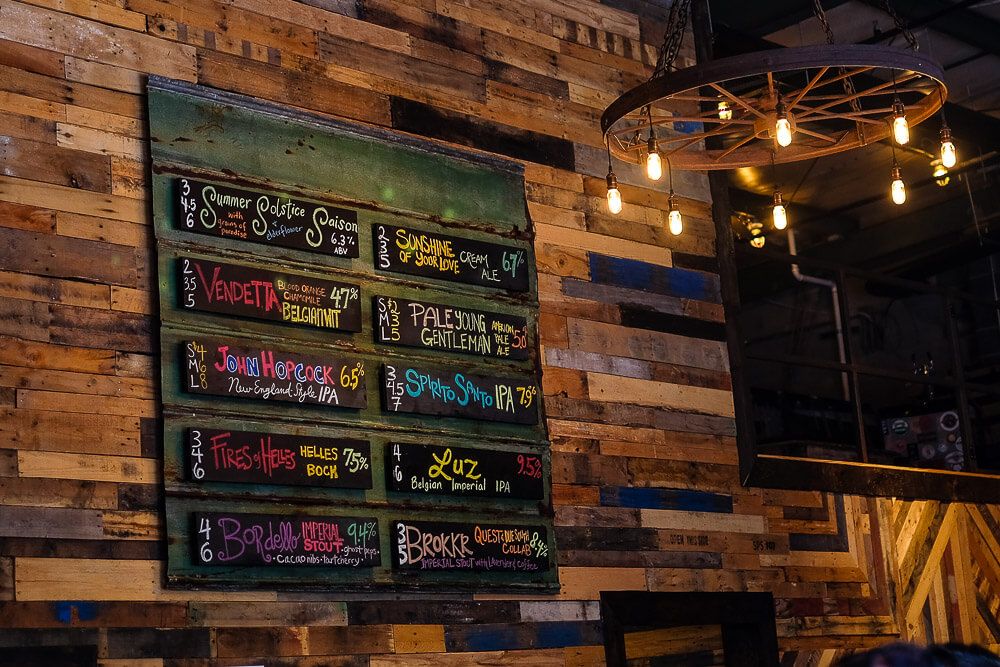 I've started this list with my favorites, and my top three would not be complete without Fireforge. To put it quickly, Fireforge is an excellent small-batch brewery located in downtown Greenville. And not only do I always get to drink great beer here, but I also feel like I get to try something new.
The owners here are passionate about their beer and it definitely shows. I like to think of Fireforge as having some classics with a twist, as well as some truly great seasonal beers. (Ever tried a beer with ghost pepper in it?)
Their tasting room is decked out in that renovated-warehouse look complete with vintage furniture, natural wood tables, and a sleek metal bar. They've also got a big outdoor beer garden area with picnic tables with more seating. (Unfortunately this outdoor area is the only place where dogs are allowed – my one big gripe with Fireforge.)
---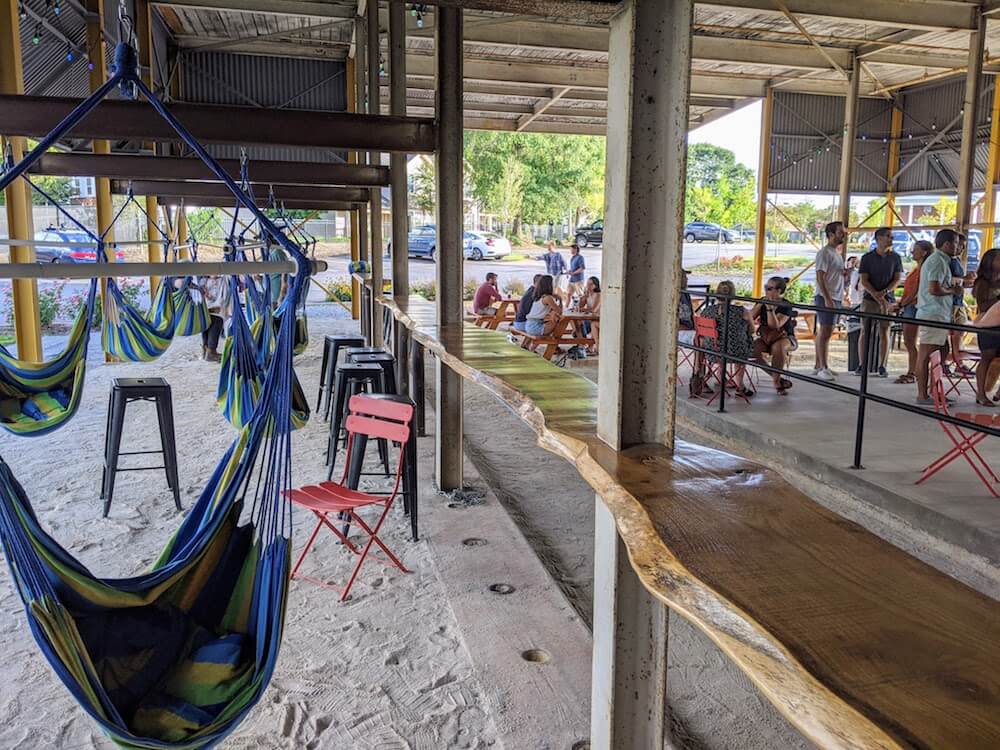 I used to travel to Anderson to drink at Carolina Bauernhaus, so I was thrilled to learn they were soon opening a new location in Greenville, SC. Now with locations in both downtown Anderson and the West Village of Greenville, it's much easier to get your sour beer fix.
The new location at Poe West in the West Village is beautiful. With an amazing, covered outdoor space, it's easy to kick back and stay awhile. I especially loved the hanging hammock chairs as well as the large bocce court and dog friendly status.
Yep, that's right, they are dog friendly inside or out, which is great news when the weather gets cooler. And if you need some food, they have a few nibbles on site. They may also have a vendor in (like a food truck or the Mac Attack when we went the first time) to increase the food offerings.
---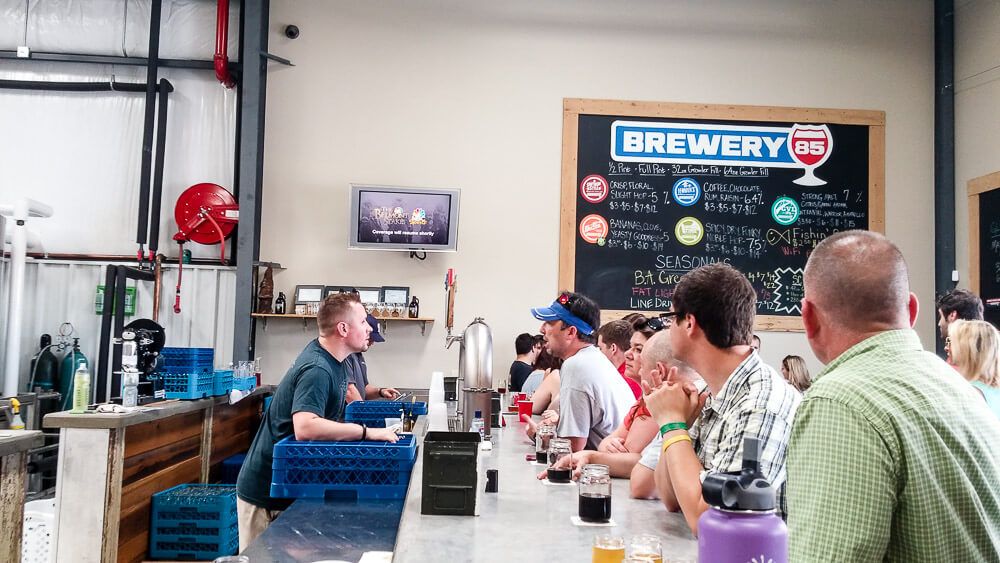 Brewery 85 is one of the larger scale operations in town, but they're are still firmly a microbrewery. But you can also find some of their more popular beers in the grocery stores around town.
But I love coming to the real brewery. First the beers here lean more towards the classics, but in a good way. And some with a bit of Southern twist. They are all easy to drink and delicious.
The space itself is huge, this is a real warehouse and working brewery. The main bar in the front is small, but if you head towards the back, there's a large space that's open with extra seating. Plus a huge outside porch area when the weather's nice.
They've also got some pretty sweet events. I love the Toasty Farmer (an indoor Farmer's Market during the winter). So if you're looking to get your Farmers Market on (meats, cheeses, produce, baked goods, crafts and more), then head to Brewery 85 on Saturday from December 7 through March.
---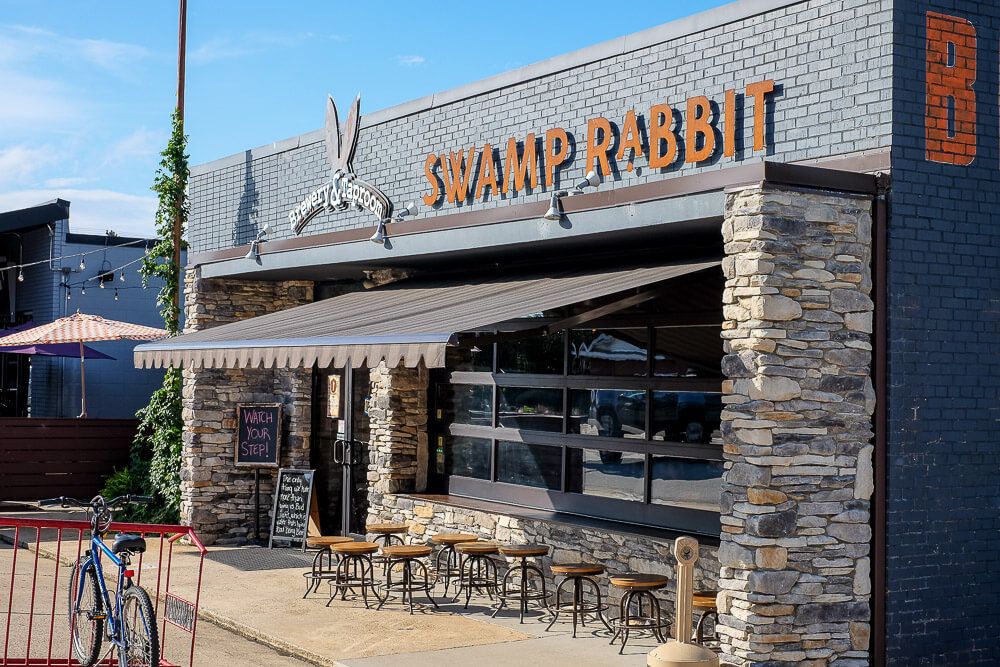 Do you know what's one of the best feelings in the world? Biking up the Swamp Rabbit Trail to Travelers Rest and then ordering a Raspberry White Ale at the Swamp Rabbit Brewery. The moment it hits my taste buds is pure bliss. It's maybe even the reason I decided to bike all the way to Travelers Rest. It's that refreshing.
The taproom at the Swamp Rabbit Brewery is on the smaller side compared to some of the breweries on this list. But when the weather's nice, the back patio is an option and they roll up the front garage door for some extra seating.
The beers here are pretty classic. They usually have about 10 or so on tap at a time with a few staples that I love (like that raspberry white) offered year round.
---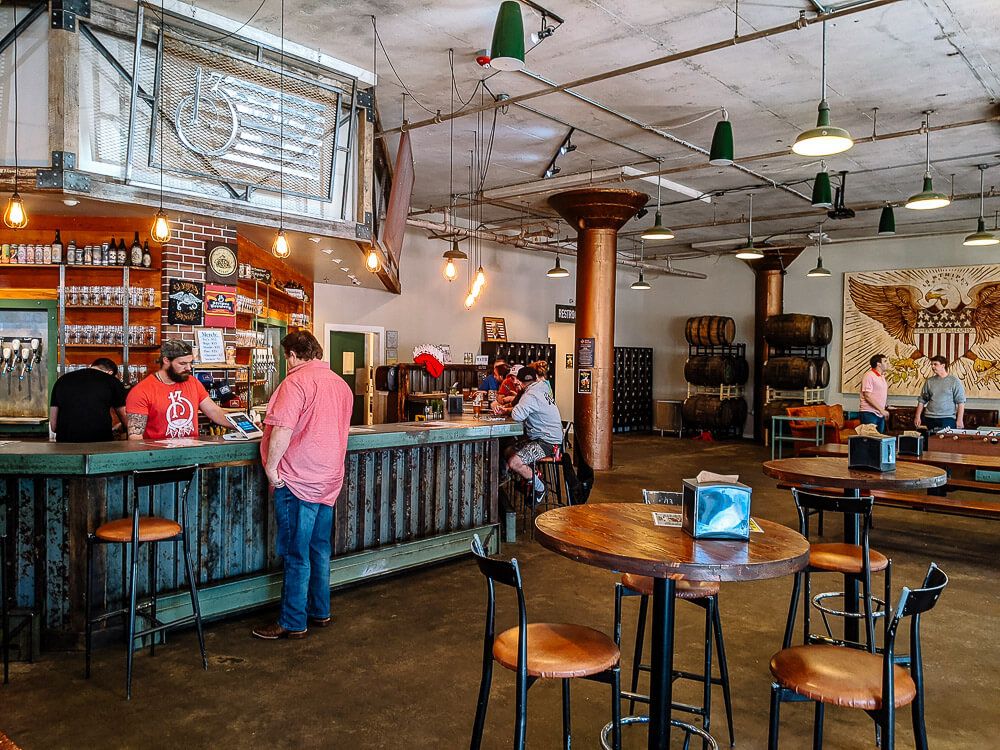 Taylor's Mill is becoming a hot spot in Greenville. Located just 20 minutes from downtown Greenville up Wade Hampton Boulevard, it's an easy trip from the city. And the mill is gorgeous (if you're into that whole renovated-warehouse look, which I am).
And 13 Stripes has become, in my mind at least, the centerpiece of the new Taylor's mill. The taproom inside is enormous with a huge bar that makes it super easy to find a space to flag down a bartender to order a beer. (In other places, there's either one place to order or you have to do it over the heads of those seated on the stools…awkward.)
They then have a nice sized porch with half dozen or so picnic tables where you can stay awhile (if the weather's nice). Plus music on the weekends (check their calendar) and really, really good tex-mex via their in-house restaurant, Tacos & Mas. Just order at the bar.
Is there a downside? Well, their dog policy sucks (and actually it's Taylor's Mill's dog policy). And it states no dogs on the property at all, which includes the brewery's outdoor porch. I still go to 13 Stripes, but this policy means I'm not a regular.
---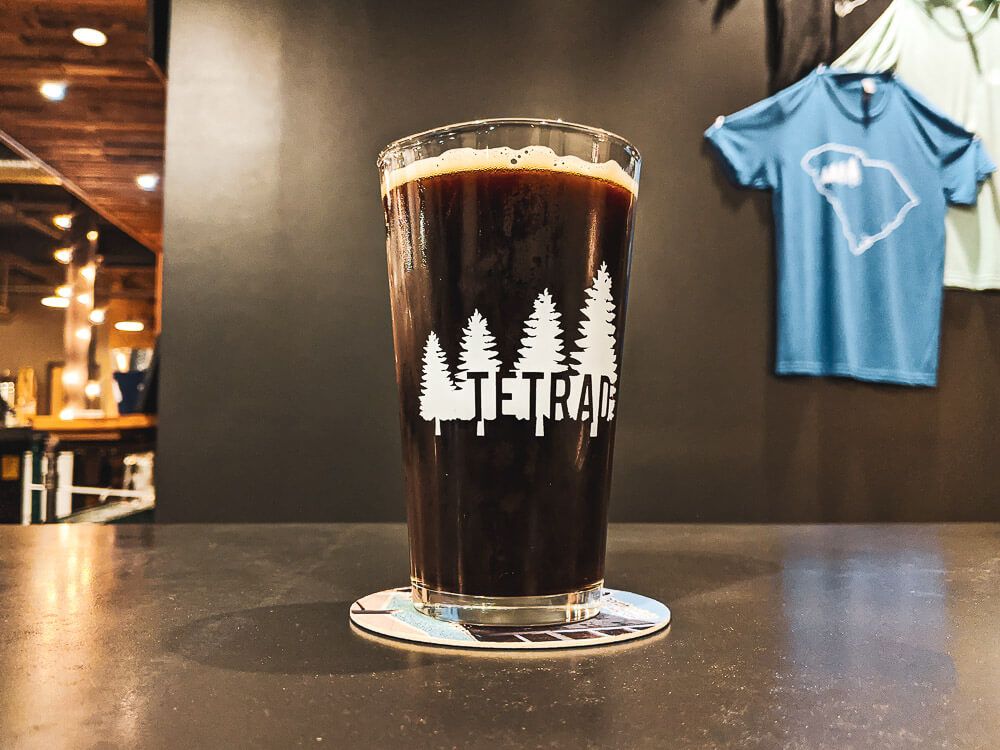 Tetrad Brewing is the new kid on the block. They opened in October 2019 in downtown Greenville (along Stone Avenue near the new Half-Moon Outfitters).
They focus on small batch craft beers and, when I was there, featured brews from other local breweries while they increase their offerings.
The inside was much bigger than I expected with a massive bar and seating on both ends of the brewery. Plus they're dog friendly, inside and out, due to having food trucks come by instead of cooking food on-site.
And as the closet brewery to my house, I'm excited to become a regular and learn more about what makes Tetrad special!
(Curious about the name? Tetrad means a group of four and well, you only need 4 ingredients to make beer: water, hops, yeast, & grain. Now you're drinking and learning.)
---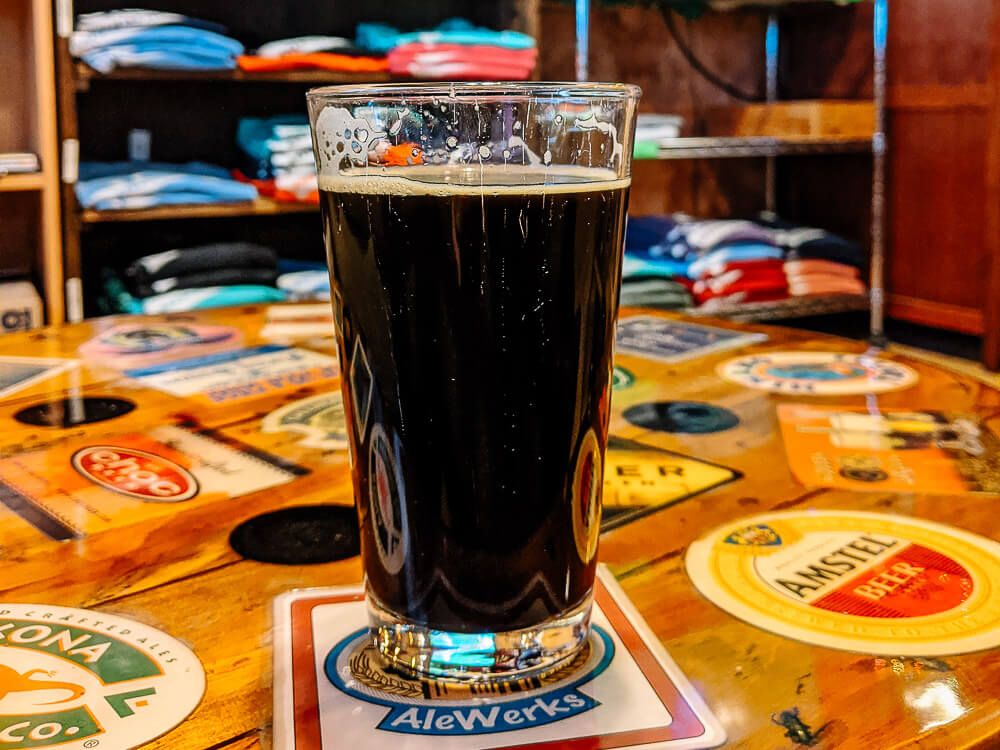 Not many people know about Shoeless Brewing. Among my craft beer aficionado friends, this isn't one they typically frequent. But why?
It might be because it's the smallest brewery in the Upstate, or that it's inside the largest home-brew store in the upstate. But either way, this is a favorite of mine.
The building itself is split in two. The home-brew supply store is called Grapes & Grains. But once you enter, head to your left to find the taproom for Shoeless brewing.
The taproom feels cozy and warm. And there are a ton of beers on tap. I'm alway surprised by the number of their offerings. And they're always very good.
One of my favorites was a coffee chocolate peanut butter stout that was to die for. It was the ultimate winter beer.
---
When I think of Eighth State Brewing, I always think of what it was originally known as (Upstate Craft Beer Co.), but that was now years ago. And Eighth State has definitely come into its own. If you're into creative and quirky beers, then this could be the brewery for you.
It's located at the far end of the West End and I don't think it's necessarily walkable from downtown. Though you could definitely do it. It does have a large parking lot though and an Uber from downtown would be quick and cheap.
Eighth State offers their own beers (I once got a lime green colored sour here that was delicious), food from their restaurant, cocktails, and alcoholic slurries (think slushies). They also have weekly trivia and tons of live music from local and regional artists. Check their Facebook page for more details on their events.
---
I think of Thomas Creek as being the OG brewery in Greenville. It was here before craft beer and breweries were "in." Think back to a time before smartphones and when "saison" was not a word commonly used in households. (Is it now? It is in ours.) It's 1998 y'all.
That's right, Thomas Creek was established in 1998. It's located outside of downtown, but they have a huge warehouse facility. The taproom itself and patio is on the smaller side, but I wonder if that's because they were originally built to make beer and ship it to local restaurants and markets. Remember this was when drinking at breweries wasn't a thing yet.
But you can still head to Thomas Creek and kick back with a few. They have a cozy taproom where you can try out all of their beers. Or you can head to one of the local bars/markets in the area and grab their more popular beers when you're out and about in Greenville.
---
This is another standby for Greenville and the other "original" brewery I tend to think of for the city. Quest has your classics (or legendaries) as well as few creative selections (cucumber jalapeno saison anyone?).
The taproom of the brewery isn't overly big, but their lawn or beer garden is expansive. I like to come to Quest when the weather is nice and I'm excited to head there this summer with our new four-legged family member since their dog friendly.
They also have a small stage for live performances in their yard as well as hosting several events throughout the year. Trivia and yoga offered year round.
---
Yee-Haw is definitely the most restaurant-y of the breweries on this list. It's got a full menu (with different drinking options if beers aren't your thing), a huge patio, and an entertainment area with yard games off to the side. It can definitely be a fun and family-friendly place to go if you're looking for more than just craft beer.
The beers themselves tend towards the classics and styles that almost anyone would recognize and be able to enjoy. So don't expect to find the quirky or creative here. I remember someone telling me that Yee-Haw is the craft beer place for people who don't like craft beer. I don't think that's necessarily true, but if you want less fuss with your beer, you'll find something here to enjoy.
If you do want something different, be sure to look at their seasonals. I can often find something to enjoy there when I'm in the mood for something beyond their staples.
That's it Greenville! See you in the taprooms!
---