Want to know what Greenville has to offer during the Spring? Here I've broken down my favorite events and everyday activities for the months of March, April, & May. There are several of my favorite holidays and since the weather gets warm early, it's one of my favorite times to get outside. So here are my favorite things to do in Greenville in Spring.
Updated for 2019
Looking for my other guides? I've broken down summer, fall, and winter as well!
---
Events
The following 10 items are specific events you can do in and around Greenville this spring. They all have a set schedule (like a particular day or days).
1. St Patrick's Day Parade & Celebration
This is Greenville's St. Paddy's Day party. It starts off with a parade and then ends with a celebration complete with music, food, dancing, and, of course, green beer.
Like most of the city's celebrations, the main party happens in Noma Square and they block off the whole block.
March 16, 2019
11am-6pm
Information may be updated below, but you can also find it on the city's calendar:
https://www.gvlstpatricks.com/
2. Artisphere
This is Greenville's best art festival all year. And it's one of my favorite events. It reminds me of Fall for Greenville, but classier. You still have food, drinks, and music. But instead of food vendors lining the streets, it's so much more.
Artists from around the region come to showcase their work. And while you can buy, it's perfectly normal to just look and admire. I'm always drawn to the photographers, painters, and sketch artists. And they're usually open to any conversations you may want to have.
Friday, May 10, 2019: 12pm-8pm
Saturday, May 11, 2019: 10am-8pm
Sunday, May 12, 2019: 11am-6pm
3. Greek Festival
One thing I love about Greenville is how diverse the town is. We have a Greek community and once a year in the spring, they put on one of the best festivals in town. There's food and dancing and music, but I go for the food. All the food.
Many people I know around town will go through their "drive-thru" during the festival. It's that good.
And don't forget about the food inside, especially the pastry room. Baklava to die for. Plus so much more.
May 16-19, 2019
Check the link below for more up to date times!
http://www.greekforaday.com/
4. Brew in the Zoo
I love our local zoo. And twice a year they put on two adult events. One is Sippin' Safari and the other is Brew in the Zoo. While the first focuses on wine, the second is all about the beer lovers.
Tickets usually sell out early and expect to pay around ~$50 per ticket (ticket prices haven't been released yet when I wrote this this year). But being able to stroll the zoo after hours (when the animals are more active), drink great craft beer, and listen to some music sounds like a wonderful night to me.
May 31, 2019: 6:30pm-9:00pm
https://greenvillezoo.com/168/Special-Events
5. VIBE
Or the Very Independent Beer Event brought to you by Community Tap. Okay so Tap is one of my favorite bars in Greenville and since they retired their annual beer event last year, VIBE is here to replace it.
But this isn't your normal beer festival. With just 200 tickets, this is an exclusive event. It'll feature some rare pours that are paired with some chef-inspired nibblies.
If rare craft beer is your thing, then this festival might just be yours.
Tickets: $75
Saturday, May 11, 2019: 2pm-5pm
https://www.eventbrite.com/e/vibe-very-independent-beer-event-tickets-54101058723
6. Greenville Craft Beer Week
Just one event not enough for you you beer lovin' fiend? Well how about a whole week of events?
If you're not aware, the craft beer scene in the Upstate has exploded over the past 10 years and now there are so many things that make the beer brewed here special. And this week will help showcase that. There are food pairings, releases, dinners, and competitions spread throughout the week. (My eye's on the one at Birds Fly South.)
April 26th – May 5th
Check the website below and their events page for all the events!
https://www.gvlbeerweek.com/
7. St. Paddy's Day Dash & Bash
Want even more St. Patrick's Day fun? This 5K run/walk based around Fluor Field would be a great kickoff to your Saturday morning. Besides the 5K itself, there will be a post-race party complete with food, drinks, a silent auction, and a kid's run and fun zone.
March 16, 2019
8am-12pm
https://www.stpaddysdashandbash.com/
8. Albino Skunk Festival
With a description like "the best music festival in South Carolina" you know right off the bat what you'll find here. This bi-annual event features some of the best Americana and Bluegrass artists, plus a whole lot more. And you can camp there for just $35. Ticket prices are a lot more, but I love that you can stay all weekend for a very low price.
Tickets. Check the link below for all the options but they range from ~$50-~$150
April 11-13, 2019
9. Reedy River Duck Derby
Want to see 10,000 rubber duckies race through Falls Park and down the waterfall? Yea, I thought you would. The Reedy River Duck Derby is an all-day event centered around the race.
This derby has been held in Greenville for the past 15 years and all proceed go to helping local charities. Adopting a duck is only $10 and allows you to have stake in the race.
May 4, 2019
10am-4pm
Race Time: 2:30pm
https://www.duckrace.com/greenville
10. Greenville Scottish Games
Need a Memorial Day Weekend activity? Then head on over to Furman for the Scottish Games. There will be loads of events and competitions (think men hurling huge things), food, drinks, music and more. I've never been but if I'm in town this year, I'm definitely heading to the games.
(Side Note: I love border collie competitions and excited to see there's one here too!)
Saturday, May 25, 2019
8:30am-5pm (events and awards ceremony), then the fun continues in the entertainment tent at 5:30pm for more music and beer!
---
General Spring Activities
The following 10 items are general things to do in Greenville in spring. These are either activities you can do anytime or for several days/weekends throughout the season.
1. Bike the Swamp Rabbit Trail
This is one of the things to do in Greenville. And if you haven't hit it on 2 wheels, you're missing out. Don't know what the Swamp Rabbit Trail is? It's basically a 22 mile, multi-use trail (think rails to trails) that connects Greenville to Travelers Rest.
Every day of the week you can find people out and about on it walking, running, biking, out with their dog, etc. It's one of my favorite things to do. And there's amazing restaurants, shops, and breweries right off the trail that make it a great way to spend your day.
And I love to do this in the spring (or fall) the best when it's not too hot and not too cold.
2. Watch a Movie in the Park
Every Wednesday evening in May and September the city hosts a free movie right in Falls Park.
They bring out a huge screen and then start the movie once it gets dark out. The range of movies also vary quite a bit from more modern-ish flicks to classics.
You'll want to bring your own chairs and it's BYOB (if you buy a $1 wristband).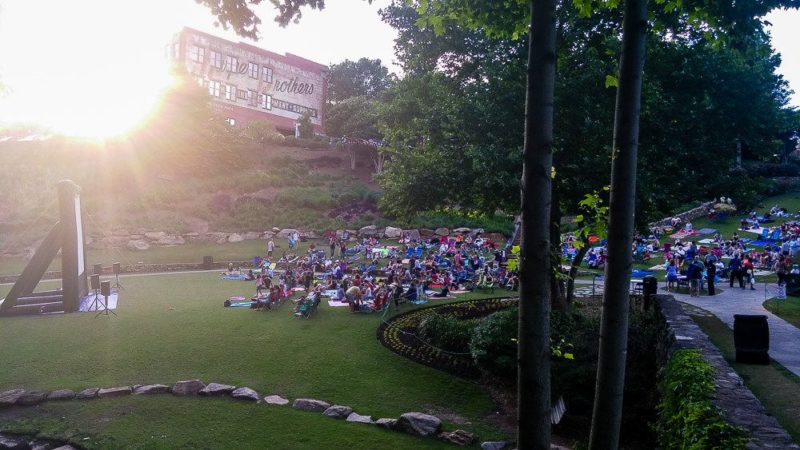 3. Chimney Rock Day Trip
I sometimes forget how many amazing things are within driving distance of Greenville. So close in fact that they make a great day trip. Chimney Rock State Park is one of these beauties. Located just about 1 hour and 15 minutes north of us in North Carolina, this is definitely worth the drive.
The main draw of course is the view. But you'll need to work for it! The climb up to the rock is intense (so…many…stairs) and though there is an elevator, it was out of order when we went.
But that view is worth it!
4. White Water Rafting
There are also quite a few places around the upstate and in nearby North Carolina to go white water rafting. And the spring (as the winter waters are released) is one of the best times to head out. I've been out rafting on the Chattooga with Natahala Outdoor Center. They offer several trips on different rivers and have some runs with rapids up to class IV/V.
5. Catch a Comedy Show
Okay so the spring isn't all about the outdoor lifestyle. Sometimes it's rainy. And one of the best things to do in town when it's pouring outside is to hit up a comedy show. Luckily we have several places around town to get your fix.
Coffee Underground has improv shows on Thursday, Friday, and Saturday evenings
The Comedy Zone also has acts almost every weekend night as well.
Cafe and Then Some is a comedy + dinner theatre and though I've never been, but people I've talked to have said it can be quite hilarious.
6. Bendy Birds Yoga
Want to do some yoga in a brewery? And not just any brewery…but one of my favorite breweries? Yep that's right. Birds Fly South hosts a 1 hour long yoga session every Saturday at noon.
Just $10 covers the class AND a beer.
https://bfsbeer.com/bendy-birds-yoga/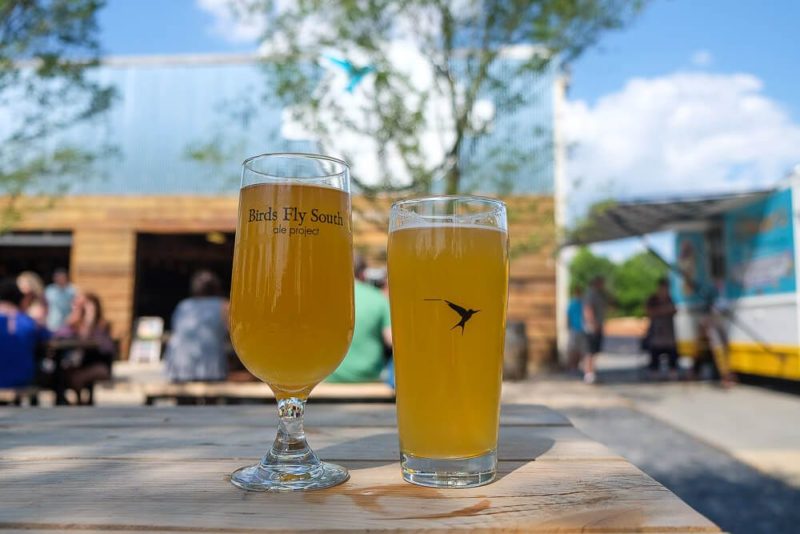 7. Scout Out Some Barbeque
Sometimes it's the food that reminds me of warmer weather. And to me warm weather is the time for barbeque. And though I can make it myself…I love going to get some barbeque because damn smoking a brisket takes HOURS.
Some good barbeque places around town:
Smokin' Pig
Mike & Jeffs BBQ
Moe's Original Bar B Que (a chain but still oh so good)
Monkey Wrench Smokehouse
And if you want more options, download the Trail Map (near the bottom of this page) for lots more options.
8. Mouse Scavenger Hunt
Okay this might seem like something just for the kiddies…and maybe it is. But I've seen groups of adults combine beer crawls with this. So what is it? Basically 9 little statues of mice are hidden around Greenville. And with just clues, you'll have to find them all. Lots of fun for kids and adults (maybe also adults a few drinks in).
http://www.miceonmain.com/mousehunthints.html
9. Pick Some Strawberries
Spring = the growing season for me. It's when I want to go to the farmer's market, plant some herbs, and eat all the fresh produce I've been dreaming of all winter.
So if you are a strawberry fiend (like me), you can pick your own strawberries at a couple of places from mid-April through June.
https://www.facebook.com/SandyFlatBerryPatch/
https://www.facebook.com/mybeechwoodfarms/
10. Visit the Smoky Mountains
Did you know that the Great Smoky Mountains, the most visited national park in America, is reachable in just 2-3 hours from Greenville? Okay so this may not be a day trip, but weekend getaway anyone?
There's lots of different campground around the park that could bring the cost of a weekend trip way down. (Remember that the park is huge so make sure to look up the location of the campground first before you go.)
And with lots of different hikes, viewpoints, and auto-tours, there's no reason not to take advantage of this national park. Plus going in the spring will help you avoid the high season and lots of crowds.
Don't know where to start? Here's one of my favorite hikes and drives!
Did I miss a great thing to do in Greenville in Spring thing? Let me know!
What if it's not spring? Here are my guides for summer, fall, and winter as well!
---