Greenville, SC is my home and I often get questions about where to stay. For new visitors to the city, I'd suggest staying in downtown (or close to it). That way you are walking distance from some great restaurants, breweries, and parks. Here you'll find the best places to stay in Greenville, SC.
Now I've included my recommendations below, but there are many, many, many more places to stay. Here are just my favorites.
Hotels in Downtown Greenville SC
If you're looking for a central location with easy access to all that Greenville has to offer, then a downtown hotel is the perfect choice.
If these are a bit out of your budget, look for a hotel near Haywood Road (and the Haywood Mall). These are relatively close to downtown and will be a short drive (or Uber ride) to downtown.
120 S Main Street
Dogs are allowed*

This is the iconic Greenville hotel. It sits square in the middle of town. You're a block from the Peace Center, you're across the street from Soby's, and you're staying in a renovated 1920s building. You are in the heart of downtown Greenville.
The Westin has all the bells and whistles too: free airport shuttle, fitness center, coffee shop, and even a breakfast/lunch restaurant on site.
*Dogs are allowed with restrictions. Only dogs (40lbs max) with a $50 nonrefundable per night fee (not to exceed $150).
---
44 E Camperdown Way
Pets are allowed*
The Grand Bohemian with its lodge style design (that for me looks like it should belong somewhere up in the mountains), hugs the banks of the Reedy River and towers over Falls Park and the Liberty Bridge. And its these views that make it a standout place to stay.
You are literally hovering over the greatest thing about Greenville: the Reedy River Falls.
Amenities here are expansive: a restaurant with both indoor/outdoor seating that overlooks Falls park, a cocktail lounge, a luxurious spa, fitness room, etc.
*Pets are allowed (2 max with a 30lb max weight per pet). Plus there's a $150 nonrefundable fee per stay.
5 Dreamy Tree Houses Near Greenville
---
One City Plaza
Dogs are allowed*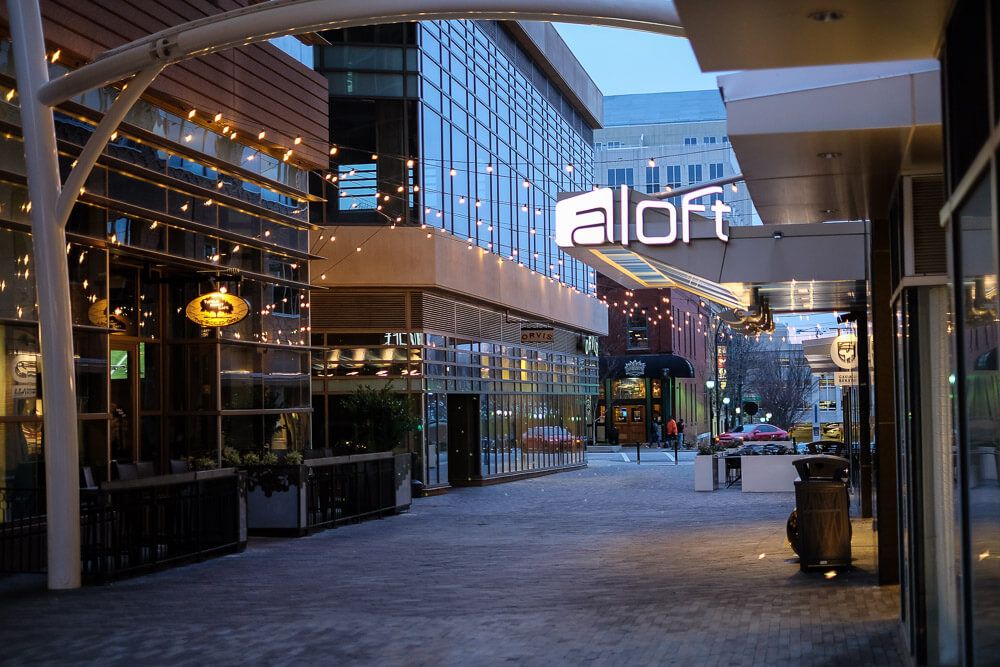 Situated in One City Plaza, you have so many restaurants and bars right outside (Basil, Tupelo Honey, Sassafras, SIP, and more). Plus it offers that swanky contemporary feel.
Other than the location, I love the amenities. Sure they've got an outdoor pool and fitness center, but they also have the WXYZ bar. While not technically a rooftop bar, it does have a balcony that looks over the One City Plaza.
*Probably the best thing about Aloft is their pet policy. Dogs (up to 40lb) are allowed for no additional fee. 2 dogs per room maximum.
---
50 W Broad Street
No pets allowed

Located just a block from the Westin, the Courtyard also puts you right in the heart of downtown Greenville. Plus they have some suites available if you're coming with the whole family.
If you are here in the winter, Greenville's pop-up ice skating rink is literally right outside your door.
I can also attest (from personal experience), if you are planning an event and need a block of rooms, the people here were fantastic to work with.
---
250 Riverplace
Pet friendly rooms available*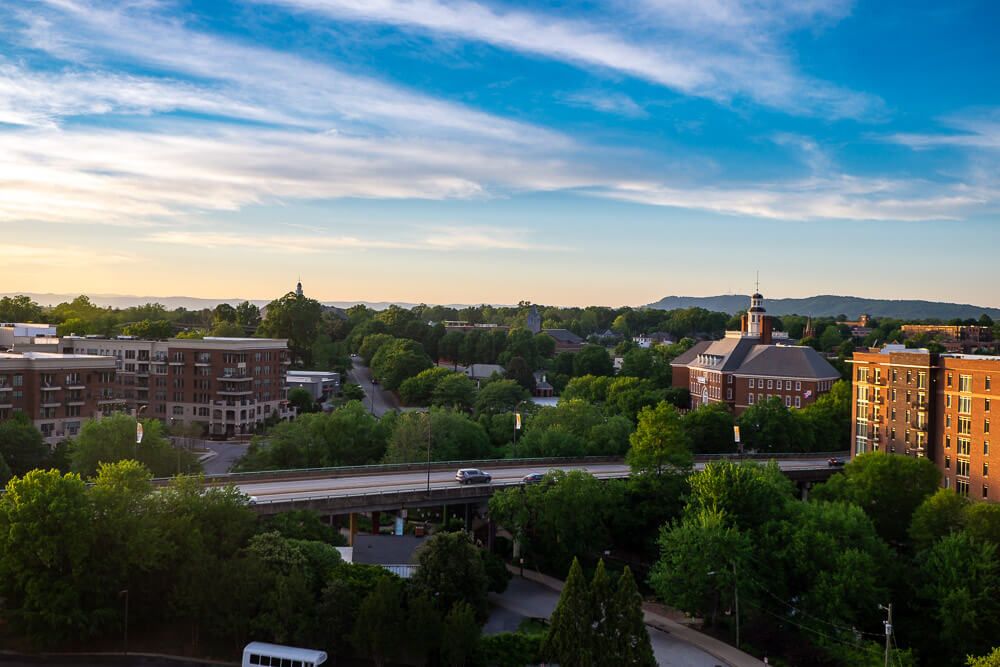 If you're coming to take advantage of Greenville's Swamp Rabbit Trail, then you're in luck. This Embassy Suites is literally sitting on it. You can be out and on the trail in no time. Plus it offers one of the best views in Greenville from the rooftop bar and restaurant.
The features here are amazing. Up on the Roof is one of the best rooftop restaurants/bars in the city. They also have steakhouse, fitness center, and an indoor saltwater swimming pool.
*Pets are allowed. 2 pet maximum with a $75 nonrefundable fee (which goes up to $125 for a 5+ night stay). Dogs and cats only.
---
Camperdown Plaza
No pets allowed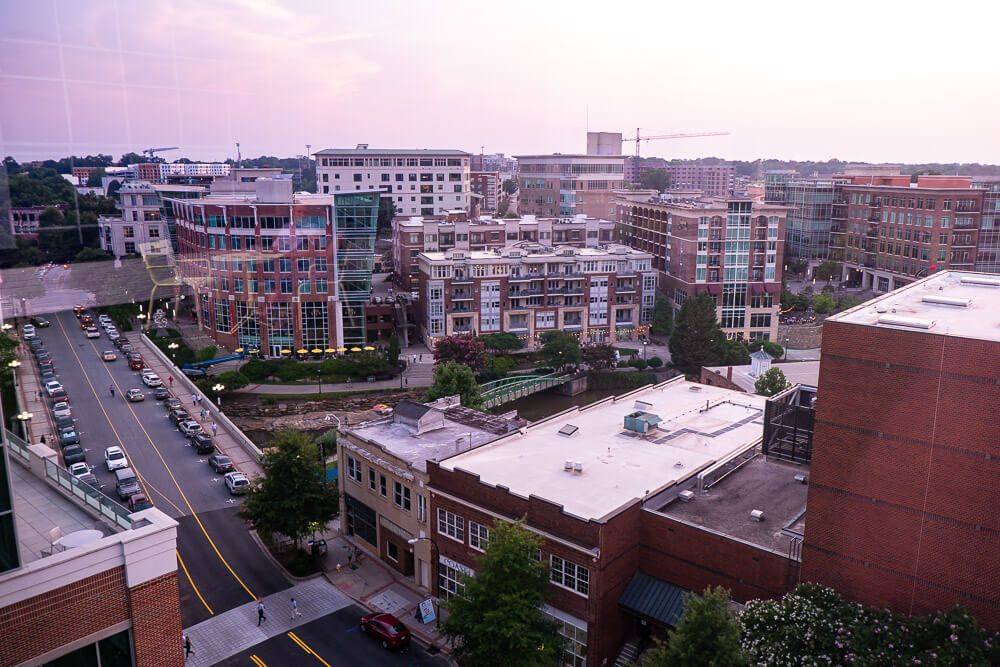 You may never need to leave Camperdown Plaza when it comes to eating and entertainment. Juniper (reservations needed) is one of the best rooftop restaurants and bars in the city.
Then you've got Paloma, a Spanish American fusion restaurant, right downstairs. And one of my favorite places to eat, CAMP, in the plaza as well (with its own small rooftop bar).
And if you want entertainment, Group Therapy Pub & Playground is also located in the plaza. Plus Falls Park is just a block or so away.
---
NOMA Square
Dogs are allowed*

If you are coming into town to see an a show or event at the Bon Secours Wellness Arena, I would suggest staying at the Hyatt. It's one of the closest hotels at just 3 blocks away.
But one of the best things about the Hyatt is its location in NOMA Square. On Thursday and Friday nights in the summer, you can find block parties featuring music, beer, and more right outside. And some city festivals (like Oktoberfest and St. Paddy's Day) also occur right in NOMA Square.
And if that wasn't enough to convince you, Roost is one of the best restaurants on this side of Main Street.
*Dogs are allowed with restrictions. You can bring 1 dog with a maximum weight of 50lbs or two dogs with a combined weight of 75lbs (per room). Plus there's a $125 nonrefundable fee (which goes up to $225 for a 7+ night stay).
---
Bed and Breakfast in Greenville SC
If you want to skip the hotel and go for a more traditional bed and breakfast or inn, you have a couple options if you want to stay close to downtown.
If you'd like to stay outside of downtown (and have one heck of a mountain view), check out the Red Horse Inn.
This modern B&B is a Greenville staple. With 6 bedrooms, you can rent just one room, or even the whole inn if you'd like!
And the location is perfect. Just two blocks from Main St and the Swamp Rabbit Trail. Plus Fluor Field is and Gather GVL are only 3 blocks away. You are positioned perfectly to take advantage of all the West End has to offer.
You can rent bikes right onsite at the inn so you don't need to worry about bringing your bike. And though there isn't a traditional breakfast offered, there are pastries, coffee, and a fully stocked kitchen to make your own breakfast.
And if you'd like to stay outside of downtown, they have a location in Travelers Rest.
---
Want to be nestled in one of Greenville's downtown neighborhoods (while still being walking distance to everything)? This B&B is located in the heart of the Pettigru Historic District.
This 1920s-era home has 6 rooms, an English garden, full gourmet breakfasts in the morning, and wine and cheese in the evening. This is your real deal B&B.
Plus just a 10-15 minute walk to Main Street in downtown, and a couple blocks from Cleveland Park, the Swamp Rabbit Trail, and the Greenville Zoo.
---
Hostels in Greenville SC
This twenty bed boutique hostel is perfect for those on a budget (and who don't mind staying in dorm like accommodations – though there are two private rooms).
It is located a bit down Augusta St., so walking into the West End and downtown may take 15 minutes or so. But one of the first places you'll reach is the wonderful Gather GVL.
In terms of features, there's complimentary parking, waterfall showers, hi-speed Wi-Fi, a coffee shop/bar in the common area, and an art gallery.