Who doesn't love to cozy up in a cute tree house? Imagine opening the door to your balcony with a cup of coffee and looking straight out into the trees. Sounds amazing to you too? Well, you don't have to go too far from Greenville in order to get your tree house fix. In this post you can find 4 of the best South Carolina tree houses near Greenville.
---
South Carolina Tree Houses Near Greenville
Tree houses in South Carolina are split between mostly the mountains (aka close to Greenville) and the coast. This post features some of the best treehouses in the Upstate near Greenville. I've focused this post just on South Carolina tree houses.
In the future I'll be putting together a post of the best tree houses near Asheville. There are more options in North Carolina, so stay tuned!
Now most tree houses are not dog friendly and are not kid friendly. So keep that in mind when you're looking.
Since there are only a few South Carolina tree houses, I've included some cabin alternatives for each listing. To find the treehouses & cabins, I search VRBO and airbnb.
---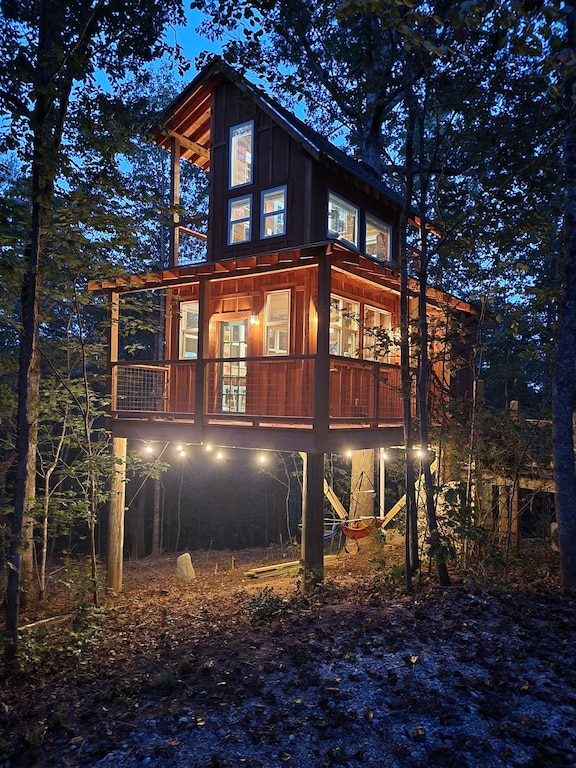 Branches Up Tree House
If hiking is your thing, then the Branches Up Tree House has you covered. With some great mountain views and nature trails right on the property, you may not want to leave. But with some of the most popular trails nearby (Table Rock, Rainbow Falls, Dupont State Forest, etc.), you're positioned to take full advantage of the region's hiking options.
Location: Pickens County
Sleeps: 4
Pet Friendly: No
Hot Tub: No
Price: $125/night
If you are unable to get a booking here, check out Life is Better at the Lake! This custom log cabin is located right on Lake Keowee (complete with a private boat dock). With 4 bedrooms (sleeps 12), it's perfect for groups and families. Dog friendly!
Price: $650/night
---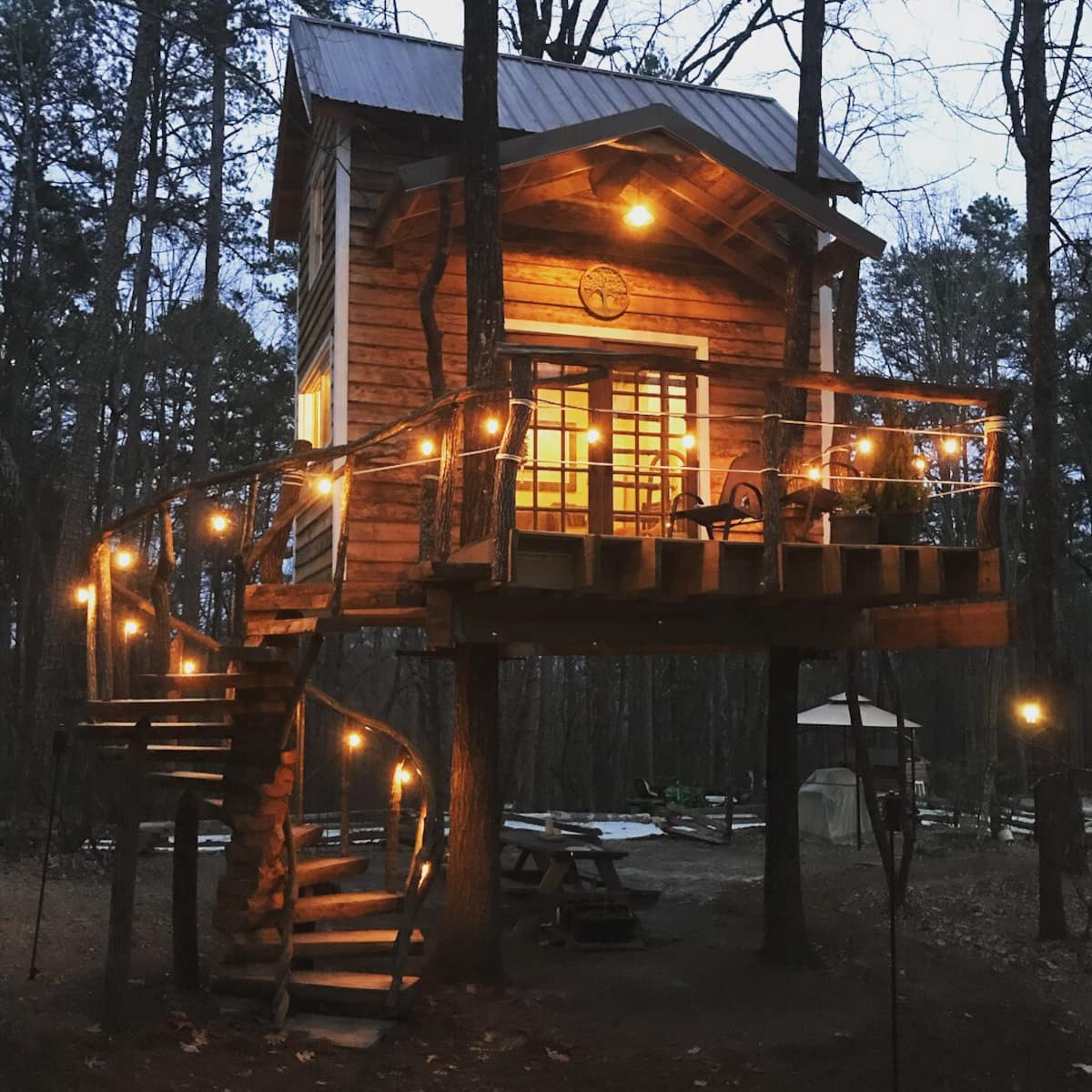 Lost Treehouse of Lake Jocassee
The Lost Treehouse is perfect for 2 people looking to explore Lake Jocassee. The inside is small (there isn't a proper kitchen) and the bathhouse is located about a 50ft walk away. But if that doesn't deter you, then this will be a perfect retreat. Jocassee has amazing waterfalls and you can easily rent paddle boards and kayaks to explore it.
Location: Salem, SC
Sleeps: 2
Pet Friendly: Yes
Hot Tub: No
Price: $189/night
If you need more room, check out Zen Lake Front Cabin Retreat on Lake Keowee. It sleeps 10 and comes with a game room and kayaks / paddle boards to use.
Price: $300/night
---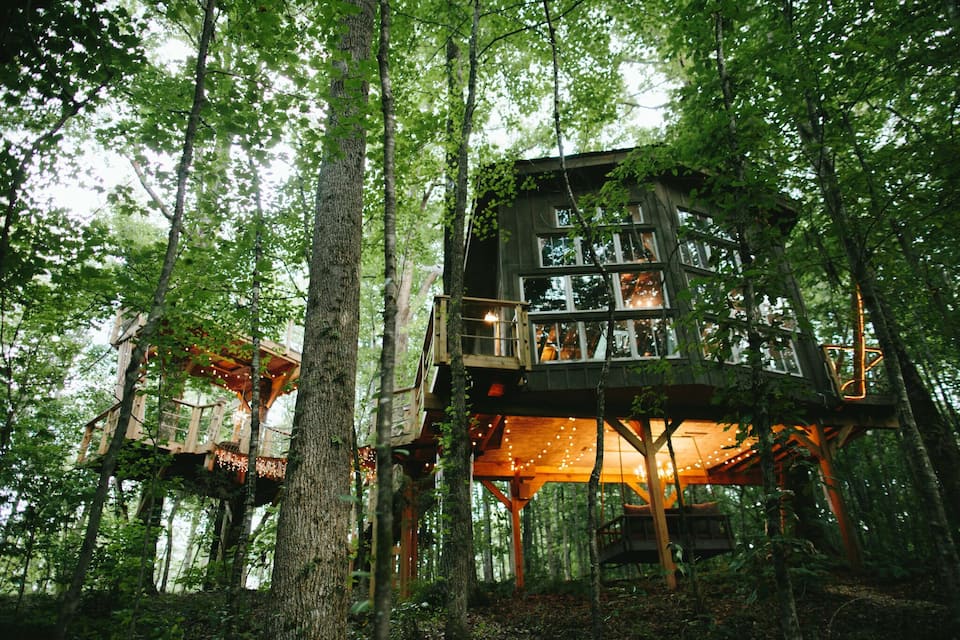 Majestic Treehouse
The Majestic Treehouse is a romantic and luxurious escape. Located on a large 40 acre farm, the tree house is very private and secluded. The king-sized bed faces large windows so you can wake up and look right out into the trees. Enjoy the fire pit and the various outdoor seating areas separated by bridges and ladders. And there's an outdoor shower with a tree growing right in the middle of it.
Location: Walhalla, SC
Sleeps: 2
Pet Friendly: No
Hot Tub: No
Price: $515/night
The cabin options near Walhalla are mostly clustered to the east of town around Lake Keowee. Below are some options I found:
Spacious Seneca Retreat – 4 bedrooms (sleeps 8). Screened in porch. Vaulted ceilings. Multi-level deck space. (No private dock.)
Price: $318/night
Serene Lakefront Retreat – 3 bedrooms (sleeps 8). Floor-to-ceiling windows. Kayaks. Game room. Multiple decks. Private deep water dock.
Price: $563/night

---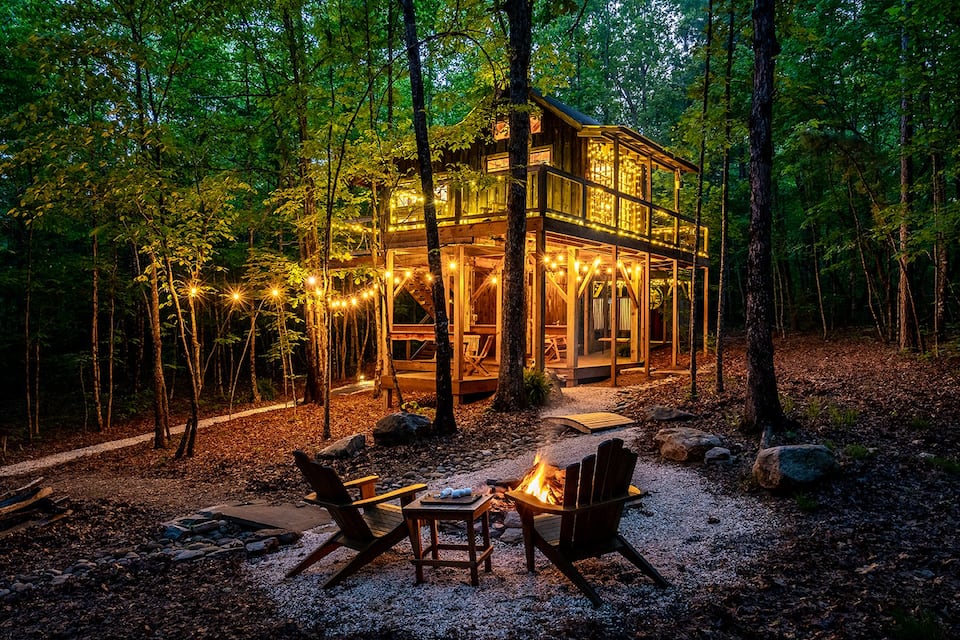 Bella Luna
The Bella Luna Treehouse is a perfect romantic getaway for a couple. With many trails and waterfalls nearby, you can easily explore this little corner of South Carolina. But you may not want to leave the treehouse. The king-sized bed and multiple porches are just the beginning. The indoor bathroom has a shower with a stone tile and river rock floor complete with fairy lights. Plus there's an additional outdoor summer shower. But the best part may just be the napping deck complete with a raised double-stack net built for 2 people.
Location: Mountain Rest, SC
Sleeps: 2
Pet Friendly: No
Hot Tub: No
Price: $249/night
There are several cabin options nearby in the Mountain Rest area. The ones listed here are also good alternatives for the Stella Vista tree house listed below.
Stumphouse Cabin – a smaller cabin that's perfect for 2 couples interested in the Stumphouse Mountain Bike Park. The cabin has a very unique feel plus it's dog friendly!
Price: $196/night
Lakefront Mountain Rest Cottage – a more budget friendly option than some of the other lakefront cabins on this list. Nestled on Crystal Lake this cabin sleeps just 2 people (or 4 including a sofa bed). But it's dog friendly with a small fee!
Price: $122/night
Quaint two bedroom cabin – located right on small Mountain Rest lake, this is also a great option for a small family. It's on the smaller side, but the lake is quiet so it's perfect for swimming, kayaking, or SUPing.
Price: $140/night
---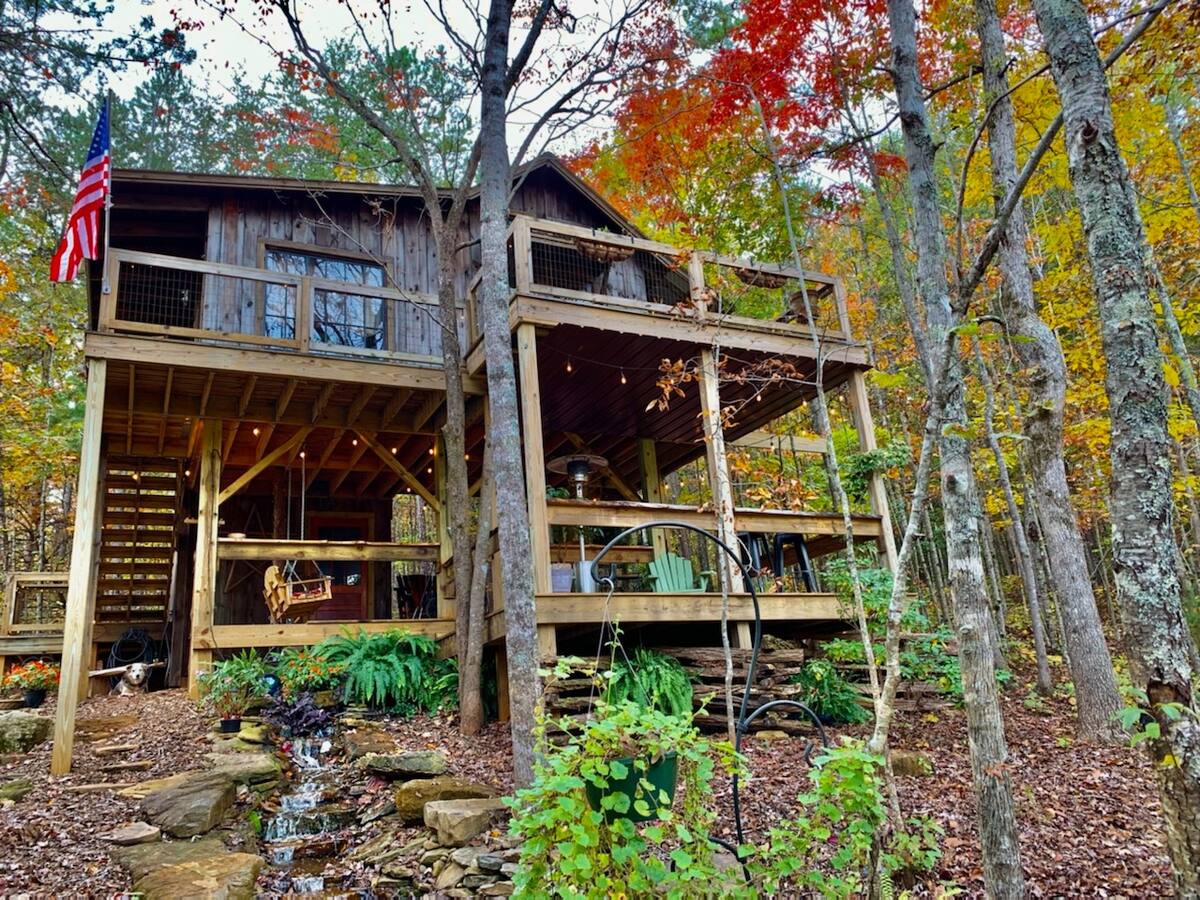 Stella Vista
Stella Vista is the sister treehouse to the Bella Luna. Imagine a weekend away in this paradise. Wrought iron & wood king sized bed. Vintage french doors. Waterfall feature. Stone tile shower with river rock floor illuminated by fairy lights. Stone fire pit. What more can you ask for?
Location: Mountain Rest, SC
Sleeps: 2
Pet Friendly: No
Hot Tub: No
Price: $259/night
---