It's Saturday. It's sunny and the temperature promises to make it to 60 degrees today. Oh yea, and it's January. Living in Greenville SC in the winter promises a few days like this. Maybe one a week if we're lucky. But fate would see it that the first warm day of the year would fall on a Saturday. It was time to head to Table Rock State Park and hike the Table Rock Trail.
Table Rock State Park is located in the Upstate of South Carolina, about 45 minutes from Greenville. And it gets its name from the large mountain that dominates the Park. Trust me, if you're within 20 miles of the Park, you'll know what I'm talking about.
And while there is a lot to do in the Park, most people come to hike the Table Rock Trail, which takes you to the very top of the mountain. And if you haven't guessed it, this is one tough hike. The Table Rock Trail climbs 2,000 feet in 3.6 miles.
That's pretty steep.
When you get to the top you might collapse because of the amazing view but also because your legs are giving out beneath you.
---
What Can You Expect from the Table Rock Trail?
So yep. The Table Rock Trail is pretty tough (or very strenuous according to the Park's website). But also doable. You just need to plan enough time which was our biggest mistake. We didn't leave Greenville until 1pm and so we didn't reach the entrance, find parking (there are only 2 lots near the trail), and get to the Nature Center until 2pm.
Every hiker needs to register at the Nature Center. Basically one person puts down a name, an address, and an emergency contact in case you get lost and they need to come find your ass. Luckily the Nature Center is also where the Table Rock Trail starts so there's no need to go out of your way.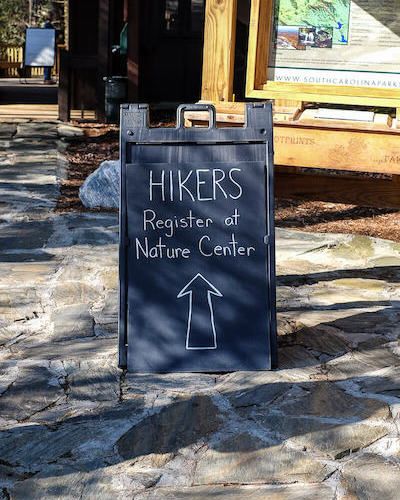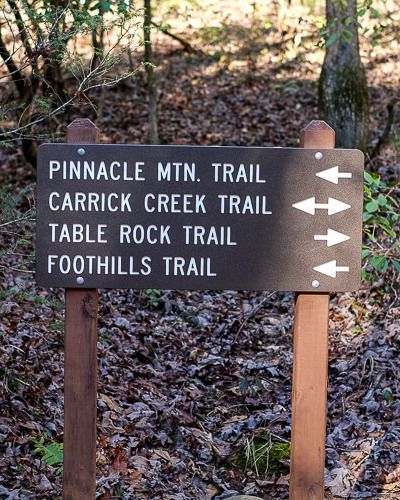 And it was there the ranger gave us the bad news. He said the top of the trail was 4 miles up and it would take 3-4 hours each way. And he wanted everyone off the mountain by 5pm since it's, you know, the winter and it starts getting dark around 5pm. Especially in the valleys.
Now his information was a bit misleading. The Table Rock Trail is really only 3.6 miles each way and the website claims that it should only take 5 hours total. You could probably do it faster than 5 hours if you book it, don't stop halfway, and don't hang out at the top for too long.
(Update: 5/22/2016! We came back a couple of months later and hiked all the way to top (roundtrip took about 5.5 hours). See the bottom of this post for more details!)
But seeing that we only had 3 hours and I knew it would start getting dark around 5pm (and I really didn't want to be stumbling down a steep hill in the dark), we decided to only hike to the halfway point where there's a pretty impressive view over the countryside.
Now there were a ton of other people on the trail determined to hike the whole thing in 3 hours. And just walk really fast in order to get back in time. I somehow doubt they made it back by 5.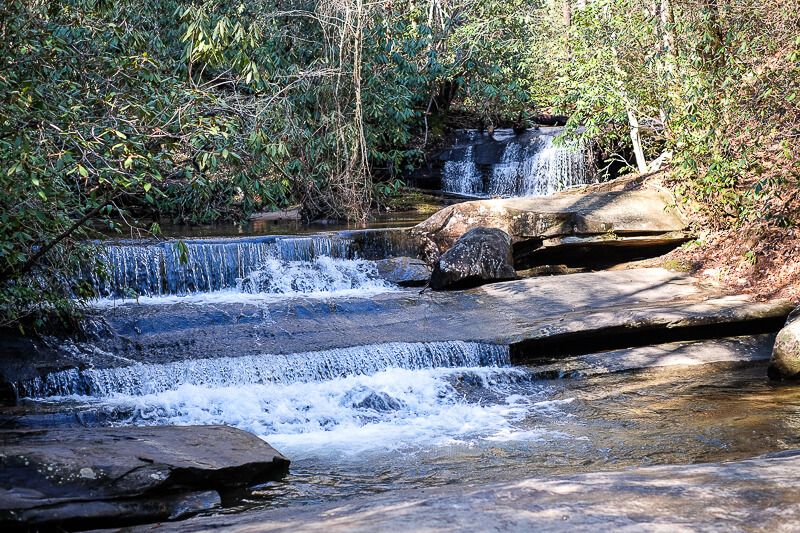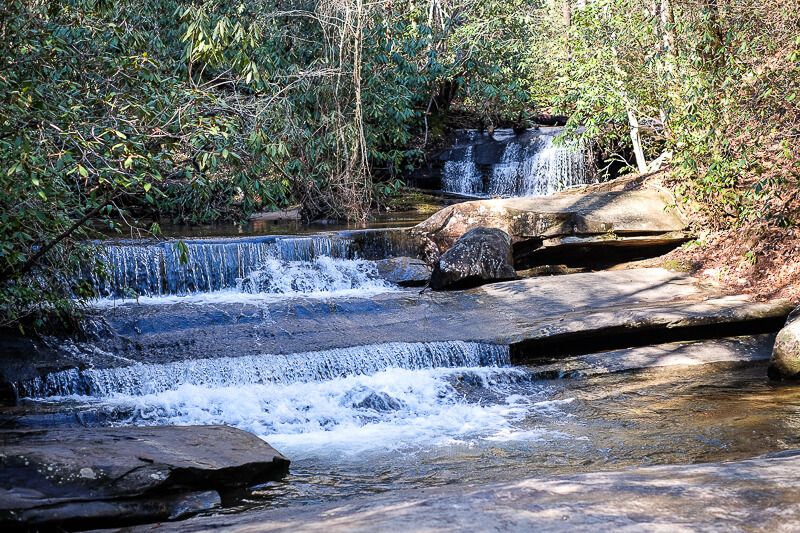 The first half mile of the Table Rock Trail is relatively easy. Plus there are a ton of waterfalls and bridges that make it pretty pleasant. But after that it gets rough. I would say the worst is probably between the .5 and 1 mile marker. Steep. Stairs. Nonstop. Panting. Gasping. Dying.
Now I like to think I'm in shape. I workout several times a week and I try to eat healthy. But that half mile was rough. My face was beat red and I probably sounded like I was dying. And to make it worse, a bunch of college students and high schoolers were blowing past me. So maybe the younger you are, the easier it is? I don't know. I just wanted to die.
But somewhere between the 1 mile marker and the 1.5, I found my grove. I was still panting but I think the trail got a little less steep and there were more horizontal stretches mixed in with the vertical ones. So I was able to catch my breath and really enjoy the trail.
Once you get past the waterfalls and the ½ mile of death, the hillside changes. Large boulders and rocks are strewn about and the trail even weaves in out between them. This was pretty cool and we even stopped for a couple of photos on the return journey.
Now the park states that the Halfway Shelter, is 1.5 miles up the trail. These are lies! We passed the 1.5 mile marker and continued to climb for 15 minutes before we reached the shelter.
But when we turned that corner and saw the shelter, relief flooded through me. I needed to sit and relax. I plopped down on the rock in front of the shelter and sat back to enjoy the view.
And it is one hell of a view.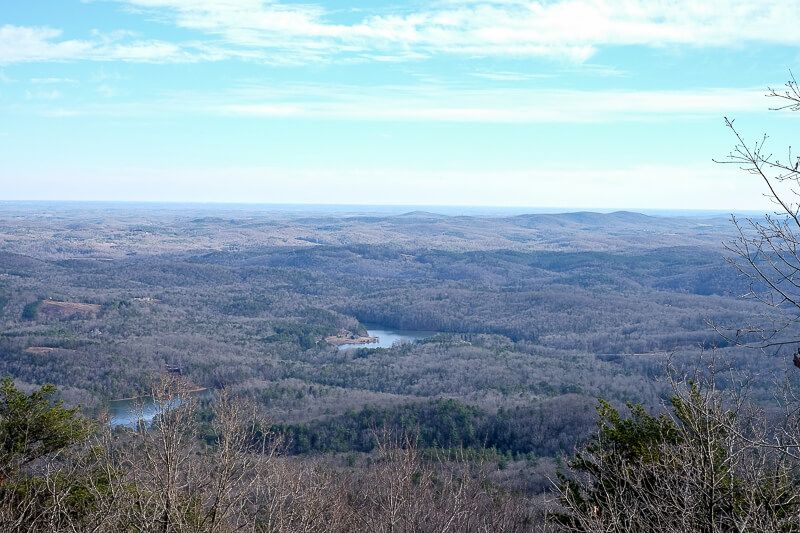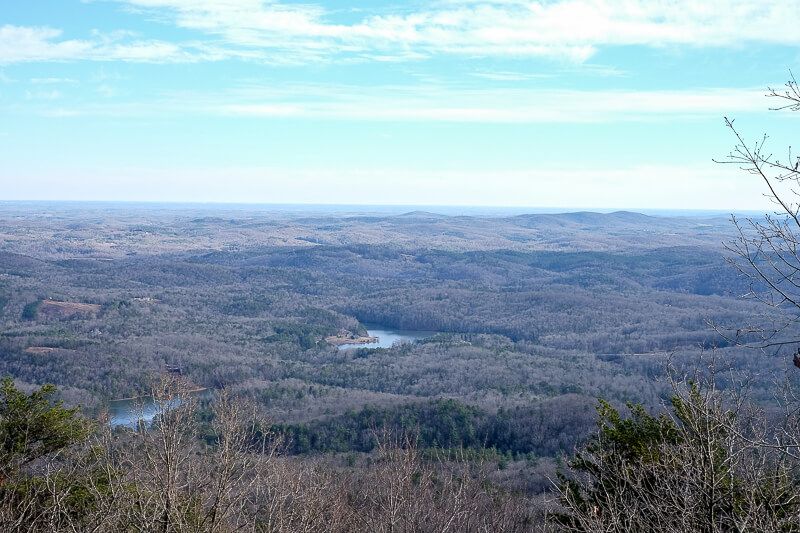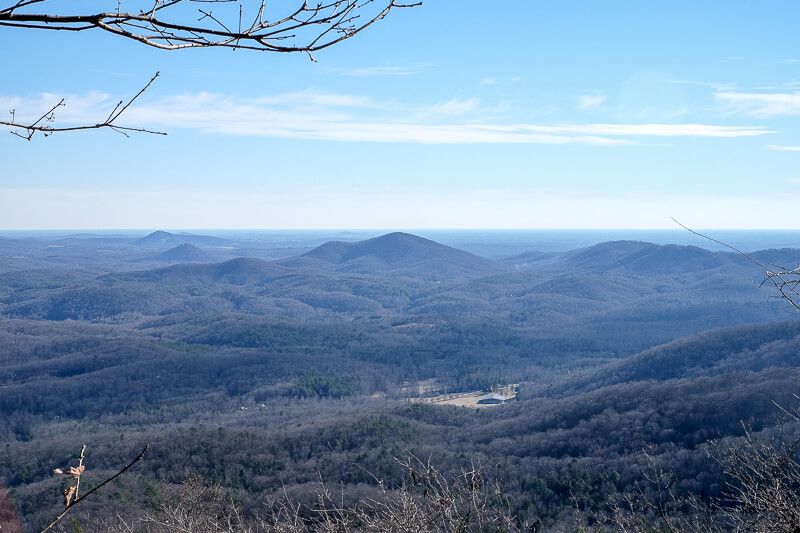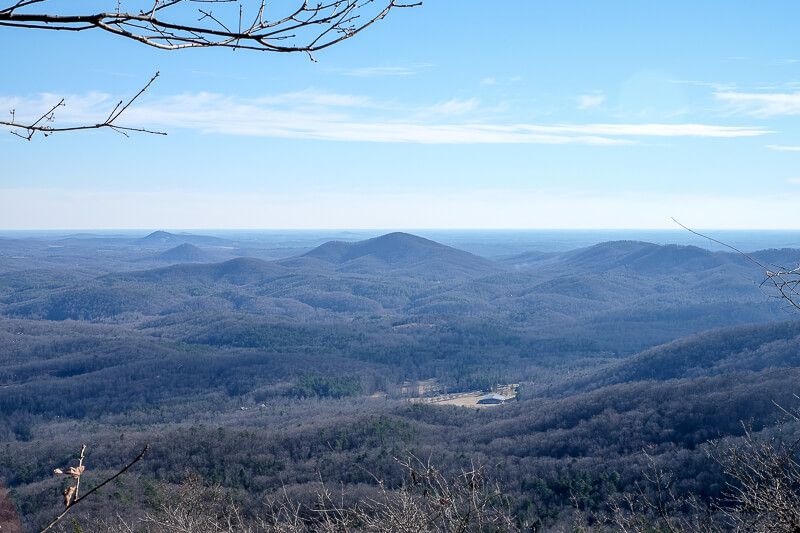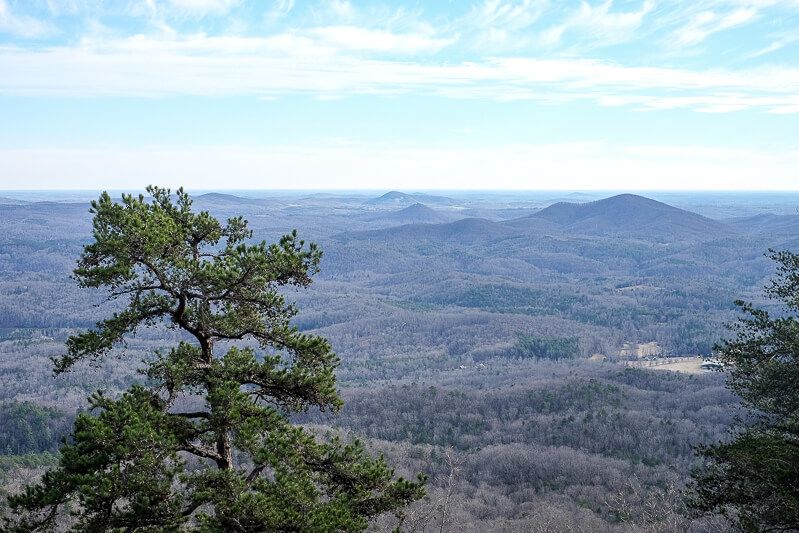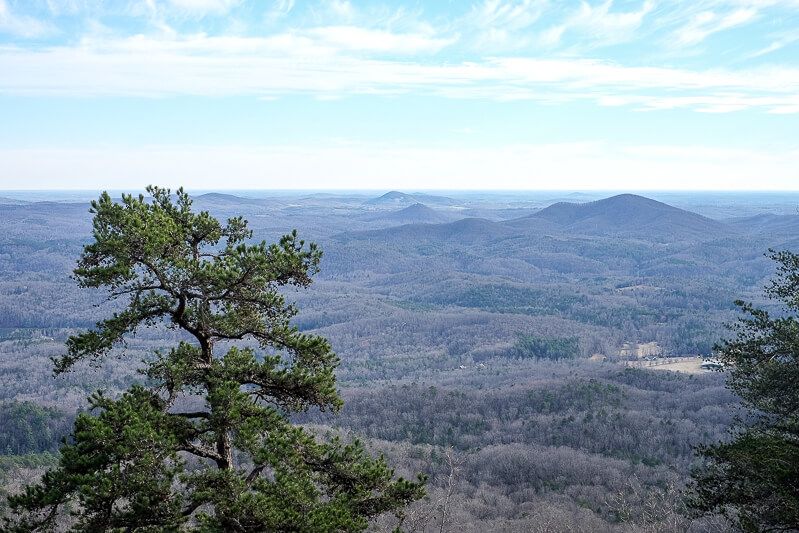 A few things to keep in mind when you make it here. The shelter itself is very small and though you have a great view, that's not where most people go. Continue up the trail another 10-20 feet (near the sign that reminds you where you are) and there is a big wide boulder with an unobstructed view of the countryside. And there's plenty of room on said boulder for multiple groups to sit and relax.
I didn't want to move.
We had made it to the halfway shelter at about 3:15pm. Meaning there was definitely not enough time to hike the rest. Instead we ate some snacks, put all of our warm clothing back on since the temperature was dropping (I had stripped off every removable layer as I made the climb), and simply relaxed.
After almost a half hour, we decided to turn back. Leaving a little earlier let us stop and take more photos of the features we missed as we slugged our asses up the hill.
But even then we made it back to the Nature Center right at 5pm. We had timed it perfectly.
As you're leaving don't forget to pull off at the scenic overlook between the Nature Center and the East Gate Entrance. You'll get an unobstructed view of the mountain. And you might just appreciate it more after you realize you just climbed it. Hell yea!
(Update: 5/22/2016! We came back to Table Rock and finished the trail!)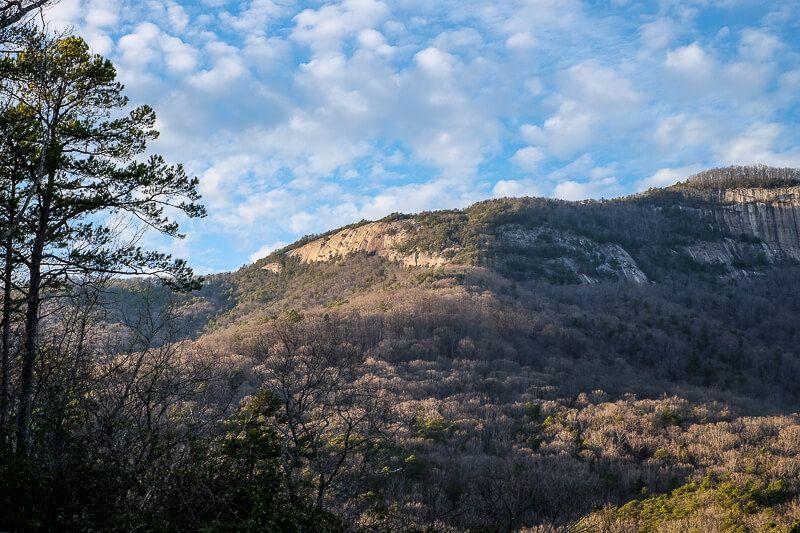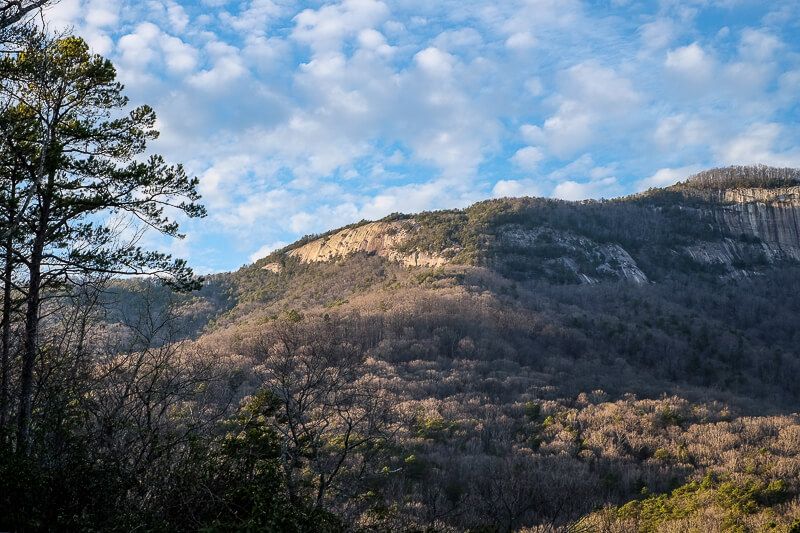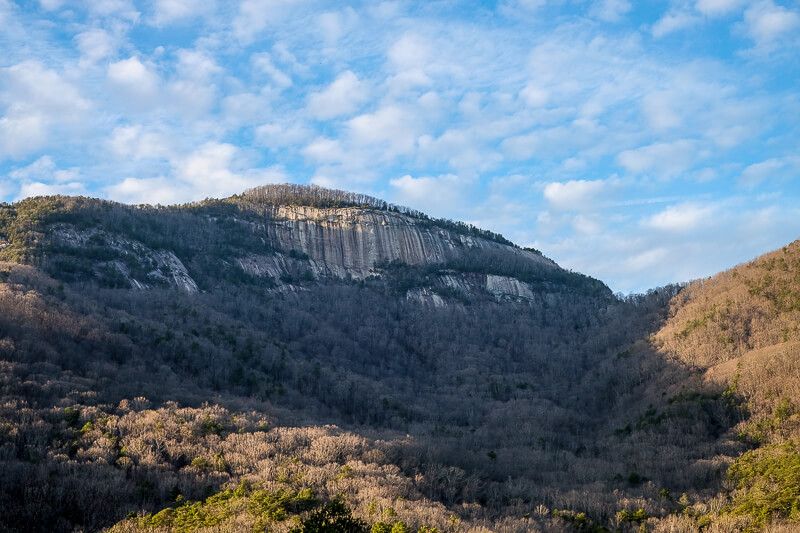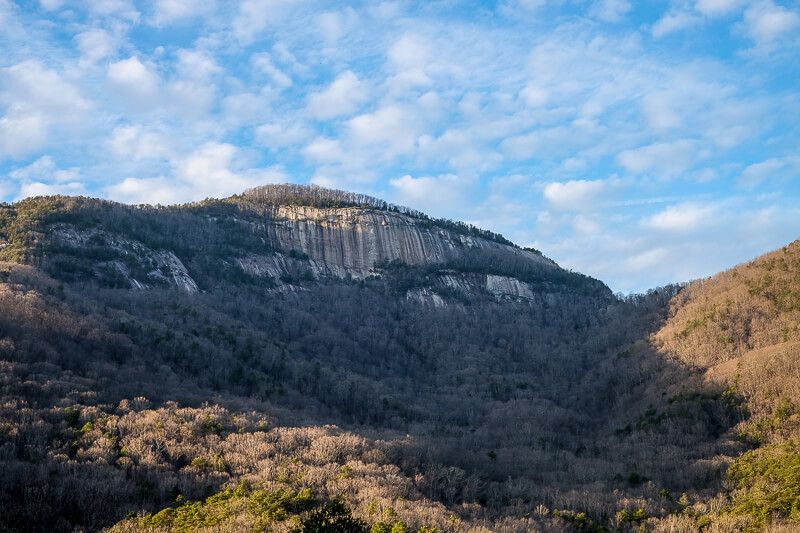 ---
What Do You Need to Bring?
Water. This should be obvious. You will need water. And probably more than 1 water bottle's worth. If you decide to hike all the way to the top, I would bring 2 water bottles. We passed a girl on her way down the mountain and as she stepped over a stream she told her friends she wished she could fill up her water here. So if you don't want to carry an arsenal of water bottles, I would bring a Steri Pen or some type of filtration so you can refill if you need to. You'll pass a few places where you can fill up your water, though they get a lot scarcer near the top.
Snacks. Hopefully this is obvious too. This is a tough trail. Your body will need to refuel. Just throw in some granola bars, fruit, and crackers in your bag.
Good Hiking Shoes. Now I don't think you'll need legit hiking shoes per se, but you'll need tough shoes. Good athletic shoes will work though if you have hiking shoes I would wear them. But please don't climb this in like flip flops or flats. Your feet will hurt and you'll definitely ruin the shoes.
Extra Layers. This one depends on the time of year you decide to hike. In the fall, winter, and spring, I would bring a couple of extra layers to throw on be it a jacket, a hat, or some gloves. The hike is hard and I stripped off all the layers I could on the way up. But by the time I reached the halfway point it was much colder on top of the mountain. I pulled everything back on and even then I was still cold by the time we left.
Your Dog? Can you bring your dog? Yep, you totally can. I saw everything from athletic labs to a dachshund and a corgi. You will need to keep your dog on its leash the whole time but it can join you on your hike. Dogs are only not permitted in the camping/cabins area.
---
What Else Can You Do at Table Rock State Park?
More Hiking. So it's a state park, of course it has more than one trail. In fact there are 5 more trails though two of them start several miles up the mountain. And there are 2 easy trails that won't leave you out of breath (too much) – the Lakeside Trail & Carrick Creek Trail.
Swimming. No Table Rock State Park doesn't have a pool. But it does have a lake with a sandy beach. And during the summer there is a lifeguard on duty. So head on over to Pinnacle Lake in the summer and try jumping off the diving boards.
Boating. While you can't bring your own boats to Pinnacle Lake, you can rent them. Fishing boats, kayaks, and even paddle boats can be rented by the hour or day depending on the season.
Fishing. You can fish in both lakes year round and catch a couple of different kinds of fish. Fun fact! I suck at fishing…and I always want to throw the fish back. They always look so sad.
---
Where can you stay?
Camping. There are 94 campsites with electric and water in the park. Some of them are even big enough for an RV. And yes there are bathrooms and showers close to the campgrounds. These sites start at $25/night.
However if you want to get a little rustic, there are a couple of trailside, primitive campsites located across Hwy 11 on the Lake Oolenoy side. You will have to hike a bit to get to them and there are no real toilets or electric. There are six sites and they start at $17/night.
Cabins. Camping a little too rustic? Want a cozy cabin to hunker down in? Well you are in luck. Table Rock State Park has 16 cabins. Though the site says that only 14 of them have furnishings, heat, A/C, a porch, etc. so I'm not sure what's up with the other 2. Definitely check out the details of your cabin before you rent.
The Table Rock Trail kicked my ass that day. I gasped and crawled 2 miles up the mountain to the halfway shelter. But as I stood there looking out over the countryside, I knew it was worth it. In fact, I already regretted not giving myself more time so I could make it to the top. Masochism? Perhaps. But I keep telling myself I know what the worst is like. The first 2 miles sucked horribly. So maybe the last 2 miles of the trail won't be as bad…?
At least that's what I tell myself.

I can do this again. I'll be back. And I did go back. See below!
---
Update! I made it to the top! (5/22/2016)
Well, I did it. Yesterday we headed back to Table Rock State Park, and this time we were determined to make it to the top. And we did! We slugged our way to the Halfway Shelter but, this time, we only took a short breather. Then we powered on.
I would like to say that the second half of the trail is easier…but I can't. There is definitely a long stretch on top of the ridge that is flat but it doesn't last forever. Maybe a half mile or so. The rest is just as steep (ugh). But there are more spots to stop at.
The first one we reached was Governor's Rock. It's got a great view so we paused here for a moment to catch our breath and rest our legs.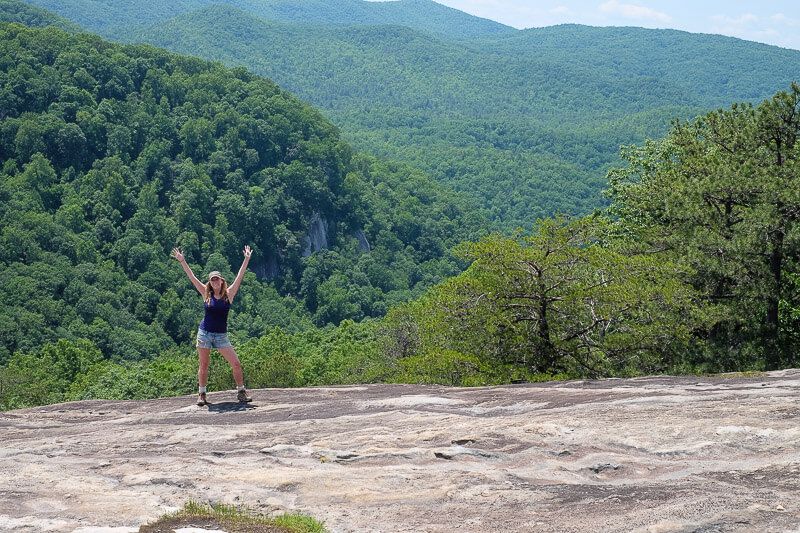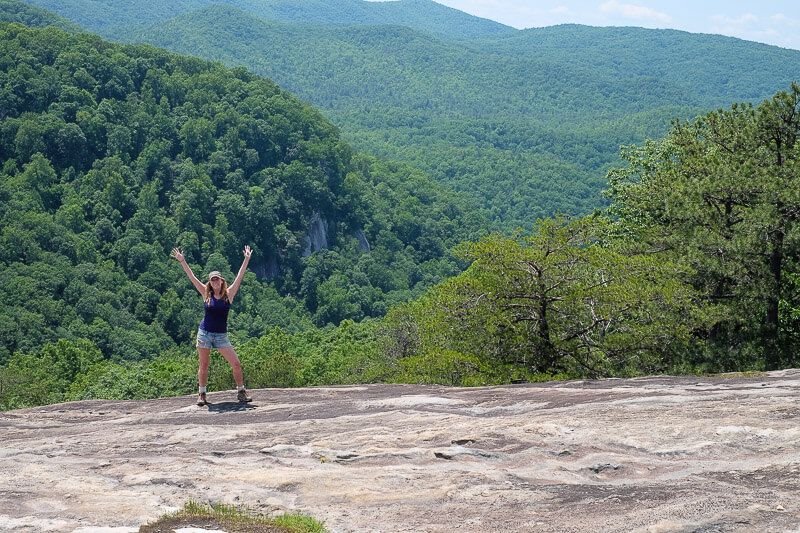 From there, we kept going up the hill. We passed a couple of other viewpoints but eventually we reached the summit. Which is actually not at an overlook. But you can't miss the giant sign on the left side of the trail. After a small "YES we did it!" we kept going. There are two more overlooks past the sign.
We didn't stop at the first one on our way there. We wanted to reach the end. So we kept following the red markers. Eventually (10-15 minutes pass the summit), we reached the final overlook. It's on a large rock face and the view below us was magnificent. A large lake dominants the view.
(If you don't see the lake, keep following the trail. There's an overlook only about 2 minutes from the summit sign, but this isn't the final one. Keep going until you see the lake.)
It felt…amazing to reach the top. I've done some tough climbs before but this one is definitely one of the hardest I've ever done. By far. Every time we stopped on the way up, my legs begged me to stop. To quit. To give up. But I didn't. And then as I sat up there, on top of Table Rock Mountain, I felt immensely proud. Not only had I come back to actually finish the hike, but I had made it to the top. I had climbed the mountain.
I would also like to say that the climb down was gentle and nice. But no. The way down was just as brutal. I don't think my knees are the best for they screamed at me the entire time. Each big step, each time I had to turn my body sideways to reach the stone below me, my knees shook.
I almost think it was harder to go down than up.
I all but collapsed back into the car. Thankful to be off my feet. The hike was definitely worth it. I'm so ecstatic we went back and finished the trail. But…I don't think I'll need to climb it again any time soon.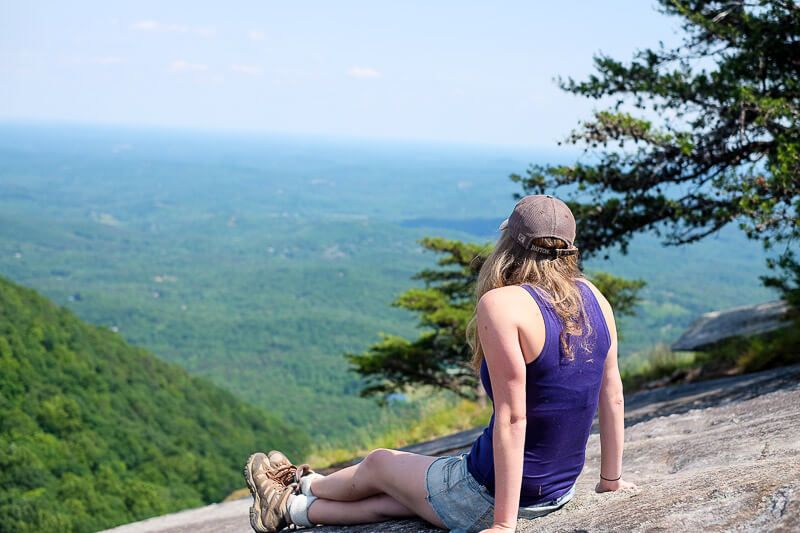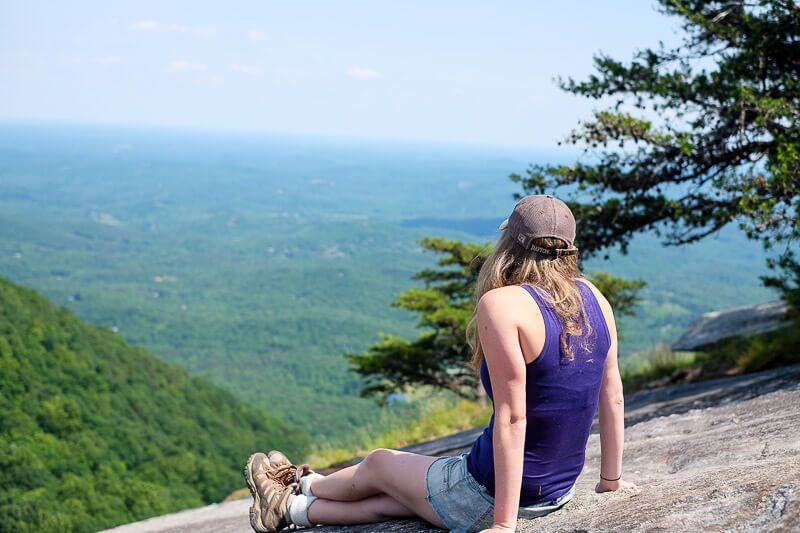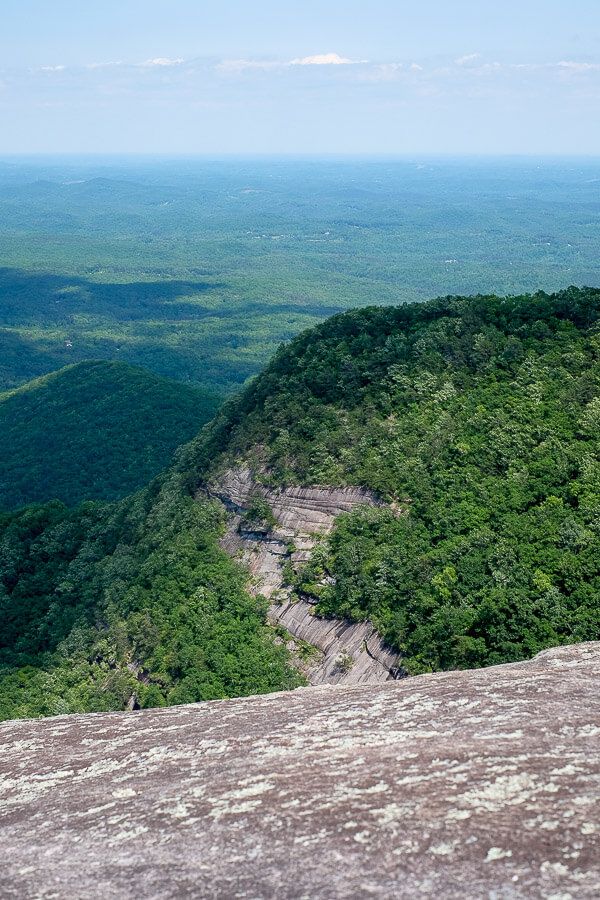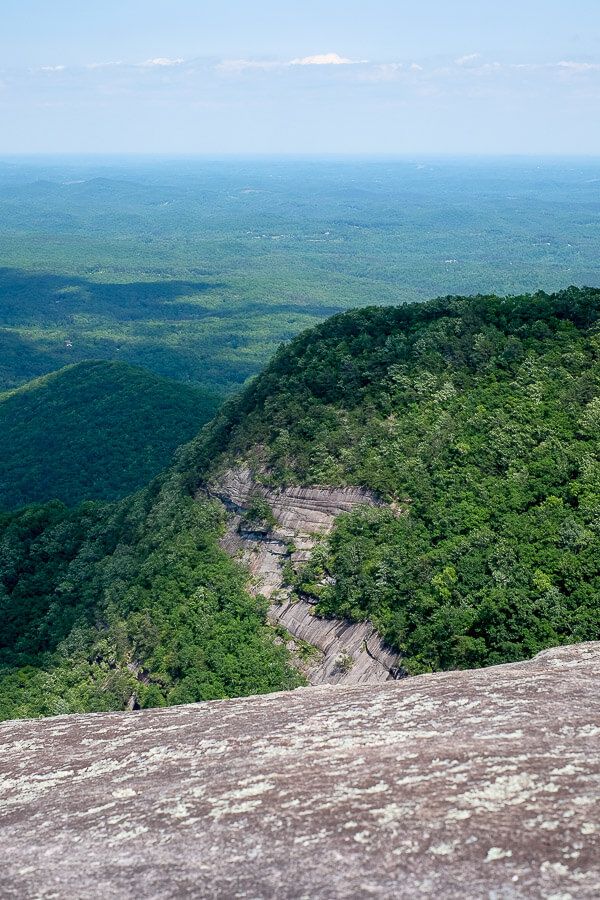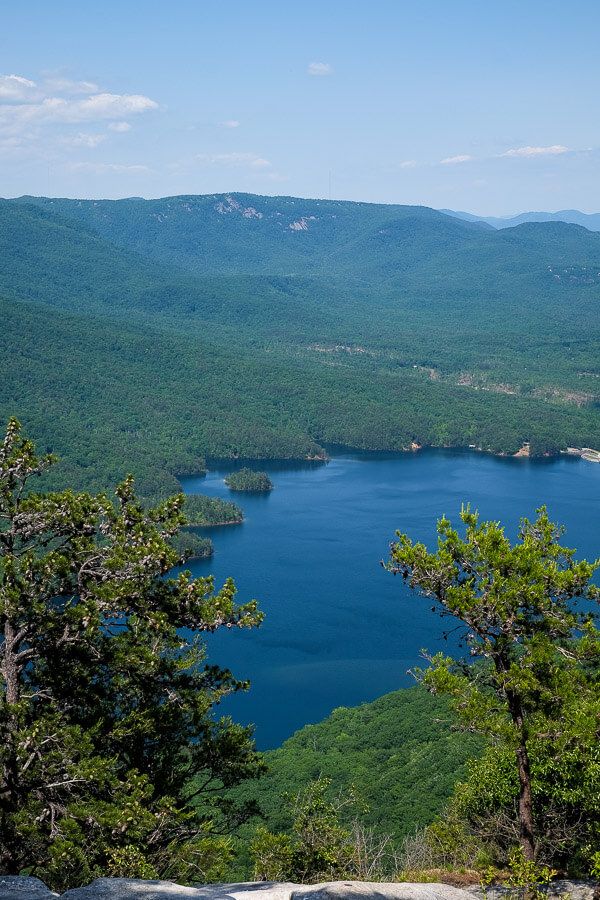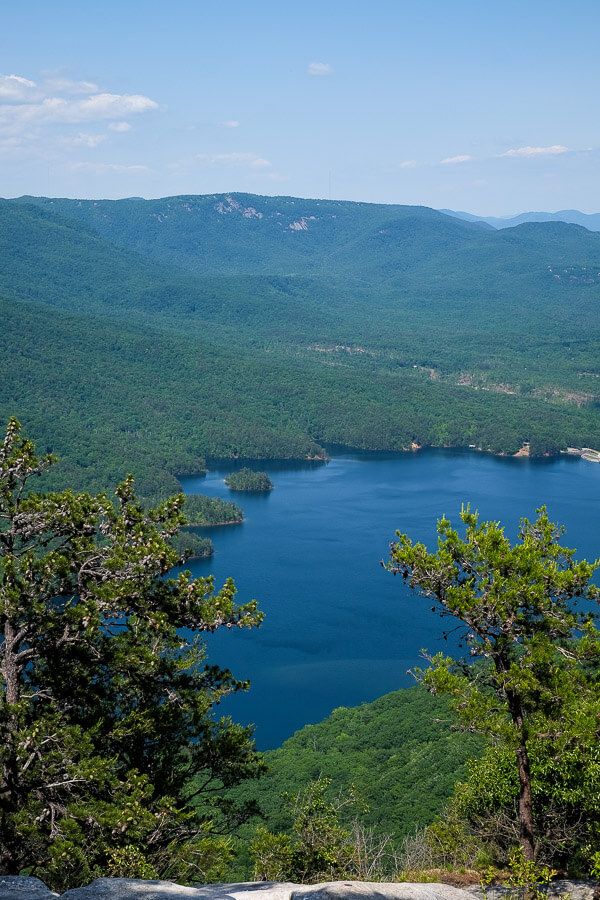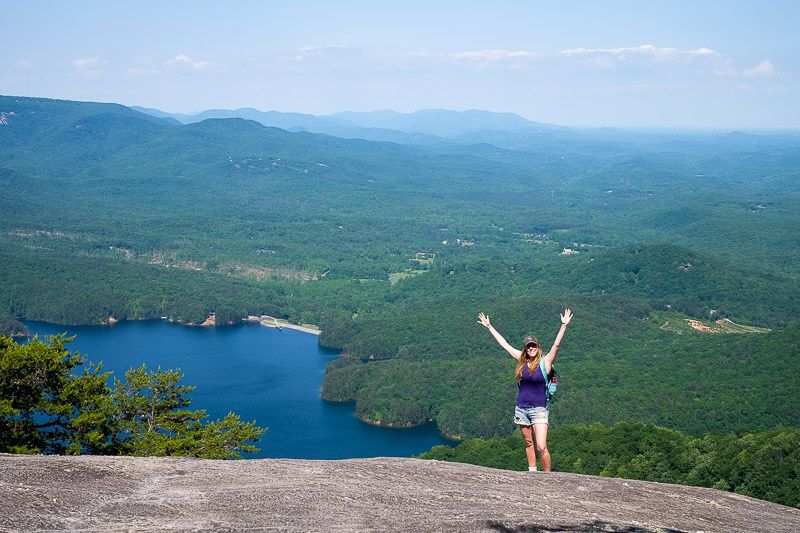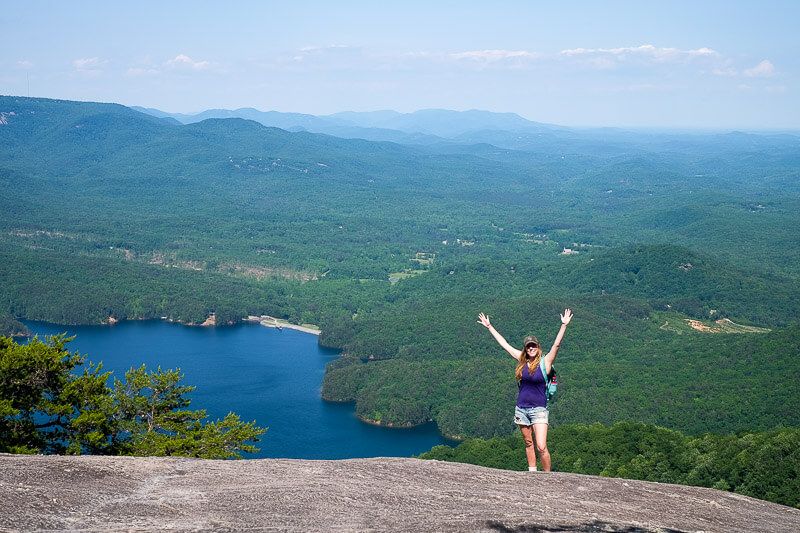 What trails are on your must-conquer list?
---
Nitty Gritty
Cost: 
Memorial Day through Thanksgiving: $5 adults; $3.25 SC seniors (age 65 & older); $3 children aged 6-15; Free for children 5 and younger.
Remainder of year: $2 age 16 & older; $1.25 SC Seniors; age 15 and younger free.
Hours:
Summer Hours: Sunday-Thursday: 7am-9pm; Friday & Saturday: 7am-10pm
Winters Hours: Sunday-Thursday: 7am-7pm; Friday & Saturday: 7am-9pm
Park Map:
Basic Trail Map
Detailed Map with Park Overview
Location:
Table Rock State Park has two entrances off Hwy 11. If you are headed to the Nature Center and Trailhead, use the East Gate (Lodge) Entrance.