If you live in the upstate of South Carolina, you know of the three main lakes that dominate the summer activities: Hartwell, Keowee, and Jocassee. I had once heard that Jocassee was "too cold" or that the waves were "too big." But while the water may be chilly, Lake Jocassee is also beautiful, clear, serene, and empty (comparatively) of other lake-goers. In fact I would say that Lake Jocassee is now my favorite lake to visit in South Carolina.
And though I find myself in its waters at least once a month during the summer months, there's one annual activity I never miss – camping at Devils Fork State Parks boat-in campsites. And after several visits over the past years…here are my tips to make your weekend amazing.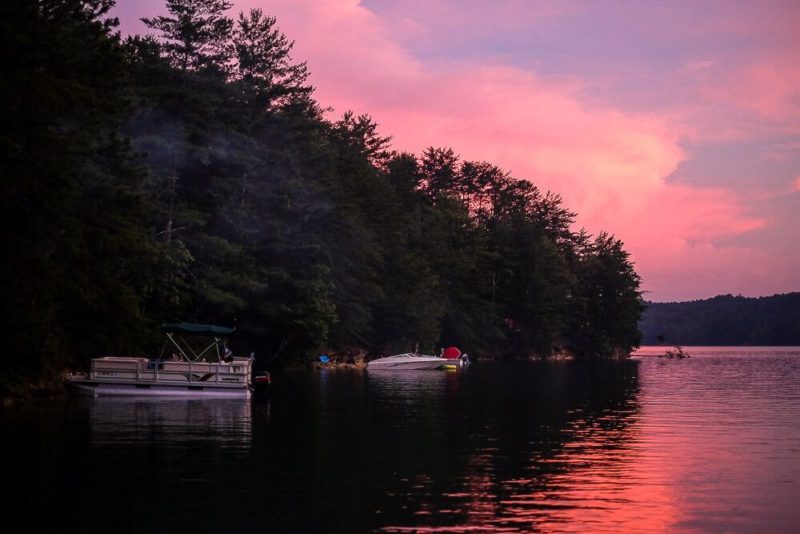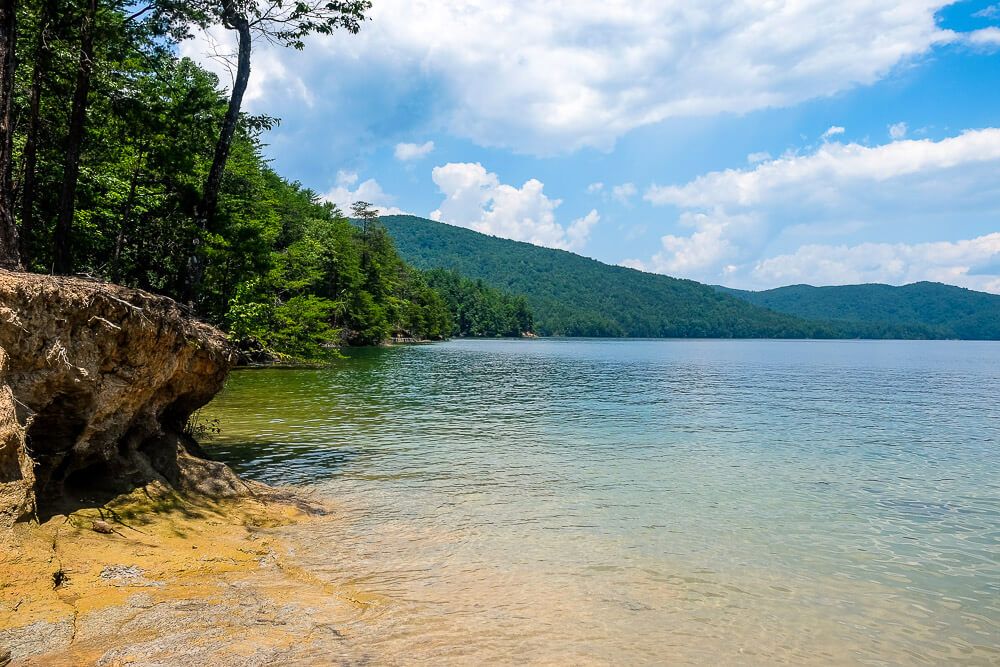 ---
What Are Boat-In Campsites?
Okay the lowdown. Devils Fork State Park is located on Lake Jocassee and will be most people's entrance to the lake. And while the park does have normal campsites (that are usually always booked up well in advance), it does have 25 boat-in campsites at its Double Springs Campground.
And you'll need to reserve these in advance as well.
Now what are boat-in campsites? Well, they are what they sound like. They are literally campsites you can only get to by going across the lake. There are no roads. So you have to have some kind of water vessel. (Think boat, canoe, kayak, etc.)
But warning! This makes these sites extremely awesome but also extremely rustic. These are primitive campsites.
Be prepared! There is no electricity or water. It is a tent pad and a fire pit. See the sections below for more information on the campsites.
And the only "facilities" near the campsites is one pit toilet and several creepy, isolated, spider-infested outhouses (yes…outhouses).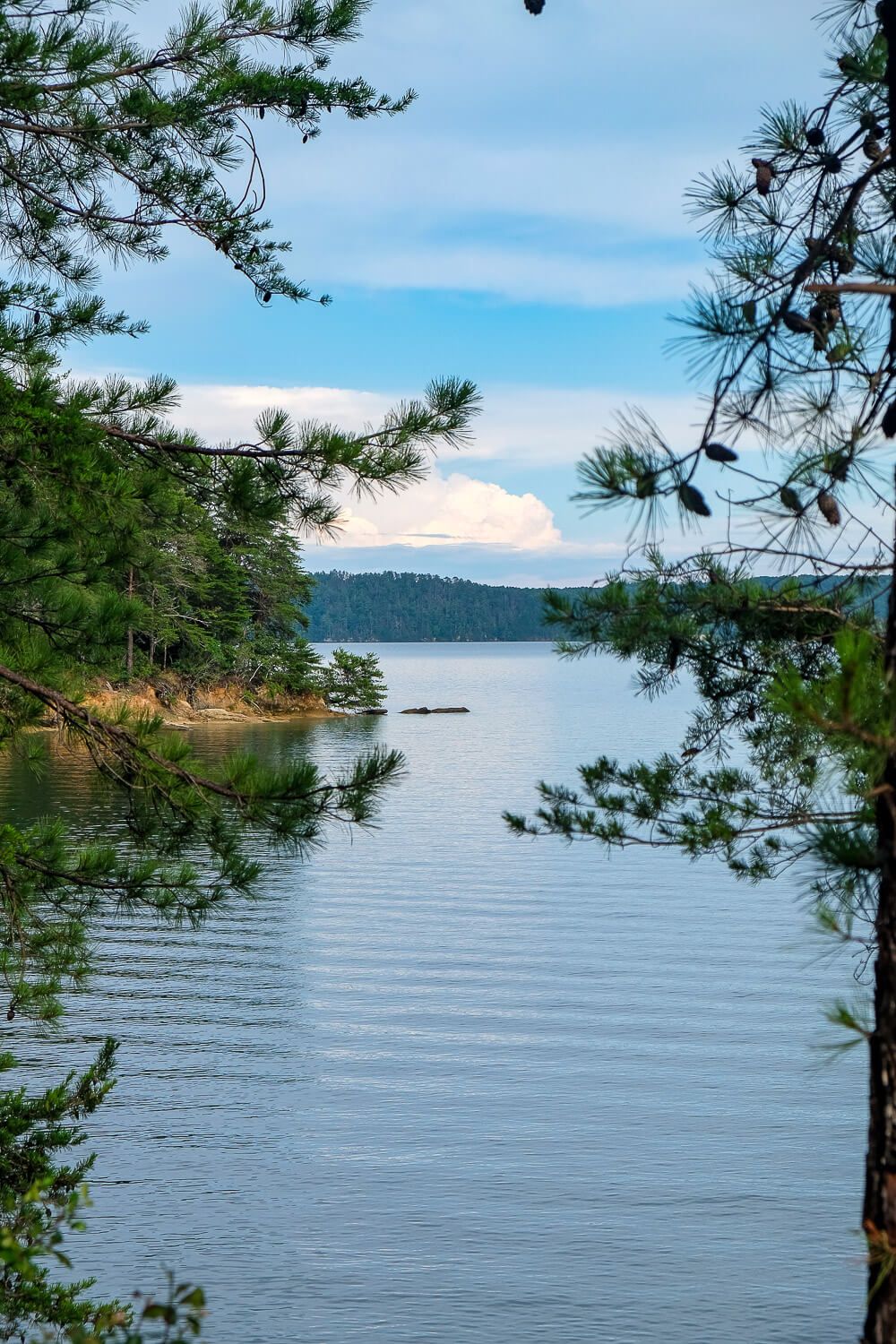 The first time I saw one of the outhouses…it was a big hell no. I have used it since but only during desperate moments. The one pit toilet is new (included during the 2019/2020 renovation) and is better, but it's not a real bathroom. Squatting is sometimes the best option.
There are bathrooms though at the main park office. Just boat over to the main dock and landing, and then walk across the parking lot to the bathroom. It may not make sense to do this for every bathroom visit…but for certain activities I can definitely hold it.
Whatever your technique…please, please, please don't just poop by the campsite and leave your toilet paper strewn about. If you use toilet paper, pack it out with you!! It's your toilet paper, do you think other campers will want to see your waste and toilet paper from their campsite? Are you expecting a ranger to pick it up? Just so gross.
This happened to us in 2018. At the campsite close to the water next to ours, the group of about 10 people made their bathroom like 10 feet from their campsite. Waste and toilet paper was strewn about everywhere after they left.
If you don't know how to poop in the woods or pack out your toilet paper (since women seem to be the biggest violator of this with just peeing), see this article on how to do this properly.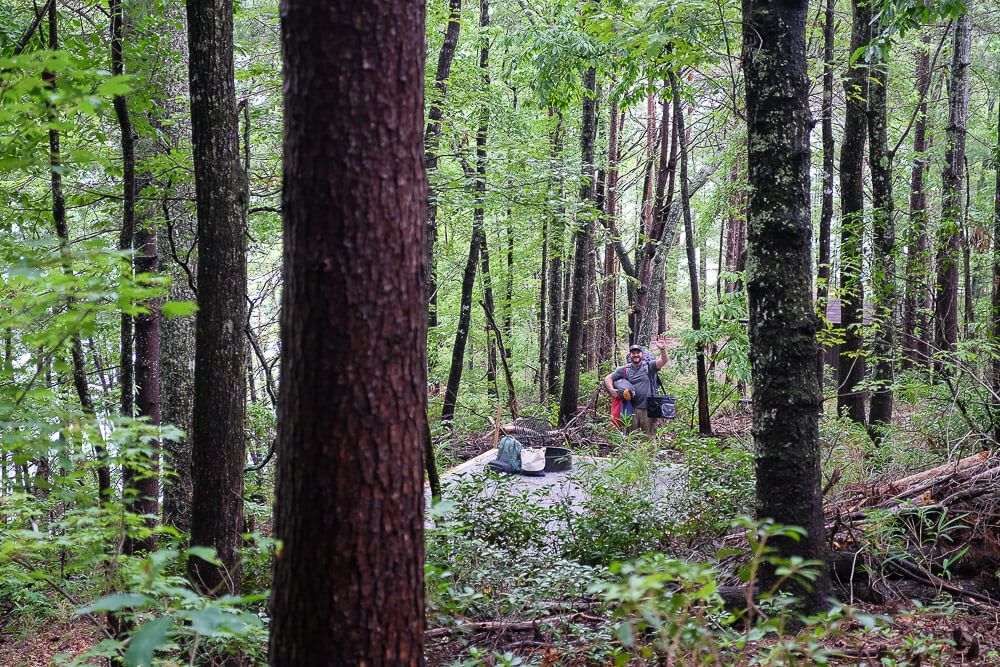 ---
Getting to the Campsites
The campsites are across the water so you will need some sort of watercraft to get there. If you don't have a boat, you can also kayak or canoe to the sites. But you will need to bring all of your supplies with you and it's 2 miles across open water.
Due to the incredibly rocky shoreline, it may make more sense to canoe/kayak than to boat. Many of the campsites are not conducive to boat parking.
In 2020 I think I saw more people with kayaks/canoes than boats at the campsites. So it is doable.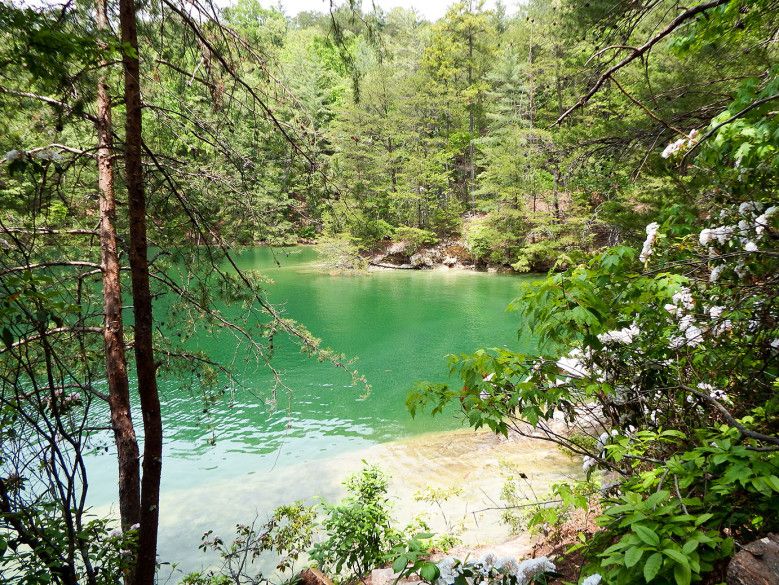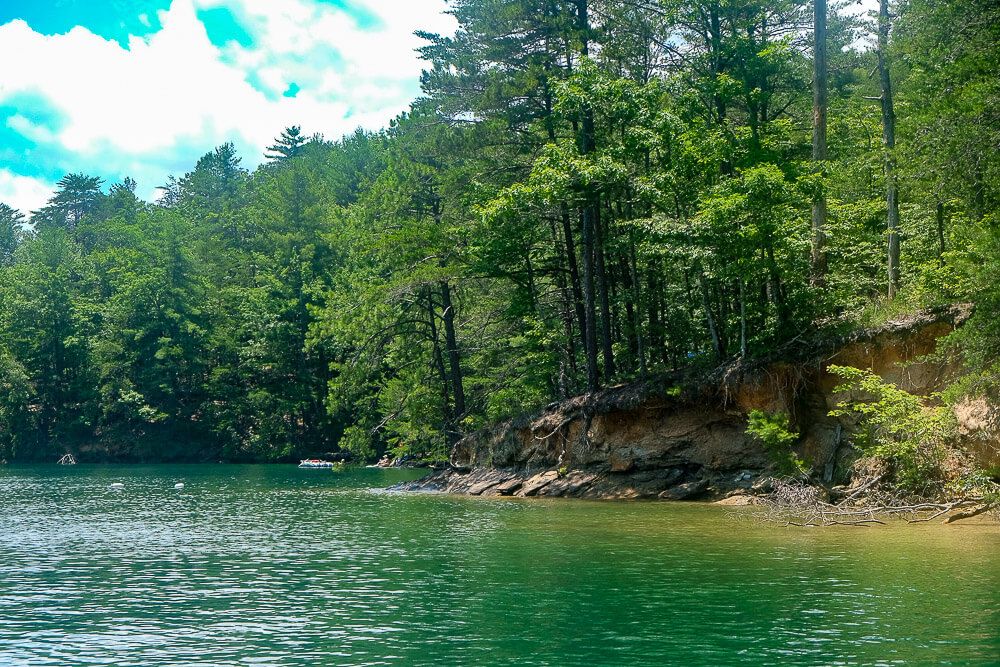 ---
What Are the Campsites Like?
The campsites are pretty primitive. As mentioned, each campsite only has the basics. And though there are similarities between them, the campsites are not all equal. Some have water access, some don't. Some have beaches, some absolutely do not. Some have a place to park your boat or canoe, and some have no water access. Let's get into it.
Each campsite has a gravel tent pad (12'x 20′) that could probably fit about 2 tents on it. Though they will fill up the pad. With just our one tent, we had plenty of room on our pad to spread out our stuff.
It terms of "amenities," you basically you have one tent pad, a fire pit, and a pole with two hooks to hang things from. This pole will also have your campsite number on it.
The maximum number of people allowed at each campsite is 6. So if you have more than 6 people, I'd suggest booking adjacent sites.
Pets are now also allowed at the Double Springs Campground so I love that I can bring Ellie with us camping on Lake Jocassee.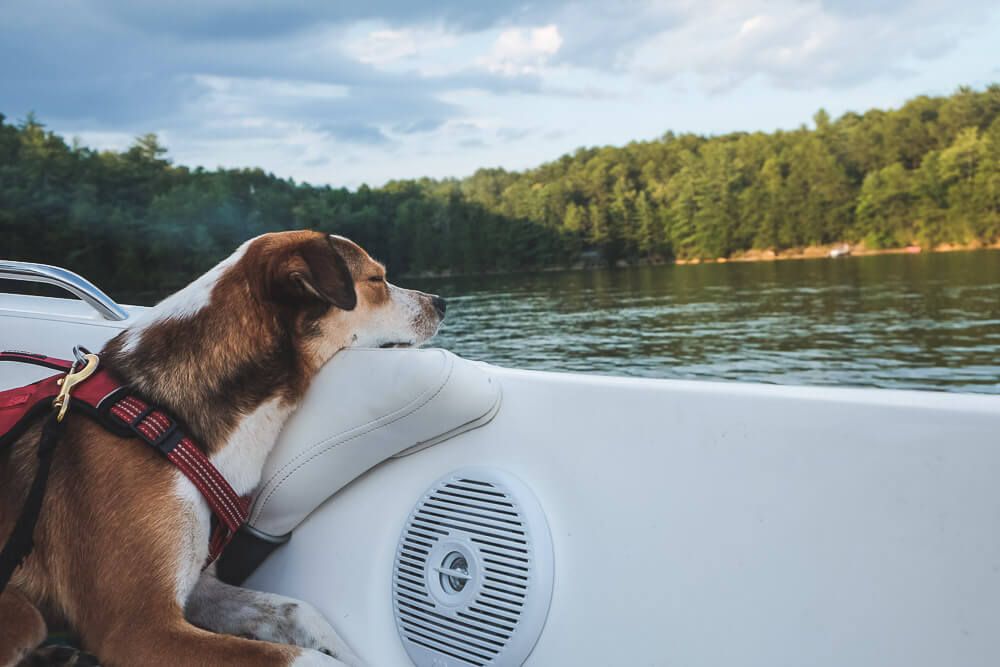 There are no bathrooms and no running water. So make sure to bring your water with you.
For the "bathrooms," there are two options. First there are several outhouses along the trail on the ridge between sites 11 and 3. Sites 1 & 2 and Sites 12 & 13 could also easily access these outhouses.
The second option is a new pit toilet located right by site 21. All the campsites on this side of the cove could easily make their way here via the main trails through the campground. It's just a pit toilet, but it does have a solar-powered fan.
Regardless bring your own toilet paper and hand sanitizer and be quick. Since these are just compostable toilets, the smell can be quite bad. You have been warned.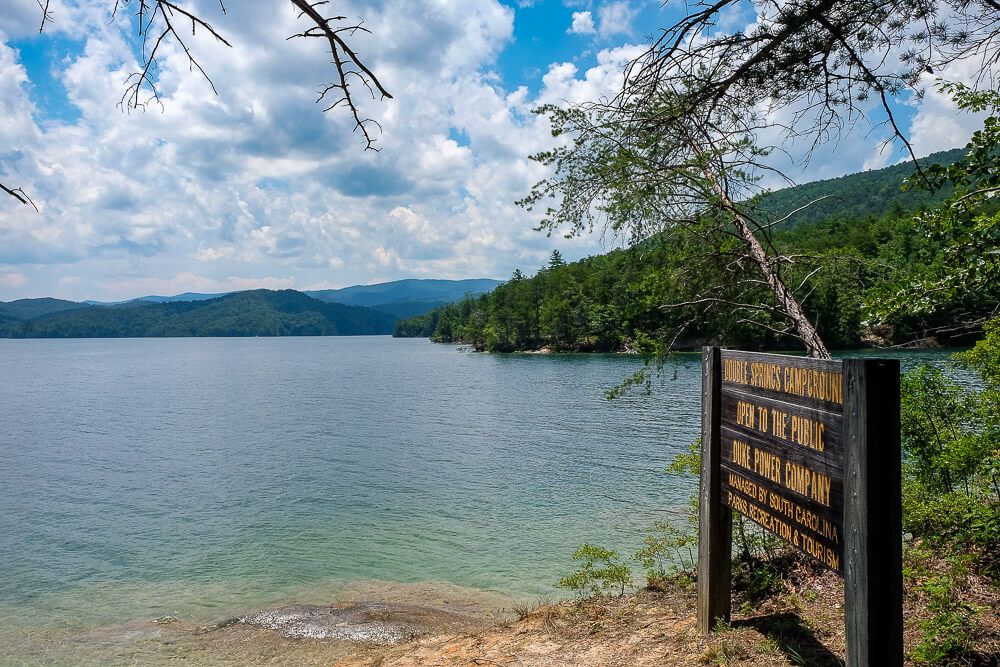 Now onto the differences.
In the past, all of the campsites were fairly close together. With the expansion done at the beginning of 2020, the sites are now much farther apart. Some are still close together, so be sure to read my individual descriptions below.
The shoreline of Jocassee is extremely rocky. There are only a few sandy beaches. And this includes at the boat-in campground. Only a few sites have an actual beach. And only a few sites have any kind of boat parking area. Most of the campsites will have to share water access.
If you have a boat, please be careful! The whole park-your-boat-against-a-rocky-shore thing is treacherous. You'll want to be wary of rocks in the water as you get close.
Also the water in Jocassee may rise and fall by up to 4 feet thoughout the day and night. So keep that in mind too.
I have pictures of each campsite below and a brief description of each one as well. But most of them have rocks you'll have to navigate. Be prepared for this!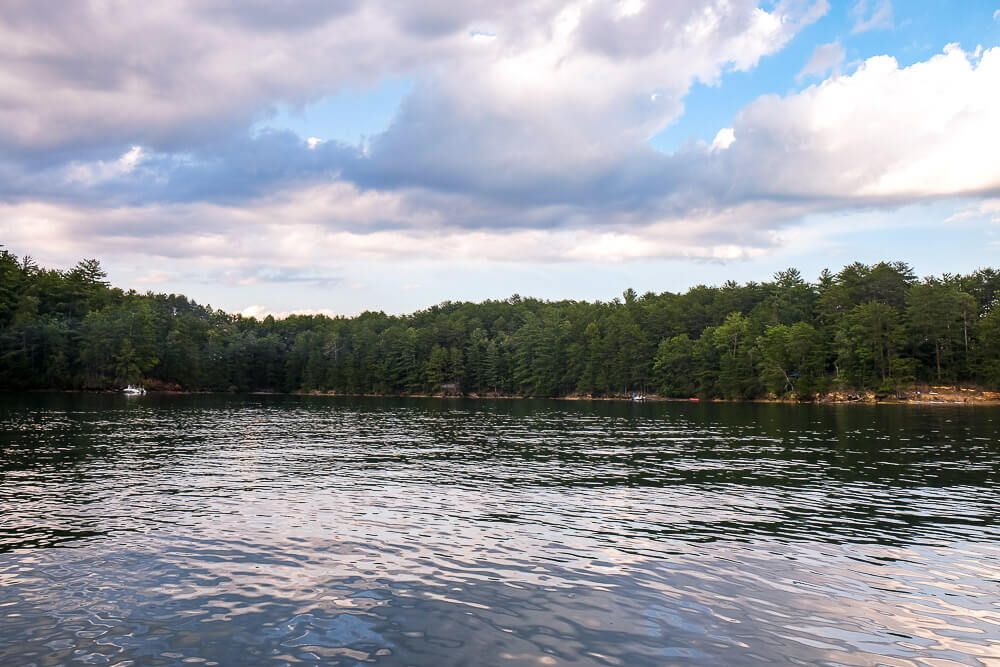 Another consideration to keep in mind is the walk from the shoreline to your campsite. Sometimes it's real short. Sometimes it's real long (+500ft). And most are shared with other campsites.
Really take this into consideration when it comes to how much stuff you are bringing. Climbing a steep hillside while carrying a heavy cooler packed with ice was difficult to say the least.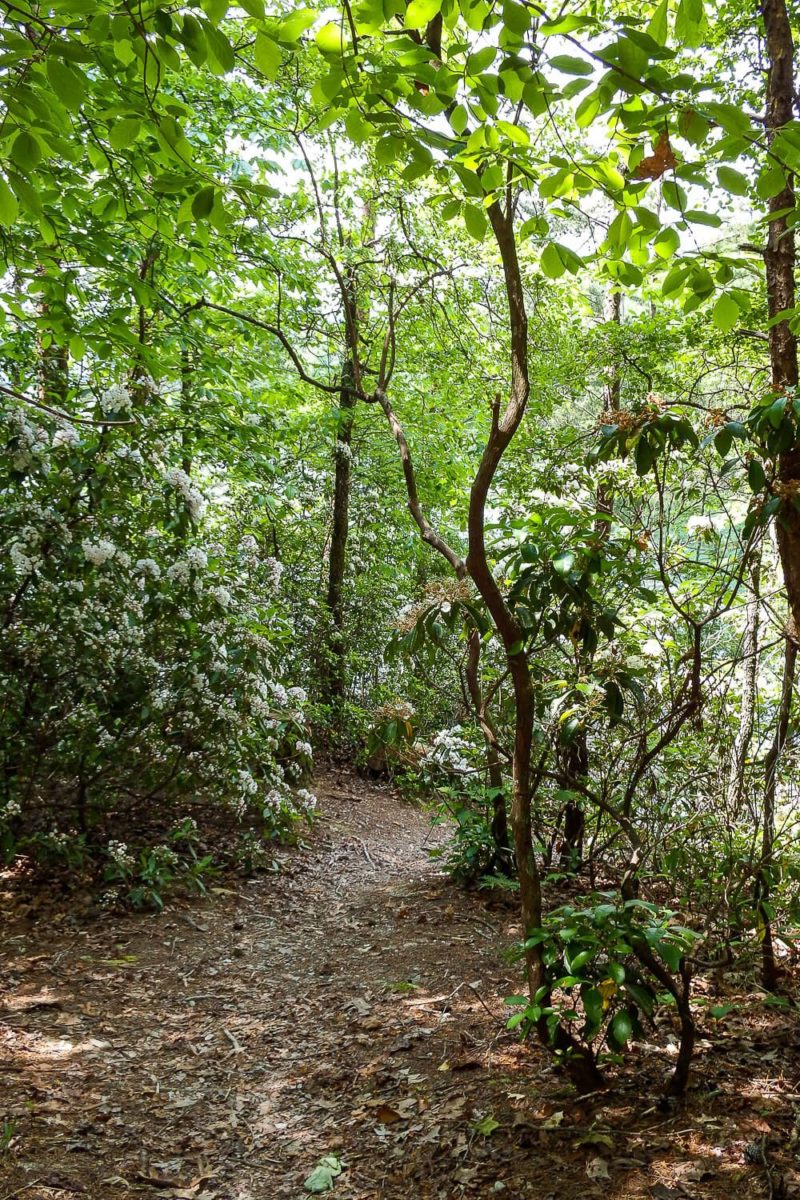 ---
Which campsite should you reserve?
Devils Fork State Park finished renovating the Double Springs boat-in campground during May of 2020. During this time the campground was drastically expanded from 13 sites to 25. This included changing the layout and location of every campsite. If you visited in the past, the numbers of the campsites have changed. So keep that in mind.
Can you switch your site once you get there? Absolutely not. You cannot switch sites and do not take someone else's site. Most times the campground is completely booked through the weekend. Respect the rules and respect other people's bookings.
If you're picky about your campsite I'd suggest either booking early to get the site you want or to camping somewhere else.
IMPORTANT: I'm still updating this section of the article from the original 13 sites to the new 25 sites (renovation done in the winter of 2019/2020). I have added my recommendations and pictures for 24 of the new sites. And I hope to continue expanding my descriptions throughout my future visits

I've included a map from the Devils Fork State Park Reservation site of the new campsites as a reference below.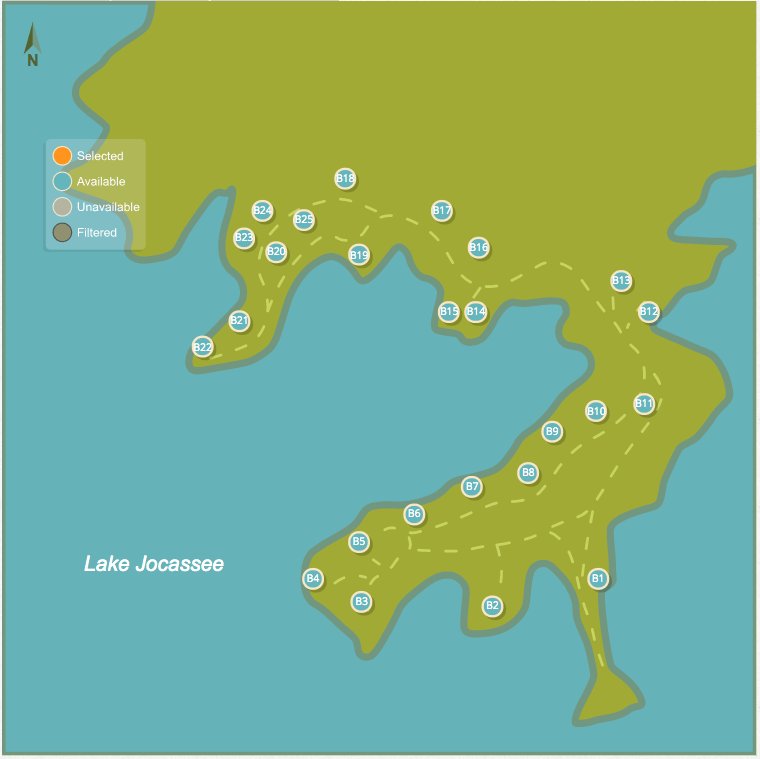 We've visited these boat-in sites several times over the past 5+ years. Here are my notes, videos, and photos about each site. These are all primitive sites, some are spaced close together, and most have rocky boat tie-up spots.
Now something else to consider, depending on the time of year, the trails may be covered in leaves. It looks like they come out and rake the trails each year. But I'm not sure when. Your "trail" may be hard to spot.
The video below also gives an overview of each site. The video is quite lengthy, so feel free to skip around to the sites you're interested in. Also since I put this video together over several different trips, so it's not perfect but I wanted to get this out there sooner rather than later.
For a written description of each, just check below!
Site 1. This is an amazing site. It's far away from the others and is very private. It's situated right out on a point with a mostly sandy beach on either side. It has great views of the lake and even a little island connected by sand to explore. And if the sand at the point isn't to your fancy, back in the cove between Site 1 and 2 is another sandy beach. Recommended.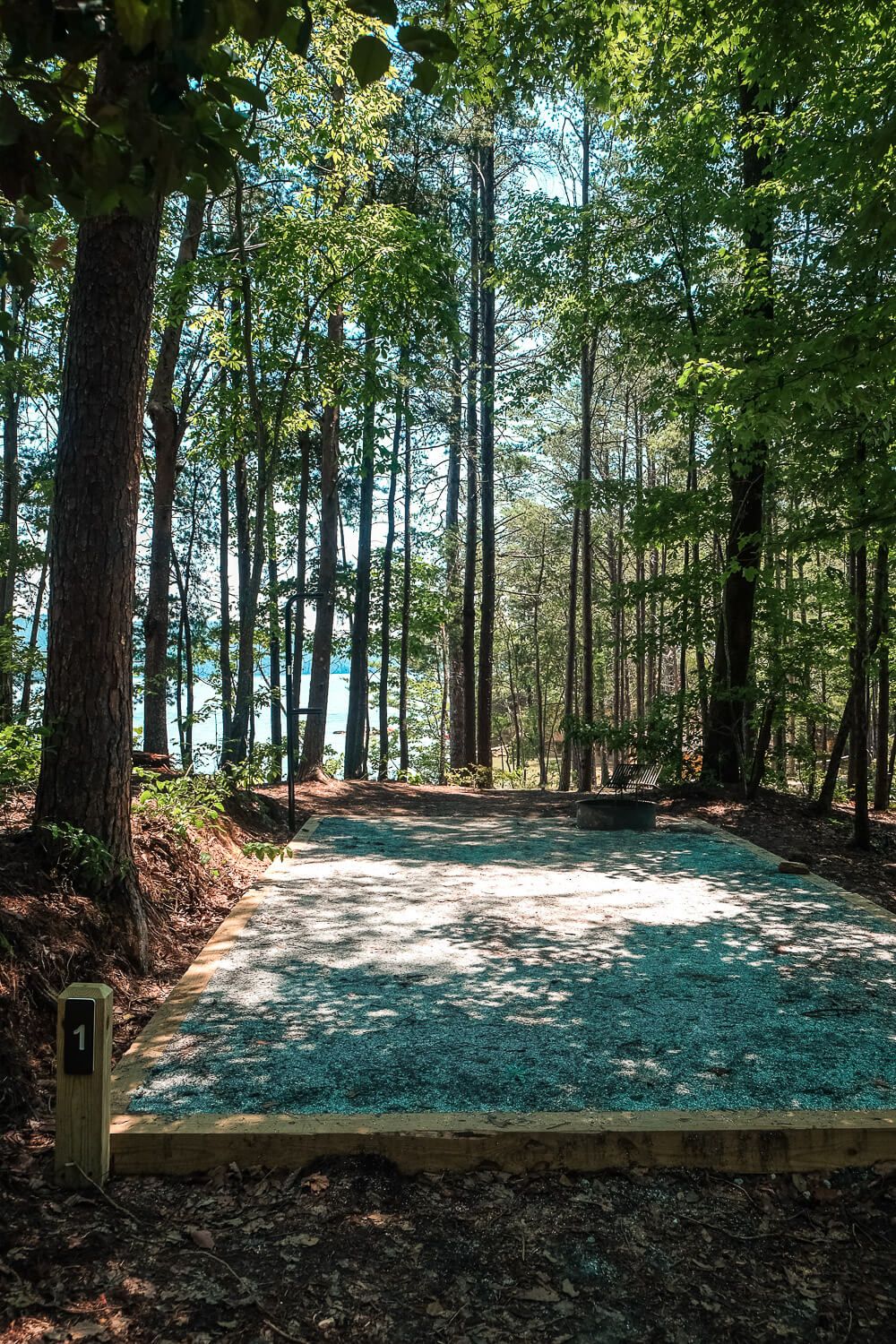 Site 2. Site 2 is another favorite of mine. It's located out on the point between Site 1 and 3. It's tucked back by itself so it has great privacy. A small trail next to the site leads down to a nice big flat sandy beach that's perfect for parking and hanging out in. Recommended.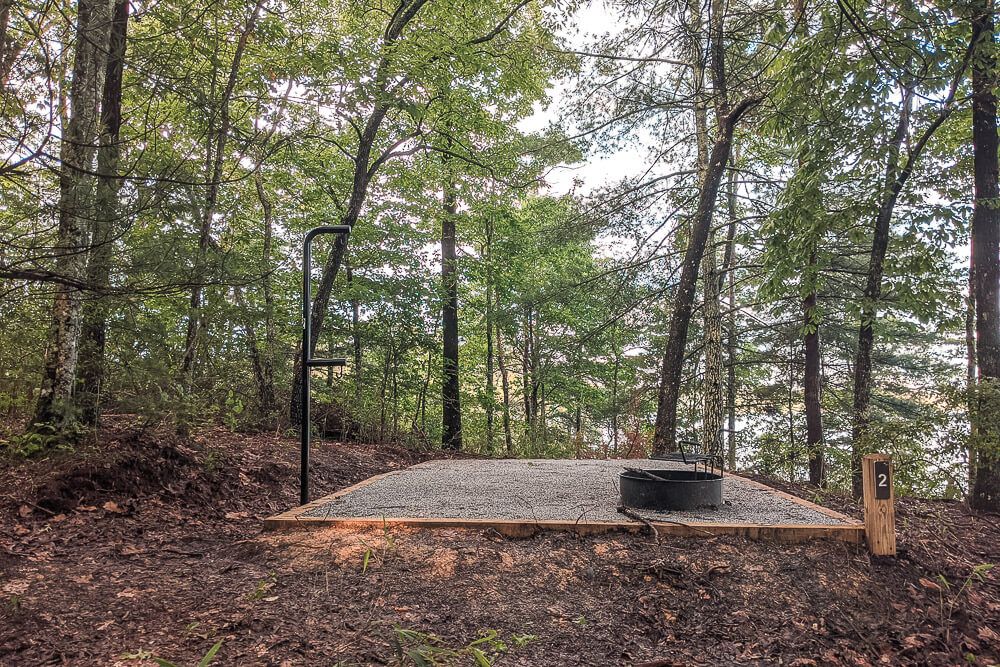 Site 3. Unfortunately I've been unable to explore Site 3 yet. It doesn't seem to have any real water access however. The best beach to it might be the one for 2, but there wasn't any real trail down to it that wasn't right by Site 2's tent pad. More information coming soon.
Site 4. This site is located right behind the main sign for the campground so you're right out on the point. During calm times (weather wise) this could be an ok campsite. However the step up from the water to the land is very steep. You'd definitely need a rope. And there are a lot of holes to watch out for as well. The water access is part sand and part rocks. Might be better for canoes and kayaks than boats.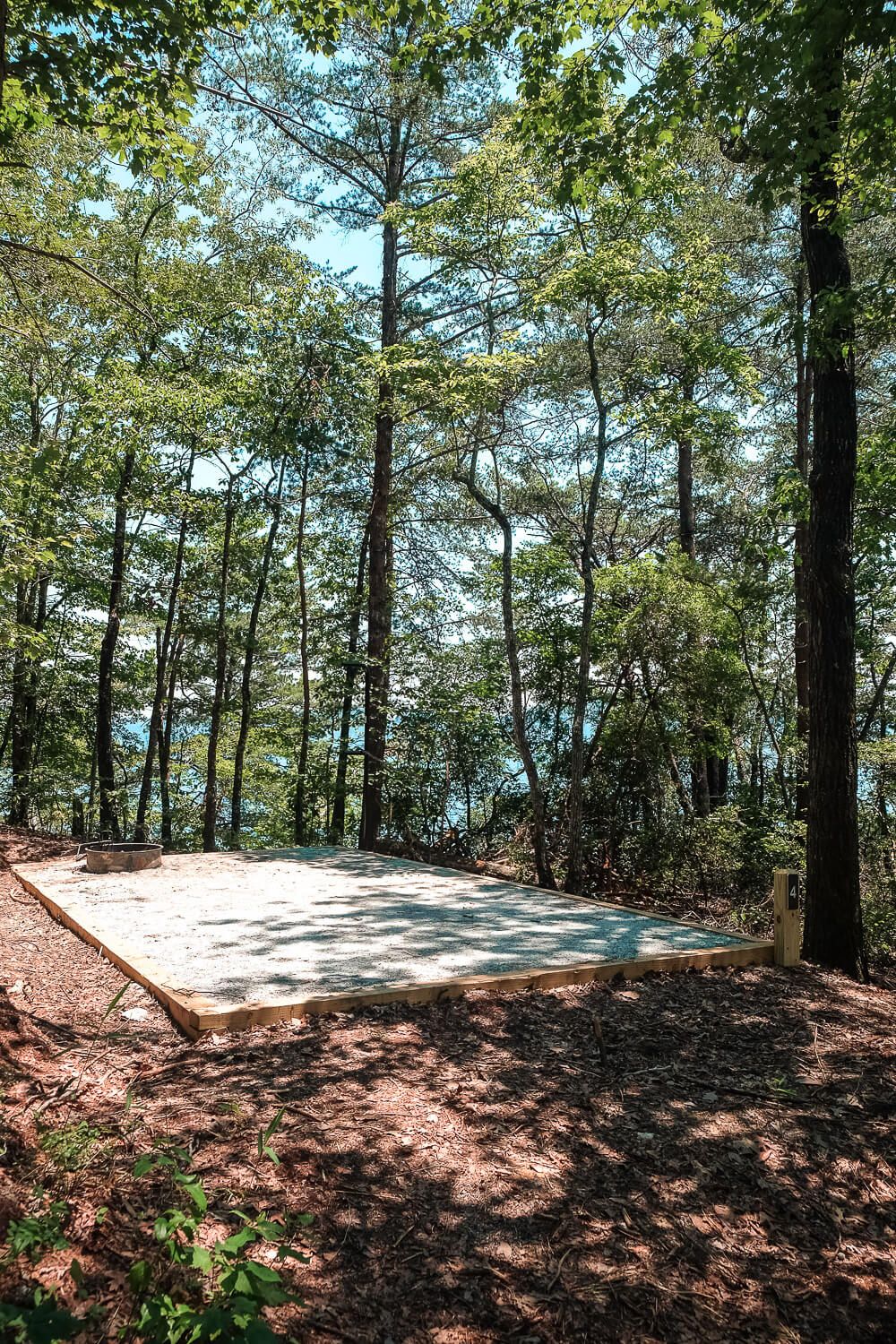 Site 5. This campsite is tucked between 4 & 6 and is quite close to both. It doesn't have its own water access of any kind. You'll have to share with Site 6. And with the heavy growth along the shores, the views are only so-so. I wouldn't recommend this site.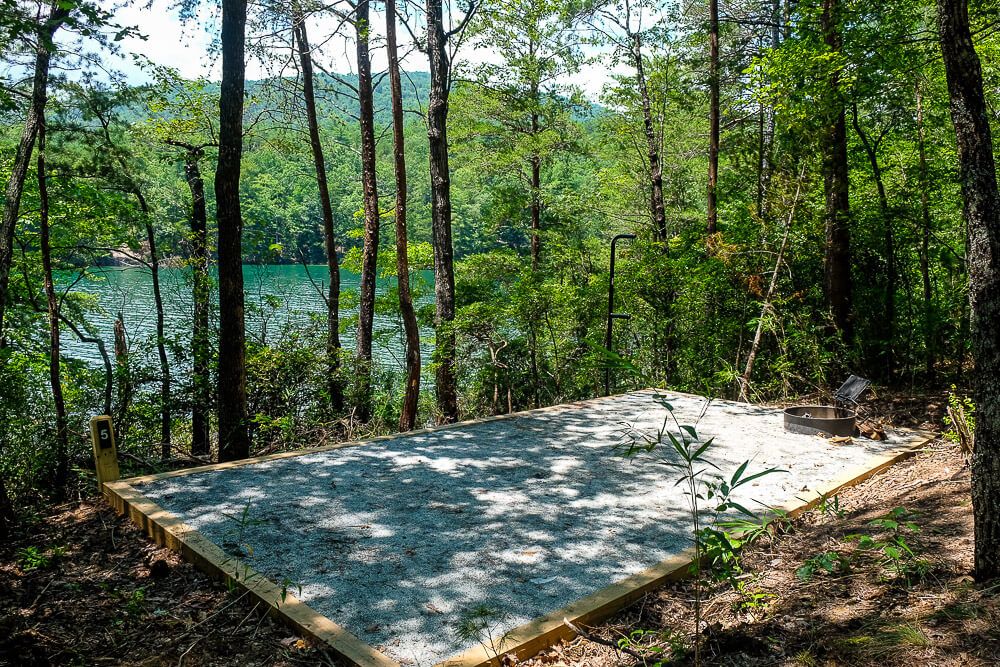 Site 6. This is the old #1 site. It's large and mostly secluded. Site 5 is tucked around the corner but you can't really see it very well. (Though you will have to share water access with them.) There's a little nook to park in and unload in. There is a big step up out of the water, but there is a mix of sand and big rocks here where you'll park. Oh and the walk from the tent pad to the water is a mostly gentle slope (after you get past the big step up). Recommended.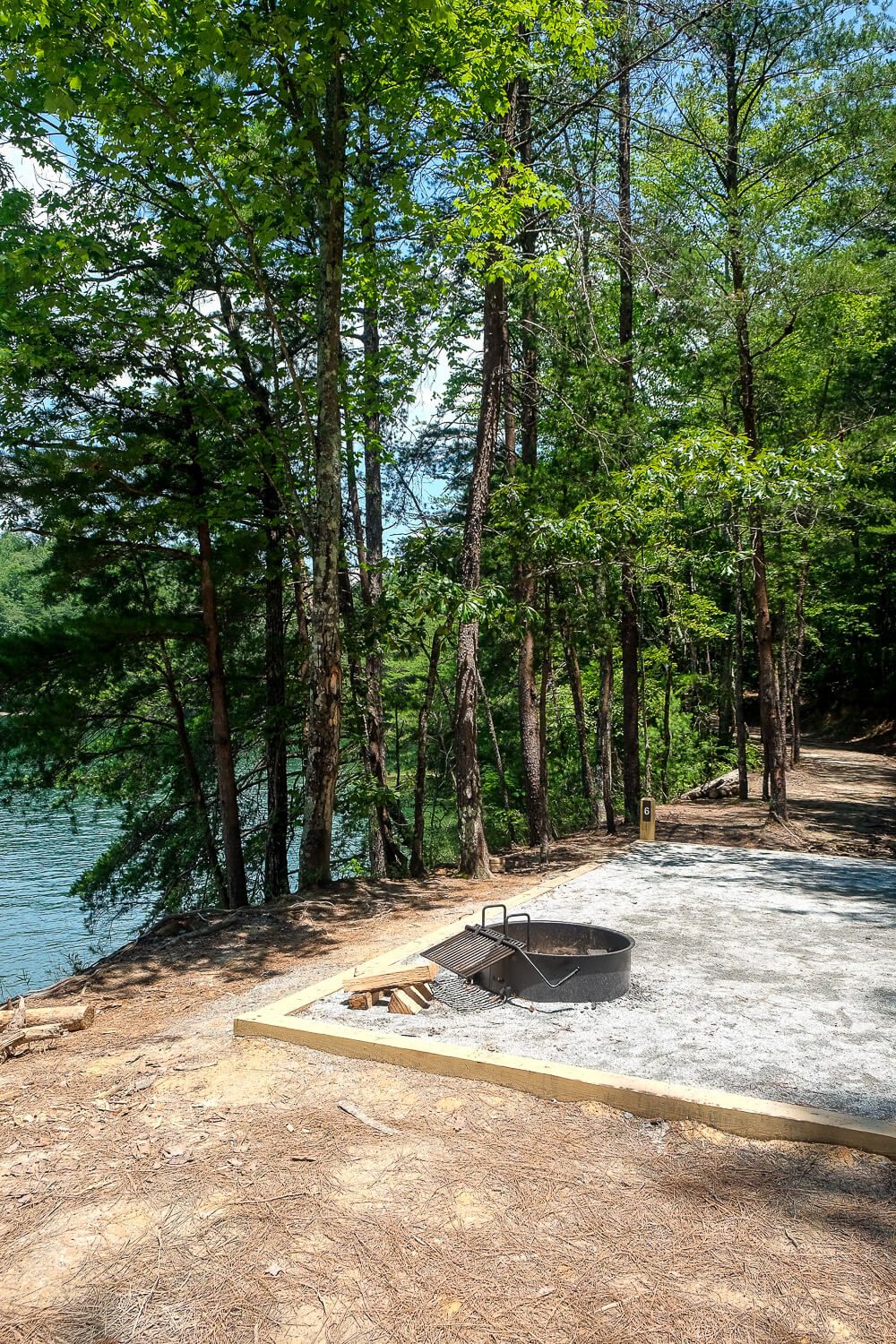 Site 7. This site has a nice little (albeit rocky) beach area. And steps to take you up from where you dock to your campsite. There are actually stairs on either side of the tent pad, so you should be able to find a good spot to unload. Be careful of the big rock right off the shore. Recommended.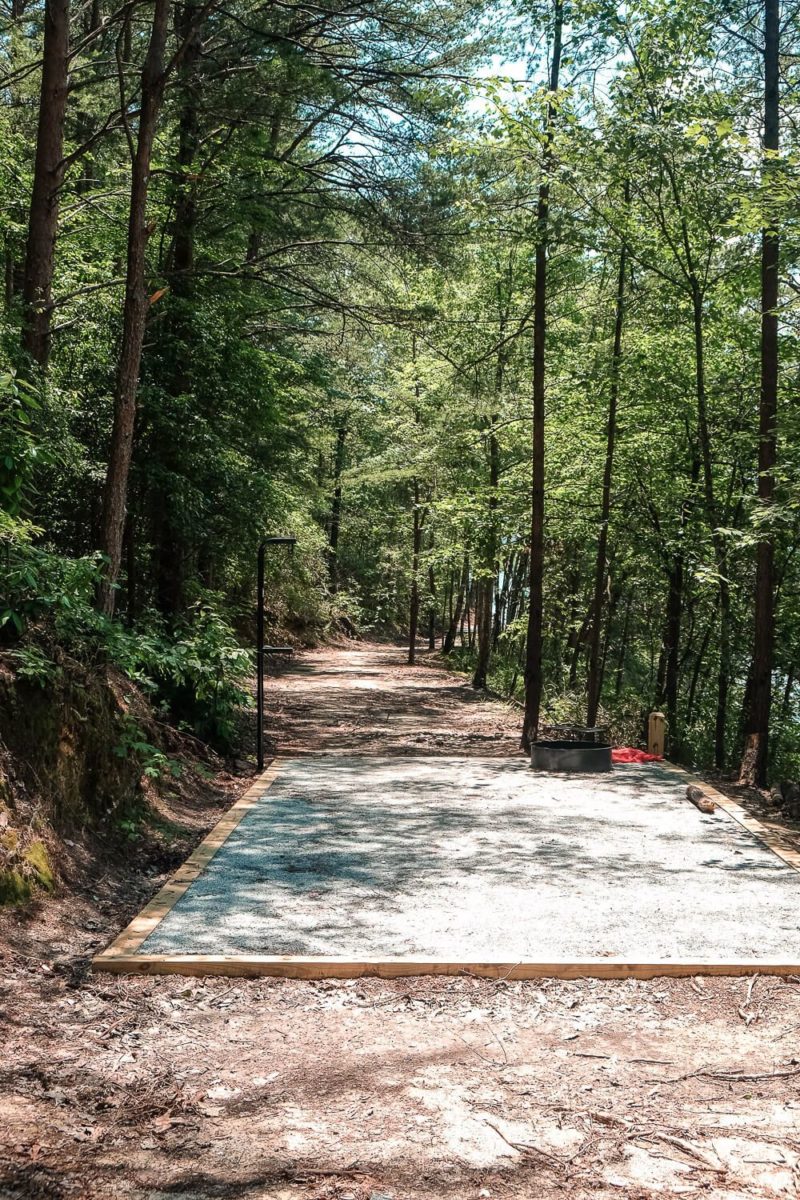 Site 8. Sits relatively close to the water and would definitely be doable for carrying up lots of stuff. Like Site 7, there looks to be two spots to head down to the water with actual steps in places. There are large rocks in the water by the shoreline here so be careful. You're also relatively close to Site 9. Overall recommended, but not a favorite.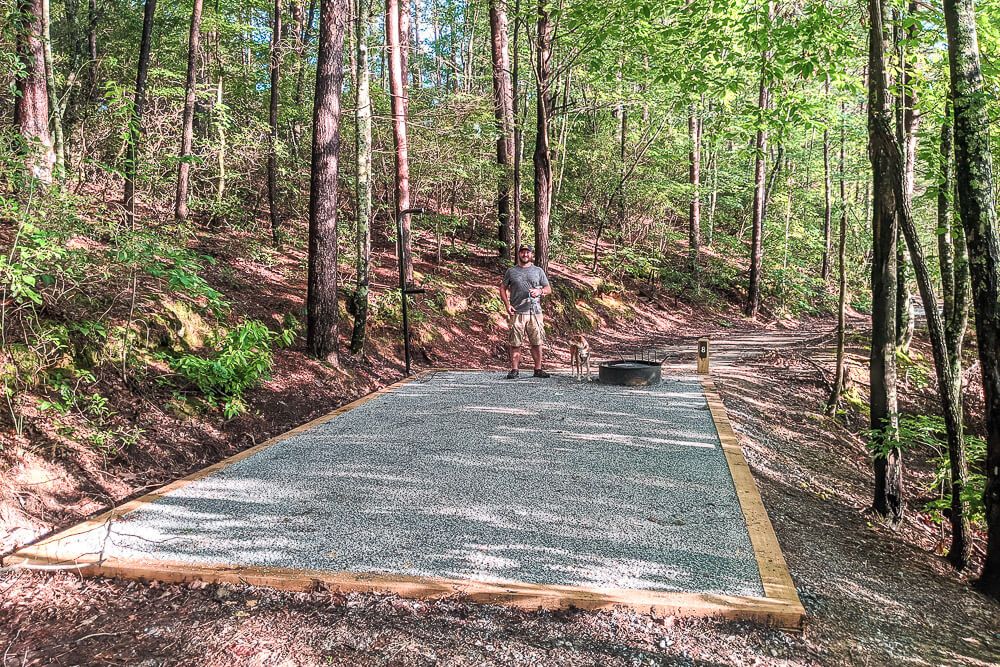 Site 9. This is old site 7. It's located right next to the water and has great water access, great views, and a very short walk for unloading. There are lots of rocks right off shore, so be careful. And there isn't much sand. But the views and ease of access is great. Recommended.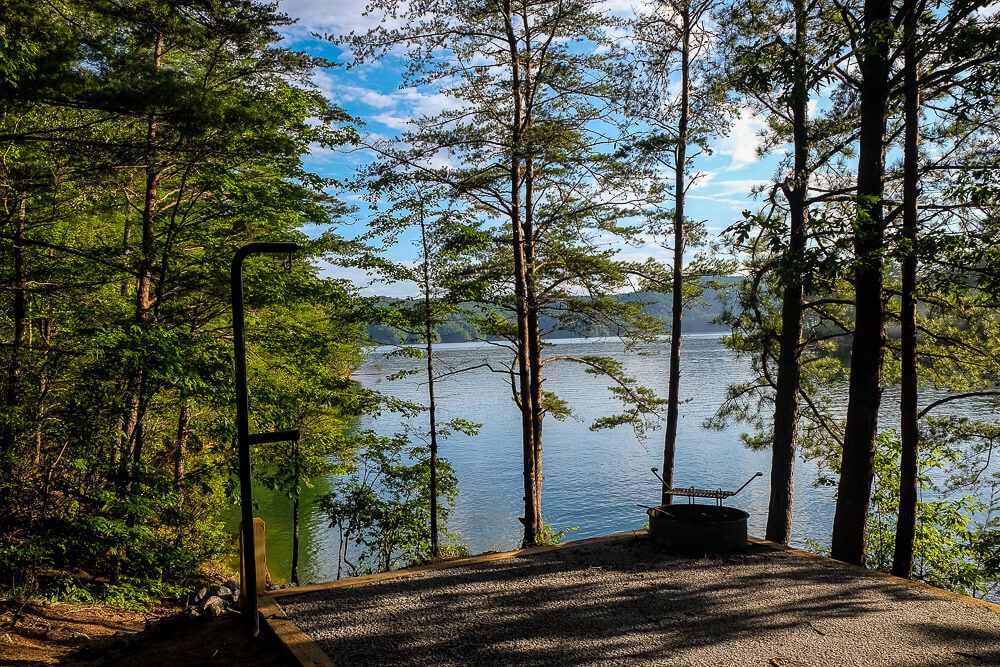 Site 10. The trail to the water is a little long-ish, but is relatively easy. It's a good slope though steep in parts. The waterfront is fairly rocky so be careful. There are steps up the bank which is nice though. And though you can see Site 11 in the distance, it didn't feel too close. Recommended, but may be best for canoes/kayaks.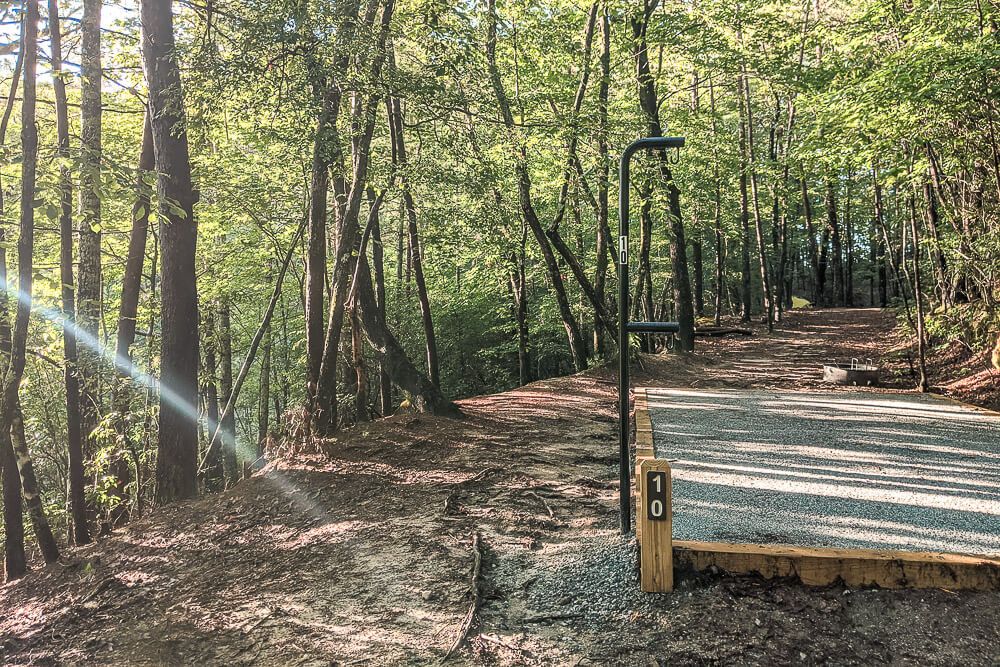 Site 11. This was old Site 12. But it is now one of my favorites since 13 was moved. It's positioned at the back of our cove and though the walk from the water up to the site is long and steep in parts, it has a nice sandy beach. On this side of the cove, it's one of the nicest parking and swimming spots. Be prepared though! This is a tough walk to the water though there are steps up the last steep bit. I think it's definitely worth it though. Only thing of note is that you will probably have to share this beach with the people at 12 & maybe 13 as well. Recommended.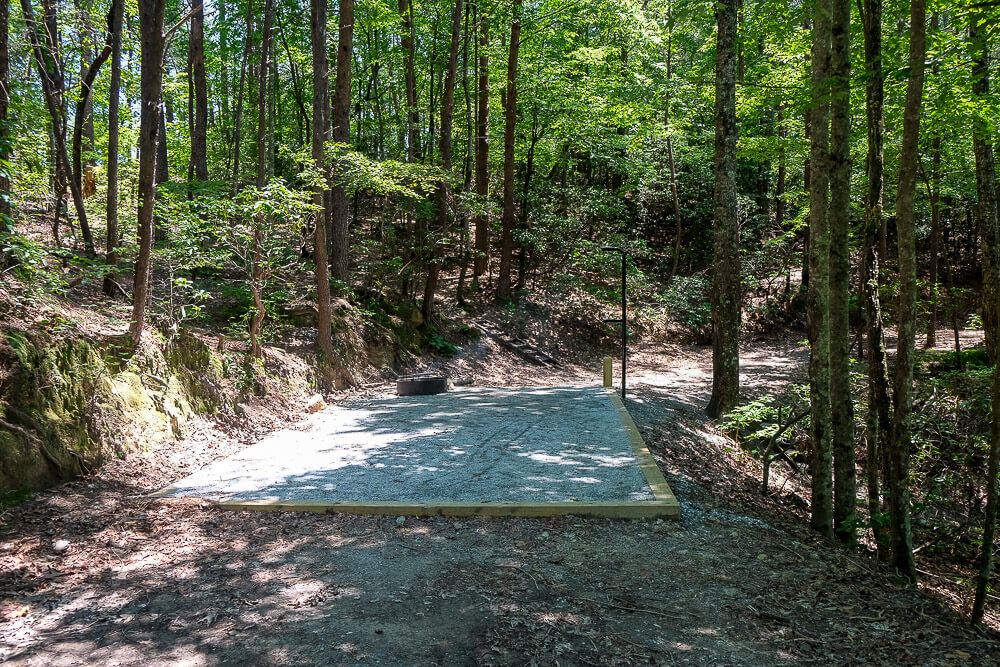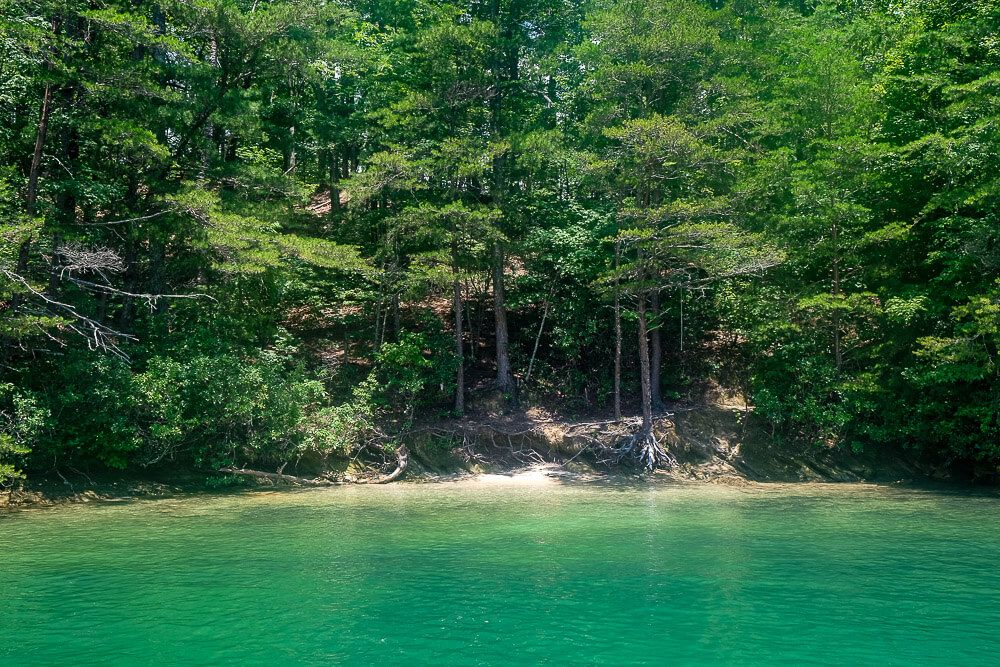 Site 12. This campsite is positioned back and behind Sites 11 & 13. It's relatively secluded except for the fact that you'll need to share beach access with either the campers at 11 or 13. You'll have a bit farther of a walk than the people at 11, but it's not much more uphill. There is a trail behind the site, but I didn't see this lead to anything. If this does, let me know! Recommended.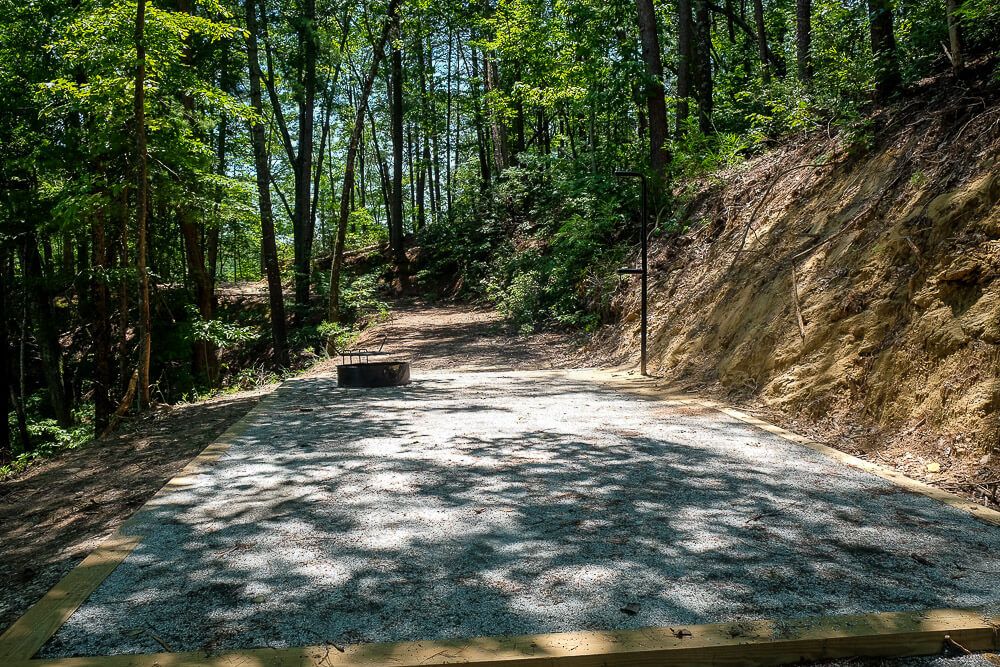 Site 13. This campsite is placed up above the old 13 campsite. It's positioned up and above from the water and has a very, very steep climb. You'll need to climb up the main bank (the level where 11 & 12 is) and then climb up the ridge some more to reach 13. You do have the option of two sandy beaches though. (The one below 11 and the one along the trail between 13 & 14.) However the walk to and from the water is too long for my taste. Not recommended.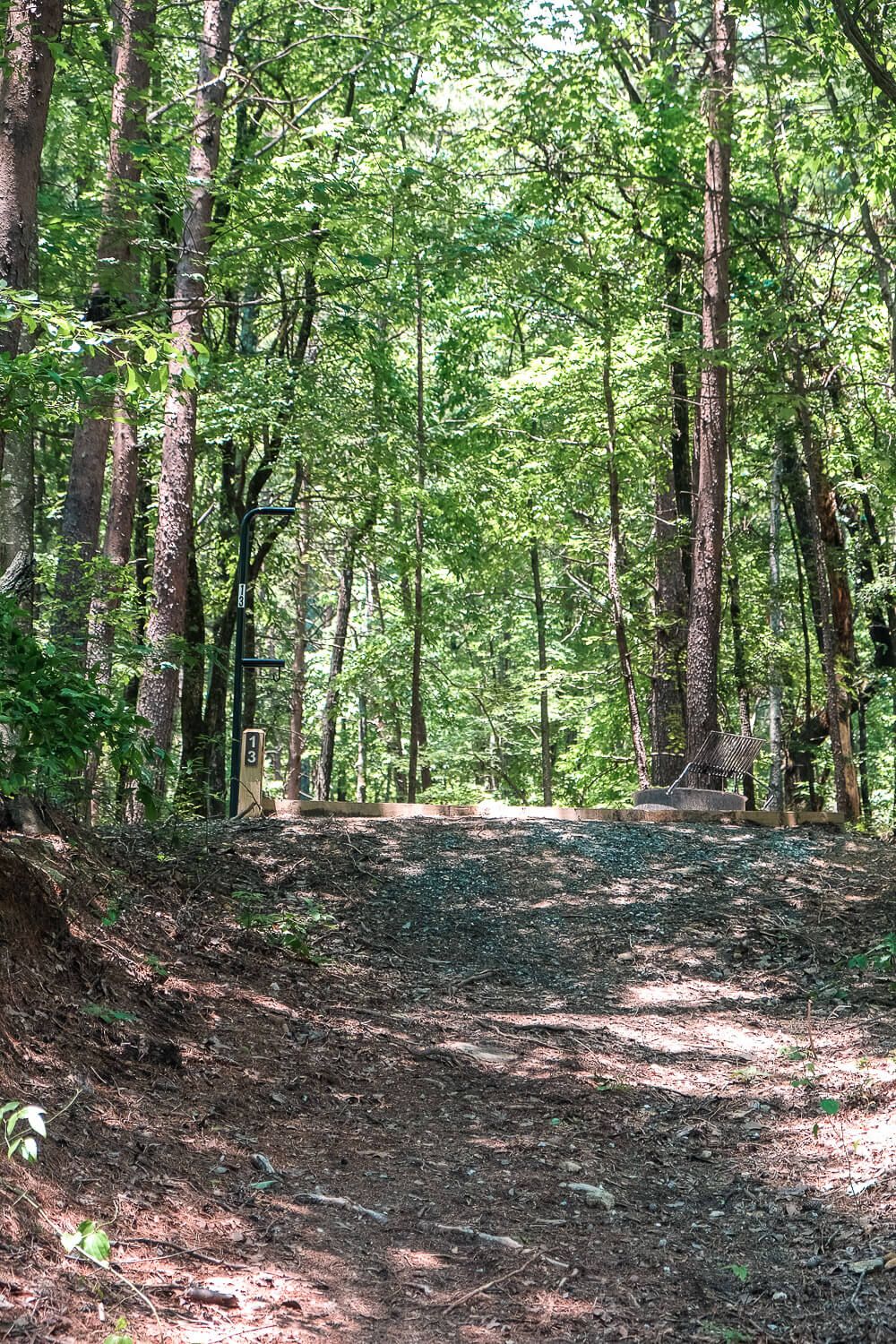 Site 14. This one is positioned right next to 15. I wouldn't book this one unless I was also booking 15. And unlike 15, which has a small trail to the water, this one does not. It's pretty steep cliffs on the water side. You'll have to share water access with 15 or walk to the beach halfway back towards 13. And the walk from that beach up to the main trail is not short. (Though it is a beach.) Best option here is for groups booking two sites. If by yourself, not recommended.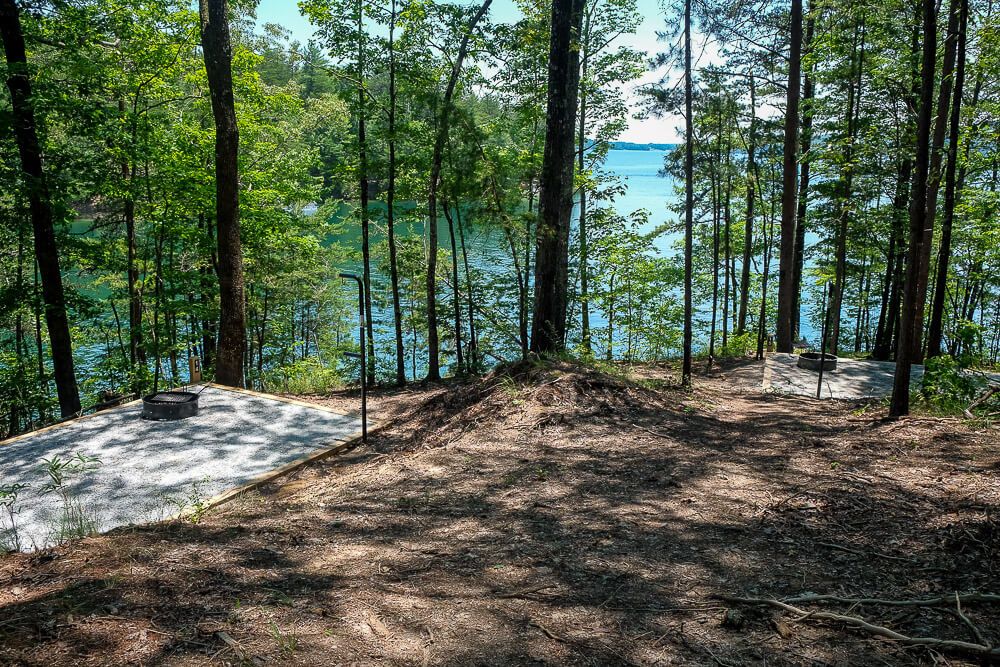 Site 15. Positioned right next to 14. Though this campsite does have a small trail down to the water. That water access here is very rocky however. There is no sand. We saw a motorboat tied up here so it is doable, but just be careful. Overall I recommend this one.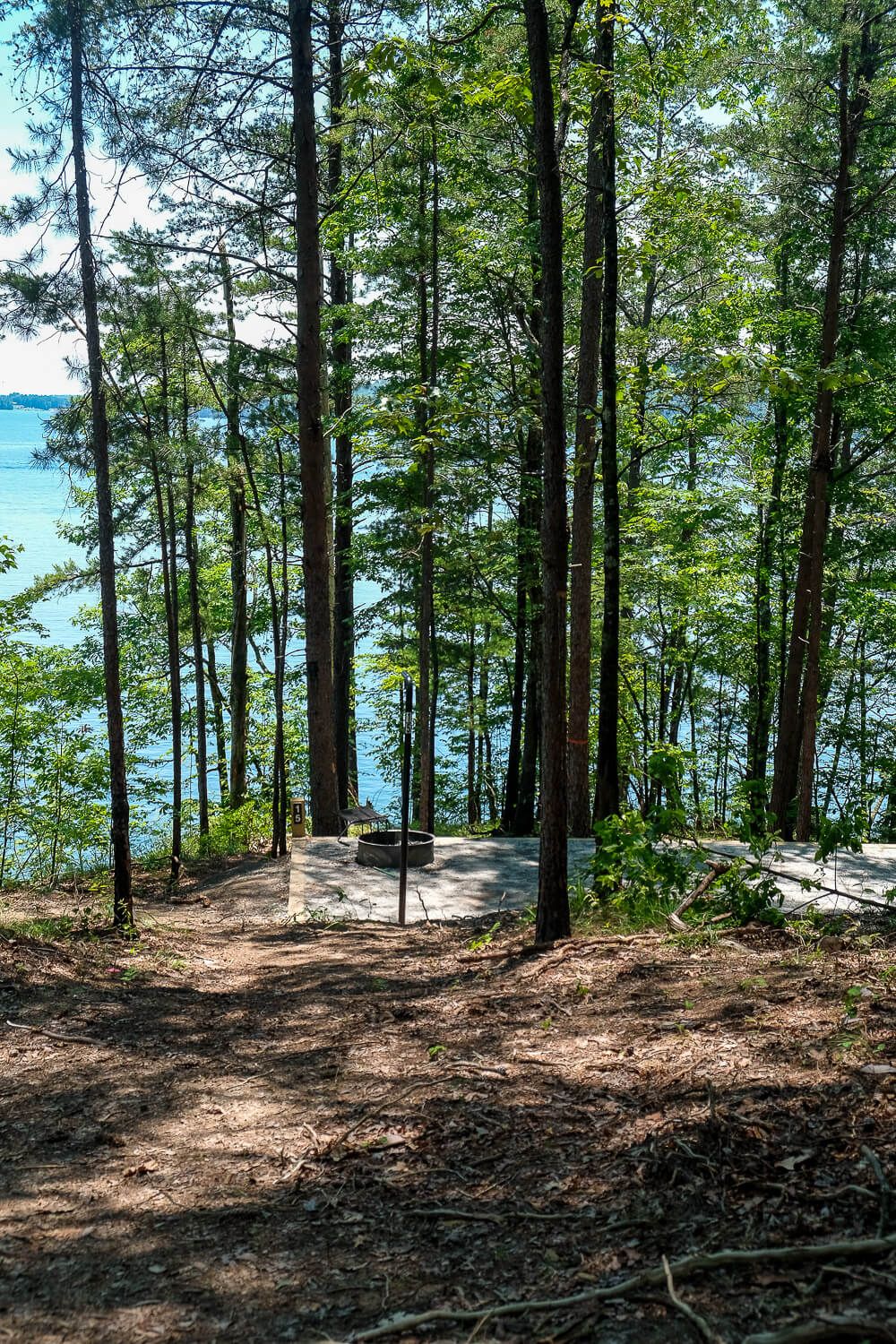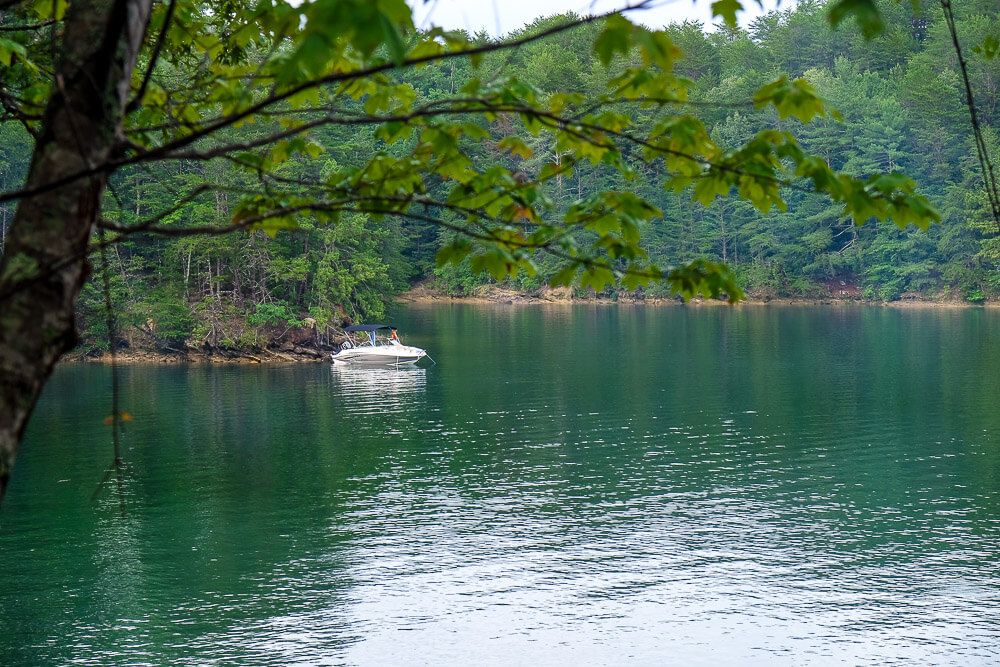 Site 16. Other than three exceptions, this is the start of the very long walks to the water. And I mean long. Keep that in mind when booking if you have a lot of stuff. And most of the sites do not have any water access. Site 16 is no exception. It's positioned high up on the ridge. You'll have to climb from the water to the main trail, which is a hike. And then head up the ridge some more. In terms of parking, there are a couple of small coves/beaches below 16 and on the other side of 19 you can use. But these are not easily accessible. Not recommended.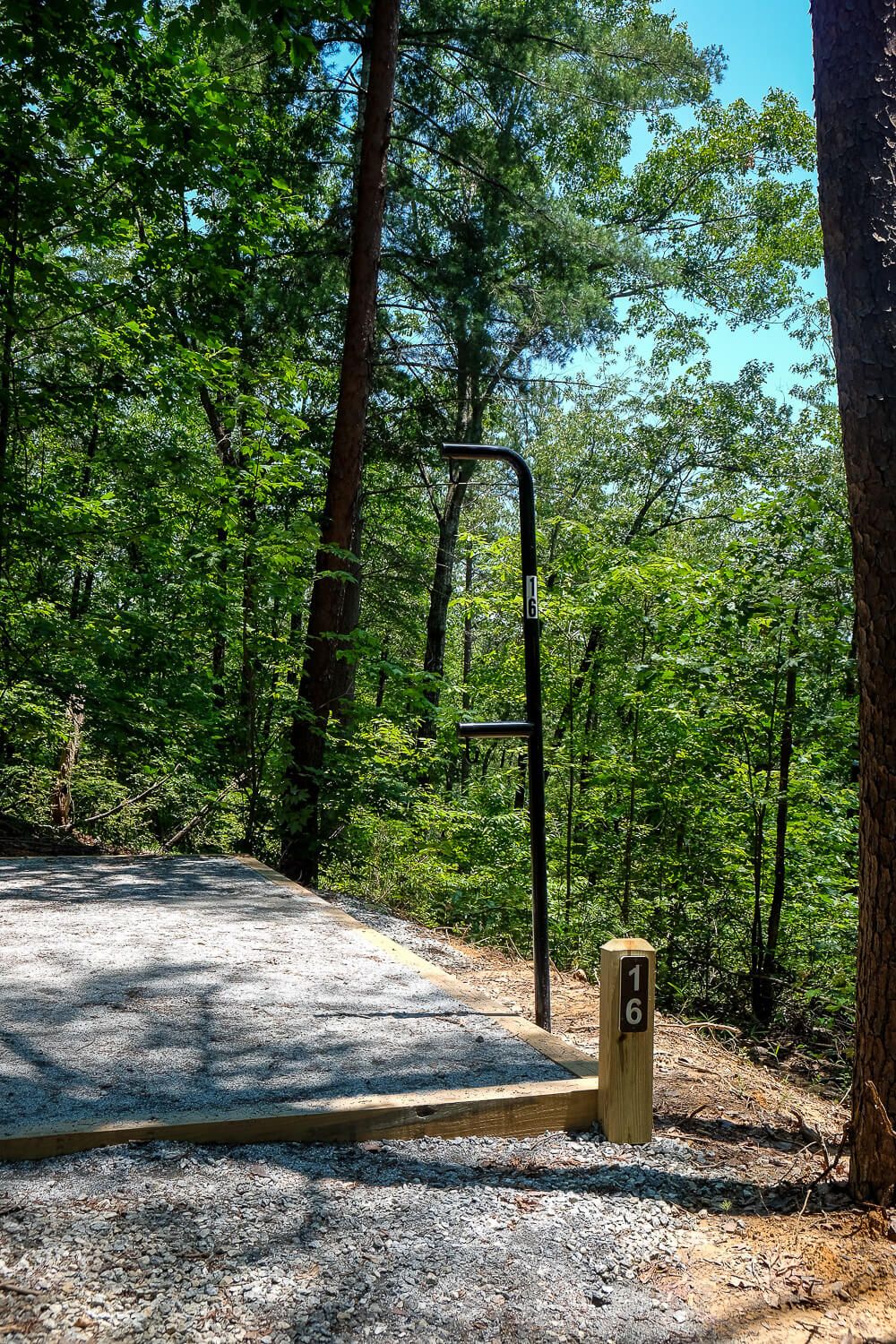 Site 17. This site is positioned right below 16. All of the negatives (like the long walks and lack of water access is true here too). Not recommended.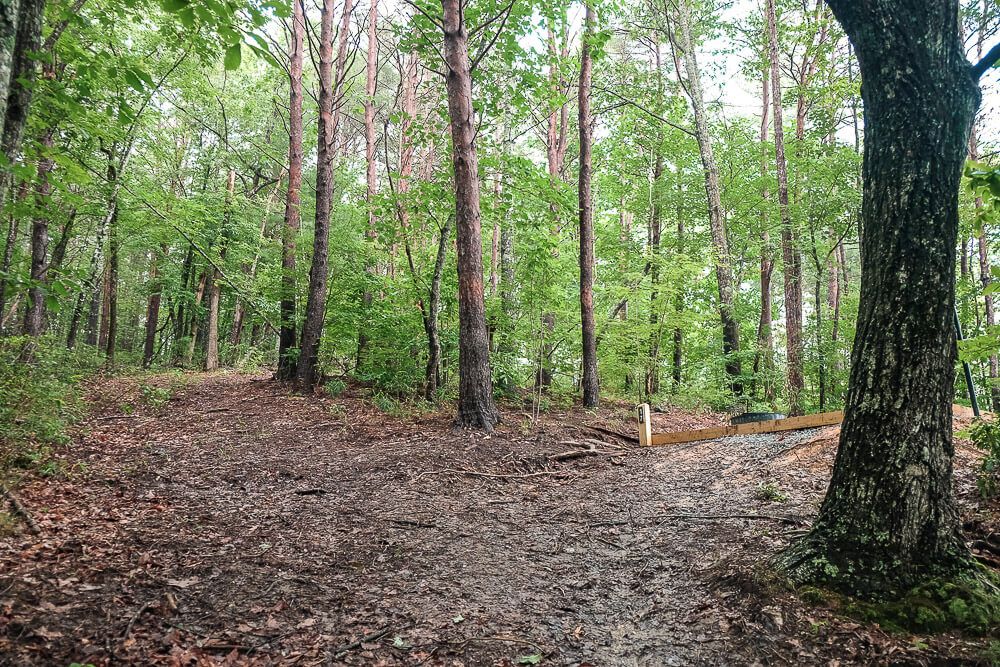 Site 18. This site is positioned just around the bend from 17. It's a steep climb from the water below it, which doesn't have any real access. A family with a big group and lots of stuff actually parked their boat at Site 22 (the main access points for sites in the 20s) and hauled their stuff from there. I would recommend doing this as well. It's a long walk, but it's a gradual slope. Site 25 & 18 are connected by a trail which makes this doable. Overall though, I do not recommend this site.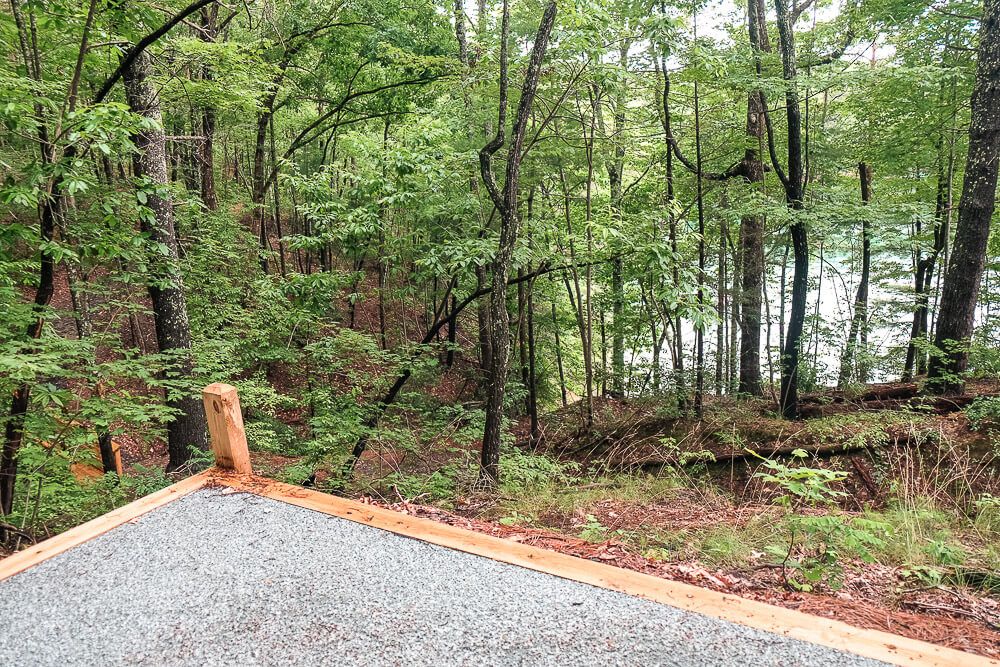 Site 19. One of the few sites on this side of the cove with its own water access. You may have to share with people, but it's a great spot for unloading. Though it is rocky, so be careful with your boats. The tent pad is also right off the trail so you may have people walking by your campsite as well. Recommended.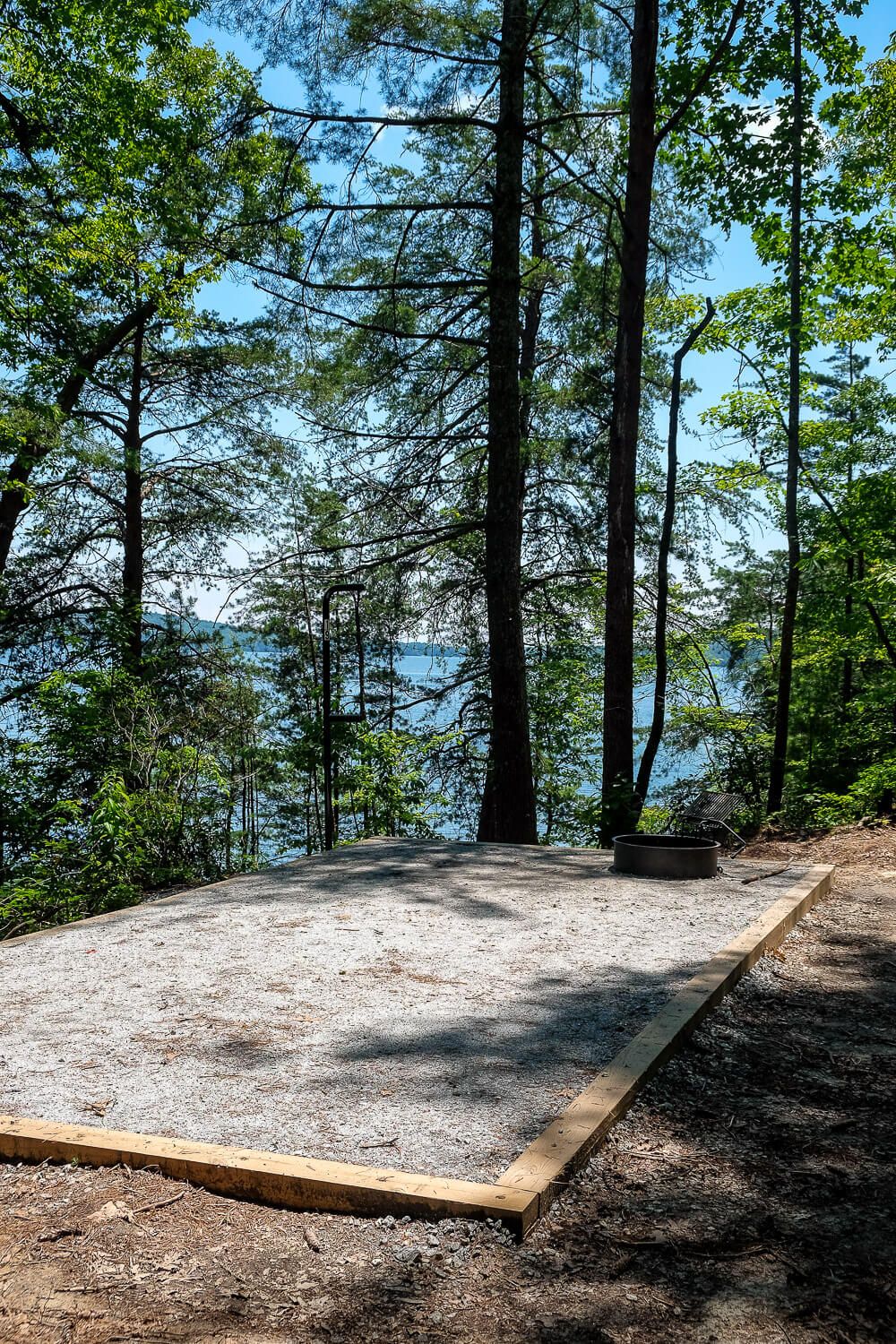 Site 20. This was the campsite we stayed at right after the renovation. It's placed up the hill from 19 and is actually closer to 23 than it is to 19 or 21. Though it's near to your best bathroom option. However you don't have water access. We ended up parking in a few different spots. First we parked in a small cove between 19 & 21. And then we parked at the main access point by 22. These are some long walks. Overall, I'd pick a different site. But better than some if desperate.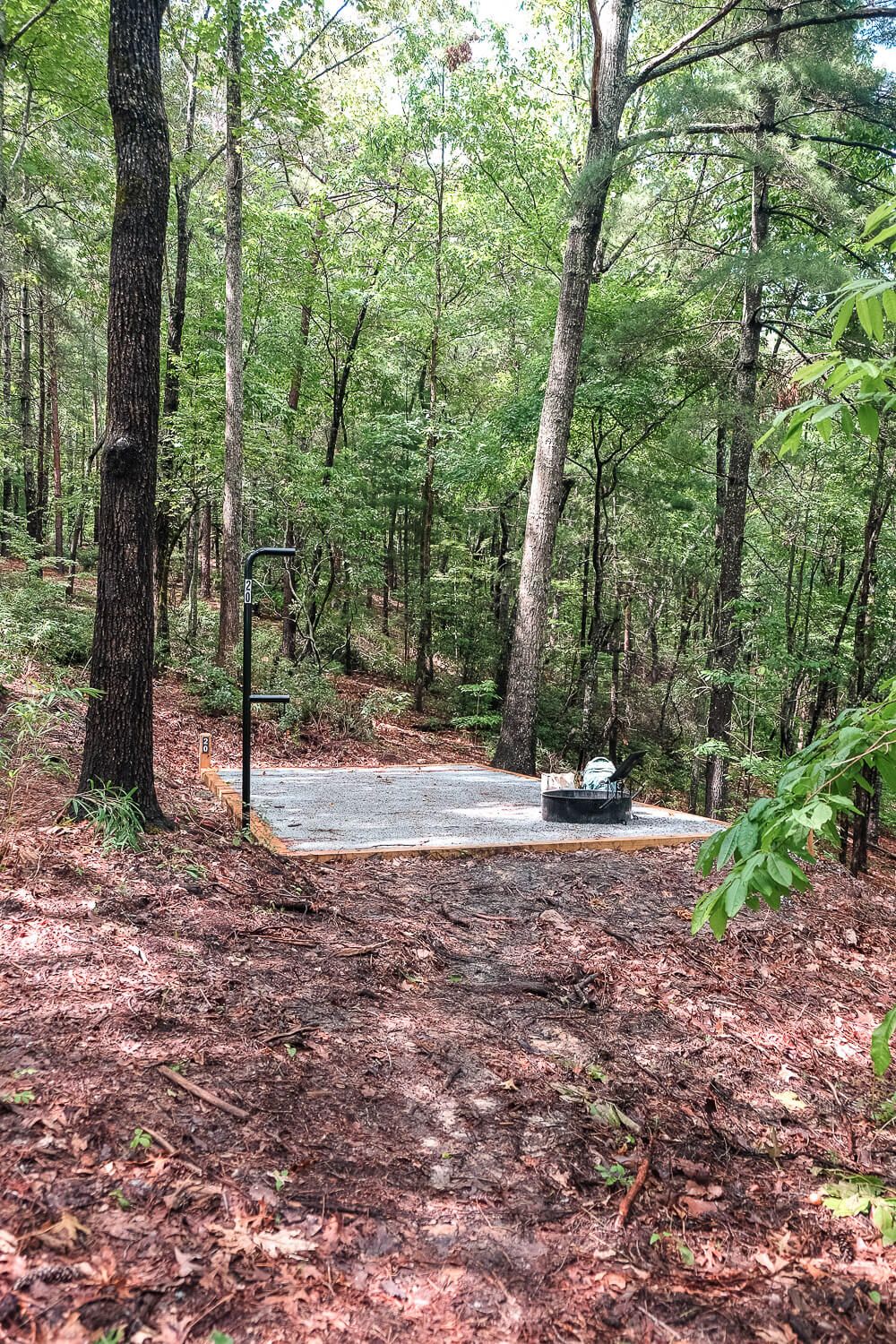 Site 21. Overall, I really like this site. It's positioned just behind 22 so you'll be able to unload there without too much of a walk and have water access nearby. The only downside is that you'll have people walking by (from unloading at 22) and the pit toilet is fairly close. But I'd still recommend this one.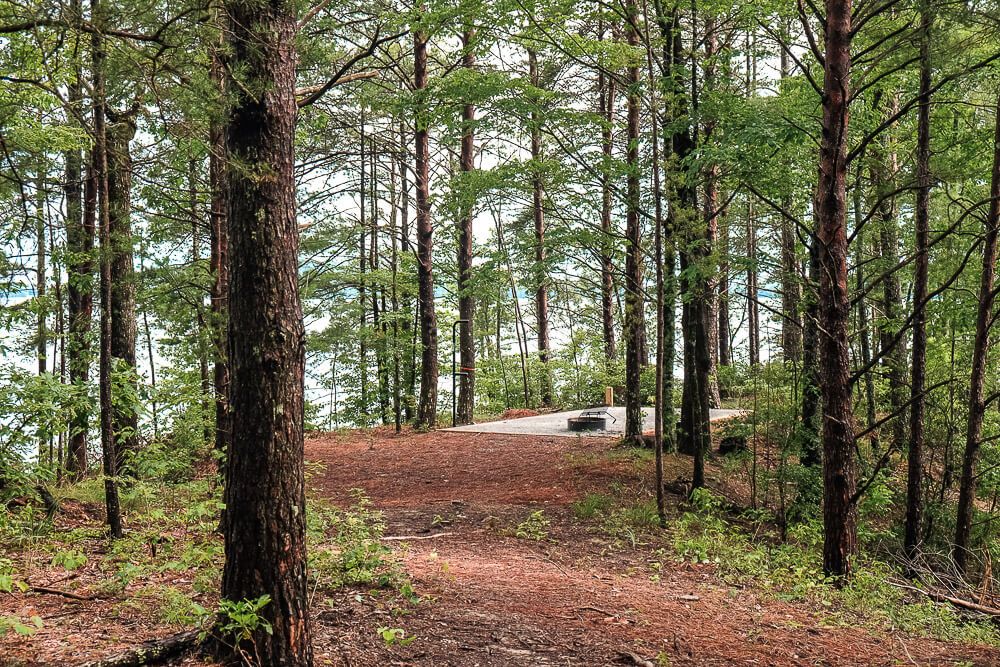 Site 22. This one is positioned out on the point. You have great water access right next to the site though it's steep and rocky (there is no sand here). The views here are also very nice. The only downside is that your water access is the water access for all the other sites in the 20s (and maybe even 16-18). So you'll have people coming by semi-frequently. Still though, I'd recommend this site.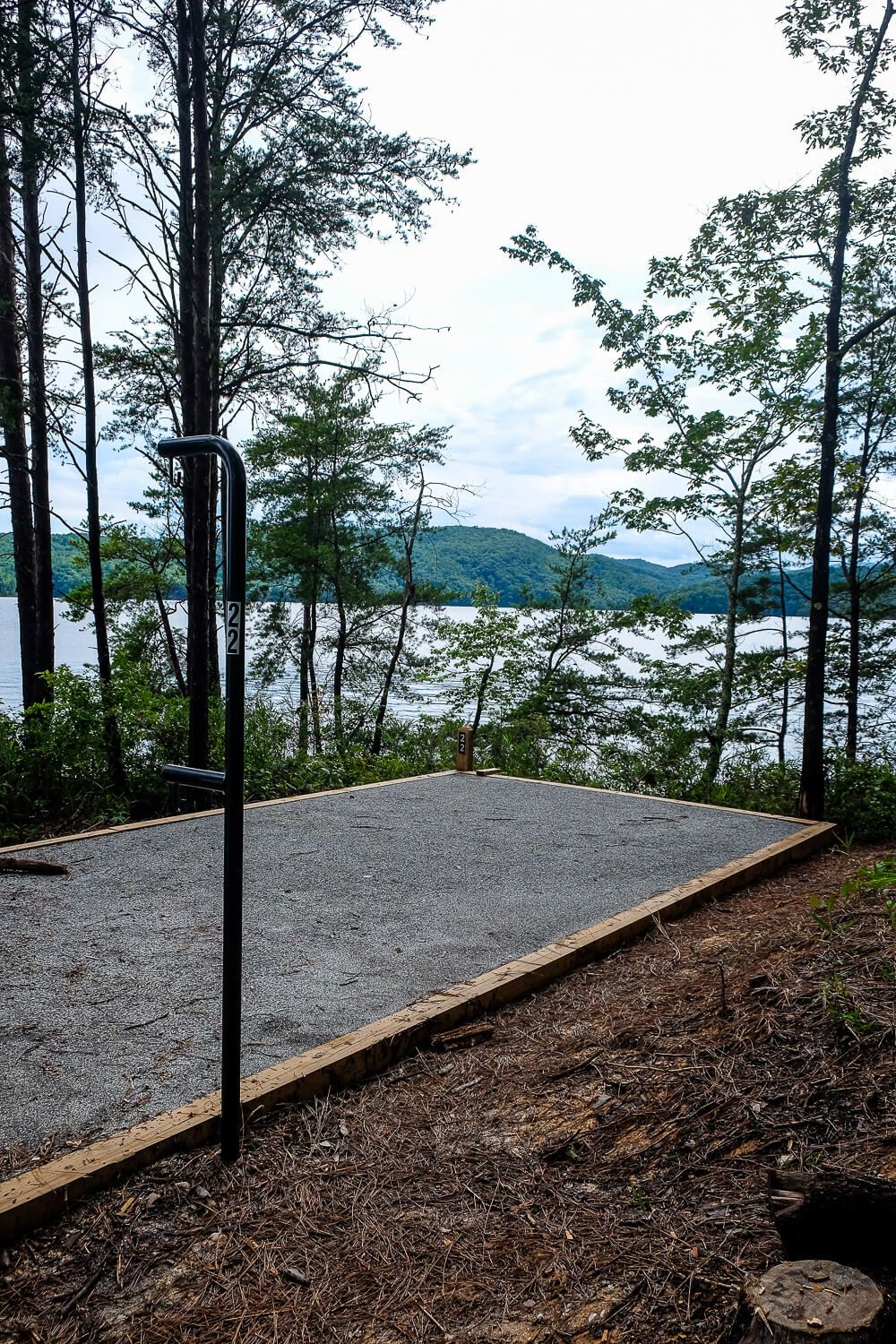 Site 23. This campsite is right across the trail for 20. No water access and a long haul from the access at 22. Plus it's relatively close to 20. But it's better than some if others are booked up.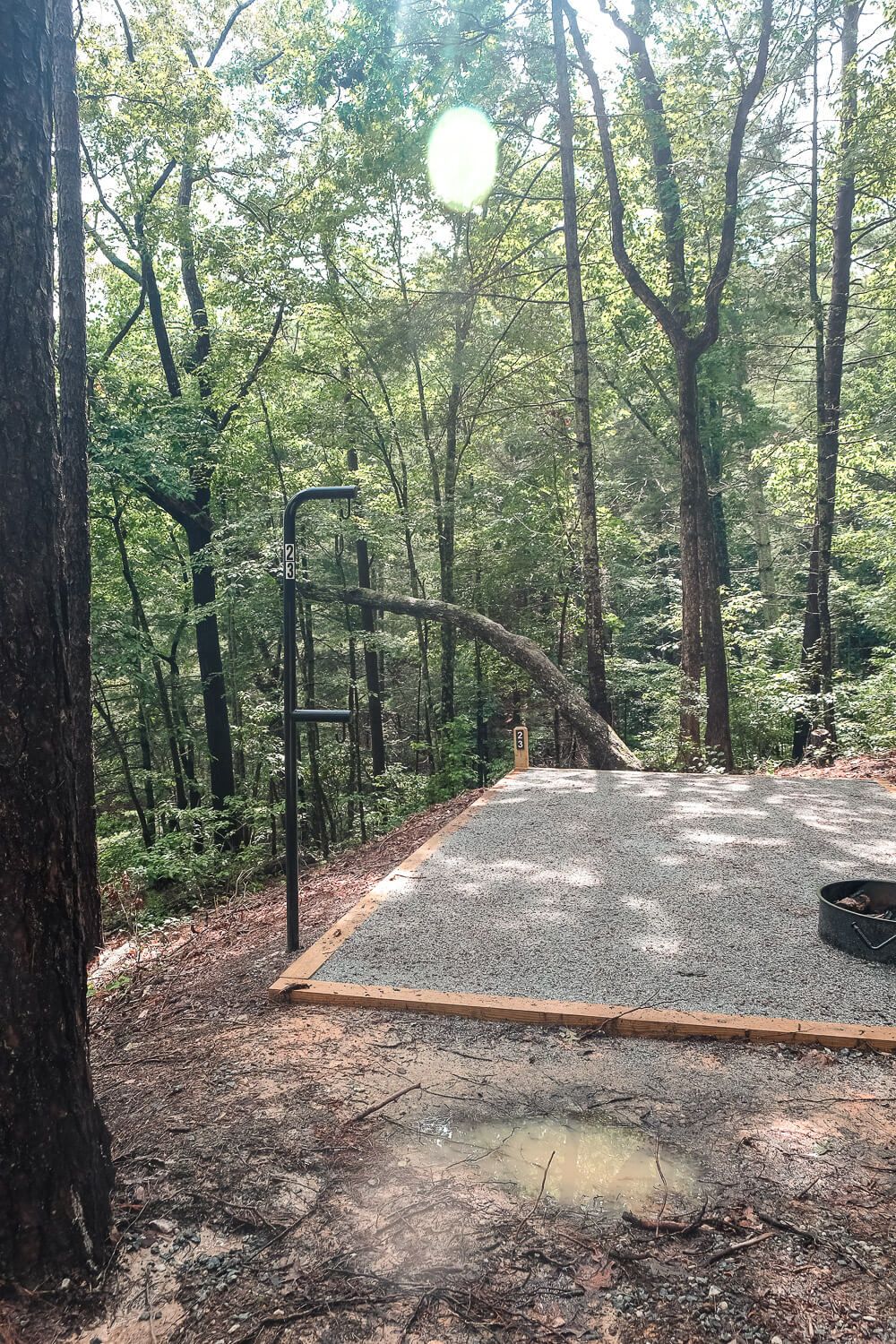 Site 24. This campsite is placed right behind 23 up the trail. It's even further from the water access. Unless you're packing extremely light, unloading/loading a bunch of stuff to this site would be a pain in the ass. Pack light or not recommended.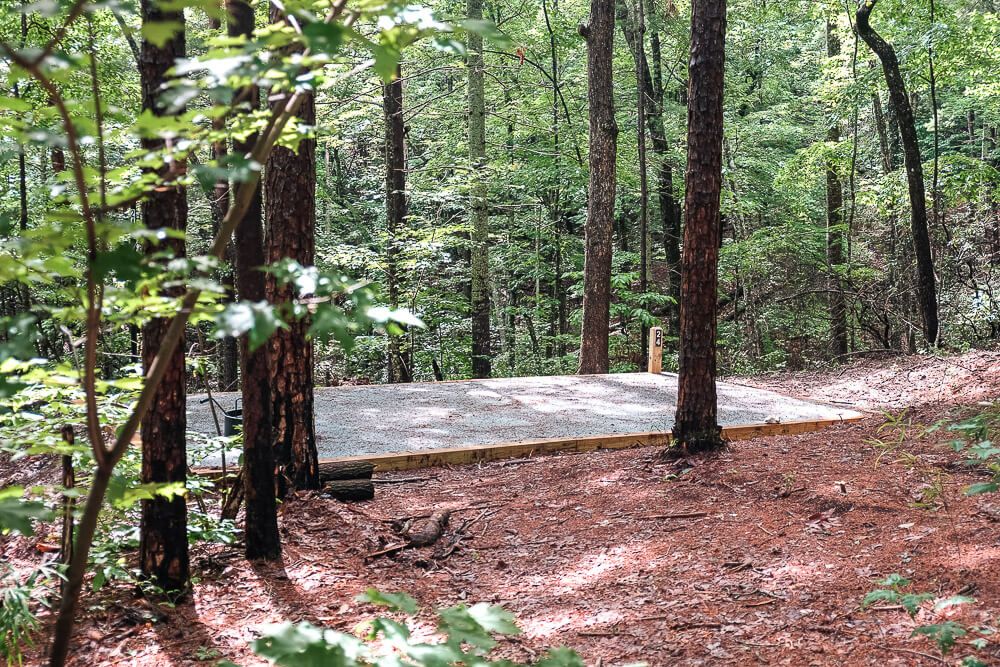 Site 25. Right next to 24 and behind 20. It's got a long walk to the water. The people here parked in the small cove between 19 & 21. They had to scramble up the bank, walk back towards 21, and then up the trail to 25. A very long walk. Again I'd either pack light or skip this one.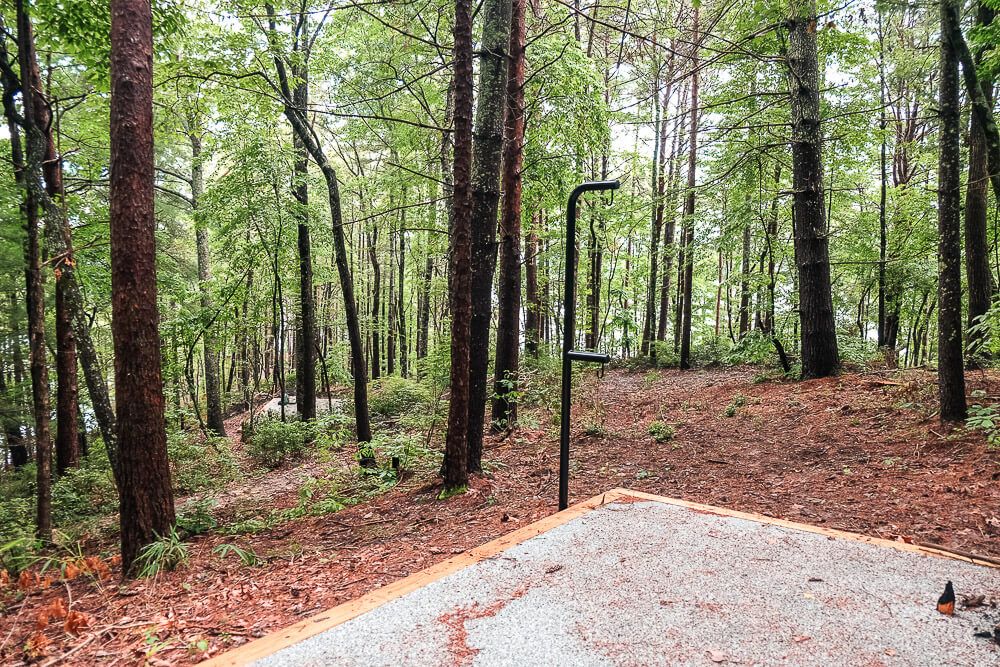 ---
What Can You Do at Lake Jocassee?
Besides camping, Lake Jocassee has lots to do: swimming, tubing, skiing, wakeboarding, kayaking (the park rents them), hiking, fishing, and (my favorite) search for the waterfalls that dot the shoreline.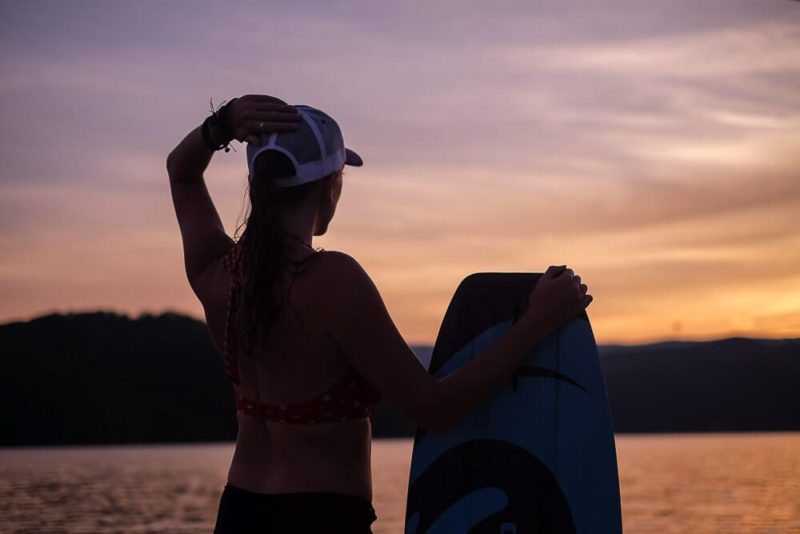 On the nights we arrive, we don't do much other than set up camp and make dinner. But Saturday we get out on the water early. Take some time to explore the lake.
Sometimes we head to the far back of the lake (into North Carolina) to see the Foothills hiking bridge. Then we usually head over to the Devils Hole Creek Falls.
This waterfall is on the eastern side of the lake and is small and can be hard to miss. We might have passed it had it not been for the kayakers gathered around it the first year. You have to get really close to see more of the waterfall among the brush. Kayakers definitely have the better view here.
The next waterfall you need to visit is the Laurel Fork Falls. This is one of the larger ones and is located down the northernmost eastern channel. You have to wind your way there but after you pop out from around the last bend, you get your first glimpse.
The waterfall starts farther up from where you can't see and tumbles down some rock faces before seemingly disappearing behind a large boulder. Make your way into the small cove to the right to see the final run of the falls. You may have to wait your turn to get a peek in the cove, but it's definitely worth it.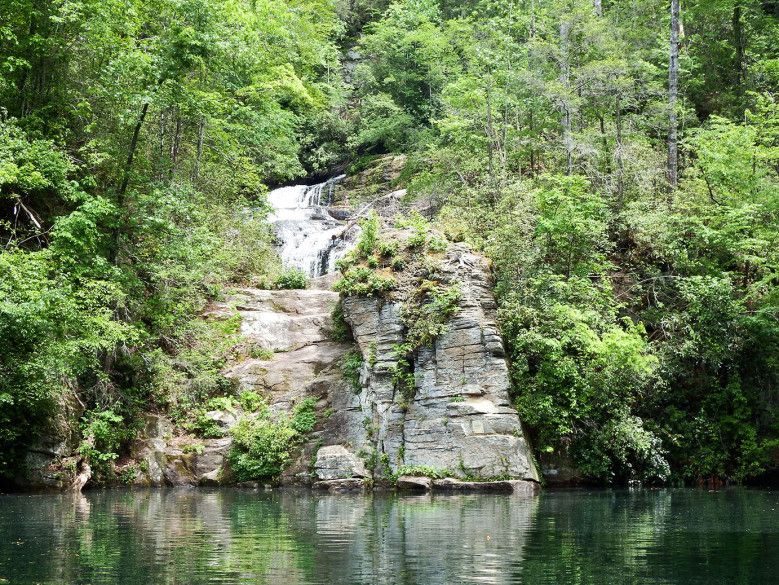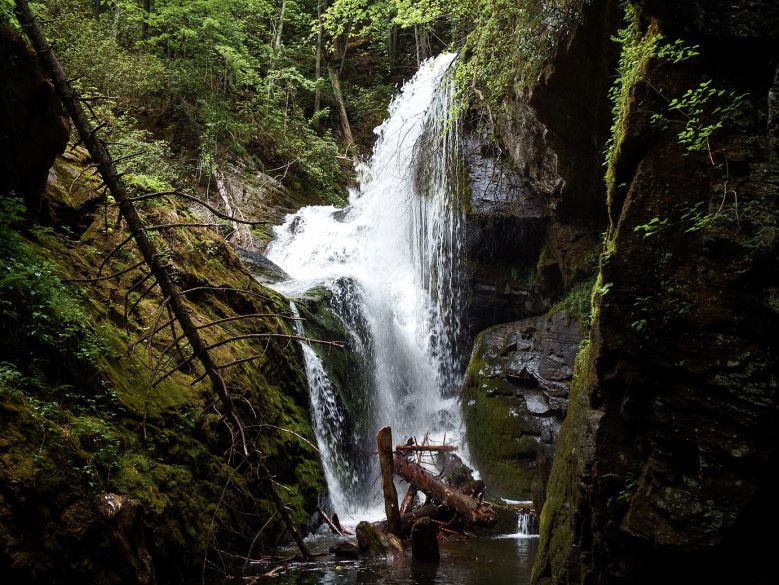 Though there are plenty of other falls to find, don't forget to just take time to enjoy the lake! We spend our afternoons wakeboarding, tubing, swimming, and fishing. There are plenty of fish in the lake, if you can catch them. And if you decide to spend time in the water, just know that it is cold. But the cold water is the tradeoff for the beautiful waterfalls. And I'd take waterfalls over a little cold water any day.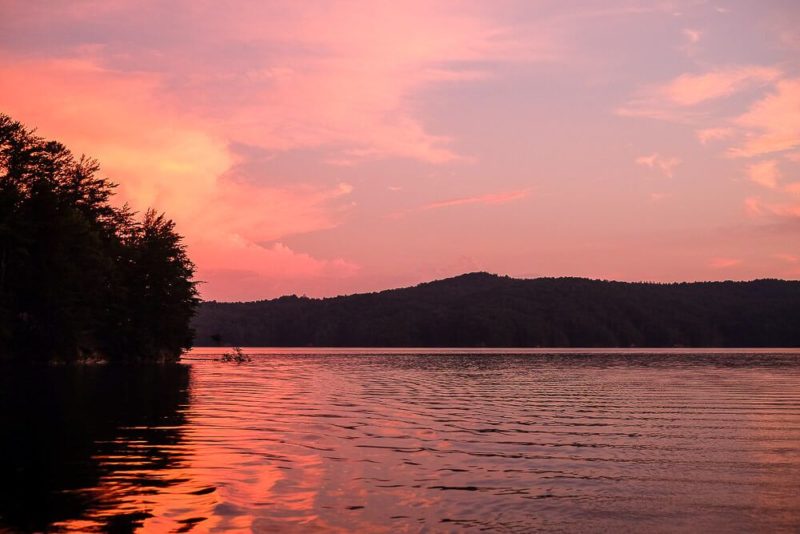 The lake has always behaved for us and we've had perfect weekends of calm waters and blue skies. And though I know that's not always the case – mountain weather can be finicky – I can't help but wait for my next adventure out on its water. Lake Jocassee is my favorite. There is no competition.
---
Nitty Gritty
Accessibility. Boat-in sites are only accessible by boat (and canoe, kayak, etc.) and are primitive sites.
Amenities. None. There is no water, electric, or restrooms at the sites. There are fire rings (grill pits) and this is the only place you should build a fire.
Check-in & car parking. After reserving, you need to check in at the park office before heading to the campsites. Check in time is 2pm and check out time is 12pm. Please contact the park for late arrival instructions. During check-in they'll tell you where to park (usually the Day-Use parking lots…which I felt counter-intuitive since they say day-use). They'll also give you 1 parking pass per campsite. Additional parking passes will need to be purchased at check-in.
Trash. This is a leave-no-trace campsite. If you bring it, prepare to bring it out. And this includes toilet paper!
Location. The campsites are located on the northern shore of Lake Jocassee at the base of Musterground Mountain.
Number of People. All of the campsites have just one tent pad. It's 12′ x 20′ and the maximum number of people allowed is 6. If you have a bigger group, I'd book two adjacent sites.
Cost. Prices typically range from $40-$60 and there is a two-might minimum. These rates vary with the season. Make your reservation early during the summer!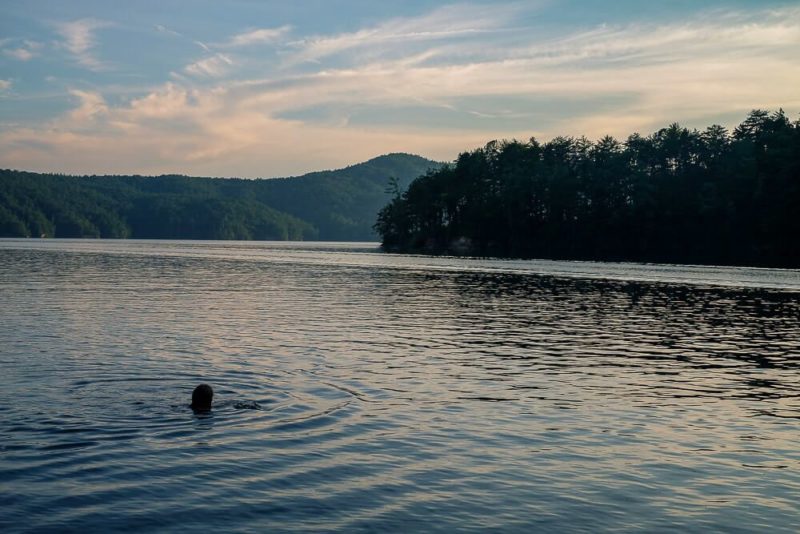 Have you ever been to Lake Jocassee? Would you consider boat-in camping?