Over the last couple of years, the wine scene in Greenville has exploded. What started with just a couple of places that specialized in wine has led to several wine bars and wineries in Greenville. And though I tend to be more of a craft beer or brewery kind of girl, sometimes a glass of wine is just what I need.
Now this list is still growing. I have sadly only gone to a handful of the places in town, and I'm quickly trying to rectify that. But one can only drink so much (or at least so I've heard).
You can find a brief description of the places I've gone to below as well as a list at the bottom of each section of all the establishments in the area that I have yet to visit. As I visit each one, I'll look to provide a longer description as well as my opinion.
---
Wine Bars & Tasting Rooms
Located on S. Main Street at the start of the West End just a block from Falls Park
I'm drawn to Foxcroft often since it's right downtown, just over the bridge into the West End and a couple of blocks from Falls Park. And if I happen to have Ellie (my dog) with me, then it's perfect. A small little patio with dog friendly seating is my go-to spot.
They have a large wine list by the glass. But the best part are the wine flights. For the price of just one glass of wine, you can try 3 different wines (2oz pours). In the summer I tend to go for the sparkling or rosé flights.
Their menu is small, but delicious and mixed. From a charcuterie board to truffle fries to a burger to NY Strip steak, they have something no matter the occasion. So if you just want a nibble during happy hour or are hungry for a full meal, Foxcroft has you covered.
What I love: Wine flights & dog friendly patio | Avg. $ of a glass: 6oz pour ~12
---
Picture coming soon!
Located above Cantina 76 in the Once City Plaza
This is the only wine bar on the list that is not only downtown but has a rooftop bar. It's got a sophisticated lounge feel with plenty of outdoor seating (on the roof). The inside is on the smaller end, so I tend to come here in the spring, summer, and fall.
With plenty of outdoor seating, it's perfect for happy hour or a late-night out. And if the name didn't clue you in, they have you covered if wine isn't your thing. Lots of whiskey as well as a few cocktails and beers as well.
But you should definitely think about coming for happy hour. Half off all whiskey and wine under $20 from 4-7pm Monday through Friday.
They don't have a full kitchen, but they do have plenty of small plates and appetizers to hold you over if you're there pre-dinner.
What I love: The views over the plaza
---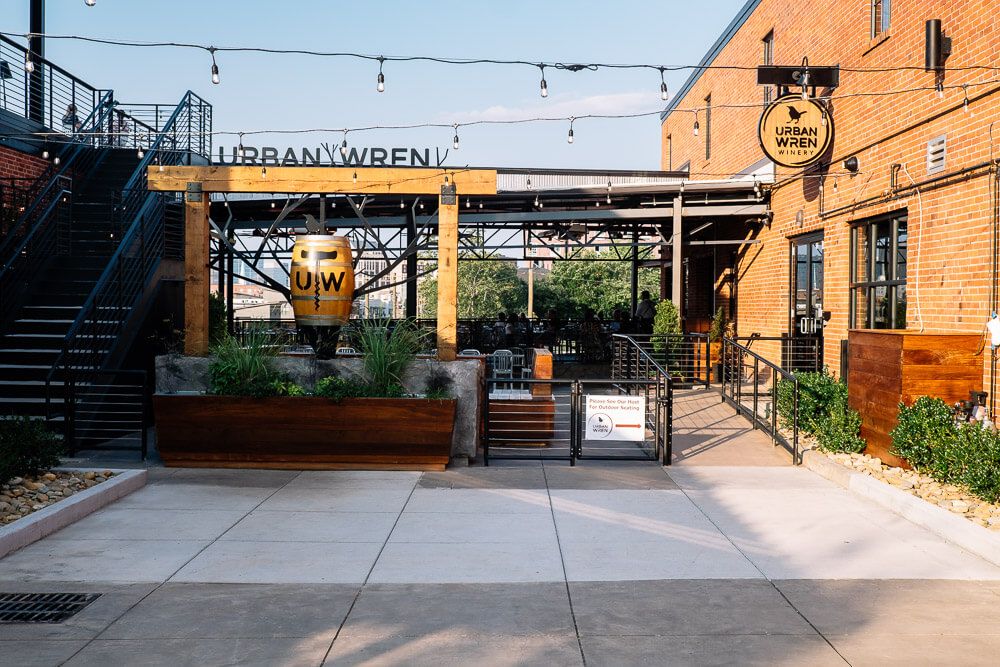 Located in Markley Station in the West End
This remarkable restaurant located in Markley Station may have it all. Amazing wines, great food, and remarkable service. The inside of the restaurant is beautiful complete with a large bar with comfortable seats that encourage you to stay.
But it's the outside that I love. A small outdoor space that sits between it and Hoppin' next door overlooks (at least at the moment) a great view towards downtown. (Construction may hamper this view in the future, so time will tell.)
With wines by the glass (6oz and 9oz pours available), and a full cellar menu you're sure to find something you'll enjoy. They even have a few cocktails for those who aren't into wines.
It's the food though I fell for. I was drawn to the upper half of the menu and we ordered a handful of the "smalls" and "shareables." But they do have full entree sized items as well.
If you find something you love, be aware that their menu changes with the season. For dessert we were drawn to the peach beignet dessert served in a warm cast iron. Delicious.
What I love: Food & dog friendly patio | Avg. $ of a glass: 6oz pour ~$12
---
Picture coming soon!
Located in Traveler's Rest behind Farmhouse Tacos and Sidewall Pastry Kitchen
I feel like the Tasting Room is a bit of a hidden gem since it's located on the back of the building that also houses Farmhouse Tacos and Sidewall Pastry Kitchen. It's got a great deck where you can enjoy not only wine but craft beer as well. The owners are friendly and are more than willing to help you find something to enjoy.
They specialize in small production vineyard wines from all over the world. But they also have a large variety of wines by the glass. And, my favorite, wine flights.
And though I don't believe they serve food (stay tuned!), they are dog friendly both inside and outside. And I'll take that over food any day.
What I love: Dog friendly & welcoming atmosphere
---
Other Wine Bars & Tasting Rooms
---
Wineries
I'll be making my way out to visit these wineries in the coming months! Once I do, I'll provide a longer description of each.
Other Wineries