Mmmhmmm tacos. I do like tacos. And chimichangas. And queso. And a good margarita. With maybe some Mexican corn thrown in. And I'm in luck, Greenville has a lot of taco options. So even though I tend to like almost all tacos, I still have my favorite places around town. This is where I go to find the best tacos in Greenville SC.
I've grouped this together by Tex Mex and more authentic taquerias. (Sometimes these two may blend a bit, so bear with me.) But that way if you like a buffalo chicken taco as well as one with just some chicken, cilantro, and onion (for like $2), then you're in luck.
---
Tex Mex Tacos
Two locations: Hampton Station & Airport Road
Both locations have lots of outdoor seating
Favorite Tacos: Pork Belly & Buffalo Chicken
This is my favorite taco place in Greenville. I tend to go to the Hampton Station location more often, but both are staples for me.
White Duck originally hails from Asheville and it's there I first I tried their tacos. Needless to say when I heard they were opening a location in Greenville, I couldn't wait to get my taco on.
Now these aren't your standard, normal tacos. Nope. Think tacos featuring duck, thai peanut chicken, Korean beef, and many more options.
But seriously, these tacos are amazing. There's almost always a line to the door if you come during peak times. And I've never not had a good taco.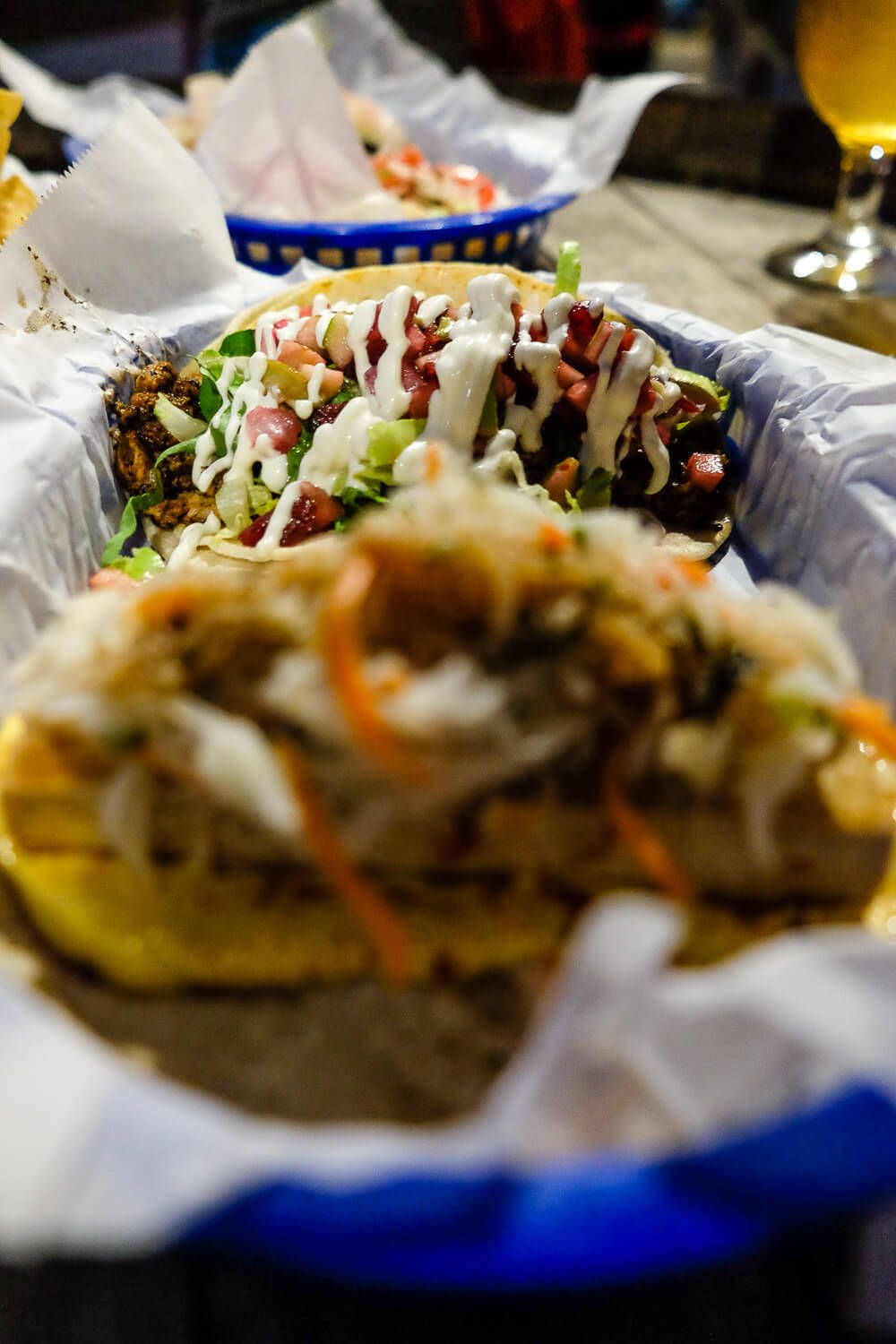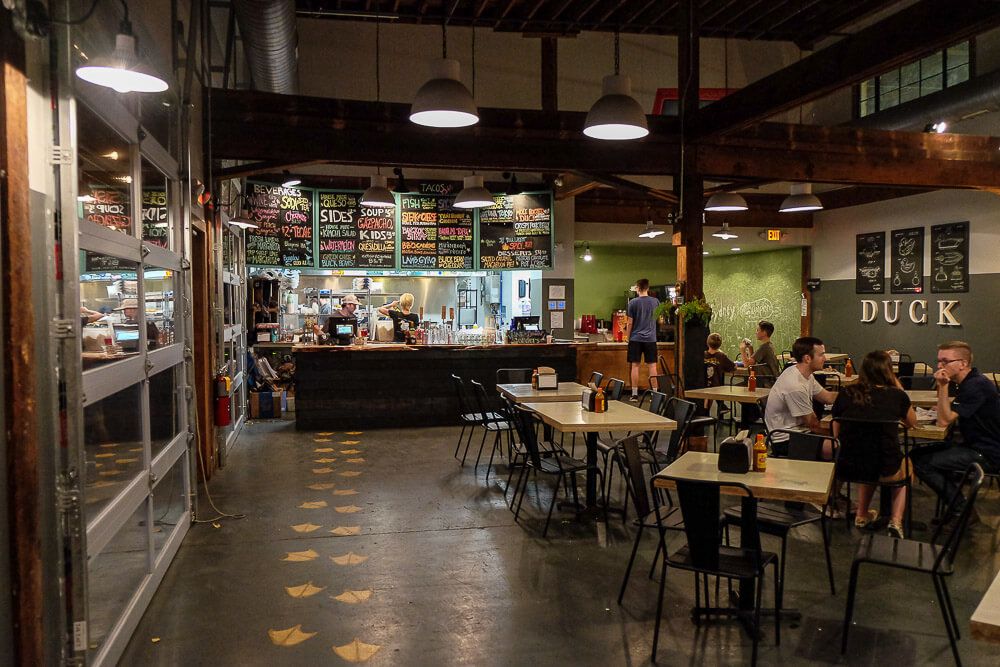 ---
Wade Hampton Blvd
Just a couple of small tables squeezed out front
Favorite Tacos: Shrimp Tacos & Mole Sauce
I order to-go from Asada all the time. It's very close to where I live. And though I tend to focus on the burritos (and the empanadas), the tacos are not to be missed.
Their core menu features several different mission style tacos. When I go for the tacos here, I usually grab one or two from this menu (like the asada or carnita).
But my favorite taco by far is off the Specials menu. These Latin-inspired dishes are, well, special. Definitely take a look at the whole menu, but if you're going for tacos, try the Tacos de camarones & mole (Shrimp Tacos & Mole sauce).
---
Travelers Rest
Covered porch on the side of the building
Favorite Tacos: Crispy Buffalo Chicken & Farmhouse Fish
Ryan and I tried Farmhouse Tacos soon after they opened and the place was packed. Our wait would have been over an hour if two spots at the bar hadn't opened up within 10 minutes of us arriving.
Farmhouse has got some great unique tacos and some amazing beers on draft. The tacos themselves were good. I like all of them (except for maybe the Fried Avocado, but that could just be more of a texture thing for me). Definitely think about the side of corn too. So good.
During bike rides up to Traveler's Rest, I would definitely consider a stop at Farmhouse.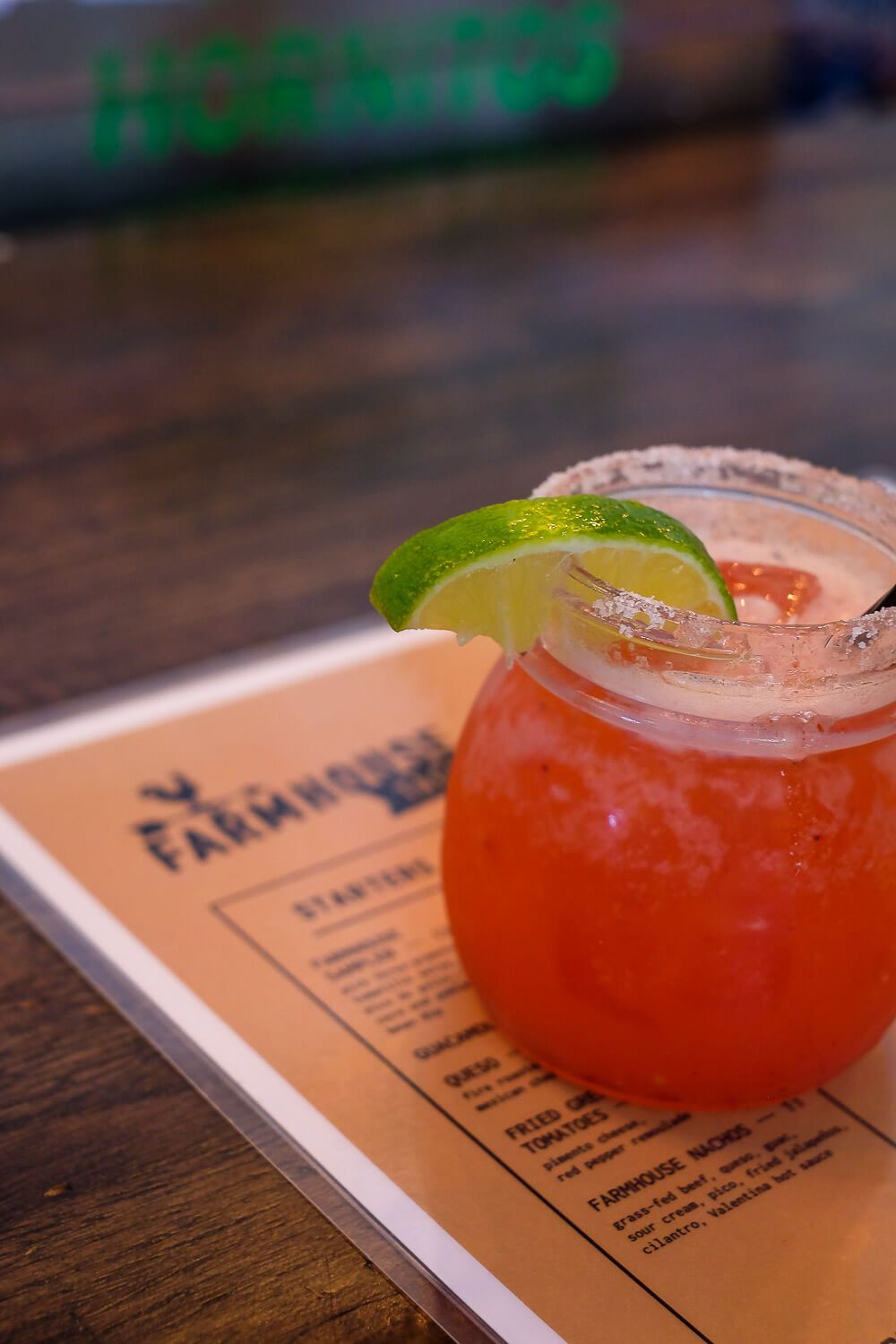 ---
The Commons
Lots of outdoor seating
Favorite Taco: Nashville Hot Chicken
From food truck to a brick and mortar establishment, that's the story of Automatic Taco. After 5 years as a taco truck, they opened a permanent location at The Commons.
Automatic Taco does have a smaller selection, but I still think they have something for everyone. A Veggie taco for the vegetarians. A pork belly for the adventurous. And a Nashville hot chicken for the southern-inspired.
But don't forget about their papas fritas. These potatoes with the orange-ish sauce on top were fantastic! Maybe my favorite thing now that I think about it.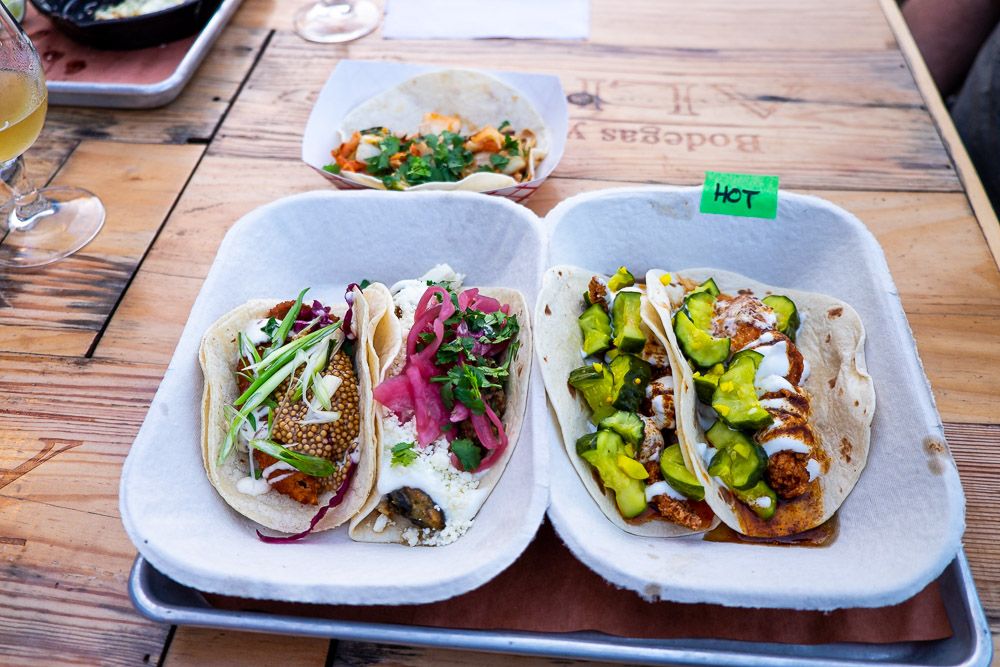 ---
Laurens Road
Covered temperature controlled porch, perfect for every season (plus some outdoor seating)
Favorite Taco: Mother Clucker
Willy's has now been around in Greenville for a few years. And it's one of my favorite spots to go with our dog (Ellie). Simply because it has a huge wrap around porch that's temperature controlled. So you can go in the winter or summer with your dog and not freeze or sweat your face off.
So the food. If you come for lunch, definitely get the lunch special (two tacos and a side of rice/beans). It's a great deal and it'll fill you up. I like the Mother Clucker, the Southern Tide, and, let's be real here, the Chimichanga. I know it's not a taco, but dang this is my favorite chimichanga in town.
It's huge. Cheesy. And delicious. I usually always take half of it home.
The Dog Friendly Guide to Greenville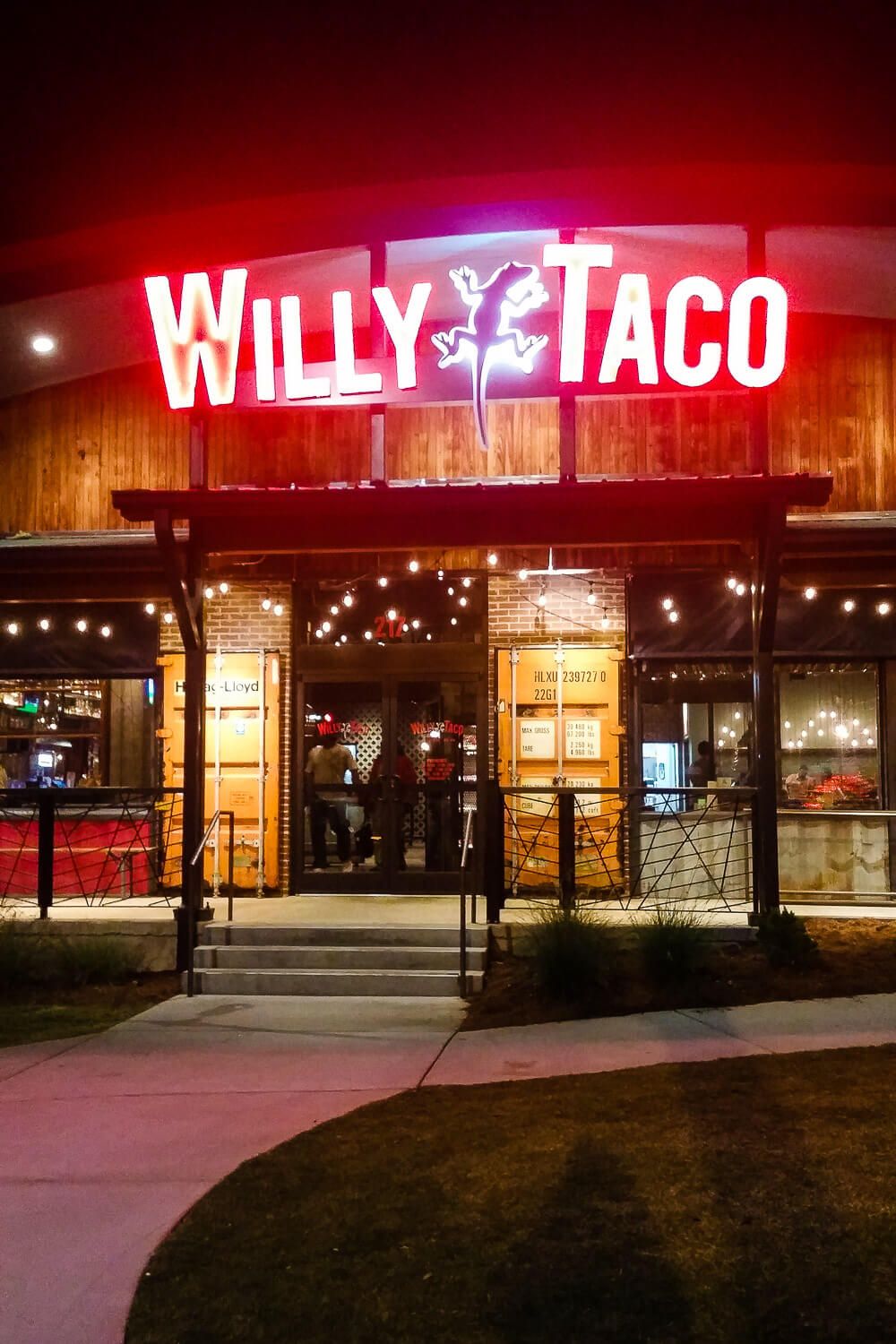 ---
Lots of Locations around Greenville (Augusta Rd., Pelham Rd., Woodruff Rd., Easley, etc.)
Most have a few tables outside, some have full porches
Favorite Taco: Bang Bang Taco
Okay I have a confession. I haven't ordered a taco from Tipsy Taco in like a year. Because, you see, you can't beat the value of their nachos (or the fact that they are delicious).
But the tacos are good! That's why I'm including it in this list. And they have a lot of options. You want a more authentic taco? They got it. You want one with buffalo chicken or Korean beef? Yep, they got it.
Plus I remember ordering a tequila flight at the bar once (before tequila and I broke up), and it was the first time I feel like knowing what tequila was supposed to taste like.
---
One City Plaza (downtown)
A few tables outside
Favorite Tacos: Fish and Buffalo Chicken
There are so many taco places along Main Street. And I have eaten at my fair share of them. But one of my favorites is Cantina 76.
They have some staples (chicken, shrimp, veggie, etc.), but they also carry some specials. I remember one one visit I got the alligator taco. (I love weird tacos.)
But the main thing I really like is the Dirty Queso. This is my favorite queso in town. It's queso with some chicken, salsa, and bean dip. Plus it can be a bit spicy. I always get it.
The margaritas are also good. You pick your type and then choose your tequila, which I like since I can class up (or not) my margarita.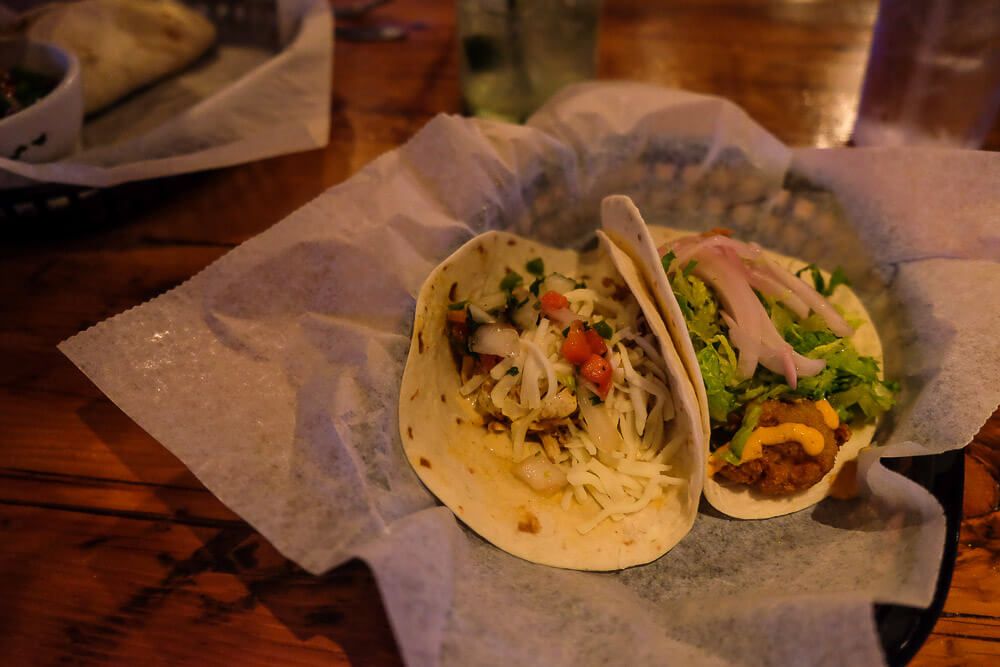 ---
Authentic Taquerias
Two locations: White Horse Rd. & Taylors
None
Favorite Tacos: Pastor & Pollo
These $3 tacos are some of the best authentic tacos in town. You have a couple of meat options to pick from and of course they come with cilantro and onion.
They are also known for the Mexican sandwiches (aka tortas), so if you're ready to try something new (or to just not eat too many tacos in a week), you've got some options.
Plus you can order online via their website. My takeout heart loves that.
---
River Street (downtown)
A few tables outside
Favorite Tacos: Al Pastor & Mexican Shrimp
Want to eat some delicious tacos while sitting next to the Reedy River & Swamp Rabbit Trail? Enter Papi's Tacos. The menu here is short and simple. They describe themselves as a "food truck without wheels."
Go for the three tacos and be sure to try the award winning Al Pastor. I also love the tortas (the Mexican sandwich). And of course the churros.
Their premium tacos are a little bit more tex mex-y than you would expect at a taqueria, but I wouldn't stop that from trying it for an authentic experience. Papi knows what he's doing here.
---
Taqueria Mixtepec
N. Pleasantburg
None
Favorite Tacos: Asada & Pastor
They have several things on the menu, but definitely try the plain corn tacos at only $2/piece. You've got a couple of meet options and they come with cilantro and onions and they are delicious.
You can upgrade it if you want blue corn or cheese and avocado. But at $2/taco, come on, you can't beat that.
I'm also a sucker for some empanadas. And though I haven't had them, I've heard the tlayudas are good!
---
La Esperanza
Pleasantburg Dr. near the intersection with E. North Street.
None
Favorite Tacos: Pollo & Asada
You can usually find a taco truck outside this authentic Hispanic grocery store. I've read that there is one food truck (white) there during the week and another (red) during the weekend. Regardless, these are some amazing authentic tacos.
When I went for the first time, I ordered all in Spanish (my high school Spanish teacher would be so proud). The tacos come with cilantro and onions. And depending on the truck, there may be a couple of other items on the menu.
Cash only.
Where do you go to get tacos in Greenville SC?