Mmmhmmm tacos. I do like tacos. And chimichangas. And queso. And a good margarita. With maybe some Mexican corn thrown in. And I'm in luck, Greenville has a lot of taco options. So even though I tend to like almost all tacos, I still have my favorite places around town. This is where I go to find the best tacos in Greenville SC.
Now obviously this is not all of the taco places in Greenville. That list would be ever growing. But these are all of my favorites. And I do tend to gravitate towards a certain type of taco. I like ones that are a bit…hipster-y? Tex-mex-y? I don't know what to call it. But I do know that if you craft a taco out of weird ingredients, I will be intrigued. (Interested in more authentic taquerias? Check out this list.)
---
This is my favorite taco place in Greenville (located at Hampton Station). May or may not be because my favorite brewery is also next door, but regardless these are some amazing tacos.
A second White Duck Taco location has opened in Greenville along Airport Road!
White Duck originally hails from Asheville and it's there I first I tried their tacos. Needless to say when I heard they were opening a location in Greenville, I couldn't wait to get my taco on.
Now these aren't your standard, normal tacos. Nope. These are your unique, cool ingredient (hipster?) tacos. I've yet to try all the tacos, but I have come close.
What's my usual order? Well I always get queso (who doesn't), and at least 2 tacos. Ryan sometimes goes for three. And my new favorites are the duck, the thai peanut chicken, and the banh mi tofu. And maybe the fish too.
Ryan really likes the Korean beef, the pork belly, and the mushroom. (I'm not a huge fan of the mushroom.)
But seriously, these tacos are amazing. There's almost always a line to the door if you come during peak times. And I've never not had a good taco.
---
There is like a taco explosion happening in Greenville right now. So. Many. Good. Taco. Places! And if you combine that with the locally-sourced thing happening, you get Farmhouse Tacos (located in Traveler's Rest).
Ryan and I tried Farmhouse Tacos soon after they opened and the place was packed. Our wait would have been over an hour if two spots at the bar hadn't opened up within 10 minutes of us arriving.
Farmhouse has got some great unique tacos and some amazing beers on draft. (Anywhere that carries one of my go-to favorites – Sweet Baby Jesus – is okay in my book.)
The tacos themselves were good. I was slightly less impressed with my vegetarian taco – the Fried Avocado. But the rest of our tacos were amazing. And Ryan's side of corn was delicious.
During bike rides up to Traveler's Rest, I would definitely consider a stop at Farmhouse.
---
It goes to show that Greenville's love of food trucks allow these business to grow so much that they are able to upgrade to brick & mortar locations. That's the story of Automatic Taco. After 5 years as a taco truck, they opened a permanent location at The Commons.
The food hall inspired feel of The Commons is perfect for Automatic Taco. Plus I can still get my favorite combo – Automatic Taco & Community Tap thanks to the tap's trailside location as well.
Automatic Taco does have a smaller selection. But I still think they have something for everyone. A Veggie taco for the vegetarians. A pork belly for the adventurous. And a Nashville hot chicken for the southern-inspired.
During my last taco experience here I went for the pork belly and the Nashville hot. But don't forget about their papas fritas. These potatoes with the orange-ish sauce on top were fantastic! Maybe my favorite thing now that I think about it.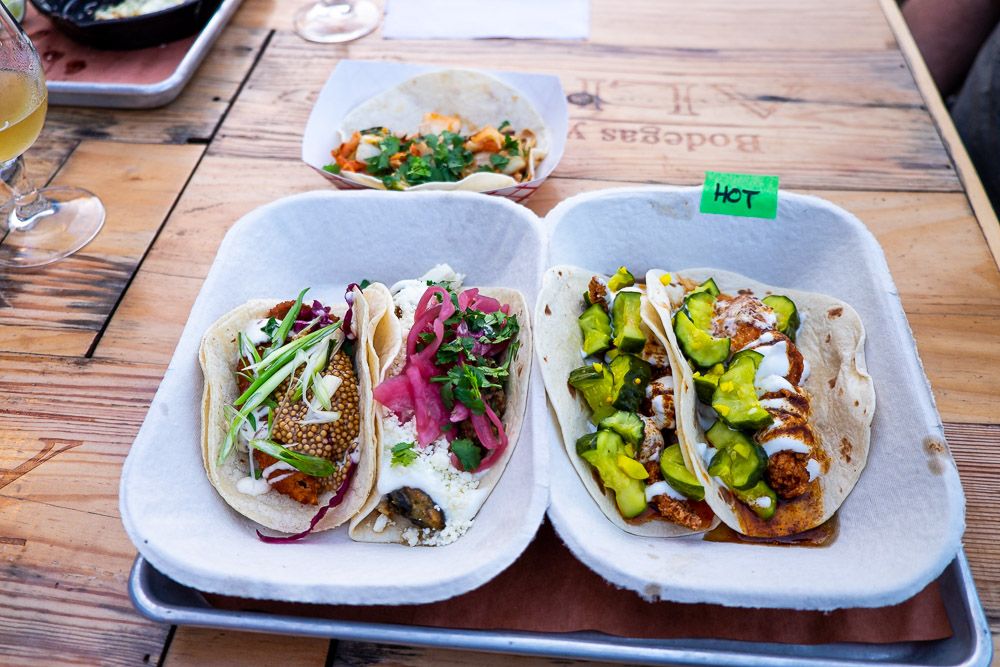 ---
Willy's has now been around in Greenville for a few years (location on Lauren's Road). When it first opened the place was packed all the time. But it's now calmed down enough that I can get a table without an hour and a half wait. (Yes that was the first wait time we encountered after they opened.)
The decor of Willy's is great. They renovated an old feed and seed shop. And the wait staff wear 80/90's t-shirts. Plus the margaritas are inventive and delicious.
So the food. The tacos are good. I got the Patagonia Steak and the Mother Clucker. And I was surprised that I liked the latter so much more than the steak. The onions on the steak were just a bit too much for me. And the Mother Clucker stole the show.
But I have a confession. My favorite thing at Willy's isn't a taco. It's the chimichanga. In fact it's my favorite chimichanga in town.
It's huge. Cheesy. And delicious. I usually always take half of it home. And I get it 90% of the time we go to Willy's.
I love the chimichanga.
---
There are so many taco places along Main Street. And I have eaten at my fair share of them. But one of my favorites is Cantina 76 (location in One City Plaza). The tacos are probably my least favorite on this list, but they do have some good standard tacos.
On my latest visit I got their special alligator taco and a roasted chicken taco. If weird tacos aren't your thing, they have a lot of good staples (think chicken, shrimp, veggie, etc.).
But the main thing I really like at Cantina is their Dirty Queso. This is my favorite queso in town. It's queso with some chicken, salsa, and bean dip. Plus it can be a bit spicy. I always get it.
The margaritas are also good. You buy your tequila and then like your mixer. It's a different take but I like that I can class up (or not) my margarita. The only thing I don't like about them is that they come in a fairly short glass. But you are downtown.
The inside is also quite cool and I like the bar. But if you are here when it's warm, then grabbing a table outside is where it's at. Cantina is located right in One plaza and allows for lots of people watching.
Where do you go to get tacos in Greenville SC?