Greenville is extremely dog friendly. We love dogs here. And if you find the thought of leaving your pooch at home unbearable, then get ready to put on that leash.
I take Ellie with me almost everywhere. And I've found that since I adopted her, I'm more likely to frequent those establishments who also love dogs. So I know where to go.
Downtown Greenville is super dog friendly. You'll see people out all the time with their pups. Whether it's along Main Street, in Falls Park, or along the Swamp Rabbit Trail, there are plenty of places to get your dog's walkies in.
Plus with all of the outdoor patios and sidewalk seating, you'll be able to catch a bite with your furry friend.
Beyond downtown your options only increase. Our neighborhoods offer several dog friendly (inside and outside!) establishments that are perfect no matter the season.
And if you're an outdoors lover, then get ready to strap on those hiking boots. There are lots of trails nearby, and I don't go hiking without Ellie. She would be so mad if I left her at home.
So if you're ready to pack a collapsible water bowl, some treaties, and your favorite leash, then let's snap on that harness and go. This is your dog friendly guide to Greenville, SC!
We Love dogs.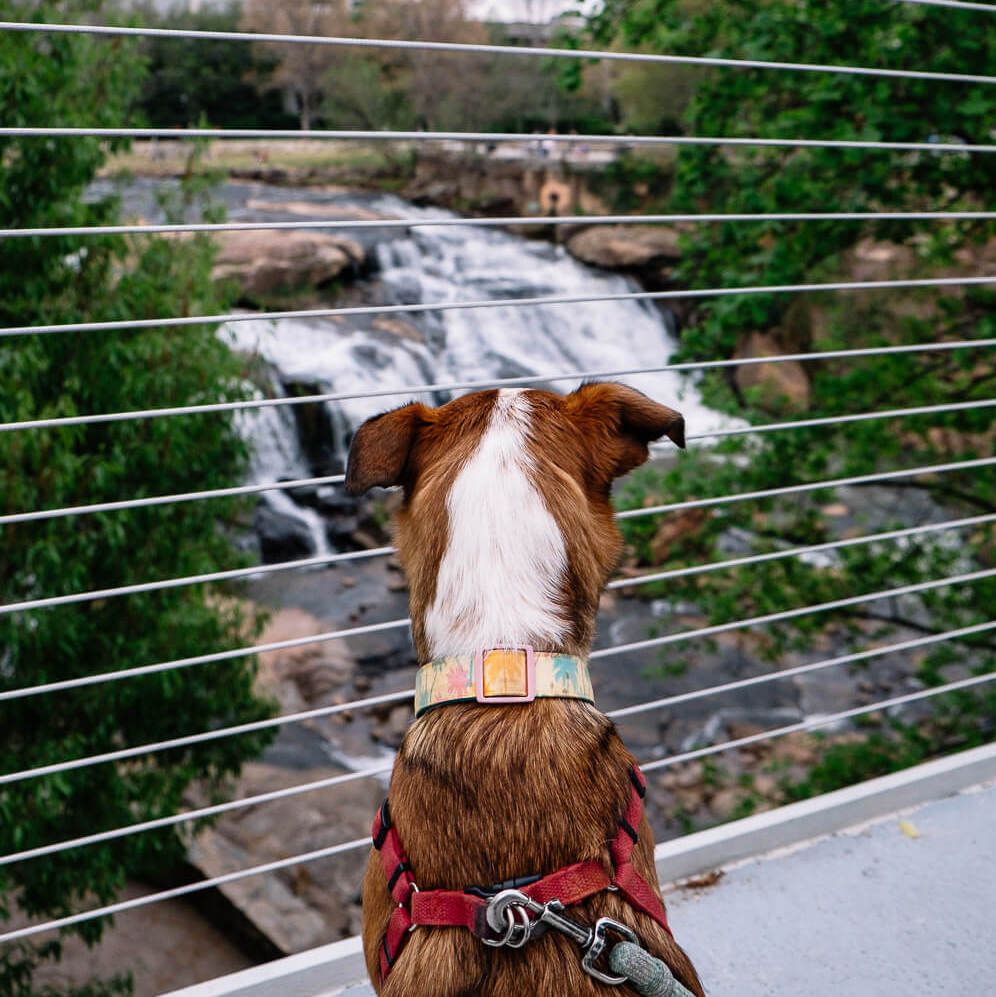 Featured
If my dog could plan the ultimate day in Greenville, SC, what would that look like? Where would we go? So this is her day. Discover some of the best places in Greenville with this one day dog friendly itinerary.
8 Best Dog Friendly Places
These are my absolute favorite places in Greenville to take Ellie with me.
Best Coffee Shop:
Best Shopping:
Best Place to Walk:
Swamp Rabbit Trail
Best Brewery:
Best Taproom:
Best Instagram Spot:
Best Rooftop Bar:
Best Dog Park:
Where to Eat & Drink With Your Dog
I've included my favorites below, but know there is some overlap here. For example, some of the taprooms and breweries offer food (or have food trucks on site) so you can grab a bite to eat as well as have a beer.
Restaurants with Outdoor Seating
If the restaurant has outdoor seating, it's probably dog friendly (outside). For indoor seating, check out the breweries and taprooms below. Because if food is cooked onsite, then dogs aren't allowed inside.
This restaurant is in a great spot for people watching downtown and it's along a very wide section of the sidewalk. They have several outdoor tables. But if you're going on a Friday or Saturday, definitely try to make a reservation.
| Swamp Rabbit Trail / Water Tower District
Part cafe, part grocery, this iconic location in Greenville has so much to offer. Sandwiches, pizza, craft beer, and an artisan grocery for you to select from. Plus it's along the SRT which makes it a perfect pit stop on your walk.
Several outdoor tables with heat lamps, a fire pit, and fans depending on the season, this is one of my go-to spots. Plus Liability Brewing is right next door which is dog friendly indoors. And you can bring food over.
This food hall is right off the Swamp Rabbit Trail in Unity Park. It's got lots of outdoor seating for its amazing restaurants: Golden Brown & Delicious, Automatic Taco, & Bake Room. Plus Community Tap's trailside location.
Originally hailing from Asheville, Rocky's has a great outdoor covered patio with several tables. In the summer it has shade and fans. And for the winter there are several heat lamps. Plus this is my favorite fried chicken in town. And Ellie is always ready to snag some mac and cheese.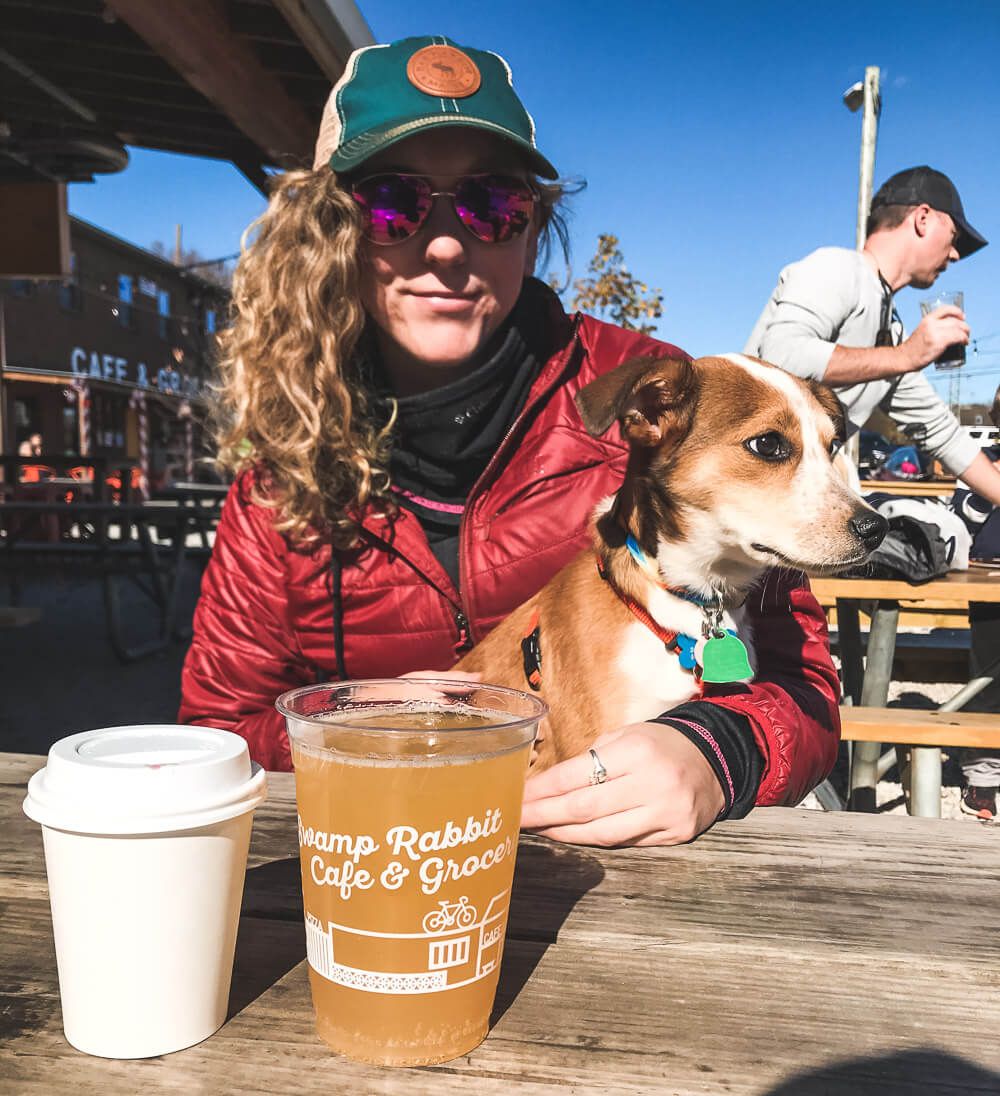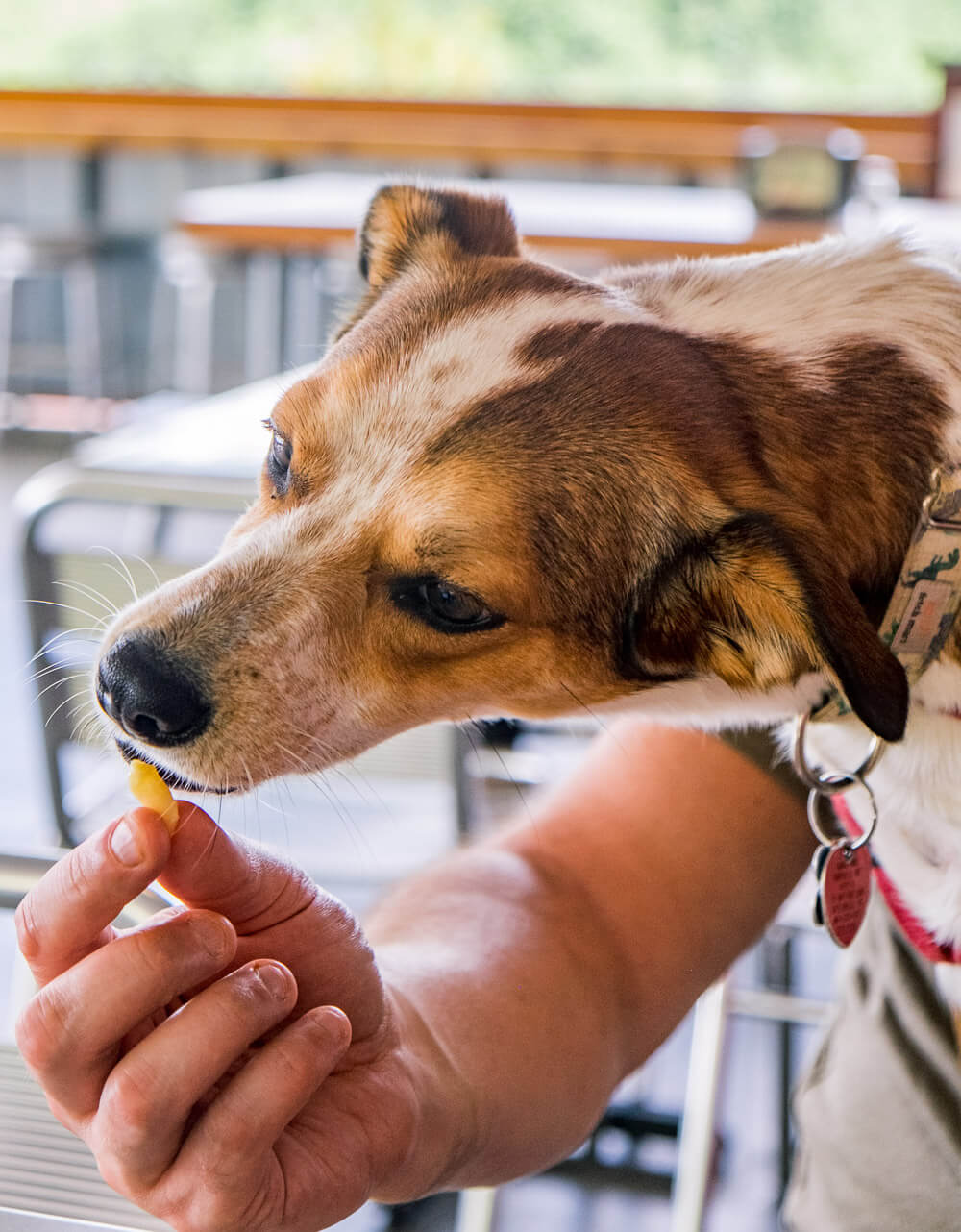 Dog Friendly Breweries
Most breweries in Greenville are dog friendly in their outdoor spaces. But a few are also dog friendly inside. Check out my brewery guide for all the best breweries in town!
Hampton Station / Water Tower District | inside & outside!
North Main | inside & outside!
Downtown | outside & garage only
Dog Friendly Bars / Taprooms
There are lots of bars in Greenville that allow dogs outside. If you want to head indoors, look for one that doesn't serve food. (Food trucks are ok!)
South Pleasantburg | inside & outside!
North Main | inside & outside!
North Pleasantburg | inside & outside!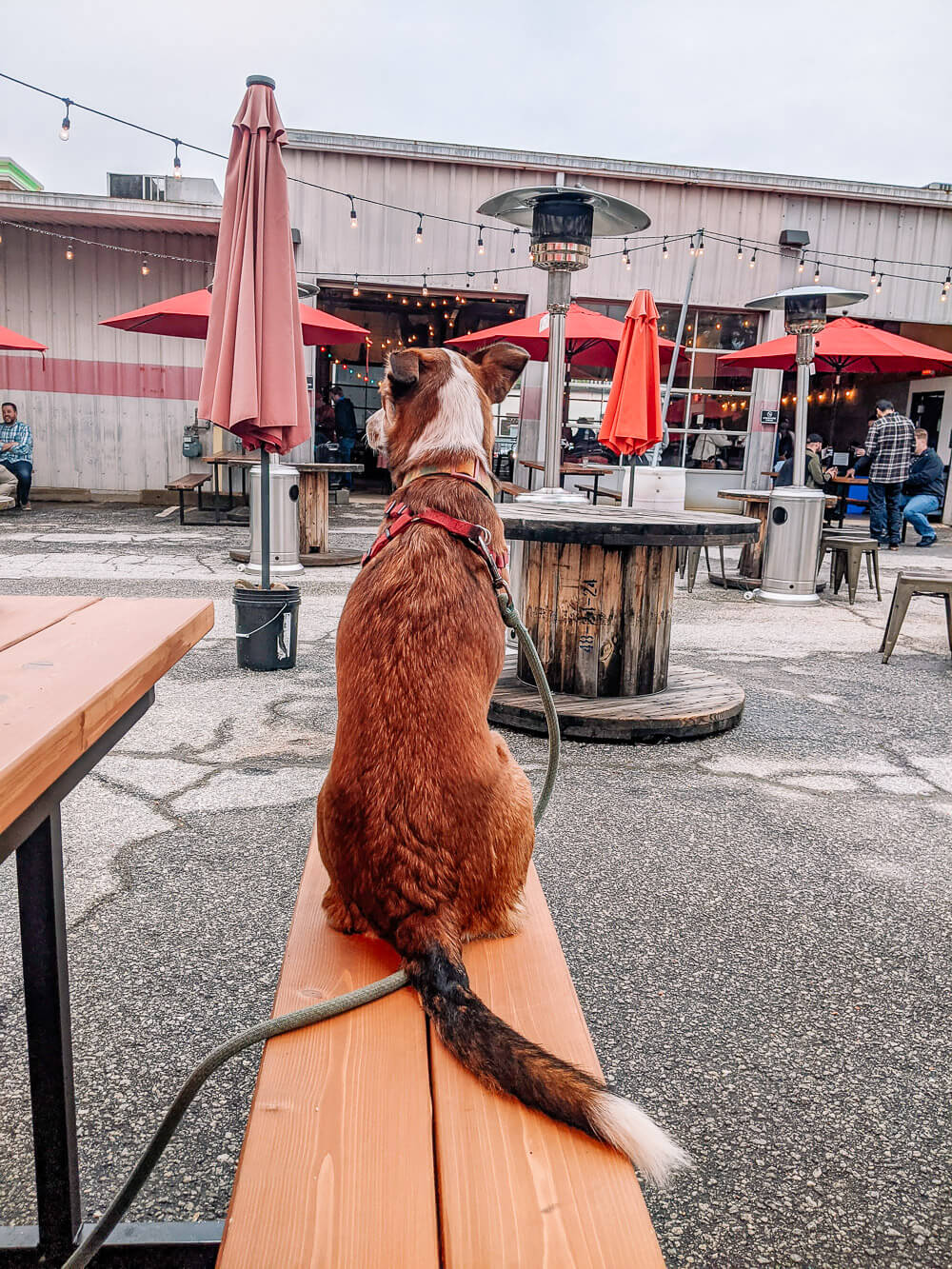 Where to Shop With Your Dog
There aren't many places to shop (inside) with your dog. But whenever I discover a new location, I'll be adding them to this list!
Normal Stores
When I tell people that Mast is dog friendly indoors, they are always shocked. This is one of the best stores downtown. They have clothes, outdoor gear, souvenirs, candy, and more. And well behaved, leashed dogs are welcome!
All Orvis stores are dog friendly. So if you need to grab some high quality outdoor gear (or dog gear, my favorite leash is from Orvis), then head to our Orvis store.
Grow your own happiness. If you love pants and dogs, then you'll love this store specializing in houseplants. Look out for their Wiggle Wednesday events!
I recently discovered this small store in Traveler's Rest. And while I haven't been inside (it was an early Sunday morning and they were closed), I'll be stopping in next time!
Other
In addition to those above, Hobby Lobby & JoAnn Fabrics are also pet friendly.
Pet Stores
This pet store specializes in handmade dog collars, leashes and harnesses, but they have a whole lot more at their store (including some doggie ice cream)!
Need to pick up some homemade dog treats? Welcome to Greenville's upscale pet bakery! But they have more than treats. Grab a new collar, bed, or even schedule your dog's grooming here!
Augusta Road | Verdae Boulevard
This is your all-in-one stop: boutique, salon, and nutrition center. Grab some toys, treats & food (made in the USA), and make an appointment with their grooming salon. And they have two locations in town.
Looking for an easy way to feed your pet high-quality, fresh food? Then look no further than Pet Wants. Their food is cooked in small batches, and they even deliver to surrounding communities in the Upstate. You can pick up food and more at their retail location.
Saluda River Pet Food & Supply Center
Saluda River has a lot more than just supplies for your dog or cat. Have hamsters, birds, ferrets, or reptile as well? Then you can grab everything you need here.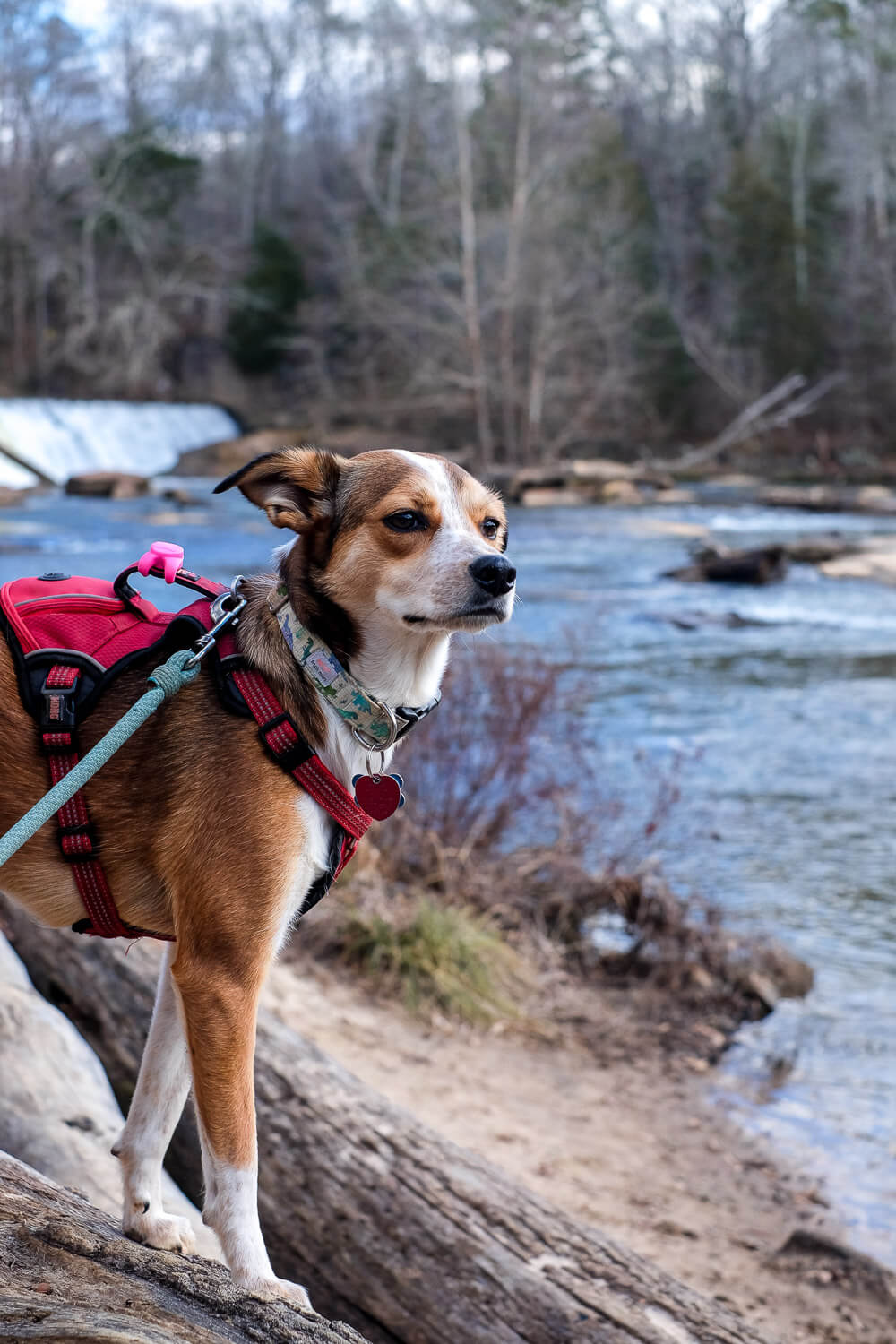 Events For Your Dog
No pets are allowed at city sponsored events (like the Saturday Market, Main Street Fridays, Fall For Greenville, etc.) A good rule of thumb is if main street is blocked off for it, then dogs are not allowed.
Annual Events
| April
Mutt Strut is a 2-mile walk/run through downtown Greenville. You can walk with or without a dog (on a leash of course). You need to register before the event on their website. There is a fee but participants get a free t-shirt, plus all proceeds benefit the Greenville Humane Society and the dogs and cats they care for. Find out what to expect at the Mutt Strut!
Bark in the Park
| One of the first (April) and last (September) games of the season
Want to catch the Greenville Drive with your pup? Then head to Fluor Field for one of the two games of the years where the stadium becomes dog friendly! Be sure the to follow the Noble Dog Hotel and the Greenville Drive to see when they are scheduled.
| Mid May
This run/walk 5k is sponsored by Greenville Animal Care and you can participate with or without your pet. All proceeds go to helping the animals at the shelter. Plus there's a vendor village and prizes for winners. Find out what to expect at the Tails and Trails 5k!
Waggin' At The Waterpark
| 2nd & 3rd Saturday of September
Want to go to the waterpark with your dog?! Then pencil in this end-of-the-season event! Discovery Island Waterpark and Otter Creek Waterpark each open their park to the dogs for some good water fun. And there are separate play times for small dogs and big dogs. Your dog must be 3 months old and have their vaccinations (documentation required). Check their events page!
| October
The UltiMutt Race is a 5k obstacle course race for you and your dog to complete together. You'll run the course with your dog (on a leash) and go through a series of obstacles (think a crawl, ramps, slides, weaves, and more). There are competitive and fun run categories to suit all levels!
Recurring Events
Pups & Pints
| Sundays
Grab the pup and head to Traveler's Taproom on Sundays for 10% off your bar tab with a leashed pup!
| Last Wednesday of every month (May – September): 6-30pm-8pm (No event in July)
Head to Camperdown Plaza for Peace, Music, & Dogs. There will be live music, beer, and lots of doggos to meet!
Pawdicures & Pints
| Every other Saturday: 2pm-5pm
Dog-Gone Nails will be at Tetrad Brewing offering their services. Bring in your pup and get their nails trimmed.
Waggin' Wednesday
| Wednesdays during the hockey season
Do you want to catch a hockey game at the Bon Secours Wellness Arena with your dog? Thanks to the Noble Dog Hotel, you can now bring your dog to a hockey game!
Where to Get Some Exercise
One of my favorite activities to do with Ellie, is to hit the trails. Greenville has an amazing outdoor scene, and there are tons of things to do. Check out my hiking guide for all the best places.
Falls Park & Cleveland Park
These two downtown parks have it all (and are actually connected). Start in Falls Park and check out the Reedy River Falls & the Liberty Bridge. Make sure to snap those iconic Greenville photos. Then head south down the Swamp Rabbit Trail. You'll pass through Cancer Survivor's Park and soon find yourself in Cleveland Park in less than a mile. Do some people watching, run around in the grass, and then head back when you're done.
Swamp Rabbit Trail
It's hard not to talk about the Swamp Rabbit Trail (SRT). It's a 22 mile paved path for walking and biking. And it's got so many amazing stops along the way. Below are my favorite stops / starting and ending points. So hit the trail and if you get hungry or thirsty, then pull over (so to speak). And all of these have dog friendly outdoor seating.
The Commons / Southernside Brewery
Hampton Station
Swamp Rabbit Cafe
Conestee Nature Preserve
This 406 acre state-designated Wildlife Sanctuary has over 13 miles of trails (with more than 6 of them paved). I love to come here and take a quick walk in the woods. Ellie enjoys all the sights and sounds and smells.
Plus with the Conestee Dog Park right near the entrance, we come here almost every week. This is my favorite dog park in town.
Half dog park, half craft beer taproom, all amazing. This is the only off-leash bar in all of Greenville. There is a membership fee (day pass or annual), but it's totally worth it. I love being able to drink local craft beer while watching Ellie run freely around in their enclosed space.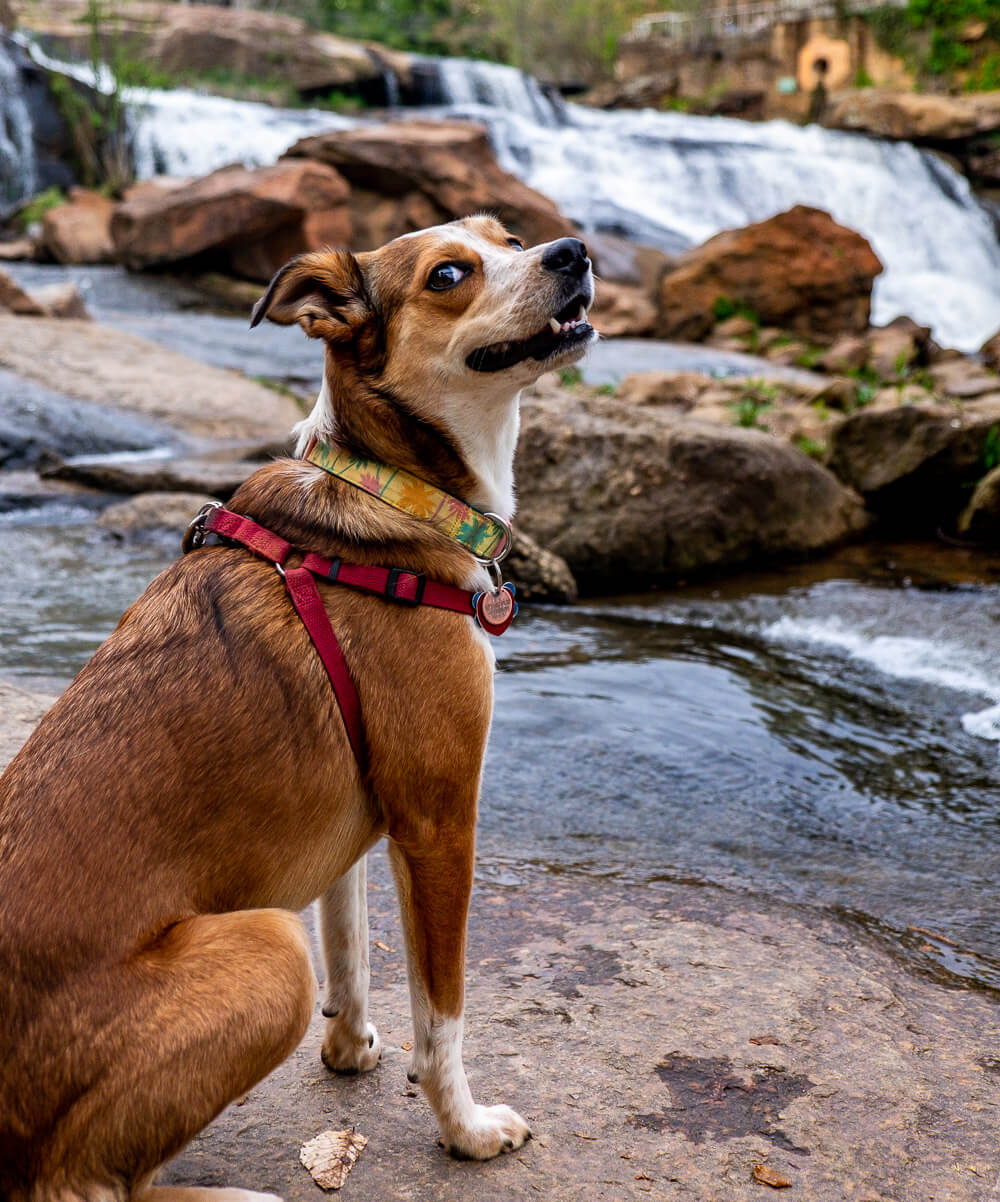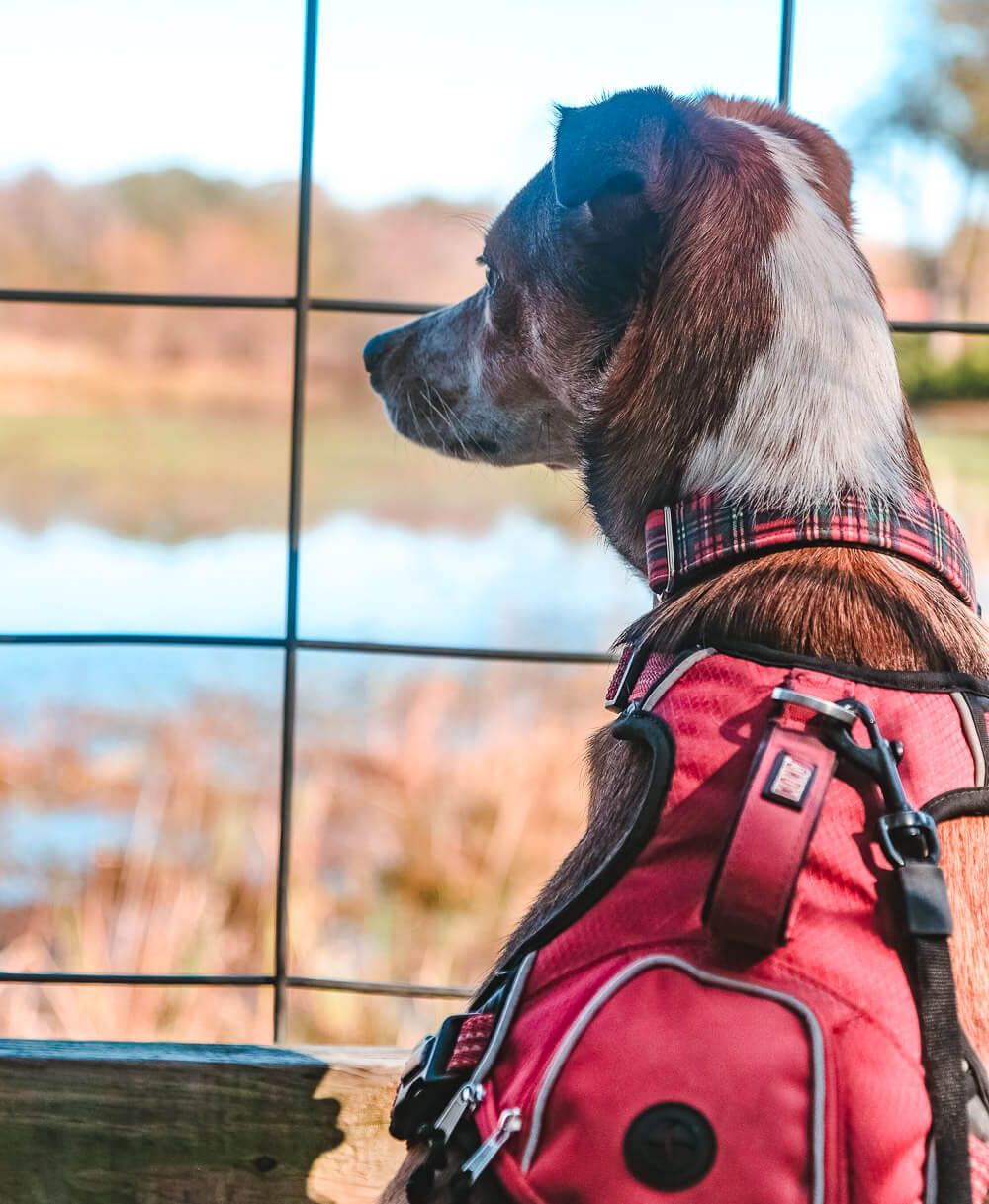 Some Dog Friendly Hikes
Dog Friendly Trips
These are the dog friendly trips we've taken over the years. As we go more places, I'll add in additional itineraries!
Just an hour away, you can easily spend the whole day here: breweries, hiking, farms & orchards, and more!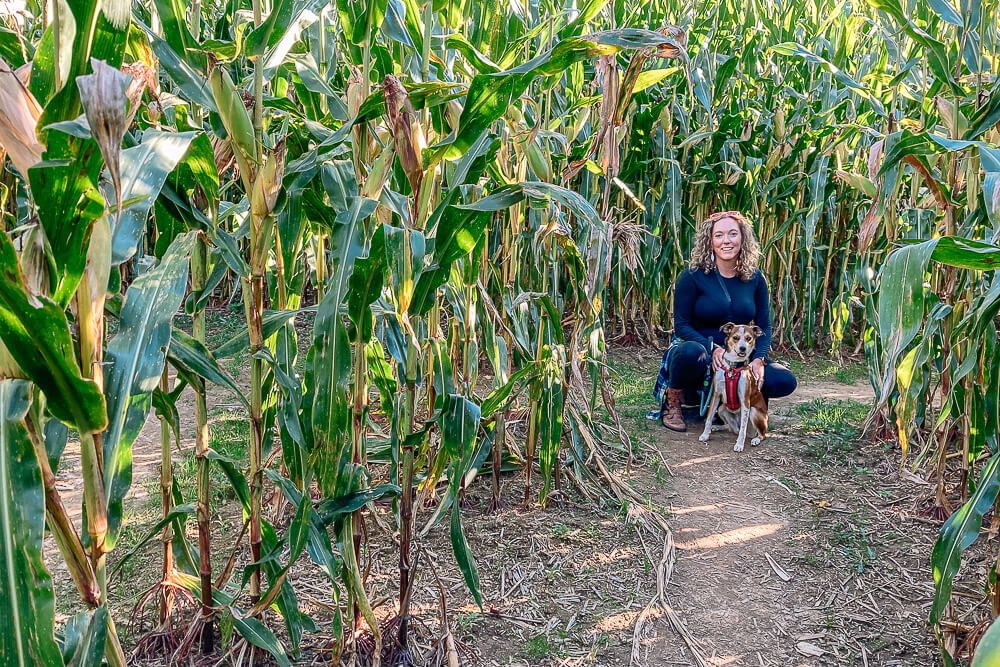 ---
With a dog centric hotel, breweries, restaurants (with outdoor seating), and lots of hiking options nearby, this is your perfect weekend getaway with your 4-legged best friend.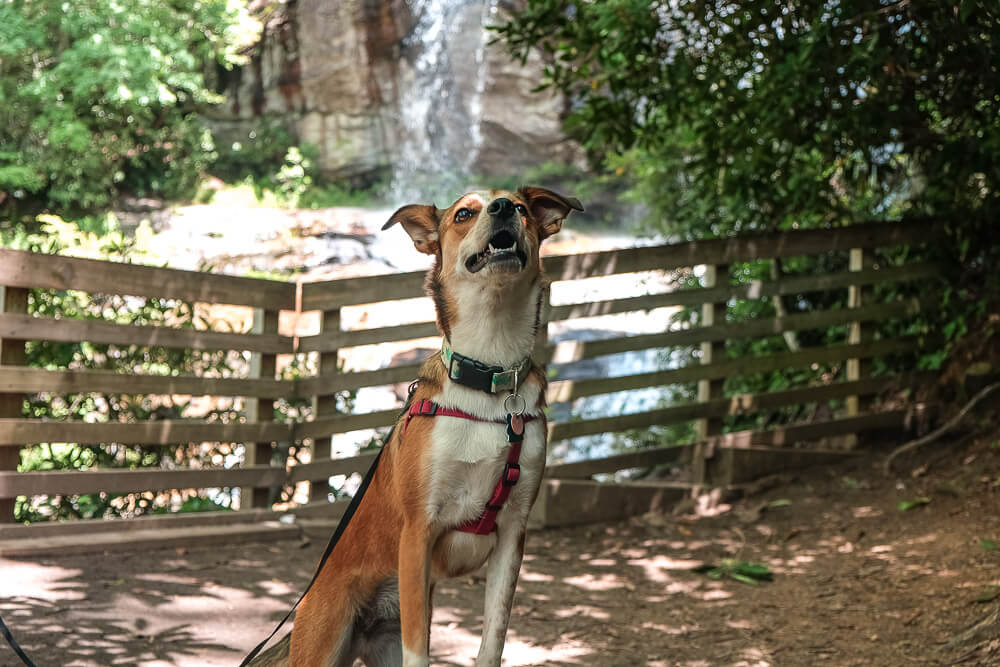 ---
This island in the Outer Banks is only reachable via ferry. It's got deserted beaches (4WD only), cute restaurants, a brewery, and very friendly people. Plus lots of dogs!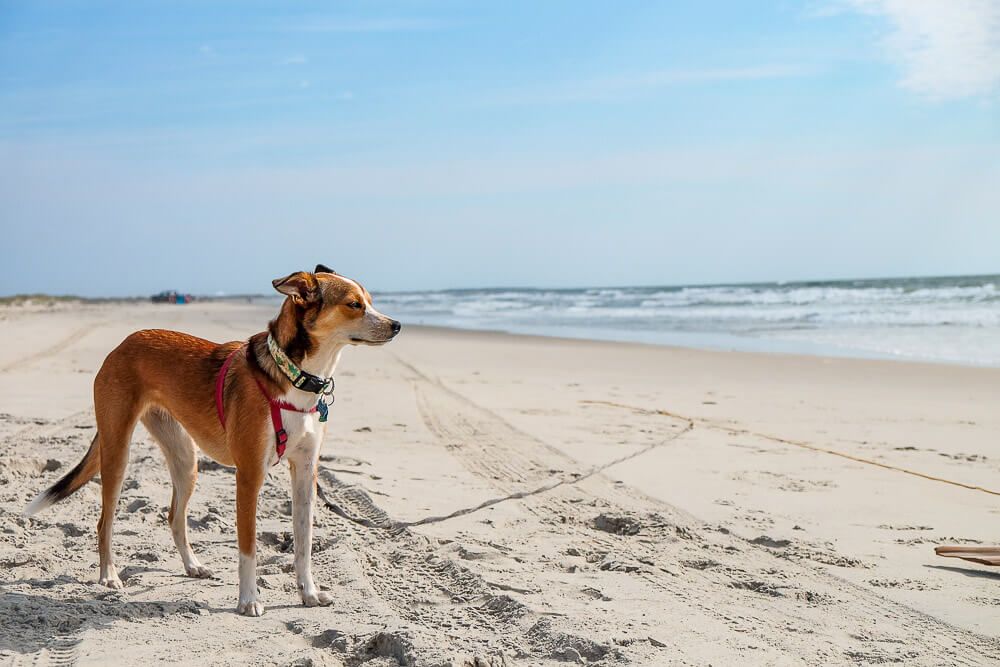 ---
Since we'd been to downtown before, we focused this trip on James Island, its eateries, and nearby Folly Beach. And of course some breweries.