This one's for the dog lovers out there. The #dogmoms & #dogdads. The ones that message and call establishments asking about their outdoor seating and dog friendly status. And if the answer's not one they like, then they plan to go somewhere else. This is your dog's one day in Greenville.
Ellie is such an important part of my life that I literally try to take her everywhere with me. She has completely changed how I approach Greenville and how I plan my days.
So if I was to create the ultimate dog friendly Greenville day for her, what would that look like? Where would we go? What would we do?
Spoiler Alert: There's a lot of walking.
Below is what I've put together, and I've even provided some alternatives, because there are so many options in Greenville (part of the reason why I love this town).
And even then I struggled because I couldn't include everything! But if you want to see all of my dog friendly content, check out my complete dog friendly guide to Greenville.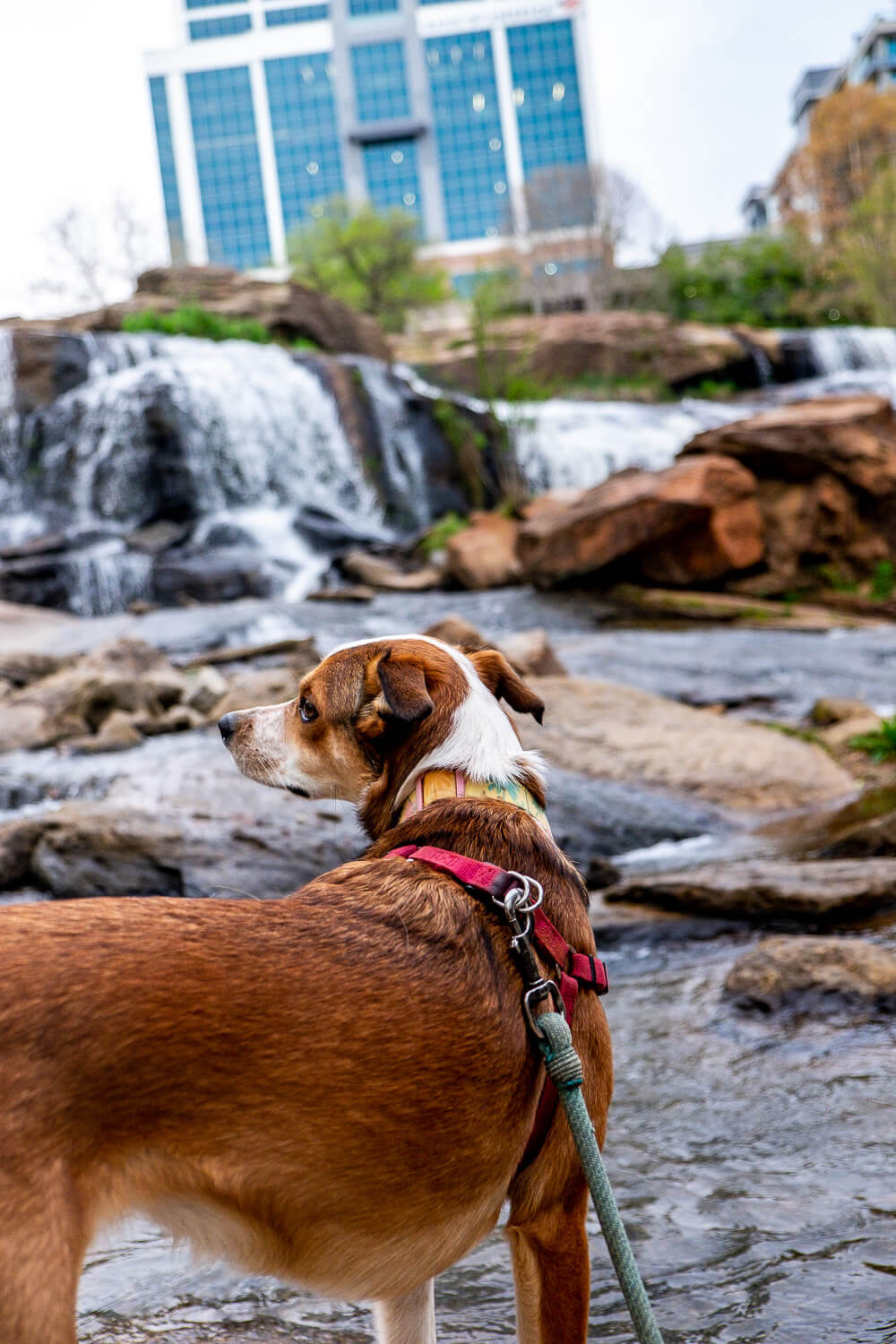 ---
One Day in Greenville (Dog Friendly Style)
Morning
How you start your day will depend a bit on your dog. For Ellie, we'll head straight to one of her favorite spots in Greenville, the Conestee Dog Park.
This is my favorite dog park in town, and we're usually there at least once a week.
But if your dog isn't one that loves to socialize with other pups, then you're still in luck. The Conestee Nature Preserve is connected to Conestee Park. Simply head to the back corner and you'll soon be on trails and boardwalks. Ellie loves to go and watch all the geese, plus there's so much to sniff and explore.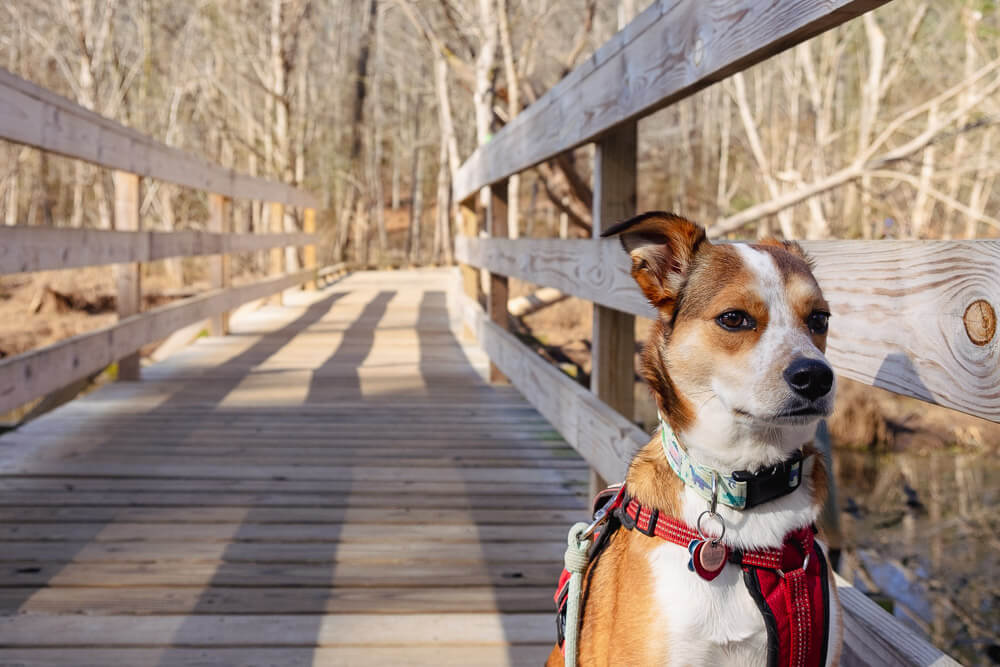 Do you need a coffee before heading to the dog park? Look no further than Liquid Highway. I love this little local coffee spot. It's drive thru only and has some great drinks. Plus, if your dog pops up to say hello, they almost always have a biscuit on hand to give out!
The Conestee Nature Preserve recently updated a lot of their signage and trail blazes. It's now super easy to explore and you can choose how long you want to walk for.
After getting a bit of exercise in, it's now time for some coffee.
Heading back towards town, I almost always stop at Grateful Brew for a coffee in the morning. (Or even a beer in the afternoon/evening.)
Grateful Brew is dog friendly inside with a decent sized room complete with tables and chairs (and even some outdoor seating). The staff is also super friendly and very dog loving. If you're a bit hungry, definitely grab some pastries.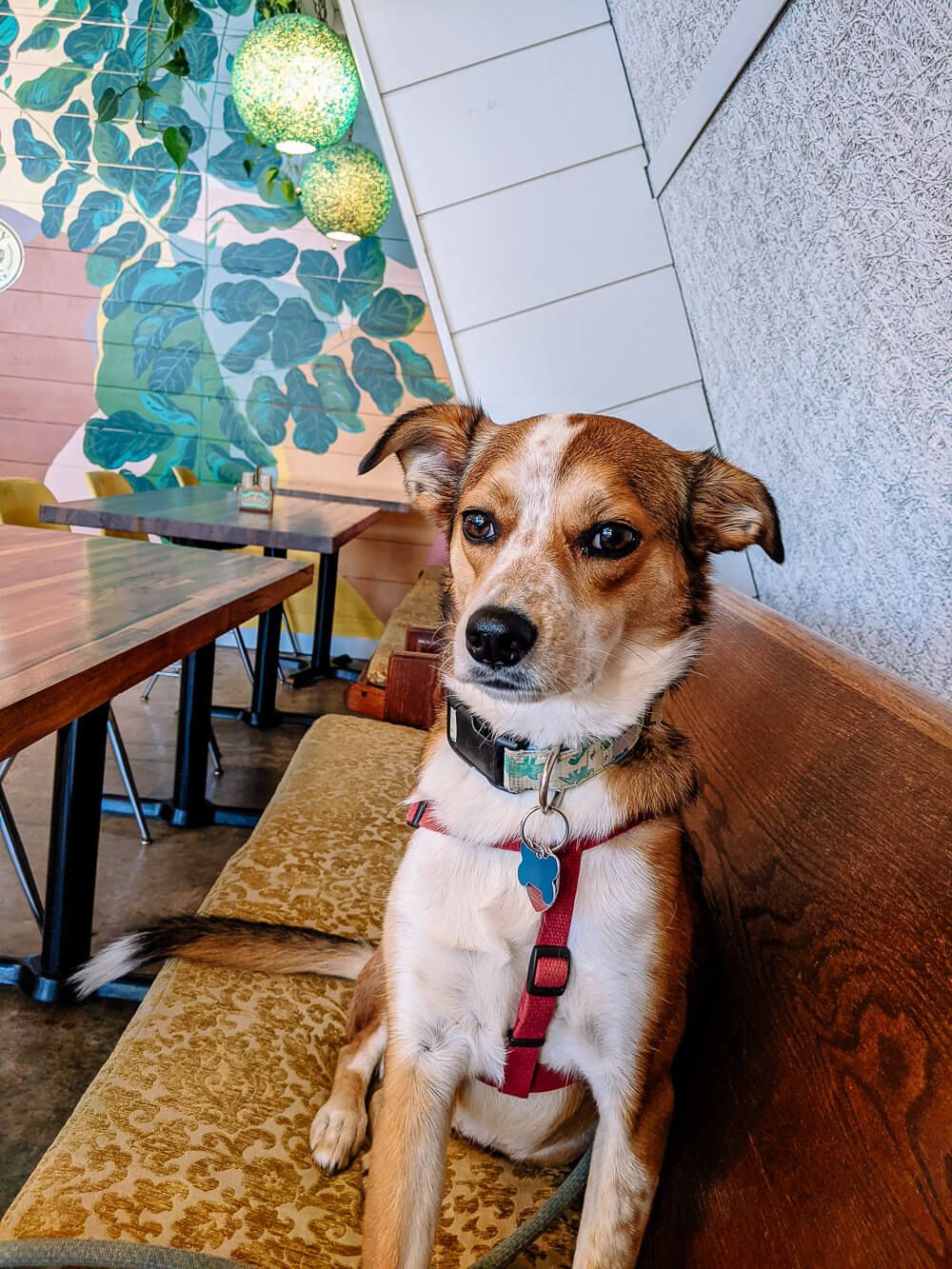 We tend to stay at Grateful Brew for at least a couple of hours, but once we've had our fill (and Ellie's recharged with a little mid-morning nap), it's time to head back to Greenville and hit up that iconic Greenville activity, the Swamp Rabbit Trail.
See I told you there was a lot of walking. But really, you can walk as much as you'd like. Or even explore Unity Park (currently under construction, but to be finished soon).
I like to park near The Commons and head north on the trail. I'll walk for a couple of miles, heading to one of many wonderful lunch spots.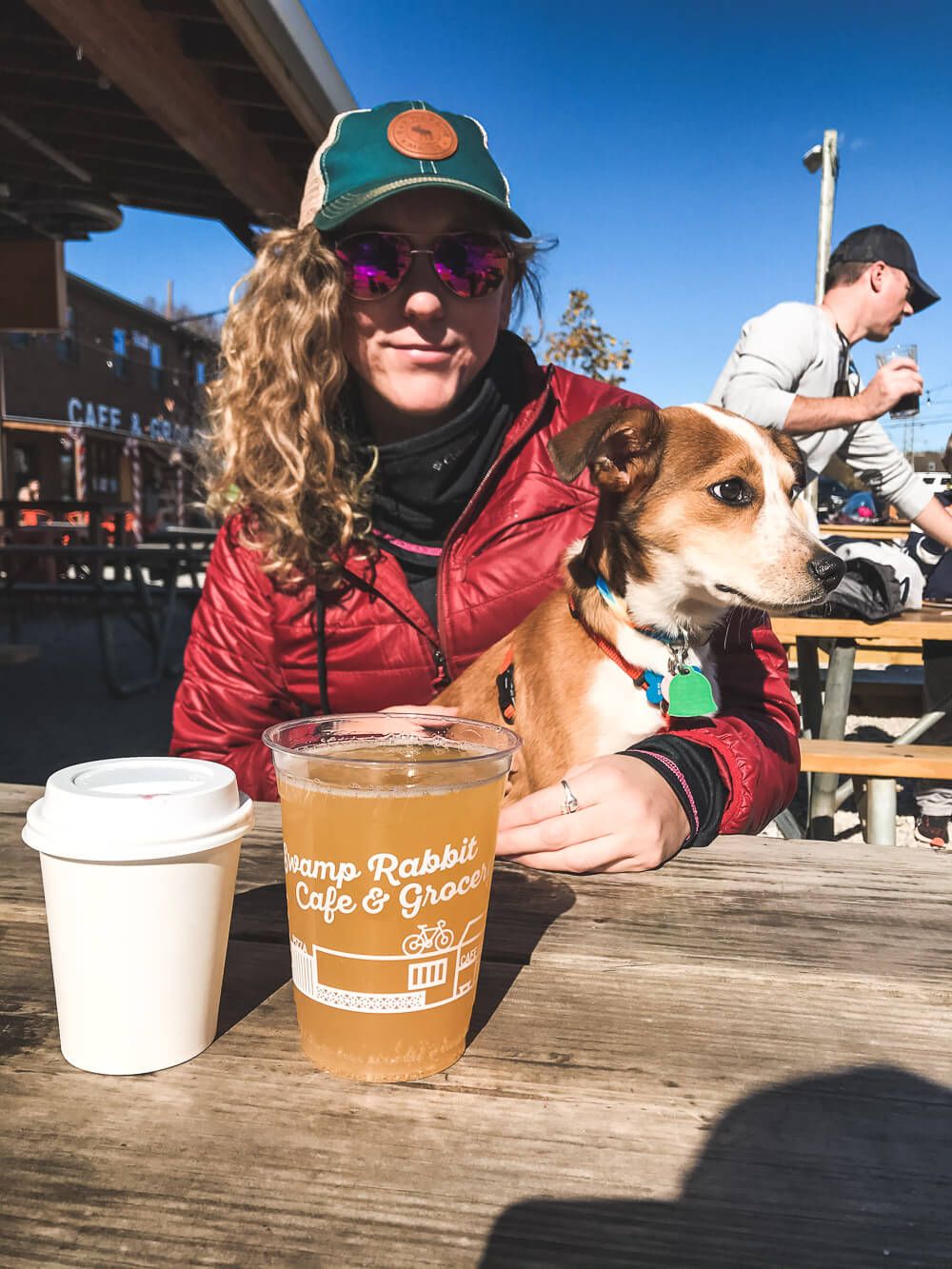 ---
Afternoon
During your walk along the Swamp Rabbit Trail, be sure to stop at one of the many dog friendly restaurants (and breweries) to refuel during lunch.
One of Ellie's favorite spots is Southernside Brewing. They have a very large outdoor beer garden space with plenty of picnic tables. You'll need to go inside to order, but the food (and the beer) is delicious.
And if you aren't a beer lover, then don't worry! Southernside has a full bar (and plenty of non-alcoholic options as well).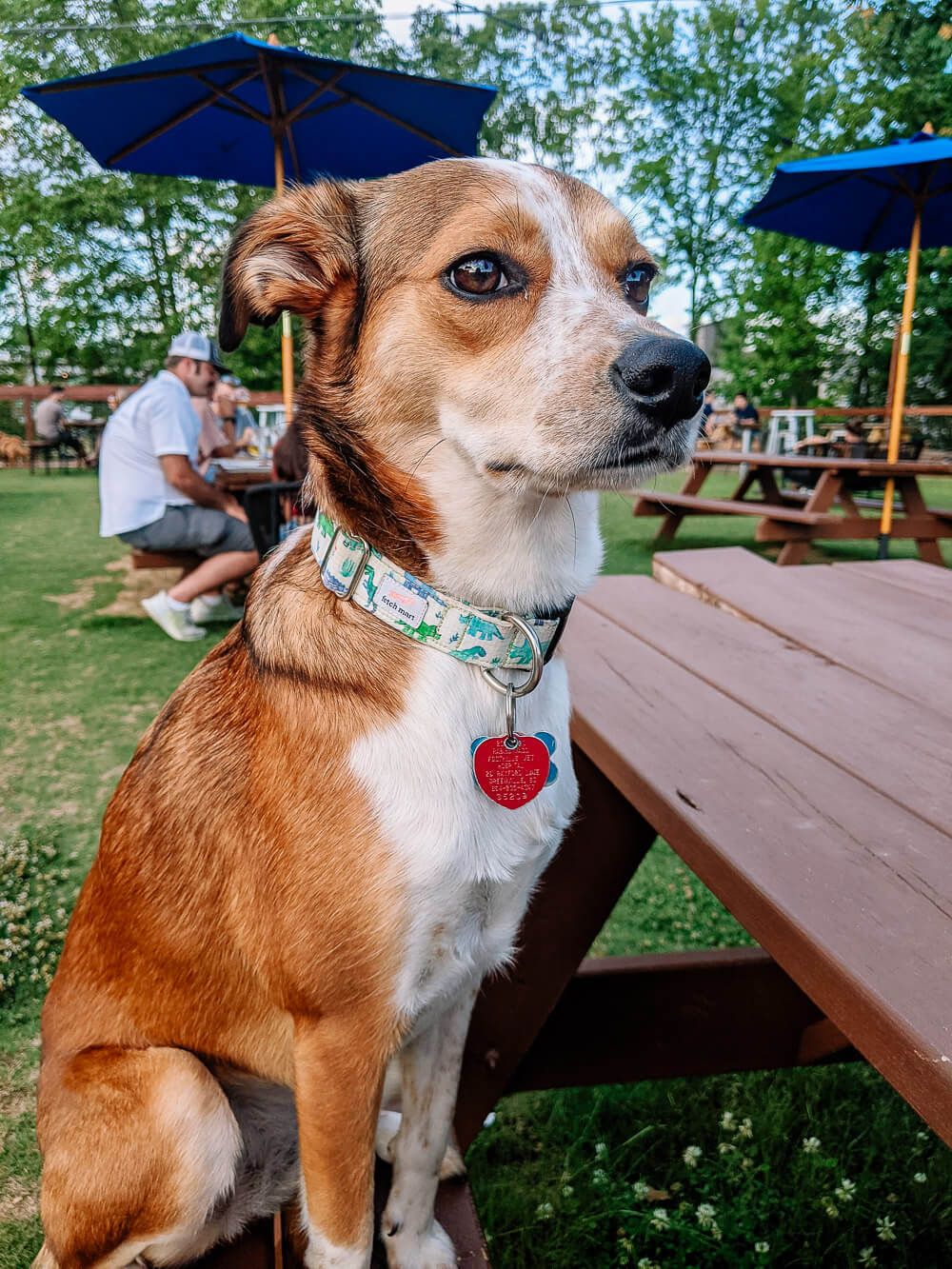 Since we start our walk near Southernside, we usually walk north on the trail for a mile or so before turning around and returning to Southernside.
But if that's not your style, I have two other great recommendations. The first is Hampton Station. You can grab some amazing tacos at White Duck Taco, another coffee at Due South, and some mead at Wandering Bard Meadery.
There are also some great little local shops at Hampton Station to check out as well.
Another classic spot along the SRT, is of course the Swamp Rabbit Cafe! This cafe has amazing sandwiches and even pizza. Plus there's the complete market as well if you just want some nibbles.
All of these spots are not too far from each other so you don't have to walk for 5+ miles to reach them. And they each have parking nearby so you can head straight to your desired lunch spot, walk a bit on the trail, and then return when it's time to eat.
After you get your fill of lunch, it's time to head downtown.
I love to pop in and shop at two of my favorite dog friendly stores: Mast General Store & Orvis. They each have great selections and both love dogs. The stores are also located right off of the One City Plaza so it's super easy to visit both in one trip.
Then it's time to head to one of Ellie's favorite spots, Falls Park! I love it for the views of the waterfall. And Ellie loves it for the ducks & geese she gets to watch and bark at.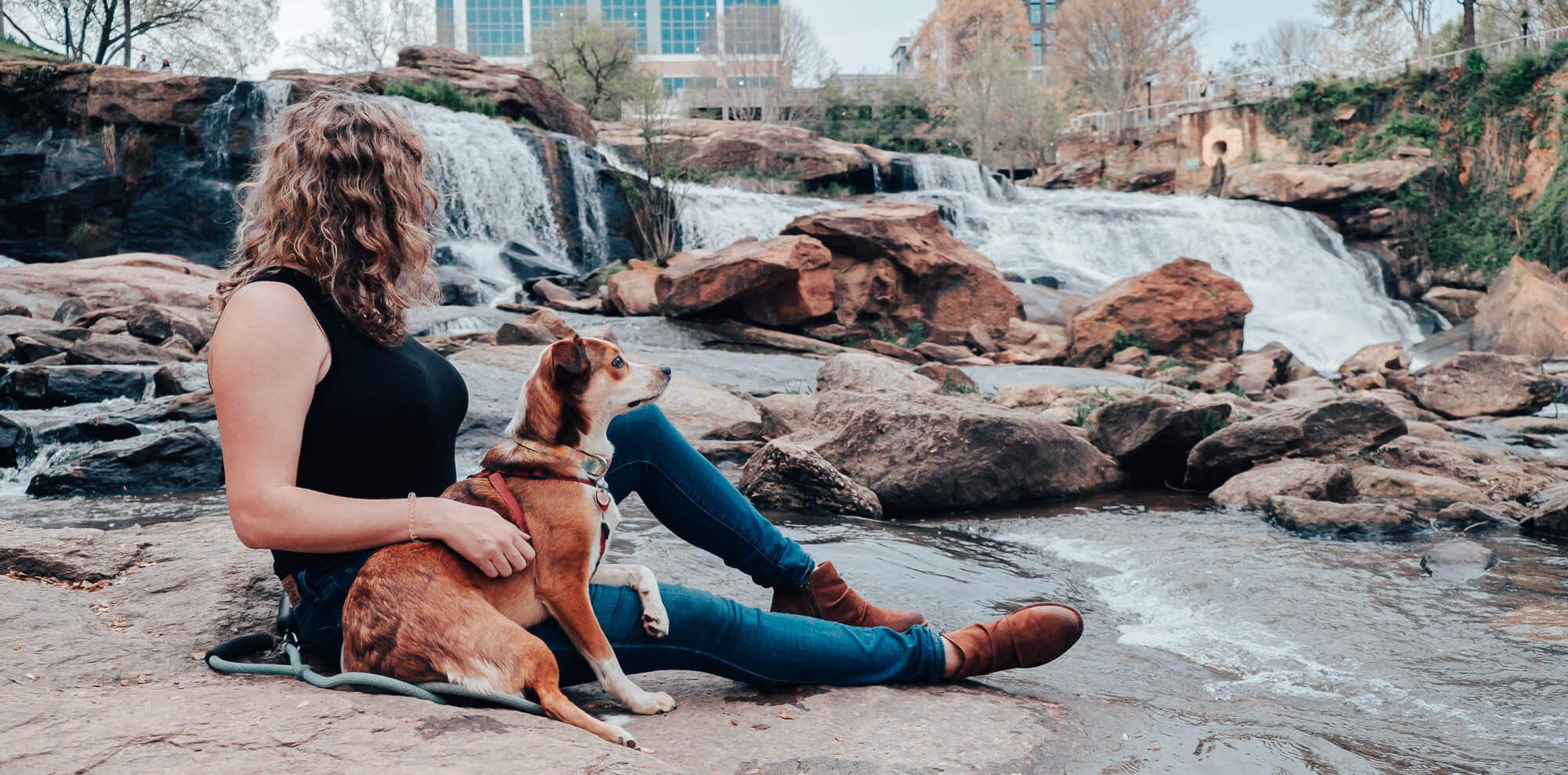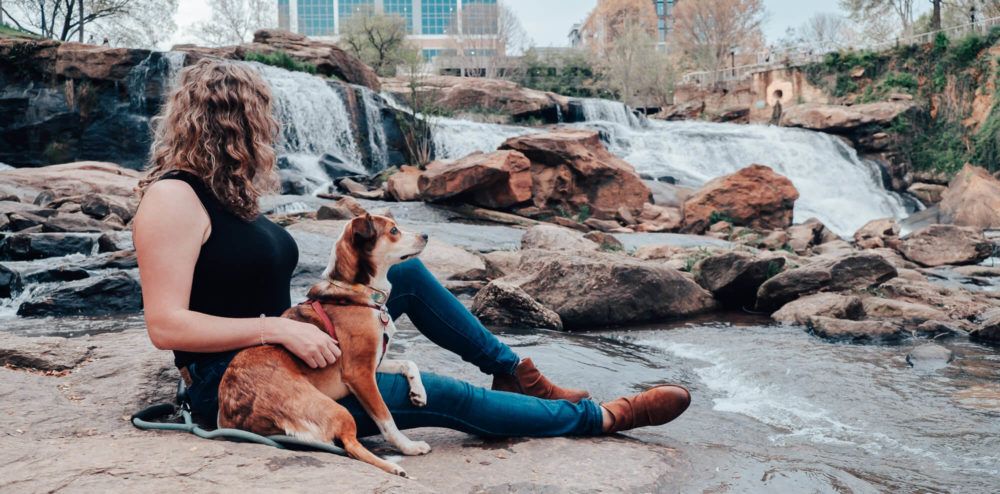 Plus it's the spot to get that photo of your dog with our amazing waterfall in the background.
Then it's back onto the Swamp Rabbit Trail where we usually go south through Cancer Survivors Park and into Cleveland Park. Walk as much or as little as you please. Ellie is a bonafide hiking dog, and I always wear out way before she does.
If you're all walked out, then grab a drink at one of our bars and breweries downtown. I love Fireforge Crafted Beer and Foxcroft Wine Co. Or head inside at Greenville Beer Exchange where they are completely dog friendly.
If your dog loves meeting other dogs, then consider heading over to The Unleashed Dog Bar! The concept is simple but wonderful. It's dog park meets bar. You can sit back and relax while your dog mingles – unleashed – with dozens of other dogs. It's located outside of downtown so you'll need to drive, but it's one of Ellie's favorite spots.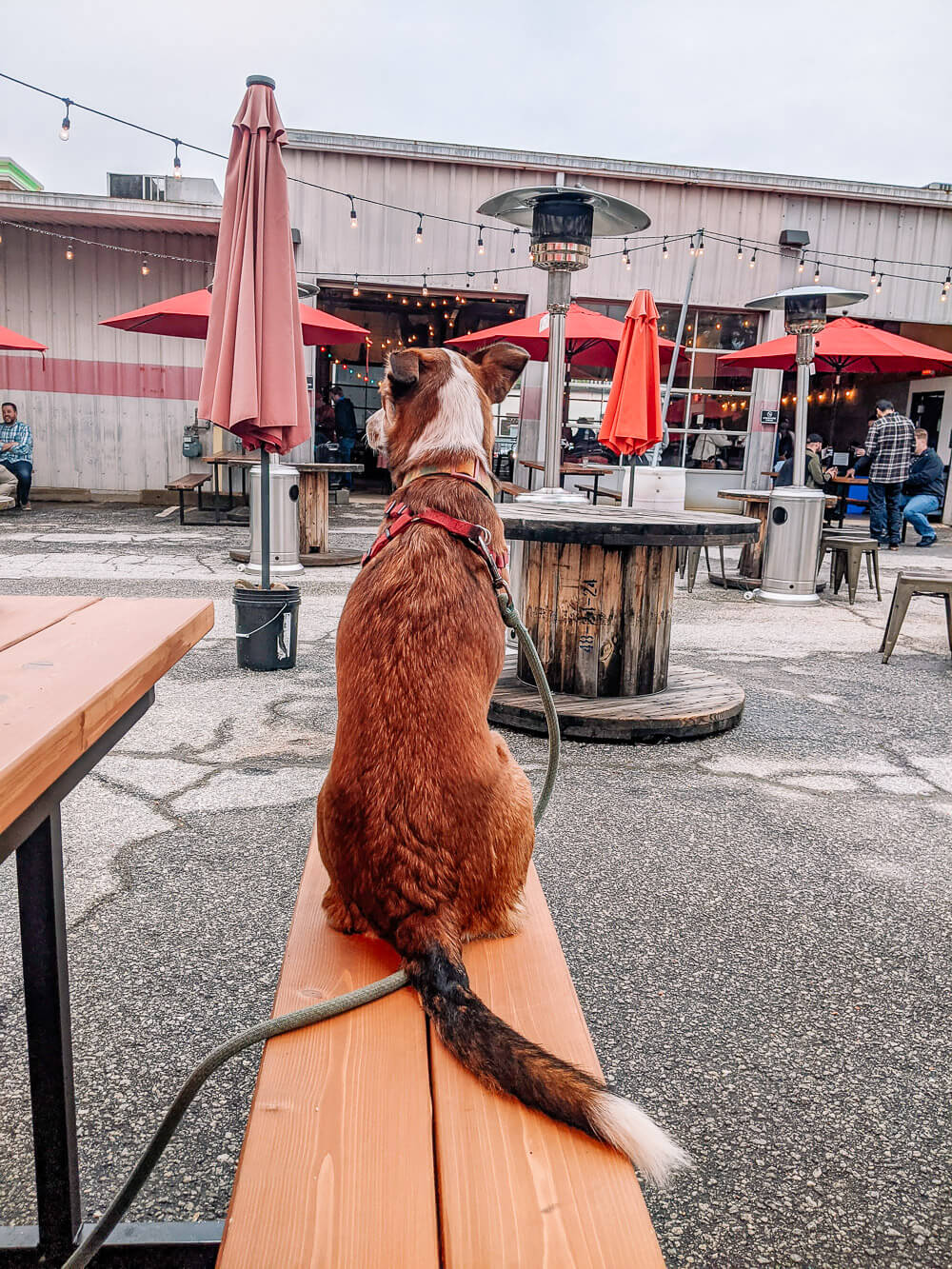 ---
Evening
As we head into the evening, it's time for a crucial decision. Where to eat dinner. Luckily Greenville has tons of dog friendly restaurants to choose from.
If it's during the week (Tuesday-Friday), then one of my favorite spots is Gather GVL. This outdoor shipping container food hall experience is amazing. There are lots of great restaurants with windows.
One of my favorites is Mike's. Great cheesesteaks for humans. Plus they have a menu item just for the dogs, the puppy steak. I swear Ellie makes a beeline straight for this window when we walk in. She knows.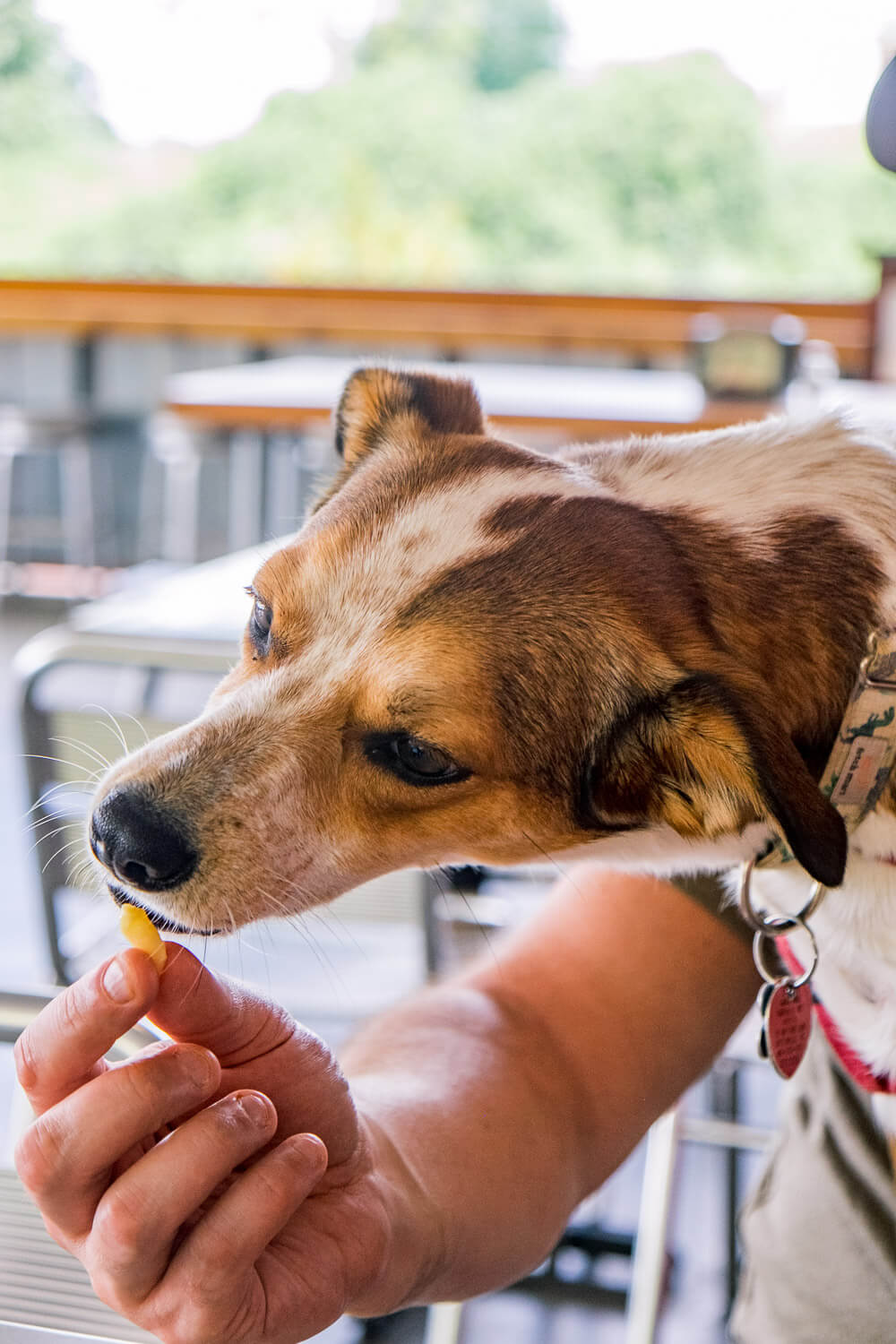 Gather doesn't allow dogs on Saturday or Sunday though. So during the weekend, we head elsewhere. I love Basil Thai Cuisine for its upscale Thai food. There's also Tupelo, Sassafras, & Reid's all in the same plaza as well.
What if you went to Unleashed? You don't need to head back downtown, there are so many options out that way! I love Rocky's Hot Chicken Shack for dinner. Or head over to Double Stamp Brewery and order from Home Team BBQ next door (just call it in for takeout and then walk over and bring it back). Double Stamp is dog friendly inside & outside, even up on their rooftop deck!
If you're still craving more, then head on over to a couple of our dog friendly bars.
In the West End? Walk over to Hoppin'. In the center of downtown? Check out the Greenville Beer Exchange.
If you're outside of downtown, consider stopping by Community Tap, Tetrad Brewing, Carolina Bauernhaus. Both are dog friendly inside and outside!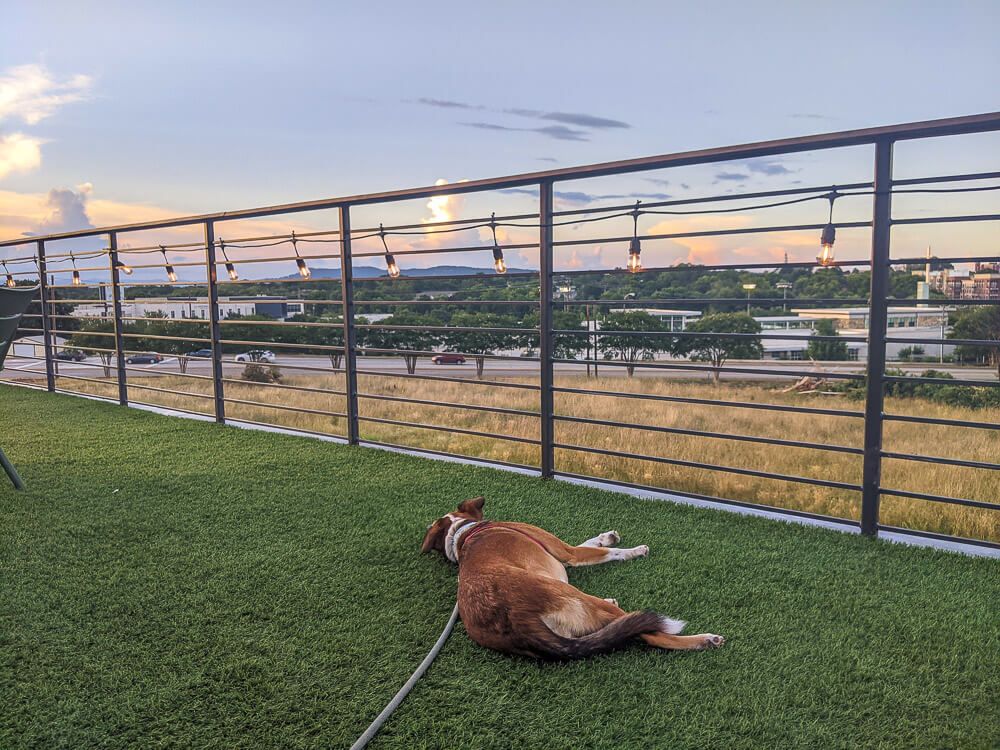 And that's it! I think that's Ellie's perfect Greenville day. Plenty of walkies, meeting other dogs, trying to beg for food, and meeting loads of people.
Where does your dog love to go?