If you're looking for the Greenville Farmers Market, then you're in luck. There are actually several nearby options to choose from if you're looking for that local produce. And as we enter the summer months, all of the markets are opening up.
So if you're looking to stock up on fresh and local produce, then check out the farmers markets below!
20+ Things To Do In Greenville In Summer
---
The Greenville Farmers Markets
Saturdays from May through October
8am to 12pm
Downtown Greenville – centered on the intersection of Main + McBee Ave.
Dogs NOT allowed.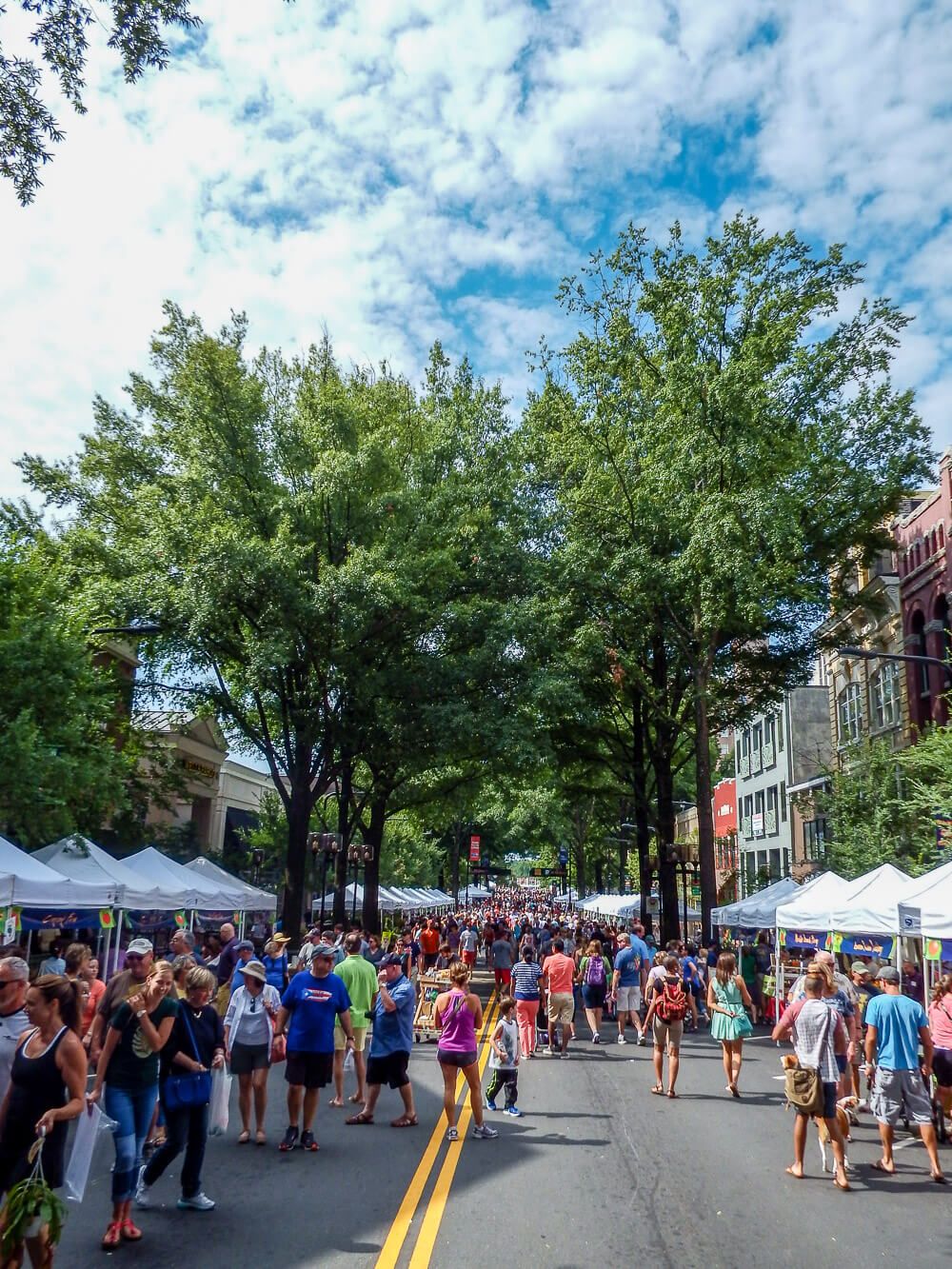 Many may consider this to the the Greenville Farmers Market. It runs every Saturday morning from May to October in downtown Greenville. Several blocks are closed and open to pedestrian traffic only for the market. It's a a great experience, and I always enjoy it.
However it is very crowded. If you are after particular produce, you definitely want to get there at 8am. (Or just early to beat the heat.)
There's also a good mix of local produce and other goods. Trust me, there's a lot of variety here among the vendors. You can get some local cheese, fresh made pasta, eggs, meat, lots of produce, dryer balls, plants, jewelry, bread, soaps, pottery, chocolate, and so much more.
---
Saturdays from May through September
8:30am to 12pm
Trailblazer Park in Travelers Rest
Dogs NOT allowed.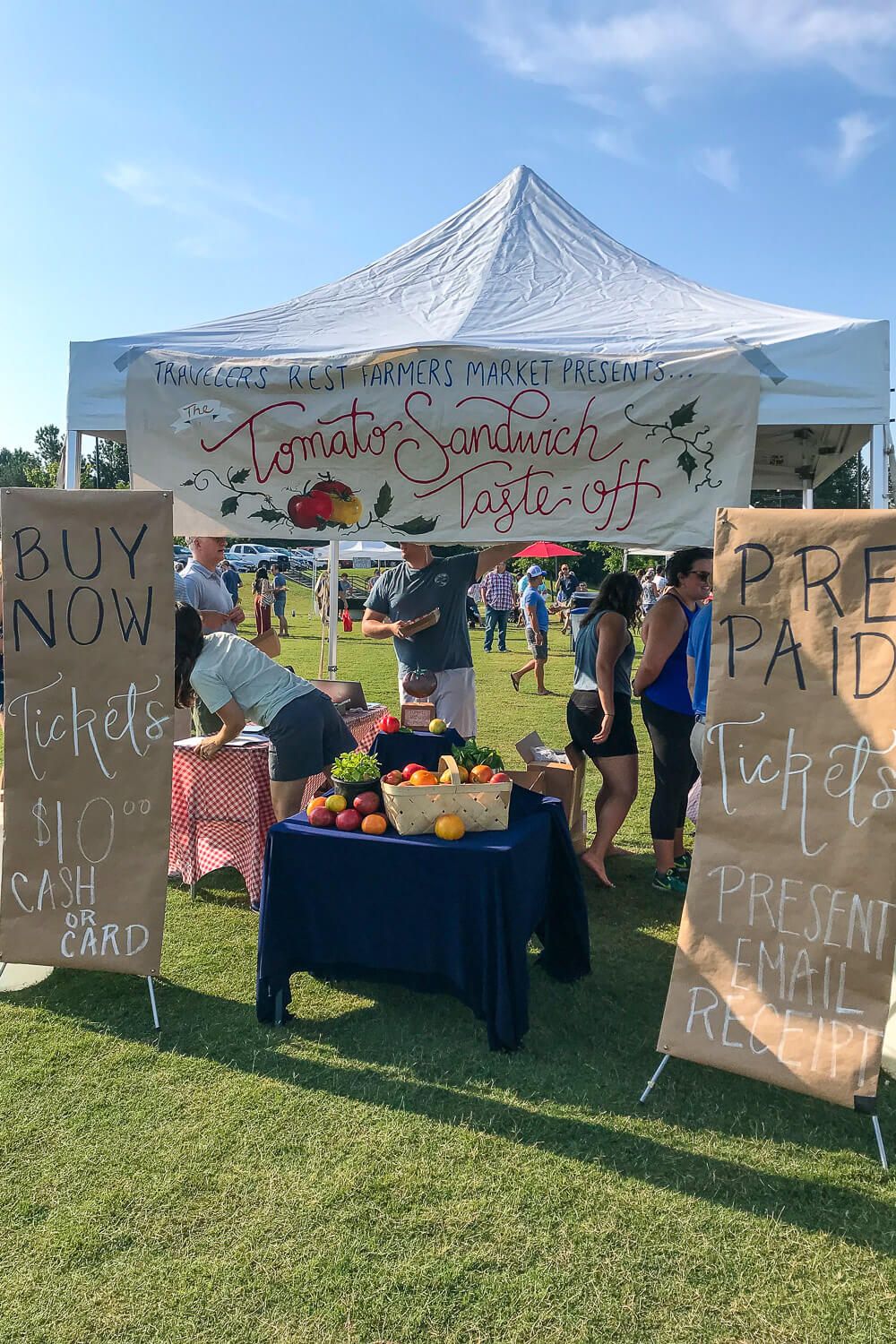 This is actually my favorite farmers market in the area. I think mostly since I tend to avoid downtown unless I want to be downtown for awhile. So if I just want to get in and get out, then this is where I go.
They have lots of vendors and tons of variety here as well. Think lots of produce, meat, eggs, key lime pies, artwork, and more. Plus there's live music, free yoga (from 8:30am-9:30am in the amphitheater), kids tent, and food trucks.
But my favorite thing about this market are its themed weeks. Some events planned for this year include a plant sale, apple fest, and the Tomato Sandwich Taste-off (my favorite event!). Follow the TR Farmers Market on Instagram to stay informed.
And though the traditional farmers market runs every Saturday from May to September, there are other markets throughout the year (like a fall market series, holiday market, etc.).
5 Awesome Things to Do in Greenville, SC
---
Open everyday Monday to Saturday
8am to 6pm
Rutherford Road
Dogs allowed (I think).
This farmers market is a much more traditional farmers market. They have loads of fresh produce on sale and at good prices. They're open everyday (except Sundays) which I find very helpful. Now I have read that they do fill in gaps in their selection by ordering out of state. But there are tons of local options (and you can always ask where something is from).
On Saturdays they have local vendors at the market selling produce, plants, flowers, baked goods, jewelry, handmade decorations, and home goods. Check their Facebook page for details on the upcoming Small Vendor Saturday.
---
Open Tuesdays from May through August
4:30pm to 7:30pm
Greer City Park
Dogs allowed (I think).
If you live out towards Greer, then head to Greer City Park on Tuesday evenings for their farmers market! They have produce, plants, baked goods, eggs, food trucks, live music, fitness activities, handmade goods, and more!
To learn more about their Tuesdays in Town series and special events, be sure to follow Greer Farmers Market on Instagram.
---
Other Nearby Farmers Markets
Live a bit outside of Greenville? Then check out the below farmers markets!
Mauldin Farmers Market | April through November | Every second Tuesday from 5pm to 8pm | Mauldin Cultural Center
Farmers Market at Fountain Inn | June through August | Every Saturday from 8am to 12pm | Downtown Fountain Inn
Simpsonville Farmers Market | May through September | Every Saturday from 8am to 12pm | Behind City Hall for 2022 (until the new park's construction is completed)
Landrum Farmers Market | May through October | Every Saturday from 8am to 12pm | Landrum Farmer's Market Pavilion