Aruba, Jamaica, oh I want to take ya to Bermuda, Bahama, come on pretty mama.
For like a month before our trip, those words swirled through my head. We were finally going to Bermuda. Land of the pink beaches, turquoise clear water, rum swizzles, friendly locals, delicious seafood, and amazing scuba diving. And if that list feels long, it should. Because there is lots to do, and we only had 1 week. This was our Bermuda itinerary.
Now Bermuda has reputation for being expensive. Because, well, it is. So we traveled on a budget and my itinerary reflects that.
But I think my guide can still show you what the island has to offer. So feel free to use this step-by-step or simply as your starting point.
Our Bermuda itinerary starts with a few nights in Hamilton and then moves to the east coast. I loved splitting up our trip this way as it allowed us to have more time in St. George. But if you just want to stay in Hamilton, you definitely can.
---
Day 1: Arrive & Explore Hamilton
Bermuda's airport is located on the eastern part of the island. And your options to get from the airport to your accommodation are limited.
The island does have an amazing bus system which I'll get to later, but you can't take suitcases on the bus so most people won't be able to use it from the airport.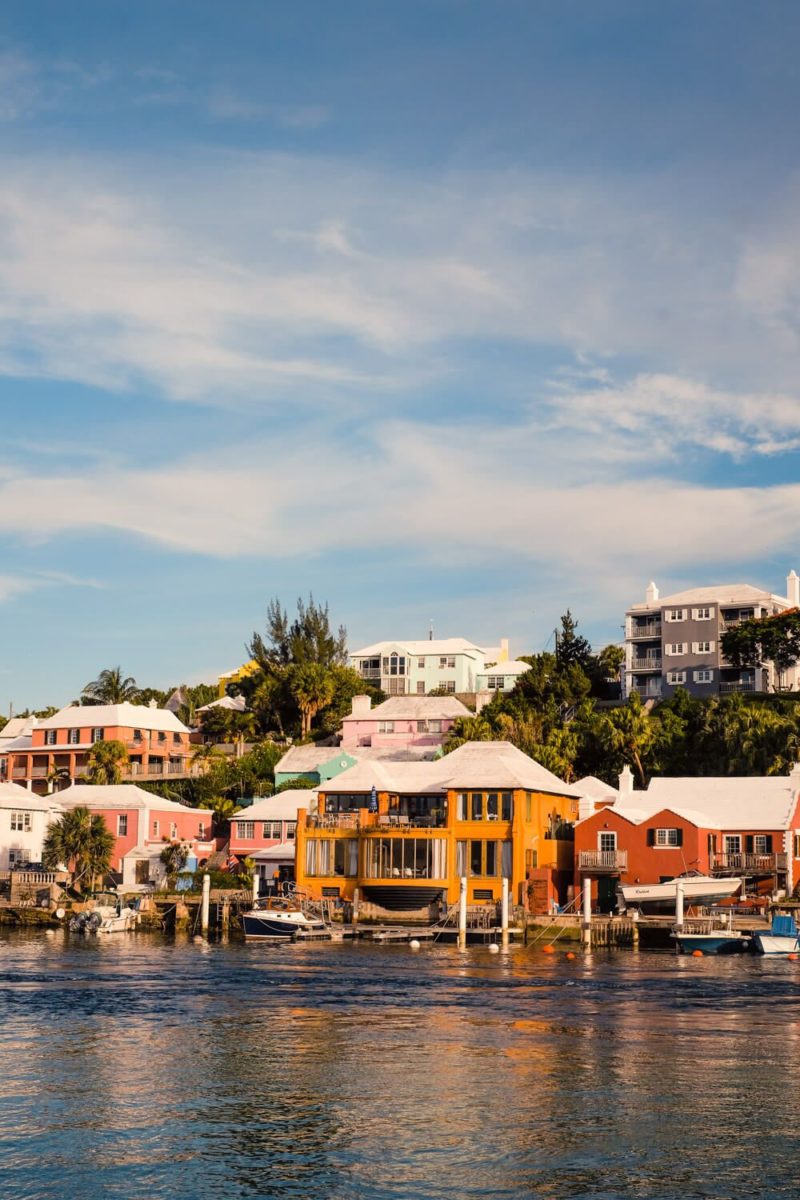 Uber (or any uber-like alternatives) don't exist either. And tourists can't rent cars (only mopeds and electric cars which aren't going to help you here). Which basically leaves one option.
Taxis. Which are hella expensive, but are a necessary evil for at least this part of the trip. During our week in Bermuda we took just two taxis. And the trip from the airport to our Airbnb was one of them.
Expect to pay like $40-$50 for a taxi across the island. If you're going even further west (past Hamilton), this could be even more.
After arriving in the Hamilton area, spend some time shopping and exploring the city. It's not overly large but I enjoyed strolling the streets near the harbor, grabbing a drink, and taking it in.
There are two exciting things to do in Hamilton though in my opinion.
The first is Bermuda Harbor Nights. It's weekly on Wednesdays from about May to September. All the action can be found on Front Street from about 7pm-10pm.
Think of this as a street festival. There are food vendors (with both Bermudian and international bites), local artists and craftsmen selling their art, and then of course the music and Gombey dancers.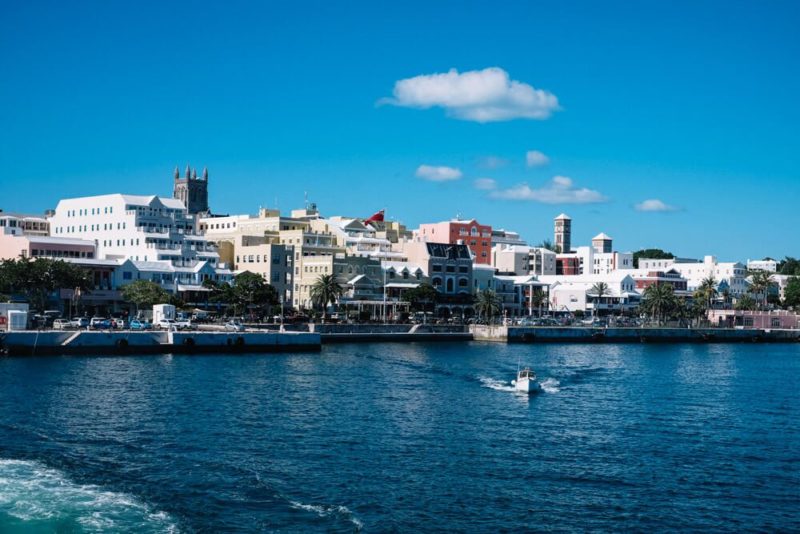 The second (and my favorite) is Marina Nights at the Hamilton Princess. Every Friday night from (I think) May to September, you can find one of the best happy hour spots at the Hamilton Princess.
Below their 1609 restaurant, the area comes alive with live music and a full bar. And, very surprisingly, some of the most reasonable priced cocktails we had in Bermuda. (You know Bermuda's expensive when $10 per rum swizzle is a "reasonably" priced cocktail.)
And it's free to go for everyone, not just guests of the hotel. But the fun shouldn't stop there because Hamilton actually has a pretty good nightlife on Friday night. If you're up for a few drinks, definitely start at the Hamilton and then make your way towards Front Street.
Our lucky find was at Coconut Rock. This Asian restaurant was a bit hard to find (enter via Reid Street), but the bartenders were super friendly. And everyone there was a local.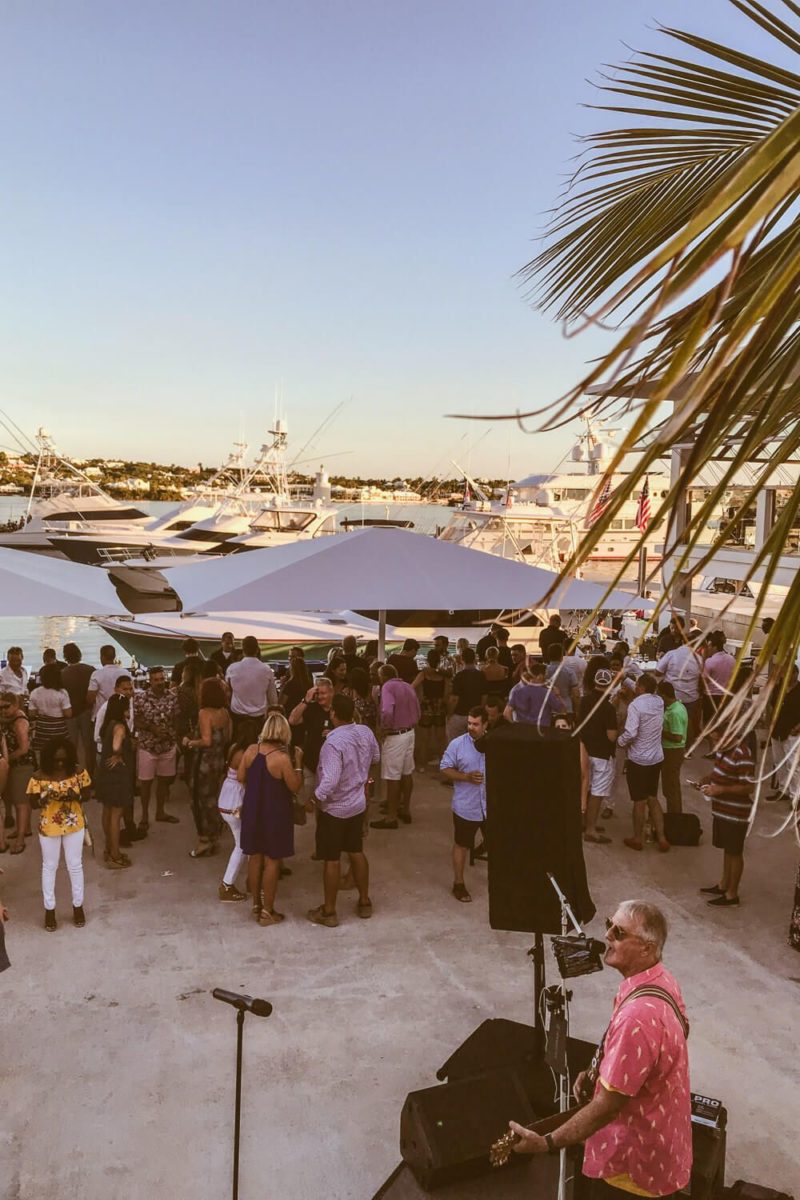 ---
Day 2: Beach Day & the Dockyard
I love beaches. Like a lot. Enough so that I usually plan at least one full beach day into any trip we take near a beach. So for me, this whole day was spent by the beaches.
Bermuda has several amazing, beautiful beaches. Some of the best ones are located along the south shore and are relatively close to each other.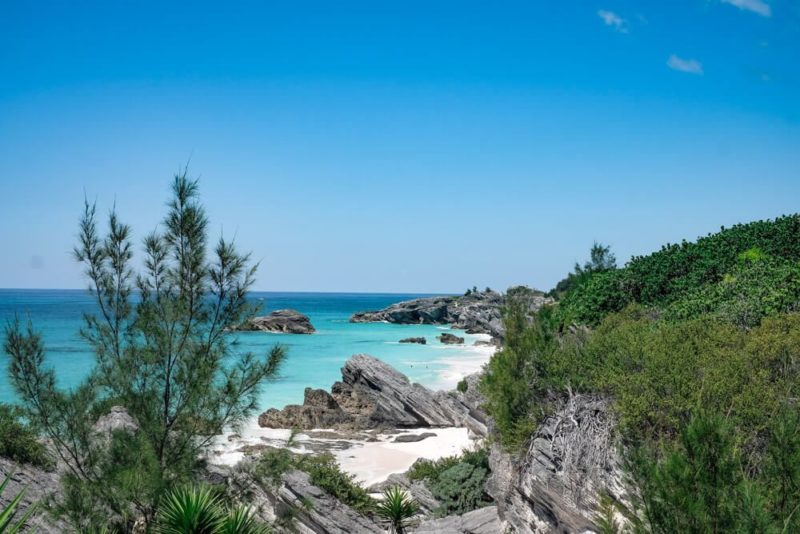 One of the best things we did was start at Warwick Long Bay and beach hop down to the famous Horseshoe Bay. Since the whole area in between these two beaches is a park (South Shore Park ), there are trails that link them.
And the best part? There are several beaches along these trails with no one on them!
We took bus #7 to Warwick Long Bay first and walked down the hill to the beach. (More info on the buses can be found near the bottom of this article, but I just asked the bus driver to drop us off at that stop and he did!)
The beach was beautiful, we got a huge slice of sand to ourselves, and the water (though a bit cold) was wonderful.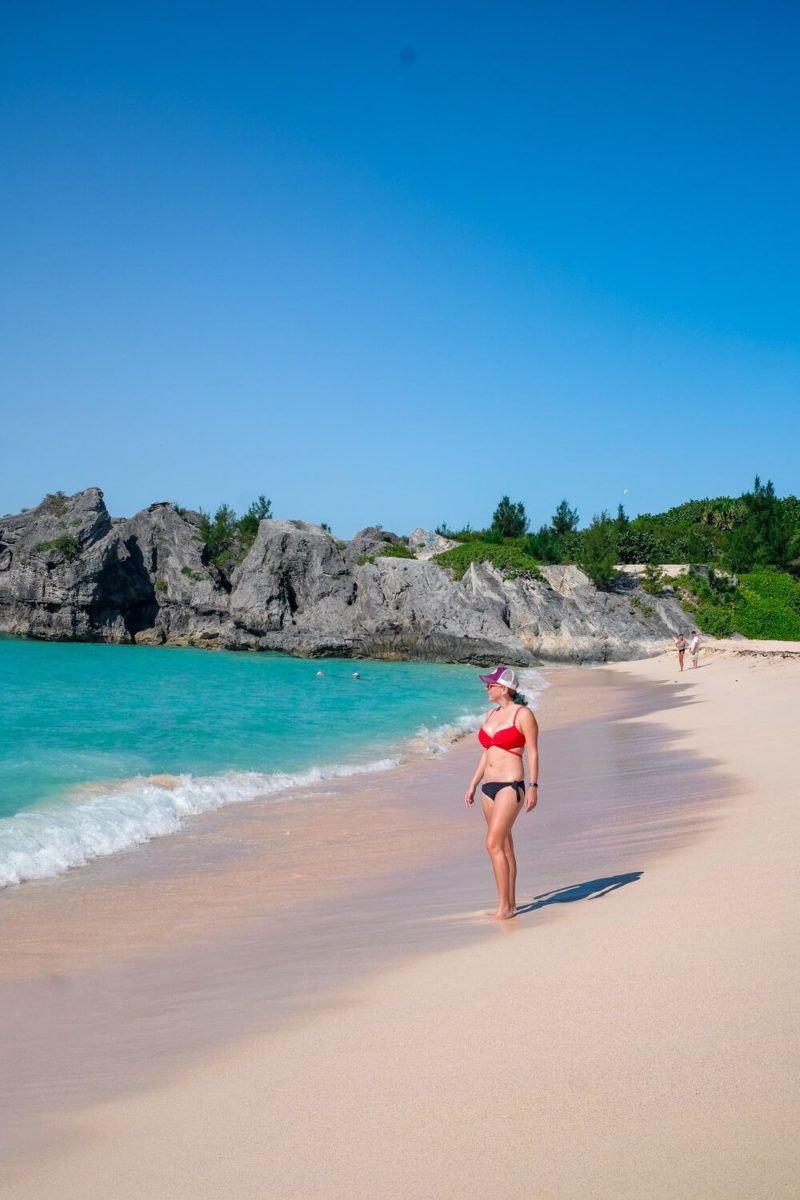 Right next door is Jobson's Cove. And though it had a bit more people due to the sheltered beach and shallower water, it was still beautiful.
Be sure to go up on the rocks between the two to get one hell of a view!
After that head along the sandy paths. There will be lots of little beaches to check out along the way. We did go up and over a brief rise, but it wasn't too bad. I wouldn't want to do the walk with chairs, but with two backpacks it was fine.
My favorite beach was after this rise and called Angle beach on Google. Though the park has a few different names for the beaches near it (Chaplin Bay and Stonehole).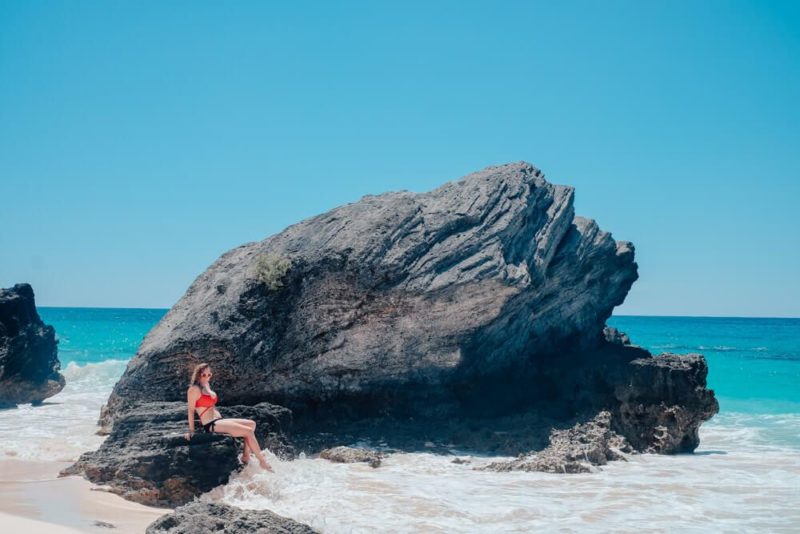 We also skipped a bunch of beaches since we were getting hungry and wanted to get to to Horseshoe Bay. But anytime we saw a break in the trees, I just knew a little, beautiful beach lay right there.
The closer you get to Horseshoe Bay though, the more crowded the beaches get. So if you're looking for solitude, you'll definitely find it more towards Warwick.
And then there's Horseshoe Bay.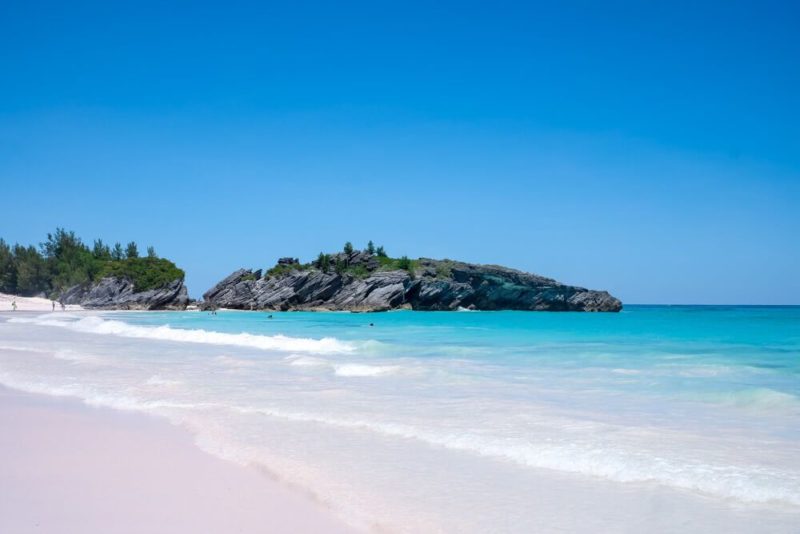 This is probably the most famous beach on the island. The sand looked the pinkest here (though it's not really pink, more like a blush). The water was super clear, blue, and calm. There's so much sand to a lay out on.
Oh and it's crowded. If being around people stress you out, you may want to find another beach. I didn't find it that bad, especially during the week. (It was significantly more crowded on the weekend.)
Plus it has beach rentals and a beach bar so you can refuel with some cheeseburgers and rum swizzles.
After getting plenty of sun at Horseshoe Bay, we headed out as it's located at the end of South Shore Park and the next public beaches aren't super close by.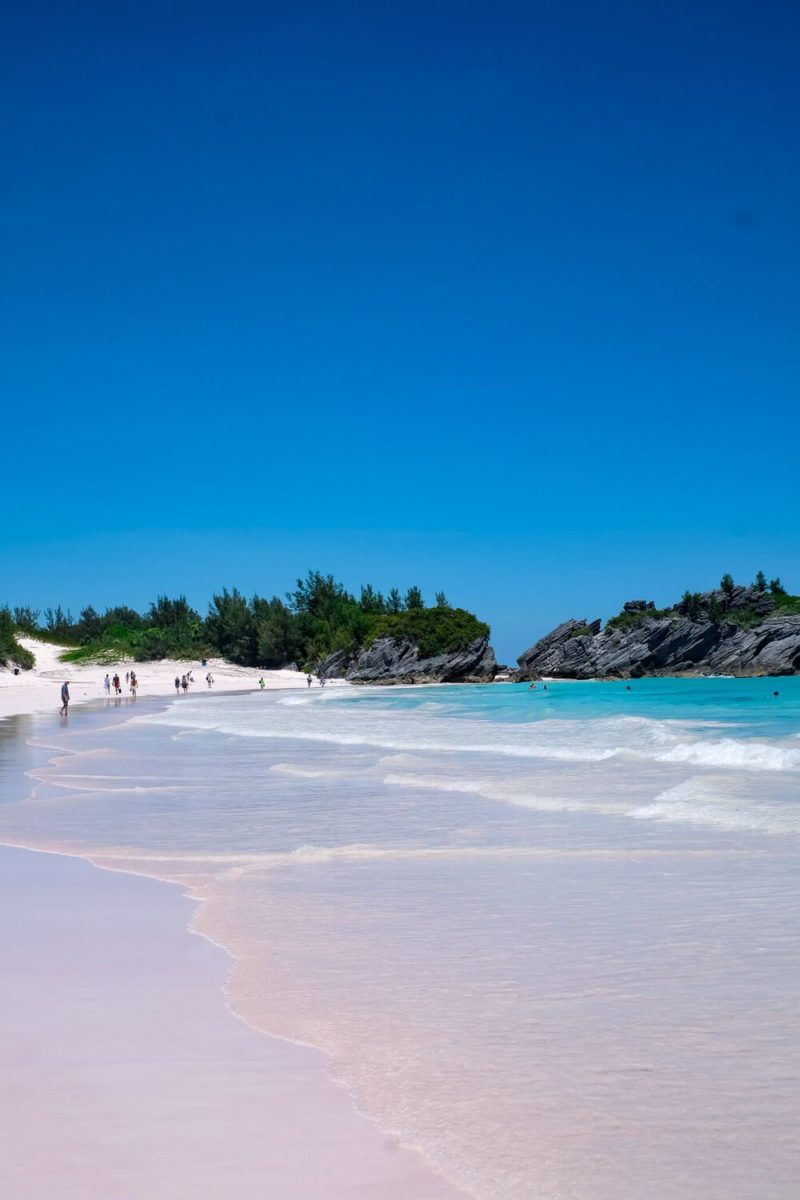 There's a bus stop along South Road right by Horseshoe Bay so if you're bussing it, just head up the hill and you'll see it to the right.
Now what if beaches aren't your thing? Or if you beach hopped just in the morning and wanted to do something else in the afternoon?
The Dockyard is one of the most famous tourist attractions in Bermuda. I didn't love it but that's also because the main thing I wanted to see, the National Museum of Bermuda, was closed when I went. (Friendly reminder to always look at opening and closing times, because sometimes places close at like 4pm.)
But the Royal Naval Dockyard is famous for a reason. There's the museum I mentioned above I wanted to go to, Dolphin Quest, Snorkel Park, and several shopping areas and markets if you're looking for some quality souvenirs (though they close early so be careful).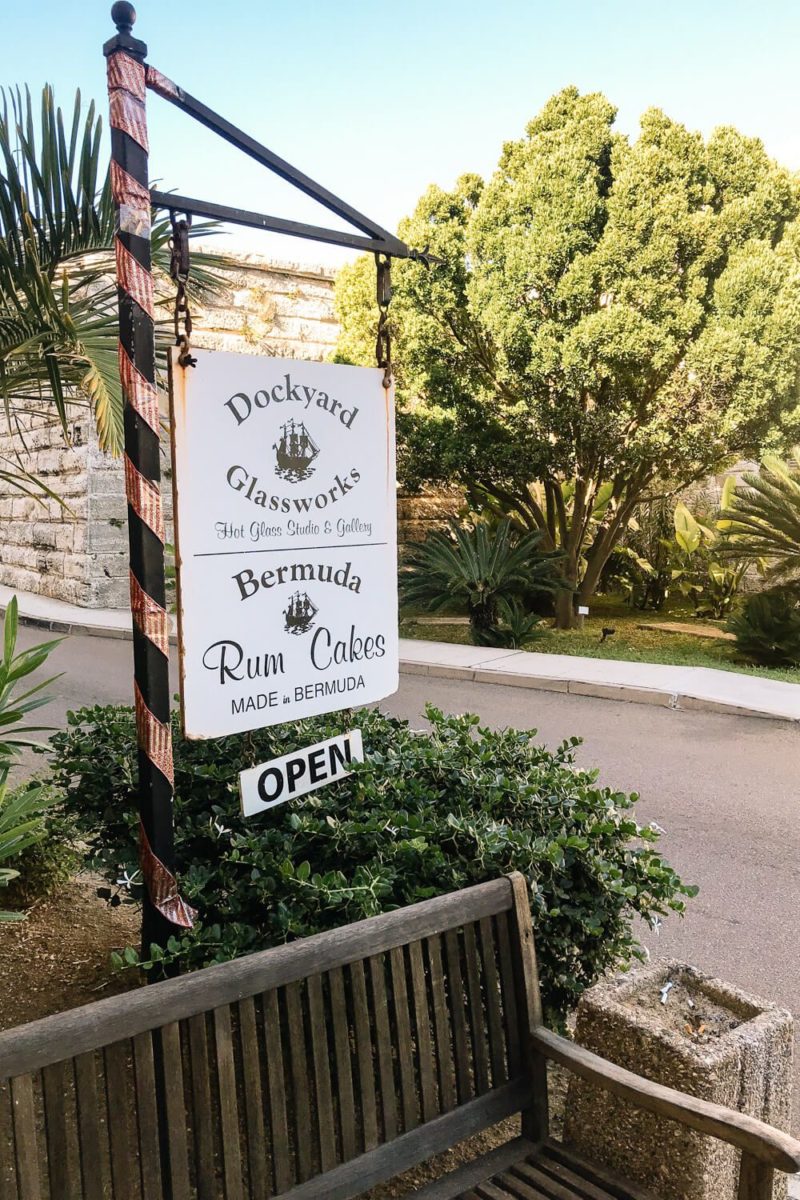 I also got the famous rum cake at the Bermuda Rum Cake Company, grabbed a drink at Bermuda's only brewery (available at the Frog and Onion Pub), and got some artisan, made-in-Bermuda ice cream at Alex + Pete's.
Now confession, we actually went to the Dockyard on our first day since we got to Hamilton quite early, so you could go then. But I wanted to include it here for all those people who aren't extremely obsessed with the beach.
(Like seriously, Ryan gets so bored at the beach he just takes naps while I practice being a mermaid.)
Bermuda's Tourism Authority also has some very good information on things to do at the dockyard so I wanted to include a link to it as well since I know my information may not be all inclusive.
---
Day 3: Snorkeling & Rent a Scooter
So you can't rent a car in Bermuda. Well at least not in the traditional sense. Instead you have two options: scooters/mopeds or electric cars.
We went the scooter route because 1) I have experience driving one, and 2) I love it. It was one of my favorite things I did in Southeast Asia and I knew I needed to do it again in Bermuda.
If you don't have experience with a scooter, then you can rent an electric car. Though they are like twice the cost of the scooter and you have to plug them in at night. And they aren't like a real car. They're more like a tiny smart car where the two passengers have to sit one in front of the other.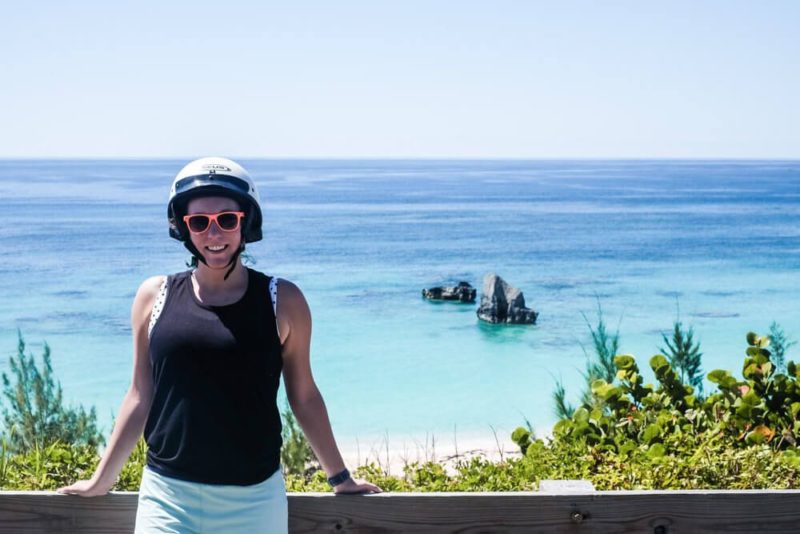 Also if you aren't experienced driving a scooter, be really careful doubling up. Most accidents happen with two people on the bike (because the balance is all weird). We rented two because I don't trust myself enough to drive with someone behind me.
So with all of that out of the way, we rented two scooters from Oleander Cycles for two days. It's expensive (like $70 per bike per day). But it did allow us to explore a lot of the island and forgo like all taxi rides. And did I mention I love it?
Okay onto snorkeling! The west side of the island has (in my opinion) the best from-the-beach snorkeling on the island. Enter Church Bay.
Church Bay is located along the South Road. It's also along a bus route (#7) if you decide against scooters.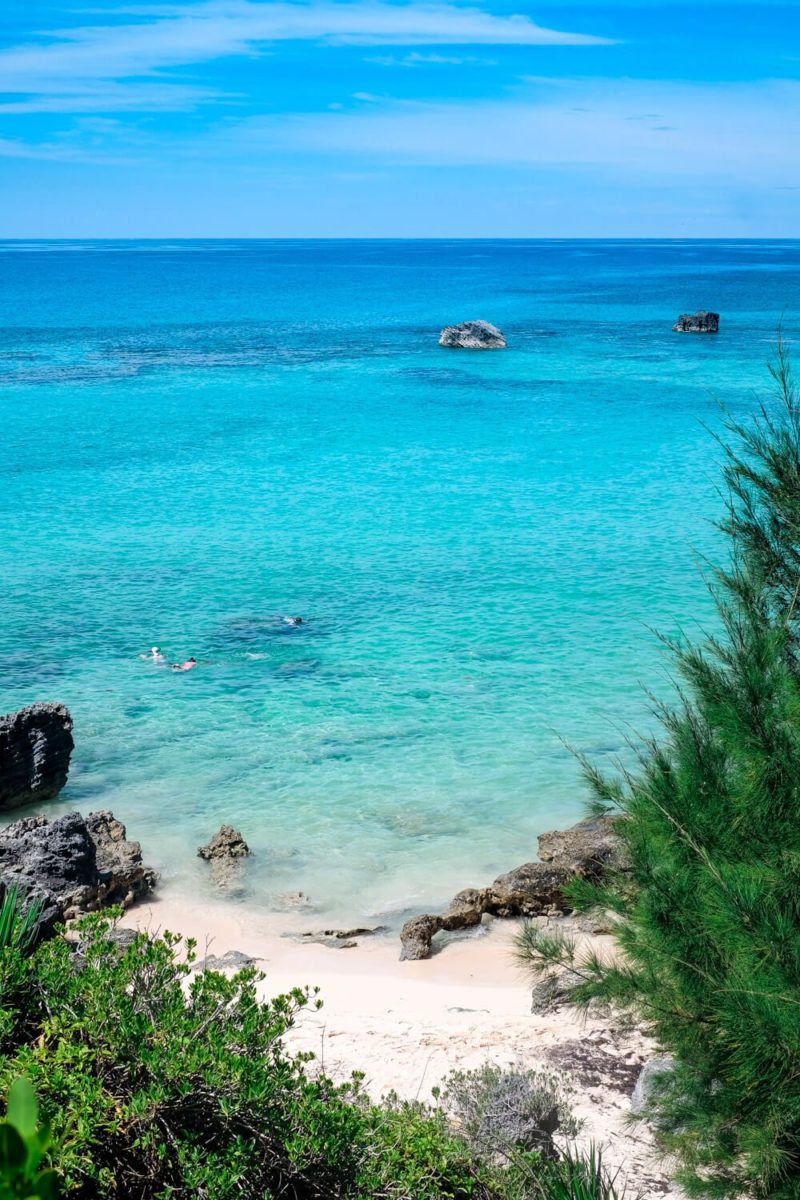 It has a small parking lot and bathrooms, and then a long path down to the beach. I read that there are sometimes people there renting snorkel equipment, but there weren't any on the day we went. But luckily we brought our own.
The beach itself is very small. So we basically just grabbed a spot of sand to spread our towel and then headed into the water. There were several families here snorkeling when we were there, but they were mostly sticking to the coral right by the beach.
Within just 5 minutes or so, we had left most of the others behind. Why? Because the coral at Church Bay like fills the bay.
We started by going up the left hand side of the bay and then turning inwards towards the big rock in the center of the bay following the coral spreading out below us.
And the sea life was incredible! Tons of parrot fish, angel fish, and more. I'm not a good fish identifier or else I'd provide more details, but there wasn't a section that didn't have something nearby.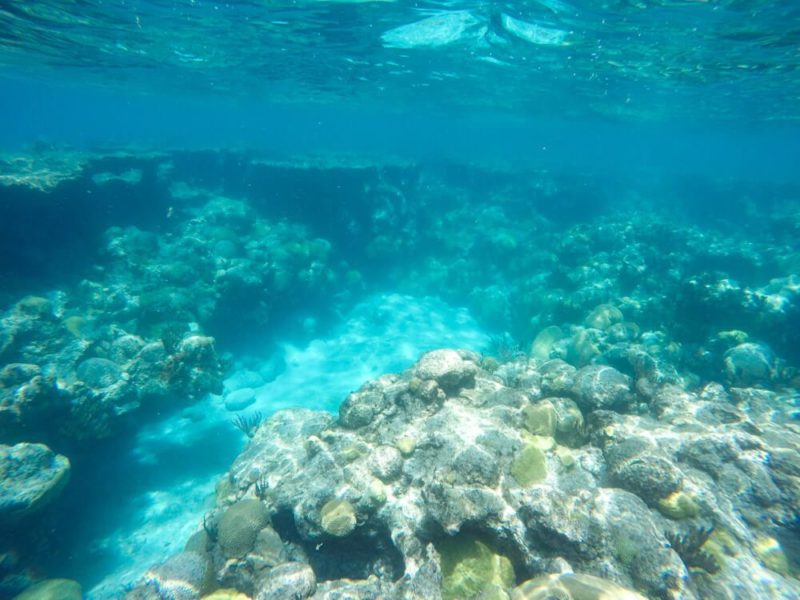 And the water? Beautifully clear. Like I may have mentioned above, this is the best snorkeling I've encountered in the Atlantic Ocean.
When you're done with snorkeling you have several options on how to spend the rest of your day with your scooter.
Here's what we did:
Headed further west to check out the more far flung beaches like Somerset Long Bay & Daniel's Head Beach Park.
Grabbed lunch at a wonderful little local restaurant called Woodys.
Spread out a towel at Elbow Beach for a few hours (this was Ryan's favorite beach)
Grabbed dinner at another local little restaurant that two people recommended to us, the Seaside Grill. Then we headed to Flatts Village and ate at a picnic table by the marina.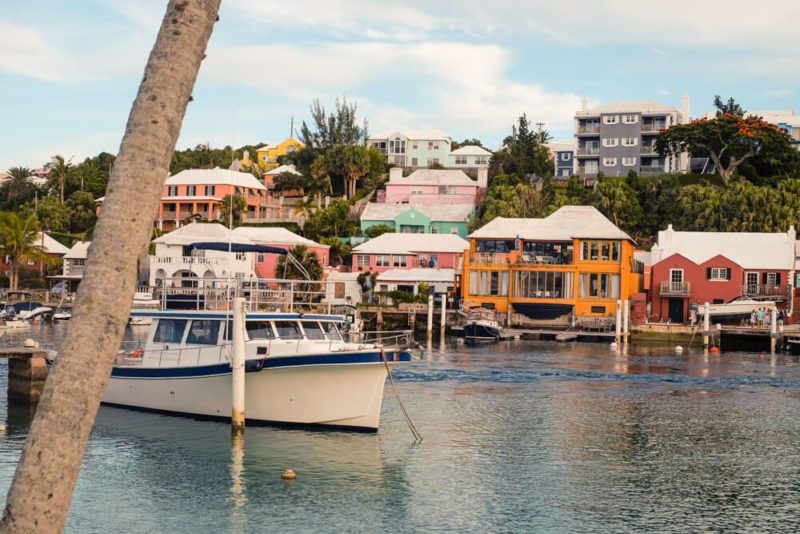 ---
Day 4: Scuba Diving
Bermuda is like shipwreck capital of the world. Okay maybe not, but come on, everyone's heard of the Bermuda Triangle.
Long story short, there are a lot of shipwrecks here. And when you pair that with the clear water and amazing coral, there's no reason not to go scuba diving.
We did a 2 dive morning tour with Blue Water Divers and we loved it. Blue Water was a small outfit located on the western side of the island.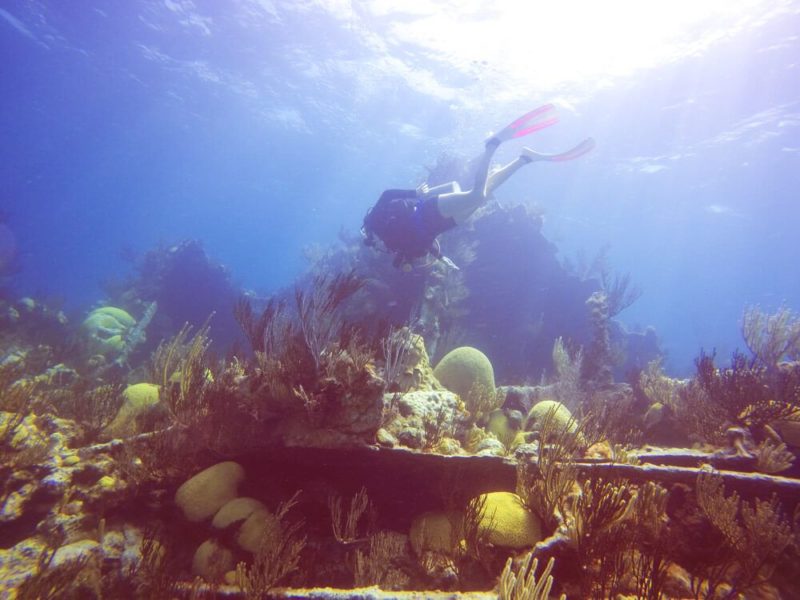 They were quick to respond to my questions before booking and eased any fears I had.
The dives themselves were incredible. The first dive site was at the Lartington site where a ship of the same name hit the reef and sank in 1879.
Now the second site actually had two shipwrecks at it. Yes, you read that right. One dive site had two wrecks. That just gives you an idea of how many shipwrecks there are scattered about the island.
This one was also interesting since one of the boats was made out of steel and parts of it could be seen. While the other was made from wood and had completely decomposed but left behind its cargo. Things like tea cups and bottles.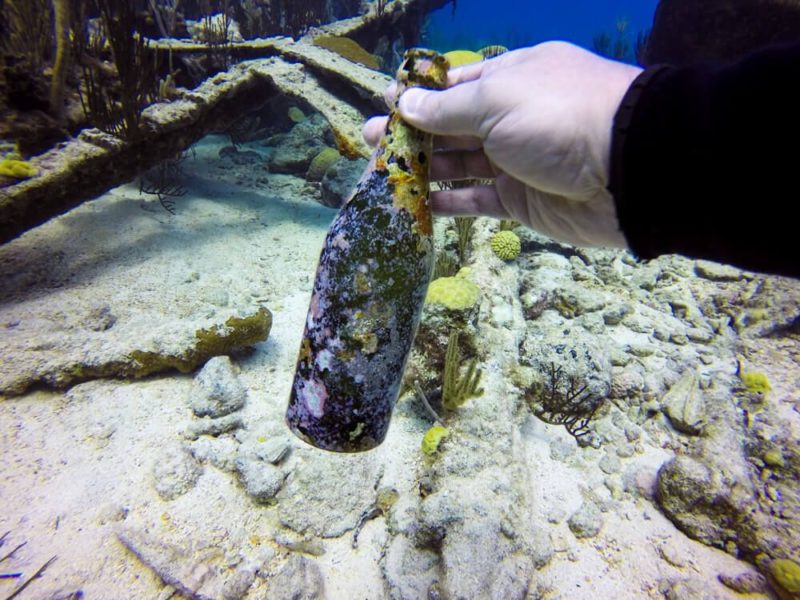 If you want the full details, definitely check out my full review of Blue Water Divers for details and more pictures.
After you finish up scuba diving, you'll still have a lot of the day to explore Bermuda. And there are two things in particular I think should definitely be checked off your Bermuda list before you head east.
The first is Gibbs Hill Lighthouse. This 1800s lighthouse is located near Horseshoe Bay at the top of the hill. (Having that scooter can be real handy.)
And while the history part of it may not do it for you, my god the views will. They are incredibleI
Definitely climb to the top. Just be sure to hold on to your sunglasses. (The wind is fierce!)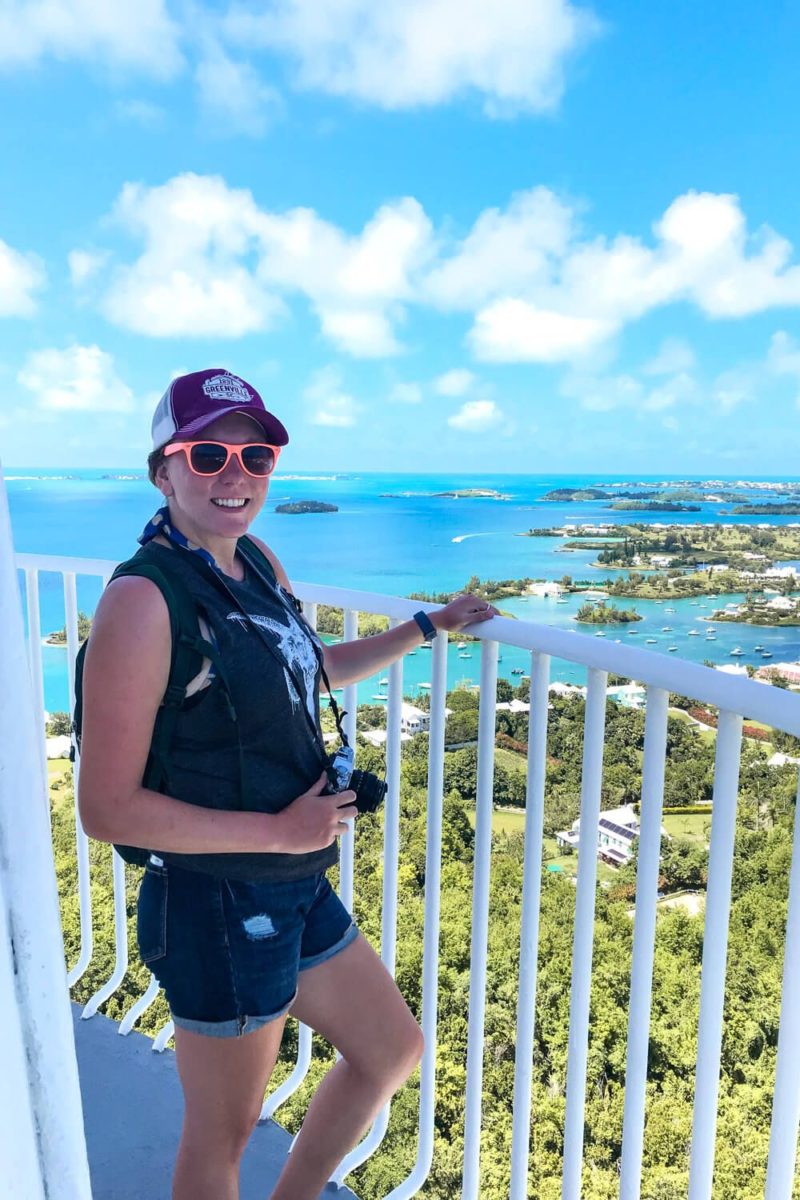 The second is catching the sunset at West Whale Bay. This beach is tucked away on the southwest part of the island. It's not directly on a bus route so you'll probably want a scooter. And the best part?
We were the only tourists at sunset.
We first headed down to the beach to swim in the water. (I've also read the snorkeling can be quite good too here if the water's calm.)
The beach is small but super photogenic, and we only shared it with a few families.
As sunset neared, we headed back up the hill and took a seat to watch the show.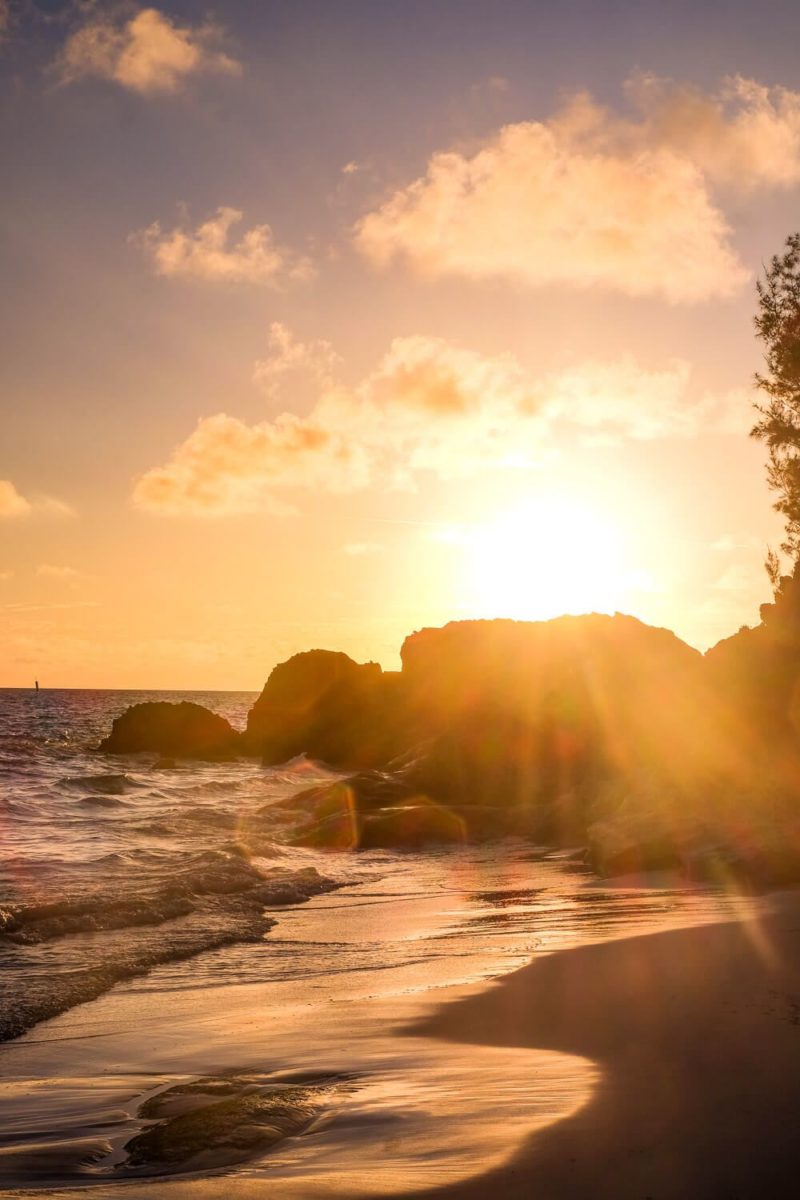 What if you want to go with a snorkeling tour instead of going scuba diving? Since we didn't do this, I don't have a company to recommend. But I found this article about boat excursions.
---
Day 5: Explore St. George's Island
Spend your last morning in Hamilton doing whatever makes you happy. For me? That was grabbing coffee at Rock Island Coffee and doing some window shopping along Front Street and Reid Street.
We then checked out, grabbed a taxi, and headed over to our Airbnb on the eastern part of the island.
Now our Airbnb host was spectacular. Like, the best host we ever had. The apartment was nice too, but the hosts were incredible.
The next two days will quickly show you why. But you could still do the following via buses as well which is why I've included them in this itinerary.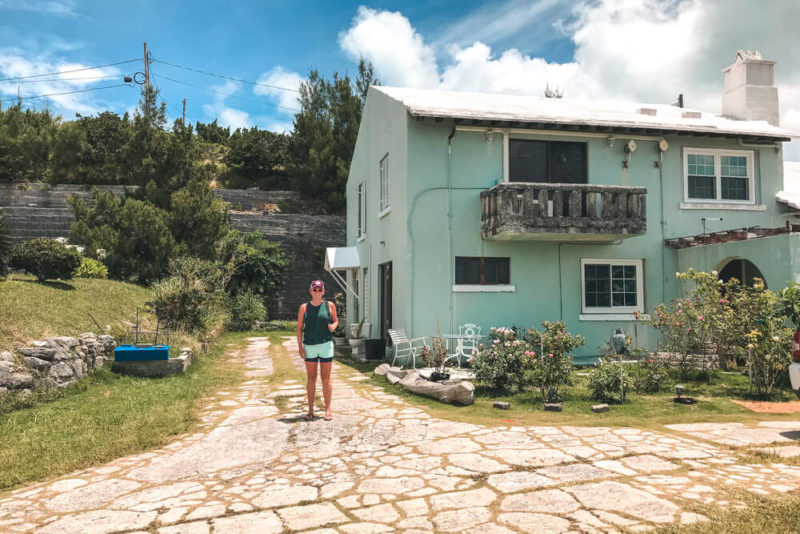 Okay so after checking in, head into the Town of St. George. It's quite small (cozy maybe). But I loved it. And for our first day, we headed north of town towards the three main attractions on the northeast part of the island.
First up is Fort St. Catherine. This huge fort dominates the northeast corner of the island. It sits perched on a small cliff guarding one of the only "safe passages" through the coral to Bermuda.
Our new Airbnb hosts graciously offered to give us a lift to Fort St. Catherine, but you can walk there from the main bus stop in town in about 20 minutes.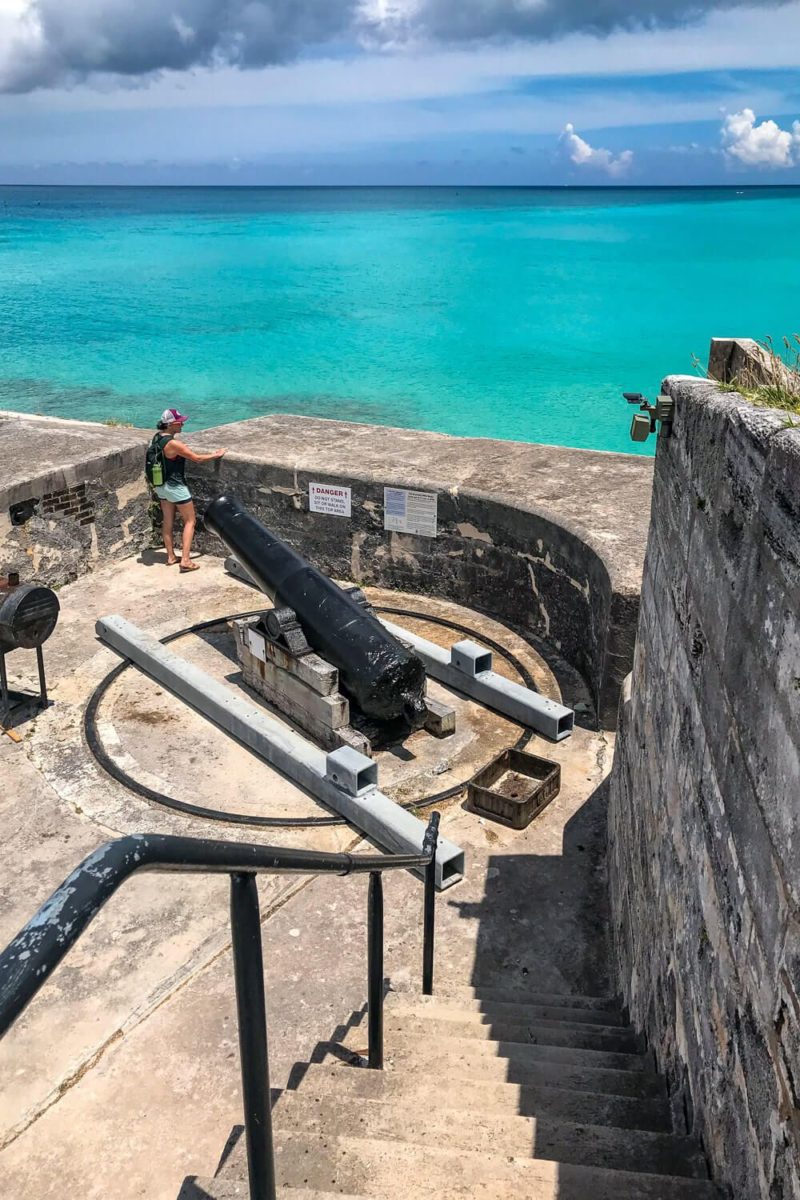 The fort was originally built in the 1600s and has been built up over the years through the 1800s. It's got loads of history, canons, and views off the gun decks.
Plus we had the fort like all to ourselves which was super sweet.
After that we grabbed a slice of sand at St. Catherine's Beach which literally sits below the fort. Plus the beach was a lot calmer than Tobacco Bay (coming up) so if you want more peace and quiet, head here.
(Though this peace may be disturbed since they were in the process of building a hotel on the beach when we were there.)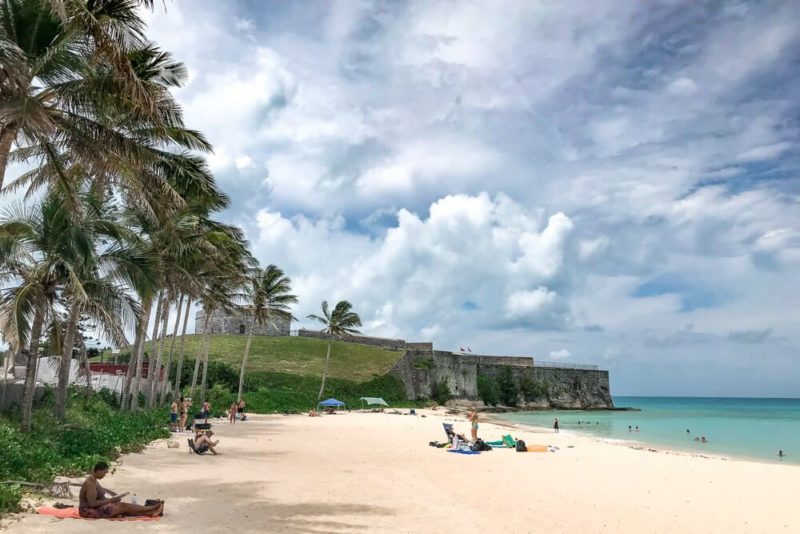 Lastly, stroll on over to Tobacco Bay. This is the second best beach snorkeling to be found in Bermuda. It's a lot smaller but that may make it more family friendly.
Plus it has a beach bar, chair rentals, and snorkel equipment for rent. So if you haven't come prepared, Tobacco Bay has you covered.
After you've had your fill of forts and beaches it's time to head into town for dinner and some evening strolls.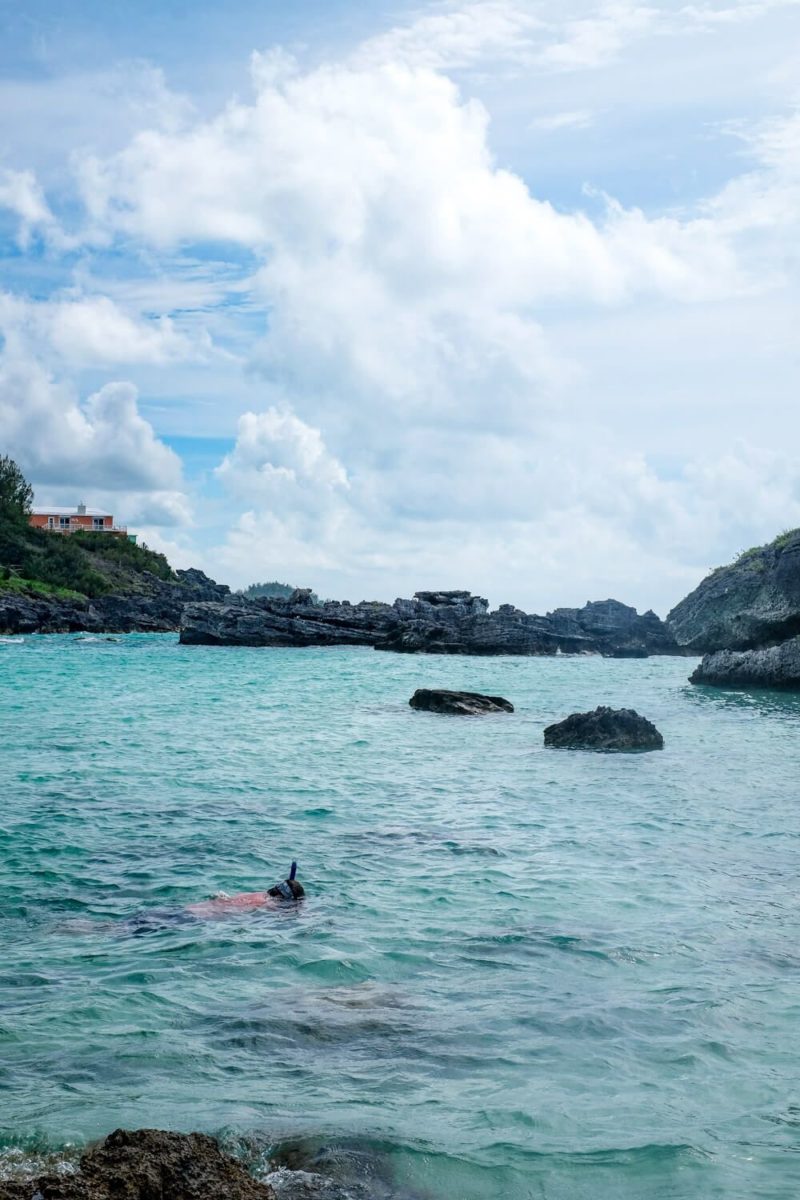 St. George is beautiful and we did some brief strolling through town in both the evening and the next morning. And I'd suggest to do both.
We were able to check out the unfinished church in the falling light as well as get a photo of St. Peter's with no one else around.
Plus the sunsets from the marina aren't too shabby either.
Finally we grabbed the best dinner of the entire trip at Wahoo's and ate on their patio looking out over the water.
Most people don't stay in or near St. George. They come for a day trip only. But I loved staying near the town. It allowed me to see it at times when there weren't a bunch of tourists around (evenings and mornings). And it felt calmer, more peaceful.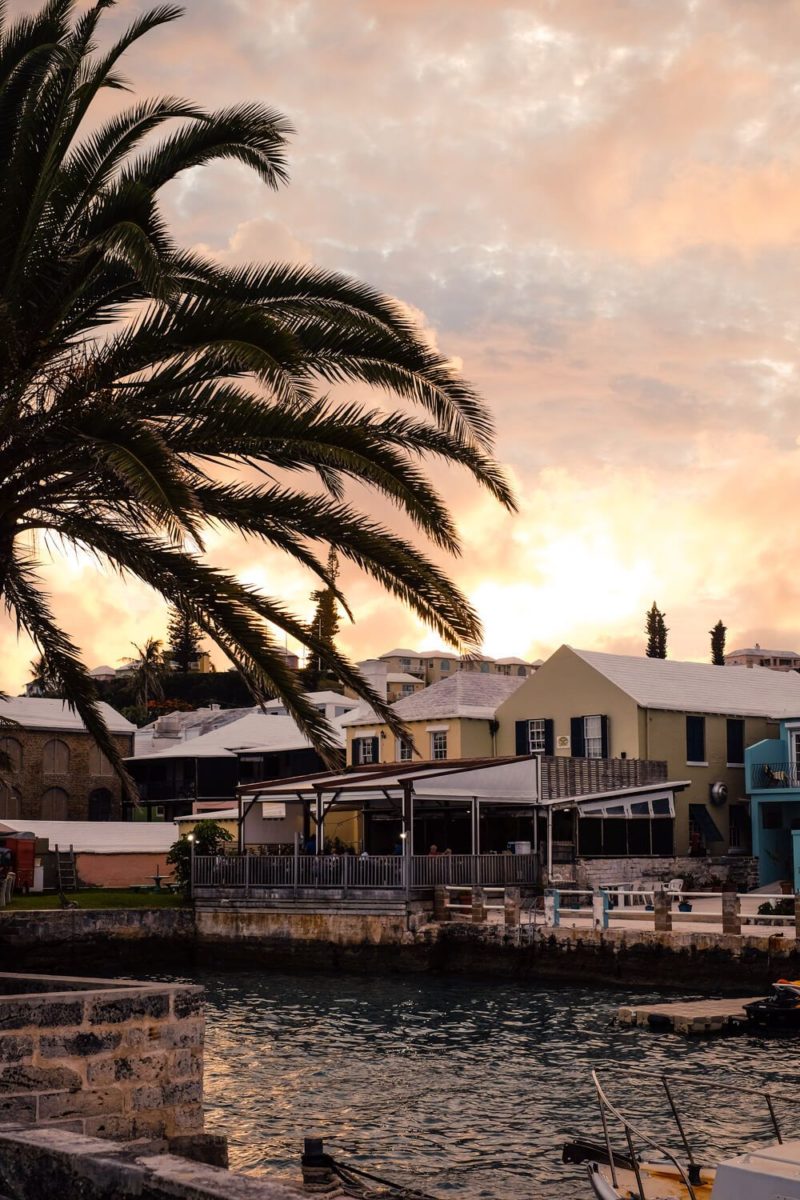 ---
Day 6: St. George's Town & St. David's Beaches
Spend your morning in St. George checking out anything you weren't able to see the evening before.
For us this meant popping into a few places that were closed during our evening stroll.
First up was breakfast at Mama Angie's. A little breakfast shop recommended by our Airbnb hosts. The offerings were basic but delicious. If you're looking for a no frills breakfast kind of place, then Mama Angie's is your spot in St. George.
We then strolled through the park across the street and then headed down the many small lanes surrounding it.
The town seemed calm that morning (most likely because the ferry from the cruise ship terminal hadn't arrived yet), but I loved the Caribbean meet English countryside feel.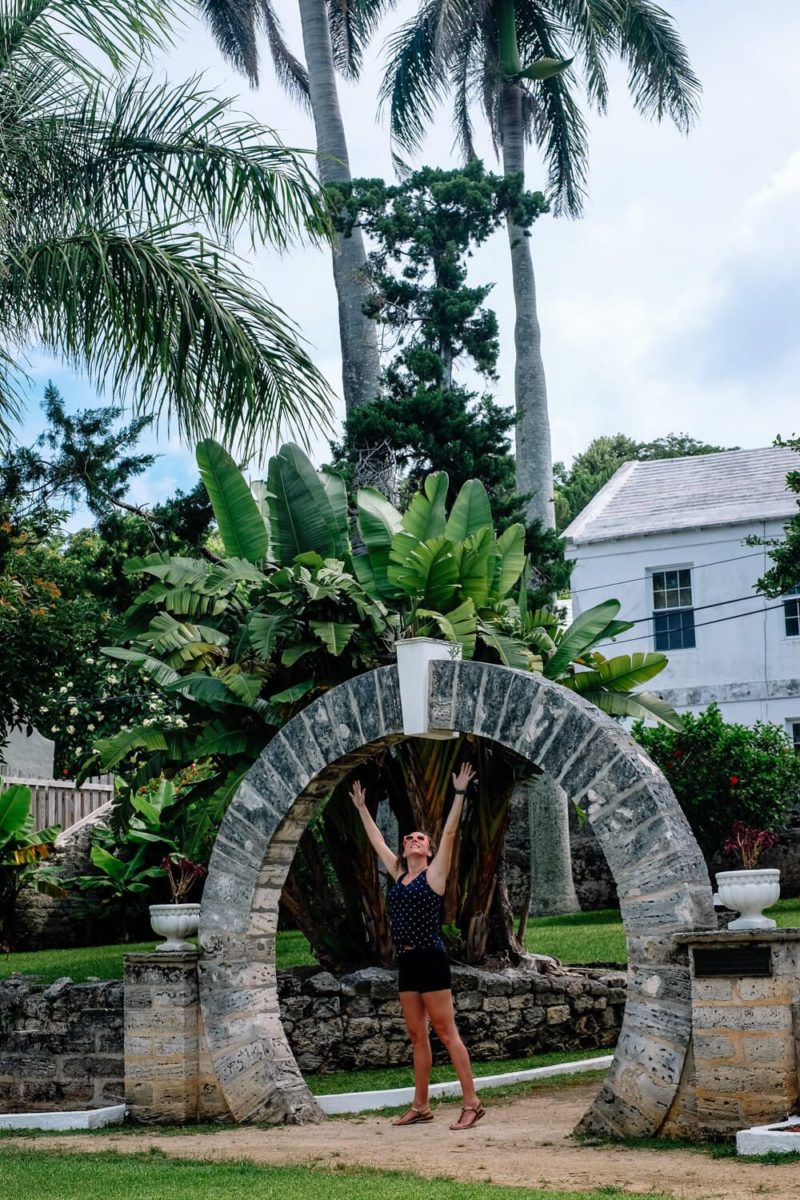 After wandering, I made my way towards Lili Bermuda Perfumery. They do tours here (11am and 3pm except Sundays and holidays) if you'd like to know about the history, but I came to shop.
When I take a big trip, I get some "standard" souvenirs. Ornaments, magnets, etc. But I also try to spend a bit more money on something nice. And in Bermuda I knew I wanted to get some perfume.
Okay so these perfumes are not cheap. Like they are expensive. I got a couple of soaps and a sampler with like 10 perfumes in it and spent over $50. A small bottle of perfume probably would be about the same.
But every time I use the soap or perfume, I'm always transported back to Bermuda. And that feeling is definitely worth it. (Plus they smell great too!)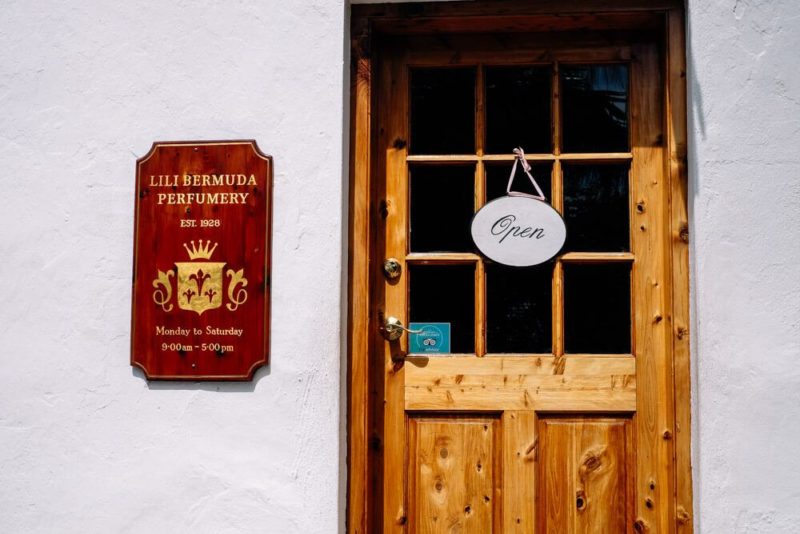 Next up it was time to go inside St. Peter's church. The church closes early so we weren't able to check out the day before. The inside is definitely old and small. A few of the beams, pews, and one cedar alter were carved in 1615.
The church itself dates back to 1620 and is the oldest continuously operating Anglican church in the Western Hemisphere. However only parts of the existing church date back to that time period.
There's a small donation of like $1-2 to get inside. You'll also get a pamphlet detailing the history of the church as well.
After the church it was closing in on noon and that meant one thing – the ducking stool reenactment.
Now this may be a bit touristy, but who cares. This historical reenactment of a punishment from the town's history is hilarious and informative.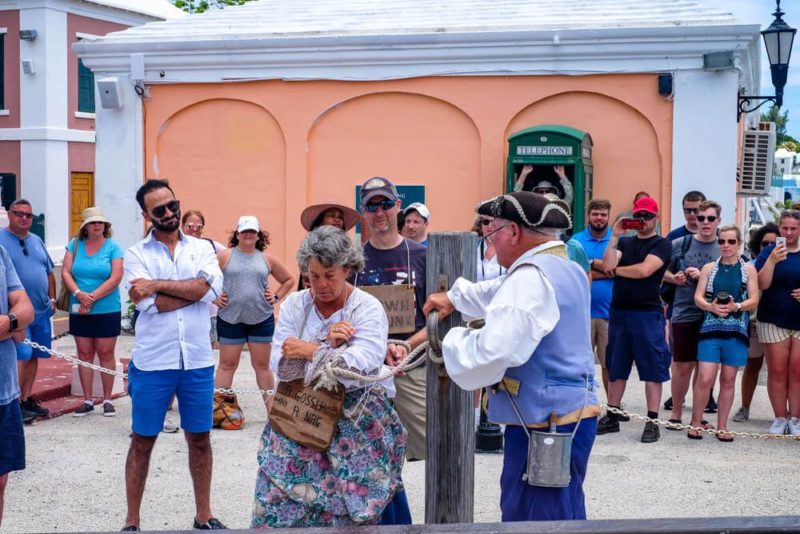 Now what is a ducking stool? Well it's a chair that's pushed out over the water where then the victim gets dunked repeatedly into the harbor.
This reenactment involves a man, the town crier (dressed in historical garb) who entices the crowd by letting them know they'd be punishing a woman for being a gossip and a nag (real offenses back then).
He also gets several audience members to assist with the dunking as well (so definitely volunteer if that sounds like your jam).
Then once everything and ready, the woman comes out. Now the town crier and the gossip-y/nag-y woman are pretty great together. Their act is good. And as you can guess, she gets into the chair, it's wheeled out of the water and she's dunked in the harbor. A lot.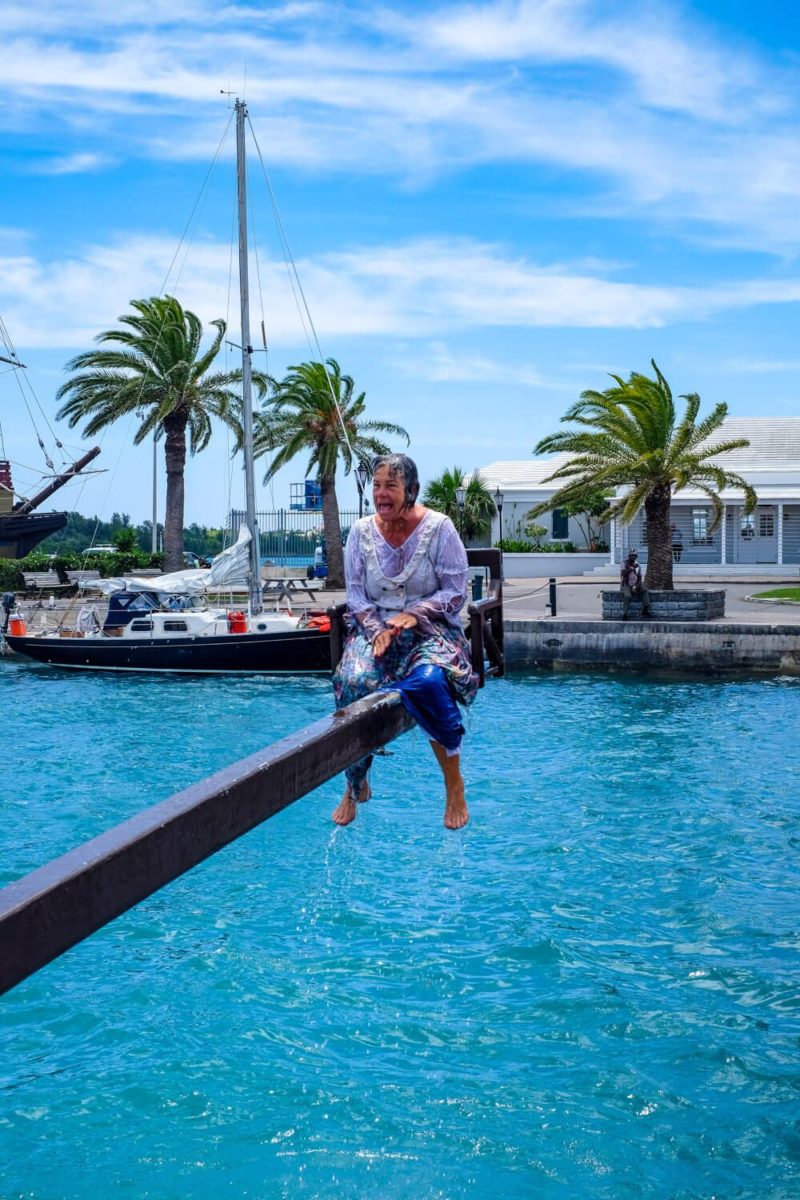 Anyway, I think it's just something you got to see if you're in St. George. So head to King's Square at noon (except Fridays and Sundays I think) to watch this 30 minute show.
Now the rest of the afternoon is yours. I'll explain what we did as well as a few other possibilities we considered.
First up, our Airbnb hosts were fantastic and took us on a little tour of St. David's island (island south of St. George, you know, the one with the airport). It's less touristed and felt much more local.
We snorkeled at Clearwater Beach and Turtle Bay where we saw several sea turtles (which always makes my day).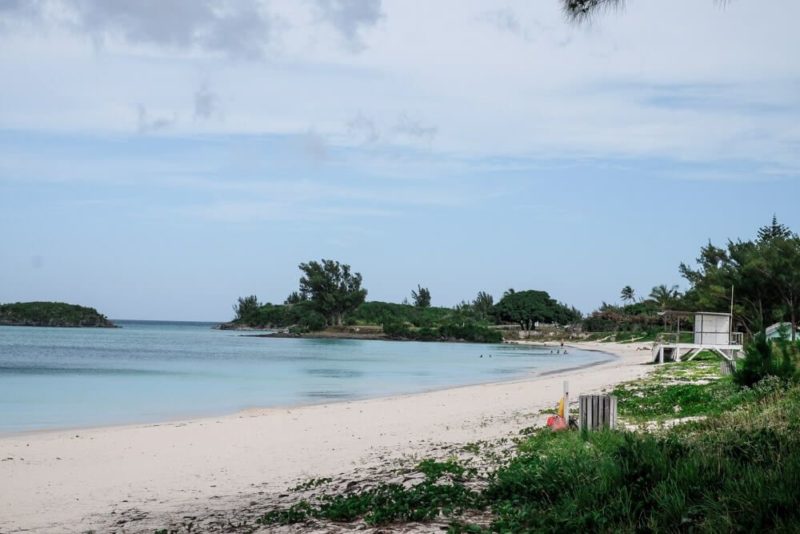 Then we strolled into Cooper's Island Nature Reserve where there are several long, sandy beaches with hardly anyone on them.
It was a cloudy and windy day for us (so not the best beach day), but I definitely enjoyed feeling worlds away from the busier beaches on the other side of Bermuda.
If you'd like to head to these beaches, you can take bus #6 from St. George's (though the routes alternate so be sure to get on the Clearwater one).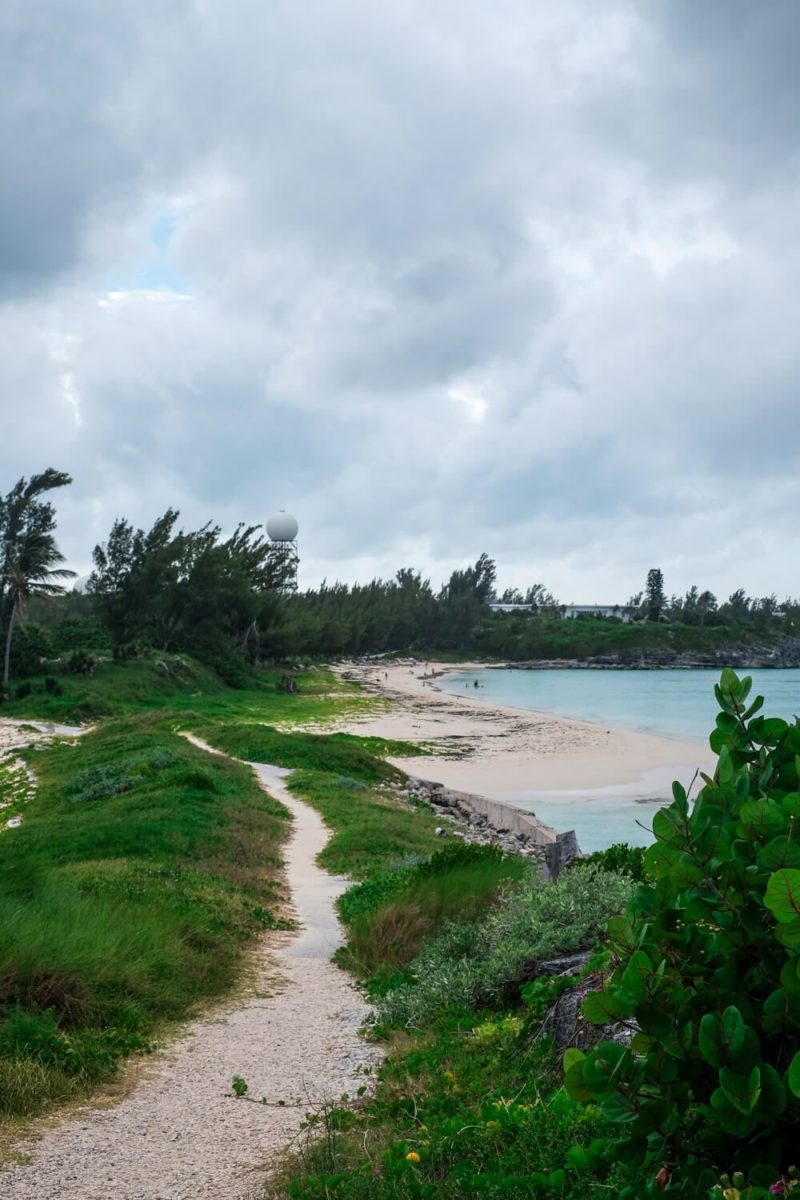 However if you've had enough beach time, there are a few other things you can do on the eastern side of Bermuda.
The Crystal Caves is a very popular tourist attraction. And I've seen pictures, it's beautiful. We were saving it for a rainy day but really lucked out and didn't have one.
Nearby the Crystal Caves is the original Swizzle Inn (only stop I was sad we missed) and Bailey's Bay Ice Cream Parlor.
You could definitely spend the afternoon checking out all three.
Plus Tom Moore's Jungle and Blue Hole Park is also close. I didn't go to these two but I've heard about them from others and they could be fun to check out.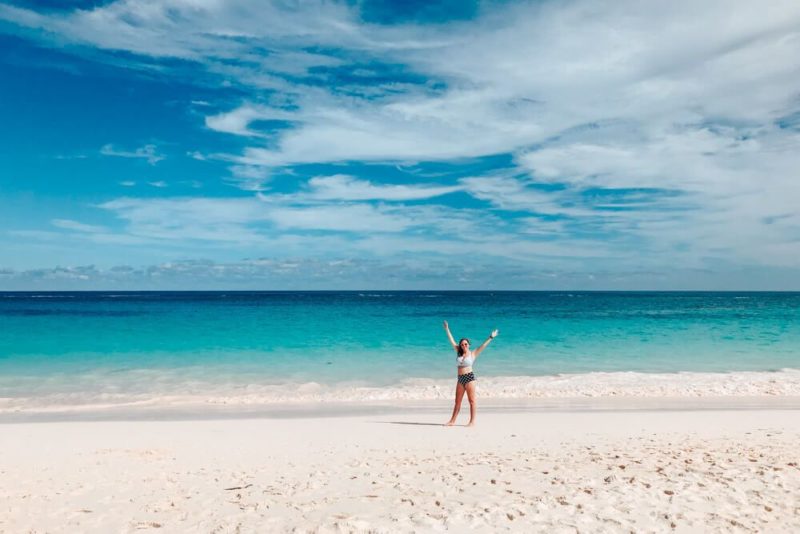 ---
Day 7: Go Home
Alas it's finally time to head home. Make sure to arrange your transportation the day before if you're not actually in St. George where you can grab a cab. Our Airbnb hosts were fantastic and offered to give us a lift to the airport.
---
Where to Stay
For this trip, I rented an Airbnb. Though lately I've started to feel a bit weird about it and I've tried to be more conscious of 1) if it's legal, and 2) if it's taking away an apartment option from the locals.
So I tend to now rent places that are a part of someone's home (instead of standalone apartments). This is just my preference based on what I've read.
So for my trip to Bermuda, Ryan and I stayed in an extra bedroom in a guy's apartment in Hamilton and a basement suite in a couple's home outside of St. George's. The apartment only had one bathroom and the bedroom was a bit small, but we made it work.
The St. George's suite was amazing. The couple was fantastic in that they gave us a little tour around St. David's island, dropped us off at Fort St. Catherine, and gave us a lift to the airport the morning we left.
It was my best Airbnb experience to date.
What about non-Airbnb options?
The island can be expensive so be aware of that. But it has some really fantastic resorts. Be sure to check if they're on the water if that's important to you. And definitely think about where you'd like to be stationed on the island since getting around can be kind of tricky.
Here were a few options I saw that seemed fantastic: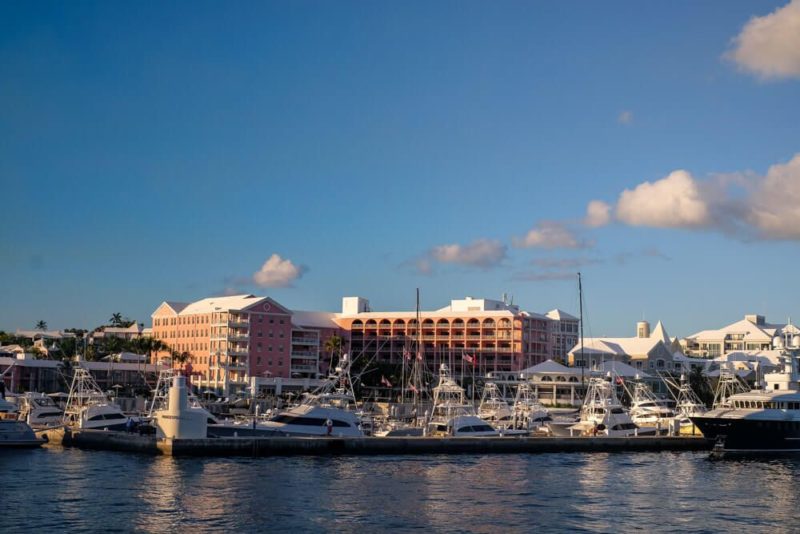 ---
Where to Eat
We definitely went to Bermuda on a budget. And still spent a good bit of money. But one of the places we cut down the most was on our food. (Because it's really freaking expensive there.)
Like two drinks and sandwiches at a takeout only roadside spot? Easily $40. With that being the case, we only ate out at two places where we had like an actual waitress. The rest were takeout spots.
So if you're looking for fancy, you may want to think of these as lunch options.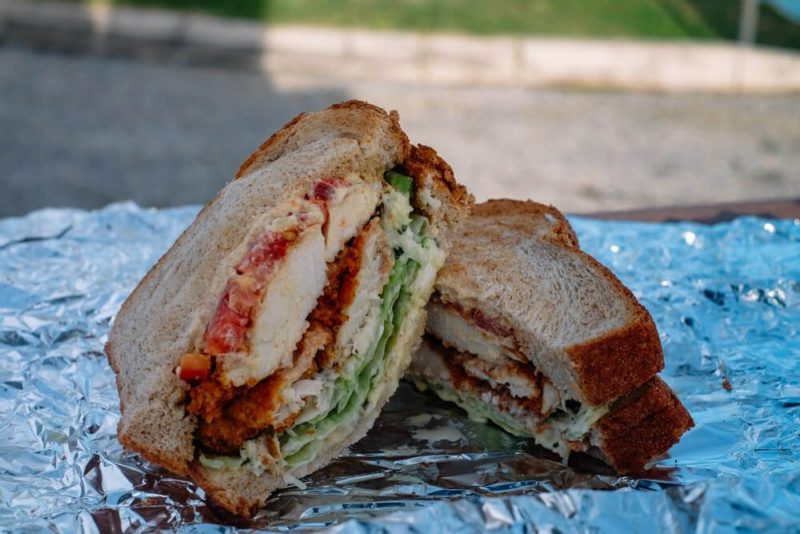 Hamilton
St. George's
Mama Angie's – basic but very good breakfast in St. George's.
Wahoo's Bistro & Patio – great view; best sit-down meal we had. Plus we got to sit out on the deck on the water.
Other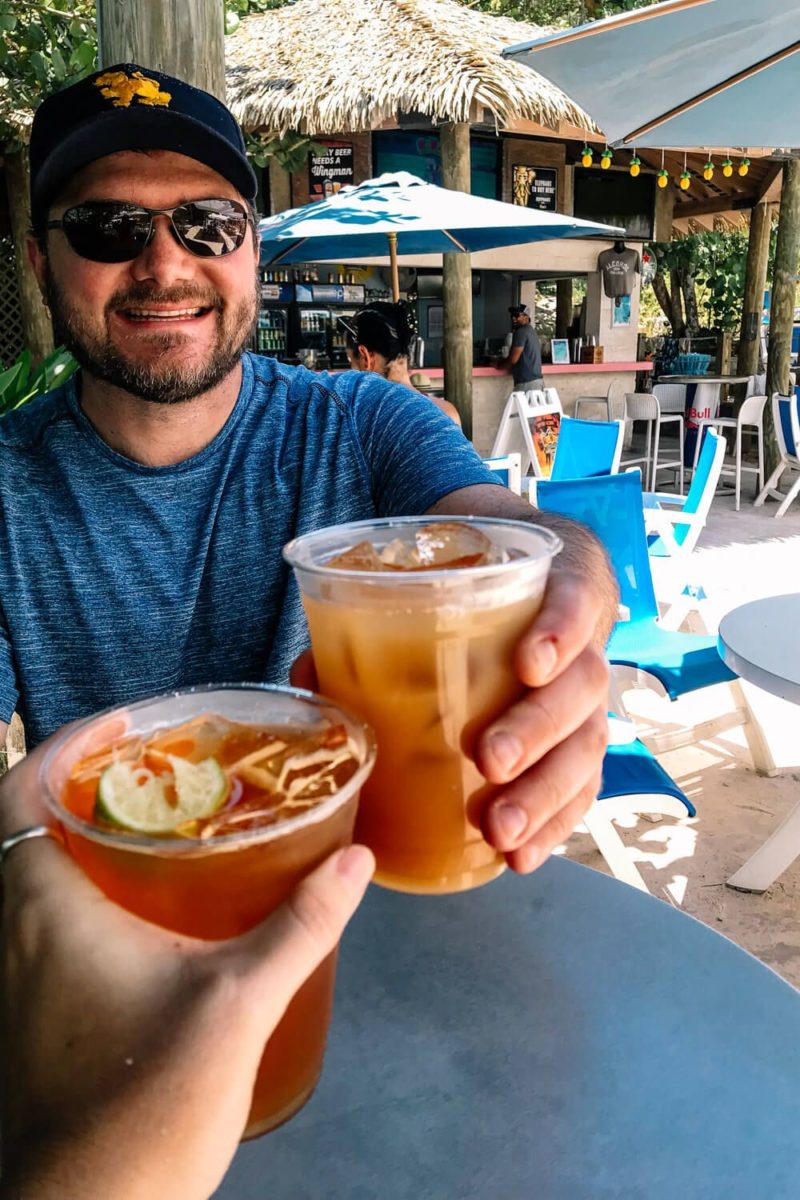 ---
How To Get Around Bermuda
Buses & Ferries
Bermuda has an amazing public transportation system. It may not be cheap but it's a hell of a lot cheaper than renting a scooter or taking a taxi. And it's pretty easy to navigate once you get the hang of it.
Once you get to Bermuda, definitely try to grab one of the bus schedule pamphlets as it will have all of the latest information on rates, routes, and more. I'll try to summarize a bit below.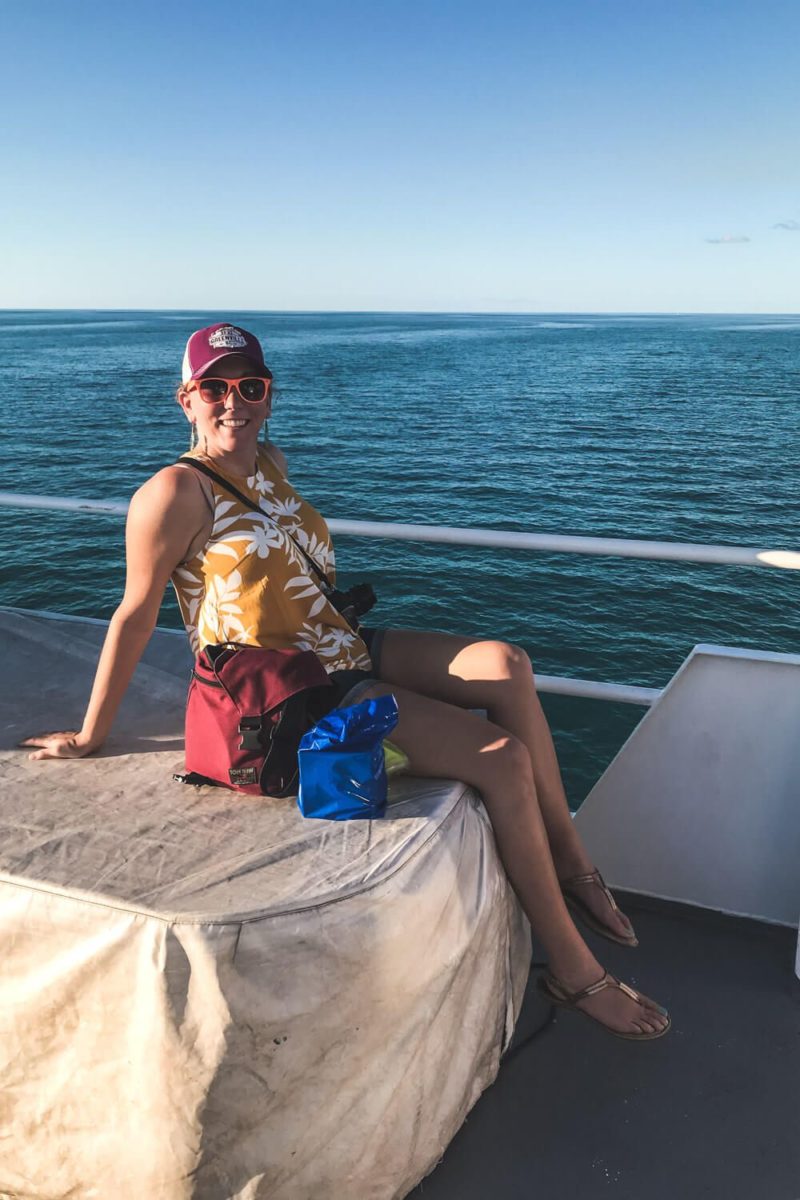 The buses run on set schedules between set times (important since they don't run 24/7). But there are stops all over the island. There are 11 bus routes and 14 bus zones (important for fares).
The routes all run the same way though. Buses are either leaving Hamilton or coming back to Hamilton (the main bus station is located there).
And the bus stops coordinate with this. Bus stops on the inbound route have a pink pole next to them and bus stops on the outbound route have a blue pole. These poles are very obvious.
Sometimes the bus stops will have a little stand, but sometimes it'll just be a pole.
The buses themselves all look the same (pink with blue stripes) and will have their destination and route number on the front.
In terms of fares, you have two zone options: 3 zone and 14 zone. The 3 zone means that fare is good for traveling up to 3 zones, and the 14 zone covers everywhere on the island.
You can buy your fare with cash (this was the most expensive option and exact change in coin is required), tokens, and booklet of tickets (15 in a book).
Fare
3 Zone
14 zone
Cash
$3.50
$5.00
Tokens
$2.75
$4.50
Tickets
(book of 15)
$25
$37.50
We used tokens to take the ferry to the dockyard and back. And the best option for the buses was the booklet of tickets. We went for a 3 zone booklet since it would cover all the trips we wanted to do.
The last option is a transportation pass. You buy this by the day and it's good for all buses and ferries on that day for anywhere on the island. But they are expensive. We did this once and did not think it was worth it for our itinerary. If it makes sense for you though, go for it!
| | |
| --- | --- |
| Days | Cost |
| 1 Day | $19 |
| 2 Day | $31.50 |
| 3 Day | $44 |
| 4 Day | $48.50 |
| 7 Day | $62 |
Check out the Bus Schedule online too for more information. And here's a helpful article with information on how to get around.
Taxis
Taxis are very expensive. However since you can't take luggage onto the buses, you may have to use them for some of your trip. We took one taxi from the airport to Hamilton (over $40) and one taxi from Hamilton back to St. George's (over $40).
For reference on price, a taxi from Hamilton to our Scuba Dive Center was over $50. Luckily we'd rented scooters that day and therefore didn't need a taxi.
But definitely think about taking the buses if you can since your taxi fares could definitely start to stack up.
Scooter / Electric Cars
Tourists can't rent a car in Bermuda, but they can rent a scooter or an electric car. These are definitely expensive to rent and it's priced more like an excursion than a rental.
We decided to go for the scooter (cheaper option) and rented them for two days. I love driving a scooter and it was perfect in Bermuda. It allowed us to go to some more local takeout spots, visit some remote beaches, and save money on taxi fare.
However you'll have to drive on the left, navigate small roads, make your way through roundabouts, and avoid getting run over by the locals who will fly past you. If this is your first time driving a scooter…definitely think about it before you go for it.
In terms of pricing, we paid $68 per scooter per day. You can see the updated pricing at Oleander Cycles, which is where we rented from.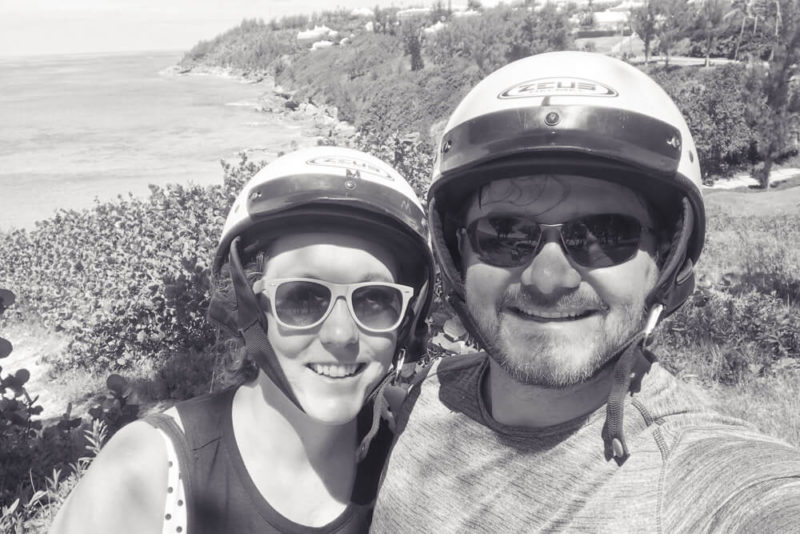 ---
That's it!
And that's our itinerary for Bermuda! We spent a week on this island and immediately talked about going back. The people, the food, the beaches…it was all wonderful. And it just felt different than the other Caribbean places I'd been. (I know it's not in the Caribbean but you hopefully get my gist.)
See you in Bermuda!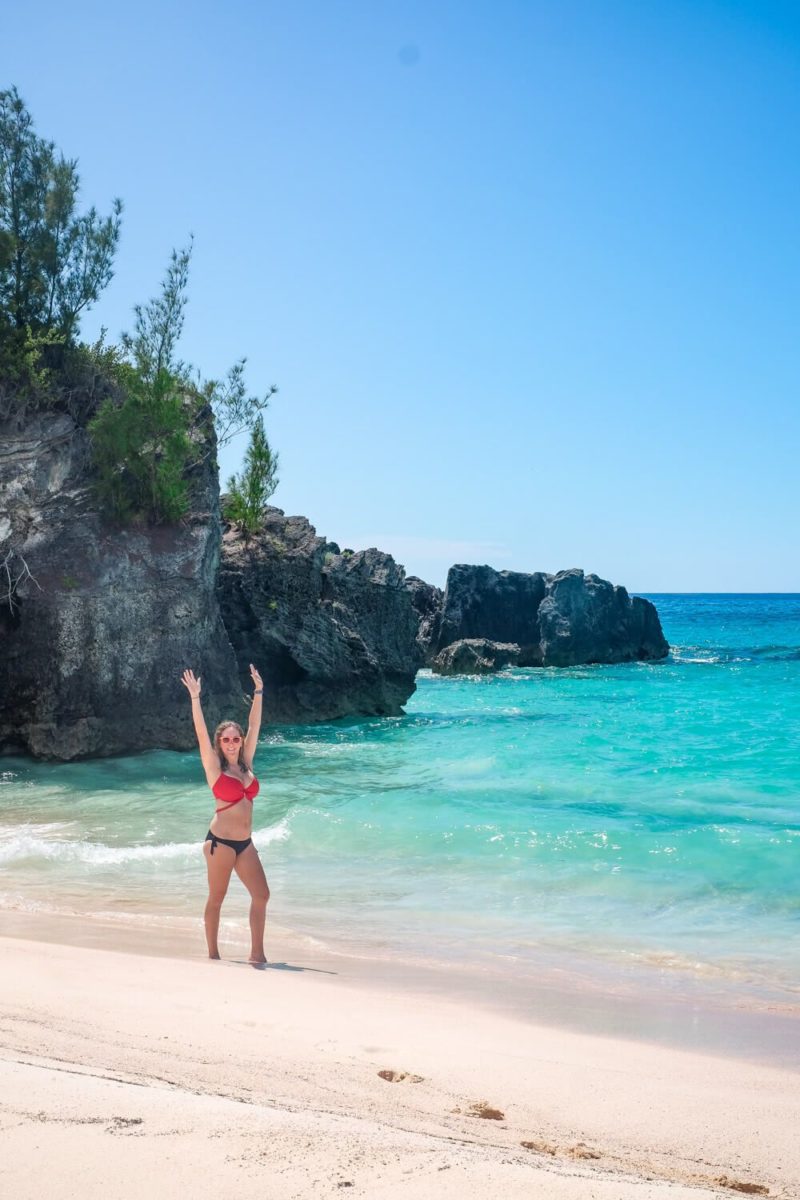 Planning a trip to Bermuda?
Itineraries and Guides:
Things to Do:
Where to Stay:
Bermuda is expensive. And so most hotels and resorts are pricey as well. May people think the Hamilton Princess is marvelous. But it was out of our price range. Instead we went with Airbnb. We stayed in Hamilton for 4 nights and outside St. George's for 2. And spent only about $100/night.
Where to Eat:
We didn't eat fancy so if that's what you're after, you may want to look elsewhere.