One of my favorite places during our trip to Bermuda was the Town of St. George. On the east end of Bermuda, St. George's is Bermuda's original capital. And it's also a UNESCO world heritage site since the town was established in the 1600s. (Yep it's very old.) And as one of the biggest attractions on the island, there are plenty of things to do in St. George, Bermuda.
Now most people come to the eastern end of Bermuda to do two things: the Crystal Caves and the Swizzle Inn. However neither are actually in St. George's.
Others come to the town via the ferry from the dockyard. If you're staying elsewhere on the island, this may be the way to go. Personally I loved staying in our Airbnb outside the town. It allowed us to see St. George's once all the day-trippers left.
But regardless if you're here for a few hours or a few days, there's plenty to see in St. George, Bermuda!
---
What to Do in St. George Bermuda
1. Ducking Stool Reenactment
Okay so this might be a bit touristy or gimicky or whatever. But it was also hilarious. And funny. And also historical.
So what is it? Well it's basically a reenactment of a punishment they used to dole out in ye olde times to ornery citizens. King's Square in general has a few of these historical pieces around (like the stocks), but the ducking stool is the best.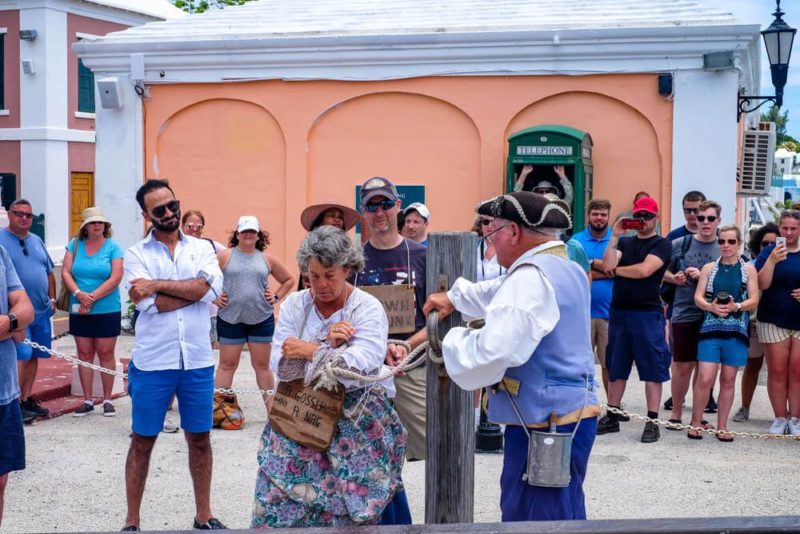 This stool is basically a chair that the victim sits in and then they get dunked into the harbor.
And you can witness this reenactment everyday at noon (except on Fridays and Sundays I think). The whole thing lasts about 30 minutes and it's fantastic.
Basically a man, the town crier, dressed in historical garb, comes out and gets several of the audience to be his accomplices. Let's just call them dunkers.
The town crier then talks with the dunkers about the act and what to do. (It was much more involved than simply dunking the woman once.)
While he instructs his me, he's also informing (enticing) the crowd about a woman who is to be punished for being a gossip and a nag. (Serious offenses back in the day apparently.)
Then once he's ready, he asks one of his dunkers to go and get the woman from around the corner.
Now the town crier and the gossip-y/nag-y woman are pretty funny together. Their act is good. And as you can guess, she gets into the chair, it's wheeled out of the water and she's dunked in the harbor.
Several times in fact.
And though it's funny, it's also quite enlightening because they did do this back in the day. This was an actual punishment for a women accused of gossiping and nagging.
Anyway, you got to see it.
---
2. Visit Some Churches
The main church in town is St. Peter's. It's got those photogenic steps leading up to its front door. Exposed beams, rustic pillars and pews, and a cedar altar that was carved in 1615.
The church itself dates back to 1620 and is the oldest continuously operating Anglican church in the Western Hemisphere. However only parts of the existing church date back to that time period.
Upon entry you'll be given a pamphlet that shows the extensions and additions of time. Only one small back corner of the church still dates to the 1600s, but nevertheless the whole place feels old. And also weirdly homey.
I really liked St. Peter's.
Outside you can explore the church's cemetery, as well as its graveyard for slaves and free blacks. (A sad reminder of Bermuda's past.)
However St. Peter's is not the town's only church. In 1872 work on what's now dubbed the "Unfinished Church" started. It was to be a replacement for St. Peter's but it was never finished.
After several years, the practitioners decided to halt construction and to renovate St. Peter's instead.
The Unfinished Church has then sat untouched since. It's Gothic Revival skeleton sits on the hill overlooking St. George's. With grass for the floor and the sky for the ceiling, I thought it was hauntingly beautiful.
---
3. Wander the Streets
I know that sounds simple and obvious, but it's something that's worth mentioning. Yes the town's old, but it also retains that feel. Walled cottages, twisting alleys, historic buildings, and beautiful gardens can all be found within St. George's.
Spending time wandering was one of my favorite things about the town. It felt like being in a quaint English countryside village, but in the Caribbean at the same time.
(Yes I know Bermuda isn't in the Caribbean, but it's got a bit of that feel.)
I loved seeing the greenery growing on the walls, discovering small shops, and just generally getting a bit lost. (Though it's a tiny town so you won't ever get really lost.)
My favorite shop? Lili Bermuda Perfumery. This store creates all of its perfumes on site, inspired by Bermuda herself. My book said there were guides available to tour I think and a small museum as well.
But I was drawn to the store.
Okay first up. These are not cheap perfumes. Like don't expect to come in and be able to get even a small bottle for like $20. Or even like $40. They're pricey because they're made in Bermuda. And only at that one shop.
But I thought they smelled divine. Plus I knew I wanted to get something, so I saved a lot of my souvenir buying money for this shop. Worth it.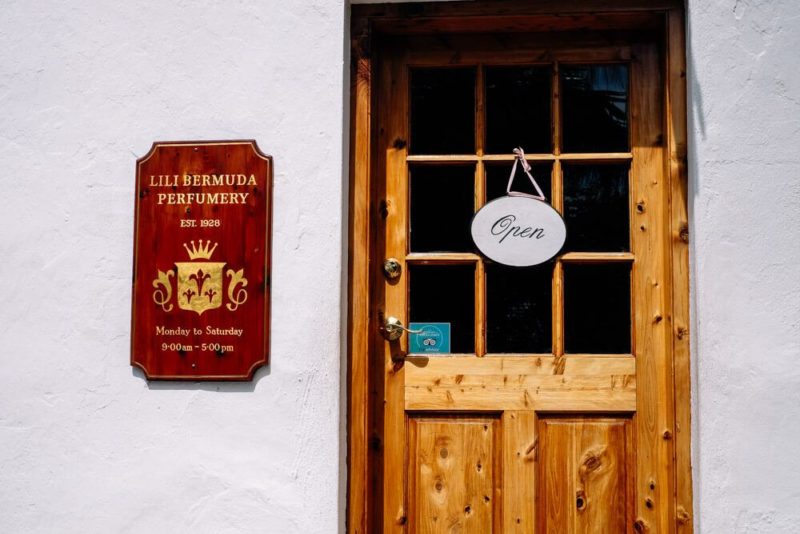 ---
4. Northern Coast: Tobacco Bay, Fort St. Catherine, & St. Catherine's Beach
Just north of St. George (and really just like a 15-20 minute walk) is a trio of some amazing sites.
First up is Tobacco Bay! This is one of the busier beaches on the island as it is one of the better beach snorkeling spots. It's also one of the few places with a beach bar. (With all the rental gear you'd need too.)
Just don't expect to have it to yourself. There will be crowds here. And it's actually a quite small beach, with very limited sand space. We posted up on some rocks and it wasn't exactly comfortable sun-bathing. But definitely do-able while we each snorkeled nearby.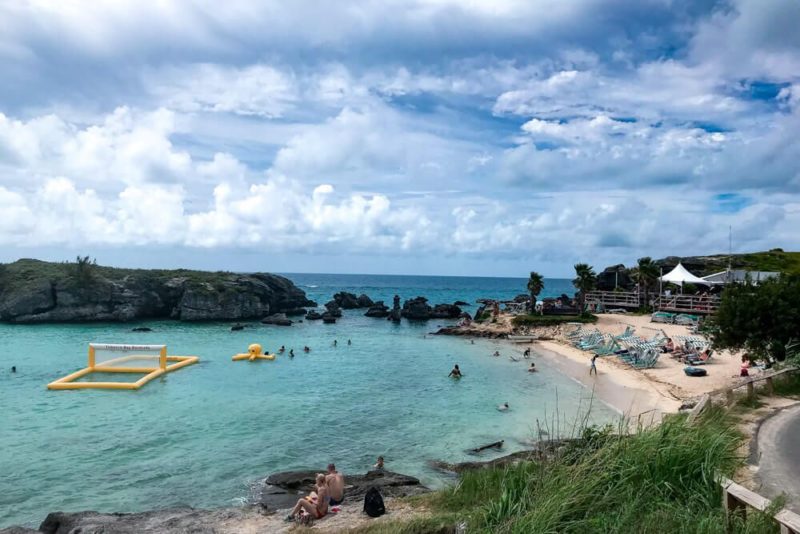 Heading east from Tobacco Bay, you'll come across Fort St. Catherine. This fort was originally built in the 1600s but greatly added to over the centuries as it guarded one of the few safe passages to the island.
The fort was a bit pricey to get into ($7/per person), but we basically had the place to ourselves. We got to see and learn about how the fort was run, see lots of old guns, and just generally explore.
Right outside the fort is St. Catherine's Beach. This beach was a great little find.
It had just a few people scattered along it and it was literally right below the fort so it was super picturesque.
However they were putting in a hotel right behind the beach so its secluded feel will soon be a bit diminished. But regardless, it was one of our favorite beaches.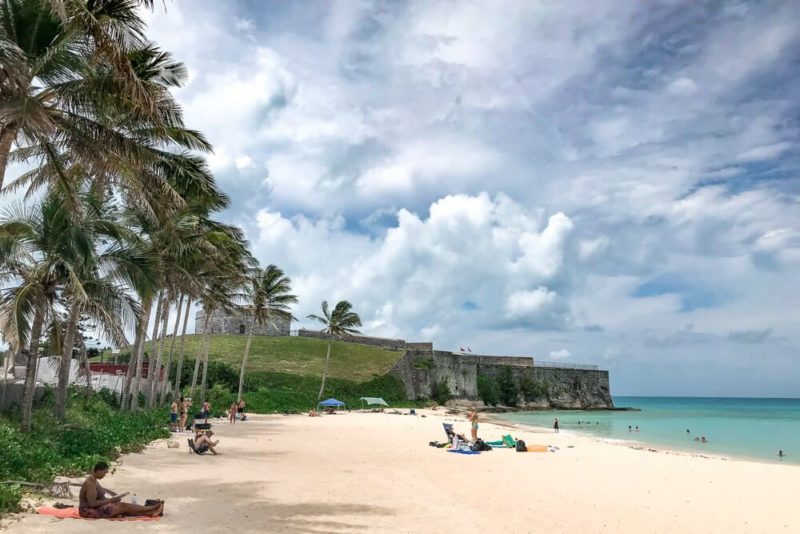 ---
That's It!
St. George Bermuda was one of my favorite towns on the island. It was cute, historical, and easy to get around. Plus the town seems empty during the morning and the evening since most tourists only come in during the day.
So if you want the town to yourself, definitely thinking about staying nearby for a day or 2!
Planning a trip to Bermuda?
Itineraries and Guides:
Things to Do:
Where to Stay:
Bermuda is expensive. And so most hotels and resorts are pricey as well. May people think the Hamilton Princess is marvelous. But it was out of our price range. Instead we went with Airbnb. We stayed in Hamilton for 4 nights and outside St. George's for 2. And spent only about $100/night.
Where to Eat:
We didn't eat fancy so if that's what you're after, you may want to look elsewhere.