When I think of Bermuda, the first thing that comes to mind are the beaches. Pink sand, turquoise water, and coral reefs. It really is paradise. And luckily, the island has loads of beaches to choose from. These are some of the best Bermuda beaches we had a chance to explore on our trip to the island.
I've broken the beaches down by location. If you're looking for the pinks sands though, you'll want to check out the South Shore beaches first. But don't forget about the others! They're beautiful and may take you away from some of the crowds.
---
South Shore Beaches
Looking for those pink sands? Then look no further. The most famous beach here is Horseshoe Bay. You'll definitely want to check it out. It's famous for a reason.
But don't overlook the others! Or you'll be sad you did.
And one more note about the pink sand. It's not like super pink. It's a slight blush. I noticed it the most in the afternoon on the wet sand.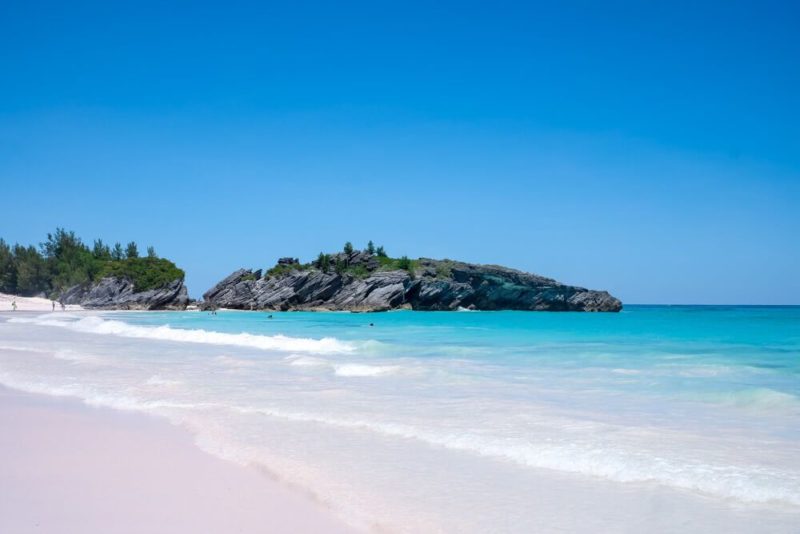 To get to these beaches, take Bus #7. If it's uncrowded, let the bus driver know where you'd like to be dropped off, and he'll stop at the nearest stop for you. (Don't forget to say good morning or good afternoon first – Bermudians are polite!)
One of the best things we did? We walked between the beaches that are part of South Shore Park (Warwick Long Bay down to Horseshoe Bay).
There are lots of paths/trails that link these beaches up. This was one of the best things we did! And I'd definitely recommend to make a day (or at least a morning of it).
Horseshoe Bay
This is the most famous beach on the island. Pink sands, clear water, soft sand, and a wide beach that's big enough for everyone to find a little plot of sand to lay their towel.
Plus lifeguards, beach rentals (think umbrellas), bathrooms, parking, and a beach bar (the Rum Bum Beach Bar). I loved this about Horseshoe Bay.
Go for a swim, drink a rum swizzle and refuel with some Wahoo Nuggets. Then it's back to the water. All without having to go anywhere.
Okay so it's crowded. To be honest, I've been to more crowded beaches. If you want more space, walk to the far end like we did (the beach is over a 1/4 mile long.)
And avoid the weekends. Friday afternoon was wayyyy less crowded than Saturday or Sunday afternoon.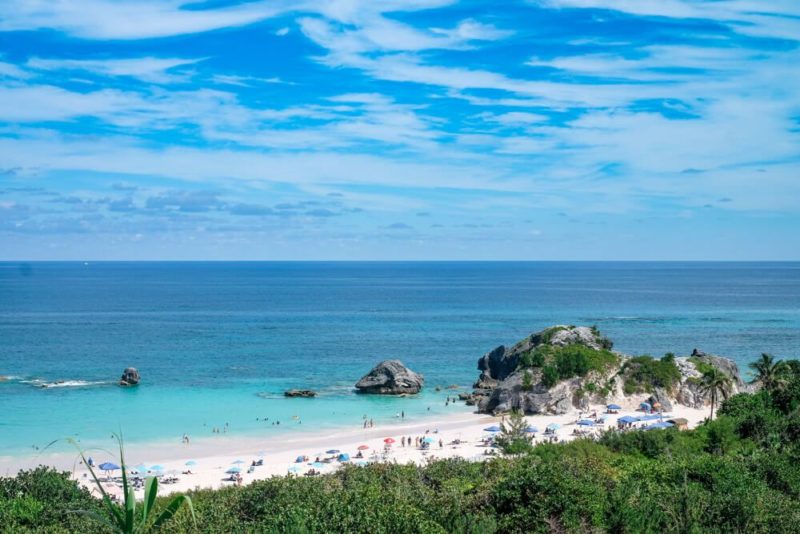 Warwick Long Bay & Jobson's Cove
Warwick Long Bay Beach is a bit different than the other beaches on the island. It isn't in a cove (like Horseshoe Bay). It stretches for nearly 1/2 mile at the start of South Shore Park. In fact it's the longest beach on the island.
It backs up against cliffs, and grass and brush covered hills. The beach itself isn't as wide. And the waves can be a bit rougher. But you can't beat its solitude. We shared the beach with only a few others on the Friday morning we were there.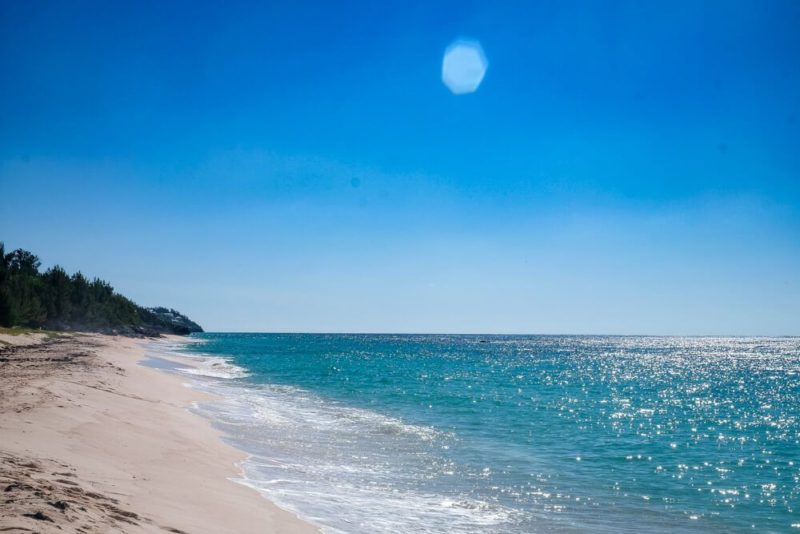 Right next to it is Jobson's Cove. This tiny little cove is completely protected from the ocean by a ring of rocks. It's calm, peaceful, and beautiful.
If you come to Warwick Long Bay and want to also go to Jobson's Cove, use the entrance that's on the western side of Warwick. There's a nice little road leading down to the beach with some parking.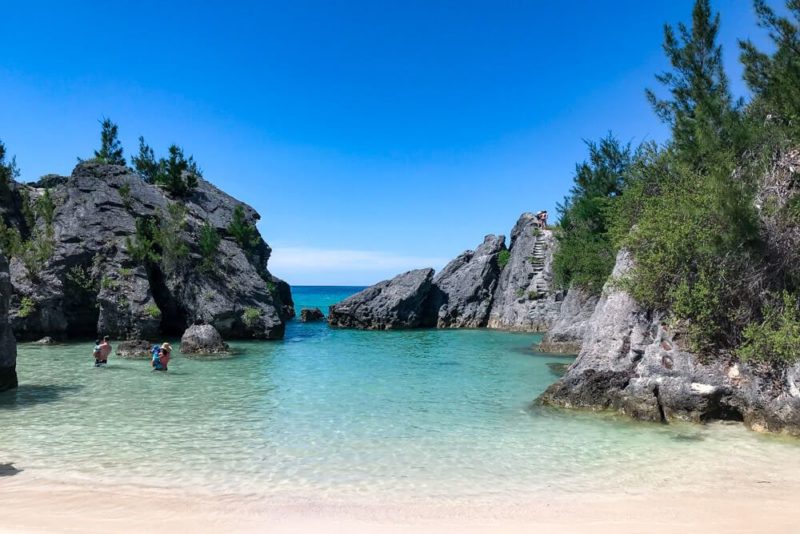 Angle Beach / Chaplin Bay / Stonehole Bay
I was a bit unsure of what to call these beaches. They're located in South Shore Park between Jobson's Cove and Horseshoe Bay. The sign by the road says Chaplin Bay and Stonehole. Google Maps gives some others (Angle Beach, Water Rocks Beach, Middle Beach, etc.).
Regardless of what they're called though, they should not be missed. If you're walking from Warwick to Horseshoe (or vice versa), sandy paths will lead you through the park and take you past a number of small beaches.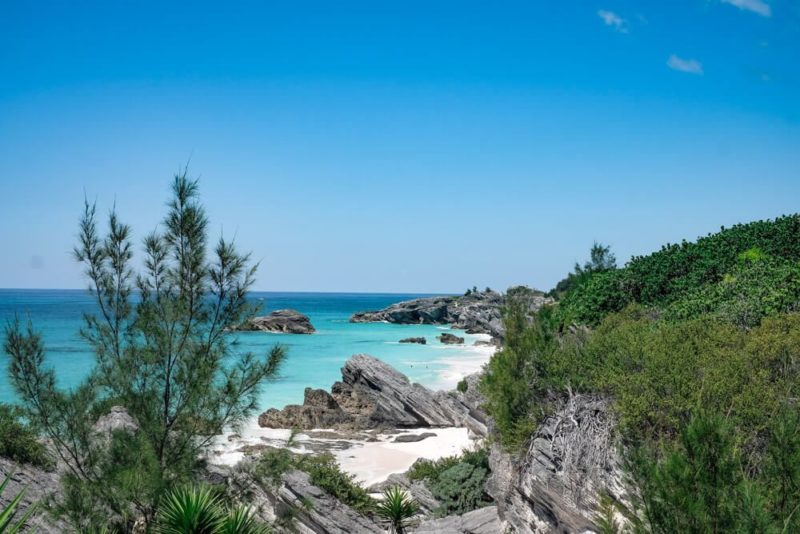 Some had no one on them. Others only a few. Every time we turned a corner it felt like we discovered another one. These beaches are small, peaceful, and are just begging to be explored.
And though some were more swimmable than others (due to rocks or waves), you'll definitely find one that will call to you.
My favorite was the one Google calls Angle Beach.
Elbow Beach
This popular beach is sandwiched between two private resorts. But the sand in the middle is public and wonderful.
Reefs off shore make swimming (or in my case, bobbing) here easy.
The beach can be very popular during the day I've heard, and even in the late afternoon on a Saturday, the parking area was full. (There's just one narrow lane of parking.)
In terms of amenities, there's not much. But that may be just what you're looking for. Personally I loved it. And it was Ryan's favorite beach of our whole trip.
Church Bay
The beach at Church Bay is small. But that's not what you come here for. This is (in my opinion) the best beach for snorkeling that Bermuda has to offer.
There's abundant shallow reefs close to shore that ring in the beach and help shelter it from the ocean beyond.
We started by swimming up the left side of the reefs before turning into the bay. We headed for the rock in the middle of the bay, before turning back towards shore. If you follow this route, you'll have coral reefs the whole way.
Expect to see loads of marine life here including parrot fish, angel fish, and more.
There's also parking at the top of the hill and a bathroom as well. But if you're going snorkeling, definitely bring your own gear as there was no one around renting stuff when we were there.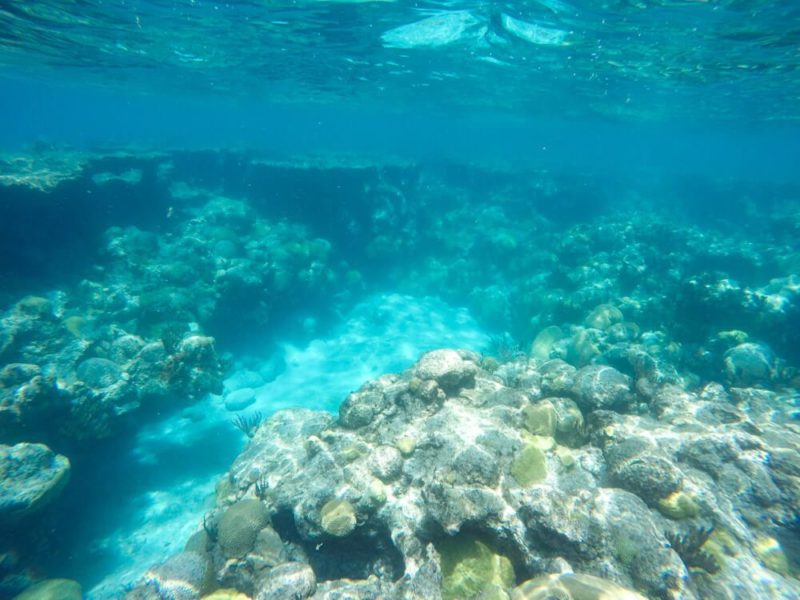 ---
Western Beaches
I only went to two beaches along the west coast, but since the coastline is a bit more rocky, there aren't a ton of beaches over here anyway. Here are the two that may make it worth your effort.
To get here, you can take the #7 or #8 bus. However neither bus goes by the beach. So you may have a bit of a walk from the main road down to the beach. We rode scooters here and it made it a lot easier.
West Whale Bay
Want to avoid the crowds and get one hell of a view? Come to West Whale Bay for sunset. We shared the beach with only a few locals and it was perfect.
There's a large parking lot and a wide grassy lawn before a natural path winds down to the beach.
The beach itself is small, and it gets even smaller at high tide. But its a nice beach for swimming and maybe even snorkeling (though we didn't snorkel here so I can't say for certain).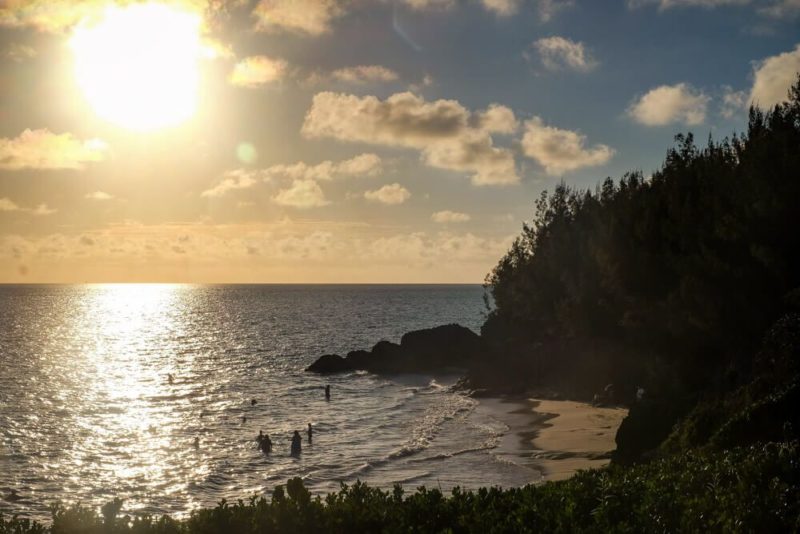 Somerset Long Bay & Daniel's Head Beach Park
These beaches are quiet and (on the weekends) popular with the locals. We didn't see hardly any other tourists around when we visited.
Long Bay is the first beach you'll pass if you want to stop there. If you're looking for more space to spread out your towel, I'd stay at Long Bay.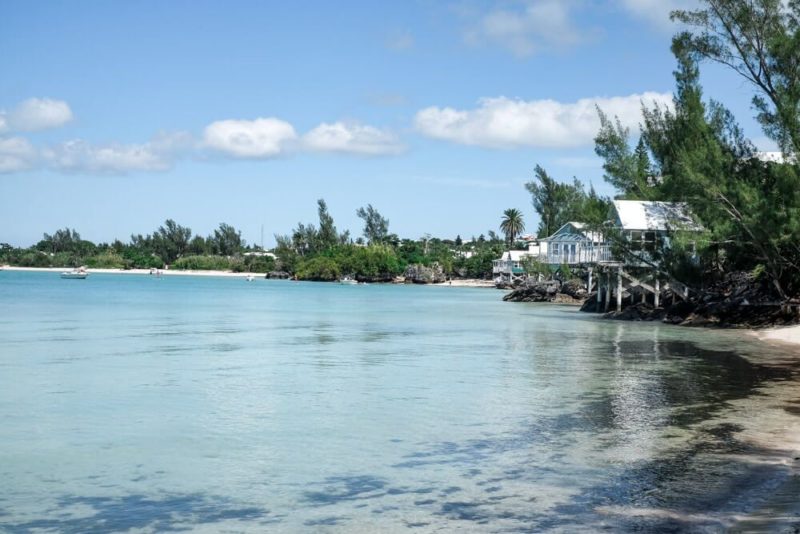 We headed on out to Daniel's Head Beach Park. There are two small beaches here with a weird, giant floaty park thing dominating the deeper water of one of them. (Though this didn't bother us, it was a bit odd.)
There are also jet skis and glass bottom boats that drift by as well.
The water is calm and shallow for a far way out. Ryan even took out his snorkeling mask and basically bumped into a sea turtle swimming around the rocks.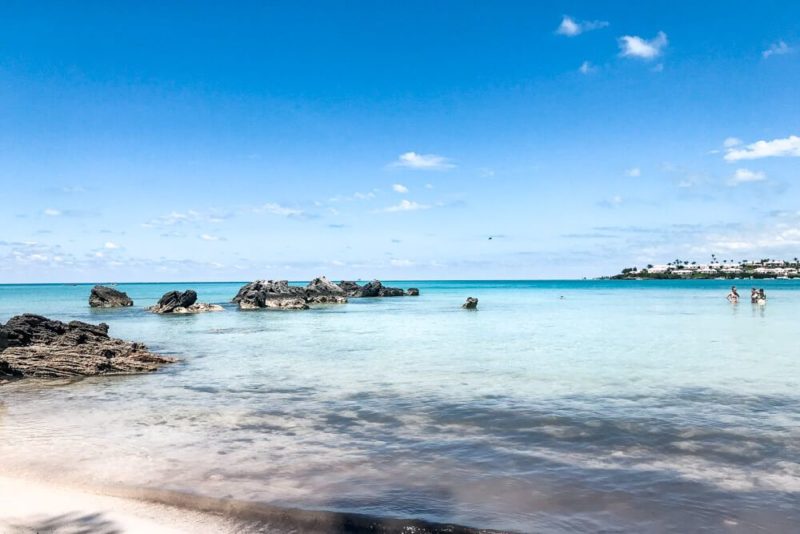 ---
St. George's Island
There are only a couple of beaches on St. George's Island. There is, of course, one of the most popular beaches on the island, but there are less crowded ones as well. And you can't beat their locations right outside St. George's.
To get to these beaches, you'll want to head to St. George's. The #1, #3, #10, and #11 head there from the western part of the island. From downtown St. George's, it's only a 15 minute walk to Tobacco Bay.
Fort St. Catherine Beach
Located right next to the actual fort of the same name, this beach was a great little find. With a few families strewn along it, it was relatively uncrowded when compared to its busy neighbor (Tobacco Bay).
When we were there, they were putting in a hotel right on the beach. Which made me a little sad. I loved the rustic feel the beach had. Backed by just a few palm trees with the fort perched on the cliff above, it was picturesque at the time.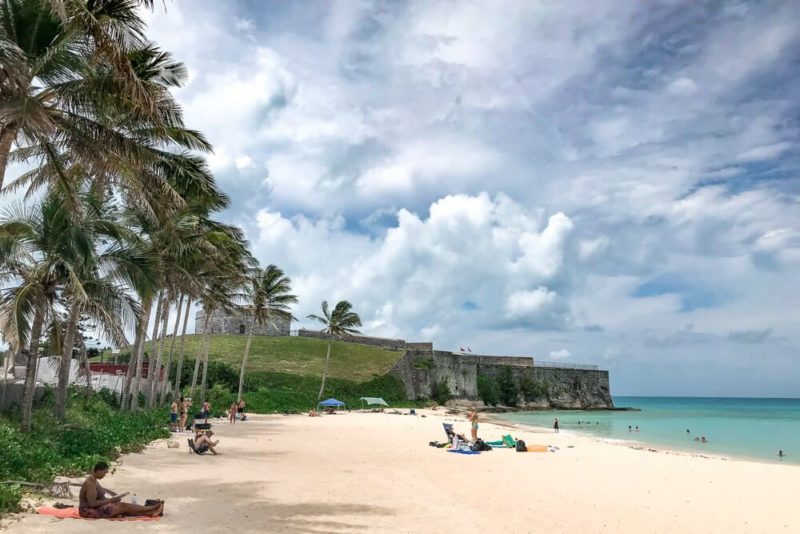 Tobacco Bay
Just a 5-10 minute walk from Fort St. Catherine's Beach and a 15 minute walk from St. George's, Tobacco Bay is popular.
It's also very small.
Smaller than I expected. True it's got beach rentals and a beach bar (which was much appreciated after exploring Fort St. Catherine), but sand space is definitely limited.
You may have to post up on some rocks like we did.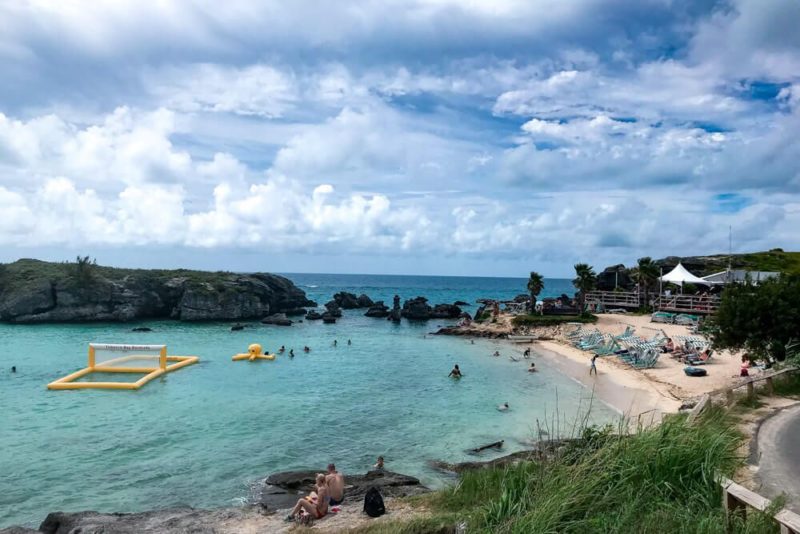 However Tobacco Bay has one more thing going for it. It's a great snorkeling spot. The beach snorkeling here is one of the best on the island. The fish seem to cluster by the rocks (to the right and at the back of the bay), so you'll want to head there.
Plus the water's calm and sheltered from the sea so it's great for families.
Just expect a lot of people.
---
St. David's Island
St. David's is not an island a lot of tourists see. It's definitely a locals beach hangout. But the beaches out here are still beautiful. And with the Cooper's Island Nature Reserve dominating the end of the island, this is the place to go if you want a beach to yourself.
To get here, you can take the #6 bus that goes between St. George's and the beaches. But be sure to check the schedule because this route alternates. Or if you have your own wheels, you can easily find your way here.
Clearwater Beach / Turtle Bay
These are two separate beaches. But I've put them together since they're right next to each other. A little spit of land is all that separates them.
The water here is calm and shallow. There's also sea grass galore and due to that grass, turtles. Seriously this is the reason to come here. You will see a sea turtle if you're patient enough.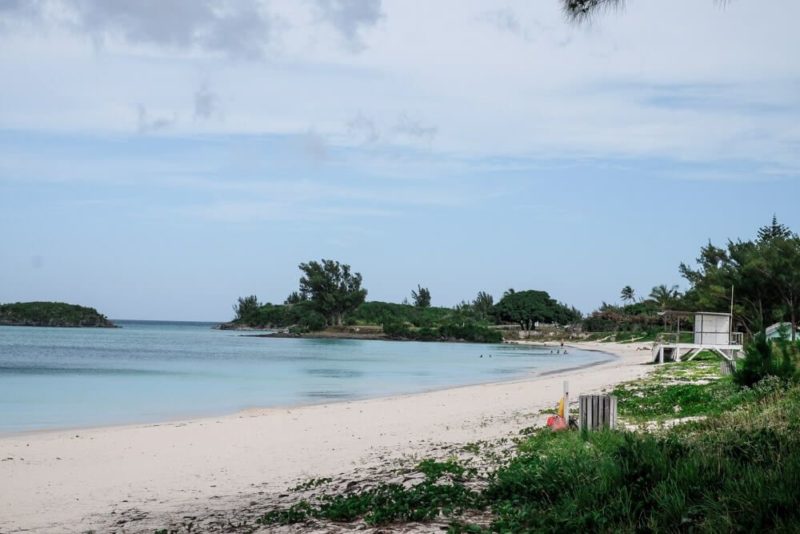 Between these two beaches, I saw probably about 6 turtles. Ryan saw more since he's basically a seal and can swim farther from me.
There's also a restaurant nearby if you want to grab a bite to eat, but be warned that it's pricey. (I also didn't eat there so I'm not sure how good it is either.)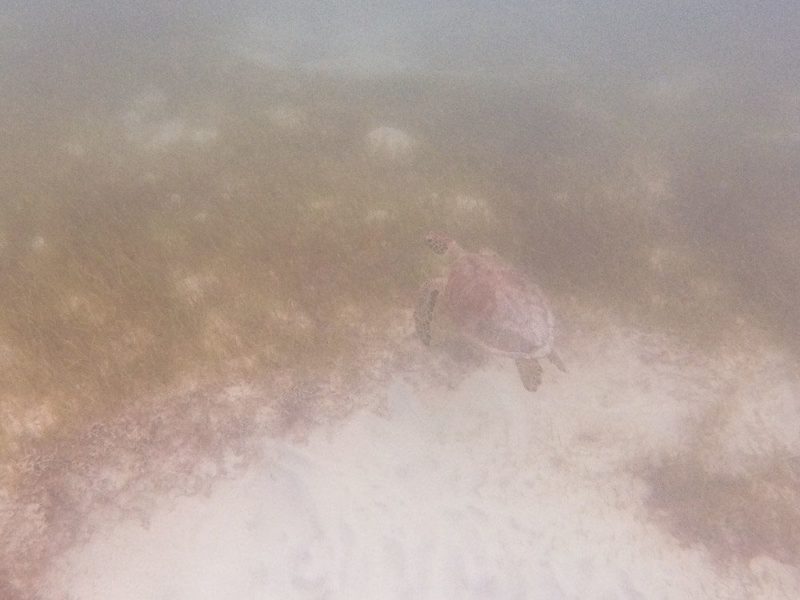 Cooper's Island Nature Reserve
At the end of the road is the Cooper's Island Nature Reserve. You have to park outside, but then you can make your way through the gate and walk. Don't be intimidated by the walk. These beaches are worth it.
The star is Long Bay. It's the longest beach in the Reserve and it'll still only have a couple of people on it. My map shows a few more beaches in the reserve, but I don't think you'll need a map to find them.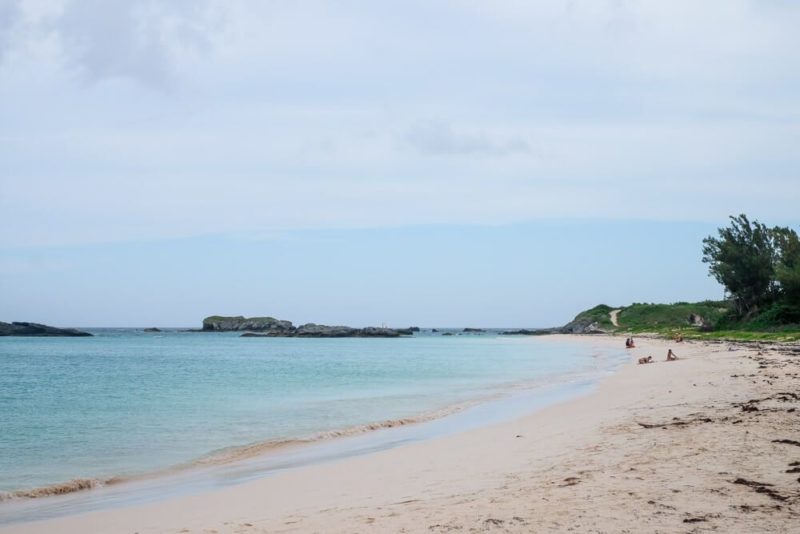 Basically follow the paths and if one heads towards the ocean, then it's a good bet there's a nice beach there.
Just be sure to stay on the east coast of the reserve. The western side is the more nature-y side with stricter rules.
That's it!
With all the types of beaches to choose from, I hope you find one that calls to you! And there are even more (like a few northern beaches) that I didn't have time to explore. I hope this gives you a good starting point for your own trip!
Planning a trip to Bermuda?
Itineraries and Guides:
Things to Do:
Where to Stay:
Bermuda is expensive. And so most hotels and resorts are pricey as well. May people think the Hamilton Princess is marvelous. But it was out of our price range. Instead we went with Airbnb. We stayed in Hamilton for 4 nights and outside St. George's for 2. And spent only about $100/night.
Where to Eat:
We didn't eat fancy so if that's what you're after, you may want to look elsewhere.