Bermuda might just be the shipwreck capital of the world. Plus with its crystal clear waters, the marine life here is incredible! And what better way to see it than to go under the water. Scuba diving in Bermuda was a must for us and is definitely something I recommend for anyone traveling to the island.
Okay so first question: why go diving in Bermuda? Like I said, shipwrecks. In fact it has more shipwrecks per mile than anywhere else in the world. Over 300 are scattered around Bermuda. In fact one of the sites we went to had two shipwrecks at it!
Because one ship hit the existing shipwreck and sank too. Yes you read that right.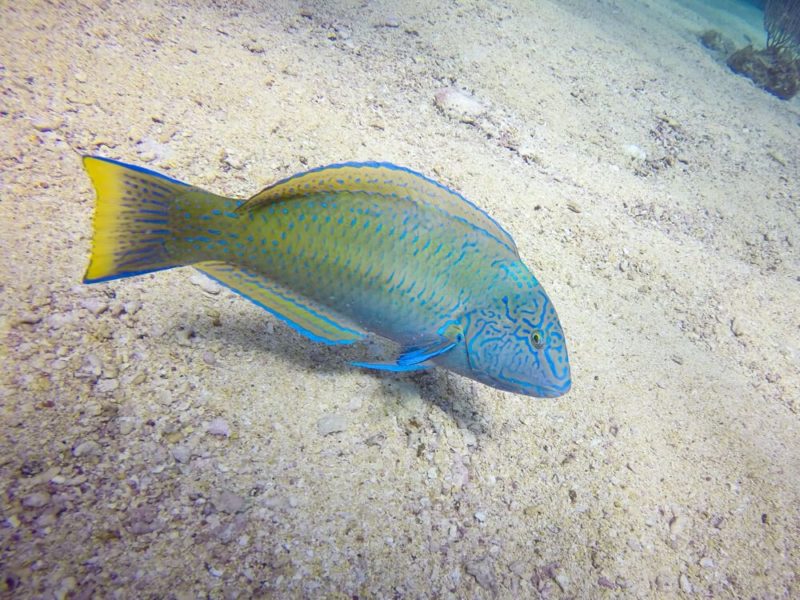 Next, the water. It's clear. It's turquoise. And it's home to some of the best marine life I've seen in Atlantic hands down. And though I love me some snorkeling, I wanted to go deeper and see more.
Not certified? You have a couple of options. You could try to get certified before you leave. Where I live in Greenville, SC, we have a couple of dive shops that do certifications and we're lucky to have lakes nearby.
You can also do what some Dive Shops call a try dive or a discover dive. Basically they teach you some skills and take you down in the water with an instructor. It won't count towards a certification but it will allow you to go out without any pre-training.
Lastly you can get certified in Bermuda. I was surprised that a number of people on our dive boat that morning were doing their certification. So it's possible to come to Bermuda and get certified. (Note certifications take multiple days and are expensive.)
---
Scuba Diving with Blue Water Divers
There are a couple of scuba dive shops on the island. The two I considered closely was Blue Water Divers (who I choose in the end) and Dive Bermuda.
I think either one would be fantastic, but I'll explain a bit about why I picked Blue Water Divers and how our scuba dive trip went.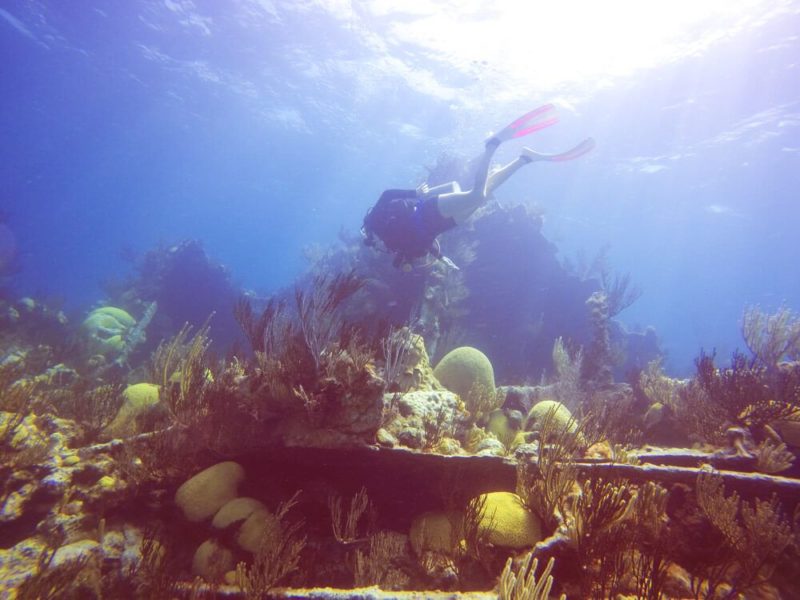 Pricing
Okay Blue Water Divers was slightly cheaper. Though the difference wasn't much, paying for 2 people did make it a consideration.
Their 2-tank dives was $130 per person. A full rental gear set was $60 per person but since we brought our own masks and fins, we only paid $45.
So total cost for us was $175 per person.
OH! And as a last note, if you want to do multiple days of diving, they start to give you discounts for them. You can see the discount information on their pricing page, but the more days you dive, the more you save!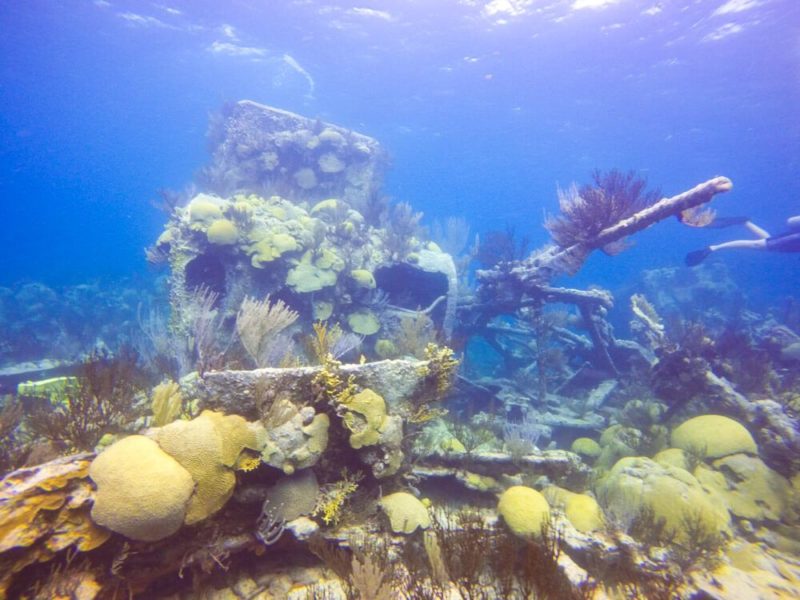 Email Communication
Blue Water Divers was super friendly with the emails. They always got back to me within a day and were very good about answering my questions.
My main concern going into the trip were my ears. I hurt them last year when I got certified. They're all better now, but I've been terrified to go diving again. And so I wanted to make sure the groups were small. (Because I don't like feeling I'm holding the group up.)
They addressed my concern very well and let me know they keep the groups at a ratio of 4 divers to 1 master.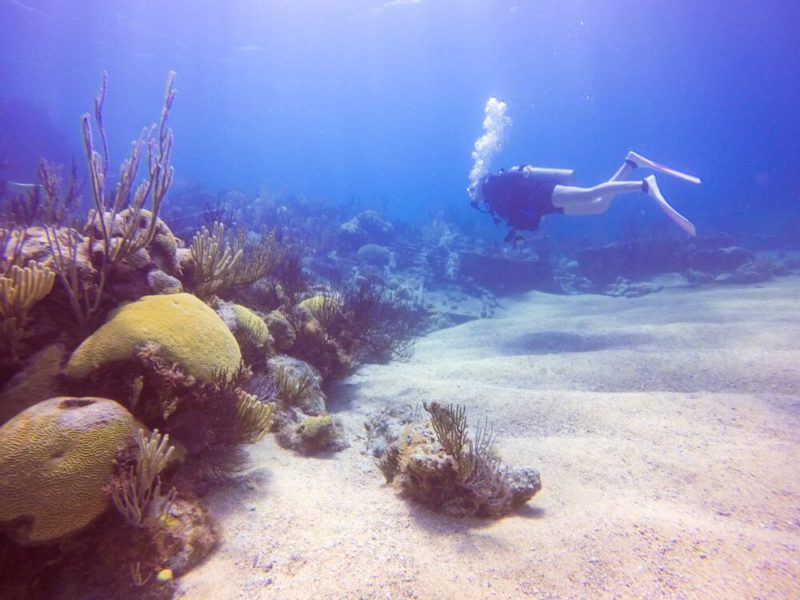 Blue Water Divers also had availability on both days we wanted to go, which was a plus. Dive Bermuda (who was also great with the emails) let me know they were already booked for one of the days I was considering.
So I had a thought. If Blue Water Divers keeps a small group and they had open spots still on both days, maybe the groups would be even smaller than the 4:1.
And I was right. It was me, Ryan, and just one other girl with our dive master that day. So 3:1. This was the second main reason I picked Blue Water Divers.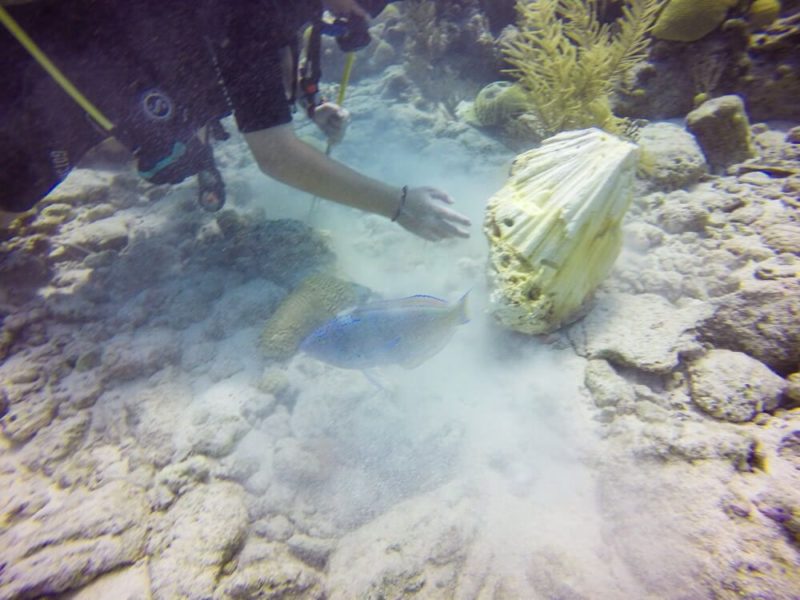 Getting to Blue Water Divers
Blue Water Divers is located by the Somerset Bridge in the western part of Bermuda. Which means it's a bit more remote if you're not staying out that way.
I saw this as a plus because I thought it would mean small groups.
But this can also be hard when you're trying to get there. We solved for this by basically doing our scooter rental days over the day we scuba dived. That way we could wake up and get to the dive shop by 8am.
Your other options are taxis (very expensive so be careful) or maybe a bus if you're lucky. Only like a couple lines go past the shop and you'll need to catch the very first bus out of Hamilton. And some days have different times that may not work.
My suggestion for the bus is to contact Blue Water Divers and ask them about getting there by bus. They'll be most knowledgable about the best way to get there.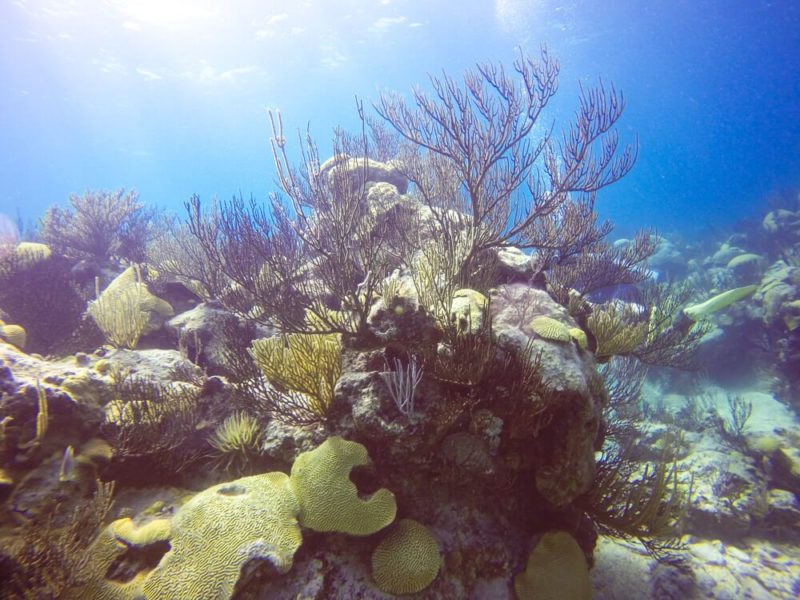 Gear & Boat
We brought our own snorkel, mask, and fins, so I don't have any comment on the quality of Blue Water Divers gear in that department. But the girl we scuba dived with us seemed to enjoy hers and didn't have anything bad to say about them.
Our wetsuits were fine too. Maybe a little worn in but they kept me perfectly warm. They don't have a lot of large sizes and Ryan had to squeeze into one to fit. They did have a thick wetsuit he could wear, but he wanted to stick with the shorty.
The boat was also nice if a bit small. It was a little crowded on the boat when we were all gearing up, but it wasn't too bad. Though it did have a nice upper deck that we headed too for the drive back.
They also passed out a few snacks as well that was very much needed.
Other Divers
As mentioned above, there were a few other divers on the boat. But most were doing the open water dives of their certification. There was just one other girl who was doing a fun dive. And then I think there were two others who were maybe masters or instructors who did their own thing.
So even though it felt a bit crowded at times on the boat, our group was decidedly un-crowded.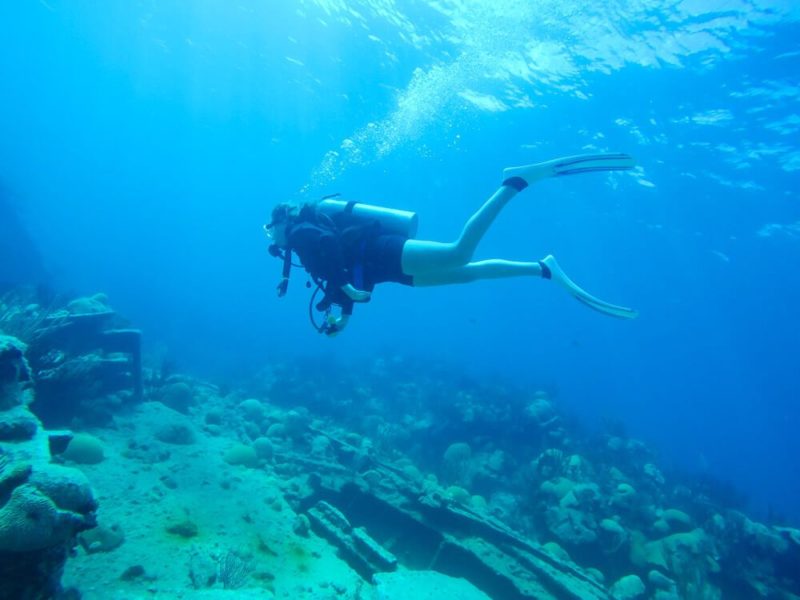 ---
Blue Water Divers: Dive Sites
Dive Site 1: Lartington
The first dive site we went to was the shipwreck of The Lartington. The ship was built in 1875. It came to Bermuda after leaving Savannah, Georgia in 1879 with a ton of cotton. Their destination was Russia though they never made it.
Claiming that a 100ft wave battered the ships hull (though that kind of seems ridiculous), the ship took on some massive leaks and the crew couldn't keep up with the water pumps. So the Captain decided to make for Bermuda in hope of salvation.
Where they promptly hit a reef and sank.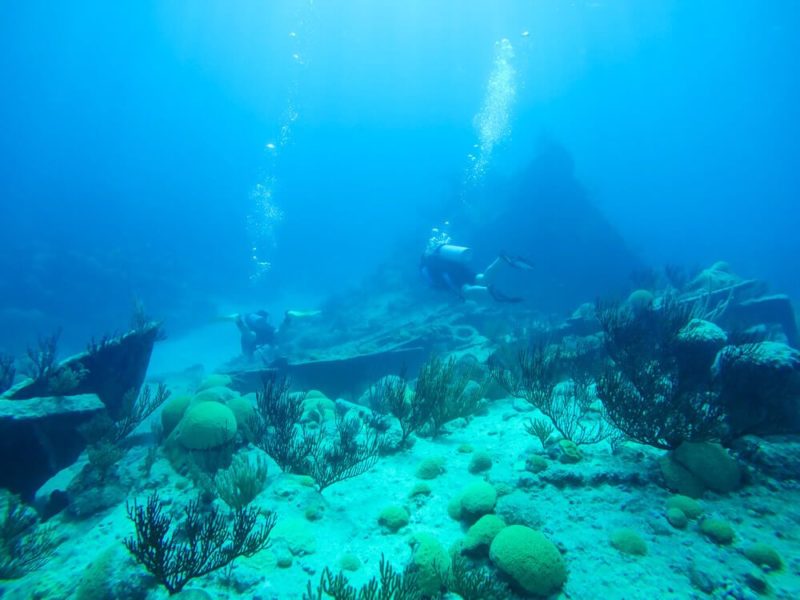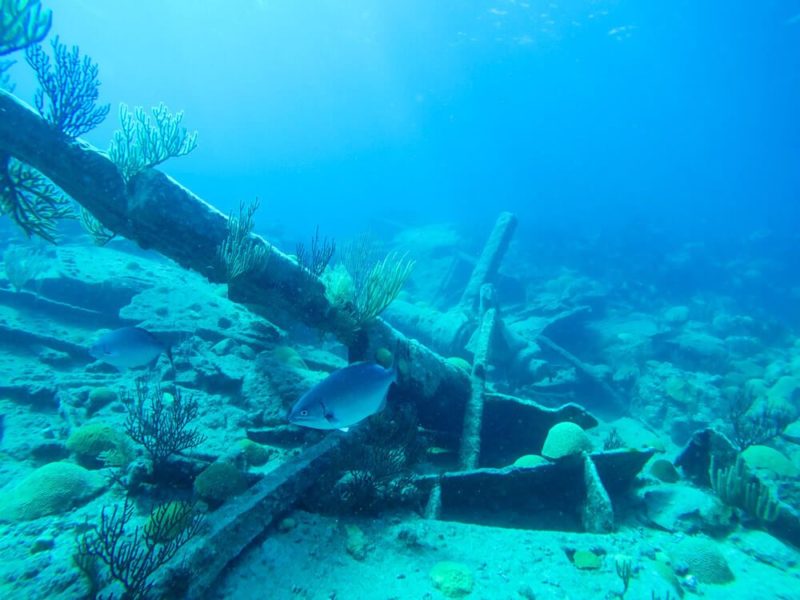 We found the site though to be wonderful. It was photogenic, clear, and very shallow compared to some of the other diving we've done.
And there were parts of the ship that were still clearly visible. Though I wouldn't to be able to tell a bow from a stern, boat parts (very scientific, I know) were still there. I loved coasting around the wreckage of a boat nearly 150 years old.
#historynerd
Plus since the wreck literally lies on top of a reef, the marine life was wonderful. There was a snail thing our guide tried to coax out of its hole and a nudibranch that enthralled us. As well as a host of other fishes.
And it's super shallow. Our depth was only about 40ft or 12m with visibility of like 100ft. Definitely a nice easy dive for someone who was nervous about their ear issues.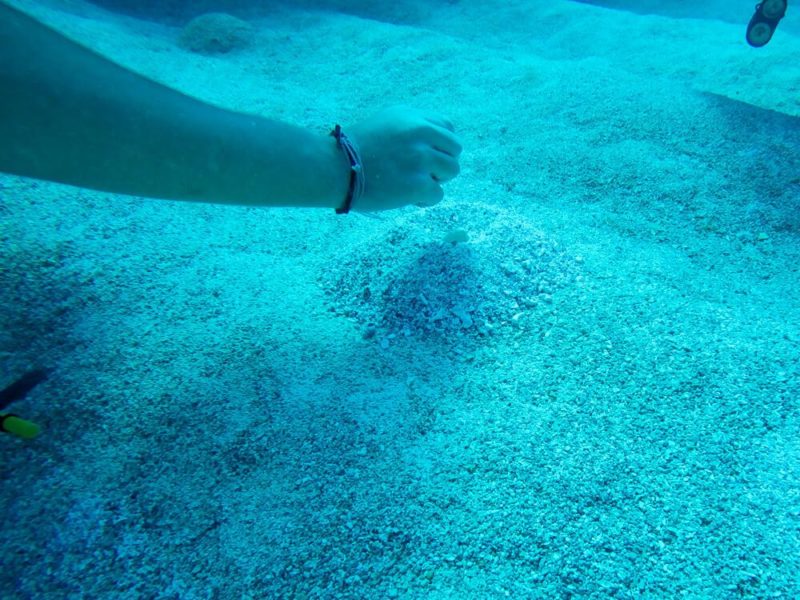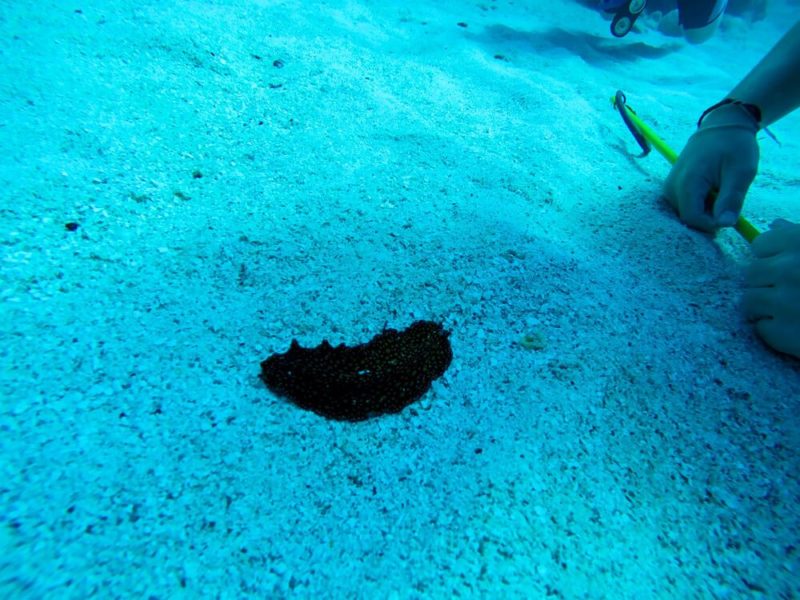 Dive Site 2: Constellation & Montana
Constellation & Montana was our second dive site and it was named this because it's actually the location of 2 dive sites. Because, you know, one ship actually hit the shipwreck of the earlier one. Or at least the same reef.
But you'd think they'd have been like, hmmmm let's try to avoid this spot since the Montana sunk here. But nope.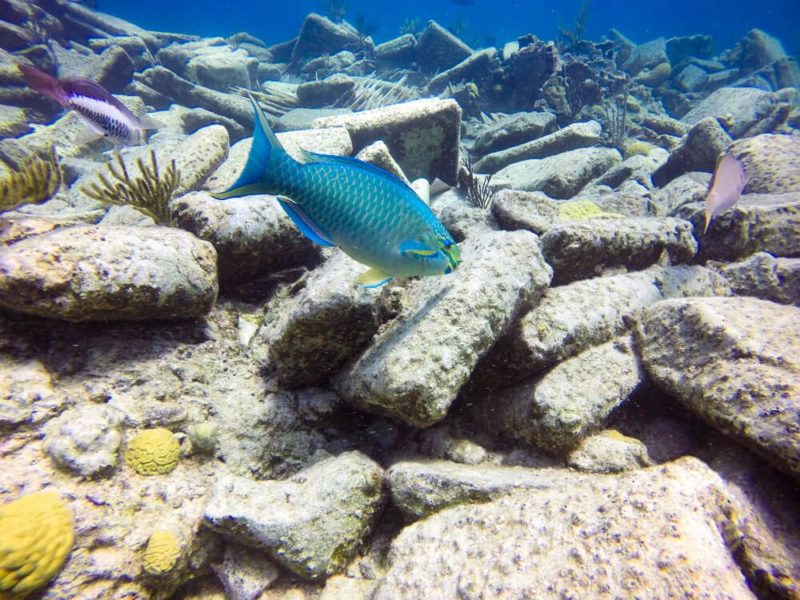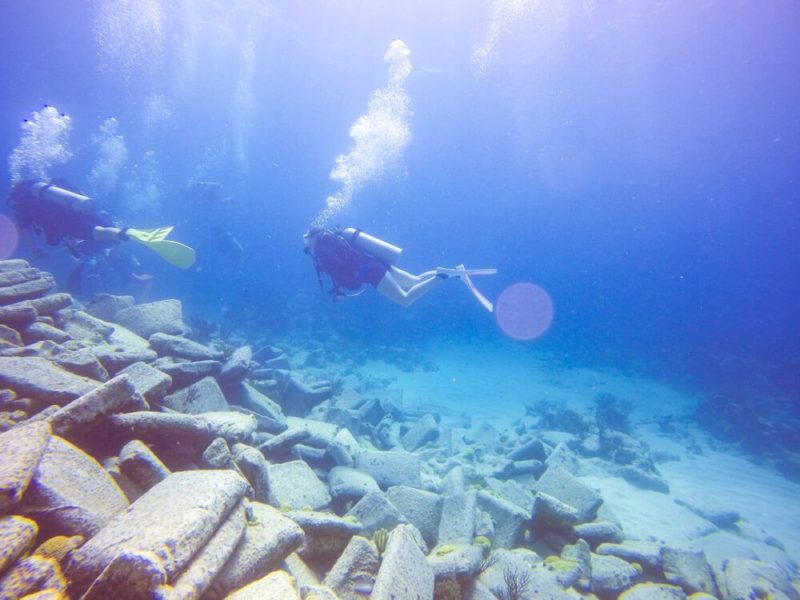 Anyways, first up, the Montana. The Montana was a blockade runner during the Civil War. However in 1863 she was caught in a storm and the Captain decided to head towards the "safety" of Bermuda.
Where, like so many before and after her, she hit a reef and sank. (You'd think like captains would no longer think of Bermuda as a safe place.)
Since the later Constellation was made of wood, most of the ship stuff (again so technical, I know) you see at this dive site I'm assuming belongs to the Montana. And there is plenty to gawk at. Including this cool deck thing to swim through.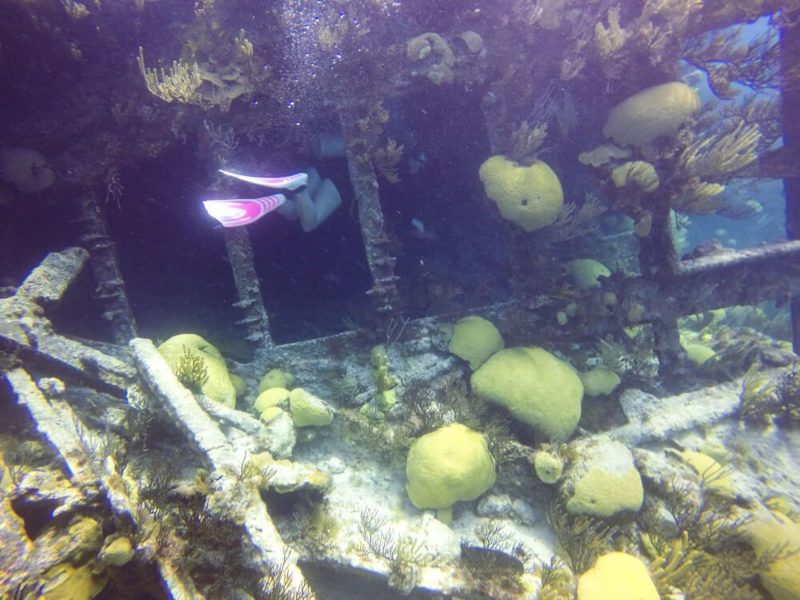 Okay so the Constellation. She was a wooden boat (ship?) that was used as a cargo vessel during WWII. She carried cement bags, medicine, building materials, and 700 cases of whiskey. As well as a host of other things.
Unfortunately for the Constellation, she experienced problems after leaving New York and the Captain, like so many before him, headed for Bermuda for repairs. Now he did try to get a local pilot to come out, but before he arrived currents smashed the Constellation into the wreckage of the Montana (or at least into the same reef).
But I like to think that they hit each other and there's no real way to know.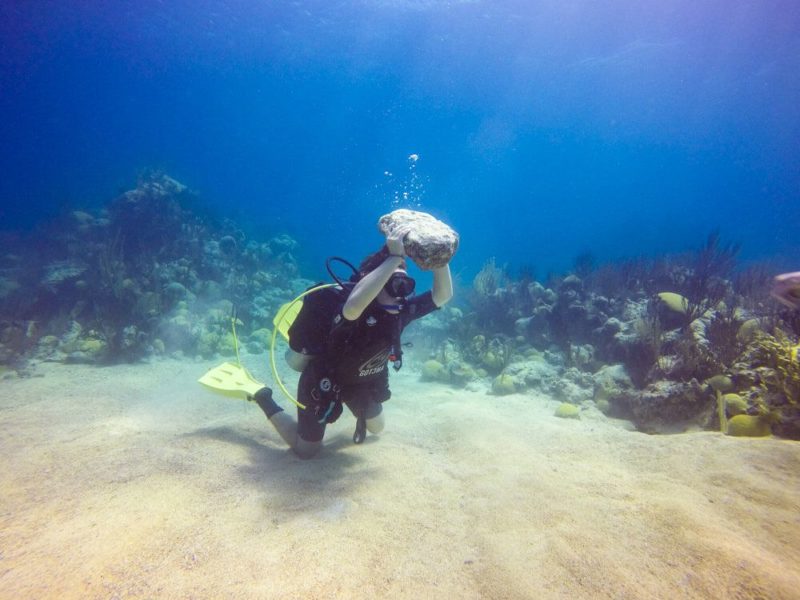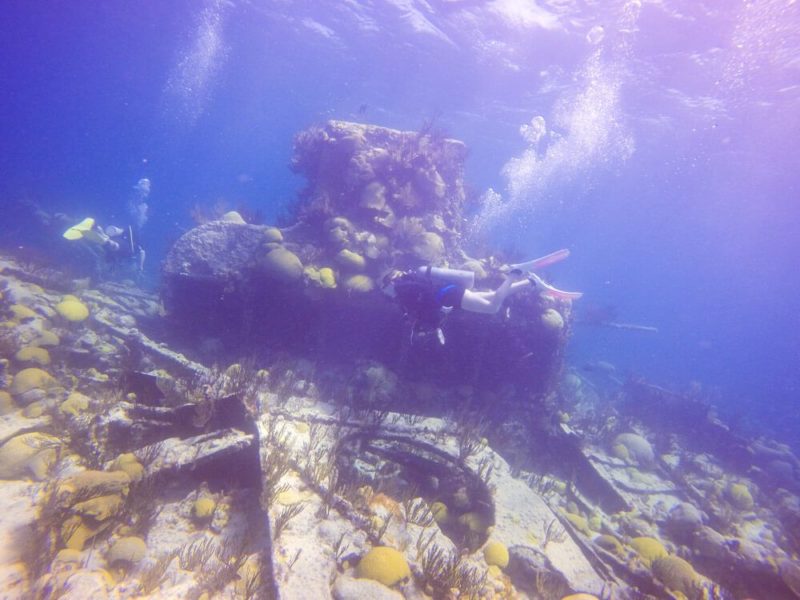 And though many people have salvaged the site over the years to get at that sweet morphine and whiskey (btw this is now illegal), so much of her cargo can still be seen.
Think thousands of cement bags (you can see these in many of my photos), bottles, cups, and more. It's perfectly ok to pick up these items but you can't take them with you. Our guide was careful to mention this to us and always put back whatever he showed us.
And this site is even shallower than the Lartington. Think 35ft or 11m. My ears were doing a happy dance.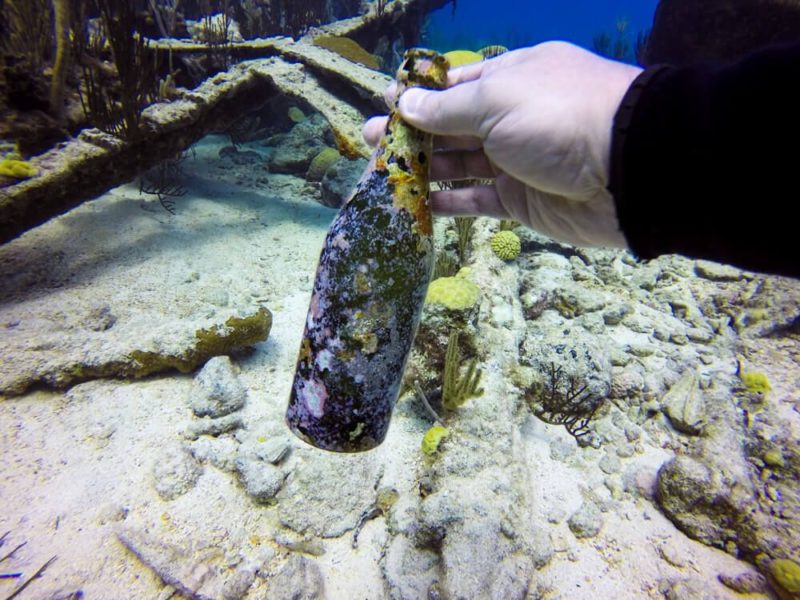 ---
Was Scuba Diving in Bermuda Worth It?
Of course! It was the most expensive thing we did during the trip. But where else can you go and do two dives to see three wrecks in just like 3 hours? Plus with the shallow depth, we had basically zero wait time between dives.
The water is also clear and warm. The fish are plentiful. The coral in Bermuda was still looking very much alive which made me happy.
And Blue Water Divers were fantastic. I would definitely recommend them to anyone looking to scuba dive in Bermuda!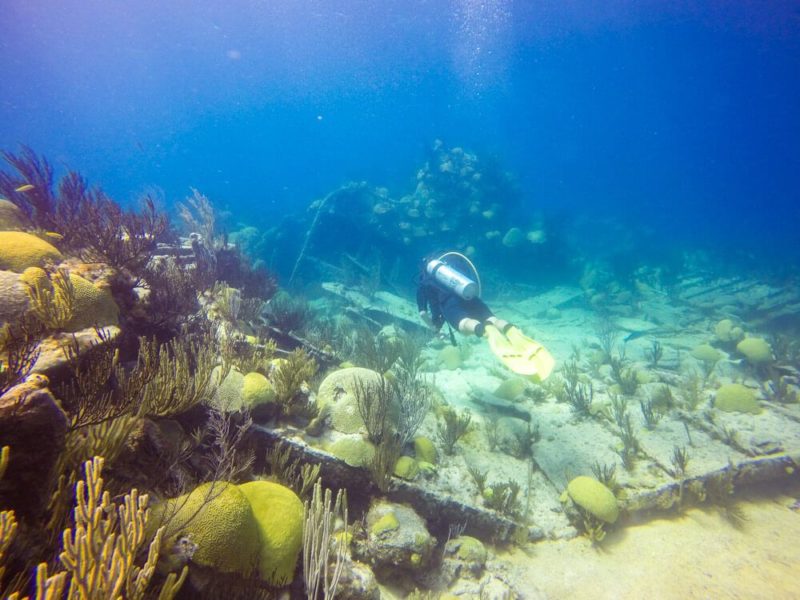 Planning a trip to Bermuda?
Itineraries and Guides:
Things to Do:
Where to Stay:
Bermuda is expensive. And so most hotels and resorts are pricey as well. May people think the Hamilton Princess is marvelous. But it was out of our price range. Instead we went with Airbnb. We stayed in Hamilton for 4 nights and outside St. George's for 2. And spent only about $100/night.
Where to Eat:
We didn't eat fancy so if that's what you're after, you may want to look elsewhere.