Paris Mountain is my go-to hiking destination when I only have a couple of hours to explore. It's close to Greenville, SC and I can leave my house and be on the trails in 20 minutes. And though it doesn't have a huge overlook or a massive waterfall, it's still an amazing little park. These are the trails I head to when I go hiking in Paris Mountain State Park.
The State Park has a wide variety of trails and I like to mix it up (usually depending on how much time I have and my energy level). Below are some of the routes I've done in order of easiest to hardest.
---
Hiking in Paris Mountain State Park
1. Lake Placid Loop
Length: less than a mile
Elevation Gain: very flat
Time: 1 hour or less
Difficulty: Easy
This is the easiest hike in the park in my opinion. It's flat. It's located near the front of the park. And you can do it in an hour. If you just want to get out into nature a bit without tackling something tough, then this is the trail for you.
Though do note that because it's so family friendly, it is also the most crowded trail in the park.
The Lake Placid Loop does what it says…it loops Lake Placid (the is the first and main lake in the park). There's two main parking areas here. (I go for the second, larger one off to the left and right across from the Park Center.)
There are also lots of shelters and picnic tables if you want to make it a whole day and do lunch or a picnic.
The loop itself is very easy. Just keep the lake next to you and make your way around it. You will cross by the end of the lake and the dam which is my favorite part due to the small falls that you'll see here.
Oh and it's also hikers only. So you don't have to worry about mountain bikers blowing by you or your family.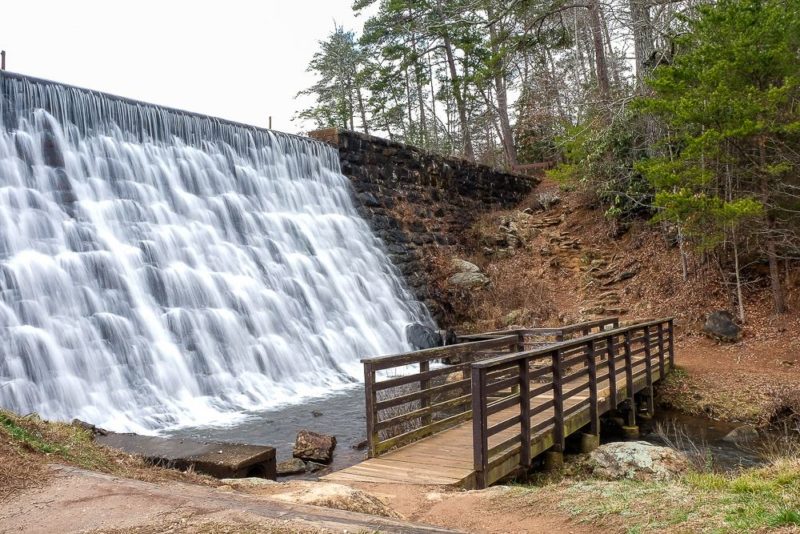 ---
2. Sassafras Loop
Length: 2.3 miles
Elevation Gain: ~360 feet
Time: 1-1.5 hours
Difficulty: Easy
This trail is fairly new to Paris Mountain State Park. You'll want to park at the Sulphur Springs parking lot (on the left side of the road, right before it starts to head up). The loop starts and ends here, but you can also park at the lot near Shelters 1 & 2, and take the Mountain Creek Trail over to the parking lot.
The trail is fairly level, but there is some up and down. I would say the Upper Mountain Loop trail below is flatter, but it's longer. None of the uphills here are too intense though.
There is a sign at the start of the trail on which direction to go. Hikers go to the left and bikers go to the right. And there will be mountain bikers on this trail. On a cold January morning, I must have passed a dozen or so mountain bikers. If you have dogs or children with you, be sure you can wrangle them quickly.
---
3. Upper Mountain Loop
Length: 3 miles
Elevation Gain: ~270 feet
Time: 1-1.5 hours
Difficulty: Easy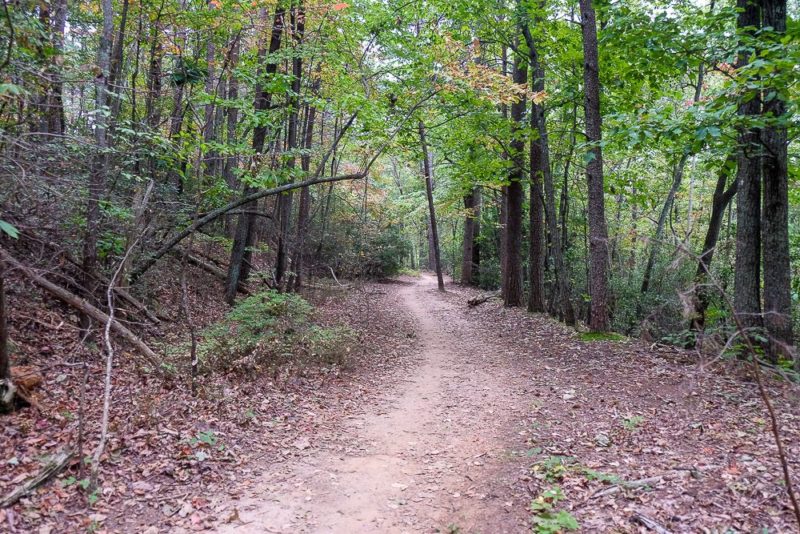 I'm not sure of the official name here, but this is what I call this easy loop that I pieced together. Not only is it relatively flat and but it's also less crowded than the Lake Placid Loop. Though there are mountain bikers here (except on Saturday) so please share the trail!
There is a parking lot right at the entrance to this loop (on the left side of the road near the Brissy Ridge/Sulphur Springs Trails), but it's small and usually full. Instead I go all the way to the top and park at the last lot and then take the short connector trail (.2 miles).
There's a path (sign says to Brissy Ridge) from the back lot so you don't have to walk on the road. When you hit the Brissy Ridge trail, keep going straight in the same direction of the road instead of turning right and downhill.
You'll quickly hit the other parking lot and you'll see the kiosk pictured below with Brissy Ridge going off to the right and Sulphur Springs to the left.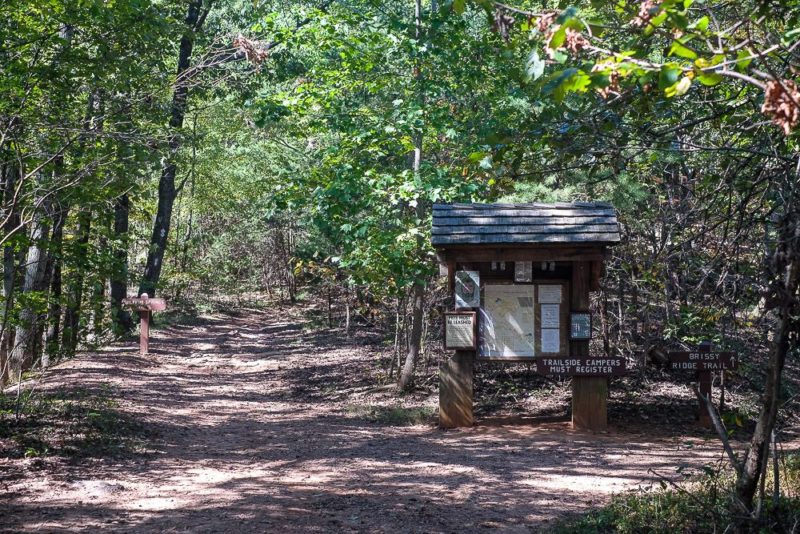 You can do this loop in either direction, but I always start off on the Brissy Ridge. There's one good view along this stretch of trail and I usually stop to snap a picture of it. (The first picture in the next section shows this view!)
After that, you'll continue until you hit the Kanuga Trail. If you do this loop in a counter-clockwise direction, you'll basically just turn left at every intersection you come to.
So it's Brissy Ridge->Kanuga->To Firetower->Firetower->Sulphur Springs. All left turns once you start.
This is my favorite loop to do on a weekend when I want a nice easy hike in Paris Mountain.
Below is a short video I posted on Instagram of this hike!
---
4. Brissy Ridge
Length: 2.4 miles
Elevation Gain: ~360 ft
Time: 1.5-2 hours
Difficulty: Moderate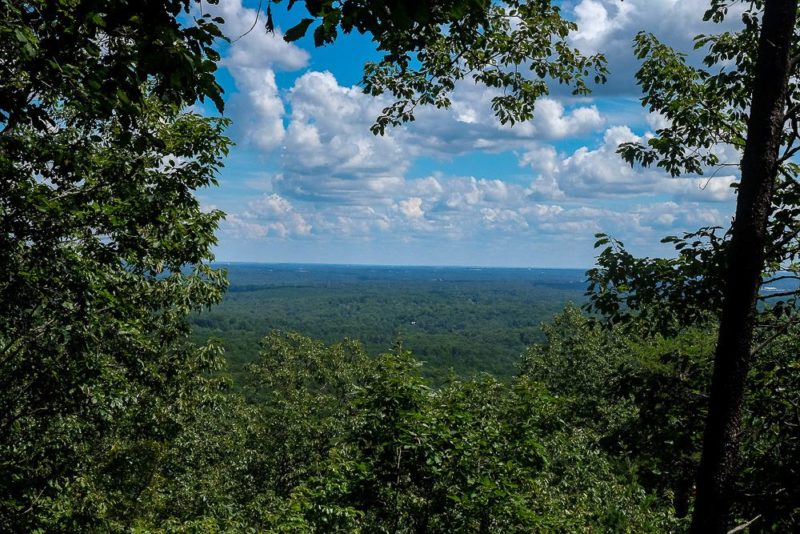 The Brissy Ridge loop trail is probably the second hardest trail in the park. To find it, you'll need to park at one of the two upper parking lots. Either one will work (though the back one is bigger).
If you park at the back one, there is a short path you can take to the Brissy Ridge trail. Look for this near the bathroom.
The Brissy Ridge trail basically extends down to a stream and then back up again towards a ridge. Though you will be going uphill at some point, there is a very steep part of this trail. This steep section is marked in yellow and black on the map.
I like to go down this steep section and take my time. And then make my way up the more gentle slope. Due to this, I hike this trail in a counterclockwise direction. If I'm by the first upper parking lot (near the kiosk by the sulphur springs trail), I follow the Brissy Ridge trail back towards the road.
It'll quickly turn away from the road and down a steep slope. You'll then make your way down ankle-twisting rocks and roots before it evens out and crosses a stream and a road.
Then you'll make your way back up the ridge along a more gentle slope. Once you reach the intersection with the Pipsissewa trail you'll know the worst is behind you.
From there it's a relatively easy hike back to the kiosk. (Though make sure you stay on the Brissy Ridge trail when it intersects with the Pipsissewa and Kanuga trails.)
Note: Part of this trail (the steep part) is hiking only. No mountain bikers allowed. Check the official map to see where this part is. It's indicated by yellow and black stripes along the Brissy Ridge trail.
---
5. Sulphur Springs
Length: 3.6 miles
Elevation Gain: ~575 ft
Time: 2 hours
Difficulty: Moderate
This is probably the hardest trail in the park, but even then it's not so bad if you do it in the right direction. The trail is basically a loop that goes from the lower part of Paris Mountain to the upper part.
So there will be a long uphill and a long downhill somewhere in your hike. I like to start off going uphill. Plus I decided that I wanted to be headed down the mountain over the worst parts of the trail.
Because of that, I started at the base, and went up the right side of the trail (along the right side of the road). Then came down the left side of the trail. I basically hiked it counterclockwise.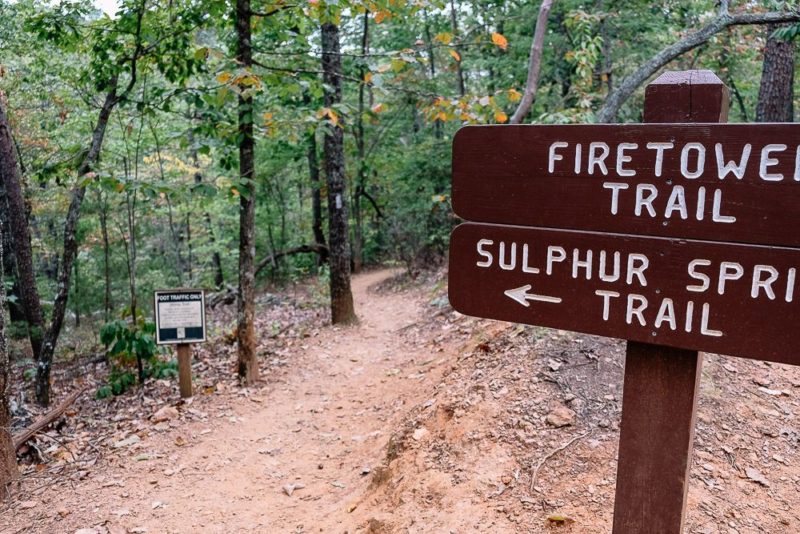 The left side of this trail is fairly steep with lots of ankle twisting rocks and steps. I don't have great knees so I had to go pretty slow during this part. And though it probably would have been easier to go up it, in terms of my knees, I would have had to take a few breaks because it is steep.
If clambering up a steep slope doesn't appeal to you, definitely go in the direction I did. Start at the bottom and go around the trail in a counterclockwise direction. This made the hike pleasant and relatively easy.
The uphill is tough, but definitely doable and I didn't need to stop to catch my breath. Then I could take my time during the downhill part but not worry about being winded.
Also my favorite part about this downhill part? All of the waterfalls along the way. These falls are small, but it provides for some beautiful scenery. And if you're feeling dexterous you can take a log across the stream (though most people just hop from big rock to big rock).
You'll also pass by Mountain Lake and its dam. This is a beautiful little spot to stop at, relax, and maybe string up a hammock (like some people we saw did). I wouldn't mind hanging out here for a bit.
Note: Part of this trail (the steep part) is hiking only. No mountain bikers allowed. Check the official map to see where this part is. It's indicated by white and black stripes along the Sulphur Springs trail.
---
Paris Mountain State Park Details
Location. Located right outside of Greenville, the entrance to the park is on Google Maps.
Price. $5 adults (adults). Children/senior are less!
Hours. Summer: 8am-9pm. Winter: 8am-6pm. Open till 9pm on Tuesdays year round.
Map. For the most up-to-date maps, check the Paris Mountain website here!
Check out my Greenville Guide for more ideas on what to do around Greenville!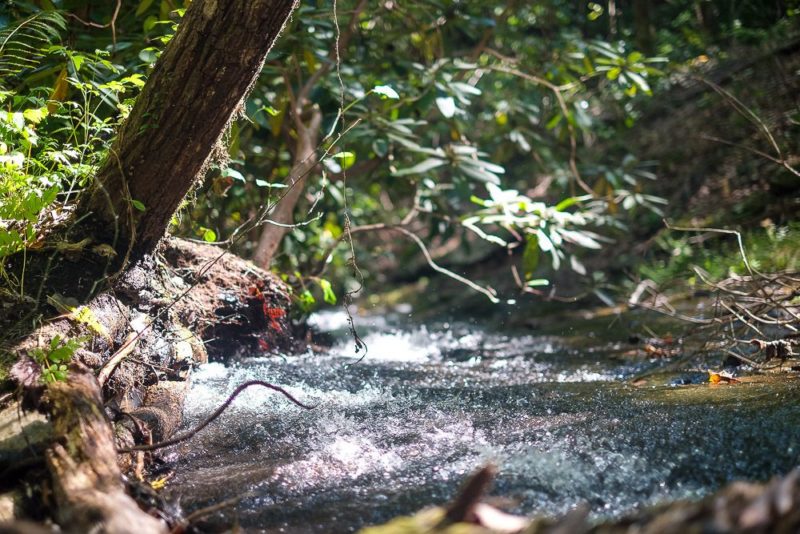 I hope you enjoy Paris Mountain as much as I do!