Fall is my second favorite season. It makes the bittersweet passing of summer just a little bit easier. As August comes to a close and fall officially begins, I pack up my swimsuits with a heavy heart. But then I remember pumpkin beer. Plus Greenville has some pretty great autumns.
Lots of festivals to head to and plenty of outdoor activities to experience in the slightly cooler weather. So if this is your favorite season, then Greenville has you covered. Here are 20 things to do in Greenville in fall.
Want to see what's happening this weekend or month? Check out my Greenville Events Calendar!
Updated for 2023
Looking for my other guides? I've broken down spring, summer, and winter as well!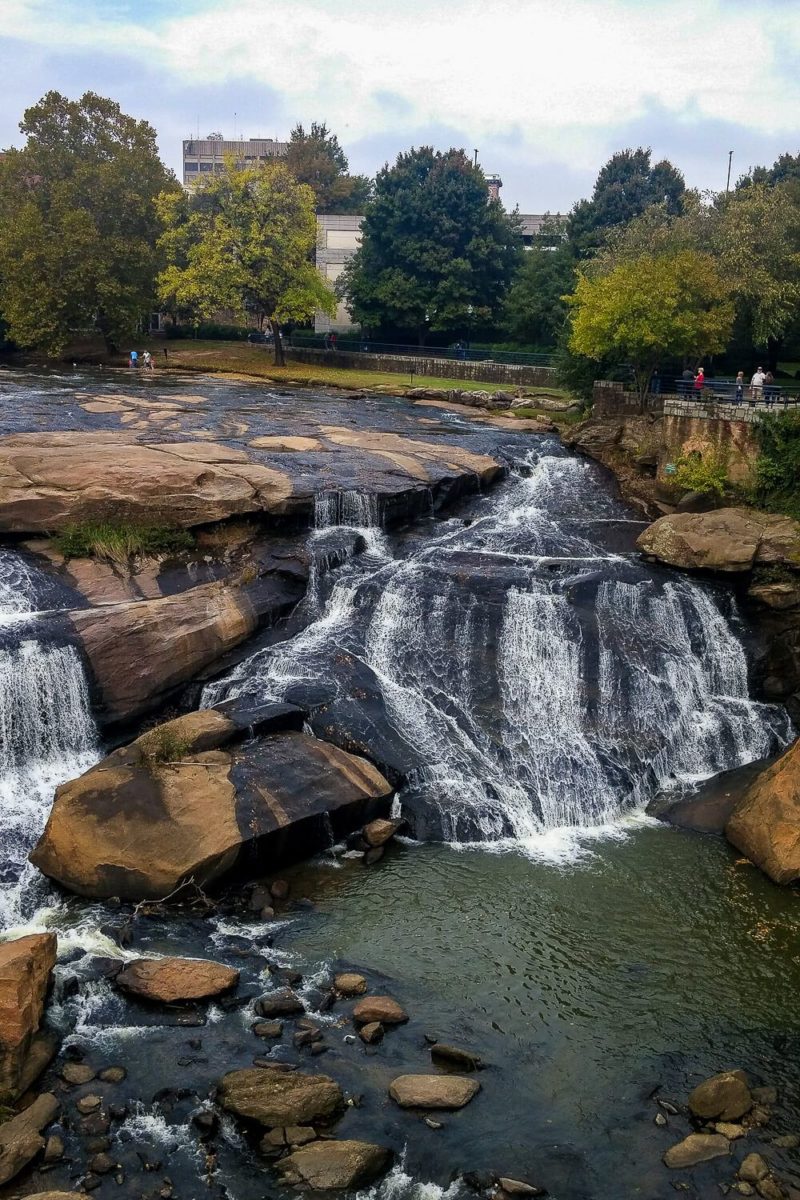 ---
City Events & Festivals
---
---
Arts, Crafts, & Music
---
Every Saturday in September & October
2:00pm-4:00pm
This fall music event in Paris Mountain State Park is back! Head the park's amphitheater for the live music (near the Visitor Center). And though the music is free, you will need to pay admission to enter the park (or if you have the state park pass, you're good to go). Feel free to bring food, coolers, dogs (on a leash), and your family.
---
September 8, 2023: 5:00 PM – 10:00 PM
September 9, 2023: 10:00AM – 8:00PM
For years I went to the small renaissance fair in Greenville, but it permanently ended a few years ago. This year I heard of another local fair happening in Greer. And though I will be out of town and unable to attend, I'm excited that it might be returning to the area!
---
---
---
---
---
---
Food + Drink
Oktoberfest Celebrations
Can't make it to a larger Oktoberfest celebration? (I know we all wish we could be in Munich.) Don't worry, you can still get your German on in Greenville.
There are several different celebrations to choose from. And be sure to check out your favorite brewery in town in case I've forgotten one in my list below!
Tetrad Brewing | September 16 | This dog friendly brewery (inside and outside) is one of our favorites. Details coming soon.
Fireforge's Oktoberfest | September 22-24 | I accidentally stumbled upon their Oktoberfest celebration in 2018 and had a great time. So much so that I knew I had to include it in my guide going forward.
13 Stripes Oktoberfest | September 25-October 1 | Beer releases start on Monday, food specials on Thursday, and then the main event is Sunday (live music, vendors, and contests). Just remember no dogs are allowed
Pangea's Oktoberfest | September 30 | Located near Unity Park, this celebration will feature $5 beers, food specials, soft pretzels, sausages, games, and more!
Greenville Oktoberfest | October 6-7 | 11am-10pm | Located in Noma Square, Greenville City's Oktoberfest is a small but lively event. Plus the city closes off an entire block of Main Street for the event.
Find all of the Oktoberfest Celebrations in Greenville
---
---
Saturday, September 9, 2023
12:00pm-4:00pm
Second annual craft beer festival at The Silos featuring samples from 17 different breweries (around 80 beer varieties total). VIP access will give you an extra hour and a chance to try rare and limited edition brews. Tickets start around $30.
---
---
---
Saturday, September 30, 2023
3:00pm – 6:30pm
Though I have never been to this festival (and I can't this year as well), I love Conestee Nature Preserve and I love beer. How could this not be a good time? From their website: "Enjoy unlimited beer samples from local breweries along with live music and food trucks in our scenic Henderson Meadow!"
---
---
---
Halloween
It's fall which means it's also Halloween! This is one of my favorite holidays (if not my all time favorite). I love dressing up. I love throwing parties. I love going on haunted tours. I love haunted houses. And I love going to halloween events.
---
Haunted Houses
If you love being scared, I would check out Mad World. It's not cheap, but the production value is great. I've had a great time. There's also Nightmare Dungeon and several others in the area!
Nightmare Dungeon: "If you're looking for haunted haunted houses or trails in SC, Nightmare Dungeon is the best and scariest by far , the most terrifying haunted house in the upstate…"
Mad World: Voted one of the top 10 scariest attractions in America. But they also offer NoScare & Family Fun as well if you're not into being scared out of your mind.
Nightmare Hollow: 30+ minute haunted trail, "voted as one of South Carolina's scariest haunts…"
9 Haunted Houses in Greenville, SC and the Surrounding Area
---
Halloween Parties
Below is a list I'll put together of all the Halloween parties I hear about. As it's still the summer, it'll be empty-ish to start and fill in the closer we get to Halloween.
Halloween Weekend
Howl-O-Ween Doggy Parade & Bash | The Dapper Dog | Dog parade and costume contest.
---
Friday, October 20
Friday, October 27
Roper Mountain Science Center is hosting two spootakular Halloween Laser Shows to get you ready for Halloween! They'll be featuring two frightful shows: Laser Halloween and Laser Stranger Things! Tickets are $8.
---
Ghost Tours
Greenville Ghost Tours | Dates vary but there are a lot of days offered | 8pm | A 90-minute walking tour of downtown Greenville with a certified paranormal investigator. | $25
Greer Ghost Tours | Fridays & Saturdays in October | 2 tours a night | With two different tours to enjoy, "Ruffians & Scoundrels" and "Murder & Mayhem," you're sure to learn lots about the area's spooky past. | $12 (adults) & $6 (kids)
---
Trick or Treating
Boo in the Zoo | October 18-22: 3pm-8pm | October 25-30: 3pm to 8pm | Want to go trick or treating at the Greenville Zoo? Heck yes. If I was a kid, this would be amazing. Plus there's a whole lot more than just trick or treating.
Trick or Treat at The Children's Museum of the Upstate | October 29: 9am-5pm | I've never gone to this trick or treat, but I have gone to an adult's night at the museum. And it was super fun. If you have kids of your own, think about this one! Not yet scheduled for 2023.
Trick or Treat on Earle Street | Each year on Halloween, some of the best trick or treating around can be found on Earle Street in the North Main neighborhood. These houses go all out! Think live music sounding from porches, hundred of families decked out in their finest costumes, and some of the best Halloween decorations I've ever seen.
---
Outdoor Activities
November 18, 2023
8:00am-12:00pm
If running is your thing, then check out this 5K that makes a loop through the Greenville Zoo. Plus there are LOTS of other running events in the fall to check out.
The Best Running Events in Greenville, SC
---
---
---
---
Dog Events
Since adopting Ellie, I've started to pay so much more attention to all of the dog events that occur each year. Here are some of the ones comping up this fall! And for more dog friendly events every week, check out Dog Friendly Greenville.
Waggin' At The Waterpark
September 9, 2023: Discovery Island
September 16, 2023: Otter Creek
Want to go to the waterpark with your dog?! Then pencil in this end-of-the-season event! Discovery Island Waterpark and Otter Creek Waterpark each open their park to the dogs for some good water fun. And there are separate play times for small dogs and big dogs. Your dog must be 3 months old and have their vaccinations (documentation required).
---
September 30, 2023
The UltiMutt Race is a 5k obstacle course race for you and your dog to complete together. You'll run the course with your dog (on a leash) and go through a series of obstacles (think a crawl, ramps, slides, weaves, and more). There are competitive and fun run categories to suit all levels!
---
Halloween Dog Events
October 29: Howl-O-Ween Doggy Parade & Bash @ The Dapper Dog
---
Waggin' Wednesday
Wednesdays games during the hockey season
Do you want to catch a hockey game at the Bon Secours Wellness Arena with your dog? Thanks to the Noble Dog Hotel, you can now bring your dog to a hockey game!
---
Fall Road Trips
---
---
---
---
Sporting Events
---
Are you ready to get your fall on?