Earlier this month Ryan and I headed to Birds Fly South (my favorite brewery in Greenville) to go to the Funk Collective Festival. A beer festival celebrating all that is weird, sour, saison-y, wild, and (well) just plain funky. This is also now known as my favorite beer festival to date. I love these kinds of beers – especially in the summer. And when the Funk Collective Festival rolls around next year, you can bet I'm considering it.
Updated for 2019!
I went back to the festival on its return to Birds Fly South in June of 2019. Check out the end of this post for the updates!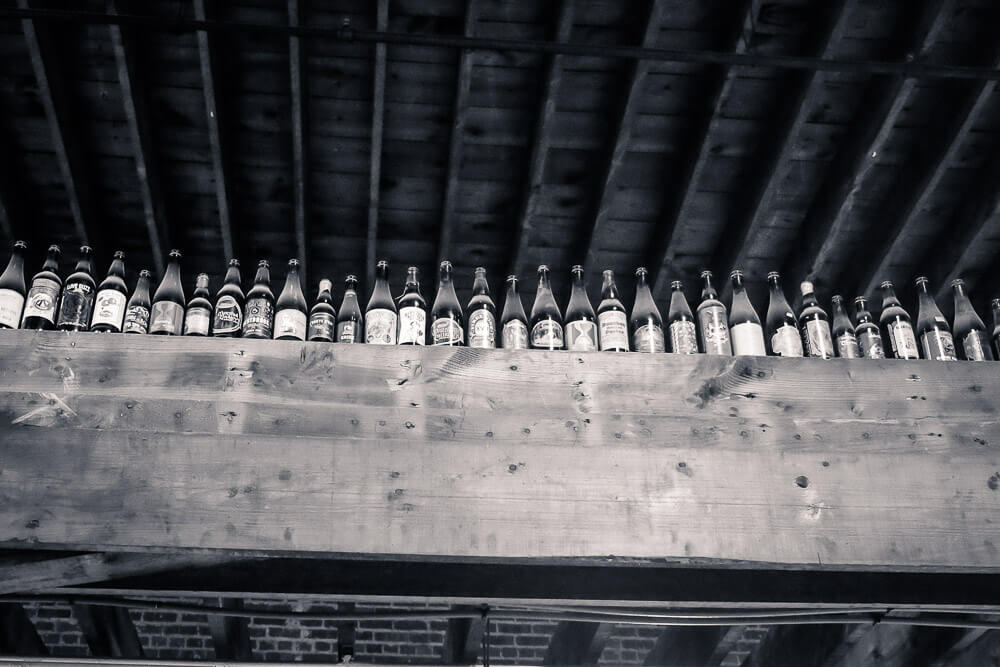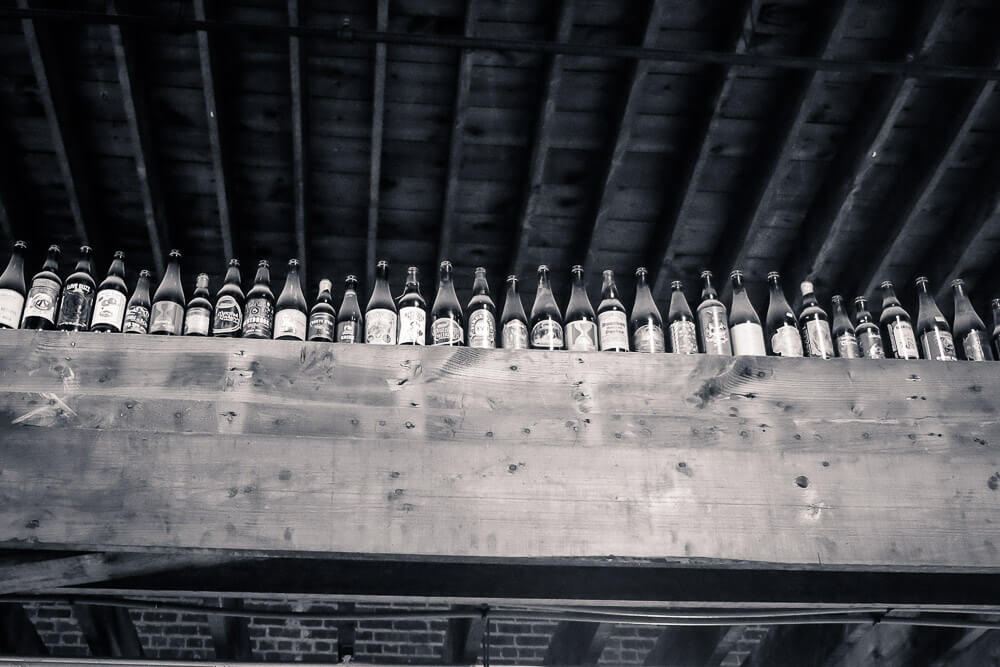 ---
What Is The Funk Collective Festival?
Okay, the basics first. This is a gathering of independent breweries, so you won't find any big names here. And it's for breweries that have a "a dedicated funk and sour program." So if you are say an IPA man, this may not be your cup of tea.
It's a 2 day event with a smaller VIP shindig on Friday night. But the main festival is Saturday (between 4-8pm this year).
There were over 30 breweries at the Saturday festival. And our tickets included a tasting glass, all the samples we could drink, and 2 free white duck tacos (more on this below though).
The festival itself featured 5 drink areas (2 bars and 3 bottle stations). And it was a little bit different in that they didn't tap everything at once. They rolled it out in waves. There was only around 5-8 beers available at any one area at a time.
This was to encourage movement I think, and it definitely worked in our case. Ryan and I hopped from one area to the next.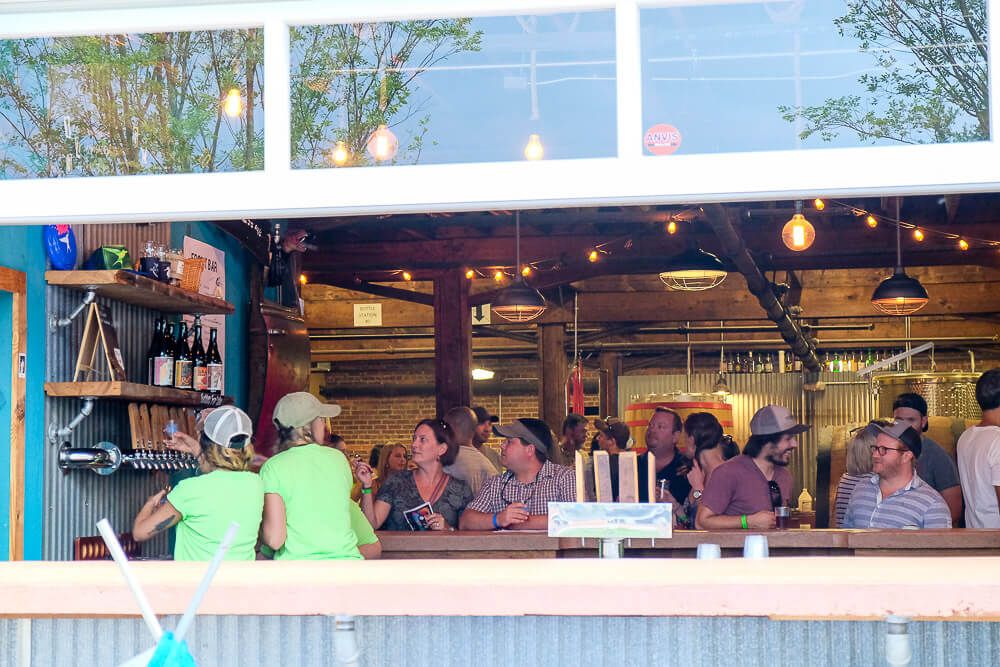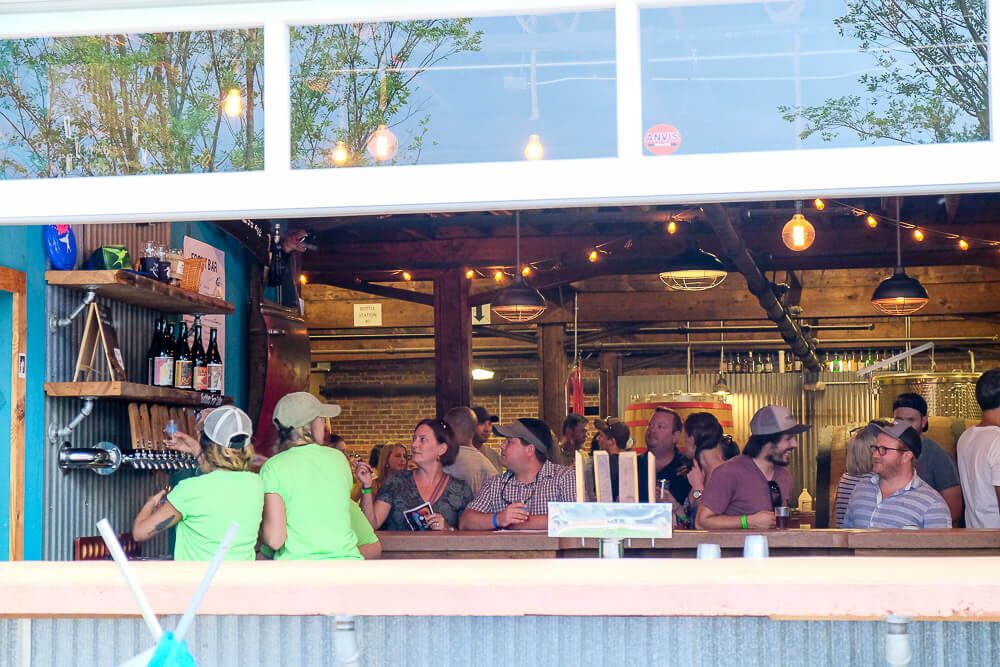 ---
What Was Our Experience Like?
Long story short – we loved it and had a great time.
We got to the festival right at 4pm and quickly discovered they had sold out. Thankfully I had purchased our tickets the previous day so we were good to go. There was some waiting in line though as we showed our ID and registered (aka looked up our tickets and gave us our glasses).
Then we were in! Ryan and I quickly did a loop to get a lay of the land. The Front Bar was located at the main Birds Fly South main bar with Bottle Station 1 right behind it.
As we headed on back though I made an awesome discovery. Birds Fly South had opened up their back room for the festival. Live music, tons of standing room, and Bottle Station 2.
Is it silly that I was super excited to discover this usually off-limits area? To go where few Birds Fly South patrons have gone? Yes – but I admit it…so that makes it better right?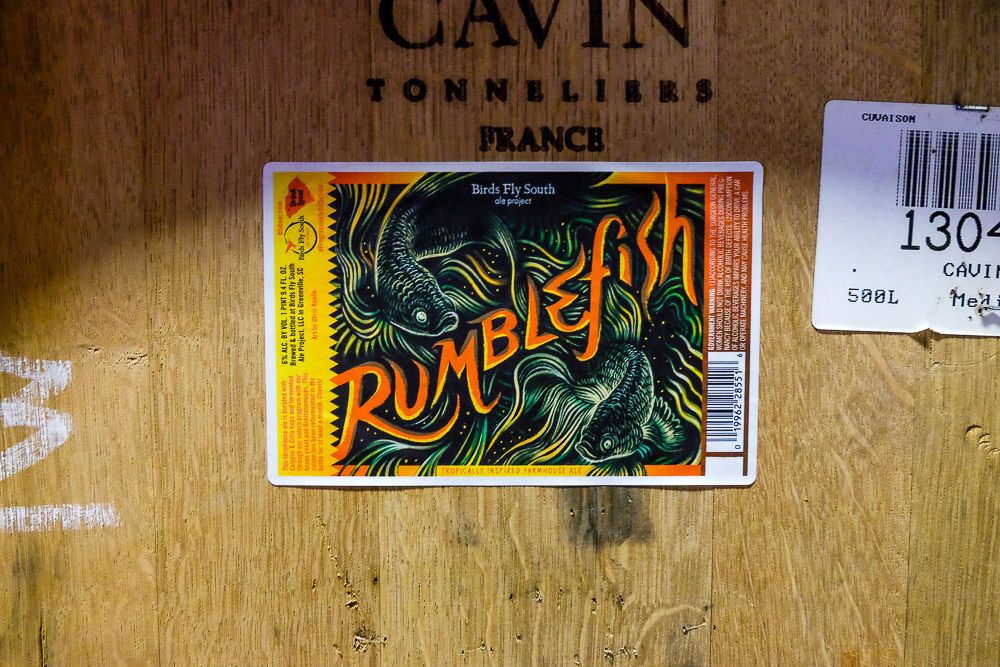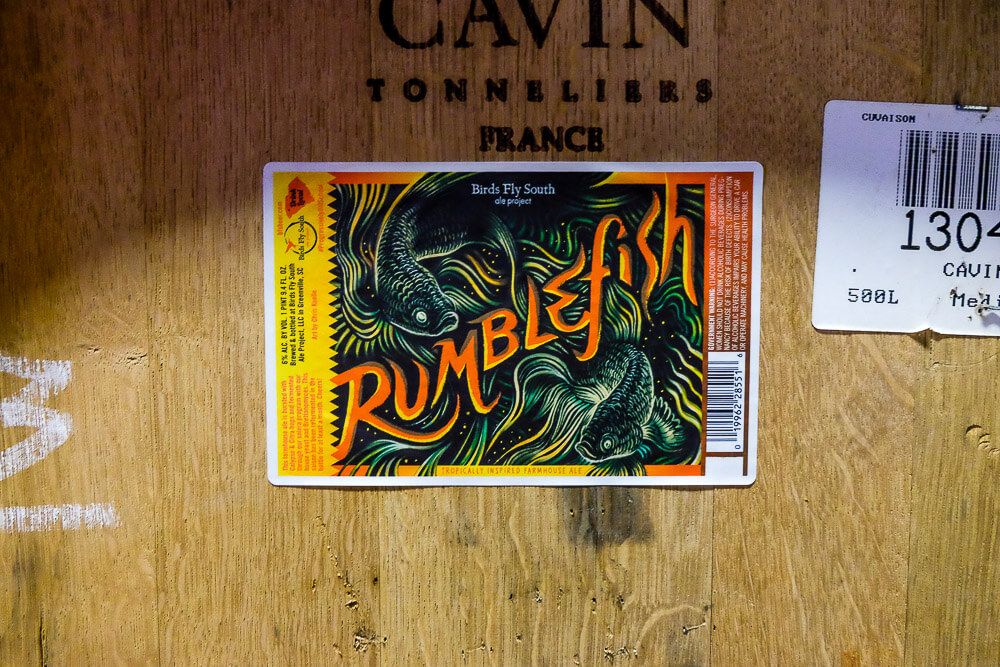 Then outside under a big tent was both the Back Bar and Bottle Station 3. The tent was definitely the most crowded area of the festival, but it still wasn't too bad.
Ryan and I drank our way through the first hour (trying to hydrate as we went as well), when we saw the trunk behind the tent roll up its back door.
Secret beer!
Yep – every hour on the hour, the owner would pour out a few "unlisted" or "secret" beers to those around the truck. We tried a few, but my favorite was from Cantillon. I had been to this brewery in Brussels several years ago, and I may have squealed when I saw the label on the bottle.
From there on out we made sure to be back outside by the truck each hour.
Though it was a bit…funny looking. As one girl told us, it reminded her of tourists feeding fish. Where we are the fish. Our waiting expectant eyes. Our outstretched hands holding an empty glass. Hoping to be the lucky, chosen few.
I got to say, she was kind of right. But it was delicious.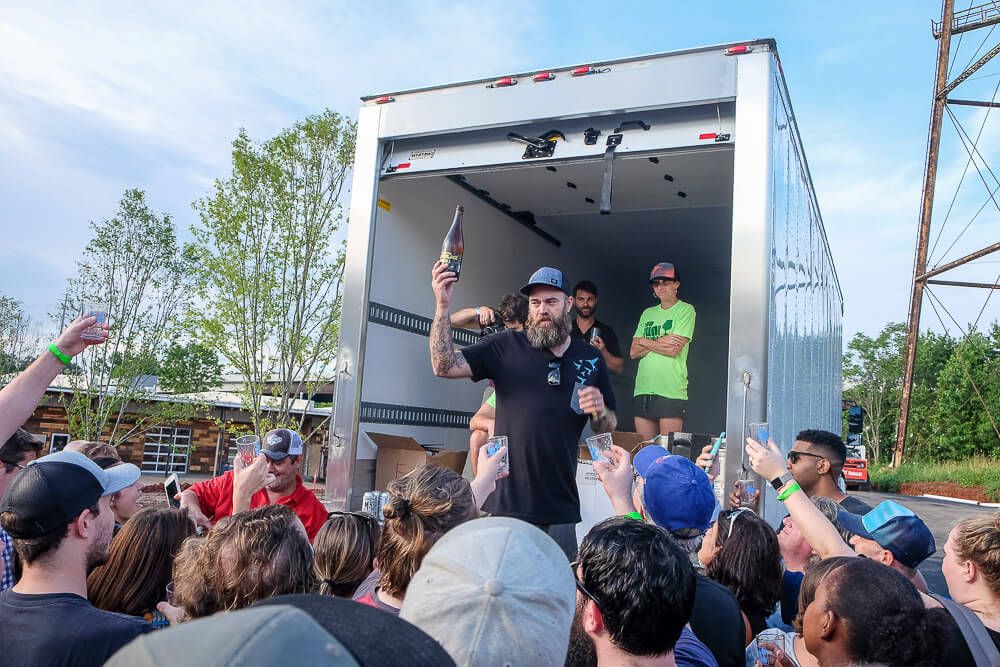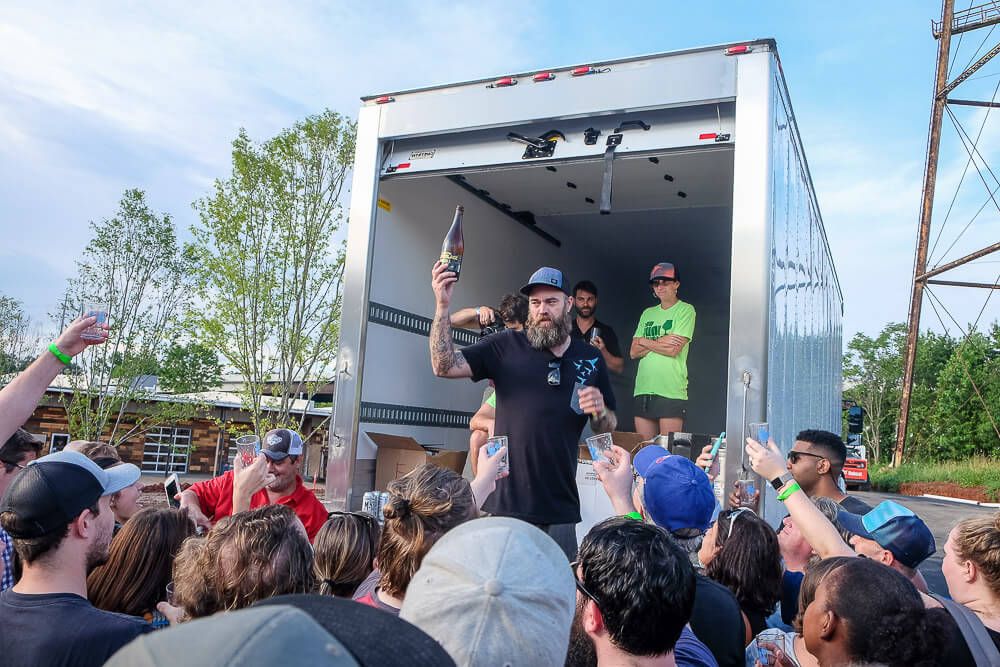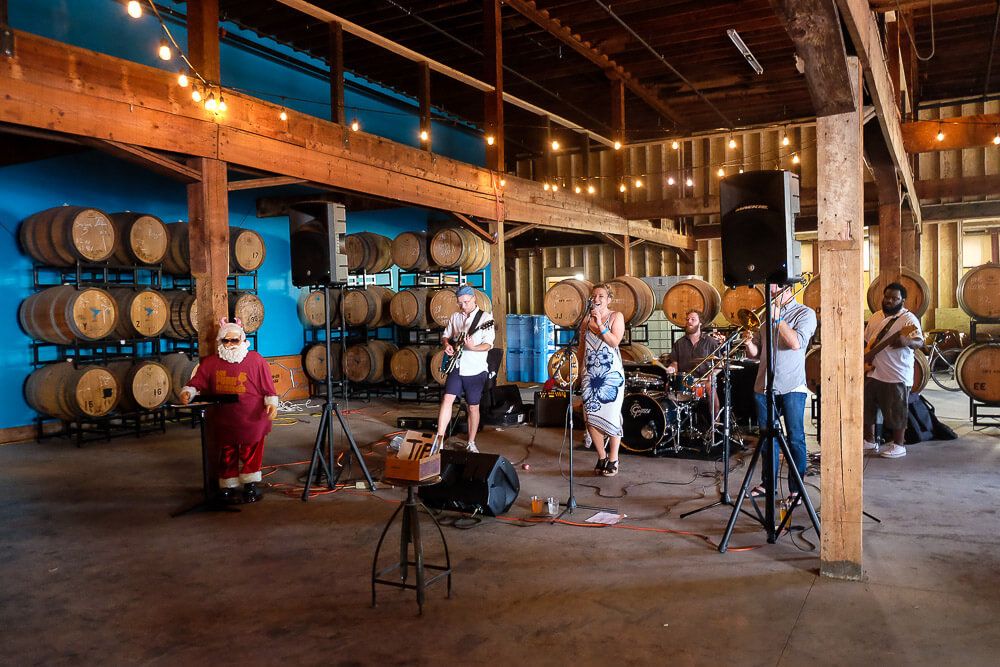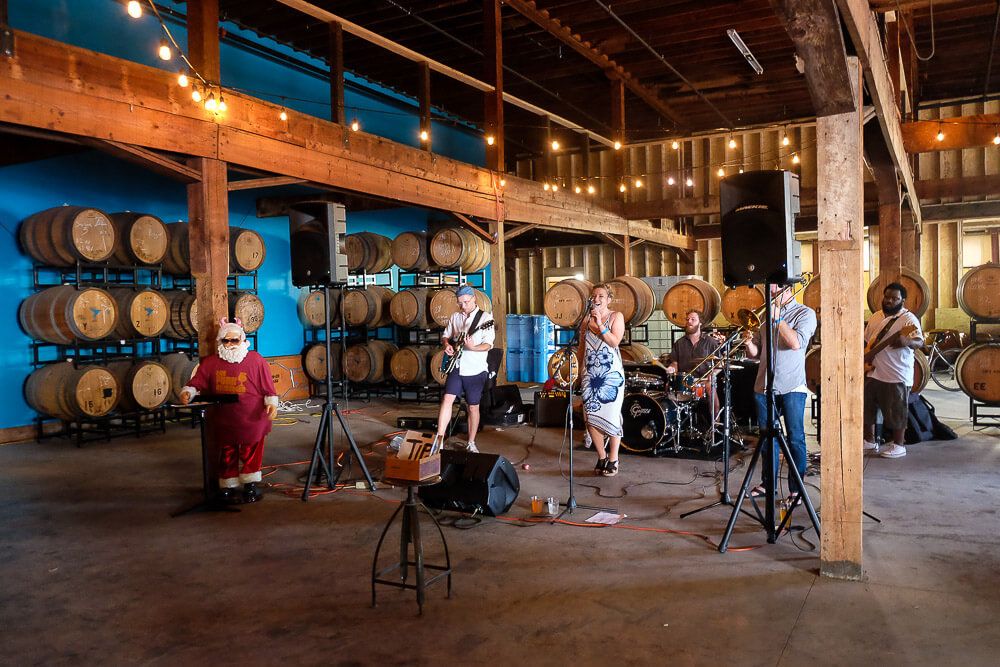 Besides the beer (where I've listed my favorites below), there was also food to be had on site. And your ticket does include two free white duck tacos. Though there are restrictions here.
You can't really go next door and just get 2 tacos. Nope. There's a tent on site and they have 2 tacos. Mushroom and shrimp. Those are your 2 free tacos. And if you happen to not like shellfish or mushrooms (like a couple we met), then you are shit out of luck.
But there was pizza and pretzels on site too. Not included. But oh so delicious (and definitely needed when the taco line is like 50 people deep and you need food now).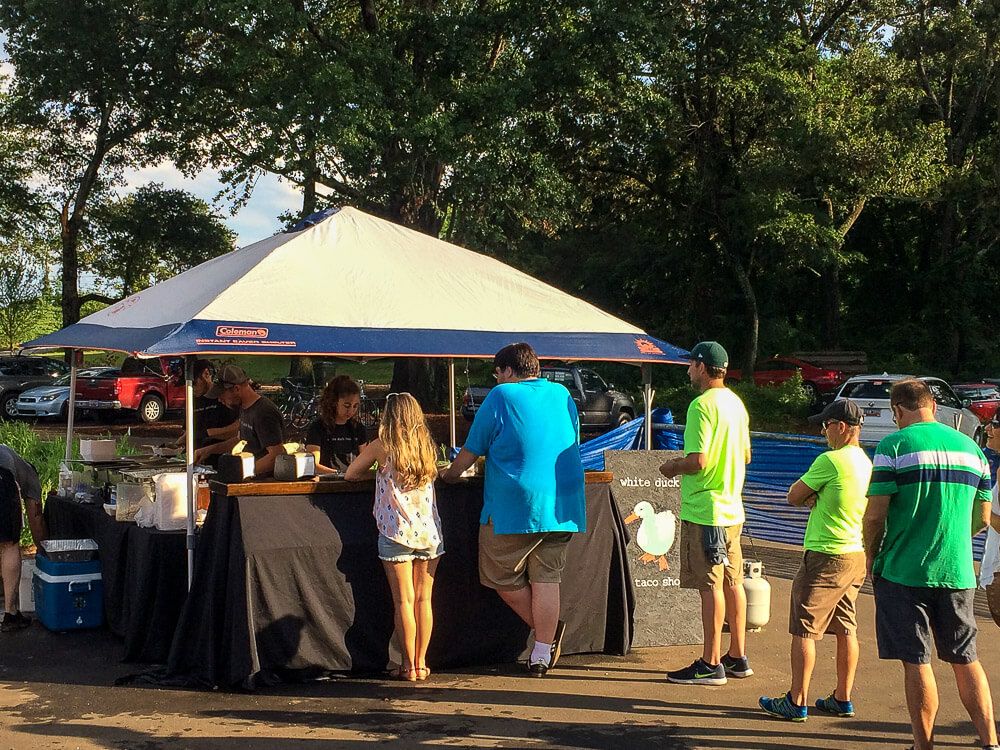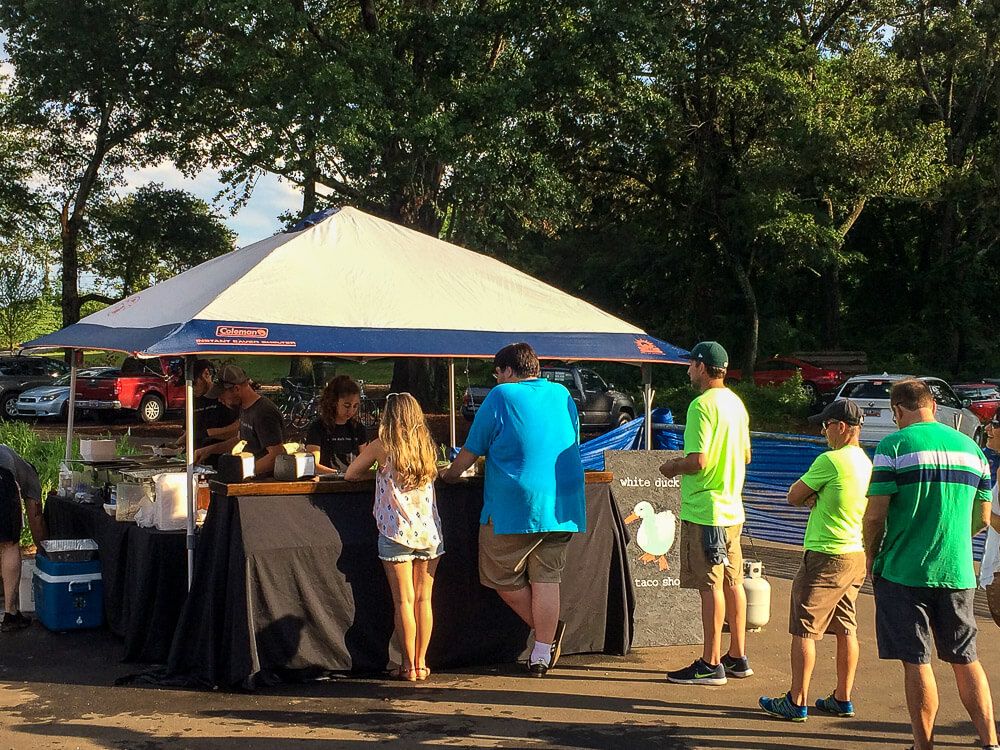 So was the Funk Collective Festival all awesome? Pretty much. But there were a few downsides:
If you wanted to try a certain beer, then you had to time it perfectly. The waves moved very quickly and some beers had come and gone by the time we got back to a particular station or bar.
The aforementioned shrimp and mushroom tacos. What about something for the meat lovers?
It rained SO HARD for like 30 minutes. This is definitely not the festival's fault. And there was plenty of room indoors and under the tent to accommodate. But the rain was a bit of a downer.
The porta-potties got kind of gross by the end of the day. Again, not the festival's fault, but I only used the bathroom once due to this.
But none of these were deal breakers. Maybe mild annoyances but that's really it. This was a great festival and we had an amazing time.
The Funk Collective Festival will move to Charleston, SC next year (at Revelry Brewing), and then be back in Greenville in 2019. But I might just have to make a trip down to Charleston next year…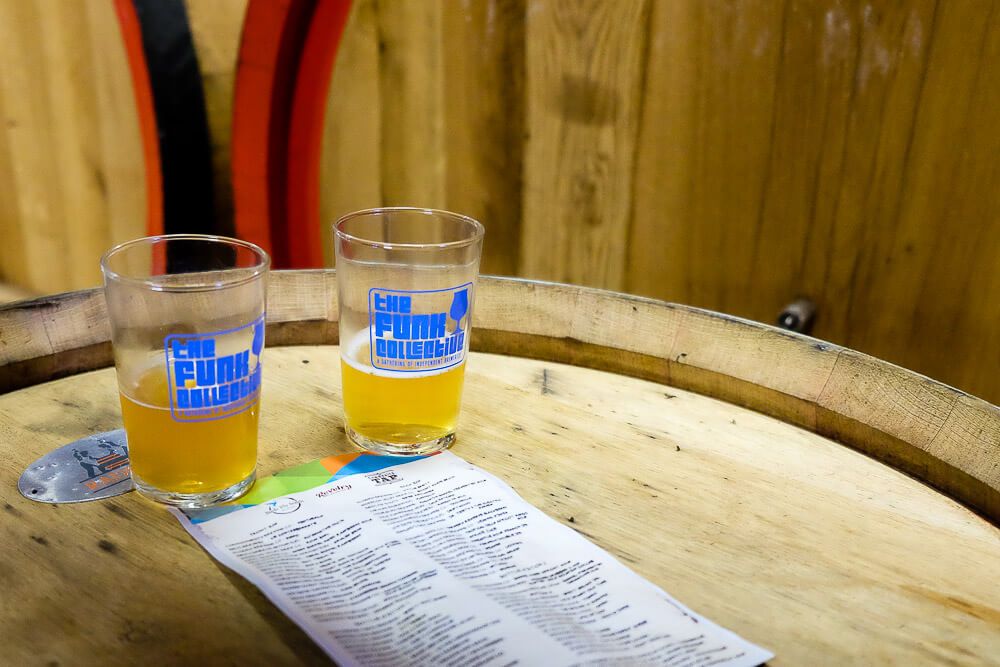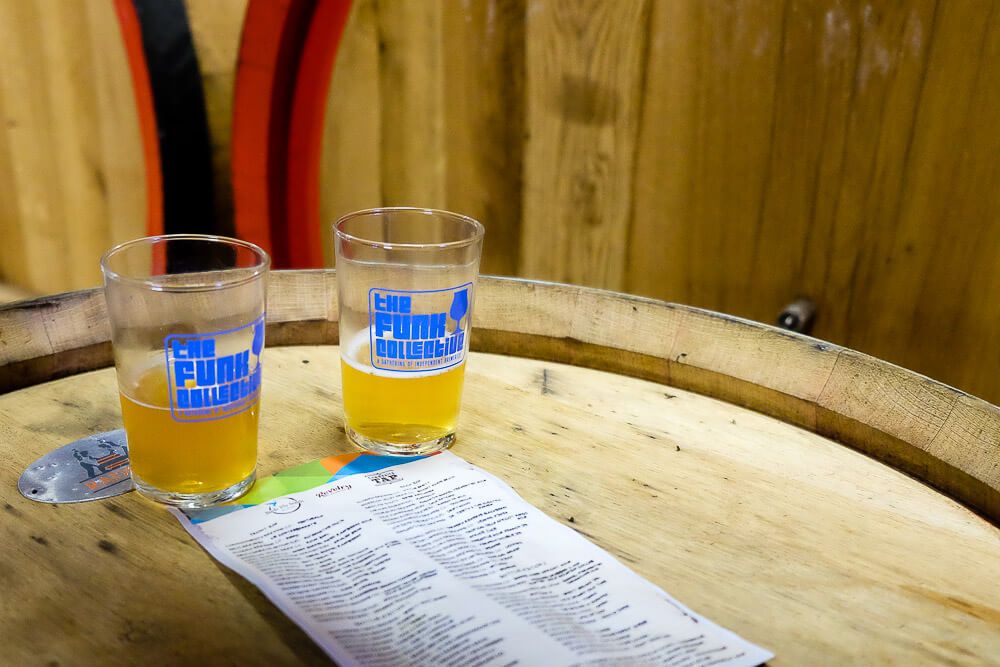 ---
Favorite Beers At The Funk Collective Festival
Okay there were a lot of beers. And we didn't come close to trying them all. In the end we tried 34 samples between the two of us. That sounds like a lot, but my little festival guide is mostly blanks.
We did drink the most at the Front Bar (10 samples), but there were 22 available. And we drank the least at Bottle Station 1 (4 out of 17).
I was super diligent though and not only recorded which ones I drank, but also a brief note about them. And since I did voice recordings, they may or may not have deteriorated a bit over time.
Here were my favorites:
Avery Barrel Aged Ginger Sour from Avery Brewing Co. This was delicious (even though it was barrel aged)!
Foeder Brett Saison from Hi-Wire Brewing. One of the best saisons we had there. "A standout" I told myself.
Draai Laag Brewing. This was a secret beer so I'm not super sure which one. But it was very good (had lots of head though).
Dr. Teeth & The Electric Mayhem by Edmund's Oast Brewing. Won my personal award for best beer name at the festival.
Cantillon Brewery. Another secret beer and I love that I've actually been to this brewery in Brussels.
Passionfruit Sour by Breakside Brewery. I "love it. Love it, love it, love it." Yep, I really like passionfruit.
Sourlina Peche by Freehouse Brewery. I boldly claimed this was the best sour of the day. I love me some sour, fruity beers.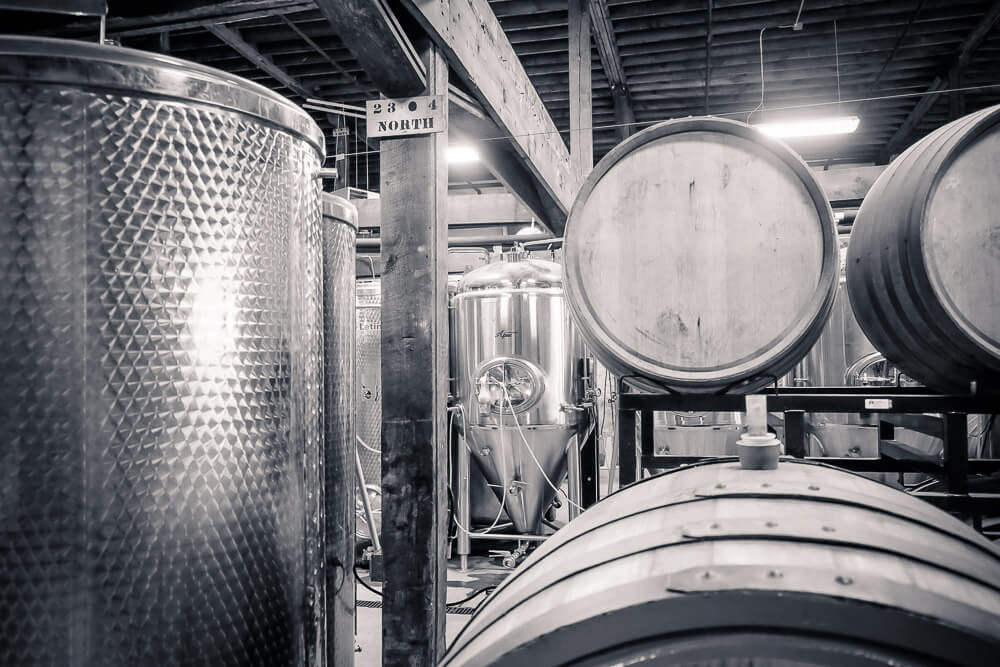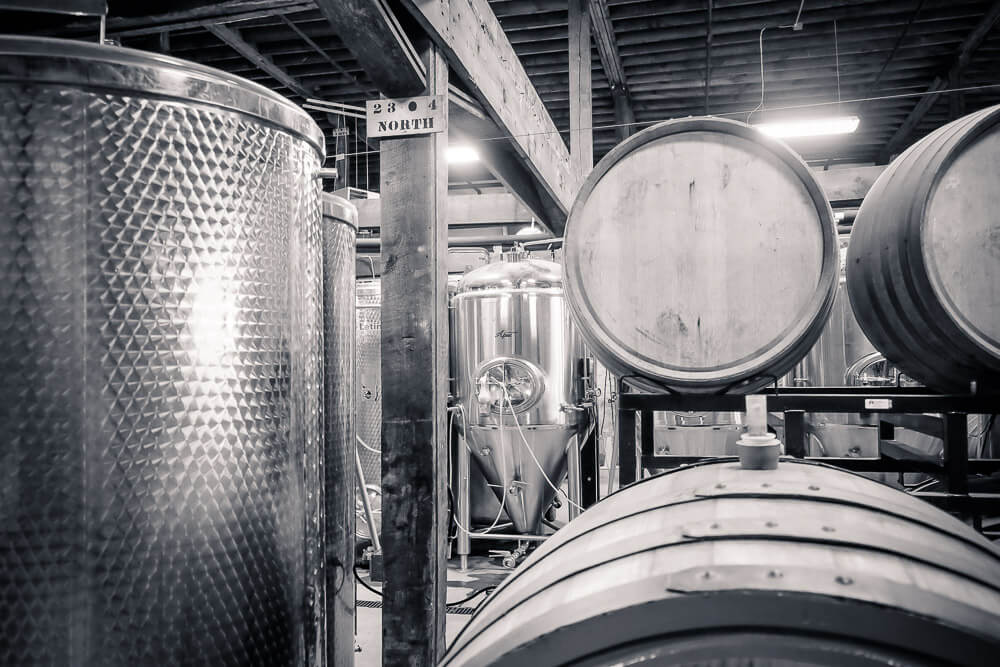 Here were the ones I wasn't a fan of:
Nugget Shorts Collab With Steel String by Salud Cerveceria.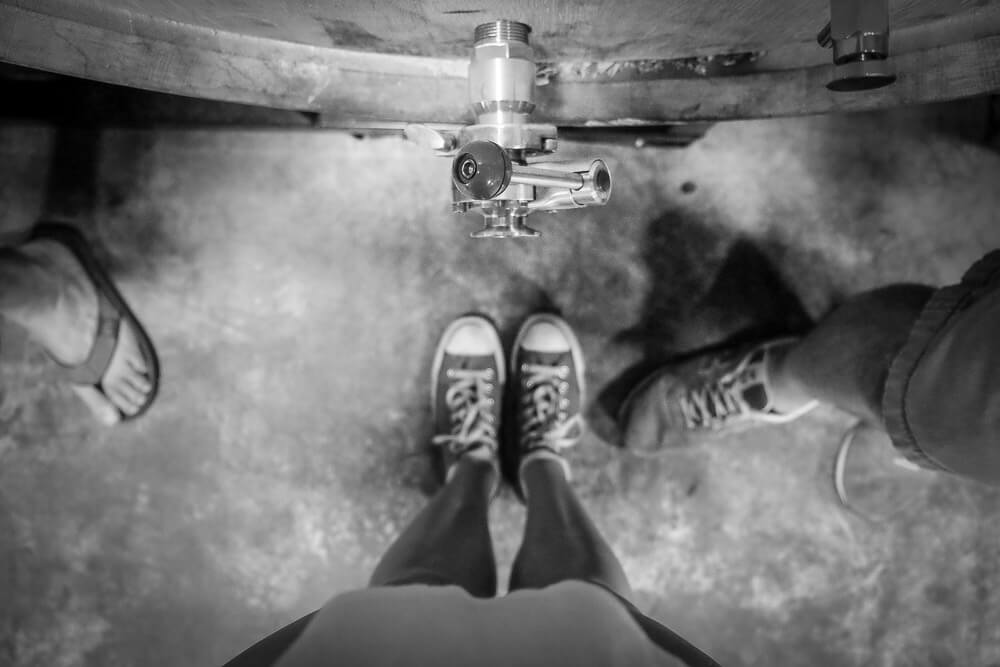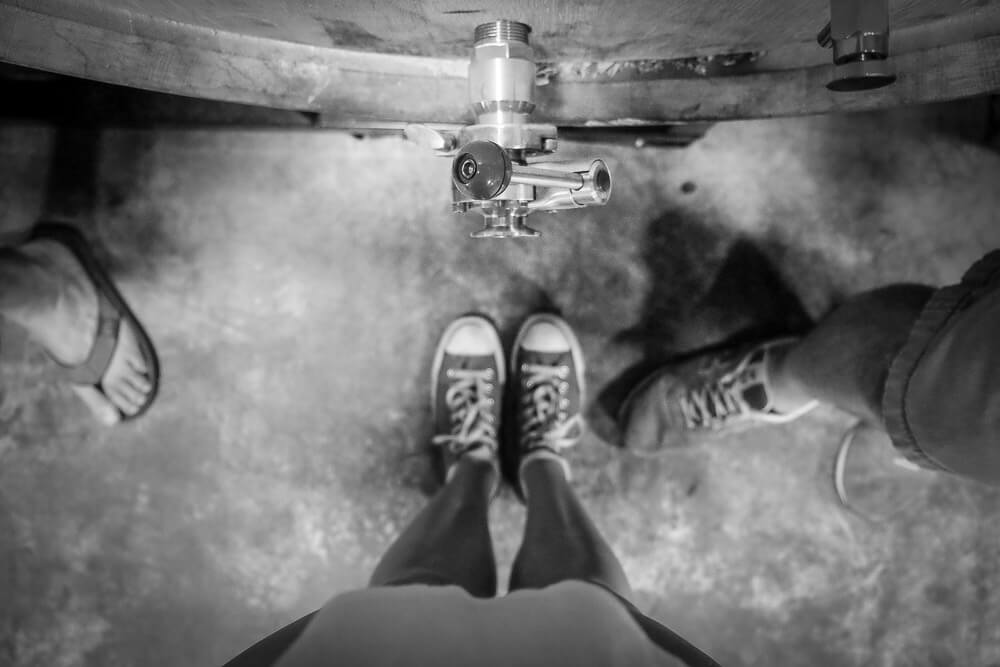 ---
2019 Update!
When the Funk Collective festival returned in 2019, we definitely signed up. The ticket prices were a little bit more expensive, but we still think it was worth it. Here were the differences:
It was smaller. Yep the festival seemed smaller in 2019. Someone told me they capped attendance at 1000. Plus with the rest of Hampton Station filled out, the festival was in the back room of the brewery and a large room across the thoroughfare as well. It didn't feel crowded at all.
2 more hours. The first year the festival ran for about 4 hours. This year? 6 hours. It lasted from 2pm to 8pm. I enjoyed the extra time since I didn't feel rushed. And allowed me to take more breaks. But definitely remember to pace yourself, since I would say people started to fall off the drunk cliff at about 4pm.
7 bottle stations and 2 draft stations. The stations were a bit different this time. Each hour, a brewery would be highlighted at each bottle station. (Sometimes 2 an hour.) And you would have a choice of their beer. So though I wasn't able to keep track of the exact beers I drank this time, I did know which breweries were being featured where.
No food included. So White Duck Taco was obviously open, but there was a also the GB&D food truck out back. Unlike the first year, food was not included in the ticket price, but options were available on site.
Real bathrooms. The porta-potties were gone this year and we had access to real bathrooms.
Stash truck. The secret beer was less of a secret this time. It was on the agenda. And people lined up outside of the truck prior to the start of it each hour. Plus it was only around at the end of the festival (the last 3 hours). But seeing beer Jesus again blessing us from the back of the truck was still quite fun.
---
Nitty Gritty
Parking. The parking for the Funk Collective Festival was, in general, very limited. And this is a beer festival. As in you are drinking a lot. So be smart and just Uber there. That's what we did and it was perfect.
Ticket Prices. Our tickets cost about $64.81 per person in 2017, and $75/person in 2019.
Links for reference: