Every summer I make a list of all the things I want to do. That may seem tedious, but I find that if I don't, sometimes the routine just takes over and then it's August. So I make a list. And this year I'm making a list of all the summer fun things to do in Greenville SC.
Now there is more on my list than just the below. Every summer I make it a priority to go to the beach. To stick my toes in the sand. My favorite being perhaps a beach trip to Ocracoke.
But for now here are the ones in the Greenville area I'm planning to make time for this summer. Some of these I have done before (and can't wait to do again). While others will be new to me.
20+ Things to Do in Greenville in Summer
---
Tubing Down a River
Every summer I drive up to Asheville on a Saturday or Sunday and tube down the French Broad River. It is one of my favorite summer activities. I love pushing out into the cool water of the river and just slowly floating.
And if this also seems like the quintessential summer activity for, then you're in luck. There are multiple ways to do it.
I go with a group of friends and we drive to a park to put in, and then take out near Wedge Brewing. It takes coordination and planning (pumps to blow up the tubs, cars in both locations, designated drivers, etc.), but the DIY approach works for us. (And I've also heard you can DIY tube down the Davidson River in Pisgah National Forest, but I haven't done it…yet.)
You can also book with an outfitter. This usually means they'll give you a tube, as well as shuttle service to either the put-in or take-out. So this takes way less coordination. You can just book your ticket and show up.
I've included some of the best tubing places I could find below. Most are in North Carolina, but there is one Greenville outfitter – the Saluda Outdoor Center in Easley. (Bonus…it's right next to the 13 Stripes River Lodge.)
Asheville Tubing Companies:
Tubing near Saluda, NC.
Tubing near Rosman, NC
There's also tubing in the Great Smoky Mountains: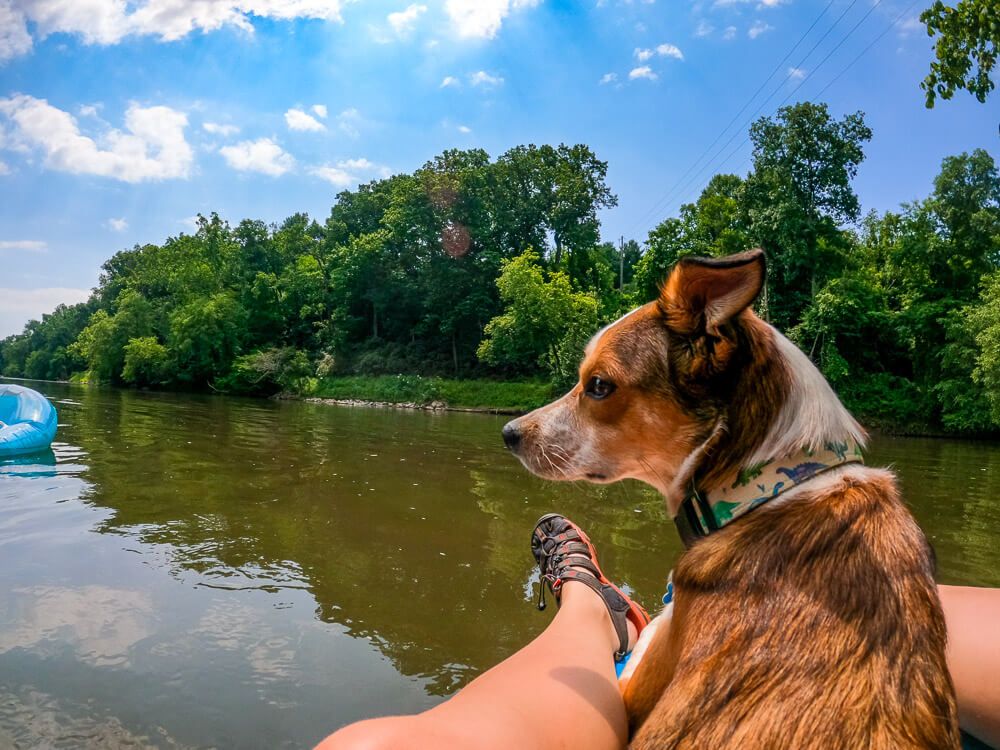 ---
Tomato Sandwich Taste-Off at the Farmers Market
This is a specific event, but in case tomatoes (and therefore tomato sandwiches) aren't your thing, I usually put it on my list to make plans to go to the summer farmers markets in town.
Most of the farmers markets are open on Saturday mornings. And there are only so many weekends in a summer. (And I usually have plans.) So when I don't, I pencil in the farmers market. I love browsing all the fresh vegetables, fruit, and handmade items.
But there's one event I look out for specifically. One event I scan the Travelers Rest Farmers Market Instagram for…waiting for the announcement.
And that is the Tomato Sandwich Taste-Off.
This event is held at the TR Farmers Market (and is usually in July). Look out for the announcement in May. It's held during the market hours and has a small ticket price. But with that ticket price, you can try tomato sandwiches from several (amazing) vendors that are taking part. (Like Upcountry Provisions.)
You then vote on which was the best.
If you love tomatoes…definitely put this one on your list. And if you don't, then just makes plans to go to the farmers markets. They are too good to miss.
Discover the Best Farmers Markets Near Greenville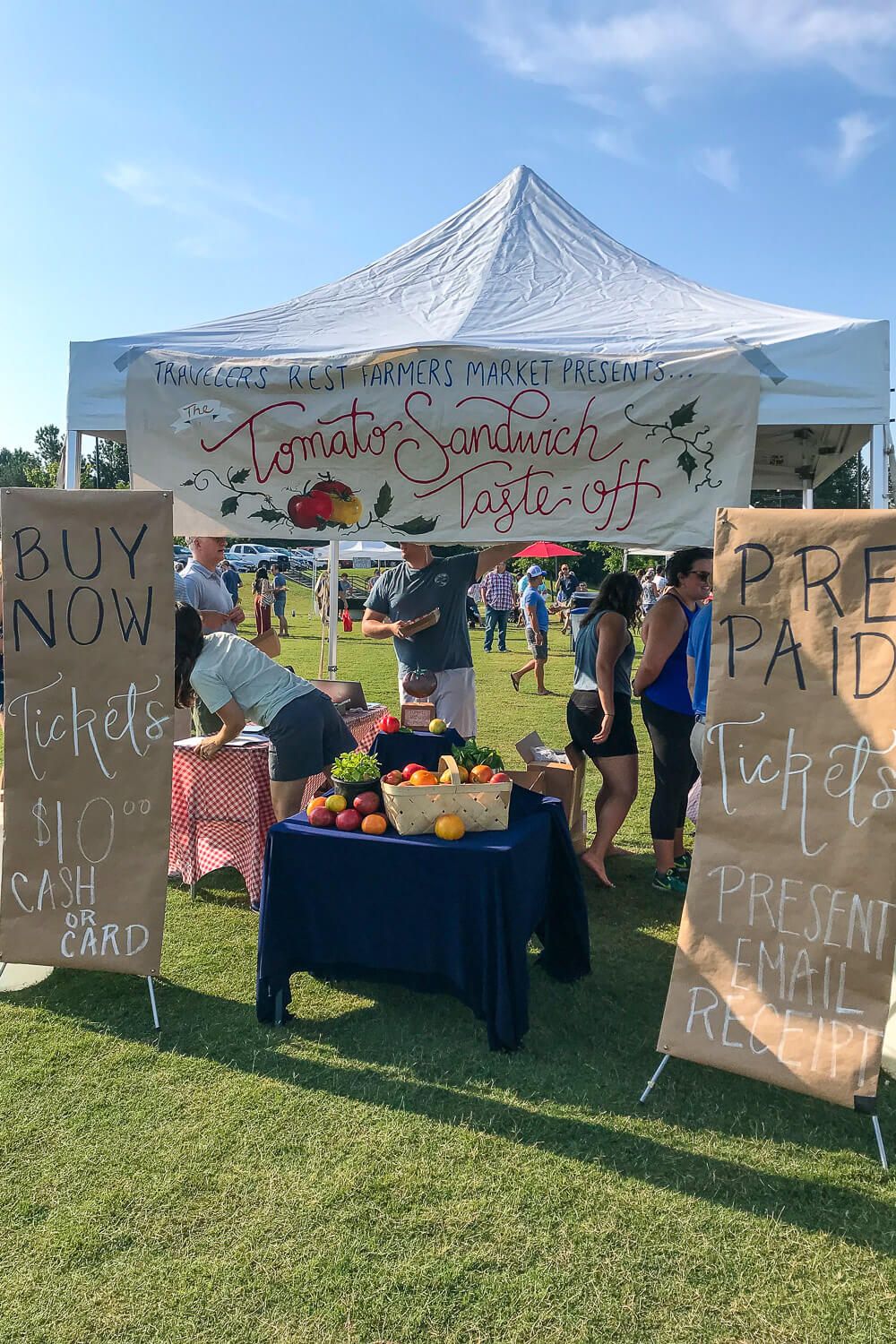 ---
Bike the Swamp Rabbit Trail
This list wouldn't be complete without the Swamp Rabbit Trail.
This trail is one of the things to do in Greenville. And though I walk it plenty of the time, there's something special about biking it.
Okay, to be honest, it's probably best to bike the SRT in spring, fall, or winter. Summer is hot. But I also tend to put it off in those seasons. It's summer that calls to me.
Now I won't bike the whole thing. It's about 9 miles from Greenville to Traveler's Rest. This is the section I gravitate towards (and also the most popular section).
And, well, one of the main reasons I want to bike the swamp rabbit trail are all the stops along the way.
Downtown Greenville's Falls Park. I mean, how many cities have an amazing waterfall right in the center of downtown?
Birds Fly South & White Duck Taco. My favorite brewery and my favorite taco place. There's a sign off of the trail pointing down a road intersection to these two at Hampton Station. They're only about a mile off the trail.
Swamp Rabbit Cafe. Great cafe with local beer, pizza, sandwiches, and more. This is probably the place I stop at the most since it's right on the trail and I can always go for some pizza and beer.
Traveler's Rest. If you can make it all the way to TR, you've got so many great options. I always reward myself with a beer at Swamp Rabbit Brewery. But there are several good food options as well.
There are several places to rent a bike downtown. Reedy Rides, Pedal Chic, and Free Hub Bicycles are a few.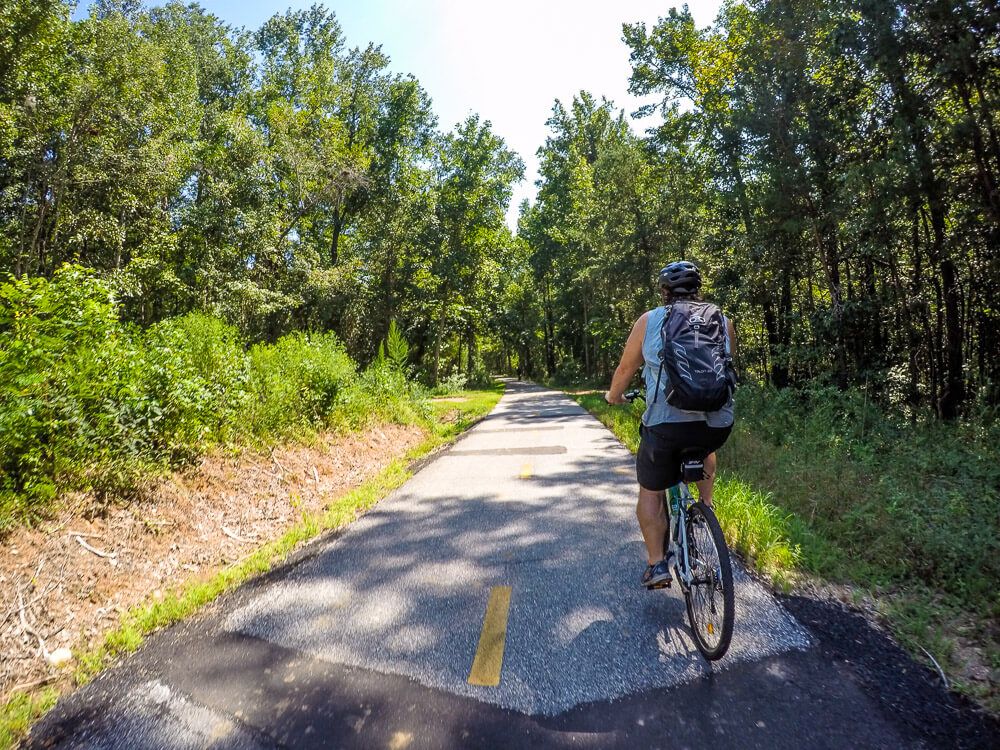 ---
Camping in the Mountains
There are two seasons where I love to camp. Summer and fall. (Spring, I'm trying, I really am.)
But summer can be really hot. So my solution to this is to head into the mountains. Now…camping has become really, freaking popular in the past couple of years. So if you want to go camping on a weekend at an established campground, be prepared to book it like months in advance.
All of the state campgrounds in South Carolina and North Carolina mountains are great options. (Just book early.)
Look for state park campgrounds (like Devils Fork, Table Rock, Jones Gap). Or head into North Carolina and camp at the Davidson Campground in Pisgah National Forest.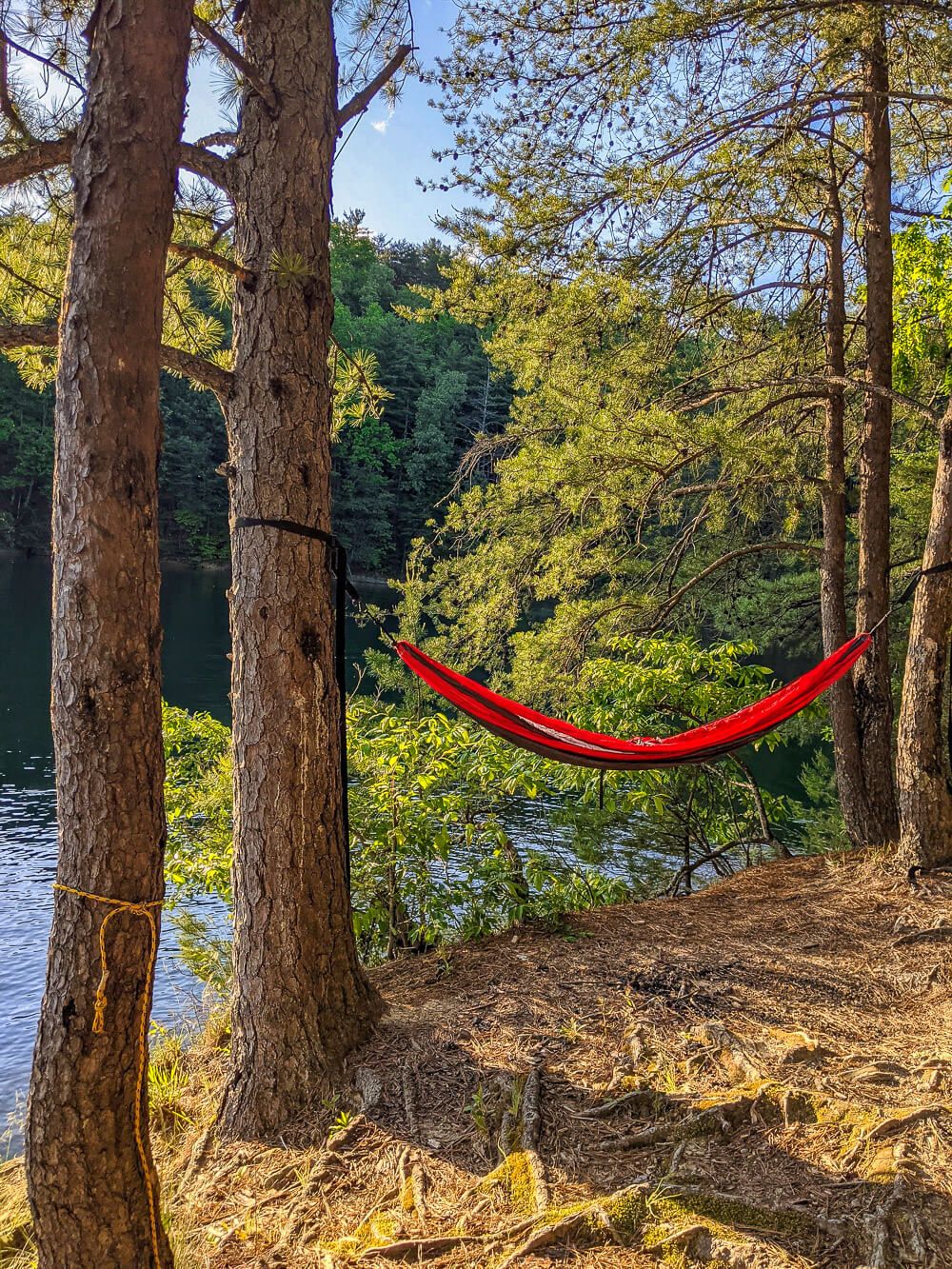 ---
Day Trip to Long Shoals Wayside Park
I learned about Long Shoals Wayside Park last year, but never made it out. Now this year, I'm making it a priority. This small roadside park off the Cherokee Foothills Scenic Highway (HWY 11) near Keowee-Toxaway State Park is a great place to cool off this summer.
The Eastatoe Creek flows through some shoals (like the name) and forms a small water slide with a pool. Definitely bring a tube or something to slide in.
There are loads of rocks to hang out on and relax in the water. But be prepared for the sun and the heat. There may not be a ton of shade.
Lastly – you will need to pack out your trash! There are no trash cans here. Do NOT litter. Remove your trash. This seems to be a problem at the park. People expect that "someone" will come around and pick up their trash. But there isn't anyone. Be prepared to take it home with you.
Oh and there are no bathrooms. Just some porta potties. (If you pee in the woods, don't leave your toilet paper laying around. Pack it out with you. Bring a ziplock just for that if you need to. It's disgusting to see used toilet paper laying around.)
---
Jocassee Lake Day
A summer would not be complete without a summer day at Lake Jocassee. Jocassee is my favorite lake in the upstate. It's located up in the mountains near the border with North Carolina. And since much of the lake is surrounded by public (undeveloped) land, it seems much more remote and wild than either Keowee or Hartwell.
Your main point of entry to the lake will be through Devils Fork State Park. There is an entrance fee. But from there you can either head to the boat landing or the day use area and its beach. You'll want to go really early on a Saturday or Sunday morning (the park does fill up).
If you'd like to go boating, you can rent a boat (Jocassee Outdoor Center, Jocassee Keowee Rentals, Eclectic Sun, etc.). Or you can rent kayaks, SUP boards, and more.
While on the lake, my favorite thing to do is to hit up all the different waterfalls. There are several to check out and if you have a boat, you can easily visit all of them in a single day.
Interested in camping? The state park has your normal camping. But if you're up for something different, check out boat camping on Lake Jocassee!
Your Boat Camping Packing Checklist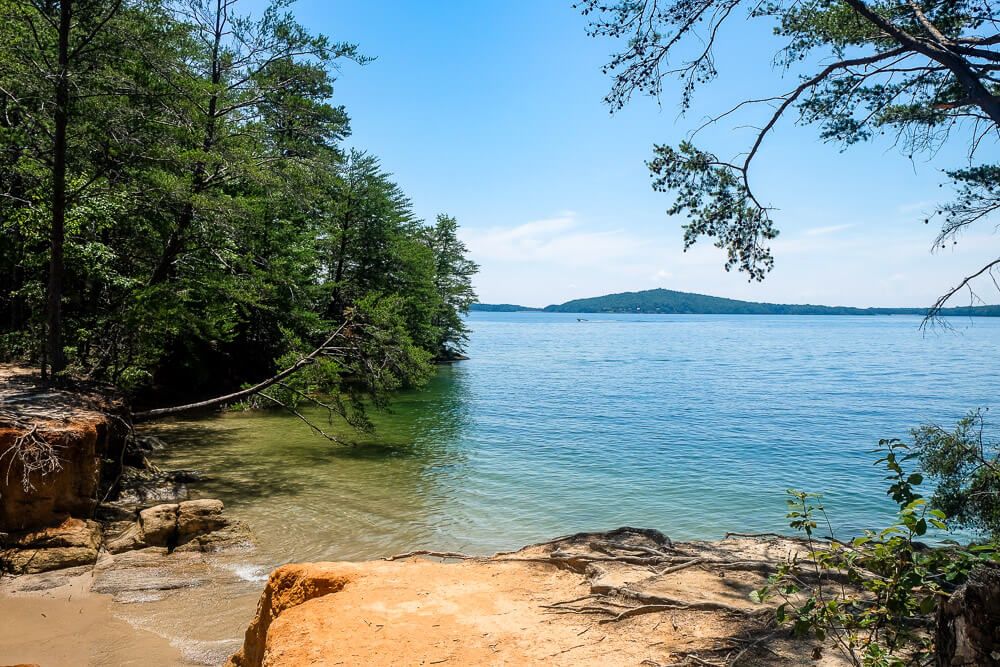 ---
Pisgah Day Trip
I love Pisgah National Forest (specifically the Pisgah Ranger District). It's close enough that I can reach the Forest in less than 1.5 hours. I've camped. I've hiked. I've backpacked. I've even trout fished. It's one of my favorite places to explore, and this summer I'd like to make a whole day out of it.
My rough itinerary for the day? Wake up early and grab breakfast on the road. Hit up the major sites before it gets too crowded. Including Looking Glass Falls & Moore Cove Falls. But first Sliding Rock.
I've yet to actually take the slide down sliding rock. And this year I am doing it. Now if you are unaware, sliding rock is a 60ft natural water slide (aka a long smooth rock) that ends in an 8ft pool of water. You start at the top & slide down.
There are observation decks, a bathroom, and even a lifeguard from about May to September. There's also a fee for the attraction (when its staffed). And it is very popular. Definitely plan to be there before noon or after 4pm.
Then maybe do some hiking, maybe some tubing or floating. Definitely stop at Ecusta Brewing and Dolly's for some ice cream.
Hike to the Top of Looking Glass Rock [Trail Guide]
---
Blue Ridge Parkway Roadtrip
Now my current plan is to actually do this road trip in September…so I'm missing summer by a smidge. But this is a great trip to make in the summer or fall.
Now the Blue Ridge Parkway is a 469 mile highway that extends from South-Western North Carolina (and the Great Smoky Mountains National Park) to Northern Virginia (and Shenandoah National Park).
It's long.
But it's got some amazing hiking, waterfalls, and scenic overlooks along the way. Plus you can hop off and explore some amazing towns. For my trip later this year, I'll be going from Asheville all the way to the northern entrance. My main stops will be:
Craggy Gardens
Mount Mitchell State Park
Linville Falls
Grandfather Mountain (and its swinging bridge)
Peaks of Otter
And there are plenty more stops along the way.
A shorter (and very beautiful trip), would be to go to the Great Smoky Mountains National Park for a day (or 2 or 3), then hop on the parkway and drive it to Asheville. I suggest making stops at Devil's Courthouse and Black Balsam Knob in particular.
5 Awesome Things to Do in Great Smoky Mountains