So you're going boat camping? Trust me, I'm jealous. It's one of my favorite styles of camping and I'd place it squarely between car camping and backpacking in terms of level of difficulty and preparedness needed. You can still bring a lot of the creature comforts of home, but it's not as convenient. So if you're unsure on what you should pack, here's our boat camping packing checklist.
Now this list will be tailored towards boat camping at Lake Jocassee as that's my go-to spot. But you can use this for any boat camping experience. We've gone up to Lake James for some boat camping and this checklist was perfect.
So what's the main difference between boat camping and car camping (besides the fact that it's with a boat)? Well this may seem obvious but your car isn't easily available. Forget something? You can't just run out to the convenience store down the road. You'll need to be a bit more prepared.
Plus you'll probably want to bring less stuff. As you'll be packing everything into your car, then onto your boat, and then from your boat to your campsite. And some campgrounds (like the one at Lake Jocassee) have long walks from the shoreline to the campsite. Hauling a giant cooler filled with ice up a steep bank and along a trail for 100 yards isn't fun. Trust me.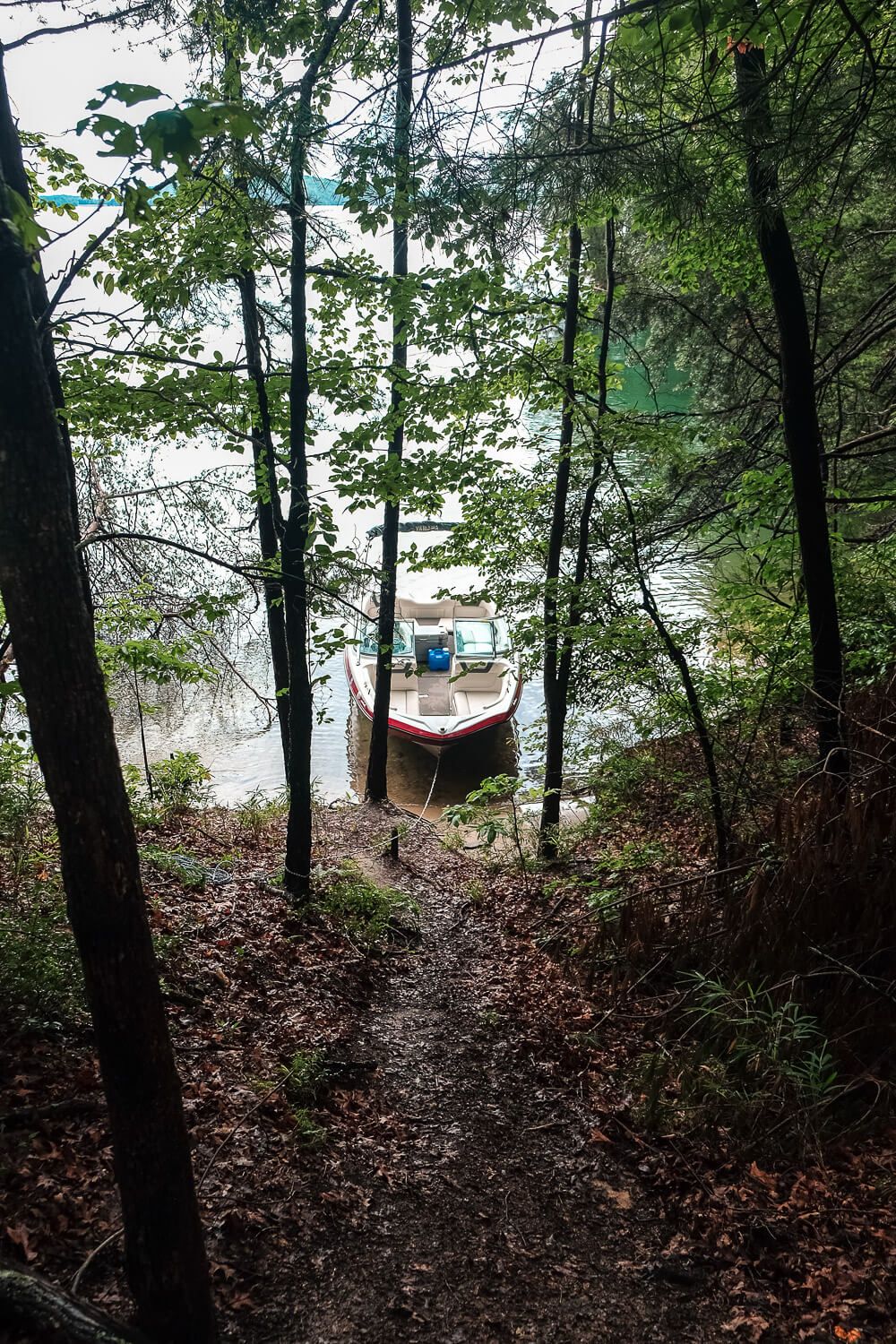 So I've tried to put together this checklist to make your life easier and make sure you don't make the same mistake we have. Like forgetting spatulas/tongs or any cooking utensil for extracting food from a hot grill.
Now I have seen people "boat" camp in just canoes, kayaks, and even paddle boards. Due to this they reduce their packing even more. They take a list like this and remove anything they absolutely don't need (like chairs, air mattresses, hammocks, etc.) So if you fall into this category, follow suit and pack the minimum.
---
Boating Essentials
We have to start this list with all the boat stuff. Because if you forget this, then you are really out of luck
Safety Equipment
I have actually been "pulled over" on Lake Jocassee before. Though they just did a safety inspection, if we had been missing any of the required items, we would have gotten a ticket. So be sure to check your state's laws and make sure you do not forget the required safety items
Lifejackets for everyone on board
Boat registration
Throwable flotation
Horn: like the one on your boat
Fire extinguisher that's in good serviceable condition: there should be a way to test this, so check yours – we've gotten a warning on ours on Lake Hartwell because it was old
Flares: make sure they are not expired
Make sure the boat lights work
Rearview mirror: if you are towing someone and no one else is in the boat, this is required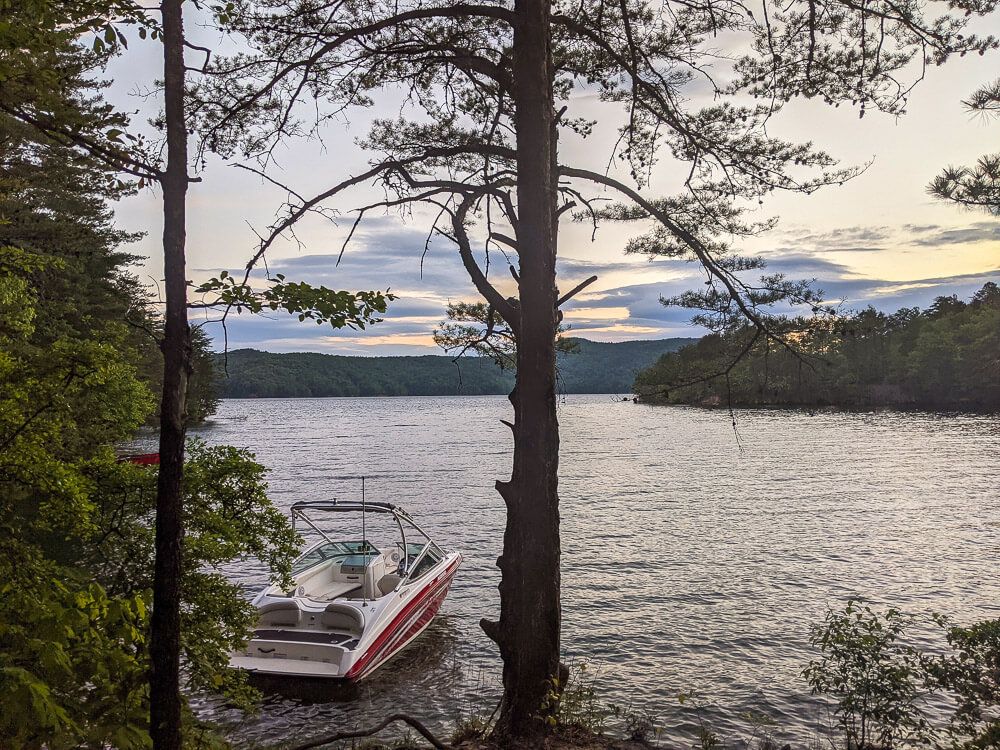 Important Equipment
Anchor: make sure you get one that fits your boat. And you may want an extra in the boat as well. Many people (including ourselves) have lost anchors on Lake Jocassee.
Ropes: to help tie up on shore because an anchor may not be enough, especially if it's windy out.
Boat bumpers: in case you'll need some protection from rocks (Lake Jocassee has a rocky shore)
Towels: you are on a lake, this should be pretty obvious. You can also keep them in the boat as well and just bring like 1 or 2 to the campsite
Sunscreen: you are on a boat, bring some some sunscreen
Fun Stuff
Tubes / wakeboards: if you are being towed, you have to wear a lifejacket. Make sure you bring the appropriate ropes as well.
Noodles / pool floats
Goggles
Fishing gear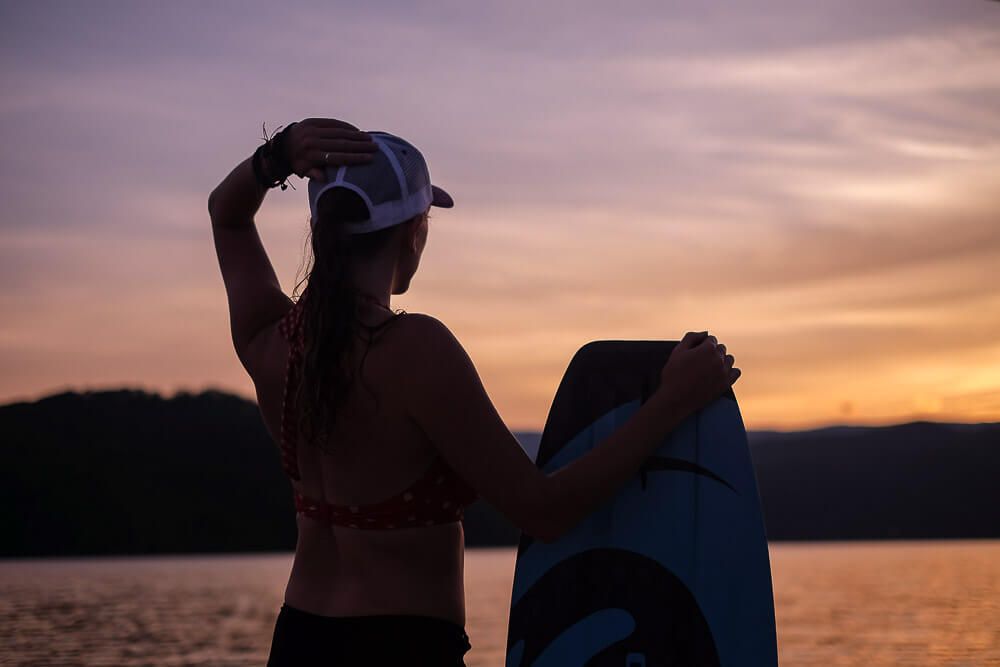 ---
Sleeping Essentials
This is your sleep system and will really determine if you have a good time or not when camping. If you can't fall asleep, you'll wake up grouchy and then have a bad day. (Or at least I do.)
Tent
There are lots of options out there. Some expensive and some cheap…but if you treat it well, any tent can last you several trips/seasons. But there are several things you want to consider.
Size: by person the tent sleeps – if you want more room, be sure to get a bigger tent
Weight: because you may have to lug it up a big hill
Complexity: because you'll probably just want to sit down by the fire and not struggle with your tent for an hour
Waterproof: it could always rain. Make sure it's waterproof and has a rain fly or some kind of cover. And this is one of the big things where you get what you pay for. Cheaper tents tend to be well, less waterproof.
You can roll up to Walmart and get a decent sized tent for like $100-$200 (or even cheaper). Here's a good budget friendly option that is under $100. We had a Field & Stream tent that lasted us years but eventually replaced it since it was kind of a pain to put up.
Or if you really want it to be easy to set up, look for a pop-up tent. Where basically the tent assembles / pops up in like a minute. You should be able to find these at like Walmart, Dicks, Academy, or even online.
My priorities for a tent are weight, complexity, and waterproofness. I want to easily be able to carry it and several other things in one trip from the boat, set it up in just a few minutes, and trust that it will keep the rain out (unless it super downpours and then all bets are off for most tents). That's why I got our last tent at REI since I trust their products. They no longer sell the one we got, but the Base Camp tent is similar to the one we have and love.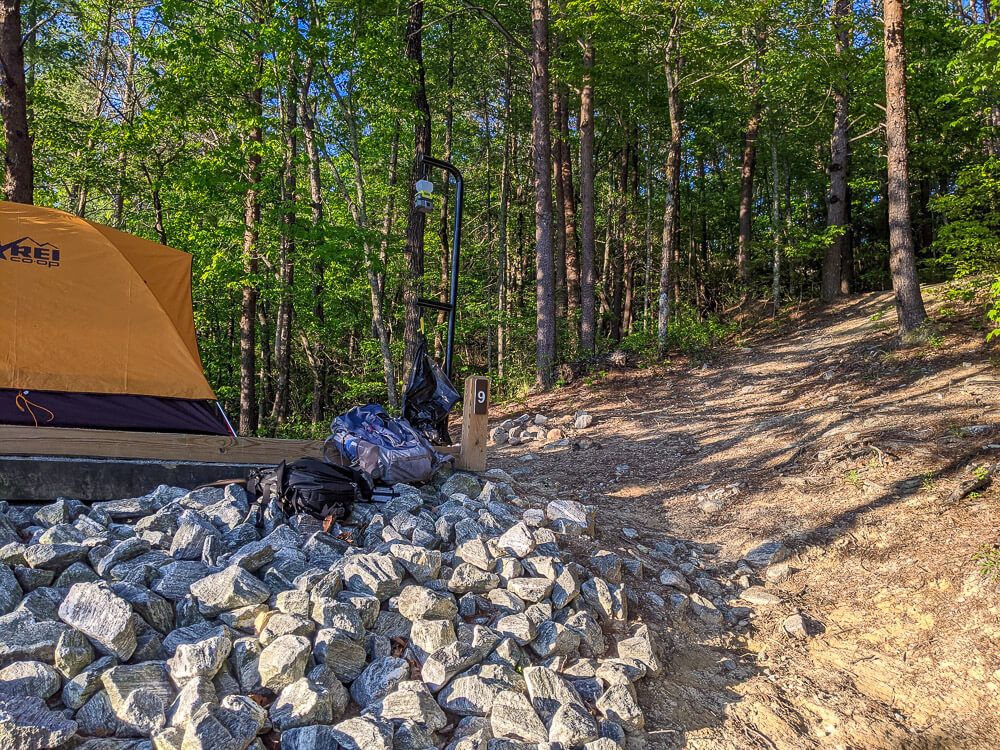 Sleeping Pad / Air Mattress
You do not want to sleep on the ground. That just sucks so bad.
If you are worried about space, you can go with a camping specific sleeping pad. They sometimes self inflate and roll up into their own carrying case.
Or you can just bring an air mattress from home. This is what we do because comfort is worth it. You'll need to bring a pump to blow it up (but we always have one to pump up pool floats and tubes). And don't bring one of those giant air mattresses that just inflates via an AC outlet. Make sure to get one you can inflate with a battery operated pump.
Full sized air mattress (fits into even our 2 person backpacking tent)
Battery operated pump (make sure to get batteries with it if you don't have any Ryobi batteries): this is definitely a heavy duty inflator, but it inflates quickly and we use lots of Ryobi flashlights/lanterns so we can reuse batteries.
Sleeping Bags / Blankets
Now that we've made sure you're laying on something soft, let's talk about your sleeping bag. Make sure to check out the low temperatures for where/when you are camping.
In the spring and fall on Lake Jocassee, it can get quite chilly some nights. So you'll want a proper sleeping bag. In the summer you may be able to get by with some blankets, but I'd always bring a sleeping bag just in case. I get cold easily.
Now there's a big difference between down and synthetic fill. Down is better for colder temperatures (but it is more expensive). So if you are camping when it's cold, be sure to get a sleeping bag rated to your low temperature. Here are some down sleeping bags.
Oh and if you love to snuggle, double sleeping bags are awesome.
Single Sleeping Bags
Double Sleeping Bags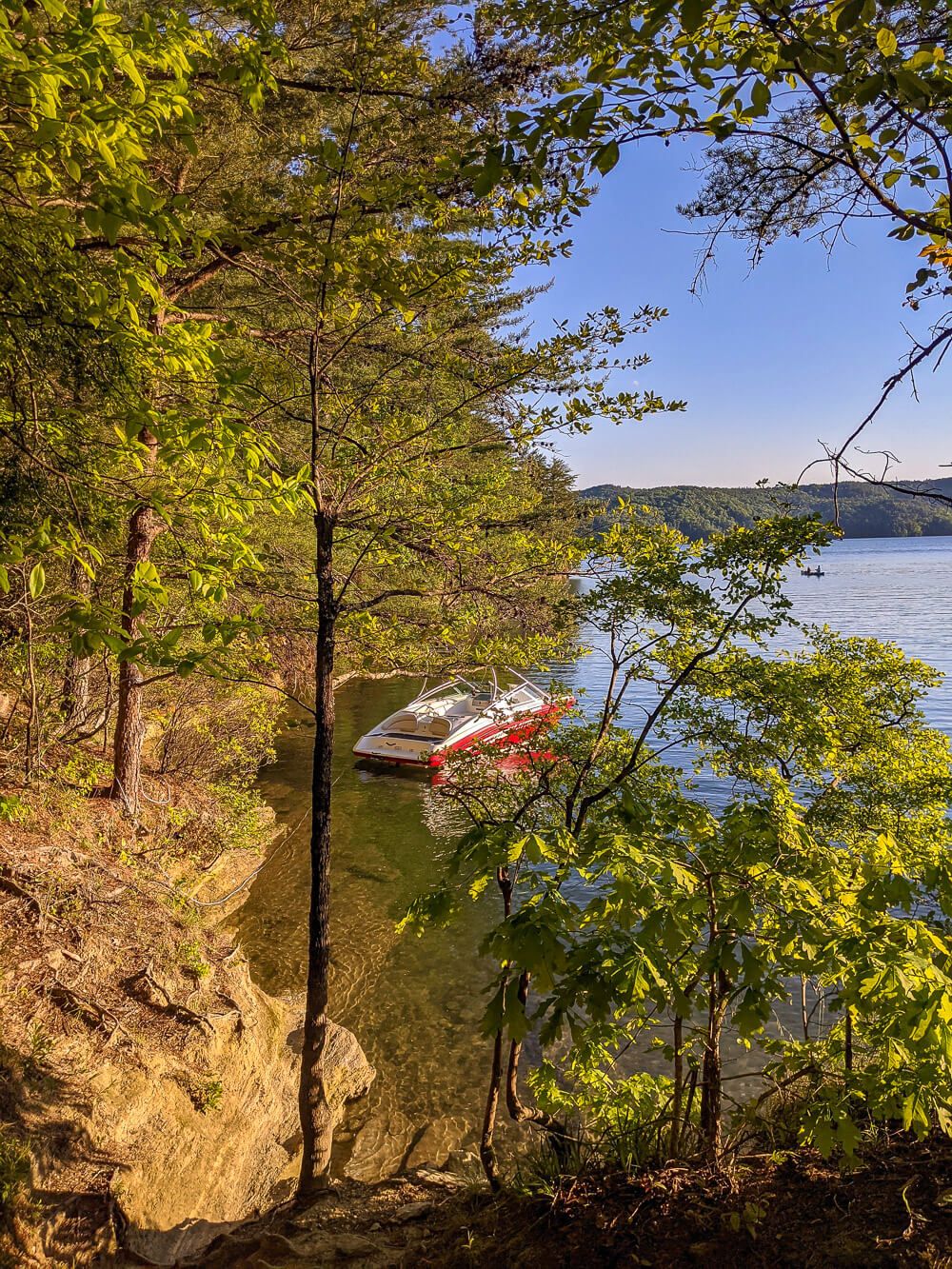 Other Sleeping Essentials
Pillow: either bring your real one or a camp pillow. You can always use a sweatshirt too in a clutch moment.
Sleeping mask: yes I wear a sleeping mask when I camp. Because if the sun comes up at 6am, I want to sleep in.
---
Cooking Essentials
This forms a large portion of our checklist and the one category where we always seem to forget something. Due to this we now store all of our stuff together.
We've also splurged on camp cooking kits. That way we know we have a knife, cutting board, spatula, utensils, bowls, etc. We may still bring say an extra long pair of tongs, but if we forgot them, our kit has us covered.
There are several different kits on Amazon. We went for one with cooking supplies and another for plates / utensils. You can totally though pack the stuff you have at home as well.
One last word on food. I'm working on a post now for some meal ideas, but my main rule of thumb for food is this: prep as much as you can at home.
I don't want to do any cutting of veggies or anything like that at the campsite. I'll prepare everything (and I'll even pre-mix stuff say for like pancakes) and pack everything into reusable containers. This makes sure we don't bring more than we need and makes the cooking so much easier.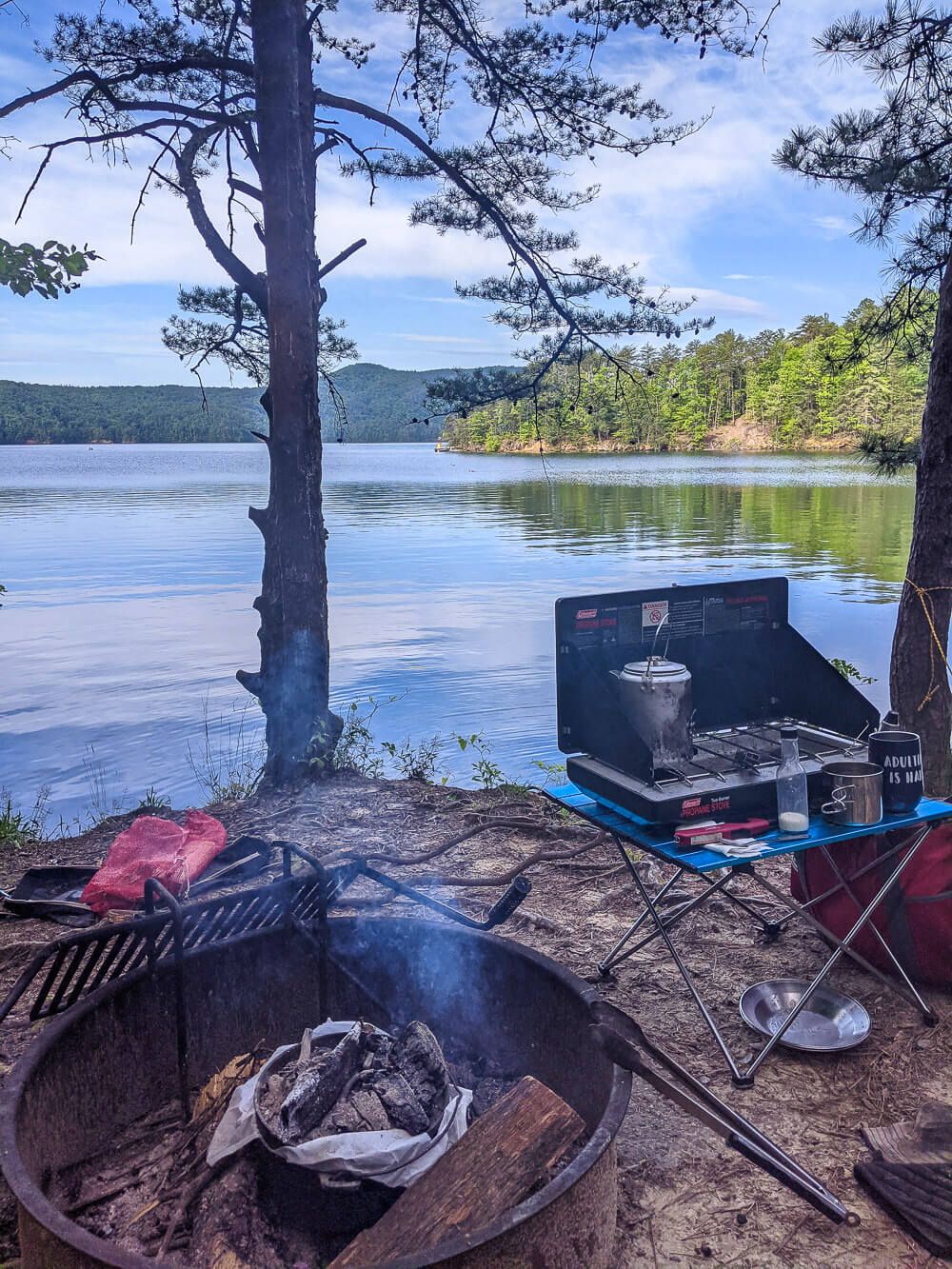 Basics
Water: there probably isn't any potable water at your campsite (there definitely is not at Lake Jocassee). So you'll need to haul enough water for everyone (including dogs) for all activities (like cooking) for all the days you are camping. Go the eco-friendly route and get refillable jugs. We have this one from REI but Amazon has ones as well.
Water Filtration System: you should always bring some type of water filtration system even if you plan on bringing enough water. Because someone may knock the jug over and all the water may spill out. You have several options but I've listed a few of my favorites below:
Firewood: buy your firewood at or near the campground (as invasive and deadly species can travel in firewood). There will be kindling in the woods you can use, but you'll need to bring your firewood. Plus if it's rained recently, you really don't want to try to start a fire with wet wood.
Firestarter: you can buy a kit, but honestly we just bring dryer lint and some paper from home and that works just fine. (But you'll want to bring something…again wet kindling is not forgiving.)
Lighter: definitely go for a stick lighter and bring 2 just in case
Cooler: bring a separate one for drinks and food. This will help with weight and with keeping your food colder as you hopefully are only opening it at meal times. Even with that though, you may need to go and get ice again at some point. If you can't afford a yeti (we can't), then opt for a nice alternative. We like Ozark Trail (Walmart Brand) instead and it does a pretty good job. But keep in mind, that depending on your campsite, you may have a long walk from the boat. Pack only what you'll need for food and drinks.
Cookware
Again we use two cooking kits (a cooking supplies one & a mess kit), but I'll try to break down the essentials below.
Also you may need to tailor this list to your meals and campsite. The ones at Lake Jocassee have a fire ring with a grill grate, but no picnic table. Most campsites should have a grill grate, but double check. If not, you may need to bring your own.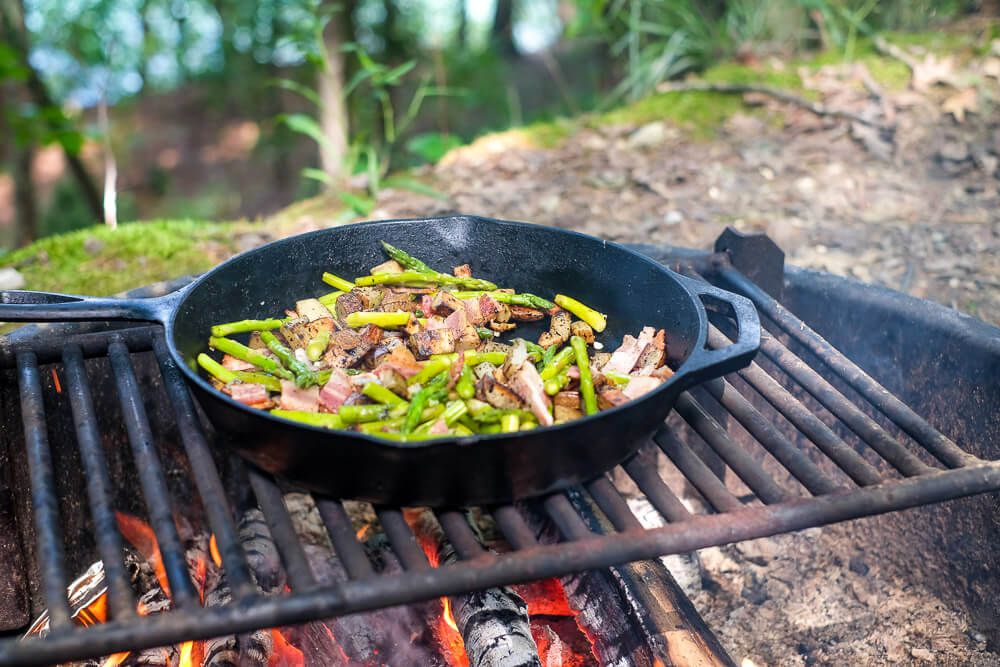 Plates: enough for each person (if paper plates, bring enough for each meal)
Cups: bring water bottles and a cool tumbler for any other drink. Don't forget about a coffee mug/thermos. Please don't pack plastic cups, you can always wipe out your cup with a paper towel and then burn it.
Koozies: enough for each person and a few extra (we always seem to lose some)
Utensils: enough for each person
Spatula & Tongs & Skewers: ones made for grilling so that you don't need to get close to the fire. And if you want to make some s'mores, definitely bring something – don't rely on sticks.
Cast Iron: if you need a pan, definitely go for a cast iron. You need something that can take sitting over a fire. We have 2 and depending on our meals, we'll bring one or the other. One is a large cast iron (like 12in), the other is probably more like a 7in.
Dutch Oven: a cast iron dutch oven specifically. It tends to be heavy but I love being able to make some mac-n-cheese over a campfire.
Oven Mit & Gloves: for grabbing your hot pans and tools from the fire and to rearrange firewood as needed
Cutting Board & Knife: hopefully you'll prep all of your food at home, but having a knife (with its own case for safety) and cutting board is always good in case you forgot something
Coffee Cooking Method: we bring a percolator but instant coffee is super easy
Parchment Paper / Aluminum Foil: if you are cooking something messy in your dutch oven, I like to line mine with parchment paper for easier cleanup (this even worked for my chili mac recipe)
Paper Towels: this is honestly how I clean stuff camping. I wipe it out and call it good enough.
Trash Bags: you need to pack out everything. Do NOT leave any trash around. Including toilet paper. If that grosses you out then please, please use the facilities offered if you can't pee in the woods properly.
Leftover containers: in case there's extra mac-n-cheese that would be great for breakfast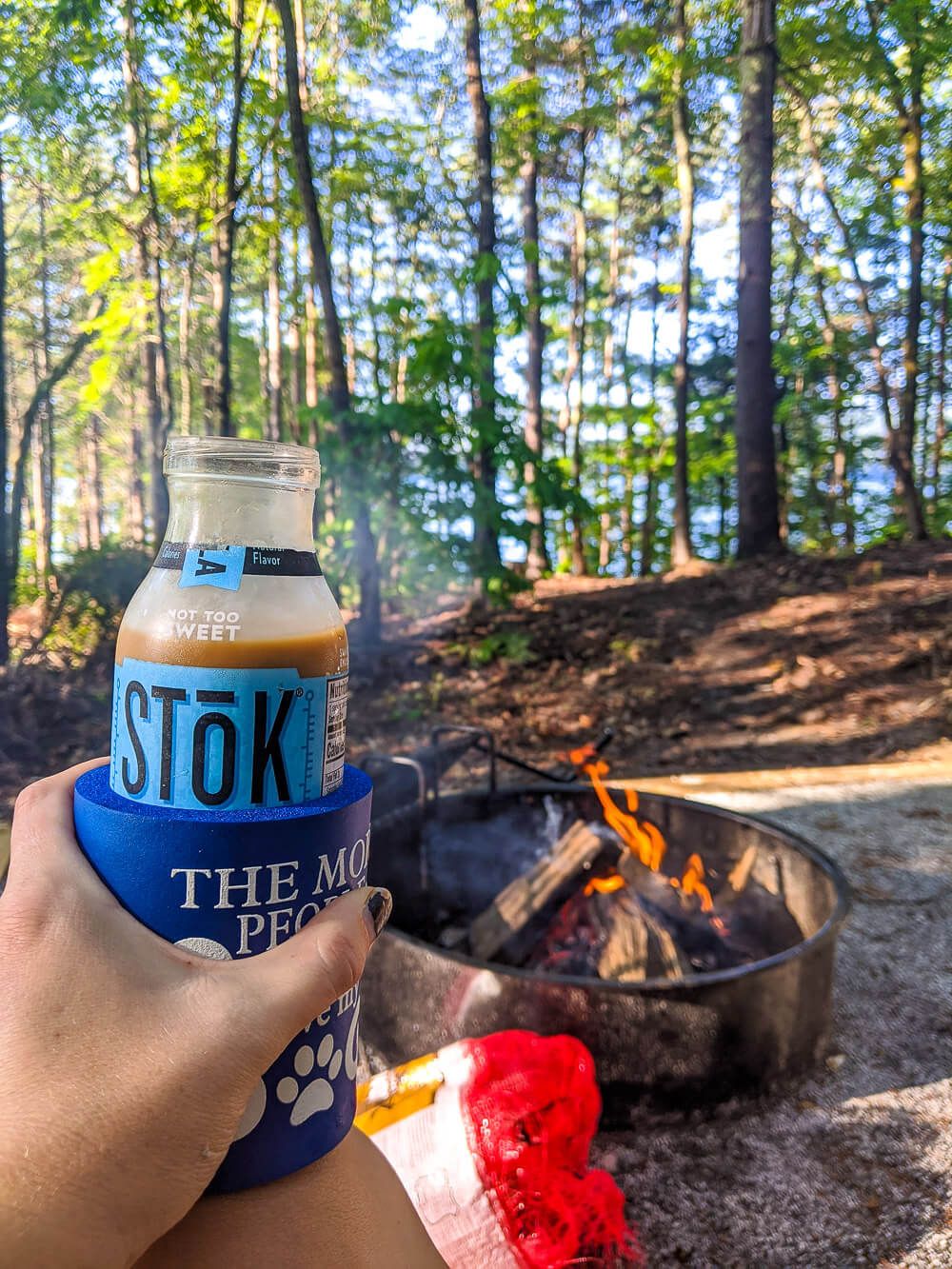 Do you need a camp stove?
This is a hard question. We bring one (and its fuel). It's a Coleman camp stove. It's kind of annoying and bulky and sometimes we just leave it in the boat. If the weather is nice, we sometimes never use it (or just use it for coffee in the morning). But if its been raining a lot and we can't get a fire started…I'm glad we have it.
Another alternative, and a recent purchase of ours, is to bring a small backpacking stove. We use the MSR pocket rocket (full kit) and may bring this in the future instead of the camp stove. Another alternative would be a jet boil. Don't forget to pack the right kind of fuel for your stove!
---
Campsite Essentials
Camping is more than just cooking and sleeping though. You'll want a few other things to make your trip special:
Chairs: we bring just enough for each person
Table: if your campsite has a picnic table, this is not necessary. However the boat-in campsites at Lake Jocassee do not have a picnic tables. For years we went camping without one and simply placed things in cup holders (of our chairs above), on our laps, and on the ground. But last year we got a simple lightweight small table and it was a game changer.
Hammock: always a nice touch if you have the space
Various Lights
Bug Spray: this is camping, there will be bugs. Get the good stuff (like stuff for being in the woods). Or bring along something like a Thermacell.
First Aid Kit: a small one with some band aids, Neosporin, sting relief, etc. should be good.
Extra Rope / Clothesline: toss an extra rope in your bag if you'd like to tie up wet towels or bathing suits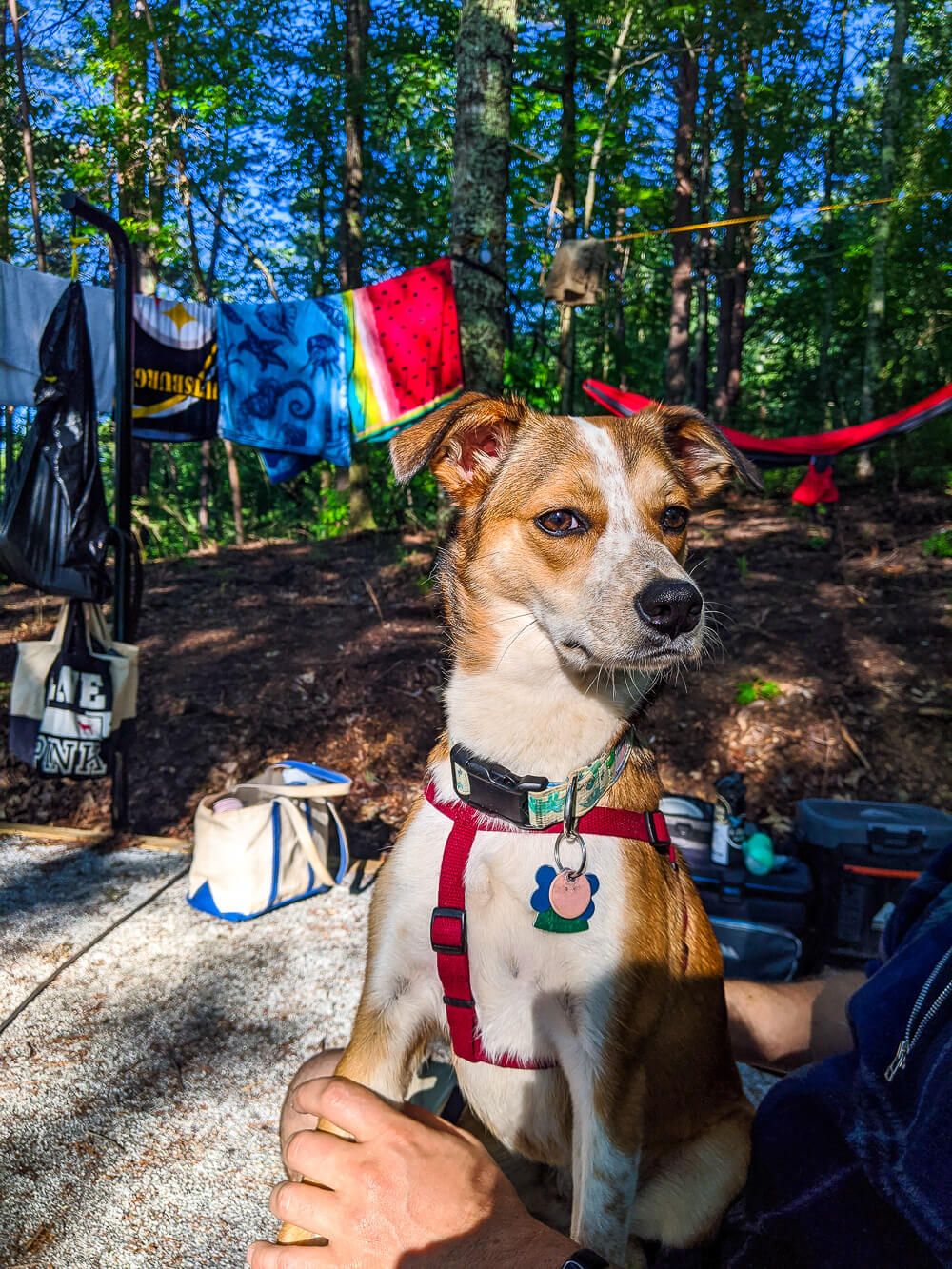 ---
Clothing | Toiletry | Electronics Essentials
Don't forget to pack clothes, but just know that things will smell like smoke really fast. Focus on items that make you feel clean even though you will be smelly. Like fresh underwear and shirts. I usually end up wearing the same pants the whole weekend.
Clothes: underwear, shirts, pants, etc.
Swimsuits: you will be on the lake, and you probably will get wet at some point. I like to bring a swimsuit and some board shorts even in the off season since I know I'll probably have to get in the water to help load/unload/dock the boat.
Water Shoes: the shore around Jocassee is super rocky, definitely bring some water shoes (like keens, chacos, etc.)
Normal Shoes: depending on the season, I'll bring another pair of flip flops or sneakers to wear around camp
Rain Jacket: always a staple in my bag, because if I don't bring it, it will rain
Toilet Paper & Hand Sanitizer: each campsite should have a facility of some kind though you'll need to bring your own toilet paper. USE THE PROVIDED FACILITIES. I'm sick and tired of seeing toilet paper strewn about campsites. If you are going to pee in the woods, pack out your toilet paper. If that grosses you out, use the outhouses & pit toilets. And whatever you do, just don't poop in the woods. In fact it's probably best to read up on how to properly go to the bathroom in the woods.
Wet wipes: I'll use these to wipe my face, neck, armpits, etc. off to feel clean before bed and after I wake up. And for my fellow women out there, here are some I use. Pack out everything.
Basic Toiletries: glasses, contact solution, tooth brush / toothpaste, deodorant. If you feel like you need soap, you'll need to get something that is biodegradable and is not harmful to the environment. Dr. Bronner's soap & Sea To Summit Wash can be used for anything from doing dishes to washing your body.
Leave-In Conditioner: I don't wash my hair when I camp, but if my hair gets all tangled after I swim, I like to make sure I have some leave-in on hand
Phone & Power Cord: you may not have service, so be sure to pre-download any maps you want to have on hand
Dry Bag: I've seen people accidently drop their phone into the water while unpacking their boat. If you feel like this could happen, bring a small dry bag and pop all the important stuff in it for transfer back and forth.
Portable Power Bank: to charge up your phone because it will probably die over the weekend
Speaker
Games: cards, exploding kittens, UNO, and more!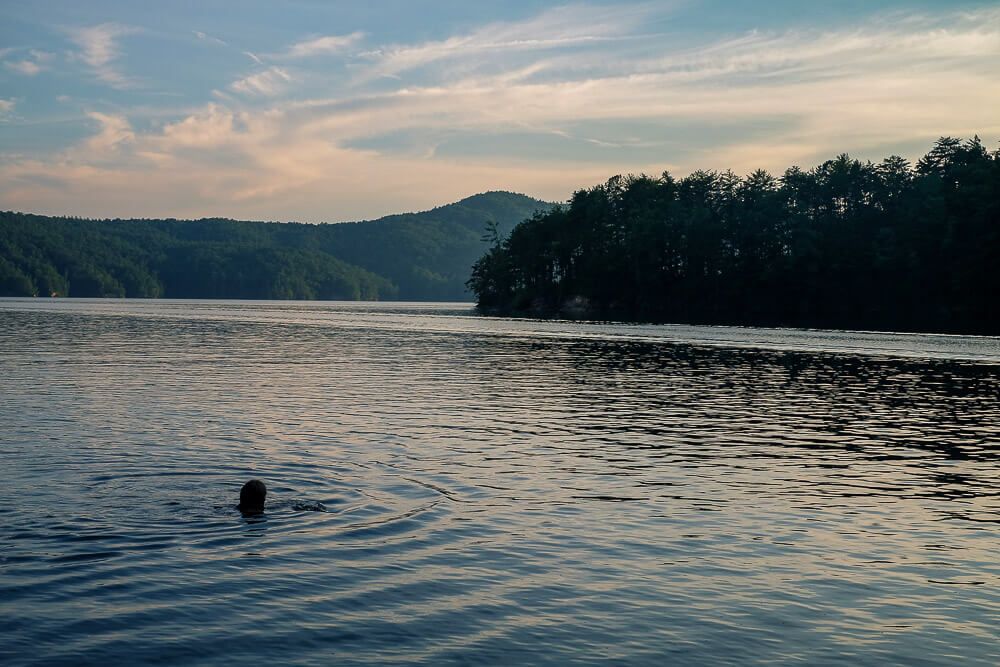 ---
Dog Essentials
Ellie comes with us on almost all of our camping trips. And that means bringing along all of the stuff she needs as well.
Water: make sure to bring enough water for your dogs as well
Food: count out the meals per day
Dog Bowls: we like these collapsible ones for travel
Treats: Ellie loves chicken and fish jerky
Toys: make sure they're entertained at camp
Dog Bed: think about where they will sleep at night. In the tent with you? On their own dog bed? Will they want to lay in a dog bed at camp?
Dog Life Vest: I like to put Ellie in this whenever we are driving fast around the lake. Just in case. If you aren't sure how your dog will react in water (or if they can swim), put them in a life jacket. If they also plan on doing a lot of swimming, a life jacket will really help them not get worn out too much. With this one they can look like a fish or a shark!
Leashes / Tie Outs: you should keep your dog on a leash per campground rules. If you want to give them more room to explore, bring a longer leash (we sometimes just bring a rope).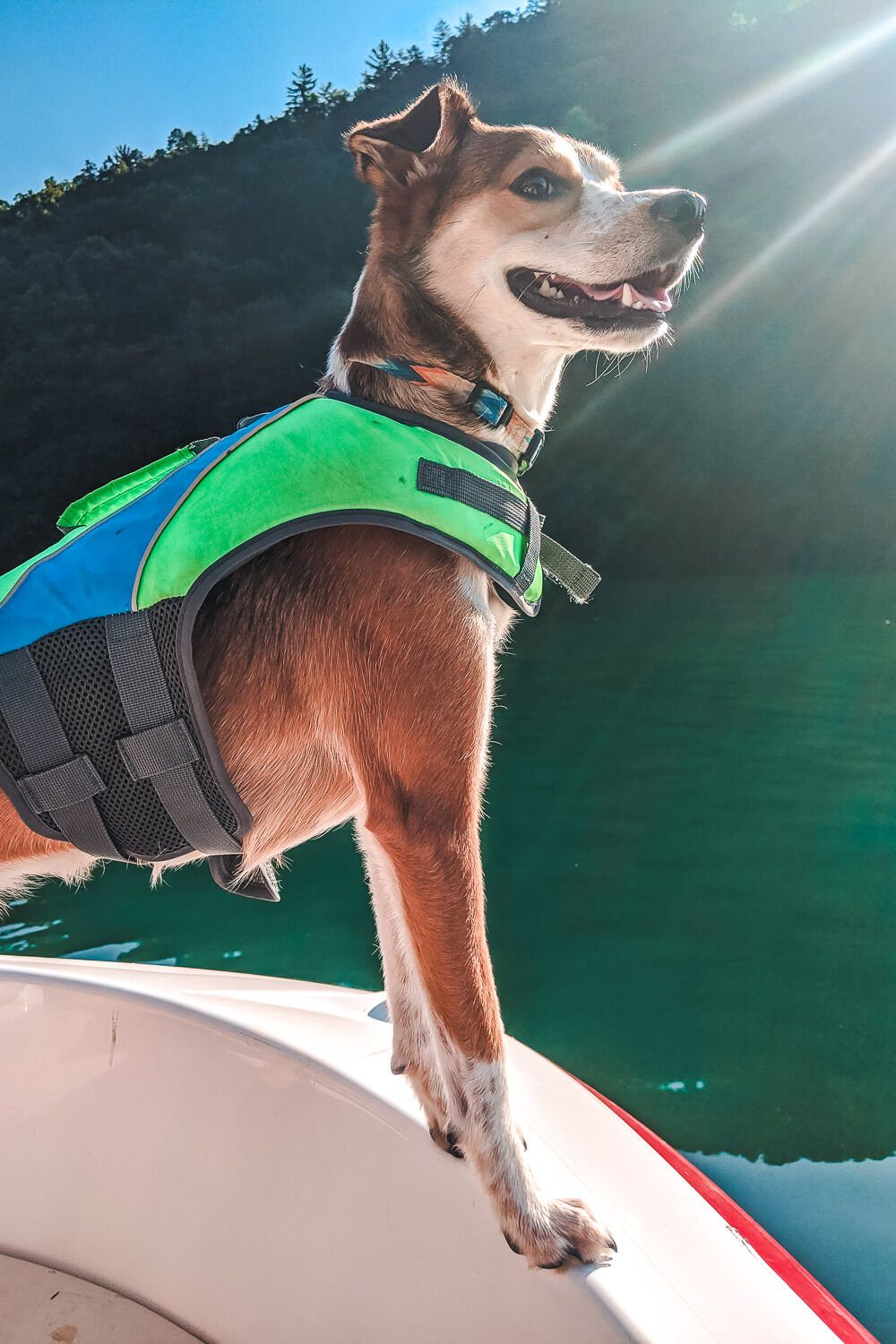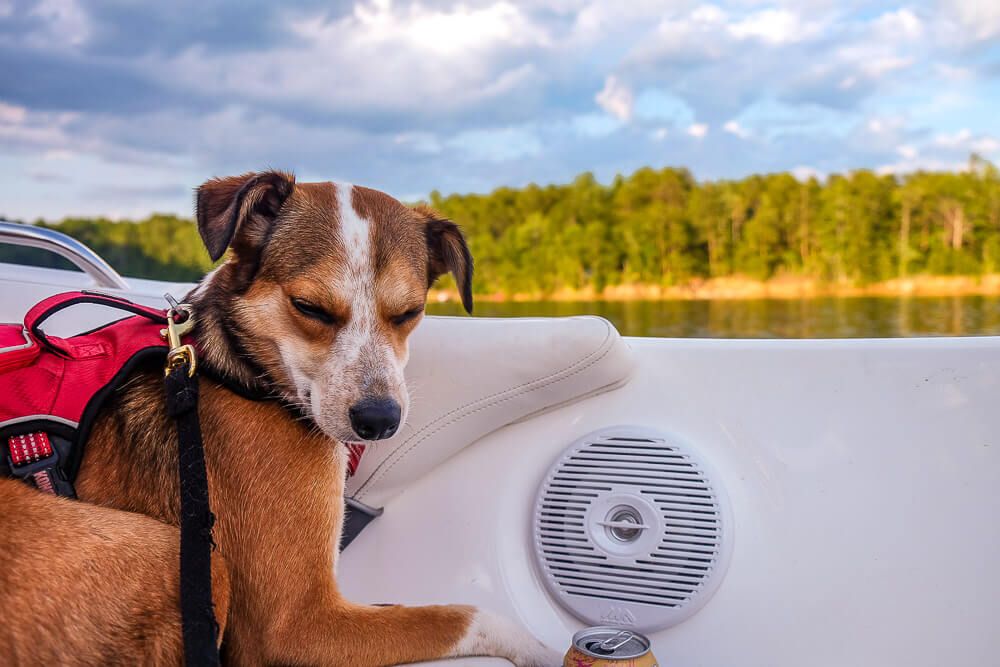 That's It! I hope you have a great time boat camping!