Heading to Lake Jocassee is one of my favorite summer activities. The Lake itself is deep, relatively clear, and rather cold at times, which makes it perfect for those hot summer days. Plus it's up in the mountains so it's usually a bit cooler overall. And those mountains, well, they make for some pretty amazing scenery. So much so that when I have friends or family in town, we always try to head to Lake Jocassee. It's just beautiful.
If that doesn't convince you, then maybe this will. The shoreline around lake Jocassee is peppered with waterfalls. Like real waterfalls that tumble down into the lake (remember that cold water, well this is where it comes from).
If you're visiting Lake Jocassee, then visiting these waterfalls is a great way to spend your day. Waterfall hopping is something we regularly do. Sometimes we just drive by for a glance, while other times we post up for awhile.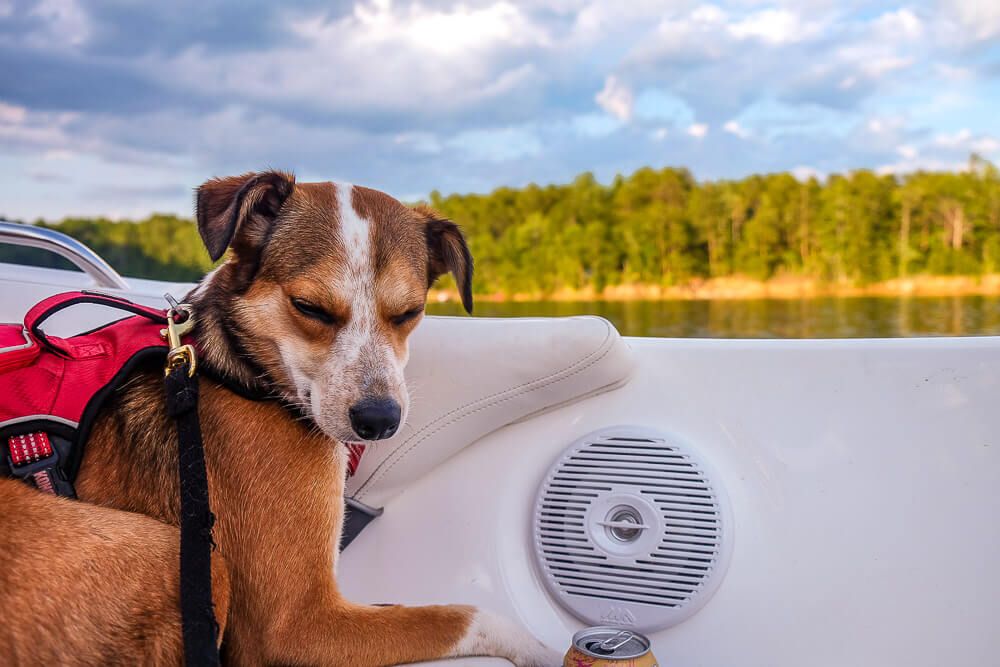 Sometimes finding the waterfalls though can be tricky as the lake is very large and has several channels. I've included the location for each waterfall below, or you can check out my waterfall map. I'm hoping to add additional sites to it as I mark them during future trips.
But please note that the Lake Jocassee waterfalls are popular. You most likely will not have them to yourself. If you aren't an experienced boat driver, be careful navigating as there are rocks along the shoreline and usually several boats (and kayakers) near the waterfalls.
Interested in Camping?
Devils Fork State Park has a boat-in campsite on Lake Jocassee. Camping there is one of our favorite summer activities. Find out what to expect at this boat-in campsite!
And if you're not sure what to bring, see my boat camping packing checklist!
---
Lake Jocassee Waterfalls
Laurel Fork Falls
The Laurel Fork Falls was the first waterfall we discovered on Lake Jocassee. It's located on the north side of the lake so it might be hard for those without boats to reach it.
You'll need to travel down the lake's north eastern channel to reach it and at first glance, you'll only barely see the waterfall as it tumbles down and then seems to disappear behind a large rock face. But there is a small cove to the right at the end of the channel. Make your way there and you'll get to see the final run of the falls.
Depending on the water level of the lake, be careful when going back into the cove. It is a tight squeeze. It might make more sense to park your boat along the side of the channel and then swim back there to get a glimpse.
You can also climb up the left hand side of the rock face to get a better glimpse of the upper section of the waterfall. Just be very careful around slippery rocks.
---
Wright Creek Falls
This impressive waterfall located in the western part of the lake can be easily reached by either boat or kayak. Wright Creek Falls has three tiers to it, though the final two sections are the most impressive. The final run falls directly into the lake itself.
When the water is up, you can boat or kayak right up to the waterfall (with kayakers able to go behind it even). When the lake is down, you can anchor or tie up the boat and then walk up to the waterfall.
If you're kayaking here, I've read it can take around 2ish hours to reach this waterfall so be sure to plan accordingly.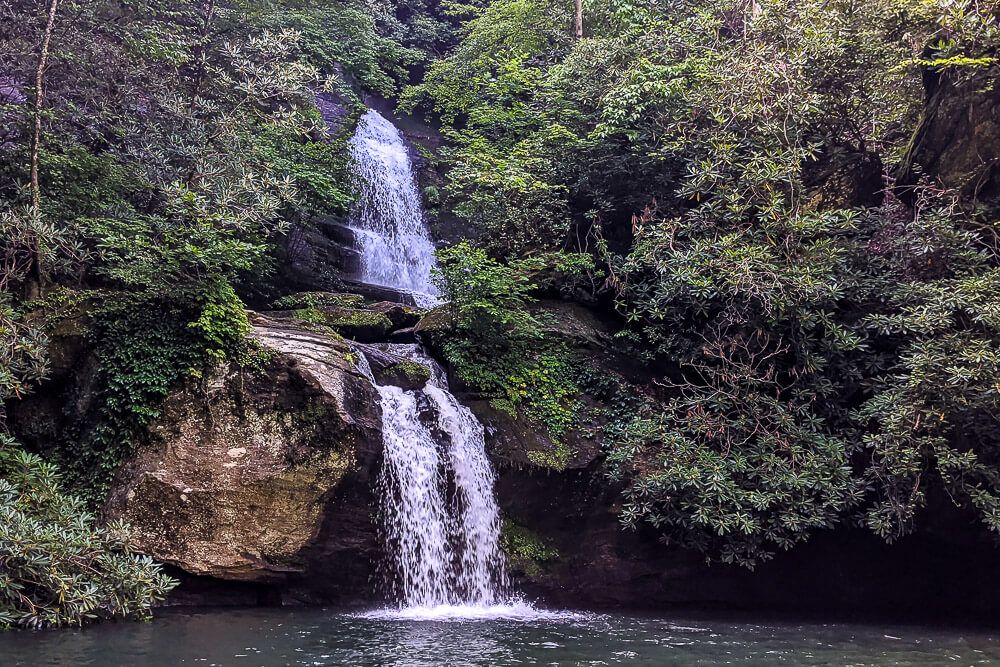 ---
Mill Creek Falls
This waterfall is located on the north western part of the lake. And, unfortunately, I think it is only accessible via boat.
Mill Creek Falls tumbles down over a rock face, allowing for you to get pretty close to it. However the best way to experience the waterfall would be to tie up your boat and then swim up to it.
This is usually the last stop on our waterfall hopping tour, but there are several other smaller waterfalls to check out!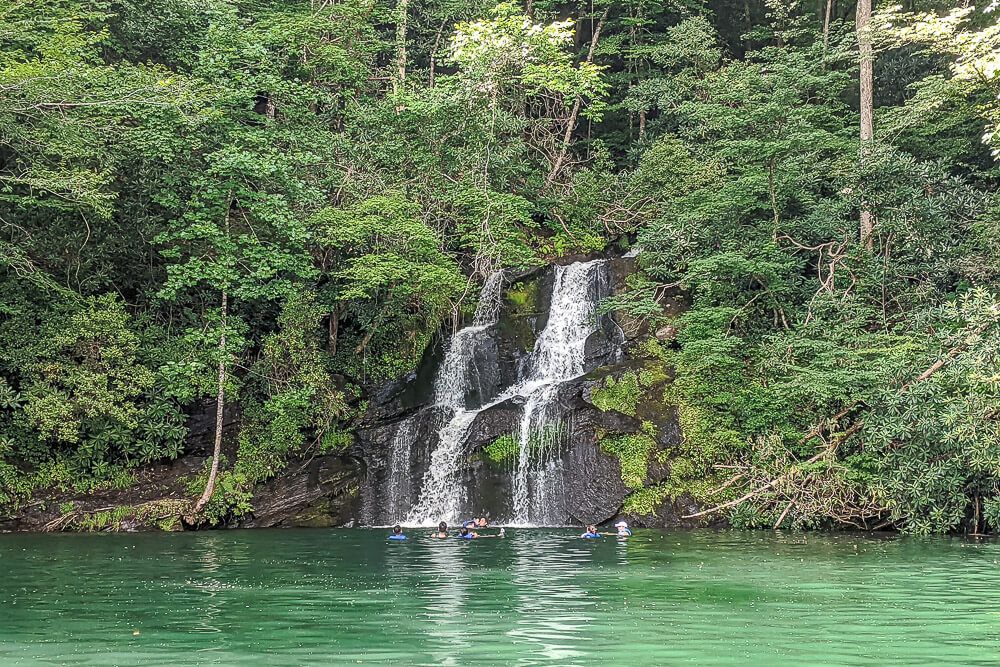 ---
Devils Hole Creek Falls
This smaller waterfall can be hard to miss on the eastern side of the lake. We probably would have passed right on by it the first year had it not been for the kayakers gathered around it.
To get a proper view of this small waterfall, you'll have to get really close to the brush to see much of it. And it's much more impressive if there's been a fair amount of rain lately. Sometimes this small waterfall isn't much more than a trickle at times.
---
Other Waterfalls & Sites
Rapids of the Whitewater Falls
So the Whitewater Falls themselves is the highest waterfall east of the Mississippi (falling a combined 811 feet). The Upper Falls (actually located in North Carolina) plummets 411ft, while the Lower Falls falls 400ft. Now the Lower Falls, though in South Carolina, are actually accessed to the north west of Lake Jocassee. You cannot access the two overlooks via the lake.
However the Whitewater River (that the falls are on) tumbles down and into Lake Jocassee. So even though you won't be able to see the Whitewater Falls from the boat, you can catch a glimpse of its final rapids as they crash down into the lake.
---
Thompson River Falls
Also located on the western part of the lake, I have yet to visit the waterfall. Another frequent visitor only recently mentioned it to me so I've marked it on my list. They mentioned that there is a small trail to the left with several layers of falls and possible swimming holes.
As soon as I have more information, I'll update this article.
---
Unnamed Falls #1
This small waterfall is actually mis-marked on Google Maps. It's really located at the end of Bad Creek.
We found it after following a bunch of boats and kayakers into the back of this small cove. The waterfall itself is small and obscured by overgrowth, but you can get out and swim up closer to it. This will give you a much better view.
Kayakers and paddle boarders will be able to head right up to the base of the falls and will definitely have the best view. And there were a lot of kayakers around when we visited. I think this may be the closest waterfall to the ramps at Devils Fork State Park.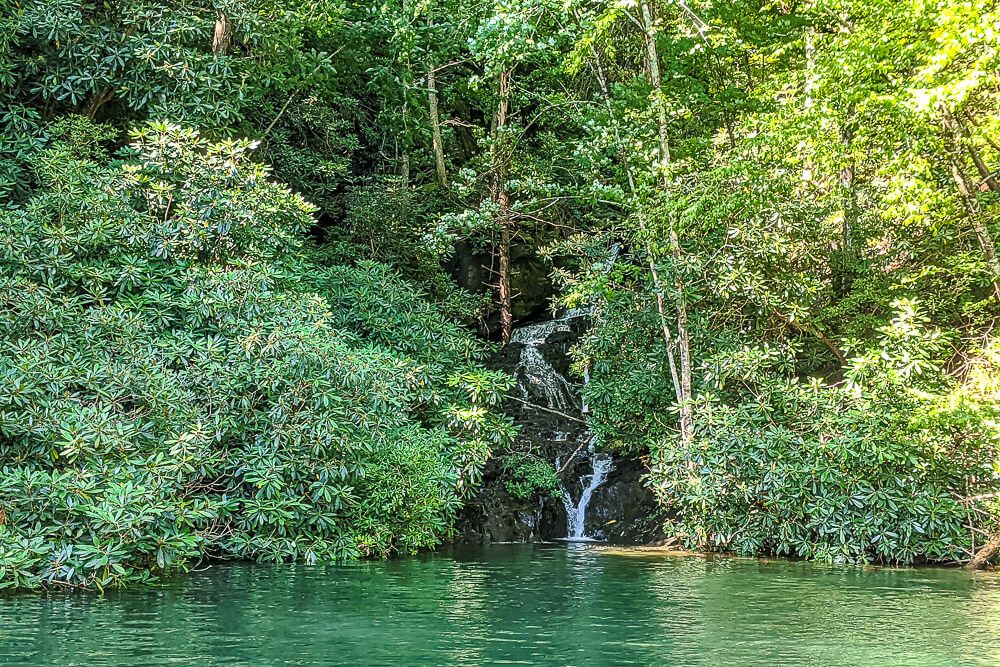 ---
Foothills Hiking Bridge
Located in the far northern part of the lake, you can actually head up the Toxaway River and get a glimpse of a bridge along the Foothills Hiking trail. This part of the lake is actually in North Carolina.
The Foothills Hiking trail is a long (77 miles) trail that weaves through North and South Carolina. It's popular with day hikers and backpackers alike.
The bridge itself is a pretty cool suspension like bridge. It hangs over the final rapids of the Toxaway River before it tumbles into the lake.
There is also a smaller hiking bridge over the Horsepasture River in the north eastern part of the lake.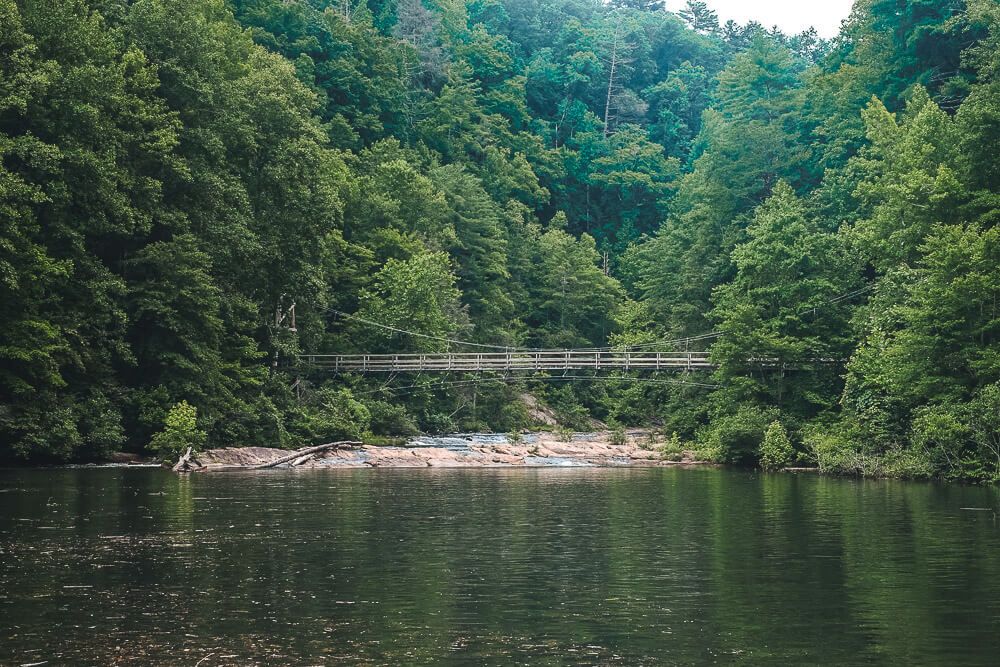 Have fun on Lake Jocassee!