Wedding costs are insane. There are a ton of things to think about even with a more low key celebration. And for many vendors, all you have to do is say the word wedding and the price tags go up. But in 2022 I planned my wedding and spent less than $19,000. Find out how you can do the same for your Greenville wedding.
With anything, there are several things I want to mention before we dig in. First off I know $19,000 is not an insignificant sum. It's still a lot. But I feel proud that we were able to come in where we did.
We also have amazing parents and family members who helped us out – both financially and with their time. If we hadn't had their support, we would have cut things even further and had a much smaller and simpler celebration.
Our wedding (ceremony & reception) occurred in Greenville, SC. And though it's not a cheap place to get married (or live), I know it's less expensive than many other larger metropolitan areas. We had about 100 guests come to the reception.
To see even more photos from our wedding celebration, check out Mast Photography's blog post.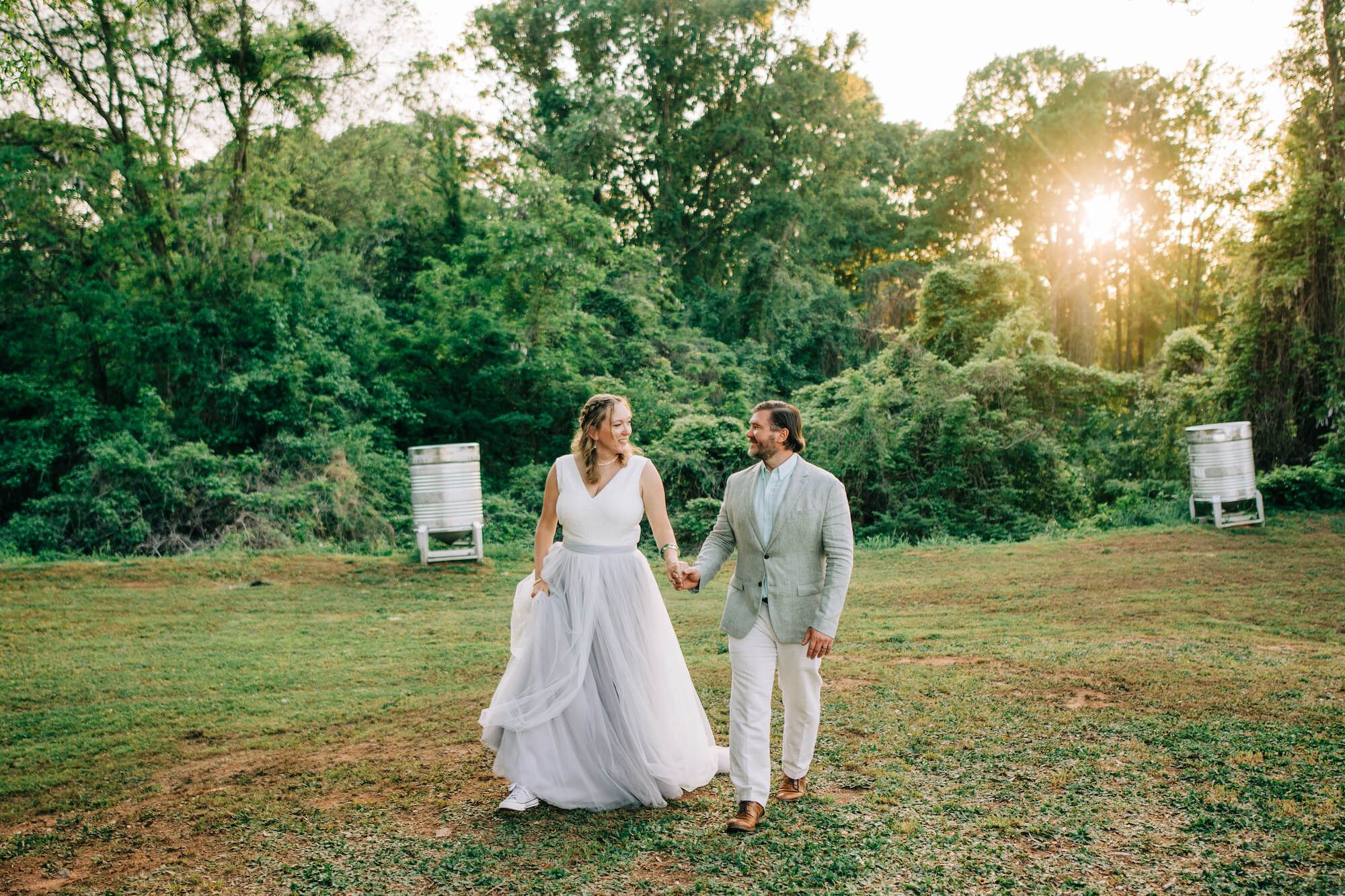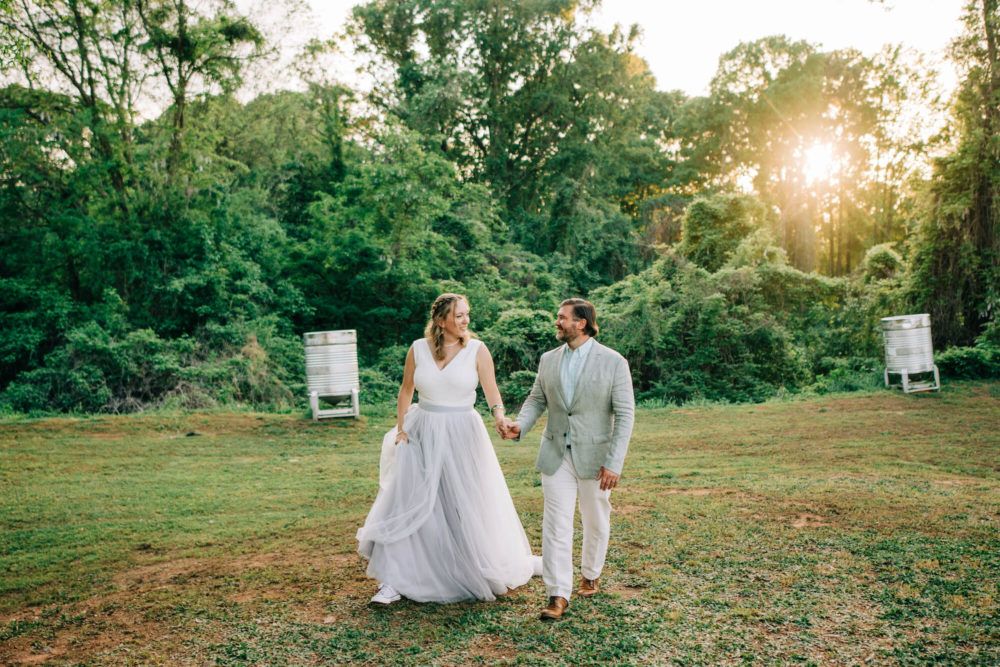 The last thing I want to mention before jumping into the details is that I planned the wedding in around 6 months. Due to the pandemic, we delayed and delayed and delayed and delayed. In late 2021 we finally decided we didn't want to wait anymore and moved forward with what made sense in this new world.
Which means we did things a little nontraditionally. If you want to have a big traditional wedding, this breakdown might not make sense for you.
One of the bigger nontraditional things we did was to split our ceremony and reception into two different days. We could have easily combined them, but decided to do it this way. We had a small intimate ceremony (of just immediate family & wedding party) on Friday evening and then the big reception with all the invitees on Saturday afternoon/evening.
This gave us more time to set up on Saturday ourselves and kind of removed the whole need to do a rehearsal. I know it wasn't typical, but we didn't have any issue with it.
Overall we loved our wedding and reception. It was perfect for us.
The Local's Guide to Greenville, SC
---
Our Greenville Wedding
Attire
This mostly consisted of my wedding dress and all the things that go with that. We did save money though by using things we already had or could borrow.
Below is the overall total but I wanted to provide a bit more description on a few items in particular.
Attire Total: $2,001
Wedding Dress
Since my timeline was so tight, I knew the traditional wedding boutique experience wasn't going to happen for me. This was a little sad to give up, but in the end I loved my dress. I ordered it from Wardrobe By Dulcinea on Etsy.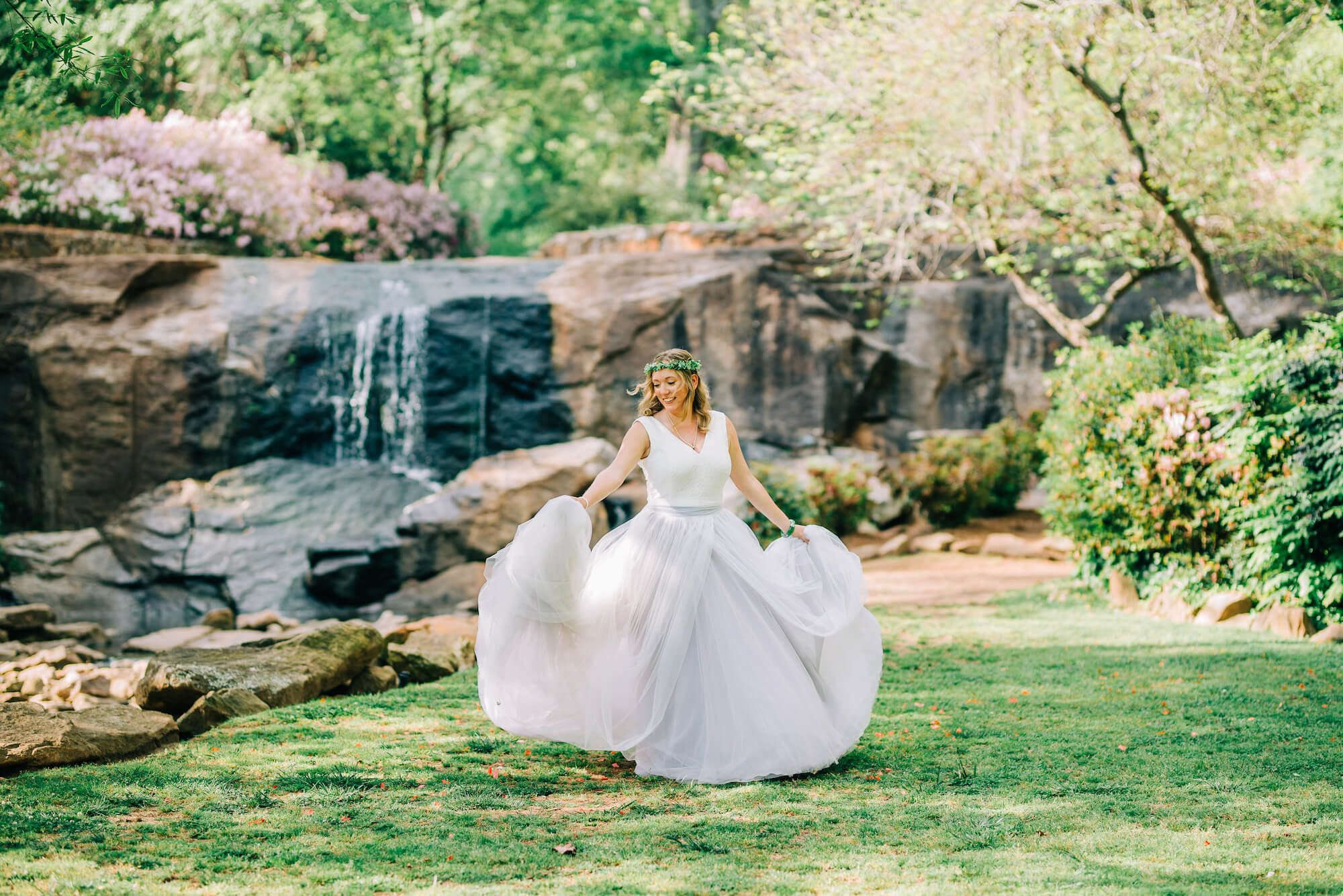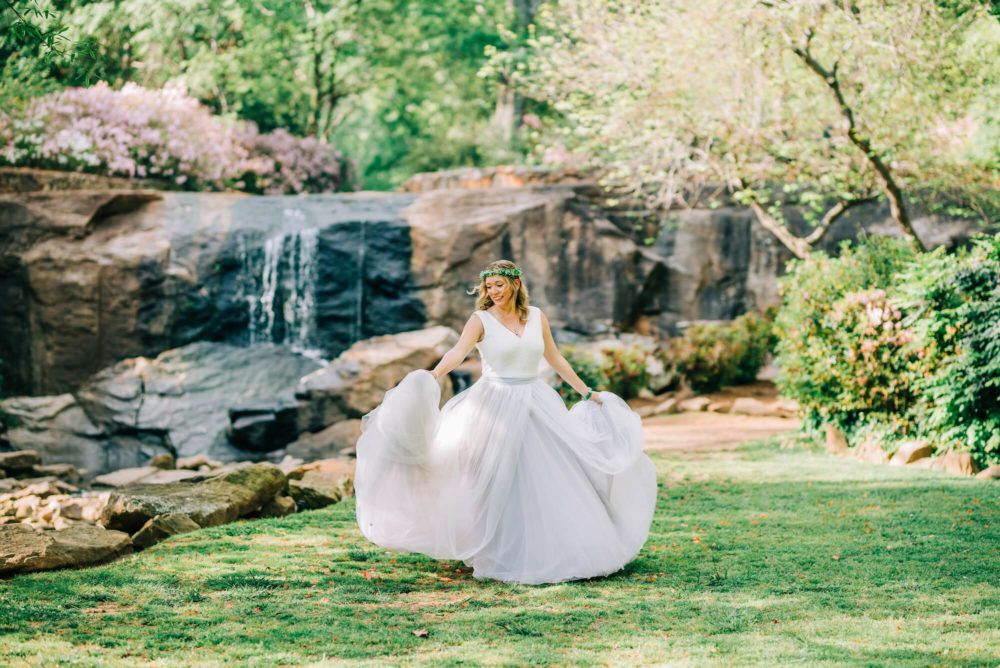 The process was super smooth. After purchasing the Eirene top (customized to be sleeveless and with a different neckline), the Morgana skirt in dusty lavender, and the Belle overskirt in layers of white and gray, I then had to take a ton of measurements.
I was a little worried, but once it arrived it fit perfectly.
Price: $988.98
Other Bridal Attire
All the other little things that I purchased to wear are listed below:
Bra: $68
Shapewear: $71
Shoes (I wore light purple converse sneakers): $51
Hair & Makeup (our photography offers this as an add-on & I got it for both days): $220
Flower crown: $37
Bride socks: $10
One big thing to note here is that I borrowed my mother's jewelry (think earrings & necklace). She had some really nice pieces (some from even from my grandmother), and I was more than happy to wear them.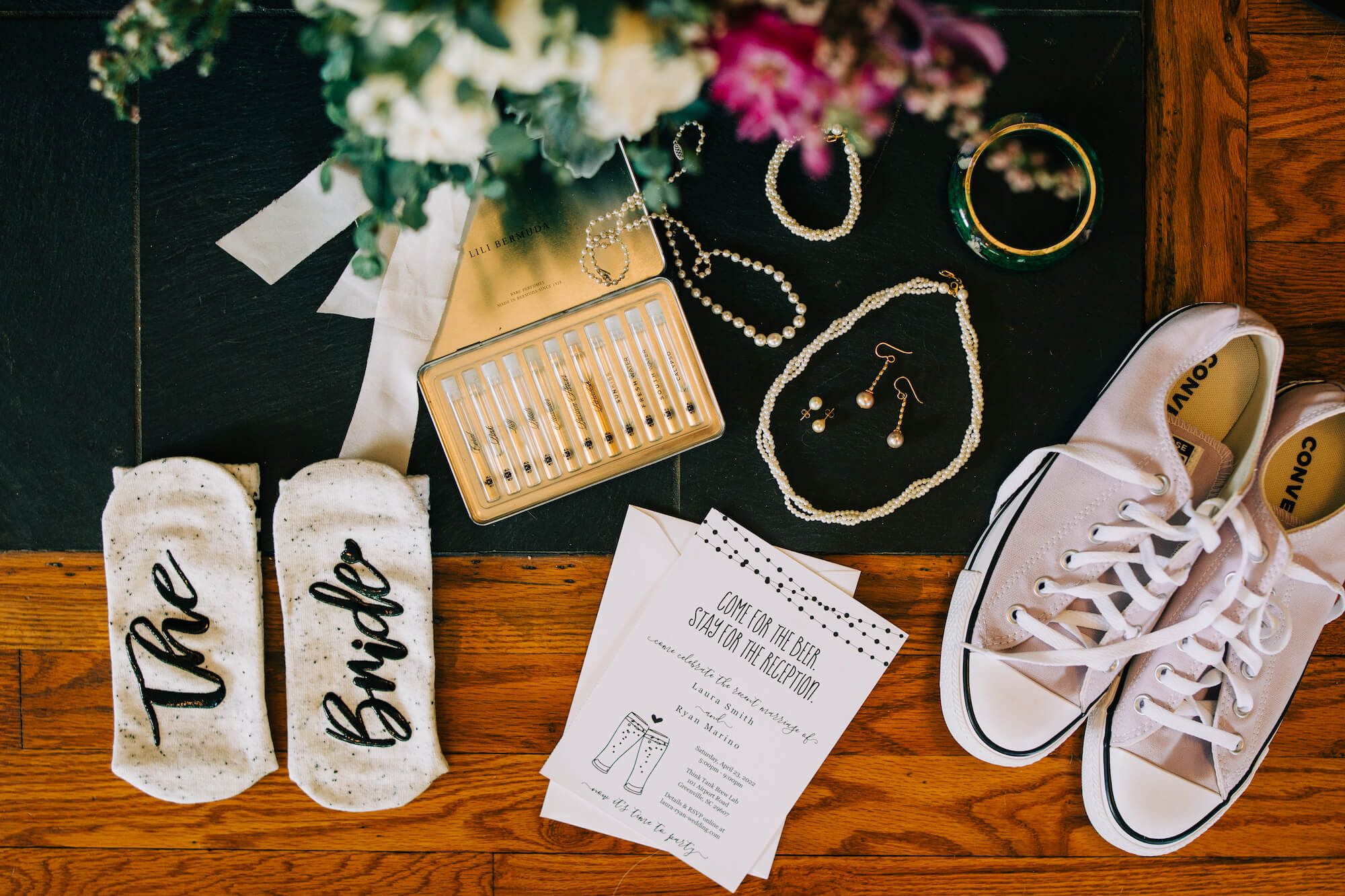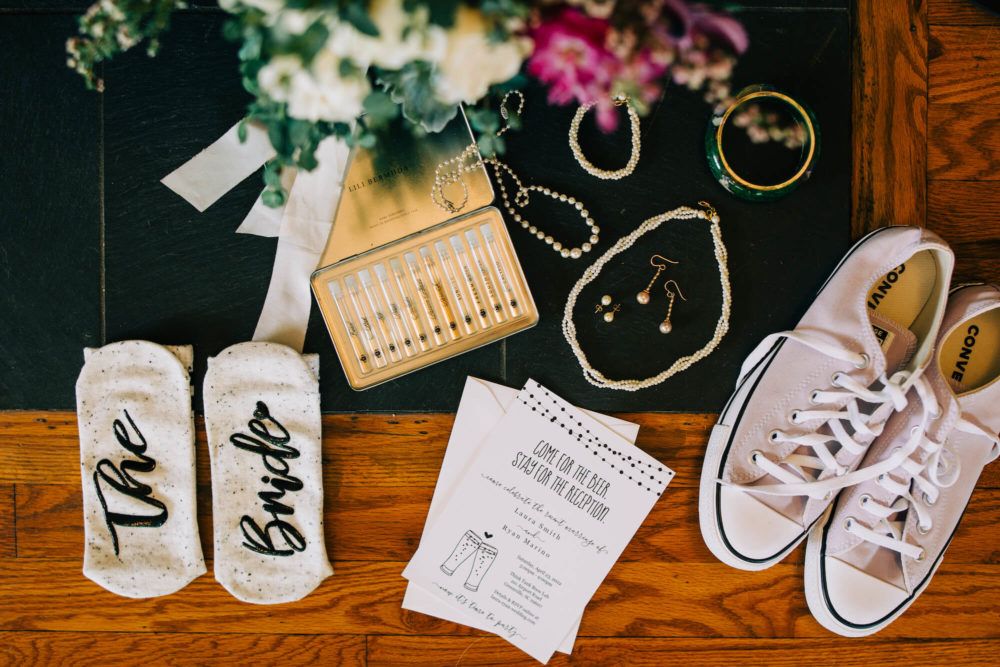 Groom's Attire
The only thing we purchased for him was a tie ($30). He already had a very nice gray linen suit jacket that he wanted to wear and even had a ring to use as a wedding band.
Misc
Our dog was a big part of our ceremony and we got her a new leash ($33) and a custom "Dog of Honor" bandana ($15) from Lexie Lou & Co on Etsy.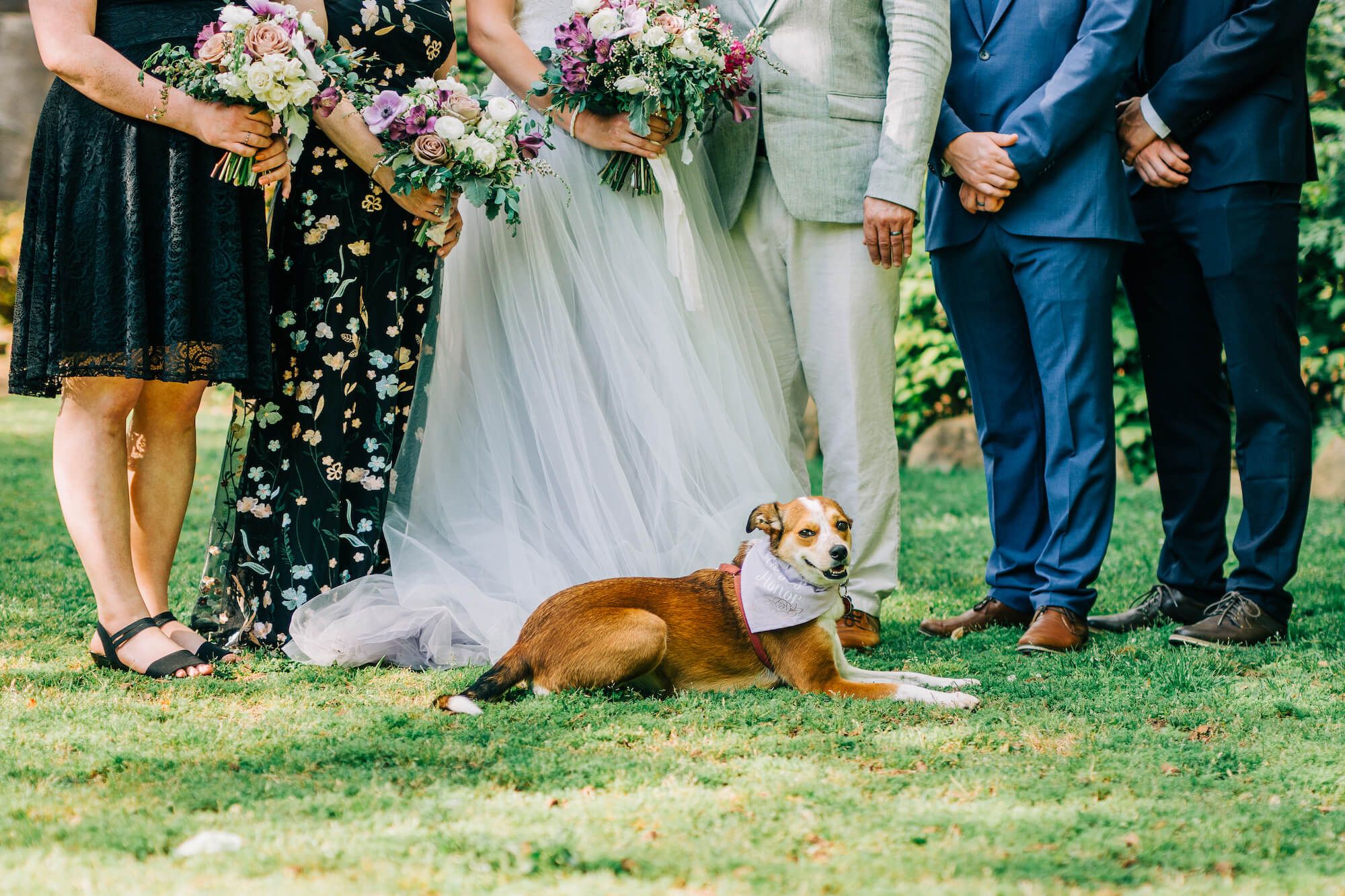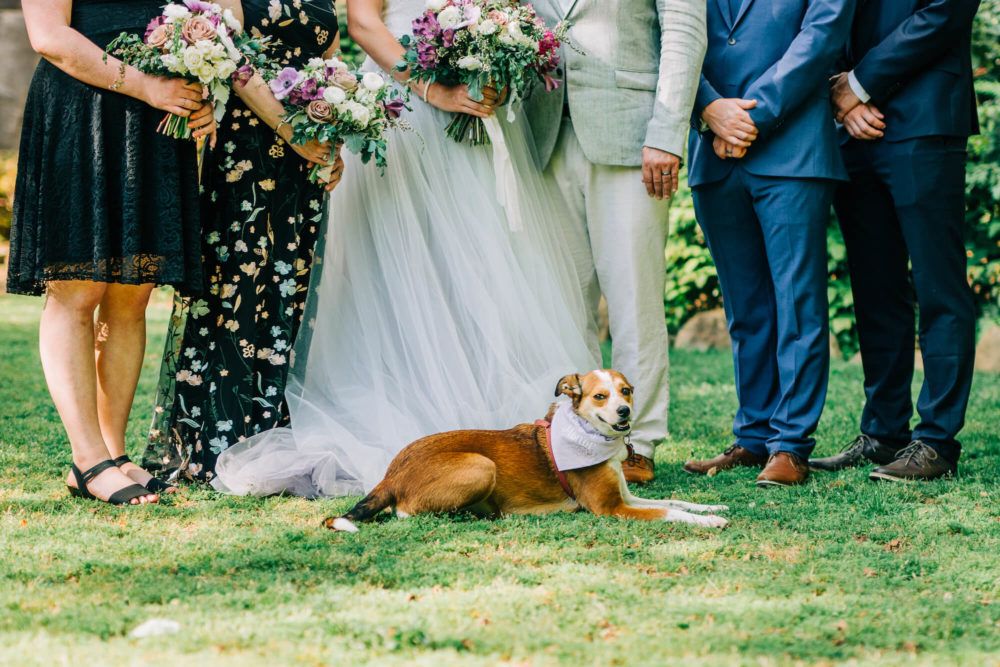 ---
Venue
This was honestly our big money saver right here. I looked at a few other venues and it was thousands of dollars. So we decided to get married at a brewery here in town.
It had a big indoor space as well as a great beer garden. When it opened the year before, we instantly knew it was a top contender.
So we had our reception at Think Tank Brew Lab. And they were incredible. We rented the space for 5 hours (including 1 hour of setup and 4 hours of party). And, I mean, I cannot get over how amazing the staff were.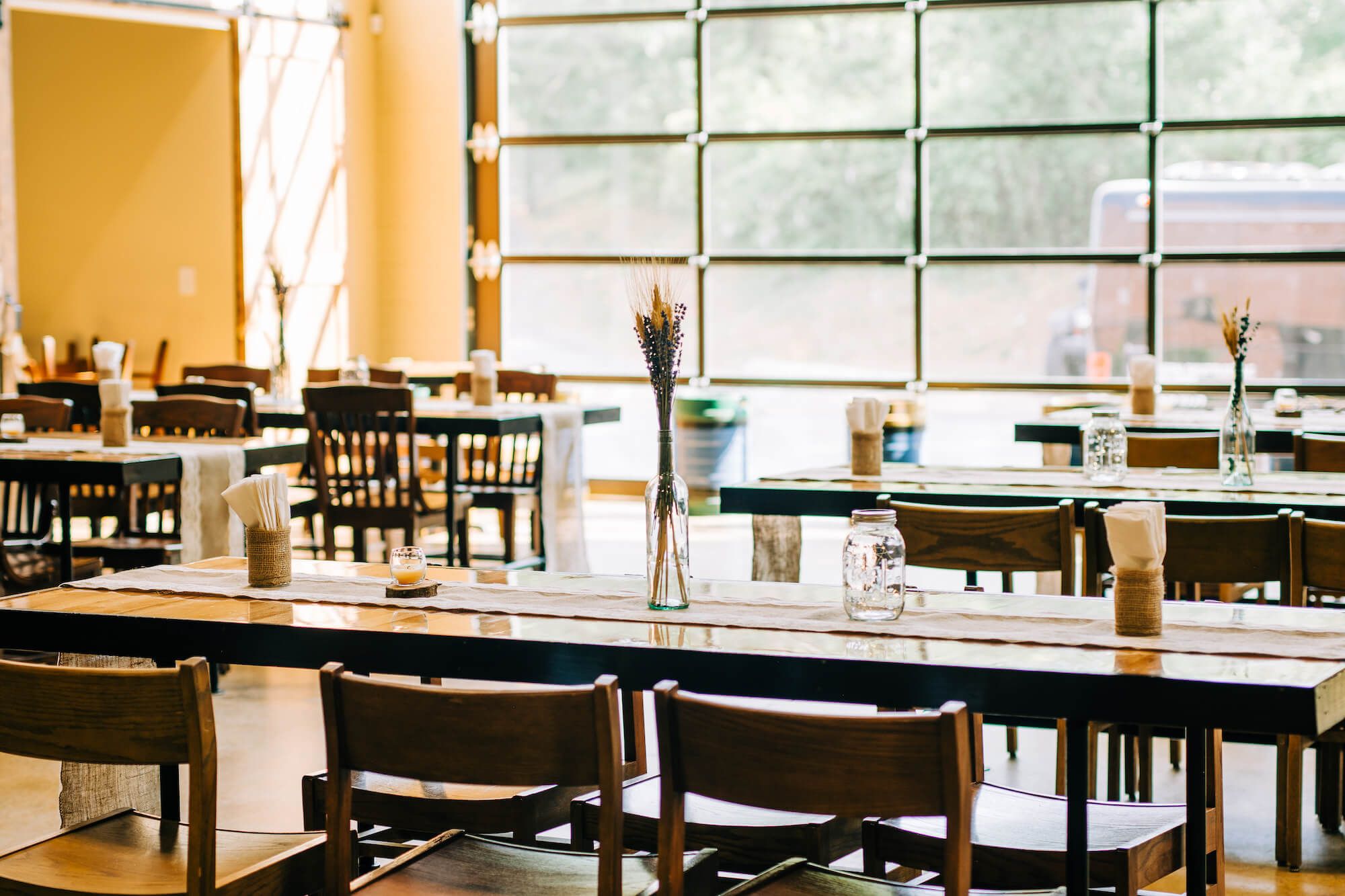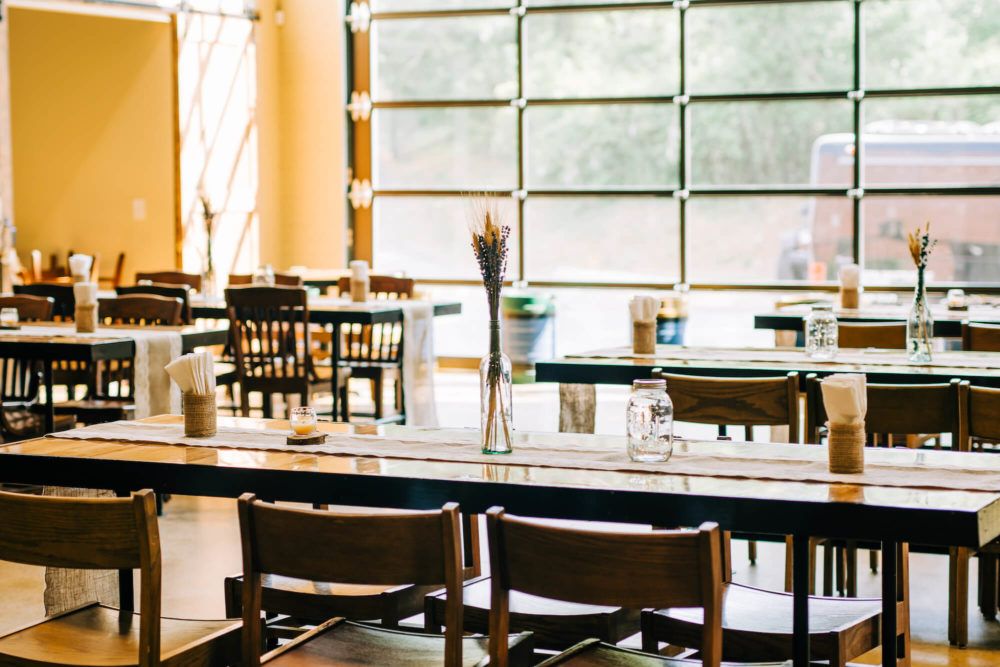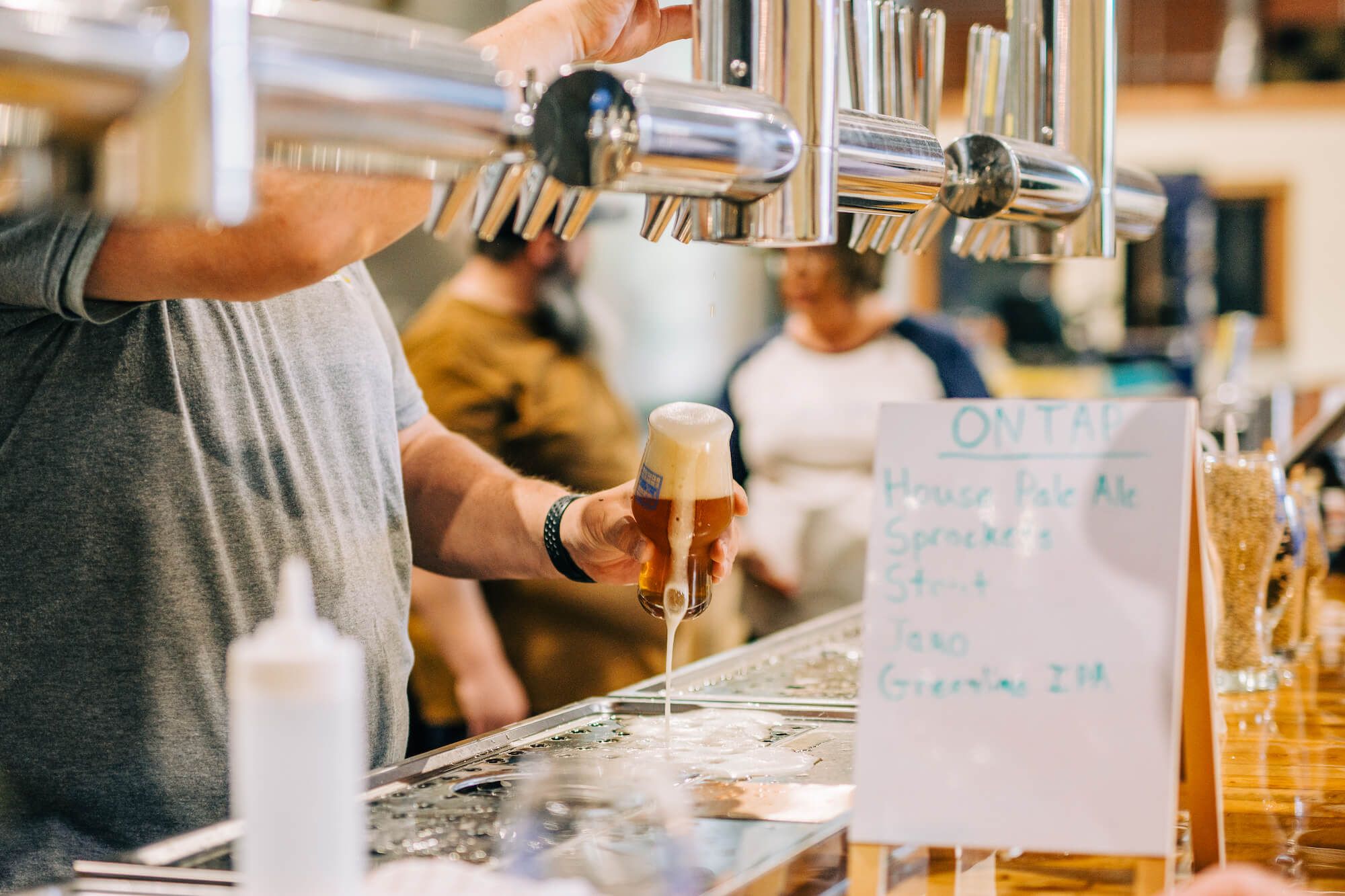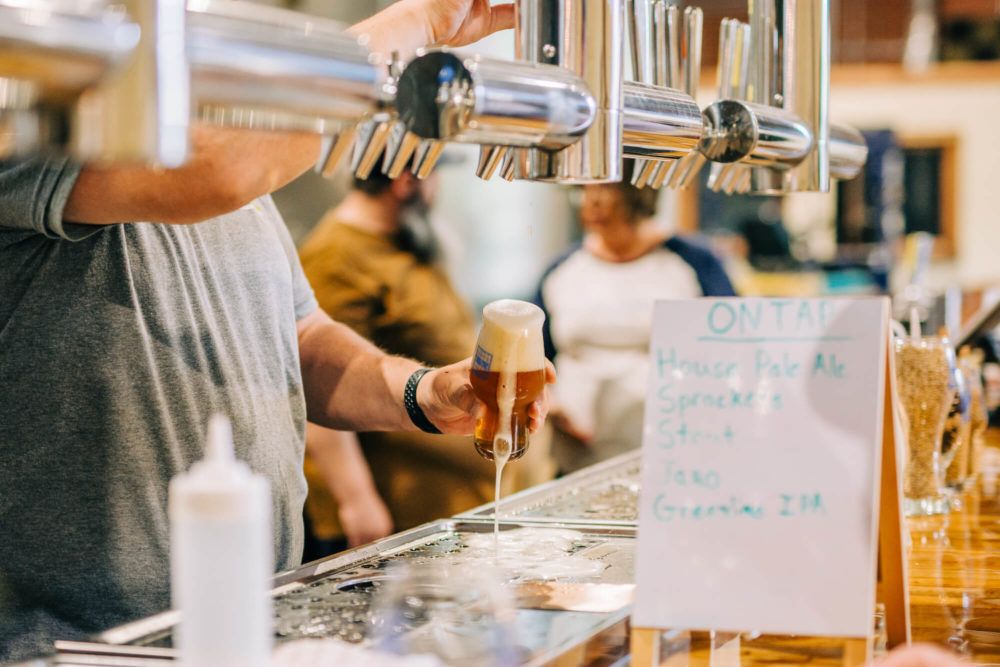 For example our cake & cupcakes were dropped off early and one of the bartenders set them up for us once we arrived with the stands. I didn't expect or ask her to do this, and was so grateful when I went over to do it and she was just finishing it up.
You want another example? Well at the end of the night they told us to just come by in the morning when they re-opened to grab all of our stuff and finish cleaning up. They even let us store the extra food in their fridges overnight as well.
Seriously have your party at Think Tank Brew Lab.
Oh and the cost to rent the space for that amount of time? $1,000. Yep. I'll wait while you pick up your jaw off the floor.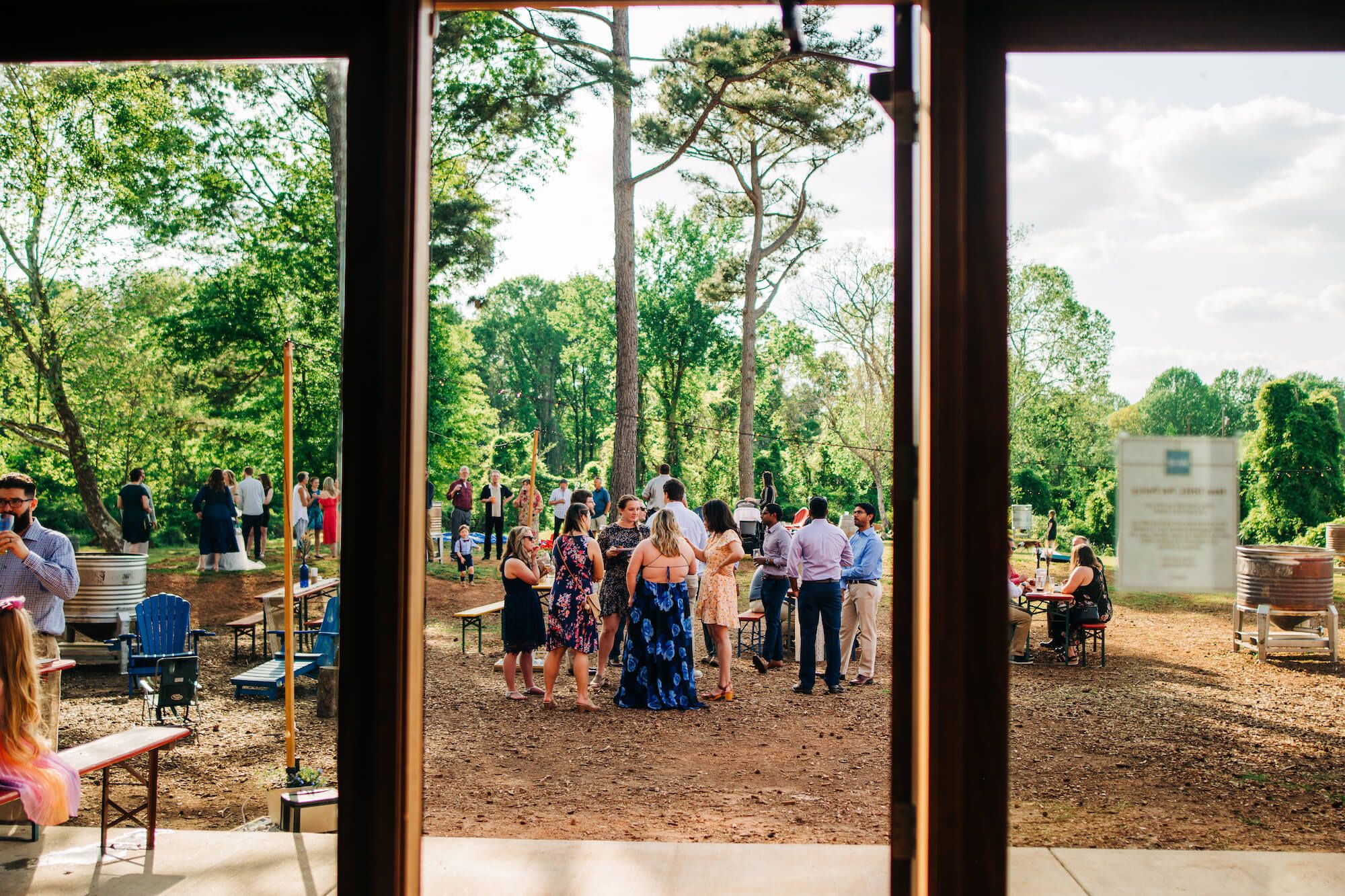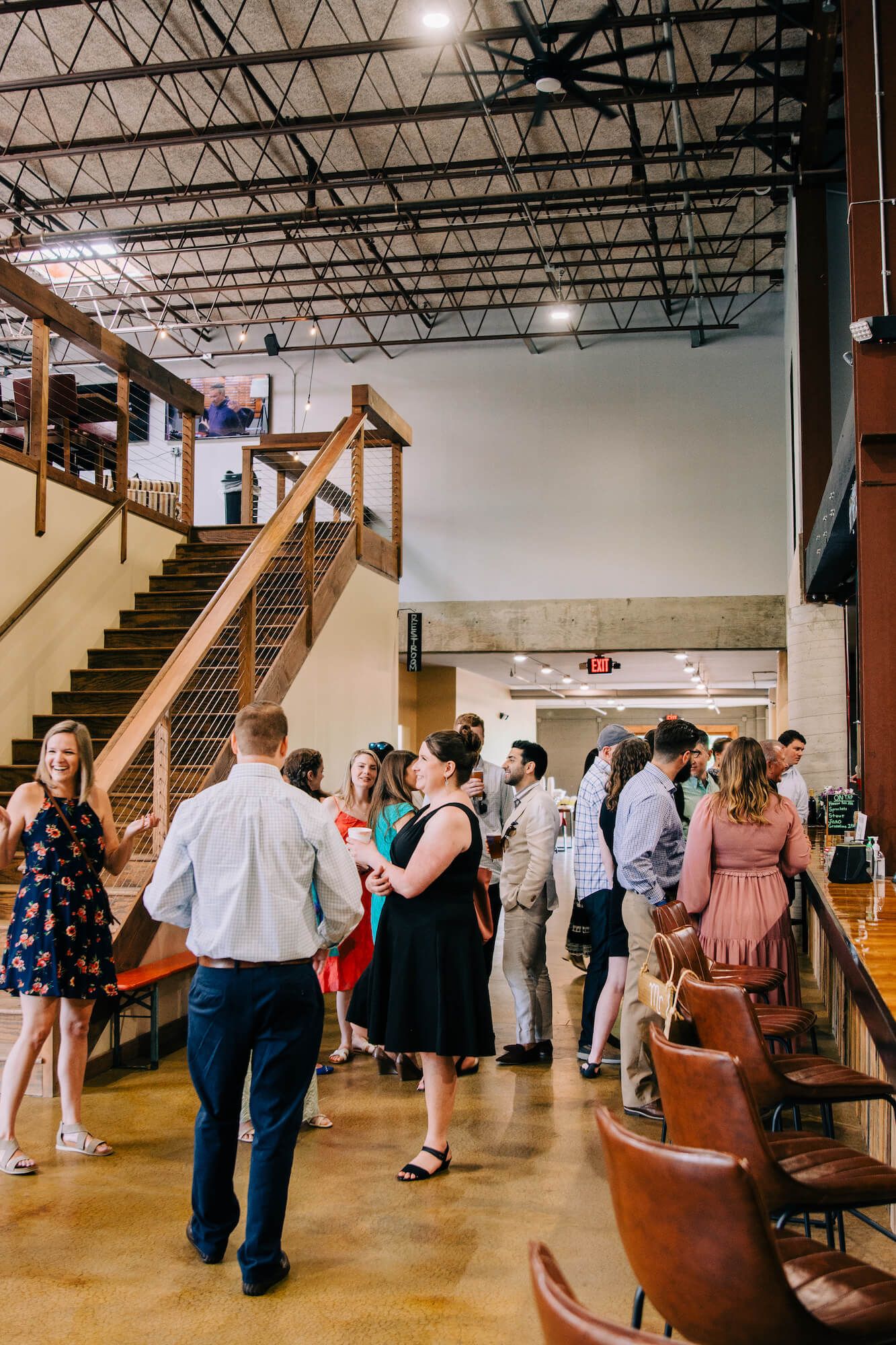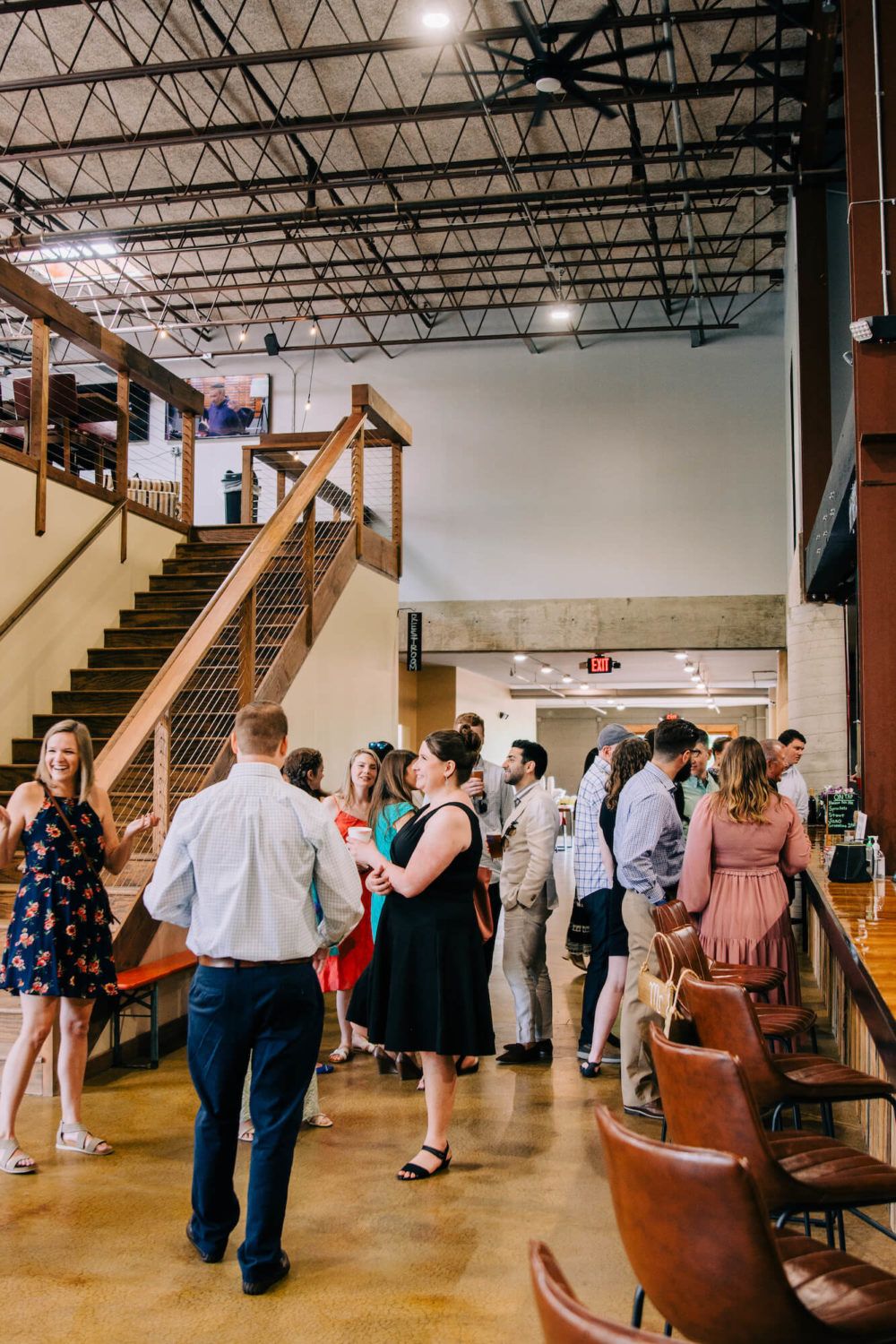 Now there was one other cost as well. And that was the rental for the Rock Quarry Garden where we had the ceremony on Friday.
Greenville City charges $350 for 4 hours. And that worked great for us. They do have rules (like a maximum number of guests) and it is a public park, but it's kind of secluded and tucked away.
Oh and the flowers were in bloom for us. Can you say perfect?
Venue Total: $1,350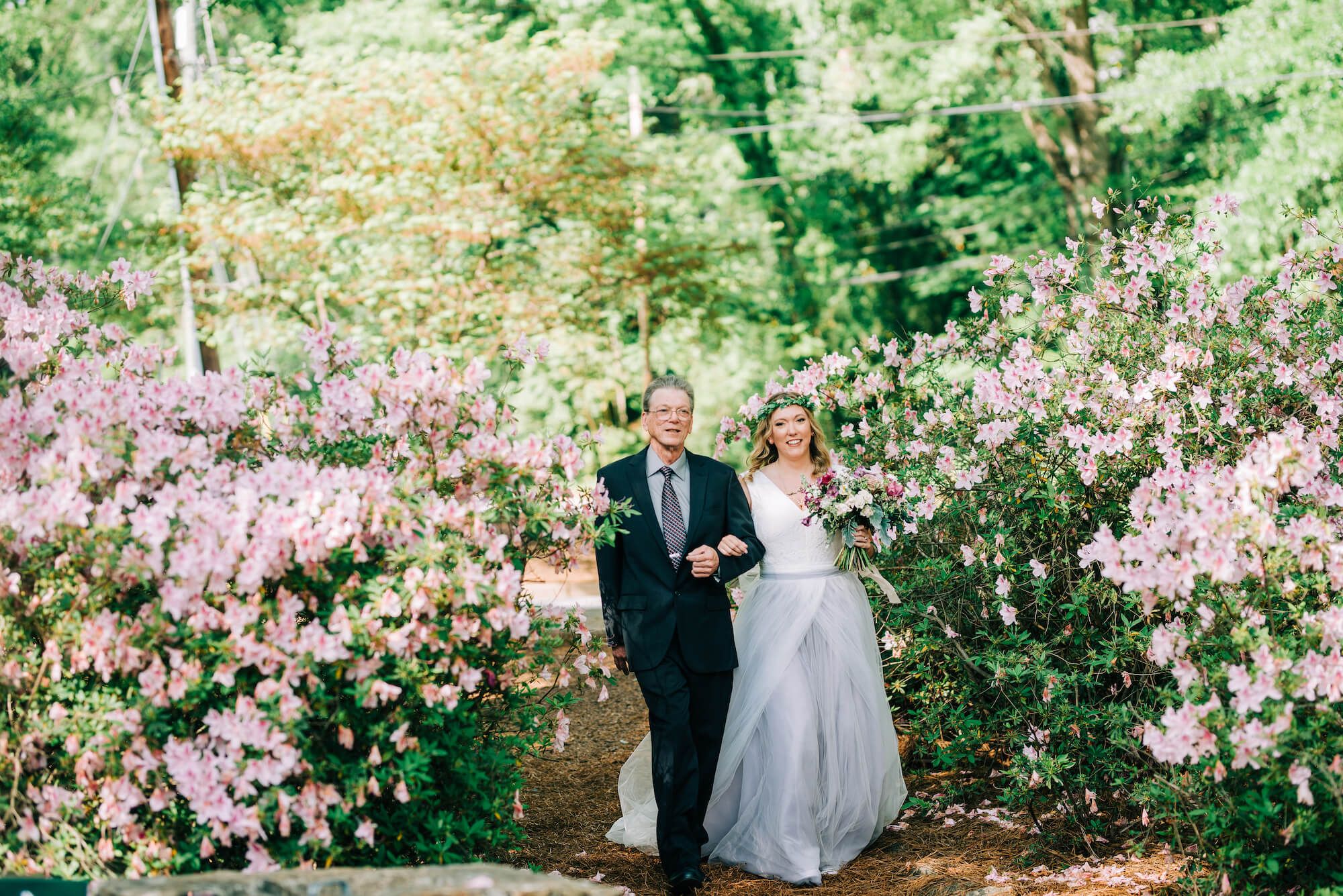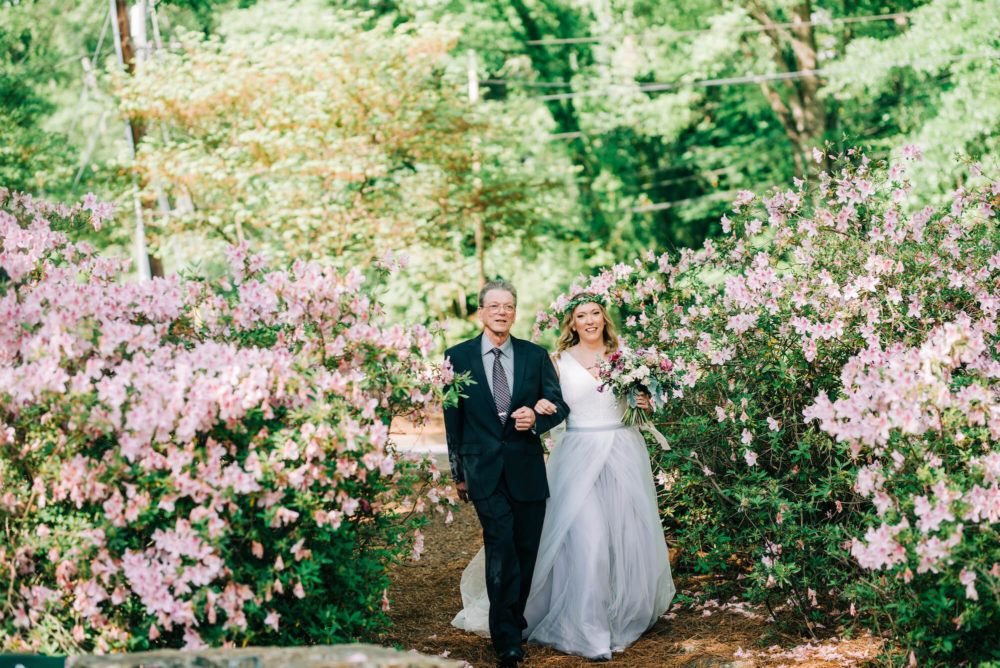 ---
Photography
This was our biggest line item. We knew we wanted nice pictures. And since our wonderful friend Sara Touchet was already booked, she recommended Mast. And they were beyond wonderful. All the photos in this post are from them.
We ended up going with their mid-tier package which included an engagement session, 8 hours of coverage, 2 photographers, and more. I even added on hair and makeup for myself for both days (but that cost is in the attire section above).
We were beyond pleased with Misty & Summer. They took amazing photos of us and were so easy to work with.
Photography Total: $2,800
To see even more photos from our wedding celebration, check out Mast Photography's blog post.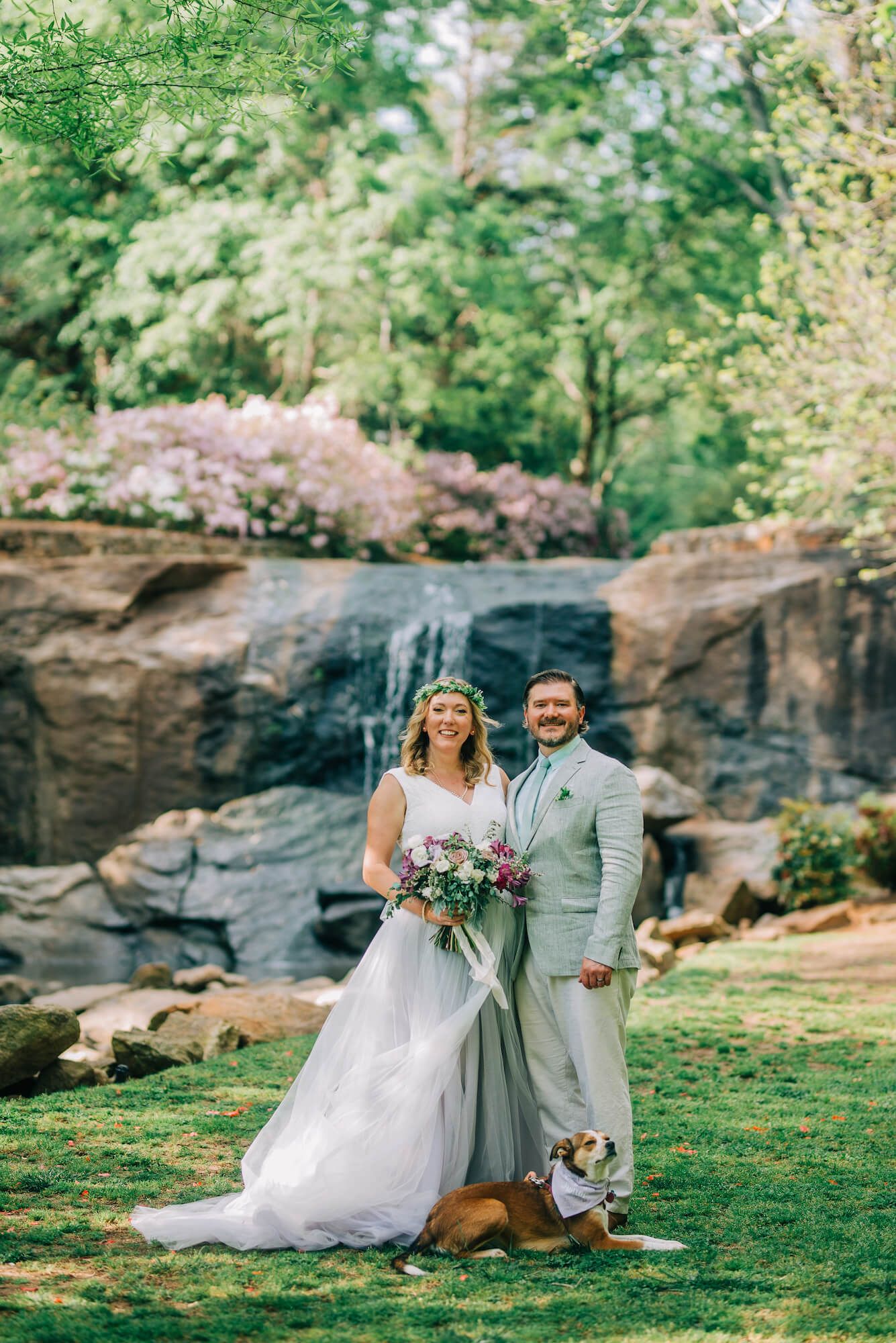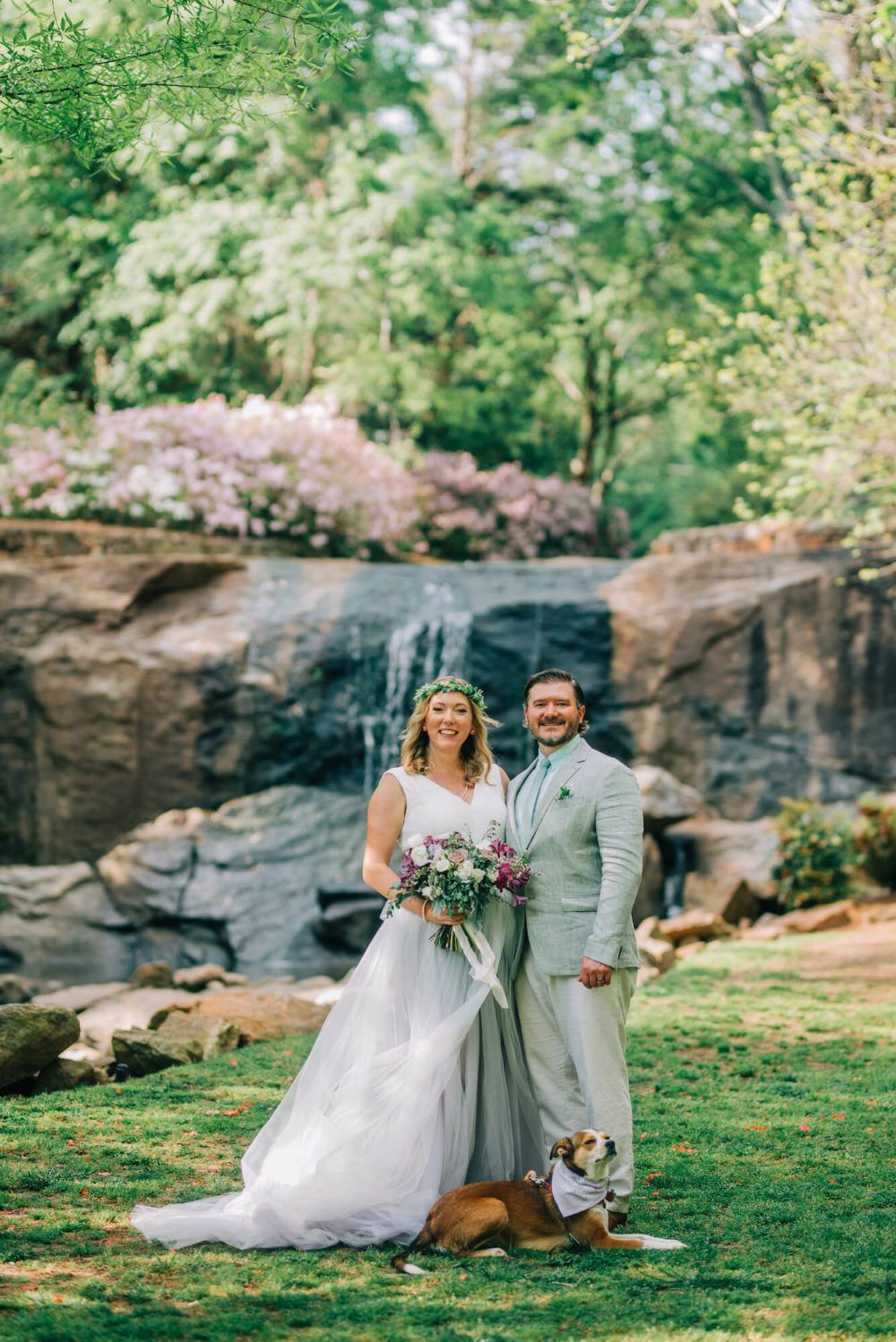 ---
Decorations
I knew I wanted to do a fair amount of decorating for the reception. And that I wanted to DIY most of it. All the decor in the photos was provided by us in some way or another. This meant I had to do a lot of planning, but I loved how everything turned out.
I'm going to break the costs down in this category based on like the group of each decor. That way I can help other brides put together something similar. But the overall total is right below.
Also some of the costs blend together below since they were all on the same receipt. So I'm sorry about that.
Decoration Total: $1,074
Table Decor
We didn't do traditional centerpieces, but I decorated all the tables.
The Dried Flowers ($122) in wine bottles turned out wonderfully. My sister collected the bottles from her colleagues as they, you know, drank wine over the months leading to the wedding. I then just had to take off all the labels and put flowers in the bottles.
The napkin holders consisted of cans that my mother, sister, and I collected as we, you know, ate food out of cans. And then wrapped them in burlap that I got at Home Depot ($23 – also includes some materials for the light stands below).
The tea lights I got off of Amazon (part of a $42 dollar order with twinkly lights and twine that were used for the napkin holders and mason jars). I then put these tea lights in small glass mason jars and other glass jars that my sister and mother-in-law already had.
The mason jar lights were beautiful and so simple. I just borrowed the large mason jars from family and added twinkly lights ($14.99) to them. I taped the control for the lights to the top of the jar.
The table runners came from Etsy ($321) and we bought quite a few (probably too many).
The wooden coasters were literally cut from the bottom of our Christmas tree.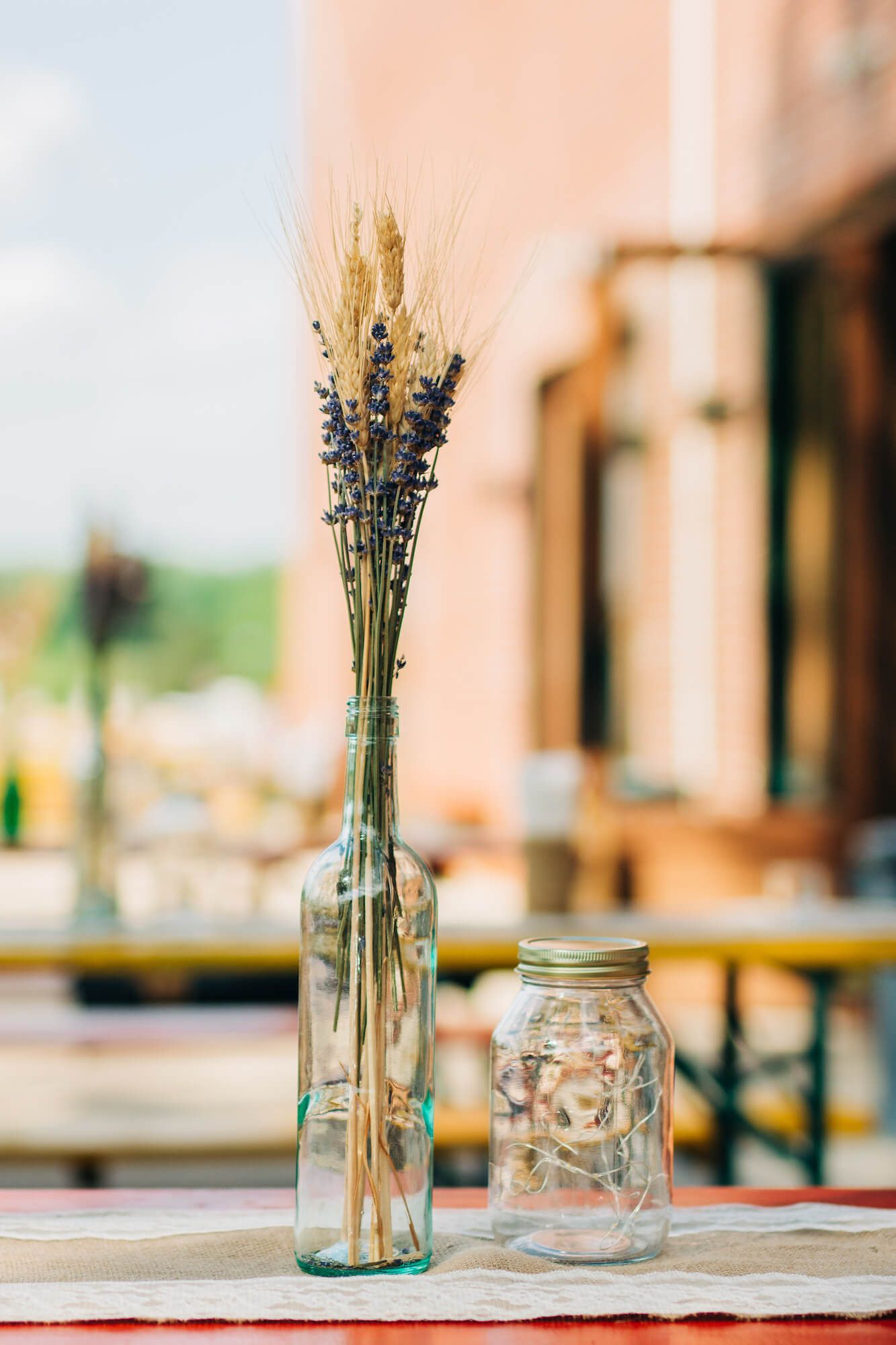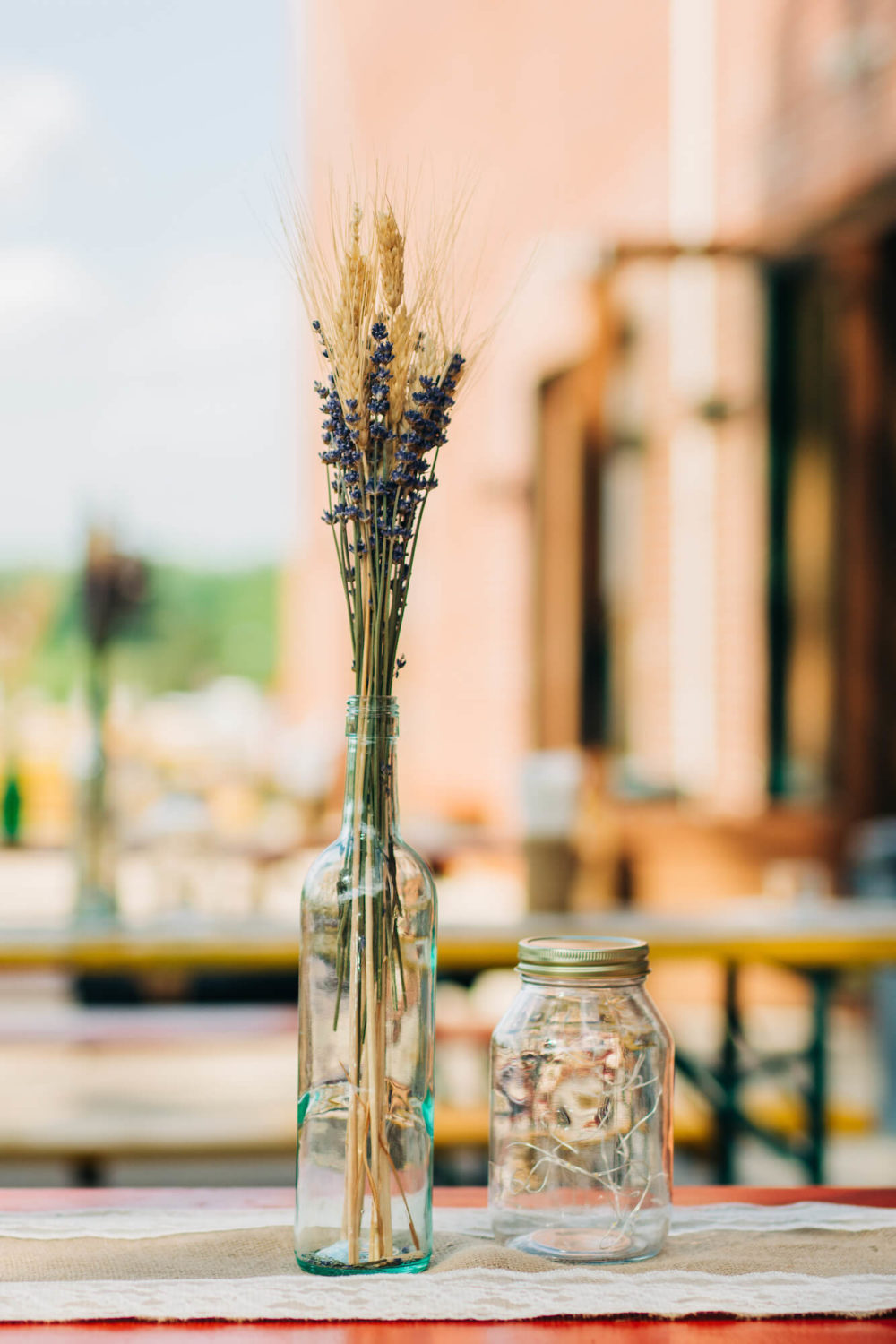 Bride & Groom Table Decor
We had a few things just for our seats.
Large letters from Hobby Lobby ($75). I should have waited till these were on sale.
The Mr. & Mrs. sign we made for the backs of our seats was just made from a piece of wood my Dad had and some white paint.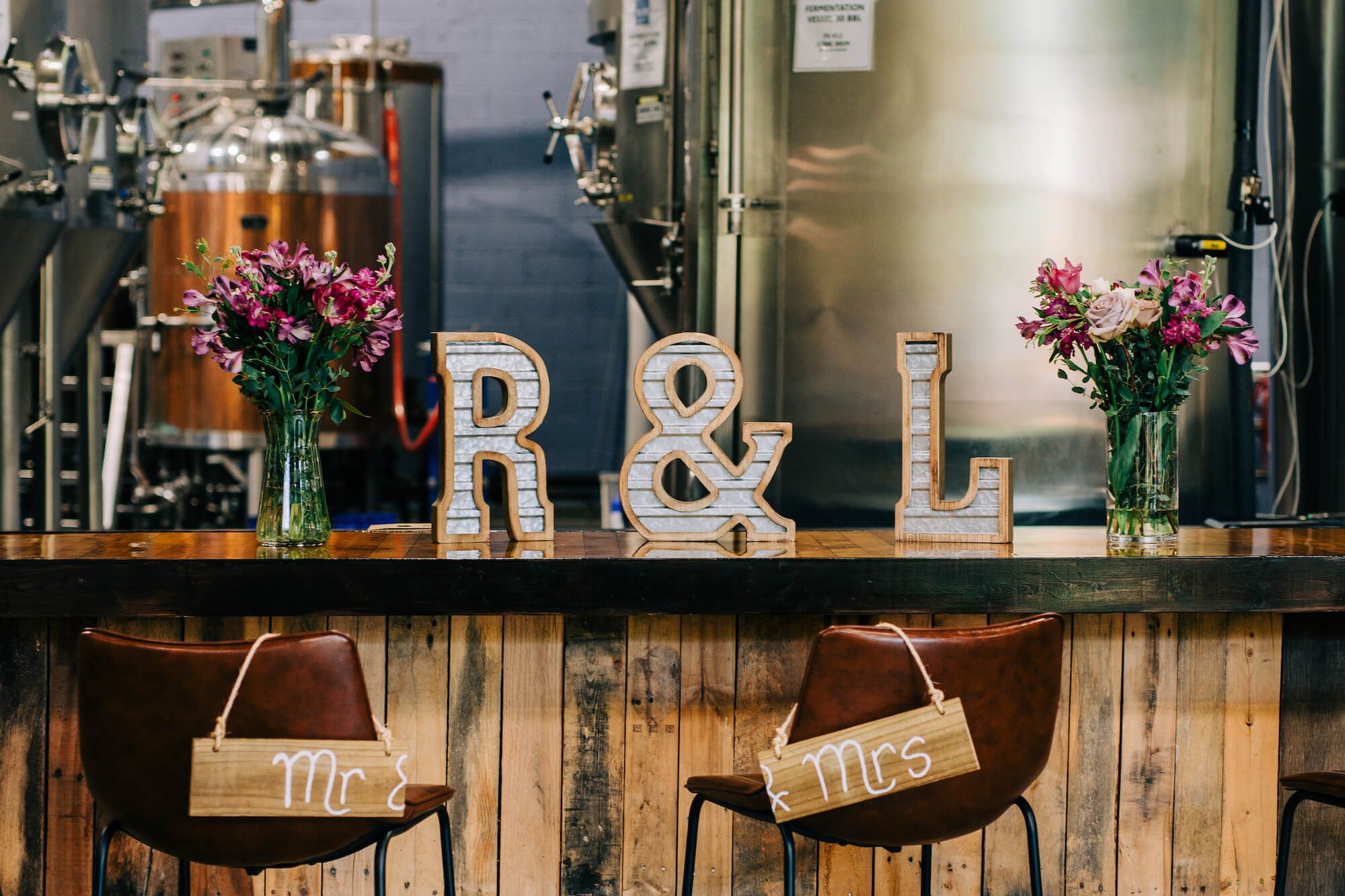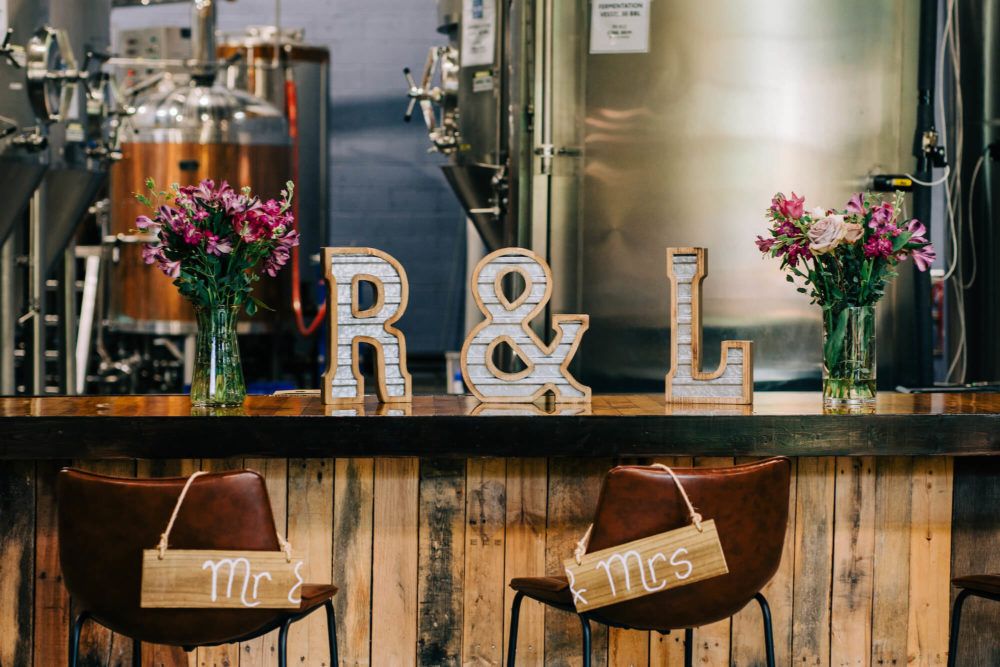 Outdoor Decor
Think Tank Brew Lab has an amazing beer garden. It's big with plenty of tables and even these cute barrels people can set drinks on. When we arrived, we moved the tables and barrels so there'd be a "dance floor" in the flat part of the garden right outside the doors.
But since we knew some of our party would extend past sunset, I wanted lights to kind of section off this area. So we made some stands to hold lights. The stands were…difficult to make. Or, really, they took some trial and error. But they turned out wonderful.
Each stand was basically an 8 foot pole in a flower pot filled 75% of the way with cement and then potted flowers on top. We then we attached the pot to a larger flat base filled with rocks. They were bulky but they did the job and created a nice dance floor space.
BUT Think Tank loved the idea so much they made their own! I loved that I inspired them. So if you have your reception at there, you no longer have to worry about this.
All the bits for the light stands weren't cheap ($165 plus a little bit more from some other receipts already listed here), but we now use them in our backyard.
For the actual lights, my parents had two strands of 100ft LED white Christmas lights that we used.
We also borrowed 4 sets of corn hole boards from our friends.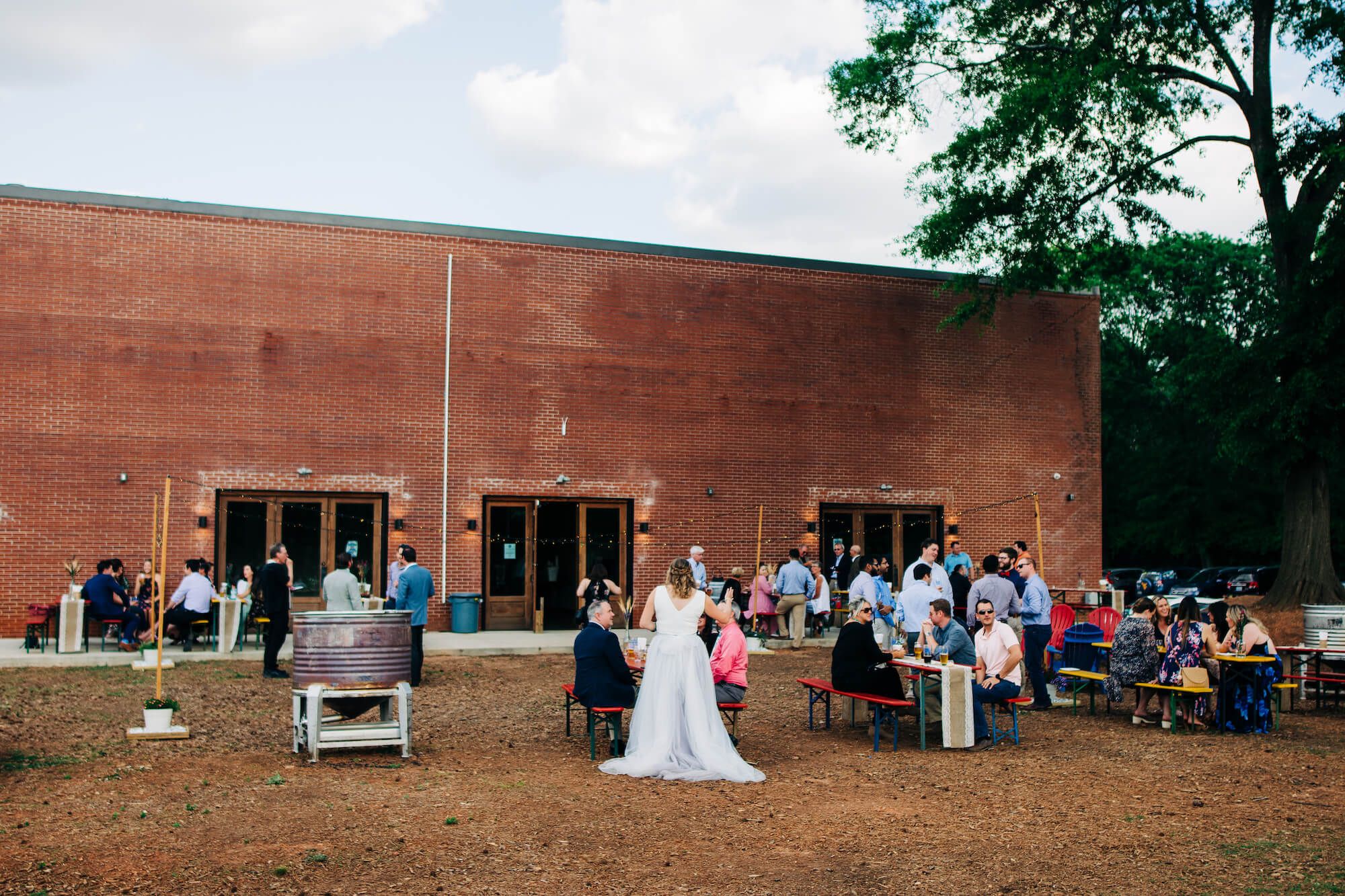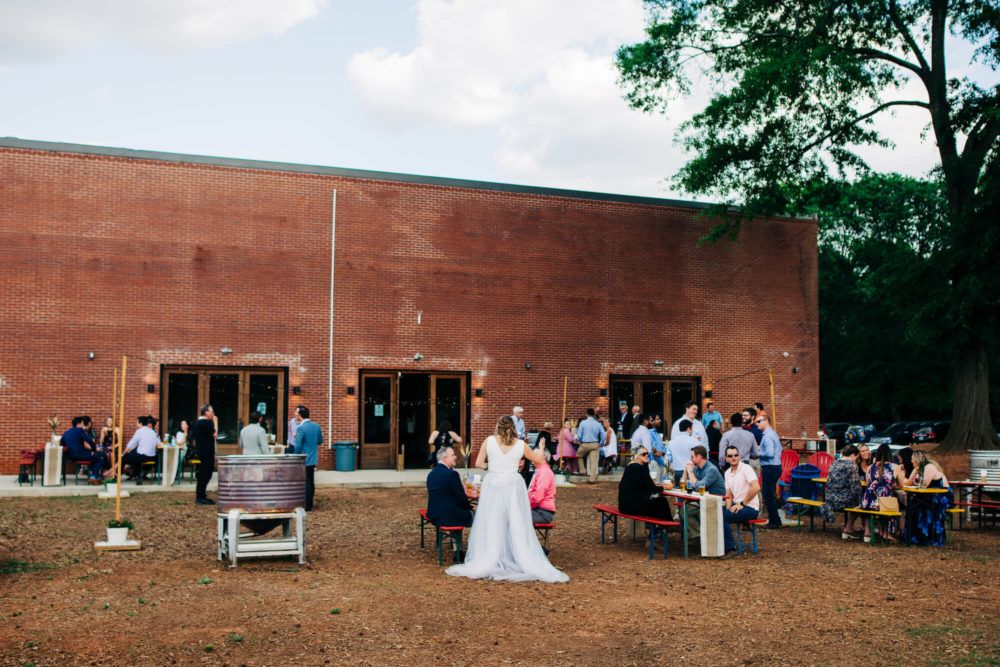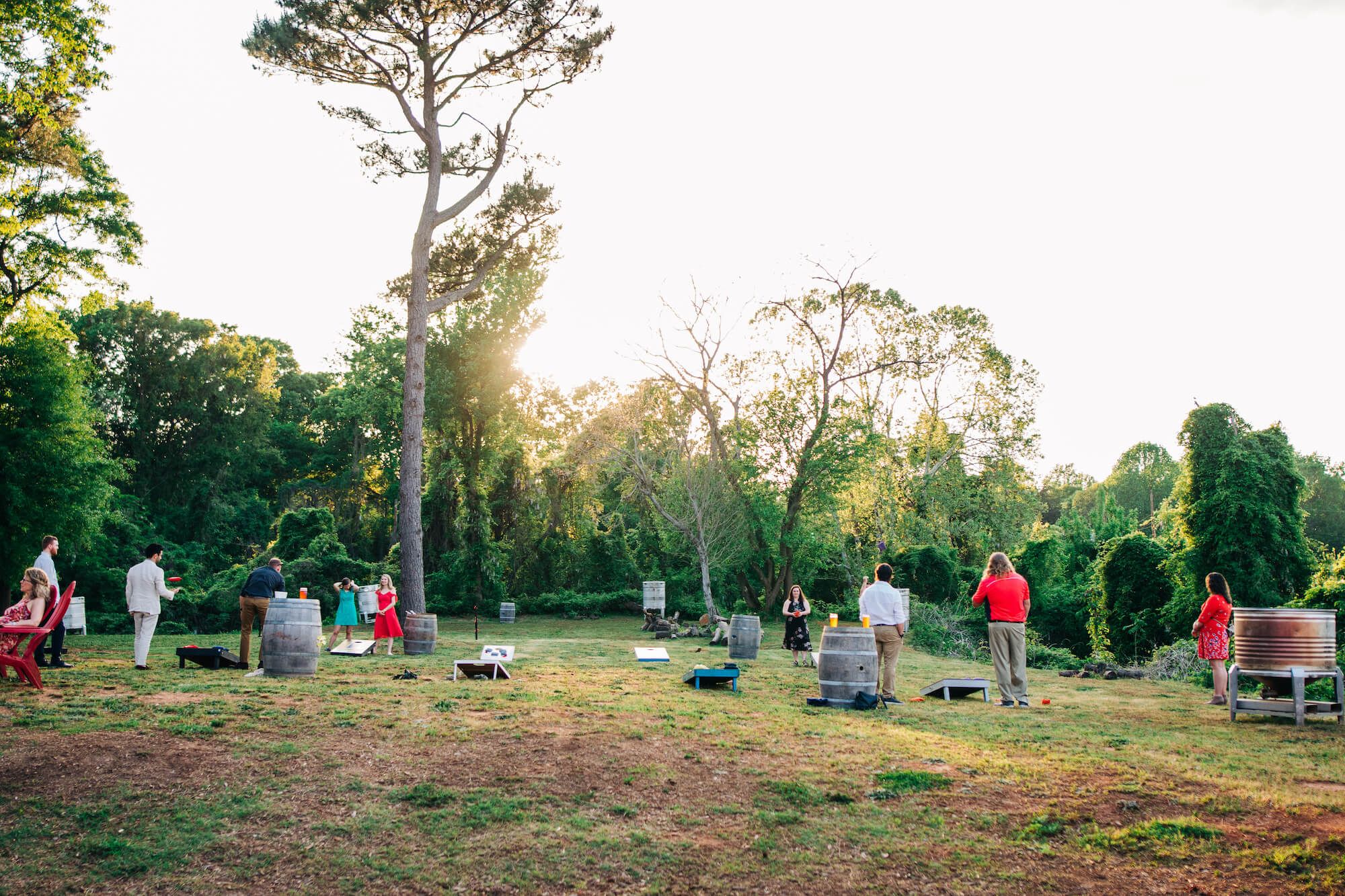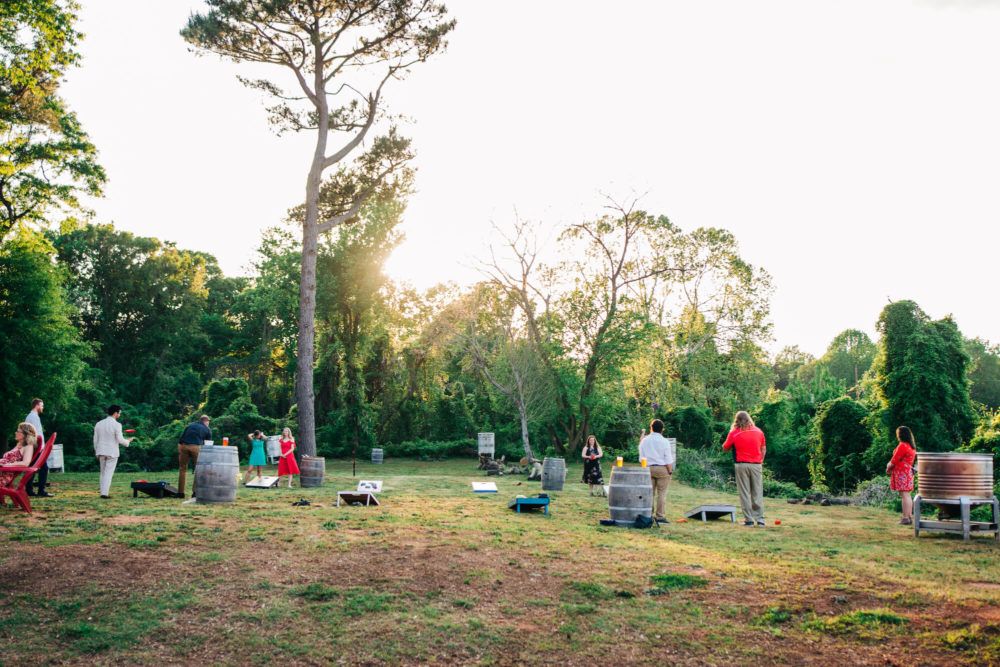 Dessert Table Decor
We had a cake and some cupcakes and I wanted a bit of a rustic setup. (The flowers came from our flower order.)
I already had a glass cake stand so that's what I used.
The cake topper ($28) came from Coppice And Crafts on Etsy and I loved it. Our dog was a huge part of both our ceremony and reception.
The cupcake stands ($115) consisted of some small crates and a 3-tiered stand I got at Hobby Lobby on sale. The cost above also includes the price for the cards sign (see misc decor below).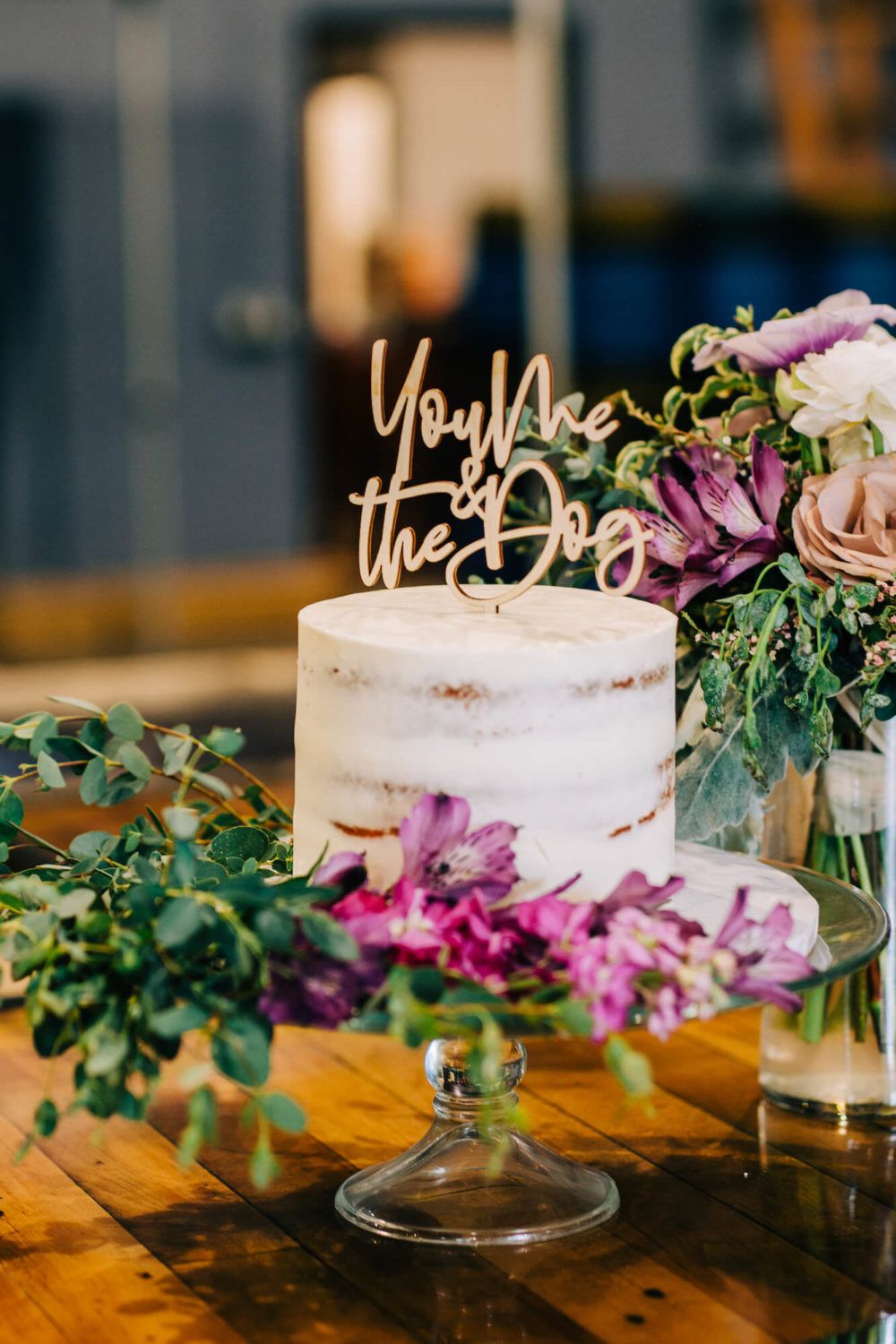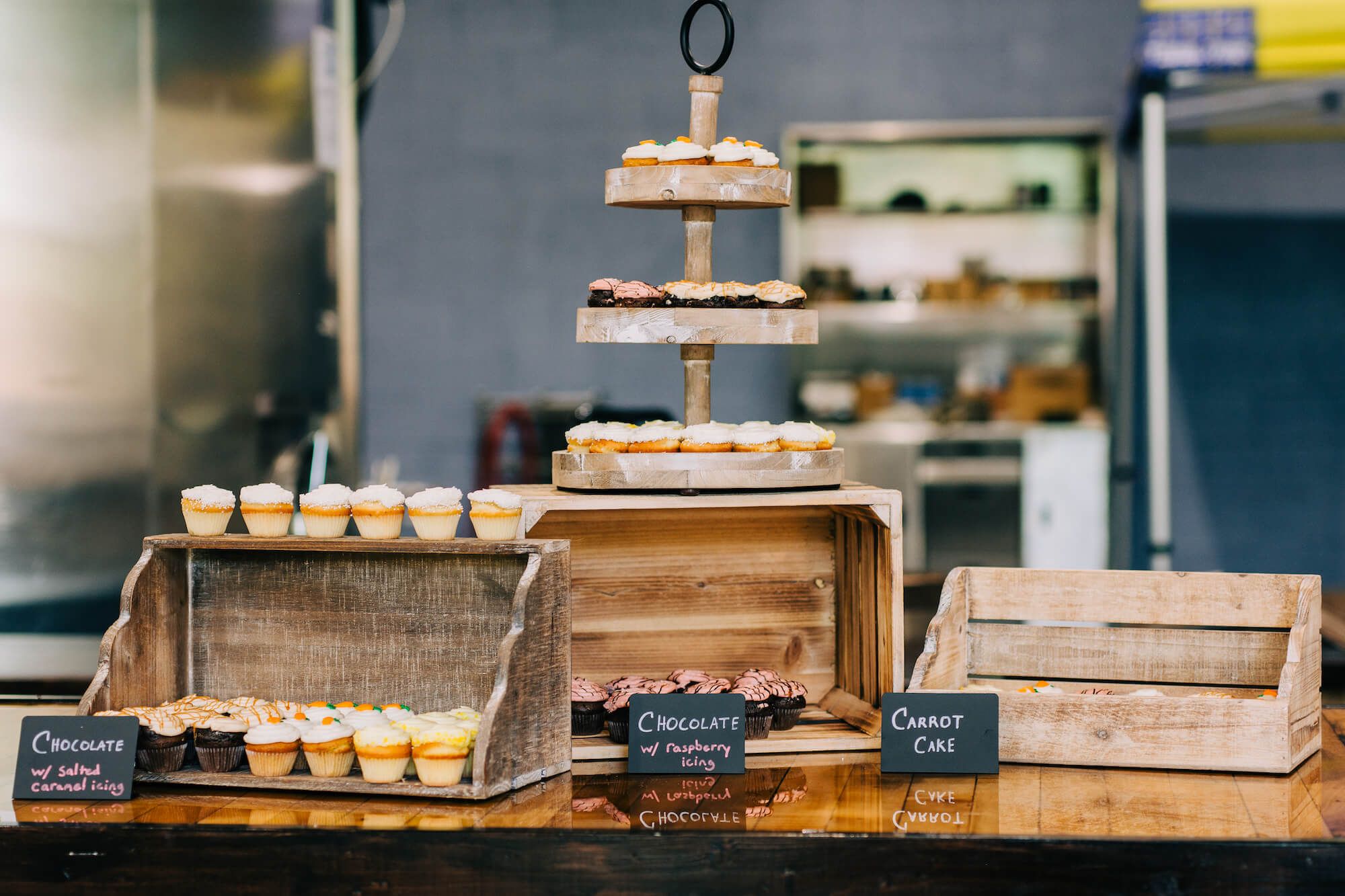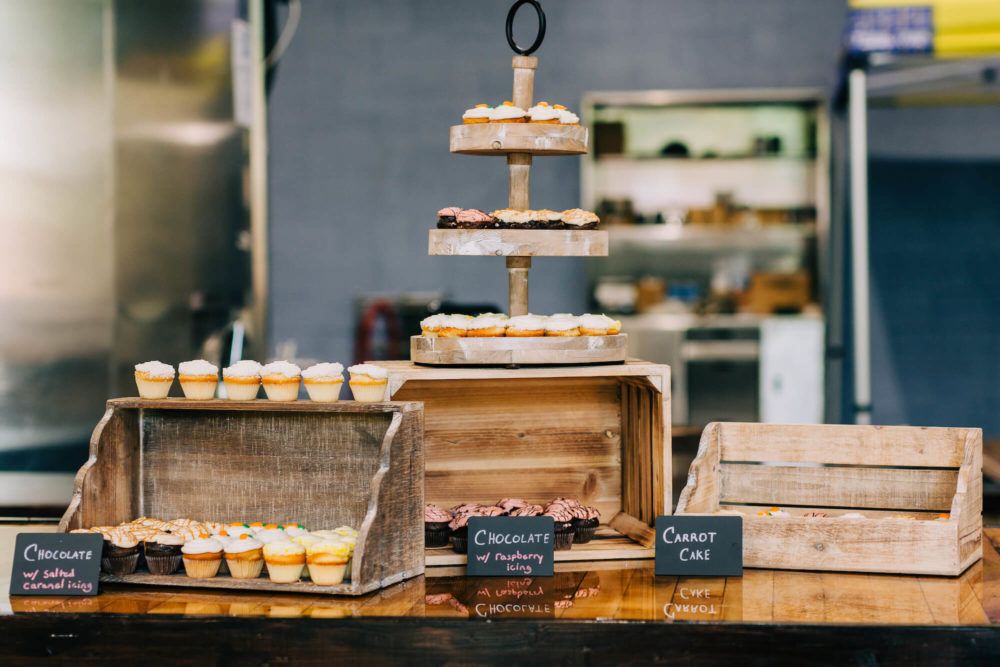 Misc Decor
We had a small display on our appetizer table with photos from our engagement session. I just printed the photos from Walgreens ($20) and then borrowed the display board from my sister-in-law. (She had used it at her wedding.)
I purchased small chalkboard signs from Amazon ($18) and labeled each with all the different food items in liquid chalk ($10).
We had an entry sign ($120) that was amazing! My sister's friend is an artist and she put it together special for us. I loved that she added lavender flowers to it.
We also added the reception schedule to an upright chalkboard sign we already had.
For our cards box, I used an old picnic basket and then bought some letters and twine from Hobby Lobby (that cost is included in the cupcake stands receipt). And I already had the safety pins.
All the baskets we used for the silverware, popcorn, and more came from my Mother. She had a ton of baskets and we used like a dozen of them. We even utilized the basket we keep Ellie's toys in.
I used my own vases (and my mother-in-laws) for the fresh flowers and bouquets.
I know there are probably other little things I'm missing but I basically tried to either re-use what I had, borrow from family / friends, or DIY it for cheaper where I could.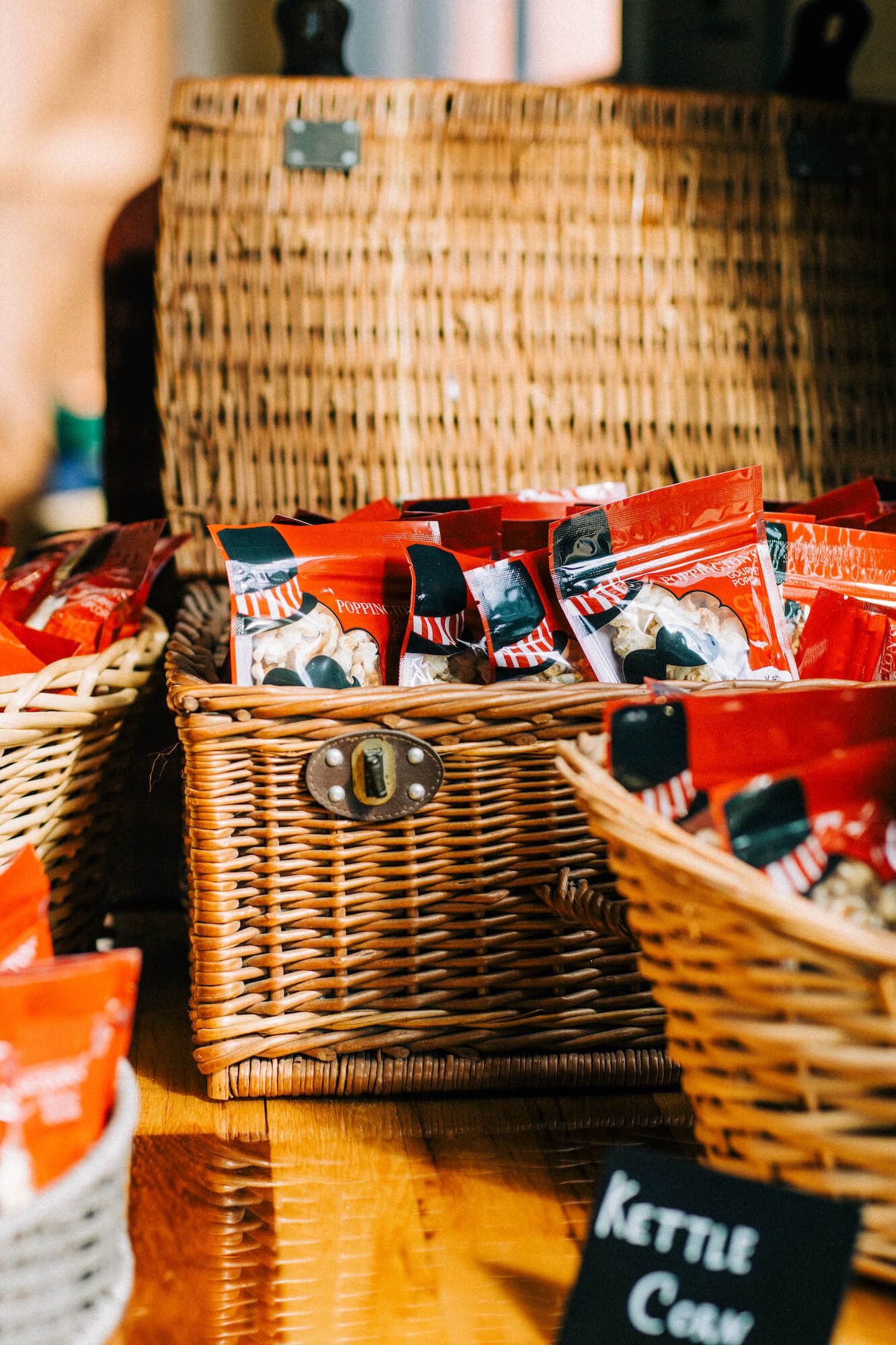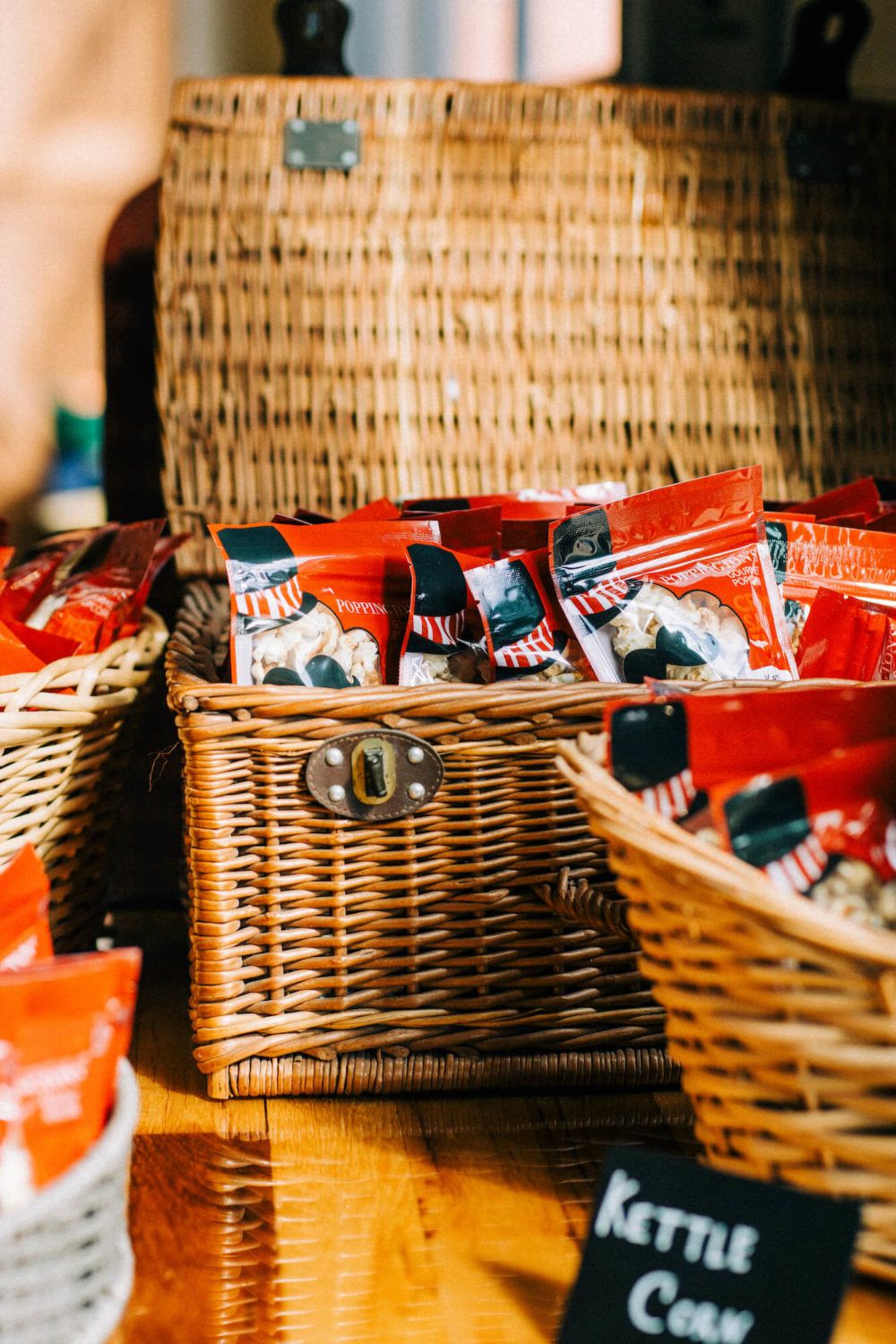 ---
Stationary
I don't know if I spent less on this than most, but I feel proud that we had unique (and simple) invites.
I bought an invitation design from Etsy that I then could edit to make it unique for our situation.
Paper Culture let me upload my own design and though this wasn't a simple process, it worked out in the end ($69).
And then stamps ($46).
Stationary Total: $139
---
Website
We used Joy as our wedding website provider, but I did setup my own domain name ($12) to redirect to the free website.
And lastly we went with Hitch'd as our honeymoon fund. I debated this one a lot as it had a fee ($88) but, well, I work in the digital space so I know a good user experience when I see it. And this one was easy. Both for guests and for me.
Website Total: $100
---
Food
This was our biggest expenditure. But it covers a lot. Just wait. This is not just the reception food. This is every food thing I could think of that we purchased.
Instead of a rehearsal dinner, we had a small intimate ceremony on Friday evening. And we all went out to dinner at Soby's afterward. We had about ~20 or so people. Our tab for dinner was $1,080.
My mother ordered appetizers ($666) from Soby's as well for the reception. That way people would have something to nibble on when they first arrived.
For dinner at our reception, we worked with Mike & Jeffs Catering and the BBQ was fantastic ($915). They were great to work with as they came and set everything up for us. And we got to take the extras home.
Our cake & cupcakes came from The Bakery off Augusta ($183) and they delivered them right to the brewery. Again such a pleasure to work with. My Mom also got us a cake knife ($25) off of Amazon so we would have something to cut the cake with.
I also love candy and so I went to Mast General Store downtown and bought a lot of candy ($55) for the appetizer table. And I used a candy jar my Dad already had.
As our wedding favor, we ordered mini bags of popcorn from Poppington's downtown ($477). We had a lot left over, but my Mom loves popcorn and really wanted this.
For breakfast at our hotel the next day, my Mom got catering from Soby's ($2,167). I didn't know how expensive this was until well afterwards. But it was exactly what she wanted and it went smoothy.
My mother also ordered custom plates ($381) and custom napkins ($228). Plus we got some extra napkins ($10) for the tables and cutlery ($30) for the appetizers and dessert. We have a lot of napkins and plastic cutlery left over.
Food Total: $6,217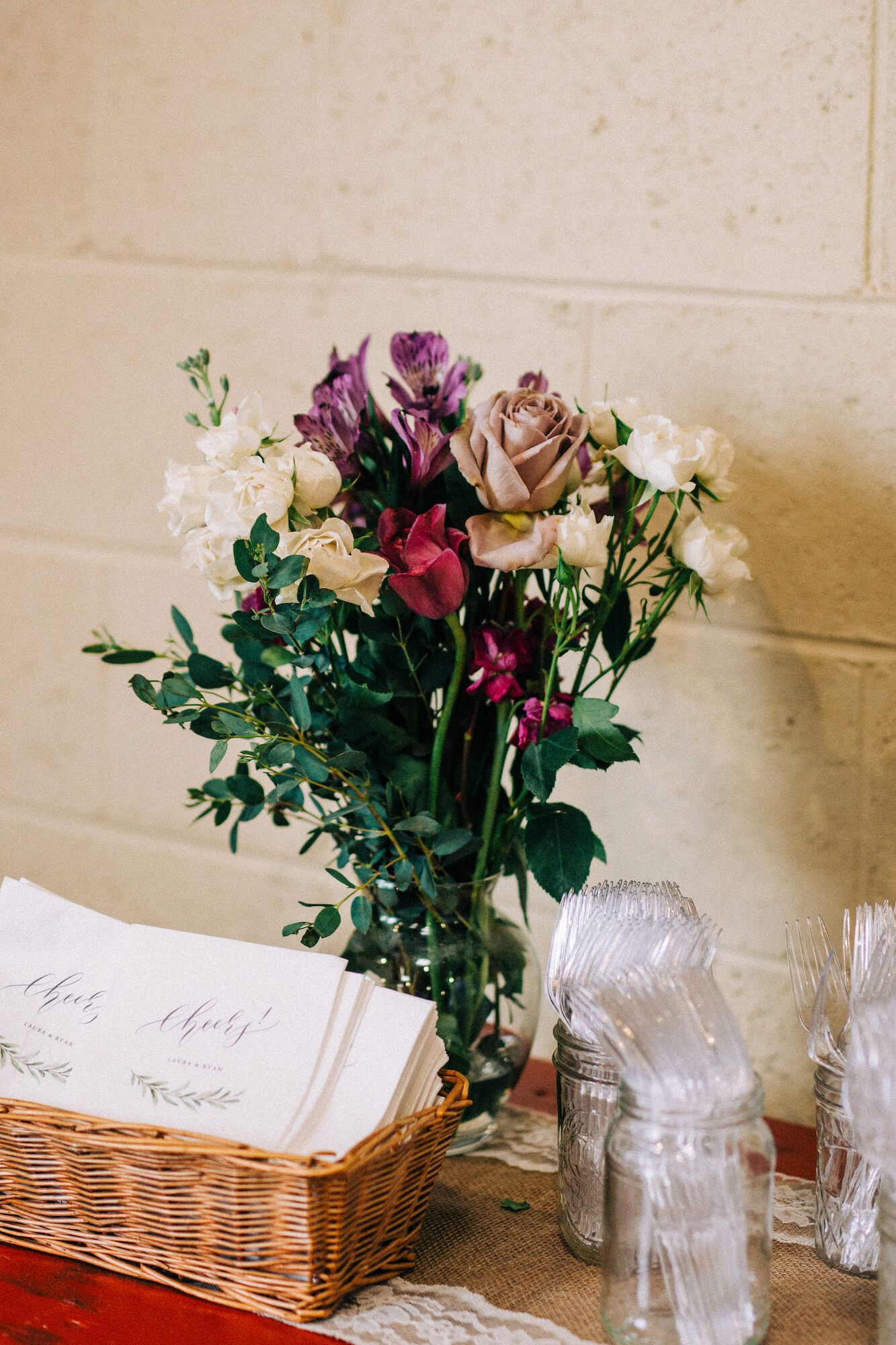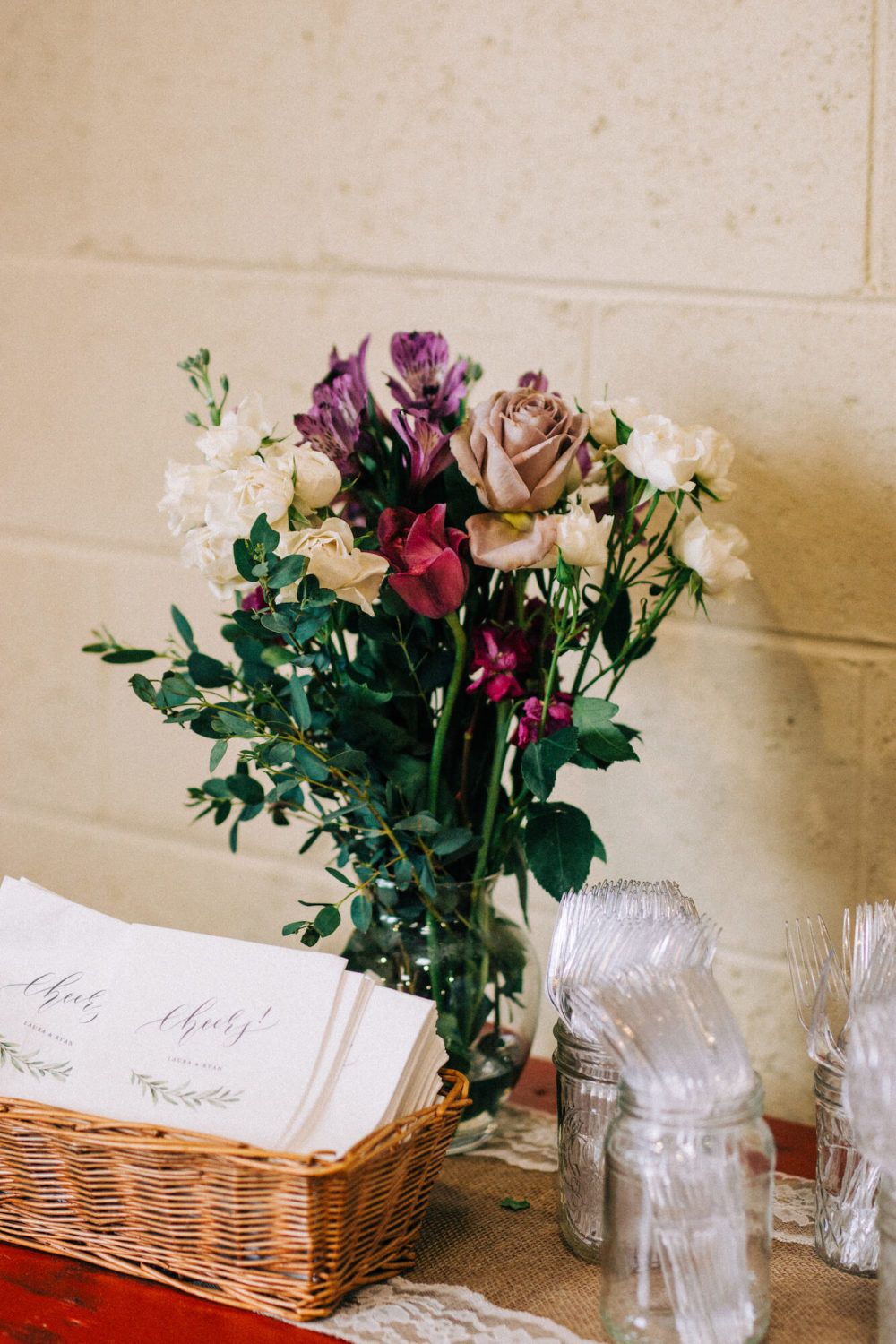 ---
Alcohol
This is usually a big line item for people. But we spent less here than what we thought we would. Basically Think Tank opened a tab for us and everyone who got a drink went on that one tab. And then we just closed it at the end of the night.
Simple. Amazing. Wonderful.
Plus they had other options if we didn't want to do that kind of open bar. They said they would work with us however we wanted to do it.
Alcohol Total: $2,670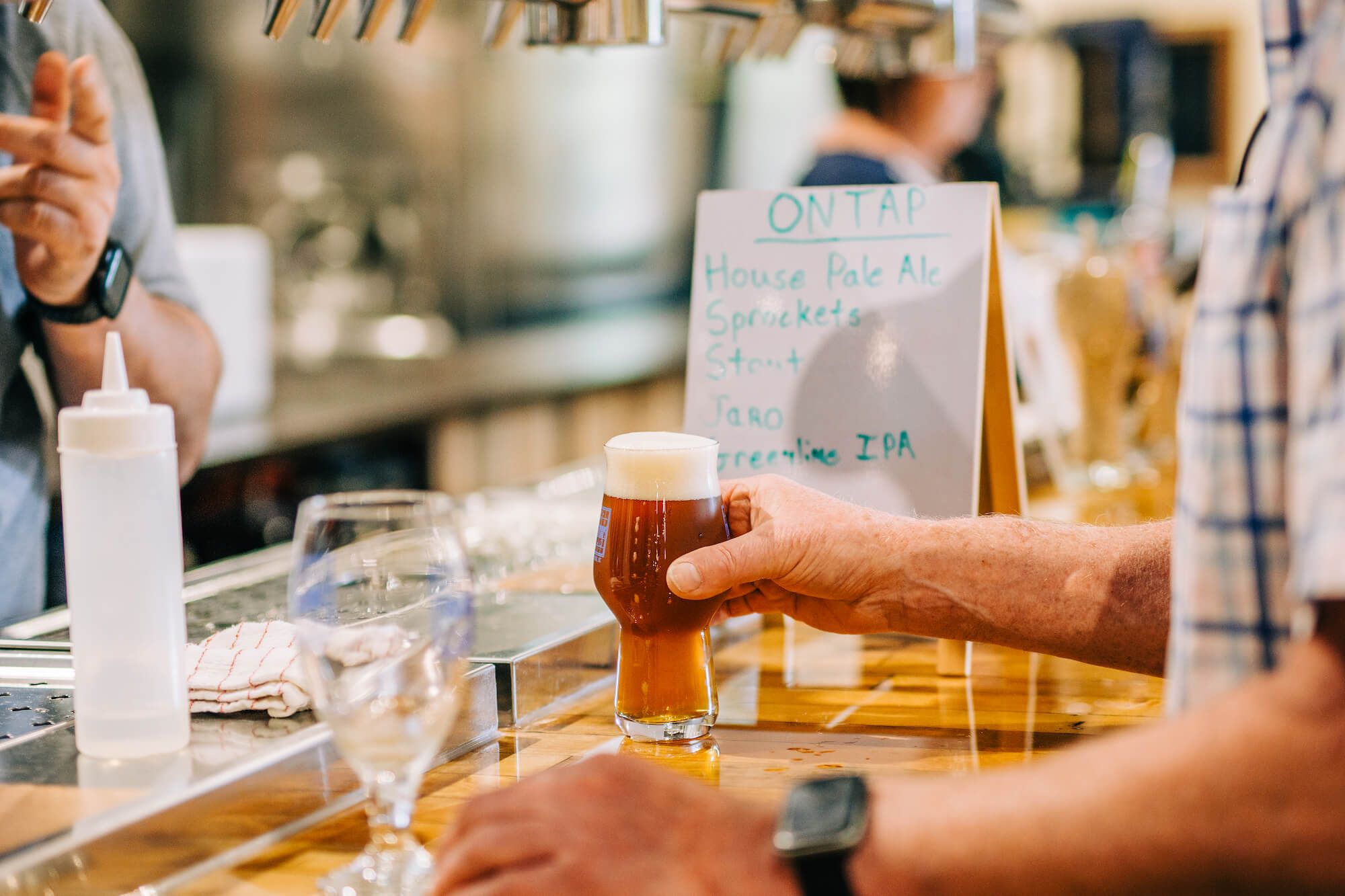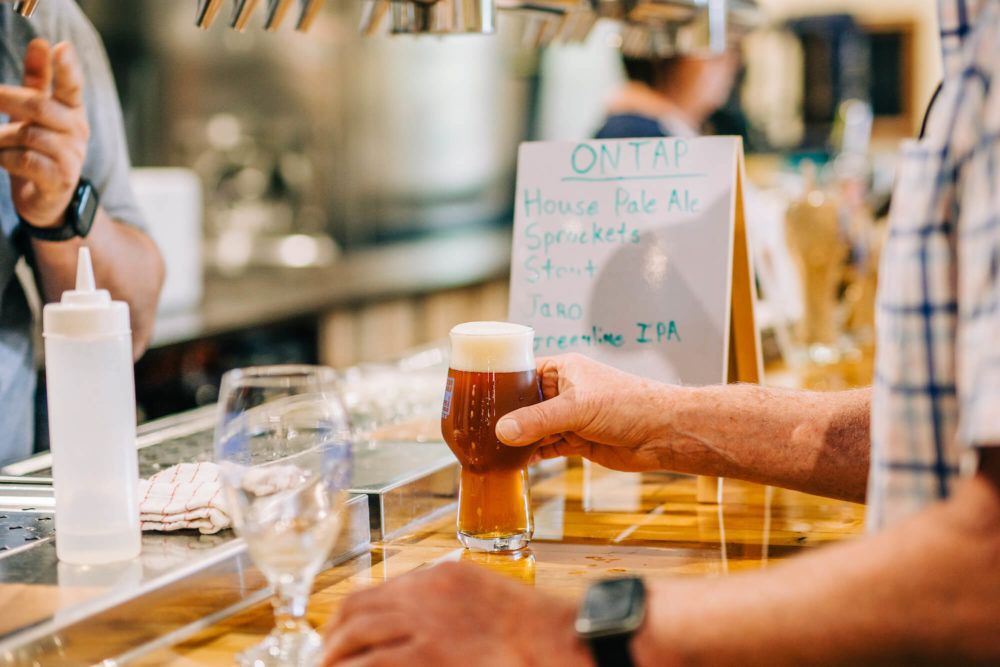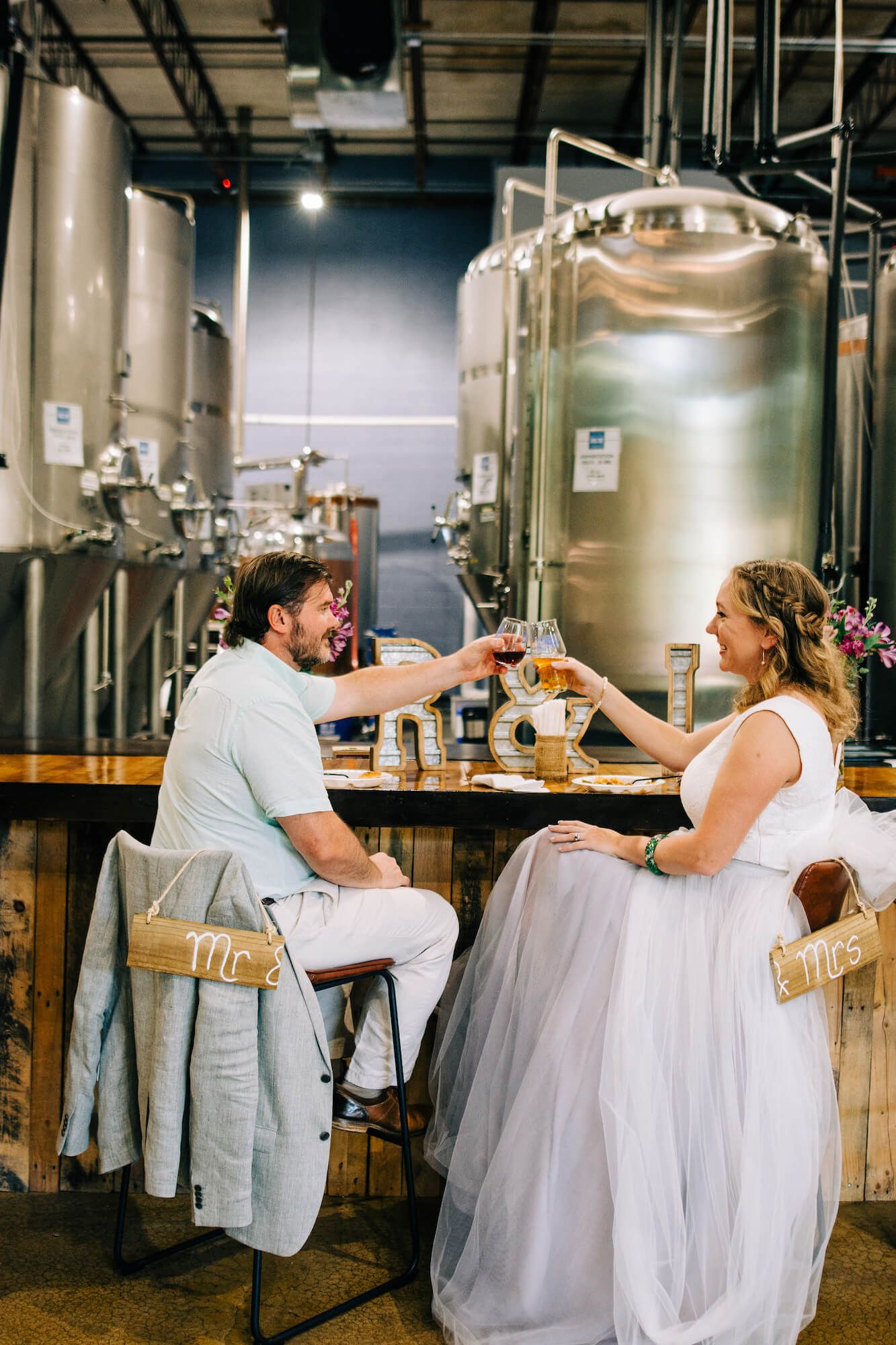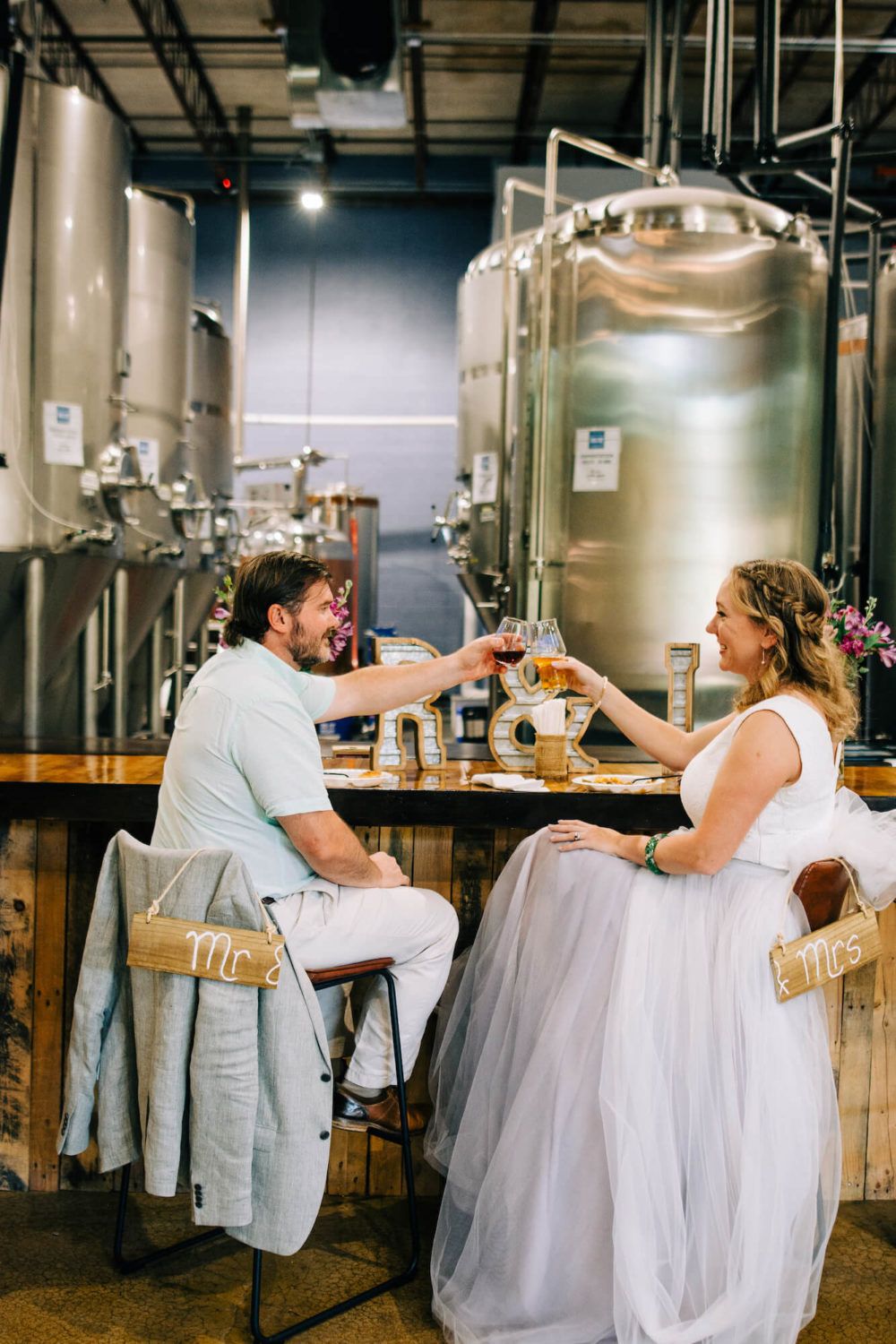 ---
Flowers
Woof. Fresh flowers cost a lot.
We ordered ours from Earth Blooms and went with just 3 bouquets (one bridal & two bridesmaid's) and one bucket of bulk flowers & greenery to decorate with ourselves. They do offer a full service option, but this simple approach was exactly what we wanted.
Flowers Total: $665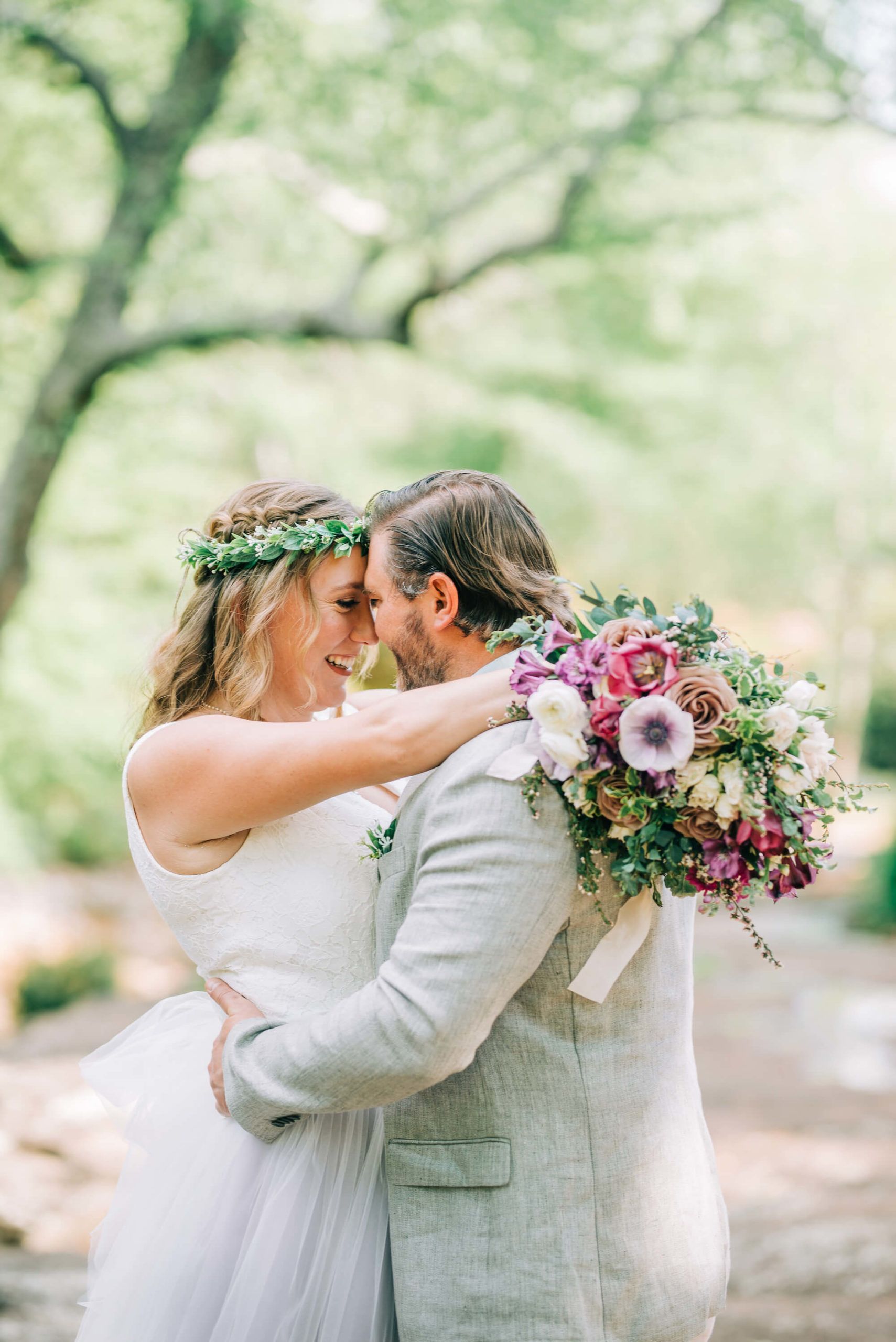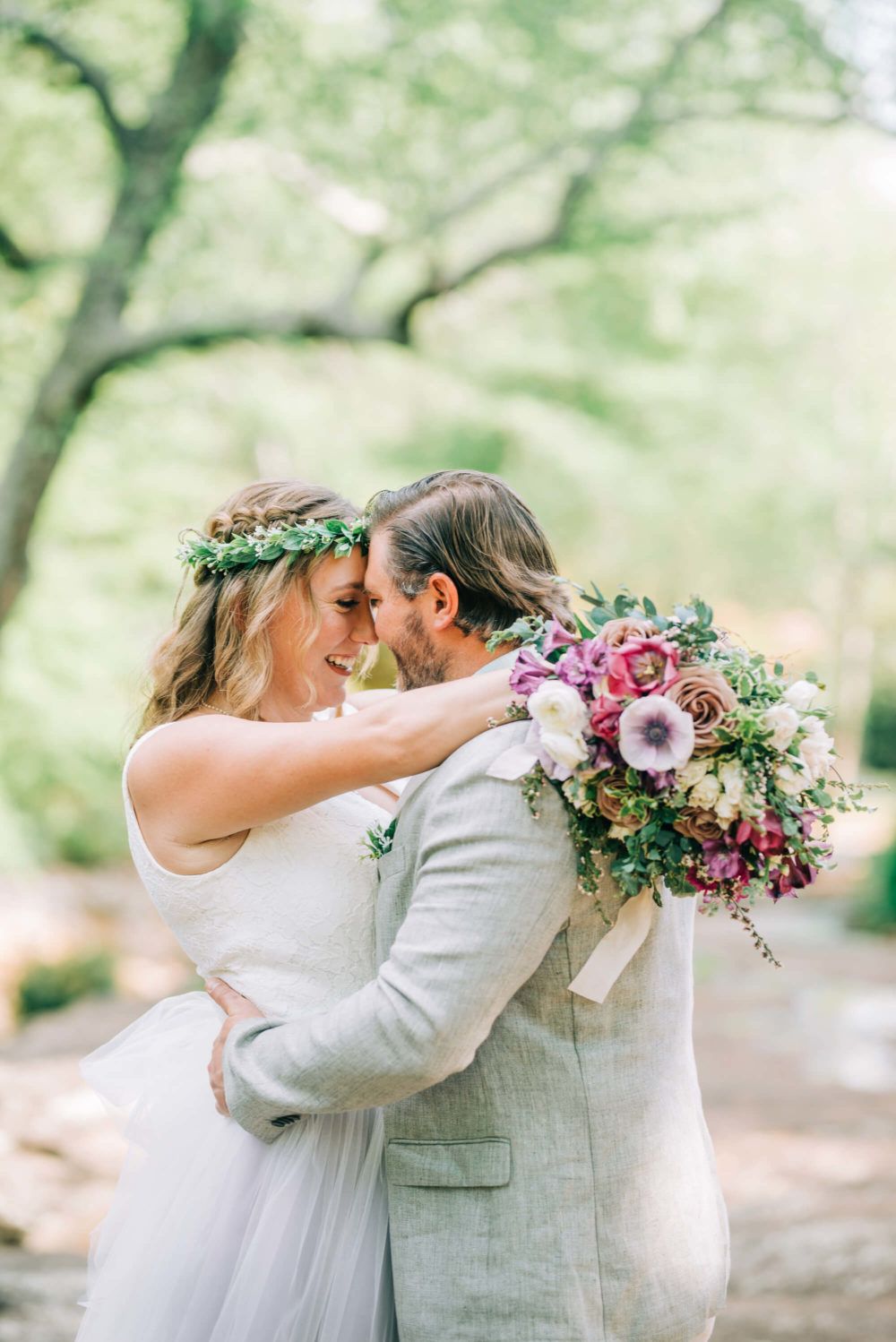 ---
Transportation
We drove ourselves around most of the time, but we were adamant in wanting a shuttle that would take guests from the hotel to the venue. That way out of town guests wouldn't have to worry about driving.
We worked with Southern Shuttles and it cost about $850 for one hour at the start and one hour at the end.
OH and one other important thing to note here is that our hotel was the Courtyard Marriott downtown. They were a pleasure to work with and allowed us to have a 10 room courtesy block at like a 30% discount.
There were stipulations like the guests had to book by a month out, but really it was perfect. Plus when the first courtesy block filled up, they let me add another 10 room block. And said I could do it again if needed.
Transportation Total: $850
---
Entertainment
Okay. Dancing and a DJ was not a priority for us. We wanted to hang out, play some cornhole, catch up, and eat good food. Oh yea and drink.
Dancing on a dance floor for hours? Nope.
For the last part of our reception, we had a first dance and then played about 5 more songs people could dance too. But that was all the dancing we really had.
Now we did have music going the whole time as I had curated different playlists, but having a raging dance floor was not what we wanted.
So we just rented some speakers from Asheville Hwy Rentals, I put together some playlists, and then played them from my phone. Easy.
Entertainment Total: $123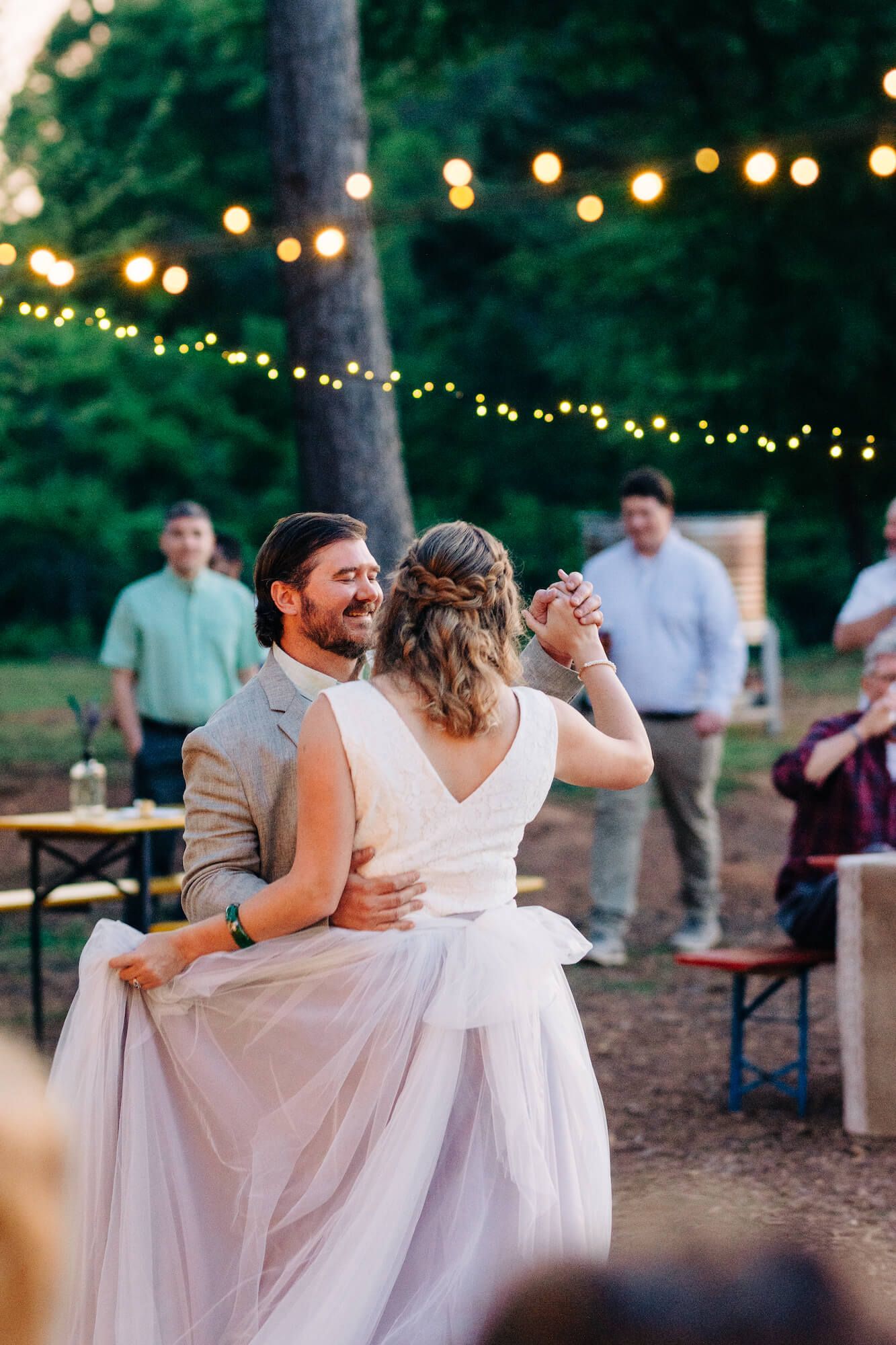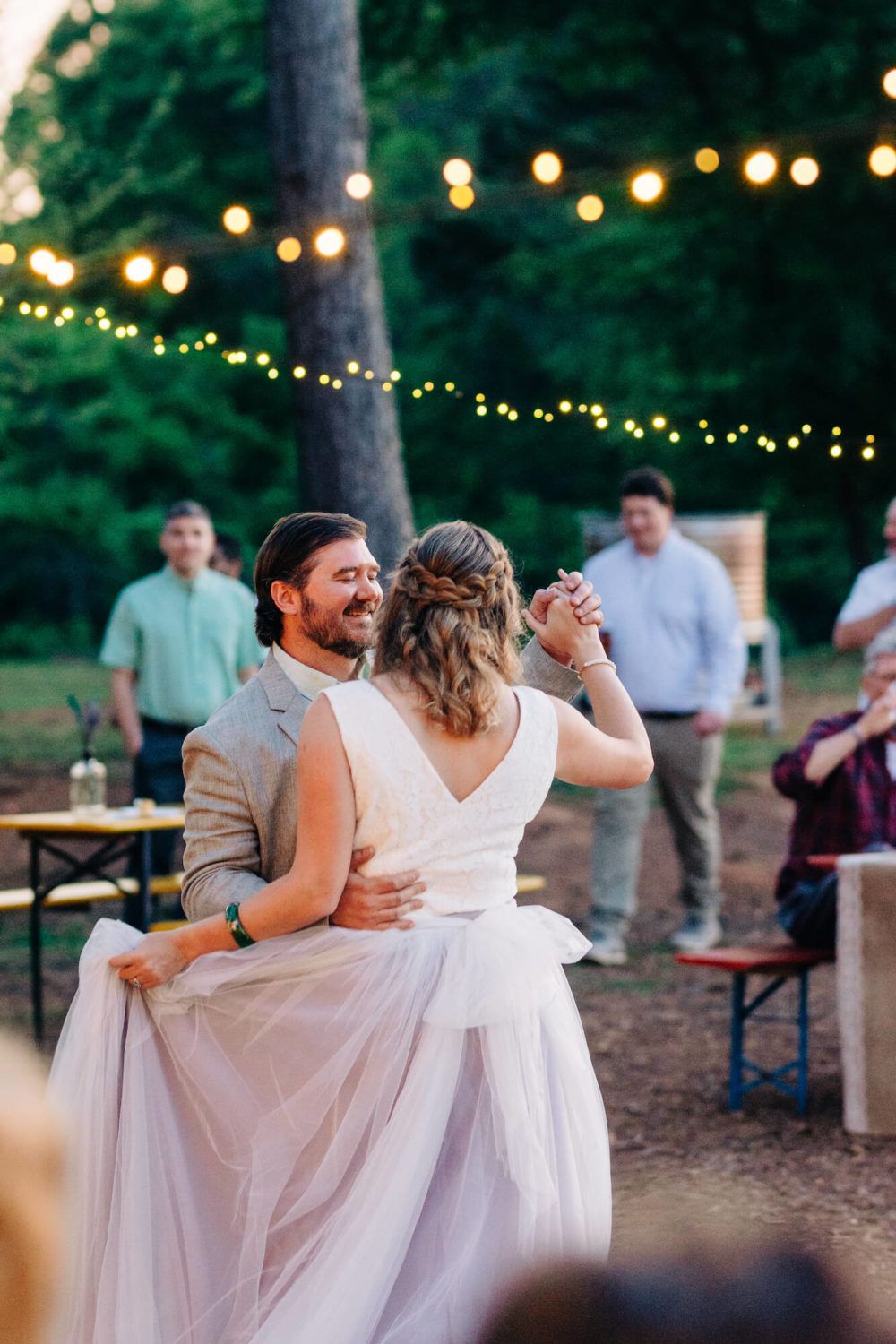 ---
Accommodation
We spent the night at the hotel after the reception. Basically we caught our shuttle back, hit up some bars downtown, and then crashed at the hotel. So this is that night's cost.
Accommodation Total: $224
---
Gifts
For the people who went above and beyond for us.
Bridesmaid gifts included custom bags ($79), t-shirts ($51), and fun socks ($33). The socks also included my Bride socks.
One of our good friends was our officiant and we got her an Amazon gift card ($50) and a fun mug.
Another of our friends acted as our MC for the event (i.e. announcing dinner, cake cutting, the first dance, etc.) and we got him an Amazon gift card ($25).
I got my Mom a nice framed picture of her wedding day ($30).
And the Groomsmen gifts included a very nice flask and a bottle of whiskey ($150).
Gifts Total: $447
---
And that was our Greenville Wedding
Woof. That's everything. I'm sure I'm missing some things. But I really do think that's almost everything.
Talking with friends about the average cost of weddings lately really inspired me to make this post to show what can be done on a smaller budget (and in a tight timeframe).
In total we spent about $18,700 on our wedding and reception. And we had an amazing time. I wouldn't change anything about it.
It was low stress, lots of fun, and I loved being able to spend time and celebrate with family and friends.
And isn't that what it should really be about?