Greenville, SC has pretty amazing weather. And since you can spend so much of the year outside, why not eat/drink outside in style. And I don't mean our garden, patio, deck, and sidewalk seating (which the city has so much of). I'm talking about the best rooftop bars in Greenville.
New restaurants and bars are opening up daily here, so I'm trying to keep up with this list. As I visit these places (or re-visit and take pictures), I'll update the locations below. For those without pictures, I'll try to pull in some instagram photos where I can.
---
Located on the roof of the Embassy Suites in the Downtown Riverplace
The views at Up On The Roof are probably some of the best in town. It looks out over the Reedy River with 2 different terraces. They also have a covered bar (that leads out onto the terrace) and indoor dining as well. The food is amazing (small plates) and the cocktails are interesting and delicious.
If you know you want to eat, I'd recommend a reservation, but know that they can't guarantee you'll be outside. This is the big downside here. You can't reserve a table out on the roof. You may need to find a seat outside once you get there, or be ok with standing room only.
What I love: Those sunset views | Price of a cocktail: $12.50.
---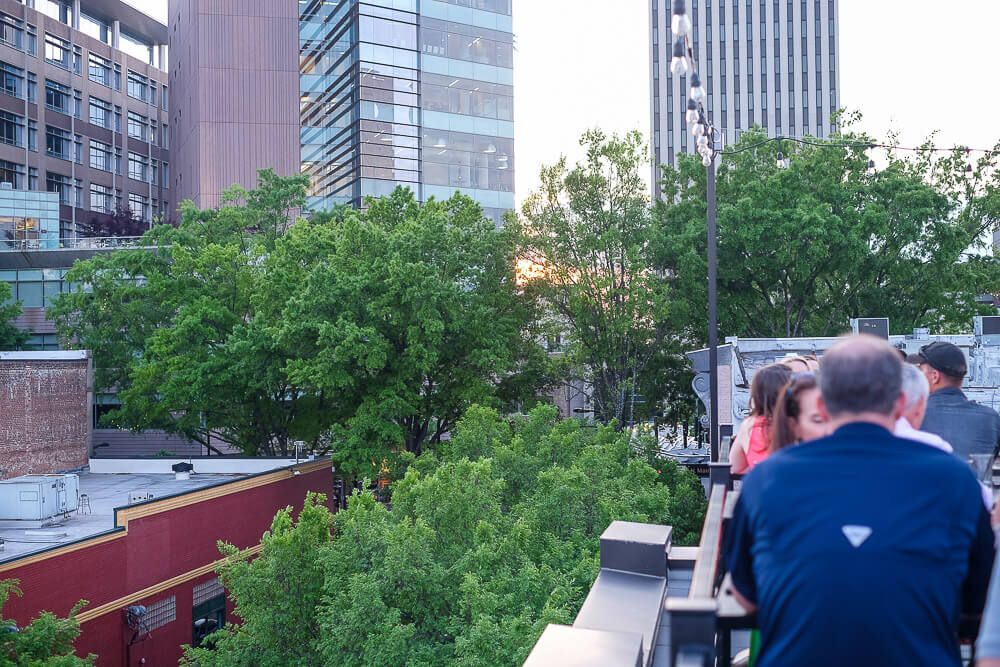 Located on the 4th floor of Ink N Ivy
This is the most casual place on the list and I love that. There are people there dressed up for a fun night out, for happy hour, or for a quick lunch. It's got a great American upscale pub menu (with some good Southern favorites) and a full bar.
The rooftop bar is located on the 4th floor (head straight up the stairs inside) and the seating is on a first-come basis. There isn't a hostess. There's also a full bar up there and if you are able to score a table, you can order food from the restaurant. Also a pretty stellar happy hour (Monday- Friday from 4-7pm for 1/2 off Tito's, Jack Daniel's, wine, and beer).
What I love: More casual atmosphere | Price of a draft beer: $6.50.
---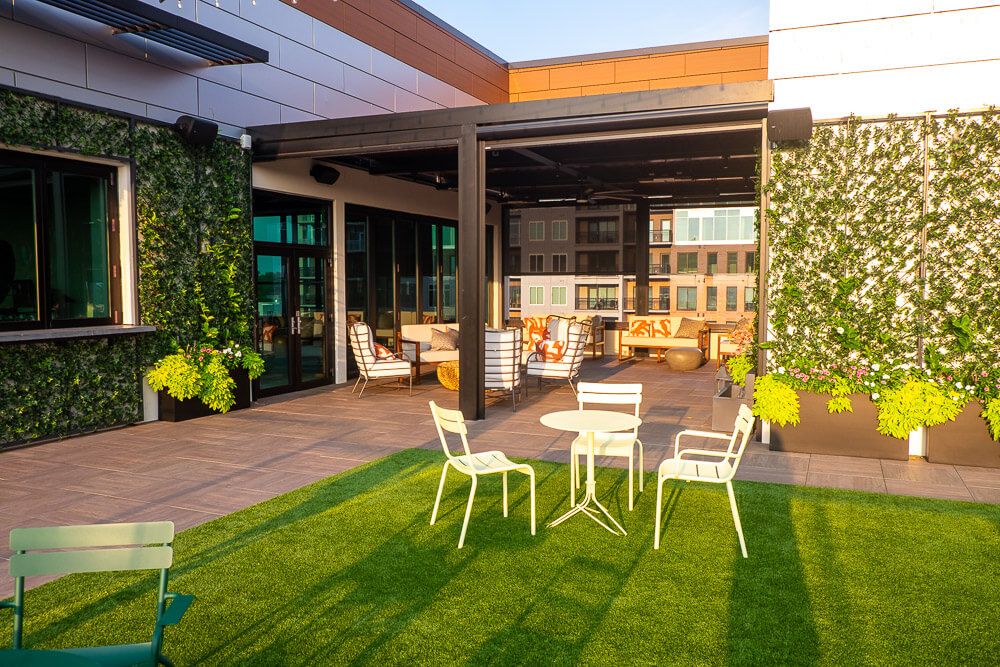 Located above S. Main St. in Camperdown Plaza
Greenville's newest garden rooftop experience. To see what it's all about, definitely check out their Instagram. I loved the botanical, open, airy decor. (Which seemed to be a mix of both real and fake plants.) And this is a swanky place. Be prepared to dress up.
The foot was incredible, but the menu is smaller. Just a handful of appetizers, salads, entrees, and pizzas (the firebox section). But it was all delicious and unique. We went for the buffalo cauliflower starter, the Juniper salad, the prosciutto and burrata pizza, and the citrus pie.
The cocktails (especially gin, their signature liquor) were all incredible. Though expect them to be pricey.
Be warned though that you will need a reservation. And they fill up fast. I had to make mine 4 weeks out. You can only make reservations for 6 weeks in advance and they are only open Wed.-Sat. If you want dinner, make sure to get a reservation for 9:45pm or earlier. The kitchen closes at 10pm. If you make a reservation after this, you'll still be able to get some drinks.
Lastly, not all the seats in the restaurant have a view. They do have a rooftop terrace we were able to walk out on and take pictures from (see the picture above), but our table was in the interior with no view. I'd like to go back and try again to get a table by a window, but this is not guaranteed.
What I love: The botanical decor | Price of a cocktail: ~$14-16.
---
Picture coming soon!
Located above Cantina 76 in the One City Plaza
I always think of SIP as the original rooftop bar of Greenville. When I moved here, it was the only one in town. It's got a sophisticated lounge feel with plenty of outdoor seating (compared to its relatively small indoor bar). Lots of comfy outdoor furniture for the perfect happy hour or a late-night out.
If the name didn't convince you, the best things here are the whiskey and wine (definitely come for their happy hour for a good deal – 1/2 off whiskey and wine (under $20) from 4-7pm Mon-Fri). But they do have beer and signature cocktails as well. They don't have a full kitchen, but there are plenty of appetizers to hold you over if you're there pre-dinner.
What I love: The views over the plaza
---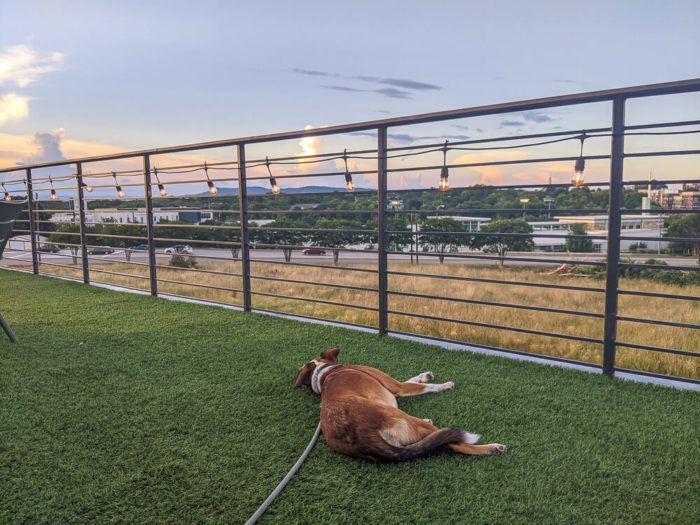 Located in the West End on N Markley St
Hoppin' is one of those places with tons of taps on the wall (beer, cider, wine, prosecco, and kombucha are all options) and you get a glass and wristband when you get there and pour yourself as much or as little as you want. Then you pay when you leave based on what you poured.
And though they don't serve food, there is pizza right next door that you can bring over. The only bad thing is the parking. Both lots across from the place are pay to park through a weird glitchy app.
That rooftop though. It's only one story up, but it's actually got a great view out towards downtown. Grassy turf, lots of seating, shade, and beer taps (so you don't need to go downstairs for a refill). AND DOG FRIENDLY! Hello Hoppin'.
What I love: Dog friendly rooftop | Price of a craft beer: avg. about $0.50 per ounce ($8)
---
W XYZ Bar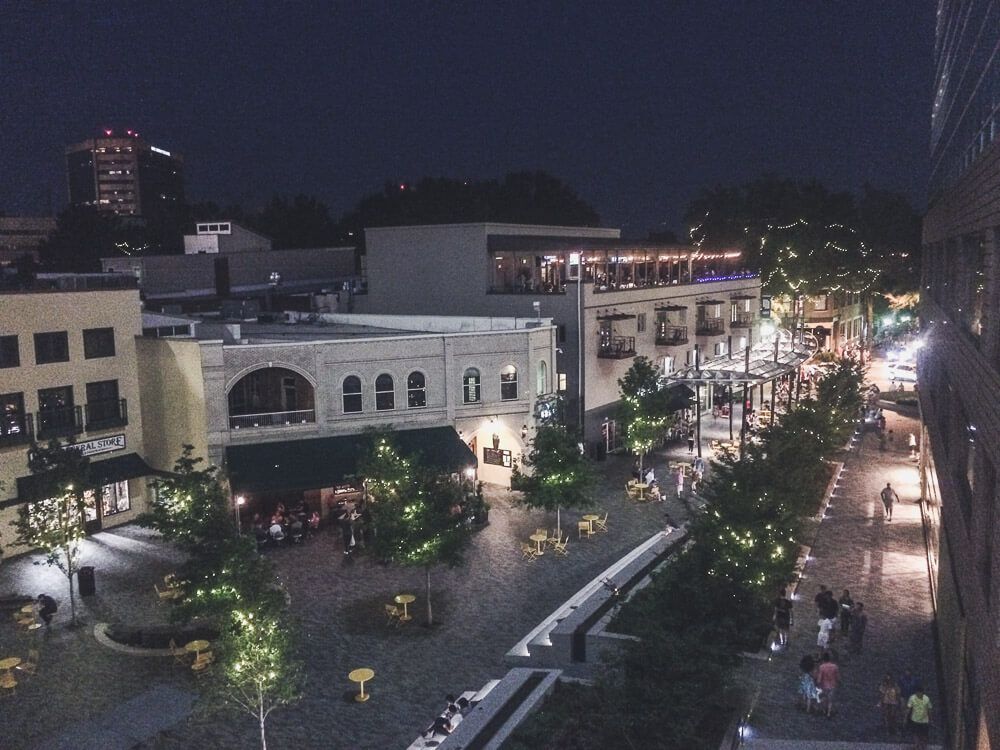 Inside the Aloft Hotel in the One City Plaza
Okay so this one isn't technically on a roof of a building. I've put it at the bottom of the list because of that. The bar is located a handful of stories above the One City Plaza more on a balcony (since the rest of the hotel extends above it).
So why did I include this balcony in the roundup? Well because it's the only dog friendly bar on this list that's downtown (and more than just 1 story up). And though the balcony is quite small, I love anywhere that lets you take your dog with you.
What I love: Dog friendly balcony
---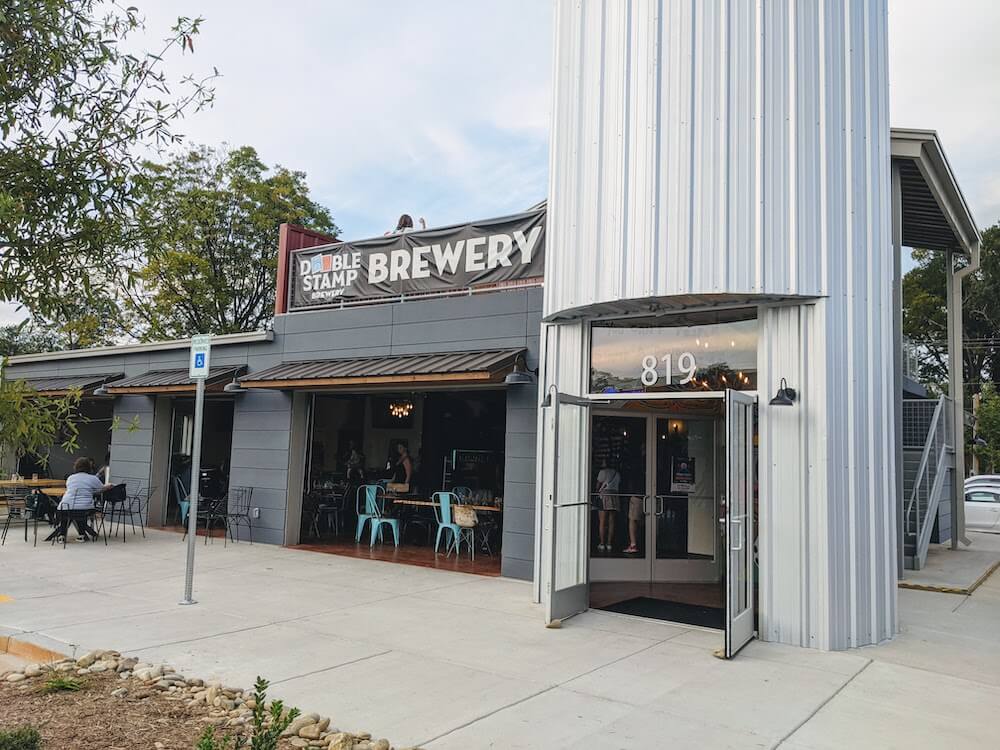 Open in 2021, Double Stamp is a new brewery off of Laurens Road about 1.5 miles from downtown. It's got a fun 90's theme going on with decor, music, and even beer names. While no food is offered on site, Home Team BBQ is literally right next door.
The rooftop bar is a little small and just one story, but it's dog friendly! (The whole brewery is dog friendly actually!)
There's even a bar on the rooftop patio too (though no one was serving when we went in October 2021 – maybe soon though).
Double Stamp also has trivia every Wednesday and maybe yoga every Thursday. Be sure to follow their Instagram for all the details on the events.
What I love: Dog friendliness and pint glasses | Price of a beer: $5-$7