I love the beach. And though I grew up going to North Myrtle Beach, as I've gotten older, I've tried to seek out more remote beaches. Just me, the sand, the sun, and the surf. And I think I may have found my new paradise on Ocracoke Island in the Outer Banks.
Ocracoke is a small island at the southern end of the Outer Banks and it's only accessible via ferry. The island itself is dominated by the Cape Hatteras National Seashore (kind of like a national park) with the one small village of Ocracoke on the south-western (sound side) end.
All of the beaches on the island are a part of the national seashore. Which was amazing. There are no structures, houses, beach shacks, tacky t-shirt shops, or anything along the beaches. It's just highway 12, the dunes, and the beach. And if you have a 4WD drive vehicle, so much of this empty beach is open to you.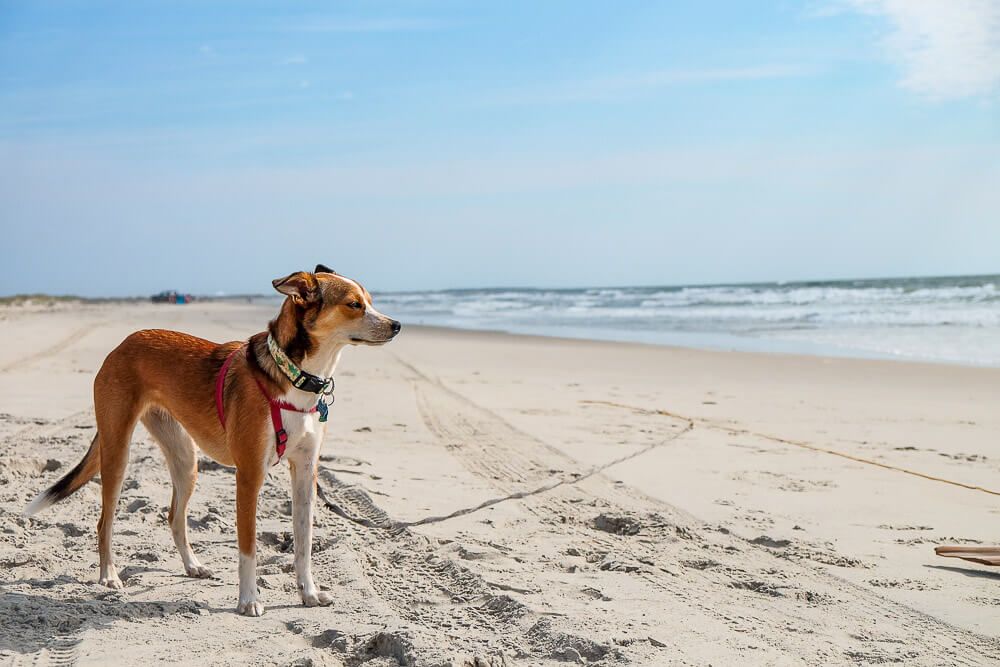 The only place to stay on the island is in the village. Which is on the sound side of the island. Which means that there is no beachfront property. Now don't get me wrong, there are so many wonderful houses along the water facing the sound, but none face the ocean directly. As someone who can't really afford to rent a beachfront house, this was no problem for me.
The village itself is also quite small. And it really feels likes a village. There's the main road through town, but there's so many side streets with great shops, restaurants, and more hiding just a block or less away. You can easily bike or walk around town making it super accessible. Plus the whole town just feels more local.
If this doesn't feel like your normal beach vacation, then you're absolutely right. It's not. It's not even like a vacation over on Hatteras, just one island away. It feels different. Unique. It feels like what I've been searching for. And if this sounds appealing to you, then find out what awaits you on Ocracoke Island.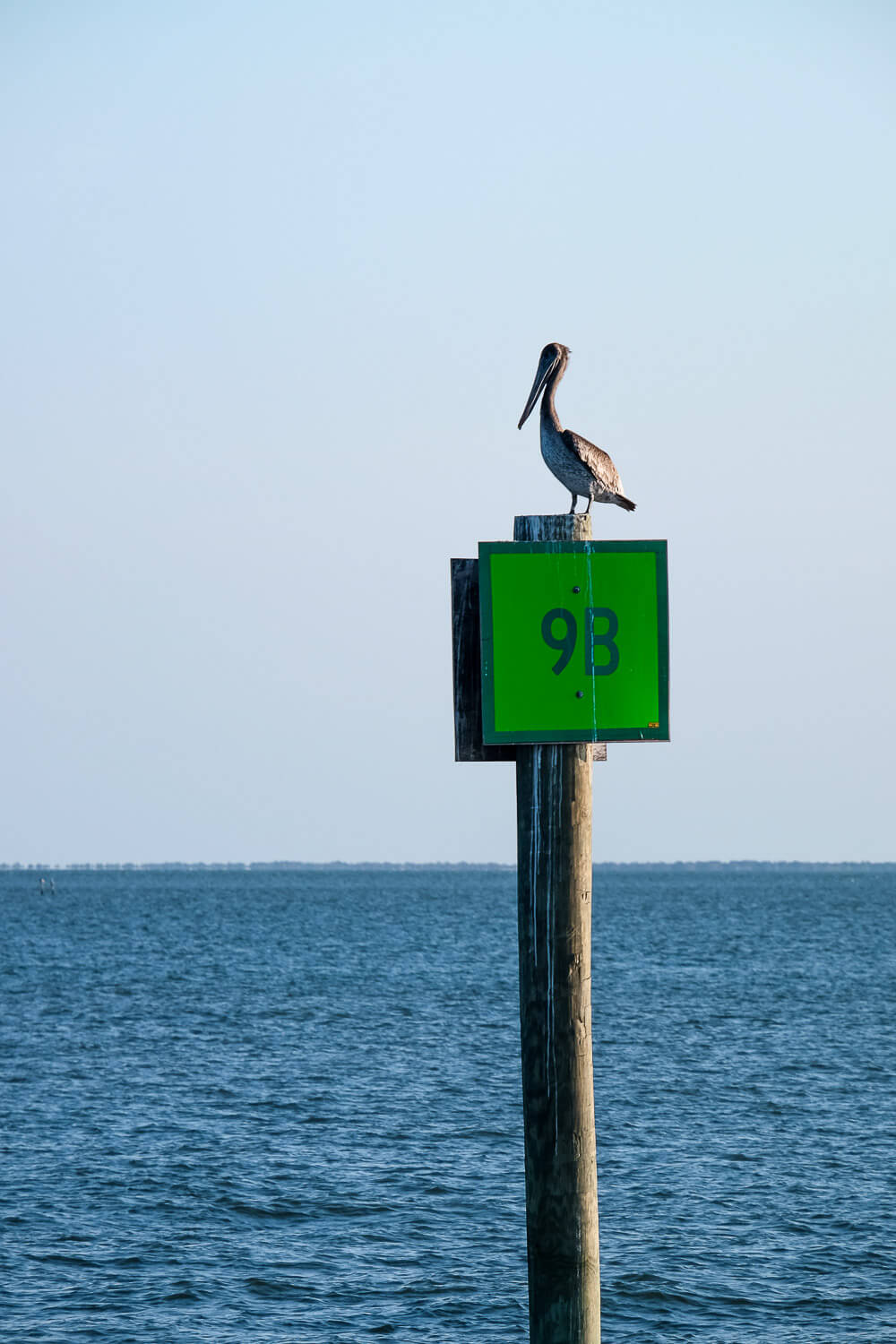 ---
Things to Do in Ocracoke
Our first trip to Ocracoke was mainly a beach vacation. It was also during the summer of 2020 (hello Covid), and so we mostly stuck to the beach, our rental, and got take-out. But since I fell in love with the island, and we're definitely going back, I'm planning on building out this section over time.
Also we brought Ellie, our dog, with us on this trip. She loves traveling with us, loves people, loves dogs, loves frolicking in the sand, and, well, we struggle to leave her at home. And so most of my recommendations are dog friendly.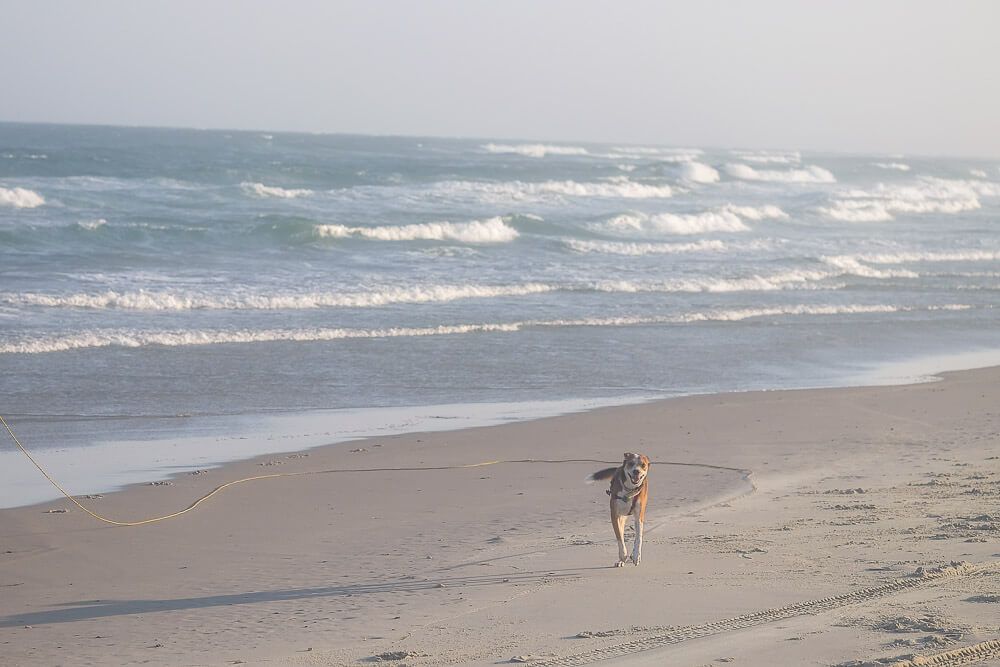 Off-Road on the Beach
As mentioned above, this was a beach vacation. And so everyday we headed to the beach in the morning. We usually stayed till about 11am or noon, and headed back before it got too hot for Ellie. As a dog who doesn't like water or swimming, she does not enjoy going in the surf to cool off. (Though she loves being on the beach.)
The beaches on Ocracoke are in the National Seashore. And if you have a 4WD vehicle, there are several ramps on the island you can use to access the beach (and even the sound side as well). Yes you can drive on the beach!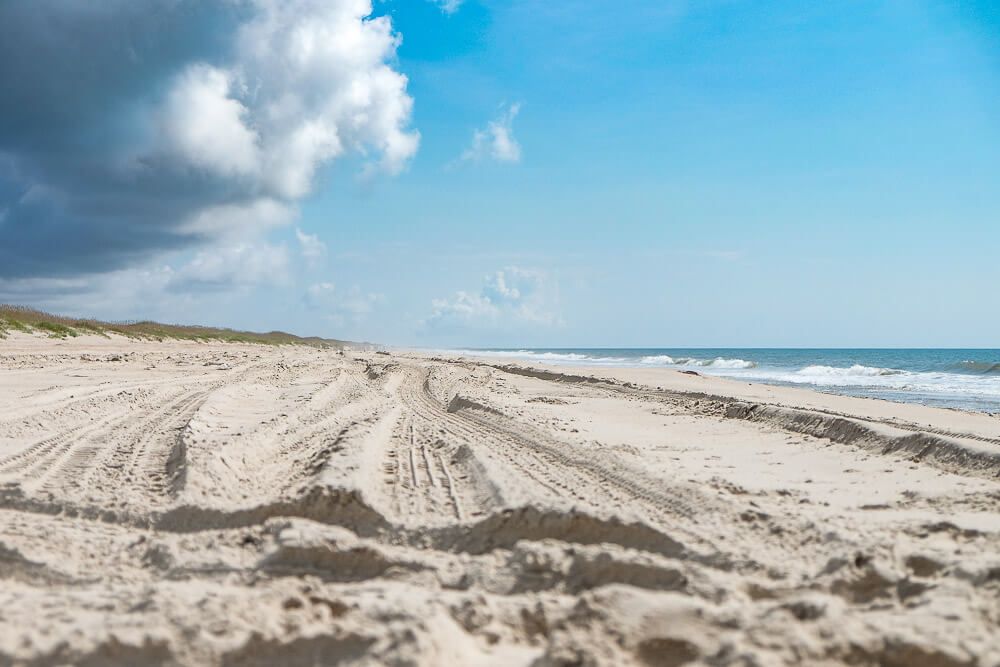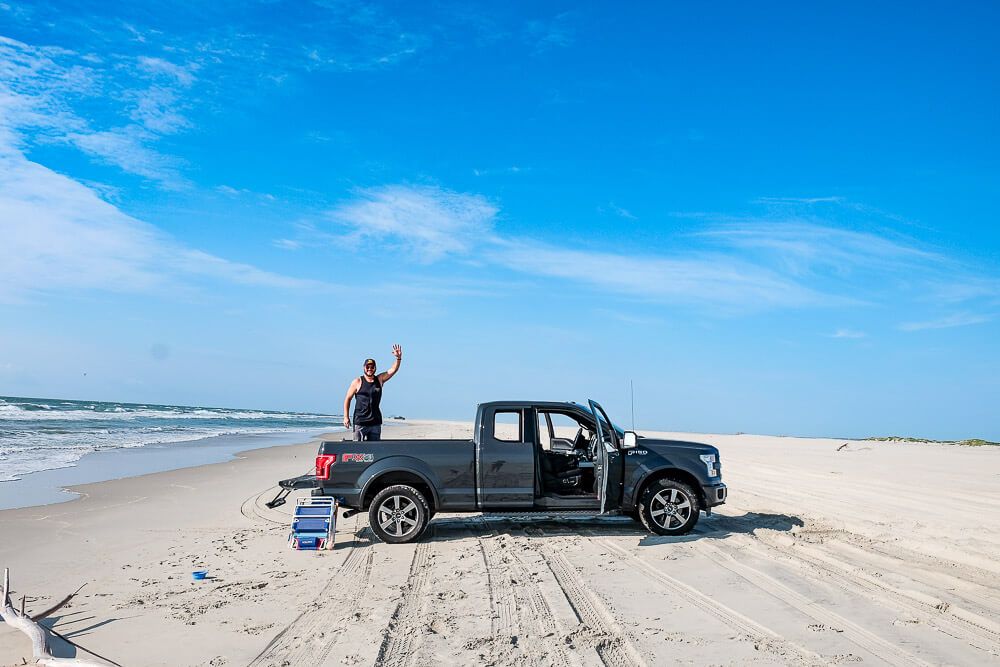 This was one of my favorite parts of the trip. Pile everything into the car, head to one of the ramps, drive along the beach until you find the best spot, and then simply park. All of your stuff is right there.
We had a blast exploring the beaches and trying out the different ramps. Ramp 72 is the closest to town and has a long drive through the national seashore before reaching the beach. It was very picturesque, but this stretch of the beach is a bit more popular it seemed like.
The day we used Ramp 63, we saw maybe 3 other cars the entire morning. It really felt like we had the beach to ourselves.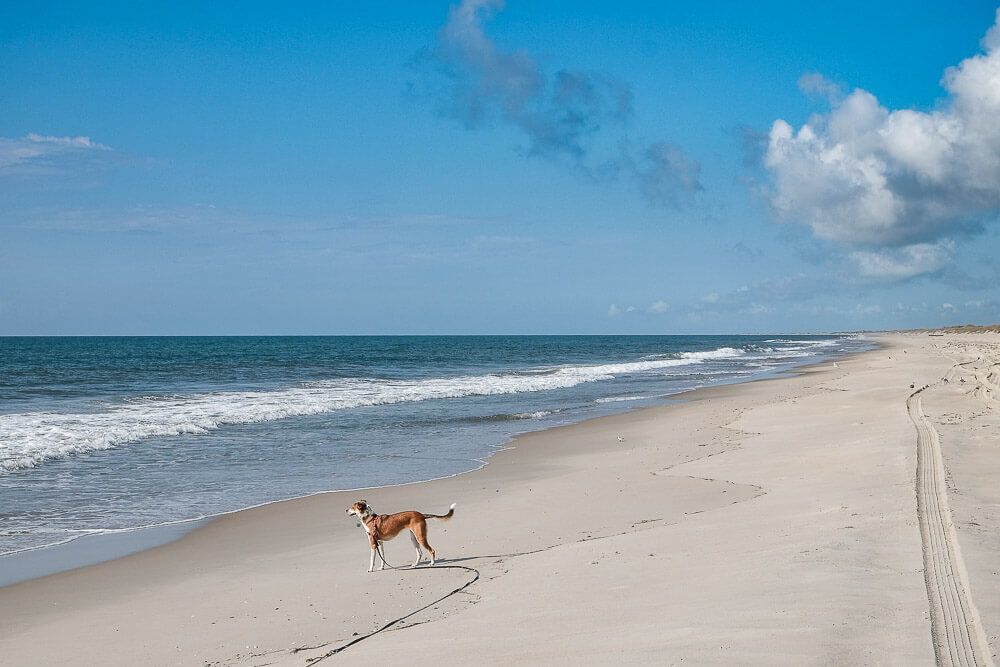 To drive on the beach though, there are several things to keep in mind. First and foremost, you will need a permit. We got ours online since the offices were closed due to Covid. If you know when you'll be there, I suggest also getting your permit online. It's ~$50 for 10 days or you can get an annual pass.
For the permit, you'll need to watch a video, fill out the application, and then print out the permit and the proof of permit to keep with you and displayed when on the beach. Check out the National Park Service permit information for more on how to get one and their FAQs.
Lastly driving on the beach isn't 24/7. During sea turtle nesting season night driving is not allowed. You can check conditions/closures and access points, rules, and what you'll need to bring (scroll down to the Off-Road Vehicles section) on the National Park Service website.
If you don't have a 4WD vehicle, there are a couple pedestrian-only access points with parking lots and even a lifeguarded beach that you can head to instead.
What if I have an AWD vehicle? Well, we did see some, like Subarus, on the beach that seemed to do fine. But we also saw several SUVs get stuck in the sand. Driving on the beach is always risky. We got stuck for a bit once or twice and needed to air down our tires more to get out. And we have a 4WD truck. If you have an AWD vehicle, it's a much higher risk. You may be fine. Or you may get stuck and need to get towed out. (Always bring the recommended equipment to at least try to dig yourself out.) And realize that cell service may not be super reliable on the island depending on your carrier.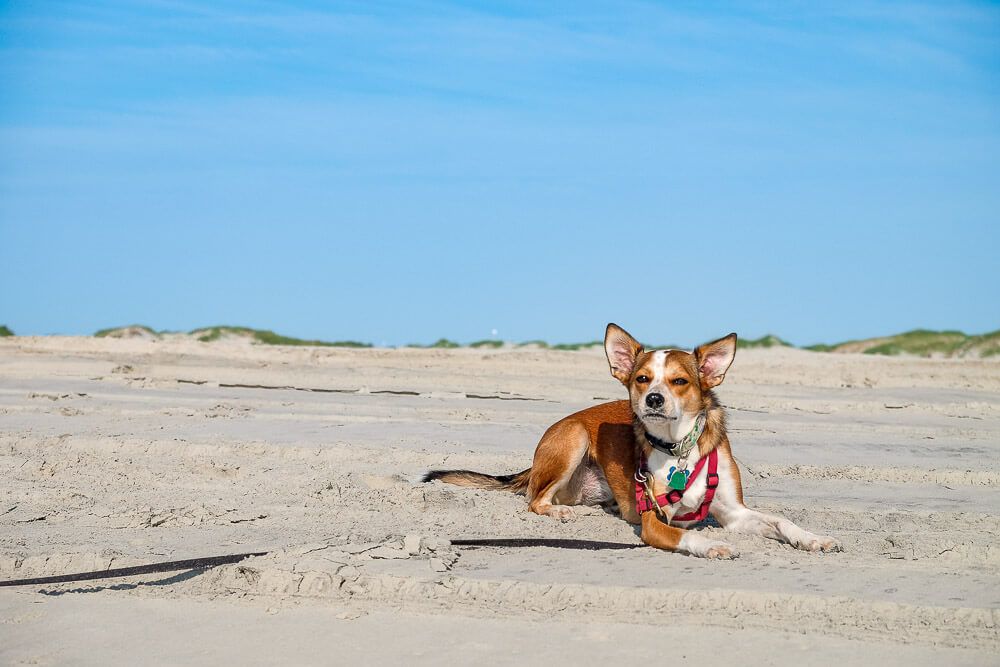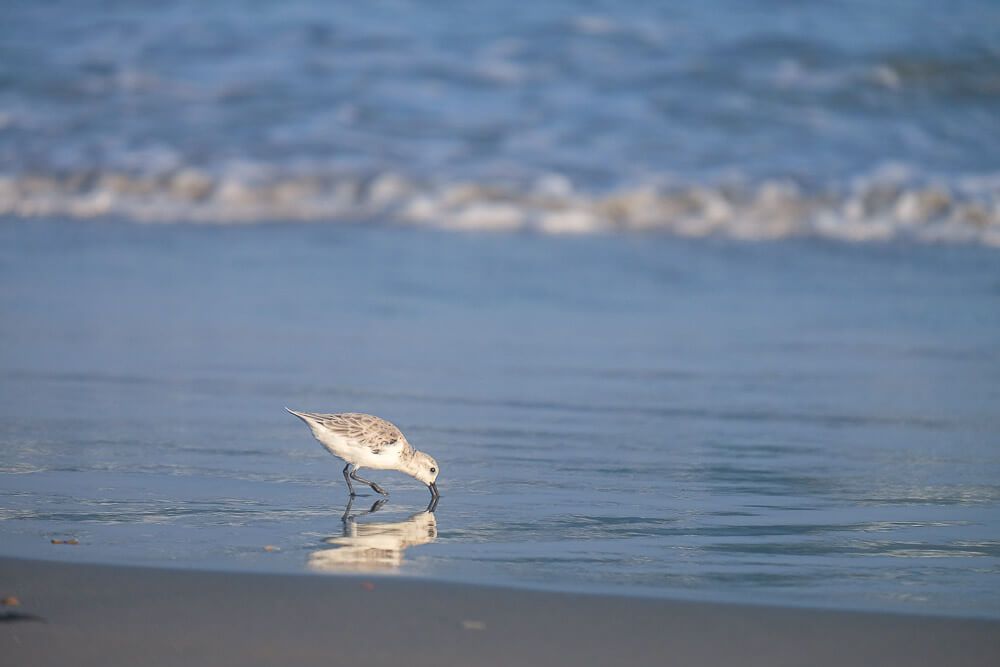 Ocracoke Lighthouse
Each island along the National Seashore has a lighthouse. And each one has a slightly different look. Ocracoke's lighthouse is all white and is shorter (only 75ft tall) than the others we saw on Hatteras & Bodie islands.
However, I believe, you cannot climb the lighthouse (even during non-pandemic times) but you may be able to go inside and read about the lighthouse's history. (I'm not positive about this thought, as we visited during Covid and everything was closed up. I hope to clear this up on subsequent visits.)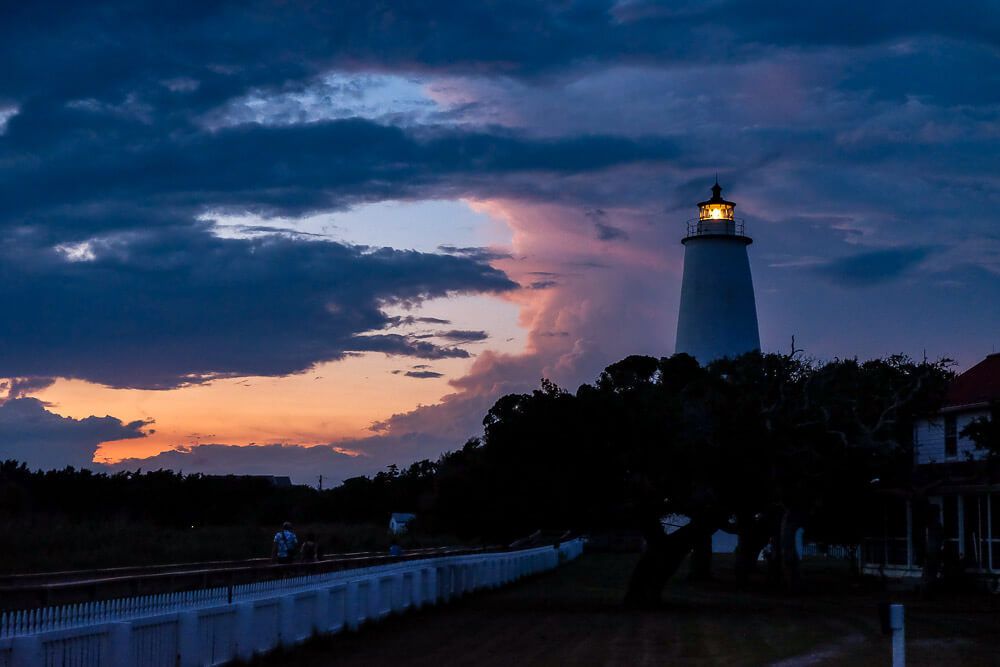 Springers Point
Our Airbnb host told us about Springer's Point when we checked in. She let us know it was a perfect place to walk Ellie at sunset since it leads out to a small beach on the sound side. It was a great local find and we came out here twice (once in the morning and evening).
The trail access for Springers Point is tucked back in the neighborhood. There's no parking (car or golf cart) at the trail access. Though there are bike racks at the start of the trail (on both sides of the wooden gate).
A small church around the corner does offer some free parking for Springers Point (though it is very limited). They have a donation box out and if you do park there, I suggest putting in something.
The trail through the Point winds through the natural coastal environment for a bit before splitting. One way heads to the point and one to the beach. In reality, they are both very close together and will have the same view. It all depends on if you want to swim.
The sunset out here was amazing, even with the cloudy skies. And it was a great way to wind down the evening.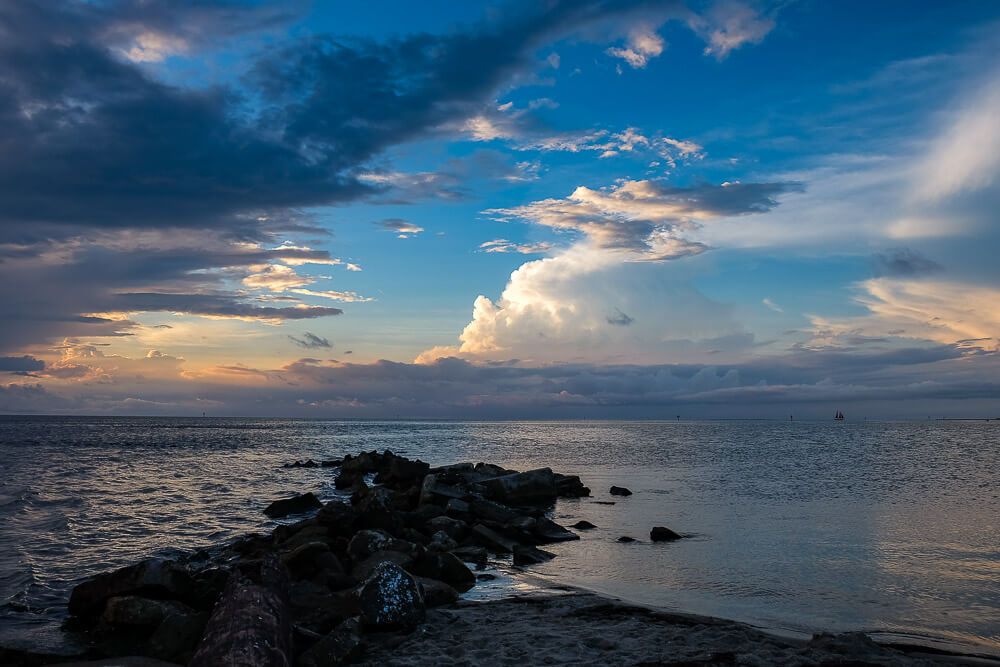 Shop Local & the Tram
Ocracoke has so many cute little souvenir stores. These aren't your huge beach stores or a dime or dozen shops with things made in China. These are real, local shops. I loved popping into the different places and checking out what they had to offer.
Here are some of my favorite shops:
Books to be Red: local bookstore but with so much more! And dog friendly!
Village Craftsmen: quality handcrafts tucked back away from the main road. Be sure to check out the hurricane markers on the steps next to the porch.
Down Creek Gallery: fine art gallery. Perfect for anyone just wanting to check out the art or find something to bring home.
Sea break: local jewelry & beeswax candles
Over the Moon: cute little store with lots of different art, handcrafts, jewelry, and unique gifts
Island Ragpicker: much larger than it looks with lots of different things to peruse.
Kitty Hawk Kits: your more typical beach store where you can pick up t-shirts, stickers, and stuff like that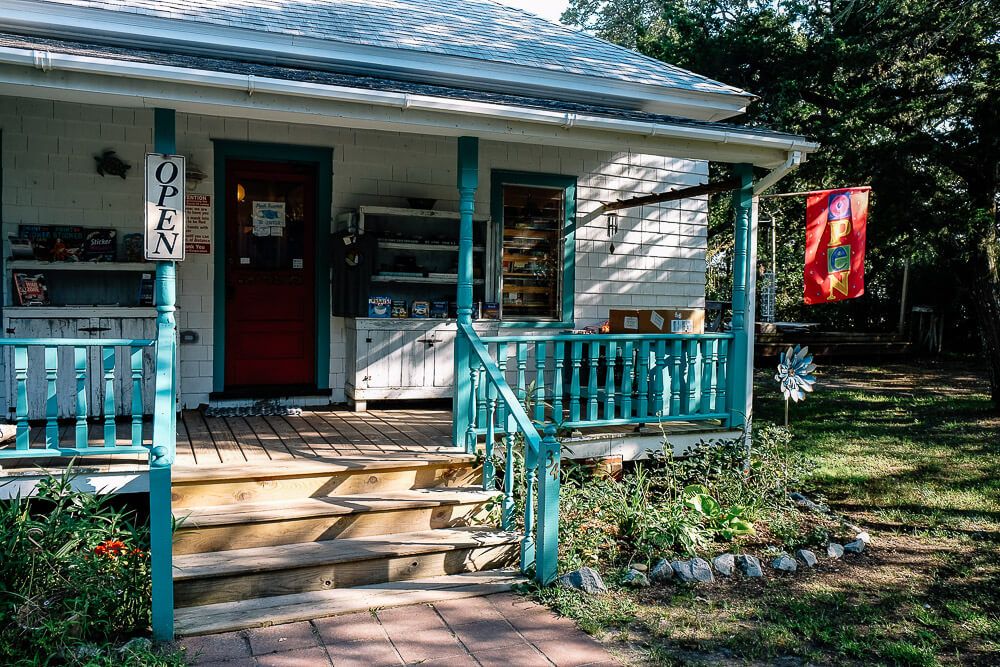 If you're looking to bounce around town and do some shopping, definitely think about taking the tram. Think of it like a free shuttle that can take you around the village to 8 different stops (including one across from the ferry).
If you have the walking map & directory (given upon arrival or easy to pick up around town), each stop is indicated.
It looks like a long golf cart and they come around about every 20 minutes or so. It starts at 10:30a.m. and runs until 8 p.m.
I really enjoyed taking the tram around town. We brought bikes with us, but we often would just walked. And hopping on the tram to go from Zillie's down to the brewery was a welcome relief.
And the best part? It's dog friendly!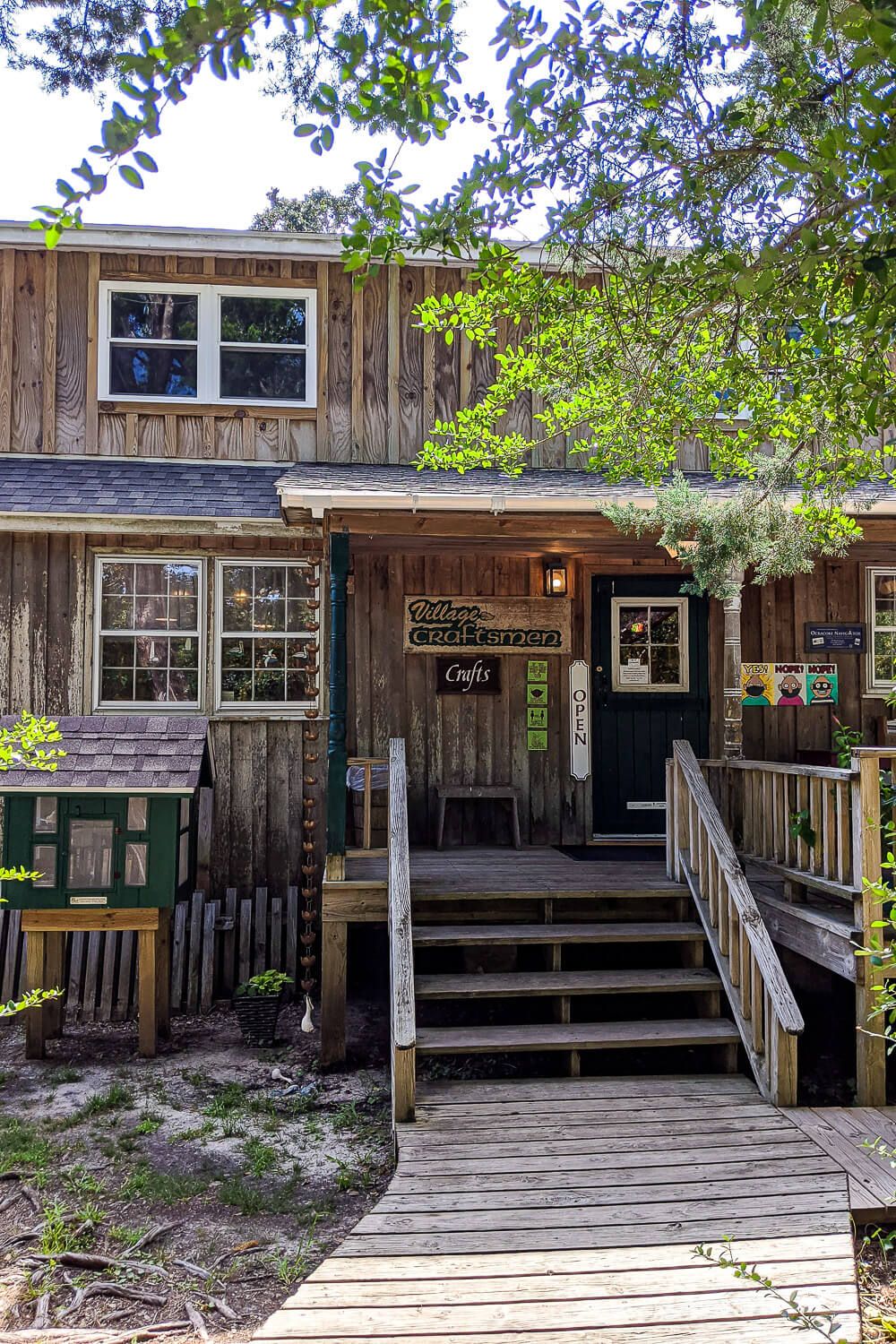 Pony Pens
Ocracoke used to have wild horses (or ponies really) wandering on the island. But in the 1960s, for their own protection (from people and cars), they were rounded up.
You can still see the Ocracoke ponies at their Pony Pen along Highway 12. There's a viewing point that looks out towards their pens and barn.
To be honest, I was a bit sad to realize the ponies weren't roaming free. However if that means they don't get hit by a speeding car cruising down Highway 12, then I understand why they were corralled.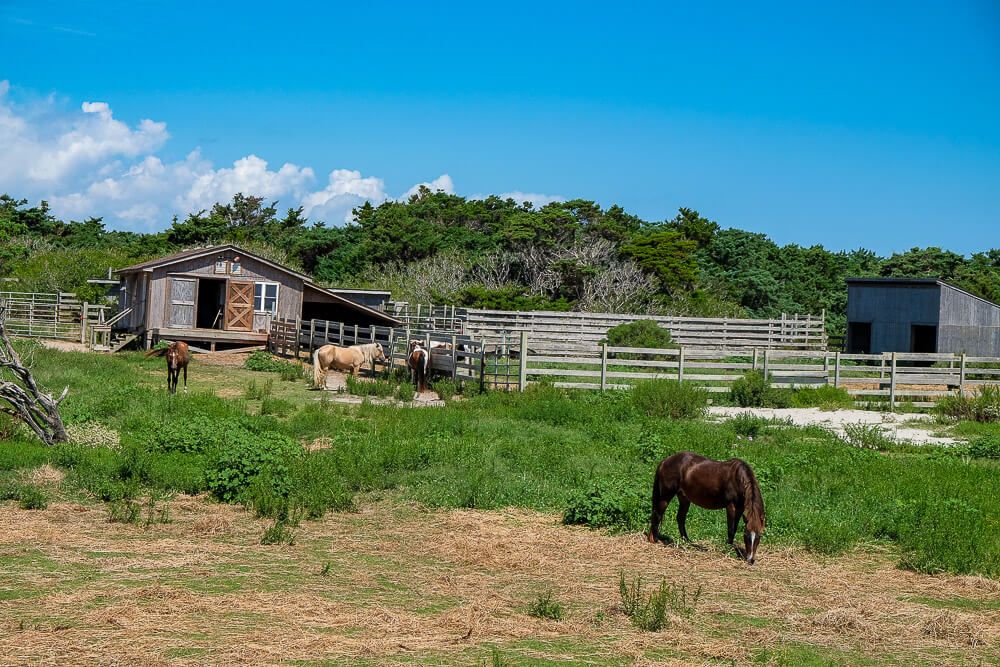 Other Things to Do
Below are several items I either saw other people doing or ones I'd like to do when we return. And I'll build out each one once I experience it. But I wanted to include them for now:
Rent a bike or golf cart. There are several operators around town where you can rent one. Wheelie Fun Golf Carts looks to be a big operation for the island. If you're coming over on the pedestrian ferry from Hatteras, you can take the tram straight there.
Fishing. You can either fish off the beach (be sure to get a permit) or go with a charter company for some off-shore fishing.
Kayaking, surfing, & stand up paddle boarding. Kayking & SUPing are popular options on the sound side of the island and there are several rental shops on the island if you don't bring your own. Check out Ride the Wind Surf Shop.
Ghost & History tour. I saw this option in the directory but didn't get a chance to inquire of it's still going on. If it is, you can ask about it at the Village Craftsmen.
Ocracoke preservation museum & Teach's Hole Blackbeard exhibit. I'm a history nerd. And if checking out small museums are your thing, then these two might be of interest to you. The museum is near the ferry and Teach's Hole is near the Variety Store.
Hike the Hammock Hills Trail. Usually I'm all about hiking. But I had an issue with bugs this trip and so decided not to head out on the trail. Other than Springers Point, I believe Hammock Hills is the only other trail on the island.
Boat tour. Want to experience Pamlico Sound on the water and see where Blackbeard was killed? Then join Captain Rob Temple aboard the Windfall II for a sunset cruise.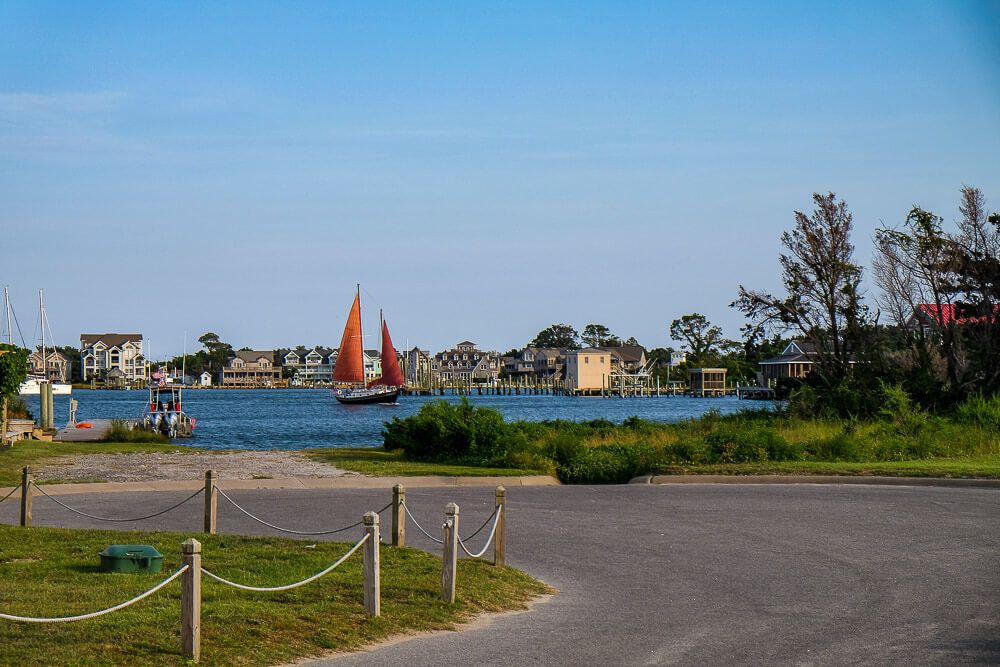 ---
How to Get to Ocracoke
Ocracoke is only accessible via boat (or airplane I guess). If you're coming to the island, you have 3 ferry options. Please be sure to review all schedules and fees before arriving.
The most popular option is to come over from Hatteras. The crossing between Hatteras island and Ocracoke island is free, takes about one hour, and runs about every hour from 5am to midnight. Please note that this ferry is at the far northeastern end of Ocracoke island. It does not dock in the village.
There is a pedestrian only option – the Ocracoke Express – that you can take as well if you want to come explore the village of Ocracoke . There are 3 departures a day from Hatteras and 3 departures from Ocracoke back to Hatteras. And it does dock at the ferry terminal in the village. There is a fee, but it's still very convenient if you want to come over for the day.
The other two options, the ferries from Cedar Island & Swan Quarter, are longer than the Hatteras ferry (about 2-3 hours depending on the ferry) but both are located on the mainland. We found it much easier to head to Cedar Island than to drive all the way through the Outer Banks and then catch the Hatteras ferry.
Both of these ferries have a fee and run a much more limited schedule. Be sure to check the current schedules and fees. It's also recommended to make a reservation in advance. It may be sold out if you want to buy your ticket at the ferry terminal.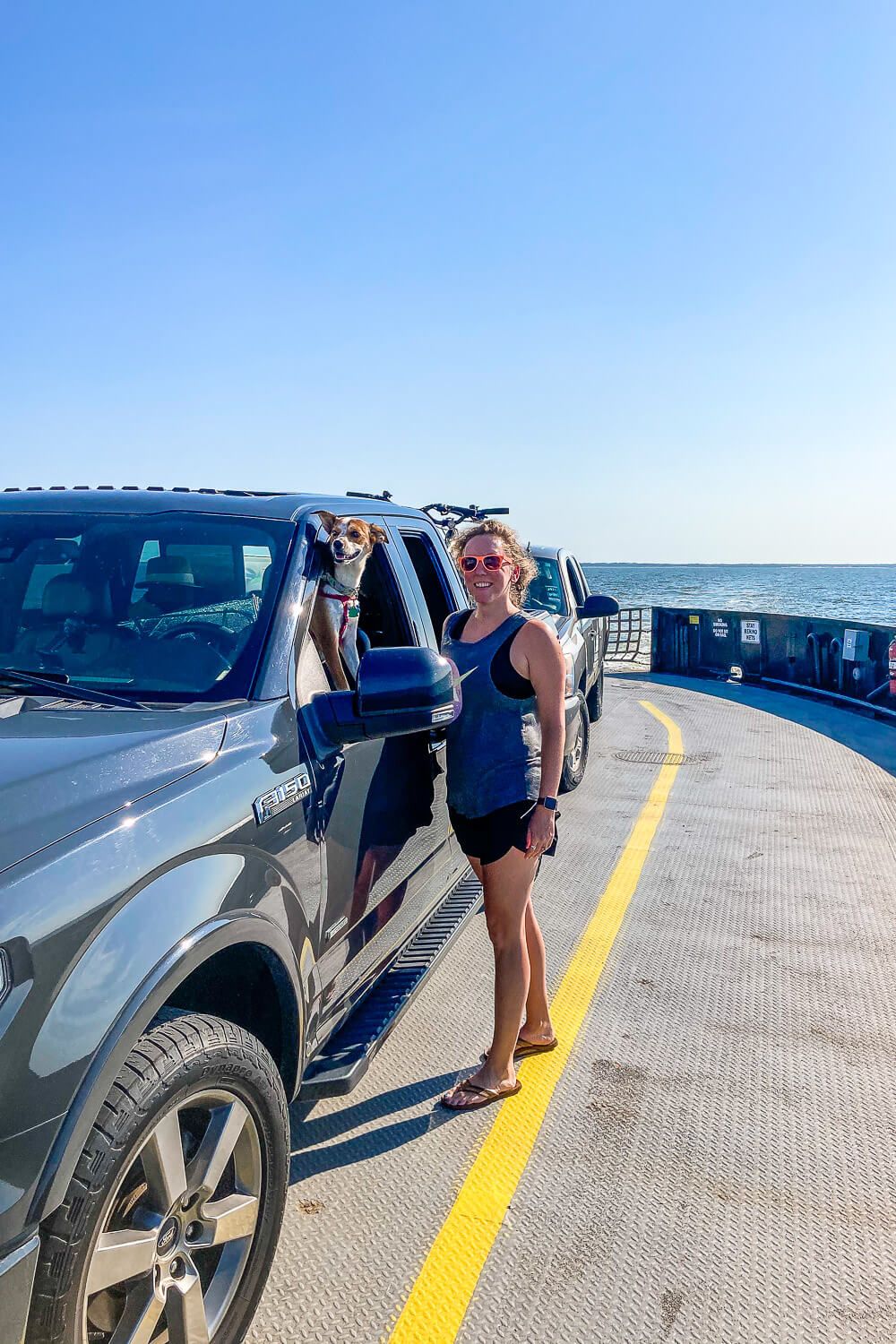 ---
Where to Eat & Drink on Ocracoke
Coffee
There were two coffee shops we tried in town.
Magic Bean Coffee: our favorite spot. Though the seating was more limited, we loved the rustic feel and fewer crowds.
Ocracoke Coffee: on the Back Road, this place was busy (even during Covid). Plenty of seating, lots of coffee options, and great pastries.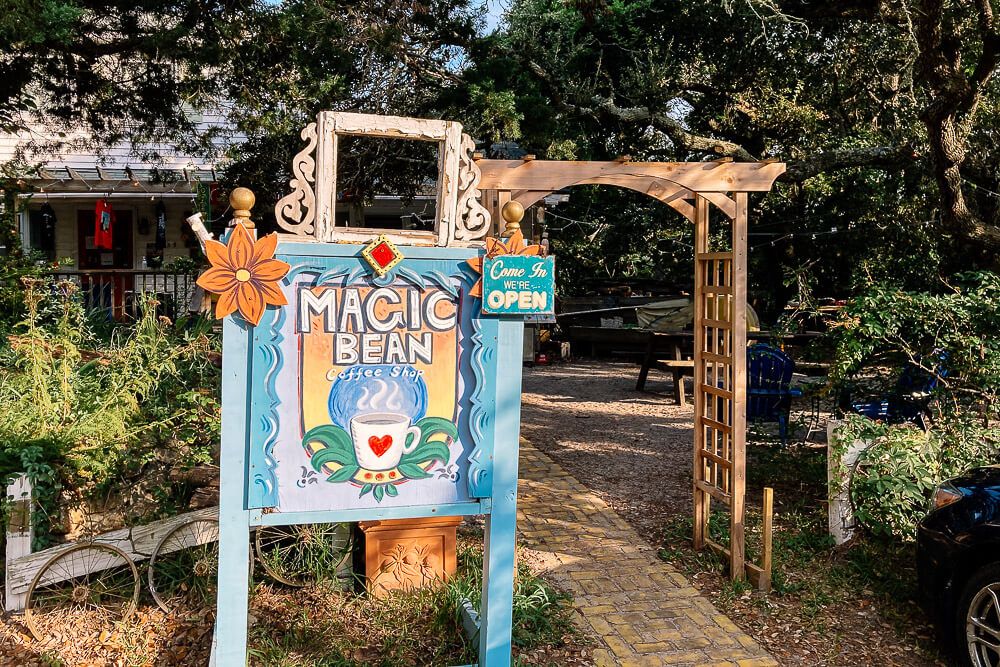 Food
One can only eat so much food. All of the places we ate had either outdoor (dog-friendly seating) or we got take-out.
Eduardo's: amazing Mexican food hosted out of a food truck (seafood options available). They have picnic tables on site or you can grab it to go.
Helios' Hideaway: mediterranean cafe open for breakfast and lunch (we did breakfast). I think they have a few outdoor tables (during non-Covid times) but we got ours to go.
Jason's Restaurant: local place with a big menu (and a recommendation from our Airbnb host for good food on a budget). We got dessert – key lime pie – to go, but they do have some tables out front as well.
Ocracoke Oyster Company: great place to grab local seafood – including local oysters. Pet friendly seating on their deck. And they have a full bar if you want some cocktails.
Old Salt Sandwiches: food truck near the Variety Store. Local seafood sandwiches and more on offer during lunch time hours. Cash only.
Plum Pointe Kitchen: located inside 1718 brewery, this small place place has some very interesting options. Like a crab cake stuffed pretzel that was quite good.
SmacNally's Bar & Grill: good local seafood with a bustling atmosphere. Located right on the marina in front of some of the slips offering fishing trips. Good views out over the water.
Thai Moon: excellent Thai food with some great local seafood options. We got it to go and had to order a day in advance. Cash only. (Also highly recommended by our Airbnb host.)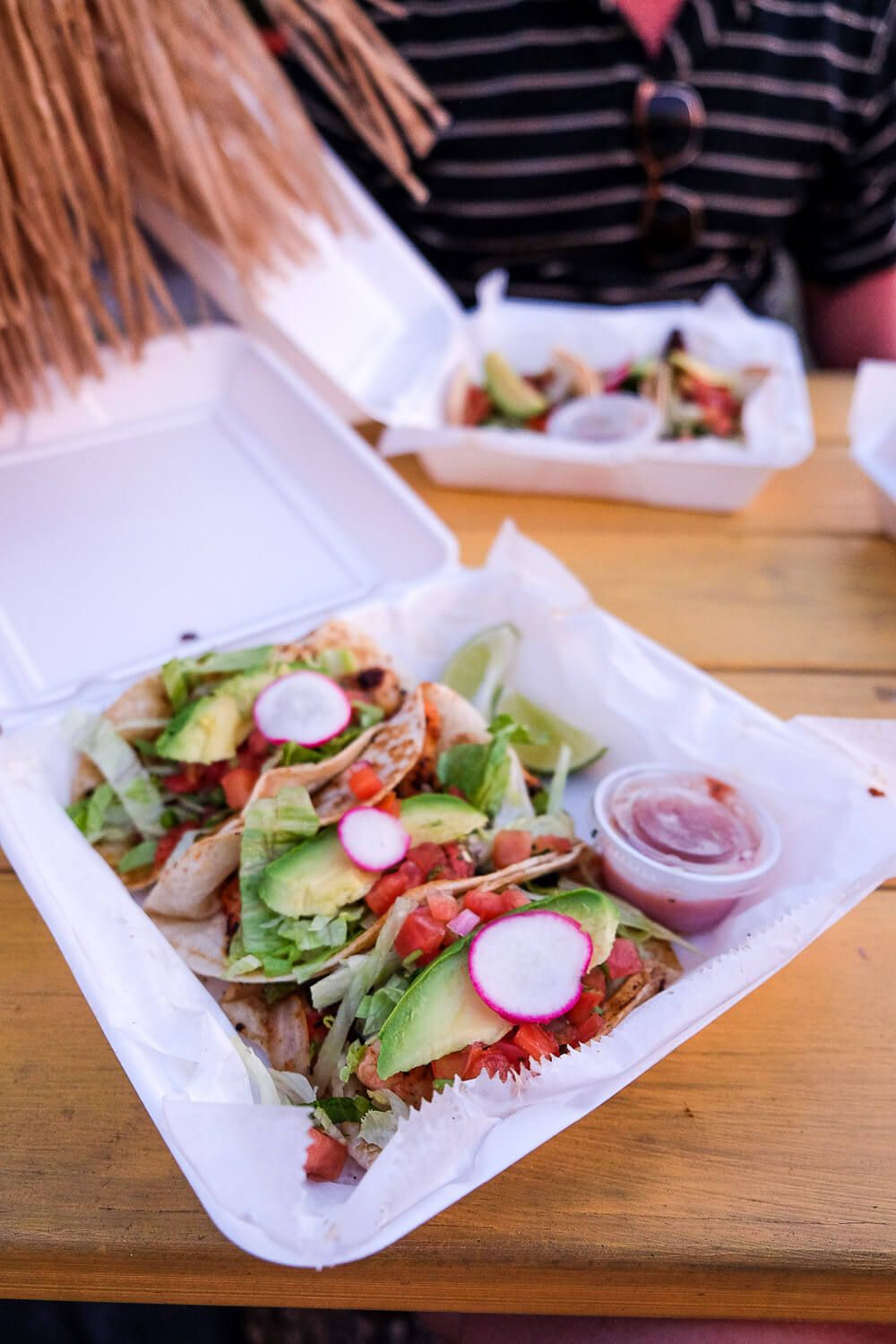 The following are places we didn't get to try, but they are on my list for our next trip:
Daijo
Fig Tree Bakery & Deli
Flying Melon
Sorella's Pizza
Drinks
Our favorite spots to grab a beer.
1718 Brewing: the only brewery on the island. And with lots of outdoor seating (including a small second story deck we were told was dog friendly), I really loved grabbing a beer here.
Zillie's: so great we went there not once, not twice, but three times. They have lots of beer options (cans, bottles, and local/regional options on draft), wine, and gourmet nibbles. But the best was the dog friendly covered porch where you can sit back and enjoy.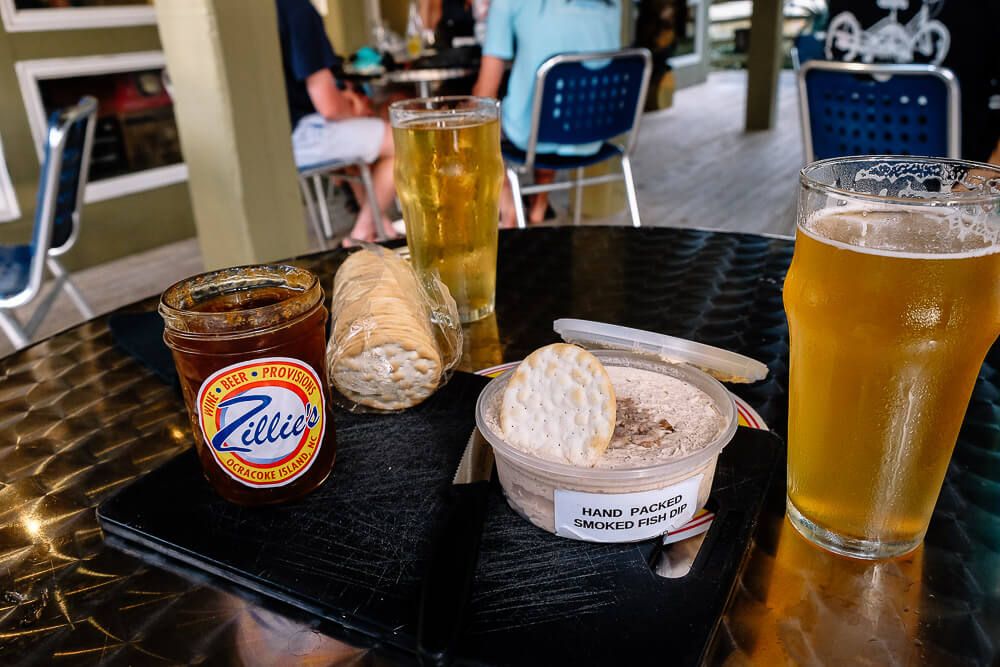 ---
Places to Stay on Ocracoke
You have a few different options if you're looking to stay on Ocracoke. I've listed some pet friendly options that I've found or read about for each.
So far though, we've only used Airbnb to stay on the island. This was due to not knowing about the other pet friendly options and booking more last minute. We were able to find a great pet friendly Airbnb, but I'd like to try some other options on future trips as well.
And if camping is your thing, there is a National Park Service campground on the island as well.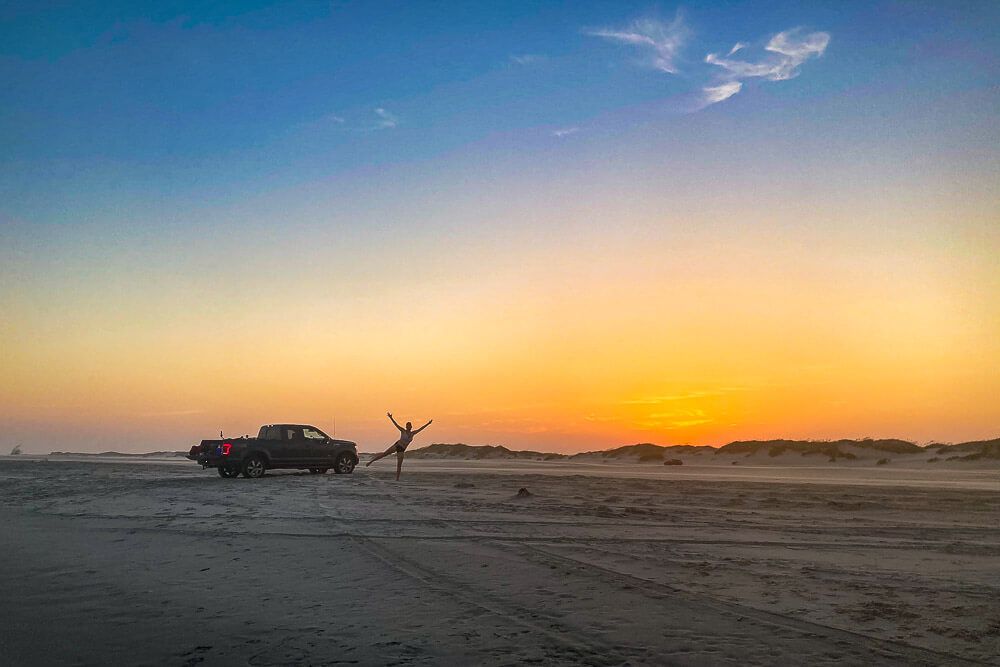 Hotels and B&Bs
Traditional House Rentals
I saw two main options in town: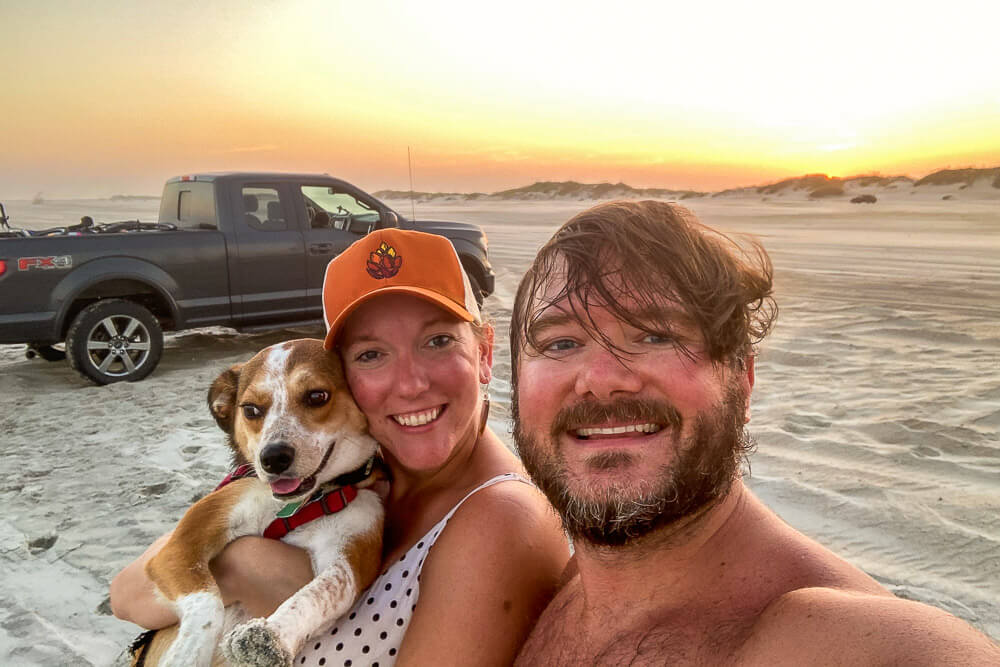 Hopefully this helps you plan your trip to Ocracoke!