Are dogs allowed in Shenandoah National Park? Yes! They are! It's one of the few National Parks in the country that actually allow dogs on trails. But there are regulations in place (which you should follow to keep Shenandoah dog friendly). Follow my tips here to discover the best things to do in Shenandoah National Park with your four-legged best friend.
---
Shenandoah National Park Overview
So what makes Shenandoah National Park special? Well the main draw of the park is the iconic Skyline Drive, a 105 mile road that winds its way through the park. The park is located around this road (which runs roughly north to south) so driving it, and stopping along the way, gives you access to all the mountains, wildlife, and scenic vistas your heart wants.
Physically, it's located in the Blue Ridge Mountains of Virginia (less than 100 miles from Washington DC). There are four main entrances to the park (that funnel you onto the Skyline Drive).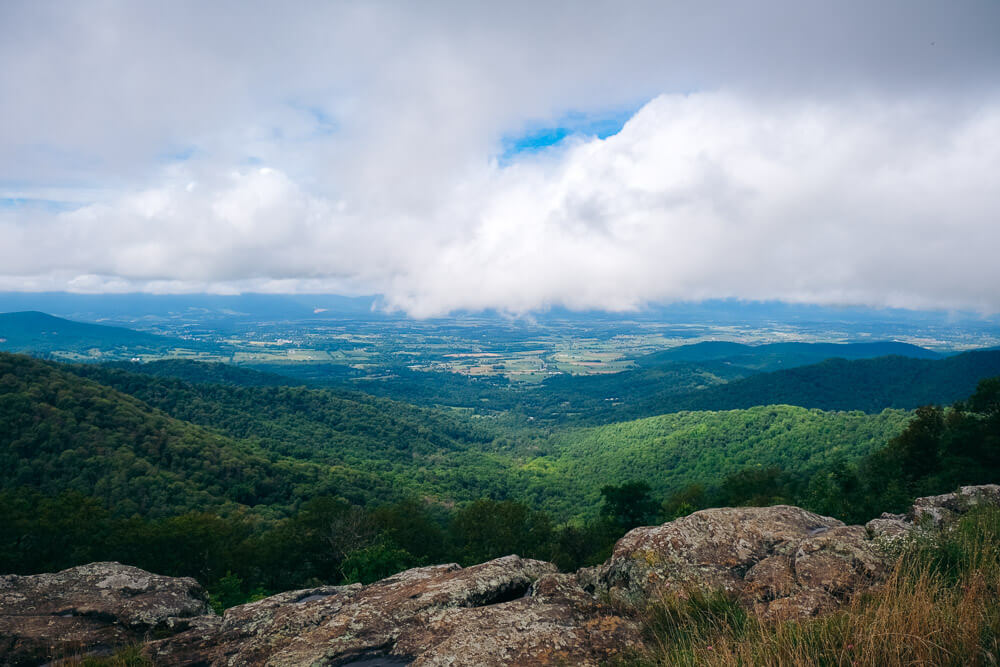 Take a look at the official maps from the NPS for details on the entrances (here's the brochure with a map of the below and here's the page with all the maps). And then once you're in the park, definitely stop by one of the visitor centers for more maps and a chance to chat with park rangers who can assist you.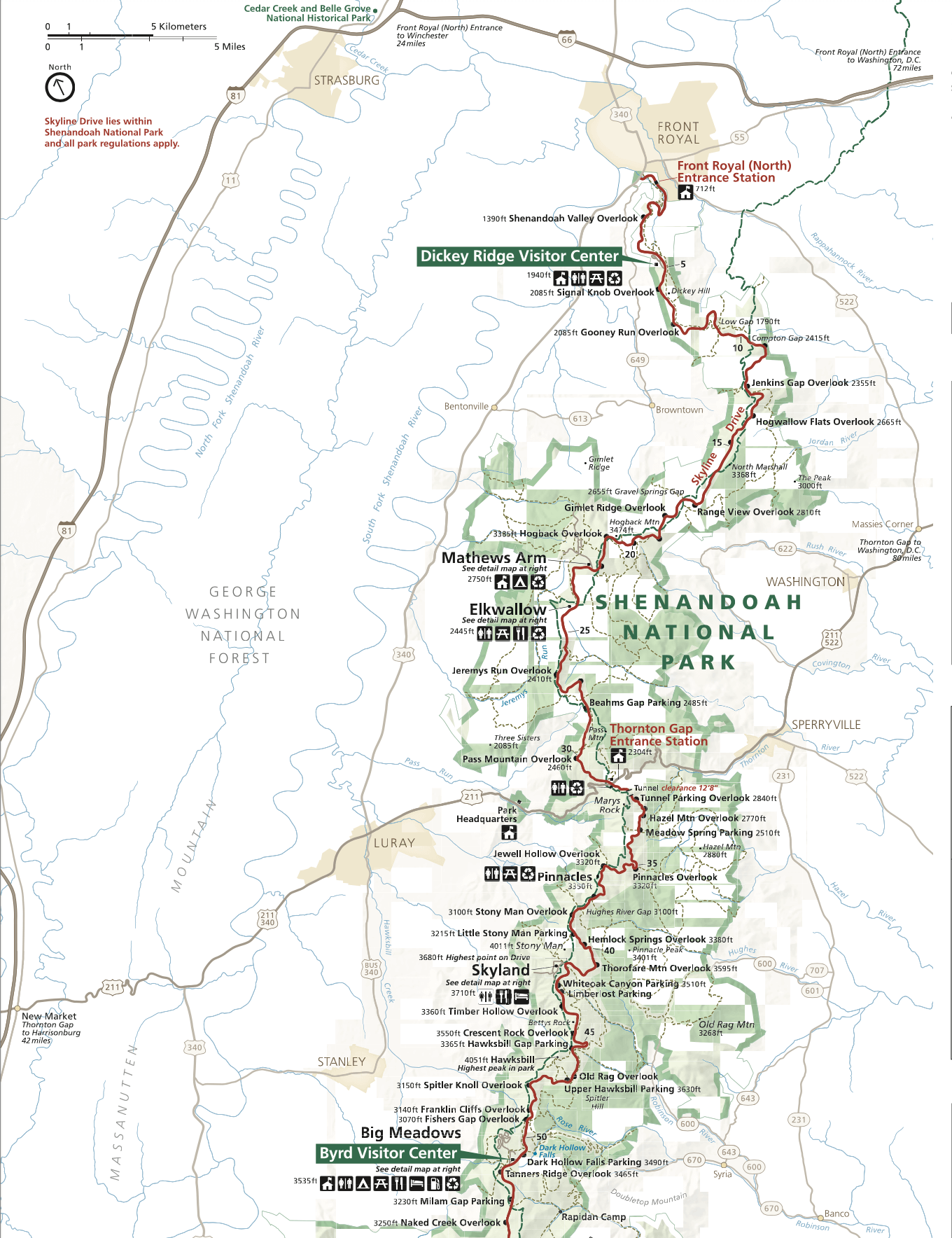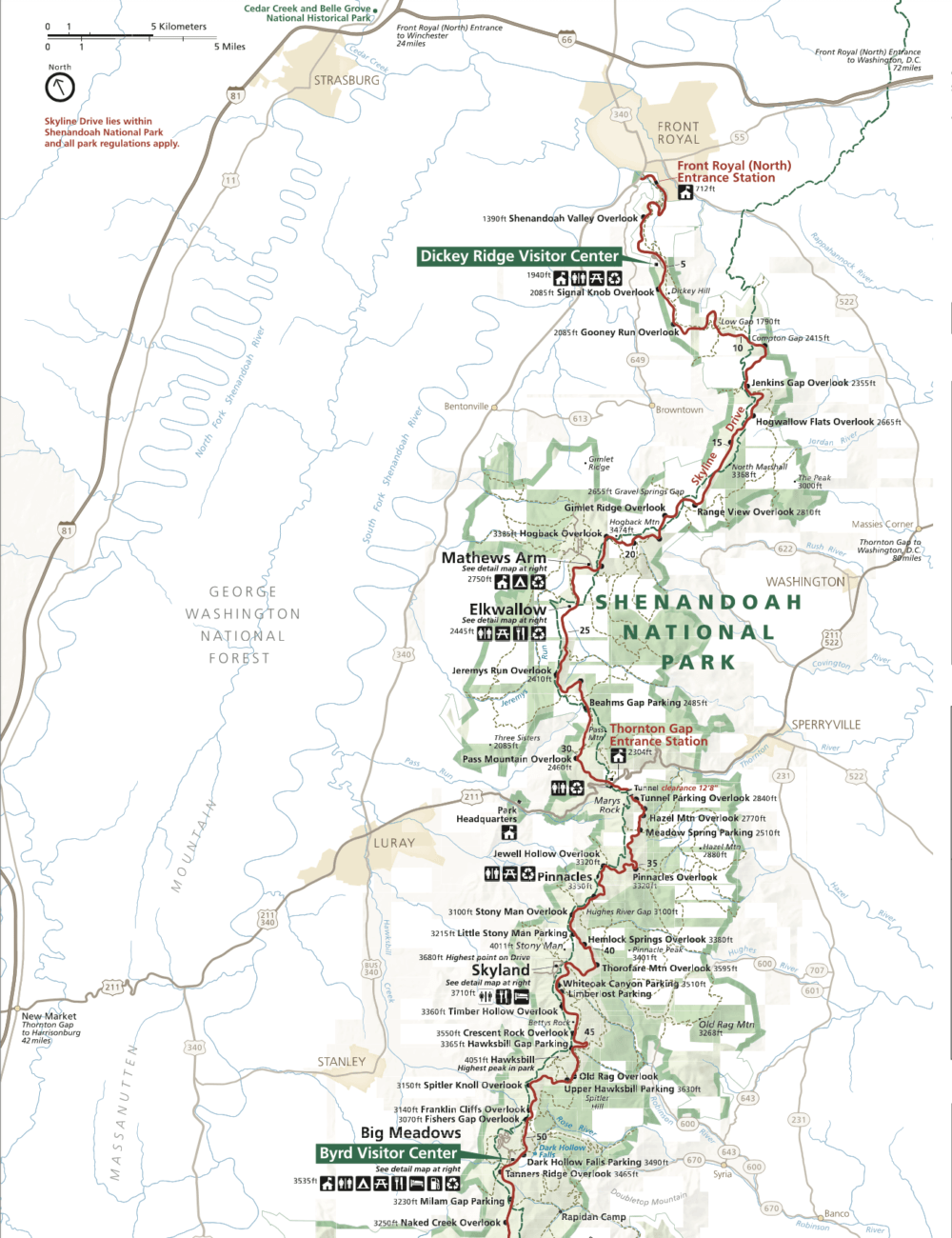 Is There a Fee to Enter Shenandoah National Park?
Yes, there is. In 2023 the fee is $30 for a vehicle and it's good for a week. You can buy it online or at the entrance stations. If you're visiting Old Rag (which this guide doesn't cover), then there is a separate fee.
When Is the Best Time to Visit Shenandoah National Park
I would suggest visiting from spring through fall. I've heard (and seen the photos) that Shenandoah is beautiful in the fall…but it's also very crowded. October being the best month for leaf-peeping. I visited in September and there wasn't too much traffic or crowds.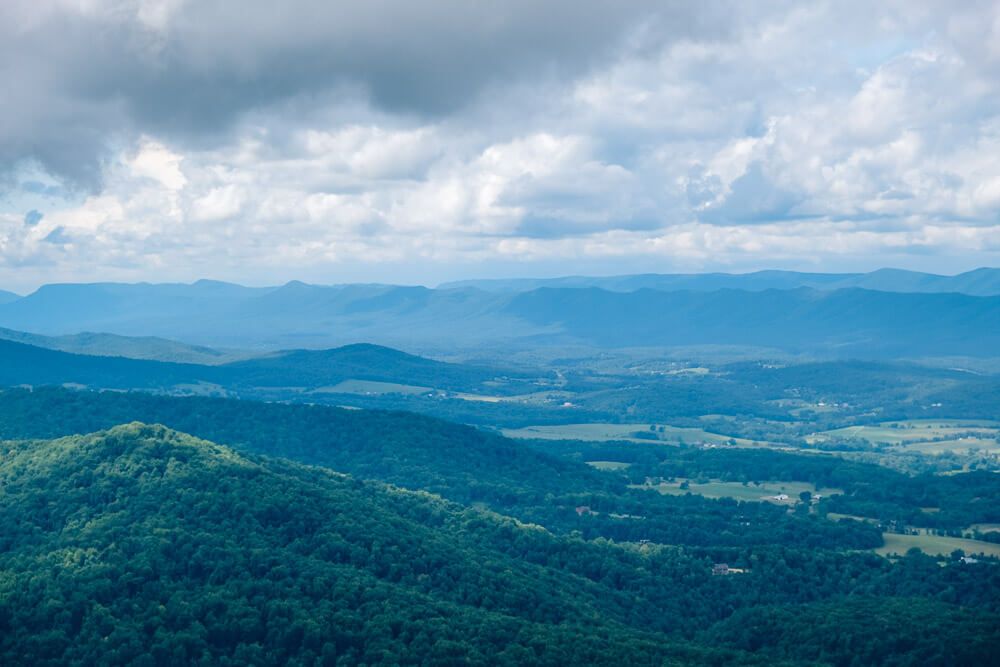 Where Is the Best Place to Stay in Shenandoah?
If you like camping, and you want to be close to the action, definitely consider camping at one of the four campgrounds in the park: Loft Mountain Campground, Lewis Mountain Campground, Big Meadows Campground, and Mathews Arm Campground. I've stayed at Loft Mountain and Matthews Arm and I booked my reservation for a weekend night far in advance.
If camping sounds a bit too rough for you, there are lots of lodging options both inside and outside of the park. You've got Skyland and Big Meadows Lodge inside the park (and they both offer pet friendly rooms).
Outside the park, you can go for vacation rentals if you're staying for several days (like the Falling Leaf Cabin and Rustic-Chic Cabin). Or if you're justing staying a night or two and then moving on, I'd go for a hotel.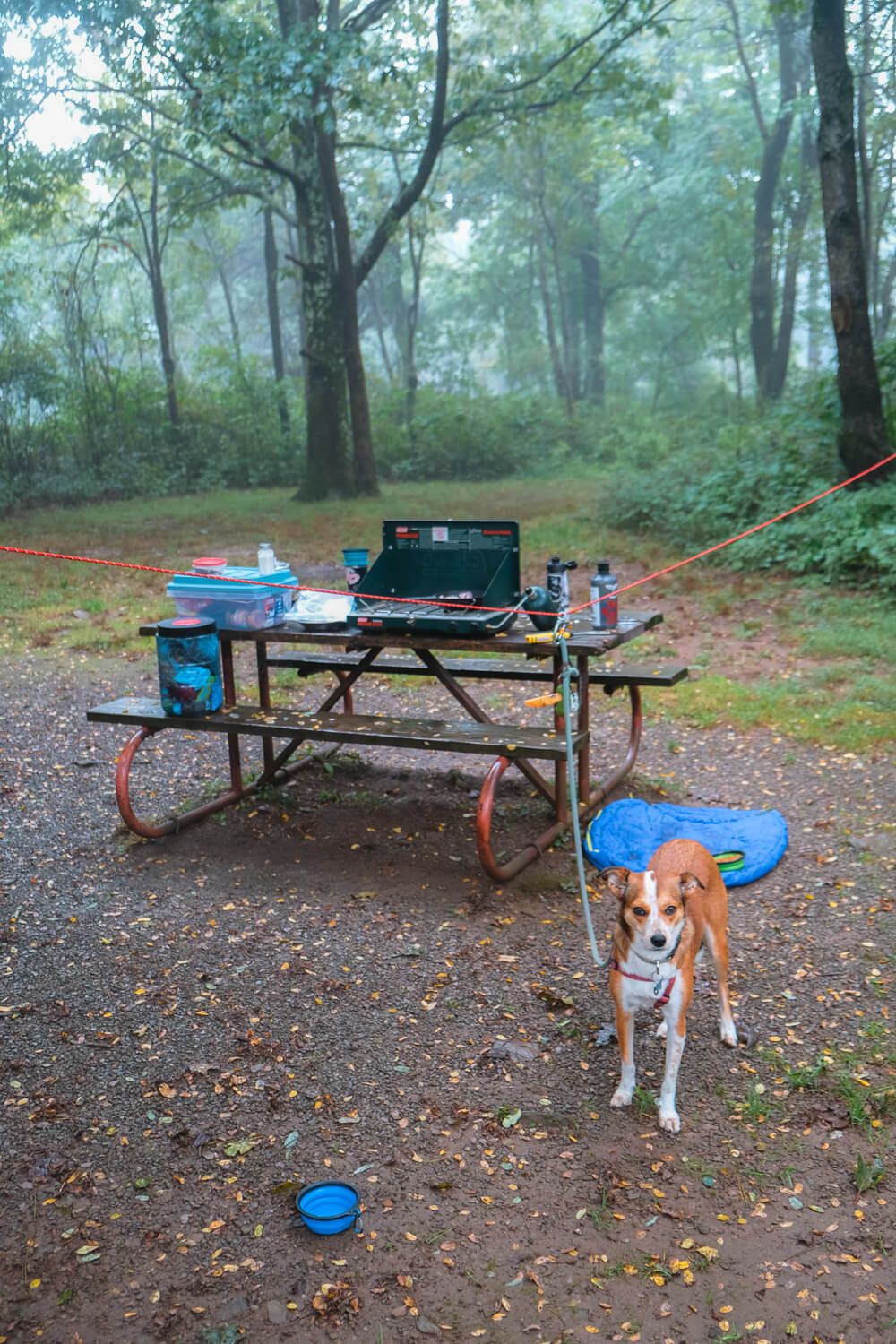 A Quick Note on Driving Distances
Skyline Drive is a small, winding road. The speed limit is 35mph. So when you are calculating time between hikes or visitor centers or sites you want to visit, factor this speed limit into it!
DO NOT SPEED. Yes 35mph is "slow" but do you know what happens when tourists speed in national parks? Bears, deer, and other wildlife get hit by cars and die. This happens ALL THE TIME.
Don't want to kill a bear, it's simple: Don't Speed.
---
Shenandoah National Park Dog Friendly Guide
What Are the Rules for Your Dog?
So yes, you can bring your dog into Shenandoah National Park. They can hike on (some) trails and stay with you in your campground (or even your room at Skyland). But there are rules in place.
Follow the rules set by the NPS, because if you don't, then Shenandoah may no longer be dog friendly. Don't be a jerk. Follow the rules.
I've included the rules below, but always check the official page from the NPS for the most up-to-date rules and regulations.
Your pet must be on a 6ft leash (or less) AT ALL TIMES.
Pets are NOT allowed on Ranger programs.
Bag your pet's waste. I'm serious, do it. If you don't have a bag with you, don't bring your dog on a hike. And if your dog poops, bag it, and then carry it until you reach a trash can. Do NOT leave it in a tree, on a post, or discarded in the woods. It's NOT ok (or natural – the debate I normally hear). Be prepared to bag your dog's poop or don't bring them with you.
There are several trails in the park dogs are not allowed on. Be prepared…these are some of the more popular trails in the park. If you want to hike one of these, then you shouldn't bring your dog.
Pets are prohibited on the following trails:
Fox Hollow Trail (mile 4.6)
Stony Man Trail (mile 41.7) except for portion that follows the Appalachian Trail
Limberlost Trail (mile 43)
Post Office Junction to Old Rag Shelter
Old Rag Ridge Trail
Old Rag Saddle Trail
Ridge Access Trail (Old Rag area)
Dark Hollow Falls Trail (mile 50.7)
Story of the Forest Trail (mile 51)
Bearfence Mountain Trail (mile 56.4)
Frazier Discovery Trail (mile 79.5)
Don't worry – there are lots of other trails in the park! And I've listed my four favorite dog friendly hikes below!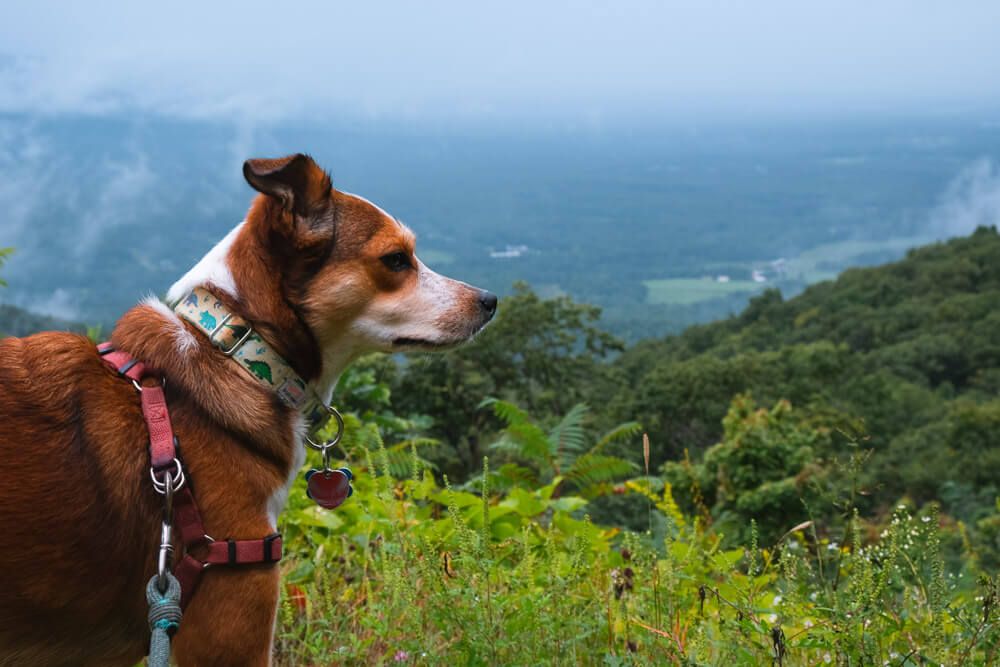 Dog Safety
Before just hitting the trails, let's talk a little about hiking with your dog. It's important to have a plan on what you're going to do (like which trail you're going to hike…and if dogs are allowed on it). But also on what you need to bring and what to do if things go sideways.
Before hitting the trail, there are several factors to consider. It's important to understand your dog's training level and start with appropriate hikes that match their abilities. Basic commands, leash training, and obedience are crucial for their safety. Additionally, ensure your dog's tags and licenses are up-to-date, and their vaccinations, especially rabies, are current.
You also want to keep your dog's physical ability in mind. If your dog's a couch potato and then you expect it to hike 10 miles, that's a recipe for disaster.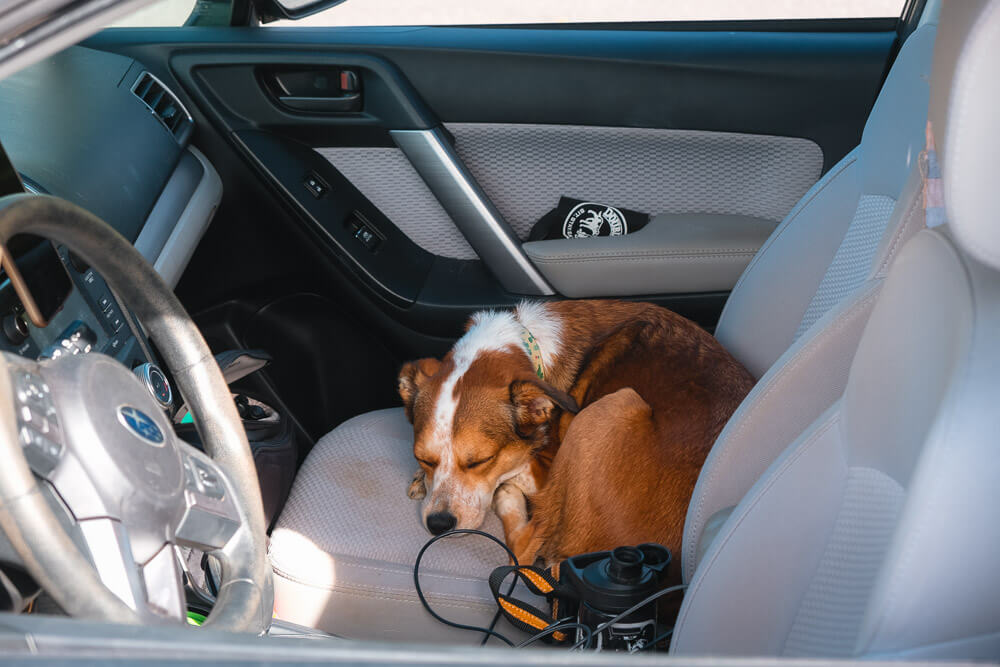 When it comes to essential hiking gear for your dog, you're going to need a leash. And I'd recommend a harness so that you're not yanking on their neck. (Again if your dog is a pain on a leash…maybe rethink that hike until you have more time to train first.)
But the main thing you need for your dog is water and a water bowl (I prefer collapsible ones). Do not rely on streams and the like to provide your dog with water. Bring a water bottle just for them.
Lastly dog booties can protect their paws from rugged & rocky trails. Pad injuries are one of the most common injuries for pets that spend a lot of time outdoors.
In terms of additional safety considerations, be mindful of the heat. Do NOT hike when it's hot. If you want to go hiking in the summer, opt for early morning or evening hikes. And DO NOT leave your dog in the car during the afternoon while you hike.
Awareness of bites, stings, and encounters with snakes and larger animals is crucial. Knowing how to handle ticks is vital (try to work a post-hike tick check into your routine). As an extra precaution, I like to carry a pet-specific first aid kit (or at the minimum have one in my car).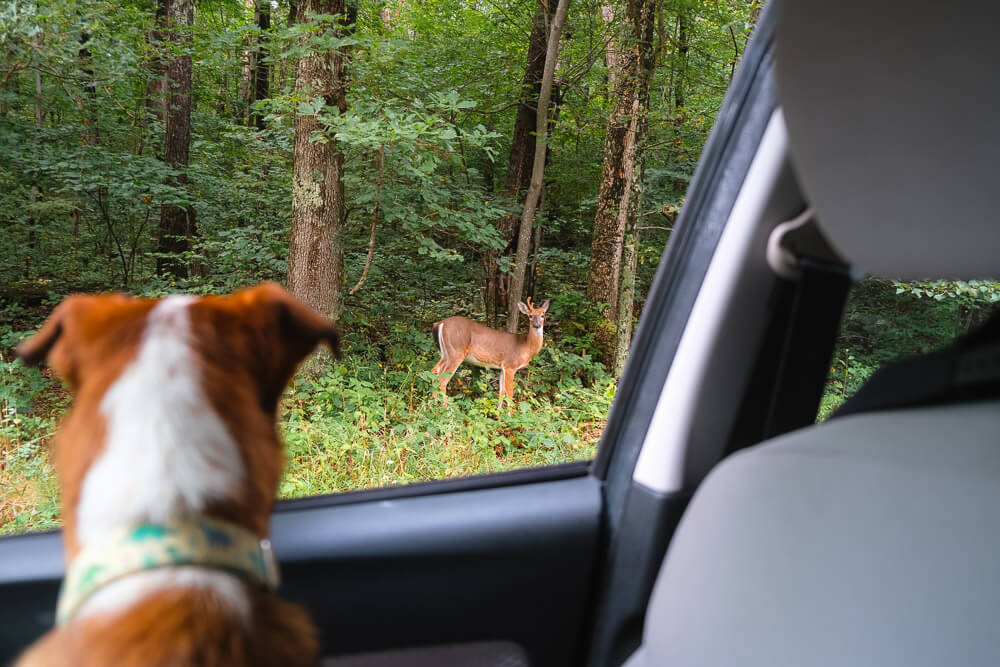 ---
Best Hikes With Dogs in Shenandoah National Park
Okay now onto the good stuff. Let's hike with our dogs.
I explored Shenandoah National Park with my dog Ellie over a long weekend in September. I did a lot of research before the trip to determine which hikes I wanted to do. Many of the ones I initially picked were not dog friendly. Again be sure to reference the no-dog list before you head to the park.
Markers & Blazes. Trail markers (small stone posts) are at trailheads and intersections. The metal bands are stamped with directional and mileage information.

Trail blazes are found on trees and rocks throughout the park. The color identifies the trail type:
Blue = Hiking trail
White = Appalachian Trail
Yellow = Open to horse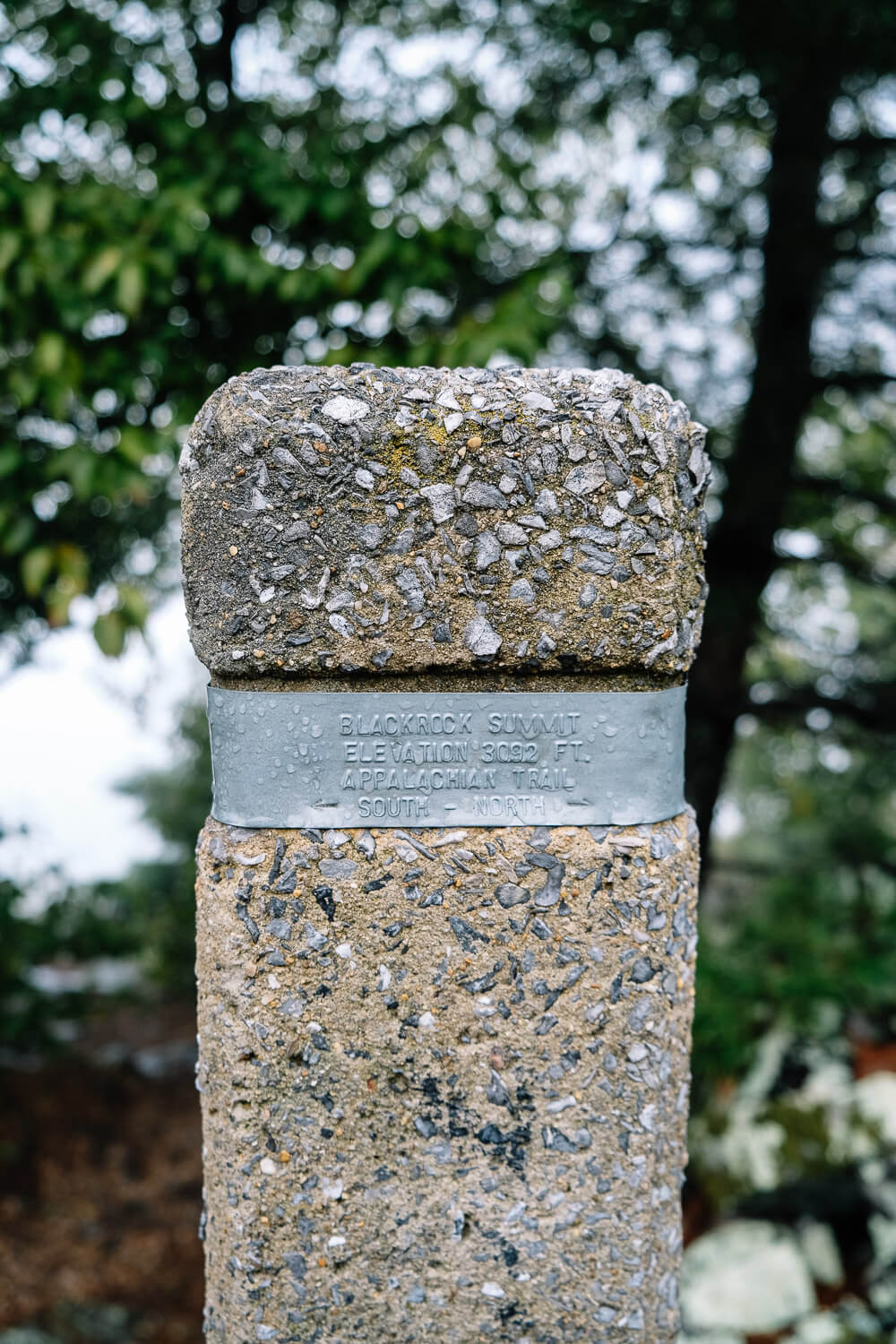 So to choose a trail, I wanted a hike that wasn't too long (under 3 miles), that didn't have too much elevation (under 1000ft), and that had some kind of view or something at the end.
A note on elevation. Skyline Drive weaves its way mostly along the mountainside of the Blue Ridge Mountains. Almost all of the hiking trails either go up to the mountain peaks (overlooks) or down into the valleys (waterfalls). They all have quite a bit of elevation.
---
Compton Peak West / Compton Gap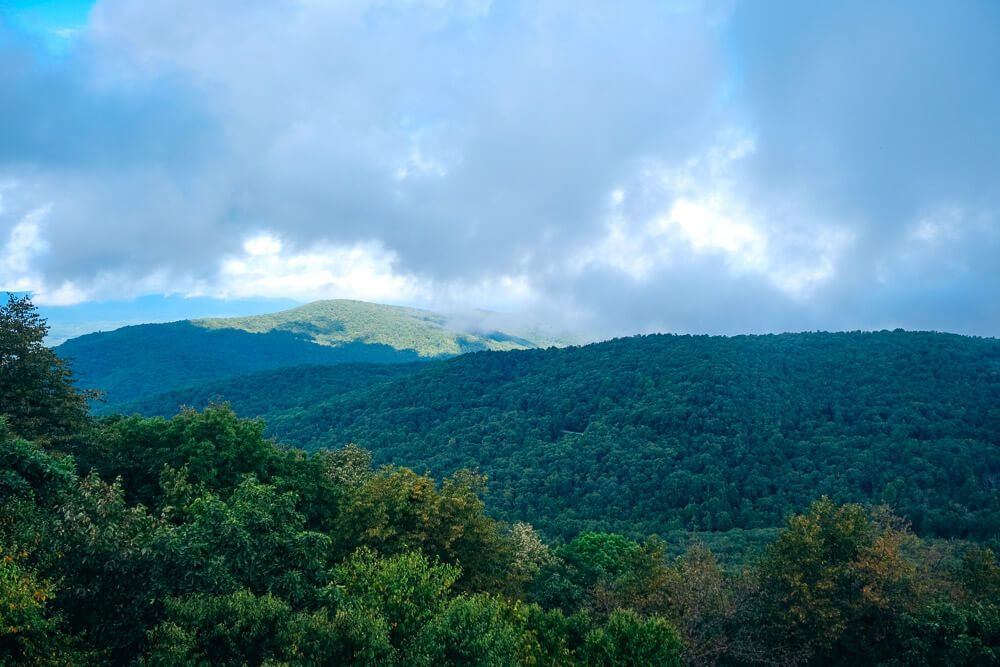 The north district of the park doesn't have a ton of stunning overlooks and viewpoints. But this Compton Peak hike Ellie and I did on our way out of the park will lead you to a small overlook.
You'll park at the Compton Gap Parking Area. You can check out the signs and information in the lot before crossing Skyline Drive and looking for the Appalachian Trail concrete trail marker. You'll head south and start to weave your way into the forest.
Now it's mostly an uphill trail on the way there. There are a couple of switchbacks, but at least it's just about a mile before you reach the intersection.
Take the trail right and you'll be treated to Compton Peak West and its viewpoint. It was quite cloudy and foggy the morning we hiked (actually all weekend), but I could tell if things were clearer how pretty it would be.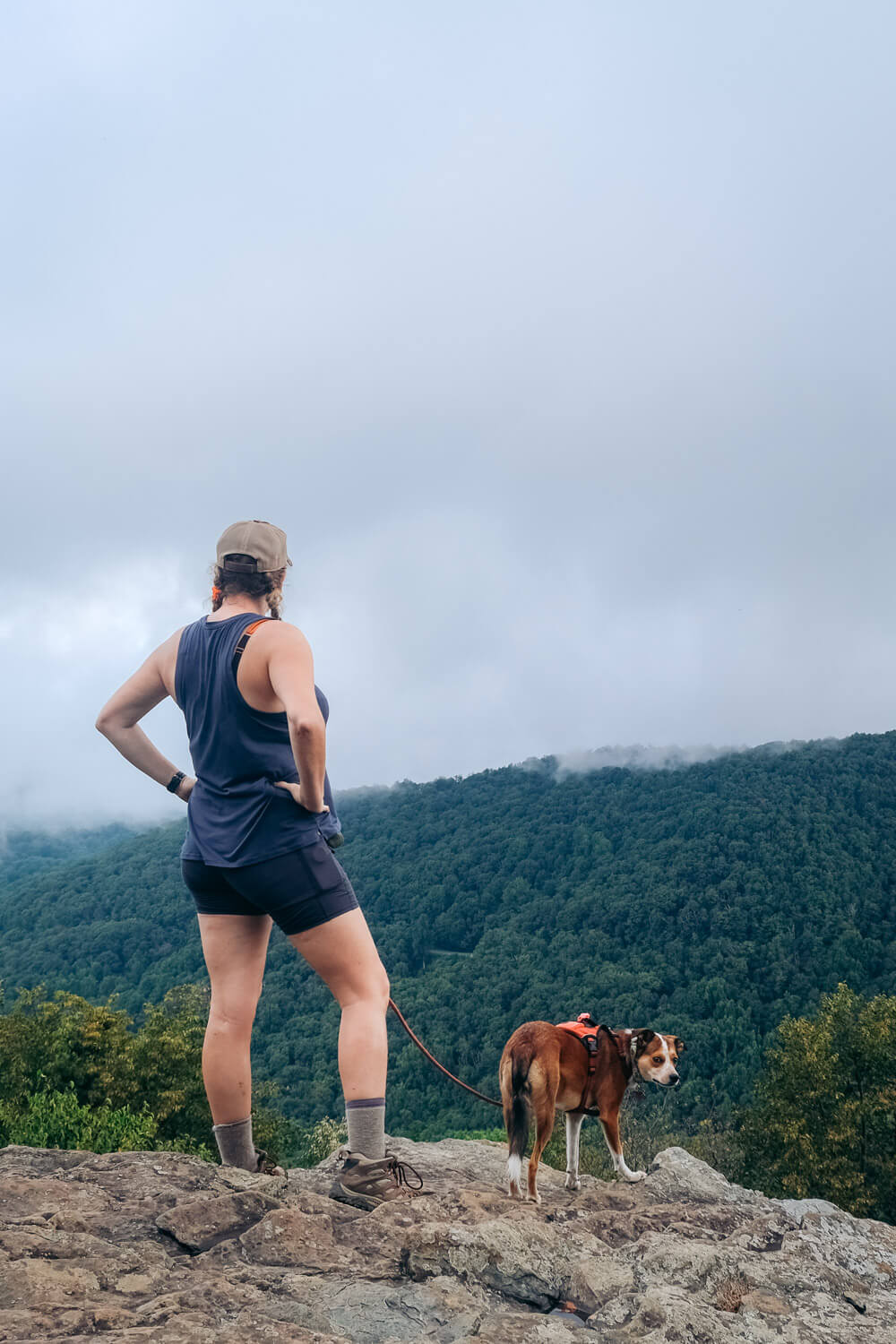 Now you can head back to the intersection and go the other way towards Compton Peak East to see an example of columnar jointing (a geological feature – the sign at the parking lot explains it).
But I ran into another hiker just as we reached the intersection and he didn't recommend it for how long, rough, and rocky it is to get there. This will add a fair bit of elevation and about a 1/2 mile to your hike.
We skipped Compton Peak East (it had also started to rain), and simply followed the trail back to the parking lot.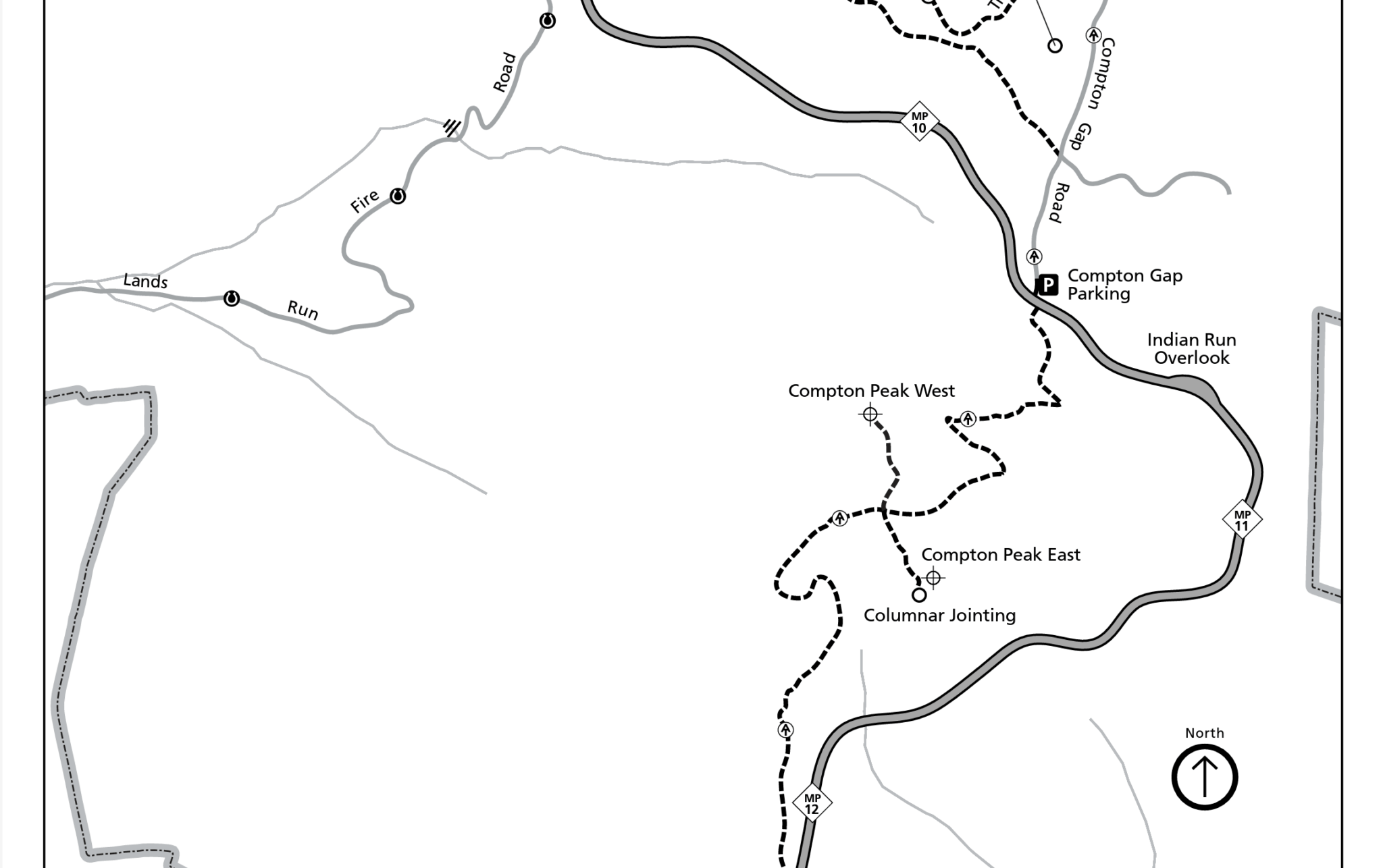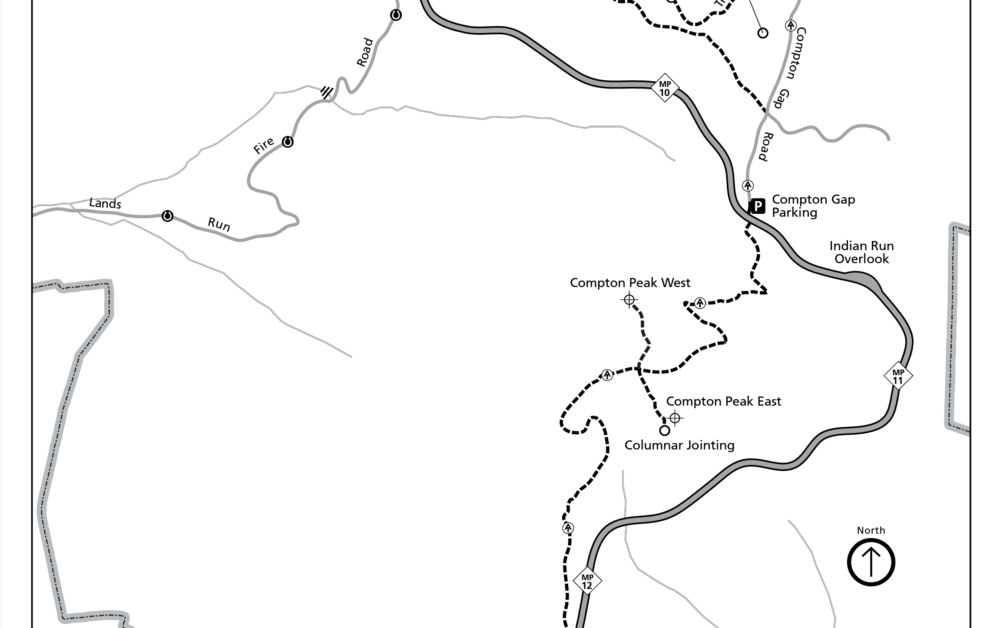 ---
Little Stony Man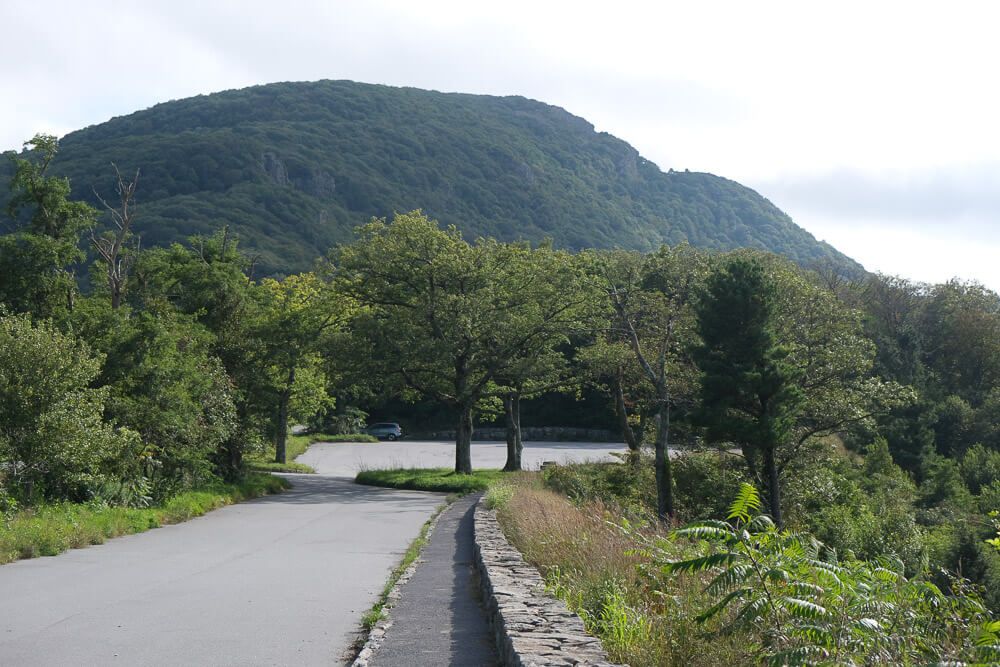 The Stony Man Trail (and the hike to its summit) is not dog friendly. But you can hike up to the Little Stony Man Overlook with your dog along the Appalachian Trail and have a similar viewpoint!
This hike is still very popular though! And the Little Stony Man Parking lot may be full. If that's the case, park at the larger Stony Man Overlook lot (just .4 miles further north) and take the Appalachian Trail south. This will add less than a mile roundtrip.
I unfortunately did not hike this trail since Ellie was very tired. But the pictures are beautiful!
From my understanding, you'll head south along the Appalachian Trail (pass by the Passamaquoddy Trail) until you reach the viewpoint. It's only about .5 mile to the overlook, but it does have quite a few switchbacks.
The Appalachian Trail will continue up the mountain towards Stony Man, but once you reach the Little Stony Man overlook, your hike is done.
Check out this trail guide on All Trails for more guidance!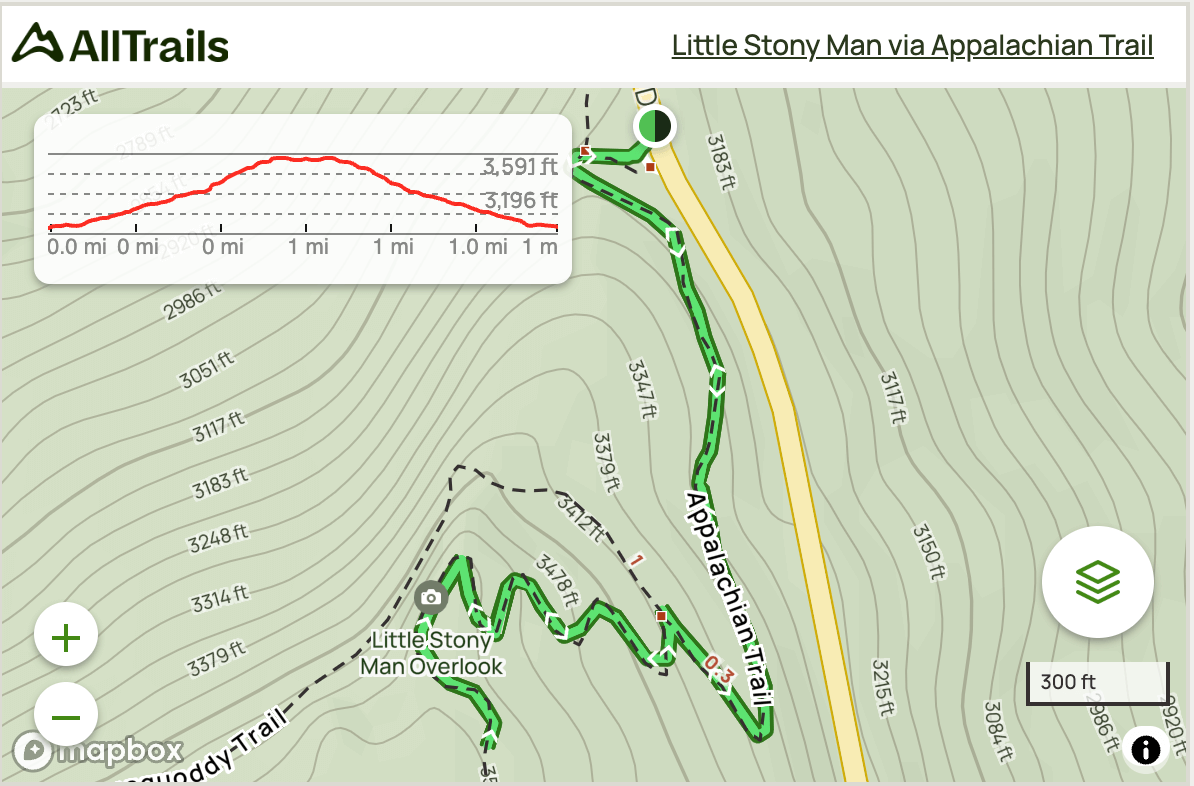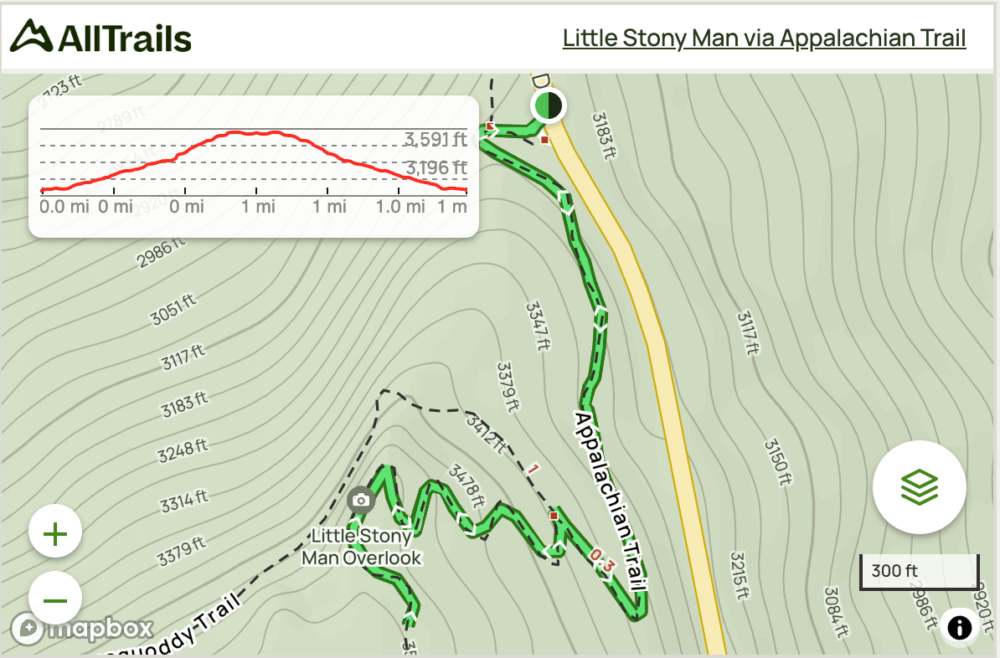 ---
Hawksbill Summit via Upper Hawksbill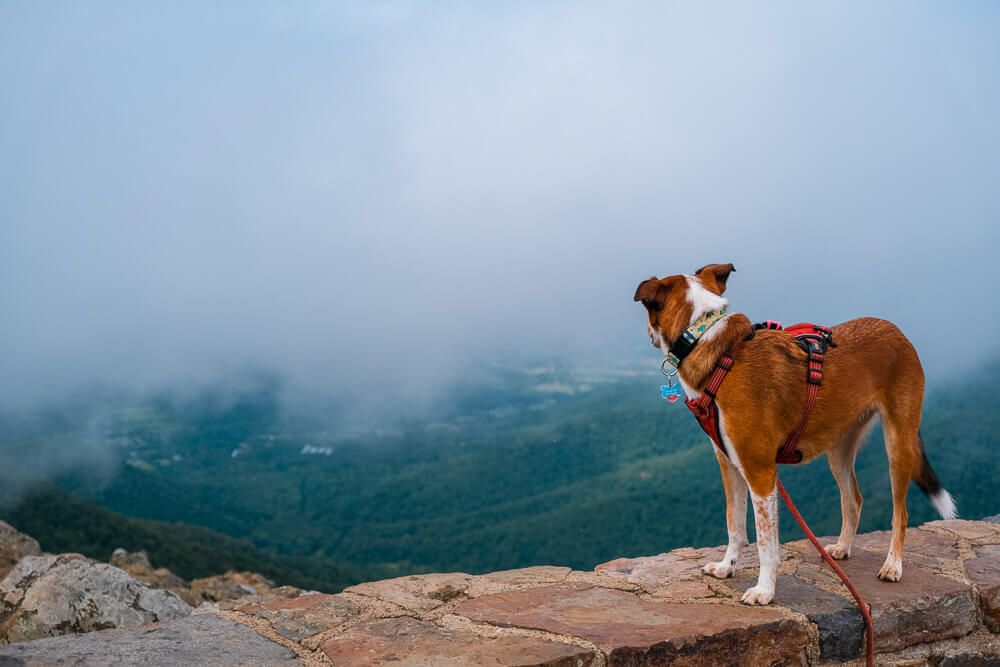 Hawksbill Mountain is the highest peak in Shenandoah National Park. And the viewing platform at the top offers amazing views of the Valley, the surrounding mountains, and the Virginia Peidmont (on clear days that is).
From the parking area, had North along the Upper Hawksbill Trail. This will take you all the way to the Byrds Nest 2 Shelter.
Keep following the trail around towards the stone viewing platform.
Then once you've had your fill, come back the way you came. Now this was an easy and simple hike, and it was also my favorite. I only saw a couple of people and the view at the top was amazing (even with the foggy weather).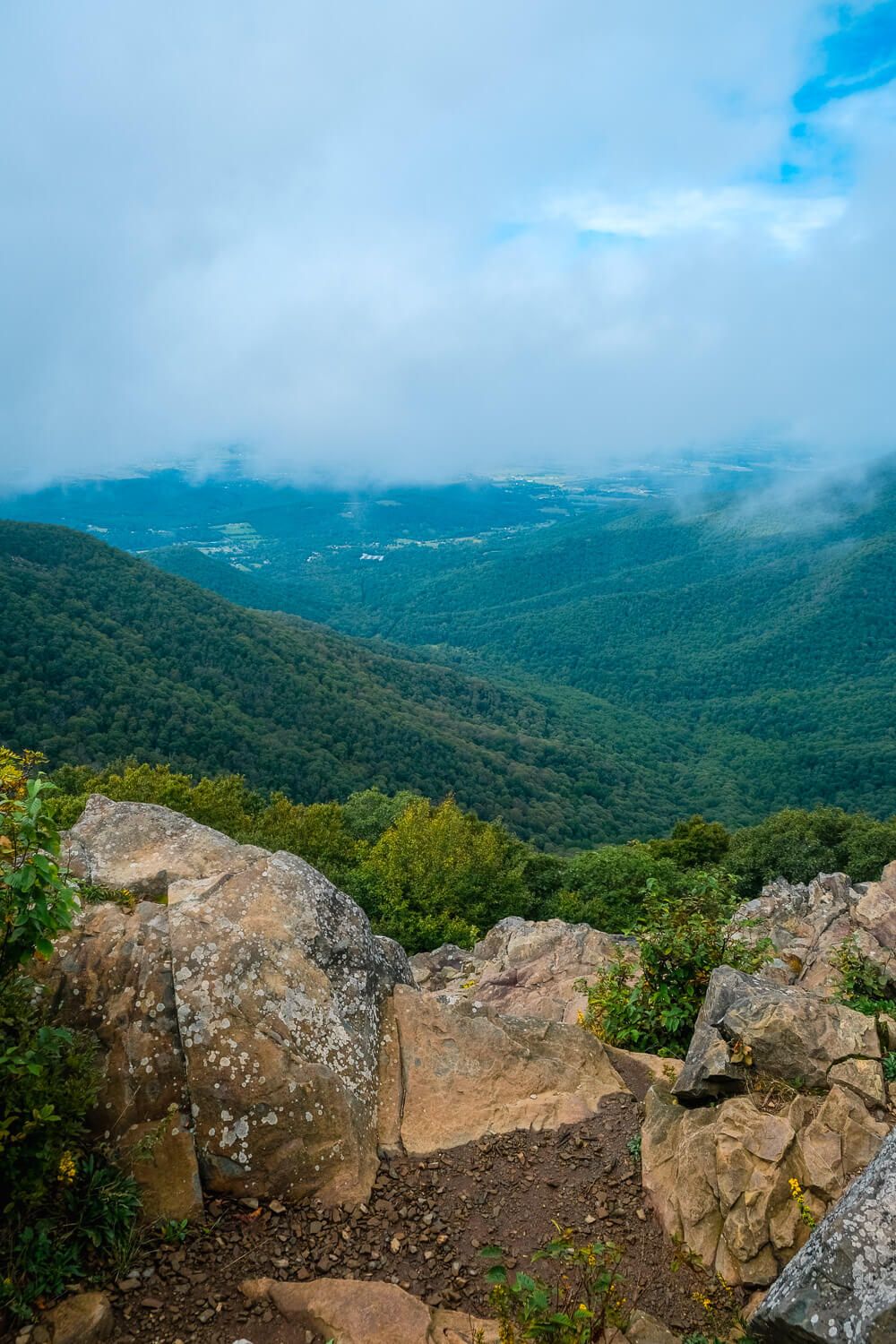 Now there are several different ways to get to the viewing platform on Hawksbill Mountain. I opted to start from the Upper Hawksbill parking area. This made the hike slightly longer, but with less elevation (totally a win-win for me).
But you can hike from the Lower Hawksbill parking area and even make a loop from there by returning on the Salamander and Appalachian Trails. See the map below for details.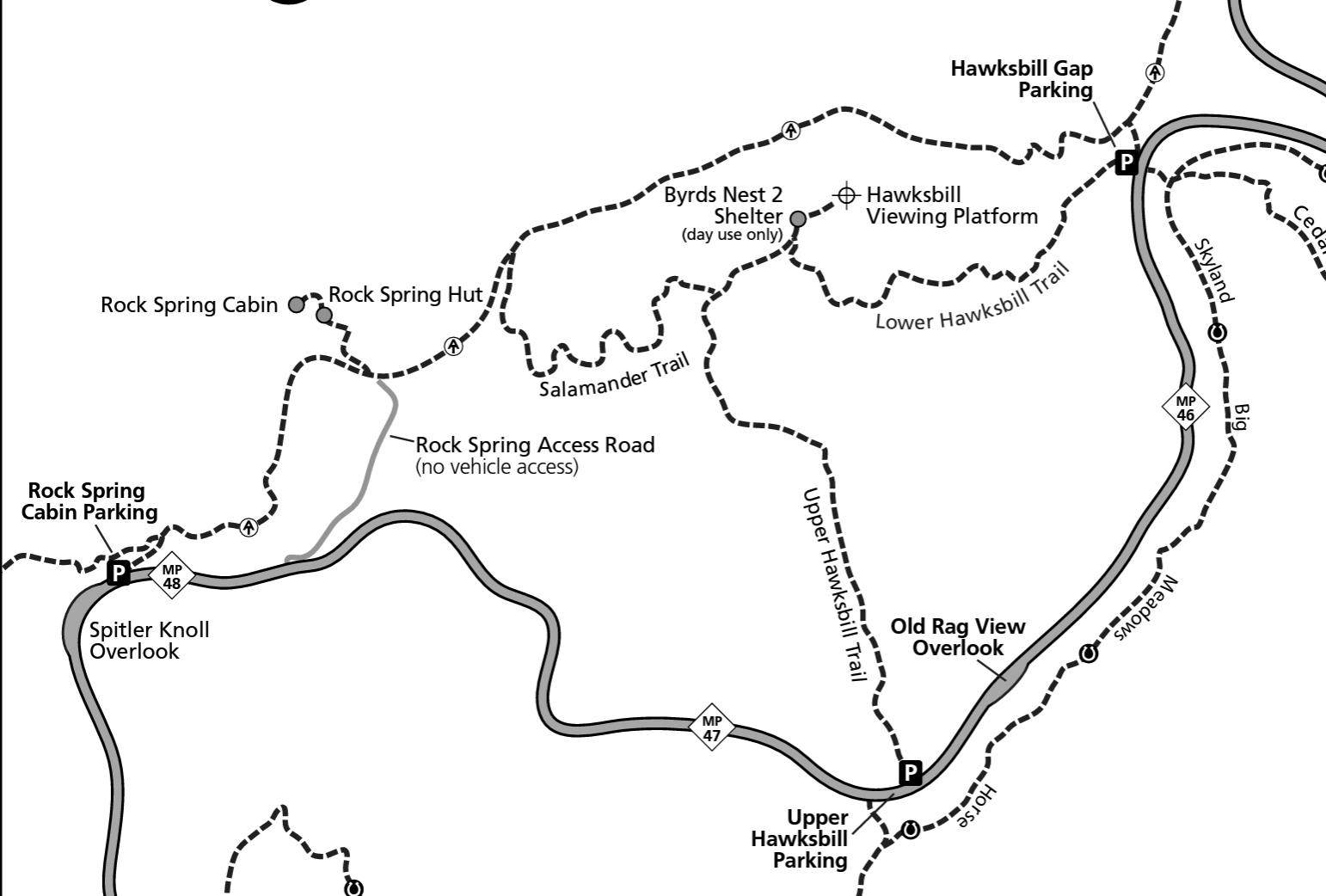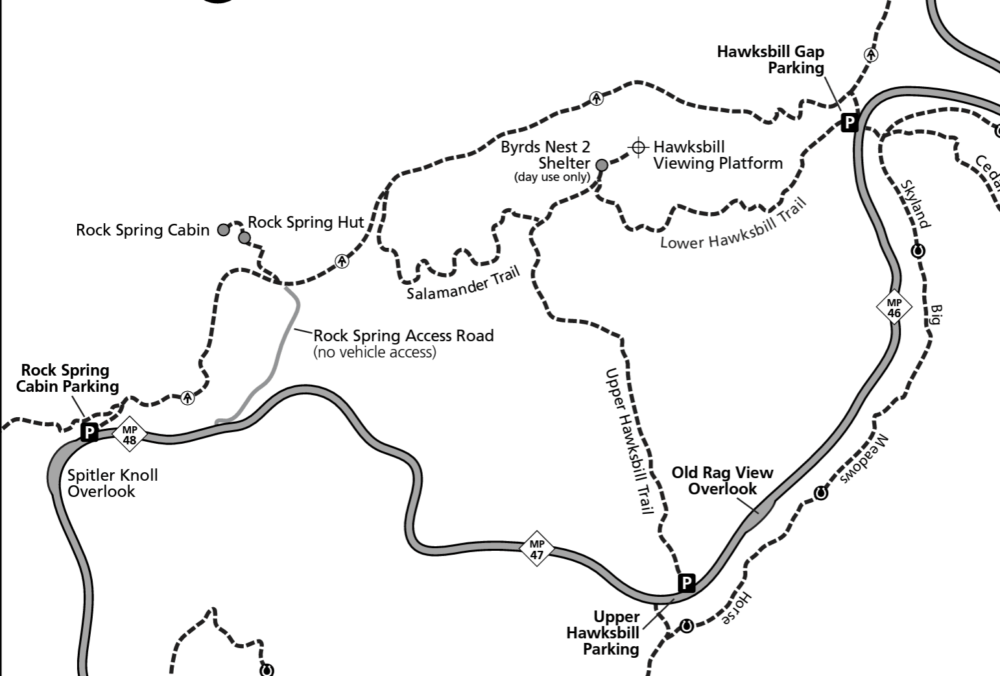 ---
Blackrock Summit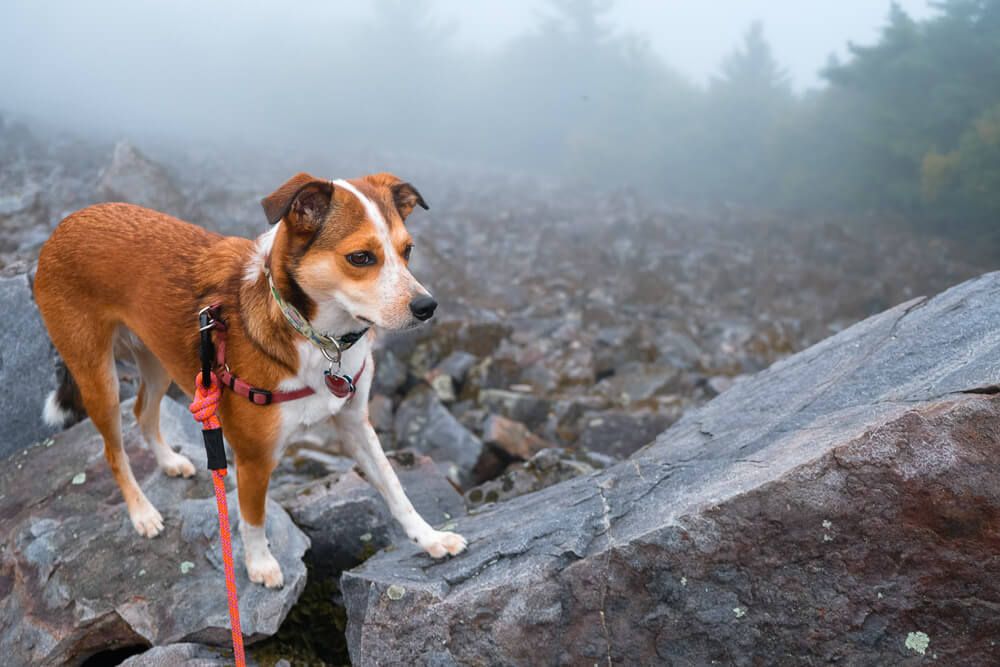 This short (and fairly level) hike was another quick favorite of mine. It allowed us to get out of the car for a quick and beautiful hike, and then still have plenty of time to do other things that morning.
From the back of the parking lot, follow the Appalachian Trail south towards Blackrock summit. After just about a 1/2 mile the trail will leave the dense forest and loop around a rocky slope (aka Blackrock summit).
On clear days I've seen photos of incredible views of the Valley, Massanutten Mountain, and more. (We had foggy weather.)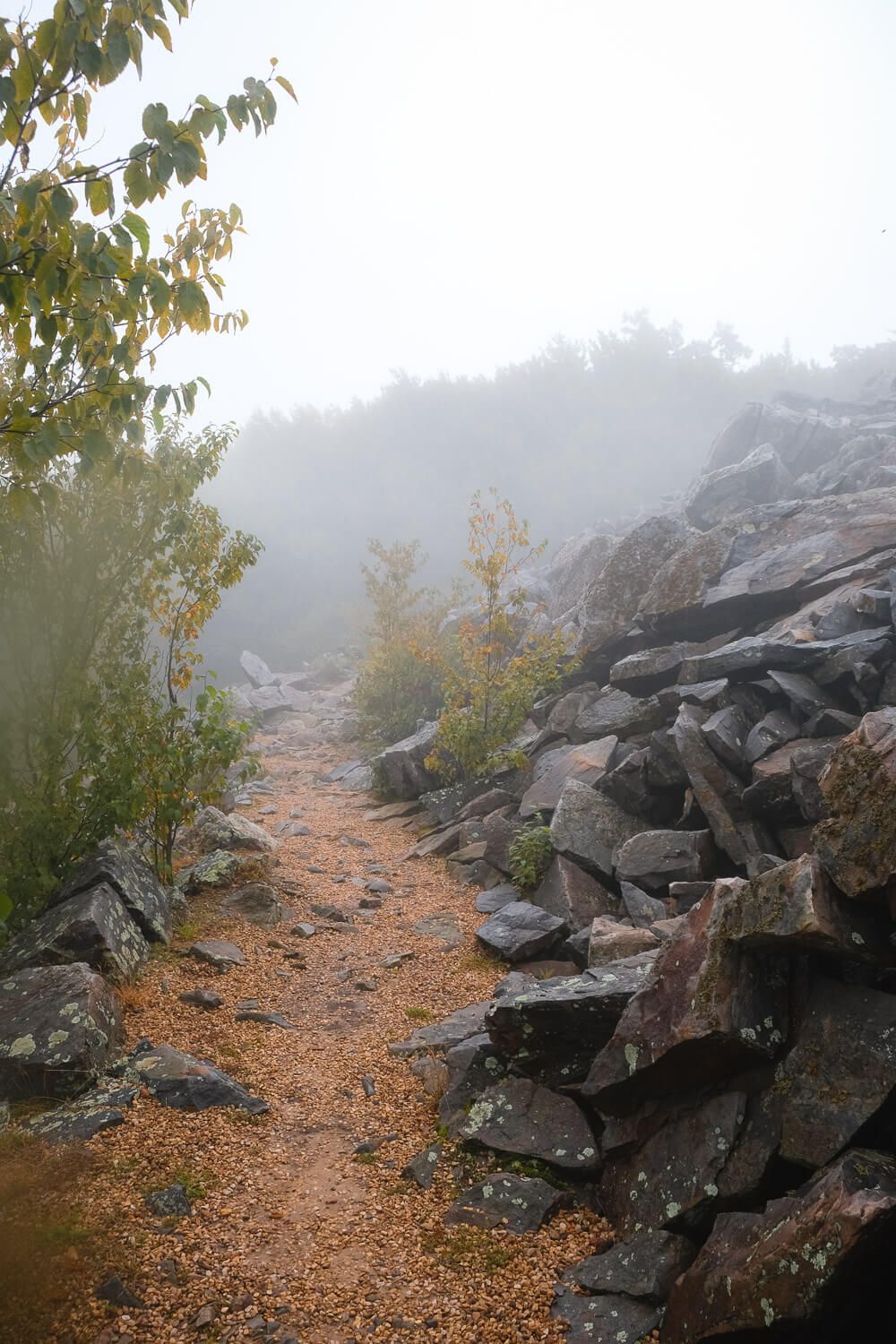 Once you've had your fill, continue on around on the Appalachian Trail until you hit the intersection with the Blackrock Hut Road-Trayfoot Mountain Trail. Make a left onto this trail and follow it to the parking lot.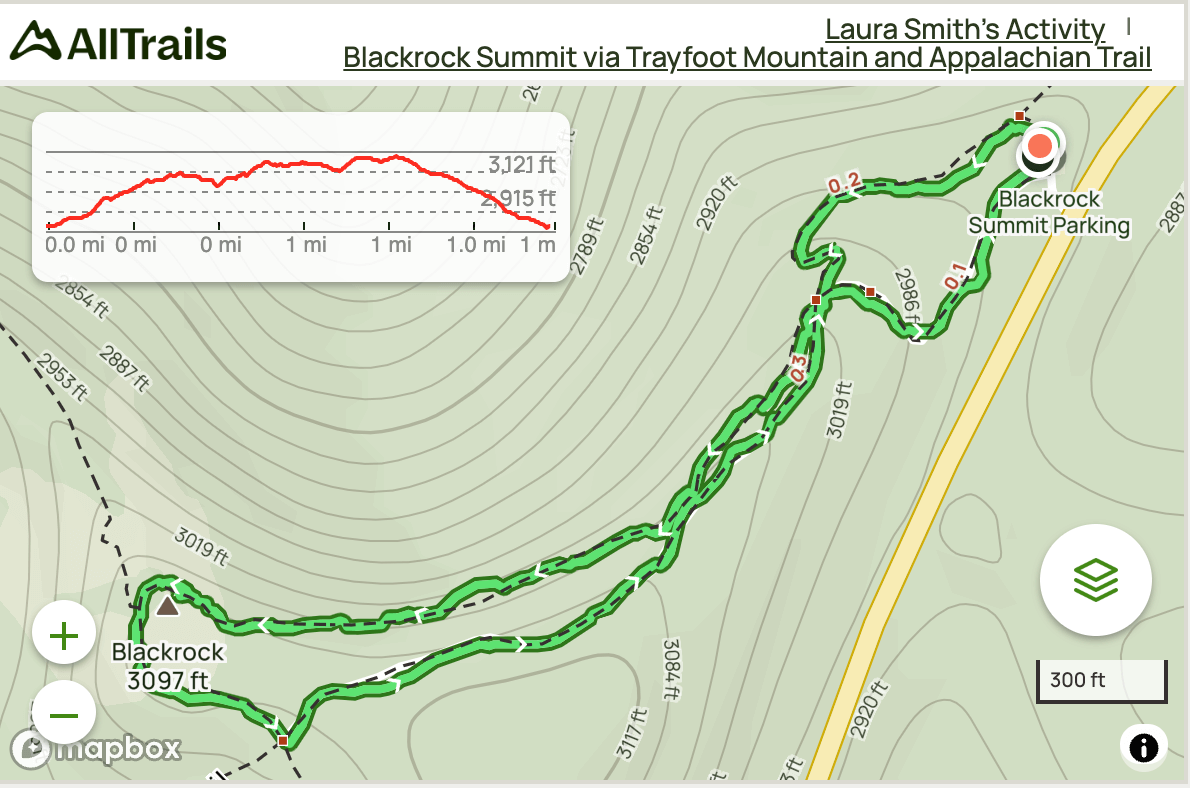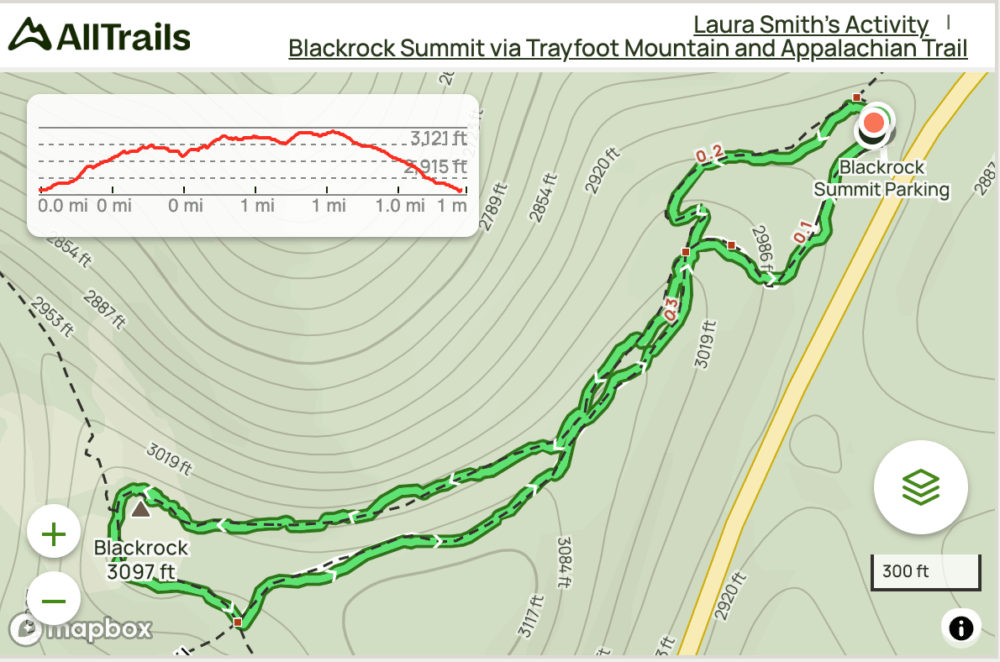 ---
As I discover more hikes, I'll look to add them to this list. Beyond hiking with your dog, simply stopping at the various viewpoints and camping are going to be your best activities.
But I find that as long as I'm with my dog, I have a great time.