The coastline between Sand Beach and Otter Point is some of the most beautiful landscape in the world in my opinion. Jagged granite formations, crashing waves, and famous landmarks (sand beach, thunder hole, otter cliffs), can be found here along the Ocean Trail.
Even better, this mostly gravel trail is relatively flat and well maintained. It runs alongside the Park Loop Road, and though you could simply drive this stretch of coastline, it is so much better to walk it.
There are countless spurs from the main trail that will take you out onto the granite formations and cliffs (just be sure to watch your dogs and children near the edges).
When I think of Acadia National Park, the landscape of the Ocean Trail is often what I imagine. Some of my most favorite moments are spent here, perched on a granite formation, and staring out at the wondrous coast of Maine.
Distance: ~4.4 miles roundtrip
Trailhead: Main start is at Sand Beach but you can join the trail at almost any point along the trail.
Fee: There is a fee to enter Acadia National Park.
Elevation Gain: 400ft
Time: ~2-4 hours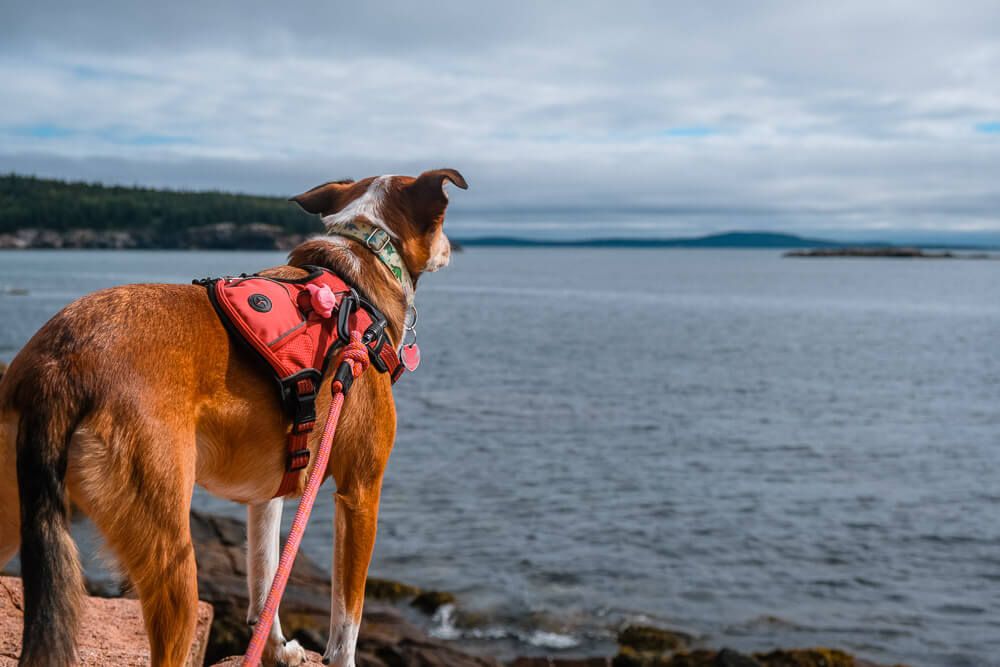 ---
Ocean Path Trail
The Ocean Path starts at the Sand Beach parking lot. You'll find the trail (and its markers) up the steps near the bathroom. From there, it'll follow the road (almost like a sidewalk) down the coast.
The Best Hikes in Acadia National Park
Now parking may be a bit of a problem. If you can, I'd suggest taking the Island Explorer there and back. But if you are driving, know the Sand Beach fills up extremely early in the morning. Parking is permitted in the right-hand lane of the Park Loop Road in several designated sections along the stretch of the Ocean Path. Just watch for the signs.
The Island Explorer is a free shuttle that will take you to all the main spots on the island. Since the park's popularity has exploded in recent years, parking has become a HUGE problem. Check out the routes and timetables to see if it'll work for you. AND it's dog friendly!
Regardless of where you park, you can easily pick up the trail as it runs right next to the road.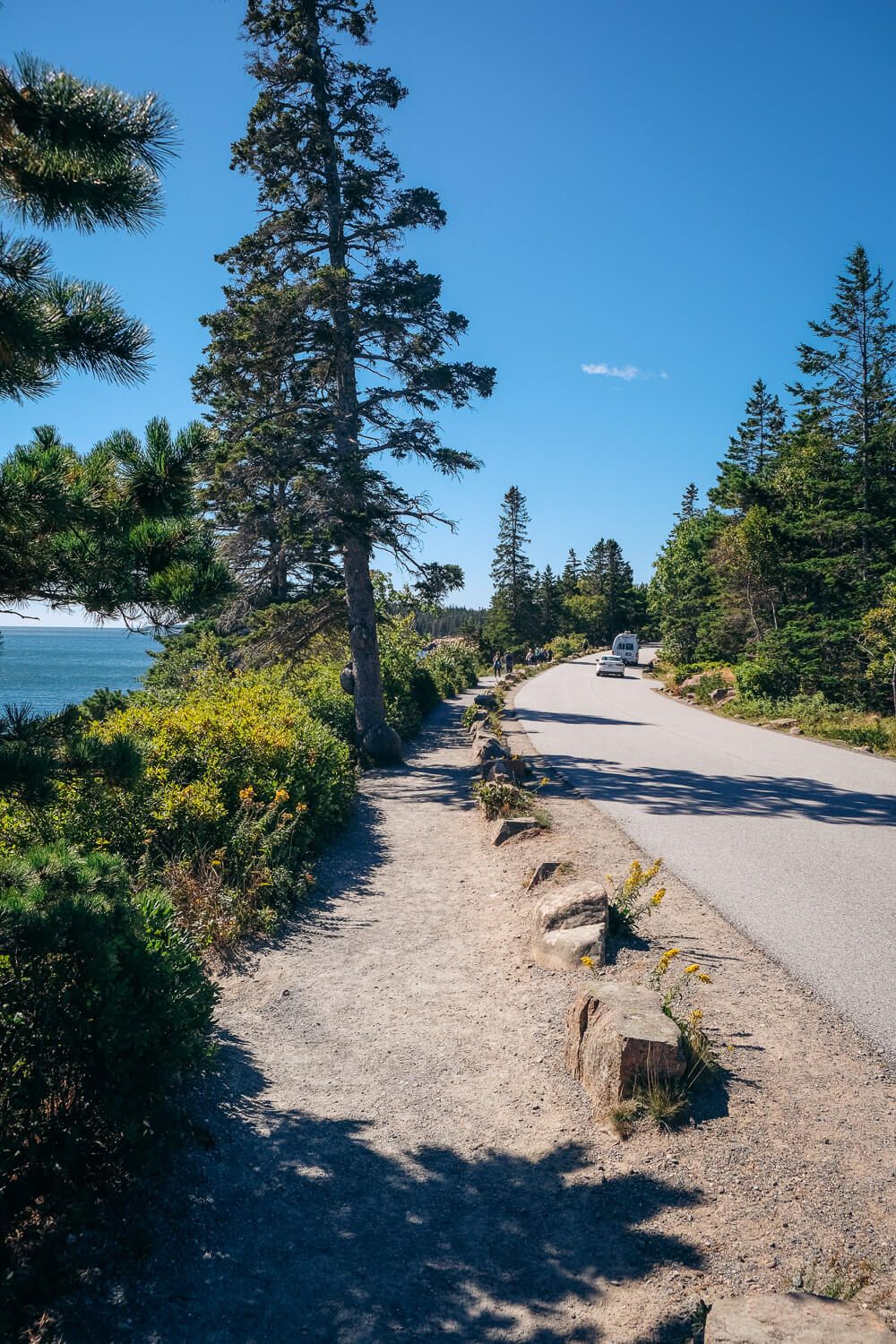 As you get started along the Ocean Path, be sure to leave room for lots of exploration. There are several viewpoints down spur trails. Some of my favorite views of Sand Beach are from the cliffs along the Ocean Path.
Just be sure to follow any "do not hike here" signs that the park service have posted.
From Sand Beach to Thunder Hole is probably the best maintained and most popular stretch of the the trail. This section is just about .75 miles long and the trail itself is mostly a mix of concrete and packed gravel surfaces.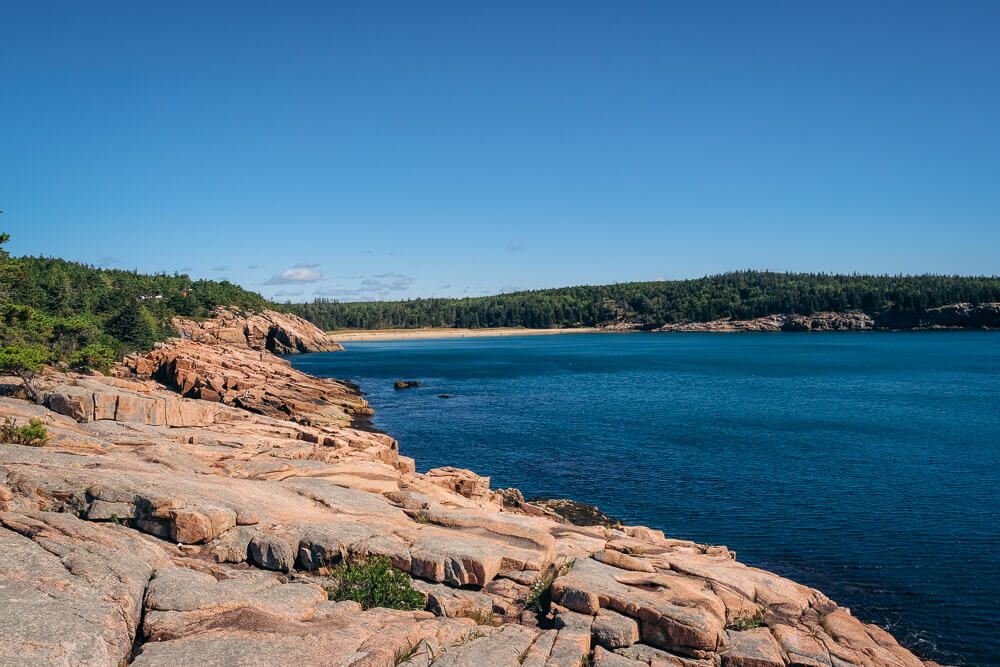 Once you reach Thunder Hole, definitely sit back and relax a bit. The landmark itself is an underwater sea cave that (with the right conditions, aka high wind) can produce thundering crashes about 2 hours before high tide.
5 Awesome Things to Do in Acadia National Park
There is a viewing platform here that you can walk down and get closer to Thunder Hole, however this platform is only open when it's peaceful.
Several years ago I was in Bar Harbor when a hurricane was out to sea and that was the only time I saw Thunder Hole doing its thing. It was incredible.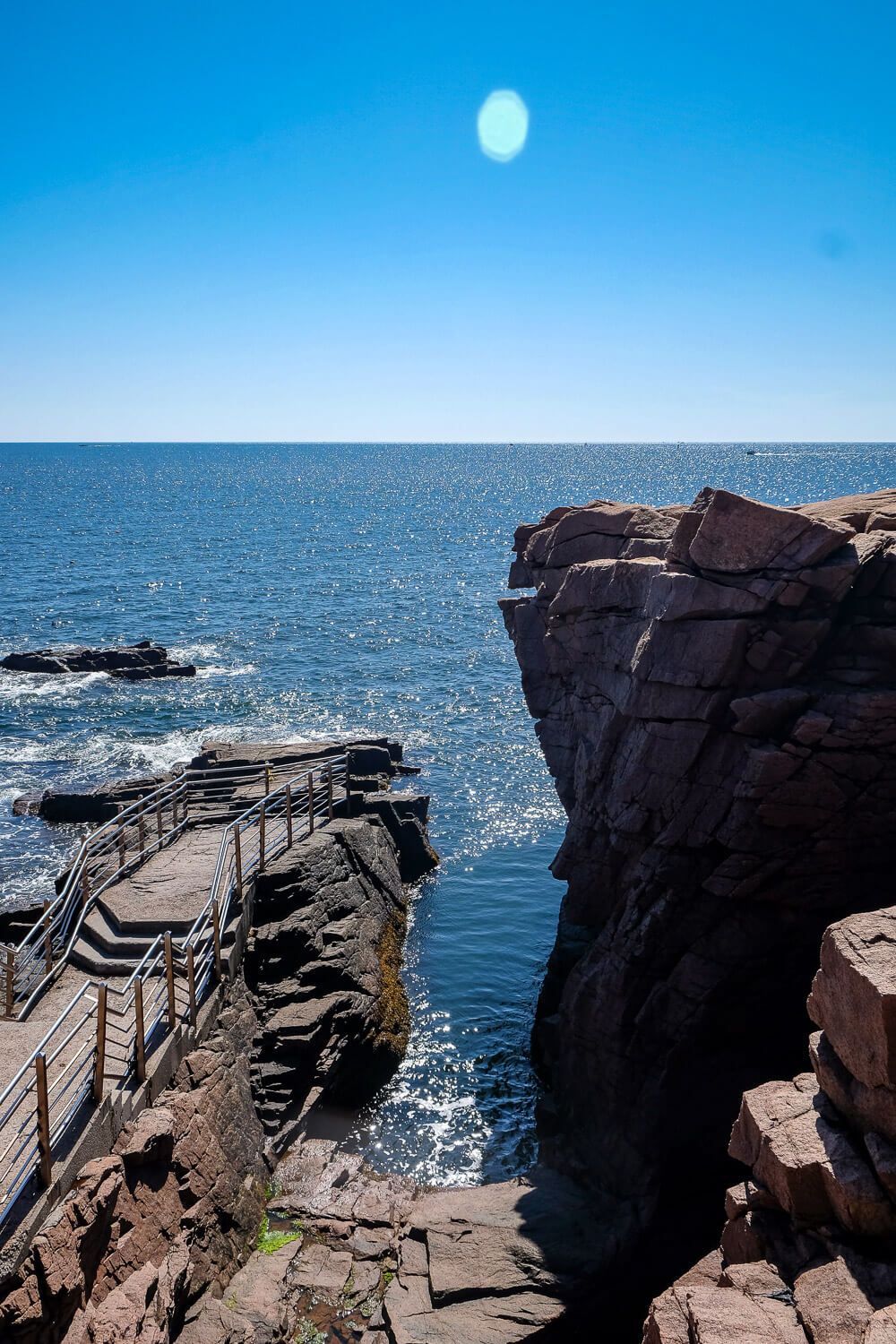 Past Thunder Hole, the trail does get a bit more rocky and uneven. And there are two small staircases as the trail makes its way through a very rocky section.
However the elevation is still very gradual as it slowly climbs up and through an evergreen forest. During this section of the trail (between Thunder Hole and Otter Cliffs), you will pass by two other landmarks.
The first is Monument Cove. A small rocky beach cove with a skinny tall granite formation looming over it. And the second is Boulder Beach. A beach, as you would guess, made up of large bowling ball sized rocks. There is a path going down to the beach, but just watch your footing.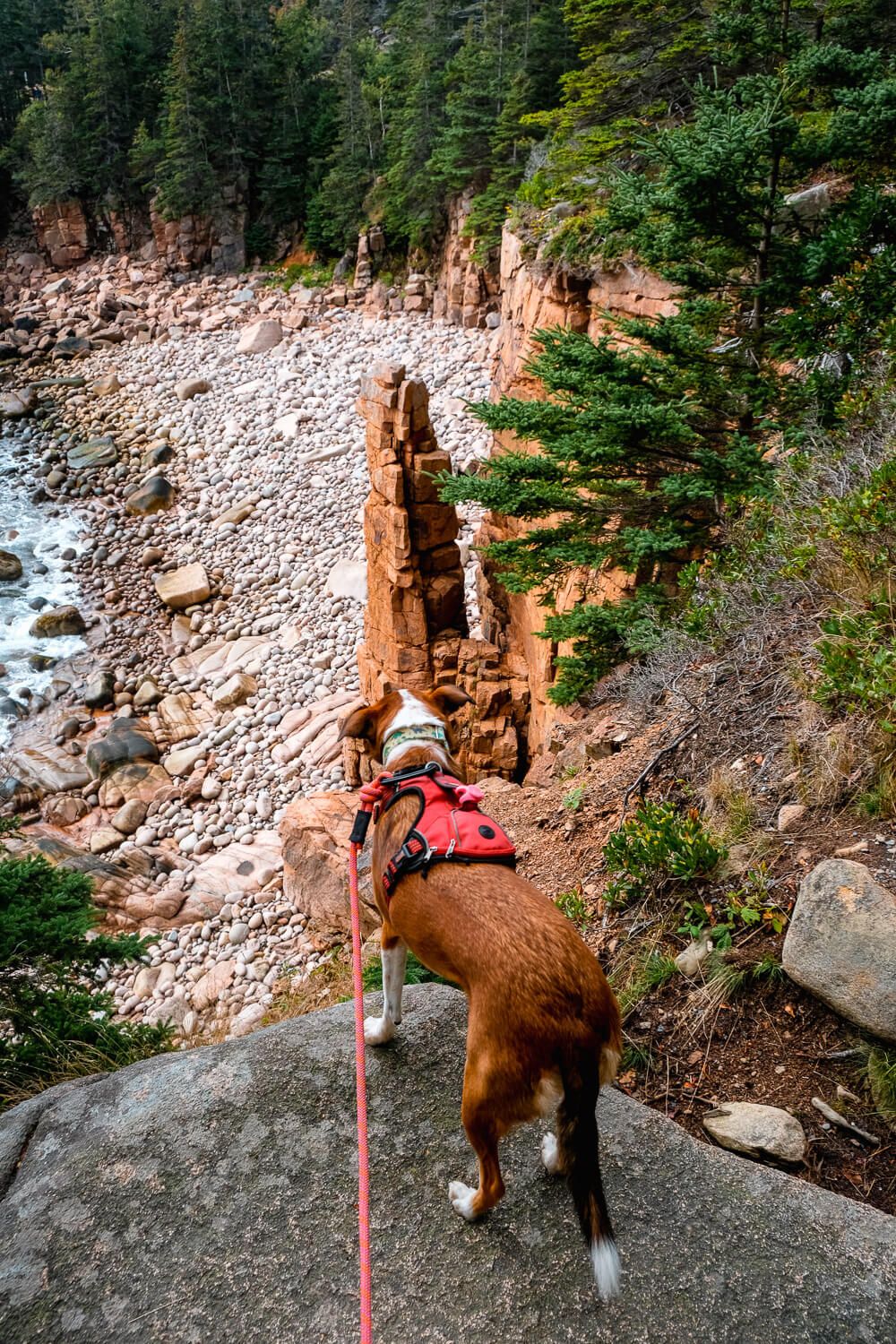 At the top of the trail is Otter Cliffs. These 110ft cliffs are magnificent, and you've most likely been staring at them as you've made your way here. Just one quick word of warning, there aren't any railings here, so be very careful with children and pets.
This is perhaps my favorite view along the trail. I love sitting back and staring out at the water and then back towards Sand Beach.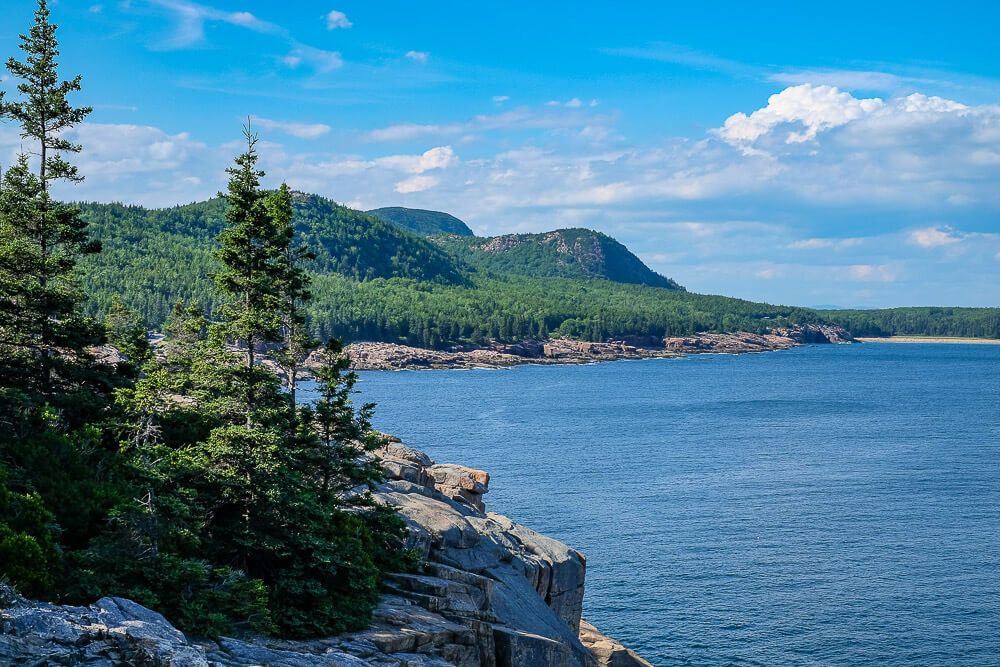 If you've ever wanted to try your hand at rock climbing, you can work with one of the many guides in town. Rock climbing in Acadia was one of the most memorable things I've ever done.
Rock Climbing in Acadia National Park
Most people then turn around here. And to be honest, this is what I usually do. But the trail does continue on. Make your way up the granite staircase to the road where there's a sidewalk that'll take you around the bend.
From there, you'll head down another couple staircases to Otter Point. Once you've had your fill of stunning views, it's back the way you came.
One Week Itinerary to Bar Harbor and Acadia National Park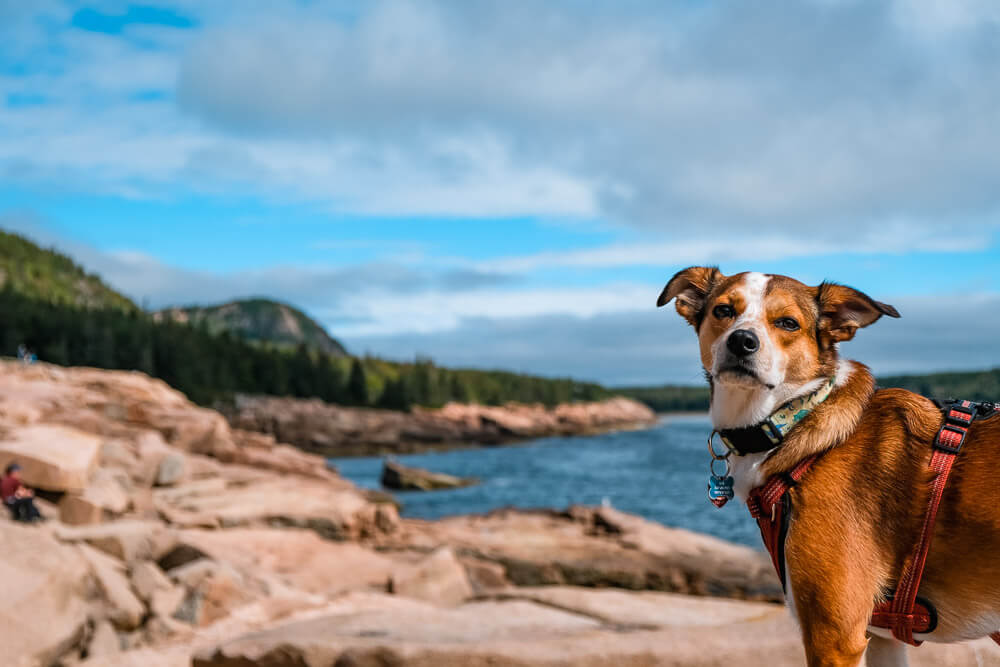 ---
FAQs for the Ocean Path Trail
Is the trail dog friendly? Acadia National Park is dog friendly as long as you keep them on a 6ft (or less) leash. However between May 15 and September 15, dogs are not allowed on Sand Beach.
Where should you park? There are many lots along this stretch of the Park Loop Road. If you can find a spot, great! If not, you'll have to park along the right side of the road. Be sure to do so only where designated.
Is there a trail map? Check out my trail map below!
Is there a fee? You'll need a park pass to enter Acadia National Park.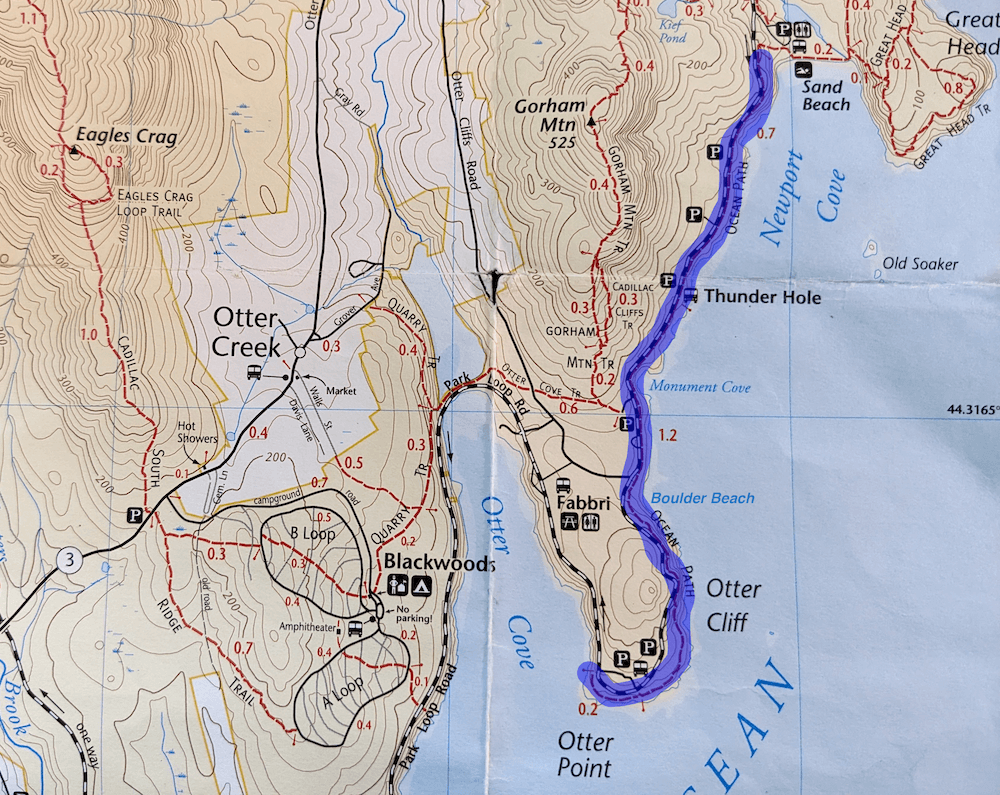 Planning your trip to Acadia National Park & Bar Harbor?
Itineraries & Guides
Hiking Trails
Other Things to Do in the National Park and in Bar Harbor:
Bass Harbor Lighthouse for sunset
Whale Watching Tour
Walk to Bar Island
Atlantic Brewery Tour
Ghost Tour
Where to Stay:
On our first trip to Bar Harbor we stayed at the Holiday Inn Regency. It was a little outside of town but was on the Island Explorer bus route which was handy.
If you want to stay in one of the classic Bar Harbor inns though, you can't beat the Bar Harbor Inn & Spa. This is literally in the heart of Bar Harbor.
When my whole family goes, we usually rent a house with VRBO or Airbnb. The extra space for 4 adults really comes in handy. There are several options in Bar Harbor and on Mount Desert Island.
There's also a few campgrounds in Acadia National Park as well if you'd like to stay in the park. Make sure to check the location of where they are.