If you are looking for an easy trail near the Park Loop Road and Sand Beach, definitely consider the Great Head Trail! The trail is family friendly and easy to get to. Plus I was able to hike it with my Dad since it's a more "reasonable" trail (his words not mine).
I usually lean towards the more difficult trails. But the Great Head Trail shouldn't be missed. It may not have intense inclines or iron-rungs, but trust me, this trail has an incredible coastline.
The view from the top and along the ocean side was breathtaking. If you want to see some of Acadia's famed coastal cliffs, then this trail's got you covered. I was definitely impressed, and I think you will be too! If you have the time during your trip to Acadia National Park, I'd try hiking the Great Head Trail!
Distance: ~1.7 miles roundtrip
Difficulty: Easy – fairly level with only one steep section
Trailhead: Park at the Great Head Trailhead or Sand Beach.
Fee: There is a fee to enter Acadia National Park.
Elevation Change: Summit is at 145ft
Time: 1-2 hours
---
Start With The Schooner Head Overlook
My dad and I were not planning on joining the parking masses at Sand Beach. Though this is an option if you're driving the Park Loop Road (one of the best things to do in Acadia btw!).
Instead we were going to head straight for the trailhead's small parking lot. So why not stop at the Schooner Head Overlook as well?
The Schooner Head Overlook has a large circular parking lot. From there you'll want to make your way down to the water via the trail at the back of the lot.
The trail descends a couple hundred feet or so to the water, so be prepared for that. It is very well maintained though.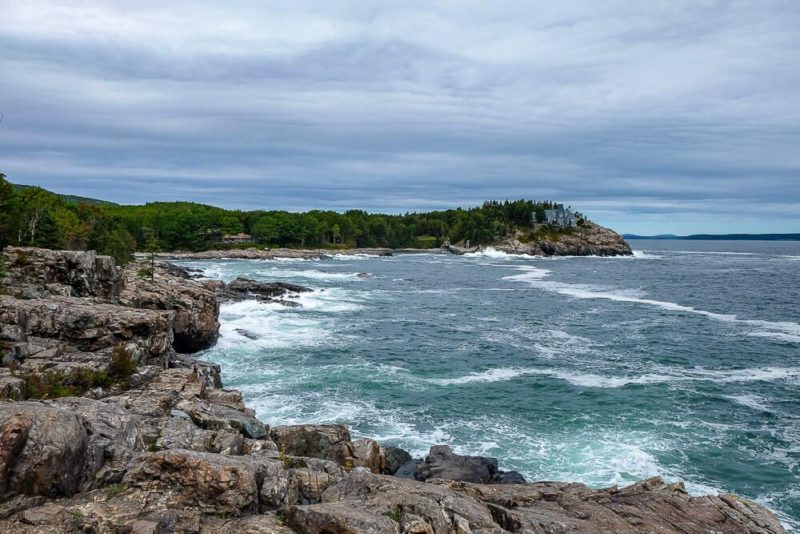 Once you reach the water, make your ways out onto the rocks carefully. It is a steep drop into the water. Plus the waves can look very foreboding (like one of the windy days I was there).
My two favorite features were the magnificent house perched on the end of Schooner Head and the cool little sea cave. It's hard to see it in the pictures, but watching the water rushing in and out had me enthralled.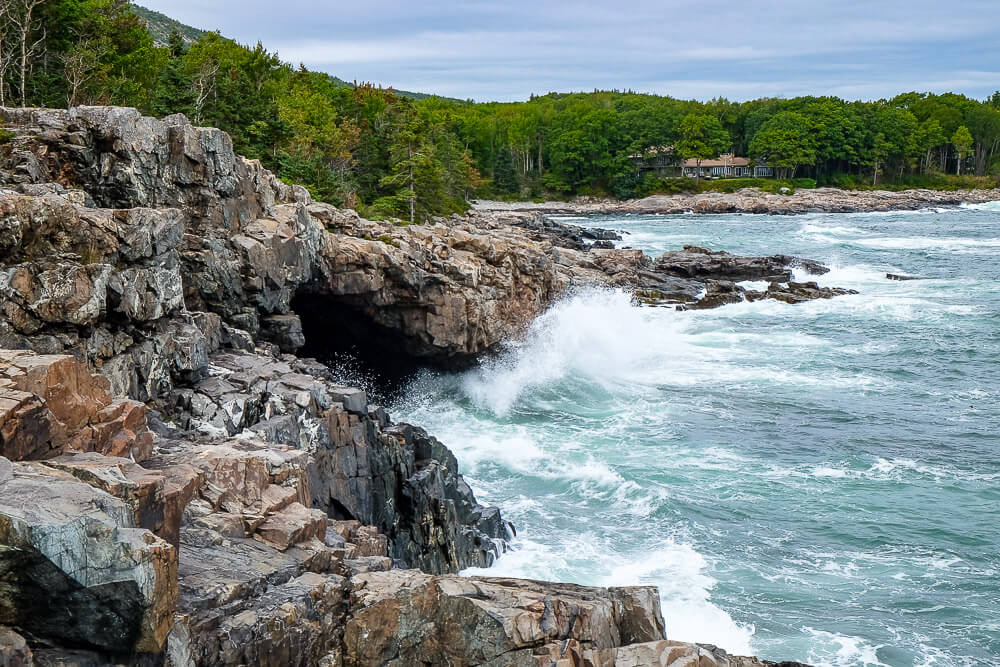 ---
Great Head Trail Guide
If your main goal is to hike the Great Head Trail, I would definitely head straight to its specific parking lot and skip the madness at Sand Beach. (You'll have a chance to walk its shores anyway.) The parking lot sits at the end of the Schooner Head Road.
My dad and I hiked the trail in a clockwise direction. And we were so glad we did. The parking lot sits at about 80ft above sea level. The summit of the Great Head is at 145ft.
If you go in this clockwise direction, you'll make your way towards the summit gradually.
Though the trail will dip down towards the water, it'll then ascend towards the top of the Great Head. We took a mini break by the water when we spotted a side trail heading out towards a small clearing by the ocean.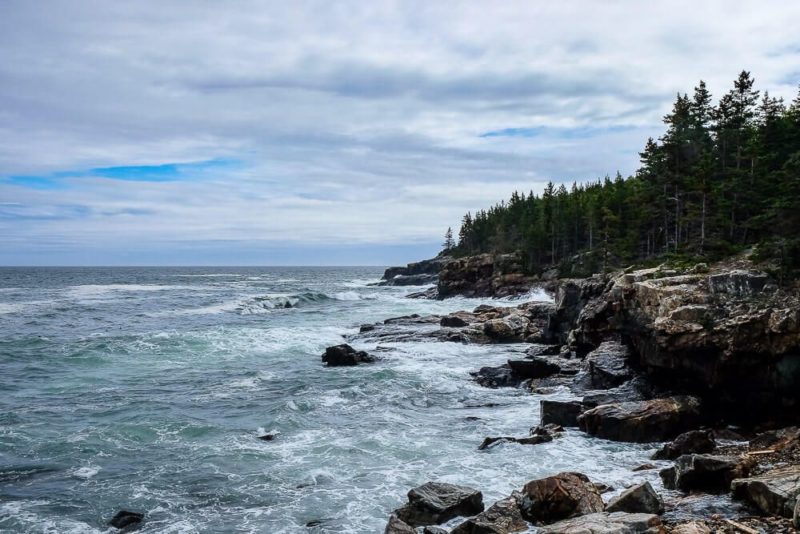 But the key here is that all of this elevation is done gradually. My dad (and I) had no trouble.
The hike to the top is also mostly under tree cover so there's plenty of shade if you come on a sunny day. But once you reach the top, there is significantly less. The quintessential exposed granite, rocks, and boulders of Acadia make up most of the summit of the Great Head.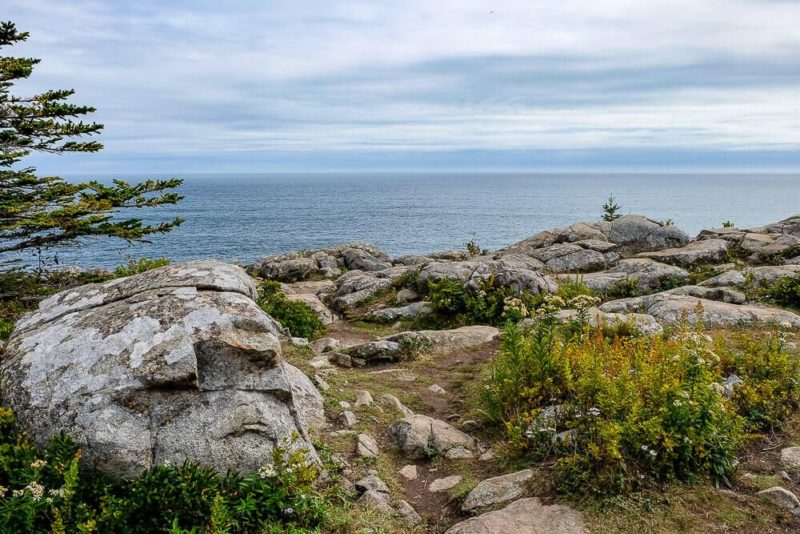 My dad and I stayed at the top for quite awhile. Mostly because we spotted a seal in the waters far below us. And so I lingered, binoculars glued to my eyes, waiting for his return.
The seal popped up several times (with long intervals in between) before disappearing and swimming away. I have a thing for seals. And I was so excited that I was able to see one on this trip.
If you want to see a seal, definitely bring binoculars. But I think we were also just very lucky that day. Seeing one here is not a guarantee. In fact, when I've hiked this trail again, I haven't seen any seals.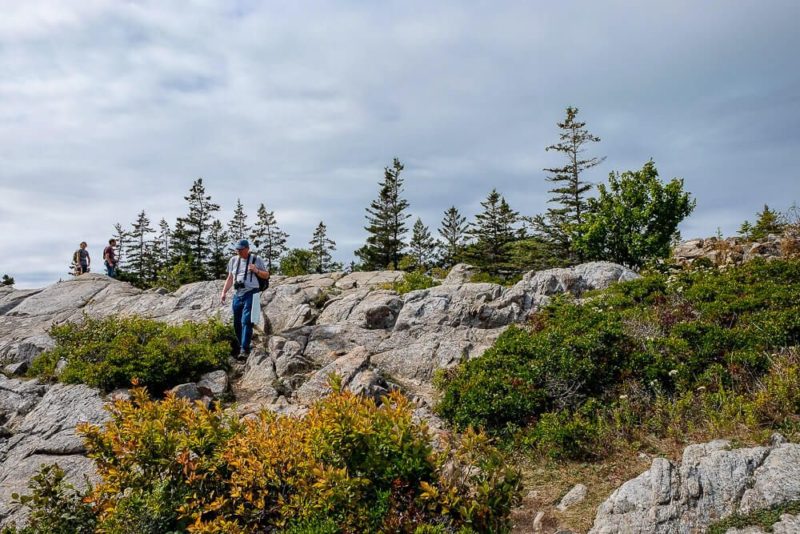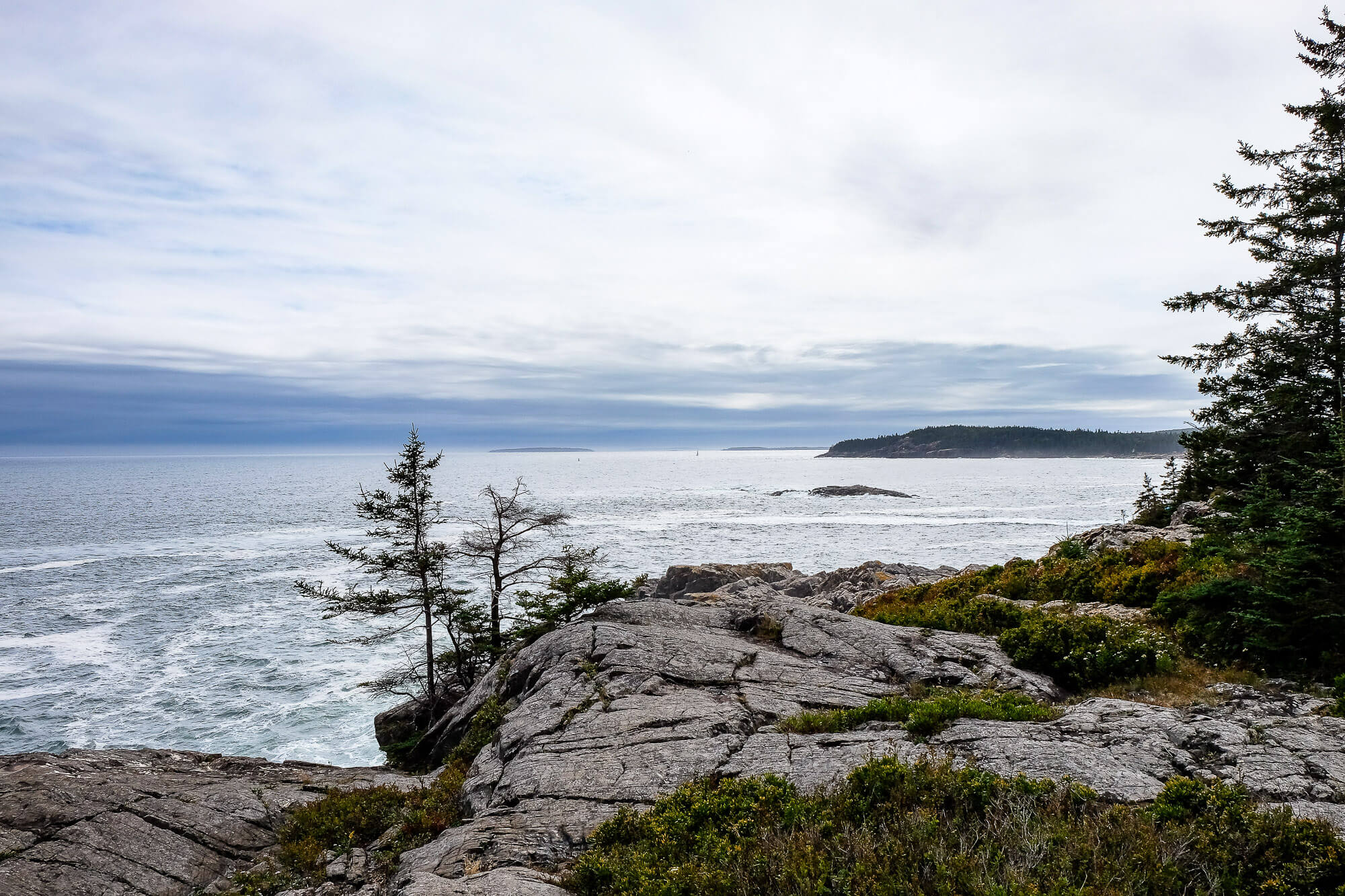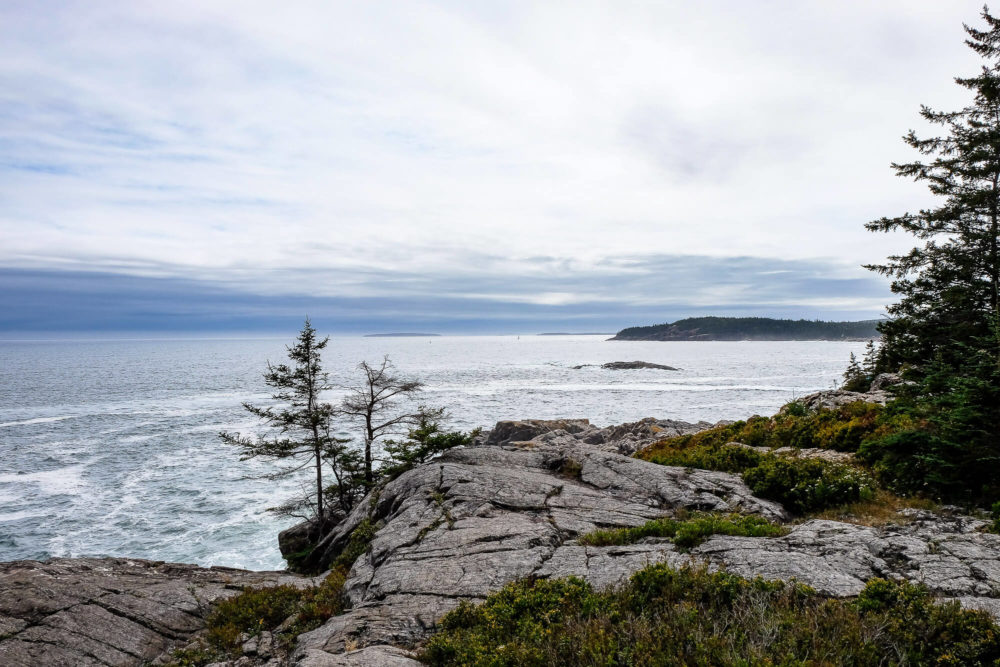 After leaving the summit, the trail then makes it way across the top of the Great Head.
We wandered here. Often making our way across the rocks to get a better view of the coastline opposite us.
We made a game of trying to find Thunder Hole on the other side of the water. My dad eventually spotted the people crowded around it through his binoculars, but we could make out nothing of the waves there.
Then Sand Beach & the Beehive popped into view. I think this was my favorite view from the Great Head trail.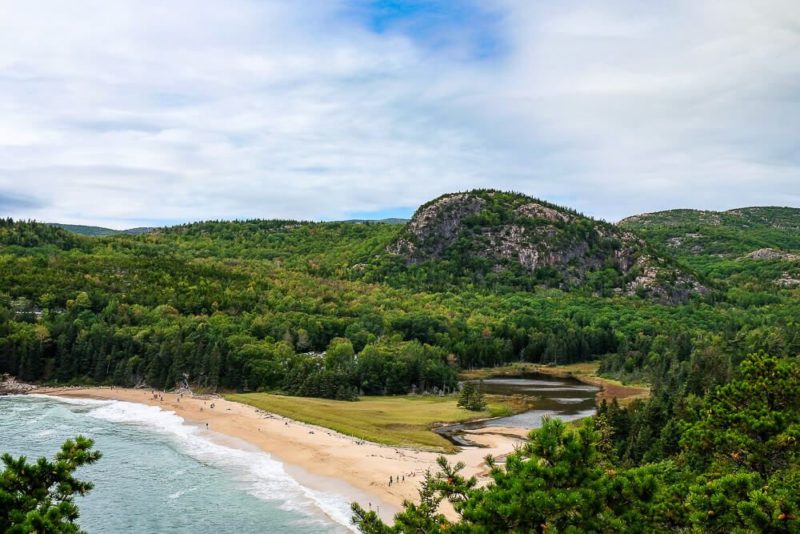 From here though, it's important to note that it is one steep climb down towards the beach. A bit of climbing, scrambling, and carefully letting yourself down all the way to the water. And both my dad and I were glad we were going down and not up.
If you haven't been to Sand Beach, definitely go all the way down to the water. My family comes here on every visit and we love it.
Once you're finished, head back to the trail and finish up the loop. This last little bit is fairly flat and we reached the car in no time.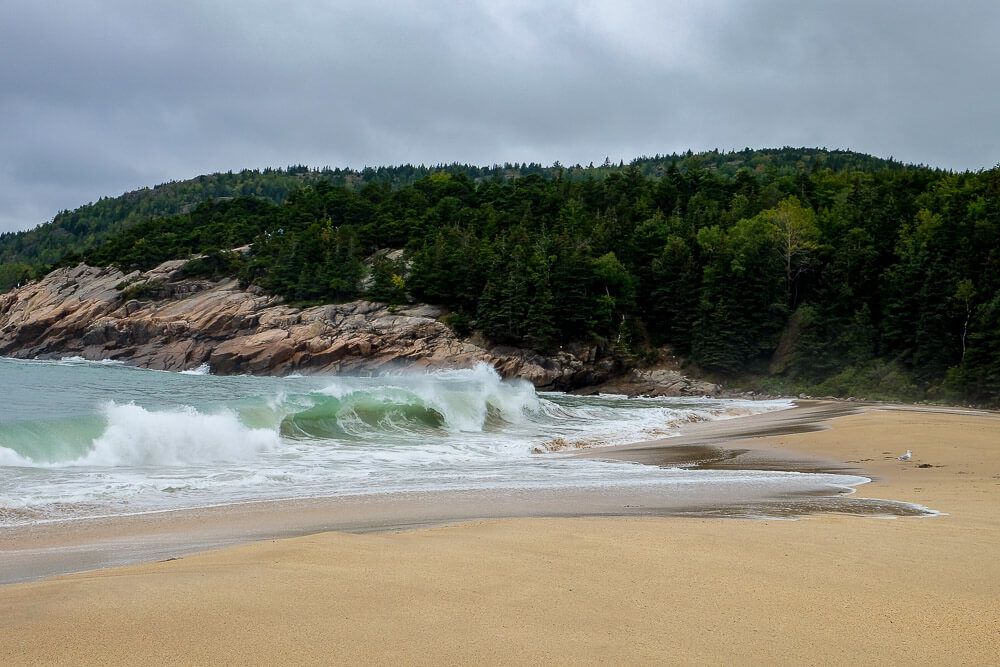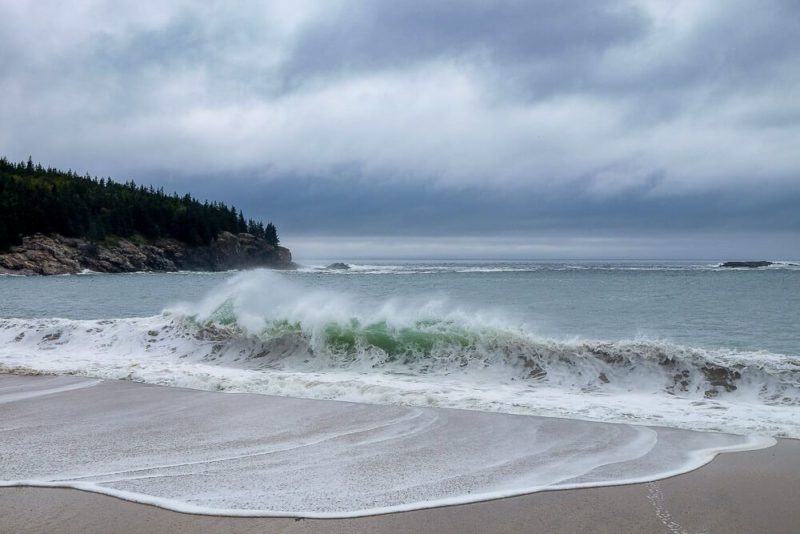 ---
Final Thoughts on the Great Head Trail
I've mostly stuck to the iron-rung trails in Acadia National Park. But this was a nice change to that. And it's a trail I've returned to if I want something that's decently level with some great views.
And the possibility of seals. You can't forget the seals.
Plus being able to hike this with my dad was special. As someone who is scared of heights, he has never wanted to join me out on those "crazy-people" trails. (Again his words.) So being able to share this experience with him is definitely something I'll remember.
---
What to Pack for the Great Head Trail
This is a fairly easy hike, so you don't need to bring a whole lot. I would make sure you have some water, sunscreen, and good shoes (even just good athletic shoes). But I've included my favorite day hiking essentials below for reference.
Some of my favorite hiking gear: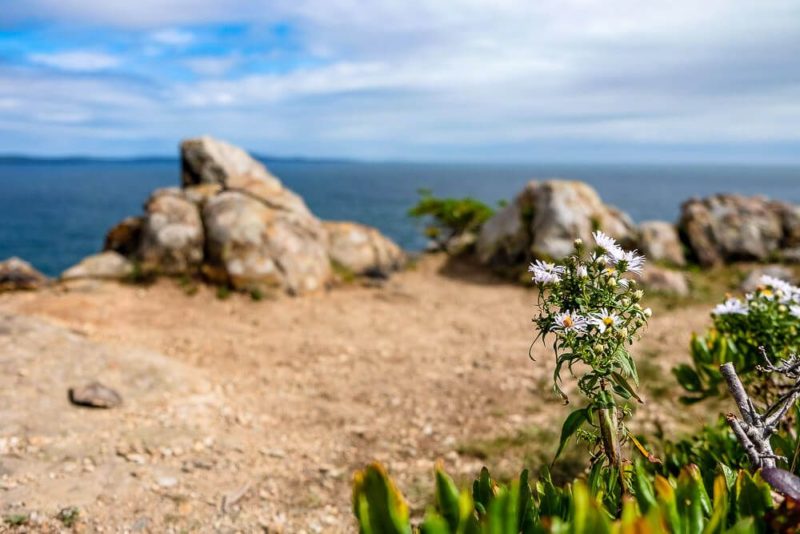 ---
Nitty Gritty
Getting There. I would park at the Great Head Trail parking lot. But you can also do this trail from Sand Beach as well.
Time. My dad and I did this trail very liesurely. Plus I was probably seal watching at the top for at least an hour. So our time of about 3 hours is a bit unusual. You could hike this in 1-2 hours.
Cost. It doesn't cost money to hike the Great Head Trail, but you will need a pass to enter Acadia National Park. Check the fees for Acadia National Park in advance.
Hiking Map. The highlighted route in blue below was the path we took. You can see the Schooner Head Overlook about an inch or two above it on the map.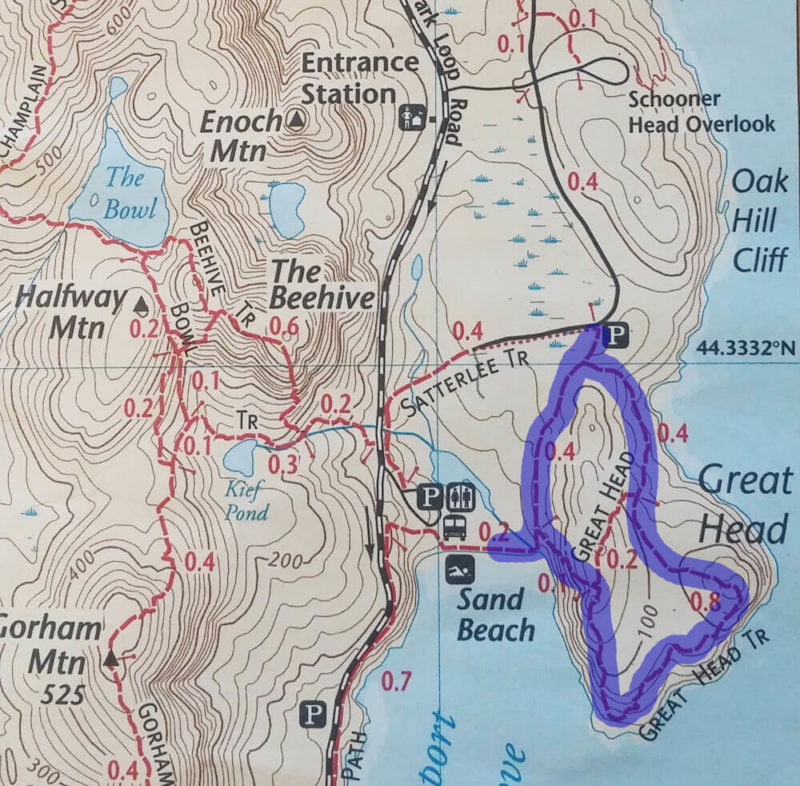 Planning your trip to Acadia National Park & Bar Harbor?
Itineraries & Guides
Hiking Trails
Other Things to Do in the National Park and in Bar Harbor:
Bass Harbor Lighthouse for sunset
Whale Watching Tour
Walk to Bar Island
Atlantic Brewery Tour
Ghost Tour
Where to Stay:
On our first trip to Bar Harbor we stayed at the Holiday Inn Regency. It was a little outside of town but was on the Island Explorer bus route which was handy.
If you want to stay in one of the classic Bar Harbor inns though, you can't beat the Bar Harbor Inn & Spa. This is literally in the heart of Bar Harbor.
When my whole family goes, we usually rent a house with VRBO or Airbnb. The extra space for 4 adults really comes in handy. There are several options in Bar Harbor and on Mount Desert Island.
There's also a few campgrounds in Acadia National Park as well if you'd like to stay in the park. Make sure to check the location of where they are.