Thinking about planning a trip to Bar Harbor but not sure when to go? My family's trip to Mount Desert Island had always happened in the summer. But then this past year we decided to skip the peak months and do fall instead. And if you're okay with maybe some off weather (hello fog), you may find that you also prefer the fall months to the summer ones. Below is our itinerary for our trip to Bar Harbor in September. I hope it gives you a sample of what this town offers in the early fall.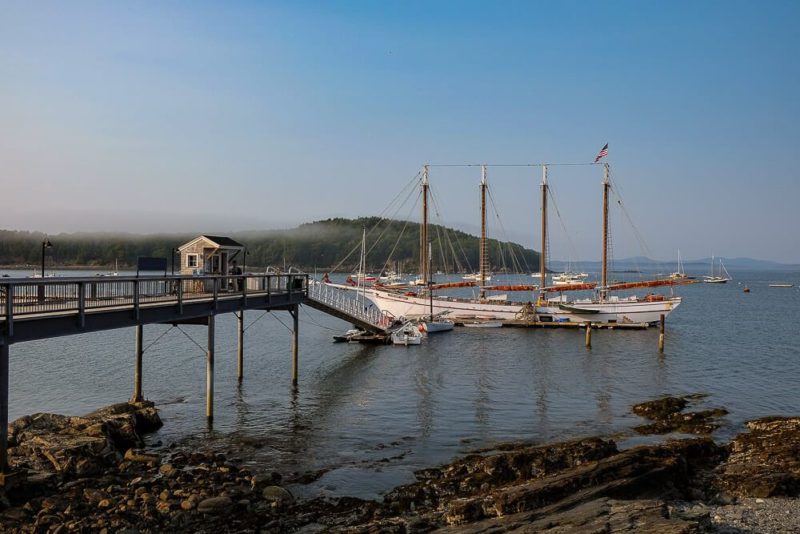 Weather. Okay, before I get started, one thing is very important. We were unlucky. It looks like there are a few cloudy days in September, but the week we were there we were plagued by it. In fact we only had one day of truly sunny weather. And if you're planning a similar trip, I would be aware that this could happen to you as well.
Most of my photos feature fogs or clouds or overcast skies. But I still loved it. With temperatures in the 60s, my hikes were perfect. I could wear leggings or capris and a t-shirt and be fine.
Crowds. And the crowds. Or, really, the change in the crowds. In summer, Bar Harbor is all about families. But in the fall it was couples and adults. Yes there are still crowds (you may get a cruise ship or two coming in), but I enjoyed the more adult feel.
Looking for a more complete itinerary? I worked the week my family stayed in Bar Harbor. So while I was able to get out of the house everyday, I still spent several hours behind a computer. If you're headed to Bar Harbor, I would take a look at my full itinerary to get a more complete idea of what Bar Harbor & Acadia offer.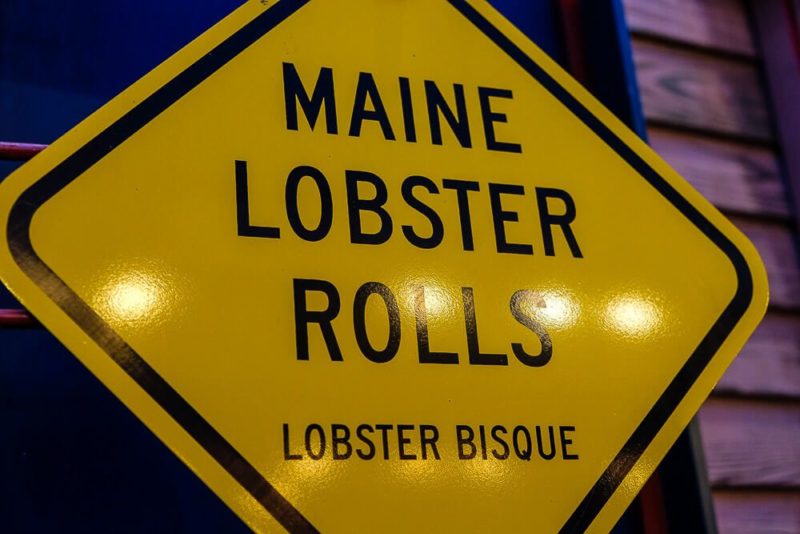 ---
Day 1: Arrival
After you arrive and get settled, I would head straight for downtown Bar Harbor. Wander the streets and stare out at the boats bobbing in the water. I love walking around town and breathing in the sea air. This is always our arrival ritual. Head through the Village Green and down to Agamont Park.
We also had great weather the day we arrived so we simply enjoyed the sun. (It would be almost 4 days to our next sunny day.)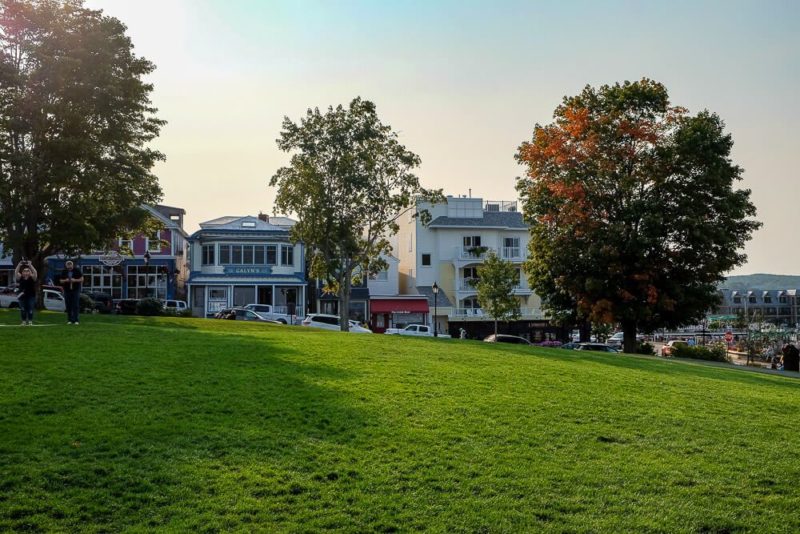 Where To Eat
The Thirsty Whale was our lunch spot. Good pub food plus beer. (I'm a big fan of some pumpkin beer.)
Route 66 surprised me. I got my favorite that night for dinner (a lobster roll) and was surprised it was so good. This looks like one hell of a touristy spot, but I enjoyed the food more than I thought I would!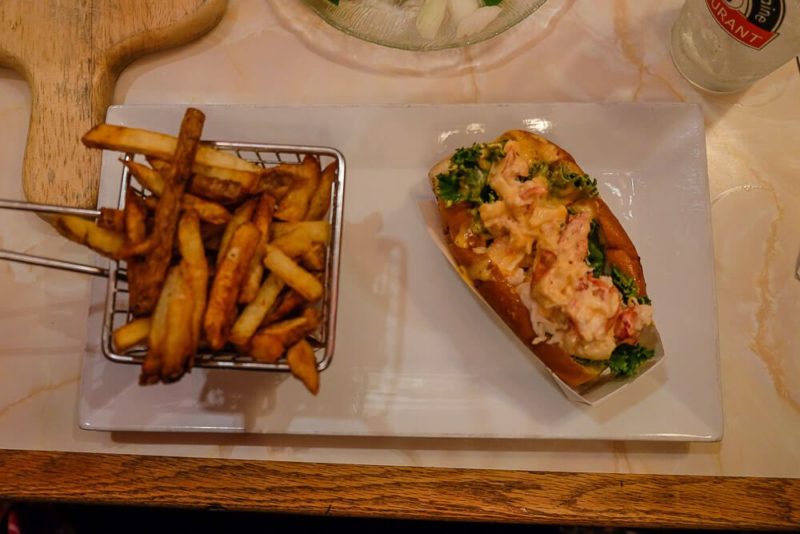 ---
Day 2: The Precipice
I had been dreaming about this hike for a long time. The Precipice is considered one of the toughest and scariest trails in Acadia National Park. It's an iron rung trail. That basically means you'll be hiking a cliff and using rungs and ladders to help you along.
But the Precipice is closed for most of the summer due to falcon nesting season. This was the first time I could actually even do the hike. And I was pumped.
The Precipice is located along the the Park Loop Road. And yes, as mentioned, it goes up a cliff. If you are scared of heights, please do not attempt.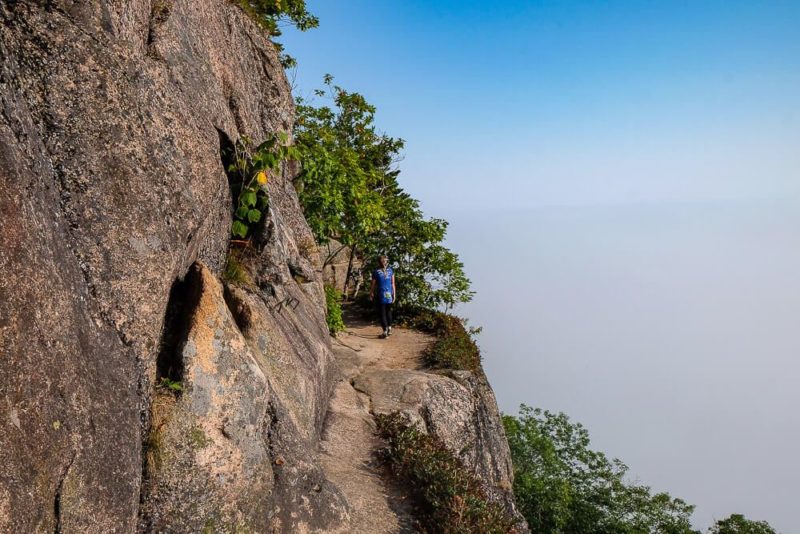 And, unfortunately, it was quite foggy that morning. Once we reached the top, the clouds still clung to the sea and thus obscuring our view. But I didn't let that get me down since it was the climb itself that I had been looking forward to.
For more details on hiking The Precipice, check out my full post on the hike!
Another thing my family really wanted to do this trip? A ghost tour. Bar Harbor has different tours and we decided to go with Bar Harbor Ghost Tours.
This was definitely a popular tour (our group numbered at least 20). But our guide was fantastic. She told several stories (my favorite being the ghosts that haunt the Ledgelawn mansion) and she was good at it. But be ready for a walk, this tour will take you all over town.
Plus the fog that night was ideal.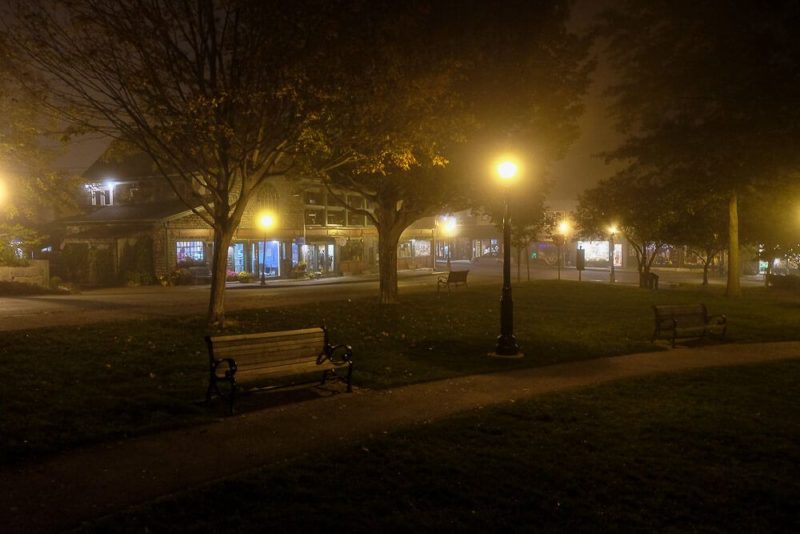 Where To Eat
Mama Dimatteo's was my favorite meal all week. I was starving that day and the Lobster Mac and Cheese was delicious. My favorite dinner by far.
---
Day 3: Bubble Rock
Hiking to Bubble Rock is one of the quintessential things to do in Acadia National Park. It's an easy hike located right on the Park Loop Road. Plus there's a giant rock perched on the side of a cliff waiting for you at the end of it.
And somehow I had never seen it until this trip.
And since it was still foggy that day, I knew I could still go up and see the rock. Which is what I wanted to do. And yes, it was better than I imagined. (Who knew I would be so excited about a rock?)
The only bad part about the hike was that the views from South Bubble weren't great. The fog completely obscured Jordan Pond below. But I knew that at the beginning of the hike. My goal was to see the rock and that's what I did.
That afternoon I went out to explore the town in the fog. The weather was keeping most indoors and I relished having so much of the place to myself.
Where To Eat
The Jordan Pond House is one of my family's favorites. Most head there for lunch, but we have a thing for dinner. Less crowded and unlimited popovers (though the prices are higher).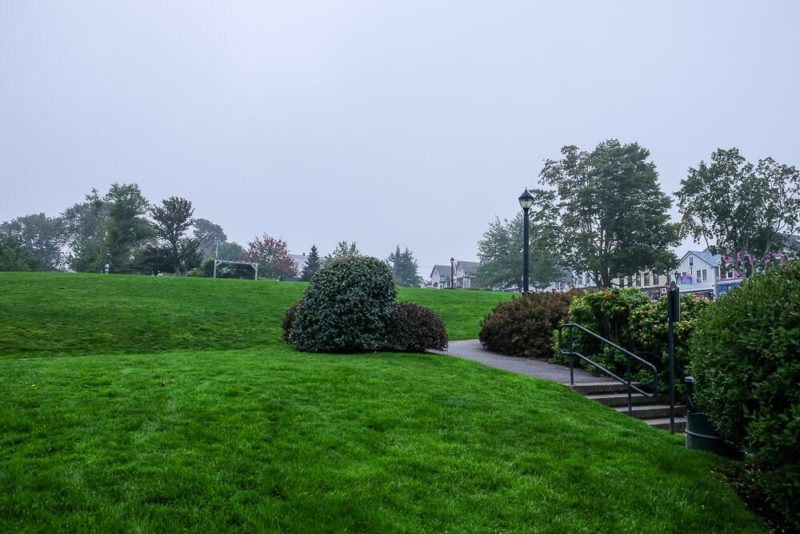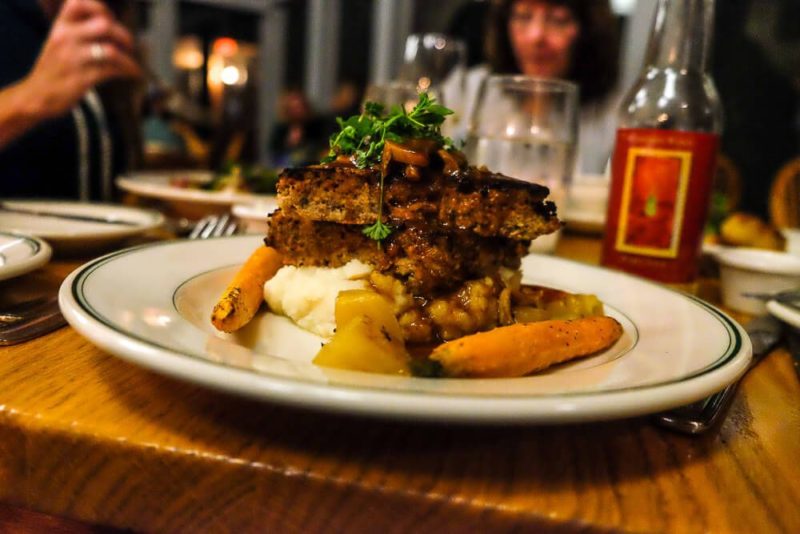 ---
Day 4: Fog
This was the worst day (weather wise) for the whole trip. The fog was so bad that the view of Bar Island from Agamont Park was completely obscured.
Seriously the photo below should have an island in it. A very big island that expands the entire width of the picture. And except for a dark smudge in the bottom left, there's nothing.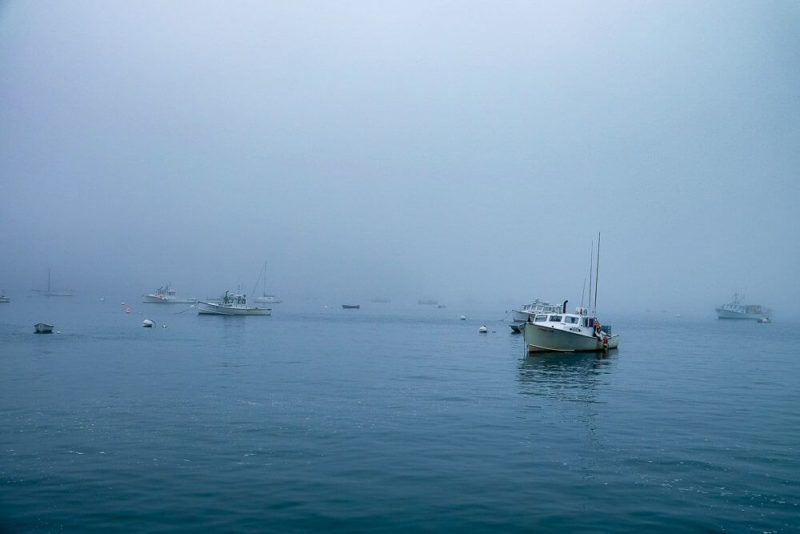 I took the day to catch up on work. But there's plenty still to do, even in the fog. (My suggestion would be to hit up Atlantic for a brewery tour.) Check out my complete itinerary for more ideas.
Where To Eat
Blaze offers a good alternative if you're tired of seafood. I like the pizza and burgers here in particular.
---
Day 5: Park Loop Road
The fog had (mostly) lifted. And so we headed out for our Acadia tradition – driving the Park Loop Road.
This is one of my top suggestions for Acadia National Park. Even if you only have one day. Drive the Park Loop Road.
And though in September we did have overcast skies, the views were still glorious. (Plus a passing hurricane out to sea made the waves enormous that day.)
Our favorite stops along the road are Sand Beach, Thunder Hole, & Otter Cliffs.
Plus the angry sea that day made for some fantastic waves at Thunder Hole. And though we've made the stop every year, that day was the first time I felt like I really saw Thunder Hole.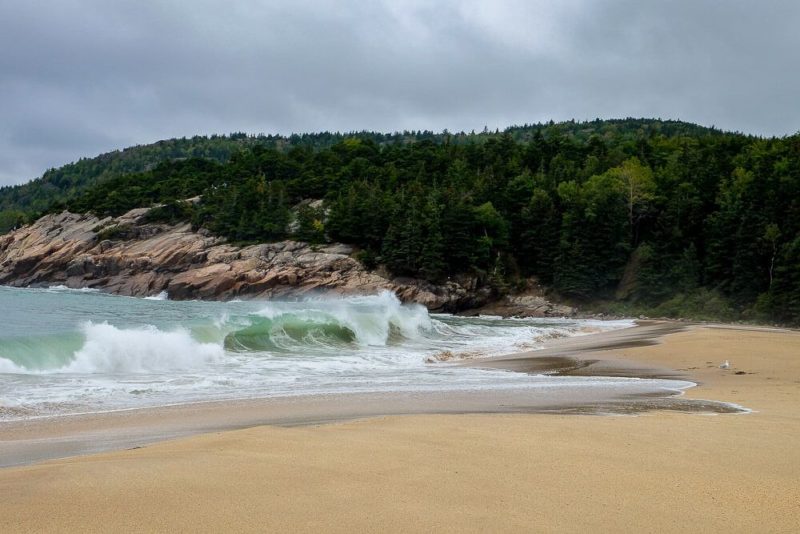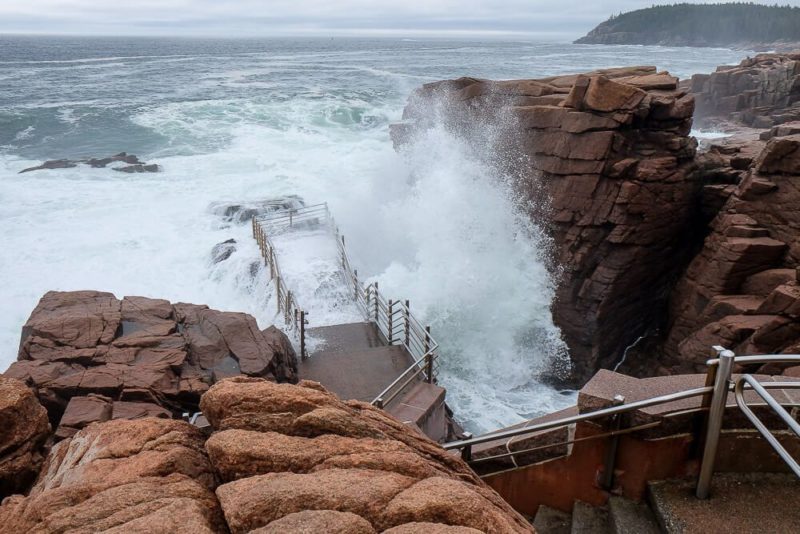 That afternoon I also took advantage of the lack of fog to do my annual walk over to Bar Island.
The sandbar between the town and Bar Island is only around during high tide, so make sure to plan your walk accordingly. Plus there's also a trail that goes up to the top of the island (but I enjoy just making the walk across the sandbar).
Where To Eat
Sometimes you just need good pizza. There's always one day during the week where we don't feel like going to a nice restaurant for dinner. And that's when we order some pizza from Rosalie's.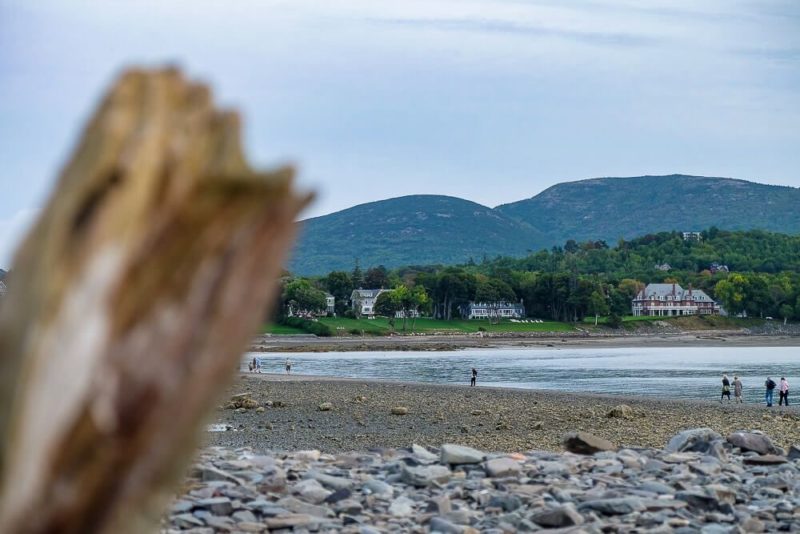 ---
Day 6: Jordan Cliffs Hike
This was our sunny day. And I used the clear weather to tackle my third iron rung trail: the Jordan Cliffs.
As mentioned above, iron rung trails are hard and involve lots of cliffs and scrambling. This is also not a trail for those afraid of heights.
The Jordan Cliffs trail goes across the cliffside of Penobscot Mountain on the Jordan Pond side. It's a significant climb up and then across. The dropoffs are steep. And yes there are several rungs and ladders (though less so than the Precipice or Beehive trails).
But the views are amazing.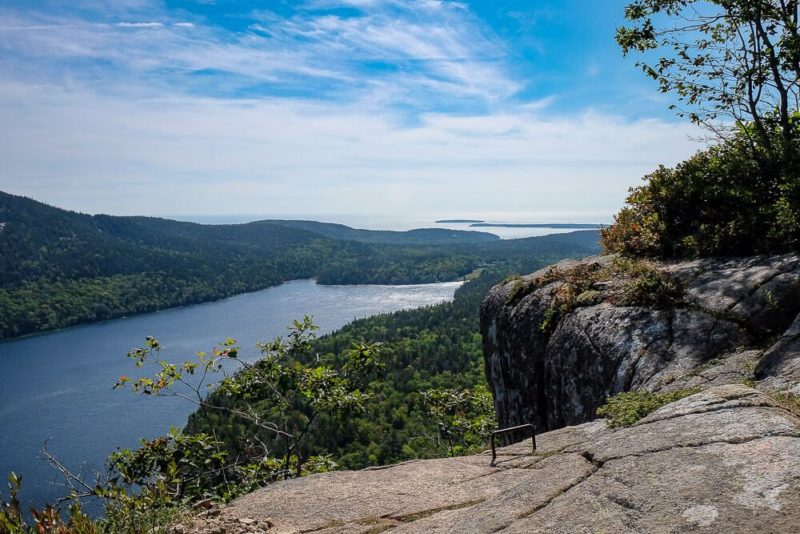 On a clear day, like the day I was there, it was perfect. The bubbles to the north, Jordan Pond beside me, and the Jordan Pond House and Cranberry Islands to the south. I don't think I could have picked a better hike for that day.
If you're interested in tackling the Jordan Cliffs Trail, make sure to read my trail guide to know what to expect.
That evening we headed to the other side of the island to see another classic Acadia site, the Bass Harbor Lighthouse.
I'd seen the photos before, but this year I made it a priority to head to the lighthouse for sunset. Sometimes the hype is for real.
And if we were going to be over in Bass Harbor anyway, we might as well head to Thurston's Lobster Pound in Bernard for dinner.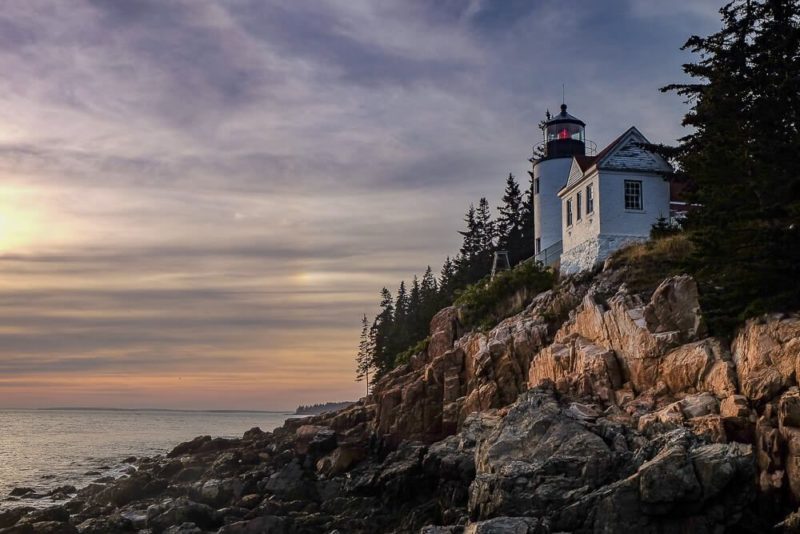 Where To Eat
Thurston's of course! Best lobster roll of the week!
---
Day 7: One Last Hike + Cadillac Mountain
Bar Harbor in September is perfect for hiking. And on our last full day I decided to hit the trails once again. Yes it was overcast, but my dad and I headed out anyway. We decided on the Great Head Trail.
This is an easier hike located near Sand Beach. And if you're thinking of doing it, consider stopping first at the Schooner Head Overlook (like we did).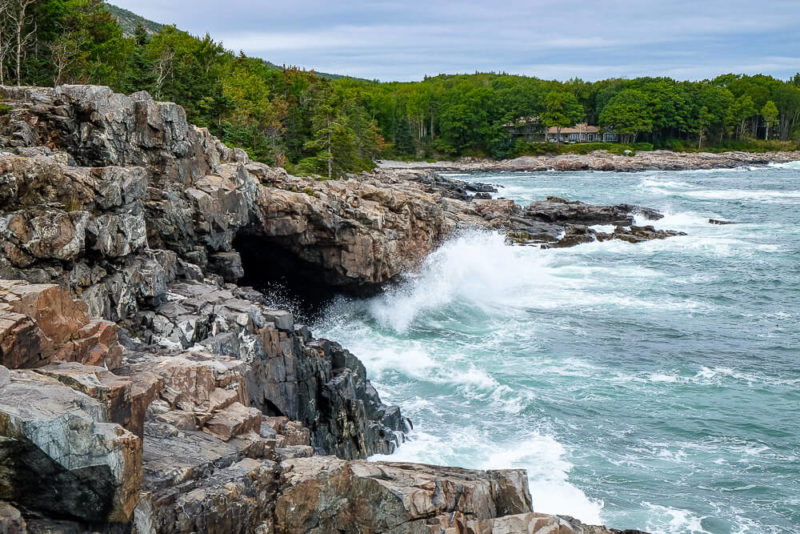 From the Great Head parking area, we headed clockwise along the loop. This was the best idea we had since it was a gentle climb up to the top of point. My dad and I took our time, stopping often. And once we reached the top, we hung out for almost an hour.
Plus if you're lucky, you may even spot seals in the water below. I did (with binoculars) and therefore made us stay at the top until he drifted off.
(I love seals dearly.)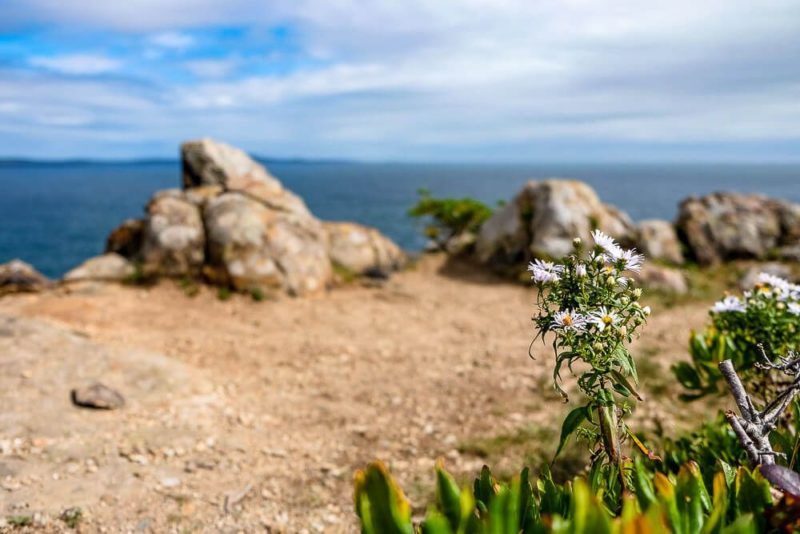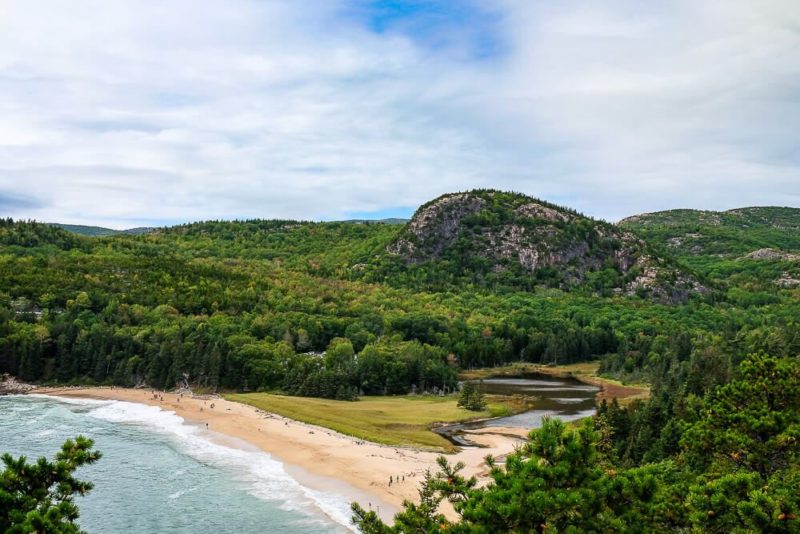 From the summit, we continued the hike around. Sand Beach soon popped into our view and we made our way toward it. Though be warned that this part of the trail near the beach is very steep. I'm glad we were going down and not up here.
That night I finished the week with one of my favorite things – sunset at Cadillac Mountain.
IMPORTANT CADILLAC MOUNTAIN INFORMATION
You will now need a vehicle reservation in order to access Cadillac Mountain between May 26 & October 19. There is an additional fee ($6 in 2021) and the reservation must be made in advance online. You CANNOT purchase one at the park. There are two types of reservations (sunrise & daytime). And they each have a specific window for entry. Review the entire policy from the park before purchasing your reservation.
And though the clouds didn't make for amazing pictures, the views were still breathtaking.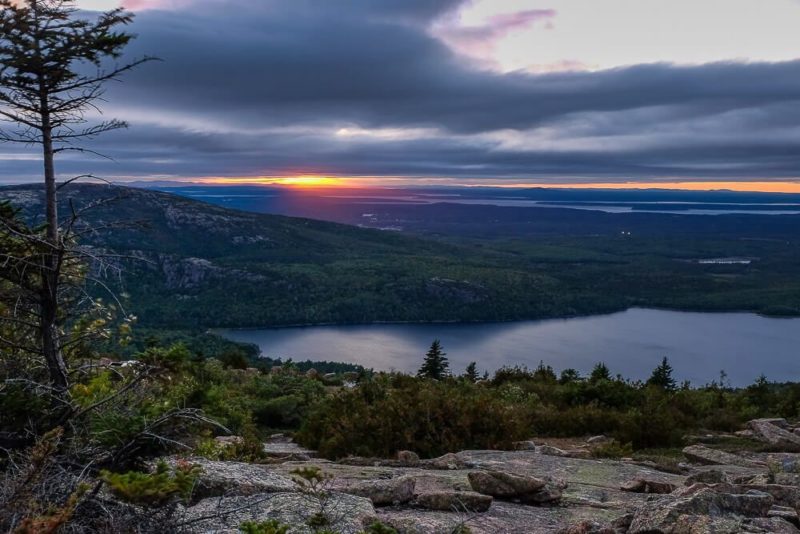 Where (Not) To Eat
Cherrystones is located right next to the Village Green. And though I remember loving my meal there the last time, this time I was disappointed (even though I got the same thing). If you're looking for convenient, then I would consider it. Its location is on point. But I wasn't blown away by the food.
---
In the End
Yes it was foggy. But the temperatures were perfect for hiking and the crowds were less (and more adult). I loved the atmosphere of Bar Harbor in September. And I hope you do too.