Greenville has a great disc golf scene. With numerous courses of varying degrees of difficulty, you'll find something that appeals to you. Here you'll find a list of the best places to play disc golf in Greenville, SC.
Are you a beginner? Greenville is a great place to learn. I only started playing once I moved here. It's a great way to get outside and be active. And you only need a few discs to get started.
I started with just a putter and a driver. You can pick these up at most sporting goods stores like Play It Again Sports and Academy Sports + Outdoors.
And if you want to learn more about disc golf and how to play, Disc Golf Now has been helpful!
---
Disc Golf Courses
I've tried to organize this list by distance from Greenville. And as I play/find additional courses, I'll be adding them to this list.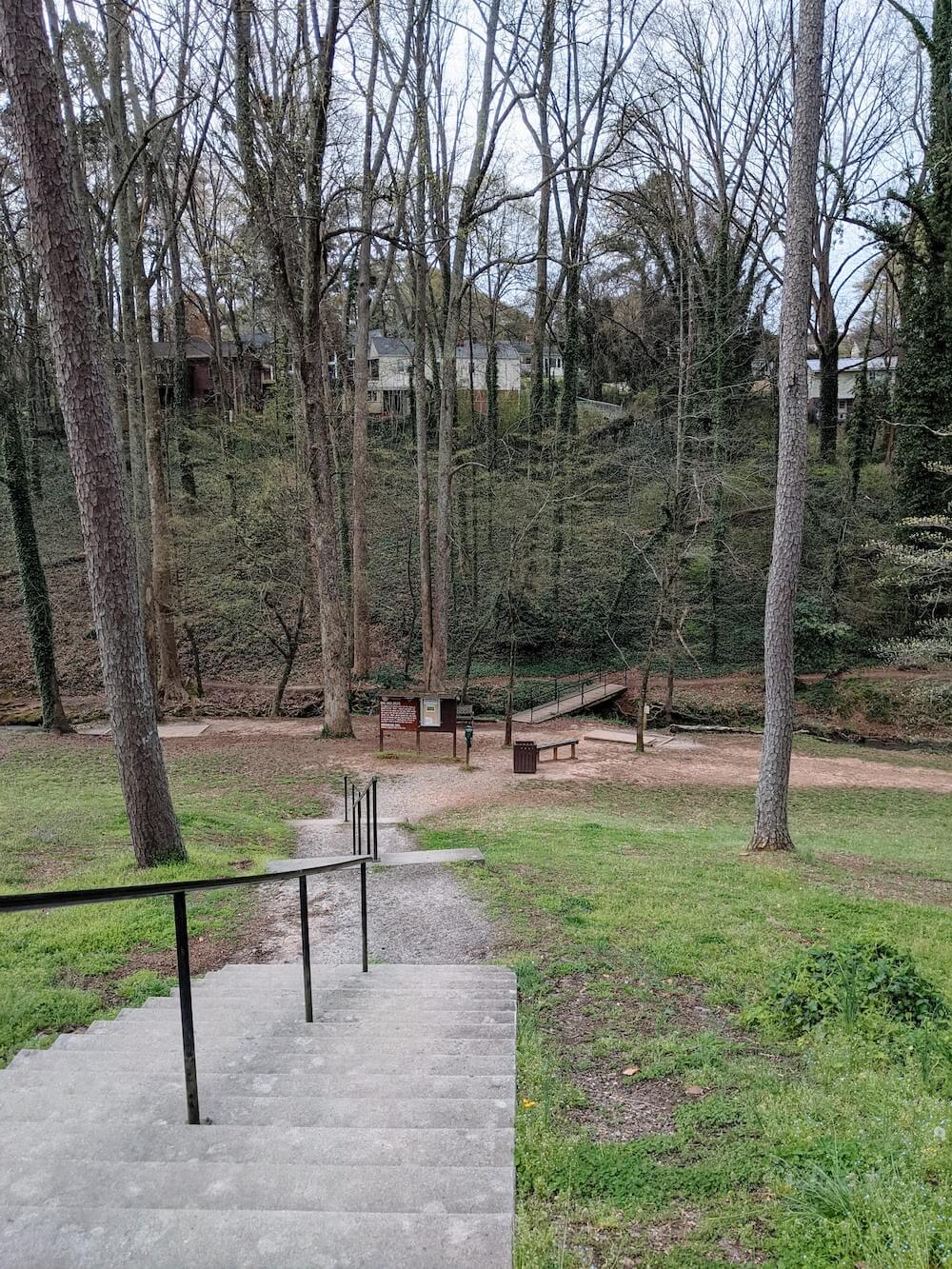 Distance from GVL: ~2 miles
Timmons is one of my go-to courses. None of the holes are too long (the farthest is 395ft) and most are in the 100ft or 200ft range. All are par 3. But don't assume this is an easy course.
Trees and creeks line a lot of the holes. And there are some with trees in the middle of the fairway right off the pad. You will learn how to control your throws or you'll end up digging your discs out of the creek (like I do most of the time).
The course is fairly compact, but it does have a fair bit of elevation through the front and back 9. It's not the easiest disc golf course, but with the shorter distances I can usually get a game in in 2 hours or less. (With a group of 4.)
---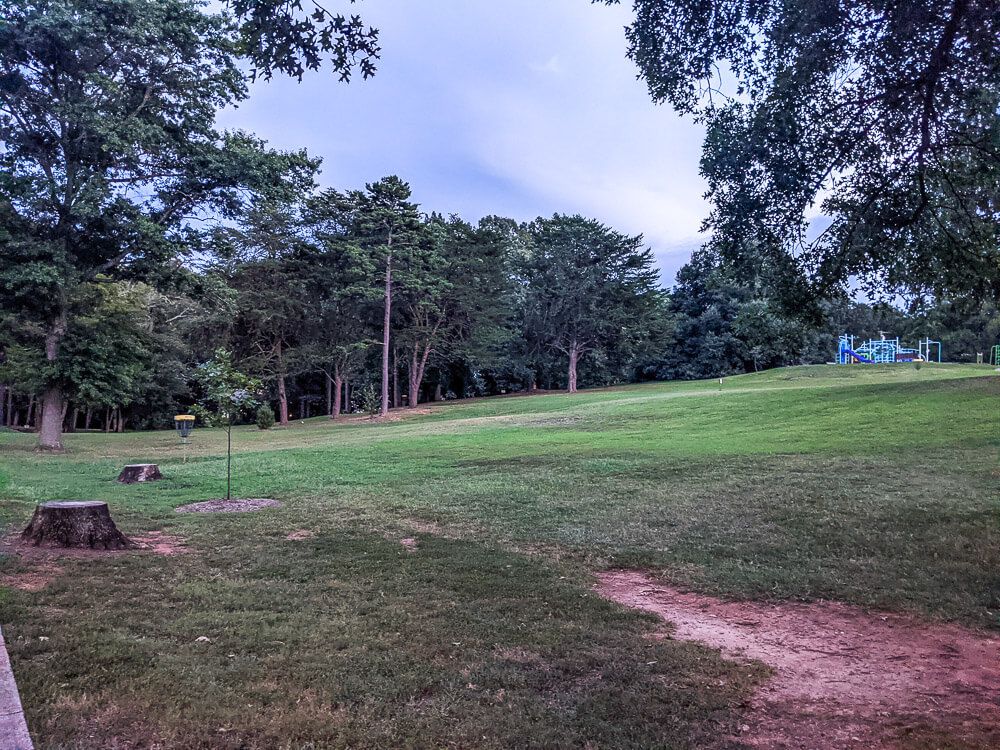 Distance from GVL: ~3 miles
This is the second easiest disc golf course on this list. With just 9 holes, it's a fairly small. And you'll need to be careful when you're throwing as a lot of the holes are near each other. A wild throw could mean your disc ends up at another basket.
There is also a fair bit of elevation change for how small the course is. You'll be throwing downhill or uphill on over half the holes.
The longest hole is at 314ft with all of the rest in the 100 or 200 range. So making par (and they're all par 3) is a lot easier for those just starting out. More experienced players will relish in the birdies that can be had. (Hole 2 & 5 are the easiest in my opinion.)
I love to practice at this course, I can easily get a game in in under an hour if I just stick with the 9 holes (with a group of 2-4).
---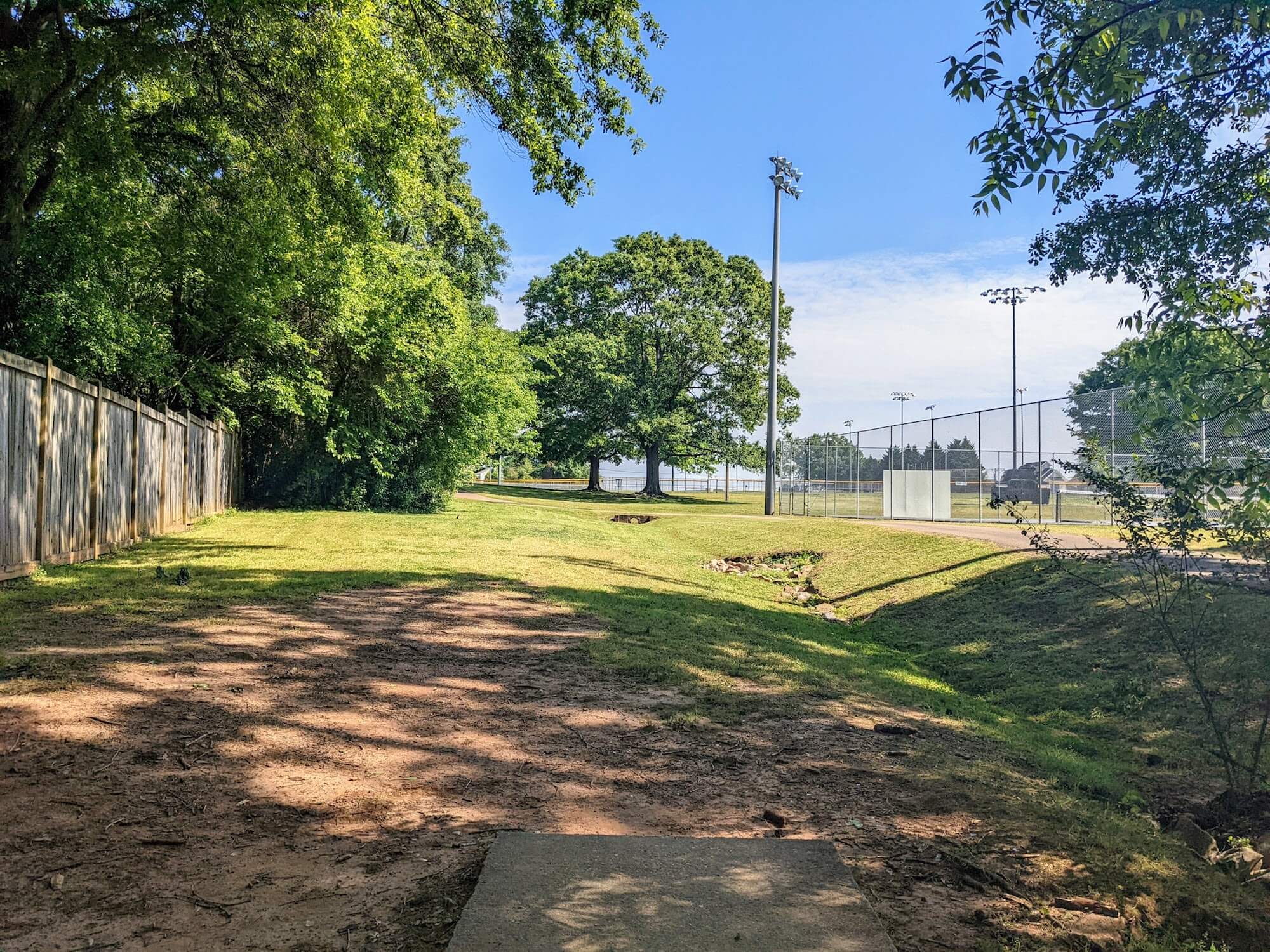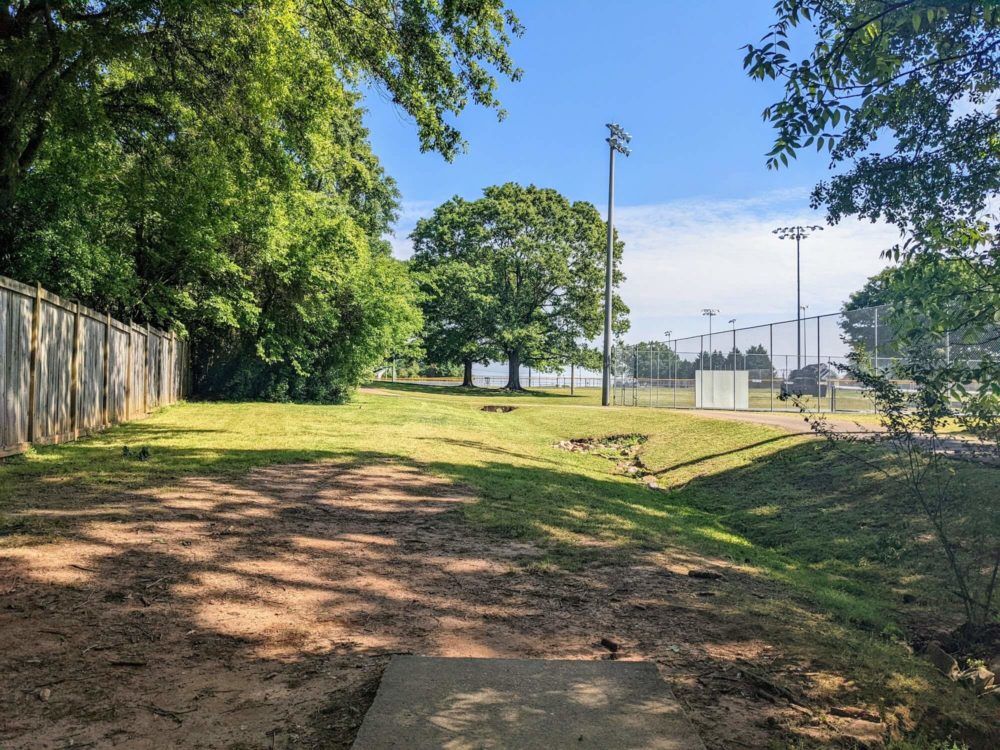 Distance from GVL: ~3 miles
Now this is the easiest disc golf course on this list. At just 9 holes, it's fairly small (and feels shorter to me than Holmes). But don't let the distances fool you, there are plenty of challenges still.
The course is fairly flat, but the first half are in the woods with the second half on the edge between the brush and the fields. I've thrown my disc into the tennis courts and baseball fields here on several occasions.
The longest hole is just 307ft with all of the rest in the 100 or 200 range. And that 307ft hole (hole 5) is actually a par 4.
Overall Gower is a very forgiving for those new to the sport. And experienced players may walk away with plenty of birdies. But you'll still have to work for them by shaping your shots well.
This is quickly becoming one of my favorite courses to play at for a quick round. Plus since it's so close to one of my favorite (dog friendly) coffee shops, it's easy to play a round while walking the dog and then head to Grateful Brew to get some work done.
The Best Coffee Shops in Greenville, SC
---
Distance from GVL: ~4 miles
This course is located on the campus of the Hampton Park Christian School. It's open on school days after 4pm (unless there's a sporting event). Saturdays from dawn to dusk. And Sundays before 9am, from 1pm to 4:40pm, and after 7:15pm.
Be sure to park in the upper lot of the church on the warehouse side. The first tee-pad is right off the parking lot where you are basically throwing over the field.
There is a lot of walking on this course as it zig-zags over the property. And there are lots of wooded holes with no real fairways. The back nine is newer and has lots of debris and trees. We were exhausted of walking up and down the hillside on the front 9 that we only played till hole 8 and then headed back.
This course is being improved upon so expect things to get better over time!
---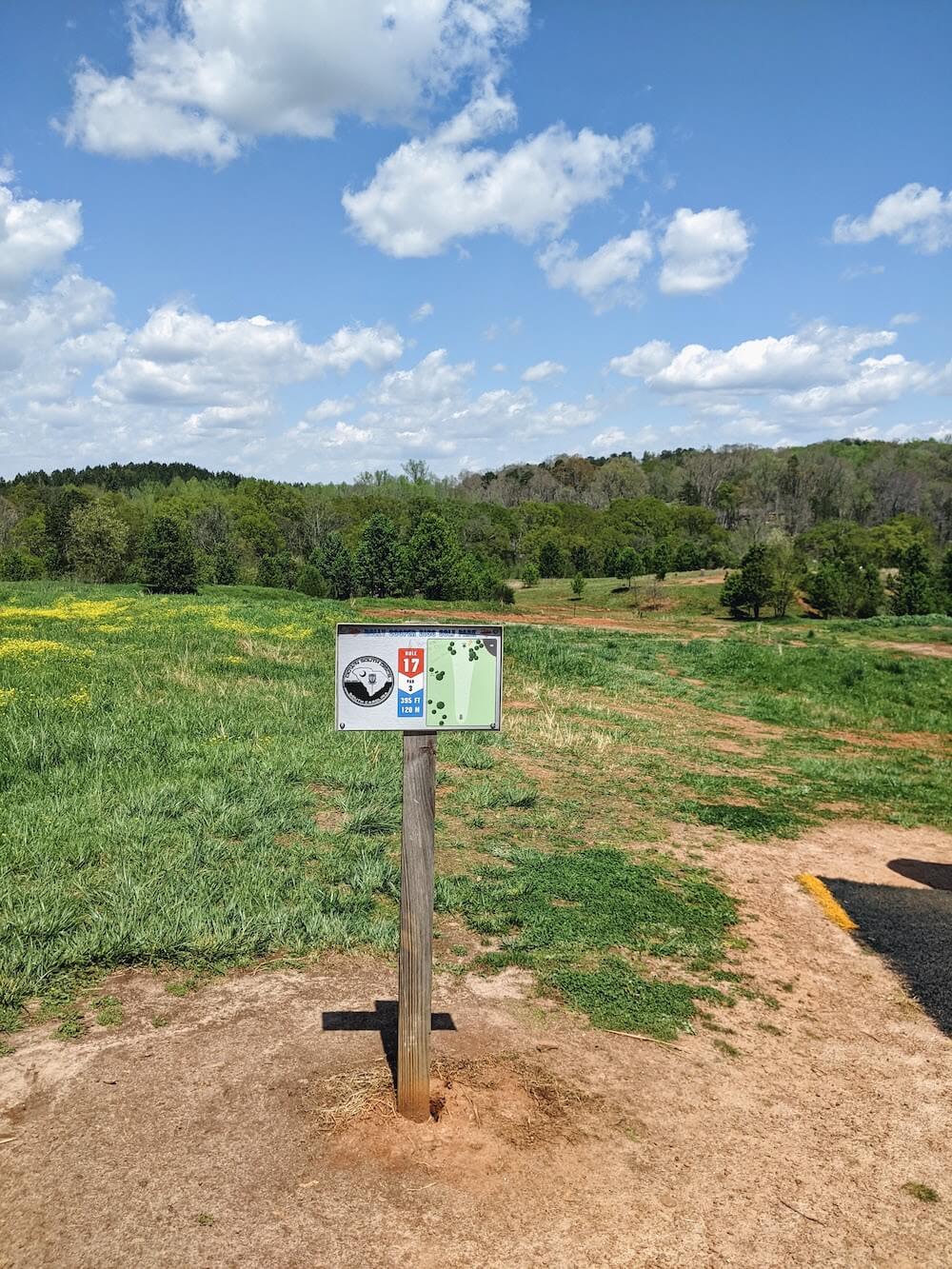 Distance from GVL: ~7 miles
This fairly new course (installed in 2019) isn't great for beginners, but intermediate and advanced players will have more success.
Dolly Cooper has a mixture of both open and wooded holes if you like a course with variety. Plus the course has nice tees with signs that show the general layout of the fairway and where the basket is.
There's a good split of distances here too with several in the 100, 200, and 300 feet range (the farthest is 370). And they're all a par 3 as well.
One of the main downsides though is that in the summer they don't seem to mow very often (even on the fairways) and the back 9 especially can get very overgrown. If you don't see where your disc lands, you may be searching for awhile.
---
Distance from GVL: ~12 miles
This was the first disc golf course I ever played at (and somehow I don't have a picture of it – so one will be coming soon!). It's fairly beginner friendly, but the more experienced people I play with still enjoy practicing here.
Century Park has a mixture of both open and more technical wooded shots so you'll be able to practice different styles and throws. It's got a couple of par 4s that aren't too long and advanced players may be able to pick up a couple of birdies on them. The longest hole is at 413ft with the rest in the 200 & 300 range (only one is under 200ft).
Lastly watch out for the baseball fields, at least once every game here somebody ends up throwing their disc in the field. (Be extra careful if a baseball game is going on.)
In 2021 there's some maintenance and construction going on in the park so some holes may be out of commission or hard to find.
---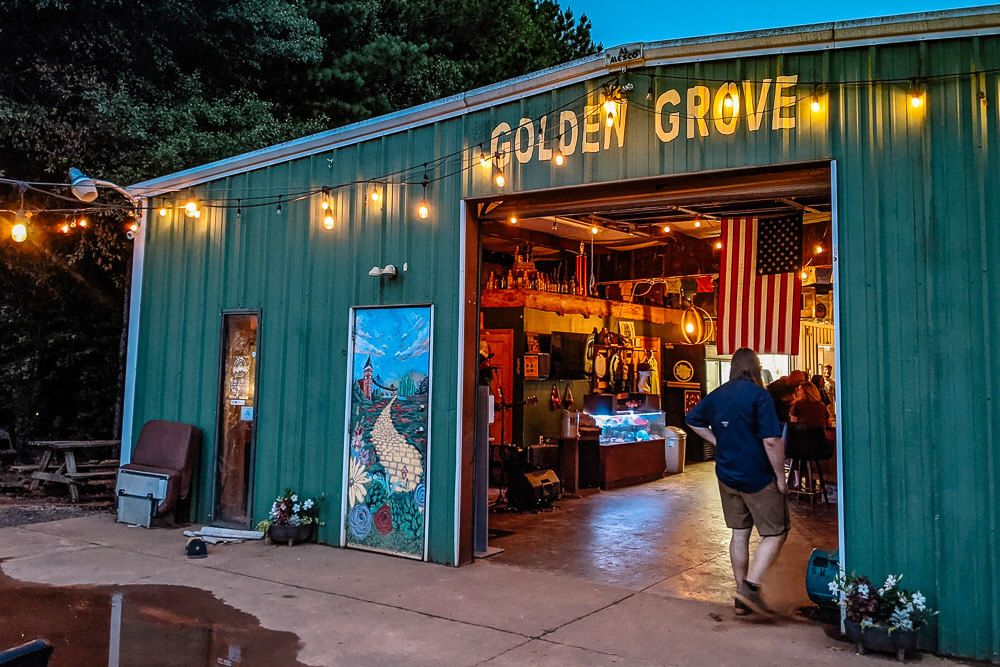 Distance from GVL: ~15 miles
This is the hardest course I've ever played. The 5 person group (including me) that I played with ended up skipping 4 of the holes and it still took over 3 hours to finish.
This course is entirely in the woods and is very challenging. The fairways are very narrow and if you don't have great aim, you'll be searching for your disc in the woods a lot.
The few holes that aren't deep in the woods are next to a pond. These are the ones we skipped since I didn't feel like losing a disc. (We also skipped the last one since I was so hungry I couldn't wait any longer for dinner.)
The best thing about this course (in my opinion) is the brewery its attached to. Great beer and food can be had and I'm always a fan of that.
Okay back to the course. A few of the holes have different pads to throw from depending on the difficulty level you'd like. White is shorter and blue is longer. We threw from the white tees.
There's almost an even mixture of par 3s and par 4s with one par 5 (at 690ft). Most of the holes are in the 200 or 400 foot range. The blue tees are even further.
Lastly this course is fairly new and it's still being refined. Some of the tees have great pads, some don't. And though most of the baskets have an arrow to the next tee, we struggled to find the 18th hole and ended up relying on UDisc to locate it.
---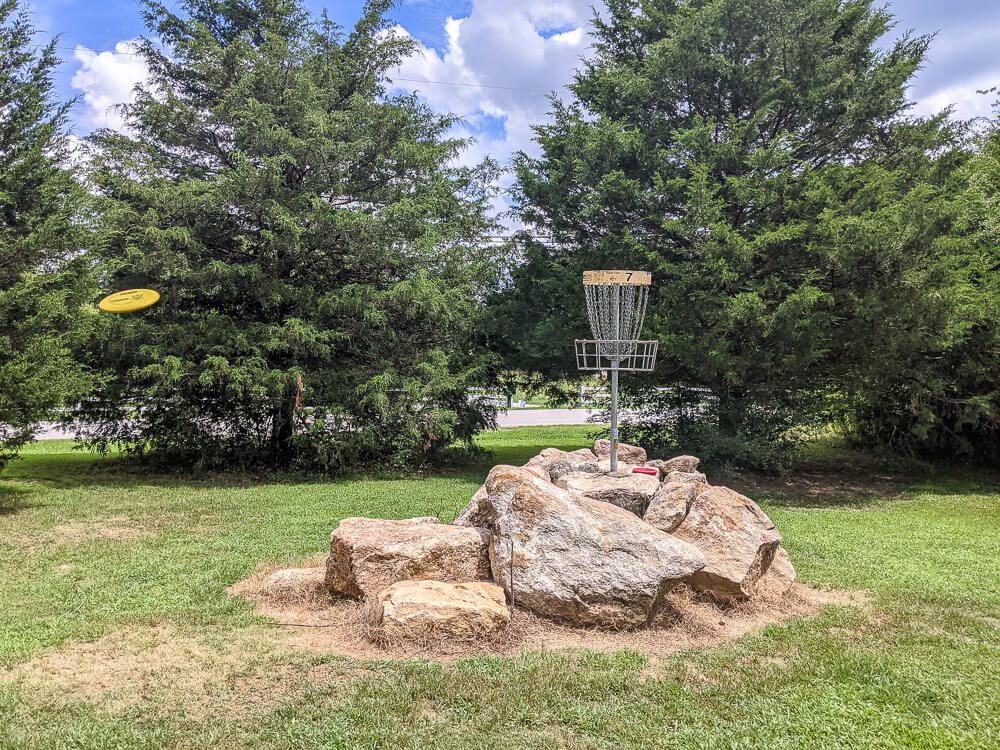 Distance from GVL: ~20 miles
Until I played at Golden Grove, I thought this was the hardest course in the area simply for its length. For our group of 4, it took us over 3 hours to finish. But I really enjoyed playing it.
The front 9 is mostly in the woods while the back 9 is more in the open fields. I loved mixing it up though my arm was definitely getting tired towards the end.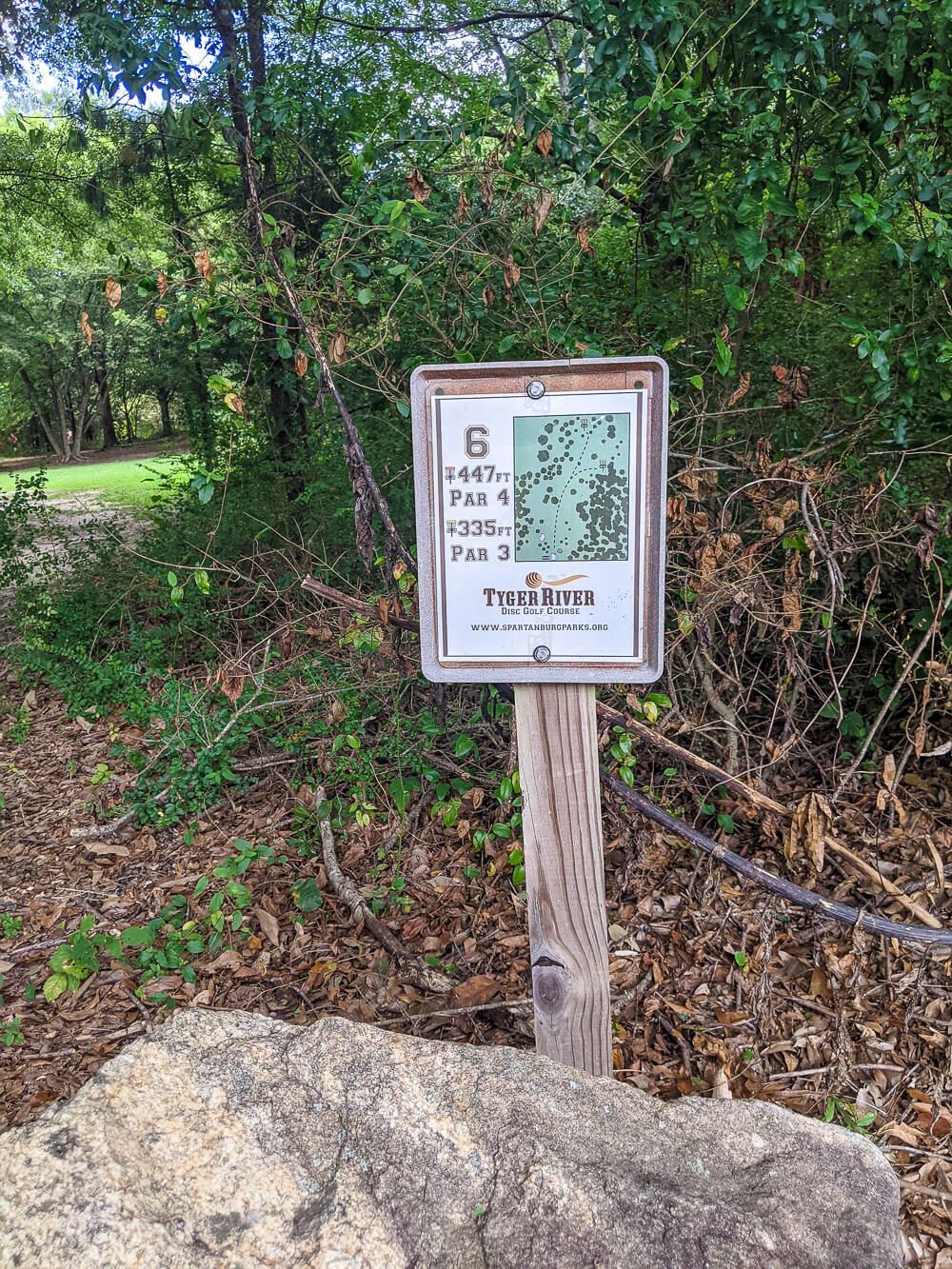 Tyger River can also be a pit confusing since there are different pads and baskets depending on the difficulty you'd like to go for. Some holes have different pads (short/gray and long/blue) and different baskets (short/yellow and long/red). Which means there's a total of 5 different options (the original, short pads to short baskets, short pads to long baskets, long pads to short baskets, and long pads to long baskets).
If you play the longs to long, about half are par 3s, five of them are par 4s, and two of them are par 5s. The longest hole is a whopping 868ft. But besides that monster, there's a good range of distances here from 171ft all the way up to the 600+ foot range.
The course is also fairly well maintained as they keep the fairway mowed. But the edges are not. If your throw is a little bit wild, you'll be digging your disc out of the brush. For beginners I would suggest playing it safe with your shots as searching around in waist high grass and thorns sucks so bad. (A beginner I played with also lost 2 discs on this course thanks to the thicket.)
---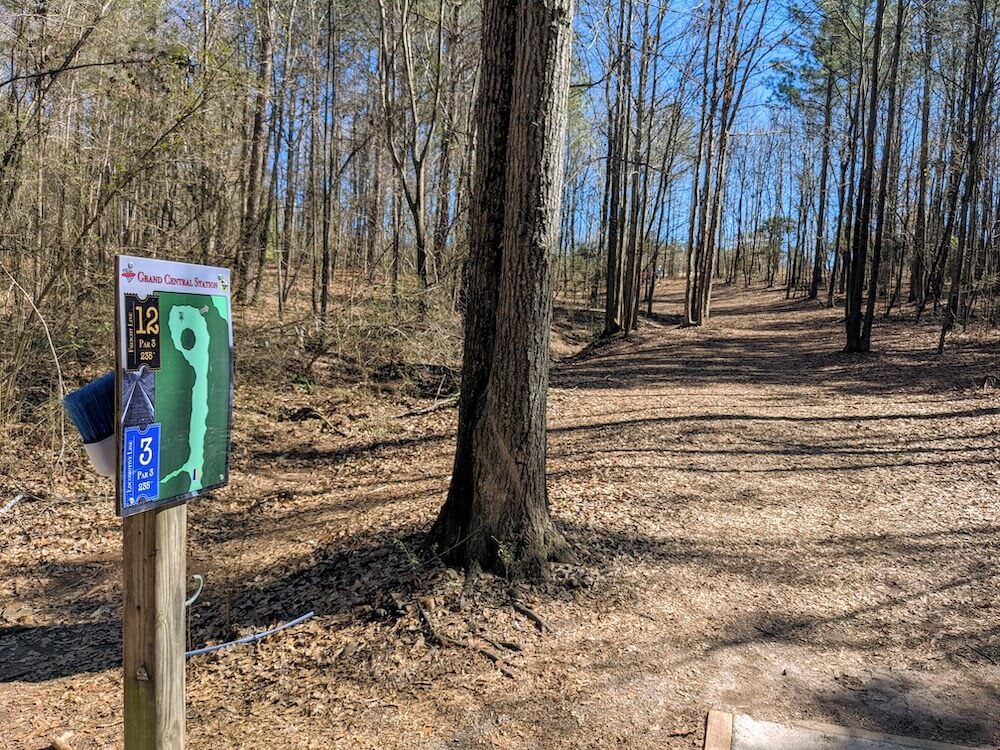 Distance from GVL: ~27 miles
This course actually has two different routes – the Freight Line & the Locomotive Line. The Freight Line is the original route. Most of the shots are par 3s ranging up to around 450ft. But there are a few par 4s on the longer holes. The longest shot on this route is hole #6 at 740 ft. Follow the black arrows.
The Locomotive Line is newer (open in 2018) and has a slightly different route. There's only 5 new holes, so most holes are shared between the two routes. Again it's a mixture of part 3s & 4s. But there is a par 5 as well – it's hole #8 at 719 feet (steep uphill). The longest distance is #15 at 796 ft (par 4). Follow the blue arrows.
For both routes, about 2/3rds of the course is in the woods while the remaining are more in the open. I've heard from several people that this is the hardest course they've played due to these technical wooded shots (though Golden Grove is still the hardest on my list).
The course is very well organized though. Good pads and directions between the tees. I'd probably play the Freight Line first (mostly to avoid that uphill par 5) to get a feel for the course.
On the weekends it can get quite busy, so keep that in mind when you're going out.
There are also bathrooms here which is a nice touch!
Have fun playing disc golf in Greenville!