Trying to find the best coffee in Greenville, SC? With numerous chains and lots of local places, getting your caffeine fix in Greenville, SC is easy. What's hard is actually picking a place to go to. I try to shop local as often as I can. And so here my favorite places, where I go to find the best coffee in Greenville SC.
Now this post doesn't contain all of the the coffee shops in Greenville. There are many more that I have yet to try. Trust me – they are on my to-do list. And I've included a few at the bottom of this post.
But when I just need to go somewhere to grab a latte and work for a few hours, these are the coffee shops I head to.
---
Best Coffee Shops in Greenville, SC
Dogs allowed inside & outside!
I'm starting this list off with perhaps my favorite coffee shop (at least for going inside & sitting down). The Grateful Brew is like the perfect marriage between a coffee shop and a craft beer bar.
During the morning and early afternoon you can get your caffeine fix and sit down to get some work done. And then at night, you can grab a local beer and some food from a food truck.
They've got a nice sized space inside (and I can usually find a seat) as well as a decent sized yard with picnic tables if it's nice out.
The coffee (and beer) is always good and the staff are super friendly.
The only real downside is that they are closed on Mondays.
What I love: Their dog friendly indoor space and atmosphere.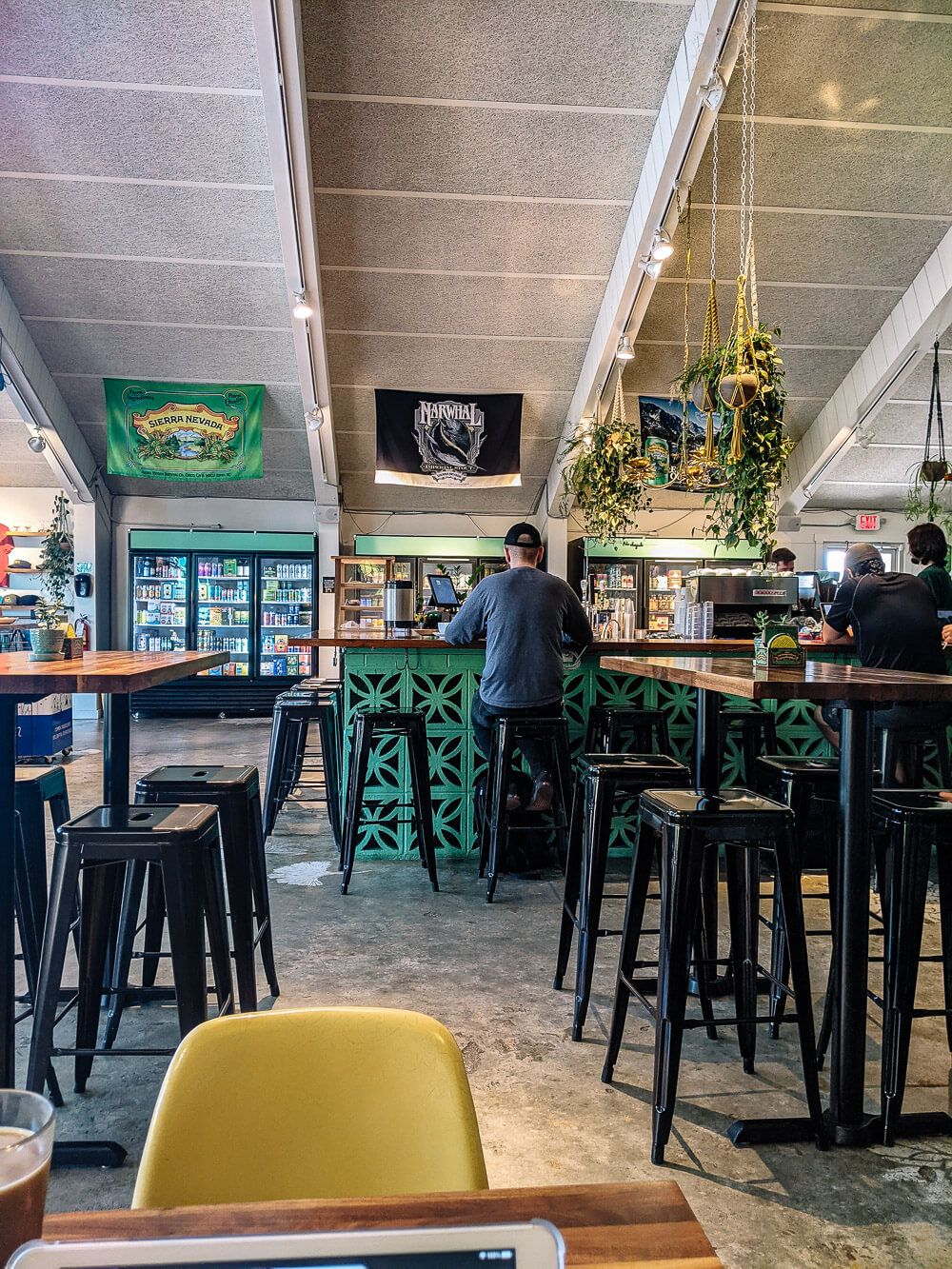 ---
This is my go-to coffee place when I'm downtown (sans Ellie). First off, Coffee Underground seems hidden away. A secret located below street level near one of the busiest intersections on Main Street.
Steps leading down near the corner of Coffee & Main take you to a small little thoroughfare with a few wrought iron tables and chairs. But it's the inside that I love.
The main seating area is a mishmash of tables, booths, wingback chairs, and loveseats. My choice for the day always depends on my mood. Do I want to lean back and read with a nice cappuccino? Or will I be working and therefore need a small table?
I just love hanging out here. Coffee Underground always has people scattered among the room. But it very rarely feels busy or packed. I've never thought the person next to me is reading over my shoulder or looking at my screen.
Only downside is the Wi-Fi. If you purchase an item for $2 or more, you can get a Wi-Fi slip that is good for just 2 hours. I totally understand why they do this, but if I grab lunch and a pricey coffee drink (and the place isn't busy), I would love to be able to stay for longer.
But that's what you get for a downtown location. The prices are a bit high and there are restrictions.
What I love: The hidden away feel.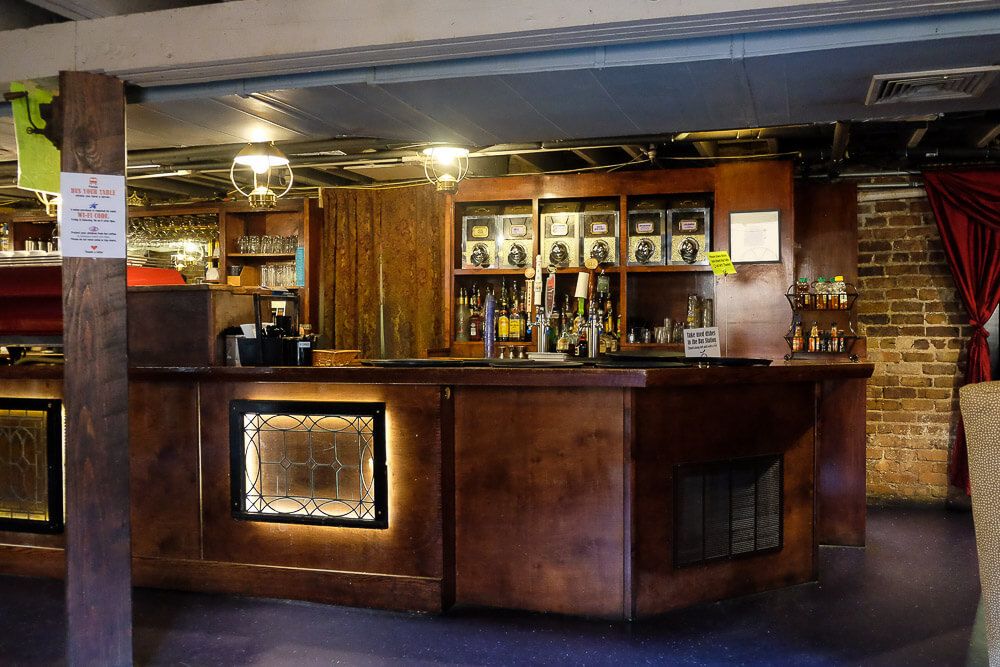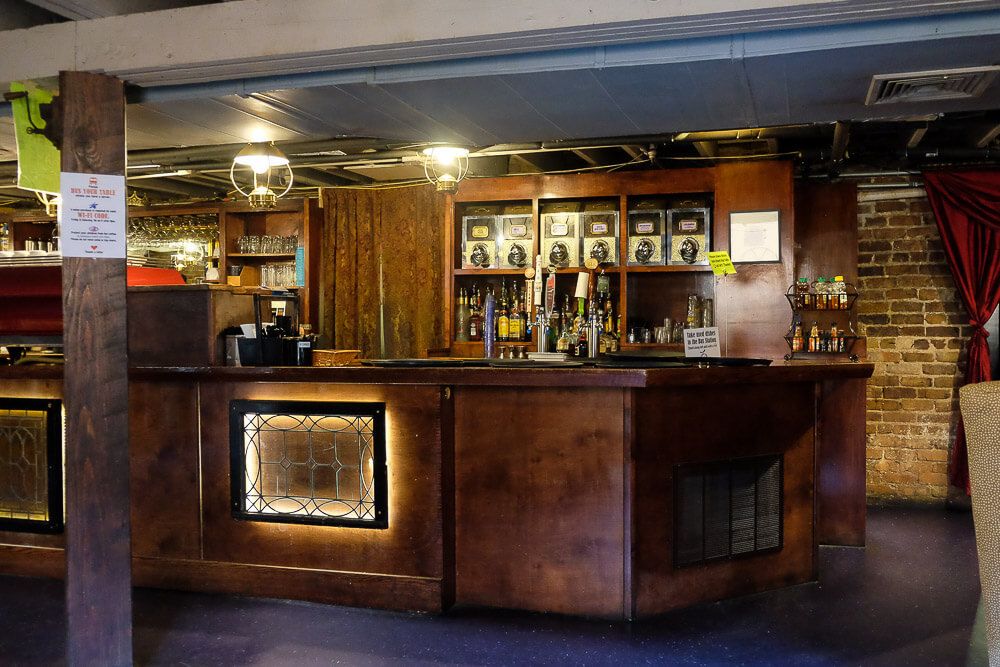 ---
Downtown cafe has a few small tables out front & the Commons has a big outdoor space. No outdoor space at Wade Hampton location. No dogs allowed inside.
This is hipster heaven.
Their original downtown location is at the base of the Bank of America building in the One City Plaza. Which allows Methodical to feel tucked away and in the middle of it.
Walking inside everything is clean, white, organized, and in order. Intricate coffee devices line the counter. The staff is friendly and helpful. But my favorite thing about Methodical?
The coffee is fantastic.
Seriously the espresso with milk may have actually made me moan when I took a sip. I may not be a coffee connoisseur, but I know when it's good. And this stuff was good.
Plus the blue and white cups were beautiful. And I love any coffee shop that gives you an actual cup if you're dining in. (I hate the useless waste of single use coffee cups if I'm just going to take a seat.)
In addition to their downtown location, they also now have two others: inside the Landmark Project Flagship Store near Stone & Wade Hampton Boulevard and The Commons. Both retain that Methodical feel (hipster, clean, beautiful) and serve up the same wonderful coffee.
Plus better (and free!) parking options can be found at both of those locations.
What I love: The simplistic yet delicious coffee.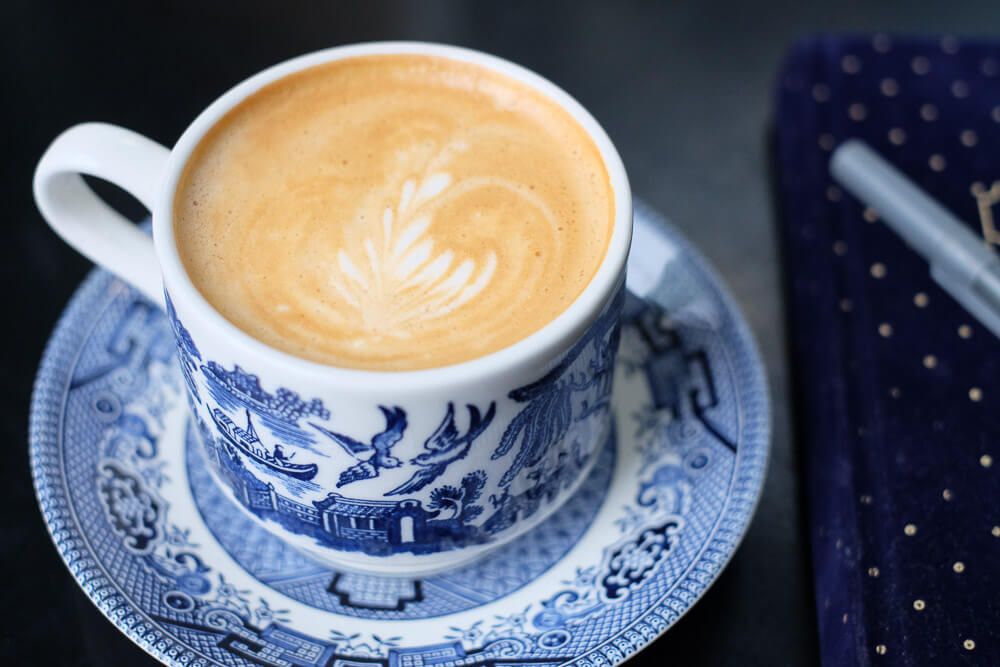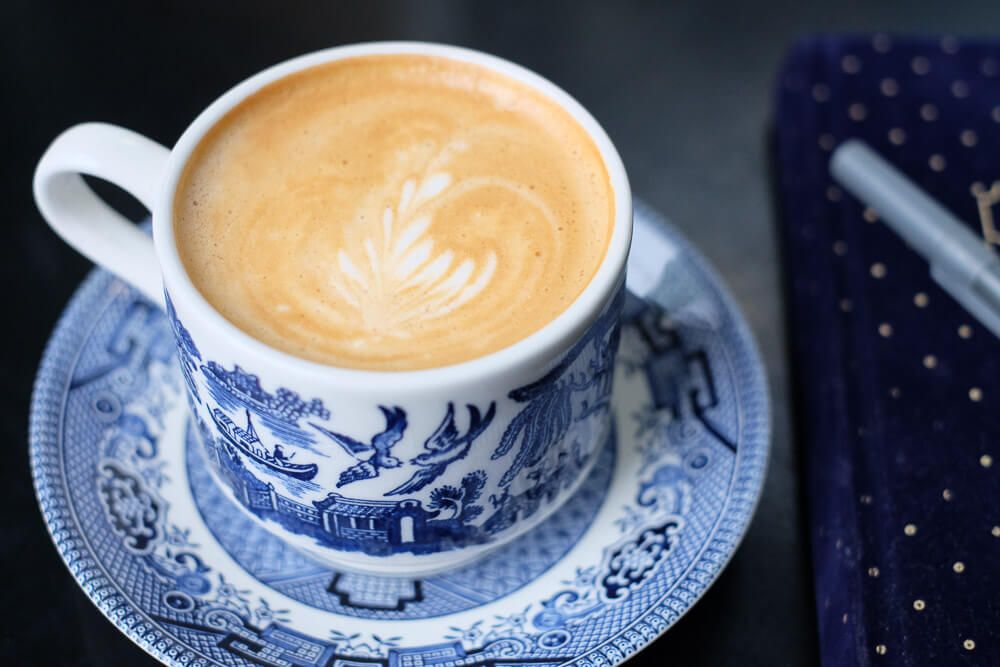 ---
Dogs allowed outside only
The Village Grind was one of my favorite coffee shops. I still love the vibe: edison bulbs, exposed beams and brick, plants dangling from the ceiling, and colorful art on the walls. Give me good coffee in a beautiful setting and I'm happy.
However they did recently change their dog policy to be outside only. It used to be one of my favorite places to take Ellie, but as of mid-February 2022 they no longer welcome dogs inside the cafe. I now find myself going less often since Pendleton Street can be quite loud and Ellie is scared of all the trucks that drive by.
Also the prices at the Village Grind aren't cheap. Expect a 16oz latte to cost $5. But their drinks are delicious and they come in actual cups if you drink in (something I always love).
One thing to keep in mind is that they can be incredibly busy. There are many times there are no more seats inside and I either have to sit outside or get it to-go.
The Wi-Fi is free, so just ask for the information when you order. And be sure to get there early! They close at 4pm which means I really need to be on my game to get there more in the morning or early afternoon.
What I love: The vibe inside.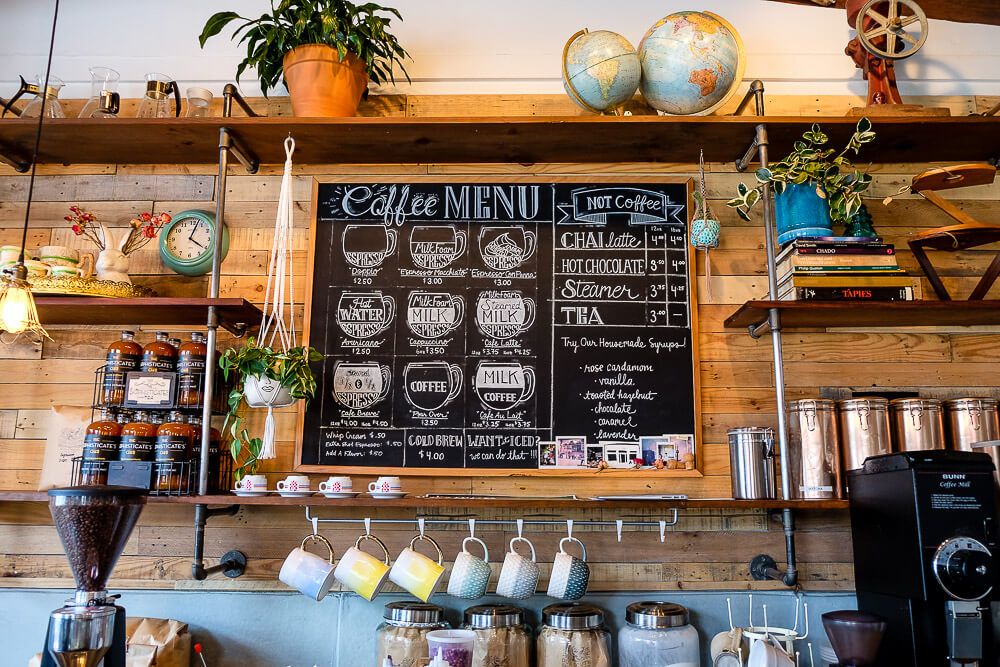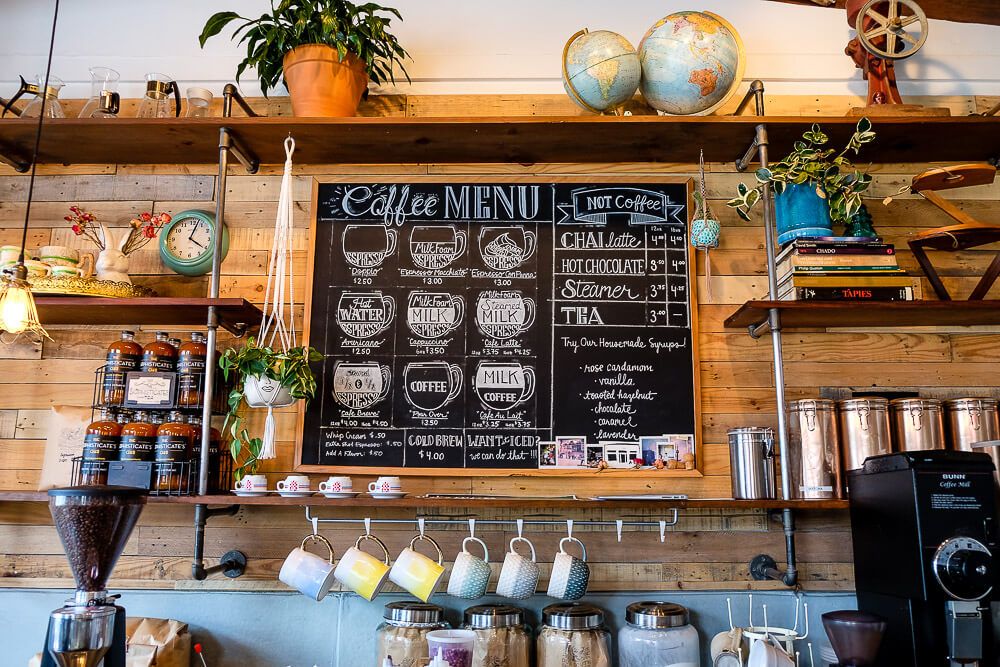 ---
Drive thru only – but they give dog biscuits if you have a dog in the car!
This small local to-go coffee place is an amazing hidden gem. It's a drive thru only location, which it makes it the perfect stop on my way to/from home. Plus the prices are SUPER reasonable.
The building looks a bit nondescript, but don't let that phase you. This coffee shop has amazing coffee, speciality drinks, and baked goods. The white chocolate cranberry scone I got the last time I was there was delicious. Maybe the best scone I've ever had.
Liquid Highway actually has two locations. I've only been to the one on E. North Street but there is another one on Halton Rd. by the Haywood Mall.
I also recommend people try out Greenville's amazing local coffee shops instead of chains. When I saw that Starbucks literally put up shop next door to Liquid Highway, I'm making more of an effort to hit it up more often. I'd hate to see this small local shop go out of business due to the predatory behavior of Starbucks.
What I love: Local, caring staff & that they give dog biscuits to dogs in the car!
Shop Local!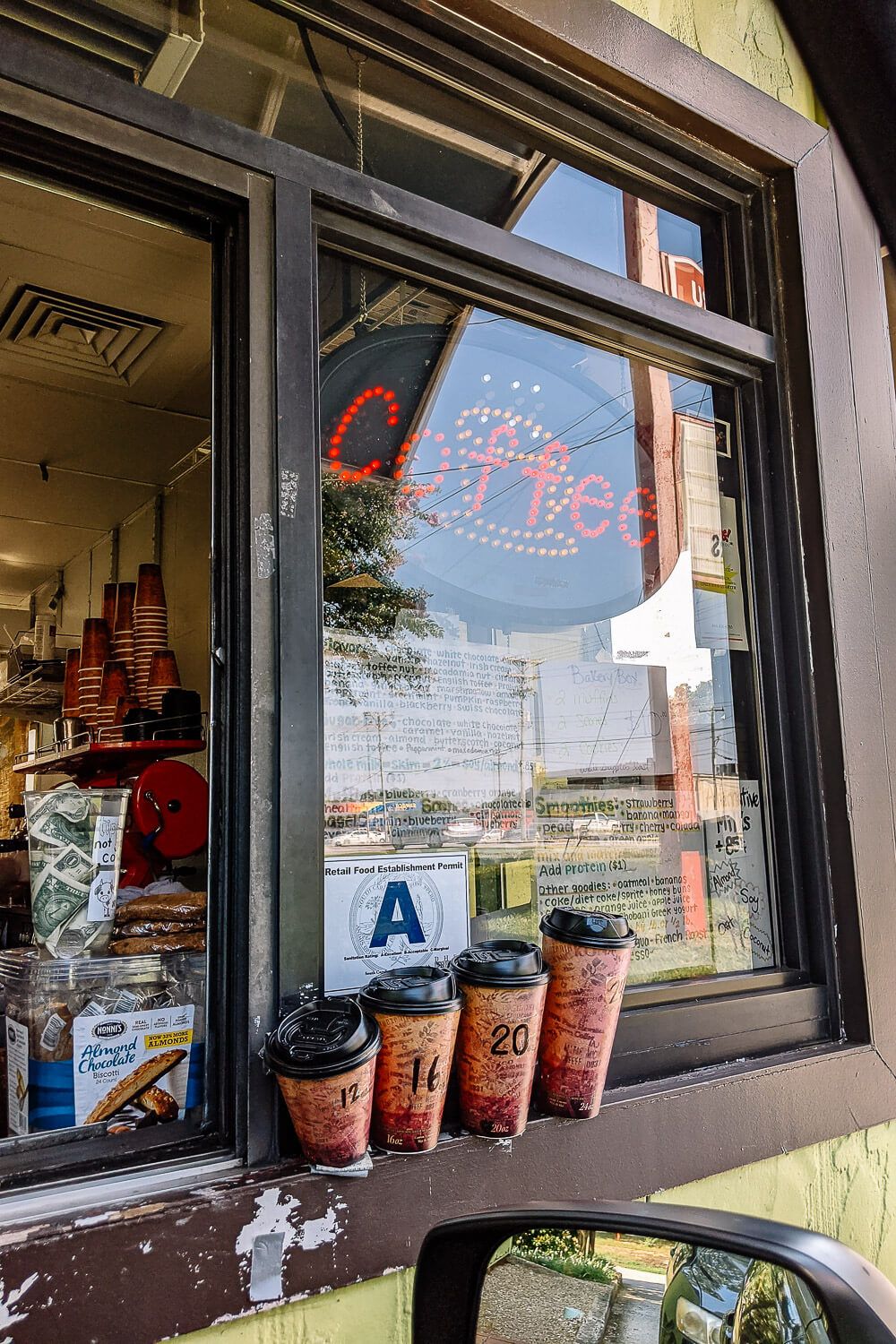 ---
Just a few tables outside.
Located in the new development along Airport Rd (right next to the Human Society) is one of the newer coffee shops in Greenville.
Cohesive Coffee's got a more industrial look on the inside with high ceilings and tables spaced apart. Think open instead of cozy. The menu appears more limited but they do have some amazing seasonals on offer as well. (Think an orange maple latte in December.)
The best way to determine what they have on offer is to peruse their instagram.
The only thing I wish they had was a bit more shaded outdoor seating. Since their right next to White Duck with lots of seating, there's plenty of tables about. But it's super sunny and hot sitting in the sun at 10am with my coffee. And since Ellie (my pup) is often with me, I'd love to be able sit outside with her in the shade.
What I love: All the different seasonals.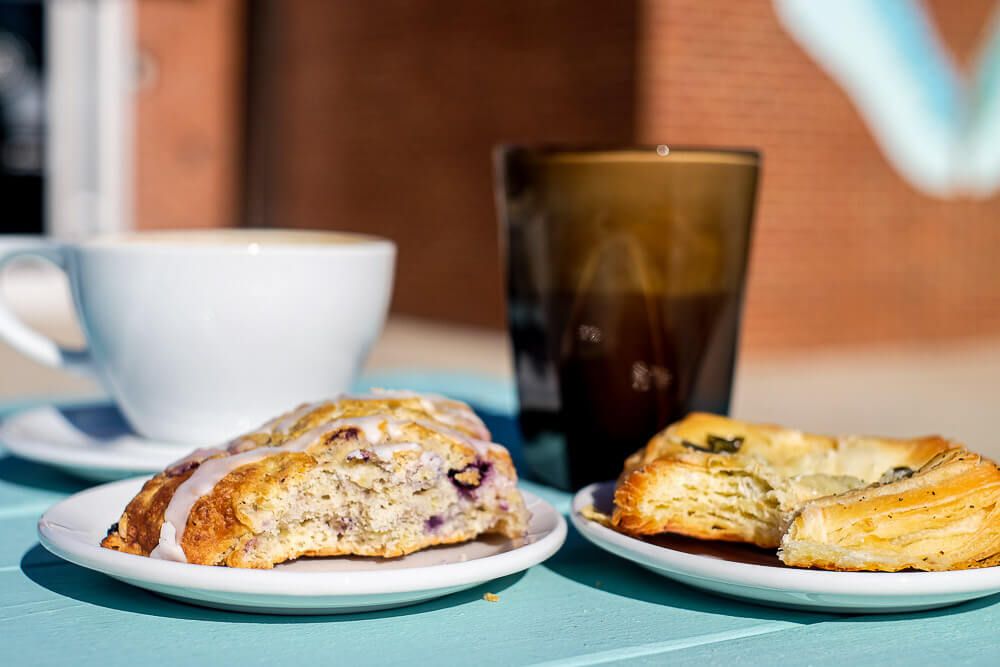 ---
Just a few tables outside.
What could be better than a really good coffee place opening up next to my favorite brewery and my favorite taco shop? Nothing really springs to mind. And that's just what Due South Roasters has done. It's a new addition to Hampton Station which places it right next to Birds Fly South and White Duck Taco.
Due South makes some good coffee. The inside is big and airy, but seating can be limited indoors if it's crowded. Though you can make your way outside where there are plenty of tables and chairs.
The prices aren't bad either – $3.50 for a cappuccino. But this is a much smaller cappuccino than at some places. Just be sure you know that going in. So if you want a small coffee fix with free wifi in one of my favorite complexes in Greenville, Due South is where it's at.
What I love: Location at Hampton Station.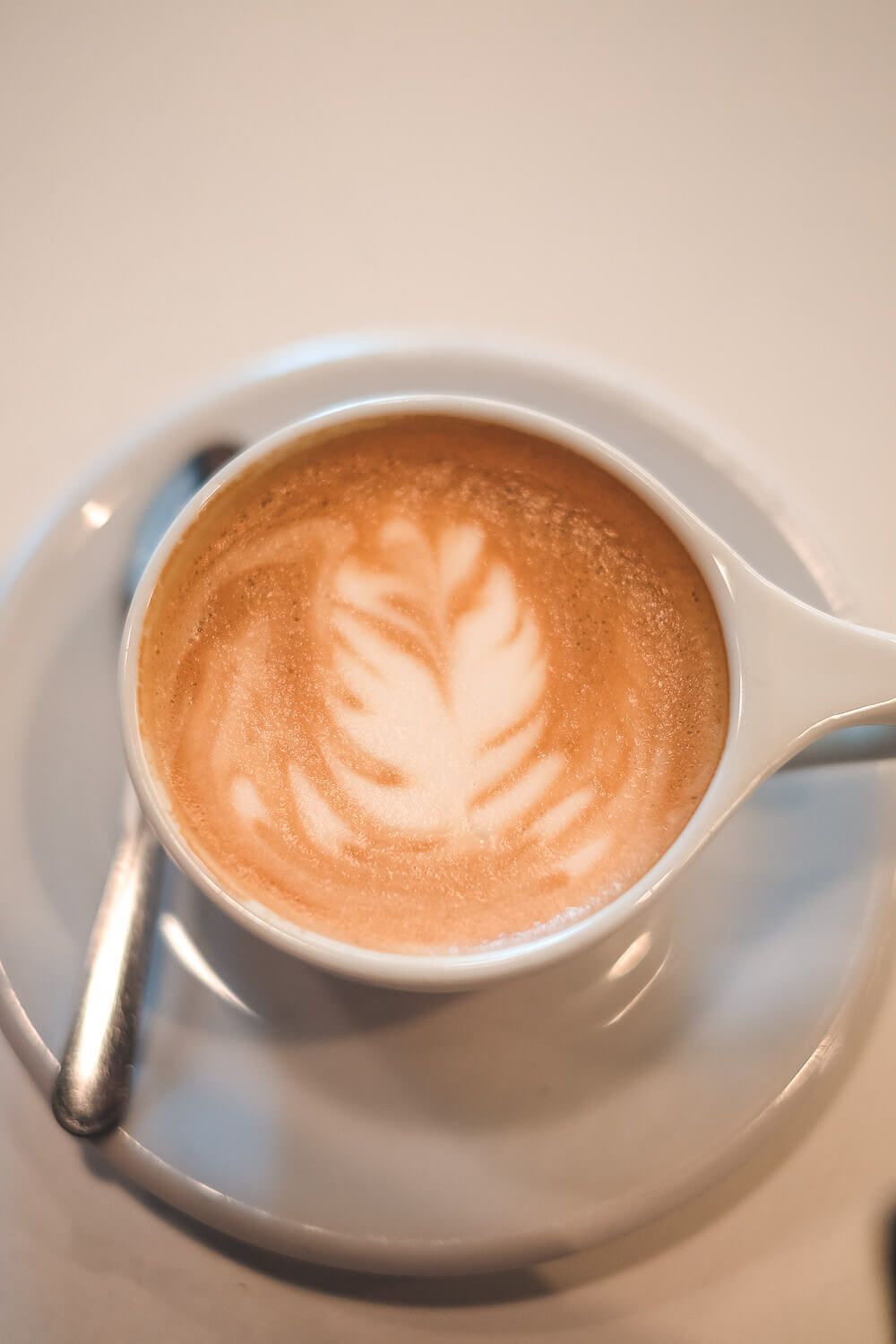 ---
Bridge City Coffee
Bridge City makes really good coffee. And you can tell they care about it. Peruse their website or socials long enough and you know these people are in it for the long haul.
Plus they always seem to have seasonals on hand. Check out their saved Instagram stories to see what they have available.
Their space along Wade Hampton also makes it super easy to stop by for a drink in their cafe or get it to-go via their drive thru.
The only things I don't like about Bridge City is that 1.) their outdoor space is seriously lacking, plus it's in a parking lot basically and it's super loud, and 2.) the coffee drinks here are kind of expensive.
What I love: All the different seasonals
---
Other Coffee Shops
A girl can only drink so much coffee right? So here are the places that are on my list to go to. As soon as I have, I'll be updating this list to include a review. But until then, here you go:
Coffee on Stone
Unlocked Coffee Roasters
Old Europe Coffee & Desserts
Grace Coffee Company
Leopard Forest Coffee Company
Bex Cafe and Juice Bar
Crafty Cats Brewery, Coffee, and Tea
Spill The Beans
MODAL
Ninja Warrior Coffee
---
What's your favorite place to grab coffee in Greenville SC?